Another easy romp for the Champions

277 Comments [Jump to last]
Sunday 30 April 2017
Everton 0 - 3 Chelsea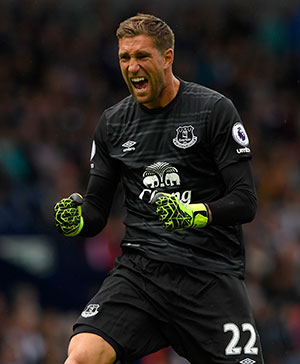 Maarten Stekelenburg started in goal again after being given back his place last weekend
After last week's shockingly poor showing at West Ham, Everton again failed to turn up in their penultimate home game of 2016-17, meekly handing an easy win to the Champions elect with three soft goals in the second half.
Morgan Schneiderlin was kept out with a thigh injury picked up in training, Dominic Calvert-Lewin and Enner Valencia coming into the line-up, with Mirallas dropping to the bench; no start for Gareth Barry.
Everton kicked off and Calvert-Lewin almost got into the Chelsea area, then he did on the next attack off a great Barkley pass, surprising Courtois the ball coming back off the post and Lukaku so close to sweeping the ball home, but denied.
Cahill forced a save from Stekelenburg that bounced off him, with some good movement by Everton in the early exchanges but Holgate was beaten and Chelsea won their first corner, played short. The midfield was very open letting Everton move the ball upfield with pace in the early stages but the final passes were not coming off.
But they were vulnerable to the counter and Hazard left Gana for dead, got around Stekelenburg but could only put it into the side netting in something of a let-off for the home side.
A poor pass by Barkley led to another Chelsea attack but Davies with a brilliant tackle denied Costa, catching him with the follow-through. But Chelsea had improved their shape and Everton were reduced to passing the parcel in midfield, looking very vulnerable without Schneiderlin on the turnover.
Everton won a corner delivered well enough by Barkley but the ball went all the way back to Stekelenburg under minimal pressure and any initiative was lost. O a Chelsea free-kick, Hazard again got away from Gana but no-one benefited. Matic then ran through and got off a shot. At the other end, Lukaku drove a low shot a couple of feet wide.
Jagielka got tied in knots by Costa but somehow the Chelsea star lashed the chance way over, Everton looking to gift the first goal to their illustrious visitors. Calvert-Lewin was given space to turn but he shot from distance, well off target.
Everton were given space and time on the ball but it was more pass the parcel in the middle, ending with an over-hit ball that Baines could not keep in. Gana had his hands full with Hazard, but somehow won a free-kick after grappling the Chelsea man to the ground.
Lukaku was finally picked out by a long ball but he could not bring it down for the shot and the chance was gone. But Cahill gave away a free-kick with a handball that earned him a yellow card. Nothing came of Barkley's free-kick.
Moses mugged Calvert-Lewin forcing a foul, a yellow card, and a free-kick from Pedro that fortunately came to nothing. Azpilicueta was next to see yellow for upending Valencia in a better position for Barkley who shot lazily into the Chelsea wall.
Valencia got space in the Chelsea area ahead of Alonso but Lukaku could not connect for the header. The half came to an end with a late Chelsea corner, Everton showing far too much respect and far too little initiative or inventiveness to really attack the Premier League leaders despite a remarkable lack of pressing from the visitors.
Proceedings resumed at the same slow pace, with a distinct lack of intensity. After Davies had got to the byeline and failed to keep the ball in, Everton were pinned back with a couple of corner,s Moses firing fractionally wide from the first, a slight deflection earning a second. But from that, Davies got to make a good central run only to overplay his final touch.
Jagielka played an awful back-pass to Stekelenburg that gave Costa a chance but he fouled the Everton keeper and was shown yellow. Valencia finally drove forward with the ball his shot deflected behind for a corner defended away, Valencia halting the Chelsea break illegally.
Valencia again drove in, this time from the left, but could not find a blue shirt after beating Azpilicueta. Barkley did well to challenge for and win the ball in midfield but could not get his pass through to Lukaku. However, Lukaku got to run in from the right but got nothing on his shot.
It was at least becoming a little more competitive as a contest but the quality was surprisingly poor, neither side seemingly capable of raising the standard to match the pre-game billing. That was until Pedro took matters into his own hands, dodged aside Jagielka and lashed in an unstoppable shot from 25 yards.
Everton continued to show no idea what to do with the ball from midfield and they had to defend manfully with key interceptions against Costa and Matic. Koeman reacted with Mirallas and Kone replacing Calvert-Lewin and Valencia.
Barkley tried to do a Pedro but he was blocked and fouled by Hazard. Lukaku fired the free kick over the wall and over the bar from a very good position. Poor. Gana fouled Hazaard for a yellow. Hzard powered in a low cross from wide left, and Cahill was on hand to profit from a dreadful attempt to save by Stekelenburg.
Barkley fouled but another shockingly poor free-kick, this time from Mirallas. More poor defending let Fabregas scamper through and pull it back for Willian to slide it home with ease, after being on the field for just a minute.
Can the lack of intensity and ultimate surrender be put down to the news that other results yesterday had secured European football next season? The players seemed to be half way to the beach such was the lack of interest in competing. No excuse for such an insipid performance on the back of such a good home run, with Lukaku of course doing nothing to enhance his dubious reputation as the Premier League's most prolific striker.
Everton: Stekelenburg, Holgate, Jagielka, Ashley Williams, Baines, Gana, [Y:78'] Davies, Valencia [Y:58'] (72' Mirallas), Barkley, Calvert-Lewin (72' Kone) [Y:38'], Lukaku.
Subs not Used: Robles, Barry, Lookman, Pennington, Kenny.
Chelsea: Courtois, Azpilicueta [Y:40'], Luiz (82' Ake), Cahill [Y:35'], Moses, Kante, Matic, Alonso, Pedro (82' Fabregas), Hazard (86' Willian), Costa [Y:56'].
Subs not Used: Begovic, Zouma, Batshuayi, Chalobah
Referee: Jonathan Moss
Attendance: 39,595
---
Reader Comments (277)
Note: the following content is not moderated or vetted by the site owners at the time of submission. Comments are the responsibility of the poster. Disclaimer
Gareth Clark
1
Posted 30/04/2017 at 13:29:09
Even though Schneiderlin is out – which is a big loss! – I really like the look of the line-up!
Ross will play a bit deeper, but I think we have the fire power to go for this.
Calvert-Lewin is good in the air – a lot better than Mirallas. Plus its time for Mirallas to sit one out.
Phil Malone Jnr
2
Posted 30/04/2017 at 13:29:19
Devo'd, Calvert-Lewin shouldn't be anywhere near the U23s.
Mark Frere
3
Posted 30/04/2017 at 13:40:00
I really don't understand the inclusion of Calvert-Lewin; he looks a poor footballer to me – that was also the opinion of my Blades mate when Calvert-Lewin was at Sheff Utd. He doesn't even play as a main striker when– he's usually deployed out wide where he looks even more a fish out of water.
Surely starting with Lookman would make more sense. I would also have loved to have seen Kenny starting. Valencia is also poor and I pray to God we don't make his loan spell a permanent one!
Disappointing starting lineup... but the proof will be in the pudding.
Mike Dolan
4
Posted 30/04/2017 at 14:02:33
I think we needed Schneiderlin but it is what it is. Calvert-Lewin I think is a fine footballer – he looks class to me... but give him a break, he's very young.
Nothing wrong with this team selection; if you're in the squad, you have to be ready to play – otherwise, you are just taking up space.
Attack them, Blues – run them out of town!!!

Peter Hughes
5
Posted 30/04/2017 at 14:05:28
Dominic Calvert-Lewin a fine footballer? Jesus wept... League One standard, yes!
Max Murphy
6
Posted 30/04/2017 at 14:31:11
Barkley giving the ball away at least 3 times in first 20 minutes. Lucky we're not losing. Baines... pass back, pass back, pass back.
Max Murphy
7
Posted 30/04/2017 at 15:49:24
What dreadful goalkeeping from Stekelenburg for that second goal! Rubbish.
Their first goal was a good shot but anything going into your top right corner must be defended with you right hand to get maximum stretch, not your left.
Christy Ring
8
Posted 30/04/2017 at 15:49:43
Need a new keeper,without question, and Moss completely bottled it, not sending off Azpilicueta.
Colin Hughes
9
Posted 30/04/2017 at 15:50:21
Fuck off, Everton! Do we ever turn up to the big games? 3-0 down in a game that had 0-0 all over it at half time.
ps: Gueye is a shit holding midfielder, so what else does he offer?
Mark Andrews
10
Posted 30/04/2017 at 15:50:54
As I keep saying, we're the best of the rest as we fail against those above us. That's Koeman's challenge for next season, alongside the poor away form.
It looks as though we stopped playing when Europa League qualification became a certainty. Lads, you may be on the beach but you'll be coming back early to play to the sound of cow bells on pitches surrounded by running tracks in places hard to get to.
As I speak, the 3rd goes in. Embarrassing. I hope Walsh is choosing wisely for the transfer window. On the plus side, Spurs won't win the league!
Ciarán McGlone
11
Posted 30/04/2017 at 15:51:24
Whatever the plan was today, it didn't work. All too foreseeable.
I wish Koeman would stop using strikers as wide men. Calvert-Lewin and Valencia were useless in those positions today.
Gana put in a decent shift shadowing Hazard, but there's little else to say about that game. Passing, movement, control, closing down – all lacking against a Chelsea team who didn't turn up, but as I write this have just put a third in.
There's a lot of work needed.
Ian McDowell
12
Posted 30/04/2017 at 15:55:27
Last 2 games have been a disaster. Hardly had a shot on goal and we are sending on forwards as wide players whilst we have Deulofeu out on loan. We are nowhere near being a top 4 side.
Chris Williams
13
Posted 30/04/2017 at 15:56:37
They bring on Willian and Fabregas – we bring on Kone and Mirallas.
They create the third goal.
Who else should Koeman have picked?
Are we missing Coleman, Bolasie, Funes Mori, Schneiderlin, McCarthy?
Barkley and Lukaku?
Peter Hughes
14
Posted 30/04/2017 at 15:56:51
Oh well... back to the drawing board!
John Hall
15
Posted 30/04/2017 at 15:59:53
Poor second half. Our big players missing in action again against a top side. Can't anyone take a decent free kick?
Men against boys, I'm afraid. Conte must be laughing his balls off – £70 million for Romelu Lukaku? –. More like £7M on that showing.

Neil Cremin
16
Posted 30/04/2017 at 16:00:37
Ross was brutal, Davies was brilliant, Calvert-Lewin brings nothing. Mirallas would offer much more.
Stephen Brown
17
Posted 30/04/2017 at 16:02:32
Today we learned: we need a new GK, the back 4 cannot have Jags and Ashley Williams, we lack creativity and the hardest one to accept is Ross is never going to be as good as we all hoped!
We are in the correct league position! We are 7th best at most things but a way behind teams above us!
Ruthless actions needed in transfer window along with shed loads of cash!
John Pierce
18
Posted 30/04/2017 at 16:02:39
Koeman accommodating the opposition too much as usual. We played with 10, effectively ceding the midfield too Chelsea.
We had no attacking edge whatsoever today, especially on the right. Holgate looked lost as he had nothing in front of him. Even Cafu would have felt exposed.
But these are things we already know. Chelsea far better than us today, far better. But they were aided and abetted by a supine performance today.
Mark Morrissey
19
Posted 30/04/2017 at 16:04:24
Woeful. The entire team were appalling but Jags chasing after Fabregas for their 3rd goal was reminiscent of Peter Kaye's pisstake of a dad running onto a dancefloor. Time to store those boots away, me thinks. A sad sight, must kill him inside to feel his legs just not doing it for him anymore.
Kevin Rowlands
20
Posted 30/04/2017 at 16:04:42
Surprise, surprise – another big game and our two 'stars' go missing again.
£100 million? Hahahahaha.
Phil Malone Jnr
21
Posted 30/04/2017 at 16:07:46
Does anyone know what position Calvert-Lewin plays?
Winger? – Not quick enough, doesn't run with the ball and doesn't have the ability to beat a player.
Striker? – Doesn't hold up the ball, doesn't link up play... would struggle to score 10 in League One.
Eddie Dunn
22
Posted 30/04/2017 at 16:08:50
A subdued Goodison and a game played at a pre-season tempo. We matched them in the first half but little mistakes throughout the game allowed them to take control.
Little things like Lukaku insisting on taking the free kick when Baines should have pulled rank. Little things like playing the lumbering Stekelenburg, who was off his line for the Pedro shot, and tried to save it with his flailing left hand.
Mistakes like Gana giving away an unnecessary foul, Stekelenburg again, for not putting three in the wall. and again for not catching the shot. Jags at fault letting Pedro turn him inside out.
Finally, bringing on Kone instead of Lookman. Shocking! By the way, Barkley showed how not to play football today. Lots of unforced passing errors, slow decision-making and no goal threat. Depressing.
Stephen Brown
23
Posted 30/04/2017 at 16:11:12
Got to agree, Mark! Jags looked like a tanker turning for Pedro's goal too!
Great servant but that's the end for him! Pay Van Dijk what he wants as he'd be a statement signing!!
David Donnellan
24
Posted 30/04/2017 at 16:13:20
They all looked like their season was done to me, no intensity, minimum effort, all round piss poor.
Just 3 more of these exhibition matches to sit through I guess & then the season is done. Hopefully we will be better next season.
Poor game today.
Kevin Rowlands
25
Posted 30/04/2017 at 16:14:26
8-0 aggregate over the two games tells you all you need to know. We are nowhere near good enough. Big summer ahead for Koeman and Walsh.
Sean Patton
26
Posted 30/04/2017 at 16:14:35
A very flattering scoreline but if you constantly shoot yourself in the foot that will happen.
Anyone else think we should throw one of the young keepers in for the rest of the season? Because the two senior goalkeepers aren't fit for purpose.
Daniel Lim
27
Posted 30/04/2017 at 16:17:28
Sean, I am not sure about Joel. But I don't want Stekelenburg to play for us again. He's just awful despite the two penalty saves vs Man City.
Michael Penley
28
Posted 30/04/2017 at 16:18:15
Didn't we buy a young czech keeper as backup? Stanek or something? What happened to him.
Daniel Lim
29
Posted 30/04/2017 at 16:18:47
The season is now truly over for all of us. I'm off to watch Celtics, the basketball team.
Daniel Lim
30
Posted 30/04/2017 at 16:20:30
Kevin, the bidding will start at £35m I think.
Sean Patton
31
Posted 30/04/2017 at 16:20:45
Maybe so Daniel but we know what Robles offers. I personally would go a bit crazy and just play as many young lads as possible in the three games we have left, let's see what the kids can do.
Dave Bowen
32
Posted 30/04/2017 at 16:21:50
The 1st goal was a bit of brilliance, fair enough. 2nd goal was awful from Gana, Rom & Stek. 3rd goal just embarrassing.
We really missed Morgan today. Calvert-Lewin should be nowhere the first team & Valencia is an impact player at best. Is Lennon still injured? Otherwise a better bet than either of those two.
Koeman seems like Moyes or Martinez reincarnated. Fine against the Premier League fodder, but as soon as we come up against a so-called big team, we go back to must not lose than trying to win.
Bill Gall
33
Posted 30/04/2017 at 16:24:49
What does it matter who you have in goal if the outfield players are not willing to put in 90+ min of effort? I guess the top 6 team managers are wondering why they think a game against Everton is supposed to be difficult.
We have the same problem with our managers, in that their teams do not turn up against other teams, when the points are on the line for improvement.
Is Barkley playing for a transfer? He does not play to a level his reputation is supposed to warrant, and this may be why the club is not agreeing to his contract requests.
Daniel Lim
34
Posted 30/04/2017 at 16:26:18
Sean, I agree. And I would play the Premier League 2 Champions in the last few matches. A reward for their achievement.
George Cumiskey
35
Posted 30/04/2017 at 16:27:13
We learned a few things today: Barkley was the worst player on the pitch again... is it in his contract that every time he gets the ball he's got to turn towards his own goal?
We are a million miles away from being a top four team, and Baines,Jags and Williams are finished as Premier League players.
John Pierce
36
Posted 30/04/2017 at 16:28:12
Again we failed to play with the stated three up front. Almost instantly they drifted into 4-5-1 defensive set.
With Barkley constantly playing infield we had no width at all. Rom left three on one, but even so he was piss poor. Wretched.
There was no reason to be defensive in this game. None whatsoever, yet dour Ronko set it out to contain. Moan about limited personnel choices all you like, moan about the referee if you like but we were as blunt as a Walrus's arse, and just a cumbersome.
The shining light in a sea if shit was Tom Davies. In spite of his colleagues ambling around like it was Sunday afternoon, he played with heart and intensity, tried to get beyond and attempted to get at Chelsea. Sound that lad – der Ketwig Kaiser!
Danny Broderick
37
Posted 30/04/2017 at 16:28:16
We need a complete overhaul of the attacking positions. We have no threat in attack any time we play against the top teams. Our attacking players do not keep the ball high up when we have it, and they don't win it back when we don't have it.
Barkley and Lukaku should be sold for starters. With the 𧴜 million they would generate, we could bring in Rooney, Vardy, Sigurdsson and a top young up-and-coming striker. Adding Bolasie to that lot would transform our attack. We are just devoid of energy and zip in attack currently, I'm sick of our play being slowed down in the final 3rd.
Brian Hennessy
38
Posted 30/04/2017 at 16:28:36
Huge gulf in class between the two teams but hopefully Koeman will have learned a lot from today.
Stekelenburg was very poor and never looked comfortable. Dominic Calvert-Lewin just doesn't do it for me and I really hope we don't waste money buying Enner Valencia at the end of the season. He tries hard but is simply not good enough and is not a goalscorer.
I like Barkley but a poor game from him today, his final ball and decision-making is poor far too often.
Davies was the stand-out Everton performer for me.
The summer transfer window will be very interesting. We have so many areas that need strengthening if we are to close the huge gap in quality between us and the top 6.
Colin Hughes
39
Posted 30/04/2017 at 16:29:17
Swansea will do us next week aswell simply because they will want it more and know they will be as good as down if they don't win with Hull being at home to Sunderland next week . Its Life savings on Swansea time.
Ian Linn
40
Posted 30/04/2017 at 16:30:28
Undone by a good first goal, then 2 sloppy ones, we were off the pace today, Chelsea weren't great but our performance meant they didn't need to be. As Phil Neville said, seems like we've got one flip-flop on already.
Doug Harris
41
Posted 30/04/2017 at 16:31:30
Why would Chelsea buy Lukaku? There is no way he would improve that squad.
Face it, Chelsea are light years ahead of us. Man for man, we have nothing to compare.
Tim Locke
42
Posted 30/04/2017 at 16:37:14
Given where we were in December when 10th looked like a good finish and where we where last season, when avoiding relegation seemed like a good season, we have done okay this season, but the top four even the league is there for the taking.
Not a great performance but a game I would expect us to lose. The season never came down to this game.
To get top four finish or be in the mix to win the league, we need to win games like last week, Bournemouth, Stoke, Middlesbrough, Hull, Burnley, Watford, Swansea, Norwich, Crystal Place and Southampton. All points thrown away in draws or loses against poor sides.
Two of those above will be relegated and four are very close, shocking losing over 20 points to them. This is where we need to improve, taking four points of Man City this season is worthless when we lose to Watford.
Michael Upton
43
Posted 30/04/2017 at 16:40:37
Hard to argue with most of the above but
a) seems very harsh implying the first goal was soft. You have to play well and take your chance but not a huge amount you can do about a moment of brilliance.
b) Colin Hughes (#9) you're joking about Gueye being shot, right? He's been top 3 players this season at least.
Big summer ahead but then we already knew that. Let's not forget that Williams, Gueye and Schneiderlin apart, this is a squad that finished bottom half last season.
First up, a top class keeper...
Barry Lambert
44
Posted 30/04/2017 at 16:40:59
I think Lukaku will find himself consigned to another season with "The Blues". His abject failure to produce the goods against top teams will not persuade anyone to match the inflated transfer fee we will be asking. I think he might be in for a serious wake up call.
Admittedly the service hasn't been great but genuine match winners valued at 㿷 million + should not have to depend on the quality of the service. Sometimes it is very difficult to criticize Rom but sometimes it is very easy.

Jim Bennings
45
Posted 30/04/2017 at 16:55:22
Today, people saw a big difference between a decent player and a match-winning game-changing world class player.
Too many fans saying "Don't let the likes of Barkley etc go because they are world class..."??
Please don't make me laugh!!
Kunal Desai
46
Posted 30/04/2017 at 16:55:24
Once Chelsea scored, we showed no any effort or desire to even try and get an equaliser. 7th place confirmed, the players are now in holiday mode and we'll simply go through the motions in the remaining three games.
Biggest summer awaits in the club's history. We'll need al teast 5 or 6 first-teamers, plus another half-a-dozen squad players.
I think if we don't get the required number then it'll be a similar season to this and Koeman will be off the following season. The project will be dead in the water.
Over to Mr Moshiri, time for you to deliver, sir.
Hywel Owen
47
Posted 30/04/2017 at 16:56:27
The usual selection and substitution nonsense from Koeman plus the inept centre-backs who will be gone by August.
The main culprit though is the 𧴜m man who cannot even get a proper connection on the ball more than three times out of ten. He is so selfish, it's quite unbelievable.
He should be dropped for the remaining games this season so that we can get used to playing without him – but there again, who on earth would be prepared to pay the asking price for such a lack of talent?
David Barks
48
Posted 30/04/2017 at 16:59:22
Watching Spurs vs Arsenal right now only doubles the depression. Spurs just flood the box. They just had three men passing the ball on the left wing and three men all together in the box. Everton can go an entire half without getting three men in the box at the same time.
It's just shocking to see how slow and conservative our play is. It's also shocking to think it was only a few years ago that we were right there with Spurs. Of course they have ownership that isn't afraid to spend money and sack a manger when he isn't producing the goods. Jol, Ramos, Redknapp, Villas-Boas, Sherwood, and finally Pochetino who is getting the job done. Meanwhile we persisted with Moyes then Martinez and now the conservative Koeman, while still not spending any money.
But hey, we got the training ground sponsored and approval to maybe build a stadium some day when funding can be found. That will win titles won't it?
My God, Spurs have every single player bar the keeper in the Arsenal half, always three to four players in the box or right on the edge. But 7th in the league, what a victory.
Eugene Ruane
49
Posted 30/04/2017 at 17:02:40
Writing this on the 81 so I'll keep it short.
This game is the game that needs to be watched a couple of times by Koeman, Walsh and Moshiri as this is the game that best shows the gulf between us and the top.
We lack the required touch, pace, brains and (physical) strength and Chelsea have it all over the park.
If we simply buy two or three decent players (plus selling a couple), we will simply be doing more of the same.
Want to (regularly) compete with Chelsea?
Spend like Chelsea and if you can't you'll need a better plan than "l really hope we win."
Gana and Davies worked their plums off; other than that...
Christy Ring
50
Posted 30/04/2017 at 17:06:54
We have no width; playing Valencia and Calvert-Lewin as wingers is a complete waste of time. They cannot attack the fullbacks, or cross the ball.
Barkley gets a lot of flack, but when he looks up, his only outlet is the isolated Lukaku, on his own upfront. Gueye was man-marking Hazard, so we badly missed Schneiderlin or McCarthy in front of the back four.
When you see Fabregas and Willian coming off the bench, and we introduce Mirallas and Kone, it tells you the difference in the two squads.
Brian Wilkinson
51
Posted 30/04/2017 at 17:08:38
John @15, yes, Leighton Baines, but all too familiar the other players overruling the guy over and over again. We should dig out the Baines free kick against Newcastle and say, anything on the right in shooting distance, leave to Baines.
Colin Glassar
52
Posted 30/04/2017 at 17:10:54
Our lot we're just going through the motions. Win, draw or lose they know we aren't going to move up or down in the table.
As Eugene said, this game just showed how wide the gulf is between the likes of us and Chelsea.
Brian Williams
53
Posted 30/04/2017 at 17:12:19
Just home from the game and I think I must have watched a different one from some. Until they scored an outstanding goal, I thought we were doing okay... not great, but okay. Once they'd scored, though, they were always going to pick holes in our midfield as the game opened up.
Not going to bother slagging individuals but when you look at their subs; Fabregas and Willian, and then compare either of them to one of ours in particular, ie, Kone, it speaks volumes.
They are a side filled with pace and power. When they play it out from the back or win it in midfield, they look to get forward in numbers quickly. We dither with sideways and backward passes and do it oh so slowly.
Is there a huge gulf between us and them? Most certainly. Can that gulf be reduced without spending around 𧶀m? Not a chance!

Kevin Rowlands
54
Posted 30/04/2017 at 17:12:26
Hywel, we play without him in nearly every game. Like I've said before, take away the goals and he adds nothing to the team. In fact, he's a liability because he's constantly giving back possession.
The sooner we get rid of them two Belgians, the better; they are not team players. A classic example of that was the two free kicks in dangerous positions, both of them grabbing the ball and of course ballooning it over the cross bar both times.
Why can't Baines take the free kicks? Because it's always about personal glory with both of them – never about the team.
Alan J Thompson
55
Posted 30/04/2017 at 17:14:07
Out-paced and out-played by a fitter and more skillful side.
On the basis of that game, we need a keeper, an entire back four and two creative midfielders to play alongside Barkley.
The only defensive mid we should play is Davies. Instead of telling Barkley that he should sign the contract on offer or be sold, it is Lukaku who should be told that we would sell him but it is unlikely that anyone would want him. Scores some wonderful goals but not the player he thinks he is and shows little sign of improvement in movement.
Give some of the kids a run in what's left of the season as there is nothing to lose. I hope Messrs Walsh and Koeman have identified 8 or 9 new players for next season as anything less will just see us marking time.
Jim Bennings
56
Posted 30/04/2017 at 17:18:14
My hopes for the summer, seeing that this season is as dead as a door nail:
Trying to get a Joe Hart or Tom Heaton in goal (way too long since Everton has had a "safe" keeper).
Make signing Michael Keane and Gylfi Sigurdsson a priority.
If we go for any from this list we could do worse: Shaqiri, Masuaku (West Ham left back), Arnautovic, Andros Townsend.
If Lukaku goes, we must move for Josh King of Bournemouth, a proven lively goalscorer at this level.
We are crying out for a right back – Holgate looks square-pegged.
We need to replace Leighton Baines very soon.
We can't rely on one goalscorer like we have all season, Lukaku on 24, nobody else scored more than FOUR!!!
We desperately need a creative intelligent midfielder, Sigurdsson a better option than Barkley.
Tom Davies is to be commended, a great trier with a pretty decent touch but, if we are serious next season, we can't pin our hopes on this kid.
Calvert-Lewin is not top drawer, unlucky not to score but I'm sorry, not top drawer.
We need a massive overhaul if we are truly serious about hurting the better teams above us because, whilst this season has been steady, it's mainly all been about a strong home run between January and April, the away form abject and the performances at times as bad as last season.
Big summer for Koeman.
Mark McParlan
57
Posted 30/04/2017 at 17:19:59
What on earth was going on for the second goal? I'm absolutely furious at that one... what was Stekelenbeurg doing?
Ratings.
Stekelenburg – 6. Can't say he was at fault for first goal, rubbish for their second, didn't see the third properly.
Baines – 6. Contributes nothing going forward anymore.
Jagielka – 6. Average.
Williams – 6. Average.
Holgate – 5. Poor. Bullied by Alonso cutting inside, nothing going forward. What happened to our strength being attacking full backs?
Gueye – 7. Really impressed me today in man marking Hazard out of the game.
Davies – 7. Showed Barkley how it's done. He drives forward, and does loads of these crunching solid slide tackles that get the crowd going and opposition worried. How can be be this good at 18?
Calvert Lewin – 5. He was fantastic for the first... 5 minutes, pulling off shots. But he was ineffectual and did nothing thereafter.
Barkley – 5. Very poor. Constantly losing the ball, gave Romelu nothing.
Valencia – 5, also rubbish. Gave Lukaku one good cross.
Lukaku – 6. Usually I don't buy the "he had no service argument", but it rang true today. Still, he should have done better with the scraps he was fed.
---------------------------------
A reminder that we have a long way to go to break the top six monopoly. A big summer needed!
Get us in Joe Hart, Harry Maguire, Wayne Rooney, Ben Chilwell (or a left-field shout; Stephen Kingsley?), and one new defensive midfielder.
Jim Bennings
58
Posted 30/04/2017 at 17:31:37
Christy,
Whose fault is it that we don't have wingers?
Who let Deulofeu go when we'd already lost Bolasie??
David Barks
59
Posted 30/04/2017 at 17:35:01
For the record, Baines has been horrific at free kicks for years now. He once was very good, but that was years ago. His free kicks, much like his corners and crossing in general have been poor for 2-3 years now.
David Hallwood
60
Posted 30/04/2017 at 17:35:46
Ross reminds me of a brilliant musician I knew some years ago. Talent to burn but suffered from stage fright and incapable of winning over a hostile audience, he used to just go into his shell and if anything try too hard.
As the old saying goes, when the going gets tough etc and Ross seems incapable of turning round a dodgy performance but great when he's on it. Koeman must see what we're all seeing, after all as a player he could look up and see Laudrup and Guillet, so he knows a good midfield when he sees one.
Gutted... but hey-ho, maybe he could use the remaining games to look at Walsh, Williams, Dowell, Kenny et al, couldn't do much worse.
Jim Bennings
61
Posted 30/04/2017 at 17:40:10
Baines last free-kick goal was at West Ham in 2013..
Maybe that was the last time he beat the wall with one too!?
Maybe that answers why he's no longer on free-kick duty?
Paul Smith
62
Posted 30/04/2017 at 17:40:57
Huge gulf in class. Tom & Gana must be the future. I found Gary Neville's insistence, from the off, that we must "get it to Lukaku" worrying, it's as if he thinks we're a one-trick pony.
Peter Cummings
63
Posted 30/04/2017 at 17:45:04
Being a naïve lifetime Blue, I didn't think we could have been as dire as we were last week and really put a shift in to give this season's Champions a game... instead, we turned our usual second-half 'recovery' into as shambolic a debacle as we were then, at least it got us a point.
Today, sadly, while Chelsea were as woeful as us going forward, we posed little or no threat from a practically non-existent 'attack'. Only Tom Davies deserves any credit as our standout performer.
I agree with a lot of TWebbers that the so-called big names, Lukaku and Barkley, should be shipped out for but it's unlikely any Premier League team would meet the ridiculous money quoted by EFC (possibly the Chinese might).
So it's downward and downward until the end of the season. At least we have one Championship trophy and congrats to Tranmere Rovers on promotion to another level.

Brent Stephens
64
Posted 30/04/2017 at 17:47:00
Brian (#53). I agree wholeheartedly with all that.
Just one big beef amongst several Chelsea showed how to ping the ball at speed to each other; contrast that with the number of times Jags, for one, rolled the ball at snail's pace to another man.
My biggest beef though was with Moss. A disgrace. He let Chelsea run the game and did nothing about the disrespect shown to him as the main official. As one example, Luis feigning injury, the ref indulging him asking if he's okay for ages with no trainer coming on; if you're injured, get the trainer on, if not play on. As another, the sly pushes in the back. Disgrace.
David Barks
65
Posted 30/04/2017 at 17:48:15
Four players in the box for that Spurs goal with another 3 more right on the edge of the box. Maybe Koeman will try that one of these days?
Nah, just keep Lukaku up top and send long balls from defense. That will do it.
Jim Bennings
66
Posted 30/04/2017 at 17:48:54
No Paul, we are not a one trick pony but when nobody outside Lukaku has scored more than FOUR goals you can completely understand why Gary Neville thinks we should "get it to Lukaku ".
Who else is likely to take hero role in a big game?
We haven't got a Pedro or Hazard or Dele Alli or players in midfield of that ilk.
Kunal Desai
67
Posted 30/04/2017 at 17:50:12
Sorry but names mentioned above, Rooney, Keane, Sigurdsson, Maguire, King etc. Possibly with the exception of Sigurdsson those name are not going to help elevate us to compete with that to four.
Chelsea have players like Pedro, Willian, Fabregas that's what makes you competitive. I want Everton to get 3 or 4 absolute class players from abroad, players that have the mental strength as well as the physical prowess.
I don't think it's enough to have just the best Burnley or Hull player coming in, as a squad player yes, but not as players coming into the first team. Need to start thinking much bigger.
Christy Ring
68
Posted 30/04/2017 at 17:52:08
Jim (#58), I completely agree, Lookman not used off the bench either. Valencia is average, but a lot more effective beside Lukaku.
We need major surgery this summer, a top keeper, 2 centre-backs, a left back, midfielder, striker... and that's hoping Lukaku and Barkley stay.
Chris Williams
69
Posted 30/04/2017 at 17:53:11
Yes and we could also do with McGeady back!
Absolute nonsense.
Brent Stephens
70
Posted 30/04/2017 at 17:53:51
In view of the interesting Gana v Kante debate this week, I thought Hazard (potential Barca / Real Madrid material) didn't pose much of a threat given Gana's man-marking today. I agree, Davies was very impressive but I wouldn't underestimate Gana's quiet but significant contribution.
John Charles
71
Posted 30/04/2017 at 17:59:20
We are where we are, 7th and deservedly so. Koeman has done nothing special with either recruitment or tactics. He has however, much as Moyes did, steadied a slowly sinking ship.
Some players simply aren't good enough both goalies, Williams and Jags, Holgate (as right back, might cut there as CB), Mirallas, Kone and Valencia.
Some might cut the mustard but need to improve: Baines, Funes Mori, Barkley, Lookman,Calvert-Lewin, Bolasie.
That leaves: Gana, Davies, Coleman, Schneiderlin and Lukaku (not including Barry who is good enough but past it) of the regularly playing personnel who I believe are of the quality to see us progress.
Time for Honest Ron to make some decisions on who goes and hopefully have a far better window than last summer – though it will cost serious money for us to break into the top four.
Bill Gall
72
Posted 30/04/2017 at 17:59:20
I've been supporting Everton since 1954 so have seen lots of highs and lows. Problem is, over the last 10-12 years there has been more lows than highs with promises made and not given, players coming in and out, and still the same.
I always thought that if someone with money came in with John Moores's attitude (we have the best supporters in the league, who deserve the best, and I will see they get the best) would buy into Everton. Well, now we have someone with the financial clout. but the problem is that so do a number of other clubs that can compete or have greater financial clout than Moshiri.
This means that we have to compete with them in the transfer market and they will have more to offer than we can. All we have at this time is speculation of money for the transfer season and the promise of a new ground.
The transfer window is going to require the manager to have a clear plan of who he wants, how much money he will have, and a firm idea of the type of football his teams are going to play. Koeman seems to be a ruthless manger who will not take any nonsense from players but lately his tactics and substitutions seem off.
As I said I have seen the highs and lows but at 76 years old and waiting for open heart surgery, I hope the future starts to bring in more highs with a management team that does not bottle it when we play the Sky top 6 darlings, and brings back some pride to all Everton supporters. We can only put it down to the manager's tactics against these teams for this type of performance, as other teams who are not supposed to have the talent of Everton usually raise their game and effort playing these teams for a result.
Hopeful that Koeman has a firm plan what he wants to do with Barkley and Lukaku as I think the ongoing saga of "Will they go or will they stay?" is disrupting the team. I also believe that it will take another 2-3 transfer windows to bring Everton up higher than 6th place.
Ray Roche
73
Posted 30/04/2017 at 18:01:30
Kunal Desai @67
" I don't think it's enough to have just the best Burnley or Hull player coming in."
Much as I can see where you're coming from with that statement, Gana came from Aston Villa, so we shouldn't ignore players who have got the talent but may not have had the opportunity to shine alongside better players.
Jim Bennings
74
Posted 30/04/2017 at 18:01:40
Kunal
Trouble is you probably won't attract absolute world class talent to a club in 7th with no Champions League.
I'd love us to go for Lacazette but he won't come here so rather than waste money on more unknowns like Niasse we should target players who will do the business in this league like Josh King for example.
Not Lionel Messi granted but we need a whole new attack not just one or two..
Mike Allen
76
Posted 30/04/2017 at 18:08:33
The first goal, what a great strike; however, why oh why do keepers go with the wrong hand? Not saying he would save it but would have a better chance with a fully outstretched right hand rather than a token gesture half-bent left hand. I see it so often these days.
I hope big Ron has the guts either to leave out Barkley and Lukaku or at least drag them off when showing present form.
Looks like we need a shed load of players for next season just to hold on to 7th as yet another transition period kicks in... we have to be very patient, methinks.
Kevin Rowlands
77
Posted 30/04/2017 at 18:09:52
For the record, David Barks, how many free kicks has your hero scored from? The reason Baines hasn't been taking many free kicks is them greedy self-absorbed twats are continually grabbing the ball and I include Barkley in that.
They even mugged him from taking penalties until recently; at that time, I believe he had the best penalty taking record in the Premier League. Remember their misses, David? You know... like the one that cost us a chance of going to the cup final?
George Cumiskey
78
Posted 30/04/2017 at 18:13:46
Christy @68,
You actually want Barkley to stay? Unbelievable.
John Raftery
79
Posted 30/04/2017 at 18:13:51
So Schneiderlin was unavailable for another match against one of the big teams. He has missed matches at Liverpool, United and now at home to Chelsea. Given he hardly played in the first half the season it could be he joined us not fully fit but it is a little worrying he seems susceptible to muscle strains during a period when he has only been required to play once a week.
I don't know which game some were watching today but to describe it as slow and lacking intensity is completely wrong. That was certainly not the impression from my seat. I thought our players, three of them regulars at Under-23 level earlier in the season, gave everything they had against a team comprising many seasoned international class players fighting for the title.
Brent Stephens
80
Posted 30/04/2017 at 18:14:11
Love the lad to bits but Baines is as weak as piss. The last game at Goodison Park, he had the ball in hands ready to take a free kick and allowed somebody else to take the ball off him. A lovely lad but you can see why he was never really captain material.
John Pierce
81
Posted 30/04/2017 at 18:14:14
Many posters correct on recruitment, we might be able to attract 1 or 2 excellent players through a contract wrangle etc. But mostly the improvements in most playing staff will be incremental.
So, even if we have an excellent summer window, we will by some degree be short of a top 4 challenge. That's were I get itchy. I've seen nothing from Koeman to make me think he can bridge that gap tactically. Especially against those teams at the top of the table and away from home.
Brian Hennessy
82
Posted 30/04/2017 at 18:14:47
I really don't get how people think Joe Hart will solve any of our problems. A safe pair of hands he most certainly is not.
David Barks
83
Posted 30/04/2017 at 18:16:04
Kevin,
Stop being a petulant child with this "hero" crap. Baines has been dire at free kicks and corners for years. That's not Lukaku's fault or Mirallas's fault or Barkley's fault.
Since his ankle injuries began his crosses, whether they are from open play, corners or free kicks, never beat the first man. Same for free kick attempts at goal. He's been taking plenty of them and been poor for a long while, that's just a fact.
Sam Hoare
84
Posted 30/04/2017 at 18:20:31
I can't see us conceivably having a Summer that will put us in a position to seriously contest top 4. The gap is too big.
I think we have to play a longer term game and follow the example of Spurs, Dortmund and Monaco. Talented, technically gifted, young, fit players well coached and given a platform. The likes of Rooney and Kompany don't fit into this blueprint though I appreciate what Koeman said about needing some more 25-29-year-olds.
Kunal Desai
85
Posted 30/04/2017 at 18:20:53
Ray – I think we can get away with one or two players from the lesser clubs, but I would be disappointed if say, for example, both Maguire and Keane were the centre back pairing for next season.
Squad players yes, I think for players in that first eleven we need that extra quality. Gana has done well; equally, I think King is a decent player to have in the squad, probably not to start though.
Jim – I take your point, but we might need to take a risk and pay over the top wages and transfer fees for a couple of world class signings and if Koeman can convince them that we will be in the mix for top four, along with the club moving forward, who knows. I believe we need some real proven quality as well as talent.
David Barks
87
Posted 30/04/2017 at 18:22:58
And just to answer your first question, Lukaku scored a very nice one earlier this season against Palace.
https://m.youtube.com/watch?v=djkLpT8qjLM
But in general, he doesn't get to take many of them since it is usually Baines or Barkley. And again, Baines has been hitting the first man for years now.
Kevin Rowlands
88
Posted 30/04/2017 at 18:26:50
No, David, he hasn't been taking plenty of free kicks, see today, they have. And, until recently, he was not taking the penalties, even though he had an outstanding record.
Again you're refusing to criticize Lukaku for anything even his semi-final nightmare when he should not have been taking that penalty.
Jim Bennings
89
Posted 30/04/2017 at 18:28:15
I think to sum up this season would be as followed.
Better than the last two, not that that was very hard to improve on, nowhere near as good as Martinez first season and about the same as Moyes last.
It's been steady but pretty mediocre but going with roughly the same shite that we had at the end of last season maybe you couldn't expect too much more.
We have improved at home in general, which peaked from January to today's beating.
The downsides for me are that many of the old Everton habits remain unchanged, we lost both Merseyside derbies, lost way too early in both the Cups and disappointingly both at home to mediocre opposition.
We still look shit scared of the bigger teams especially away from home.
And finally the away form all season has been really really below par and we have won just 4 of the last 24 away games going back to last season.
I don't think there's much else you can do or get from this squad.
We need to be bold in the summer and not be afraid of change and I just hope we don't let sentiment cloud our judgements on what players need to be moved on.
Ray Roche
90
Posted 30/04/2017 at 18:28:53
Kunal,
Keane and McGuire would have been a better pairing than Jags and the woeful Williams that pulled the shirt on today. Keane looks a class act to me and is comfortable on the ball which is something that neither of our CB's are. I'd take Keane, especially, as a start for next seasons rebuilding.
Ian Jones
91
Posted 30/04/2017 at 18:29:25
Disappointing result but it's against the likely champions so always likely to be a tough ask. Disappointed by the lack of a 3rd sub although the game was gone...
Still plenty to play for with Arsenal struggling. No reason why if we show some spirit at the Emirates we might get something there and pip Arsenal.
Don Alexander
92
Posted 30/04/2017 at 18:33:03
RonKo said pre-match that the most important issue for the summer was to sign attacking midfielders that score. He laboured the point. Anyone by now still hoping to see any of our offensive players over the age of 22 turn into such match-winners is supremely optimistic.
Yes we might be better off with a new keeper, a new centre-back, a fit Seamus and a new left back but even with all four the poor aptitude of those in our front positions (specifically such seasoned pro's as Mirallas, Barkley, Lukaku, Valencia, Kone, Deulofeu, McGeady and Lennon) will mean the better teams will still have all the time they need to mount attacks against us safe in the knowledge that there's little for their own defence or keeper to worry about.
With a bumper crop of signings I'd be more than happy with fourth next season, the supreme optimist that I'd like to be, but in truth I'm not expecting so many signings.
David Barks
93
Posted 30/04/2017 at 18:35:30
Kevin,
You brought up Lukaku after I and others posted about how Baines has been awful from set pieces for years. He has been taking them regularly and people were screaming for him to be removed from those responsibilities because he had become so poor at it. It has nothing to do with penalties or anything to do with a cup match from a year ago. That has absolutely nothing to do with Baines absolute to deliver a ball from a cross from open play, from a corner or a shot at goal.
I didn't have a problem with Lukaku taking that free kick today so why would I criticize it? I would not have wanted Baines to take it because he's been very poor at them for years. There really isn't much else to say on the matter.
Most free kicks are missed, by every single player. But the problem with Baines in recent years is that he doesn't seem to be able to get he ball elevated past the first man for whatever reason. He used to be superb. But it seems that since he began having those chronic injuries to his feet/ankles that he lost that ability to deliver the crosses and set pieces that had been so lethal. I wish that wasn't the case.
Dave Older
95
Posted 30/04/2017 at 18:45:20
Outclassed in the second half. Disappointing to just roll over like that. We have today learned just how far off the top four we are. Big summer ahead, get the chequebook out!!!
Kevin Rowlands
96
Posted 30/04/2017 at 18:45:30
David, I believe post 54 comes before post 59, and I'm the one that makes things up? Whilst your posting you tube videos why don't you post up the many penalties and free kicks that Baines has scored versus the very few Lukaku has, and maybe you can include the Utd semi penalty whilst your at it.
Gareth Clark
97
Posted 30/04/2017 at 18:49:18
It's clear that we need a new Keeper for next season.
Ship one of them out - I'd keep Robles as a back up. Stek is just too old & too shit.
Get in Schmeichel, or if not - go for Heaton as a consistent option. Pickford is a bit raw, but still better than what we have.
Jim Bennings
98
Posted 30/04/2017 at 18:50:55
Ian Jones
I understand your trying to put a positive spin on it but Everton will go to the Emirates on the last day and offer the same meek threat as we always offer at those venues, scared to cross the halfway line.
No matter what state Arsenal are in we will doubtlessly go there and give them a confidence boost to take to Wembley for the Cup Final.
We have the words "nothing will be the same " on this season's season ticket/card.
To me I'd have held those words back for a bit longer to see exactly what direction we were going in because apart from a good home run against mainly also ran's and a pretty abject Manchester City, this season has felt well, just " more of the same" really.
Mike Dolan
99
Posted 30/04/2017 at 18:52:00
Disappointing today but lord the reaction is pitiful. I thought that considering Chelsea have much better players there was not a massive difference in both sides performance until the first goal went in. Lets be honest if Bolasie, F-Mori, Schniederlin, Coleman, Besic, Lennon had all been available today we would still have to realign the whole galaxy in our favor to get a result. Given that a decent goalkeeper would have saved that first goal which was nonetheless brilliantly taken, the other two goals were just soft.
Davies was great today , Lukaku played like a dog, Barkley was outclassed and the Keeper, Jags and Williams all looked pathetic. Every one of them tried hard but they are nowhere near what is needed to break the top six. They said it was going to take 5 transfer windows and they weren't lying. Special nod to DCL who I think will become a really good footballer for us in the near .
Winston Williamson
100
Posted 30/04/2017 at 18:57:53
How many people had heard of mane before Southampton signed him? There must be players similar to this going under the radar??
We cannot attract players like Isco or Rodriguez etc...we must start looking for players who:
a) fit the system Koeman wants to play
b) want to play for us
c) are of a standard above our current crop
That said, one of our most current consist players is an EFC graduate - Davies.
David Barks
101
Posted 30/04/2017 at 19:02:20
Yes Kevin,
In post 59 I said Baines has been poor for years. I didn't mention Lukaku or any other player. Then in post 77 you start talking about Lukaku and penalty misses from a year ago. Ok, we all know you hate him. But he's actually scored from a free kick this season while Baines, again, has been very poor from set pieces for many years now. He hasn't scored from a free kick in years and his corners couldn't get past the first man for years, which is why they were taken away from him. That's just history, I'm sorry, not an alternative fact universe.
In any case, it's 75 degrees with a nice ocean breeze and not a cloud in the sky. Finished some delicious juevos rancheros, cars are washed and waxed, so I'm off to hit some golf balls and enjoy the day. Going to make a nice mint Julip from my garden to put in my golf bag for refreshment. My strawberries are coming in nicely too and looks like some are ready to be picked and be part of a nice ice cream sundae later. Can't wait.
I hope you can try to find something to fill your day.

Colin Hughes
102
Posted 30/04/2017 at 19:02:55
Its all very well people pointing out that we were beaten by the likely Champions today but what about West Ham last week or Middlesbrough away last month? We have put in far more dismal performances this season than scintillating ones.
To me, we only seem to win when the opposition is abject and can't be arsed, sadly on too many occasions in 2017 we have matched that level of shite.
Martinez would have been destroyed for this campaign, at least he got us to two semi finals last season. Koeman needs to win us a trophy and a derby next season or he can fuck off and takes his Moyes-like negative set ups with him.
Craig Walker
103
Posted 30/04/2017 at 19:04:06
It was awful today and Chelsea showed us how far we must go to be serious contenders. They brought Fabregas and Willian on whilst we looked to Mirallas and Kone.
At the risk of repeating myself, we need at top class goalkeeper - our two are too error prone and I think Robles is marginally better.
Barkley was terrible today apart from one good tackle and burst forward.
Lukaku was in bollard mode as he often is against the top teams.
Baines is looking past it.
I could go on but we looked like we were on the beach already today with 7th place assured. Shame because Arsenal have lost and both Manchester teams only drew.
Brian Wilkinson
104
Posted 30/04/2017 at 19:06:41
Baines has scored from 7 free kicks including 2 in one game against West Ham, he does not take that many nowadays. Before the arrival of our two Belgians, he took most of the free kicks and was deadly.
Whether it is fear of missing or whatever, he seems to lack the confidence he once had.
Darren Hind
105
Posted 30/04/2017 at 19:07:26
All the pressure was on Chelsea today. This was essentially a free swing, but Koeman simply doesn't have it in his make up to have a real go at top opposition. It smacks of deference.
I'd tell him to do one straight after the Arsenal game and give Unsy the entire summer to build a braver more adventurous model.
Craig Walker
106
Posted 30/04/2017 at 19:07:42
MIke @99 I like your optimism and I'm not too despondent but I don't think it is stretching it a bit to say that the likes of Lennon, Funes Mori or Besic would have made much difference. I agree that we are not the same team without Schneiderlin.
Kevin Rowlands
107
Posted 30/04/2017 at 19:10:37
In post #54, I ask why isn't Baines taking free kicks and mention because the self-absorbed one and Mirallas and Barkley are too interested in personal glory and are always grabbing the ball in them situations, not giving Baines a look-in. Hence I brought up Lukaku before you did.
Btw, you're talking crap saying Baines has been rubbish for years at free kicks. For the most part,he hasn't been taking them. If he was so bad, why has he been given penalty duty back recently?
Gavin Johnson
108
Posted 30/04/2017 at 19:12:12
The game highlighted the gulf between us and the best side in the division. I can't be bothered talking about the non-event of a game except to give some solutions of what might get us into the top 4 next season.
IMO we don't need to strengthen midfield. We are strong in that area with Gana, Davis and Schneiderlin. We really missed Schneiderlin today and he would have given us the possibility of some more through balls from midfield.
I think we should offload Besic and McCarthy and let Liam Walsh and Joe Williams take their places. We also have the young lad likened to Kante by Unsworth. He seems to think the 3 of them are 1st team ready and I'd like to see them all play some part next season. For me, McCarthy and Besic are in the way of their development and are not good enough. Both are too injury prone and contributed little and zero.
As an attacking midfielder, for me, it has to be Sigurdsson and I do think he'll be one we do bring in. Barkley is like Lukaku in that he doesn't have another player to push him in the attacking midfield role. I see no reason why Barkley can't be pushed out on the left and we can have them both in the side.
Of course it's possible Barkley might be sold, in which case we'll need to revise this. I think Rooney will be another player who will definitely be playing in blue next season and he could be useful has a striker/attacking midfielder so we will have more options in Barkley's role.
I'll do the same as with Barkley and say Lukaku will stay for one more season. I think we will have Rooney. As Paul Tran mentioned yesterday, Jermaine Defoe will be available on a free. If we were to keep Lukaku and add Rooney and Defoe, I think they're be more goals throughout the team and will be able to do more tactically and Koeman will have a similar set up to what he had at Saints where he will have a few strikers who can do different things. Calvert-Lewin will also be another year older. I wouldn't buy Valencia.
We need a CB desperately and if we could buy any one of Koulibaly, Keane or Van Dijk there should be an improvement. Unlike Sigurdsson and Rooney I think we'll be lucky to sign any of these 3 players. But fingers crossed. I'd also like us to buy a 2nd centre-back in the young Man City U 23 captain (can't remember his name) who I understand will be available after refusing the final offer of a new contract.
Goalkeeper : Again, any one of Butland, Schmeichel, Forster, Hart or Heaton.
Steve Walsh also seems to be set on attracting the best young talent, so I'd also add Sesseggnon from Fulham at left-back and David Hirst's lad from Sheffield Wednesday. I think we'll face a lot of competition for the lad from Fulham but I think most young talented players will take the view as Calvert Lewin who chose us over United and see that we'll the best side in the country and place to be for young talent.
Big season with the Europe league. So my final incomings are as follows. I think we can bring all these players. 1st choice centre-back inclusion will be harder but I'll give a name
Incomings - Butland, Keane, Siggurdson, Rooney, and Defoe.
Young players brought in - Sessegnon, Man City U23 centre-back and Hirst.
Brent Stephens
109
Posted 30/04/2017 at 19:13:17
"I brought up Lukaku before you did". Well, there's a surprise.
Chris Leyland
111
Posted 30/04/2017 at 19:22:21
Colin Hughes - Martinez managed to win just 13 home games in total in the league over his last two seasons out of 38 home games. Koeman has won 12 out of 18 this season. So, if we beat Watford at home in a couple of weeks, he will have managed to win the same number of games in one season that Martinez won in his last two.
Martinez home goal difference over those two seasons was +11, Koeman's goal difference at home is +25 this season.
Yes, there are games when we haven't been good enough, today included, and our away form is very poor, but Koeman has steadied the ship after two years of freefall under the last fella and has got us into Europe. Next season will be the real deal. Can he take us forward and will he improve the squad and ship out more of the deadwood?
Brian Harrison
114
Posted 30/04/2017 at 19:27:43
Well I don't know were to start, but the overriding feeling at the game was we are nowhere near the level that Chelsea play at. It was disappointing to hear Schneiderlin was not playing after picking up a knock, but surely 1 player shouldn't make such a massive difference to a team.
Koeman gave Gana the job of marking Hazard, and he did a great job but that left Tom Davies and Barkley in midfield. I felt sorry for Tom again; Barkley went missing in a big game. I think if we ever hope to challenge for a top 4 place then I cant see an Everton team with Barkley in it. He doesn't score anywhere near the number of goals and his decision making is well below what is required from a midfield player in a top 4 side.
There will be others that will also need replacing. I think today's game will have convinced Koeman that a new keeper and 2 central defenders is his first priority. I think Koeman himself must take some criticism for today's performance. Surely if Gana is going to man mark Hazard then Barry had to come in for the injured Schneiderlin. He must see something in Calvert Lewin that I haven't seen of yet.
But the most baffling of the lot was bringing Kone on. I don't think he has hardly kicked a ball for the first team this year, mostly the managers choice not injury keeping him out. So why would you think he was the choice to bring on instead of Lookman who is surely one for the future.
I don't know how deep Moshiri's pockets are but I think we will need his and his pal Usmanov's money to get this club challenging for a top 4 position.
Paul Birmingham
115
Posted 30/04/2017 at 19:29:48
Very disappointing and today showed how far off we are from being in a position to challenge the Top Four berth, in terms of quality and professionalism. Chelsea contained and picked us off. The Old Lady was silenced today.
Let's hope the team turns up with some fire in the belly for Swansea; it's likely some on show today won't be around next season.
Let's hope there's some proven new players coming in..The squad needs rebuilding and optimism must be confirmed and the club must aim to progress on the park as well at the new stadium.
Colin Glassar
116
Posted 30/04/2017 at 19:30:07
We weren't awful for the first hour, we were right in a game which neither side seemed to want to win. After they scored our lot seemed to give up and they scored two more silly goals.
We play in 2-3 gears, the likes of Chelsea and Spurs are able to play 5-6 gears plus their subs benches are miles better than ours. That's the major difference.
As for the eternal, never ending Rom/Ross debate, well I've defended both to the hilt (and beyond) but if Ronald really feels that these two players slow us down and cannot play in his system (whatever that is) then maybe it is time for them to move on.
Brent Stephens
117
Posted 30/04/2017 at 19:34:13
Colin, I agree, right in the game until that first goal. We just crumbled after that first goal. A difference in the pace of Chelseas's game and ours.
Don Alexander
118
Posted 30/04/2017 at 19:34:52
Dave Barks (#101), do you live in Caldy or what?

Jay Harris
119
Posted 30/04/2017 at 19:36:03
I thought we were well in the game and deserved to be level until Pedro scored and the flip flops came out.
My conclusions:-
Stekenburg and Robles are unsuitable for a top 4 team. Cue Butland or Smeichel.
Ross and Rom need to be moved on.
We desperately need a top class mobile centre-back: Keane, Maguire and or Van Dijk.
We should be giving Jonjoe Kenny a run to see if he is up to it.
We need goal threat from all over the pitch and haven't got it.
We should get Sigurdsson, Andre Gray and Josh King... and if I had my way, we would get Vardy too.
Lev Vellene
120
Posted 30/04/2017 at 19:37:02
There are mainly two things I want our players to get drilled on apart from whatever they are normally doing:
1: Find out where the other players on their own team are BEFORE they get a pass, so they don't have to let it pass them by while they start looking, and then find most passes except backwards are blocked as their opponents have closed in on them while they were looking...
2: Don't do short passes in the same direction the opposing player closing in on them is already heading! Make a longer pass, to the player who should be beyond them! Gana is especially 'good' at this short passing...
Oh, well, three or four things then: Stop the damn back-passes to the keeper. (Actually part of my first point, but it really, really annoys me!) The keeper will usually just make a punt that is won back by the opposition anyway, so stop risking those possibly intercepted back-passes that only lets the opposition have time to get organized! And do that punt yourself so our attacking players learn to want to be close to the opposition's box!
Ooh, I feel slightly better now! :P
John Raftery
121
Posted 30/04/2017 at 19:37:13
Baines has not scored from a free kick since the two he scored at Upton Park in September 2013.
Kieran Kinsella
122
Posted 30/04/2017 at 19:48:38
Colin
I agree. We started well. I think Stekelenburg unnerved us and the goal was like a "here we go again" and people downed their tools. I suspect Chelsea would have won anyway as they're better than us. I also suspect Ross would've signed after the recent live fest if he plans to stay. If he goes, life goes on.
Gareth Clark
123
Posted 30/04/2017 at 19:54:18
Incomings:
GK: Schmeichel / Heaton / Forster / Pickford
LB: Chilwell / Bertrand
LB: Sessegnon
CB: Keane / Van Dijk
CB: Gibson / Maguire
CM: Tielemans
CAM: Sigurdsson / Rooney
Winger: Zaha / Chamberlin
ST: Iheanacho
ST: Dembele / Batshauyi / Perez (if Lukaku leaves)
Outgoing:
GK: Stekelenburg
CB: Funes Mori (wouldn't mind keeping him, but think he'll be shipped out)
CM: McCarthy (think he will want to leave)
RM: Lennon
LM: Mirallas (not consistent enough)
ST: Kone
ST: Niasse (wouldn't mind him staying - but doubt he will)
Ian Riley
124
Posted 30/04/2017 at 19:56:11
An off day, move on! Someone needs to tell the players "Finish 7th and your season starts mid-June!"
Brian Williams
125
Posted 30/04/2017 at 19:57:29
Don (#118).
It isn't 75 degrees in Caldy, mate!
Paul Nicholls
126
Posted 30/04/2017 at 20:01:24
David Barks @ #101: Your last para. Are you being serious? Not appreciated by those of us who go the game.
Darren Hind @ #105: wind up merchant. Tiresome anti-Koeman. "Do one".

Jon Cox
127
Posted 30/04/2017 at 20:05:01
David (#101),
You forgot the Nah na na nah nah after your last para.
Dermot Byrne
128
Posted 30/04/2017 at 20:22:08
Watching Fool and Horses repeat. Came back here and someone said "Play it cool, Derm."
Back to humour... see ya tomorrow.
Lev Vellene
129
Posted 30/04/2017 at 20:28:40
Gareth (#123),
Is that a general wish-list, and do you expect any one of them to see a move to EFC as being desirable? I'm not trying to be a smart-ass, I can see how many of the names I recognize might both do good for us and so better their own position, but I admit there are some names I don't know, as I only follow EFC on various media...
Peter Laing
130
Posted 30/04/2017 at 20:29:24
The Kone decision was clearly reverse psychology on Koeman's part. A statement to Moshiri that if you want to compete with the Chelsea's of this world we need much, much better than Kone from the bench.
Big summer ahead for Walsh and Moshiri – I'm looking forward to it as we need another big cull of the playing staff as witnessed in January. Out – Stekelenburg, Funess Mori, Lennon, Mirallas, Deulofeu, McGeady, Niasse, Kone. Big decisions needed over Lukaku and Barkley.
Kieran Kinsella
131
Posted 30/04/2017 at 20:32:10
Peter,
Could be reverse psychology or could be that we needed a goal and he's the only striker. Either way, the outcome's the same.
Anthony Dwyer
132
Posted 30/04/2017 at 20:35:23
Some harsh comments on here as per...
IMO we were in the game until Pedro produced a moment of magic.
Yes, it's fair to say we didn't threaten, but Chelsea were limited until then too, but the fact is we have Calvert-Lewin and Valencia either side of our striker, Chelsea have Pedro and Hazard.
Our sub's were Mirallas and Kone, theirs were Fabregas and William.
Fact is Chelsea had a world super star in there side to score a screamer, we don't. Pedro has a striker rate of around 1 in 3 for Spain, 1 in 4 for Barca and 1 in 4 for Chelsea, and he's not even there star man. If he didn't produce that magic then William, Hazard, Costa or any one of another 4-5 other players would have, can anyone imagine any of our players doing that. Pedro now has 12 goals this season, only Chelsea's 3rd highest scorer and only 1 more than William. His tally has him hitting more goals this season than Calvin-Lewin, Mirallas, Valencia, Kone, Deulofeu, Lookman and Bolasie (our wide men) all put together.
We need massive investment if we want to get near Chelsea, the lads we had out there today done what they could, they simply aren't as good as Chelsea.
Were strong in the centre of the park with Schneiderlin, Gana, Davies, and McCarthy but if Rom leaves then we basically need players for everywhere apart from centre mid.
The keepers are average at best, Coleman's injury was horrendous and its debatable if he will ever come back as good, Baines only has a few years left and in attacking wide areas were weak.
If, like expected Lukaku, Barkley, Deulofeu and McCarthy all leave then we have a huge summer on our hands.
The above should land us 𧴺m, we need to be ambitious and big bold.
William isn't a starter for Chelsea, Sigurdsson is only at Swansea, Keane is a must, a keeper is vital leaving us needing 2 strikers.
Big shouts but I'd have two of Keane, Maguire, Ake or Sakho for around 㿙/50m.
Both William and Sigurdsson for around 㿨m.
Rooney on a free to replace Niasse, Kone, and Valencia.
Leaving around 㿊m for a top striker, and that's without Moshiri putting his hand in his pocket other than for extra wages.
Joe O'Brien
133
Posted 30/04/2017 at 20:37:11
Can anyone tell me what was Koeman's reason again for dropping Robles? Stekelenburg is woeful. Did anyone see his non-attempt to stop the ball going for a corner when he could have easily got it? Made no attempt at all, I think it was 0-0 at the time. Maddening.
I think Kenny needs a go for Swansea. I really rate Holgate but he's not a natural right back. Schneiderlin was a huge loss. Ross was very disappointing and Calvert-Lewin not up to it at the moment. I would have brought on Lookman instead of Kone.
All-in-all, a poor performance, a big summer ahead.
Lev Vellene
134
Posted 30/04/2017 at 20:38:52
Peter (#130),
I agree with your 'Out' list, as I suspect most of us do; even about Mirallas, as he's not consistent enough and has had a tendency to lose his head. But we still need TWO squads for the next season, so I'll not be sorry to see quite a few of them stay as squad players for now. Unless we miraculously sign a full team in addition to anything we keep...
Brent Stephens
135
Posted 30/04/2017 at 20:40:11
Calvert-Lewin has taken some stick today but I thought his proper position was as a striker? Hasn't he been asked to play out of position (and well out of position – tracking back deep today) on a number of occasions?
Damian Wilde
136
Posted 30/04/2017 at 20:48:10
They are clearly a much better side, but we looked a bit like a side who wasn't giving their all 'cause they know we'll finish 7th whatever happens (same last week). And I thought we were set up to draw, negative and quite frankly boring.
We need a new left back.
The people who tell me Ross would walk into any Premier League side, will you finally admit he is not good enough? He was woeful today. I really hope we sell, maybe we can persuade a West Brom or Stoke to stump up 㿀 mill.
Kieran Kinsella
137
Posted 30/04/2017 at 20:50:23
Koeman just baffled me: "We were missing 5 or 6 key players today and also Schneiderlin which was too much."
Okay Coleman, maybe Bolasie but who are the other 3 or 4 key players? McCarthy? Funes Moro? Lennon? Browning? Not really "key" unless you call subs "key".
Chris Williams
138
Posted 30/04/2017 at 20:50:27
We looked like a team missing half-a-dozen players and carrying a pair of over-rated (by themselves) passengers.
Chris Corn
139
Posted 30/04/2017 at 20:50:40
People hanging their hat on the summer window will once again be left disappointed. We need players who are a level above what we have and they will want to play for the big hitters. The likes of Keane and Sigurdsson are just more of the same of what we already have and will keep us around that level.
Lev Vellene
140
Posted 30/04/2017 at 20:50:52
Joe (#133),
Robles did well when he got his chance, but then he lately reverted to his old flapping ways. I was really disappointed there, so hopefully this side-lining may be to make him think long & deep and then come back better again.
Stekelenburg is not a long-term solution anyway, but Robles initially looked like he'd solved his problems in the field when he got his chance. So it's disappointing to see how he reverted to old errors!
Dave Abrahams
141
Posted 30/04/2017 at 20:55:20
Brent (#135),
Yes I think Calvert-Lewin maybe getting harshly judged playing as a deep lying winger, ridiculous to watch him spending his time stopping their full back from going forward, lets judge him when he plays in his own position as a striker.
He is a big strong lad, tidy ball control, good in the air, I would say however he needs to be nastier fighting for the ball, he appears quite placid for such a big lad, needs a bit more devil in him.Sharp was like that until Andy Gray showed him the ropes. Duncan Ferguson should be able to learn him a trick or two, without going over the top that is.
Tony Abrahams
142
Posted 30/04/2017 at 20:57:25
Haven't read one post, Michael, and came straight through to contest your headline.
I wonder if the Echo correspondent Greg O'Keefe, reads what you say? Because I've just read one of his reports in the Echo, that shows a complete lack of real understanding of football,(well at least how I see it) and he's probably getting paid a fortune to not really understand the players that he works with and he's also reporting on!
Clive Rogers
143
Posted 30/04/2017 at 21:00:20
After today, I would sell both Lukaku and Barkley in the summer. I'm sure we could sign better players with the money we'd get. Jags and Williams both need replacing.
Dave Abrahams
144
Posted 30/04/2017 at 21:02:50
Tony (#142), Greg O'Keefe will not be getting paid a fortune by The Echo, neither will any one else who works for them.
Ray Robinson
145
Posted 30/04/2017 at 21:05:38
I've had time to reflect on today's defeat and I don't think that there's too much to be despondent about. For an hour or so, we were well in the game but then the inevitable flash of brilliance from one of their top players swung the game decisively.
We were well beaten in the end by the best team by a country mile to visit Goodison this season. I honestly think they'd have rolled over any of the top sides today apart from maybe Spurs.
Why am I not too despondent? Because, with the right investment over the summer, I'm confident that we can narrow the gap and maybe even overtake one or more of Arsenal, Man Utd and maybe even Liverpool. We're not going to become an automatic top four side in one fell swoop. It's going to have to be an incremental improvement, much as it was with Man City when they evolved.
The likes of Keane, Sigurdsson, if we could get them, will not take us to Chelsea's level but they'd be a good first step. Together with a few hidden gems and the progression of some of the youth team, I'm reasonably confident. But it'll be a big Summer for Koeman and Walsh.
Chris Williams
146
Posted 30/04/2017 at 21:05:51
Coleman is key to how we set up, not just as a defender but also to our attacking game. He is a key miss. Bolasie is a big signing who is missed as one of the only players who can attack at pace and support Lukaku. McCarthy may well have replaced Schneiderlin, who is also a huge miss. Lennon is someone who can play wide as a winger, score goals and play as wing back. Funes Mori is an alternative or a support to the back 4.
Just look at the two benches today and tell me where the difference lay. They made an impact in this game as they did against Spurs in the cup (who also have a better squad than us). We had nowhere to go in comparison.
Chelsea will probably be Champions this season. If they are, it is because they have the most effective squad in the league.
We will finish 7th, because we will have the 7th most effective squad in the league. Except we don't. The players mentioned above are missing and it is bound to have an effect, whatever some on here might think.
When people say we've got a huge amount of ground to make up, yes we have and it's stating the bleeding obvious.
Brent Stephens
147
Posted 30/04/2017 at 21:05:58
Dave, Calvert-Lewin has a wicked (kids' speak) turn of speed. There was one moment in the first half when he burst down the wing in front of the Bullens Road and left all for dead, after a superb bit of ball control. I actually think he's harder than Rom as well (but that's not difficult!).
Ron Sear
148
Posted 30/04/2017 at 21:06:00
Forget about Baines taking free kicks, I just wonder if he is still capable of moving the ball forwards? His only instinct now is to turn the ball towards whoever is the current excuse for a goalkeeper. I got the score spot on before the game, the moment Stekelenburg's name was read out.
Kieran Kinsella
149
Posted 30/04/2017 at 21:09:32
Tony
Greg O'Keeffe probably makes around £20,000 a year. Probably explains his half-hearted efforts.
Ray Robinson
150
Posted 30/04/2017 at 21:10:37
Can't fathom out why Calvert-Lewinis already coming in for some stick. He looks a fine prospect to me.
Watching Pedro and Hazard today driving on from midfield at pace, what happened to Barkley who scored that wonder goal from the half-way line at Newcastle two seasons ago?
Ed Wallis
151
Posted 30/04/2017 at 21:12:56
A very disappointing game but a reality check: 7th is our true position. However, the step up to top six is huge.
We are far too static upfront resulting in continual sideways and backwards passes. If you put Barkley in the Chelsea team, he will look fantastic; with us, everybody around him is static.
Their wingbacks offer so much width and always an option to pass. We really miss Coleman in games such as these. Davies was immense and Gana did a great job on Hazard. We should now give some of the Under-23s a run-out for the last three games in preparation for the Europa League in July.
Paul Tran
152
Posted 30/04/2017 at 21:18:21
Now that was an interesting day!
Today we saw proof that Koeman:
a) doesn't trust the creative players in this squad (I agree with him).
b) has run out of ideas on how to employ them.
Lukaku was upfront, supported by two players who work hard, but are largely ineffective (for all Calvert-Lewin's promise). Holgate was left isolated at full back, with nobody in front to support him or build attack. Barkley in the middle, left to spin backwards and play those five-yard balls to Gana that beef up his ineffectiveness and Opta stats. And then he brings on the previously outcasted Kone, who followed a blistering first 30 seconds with his usual anonymity.
Wasn't all bad. Gana did a fabulous man-marking job on Hazard. Davies again showed wonderful maturity in holding this mess together, mixing it with his experienced canny opponents.
For an hour, it was a tight game, but they spoilt it by scoring a goal that proper quality midfielders score. Then they picked us off, like we do to the teams below us. Fabregas came on and produced a cameo of awareness and precision.
Today showed our squad's lack of quality, our manager's conservatism and exasperation with the 'creative' players at his disposal. Above all, today showed why we're miles ahead of 8th and miles behind 6th.
Koeman's boxed himself in here. He has to deliver on bringing in attacking players who make an impact, gelling them together and having us look like a team who can challenge those above us.
I'm not holding my breath and I'm prepared to be surprised.
Anthony Dwyer
153
Posted 30/04/2017 at 21:20:04
Agreed Ray, Calvert-Lewin looks like a prospect, but he's simply not a ready made left winger at Premier League level.
Stupid to write the kid off, he put in a good shift, allowed very little down his side from Moses, and had our best effort at goal.
If he can't get a go up top in the Europa League or the League Cup next season, then he should be loaned out to gain experience as a striker.
30 games as a striker in a middle-of-the-table Championship side would show us where he's at as a forward.
Phil Sammon
154
Posted 30/04/2017 at 21:23:55
Ron 148
Completely agree about Baines. He flat refuses to play a forward pass lately. We also seem to have given up attacking down our left flank. What has happened to the best attacking full-back in the league?
Ray Robinson
155
Posted 30/04/2017 at 21:27:08
Anthony, I agree that a loan would be a good move but only if we have a couple of new established forwards next season (I'm assuming that Lukaku leaves). However, I have a feeling he may well be deployed upfront for us next season, in a proper striker's role.
Anthony Dwyer
156
Posted 30/04/2017 at 21:28:15
Phil, Ron, can I ask you who you think Baines should pass forward down the left-hand side to?
Ian McDowell
157
Posted 30/04/2017 at 21:29:33
I posted in the live forum that Calvert-Lewin was being played for his pace yet most people didn't agree he had any pace. Strange how we view our own players. Either we don't see it or we don't want to see it so we can criticise.
Ray Robinson
158
Posted 30/04/2017 at 21:30:34
Phil, it must be down to instruction surely? He rarely has anyone to cover him. I get the impression that Holgate wants to get forward more too but has been instructed to hold back.
Brent Stephens
159
Posted 30/04/2017 at 21:32:52
Ian, I think today Calvert-Lewin was being played for his pace – to do a specific job on Moses, blocking his forward surges. And in that respect, I thought he did very well. Tactically sound by Koeman. No goals from that wing.
Soren Moyer
160
Posted 30/04/2017 at 21:33:20
I bet we will be having exactly the same conversation come next April. Nothing will ever gonna change! Mark my words...
Anthony Dwyer
161
Posted 30/04/2017 at 21:34:02
I honestly don't see wide men screaming out for a forward pass from Bainesy, I also don't see Rom busting a gut and working the left channel so as Baines can put the ball into him.
Anthony Dwyer
162
Posted 30/04/2017 at 21:35:06
That's the spirit, Soren.

Phil Sammon
163
Posted 30/04/2017 at 21:40:54
No, there is nobody for him to pass to... but is that a symptom or the cause? Why would the team favour the attacking prowess of Holgate over Baines?
Paul Setter
164
Posted 30/04/2017 at 21:41:58
For me today summed up our squad... we were found wanting more often than not.
I disagree with people's general assessment of Barkley as he annoys me a lot more than he excites me! He regularly runs into dead ends his passing is diabolical more often than not. If we sell him in the summer it's goes a long way to proving he is a big weak link.
We desperately need a player that has that X-Factor – a player that can unlock a defence rather than someone who "is one our own" but doesn't really offer anything when you need him to do it!! A new keeper is also needed both of ours are tripe at very best.
Rom is a gonna and after his big game performances, I'm not that sorry he will be; replace his goals with 2 strikers that score 12+ goals each with less ego and more effort and we are heading in the right direction.
Off the cuff, a little bit but Josh King has caught my eye a lot this season: 15 league goals in a poor side is certainly looking to be a better player than our very own Mr Average Barkley this season.
There are some very obtainable players out there that not only will improve us but won't cost the earth... Hart, Sigurdsson, King, Gibson and 1 other striker probably costing what Lukaku will go for – not including Ross Runabout's sell-on fee.
Eddie Dunn
165
Posted 30/04/2017 at 21:49:29
Calvert-Lewin showed plenty of promise, has pace and a striker's instinct. Can't judge him playing on the wing, and he spent most of the second half protecting Baines.
David Barks – I think Baines is a better deadball man than Barkley or Lukaku. I was behind the goal at that West Ham game... he was magical. His ankle trouble isn't the problem, he is simply missing out to the selfish ones. If it is on the right, he should be taking it.
Our problems have been exacerbated by the loss of Coleman, but Baines is getting forward less and less. Our widthless play has Lukaku straying out wide right, but he couldn't put a cross in due to his obsession on beating the first man.
Lots of little errors from most of our players throughout, but Stekelenburg was in a poor position for the Pedro goal. The ball was not in the top corner but Stek was too far off his line and dived weirdly, actually flapping at it with his left hand. I think Joel would have saved it. Koeman is to blame for bringing back his countryman. The guy is gormless – as an earlier poster pointed out him not rushing out to prevent a corner from a big deflection! What planet is he on?

Phil Sammon
166
Posted 30/04/2017 at 21:52:18
Problem solved then. Sell Lukaku and Barkley. Replace them with Gibson and Josh King.
Let's hope Steve Walsh has something better planned.
Raymond Fox
167
Posted 30/04/2017 at 21:57:20
When it comes to the crunch, we are patently not good enough to hack it with the best teams. That's another season gone by without breaking that top 4 glass ceiling.
We have qualified for Europe in the Europa League (not sure if that's good or bad); for me, it affects your League performances for that season. A contentious view I know that many will not agree with.
My stock answer to get us out of this "best of the rest" reputation is that we need to throw a hell of a lot of money at the transfer windows, in fact more than the teams that will finish in the top 6 this season, because they already have better players that don't need replacing.
That's not the whole story though, when you consider Spurs have challenged for the League with some, not sure how many, young players that the club have brought though their youth system.
Probably we need to do both; easier said than done, though.
Paul Setter
168
Posted 30/04/2017 at 21:59:53
Phil Sammon (#166) – you keep your Barkley shirt, your're clearly desperate for this ordinary player to fulfill his one big game overhyped promise. Personally, I want a lot better.
Josh King is better – he has scored more, assisted more and generally doesn't get laughed at for being guff by other fans.
Gibson is a centre-back; I didn't say anything about him replacing wantaway Rom... though, on this season's big games, would a centre-back do any worse than our very own flat-track bully!?! Probably not.
Dave Evans
169
Posted 30/04/2017 at 21:59:56
Paul Tran (#152),
Completely agree with your post. Big summer ahead for Ronald Koeman, whilst we have improved, today's result and performance has shown that there is a long way to go before we can consider ourselves as contenders for top 4.
Barry Jones
170
Posted 30/04/2017 at 22:06:02
Schneiderlin seems to be unfit for the big games, Liverpool, Man Utd and now Chelsea and strangely enough, the team selections and mentality for these games has almost appeared to be concessional.
Maybe Koeman, with a weakened squad, 7th spot wrapped up and the season end looming, is only willing to fight hard to win the more winnable games, or maybe I am imagining this.
Nigel Johnson
171
Posted 30/04/2017 at 22:07:06
Very poor overall performance. I think we are going to be in big trouble next season. I can't see us being able to get the top quality players that we need in. Lukaku has downed tools again towards the end of this season, like last season.
Barkley can't produce against the top teams, and holds on to the ball far too long. His driving forward with the ball and shooting days seem to be behind him.
All the teams above Everton have big money to spend, and Everton need at least 10 new players to come into the squad next season. I am a positive guy but it's going to be very tough convincing players to come to Everton.
Barry Jones
172
Posted 30/04/2017 at 22:08:31
Why was Kone used over Lookman? Surely Kone is history at the end of this season....
Wouldn't it be better value to give Lookman more playing time to get big-game experience under his belt?
Max Murphy
173
Posted 30/04/2017 at 22:10:30
Big summer ahead? New signings? All the same bollocks after another poor season. It's all crap! Lousy management.
Koeman may do another season and then he'll be off. Look at his track record.
We need our own looking after the club otherwise this shite will just go on and on.
Andy Crooks
174
Posted 30/04/2017 at 22:27:34
That was very disappointing. I'm not sure that throwing millions is the answer. It hasn't worked brilliantly for Man City. Leicester did it through a combination of many things including luck.
Money can't buy all we need. Spirit, belief, confidence, fitness and all the effort in the world are free. So, I suggest we buy some guile. Some guile and a player for whom losing hurts. Really hurts.
Charlie Lloyd
175
Posted 30/04/2017 at 22:35:35
Let's not all get too miserable. It was sort of going okay against the top-of-the-league side, with our team missing several big players. Then Pedro scores a worldy and we lose our way. That's how I saw it.
Not saying we were great at all but not as bad as is being made out. May have been interesting if Calvert-Lewin's early shot had gone in.
If we were great every week, we'd win the league. We are not there but we are improving.
Tony Abrahams
176
Posted 30/04/2017 at 22:40:05
Brent (#70),
I agree with you about Gana and Davies but I just can't understand the role Barkley was trying to play today.
Darren knows a lot more about managers than me but I was very happy with the discipline that was shown by us today. Until I looked at Ross Barkley and decided that the way he played today was his own choice, and had nothing to do with neither discipline or really trying to help the team...
Koeman picks the team; I thought we were strong defensively until Pedro let fly but it was plain from the start that we never really had enough in our ranks to cause Chelsea problems offensively.
Michael Kenrick
177
Posted 30/04/2017 at 23:05:27
Tony (#142),
I only found a couple of pieces on today's poor display from Greg O'Keefe at the Echo website, neither of which I would have much arguement with. Are you saying both he and I are upsetting you because neither of us could 'see the positives' in that insipid capitulation?
Be specific, Lad!
Ian Jones
178
Posted 30/04/2017 at 23:18:33
Hi Jim @ 98,
I did put a positive spin on it in relation to the last match against Arsenal. We do have a dismal record against them at their place but we surely have to beat them one day. One day will happen and it could just be this year.
Re your comment about beating an 'abject' Man City. Unless I am misreading your comment, I don't remember Man City as being abject. I remember they mostly outplayed us leading up to the final third and then couldn't penetrate a well-marshalled defence. We then had the ability to take the few chances we created.
Paul Smith
179
Posted 30/04/2017 at 23:27:49
Maybe Ronald Koeman is already on his hols?
After all, he has previous for taking his Mrs & their matching mountain bikes to the Algarve when you'd think he'd be taking care of business at USM Finch Farm... ;)
Neil Wood
180
Posted 30/04/2017 at 23:40:11
Just consider one thing thing today and swop Barkley for Pedro. Different outcome?
My point is that's what we are lacking... Pedro and Hazard seem to ghost pat people and we haven't got that. Pair that with Lukaku.
I did mention Nolito on another thread...
Just a thought.
Brian Wilkinson
181
Posted 30/04/2017 at 23:45:53
Maybe time to give Kenny and Walsh a run out and see if they can make the step up.
I could mention a few more but, for now, let's try those two out in the first team.
Phil Walling
182
Posted 30/04/2017 at 00:08:24
To save ourselves from angst, let's just accept it. Modern Everton are forever a 'seventhish' club. And this on the day when 75 years ago Dixie scored his 45th goal of the season to see us win the First Division title!
Mark Wilson
183
Posted 01/05/2017 at 00:17:08
Reading the reactions of many blues, across a range of sites, you could be forgiven for thinking that the message was "It's just Year One under Koeman; give it time, he's seen now what's needed in terms of building the squad etc etc and the summer will be busy." Then there's more detailed reflection of who needs replacing and it's here that you start to understand the issue. Essentially the common ground suggests we badly need two quality centre backs, an attacking, and experienced, right back good enough to cover Shays unfortunate absence. Then there's Sigurdsson as the No 10, a second top quality striker or two or three new strikers if Rom goes. A left back to cover Baines as if we've not had enough left backs at the club in the last couple of years. Oh and a genuinely left sided pacey winger. And let's not forget two new goalkeepers as we currently don't actually have a keeper at the club.
In other words, we are seen by many Evertonians as virtually ripping up the current first team and needing to start again? If that's the case, and to be honest I'm struggling to disagree with much of the shopping list, then Koeman's first season has been about a steady if unspectacular improvement from 11th to 7th and the half decent tho tinged with risks achievement of a Europa League spot, complete with TWO pre-qualification games, if we are lucky.
We we're not over run for an hour against a very good Chelsea team but the way we suddenly collapsed in the final half-hour was a reflection of the gulf in class between the two teams, as was the difference in the quality of the subs bench. The truth is Courtois hardly had a save to make of note. And after this we seem content to accept we are virtually starting over. I'm just not sure how we all think this is okay and a successful "transition"?
Had we not ballsed up both the summer and January transfer windows, and we did mess them up, we really really did……then maybe transition might have meant just that, a clear steady improvement with measured team building in Year 2. Not going to happen is it when right now we can all see we don't have the quality in defence and basically need to replace most of the incumbents. Plus whatever your position on the sale or not of Lukaku and Ross, if they do both go it will not be easy to add replacing them to what is becoming a huge summer rebuilding task.
It's harsh maybe. We have improved to be clearly the best of the rest by some way. Good for us. But we just can't beat a strong team and are incapable of turning up when it matters most. Me? I think it has been a season of missed opportunities, some very mixed performance from the manager, eased a little by the emergence of Tom Davies and the one outstanding signing in Schneiderlin with Gana also an impressive arrival.
So, it's been a 'transition' which is looking like a project to pretty much start again in late July. Somehow that just doesn't feel like the progress we hoped for.
Jim Bailey
184
Posted 01/05/2017 at 00:16:56
Today we witnessed the chasm that lies between Everton and Chelsea. I thought in the first half we did quite well without really posing much of a threat; however, the second half brought home the reality.
I've read hundreds of posts on dozens of threads which reveal diverse opinions. Well, sticking my head over the parapet, here's mine.
Lukaku, for all his goals goes walkabout far too often, especially in the bigger games. How much of a poor influence does he have in the dressing room? The youngsters who are coming through will be looking to this "superstar" to show the attitude and demeanour that they expect from such a player.
Well, for me, they have been greatly let down, as have the fans. Lukaku is lazy, arrogant and nowhere near as good as he thinks he is. Again, and only my opinion the sooner he is away from Everton the better.
Ross Barkley. I don't care where our players are born as long as they have the wherewithal,skill and attitude to play for my club. He quite patently is not going to cut it at the highest level.
I would happily see the back of both of them.
The only reason I can think of as to why Koeman keeps playing them, especially since seventh place and European football is assured, is to keep them in the shop window in the hope that they can put more millions on their respective price tags. Seeing as neither of these two superstars have signed their contracts, it seems that they don't want to be here next season. If so, get shut. This hopefully will enable a better more cohesive team spirit to be forged.
Everton do not need prima donnas in their midst if they are to progress to the next level, which I think they can achieve without certain players.
As an afterthought, get shut of Mirallas as well. Again, and it is only my opinion, he is an over-rated prancing pony who is surplus to requirements. As for the speculation surrounding Wayne Rooney's return, oh yes please, in a heartbeat.
Jerome Shields
185
Posted 01/05/2017 at 00:25:53
Just watched Match of the Day. Everton are not being coached right, particularly in midfield.
Jay Griffiths
186
Posted 01/05/2017 at 00:36:40
I thought Jagielka was exposed by Pedro's lateral run across the 18-yard box, though the finish was sublime. Gana, for me, did a fine job on the whole, on Hazard. Davies keeps us all content with his outright endeavour and willingness to work wherever he's needed on the pitch.
My main contention is Ross. If we can get decent money, then I feel he must be sold. The first, shocking, cross-field pass that was easily cut out and put us under intense pressure was poor. Most absurd was Ross's reluctance to rectify the error by busting a gut to track back to the danger.
When he receives the ball, he mostly takes two, three, four touches with a tight spin before he releases the ball to the person that was available in the first place. The fact that the recipient is now compromised by being closed down just doesn't seem to register.
I wish the lad the very best but, after watching him closely first hand over these past years, I cannot see a rising trajectory in his form. Inconsistency is the consistent marking in his form for the past three years.
Personally, I think it's all paper talk about Spurs et al making large bids for him. We may be in for a surprise when it comes to Ross and Rom in that no teams are willing to pay such exorbitant fees and we're pretty much having to persist with what we have.
Sigurdsson would definitely be a welcome addition to this team. Cerebral, creative players are absent in our squad. I wouldn't be too surprised to see Rooney play a year on loan with us next season. It may suit both parties before he decides on his last move.
Gary Willock
187
Posted 01/05/2017 at 00:45:29
Both 7th place and Under-23 title secured. Time to switch the two squads and tell the first team to go get a holiday. They'll be needed in July, and I'd like to see what these great kids can really do.
James Marshall
188
Posted 01/05/2017 at 00:56:00
As I've been saying for weeks, 7th is ours, and rightfully. We ARE the 7th best team in the Premier League and our position reflects that. Since the shambles with Bob in charge, I'm personally happy with 7th – to put some context on it, it's all we can hope for at this stage of the rebuilding.
Of course we all want to be higher, but it isn't going to happen overnight, and there are clearly 6 teams better than us, much as people will struggle to admit it.
A few results here & there and things could be quite different, but the reality is that 7th is progress, and we'll play in the Europa League next season which will at least give us some more potential for attracting players.
I know it's not the promised land of the Champions League, but it's a step up on Martinez's reign and that's likely to have been Koeman's remit this season. One step at a time, and reasons to be cheerful.
Charlie Lloyd
190
Posted 01/05/2017 at 01:29:46
Jay @ 186 and James @ 188
Very sensible comments at an emotional time. We've made improvements since last season but there's still more required.
The Lukaku and Barkley issues will dominate the summer.
Both decent players but do they limit us? Could we reinvest and come out better? It's a pivotal summer ahead.
Time for Koeman and Walsh to earn their wages and purchase and coach us to the next level.
Gavin Johnson
191
Posted 01/05/2017 at 01:32:06
James (#188),
Yes, we've had a decent season in the Premier League given where we finished last season. I think 7th is the best we could have hoped for and we're now closer to the 6 teams above us than the rest of the league.
I have no doubts that we will be spending heavily in the summer transfer window and more than the clubs below us. IMO it will be the same 7 teams competing for the top 4 places again next season. We are a club on the ascendancy despite the best efforts of the same TW doom and gloom merchants to say other wise.
It's just a shame we capitulated in the two home defeats in the cups this season. I think Koeman's largely got a free pass there because he done well in the league, but early cup exits won't go unnoticed again next season.
Sean McCarthy
192
Posted 01/05/2017 at 02:08:46
Does anyone seriously still think Ross Barkley is ever going to be the "world class" player he's been talked about seemingly since Adam was a lad??
He has a big decision to make in a few weeks time. He either stays as a squad player with Everton where next year I very much doubt he'll be first choice as his place will be taken by someone like Sigurdsson coming into the club or he moves on to a West Brom or West Ham or maybe Newcastle. There isn't a cat-in-hell's chance he'll be interesting any of the sides above us as he's simply not good enough.
Today he was quite frankly shocking!! You don't have to be Einstein to be a footballer (eg, Rooney) but you at least need a footballing brain and unfortunately there is zero evidence that Barkley has even the slightest hint of one of them.
As for Lukaku .he's only as good as the service into him and once again against the big teams there was no service whatsoever. He's not Ronaldo or Messi who will go and make things happen on their own. We are light years behind the top 6 and a fair way ahead of the bottom 13!! Against the 13, Lukaku looks a world beater. Against the top 6 the whole side look second rate!!
We need a goalkeeper that's for sure. We currently have vying for first choice the former Fulham reserve and the 2nd choice/cup goalie at Wigan!!! Neither are up to it.
Someone at the start of this thread said Calvert-Lewin was a 'fine footballer' Where's the evidence to back that up?? Sadly he's not up to Premier League standard either. Holgate isn't a right back but I think he's a good bet to be a very good centre half when he gets a chance in his proper position which might allow Jonjoe Kenny an opportunity to show what he can do.
We might get another season out of Williams but I'm afraid it's time for Jags to move down the leagues as his legs have gone and he's a shadow of his former self. He's be a great servant for the club and doesn't deserve to have his reputation tarnished by becoming a target for the boo boys as will surely happen if he's still here next season.
Add to this the likes of Lennon, Kone, Garbutt, Deulofeu, heading for the exit, as well as sending Valencia back to West Ham's reserves then it all adds up for a busy and hugely important summer for Koeman Walsh and, perhaps most of all, Moshiri. If we want to push on then it's not going to come cheaply
Ross Edwards
193
Posted 01/05/2017 at 02:59:18
I was disappointed with the performance. No width and hardly any attacking threat at all. Once again when Lukaku is nullified, we don't look like scoring.
The stats spell it out. He's our top scorer with 24, then it's Barkley, Mirallas and Coleman with 4. We need to get someone in who can share that burden with Rom. If he stays of course. Defensively we were far too open, the way we let the likes of Hazard, Pedro and even Matic waltz through us at one point was not great.
I don't understand why he started Calvert-Lewin ahead of Mirallas. Unfortunately I don't think he's good enough for this level, even though he is still young. And as for putting Kone on ahead of Lookman, no idea what that was all about.
However, we shouldn't be too down, as it was only our first home defeat these year after an impressive run, and of course we're back in Europe, so in that regard it's been a decent first season for Koeman after the shambles left behind by Martinez.
In terms of what we need to do in the summer, a new keeper is a must. Robles and Stekelenburg have been decent enough in patches but if we want to reach Champions League contention we need someone better. Pickford would be easily gettable now Sunderland are down; Butland would be another decent option; and maybe someone like Joe Hart wouldn't be too bad either.
Defensively we need an overhaul as Jags is getting on and Williams looks slow. Virgil van Dijk would be perfect, and Michael Keane would be decent too, he's been impressive this season for Burnley.
The priority though should be attacking wise. If anything, the last 2 games have shown that we need more creativity, Sigurdsson would be perfect I reckon. Then of course there's Lukaku. If he leaves we're screwed in my view because there's not many 20+ goal a season strikers out there that we can realistically get to replace him.
This probably is the most pivotal summer in our recent history, so it's so important that we get it right. I trust Koeman in that regard, not so sure about Steve Walsh yet. Time for him to earn his cash.
I have to say though, Chelsea deserve to be Champions, it looks like they will be. What a job Conte has done with a squad that jacked it in for Mourinho last season. His passion is infectious and the way he's been able to galvanise that team has been impressive.
Onto the next then. I'm confident we can bounce back against Swansea and Watford, then Arsenal who by then will have nothing to play for league wise I suspect, and will have one eye on the Cup Final. COYB.
Darren Hind
194
Posted 01/05/2017 at 05:44:40
I'm surprised that a lot of people think Gana had a good game.
He was given the task of man-marking and for the first half-hour he was all at sea. He got to grips with his task for the last ten minutes of the first half and looked like he had a cigar going for the first fifteen of the second half... but his demons returned and the rash recklessness of going to ground for no apparent reason earned him a booking, cost us another goal, and effectively ended the game as a contest. We didn't see him after that.
The game last for ninety minutes, but our boy seems to have at least one of these mad moments in every game.
It recent weeks he has sat down while Coutinho waltzed past him. got away with a crazy slide at Old Trafford after already being cautioned. Went to ground again against West ham, earning himself another unnecessary booking.
When he made that ridiculous challenge today I looked to our bench and Koeman was shaking his bowed head. He knows. In recent weeks he has twice had to bring off his chief destroyer at half time. When a man who's game revolves completely around his tackling is carded. he is instantly walking a tightrope.
The slide against W Ham defied belief. he was never getting there... Koeman's reaction was almost instant. He wouldn't trust him to continue against Burnley either.
As a player, Koeman didn't have the skill his team mates possessed, he had a cannon of a shot, but his main strength was his uncanny ability to read a game. If anybody knows the importance of defending on your feet it is him. The shake of the head today and the two recent substitutions speak volumes.
Gana has put in some eye-catching performances this season, he has also undone quite a few of them with daft sliding challenges.
"Part of the art of tackling, is to know when not to." – Colin Todd.
Andy Codling
195
Posted 01/05/2017 at 05:50:05
James Marshall – Sensible post; the project will take time but we have improved.
I have defended Barkley all season but he continues to frustrate and if we do bring in some top players then I can only see him warming the bench. Newspapers reporting him going to Spurs is ridiculous as I don't see him getting anywhere near their midfield.
Overall, a decent season building, and I didn't expect anything else, although I saw on the Live Forum someone saying that the team should play out the remainder of the season in an empty stadium as they are that shit, different expectations I guess.
I have also noticed a lot of comments like "He only costs 㾻 million so he can't be that good"– if people think we going to be spending hundreds of millions, then they will be disappointed.
Ian Jones
196
Posted 01/05/2017 at 06:55:59
I think it's a bit too soon to write off Calvert-Lewin's ability to be a Premier League player. It would be useful to see him play more in his natural position. Give him a chance before consigning him to the scrap heap.
Devendran Saegaran
197
Posted 01/05/2017 at 07:04:22
We played good in the first half. Dominic Calvert-Lewin gave a shock to Chelsea near the one-minute mark. We played quite good, I'd say, but still I am angry with Ronald Koeman for playing Barkley on instead of Lookman. If Lookman played we could have played a formation like this:
Lukaku
Calvert-Lewin Lookman
Valencia
Davies Gana
Baines Holgate
Williams Jagielka
Robles
I think Robles is a better keeper than Stekelenburg.
I also think Koeman should stop playing Barkley and Mirallas (Can't defend the play and shoots without aiming).
Darryl Ritchie
198
Posted 01/05/2017 at 07:38:04
It's going to be a long summer. I mean, what do we do when our best don't seem to be good enough.
Do we reinforce what we have, or do scrap the lot and make wholesale changes? The latter isn't realistic, or even possible, but even the most upbeat and optimistic Evertonian will admit that, for a myriad of reasons (age, talent, depth, commitment, to name a few), changes have to be made. There isn't a position in the starting eleven that couldn't use some improvement, in one way or another. Whether it's improvement in the incumbent player or new blood remains to be seen.
A lot will depend on Koeman's assessment of the current squad. Koeman has done alright but by no stretch of the imagination has he got every decision correct. Hopefully, he's up to the job next summer.
We are nailed on 7th. The final 3 matches are for professional pride and personal statistics. It will be interesting to see which players are still interested, and which players are already on vacation. And after the actual vacation, it will be interesting to see who will be back, and who won't.
Mike Berry
199
Posted 01/05/2017 at 08:39:56
Being at the game, as I am sure many posters were, I cannot understand the negativity of many of the comments. I agree 100% with Ronald's post match assessments, will held our own for long periods and worked very hard.
The fact is we were beaten "eventually" by one of the best sides in Europe who have spent big and had time to formulate. Give Ronald a summer and let's talk this time next season and see where we are then.
Paul A Smith
200
Posted 01/05/2017 at 08:49:26
I'm not writing Calvert-Lewin off but how a manager can loan out Deulofeu and play Calvert-Lewin on the wing is beyond me?
Maynard Hanna
201
Posted 01/05/2017 at 08:50:30
The transfer window is vital for us. We will have to be ready for an early Europa League start. Money will have to be spent. Its up to our Board to do good business in May & June. Sign who Koeman needs and sign them early.
The day is gone where we would haggle and hold out hoping for a bargain signing. A bargain for Everton is a player who will give us 10 years and cost us £40 million. We need a keeper 2 new central defenders, a right back fit to play in Europe, (Coleman is out - possibly to Christmas and maybe even beyond) Two visionary and attacking midfielders and an upfront striker.
I know its easier said than done. My nominations for what its worth. Butland. (the best keeper prospect in England) Maguire & Gibson, Matthew Lowton for right back, Gylfi Sigurdsson and Marek Hamsik in midfield and Josh King for up front.
Get all those and keep Barkley & Lukaku and we have a squad and a team that will offer a serious challenge that will enable us to improve on those ahead of us. It sounds ohh so simple, and maybe it is but its about money and the will within our Board to do the business and get deals done??? Koeman will want results this window.
Rob Dolby
202
Posted 01/05/2017 at 08:56:06
Koeman has been given 2 lessons this year from Conte. At the bridge we tried to match them and got stuffed, yesterday he did a man to man on Hazard similar to united a couple of weeks ago which worked a treat but then a moment of genius from Pedro killed Plan A.
This is the same Chelsea team that finished mid table last year with their only changes being Kante who is the best in the league at destroying and Conte.
Conte has a real passion for the game and you get the feeling that the same players who didnt turn up for Mourinho will run through a brick wall for him.
Koeman has to inspire these players to do the same. Davies was outstanding yesterday, a hungry 19-year-old put Costa and Matic on their arses and showed the rest of the team what we are lacking.
A big summer ahead but we already know that.
Trevor Peers
203
Posted 01/05/2017 at 08:56:54
Koeman has a huge rebuilding job to do in the summer, the success of any new signings will determine his future. Every area of the team needs to be looked at and strengthened. Creative midfielders, central defenders, quality forwards, and a top class goalkeeper have all become a priority.
It's a colossal job, anyone who realistically thinks there is a better manager out there to do the job, and would actually be interested in coming to Everton, I'd love to know just who?
Suggestions from some we should appoint from within, presumably Unsworth, would be an enormous gamble. Colin Harvey hardly set the world on fire, and using a team full of youth team players would be a disaster.
Moshiri just isn't interested in going down that road thankfully. May be by this time next season, we will have a better chance to judge if Koeman is the real deal or not. If he isn't, I'm sure he will be replaced.
Ian Bennett
204
Posted 01/05/2017 at 09:04:45
I thought we played all right for the first 60 minutes without threatening that much. 3-0 I think flattered them. Too many injuries for us today against a very efficient Chelsea side. Add Coleman, McCarthy, Schneiderlein and we at least get more protection and fight.
Id question the first two goals on the keeper. The first one a top keeper stops. It's not in the top corner, and I think he should be doing better. The second one is bad set-up play from Stekelenburg and Jagielka. It was obvious what Hazard was going to do with his right foot. The third one Holgate has to stay with Willian – he's the only option for Fabregas.
Disappointing, but highlights what we need if we are ever to play midweek in the big league. Would you really want to watch Everton play Barca with some of those players anywhere near the first XI?
The new keeper should be Jack Butland. Absolute no-brainer for me, and highlights the previous mistakes on missing out on him before.
Kieran Fitzgerald
205
Posted 01/05/2017 at 09:09:38
Who is going to spend big money, or even half decent money, to buy Ross Barkley? His limitations are there to see. I would be very surprised if we were offered anything over £15m for him. I know you can say that £20-25m is nothing in today's market but does he offer that much on the pitch?
Tony Abrahams
206
Posted 01/05/2017 at 09:15:54
Michael, I'd had a few drinks and then I saw your headline, right after reading something which Greg O'Keefe wrote.
I thought that we made it hard for Chelsea yesterday, and only for a wonder goal from Pedro, who knows how that game was going. Once Chelsea scored, they were always gonna be comfortable simply because we never had enough going forward to really hurt them. I thought most of our players worked really hard, and we had a defensive discipline that I haven't seen off an Everton team for years.
Greg O'Keeffe, done my head in when I read him say it was just too much for Barkley and Davies. We all watch the same game, Michael, but we also see it differently, and I thought that the 18-year-old got absolutely no help whatsoever off the 23-year-old. Remember when the Man Utd players were supposed to have told Ferguson to sign Rooney, when he came on as a sub against United? I think Chelsea's players, might have also been talking about young Tom, in a similar way after yesterday, and no way was that game too much for him. Luis wanted him booked in the first half, after one tackle. I wonder why?
As I said, I'd had a few drinks, and I don't even know what your headline says now, but I will never slag Everton for not being good enough. I will only slag them when they don't work hard enough... sorry Ross Barkley, but that means you lad. From Tony, the 47-year-old Lad!
Dave Abrahams
207
Posted 01/05/2017 at 09:18:59
I thought Everton were still in the game until Chelsea scored, but at no time did I think we were going to win the game. Chelsea always looked like they could raise their game a couple of gears, which they did and won easily in the end.
Apart from Davies and Gana no player really stood out for Everton and the big two were in their Del Boy and Rodney mood instead of Batman and Robin role.
Roll on next season, Koeman has done okay, but okay isn't enough and he still has a lot to prove. Next season is a big one for him, has he got it in him; more importantly does he care.
Brent Stephens
208
Posted 01/05/2017 at 09:19:27
Paul (#200) – "I'm not writing Calvert-Lewin off but how a manager can loan out Deulofeu and play Calvert-Lewin on the wing is beyond me?"
Paul, if I can make a comparison between Deulofeu and Calvert-Lewin just in the context of the Chelsea game, not overall. God made Deulofeu apparently but he would never have tracked Moses the way Calvert-Lewin did yesterday. I think Calvert-Lewin was given that specific job on Moses, did it very well (no goals from that wing), and had to play out of position (as I understand it he's more of a striker).
Personally I'd seen enough of Deulofeu to think he was never going to do much going forward beyond the occasional flash of brilliance, was never going to contribute anything defensively, could rarely last beyond 60 minutes or so, and had an atrocious attitude. Calvert-Lewin (3 years younger at 20?) may well develop beyond what we see at the moment.
George McKane
209
Posted 01/05/2017 at 09:20:13
Spent a long time in The Dark House before the game discussing free kicks and penalties. General agreement was that they are all given too easily and too many bookings. And would we have Rooney back – pretty even split between yes and no – and as we were discussing it Man Utd get dodgy penalty and Rooney scores.
After the game, the debate was about Lukaku and Barkley. A massive debate among a group of regular Season Ticket Holders who go to almost every game. Again consensus was "take money" for Barkley – waiting too long for the potential to become reality. Rumours of deal involving Barkley and Rooney?
The Lukaku question was most interesting – generally people agreed he was a goalscorer but not an Everton player or indeed a team player. Opinion was certain lack of service but generally lazy, sometimes not bothered, cannot or will not jump or run to a ball, can run with the ball,should he stay or go –overall (the large majority): take the money and build a team with more active front men and change direction of play. Also, real disgust with his actions at the final whistle.
Me – I had enough of him since the semi-final last year; wouldn't bother me if he never kicked a ball again for The Blues. The opinion was in TDH that he seemingly has never been subbed, or dropped or even bollocked and he has been indulged.
Talk came around to rebuilding with people saying 7 or 8 even 9 new players. All agreed – looking forward to a "very interesting" summer.
Sam Hoare
210
Posted 01/05/2017 at 09:20:24
Barkley did not have his best game for sure but I do feel for him sometimes given the lack of movement in front of him. He's a good passer, not an amazing one but a good one and is capable of threading good through-balls but needs opportunity to do so.
Lukaku for all his benefits does not move around a huge amount off the ball and so it means the men in possession when we attack are often bereft of options, particularly now Coleman is out as he always makes good runs down the right.
I think Barkley in a team like Spurs may do better due to the superior movement around him. Perhaps we will find out...
Generally I agree with most of the above; this squad is still a pretty long way from top 4. Stekelenburg is useless and I don't really know why he replaced Robles who despite a few decision making aberrations was doing okay and is a strong shot stopper. So we need a keeper. We need a centre-back (possibly 2) to replace Jagielka and/or Williams and/or Funes Mori. We need cover for right-back and possibly left-back (ideally someone who could cover both like Trippier).
We really need more creativity and movement up front in the attacking third. 5 or 6 players I reckon at minimum. Hope Walsh has a plan...
Paul Ward
211
Posted 01/05/2017 at 09:26:23
Sean McCarthy (#192) writes a very good assessment of our present state of affairs at Goodison Park.
I think the moment we secured 7th place the boys in blue decided to "Down tools and let's start our holidays." It may be just as well, because I don't think the last 3 games are going to alter any fans view of what is required and who should leave at seasons end.
I must admit I will be glad to see the last of some of this teams annoying traits. The boring repetition of our 2 fullbacks receiving the ball unmarked and passing it back because they have not got the ability to go forward. Also, the Ross Barkley pirouette's that give him time to think of his next move that was obvious in the first place.
Dave Abrahams
212
Posted 01/05/2017 at 09:35:05
Phil Walling (#182), 'This was the day when Dixie Dean was scoring his 45th. goal and Everton were winning the league seventy five years ago'
Phil, 75 years ago, it was 1942 and there was a war going on. What are are you drinking out there in Cyprus?
Brent Stephens
213
Posted 01/05/2017 at 09:41:23
Dave (#212) – sharpest tool in the box (with the emphasis on sharp, not tool). Also liked your #207 (Batman and Robin!).
Brother Tony (#206) also writes sensibly there. (Sorry but whenever I see your name, Tony, I immediately think of Brother Tony in Lilly the Pink.)
Tony Abrahams
214
Posted 01/05/2017 at 09:43:27
I would have liked to have been part of that debate amongst genuine match going supporters, George. i agree with what your mates were saying about Lukaku, and although I honestly wish Ross Barkley well, I couldn't get my head round why he was so poor yesterday. (Until you just came up with the word 'indulged'.)
I watched Spurs, swarm all over Arsenal, even though they must have went out onto that pitch yesterday, feeling really deflated after knowing Chelsea had won again. Alli and Kane work their socks off for the team, and it made me realise just how indulged both Barkley and Lukaku really are?
Keith Monaghan
215
Posted 01/05/2017 at 09:46:32
Regarding Deulofeu, he was a waste of space – talented but lazy & awful attitude where it counts – on the pitch. File with McGeady.
Calvert-Lewin shows promise, not really ready yet, but much too early to write him off.
Tom Davies was outstanding - yes, he misplaced some passes, but he and Gana worked so hard for the team.
Contrast that with Barkley, another typical lazy & selfish display from him. Only shows enthusiasm when there's a dead-ball kick for us to take, then sulks if someone else takes it; yes, Both Rom & Kev each wasted a free-lick yesterday, but so did Ross, as he always does, and his corners are useless. He takes up awful positions in the game and has no football brain; he plays only for himself and we'll never be a top side if we persist with him in the team – it's like starting every game a man short. Don't expect to see a rush to sign him – 5 years+ Premier League experience and people still talking about potential!!!
Many of our problems against better sides stem from the lack of mobility & poor passing from our central defenders, giving opponents far too much time to organise their defense and double-up on our forward players. 2 very good ones needed in the summer, plus a class creative player and another decent striker.
Derek Thomas
216
Posted 01/05/2017 at 09:50:58
Re. Barkley; Koeman has set out the official policy:

There's the new deal, sign it or we'll sell you for whatever (up to a point) we can get... as it's all profit, after all.
Stan Schofield
217
Posted 01/05/2017 at 10:08:11
Many posts on here are listing players thought to be needed this summer. However, it strikes me that the reality is that, in all likelihood, there won't be anywhere near as much transfer activity as many would hope for. A few additions and exits, that's perhaps it.
I believe we could have won this game given our home form this season, which has been better than Chelsea's away form. The fact that we didn't might be influenced to a large extent by Chelsea pushing for the title, whereas we've made the Europa League and that's it, or at least the chances of getting a Champions League spot were minimal.
For sure, we need player additions and replacements to compete consistently within a top-6, but in the case of this game I believe the major effect was a lack of winning mentality. Lacking this at this stage of the season with the position we are in is no great surprise. But it's something that needs to be sorted, since it's been apparent at Everton for a long time. And the root cause of this is not Lukaku and Barkley, however badly they played.
Unless we develop a mentality of going out to win each game, regardless of the opponents or stage of the season, we are unlikely to prosper, even with new signings.
Ray Roche
218
Posted 01/05/2017 at 10:11:11
I've not read all the above posts but just a couple of considerations.
Calvert-Lewin, I thought, put in a good shift in a position that's not his natural habitat. In fact, I would have sooner subbed Lukaku and moved Calvert-Lewin to centre-forward to contest the high balls. He looks pretty useful in the air and has pace. It would also either:- Bring Lukaku down to earth, or show him what it'll be like to sit on Chelsea's bench. He'll be gone soon enough so we'll need to get used to not seeing him grazing in the opposition half anyway.
Someone above mentions Deulofeu. I have been a fan of his and have championed him getting a chance behind the front players, as a "No 10". If Barca are taking another look at him maybe there's more to him than we have managed to get from him. His natural lack of fitness,* in as much as he runs out of steam, would be less of an issue if he wasn't required to sprint up and down the wing as much. The first five yards are in your head...
* Some people have a "built in" fitness that, no matter how hard they train, will not be evident in some other players. Players with a "good engine".
Tom Davies was excellent.
Ray Robinson
219
Posted 01/05/2017 at 10:24:26
In a nutshell, the reason we lost yesterday against a squad packed full of talent, was
movement
. Midfielders driving forward, one-touch football and relentless energy from all parts of the team.
We didn't play that badly for 65 minutes but we're too deliberate and too static. I don't think it was anything to do with having our minds on the end of season beach holiday, it's just that a lot of our players don't have the natural engines required to play at the very top level. Contrast Pedro with Barkley for example.
Hazard, despite being for the most part excellently man-marked by Gana (who does have high energy levels), never stopped running. Willian, when he came on – again, non-stop running. Kante – the Duracell bunny. They have skilled players who are natural pacey athletes running right through their side.
Dave Pritchard
220
Posted 01/05/2017 at 10:30:13
Do we pass back to the keeper more often than other teams? It seems like it to me. It was driving me mad seeing us go backwards so often, sometimes from the attacking third we'd end up with a pass back to Stekelenburg.
As for him, he has to go as he is miles away from being a Premier League keeper.
Damian Wilde
221
Posted 01/05/2017 at 10:36:35
Agree, Dave. Is Martinez back? Koeman has a lot to do, not totally convinced by him.
Michael Lynch
222
Posted 01/05/2017 at 10:38:10
I agree with everyone about everything. Chelsea are another class, 7th is the best we could have hoped for because there are six better teams in the league, Barkley is still disappointing; we need a lot of additions to the squad and they need to be quality.
But most of all, I fucking love Tom Davies.
Ian Bennett
223
Posted 01/05/2017 at 10:39:35
Just once can we run at players on yellow cards? Chelsea are a fine side, but they play the system very professionally.
They had a number of defensive players on yellow cards, and our only chance was to knock them down to 10 men. Cynical? Maybe, but this is professional sport and we are miles away with our 'nice' mindset.
Demanding yellow cards, wandering up the pitch for throw-ins, encroachment at free kicks, slowing the game down when suits. No surprise that the teams that ref the ref do better... Chelsea did all that yesterday.
Dave Williams
224
Posted 01/05/2017 at 10:48:40
I agree with Stan that we won't see a huge influx of players. To be honest, I don't see a whole lot out there who would improve us as once the top six have done their business the ones left won't be that great.
We have finished 7th in all likelihood which is probably where most of us would have guessed at the start of the season at best.
The entire defence needs an overhaul – Jags is done, Williams was only ever a stopgap when we sold Stones; and Baines looks too weak physically against some of the strong athletes who play for the likes of Spurs and Chelsea. Kenny should be given the last three games at right-back to see if he can take over with Holgate given centre-back to see if he is ready – a summer of weights would do him no harm.
I am very disappointed with Robles as he was looking to be the answer in goal but as a minimum we need a top class goalkeeper and a top class centre-back.
We have plenty of good central midfielders with a stack of very good youngsters coming through in that position and I hope that Ron will give Liam and Joe a chance in the last three games, maybe half an hour from the bench or even start one of them against Watford.
Our wide players are poor. Kev is way too inconsistent and selfish, Lookman is for the future (another one who needs to take to the weights in the summer); Lennon is not good enough and too small.
And as for Deulofeu!! How anyone can hold him out as the answer is beyond me. He has no stamina, no guts, chickens out of any form of tackle, can't shoot ( always scuffs the ball) no workrate...! Bags of skill and might suit the game in another country but the premier league is too physical for him.
Ross is someone I keep trying to convince myself about. Local lad, battled back from horrendous injury etc but I just don't see him bossing midfield against a decent opposition. His brain does not work quickly enough which is such a shame as he has quick feet and plenty of power but at his age he should be dominating games now.
Rom has gone I think and no bad thing. Okay, he will take some replacing but a striker who cannot bring others into play and cannot hold the ball up to take pressure off the defence is not good enough for a team like us who cannot afford to carry a luxury player like him when so many other areas of the team are not functioning properly. Chelsea could accommodate him but at the moment we have usually at least three luxury players who only play when they feel like it and that has to be addressed.
So, on re- reading this I think we need a goalkeeper, centre-back, creative central midfielder, two wide players and a striker... and say 3 youngsters coming into the squad. Left-back we can cope with if Galloway gets his act together. Sell Rom and Ross and clear out Lennon, Barry, McGeady, Kone, Mirallas, Stekelenburg and at least one of Jagielka, Williams and Funes Mori.
Ron has a big job on his hands but is being paid handsomely so let's see what he can do.
Mike Allen
225
Posted 01/05/2017 at 10:56:14
Dave (#220) We pass back because we have little or no movement when we have the ball. Full backs get in good position then have to check back; quick free-kicks sideways then backwards... we don't have players who demand the ball or see a pass quick enough or react quick enough to situations.
Both keepers are poor but their is quite a few knocking about. the standard of goalkeeping is the worst I can remember
Ray Robinson
226
Posted 01/05/2017 at 11:01:47
Dave (#224), you start off by saying you don't foresee a huge influx of players and then conclude that we need to sign six new ones! That, together with 3 youngsters coming into the squad, represents a fairly large turnover!
Rob Halligan
227
Posted 01/05/2017 at 11:04:11
Ian, two incidents stuck out for me yesterday, which didn't need any help from us.
The first one, the free kick we got in the second half just outside their area. Moss counted out his 10 yards then sprayed his little white line. Azpilicueta immediately questioned this, and counted out 10 yards back to the ball.
Surely this is deemed as dissent, undermining the referees authority, and therefore a yellow card? As Azpilicueta had already been booked, a red card should have followed?
Wouldn't have made a blind bit of difference, as the free kick taken was rubbish. From the resulting goal kick, they go down and win the free kick from which came their second goal. Again, no arguments from me, except maybe Stekelenburg could have done better.
However, and this is only what I've been told, didn't Cahill run into the Chelsea fans to celebrate? As he had already been booked, this should have been a second yellow, and therefore another red should have followed? We saw Barkley booked in the previous home game for something similar.
The two penalties afforded to the two Manchester clubs yesterday, neither of which was a penalty, shows just how biased referees are to these so-called bigger clubs.
By the way, even playing against nine men yesterday, I doubt we would have scored. Well done to Chelsea. They have played some excellent football all season and deserve to be Champions.
Thomas Lennon
228
Posted 01/05/2017 at 11:06:52
We weren't 3 goals worse yesterday but we are a hundred million pounds worse in wages spend.
We lived with them for an hour and may even have nicked a goal as we genuinely fought for the midfield but they were less stretched, more intelligent, more confident, more experienced. After a superb goal from nothing, they just broke up the game and took advantage of the lack of flow.
We need to match top six spending from now on, wages and capital and in 4-5 years we will bridge that gap.
nb: Barkley was well out of his depth yesterday.
James Hughes
229
Posted 01/05/2017 at 11:22:31
Rob – you're right about both observations and not one of our players had a word with the ref when either happened.
We are too slow and ponderous and with keeper and centre halves with a combined age of 100 is not adding much dynamism.
Ian Hollingworth
230
Posted 01/05/2017 at 11:22:38
If we really had the finances some believe we have, I would be tempted to say we need to get quality replacements for every position 1 to 11.
Reality is we do not have the finances required as we will see in the transfer window. So the best we can hope for is 1 or 2 real quality players and maybe 1 or 2 with potential.
I feel our progression may be painfully slow over the next few seasons.
Dave Williams
231
Posted 01/05/2017 at 11:39:34
I know, Ray. What I said was that we won't SEE a huge influx – maybe four but we need more. Initially the squad seems okay but, once I got into it a bit deeper, the problems really appeared.
I am clearly not manager material!!
Kevin Tully
232
Posted 01/05/2017 at 11:46:36
We have the remnants of a very average team still guaranteed a start. Maybe a little controversial, but we have to rebuild and spend like drunken sailors this summer. To get where we need to be, I would sell Lukaku and Barkley, add some more millions into the mix and hope we can spend our way to success.
We are miles behind Spurs, Chelsea, Man City and even Arsenal. We are exactly where we are in the Premier League because of the talent we possess. Not as good as the teams above us.
Spending money is no guarantee of success, but if we do spend 𧵎m on top-class talent, we will improve our chances of breaking into those Champions League positions.
Let's face facts: even if we keep the current squad and add a couple more, we are not on the verge of challenging the top teams.
Tony Abrahams
233
Posted 01/05/2017 at 11:53:45
Your first sentence is so very true, Kevin, and seeing the team-sheet before yesterday's game was all the confirmation that was needed.
Good teams have good players who have a certain amount of calmness on the ball, which is something we really lack in almost every position on the pitch.
Phil Walling
234
Posted 01/05/2017 at 12:00:48
Kevin, you've never filed a truer post. Koeman needs to start from scratch – not fiddle with the mediocre talent we have.
The sale of our two 'super stars' would be a good place to start. Every attempt to fit players around them has come to nought!
Don Alexander
235
Posted 01/05/2017 at 12:31:18
Last night's MotD hi-lites was an eye-opener for me, showing that, despite Gana doing a genuinely terrific job subduing Hazard, the doing of that job repeatedly left vast areas just in front of our defence where just about all those teams above us relish being. Hazard, followed by Gana, went into areas to open up those spaces.
As they said on TV (and yes, I know it was only Murphy and Wright), it's incumbent on the others in midfield to occupy that space in front of the defence. We had an 18-year-old footballer with bags of ambition for a battle and a 23-year-old flower with the the now perennial titty-lip when it comes to getting stuck in.
Unfortunately injuries cost us Schneiderlin (a serious loss), McCarthy (could do the job), Besic (might have done the job), and Barry (mysteriously left on the bench). Maybe the time to have introduced Barry was after the first goal went in. He might have managed to get around for the 30 minutes or so that was left but there would have been howls of protest for sure at such a defensive move.
But seriously, would chasing a point have been unacceptable? Taking off any from Barkley, Valencia or Calvert-Lewin (in that order for me) may have been a price worth paying.
Laurie Hartley
236
Posted 01/05/2017 at 12:50:03
I am not surprised at the result after last week's performance. For some time, we have been a team that has no shape or balance. That is the problem Koeman and Walsh have to address in the summer.
Somewhere in the world there is a clever left-footed left winger that we can afford to buy and will want to play for us. If Steve Walsh can find him, I think Baines will return to top form and that will sort out the left handed side of the pitch.
Because Seamus isn't going to be back for a while, we also need a right back as well as Bolasie fit again – that will sort out the right-hand side of the pitch.
Robles is better than Stekelenburg but I wish we had Begovic.
We are crying out for a 6'-4" centre half.
On top of that, we are going to need a replacement for Lukaku who will be gone with Barkley in the summer.
So, according to my calculations, that's five players we need to sign in the summer - pretty daunting so I hope Steve Walsh has got them lined up. That's the downside.
The upside is Gueye, Davies, and Schneiderlin will be our midfield because Koeman won't be trying to shoe horn Barkley into the team. (Tom Davies is going to be a great player.)
I've got a feeling we should keep Valencia, I think there is an Everton player in there.
Ray Roche
237
Posted 01/05/2017 at 13:15:38
Laurie, I agree about Valencia, IF the price is right. If Gold and Sullivan are thinking of £12m then it's a no from me but, given the service, I think he'd do alright for us.
Jimmy Salt
238
Posted 01/05/2017 at 13:48:02
I think Valencia was very unlucky to be taken off yesterday. There where players out there putting in far worse performances.
I have always been a big fan of Ross but something doesn't feel right about his play. Hes gone from the player running away from people to the player who cant keep up with them. The player with the quick trick to the player who takes that long to think about the trick the moments past.
I never thought I'd say it but I agree with some of the above with regard to selling and rebuilding.
Stan Schofield
239
Posted 01/05/2017 at 14:41:41
Everton made it easy for Chelsea. That's been the problem away from home, but not at home until yesterday. Even accounting for yesterday's result, our home results are still better than Chelsea's away results, which shows how good the home results are given that Chelsea are likely Champions.
The fact that we have a limited squad and an often unbalanced side (referred to in posts above), underlines even further how good the home results are. If we can get those results with the current limitations, imagine what we can do with a few additions that make the squad fuller and more balanced. If we can get those results whilst playing scrappy football, imagine what we can do when playing well.
A neutral reading most of the posts on this thread would not realise how good our home results are, they'd think we were struggling lower down the table. They'd think we're just shite. In fact, we're not, we just need progressing significantly further. All the talk of an overhaul of players is just dreaming, it's unlikely to happen, and I would also say (a) it's not necessary, and (b) it would not in itself guarantee further progression.
It's surely a case of continued improvement: Getting a few more signings to bolster the squad, adapting the tactics to make our away form approach our home form, establishing a winning mentality rather than a defensive mentality away from home. I think this is the reality, not the dreaming about lists of players we might sign, or the focus on replacing Lukaku and Barkley. You work with the resources you have, then bolster those resources further.
Nicholas Ryan
240
Posted 01/05/2017 at 14:55:35
Jack Butland!!!
Kevin Tully
241
Posted 01/05/2017 at 15:00:48
Stan, we've currently got 2, maybe 3 players who would get into the teams above us. Lukaku, Schneiderlin and possibly Gueye.
That's part of the problem with our fans, we tend to overrate players once they pull on the blue shirt. Take a look at the trophy cabinet if you don't believe me.
Andrew Clare
242
Posted 01/05/2017 at 15:05:05
We need five top class players. They are out there. German, Spanish and Italian teams find them so why can't we? They have got to be strong, fast, clever footballers that possess a winning mentality. They are out there and a good scout will find them.
Get rid of the old and the mediocre (that means the goalkeeper and most of the defence, replace Lukaku and Barkley) and we will be laughing.
Sad to say that about Ross but I just don't think he has turned into the player we thought he would. As for Lukaku, I will be just glad to see him go as he has never really wanted to be here.
Stan Schofield
243
Posted 01/05/2017 at 15:14:58
Kevin, our good home results are a fact, as are our poor away results. If we can get results that good at home, we should surely be able to get significantly better away results than we have been getting. The away results are worse than our overall results of last season.
It seems likely that tactics and attitude play a major part in that. We should get those sorted, whether or not we change the playing staff. Then changing the playing staff improves things even further. That is surely more realistic than dreaming about fantasy signings.
Paul Hewitt
244
Posted 01/05/2017 at 15:44:47
Some major overreaction on here. We lost to the best team in the league, and without some players that would have started.
Alan J Thompson
245
Posted 01/05/2017 at 15:48:18
I don't know if this requires a thread of its own but I and others above have suggested that we need quite a few players during summer regardless of who does or doesn't leave Everton.
My question is how much are we permitted to spend on transfers under FFP rules and/or other restrictions. Would Mr Moshiri consider lending Everton £200M given that is 20% of what we think his fortune is.
Given that most players would cost between £15 to 25M and top class players £50M+, just how many can we afford or look forward to? And how many at lesser prices might be no better than some of our youth players and Premier League 2 Champions?
Kevin Tully
246
Posted 01/05/2017 at 15:56:19
With approximately 𧴜m to spend just from the proceeds of 2 players who may want to leave, plus money for all the other average performers, why do you think we are dreaming of 'fantasy signings?'
We got good money for the likes of Oviedo & Gibson, and the excessive TV money will give every club funds to spend. That's before Moshiri puts his hand in his pocket!!
We need to upgrade on at least 7 positions if we want to progress. Goalkeeper, the whole back four... I could go on.
Tom Bowers
247
Posted 01/05/2017 at 15:59:51
Without a doubt, new players are needed. Some of the fringe players are obviously not up to par otherwise they would see more time such as Lennon, Kone and Valencia who needs to go back to The Hammers.
Others have aged somewhat and do not have that extra zip needed to make this team great again such as Jags, Baines, Williams and Barry.
There are question marks about the fitness (when they return) of Funes Mori, Bolasie, Besic and even Coleman. Some players are never quite the same after serious injury.
The youngsters, Davies apart still have a lot to learn and may need another season. I would like to see more of Lookman in the remaining games.
Brian Harrison
248
Posted 01/05/2017 at 16:23:19
I think most will agree that the Chelsea game just showed how far behind them and the other top teams we are. But the problem is that the 6 sides above us will all spend big in the summer, so that will restrict the class of player we will be able to sign.
I know I would love to see Keane from Burnley but it seems if rumours are correct that some of the top 6 are also looking at Keane as they are with Van Dijk from Southampton.
I think most fans are resigned to Lukaku leaving and personally I would be quite happy if Barkley left as well. But then you have to buy players to replace them and again what type of quality will we be able to buy to fill those positions. That's ignoring how much the FFP rules will allow us to spend.
So this summer could be one of the most important transfer windows we have had in decades. Get the right players in and we could really challenge the top 4 more than we have this season. Buy the wrong players and we may struggle to make the Europa League.
John Pierce
249
Posted 01/05/2017 at 16:23:51
The game felt like we were on the beach, Chelsea happy to be conservative until they realized we had nothing, and they stepped their game up risk-free.
Personnel may have weakened us but that no excuse for a piss poor tactical set up which rendered us impotent in attack.
Man-marking is a tactic from yesteryear, and accommodates the opposition far too much. Your player is reduced to a shadow and adds nothing to your attacking play. We effectively played with 10, 9 if you count Rom's contribution.
With others around us dropping points, we have in the last two weeks ebbed away from anything that makes me thing we can bridge the gap, which will only widen across the summer.
Fact is 5th was there to take, and with it automatic Europa League group stages. If you think the players we can attract are coming, think again, as until are participation in the group stage is confirmed they ain't jumping ship. A long long summer awaits.
We will be lucky to attract 1 or 2 excellent squad improvements, and will in all likelihood bring in slightly better players. So where is the tactical acumen that will bridge that gap? Scant evidence from Koeman he can find a way to outwit sides who are just patently better than us?
Unless Ronko is hiding a whole attacking, gun slinging side to him then I cannot see how he makes us a more attacking side.
Koeman was a superb defender, his key assets were his ability to read the game, he was a full on Schnide too, his function was a great 1 on 1 defender and give the ball to ultimately more gifted players. I'm afraid you are a reflection of you manager and we are a poor version of him too, i.e. Piss poor at pens and free kicks!
Let's hope the fella doesn't have a summer of golf lined up.
Dermot Byrne
250
Posted 01/05/2017 at 16:39:32
That early shot that hit the post. Goes in. Crowd and players get going? Thin line sometimes.

Roger Helm
251
Posted 01/05/2017 at 16:47:16
The gulf between us and the top four is such that I can't see it being made up in one window. Top class players are so expensive that we couldn't afford more than one or perhaps two, unless Mr Moshiri is prepared to spend a big chunk of his fortune, which I can't see happening, even if he were allowed to.
I can't see Rom staying as we clearly have a very unbalanced side, being totally reliant on him for goals, and I think Koeman has sussed that Ross isn't really top-drawer. So basically the whole squad apart from Schneiderlin, Tom, Gana and Holgate needs replacing, and to do that all at once would be very destabilising. Koeman always said it would take three years.
So, although it is disappointing to be so far behind Spurs, who were behind us until recently, I think our ceiling next season will be the same as this year.
Stan Schofield
252
Posted 01/05/2017 at 17:02:48
Kevin@246: Even if that amount of money were available to spend, there's no guarantee that potential signings would join us. I think the reality is that there will likely be a few new signings, to bolster the squad and provide better balance.
Any resulting improvements are likely to be incremental, unless Koeman has a few tactical tricks up his sleeve to improve our dire away form considerably. If he did have, and this is the crux of the matter, we would improve without those signings, but improve even more with them.
That's evolution from where we are at present, starting from a foundation where we know we can get good results at home, and adapting our away tactics to get better results away. The alternative of a big clear out of players and lots of additions is pure fantasy in my opinion.
Stan Schofield
253
Posted 01/05/2017 at 17:12:30
Kevin, just to add, there were a number of away games where,, if better tactics had been used, with a winning mentality instead of being containing and defensively minded, the results could have been a lot different.
In which case, we probably wouldn't be having these discussions now, and we'd be talking about adding a few players in the way I've indicated. The devil is in the detail, and there are details that could have been dealt with better, with the current players.
Tony Hill
254
Posted 01/05/2017 at 17:19:01
Kevin Tully (#232) is surely right as to the state of the team.
The spectre of Aston Villa, a club and side which I've often thought we have resembled, haunts me. That is, of course, very pessimistic but I think the extent of the rebuilding required is worrying and we still have an awful lot of mediocrity to shift – both in personnel and mentality.
If we don't get our transfer business done well and done quickly (and our form for that is appalling) then I agree with those who see another very frustrating season ahead.
David Chait
255
Posted 01/05/2017 at 17:24:33
Just read this:
Link
Excellent write up I think on Ross. Asking the question if we have the wrong expectations..
Don Alexander
256
Posted 01/05/2017 at 17:24:49
John Pierce (#249), we're all pissed off with the result but to describe RonKo as piss-poor at free-kicks etc etc is laughably wide of the mark. Take a look;
https://youtu.be/V6UYRXYc2EY
Barry Jones
257
Posted 01/05/2017 at 17:27:48
Rob (#227), I agree with your two observations on refereeing decisions. As you rightly pointed out, both should have been yellows followed by reds.
Some referees do not have the guts to apply the laws to the letter in situations where they have a bigger impact, such as penalties and red cards. This is bullshit. The same interpretations should be used time and time again regardless of the situation.
Refereeing inconsistencies such as these are upsetting players and managers, potentially having significant financial impacts on clubs, and ruining the game for the spectators.
Jay Harris
258
Posted 01/05/2017 at 17:30:41
I think the biggest difference between us and the top teams is goals from midfield and by that I also include wingers.
Willan, Hazard and Pedro have all scored a significant amount of goals.
Barkley couldn't hit a barn door with a banjo, Valencia flatters to deceive, Schneiderlin, Gana, McCarthy and Davies are largely ineffective in front of goal. Only Mirallas (used to) and Lookman carry a goal threat.
Sigurdson is a must and I would also suggest we go for Josh King and Andre Gray.
The only other point I would like to make is the importance of synergy.
No matter how good players are it will take time for them to move from complete strangers to having a connection therefore I would be opposed to doing away with the majority of the squad and replacing them.
I have, however, given up on Ross and have never been a big fan of Lukaku although he has improved this season but for me is still one of the most ineffectual and frustrating centre-forwards around. His impact on team spirit is also bound to be negative given his ego.
Ray Smith
259
Posted 01/05/2017 at 17:32:53
Stan 252/253
I'm sure we are not related, but I share you views entirely!
It is not going to be a quick fix.
Although top players don't play for nothing, it's Champions League they want.
We will get there, but we need to come to terms with the fact that it is work in progress.
Kieran Kinsella
260
Posted 01/05/2017 at 17:37:34
Stan,
Hypotheticals are great but meaningless. You're "if better tactics had been used" could be applied to anything. The fact is we know what did happen but we've no way of knowing what might have happened.
Maybe results would have been better, maybe they'd have been worse. Case in point, the derby. Many on here expected Koeman to pick the oldies but said we should be more adventurous and play the youngsters.
Koeman ended up playing the youngsters and it didn't work out. Had he played the oldies and got the same result you can rest assured that everyone would have been saying "he should have played the kids."
Merle Urquart
261
Posted 01/05/2017 at 17:49:15
I not a massive Koemanist but, in the short time he has been here, he has mopped up the mess left by Martinez, turned our home form around and got rid of the bulk of deadwood.
Next on the agenda is to weed out the remaining deadwood, sort the overall away form out, and resolve the appalling attitude when playing at the top six grounds where we have not just not won (Old Trafford excepted) but have not put in a decent performance in years. Even if we somehow scrape a point, it's because we've hung on like grim death for 90 mins.
I think the most important position that needs filling, and the one we should address first, is a goalkeeper – a top notch keeper will save us 10 to 12 points a season – and that puts us in the mix. This is has gone on for years with keepers who lose us points and we've ignored it.
I rate Robles better than Stekelenburg but not by much... and between them they have cost us more points in my opinion than they have saved.
There are good keepers out there: Schmeichel for one is a Premier League winner and now Leicester's hurrah is over, could we not tempt him?
John Pierce
262
Posted 01/05/2017 at 18:01:38
Don, maybe lost in translation. Koeman was a master at set pieces, I was saying his team are poor version of him: – We are piss-poor at penalties and free-kicks, you can't refute that right?
Sunday we had several passable dead-ball opportunities and were several shades worse than piss-poor to be honest.
It's getting to the point we're Hibbo is more likely to score than we will from a dead ball.
John Pierce
263
Posted 01/05/2017 at 18:03:33
Jay, whilst I suspect you are right, I couldn't even judge those players' ability to score as they never shoot!
Stan Schofield
264
Posted 01/05/2017 at 18:10:29
Kieran @260: Yes, you're right, the 'what might have happened' is a hypothetical. That said, there is apparently a systematic problem with our set-up when playing away from home.
On too many occasions the tactics have been defensive, tactics of fear, and their failure has been predictable (and predicted on TW on repeated occasions). I'm not saying there's a silver bullet to get this right, but I am saying that surely this is a solvable problem. The difference between the home table and the away table says a lot.
Matthew Williams
265
Posted 01/05/2017 at 18:11:13
Soulless, joyless football... no width, no guile, no one taking the odd potshot from range, poor passing & crossing... Jeez, more of the same to come methinks.
Play the youngsters until the end of the season & pray for better next... sigh.
Brent Stephens
266
Posted 01/05/2017 at 18:14:27
Jeez, Don, Ronald could hit a free kick!
Phil Walling
267
Posted 01/05/2017 at 19:05:28
A bit like what we didn't like about Moyes, Stan?
Stan Schofield
268
Posted 01/05/2017 at 19:23:16
Phil, a bit like, but the analogy shouldn't be taken too far. Koeman needs some time before he's judged. He's got us cooking on gas at home (generally, and apart from yesterday), but has struggled away. That to me is the main problem to be solved.
Will Mabon
269
Posted 01/05/2017 at 19:24:31
If we'd been managed by Conte this season, and Chelsea by Koeman... I wonder, how would the table look now?
Denis Richardson
270
Posted 01/05/2017 at 19:43:27
Will (#269), looking at the respective squads, I imagine both teams would be in similar positions if the managers were swapped.
Just 'cos Conte had a hair transplant and jumps up and down like a nutter on the touch line, doesn't mean he can win the league with an average and aging squad. (Likewise Guardiola isn't the messiah everyone was wanking over now that he's not in a one or two team league.)
Other way of looking at it: realistically how many Chelsea players would make our team and vice versa?
Imo we have 3 players who would make the Chelsea squad but not necessarily a regular start. On the other hand, practically their entire first team would be on our team sheet!
Dermot Byrne
271
Posted 01/05/2017 at 19:46:44
Popped back to make a point but have none really. 7th it is. Improvement? Yes. Club going in right direction? Yes. Little boys getting their present from new step-dad immediately? No. But seems nice!
Paul A Smith
272
Posted 01/05/2017 at 20:20:50
Brent (#208), good points mate I do see where your coming from.
Like I say I don't write off Calvert Lewin and I see why he was brought in yesterday. Can we not go the other way though? What happened to defending through attack?
Chelsea hit us where it hurts and using width. Why are we worried about keeping Moses back when Moses could be worried about keeping Deulofeu back?
When I see Gana, Davies and Schneiderlin in Midfield I thought that could compensate for Deulofeu. Has using false wingers helped us? I don't think it has and I know Deulofeu annoys people but his assist rate was still high. He always creates at least a chance. The last two games we have played how many shots did we have?
I don't want to sound arrogant to you mate but when will a manager try to win a game without players in false positions or make the opposition worry about us?
Colin Malone
273
Posted 01/05/2017 at 20:24:16
All you Barkley critics. This lad can pass a ball through an eye of a needle. So whats wrong? Why does Pochettino want Ross?
Could Spurs play with a lump who does not participate in the team game, does not defend from the front whatsoever. When he gets the ball, he always goes alone, when there are better options.
How many top sides play with an out-and-out and centre-forward, one who is as lazy as ours???
Ross Barkley is CLASS!!!
Don Alexander
274
Posted 01/05/2017 at 20:29:59
Point taken, John (#262), and I agree. There are times though when I wonder whether brilliant players like RonKo just inadvertently overwhelm the lesser talents they manage. I'd like to think it wasn't so but we do seem to be lacking hard-nosed savvy in several positions but I'd have hoped he could have input some of it.
That said, I think we'll see more culling of our luvvy players in the summer. After all, many of us rightly identify the years-long mental weakness that's engulfed us under the leadership of Sir Phil's multi-millionaire lackey don't we?
Tony Hill
275
Posted 01/05/2017 at 20:31:11
Will Mabon's point is an interesting one. I suspect Conte would have done more with the mix at Everton this season.
Even though we are an odd assortment of the ageing, inexperienced and injury-prone, plus a few good players of the right age, a top manager could have given a spark to things, created a winning climate. I don't think Koeman's done that enough in a season where some of the sides above us have been pretty poor and I am starting to worry that he is tactically blunt.
But we also suffer from an arthritic transfer policy, especially over the last few seasons. We have fallen away from the trajectory of any seriously ambitious club because we have been too slow to fill obvious gaps or to push adventurously for better quality. Any manager would struggle to some extent with that.
Chelsea with Koeman? 5th.
Ray Robinson
276
Posted 01/05/2017 at 20:45:57
Hypothesising where Chelsea would have finished with Koeman and Everton with Conte is meaningless conjecture.
In my opinion, Koeman had one hell of a mess to sort out after Martinez's tenure and he has made a reasonable start. Arresting the shipwreck that was Everton last season is an achievement in itself.
Koeman has yet to totally convince me yet but he has made a significant step in the right direction. Rome wasn't built in a day. We've several more transfer windows to go through yet.
Paul Tran
277
Posted 01/05/2017 at 20:53:23
Will, remember this was a Championship winning side that downed tools on Mourinho. I don't subscribe to the view that Conte inherited a mediocre mid-table team. Most Premier League managers would love the luxury of bringing on Willian and Fabregas to finish off tired opponents in the last 30 mins.
I think Conte might have got us a couple of places higher and that's it. There's too many people on here with an over-optimistic view of most of our squad. There's a huge difference between good on his day, talented and consistently good. We saw that difference yesterday.
I hope we see the difference in the summer signings, though I won't be holding my breath.
Tom Bowers
278
Posted 01/05/2017 at 21:19:54
John Pierce (#249), you are quite correct. Everton are really a poor tackling side except when Schneiderlin is playing.
Gana, Davies and Barkley look good in possession going forward but far too often make wrong decisions or poor passes although Davies and his energy is phenomenal. Gana started well with the Blues but has been ordinary of late.
It has been a feeling out season for Koeman and Everton could well be a different proposition next season given what Koeman has learnt and what new blood he can bring in.
Nigel Johnson
279
Posted 01/05/2017 at 23:48:49
It will be very difficult to get into the top 4 places next season, because of our starting position. In my opinion, we don't have anywhere near as strong a squad as the top 6 teams.
I think we need to replace at least 8 players who are currently in our squad; none of the higher teams need that much replacements. Then we need to add extra quality onto the new 8 player replacement programme and that just to start with the quality that the other teams have at the moment without them buying big themselves. Everton have of course made progress from last season this is true.
However a lot of the teams above us have not really had great seasons themselves apart from Chelsea and Tottenham so the other 4 teams will buy big and two out of the 4 will be able to offer champions league football and big wages.
I can't see Everton getting first choice players in, which means the quality requirement will not be arriving at Everton. If we are very lucky, we might get 5th or 6th next season and that is if the other teams have a bad season themselves. In the summer we will be linked with big names but they will end up going to other clubs.
Most of the top teams will get their signings done very early within the first two weeks of the window opening. Everton will still be wondering if Lukaku is going to stay one more season. Some of the top targets will want to know the answer to that also. Lots of money available but don't expect big names arriving. Sorry to sound so negative but I've seen it all before.
Tony Abrahams
280
Posted 02/05/2017 at 08:04:39
Think this thread is nearing its end now, but it should have stopped on Paul's paragraph, citing the difference between being good on his day, talented, or consistently good? That's where we are at unfortunately, and only by getting in better players is this going to change.
Neville Jones
282
Posted 02/05/2017 at 14:00:30
I agree with most of the above, especially selling Lukaku. If Barclay has refused to sign a new contract say 2 weeks after the end of the season, he should go too.
However, I can't agree about Valencia, played out of position; no surprise he looked below average. Perhaps he is more of an impact player to come off the bench but after Lukaku, one of the few decent strikers we have in the 1st team. Technically, no better than Rom or Ross but very direct and pacy, always seems to get the team motivated when he comes on as sub.
You can't judge him on Sunday but he has saved our bacon frequently when brought on as a sub, Burnley being the most recent. He's young and can improve and hardly expensive, worth 㾷 million as a squad player. Let's play him up front alongside one of the young strikers from the U23s and drop Lukaku in the next 2 games.
Brian Wilkinson
283
Posted 02/05/2017 at 14:29:10
Good point, Neville@282, but it will not happen with Rom chasing the golden boot. I agree, we should be trying some of the youngsters out but cannot drop Rom for above reasons.
The likes of Walsh and Kenny should certainly be getting a run out though.
Mark Morrissey
285
Posted 02/05/2017 at 21:22:33
It would be a shocker to drop Romelu when he is chasing the Golden Boot and you would have to be cutting your nose off to spite your face to watch him lose out to Kane and watch his value tumble.
If we want to sell him, we need to see him take the Golden Boot. If we want to attract a top striker, we have to show them what we did for Romelu.
Suggesting to drop him is a silly idea borne out of frustration. We need top dollar for him cos Mr Moshiri won't be flashing his own cash this summer. It will be just like last year: sell to buy – and if anyone thinks otherwise, you're a mug!
Ian McDowell
286
Posted 02/05/2017 at 21:27:52
Off topic but watching tonight's game of Real Madrid vs Atletico Madrid so much reminds me of Everton v Liverpool. Really feel for the Atletico fans. To lose two finals and now be down in a semi-final to your city rivals has got to really hurt.
---
Add Your Comments
In order to post a comment, you need to be logged in as a registered user of the site.
Or Sign up as a ToffeeWeb Member — it's free, takes just a few minutes and will allow you to post your comments on articles and Talking Points submissions across the site.