Koeman is committed to The Project
Thursday 4 May 2017

106 Comments [Jump to last]
Still dreams of Barca job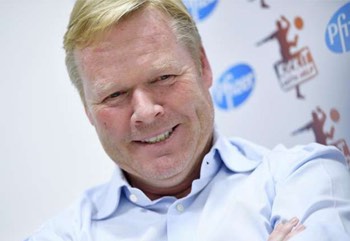 Ronald Koeman insists he will not leave Goodison Park before the end of his contract in the summer of 2019.
The Dutchman, who spent six years of his playing career at Barcelona, gave an interview with Catalan daily Sport this week, telling the publication he dreams of returning to the Nou Camp one day as manager.
Speaking at a press conference on Thursday ahead of Saturday's Premier League clash with Swansea City, the former Southampton manager insisted he remains solely focused on the long-term project at Goodison Park.
"It [his Barcelona ambition] does not change my position or my contract with Everton. I am really happy to be here and look forward to next season. It's a big project and I will be part of that project.
"The interview is coming out because 25 years ago we won the title at Wembley. Okay, it is normal they ask me about the Barcelona job. But there is no chance that I leave Everton before the end of my contract."
Koeman went onto explain what he feels he owes to the club, insisting the project that attracted him to Merseyside can see Everton break into the top six next season. Everton have already secured Europa League football for next season but the manager is keen for the club to continue to close the gap.
"When I got the offer from Everton it wasn't about this season, it was about the project. That we would like to change the team and that we would like to develop the team, make the team strong and have better competition with the big six in the Premier League. Already this season we see we are close, but not close enough.
"It's a really big complement to the players what we have achieved this season but for next season we would like to improve."
---
Reader Comments (106)
Note: the following content is not moderated or vetted by the site owners at the time of submission. Comments are the responsibility of the poster. Disclaimer
Dave Pritchard
1
Posted 04/05/2017 at 12:49:29
Koeman wants to manage Barcelona, according to the BBC report. There's going to be some reaction to that on here....
My view is that with his current record as a manager, why would Barca want him?
Marc Jones
2
Posted 04/05/2017 at 13:21:43
Dave @1, I think the BBC site is paraphrasing his interview. It's no secret he one day wishes to manage Barca but now is definitely not his time. In fact he mentions owing Everton. If he gets us into the Champions League, then I think they'll come calling.
Jim Harrison
3
Posted 04/05/2017 at 15:33:27
If he gets the Barca job as a result of his work at Everton, that can only be a good thing!! They don't settle for 7th!
Tony Hill
4
Posted 04/05/2017 at 15:36:10
All straightforward enough; whether he leaves before the end of his contract may not be entirely his call, of course. Barca ambitions do indeed require better than 7th, so there is that hope.
Michael Penley
5
Posted 04/05/2017 at 15:36:50
Have better competition with the top six? Is that our lofty ambition now?
Stephen Karnes
6
Posted 04/05/2017 at 15:37:13
He said similar things at Southampton, but I believe him. I also don't think Barcelona would be in for him just yet. If he takes us into the top 6 the next two seasons, then leaves for Barcelona, everyone involved will be happy.
Ian McDowell
7
Posted 04/05/2017 at 15:38:45
I have no problem with Koeman publicly stating he hopes to manage Barcelona in the future. The only way he will do is if he achieves success at Everton first and that would mean qualification for the Champions league or an FA Cup/Europa Cup win.
Charles Barrow
8
Posted 04/05/2017 at 15:40:19
Wish managers would stop taking about the club being 'a project'; all seems very dispassionate and functional when we know its a life long love affair!!
Simple really – if Barcelona come in for him, he'll be gone; if they don't,he'll still be here. So that means he'll still be here at the start of next season. If he goes, we move on...
Ian McDowell
9
Posted 04/05/2017 at 15:51:03
I have no problem with players or managers using Everton to further their career an then move on as long as they give their best, perform well for Everton and leave only when Everton have agreed to sell them for a reasonable feel. It's a fact of life and top players are very ambitious. Every club apart from Barca, Real is some sort of stepping stone.
Michael Kenrick
10
Posted 04/05/2017 at 15:53:34
A nice rebuttal to the handful of posters who thought he could be leaving at the end of this season (and the one poster who definitely wants him to leave!)
No guarantees, of course, but I think we need him to be committed to his 'project' or it really would be another wasted season. Agreed, I'm beginning to loath that term but it's all about being 'goal-oriented' and having a clear target to aim for, no doubt.
I think he gets the balance right in terms of self-assessment: done well to get us into Europe... but could and should have done better.

Alan J Thompson
11
Posted 04/05/2017 at 15:54:28
Nice of him to say that he will honour his contract and it may encourage a couple of players to look to and settle their future.
However, if Barca come calling and offer a more-than-decent compensation package, it may be a test of Mr Moshiri's intent and practicality.
Michael Lynch
12
Posted 04/05/2017 at 15:57:47
It took ten years for Man Utd to come calling for Moyes, so I reckon Koeman might be with us for longer than just this three-year contract. I'm fairly happy with what he's done so far, but next season will be the test for him, Walsh, and the board.
Paul Tran
13
Posted 04/05/2017 at 16:13:03
If he's going to move anywhere better, he'll have to achieve something significant here first.
Like players, managers will always look for the next better move. I've got no problem with that. Right now, he'll only be going to Barca as a guest.
Dean Johnson
14
Posted 04/05/2017 at 16:32:10
Getting a bit sick of the media questions trying to de-stabilise our club.
I'm not naiive enough to to think that the man doesn't have ambitions and he is honest enough so I'm fine with that.
I am just sick of journalists asking these questions of our players and manager. Every time Ron talks to the press, he's asked about Rom and Barkleys futures.
I just wish he would just say no comment.
He's clearly not annoyed by the questions yet but I certainly am.
I just wish they'd all shut the fuck up about their "ambitions" and "dreams" because my dream is increasingly becoming the sale of Ronald, Romelu and Ross.

Paul Holmes
15
Posted 04/05/2017 at 16:32:20
Like other posters have mentioned, Koeman must do well at Everton if he wants to manage Barcelona. This is good for Everton as it shows he has ambition and a winning mentality.
We need him to assemble a team in the next two seasons that can finish in the top 4. If he does that, then, regardless as to whether he stays or goes, he would have done his part to taking Everton back to the '80s team, which would be fantastic!
The hard part is getting us into the top 4; once your there you can attract better players and take the Everton project (new stadium) further.
John G Davies
16
Posted 04/05/2017 at 16:38:44
Only one, Michael (#8)?
Eddie Dunn
17
Posted 04/05/2017 at 16:39:04
I don't mind the "project" word. It implies that we are aiming for something within a finite timeframe. Not many managers last more than 3 years anyway.
He is ambitious and it is obvious that he needs to show success with us in order to realise his dream of managing his old club.
Realistically silverware or a top 4 finish is the kind of performance he needs to attain.
A very interesting summer beckons..

Paul Kelly
18
Posted 04/05/2017 at 16:41:01
"(and the one poster who definitely wants him to leave!)",
Can't think who you're on about, MK?
John Keating
19
Posted 04/05/2017 at 16:41:44
I just do not see a run in the Europa League and a top 6 finish in the same season possible for us after such a short time, one season. A couple of seasons... maybe.
John Pierce
20
Posted 04/05/2017 at 16:44:54
They are just words, for some reassuring ones at that. The fact he thinks or is stating he will be here for the duration of his contract is a worrying thing.
You might think that smacks of stability, a positive thing. But I want my Everton manager to know he cannot slip out the top 7, Europa League or not. If he thinks he's cushy for the next two years, where's the pressure?
This all builds to how ambitious Everton really are as an entity. Moshiri stated there was a small window for Everton to join the top 6. I had hoped that signified he wouldn't tolerate a mid-table finish regardless.
Just sounds like Koeman is protecting his own reputation... after all, let's be fair, he left his previous club mid-contract, albeit under heavy enticement. Hard to expect he might not do the same?
Personally I'd expect him to be explaining why our away record is abysmal... deflection city!
Brian Harrison
21
Posted 04/05/2017 at 16:49:26
I hope that the players knuckle down for our 3 remaining games, rather than think we can't do better than 7th this season. As Koeman said in his press conference, we need to improve to be able to challenge the other top 6 clubs.
We also need a squad big enough to compete in the Premier League but also the Europa League. Next season, it may be that 5 clubs will be competing in the Champions League, so no free European season as there was for Liverpool and Chelsea this year. That could help us push for a top 4 place, but that will largely depend on what sort of squad we put together in the summer.
Ciarán McGlone
22
Posted 04/05/2017 at 17:27:59
This man apparently doesn't know which questions he should answer, or indeed how to answer such questions in a diplomatic way.
Hard to like this fella... Especially when his football is so mediocre.
Charlie McCann
23
Posted 04/05/2017 at 17:41:57
I'm with Ciaran here. Hard to like him and the football this past while has been pretty dreadful. I'd be glad if Barca come calling anytime. We're not playing anywhere near our potential. Time to move on.
Michael Kenrick
24
Posted 04/05/2017 at 17:48:29
John (#20), I read just the opposite into it. Here we have a man who has accepted the challenge of moving us up into the highly competitive Premier Super League. Methinks you've taken the comparisons elsewhere with Moyes, our beloved perennial bottler, a little too far!
At the presser, they asked him about Barca; he expertly set that in context – 25 years ago, him playing for Barca at Wembley. That was what the journos asked him.
They didn't ask him about Everton's abysmal away record, did they? So nothing to deflect. But you're right – he absolutely has to do something about that... maybe starting at Watford?
Ian Burns
25
Posted 04/05/2017 at 17:49:52
Dear Ronald,
I would like to thank you for confirming you are going to remain for the length of your £6m per year contract, that was most decent of you. I feel certain Barcelona will wait out the two years and call you based on the success you are going to bring over the remaining two seasons you are here.
Talking of the remaining two seasons, can you please sort out our away form; sort out who is going and who is staying; and put your mind to the top 4 rather than the top 6 – it feels demeaning as I am sure the "project" was to aim high and 6th isn't high in my humble opinion having supported the club since the late 1950s.
Ray Roche
26
Posted 04/05/2017 at 18:11:54
MK, isn't Watford our last HOME game? I imagine you mean Swansea, which is on BT TV if anyone wasn't aware.
Brian Williams
27
Posted 04/05/2017 at 18:16:58
As far as TW goes, Koeman's fucked no matter what he says.
Mike Gaynes
28
Posted 04/05/2017 at 18:17:07
Ian #8 and Michael #23, agreed.
Paul Tran #12 and others, not necessarily. Remember, this is Barcelona we're talking about, where "family" and tradition matter most.
None of the last five managers Barca has named -- Rijkaard, Guardiola, Vilanova, Martino or Luis Enrique -- had accomplished much of anything when they were hired. What they did have was a Barca pedigree.
You have to go back a good 15 years to find a manager (Antic) who had a really powerhouse resume when he was chosen by Barca.
John Pierce
29
Posted 04/05/2017 at 18:17:13
Michael, I think it can be taken both ways; obviously depends on your own bias – mine is anti Koeman, I'll never hide that. Appreciate the reply; my main point of emphasis is that the board are clear in the targets Koeman has to work to don't drift. I would objectively be the same even if it was someone I intrinsically preferred.
Do you not think Everton as a club need to be more ruthless?
Liam Reilly
30
Posted 04/05/2017 at 18:31:04
You don't have to like someone to respect them.
Koeman's making all the right noises about an assault on the clubs above us in the table and its refreshing to hear that as opposed to 'hitting 40 points' or 'Incredible Moments'.
I for one am truly excited about this window and next season.
Ross Edwards
31
Posted 04/05/2017 at 18:56:25
I wouldn't describe our style of football as being mediocre. At our worst, it's ponderous but at our best we can rip anyone apart. Look at the Man City game as proof. Bournemouth as well. We do need more creativity and pace going forward and I'm sure Koeman will sort that in the summer.
I personally can't wait for next season. It will be a busy summer hopefully, and it'll be great being back in Europe again. Exciting times ahead.
Mike Berry
32
Posted 04/05/2017 at 19:01:13
Aah, if your honest, you still get it the neck of some. I'm pleased we have a straight, honest no-nonsense Manager.
As for the moaners, you make me laugh, he has not even had a proper full transfer window yet, but guess what? We are in Europe in his first season. Give him a break, he will sort out our shortcomings.
And of course he will want to manage Barca at some stage — wouldn't you if you were Ronald? At least we know where we stand.
Ray Roche
33
Posted 04/05/2017 at 19:05:52
I'm with you Liam. I feel more positive about the next window and next season then I have for years. I sense something exciting is happening at Everton that we've not experienced for a long while. Let's hope it's not another false dawn.
Soren Moyer
34
Posted 04/05/2017 at 19:11:48
I wouldn't mind if we get Marco Silva if he leaves. Please leave.
Michael Kenrick
35
Posted 04/05/2017 at 19:13:16
Yea, our preconceived biases are apparently super strong and we only accept information that supports them!
I have no idea what the board has told him; I could speculate, of course, but the job he has to do is pretty obvious – make Everton great again. The last manager was doing okay in Season 1 but then it all fell apart. The bloke before him... an utter shyster he turned out to be!
Koeman is our best bet "at the minute". Do Everton need to be more ruthless? Of course, absolutely. In every sense. If it were me, I would go all out, but Moshiri is allowing himself to be bound by FFP, and that will limit what we can do. The trickle-down is the excuse thi gives Koeman for no getting the best out of the players he has – something he is clearly not doing yet.
On the one hand, I hate the transfer nonsense and the excuse it provides that "it's not his team" and "we must wait for two, four, six more windows." Utter bollocks, but the entire ethos is now built around that when it should be about emulating what Leicester City did – minimal outlay but gel a team that produces the goods. But for that to happen, all the ducks have to line up... and they keep getting distracted.
Everyone now believes it's all about assembling the best squad of talented individuals, for the biggest outlay. The emphasis on building a team seems to have gone. I'd rather Koeman focus on that than being "ruthless" per se.
Kieran Kinsella
36
Posted 04/05/2017 at 19:13:25
In fairness to Koeman, does anyone believe Klopp, Pulis, Puel or anybody else would seriously turn down Barca if offered?
John G Davies
37
Posted 04/05/2017 at 19:17:07
Michael #35.
I'm no expert on FFP. Can you please expand on "Moshiri is allowing himself to be bound by FFP."
Kunal Desai
38
Posted 04/05/2017 at 19:23:47
It's quite clear what Koeman's 3-year project entails:
First season – get the club back into the top half again and become competitive. That's mission accomplished as we're likely to finish 7th with Europa League football next season.
The second season of the project is the one that is now pivotal in quite possibly the history of club in terms of the Premier League era. The remit will be to finish in that top four and/or win a trophy. Failing either or both then Koeman's mission will be to have one final throw of the dice to finish top four or win a trophy or both in his third and quite possibly his last season at the club.
He is here for two more seasons either way. It is down to this club now to provide the tools for the manager to work with. All too often, those who run the club have let the manager and supporters down. Let's see if Mr Moshiri is really going to put his money where his mouth is. This summer is huge.
Mike Allen
39
Posted 04/05/2017 at 19:29:42
Managers and players come and go; we the supporters are the only ones with longevity. We too have our own dreams... some of them turn into nightmares but always back for more.
Will our time come again? Who knows...? What I do know is the supporters will always be here — "Once a Blue, always a Blue."
Kevin Tully
40
Posted 04/05/2017 at 19:40:33
A few facts, forget about personalities.
In one season, the current manager will probably improve our points total by around 17-20 from his predecessor. We are in Europe. He inherited a broken squad. He has had to assess approx. 25 players and loan out / sell whoever he deems not worthy of the shirt. He has integrated players from the U-23 squad and has been happy to keep them in the side. Just two losses at home and a record number of wins in Premier League era at home.
The football hasn't been great, our away record is atrocious. He doesn't wax lyrical about the club like some seem to want him to. (Personally, I couldn't give a fuck about that bullshit "he doesn't get us" was the cry, whatever that means)
But if anyone thinks Guardiola, Mourinho, Klopp or whoever else was going to take us into the Champions League in the same timeframe just doesn't understand football. Koeman has to improve next season; if he doesn't, I don't think Moshiri will put up with it – not after making Koeman one of the highest paid managers in the world.
He knows he has to either be strongly challenging for Champions League football or deliver some silverware. He's done okay this season. There is absolutely no basis for wanting to change the manager at this point.
Brian Harrison
41
Posted 04/05/2017 at 19:52:07
I think we should remember the shambles that Koeman inherited when he took over from Roberto Martinez. The team had finished in the bottom half of the table for the previous two seasons. We had become very predictable and sadly very easy to beat. The team lacked any shape and going to Goodison was anything but a pleasurable experience.
I know some say he doesn't come across as very likeable but you could level that at Van Gaal, Ruud Gullit maybe its a Dutch thing. But Benitez isn't a likeable sort either but still gets results. And Mourhino has hardly been a bundle of laughs. So let's forget if he is likeable or not as that counts for nothing.
So let's judge him on his results: most fans I think would have said if he can come in get us into the Europa League in his first season, then that's a good start. He has introduced some younger players to the squad and is not afraid to play them. They have a better home record than Martinez had in any of his time. We are 14 points clear of the team in 8th, so not just clinging on to 7th place.
Dermot Byrne
42
Posted 04/05/2017 at 19:57:12
I am pleased with this but, to be honest, these press conferences don't really inspire me either way.
Daniel A Johnson
43
Posted 04/05/2017 at 20:20:46
Not sure where I stand on this... any ambitious person has goals and aspirations, that's normal. Successful people are also ruthless and have a mean streak and are selfish.
But Ronald Koeman must understand that, despite his personal dream and goals, our dream and goal as supporters is to see the club we love rise to prominence once again. I accept that it's not going to happen overnight but Ronald Koeman is one of the highest paid managers in football and I would like him to treat the job/project, the club and the fans with a bit more respect.
He is a very very intelligent man and he doesn't need to make these comments in any shape or form. They ultimately undermine the club from top to bottom. How can he argue against any player wanting out when he demonstrates and promotes the exact same behaviour? Given the current contractual stance taken by Lukaku and Barkley, with these comments he's making a massive rod for his own back. At the end of the day, Barcelona hire who they want for the job – they don't hang around waiting to hear sycophantic soundbites from interviews.
I don't expect badge-kissing and tub-thumping but I expect loyalty and professionalism and the feeling that the manger is putting the club first. He himself has to set the example for everyone to follow. To hear my beloved club described as a project by the main man at the helm sickens me to the core. Maybe as a fan I'm oversensitive to the business-like demands of modern day football but Ronald Koeman's comments upset me plain and simple.

Stan Schofield
44
Posted 04/05/2017 at 20:43:52
Daniel, similarly for me, I'd like to see more professionalism and less chit-chat about other clubs. He even said, not long ago, that Lukaku would need to leave Everton to fulfil his potential. None of this kind of thing is necessary, and Moshiri should put a stop to it.
Regarding the 'project', it's just a modern management term that doesn't necessarily mean much (like most modern management terms), being more of a sound bite. I recall an interview last year with Sasha Ryazantsev, a board member, who said what is being done at Everton is more than a 'project', indeed is an attempt to re-establish us at the top in accordance with our historical status. For Koeman of course, he may see it as a three-year project for him.
Raymond Fox
45
Posted 04/05/2017 at 21:00:24
My, my he's getting an easy ride for his big mouth! Again.
The press are guaranteed to ask leading questions, why can't he say "I am the manager of a great Premier League club and it would not be right to speculate about future manager positions."
It's very good of him to donate all his attention to us for the full 3 years of his contract for the small sum of 㾾m. The only loyalty in football now, is by us mugs.
Anthony Hughes
46
Posted 04/05/2017 at 21:11:10
He hasn't had a full transfer window yet? He's had two transfer windows or am I missing something?
Anthony Hughes
47
Posted 04/05/2017 at 21:18:17
As for the "project"? That's something we used to carry out at school – not something you do at a multi-million-pound football club. He's paid a king's ransom to be in the service of our club! Please let's have less of the chat about where you might be in two years time. No disrespect but fuck Barca.
Michael Kenrick
49
Posted 04/05/2017 at 21:51:10
Good posts, Kevin (#40) and Brian (#41)...
But Daniel, Stan, Raymond, I'm sorry... that's delicate sensitivity to the point of snowflakes. How on earth can you take him restating his commitment to a contract he has signed, and twist that into being a comments that "ultimately undermine the club from top to bottom"? Sorry but that's total nonsense.
What you are seeing from Koeman is pure professionalism as a proper Premier League football manager. I fear your perspective has been warped by having to adjust your views so that the likes of Martinez and Moyes fit that description.
John (#), Moshiri has stated that he is bound by the limitations of FFP which limit his buying power. But others have mentioned that he could perhaps 'test the waters' in terms of how far we would be sanctioned if he overspent in the upcoming transfer window(s) in that effort to get us up into the bigtime.
It would probably be a huge risk which I suspect he will not take. And we will be bound by FFP, which will certainly prevent us from spending on new players to anywhere near the extent that many of the CM/FM/FIFA 2017 band of dreamers on here expect. Another massive reason why there needs to be much more emphasis on team-building and making the best of the players we have.
Ernie Baywood
50
Posted 04/05/2017 at 22:05:26
So far I've seen a manager who can get the kind of results you might expect, but who has a knife-to-a-gunfight attitude away to what he calls the 'Big 6'.
I remember thinking under the last months of Roberto that any manager would bring an improvement. And he did exactly that, getting the team to perform at about its level most of the time.
Unless he can improve on that, I don't really care about his other ambitions. He can stay or go. We'll find another manager who can deliver to an average level.
He does seem to have that same knack that Moyes had. His reputation far outweighs his ability.
Stan Schofield
51
Posted 04/05/2017 at 22:11:49
Michael, when a manager is being interviewed, there is always more than one way to skin a cat when responding to interview questions. This is not a matter primarily of sensitivity, but one of professionalism. A professional has a responsibility to act and talk in a way that is not contrary to the best interests of his employer. Unfortunately, Koeman has been guilty of not doing that on a number of occasions.
Bluntness and straight talking are one thing, but lacking professionalism is quite another. Being blunt and straightforward is acceptable provided the chit-chat is consistent with Everton's best interests.
Mike Gaynes
52
Posted 04/05/2017 at 22:12:03
Kevin Tully (#40), dead on, my friend.
Eugene Ruane
53
Posted 04/05/2017 at 22:22:07
If Barcelona say "We want Koeman" as first team coach, I'll be made up – it'll mean we've won the double or... something.
Michael Penley
54
Posted 04/05/2017 at 22:29:08
Hmm...
Interviewer: "Would you like to someday manage Barcelona?"
Koeman: "I feel it would be against the best interests of my employer to answer that. Therefore, I decline to comment."
Somehow I feel that kind of response would be unlikely to appease the pitchforks and flaming torches of our beloved ToffeeWeb denizens.
Ian Hollingworth
55
Posted 04/05/2017 at 22:32:35
Why oh why don't they just keep their big mouths shut!
Ray Roche
56
Posted 04/05/2017 at 22:48:33
Why is everyone getting so upset? Koeman is an employee of EFC, nothing more or nothing less. He's been given the job and will, I'm sure, do it to the best of his ability.
He's not like us, a born and bred fan, but he has his pride and will not want to be seen to fail. If he WASN'T interested in managing Barca, one of the best clubs in the World, you'd have to question his ambition, and it's ambition that brought him here.
We have ambition; Southampton do not, hence their last two managers jumping ship for clubs that can match their (his) ambition.
Darryl Ritchie
57
Posted 04/05/2017 at 23:02:29
When it comes right down to it, there's not a whole lot of difference between Lukaku's position and Koeman's. Both haven't any emotional attachments to the club.
We are a means to an end. To reach their goals, they must perform while they're here. Good for us and good for them. Win-win.
Just be careful you don't form any attachments to them. They are merely our current manager and our current striker. "They're here for a good time. Not a long time."
Oliver Molloy
58
Posted 04/05/2017 at 23:25:17
Ray @ 56.
Koeman left Southampton because Everton was a step up... and, of course, the little matter of 6 million pounds per year.
The next transfer window will show us the ambition you speak of, hopefully!
Eddie Dunn
59
Posted 04/05/2017 at 23:33:57
Kevin Tully – well said.

Ray Roche
60
Posted 04/05/2017 at 23:48:19
Oliver, yes, we were a step up, but we also sold him our vision, sold him our ambition and sold him our plans for the future. Southampton sold their best players. It's now up to the club to prove they meant what they said about us going places.
Nigel Johnson
61
Posted 05/05/2017 at 00:38:46
Hey it's me again. I would like to think that Everton are talking to players about joining the project. So far all the reports are about other clubs talking to player's who were possibly on Koeman's wish list.
Please, please, please get the business done soon which in my book means talking to players now – or agents should I say.
Mike Gwyer
62
Posted 05/05/2017 at 01:37:02
So. Managing Barcelona.
Go into the dressing room and tell Messi, Pique, Sergi, Suarez (both), Gomes, Alba, Iniesta and 3 other zillion pound footballers that your in the first 11. Tactics would be; just go out on the pitch and do what you usually do. Pick up your usual win bonus, do some media shots for the TV people, wave at the fans and kiss the shirt badge that you borrowed off Messi. Finally, take the Mrs out for a meal and revel in all the glory.
Do the same thing the following Saturday.
Fuck me, I could do that.
Mike Gaynes
64
Posted 05/05/2017 at 03:43:16
Mike, you can't possibly believe that's all there is to it.
Managing Barcelona is also the biggest pressure cooker in sport. The expectations of the entire world are on your neck.
Pep is one tough bastard. He managed Barca for four of the most spectacularly successful years in the history of world football... and was finally crushed by the pressure to the point where he had to quit. The same thing has happened to the equally tough Enrique in less than three.
Darren Hind
65
Posted 05/05/2017 at 05:27:49
Take it with a pinch of salt. He was asked exactly the same question almost two years ago, to the day.
When asked if he would leave Southampton to join Barca, he replied "It's normal that I get liked to the job" referring to the time he spent there as a player. "I have a contract for two years more, I have to respect my contract."
Moshri offered "Honest Ron" a pay rise and the rest, as they say, is history.
John G Davies
66
Posted 05/05/2017 at 06:09:44
Thanks, Michael.
FFP has always been how far you can bend the ruling. 㿼milion deal for Finch Farm was an indicator of the manner in which Mr Moshiri will go.
SportPesa have announced they will be basing themselves in the Liver Building. The bricks are falling into place.
Gareth Clark
67
Posted 05/05/2017 at 06:30:31
You have to love how much of a straight talker Koeman is.
Initially I was worried when I saw this.
But if you think about it a little – he will have to be successful with Everton for a prolonged time in order to get the move to Barca.
Second of all, when his contract comes to an end, there may very likely be a coach already at Barca, so (being extremely positive), he could hopefully extend for a year or two, and then leave when Barca come calling.
Lee Brownlie
69
Posted 05/05/2017 at 07:03:59
Amazing how much negativity still comes through on here! Either not interested in what he's actually saying or interested only to twist the meaning..
Okay, I get some want the guy out, whatever, but hold on – we're back in Europe in his first season and he'saying he's committed to the 'project' (as opposed to a quick-fix) primarily because we've still a bit to go to be in amongst those higher than us... yet still let's slag him off, yeah?
So... what do you nay-sayers want, exactly, apart from the magic wand non-reality of current Premier League, FA Cup and Champions League trophies instantly in our trophy cabinet? Been watching Harry Potter or what?
Brian Murray
70
Posted 05/05/2017 at 07:06:01
We're by far the greatest project the world.... nah, fuck that! – with Kenwright and idiot Bob still influencing Mr Moshiri, we will never push on.
They are losers who are happy with a Martinez - Moyes mentality. It will come back to haunt Moshiri not kicking them out straight away, regardless if Bill got him here.
Mark Andrews
71
Posted 05/05/2017 at 08:19:23
If he improves us vastly, he may well be in the frame for the Barca job but at the moment? Not so much.
Colin Glassar
72
Posted 05/05/2017 at 09:04:25
"Mr Koeman, are you or have you ever been a member of the Barcelona FC party?"
"I will have to take the 5th on that one."
"Mr Koeman, are you or have you ever been an Ajax player or fan?"
"Once again, I will have to take the 5th on that one."
"Mr Koeman, are you or have you ever been a fan of Everton FC?
"I'm sorry Mr Chairman..."
Sound familiar?
Chris Gould
73
Posted 05/05/2017 at 09:25:32
Football fans are notoriously unrealistic and fickle.
I recall some Charlton fans campaigning for Alan Curbishley to leave the club as they felt taking them to 7th was as far as he was going to take them. 7th!!!! Any rational fan would have realised that it was a magnificent achievement against all odds but you can't please everyone. As soon as he left, Charlton got relegated.
I don't understand those that believe we should crack the top 4 next season. What do they expect Koeman to do that the current manager's of the top 6 teams can't? What revolutionary training, tactics, formations?
We're talking about buying Sigirdsson, Utd are talking about Griezman and Rodriguez. Regardless of how much money we want to spend, we won't outspend the 2 Manchester clubs or Chelsea. Tottenham will be able to attract better players than us, and so will Arsenal.
I believe next season we will challenge 5th/6th place with Liverpool and Arsenal. That will be a significant step in the right direction. To move beyond one of those clubs will be an achievement. I don't expect us to jump above 3 clubs. I don't believe that's a realistic expectation.
Leicester achieved something that truly was miraculous. It's very unlikely such a feat will happen again any time soon.
Of course, there's always hope... but it's less disappointing if you have realistic targets and ambition. I believe we will challenge for top 4, but probably not next season.

Colin Glassar
74
Posted 05/05/2017 at 09:35:42
Great post, Chris. I imagine the "project" goes something like this:
Season 1 – Stop the rot and stabilise the club.
Season 2 – Radically reform the squad and challenge for a Champions League spot and a domestic trophy.
Season 3 – Challenge top teams on every front and win something.
Do that and we can talk contract extension or you can move on with our blessings.
Stan Schofield
75
Posted 05/05/2017 at 09:52:23
Michael @54: With that choice of skinning a cat, I perhaps you shouldn't volunteer as Koeman's advisor.
Phil Walling
76
Posted 05/05/2017 at 10:06:34
Lee @69. Why the negativity about Koeman and the future ?
Didn't you know the man has 'previous' – not only for going back on his word but also in his reluctance to include young players who didn't cost a fee. Ask Southampton.
Sam Hoare
77
Posted 05/05/2017 at 10:11:59
Well said, Chris@73. No doubt some will paint it as 'accepting mediocrity' but, whereas it's good to dream, it's not helpful to lose touch on a permanent basis with reality.
It will be a serious struggle for us to get much further up the table than we are now – let alone into the top 4. Nearly all of those teams have better squads and resources.
We will do very well indeed if we can get onto level footing with the likes of Arsenal and Liverpool over the next two years.
Alan J Thompson
78
Posted 05/05/2017 at 10:34:38
Barcelona, the biggest pressure cooker in the world? My arse!
They are in a two-horse race domestic competition which means Champions League football every year and apparent unlimited transfer funds, regardless of FFP, and access to all South Americans on Spanish passports.
More likely they get fed up, fall out with the Directors or desire more of a challenge with the national team or in a more competitive league that offers greater rewards. They don't all retire after leaving Barcelona.
Ray Roche
79
Posted 05/05/2017 at 12:15:42
Phil (#76),
Phil, I was a critic of Koeman early on in the season because of his claimed reluctance to play young lads in the first team.
I read and occasionally contribute to a Southampton fan site. (Don't ask). They were also critical of his unwillingness to play lads from their Academy when he was there. However, Puel HAS used some of these same lads and is getting stick because they are just not good enough.
Maybe Koeman is not so averse to using the youth players as we think. Maybe he has more knowledge than us!
Tony Hill
80
Posted 05/05/2017 at 12:45:14
Chris (#73), and yet in 2013-14 we had top 4 in our hands before we lost our nerve. A more courageous approach away from home this season would also have put us right in the frame – none of Man City, Arsenal, Liverpool or Man Utd has been conspicuously better.
A missed opportunity. Again.
Don Alexander
81
Posted 05/05/2017 at 12:53:15
Tony, the 2013-14 failure made me wonder at the time whether the players, several of whom are still in the squad, just didn't want to know about Champions League qualification because the monies available from the outset may have enabled signings to be made which jeopardised their comfort in the team.
Ian Guignet
82
Posted 05/05/2017 at 12:56:14
The facts are, for any manager, there's nowhere better than Everton.
Chris Gould
83
Posted 05/05/2017 at 14:15:06
Tony, that may be true. However, every team can say the same. Every team can point to results that "if only" they had played better. The league table doesn't lie. Teams are in the positions they deserve to be.
In 2013-14, Arsenal will point towards a run of fixtures where their form dropped. They can say, "if only we had performed better in certain games maybe we would have won the league". Tottenham fans will be saying "if only" with regards to last season. Man Utd will say, "if only we hadn't drawn so many this season."
The fact is, we weren't good enough in away games this season. Who's to say that a more courageous approach would have served us better? Maybe we don't have players with the ability to be courageous away from home.
We are where we deserve to be. We need a far better squad in order to deliver sustained success, but it will take time.

James Marshall
87
Posted 05/05/2017 at 20:38:36
Anyone talking Koeman's record as a manager underestimate the way they choose managers at clubs like Real or Barca - Zidane has never even managed a professional football team and he's the Real manager, and Luis Enrique's record as manager of Roma and Celta was less than average before he became Barca manager.
Those clubs can pick any manager they want, as long as he's one of their own, and as long as that manager is a strong character, he's going to do OK since they have such pulling player for the top players.
Jeez, I reckon I could do a half decent job managing those teams - in fact, they'd probably do alright with no manager at all when you look at the players they have!
Stan Schofield
88
Posted 05/05/2017 at 22:40:47
When Koeman is asked about reported potential signings of players, he usually says he doesn't talk about other clubs' players. I think that's a good response to such questions.
When Koeman is asked about whether he would one day like to manage Barcelona, I don't see why he can't simply adopt a similar approach, and say he doesn't talk about other clubs because he's Everton's manager.
There seems a consensus on TW that getting really good players to sign for Everton will be very hard, on the basis that our profile just isn't high enough. Given this, I believe that our manager, because he's employed by Everton, should be taking every opportunity to enhance our profile, to help increase the chances of signing players we want. As such, he should deal with any questions accordingly. He has a professional duty to do so, because he gets paid by Everton.
Some of the things he has said are not consistent with this duty on him. I believe this needs to be put right. It's a matter of professionalism (which he needs to show in order to lead by example), regardless of any opinions about whether or not he 'gets Everton'.
As a supporter, I am not happy to pay to watch a team, and thereby contribute to the salary of its manager, if that manager does not act and say things consistent with the best interests of the club. It's dead simple, it's not rocket science.
Peter Warren
89
Posted 05/05/2017 at 22:46:42
Stan are you serious? He talks about loads of players. Koeman would like one day to manage Barcelona. In other news, a bear shits in the woods.
Lev Vellene
90
Posted 05/05/2017 at 23:01:08
Koeman has clearly stated very early on that he is NOT directly involved with player purchases (because he wants it that way), except to the extent of working out with Walsh (here at EFC) what kinds of players he wants. And the same goes for player sales, so he'd like to keep Lukaku, but someone else is handling that!
I think we are all so used to the old omnipotent-manager image that we have trouble remembering that we have been told again and again by Koeman that he doesn't work like that...
Lev Vellene
91
Posted 05/05/2017 at 23:15:39
Stan (#88)
Koeman has responded to suppositions and rumours that he would jump the EFC ship if Barcelona came calling. He says that he will totally honour his contract, as he is dedicated to the 3-year Project he signed on for to accomplish!
And to the others, what is not to like about that honesty from a professional non-Liverpudlian?
You want a Dutch guy to be in love with EFC to the extent that he forgets where the more memorable parts of his playing career was spent? Of course he dreams about managing his old playing team!
But as I understand what he says, hopefully sometime after his contract with EFC is done he may be considered good enough for that!
Stan Schofield
92
Posted 05/05/2017 at 23:22:55
Peter@89: Yes, very serious.
Lev@91: I'm not interested in whether he 'loves' Everton or not. I'm interested in him acting in Everton's best interests.
Tony Hill
93
Posted 05/05/2017 at 23:32:36
Despite his poor English (better than my Dutch), I like Ronald's public chats: pleasingly open and brisk. It's not dazzling stuff but it's pure oxygen after Roberto's claptrap.
If only the same simple efficiency – the type that marked him out as a player of greatness – were consistently visible in Everton's performances.
Strange that a man of such fearlessness and lack of sentimentality in his PR should be so cringing under pressure on the pitch. Cure that, cure all.
Lev Vellene
94
Posted 05/05/2017 at 23:44:30
Stan (#92),
Then how can he ever get your approval? Koeman says that he runs the playing team, and by that he picks his players for each game. But he still has no definite say about who EFC target for sales or purchases. Apart from maybe saying "NO" if he feels that way? As I tried to say earlier, he is by his own wishes not a Moyes or SAF, and leaves the eventual scouting, sales and purchasing to Walsh.
As an employee of EFC, Koeman has clarified that he will be dedicated to fulfilling his work contract! He has expressed no disloyalty, just an earnest wish to one day be able to manage his old team.
Koeman is doing everything he can for now for the playing team of EFC, but as he has already said that his contract with EFC is NOT involved with the buying or selling of players, why do you expect him to do just that? Or how can he otherwise act in Everton's best interest within those limitations?
Was it okay for Man City's manager to publicly admire John Stones for so long that they turned his head, and we should just smile and shrug our shoulders? Should we expect Koeman to do just that about a player for another Premier League team, when he has no direct say in the eventual purchase of that player, except for shaming the money-bags into following his lead? I think he's been quite smart avoiding that trap!
Terence Leong
95
Posted 06/05/2017 at 02:03:12
It's a reality that every club is seen by the media as beneath Real and Barca. We aren't the only club that get this treatment.
Even Hazard is being flagged by the media recently, to depart for a bigger club, likewise the manager Conte.
For years, Man Utd and Arsenal players have been facing the same treatment.
So, that's the bigger reality we need to put in context. No point raging against the media.
Anyway, in this context of Koeman's comments, he answered it as it is.
Gary Russell
96
Posted 06/05/2017 at 02:33:27
Phil Walling's post at 76... first line including the word 'negativity,' made me smile.
Darren Hind
97
Posted 06/05/2017 at 07:43:15
Two things, Lev:
If Koeman has nothing to do with the players coming and going, how come he gets all the credit for signing Schneiderlin and Gana?
Whilst I can accept he had nothing to do with the signing of Gueye – due to the fact that it has been well publicised that Walsh had done the work and Koeman hadn't really gotten his coat off yet – I can''t really believe any players would be signed without the manager expressing a wish to sign him?
If you are correct; The only reason Koeman would be here would be to coach players, select the team and manage tactics... Woe betide us us if you are right.
Secondly; You will be well aware that the manager made an almost identical promise when asked would he leave Southampton. A year later, Moshiri offers him a substantial pay rise and our boy is heading up the A34 doing Warp Factor Six.
You asked, "What is not to like about that honesty from a professional non-Liverpudlian?"
It's a good question actually. What's not to like indeed? As one of the many who feel we could do better, I look at his previous and find his assurances strangely... err assuring.
Stan Schofield
98
Posted 06/05/2017 at 09:07:58
Lev @94: Koeman has got my approval in many respects. He's got us getting great results at home (from which we can hopefully build on away), we're much better in defence, we're fitter, better team spirit, and youngsters are coming through.
My only concern (apart from our poor away form) is about some (not all) of his comments. Such as saying Lukaku would need to leave Everton, his public assessment of Niasse, his constant public assessment of Barkley, his general lack of focus on taking responsibility for faults, and his remarks about Barca. He needs to improve in terms of helping heighten Everton's profile. That's all.
Laurie Hartley
99
Posted 06/05/2017 at 10:26:46
My initial response when I read about this was why didn't he just say - "we don't talk about that". However, after listening to the interview I feel he handled the questions quite well and intends to see out his contract with Everton.
Chris # 83 - last season we were scared to play at home until Roberto got sacked and Unsworth came in as caretaker. I would have thought there is less pressure on players when away from home?
Stan Schofield
100
Posted 06/05/2017 at 12:37:38
Laurie, yes, and it's unlikely that the poor away form is due to the players not being good enough. It's more likely due to the approach to tactics not being good enough, something which needs sorting for next season.
Chris Gould
101
Posted 06/05/2017 at 13:40:39
Stan, I don't see a big difference in our team selection or tactics away from home. Koeman himself has said that he doesn't set them up differently.
Also, Koeman isn't going to get it wrong tactically every away game. It's more to do with the home team making it more difficult, and our players not being good enough to deal with it.
We are not an awful lot better than the teams below, which is why we struggle when they have home advantage. For some reason, some fans think we should be beating all of these teams away from home, when actually a draw is often a respectable result.
Nobody was happy with a draw at West Ham, yet they just beat Spurs at home? We are simply not good enough to expect to win these away games. I don't think tactics are the problem. We don't have the players to play more expansive football.
The fact that we have sorted out the home form is a huge step in the right direction, but we aren't good enough to expect to be winning at the likes of WHU. Yes, we should certainly be trying to win the game, but not expecting to. We are not at that level yet.
Stan Schofield
102
Posted 06/05/2017 at 14:12:00
Chris, I agree with you that we shouldn't be expecting to win those away games, and that we should certainly be trying to win them. That's really what I'm getting at, we appear not to be setting out to win those games, but to defend and contain, unlike at home. I don't mind so much if we don't win so long as we at least try.
This difference between home and away is surely influenced by the tactics Koeman uses, his approach to away games compared with his approach to home games. I agree that in away games we encounter different tactics from the opposition, and it's not like playing at home.
So yes, I've no issue with there being a difference between home and away results, but I do have an issue with the size of the difference. There's only a couple of teams showing near or greater than our difference, and none of the top-6 sides show such a marked difference. It strikes me that it's due to a comparative lack of winning mentality away from home, stemming in large measure from tactics, which need correcting with or without new signings.
Stan Schofield
103
Posted 06/05/2017 at 14:25:41
Chris, just to add, using your reference to us not being good enough, I would agree we're not good enough to expect to win away games like home games, but that we are good enough to at least go out to win rather than contain, and are definitely good enough to expect a better away record than we have at the moment.
Jay Wood
104
Posted 06/05/2017 at 15:07:45
Chris @ 101.
"We are not an awful lot better than the teams below, which is why we struggle when they have home advantage. For some reason, some fans think we should be beating all of these teams away from home, when actually a draw is often a respectable result."
Sorry to take issue with you on that Chris, but I don't agree at all. We ARE a LOT better than the teams below us as the 14 point gap to 8th placed WBA demonstrates. We SHOULD have registered more than a paltry 4 wins on the road.
What we are is clearly the weakest of an elite top 7. We can only rise higher by gaining more points on the road.
Three of our 7 away defeats came away to top 4 clubs, 4 against teams below us. Defeats at Southampton, Bournemouth and Watford were abysmal performances during our long winless streak before the New Year. The last minute defeat at Burnley was cruel as it was a game we should have won.
The 6 away draws WERE games we could expect to win with a more inspired performance. As for your comment:
"Nobody was happy with a draw at West Ham, yet they just beat Spurs at home."
Poor example. It was a fluke! Spurs were awful, possibly their worst performance of the season. Der 'ammers have lost – heavily, frequently – at home this season. Furthermore, it is a fixture which in recent years has nearly always resulted in an away win for the Blues.
So, an improvement on our away record should be a high priority for Koeman next season. I've previously written I am confident he can achieve it, based on Southampton's away results in his 2 years with them, recording wins at Man Utd twice, Arsenal, Chelsea and Spurs.
Chris Gould
105
Posted 06/05/2017 at 17:11:49
Well, Jay, we will have to agree to disagree.
We are better than the teams below us and can dominate them at home, but we aren't so much better that we can expect to do the same away. The results away from home haven't been a fluke. We simply haven't been good enough many times.
I disagree that WHU winning last night was a fluke. They prepared well and fought hard. We see results like this every week in the Premier League. Away results will only improve when we bring in some better players which give us more attacking and tactical options away from home.
David Johnson
106
Posted 07/05/2017 at 14:15:22
I'm more worried about losing him to Arsenal and wonder if that's why Wenger is threatening to do two more years.
Stan Schofield
107
Posted 07/05/2017 at 16:11:37
Chris, if you believe that getting new players in will solve our problems, I suspect you'll be disappointed. Koeman's job at the moment is to get the best from what he has available, and he's certainly not doing that when we play away.
Progress has two elements: (1) Getting the best from the current squad, by setting the tactics right, and (2) Signing new players to build further on the improvement that stems from (1). Without (1), there is much less chance of (2) bearing any substantial fruit.
Jay Wood
108
Posted 07/05/2017 at 16:16:07
Chris @ 105.
"We are better than the teams below us and can dominate them at home, but we aren't so much better that we can expect to do the same away."
In your previous post you said: "We are not an awful lot better than the teams below."
Which is it?
Nor did I say we should be replicating our home results against the same teams away. Nobody does that. But based on the same teams own home performances, we should be registering more wins than we have.
Again, I didn't describe our away results as 'fluke'. The performances by and large have not merited better results than we achieved.
West Ham's win against Spurs was a fluke. They have lost seven of their home games. Those defeats read:
l Watford 2-4
l Southampton 0-3
l Arsenal 1-5
l Man Utd 0-2
l Man City 0-4 (and in the FA Cup 0-5)
l Chelsea 1-2
l Leicester 2-3
By that you can conclude they don't just lose regularly at home, they lose heavily.
To state as you do "They prepared well and fought hard" is an absolute bare minimum you would expect from any professional sports team at any level, let alone a team playing in a local derby. Spurs were well off on the night and that impacted more on the result than anything West Ham did.
And of course, as you claim "Away results will (only )improve when we bring in some better players which give us more attacking and tactical options away from home." That's just stating the blindingly obvious.
However, I isolate your use of only because I disagree. There is enough talent, ability and nous in the current side to have registered more than the paltry 4 away wins that we have. If we fail to win at Arsenal, it will be the poorest return in away wins for 5 years.
For me, you are being too generous in excusing the team and the manager for a very mediocre away record. As previously stated, it has to be a high priority to correct next season. As also stated, Koeman has shown in his time in the Premier League with Southampton, he is capable of achieving that.
Chris Gould
109
Posted 07/05/2017 at 20:44:33
Stan, I do believe results will improve away from home when Koeman brings in better players. Don't you?
I don't think these players are good enough. I don't think the squad offers enough options. We haven't got skilful, creative players who can make a difference away from home. We are short in several positions and very predictable.
Jay, seriously?
"We are better than the teams below us and can dominate them at home, but we aren't so much better that we can do the same away."
Or
"We are not an awful lot better than the teams below."
Both are true. Neither contradicts the other.
West Ham have struggled all season in their new stadium, but they have improved slightly recently and deservedly drew with us and beat Spurs. Why argue about this?
Koeman has tried and failed to get the best out of these players away from home. He has tried playing the same way as at home. He has tried different starting 11's and changed tactics. Nothing has worked. Why?
In my opinion, because the players are not good enough, and the squad doesn't offer many options, whether tactical or with personnel.
As you said, Koeman showed that he can do it at Southampton, so why isn't he doing it here? He will believe it's because the players aren't good enough and he will bring in several new players in the summer. I guess we will see then if results improve. If they do, then the only difference will be that we have better players.
If results don't improve with different players then it will be fair to assume that the fault lies with Koeman.
I am not excusing the players. Saying they aren't good enough, doesn't excuse them. If it's a lack of ability, fitness, poor attitude, nous, or a little bit of all of them, it makes no difference. They aren't good enough. They have had enough chances. They are trying. They just haven't been up to it.
So let's just agree to disagree. Arguing is – like our away form – pointless!

Stan Schofield
110
Posted 07/05/2017 at 00:01:47
Chris, I believe results will improve significantly away from home when Koeman brings in better players only if the away tactics improve.
That is, @107, condition (1) is necessary in order for condition (2) to bring significant improvement away from home.
Jay Wood
111
Posted 08/05/2017 at 00:41:57
Chris @ 109:
"Why argue about this? Arguing is – like our away form – pointless!"
Hmmm . I didn't consider I was arguing. I was offering an alternative opinion to you own.
I'll remember my place in future, that your opinion is sacrosanct and should not be challenged.
Humble apologies...
Stan Schofield
112
Posted 08/05/2017 at 10:15:52
Must admit, I've never really understood what 'agreeing to disagree' means, especially in matters where you have a number of linked factors to consider.
Chris, are you saying that Koeman is faultless in terms of his choice of tactics away, and that it's simply that the players aren't good enough?
---
Add Your Comments
In order to post a comment, you need to be logged in as a registered user of the site.
Or Sign up as a ToffeeWeb Member — it's free, takes just a few minutes and will allow you to post your comments on articles and Talking Points submissions across the site.