Toffees have no reply to Swans' determination

156 Comments [Jump to last]
Saturday 6 May 2017
Swansea City 1 - 0 Everton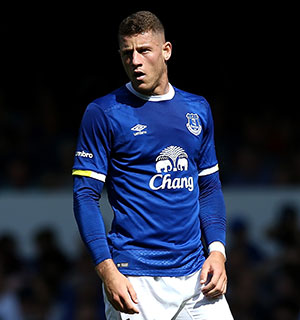 Ross Barkley was dropped to the bench after failing to produce anything meaningful in last weekend's match
Everton travel to the Liberty Stadium for Saturday's televised tea-time kick-off against Swansea City who were buoyant in the knowledge that their nearest rivals for relegation, Hull City, had just lost to relegated Sunderland.
With Morgan Schneiderlin still sidelined, Barkley and Valencia are dropped to the bench for this one, as Koeman shows some reaction to the Everton playmaker's laboured and rather moribund performance last weekend. Gareth Barry and Kevin Mirallas return to the starting line-up.
Everton started brightly, getting forward and putting a cross in from the left that Lukaku headed weakly toward Fabianski. They did well to keep the ball in Swansea's half for most of the opening plays, and seemed to be moving the ball around a little more quickly without Barkley's ponderous deliberation.
Swansea's first attack led to a corner off their former captain, Ashley Williams, that was defended well enough. The home side came into it more as Everton moves failed to get much beyond the half-way line before breaking down, and a log spell of pass-the-parcel took them precisely nowhere.
Mirallas did finally get forward, saw a little space, and shot at goal but it was defected out and ran for a corner that was delivered in well by Baines. Some better passing and great movement from Davies saw the ball fed waist-high to Lukaku, and handball. Mirallas ran well into the area but Holgate's cross was way too deep.
Davies fouled Ayew with Williams blocking, Sigurdsson stepping up from 40 yards, straight to Stekelenburg. Not very smart from the Icelandic genius! Some idiotic presumably Everton fan came on the field and went up to Lukaku to give him a big soppy hug before being escorted away... Sigurdsson appeared to go down easily but no penalty; however, the ball was played in to the far post by Ayew, with Stekelenburg stranded, where it was bundled in by Llorente, pushing Jagielka as he scored.
Swansea had their tails up and pushed the visitors back into their area, forcing Stekelenburg to punch a good cross, then winning a corner that was not fully cleared and Mawson seemed certain to score but for a desperate block by Holgate. Another good corner form Sigurdsson but this one was cleared as the blues rocked a little under the pressure.
The pressure was relieved a little but the Everton attack had not gotten forward meaningfully until Lukaku managed to pull a good ball back from the byeline that surprised Gana but he could do nothing with it and that set up another Swansea attack, with Olsson trying to score from a very narrow angle, winning another corner that went behind.
More laboured passing ended with a long cross-field pass from Williams being overhit well out of play. Barry tried to push them forward but everything was so static until Baines got space and crossed but Mawson was doing a good number on Lukaku. Mirallas was looking to drive in a shot again, but he was instantly crowded out.
Swansea won a late corner before the break that was wasted but the home side had the upper hand as Martin Atkinson blew his whistle. Barkley replaced Calvert-Lewin after the break but the early play did not show much improvement as Swansea quickly denied Barkley space to work his 'magic'.
Davies won a free-kick that Barkley swung in well but the Swansea defenders showed more desire to get their heads on the ball and clear it. After Swansea attacked the ball seemed to break for Barkley but there was too much for him to do and the home side went forward again, winning a corner that was recycled until Ayew's difficult shot hit the post with Stekelenburg again stranded.
Britton and Gueye both went for one of those horrible 50/50 balls, sliding in with their feet up... fortunately no-one hurt. The ball was played in to Swansea's area and Davies seemed close enough to convert but could not.
Everton were showing a little more invention and deire going forward but it was still nowhere near enough to alter the balance of the game, so Koeman decide that the presence of Enner Valencia was required in a further effort to raise the tempo, replacing Gareth Barry. But his first opportunity to make an impression was a crposs played straight to a defender's feet.
A chance did come Lukaku's way and he drove in a reasonable shot but Fabianski was down to cover. At the other end, header from a corner was goalbound until it hit Barkley and flew over. Llorente had a free header for the next corner, but Stekelenburg grasped it firmly.
Holgate won a corner, headed away but Davies got it back in for Mirallas who wanted an extra touch before shooting from close range. Any urgency, however, was completely lacking with slow build-up achieving nothing. Instead, Swansea attacked with pace, and Leroy Fer, juts on as a sub was denied only by good anticipation by Stekelenburg. Jonjoe Kenny finally got his first chance of the season, replacing Holgate for the last 15 mins.
Lukaku got fed nicely by Barkley and came inside but could only lash the ball into the side netting with his right foot. Into the final 10 mins and Everton finally started to increase the pace a little, A cross for Barkley skimming off his head, another cross from Kenny defended away, a distant shot from Baines flying over. Williams got annoyed with Llorente, throwing him down after he was barged into.
Some really good effort from Kenny, with only one intent, to get the ball in to Lukaku, but he was being marked too closely. A great free-kick from Barkley but Mirallas got too far ahead of it and Williams could not connect behind him.
Another corner after Keeny had saved it from being a goalkick, and a second corner, but hitting white shirts., Lukaku got wide and centered brilliantly and low but who was there? Mawson to clear. Another corner, but Valencia headed over at the end of time.
A third successive game with no goals, no desire, no intensity, no guile, no pressing, no drive... no nothing from far too many of these players for anything but a loss to be somewhat inevitable. Magnificent Seventh place secured; season over.
Scorers: Llorente (29')
Swansea City: Fabianski, Naughton, Fernandez, Mawson, Olsson, Ki (75' Fer), Britton (73' Cork), Carroll, Sigurdsson, Ayew, Llorente (88' Borja).
Subs not Used: Amat, Baston, Nordfeldt, Narsingh, Kingsley.
Everton: Stekelenburg; Baines, A Williams, Holgate (78'Kenny), Jagielka; Gueye, Davies, Barry (65' Valencia); Mirallas, Lukaku, Calvert-Lewin (46' Barkley).
Subs not Used: Robles, Pennington, J Williams, Lookman.
Referee: Martin Atkinson
Attendance: 20,827
---
Reader Comments (156)
Note: the following content is not moderated or vetted by the site owners at the time of submission. Comments are the responsibility of the poster. Disclaimer
Max Murphy
1
Posted 06/05/2017 at 16:57:06
Can't believe he's picked that clown Stekelenburg.
Peter Lee
2
Posted 06/05/2017 at 17:04:30
At last we play with a defensive MF.
Mark Frere
3
Posted 06/05/2017 at 17:12:43
I don't understand Calvert-Lewin being stuck out on the wing. He clearly doesn't have the technical ability to play in this position. He maybe okay as a striker where his purpose is to score goals.
There's little to play for, so I would've liked to see Kenny, Lookman (and if Calvert-Lewin has to play) starting in their natural positions.
Steve Bingham
5
Posted 06/05/2017 at 18:00:36
Stekelenburg ball-watching... absolutely shocking.
Max Murphy
6
Posted 06/05/2017 at 18:02:12
What a coward Stekelenburg is. He could've taken that cross. Useless keeper.
Alex Mullan
7
Posted 06/05/2017 at 18:18:35
Literally dire. One of the worst halves of football I have seen. Lukaku has had about 3 touches.
Michael Kenrick
8
Posted 06/05/2017 at 18:24:28
What was that daft twat of a 'supporter' up to with Lukaku? Doing a Nyarko perhaps???
Paul Holmes
9
Posted 06/05/2017 at 18:25:53
How have we given them kids 5-year contracts, ffs!?!
Ralph Basnett
10
Posted 06/05/2017 at 18:28:30
If we moan at our players, someone on here gets on your case for not backing your team but how the fuck can you when they perform like that? They don't give a shit and you have to feel for the supporters who have travelled all that way.
I suppose this is what comes of being a mediocre team – your season is over early and the players just plod on!!!!
Oh well, onwards and upwards, and the Red Shite will still have yet another new stand before we see any signs of a new stadium .
Raymond Fox
11
Posted 06/05/2017 at 18:30:06
Okay... passing sideways and back, but no threat through the middle, very boring to watch. How we are 7th is surprising.
Who is going to buy Lukaku? I want to know!
Phil Malone Jnr
12
Posted 06/05/2017 at 18:36:44
I think Calvert-Lewin's done enough to start the next game, Ron. He almost had a touch!! Give him another 5 years and double his wage!!
Alex Mullan
13
Posted 06/05/2017 at 18:48:40
Holgate couldn't deliver a letter if he was a postman.
Colin Hughes
14
Posted 06/05/2017 at 19:08:17
Bastards are utter shite, failing to win at Middlesbrough, West Ham now Swansea is totally unacceptable.
Joseph Terrence
16
Posted 06/05/2017 at 19:15:27
I like what I've seen of Kenny. Wants the ball and no pissing about. Delivers the ball into the area as soon as the opportunity arises.
Max Murphy
17
Posted 06/05/2017 at 19:20:33
No goals in 3 games.... Utter rubbish performance.
30 years ago this week, we won the League at Norwich.

Steve Bingham
19
Posted 06/05/2017 at 19:23:51
Bring on the summer re-build...
Tony Sullivan
23
Posted 06/05/2017 at 19:27:14
We are piss poor. It needs major surgery.
Why anyone thinks Lukaku is worth £100 million is beyond me.
Oh for someone like the Golden Vision.
Andy Ellis
24
Posted 06/05/2017 at 19:28:24
I o confidence in Koeman, consistently gets tactics and team selection wrong away from home. Too defensive, no width, one-dimensional... if we can't get Lukaku in the game, we've no Plan B. But of course it's never his fault.
Paul Smith
25
Posted 06/05/2017 at 19:29:21
Atrocious again.
Liam Reilly
26
Posted 06/05/2017 at 19:30:12
Major surgery required in the summer.
Those already on their summer holidays, can stay there.
Tony Hill
27
Posted 06/05/2017 at 19:34:18
As I said last week, Everton worry me when I look at our consistent failure to show courage and basic technique. 7th is just about acceptable but there is a hollowness and fragility about us which does not bode well.
There are many looking forward to the Koeman Project unfurling and to the influx of talent in the summer and then, we're told, it will be fine. I hope so.
Barry Pearce
28
Posted 06/05/2017 at 19:35:27
Jonjoe Kenny deserves a run out at right back for the last two games. Holgate's crossing is atrocious; Jonjoe is more the natural full back.

John Pierce
29
Posted 06/05/2017 at 19:35:41
That was not unexpected really? A very typical away performance from a manager who has no idea how to attack teams away from home, the results are there to for all to see.
Before we get the 'bring on next season' brigade, and stop the knee-jerk reactions activists, my comments are based on the body of work, away from home that amounts to a steaming pile of (insert animal of choice) shit.
This was a particularly supine effort, did Swansea have to do anything to win?
At the end it was mindless pumping the box of high balls, and last time Rom won a contested header? Who else bar Valencia stranded on the left can attack the ball?
Special shout out to Mason lad, poor git had no-one on his side of the pitch in the first half. And when you add in that he can't cross a road let alone a ball the lad needed some support.
So is this Koeman just flaunting the lack of quality he has to the board? Let's frigging hope so because he's on a short leash with me. Desperately poor that.
Darren Hind
30
Posted 06/05/2017 at 19:38:12
Not sure why anyone would be surprised. Their defence has been a shambles all season and we can't trouble them.
Koeman out!
Hywel Owen
31
Posted 06/05/2017 at 19:43:26
Please, please, Barca – come and get Koeman!!!!
Tony Twist
32
Posted 06/05/2017 at 19:43:37
Useless Everton. Manager is clueless and I wouldn't be surprised if he has his flip-flops on, like the majority of the first team.
I am losing faith, after so many unprofessional, dire away performances, with the new regime. Surely we could have done better in a lot of those lame performances blooding some youngster rather than sticking with the old guard.
Kieran Kinsella
33
Posted 06/05/2017 at 19:45:28
The tone was set inside about 10 minutes. Mirallas did a pointless dribble across their box then suddenly lumped the ball to no-one way back in our half.
Then Swansea had a corner, the rebound fell to one of their players outside the box while six of ours just stood around the six-yard box not even making an effort to close him down.
Dean Rolstone
34
Posted 06/05/2017 at 19:45:38
Not going to be as negative as most of the posts I anticipate on here tonight, but as soon as I saw the score at Hull I expected this exact result. It was a cup final for Swansea, but it was more like a 2nd leg cup tie when we're already 5-0 down for us, it would be nice to win but in all reality the result doesn't matter.
The thousands of hardcore fans that travel hundreds of miles to watch us play away deserve better and I can't defend our terrible away record this season. Although today I can see the they get paid handsomely so they should try for every minute debate, but in reality there is no motivation left for the players this season as we are cemented in 7th place.
Mirallas was terrible this evening; everything he tried didn't come off and I'm surprised he lasted the 90 minutes. I think you could see at 1-0 down when Koeman swapped right-backs how important this game was to us when we had more attacking options on the bench. That said, I thought Kenny looked a player when he came on; hopefully he can kick on next season and become a mainstay in our first team.
Mark Morrissey
35
Posted 06/05/2017 at 19:48:31
I'm not playing Captain Hindsight here when I say Stekelenburg was only brought to Everton by Koeman as a comfort blanket because he knew him of old. A mate to have in the camp. For me, it was a sign of weakness. Managers needing people around them as "yes" men.
Stekelenburg is crap, as is Robles. Not total dog shit obviously but not Premier League standard. Koeman is on thin ice for me. I could have put my mortgage on that result and that is not right. Those players are paid really good money to perform to their very best. They are already on their jollies.
Shameful and unprofessional; if Koeman is to be the man, he should have been better than that today and so should the team. I'm not convinced about him.
John G Davies
36
Posted 06/05/2017 at 19:51:17
Relax, boys. Europe guaranteed.
Playing against a side fighting for their Premier League survival.
Look forward to next season; this one is gone.
Ian Hollingworth
37
Posted 06/05/2017 at 19:51:53
Sorry but we are a million miles away from competing with the top 4.
Pathetic performance from a bunch of players who are basically not good enough and if we really are ambitious to compete then the majority of them need replacing.
It could be a long time before we see any trophies sadly. We will all get excited for the summer but I fear we will be left disappointed yet again.
Andy Crooks
38
Posted 06/05/2017 at 19:51:53
Swansea had to win and deserved to. They had a lot to play for but so did we: For the Evertonians who paid a lot of money to go to the game, for pride... for Hull, for fucks sake. It was embarrassing.
It is pointless to pick out individuals. From coach to everyone who shamed the shirt, they were a shower of shite. The coach was inept.
Eric Paul
39
Posted 06/05/2017 at 19:52:39
Alex @13,
He was our best player.
Lee Whitehead
40
Posted 06/05/2017 at 19:55:23
My god!!!
I just hope that Ron & Steve have got plenty of players in mind because that was pitiful.
And the first out the door should be that big lazy "git" up front. Okay, he scores goals against shite teams but what about when it really matters, he goes fuckin missing. You can tell a mile off he wants away so get rid of him asap.
This is my list of shite: Stekelenburg, Jagielka, Williams, Kone, McGeady, Valencia, Mirallas, Barry, Robles,
Anyway, another Saturday night ruined...

Tony Sullivan
41
Posted 06/05/2017 at 19:56:26
I find it difficult to find any positives in that performance.
When you factor in how much these 'professionals' are paid, is it any wonder people are 'pissed off'?
Ross Edwards
42
Posted 06/05/2017 at 19:58:03
Another poor away performance. Our away record is unacceptable and it's something that must be sorted out if we want to challenge next season.
Koeman has been far too cautious away from home and we've paid the price, dropping valuable points against the likes of Bournemouth, Burnley, Middlesbrough, West Ham and now Swansea today. In those games, we only scored once. Says it all.
When Lukaku is nullified, we just don't look like creating anything, let alone scoring. He was totally isolated yet again.
I'd like to see Kenny get more opportunities. He looked decent when he came on and his crosses were a lot more dangerous than Holgate's.
I like Koeman and think he's had a decent first season when compared to the absolute shambles of the last two, but if we want to challenge next season he must sort our away form out because it's cost us badly.
Colin Gee
43
Posted 06/05/2017 at 19:58:31
I didn't think we could get any worse than at West Ham the other week... That first 45 minutes proved that it could. Second half was slightly better.
I was pissed off at having to work today and not being able to go... glad I had to work now! Glad I didn't go all the way to watch another away 'performance' by Roberto Koeman/Ronald Martinez again!
I'll be there for Arsenal away though, that's why we are Evertonians!
Jim Bennings
44
Posted 06/05/2017 at 20:09:35
Can't even be bothered to comment on that shit! Equally as bad West Ham away.... only the opposition were better, so we lost.
At least under Martinez we actually looked like scoring goals away from home: three at Chelsea, Stoke and Southampton and Villa, even if we couldn't defend for toffee!
This is just drab, we don't score, don't create anything, play with the same snail paced cack, have a load of square pegs in round holes and basically look shite.
Oh and we are losing away games more now too by conceding stupid goals again.
Massive summer needed.
Sam Hoare
45
Posted 06/05/2017 at 20:13:58
Not really possible to defend our away record is it. But then I don't see any other likelihood than Koeman being here next season. My hope is that he fixed our home form this season and will fix our away form next year. Hopeless optimism.
Wonder if we will finally see the sort of statement in the transfer market that we've been hoping for since last year.
Max Murphy
46
Posted 06/05/2017 at 20:22:35
Funny, but no-one is surprised with the result or the performance.
When I look back on the season – how many games have we actually enjoyed? I'd say half a dozen at most.
This crap just gets worse. I don't like Koeman – I wish he'd go.
Raymond Fox
47
Posted 06/05/2017 at 20:24:59
I have to agree, Tony (#41).
Koeman is on 𧴫k per week – that's besides what the players are paid.
A top brain surgeon gets 㾻k per week... silly or what!
What annoys me most, is why wait till the game is almost up before showing some real urgency.
Tony Hill
48
Posted 06/05/2017 at 20:25:13
Andy (#38), you are absolutely right. It is indeed embarrassing to witness our habitual feebleness.
I am told they are expecting more than 20,000 on Monday for the Under-23s. It is time that the manager and players started to understand what they are representing, for every single second of every single game.
Steve Barr
49
Posted 06/05/2017 at 20:26:47
Well, stats do lie. Secure in 7th place, a great home record with a record-breaking winning streak, yet we are just rubbish.
I feel like I've been trapped in a time warp these past 20-plus years watching the same leaderless and spineless performances, crab like football, same lame excuses from all concerned at the club "we'll put it right for the fans next week" nonsense, ad nauseam. Doesn't seem to matter who our manager is!
Like all Evertonians, I'll be there next season, full of hope and expectation, only to be badly let down yet again.
The joys of being a blue.
Jeff Armstrong
50
Posted 06/05/2017 at 20:26:59
Sam, even if he fixes our away form, it will be at the cost of our home form, cos we ain't going to win the league!
Unfortunately at EFC we cannot have both good home and away results, because that would equate to a top four team, which we are miles away from becoming.
Jim Bennings
51
Posted 06/05/2017 at 20:30:13
I'm not holding my breath on anything changing.
This club has been mediocre for too long, it's happy to blow the trumpet for players who no longer affect things like Baines, Jagielka etc.
I had high hopes for Koeman when he arrived, thought he would eradicate accepting woeful dross like today, last week, West Ham away, the Merseyside derby etc.
It seems he's just accepting shit lately and making lame excuses for it. Well, I'm sorry Ronald but this hasn't been acceptable for Everton Football Club lately and I hope you are seeing this.
Martinez was destroyed in his second season after performances like today and he got abuse after a fantastic first season (with less money to spend too).
Koeman will be here next season but a poor start to the 2017-18 campaign and he might find for a very uncomfortable autumn winter.
Peter Mills
52
Posted 06/05/2017 at 20:32:25
I always get offered a hospitality ticket for Swansea, which I have gladly accepted for a number of years. Today, after a long week, sickness, and work commitments, I thought "bollocks to it". No – I thought "bollocks to them".
As it turned out, it was the team who said "bollocks to them" to the thousands who spent their money and time going to the match. A feeble, but unfortunately predictable, display.
Tony Hill
53
Posted 06/05/2017 at 20:45:38
Steve Barr (#49), for so long as we have a mindset among the fans which is content eternally to indulge cowardly underachievement and patronisingly to tell those who express discontent that they should get a grip or have some perspective, then the same parade of mediocrity will continue.
I have said that I want to give Koeman a chance to improve swiftly upon what has been a barely adequate season, after he gets in new players. But I am moving closer and closer to Darren Hind's position.
This club and team need to be taken by the throat and I see little evidence that Koeman can do it, that he has the tactical insight or the admiration and respect of his players.
Oh, and while I'm in ranting mode, Leighton Baines is now utter shite and needs to go. Nice man, great Evertonian and all that but his ritual pause and pass back sums up for me where Everton is now and has been for far, far too long.
Dave Abrahams
54
Posted 06/05/2017 at 20:52:16
Tony Hill (#48),
We both said it after the WHU game, the players don't seem to care. Does the manager have a go at them, the same players keep getting picked, the lack of effort and energy is unbelievable.
The fan who went on the pitch (to have a go at an Everton player?) was put out of order, but I for one can understand him. As you say Tony, play for every second of every game, there is no excuse not to and Koeman shouldn't be allowing this state of affairs.
A young lad came on for the last 15 minutes and showed what is required and needed off an Everton player. Jonjoe Kenny has been ready all season, he should have been played once Seamus broke his leg. What energy, determination, effort and will to win he showed, put Liam Walsh in with him next week he will show what Jonjoe showed today.
We will most definitely be better with these two lads in the team than the half-hearted, gutless, timid couldn't care less attitude of most of the players who have turned out, couldn't say played, the last few weeks, especially in the away games.
A disgrace and the fact that the season is nearly over is no excuse whatsoever.
Anto Byrne
55
Posted 06/05/2017 at 21:04:13
Players that should be culled include Jagielka, Baines, Mirallas, Barkley, Williams, Stekelenburg, Barry. Valencia... And Lukaku can go as he offers nothing as most decent defenders have him worked out.
Barkley is a very unintelligent player – not once did he pick the ball up and drive it forward and run at the defence. Such a let down and, like Stones, he will be bench-warming at another club so that they have their contingent of homegrown players. I reckon Arsenal might pick him up for about £18 mil.
Lukaku can leave for Chelsea but I reckon Conte won't have much patience with him given his hold-up play. We definitely need a major rebuild.
7th it is... so let's have the kids in.
Ian Riley
56
Posted 06/05/2017 at 21:05:20
You can smell the salt of the sea and the sun beating down. Glad to see the players giving their all.
Shocking performance again. Tough decisions must be made this summer.
Mike Berry
57
Posted 06/05/2017 at 21:05:46
Despite the result, I thought Mirallas and Davies had good games; Lukaku looks as though he is dreaming of Stamford Bridge.
Ronald knows what's wrong and I am sure he will fix it during the summer transfer season.
Brian Wilkinson
58
Posted 06/05/2017 at 21:09:02
If one person says Lukaku was starved of possession, I swear I will blow a fuse.
I've been saying it for months cash in and bring a centre forward in who will not only score goals but go looking for it.
At nil-nil Lukaku pointed to where to play the ball, the player played it into that space with Lukaku rooted to the spot.
Forget the Golden Boot – give the likes of Sambou or Lookman a go along with Kenny and Walsh – at least these guys will have a go.
Winston Williamson
59
Posted 06/05/2017 at 21:10:48
Players on their holidays already? Nothing to play for? Dead-rubber games?
Excellent!!
I look forward to the reduced prices on the tickets for the last two games then!?!? Oh, what's that? We're still expected to pay full whack??
Pull your fucking socks up then and provide the entertainment we pay full whack for!!
Paul Graney
60
Posted 06/05/2017 at 21:14:15
Poor away display yet again. Calvert Lewin looks out of his depth so far at this level but then again he's not a winger so a bit unfair on the lad. It's just a step back in time to the Moyes era mostly difficult to beat at Goodison but away from home we huff and puff but get nowhere plus strange team selections.
People on here blaming the keeper; yes, he should have done better but the ease with which they got the cross in due to the embarrassing lack of effort from Barry was the major reason.
Jim Bennings
61
Posted 06/05/2017 at 21:16:27
Once Koeman knew Bolasie was injured he should have told Deulofeu to knuckle down until May and kept him as an impact sub even.
Look at our midfield!! It's shite, it's just overloaded with central midfielders and it's not got a single ounce of speed there or anyone with the ability to go past a fullback.
I said it after the Liverpool game, we are so narrow it's unbelievable!! We will never get behind a team with this formation and personnel that he's playing and no way, absolutely no way is Dominic Calvert-Lewin a better option out wide than even a frustrating erratic Gerard Deulofeu!!Just no way!!
Koeman has dug himself this situation in away games and I'm looking for where he finds his answers because lately he's just falling flat on his face in virtually every away game, just a carbon copy of the one before that and then before that and so on.
Ian McDowell
62
Posted 06/05/2017 at 21:21:49
Utter garbage this evening. Most of what I would say has been covered in the posts above.
Maybe we should offer to give the players the rest of the season off on condition they forfeit their wages. They seem to be on their holidays anyway.
Bill Gall
63
Posted 06/05/2017 at 21:33:47
Pity as a number of the players seem to be playing like the season is over, with no drive, no effort and a just a lackadaisical attitude, that the club can't just stop their wages for not fulfilling their contracts. They surely must include clauses that include giving performances of a professional footballer.
It seems to me that Koeman has no Plan B for away games until the opposition scores, and is unable to change tactics or bring on Subs before that happens when it cries out for changes as per today, when Calvert-Lewin was having a terrible game (not entirely his fault as he was being played out of position,again) yet it took 45 min to change him.
We are allowed 3 subs that can be used at any time and I understand that you may have to save 1 in case of injury, but it seems Koeman leaves it to late to admit he made a mistake in his tactics and team selection. I am not picking on Calvert-Lewin as he was not the only one that could have been brought off before they scored, but how ineffective the manager appears to be, unable to try any changes to soon.
Jay Harris
64
Posted 06/05/2017 at 21:35:55
While I agree with the feeling that today's performance was unacceptable, I cannot accept the call for the kids to be thrown in. If we want to be a top side again we have to study the successful teams and see what they have done to become so good.
Besides the obvious that better quality players are needed there are other qualities sorely lacking in the current squad. If we look at Chelsea and Spurs as the leading lights currently we see quite a few characteristics that we currently don't have.
Goals from midfield and the wing, fight and athleticism and a winning mentality throughout the squad.
Personally I think we would destroy some of the kids throwing them in right now, even Tom Davies and Holgate have struggled recently.
We need a highly motivated team of experienced top class pros and a slow introduction of youth. Bring on the Summer of change because the status quo is nowhere near good enough.
Paul A Smith
65
Posted 06/05/2017 at 21:37:01
I can't be doing with all this "Koeman knows best" nonsense. He's made it pretty clear this is a 3 year job and we could be left with a few 26- to 29-year-olds he keeps talking about,that will be looking to move on too.
He has this affection for Calvert Lewin that seems to be a detriment to the team.
I don't go for the flip-flops shout either. I thought today we looked like we wanted to break them down, and did at times but our cutting edge and speed of passing are dreadful.
We always hear the future is bright lately but it will only be bright when everyone from the manager to the team are solely focused on Everton.
Lukaku gets enough stick for talking about ambitious moves but when the manager does it too, the future is unpredictable as always.
Phillip Warrington
66
Posted 06/05/2017 at 21:41:28
Another performance and a trait of Everton teams over the last 3 years, when the opposition really need to get a result and show above determination, Everton fold. The only players that shine are the youngsters.
I must be deflating for a team morale when they see their so-called star players strolling around some times not even that that it eventually goes through the team. They are all only human. If your star players only want the glory without the effort and commitment and are getting paid way above those players then why should they start giving a shit?
And a manager despite all the hype has struggled against tactical teams all his career Barcelona or Holland will never take him as manager. Everton are stuck with him and any chance of ever becoming a great team.
Darren Hind
67
Posted 06/05/2017 at 21:42:51
The tide is turning...
Scott Hall
68
Posted 06/05/2017 at 21:44:59
Koeman's team talk was very simple today:
Bend over, spread cheeks.
Colin Malone
69
Posted 06/05/2017 at 21:47:12
If we are to become a team, a team that, we are all in this together, then Lukaku has to go.
Jim Bennings
70
Posted 06/05/2017 at 21:52:00
Holgate is not a right back – this is a FACT!! Kenny should be right back against Watford and Koeman can't fail to see this.
Calvert-Lewin should be loaned out to a good Championship club next season to cut his teeth rather than playing him out of position, he's never ever a wide player and just doesn't look technically ready to be a lone striker at this standard, at least not yet.
Koeman needs to be a bit more savvy like he was when he first came, and start seeing things quicker and not letting players go before he's got a better plan with who replaces them.
Brent Stephens
71
Posted 06/05/2017 at 22:21:22
Give the young lads a go.
Young lad doesn't perform well.
Not good enough. Ship him out to the Championship.
Dave Williams
72
Posted 06/05/2017 at 22:24:08
Really poor and very boring – no excitement in 90 minutes and thank goodness I was at home and didn' t trail all that way!
Holgate looks a decent young player but is not a full back – as others say, his crossing is pitiful. Kenny must play against Watford. Calvert-Lewin is not a wide player – by all means drop Lukaku and play Calvert-Lewin as striker because Lukaku was awful – no effort, won't take on defenders in a physical sense and rarely holds the ball up.
The two centre-backs were very vulnerable with the ball in the air and Baines no longer has the pace to get down the flank.
Stekelenburg is not good enough, Kev tried and Tom was decent along with Gana but overall a dreadful listless performance.
I'm with Dave Abrahams – play Kenny and Walsh next game and let's get some heart into this team because the current lot lack drive, passion and guts and most do not deserve to be playing for this great club.
Nigel Johnson
73
Posted 06/05/2017 at 22:26:16
London to Wales for that poor performance. I think the gentleman who ran on the pitch showed better movement than most of the Everton players... Pass and move I learnt that at the age of 10 years old.
Heart surgery... I think some of the players need to play with a heart. The only good thing that happened today was when the ref blow the final whistle.
Now that Calvert-Lewin has signed a new 5-year contract, get your head down and start showing more – I don't want to see pictures of you and your girlfriend.
Lukaku has downed tools again, second year running – drop him and put Calvert-Lewin through the middle... let's see what he's about.
In my opinion and not just based on today's match but the following players need replacing: Mirallas, Barry, Jagielka, Stekelenburg, Barkley, Valencia, Lukaku (as he doesn't want to stay at Everton), Funes Mori, McCarthy, Robles, Lennon, and Kone... so all-in-all 12 players.
It's very poor when we need a player in the team who has just started his career with Everton to make us tick; Schneiderlin missing and the team goes missing. The job is far too big for Everton to be breaking into the top four next season; this is going to take at least 2/3 more seasons the fix.
Gerard Carey
75
Posted 06/05/2017 at 22:47:45
Steve Barr (#49), nailed it in one.
Again, I feel really sorry for our away fans today having to watch that display.
Peter Laing
76
Posted 06/05/2017 at 22:57:34
The old guard are finished – Jagielka, Baines and Barry. Goalkeepers not good enough and no creativity in the team.
Massive clear out needed during the summer with the acquisition of more talented and hungry players required.
Eddie Dunn
77
Posted 06/05/2017 at 23:01:30
I thought we would lose – predicted it. Koeman seems unable to lift these fuckers out of their Europa League reverie.
All is not rosy in the Dutchman's garden. I think a good dose of Round-Up is in order.

Jim Bennings
78
Posted 06/05/2017 at 23:01:54
Magical word..
Width!!
We have no width..
That is why we can't get behind teams, on Match of the Day proves how lopsided we are, absolutely nothing down the right side of midfield.
Tony Dove
79
Posted 06/05/2017 at 23:02:47
There have been some good performances this season but far too many like today when we are so bad I have just prayed that no one else has been watching. Apologies to Hull on this occasion.
There has been no competition for seventh place (which appears to be the pinnacle of our ambitions) and whilst I am prepared to give Ronald Koeman another season to prove himself he is going to have up his game significantly.
In the last two games, please pick Kenny for Holgate and Holgate for Jags or Williams. Move Davies forward but anything else is a waste of time.
Ross Edwards
82
Posted 06/05/2017 at 23:22:24
Our away form has been unacceptable this season and Koeman needs to sort it out if we want to challenge.
No goals against the likes of West Ham, Bournemouth, Middlesbrough and now Swansea today. Valuable points that we've thrown away.
I hope we see Kenny more, he impressed when he came on and his crosses were more dangerous than Holgate's were.
I like Koeman but he's been too cautious away and it's cost us badly.
Paul Curwen
83
Posted 06/05/2017 at 23:26:30
It's all bollocks. 11 men v 11 men... same coloured grass... different coloured seating around it...
How can kicking that ball be any different when away or at home? How can the mechanics of football be affected by the amount of supporters or your geographical location in the country?
The mindset is wrong. The passion and desire to impress is missing. Money will continue to be the cancer eating into our beautiful game. ETID :(
James Flynn
86
Posted 06/05/2017 at 23:51:49
We need more skilled, ATHLETIC players. Clubs above us have them all over the pitch. We don't.
Ian Herbert
88
Posted 07/05/2017 at 00:25:59
I fully agree with Dave Abrahams comments, we need to blood some youngsters for the Watford game at least.
I have been saying for months that Baines is finished as a top level Premier League full back. Why not give one of the young lads a go there? I can't remember the U23 lad that plays left back but I would give him a run out in place of Baines.
Move Holgate into the middle too; Jagielka's best days are now behind him and Williams lacks pace. Don't even get me started on Mirallas!!
As many have already stated, a massive clearout is required, along with a large influx of quality players. Will we actually spend big this time? I have my doubts.
Andrew Clare
89
Posted 07/05/2017 at 00:42:24
To the outsider we must seem like a very boring, hopeless team. I don't think we had one meaningful shot on goal.
I knew we would lose, we just don't do surprises – okay apart from the Man City 4-0. We are so predictable.
I'm no longer sure if Koeman is the right man. His signings leave a lot to be desired, especially Williams who is not the required level. We are a million miles away from the teams above us and looking at today's performance I think we need a whole new team and a new manager.
These people are professionals getting paid a small fortune so they should be performing at a high level every game. They looked totally unmotivated apart from Davies and Mirallas. Holgate is a class player played in the wrong position and the rest of the defence is too old.
No creativity in midfield and a lumbering overrated striker upfront who rarely if ever wins a challenge. He can score against lesser teams but not against top teams or when crucial goals are needed like today.
I see nothing to be hopeful about. We are a bang average team.
David Barks
91
Posted 07/05/2017 at 00:54:38
It's funny, people saying Lukaku's already dreaming of new pastures yet he was the only player to get any shots on goal. He set Gana up 6 yards from goal with a simple pass just crying out for a one-time effort on goal that Gana just simply did not control. He sent a perfect cross screaming across the area that three Everton players just stared at. And that was followed by another ball sent across the box that was cut out by the second defender because nobody made a near post run.
Lukaku and Mirallas were the only players trying to score a goal today. Mirallas would get the ball and look to take on a man. As opposed to Barkley when he came on, who would receive the ball and then watch the clouds go by.
Thank you, Koeman, for sending us out in such a pathetically conservative manner against Swansea. Brilliant manager.
Jay Griffiths
92
Posted 07/05/2017 at 00:57:51
Just back. Gutted, tired, concerned. That was truly atrocious what was served up today.
The four who tried, Mirallas, Davies, Holgate and Kenny came right up to the fans to say thanks. The other lot, Gana apart, never had it in them. Shamed.
Koeman's strategy and tactics today have me baffled... Going to bed.
Paul Birmingham
94
Posted 07/05/2017 at 01:19:41
The third game with no goals, no likelihood of a goal, and lacklustre, "can't be arsed" cowardly performance against one of the worst teams in the EPL. How low this team has stooped in terms of pride and playing for the shirt.
Season tickets will get shelved next season as people won't take this blight any more. Our away form is dross and our home form has pulled us through, only just.
Exciting times they say well, there's not much time to get some players in and if the last minute chaos as is normal for EFC transfer deals is as normal, next season will be a killer.
Some how I think it's almost 9 new players from Gana, and Baines aside, in my book. The rest could be replaced. New captain and fresh blood.
The 30-year anniversary brings back great memories from Carrow Road, and a sad reality of how this club has lapsed. I can't see many teams going for Rom, nor Ross, and soon Rom will face the axe or is it that he's our only outlet to score and he can't be dropped?
Totally knaffed off and another weekend tarnished by another VIP performance. What will we get against Watford and Arsenal? For some in this squad, it will be the last time in EFC colours.

Tony Farrell
95
Posted 07/05/2017 at 02:15:50
I can understand the frustration shown by the Evertonians on this site today, and rightly so – we were totally dog shit against the worst defence in the league. Lukaku's shot in the 66th minute was the first on target.
Like other posters on here, I feel for the travelling blues spending their hard-earned on that pile of cack, while the the circus in black get their thousands.
The point I wanted to make is that a lot of excuses are made about players playing out of position – does that excuse you to fail to control a ball, pass to the opposition, run around as if you don't know what to do???
Bollocks! When I played, you were asked now and then to play out of your normal position; you didn't suddenly forget the basics. These knobheads do...
I think Koeman will do a job for us. Have faith, Blues.
David Barks
96
Posted 07/05/2017 at 02:17:45
Jay,
It's nice saying Holgate tried, but he was fairly atrocious in attack. He may be a centre-back some day, but the fact is that he's being asked to play as a right back, which includes getting forward and providing an attacking threat out wide. And as such, he is shocking. He can not cross a ball, and even a simple pass will often go wide of the mark.
I don't blame him for this, don't get me wrong. It's the manager's fault that he puts a player out of position, just as he continues to do with Calvert-Lewin. Honestly, how in the hell can we have a manager being paid the amount that he is, be completely incapable of putting a starting 11 out on the field playing their natural positions. It's inexcusable.
Put Calvert-Lewis up top with Rom and leave Mirallas and another winger out wide. Oh wait, we chose to get rid of Deulofeu, who AC Milan seem to fancy quite a bit. Please be honest and tell me whether Deulofeu would be more useful attacking off the wing than Calvert-Lewin.
It's not just Koeman, we've suffered it at this club for multiple managers and even the likes of Mourinho do this stupid shit. He puts Rashford out wide instead of the good old fashioned two up top. Rashford out wide, mostly inept. Put him up top and he's much more dangerous.
Coleman went down injured, so why in the hell are we not putting another RB in to take his place? No, we put a CB in and have to watch his atrocious crosses into the box. We put Calvert-Lewis out wide where he contributes virtually nothing. We put Davies in a midfield with Gana and Barry, where he just runs around like a headless chicken.
I saw people saying Davies was MotM and I have to wonder, what match were they watching? He ran around a lot, he showed effort. But he wasn't able to do much because mostly the ball was passing him by. He either watched he ball be hoofed over his head after numerous passing amongst the defense or he was chasing a Swansea player around with the other two defensive midfielders. And Barkley, what a horrible appearance off the bench.
Other than Mirallas and Lukaku, and when given the chance, Davies, no Everton player ever tried to take a defender on. It's always receive the ball and stop, look around and if ever in doubt play it backward. It's horrific to watch.
And that is squarely at the feet of the manager. It's he end of the first season and I challenge anyone to tell me what Koeman's attacking strategy is. What is his gameplan?
Ian Linn
97
Posted 07/05/2017 at 02:33:43
The season is over, seems nobody gives a shit.
Bill Gienapp
98
Posted 07/05/2017 at 02:52:36
1) Barkley really needs to do something about the bad perm – he's starting to look like my Aunt.
2) Kenny definitely impressed off the bench – wouldn't mind seeing him get a start against Watford.
3) Robles suffered a dip in form, but going back to Stekelenburg has accomplished nothing.
4) I'd rather see Swansea stay up than Hull, so hey – good for them.
Ross Edwards
99
Posted 07/05/2017 at 03:12:53
Koeman needs to sort out our away form because it's been unacceptable this season.
I like him and think he's had a decent first season, especially compared to the shambles of Martinez's last 2 seasons, but away he's been far too cautious and it's cost us on several occasions.
I hope we see Kenny more because he looked decent when he came on, he looked far more comfortable at right back than Holgate, his crosses were more threatening too.
David Barks
100
Posted 07/05/2017 at 04:07:58
Bill,
It's not a perm – it's his natural hair. Or do you work for The Sun and enjoy popping off about the hair of people of African decent? So sorry that his curly hair from his African blood offends you.
Darryl Ritchie
101
Posted 07/05/2017 at 04:28:17
Maybe we should play the final two matches like they're the first preseason games of next season. This season is done and dusted.
The fans have deserved some kind of effort and have been given shitty performance after shitty performance, ever since we've been guaranteed 7th.
The manager's mind is on the Europa League and the transfer window.
The majority of the players are already on the beach. So... Play the kids; all of them... Try three up top... Put Jagielka in goal... Do something ; anything... Change it up.
I realize that anything, other than the boring crap we've been subjected to lately, will never happen, but I would really like to at least see some pride for the last two games.
It wasn't that long ago that I fantasized that the Arsenal game might actually mean something in the standings... Silly me!
Bill Gienapp
102
Posted 07/05/2017 at 05:38:19
David,
Uh, yeah – I know it's not literally a perm. Barkley's had various hairstyles in his career and IMO the "high-and-tight" look favors him best. Spare me the SJW crap.
Chris Williams
103
Posted 07/05/2017 at 06:18:36
How many of that starting 11 will be starting next season if Koeman gets his way? How many of those on the bench will be in the 17? 4 or 5 starters at most?
That's providing Lukaku is still there and we can be arsed keeping him. He clearly rates Baines,presumably Williams will be there but Jags has gone and Holgate is not a full back. Neither keeper is good enough. Gana and Schneiderlin will be there hopefully and maybe Davies and that's about it.
Koeman has said we need to be concentrating on 27-29 year olds so maybe Davies will be off the bench. We'll see. Barkley, who knows? 170 odd games and 24 next season. Potential? Can you rely on him?
That's the extent of the problem, aggravated by Coleman and Bolasie missing through injury. No Schneiderlin, or McCarthy and Funes Mori, both of whom could provide alternatives, though whether the last two will be here next season who knows?
Too many kids, some playing out of position with no real alternatives currently. Forget about Deulofeu, he hasn't done much for a good long while, you may as well pine for McGeady and McAleny, both of whom are doing well at their level. He is another found wanting like Mirallas over a number of seasons. You can't rely on them. Valencia? Really?
Look at what we currently have. Surprised at the results?
Mohamad Haryan
104
Posted 07/05/2017 at 07:08:47
Having watched Everton for 30 plus years, it is really getting frustrating and very very disappointing now. Let see now - Passing has always been a problem. Sideways and backwards passing seems to be a norm. Where is exciting attacking football??
A sprinkle of it here and there. Breaking the opponents defence? Almost non-existent. Why can't we get a coach with proper attacking technique? Look at Pochettino and even Klopp... I want Everton to attack like that... swarm the opponents; crowd their penalty areas...
We do not seem to have the proper players. With all the money we have now, can't we buy these fast attacking players from Europe. With all the scouts we have? Of course maybe not the best ones but second best ones maybe??? No?? Really??
Koeman has come out before the transfer window and says he have no full control over transfers?? Seriously?? Another disappointing transfer window I presume...
Lukaku ?? He is playing poorly now to get his transfer fee as low as possible so that he can get to Chelsea as fast as possible.
Buying the keeper from Sunderland?? Are you kidding me?? Where is intent? So basically we are a team for Steve Walsh experiments?? Buy a cheap player and see how it goes...
At least Ranieri side then have fast attacking players who can dribble, beat an opponent, pass, break through defense, hold the ball etc etc. And, most important of all, an attacking minded coach who knows how to teach their players how to attack.
I seriously hope I am wrong this transfer window and next season. As the best club ever, we should be getting better players and exciting football matches to say the least.
Alan J Thompson
105
Posted 07/05/2017 at 07:59:32
I don't know what Barkley's intentions were before this game but Koeman may just have made his mind up for him. Another idiot moment!
Paul Setter
106
Posted 07/05/2017 at 08:00:59
I predicted that defeat, the same as I predict 1 more point this season.
Koeman is a glorified Moyes nothing more. Bournemouth, hull, West Ham, Swansea, Burnley and Watford all absolutely awful sides and we have failed to beat every single one of them away that's pathetic.
We need wholesale changes my first two on the list: Barkley and Lukaku – both have downed tools again, second season running.
as Barkley improved from the player he was?? Not in my opinion he hasn't!! Constantly running into dead ends, his passing is diabolical at very best, for me; our weakest link in a average side.
Our keepers are muck – I can't think of any that are worse than these two in the Premier League. Williams is awful – has the control and technique of a newborn foal.
Coleman, Schneiderlin, Davies and Gana are our shining lights – all try for things to work; if we had a few more like them, we may actually be heading in a different direction.
Which brings me back to our flat-track bully carthorse up top. 24 goals this season; on first showing, you think "Wow, that's good!" Let's break that down: 4 against Bournemouth, 3 against Sunderland and it still looks "wonderful"...
But two Merseyside derbies, two games against Man Utd, Chelsea, and (I put my house on it) Arsenal as well – not one performance that justifies his so-called hype. I want this wantaway lump gone – and the sooner, the better!!
Jim Bennings
107
Posted 07/05/2017 at 08:48:21
We may call Lukaku a flat-track bully but who the hell else scores against shite opposition let alone the top side's?
Yes, you could happily drop Lukaku if we had another player capable of double figures but go through the likely candidates...
Calvert-Lewin should be out on loan at club like Preston getting 25-30 games as a striker, the step up from League One has been too rapid, even if he was played up top you can clearly see he doesn't cut it yet.
Lookman is not a full 90 minutes player yet, maybe much like Calvert-Lewin, a spell in the Championship might bulk him up.
Valencia is a late sub, nothing more, basically just a younger version from Kone's performance last season.
Kone... Enough said.
Mirallas is not a goal threat anymore, for me doesn't look the player he was 18 months ago, seems to have lost something, past his best.
Barkley, three goals in open play since November 2015... say no more.
See, if you take Lukaku out of the team you haven't exactly got the goals of a Tim Cahill or Steven Naismith etc anymore, even in the past when Moyes was here and Yakubu was missing, you had Louis Saha to fall back on.
All we have is a midfield of crabs and a couple of young lower-level strikers at present and a half-decent sub in Valencia.
It's annoying but fact.

Sam Hoare
108
Posted 07/05/2017 at 09:12:36
I agree, Jim, whether Lukaku stays or not, a priority this Summer is to find more goals in the team.
The likes of Spurs show the way with Alli, Eriksen and Son all contributing significantly alongside Kane.
Perhaps playing 3 defensive midfielders is not helping on this front...
Terry Farrell
109
Posted 07/05/2017 at 09:13:00
After too many years of mediocrity, why does anyone expect a magic wand? Our away form is poor and the team shape not right but you can't bin 70% of the squad in one go. He has cleared out a few and in the summer he will clear out more.
The lack of patience and constant bitching is ridiculous and comparing him to Moyes is a joke! I went to West Ham and yes it was crap but give Ronald at least another season before you swamp him with negativity.
Tony Draper
110
Posted 07/05/2017 at 09:19:36
Be very, very careful, Mr Koeman. You've always made it plain that your aspiration as a manager is at Barcelona. Ambition is good.
However, displays like today's are not heading you in the right direction and my club with you. No more of that.
Another season with listless away performances, lack of bite against the media darlings, and your own CV won't even get more than a cursory glance.
Concentrate FULLY on your job in hand and they will come knocking for you; more of this and they are welcome to you.
Eddie Dunn
111
Posted 07/05/2017 at 09:41:07
The squad is in need of a thorough overhaul. There are so many players without the necessary skill or mobility for top level football.
The centre of our defence is slow, and neither of them are good passers. The goalies are below average, and Holgate is playing out of position whilst Baines, though improved defensively, offers little going forward.
Calvert-Lewin played on the wing is another square peg in round holes example – the sort of thing we all used to moan at with both Moyes and Martinez.
I know the squad is stretched, but the lack of width and seeming lack of creativity is shocking. The dullard approach to these away games from Koeman is perplexing. We look so ordinary, so slow, and predictable.
7th is all we might have expected after the last two seasons but, next season, Koeman will face a lot more criticism if his side don't improve in all areas.
Jon Withey
112
Posted 07/05/2017 at 09:44:38
Let's face it, they can't really be arsed now, can they?
Koeman's away record must be pretty appalling with us though and he always seems to tinker for the away games – and fails.
The summer should be interesting, though, and he can forget Barca at this rate.
I'd like to keep Davies, Lukaku, Schneiderlin, Gana, Holgate, Barkley, Baines, Lookman – hopefully Bolasie and Coleman recover well.
We definitely need to move on Gibson, Kone, McGeady, Niasse. The rest can come and go as makes sense.
Ray Roche
113
Posted 07/05/2017 at 10:03:01
Jon, is that the Gibson who plays for Sunderland? I think his boat has sailed.
Jon Withey
114
Posted 07/05/2017 at 10:08:10
Ray, that's good news, thanks – hope it wasn't just a loan!
Ian Burns
115
Posted 07/05/2017 at 10:08:45
Koeman doesn't appear to have the ability to ignite the players; his caution doesn't send out the right message to the players or the fans – his tactics often seem bizarre. In truth, as a manager, he is ordinary. I felt for the travelling fans at West Ham and Swansea as there was little or next to nothing to excite them.
He talks of a project at EFC, makes it look like he's some sort of business guru stepping into an ailing company to give them temporary assistance to get them back onto an even keel, so Barca will come looking for him. He is not EFC in the way that prat Martinez was.
There is a point coming soon where I think Unsy and his team should be taking a step up. At least they are EFC through and through.
Brian Harrison
116
Posted 07/05/2017 at 10:22:58
I wanted us to get Koeman when we sacked Martinez, and I said yesterday that 7th in his first season was a good start. But yesterday I heard his interview with Radio Merseyside which really worried me.
After the game, the reporter said you have had a brilliant home record but your away form has let you down, what needs changing so you can challenge the top 4. Koeman's reply was "Look you cannot realistically expect Everton to challenge for the top 4".
I expected him to qualify that by saying but in 2 seasons time I would hope we will be challenging for a top 4 spot but he didn't. I bet Moshiri and Walsh would have been delighted with that response.
So how does Walsh convince players to come here when our manager doesn't see any scenario which will see us challenge the top 4.
We all know Koeman is a straight talking manager something that many of us like about him, but whats wrong with having a little bit of ambition. With his players hearing that, why would players with Champions league ambitions want to stay.
I would hope that Farhad Moshiri gets him in his office first thing Monday and tells him that if he doesn't see this club challenging for a top 4 then Moshiri had made a mistake hiring him.
Niall McIlhone
117
Posted 07/05/2017 at 10:23:16
It was like being back in Dresden for that pre-season tournament where we stunk the place out.
The atmosphere on Friday night will be interesting, I don't expect the fans expect much in the way of renewed energy and intent from the players, and, who knows, we may be waving goodbye to Rom, Ross, Gareth, Kev, Aaron and Jags?
The priority has to be replacing the spine of the team, from goalie to a commanding, passing centre-half, a decent No 10 and someone in for Lukaku, who already has his suitcases packed IMO. Provided Bolasie and Coleman both return at pre-injury level, we have something to look forward to?

Laurie Hartley
118
Posted 07/05/2017 at 10:28:14
Andrew (#89) "Holgate is a class player played in the wrong position"
Sam (#108) "playing 3 defensive midfielders is not helping on the front"
Striking similarities to the Moyes era when he played a future England centre half at right back and started three defensive midfielders on a regular basis.
Having said that – he didn't have a 24 goal striker but still managed to get us in the top 8 on a regular basis and found a player that could play on the left wing. But then Man Utd tapped him – hmmm?
Martinez's first season was miles better than this one - it gave me hope again - until the last 5 games. But then again he had the cream of Moyes squad and Lukaku on loan.
I've fallen for the five card trick again with Koeman – but it ends here for me.
I'll stick my neck out and predict that Unsworth will manage his Under-23 team to victory in a derby tomorrow night. He reckons none of his players would let the first team down if given a game. Koeman on the other hand reckons they are not ready.
I hope Moshiri is getting the picture. The window of opportunity is closing.
Laurie Hartley
119
Posted 07/05/2017 at 10:34:15
ps: Harry Catterick (God rest his soul) was dour and ruthless but he knew what a football team looked like.
Phil Walling
120
Posted 07/05/2017 at 10:40:25
Reading through this thread, it seems we need a couple of goalies, a couple of full-backs, a couple of central defenders, a couple of wingers and a couple of decent strikers. We have just one area well covered – that's defensive midfield – but whether reinforcements come from within or are acquired via the transfer market, the opinion is that Koeman, with his lack of inspirational technique, will get nowhere with the players now available to him.
Having said all that, there are few amongst us in our joy of the departure of the Catalan who would not have taken seventh place and the Europa League at the end of 2016-17. And to that end, I suspect the full houses and the increased 'respect' shown to the Club in the national press will have convinced the Board that their new manager has done a pretty decent job for them.
As a lifelong sceptic, I continue to believe that Everton's time 'at the top' ended with the creation of the Premier League and now well into my sixties I shall never again see my team in a glory parade. Moshiri's wealth is nothing as compared to that of the owners of the top six and this alone will always prevent us from signing top players and managers.
So, all-in-all, we should be grateful to Koeman (just as we were to Moyes and Martinez in his first season) for giving us just a sniff of hope that we were 'on the fringe'. Of course we weren't and aren't now, but the dreamers can dream and the believers continue to believe.
The truth, of course, is that the best we can hope for is that Everton will remain in Super Seventh for as long as we have time to be interested. For sure, it ain't gonna get any better!
Laurie Hartley
121
Posted 07/05/2017 at 10:50:59
Thanks, Phil – that cheered me up no end.
George McKane
122
Posted 07/05/2017 at 10:58:43
Phil (#120) – impressive comments... a tinge of sadness around it. Terrible when dreams end and we have to face reality. Poor old Blanche du Bois: "You live in the real world, I prefer the dream world".
What a way to live (wish we could). I have an Everton Mad Week this week – going to the U23s tomorrow; helping with Everton (Ronny Goodlass) Charity Event on Thursday; and Watford Friday. Then waiting for The Summer Breeze to come along and clear the old cob(Toffee)webs and shine some new light on us... in my dream world.
No matter what the reality is, they cannot ever take your dream away... Dream On, Phil, like the moon and stars and the sun and on and on and on..
My thoughts for the past 20+ years have been something like "Okay, if we cannot challenge the money or win the Premier League, then let's at least entertain and play some beautiful football..." And then I awoke and it was the 21st Century.
My hero Vincent said "If you hear a voice within you say 'you cannot paint', then by all means paint, and that voice will be silenced".
Phil, keep them cosmic grooves moving, man, and float on into a True Blue Sky – we can dream can't we.
Good luck and with a firm handshake (as Vincent signed his letters)...
Colin Malone
123
Posted 07/05/2017 at 11:02:30
Some criticising Koeman. Unfucking believable.
Paul Tran
124
Posted 07/05/2017 at 11:04:22
Brian, I think he was talking about this season. If so, I agree with him.
Yesterday confirmed that he doesn't trust the attacking players – his pre-match comments regarding formation made that clear.
Progess next season is dependent on two things: first, attracting decent players who are comfortable going forwards; second, trusting them to do their job rather than changing the system to combat the attacking prowess of teams like, er, Swansea.
No excuses; time to deliver. I'm not holding my breath.
Laurie Hartley
125
Posted 07/05/2017 at 11:11:05
Thanks, George – hope springs eternal.
Jay Griffiths
126
Posted 07/05/2017 at 11:15:57
I may pen a letter to Duncan. You know, something along the line of:
Dear Dunc,
Can you notify Emperor Rom that there is a near post and it's okay to move toward it when a cross below head height comes in. I was always told the first chance comes at the near post; be brave and run across your man. You may take the odd crunch but the payback is worthy.
The Swansea No 6 cut so many balls out yesterday...
Hope the letter works.
Mike Gwyer
127
Posted 07/05/2017 at 11:18:46
Cheers Phil, thanks ever so much.
Leicester forums were probably equally full of pessimism prior to them winning the league and let's not talk about Leicester being a one-off as we all know it will happen again and again. I'm almost 60 and I've seen Forest and Derby win the league when battling against the usual top teams, also Ipswich were a force for several seasons before a massive downturn.
It's a given that money is a major priority to all Premier League clubs but Everton have one of the most sort after youth training schemes in this country, with the correct manager Everton must find a way of playing youth and experience that brings a return to winning the silverware.
Shane Corcoran
128
Posted 07/05/2017 at 11:19:29
In some ways, Phil might be right. Everton will likely plod along getting stronger but not at a rate high enough to pass out two or three other clubs.
Then again, you see the Leicester and Atletico Madrid stories and you see clubs like Monaco producing brilliant teams without cash.
I'm actually thinking ahead to the day the Toffees win the league and it's a massive anti-climax. I have no blues friends so I'd just have to drink myself stupid at home.
Don Alexander
129
Posted 07/05/2017 at 11:22:48
For all the tributes to Unsy, why on Earth is Mason Holgate so poor at crossing a ball? It's a basic skill and any pro footballer should be able to do it to some extent. And I'm not picking on Mason either.
How come we so rarely get either a free kick or a corner to one of our own? How come we so rarely score direct from a free kick? How come we regularly play with some who can't or won't tackle? Or challenge for that rarity, a cross into the opposition's box? Why?
It's all very basic stuff and the whole USM Finch Farm set-up need to take a long hard look at themselves.
And then there's the psychology...
Oh God!!!
Adam Scott
130
Posted 07/05/2017 at 11:35:37
Don't blame Koeman as such for this. I see some of the criticism of him as a bit OTT to be frank. We have improved with him at the helm and I feel we will continue to do so. The season has had its share of ups and downs, as seen yesterday nevertheless. My view is:
1) Stekelenburg, give or take his heroics in some games, is one of the poorest goalkeepers I have seen in my 30 years. An acceptable backup for the odd suspension etc. Swapping Robles for him – a player who has his faults, but is in the main a safer option – has achieved nothing.
2) We had a risky Jan window. A great success in getting rid of a lot on the wage bill and getting Schneiderlin. Nevertheless, getting rid of players like Gibson, Geri, Ovideo, Cleverley and to an extent jettisoning Niasse in August would always bite in injury time. I will accept this IF such moves give us more freedom in the market.
3) Holgate is a ball playing centre half in the future. With the ball at his feet he is good. Evidently can't cross a ball though and lacks the nippiness of a smaller, natural full back.
4) Calvert-Lewin encapsulates point 2. Never a winger. Lad didn't play in League One last season! Patently not ready at this level. Especially when played out of position. I trust Koeman and think he will be a good striker in the future. Not great, but Premier League level. It isn't yet though.
5) Kenny is really needed for balance. Only when he come on did I think we looked like scoring.
6) It was so, so evident that we were lacking a quality playmaker. What we would give for a Klaasen or a Sigurdsson. Lukaku is so limited without this player around him. That isn't to absolve him of total blame. He is fairly static and does struggle to influence when things are going badly.
Paul Thompson
131
Posted 07/05/2017 at 11:35:59
Painful and dispiriting, but I wouldn't draw too many conclusions about Koeman from it. I'm sure he is as aware as we are of the limitations of the current squad.
My only criticism of him (rather than the lacklustre players) yesterday was playing two players out of position. Holgate is fine defensively but is not a right-back. Calvert-Lewin looks lost on the flanks. As a result, we badly lacked width (Mirallas doesn't help as he has a free role and cuts inside at every opportunity).
When Kenny came on for the last 10 minutes we looked a different team. Yes, a major rebuilding job needed, but let's be a little more open-minded about prospects for next year.
Andy Meighan
132
Posted 07/05/2017 at 12:14:16
Dave (#54),
A lot of us on here have been banging the drum for Walsh and Kenny to be given a run of games Unfortunately, the manager has come out with the ridiculous line of "The U23s aren't ready". Does he really think they could do any worse than Barry, Gueye, Barkley etc?
And another thing, people who have come on here and have shouted Darren Hind down for his views need to have a look at themselves. The lad has got it spot on about Koeman. He's a fraud. Tactically inept and a master at putting square pegs in round holes.
Why play Calvert-Lewin out wide then hook him at half-time? Is it any wonder he didn't make an impact in the last 2 games being played out of position? It's a joke.
Can someone please tell me what shape or system we played yesterday because I'm baffled... I'm sorry but I'm dreading this phoney getting a huge war chest in the summer. Barca? My fuckin' arse!
Dave Abrahams
133
Posted 07/05/2017 at 12:16:34
As a matter of interest, the Everton fan who ran onto the pitch did so to give Lukaku a hug, yes serious, for some reason he loves Lukaku,
Maybe the lad had a few and the match was so boring he just went on to break up the boredom, nothing malicious intended, I've seen the photo of him hugging Rom, genuine.
The lad will be, more than likely prosecuted, and banned for his trouble, but no ill-will was intended, and all he did was give Lukaku a hug.
It wasn't you David Barks, was it?
John G Davies
134
Posted 07/05/2017 at 12:22:51
Adam, Paul.
Good points, especially regarding Holgate and Calvert-Lewin. As you say, Mason is a central defender in either a back 3 or 4. Him playing right back will help his development and awareness of positional sense. Calvert-Lewin is obviously playing out of position but he definitely has ability.
Koeman is fully aware of what is required for next season. Calls to sack him are foolish in the extreme and a waste of time from the callers. Not happening.
Brian Murray
135
Posted 07/05/2017 at 12:31:31
Koeman after March couldn't or wouldn't say how limited most of the players are. Trouble is the likes of Gana and Schneiderlin are recent so we are stuck with them cos he won't admit they are a mistake as far as Champions League quality is concerned, so we are destined for mid-table to 6th place.
The only ones happy with that is Bill 'n Bob – total buffoons. Moshiri has made big big mistake buying into his bullshit, ie, "Bill educated me about what being a blue is all about" – in other words, amble on another five years of no proper challenge or derby win.
ps Get real, there's no way Willian would look twice at us in a Lukaku deal. Moshiri is in for a lot more transfer frustration, own fault he should of ousted the dude in the first place.
Brian Wilkinson
136
Posted 07/05/2017 at 12:36:00
I can honestly say it was not me, Dave @133.
Peter Murray
137
Posted 07/05/2017 at 12:55:49
Regardless of personal feelings etc etc, these players will be performing "a lap" at the end of the game next Friday!!!
Who can honestly say this season has been good – regardless of the full houses, other than to no longer witness Bobby Brown Shoes in residence!!! As one who has seem most of our away fixtures, it has got to get better – Europe or Britain... Please!!!
Our £6 million manager must see the light; but, having said that, by now most Premier League managers would have changed a losing game – and most definitely their players attitudes!!!
Fortunately I can still remember seeing skills on the Goodison pitch, be it our god, Alex Young, Bally, etc, and cannot believe the drivel spoken about one of own – Barkley!!!
If he is an international player, let's see it consistently, please! Or is that exactly why England games are worse than having to watch Coronation Street!!!
Nothing to be said about our goal scorer, as he is just one of many just picking up the cash, lacking personal pride to wear our club shirt.
Once a Blue, Always a Blue... so unlike our current crop of players...
COYB – please!
George Cumiskey
138
Posted 07/05/2017 at 12:56:46
How can he pick a centre forward to play left wing when he's made no impression whatsoever for the last 3 games?
Then he takes him off at half time and brings on a midfielder who's made no impression whatsoever for the last 3 games and leaves a left winger on the bench.
Can you expert ToffeeWebbers get back to me on that?
Andrew Presly
140
Posted 07/05/2017 at 13:50:39
What a great post, George. Nice one.
3-5-2 with Holgate inside, Kenny at right wing back surely the way to wind things up this term.
Be good to see Dowell & Walsh given a go too.

Mark Morrissey
141
Posted 07/05/2017 at 14:16:00
Match of the Day had us summed up. Everton have never lost in Wales. Everton have not won away since January and then it showed our formation and had the pundits saying "They played with nothing on the right, what's that all about?"
A laughing stock once again and the pundits are all muppets – but they weren't wrong.
Alan Bodell
142
Posted 07/05/2017 at 14:32:43
No negativity from me today, only positive because if Koeman needed any need for quality then yesterday showed him what we lack and that is in bundles.
Bring on that transfer market, sorry to say that Calvert-Lewin maybe in Ron's plans, but I just don't see it. Yeah yeah, he sees him in training every day, blah blah.
Steve Huyton
143
Posted 07/05/2017 at 14:59:16
I'm afraid after watching another dire performance today, I can only conclude that Koeman is not the answer. He obviously has a contract for the next two seasons and I do not expect Barcelona to come calling but the coach has to take responsibility for the group of players he has available.
He has improved certain things this season. We are fitter and stronger and a hard team to beat at Goodison. But the coach has to look at the players available for each match and set them up in the best way to win the game.
Can anybody explain to me what Calvert-Lewin's role was in the first half? The young man has presumably shown enough in training to merit a new deal but he didn't seem today to have any idea what his role in the team was supposed to be. That is a matter for the coach.
Holgate looks to me like a great prospect but he offers nothing going forward. He is a centre-back. Kenny showed so much more when he came on. Is that not apparent during training sessions?
Lukaku has scored a hatful of goals this season and that is the prime reason why we are likely to finish in 7th place rather than the mid-table mediocrity of the last two seasons. But we can all see that he can't lead the line on his own (and why he is some way below the standard expected from a striker with a team with genuine Champions League ambitions).
The coach has to work out the best way to set up his team to get the most from the players available. I suspect that means two up front together and the rest of the team organised to fit in with that.
I don't expect it to be an easy summer. We will struggle to attract the calibre of players to which we aspire because they will all want Champions League football. We hope we can identify the right calibre of player to take us forward but we must hope that the coach can set his team up to get the best out of the players available. I am not yet convinced that he has that in his skill set.
Ian Bennett
145
Posted 07/05/2017 at 16:16:37
Another shameful away performance on TV. Sell the lot and start again.
Embarrassing fayre served up by a number who want out or are past their best. Fuming.
Kevin Tully
146
Posted 07/05/2017 at 16:52:46
I think half of these players know their time is up and they will be sold or dropped at the end of the season. Add into that mix too many inexperienced players and you get the performances we are recently witnessing.
The manager also has to take his share of the blame – it's his job to motivate and choose the right tactics. We clearly had no width at all yesterday, and it was painfully obvious we needed to shuffle the pack.
I really don't know what another manager would have done with the current players available? We are short in almost every position. Next season is the litmus test for Koeman, so I'll share my opinion with you lads if I think he's the man or not in 12 months. If you're arsed.
Alan McGuffog
147
Posted 07/05/2017 at 17:05:18
George (#122). How busy is your mate Vincent? Fella we had lined up to do our landing this week has let us down. Can he paper as well? Cheers....
Terry White
148
Posted 07/05/2017 at 17:06:02
Anybody know why we did not play in all-blue? Team colours and no clash with the opposition. Bad luck when we switch unnecessarily out of the royal blue.
Paul A Smith
149
Posted 07/05/2017 at 17:56:39
I thought Koeman might be different. As of now I just see him as another Moyes, Allardyce Pulis type. How is he any better as manager?
He seems to love Central midfielders and no wingers. Just like Moyes. He likes us to be aggressive and solid like the other 2 but what is our style or team game?
Not far from us, there is an average team making Champions League football. They have barely used a striker all season but they are different. They don't block their midfield up with players that won't go beyond the forward line.
We have done this for years and we're no better for it.
Paul A Smith
150
Posted 07/05/2017 at 18:26:16
Brian and Laurie, I like the way you two make the points everyone should be seeing. For one, I agree with Brian that Koeman's or the club's PR skills are poor.
There is always a grey area around every talk about the future or transfers. Laurie is also spot on and it's great to see another fan who doesn't just think Koeman is a God who knows absolutely everything. It's great to support a manager but awful to think he is a genius.
The Deulofeu argument I got a bit of stick for is still valid for me. Especially with the lack of creativity without Coleman. We have got more and more boring this season but rather than look at the whole side people want to blame individuals. Like Lukaku doesn't want to finish leading scorer or look great on Sky. Of course he does.
The team is weak mentally and, although I like parts of Koeman's honesty, his recent interviews have shown he is just here to do a job – not create history.
Jerome Shields
152
Posted 07/05/2017 at 18:35:37
Koeman ain't going to do it.
Jay Harris
153
Posted 07/05/2017 at 18:51:48
Let's have a sense of perspective please. We are currently without Coleman, Bolasie, McCarthy, Lennon and Deulofeu. Most of the posters were happy with the team selection before the game.
If Lukaku decides not to show up, then it's like playing with 10 men. If the experience and quality aren't available, that puts more pressure on the team.
When some of the team already have their flip flops sorted, then there is very little the manager can do about it if he doesn't have the backup to replace them.
We seriously lack a decent goalkeeper, quality centre-back and top class playmaker and currently have a want-away centre-forward who needs supplementing or replacing.
The manager is aware of this and I am sure plans are in place so can I make a plea to get off the manager's back and look forward to a Summer of clearing out the old legs and inadequacy and getting in some quality "winners" that want it more.
Tony Abrahams
154
Posted 07/05/2017 at 19:07:55
I'd go along with that Kevin Tully, especially after reading what Paul Tran, says about our attacking players just not being good enough. I agree with George, that if we're not going to win anything then at least entertain and attack, well a lot more than Lukaku, attacks the front post anyway!
But I think we have a manager who is going to go back to front. Just watched Southampton make defending look easy, and I'm sure this is what Koeman will want more than anything from Everton next season
But, and it's a very big 'but' as always, but this style of play is never the most enjoyable to watch, so it's imperative he signs players of consistent quality to play further up the pitch; otherwise, we will just be in for more of the same, which just isn't good enough for Everton FC!
Ian Riley
155
Posted 07/05/2017 at 19:28:43
Terrible away record. Very good home record. Blip mid season. Seventh is about right.
Koeman has done okay with the squad we have. Koeman is right about top four, being realistic.
Unless we spend at least 𧴜 million in the summer, then 5th place is the best we can ask for and that probably isn't enough.
Ciarán McGlone
156
Posted 07/05/2017 at 19:37:59
I get the unshakable feeling that Koeman is a total chancer.
Tony Hill
157
Posted 07/05/2017 at 19:41:35
Kenny was a true bright spark yesterday. I liked him against Norwich at the end of last season and he just looks a natural right back. I hope his instincts aren't coached out of him.
Holgate was pretty woeful going forward and lost his man a couple of times defensively but that boy is going to be a gem. His pace, speed of recovery, and timing of tackles can't be taught. He will be a great central defender and reminds me a little bit of Des Walker.
I am also convinced that Calvert-Lewin will do well. He has played only once in his proper position, or something approaching it, and that was against Southampton before he was injured. He looked a serious threat. He's a bright and confident lad and he will come good.
Even a miserable git like me can see it's not all doom and gloom.
Dave Ganley
158
Posted 07/05/2017 at 19:43:04
Awful game yesterday, no denying that. No movement, no idea in the final third. There is no defending that kind of performance from very sloppy players against a team fighting for their lives. Swansea weren't very good but that just highlights that some of our players just aren't good enough.
However, looking back at the season, with the players we have available, it's not been a bad season. I think most would have bit your hand off to take 7th given what had transpired over the last 2 years. Some people seem to forget how bad these same players were then. Koeman has at least managed to get them playing at times when they had all but given up.
A lot of them have no heart to play to their maximum when it gets tough. It's why we all know there should be a complete overhaul. It's not going to be overnight as much as we would like it to. Over the last 3 years, players have been brought in who are just not good enough. We all know that.
We also know that you can't change a squad in one foul swoop. Koeman has started the cull and it will continue in the summer. He will also bring in players that he wants. Koeman may ultimately not be the answer but to be calling for his head after a season given the players we have is frankly ridiculous. We don't have a top 4 squad.
The fact that, until the RS game we were still in with a chance of top 4 is testament to how well he has done with limited resources. It's not his fault the likes of Barkley, Lukaku et al just give up when it gets hard.
We go on about tactics for away games and to a certain extent may have a point. However, Koeman doesn't tell the players to show little effort, tell them to forget how to pass, forget how to defend, forget how to shoot, forget how to compete – all the basics that should be a given for a top flight footballer. They are just not good enough.
To say that top level players need to be motivated is just nonsense. If you can't motivate yourself to play every week then you shouldn't be out there. All the players are doing is cheating the fans.
As I say, Koeman may not be the answer but it's way too early to judge with effectively Martinez's poor players still here.
Alan Bodell
160
Posted 07/05/2017 at 19:55:25
Jay Harris (#153), ya missed out a top player imo in Mo Besic.
Mike may not agree but we'll see eh?
Michael Kenrick
162
Posted 07/05/2017 at 20:05:50
I can't believe the daft twat who ran on the pitch to give Romelu a big soppy hug is being given such an easy ride
in the Echo
.
Yes, obviously no ill-intent... but who was to know that beforehand? Or is talking up this show of love, affection and compassion to one of our most troubled and troubling players an attempt to underline a perceived need for more empathy and less criticism of our sensitive over-paid snowflakes when they are unable to perform to the required standard?
Tony Hill
163
Posted 07/05/2017 at 20:09:58
Eddie Cavanagh he was not.
Raymond Fox
164
Posted 07/05/2017 at 20:10:49
For all Phil (#120) is a messenger of doom he has it right in his post.
The reality is that we are short of any real top 4 players and that includes Lukaku. Will we be able to attract any next season, that's very doubtful also.
Good players yes, but players the top 4 clubs want, almost certain we wont. That's our major problem, chest thumping and a wing and a prayer doesn't win you anything each season.
I'm not keen on Koeman, and Saturday's performance was poor in the extreme, the players may not be skillful enough but at least they should look like they want to win the game!
At the moment, we have a moderate manager and a moderate bunch of players.
Dave Abrahams
165
Posted 07/05/2017 at 20:26:20
Michael (#162) I,m surprised at you getting worked up over this, didn't you, haven't you got an idol, someone you like as as a player or whatever?
The fella had had a few drinks and went on the pitch to tell his idol whatever he told him, more than likely this incident gave the fans something to laugh at and talk about – there wasn't much else happening, was there.
I hope the lad gets a walkover and the whole episode is treated as a bit of fun. God knows we Evertonians have precious little to laugh at, at the moment, that's for sure.
Come on, Michael, live and let live... nobody was hurt.
Keith Monaghan
167
Posted 07/05/2017 at 22:12:32
We have several problems – too many players who are both mentally and physically weak.
Defensively, our best goalkeeper is Robles – Holgate (a decent player) is not a RB, sadly, the clock is ticking for Baines and Jags & Williams are hopeless in the air & too slow.
One of the biggest problems in our attacking play is the very slow build-up – our current central defenders are too static, ponderous & and slow, & their distribution is awful. The result is that the opposing defence has loads of time to organise and our front players are easily marked. Allied to that we don't have a truly creative midfield player (Barkley doesn't have a position – he's not a striker, winger, creative or defensive midfield player).
Against lesser teams, we often look good, but struggle (especially away) against the top teams and physically & mentally tough lesser teams. The top teams generally have pacey players who pass the ball crisply and quickly.
Koeman inherited an aging squad in decline; I believe he is aware of these issues and will strive to address them – getting quality players in is a big challenge for any club not seriously challenging for trophies or in the poisonous "Champions" League which is full of clubs who aren't champions.
Thomas Newton
168
Posted 07/05/2017 at 22:19:23
Only thing of interest I seen yesterday was the drive home over the Brecon Beacons.
Laurie Hartley
169
Posted 07/05/2017 at 23:25:29
Dave (#158) – I had to agree that most of what you had written was fair comment until I got to this bit:-
"It's not his fault the likes of Barkley, Lukaku et al just give up when it's gets hard."
Oh yes it is, Dave. If a player gives up while he is wearing a blue shirt, any manager worth his salt, should hook them, and put a player on the pitch who is at least willing to have a go for the team.
Remember when Fellaini turned his back on the play in the middle of a game at Goodison a few seasons ago and the reaction he got from the crowd?
Put Kompany in a blue shirt with the armband and Unsworth's youngster's around him in front of forty thousand at Goodison and see what would happen.
The game is all about heart, Dave. I'll give you an example:
Against City, Cliche sat Tom Davies on his arse and left him unmarked because he thought he had taken him out of the game.
What did the 18 year old do? He got up off his arse, took the return pass,and finished off the move that he had started by scoring a goal.
Proper Everton player is Tom Davies and I suspect there are a few more waiting in the wings.
Paul Birmingham
170
Posted 07/05/2017 at 23:50:24
Surely the riot act and mega rollicking has happened, in wake of the lacklustre, lazy display v Swansea.
Key to take some positives into pre-season but I'm not convinced and may be this squad already is playing like a broken-up squad?
The prowess of Walsh and appeal of the manager and the board will never be more tested, as if we don't buy good quality en masse, I see a rapid decline next season as we won't cope with the rigours of the Premier League and the Europa League, with what we have now. The kids have done well but now we need battle hardened winners that do it on the pitch and have guts and character to play for the shirt.
The new ground project whilst I hope happens is at this time second to building a robust squad.
Here's to hoping for a very good transfer window.
John Pierce
171
Posted 07/05/2017 at 00:47:47
So a balance of Koeman depairists, like myself and playing staff lamenters on the thread.
Whilst the playing staff is a well trodden stick to beat the team and save the manager with intrinsically I want to see my players work hard. This performance has been on the cards for months. Only Tom Davies has shown that quality for me.
We've played and beaten many sides at Goodison without a 90-min performance and often sides have exposed us, Leicester & Bournemouth and Man City all good examples in games we won.
We've hired a manager that's essentially moulded his team into a poor version of himself. Supremely efficient and pragmatic Koeman often did his defensive job superbly and gave the ball to the more gifted in the side. Roughly we get the ball and give it to Rom.
I challenge the pro-Koemanites out there to show me an attacking plan. Do you believe if we get better players in attack that magically the same dour pragmatism will suddenly become an attacking bonanza? What improvements have you seen in his playing squad under his coaching?
Many argue that the season is an improvement on the last 2 years? That's the lowest bar possible, a dire ebb. Koeman had to trip through the door to surpass that clown. Well, I measure him against my expectations, you generally fall were your financials sit, sadly that's the real measure. We are seventh by most measures; Koeman has scraped that metric with little flair or excitement.
I hope more people hold him to a tighter accountability because the away form was too easily dismissed. No manager sets out to improve a side in such a clear binary fashion. The flaw is clearly there and is unacceptable, negative and containing little adventure to be seen.
So he gets another go at next season, my leash is tight because 30 years of nothing does that to a guy, sorry patience ran out after 6 years of Moyes. He gets the biggest transfer budget of any Everton manager ever, simply there has to be a trophy at the end of it, as well as maintaining our seventh position. My yardstick, if that is unlikely or not happening then let him go. Based on his vaunted talent, pay packet, and transfer kitty, that is fair game to my mind.
His next window will finally do away with the notion it's not his team, never the case anyway but you get my drift. His rhetoric is always to distance himself and push Walsh forward to protect him. Certainly won't be the case in the summer for me, 'cos after all it's his team.
All I hope is whether a popular appointment or not Moshiri has the balls to act and not let situations become toxic. Surely to protect a growing investment, a target must be enforced from the board to the manager to work under?
Despite my despair, it's not irretrievably lost, because their is talent in the side and despite Mr Dour, I want the headlines to be about the team not him.
Can he coax something decent out of the lads next Friday?
Bill Watson
172
Posted 08/05/2017 at 01:38:53
Holgate looks like he may turn out to be a half-decent centre-back but a right-back he certainly isn't.
When Kenny came on for the last 10 minutes we, at last, had some attacking threat down the right and he got in a couple of crosses that just needed a touch.
He certainly should start v Watford, with Holgate replacing Williams.
Ernie Baywood
173
Posted 08/05/2017 at 07:16:11
I know we demand the best every time they pull on the shirt, but it shouldn't really surprise anyone that a team with nothing to play for got done by a team with a lot still to play for. Fine margins in this game and our boys, slightly understandably, have their foot off the pedal.
We might be closer to 6th than 8th, but we're pretty much the same fodder as the rest of the clubs outside the top 6. There's a huge gap to bridge next season if we want any relevance in the 2017-18 table... that's far more important than these last few games.
Dave Ganley
174
Posted 08/05/2017 at 08:22:42
Laurie (#169) yeah I'll give you that, for some reason Koeman will never sub Lukaku regardless of how he is performing. Nobody should be exempt from substitution but it appears Lukaku is. Maybe that's half the problem with him, he knows he's going to stay on the field however he plays.
Steve Bell
176
Posted 08/05/2017 at 13:33:09
Kenny, Calvert-Lewin and Lookman are all off to the U20 World Cup in South Korea, so they certainly won't be featuring in our last two matches!
James Hughes
178
Posted 08/05/2017 at 17:09:54
Michael (#162), relax mate, the guy runs a removal company, he was just putting in a cheeky quote.
---
Add Your Comments
In order to post a comment, you need to be logged in as a registered user of the site.
Or Sign up as a ToffeeWeb Member — it's free, takes just a few minutes and will allow you to post your comments on articles and Talking Points submissions across the site.