Barcelona confirm re-signing Gerard Deulofeu
Saturday 15 July 2017

53 Comments [Jump to last]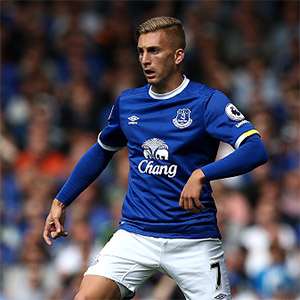 Barcelona have confirmed re-signing winger Gerard Deulofeu from Everton after exercising a buy-back clause believed to be worth €12m (£10.6m).
Deulofeu originally went on loan to Everton in 2013-14 then signed in a £4.3m permanent deal in 2015. The 23-year-old made 13 appearances for Everton last season before joining AC Milan on loan in January.
The Spaniard, who came through the youth academy at the Nou Camp, has signed a two-year deal. Under the terms of the original deal that brought him to Goodison Park from the Nou Camp, Barcelona are barred from selling Deulofeu for at least a year.
After a good first season on Merseyside, Deulofeu fell out of favour and manager Ronald Koeman allowed him to spend the second half of the last campaign in Italy.
He started 36 games for Everton, with a further 39 from the bench, scoring eight goals. His contract had been due to run until June 2018.
Deulofeu said: "I am very happy to have returned home and cannot wait to start this project. I have always wanted to be here.
"I have had to work away from Barca, because it is not easy to get into the first team, but I have come here with a lot of desire.
"I have changed a lot, I have had different experiences and I think I have improved as a person and a player. I am a different player and I am going to try and help the team.
"I know that competition is high, but I will work hard every day and I am going to try and learn from the best to help the team to win titles."
---
Reader Comments (53)
Note: the following content is not moderated or vetted by the site owners at the time of submission. Comments are the responsibility of the poster. Disclaimer
James Hughes
1
Posted 15/07/2017 at 08:54:24
I wish him well and wonder if he will get anywhere near their first team?
Derek Knox
2
Posted 15/07/2017 at 22:17:15
Always liked Geri, but realistically, I don't think he was cut out for the Premier League. Even his forward play, became too predictable for the opposition, plus he didn't like to drop back and help out the defence.
He did bring some magic moments, which will stay with us. I can only wish him all the best, and hope he manages to break into the Barça team.
Ian McDowell
3
Posted 15/07/2017 at 22:36:17
He won't get much game time and will probably be sold after one season.
James Marshall
4
Posted 15/07/2017 at 22:39:00
He always seemed a likeable kid, aside from his histrionics and lots of falling over/tripping over the ball/overdoing the lollipops and kicking the ball into the stand .
Apart from all that I really wanted to see him succeed and enjoyed a small handful of brilliance – I also give him 12 months before Barça flog him to Milan.
Minik Hansen
5
Posted 15/07/2017 at 23:18:36
That's one of the reasons why I bought a Deulofeu shirt. If he breaks through at Barça, I'll occasionally wear the one with Everton batch on. B)
Barry McNally
6
Posted 15/07/2017 at 23:53:15
Surprised they didn't give Everton a few quid to waive the 12-month sell-on clause. He has no chance of making it at Barcelona.
Peter Fearon
7
Posted 15/07/2017 at 23:55:31
Shame that there is no place for a player of his skill in an Everton squad that lacks almost all of his qualities: invention, spontaneity, pace, ebullience, ball control, unpredictability and an eye for goal. T
his is a player who has almost certainly been rejected because he failed to meet some kind of artificial data requirement. Who cares if he tracks back to work as a defender? You can bet Barça won't.
Phil Sammon
8
Posted 15/07/2017 at 00:10:03
Peter (#7)
I'm afraid that's nonsense mate. If you score 50 goals a season, then maybe Barça will overlook your back-tracking. Geri hasn't done that and I don't think he ever will.
Nice lad and a good player... just very lightweight and not good enough at protecting the ball. Wish him luck.
Ian Linn
9
Posted 16/07/2017 at 00:33:14
No great loss really, in fact a good deal for us, plenty of potential but failed to live up to it.
Joe Clitherow
10
Posted 16/07/2017 at 00:39:09
Peter (#7)
Rubbish. The most unfit professional footballer I think I have ever seen. 5 mins of activity was generally followed by 10 mins of blowing and pointing for the ball to go elsewhere. No excuse for a professional not to be fit enough in my book, it is the easiest thing to fix. Lots of skill but little application made him ineffective for me.
Sad, but see ya, Geri, I actually do hope things work out for you.
Bill Gienapp
11
Posted 16/07/2017 at 02:48:16
I've always been a big Deulofeu fan, but I wish people would stop acting like he didn't get a fair shake.
In fact, he had a golden opportunity to establish himself at the start of last season, when others were hurt, still recovering from the Euros, etc... and, frustratingly, he did almost nothing to take advantage of it.
Flair and creativity are precious qualities... but they don't help much if they exist in theory more than execution.
Drew O'Neall
12
Posted 16/07/2017 at 03:36:22
I thought I read somewhere we get a percentage of the sell-on fee if Barça sell him too. Can anyone confirm that?
Alan J Thompson
13
Posted 16/07/2017 at 05:20:07
Phil (#8); That's the trouble with Everton, we overlooked it in a player who scored 25.
Phil Sammon
14
Posted 16/07/2017 at 05:35:00
Drew (#12) – You are correct. I also believe he can't go out on loan this season.
So a few games this year as I don't believe he can hold down a regular spot. Maybe they could sell him for £20M tops. Everton apparently get something like 50% of the sell on fee. Barça will just about break even. It all seems a bit pointless to me.
I guess you can't blame Geri for going. Biggest team in the world and the team he's always loved. Doesn't seem all that smart a career move though.
Ian Jones
15
Posted 16/07/2017 at 06:59:46
Doubtful he will get many games at Barcelona. Unlikely he would have got many games with us. Perhaps, by training with the superstars at Barcelona, the penny will drop and he will learn what needs to be done to make it at the top level.

Peter Lee
16
Posted 16/07/2017 at 07:33:17
His crossing and through balls were both the best we've seen when he was on the pitch and the worst.
Always blowing for tugs after a burst of exertion and as for who cared if he didn't track back? Well, I'd say Coleman most of all and everyone else marginally behind him. Ahead of all would be Koeman so that nailed it.
Seems a nice lad, all the best.
Liam Reilly
17
Posted 16/07/2017 at 08:05:48
Shame. Has all the tools but fails to apply them consistently and for some reason, seriously lacks in stamina.
Always respectful to the club though and often seen him on the bench celebrating goals with others beside him stonefaced for being omitted from the team.
Can't imagine Barcelona would've agreed to a 50% sell on clause coming Everton's way either.
Bob Parrington
18
Posted 16/07/2017 at 08:09:38
Me thinks Everton supporters don't like players in their team who do the dying swan when a minor "clip" occurs. This is possibly the one thing I disliked about Geri.
No problems with the misdirected early passes occurred or there were too many step-overs. We don't expect very single one to be successful. Okay, we'd like them to be but we are Everton and we're not so stupid as to think they'll all be brilliant.
But, Geri is a work-in-progress. Hopefully, for him, the end result will be really good but, think do I (a little Jedi saying. Sorry :).), just now, Everton can't wait for him to develop. We need to get on wiz zee business!
So, good luck Geri in your future 'cos, as has been stated a number of times on here, you seem to be a nice lad!
Mike Berry
19
Posted 16/07/2017 at 08:44:26
I am afraid he is a show pony who shows flashes of great ability but cannot sustain it for 90 minutes, and not made for the Premier League and does not have Ron's work ethic required for the team.
In Sandro I think you will find we have the best deal, I am really excited and think he will be sensational, and for 90 minutes!
Dave Abrahams
20
Posted 16/07/2017 at 08:47:49
Wish him well in the future. What this transfer proves is we are getting less and less Euros for the Pound.
John G Davies
21
Posted 16/07/2017 at 08:52:35
http://www.liverpoolecho.co.uk/sport/football/football-news/everton-fan-twente-clashing-koemans-13336534
Off subject but a great article
Particularly his thoughts on our neighbours.
Eddie Dunn
22
Posted 16/07/2017 at 09:10:14
I wish him well, he is returning home and as he says, he is a different person, a bit older and wiser. Not fit enough for the Premier League – whether that was down to a lack of application or a genetic flaw in the size of his lungs, the lad just didn't have the puff.
Wonderful skills and great to watch at his most direct. I think he may have fared better if he'd been encouraged to cut inside more often rather than out wide. He may have had more success.

Paul Dewhurst
23
Posted 16/07/2017 at 09:52:24
John (#21) – Great little read that article unusual for the Echo I think most of it is Tripe but enjoyed reading it thanks.
Drew (#12) – Martinez quote when we signed him "If they take him back they can't sell him for a season, so he has to stay in the first-team squad for a season. At the end of that if they decide to sell him we have got first rights of getting him back or we have got a big percentage of that deal. There is nothing we can do if they activate it. That was the deal and the only way we could access the player in the terms that we wanted. I'm delighted with the deal."
Deulofeu Nice lad lots of talent but did not have the lungs or the attitude to excel in the Premier League. I would imagine he could do well in Spain, Italy or France where the tempo is slower and waving your arms about while moaning is more accepted.
David Heaton
24
Posted 16/07/2017 at 10:35:48
I thought the deal when we signed him was we paid £6.3 million but Baca had first refusal if we sold him and they could re-sign him for £2 million, which makes perfect sense, they have a quality player they can use from the bench.
Overall, he cost Everton £4.3 Million but we got some back sending him out on loan. Where this £10 million figure comes from is hard to know.
Brian Williams
25
Posted 16/07/2017 at 10:41:11
David. The £10.6M figure has always been there. The buyback figures rose after each opportunity to buy him back passed. This was their last opportunity and it was always €12M from day one.
We paid £4.3M for him initially.
Here ya go, read this:
Deulofeu's development is being closely monitored by Barcelona and it has been suggested that, even if the player does not feature in Luis Enrique's first-team plans, the Spanish champions could re-sign him with a view to selling on at a profit.

But Martínez explained: "They can't do that. There are certain things in the deal. They can't take him back in the winter so they can't take him back in January. It can only be at the end of the season. It is €9M for the first year and €12M in the second year. [That's 2017.]

"If they take him back they can't sell him for a season, so he has to stay in the first-team squad for a season. At the end of that if they decide to sell him we have got first rights of getting him back or we have got a big percentage of that deal. There is nothing we can do if they activate it. That was the deal and the only way we could access the player in the terms that we wanted. I'm delighted with the deal."
Brian Williams
26
Posted 16/07/2017 at 10:52:33
Paul (#23).
Sorry, Paul, I didn't see you'd already covered it.
Colin Glassar
27
Posted 16/07/2017 at 11:07:31
£75m Rom, Cleverley £8m, Gerri £10m, McGeady £250k. So far that's £93m plus. Add to that Niasse, Macca and a few fringe players (not including Ross) and we're talking well over £30m more to spend on one decent forward, eg, Giroud, Benteke or (my favourite), Dzeko.
Ernie Baywood
28
Posted 16/07/2017 at 12:09:06
Like most supporters, I liked Geri. Shame it didn't quite work out but his lack of strength and stamina was too big an issue in this league. His wastefulness on the ball probably can be overcome in an appropriate setup.
I still think he's got too much talent to fall away completely.
Bobby Thomas
29
Posted 16/07/2017 at 12:58:11
When he was "on" he could be very good and had the ability to knock evil, whipped, penetrating crosses that were top draw. However, these occasions did not occur often enough.
He could also be absolutely abysmal. The Goodison derby in the sun a couple of years back, Rodgers's last game(?), he was embarrassingly poor. I understand how it can go with players who have to take risks, they don't always come off and it can look bad. And then, when things aren't coming off, sometimes the more they try to make amends the worse it gets. All flair player will have had days when nothing goes right, especially in their younger days.
But the acid test with players like this is that they gradually minimise these errors, the immaturity and the mistakes, and develop other areas of their game. The aim of the game for someone like Deulofeu is to try to be like Robben. Obviously, he cant be as good as him. But he should aim to be a player of that ilk. That provides that cutting edge, consistency, reliability, chances and goals, perhaps wide in a 4-3-3. A player who's decision making is generally spot on.
He is still only 23. The next couple of years are very important and he does have some great qualities. However,I personally don't see Del having enough to develop into that kind of player. I think he will end up spending the second half of his career at low/mid-table Spanish level. He doesn't have the power. And I don't think he will ever score enough goals. He is still a pretty average finisher. To justify some of the more erratic elements of his game you need more, as Koeman likes to say, productivity.
As it stands, Del doesn't bring anywhere near enough of it. He may have been handy to keep as an impact sub, at the very best. Lookman will be well better than him.

Peter Fearon
30
Posted 16/07/2017 at 13:30:37
Yes, Joe (#10), Those failings and lack of fitness and application are no doubt why one of the elite clubs in Europe just paid twice what we just paid for Sandro to get him back. Barça doesn't pay good money for incompetence – even for its bench.
Shaun Wilson
31
Posted 16/07/2017 at 16:10:44
Peter (#30).
We got Sandro on a buyout clause, so the fact Barcelona paid twice that is immaterial. Do you really think that a guy that couldn't get in our squad, never mind team, for 6 months last season, can turn it around and be a starter for one of the best teams in the world?
It's a pure money move, he'll be in Italy in 12 months. I like the guy, and was rooting for him, but he couldn't get in last season's team, how's he supposed to get in this season's team?
Brian Williams
32
Posted 16/07/2017 at 16:20:07
We'll have our chance to get him back if Barça decide to sell after a season as we have first dibs.

Shaun Wilson
33
Posted 16/07/2017 at 17:05:03
That's true, Brian, but how's he going to improve sitting on the bench or playing reserve football? Best case scenario for the lad is going out on loan but that hasn't done him many favors this far.
All the best, Geri.
Brian Williams
34
Posted 16/07/2017 at 17:13:21
Shaun. He can't go out on loan or play reserve football. Part of the very convoluted deal was that, if the buyback clause is activated Geri had to be part of Barça's first team squad.
He could spend a season on the bench mind.
Shaun Wilson
35
Posted 16/07/2017 at 17:58:28
My apologies Brian, you are right. That being the case, it looks even bleaker for him, unless Barça have some sort of deal already made for him for next season. It's a funny old game.
Des Farren
36
Posted 16/07/2017 at 18:21:55
Okay... so we can forget phenomenal. The new buzzword seems to be productivity... or running, pressing. I haven't seen too much of either and if our future depends on it, we can forget it. No lungs and "waving your arms about and moaning" is good enough for Barça and AC Milan but not Everton.
Whatever happened to skill and numerous other attributes that this lad has? Whatever happened to the School of Science? Whatever happened to the skill of coaching a 23-year-old with abundant skills to become better at what he does?

Shaun Wilson
37
Posted 16/07/2017 at 19:48:47
I agree with you to a certain extent there, Des, but we could argue the same point for Ross Barkley.
The common denominator between these two lads isn't skill or potential but heart, or lack of, and that's something that can't be coached.
Martin Mason
38
Posted 16/07/2017 at 21:11:48
Buying Gerard back was a no-brainer. £10 mill player then is worth £30 mill now. By selling him on quickly, Barca will make an immediate £20 mill. Everton never had the option to do that.
Brian Williams
39
Posted 16/07/2017 at 21:15:42
They can't sell him until after the forthcoming season when Everton have first refusal. Everton also get a big chunk of any sell-on fee should he go elsewhere.
Dave Ganley
40
Posted 16/07/2017 at 21:35:09
Why do people think that talent and hard work is an either or option? Do you really think the likes of Ronaldo or Messi just rely on talent alone? Can you imagine either of those players, who are arguably the best in the world, not putting the hard yards in? No me either.
He won't thrive at Barça if he doesn't work hard. As for AC wanting him, they had him for half a season then let him go without trying to buy, hardly a shining endorsement.
People castigating Koeman for wanting a team to work hard is just making excuses for bone idle individuals who can't be arsed to be able to play a full 90 minutes in the name of team work.
Any successful team has to work hard to win the ball and earn the right to play, something that Barkley, Deulofeu and the likes just don't understand. Shaun Wilson (#37) has it spot on: no heart.
Jason Broome
41
Posted 16/07/2017 at 21:53:13
I hope he has an amazing career. Never spoke ill of the club and genuinely liked playing for us.
Peter Fearon
42
Posted 16/07/2017 at 22:12:26
Shaun (31) The fact remains that Barca, and most intelligent Evertonians, see talent in a player that Koeman, or others at Everton, are missing. As much as the data police are exercising increasing control, football is not all about body mass index, kilometers covered, and the number of meaningless sideways passes completed. It is about something transient and ephemeral that defies definition but is instantly recognizable. Deulofeu had bags of talent but in these days of Premier League teams full of pacy, super fit mediocrities, no he does not fit in. I will take the view of Barca's recruitment system over those decrying this skillful individualist.
Don Alexander
43
Posted 16/07/2017 at 22:15:43
Having watched Barça play I'm surprised some of us don't notice that when they lose possession in and around their opponents' area every one of their strikers and midfielders work their butts off to recover it right there if they can, or prevent a forward pass if they can't. It's been like that for years.
This lad is more or less the same age as Ross, 24 next up. To hope that they'll now somehow develop, "if only the right coaching is finally provided", into the players we'd all like to see is in my view bordering delusional.
Can anyone remember a previous 24+ year-old who played consistently in the Champions League having spent the first five years of their career squandering a multitude of opportunities under a variety of coaches? I can't.
Hugh Jenkins
44
Posted 17/07/2017 at 05:42:40
Brian (#34). That is also my understanding of the deal.
What does mystify me though, is, will Barcelona be willing to effectively "waste" one seat on the bench for a whole season, just to gain a few million at the end of next season, if they then sell Gerard on?
It seems a strange, convoluted strategy, but, having said that, everything about the whole deal to bring Gerry to us in the first place, seemed strange and convoluted.
Shaun Wilson
45
Posted 17/07/2017 at 06:28:58
Peter (#42),
So are you one of these " intelligent Evertonians" that you speak of or am I too stupid to understand that?
Excuse me if I'm wrong but aren't wingers supposed to be "pacey and super fit" and the fact that you're suggesting that anyone in the Premier League who is both of those is mediocre, "most intelligent Evertonians" would disagree with you, in my humble, yet apparently dumb, opinion.
You should maybe re-read my post and answer the questions instead of waxing lyrical about how skillful Deulofeu is. I never questioned his skill in my post, I asked if you thought he could make either first team; instead, you insult my intellect.
You maybe shouldn't post your opinions if you don't like anybody that disagrees with them.

Brian Williams
46
Posted 17/07/2017 at 09:56:36
The fact remains that Barça, and most intelligent Evertonians, see talent in a player that Koeman, or others at Everton, are missing.
Add the AC Milan manager and staff to those who are missing it too.
It is about something transient and ephemeral that defies definition but is instantly recognizable.
So it's about something short lived, fleeting, momentary? That doesn't make much sense to me. Guess like Shaun I'm one of the dumbo's eh?
It's actually about effectiveness in my simple opinion. It's no use having these skills if you can't use them "effectively" and regularly.
Deulofeu had bags of talent...............
Nobody would disagree with that I reckon but he just didn't utilize that talent "effectively" on a regular basis. When he did the things he's able to do, well, it was a joy to watch. But he didn't do them often enough and actually caused us problems on occasions by losing the ball when a simple pass was what was actually required.
In my view ,you can only afford a luxury player like Geri when you have ten world beaters around you, and we didn't and haven't.
Simon Jones
47
Posted 17/07/2017 at 13:57:00
Pretty much everyone posting is expecting him to bomb. What if he does okay now that he is back in his home country and that little bit older? I have a sneaky feeling that he might do as badly as many posters think.
Clive Rogers
48
Posted 17/07/2017 at 14:09:00
Simon (#47), should that have been "not" as badly? There's no doubt he had ability but his big weakness was losing possession far too easily. For that reason, I can't see him thriving at Barcelona who play the possession game.
Some of Deulofeu's passing was so far astray that it was difficult to guess who the pass was intended for.
Kristian Boyce
49
Posted 17/07/2017 at 14:51:28
To be honest, when I look at the Deulofeu situation, what has happened is probably for the best. What a lot of people are forgetting is that, if he actually lived up to the hype and put in the performances on a regular occasion, Barça would have brought him back anyways.
I think we would be angrier if we lost him if he was playing amazing, leaving a huge gap in the team. It hasn't worked out for him here and we've made a decent profit on a player who was on the fringes of the squad. Barça's buy back clause was basically a glorified loan, in which we actually came out of it better financially.
Brian Williams
50
Posted 17/07/2017 at 15:25:41
That's a good point, Kristian, and one I meant to make earlier in the thread and then, forgot! It's an age thing.
Yep, if he'd have set the place on fire here, we'd still have got the agreed €12M.
Brian Wilkinson
51
Posted 17/07/2017 at 15:32:39
Could be right Minek @5, could have given Everton £13 million if we remove the sell-on clause, or removed the sell-on clause take what we agreed and updated the sell-on clause with a 20% sell-on inserted.
Barcelona will have to come down with a bout of the shites before he dislodges that forward line.
Simon Jones
52
Posted 17/07/2017 at 15:54:39
Ha! Yes, Clive, "... NOT as badly..."
He's not a kid now, he's either going to have to raise his level, surrounded by quality players, or he is unlikely to progress. It's down to the lad, if he can see what is missing from his game and attitude and works on that he'll get better, otherwise he will perform as well as my typing.
Barry Jones
53
Posted 17/07/2017 at 16:09:19
Dave Ganley (#40), I concur with your points, particularly as to why people think that skill and hard work are mutually exclusive. In today's game, they are both prerequisites. Barça is both one of the most skillful of teams on the planet and hardest working without the ball.
Geri is an enigma. As Joe (#10), pointed out, he always looked a bit unfit in games and I found this really baffling and concerning. Possibly he was short on match fitness as many of his appearances were less than 90 minutes.
His eye for a pass and the execution was exceptional at times. If he develops this aspect of his game, he could well be a future Iniesta under the right circumstances.
Add Your Comments
In order to post a comment, you need to be logged in as a registered user of the site.
Or Sign up as a ToffeeWeb Member — it's free, takes just a few minutes and will allow you to post your comments on articles and Talking Points submissions across the site.