Gueye 'very close' to signing new deal

144 Comments [Jump to last]
Friday 27 October 2017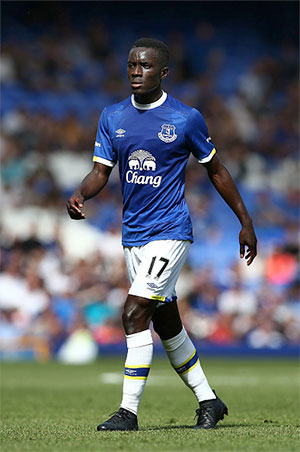 Idrissa Gueye looks set to commit to another five-year contract at Everton, with David Unsworth announcing that an agreement is close.
The Senegal international, snapped up from Aston Villa last year for just £7.1m, was one of the more successful acquisitions under Ronald Koeman and the club are keen to tie him down on improved terms.
"I believe we're very, very close [on Gueye's new contract]," Unsworth told the media at Finch Farm this morning. "I don't believe it's signed and sealed yet but we're very.very close.
"That's great news for Idrissa and great news for everybody at Everton because he's a top, top player. I've watched his performances over the last 18 months and the season he was at Aston Villa he was a top player.
"To tie him down here and keep him here for a number of years is fantastic. He is a good guy as well, really humble and he is going to be a top Everton player."
---
Reader Comments (144)
Note: the following content is not moderated or vetted by the site owners at the time of submission. Comments are the responsibility of the poster. Disclaimer
Tony Marsh
1
Posted 27/10/2017 at 16:22:30
Please... No! This guy is a liability and he is crap. That sending off on Sunday was disgusting. Knowing full well your team is in a relegation scrap, you dive in and get a certain red card. We should be looking to offload this Carthorse. Simply not good enough.
Steve Ferns
2
Posted 27/10/2017 at 16:30:02
I disagree Tony. I think he is a very good player. However, he performs a set role, and you have to understand that role and not think he is more than what he is. That is, he presses hard, he closes down, he makes tackles and he makes interceptions.
What he cannot do is, pass long or short, shoot, or dribble. He needs to play alongside a play-maker. He's perhaps too limited for the very best sides, but he could get into most of the top four sides and not look out of place.
Brent Stephens
3
Posted 27/10/2017 at 16:33:43
Gana showed us for enough games when we first signed him what he can do. I think he might have been suffering some loss of form recently - but then who hasn't!
Hang on to him!

Des Farren
4
Posted 27/10/2017 at 16:36:59
Haha. Nobody could accuse you of equivocating here Tony.
For my part I don't think he is crap and certainly not a liability. He is just not as good as many maintained when he first signed. Gets a fever in front of goal.
Kim Vivian
5
Posted 27/10/2017 at 16:39:01
Tony Marsh - looks like you didn't get your end away last night!
Garbage comment.
Jon Withey
6
Posted 27/10/2017 at 16:51:41
Often excellent last season - for sure he isn't an attacking midfielder but he shouldn't need to be.
Don Alexander
7
Posted 27/10/2017 at 16:59:59
To me Idrissa is a slightly better version of Lee Carsley, and I could never have imagined our Lee attracting the interest of the top four, now expanded to the top six. I therefore wonder whether he's worth a 5-year contract given his age of 28?
Of course he may improve with better players around him, he may graft throughout the five years and continue never to really let anybody down, or he may attract a sizeable fee on account of good form and a long contract. Who knows?
One thing we do know is that he's loaded for life, pretty much regardless of results.
Eddie Dunn
8
Posted 27/10/2017 at 17:02:14
Tony Marsh, that's another crass comment to add to your legacy. He is good at closing down, is quick and helps break-up opposition attacks. A valuable player.
He has his limitations but don't they all?
Steve Ferns
9
Posted 27/10/2017 at 17:09:06
On an aside, Eddie, did anyone hear Leon Osman talking to the Echo Podcast about the most talented players he played with?
Pieanaar - very skilful and could dribble, but couldn't pass
Gravesen - very skilful, could pass, could dribble, but no brain
Cahill - not very skilful but had the brain.
Rooney was the one who had everything, even though he was only 17.
Isn't it better to have a limited player, who therefore plays just one position, but does one position well, rather than be shunted around like Calvert-Lewin and not able to hone the skills needed for one particular position?
Bobby Mallon
10
Posted 27/10/2017 at 17:10:30
Tony Marsh @1. That is the biggest load of tripe I have heard ever. Ghana is our best midfielder by a country mile and it was Koemans job to sub him and he didn't. Are you trying to say don't tackle or try once you have been booked. I am made up he is about to sign
Bobby Mallon
11
Posted 27/10/2017 at 17:14:17
And he can tackle and dribble; he is always there for a pass and I'm sure he is the only bloody player who passes forward.
John Wilson
12
Posted 27/10/2017 at 17:15:38
Kim, I agree - Gana is amazing when he's on form. The whole team are playing shit. Tony Marsh, FFS man...
Joe O'Brien
13
Posted 27/10/2017 at 17:19:37
Any relation to Rodney, Tony? That's the type of statement he would come out with...
Peter Anthony
14
Posted 27/10/2017 at 17:21:47
I don't like talk of players signing contracts before they have. In today's world of agents and commissions and mega money, surely it just encourages the vultures to circle quickly and try to tap people up and do snide deals.
Dermot Byrne
15
Posted 27/10/2017 at 17:21:56
Like him and think we should be re-examining our judgement of players in light of new management. Could be change our mind time again.
Terry White
16
Posted 27/10/2017 at 17:30:32
Pre-African Nations Cup and pre-Schneiderlin, Gueye was excellent. Post cup and post Scheniderlin he lost form. Under Koeman and his wish to play Schneiderlin, Gueye is being asked to become a creative, going forward midfield player and this is not his forte. He is best at harrying and chasing, tackling to win the ball, and making a short pass.
Is Baningime another Gueye and, if so, can we afford to play them at the same time?
Ian Burns
17
Posted 27/10/2017 at 17:33:55
I can't believe the comment at #1 - this is a sensible and welcome signing. Makele and Kante are similar players and all top sides need such as Gueye - will be happy when the ink is dry.
Liam Reilly
18
Posted 27/10/2017 at 17:36:14
Just a crazy post Tony.
This boy is an excellent defensive midfielder, had more interceptions last year than Kante.
What he doesn't need is a Schneiderlin beside him in the team; he needs a ball playing midfielder who's comfortable going forward.
I'd drop Barkley deep with him. I remember he played there against QPR a few years back and dominated the game.
Ian Bennett
19
Posted 27/10/2017 at 17:38:55
He's one player that would get into a top 4 side. I am glad he's signing a new deal.
He's one I'd be keeping all day long.
Alan Fordham
20
Posted 27/10/2017 at 17:50:32
Gana is class and would be welcome at many tops side. Tackles, interceptions, blocks, distance covered his stats are incredible. I forgive his sending off - yes it was rash but when you're the only one on your team tackling...
Tony Marsh
21
Posted 27/10/2017 at 17:53:21
The posts above attacking me for my view on Gueye are both hilarious and alarming. It is this continues accepting of mediocrity that is taking us backwards constantly.
As a club and as a fan base, we are to nice, too accommodating, too lovey-dovey. There isn't enough ruthlessness here. We lap shite up like a donkey with a sack of carrots.
I will tell you how good Gueye is. He couldn't get a game for a relegated Aston Villa side. How many clubs that finished above us or just below us would have Gueye in there squad? I would say none. No but dopey Everton who will sign him back up for 5 more years.
Jesus wept... this joker wouldn't get a game for the worst Red Shite side I've ever known.
Darren Hind
22
Posted 27/10/2017 at 17:58:46
Tony Marsh is right... well he's half right. Gana isn't crap, nobody could work that hard and break up as many opposition attacks as he does and be crap. But he would not get within a mile of a place with a Champions League club. He simply isn't good enough with the ball. I think that's what Marshy is getting at.
He's also prone to go to ground when he doesn't need to. I often wonder why him and "slidingin" get themselves into situations where they are walking a tightrope. He must have been the only one in the ground who didn't see last week's red card coming. He had enough warnings
Pleased he has signed, it's difficult not to like a player who works that hard for us, but fuck me, he has his flaws. I just wish he realised he could be so much better if he stayed on his feet.
Tim Drake
23
Posted 27/10/2017 at 18:01:37
Tony (#21),
In the sole season that Gueye played for Villa, he played 35 out of 38 games.
Can you please explain how "He couldn't get a game"?
You are entitled to your opinion but don't make up facts to back it up.
Ian Hollingworth
24
Posted 27/10/2017 at 18:03:00
"What he cannot do is, pass long or short, shoot, or dribble."
Steve Ferns I love most of your posts analysing tactics etc but did you really mean the above. What has the game or Everton come to when we accept a player who can't do those basic things.
I have one serious reservation about Unsworth and that is that he might be too much of a Kenwright man and led by the clown.
We will all live the little blue bubble but may not actually be ambitious enough to win anything. Hope I am wrong but feel that the fan base has already fallen hook line and sinker for the next act of his long running show.
Steve Ferns
26
Posted 27/10/2017 at 18:06:29
Most of what you said was opinion, Tony. But you did say one fact:
"I will tell you how good Gueye is. He couldn't get a game for a relegated Aston Villa side"
Tony, he played 35 league games. I think he actually only missed one through injury. So, check your facts.
Derek Knox
27
Posted 27/10/2017 at 18:08:25
Everyone is entitled to an opinion, but I think in my opinion, Tony Marsh is so way off the mark regarding Gana.
He is a great player; who has been like many others, transformed into detritus by Koeman, at times; by his lack of game plan and unbalance; playing alongside Schneiderlin has seen him deteriorate, almost beyond recognition.
Unfortunately he is not alone in that bracket. Young Lookman played with a composure defying his tender age, was then treated like an outcast at times, when we needed him most.
I am so glad that Koeman has been relieved of his duties, let's get back on track, with the players we have until January; when we can get a striker and a defender or two. In the meantime; Unsy can steady the ship; get players confidence back; and start playing as a team again.
Steve Ferns
28
Posted 27/10/2017 at 18:08:38
Ian, Claude makelele was the same and he won the champions league for Real Madrid at least once, the World Cup and the premier league with Chelsea.
Idrissa Gueye is as good as you would want at performing his role. Top 4 quality. Sorry Ian, I don't get your point.
Brian Williams
29
Posted 27/10/2017 at 18:10:03
When they say he's "very close" to signing do they mean he's 99.9% going to sign .....................................hmmm deja vu?
Gerry Quinn
30
Posted 27/10/2017 at 18:10:09
Player of the season N'GOLO KANTE v IDRISSA GUEYE!
Stat Kante Gueye
Games Played 27 24
Games Started 27 23
Minutes Played 2419 2010
Goals 1 1
Assists 0 1
Chances Created (inc. assists) 17 14
Tackles 101 107
Interceptions 62 59
Passes 1665 1396
Passing Accuracy 88.23 85.17
Dave Pritchard
32
Posted 27/10/2017 at 18:13:03
Not playing as well as when he first joined. At least he did play well when he joined us unlike most of the new signings this season. I would have wanted to see him return to the standards that he showed early last season before thinking that a 5-year contract is worth offering though.
Peter Gorman
33
Posted 27/10/2017 at 18:14:35
Glad you find all the above hilarious, Tony, believe me you are not the only one laughing.
Gueye is the prince of tackles; I've lost count of how many times he has stolen the ball and broken down an attack... but yeah, he got sent off once so obviously he is a total liability.
Tony Marsh
34
Posted 27/10/2017 at 18:17:40
Ian @ 24 – exactly, mate. We have become a Stoke, WBA type club and to accept players of Gueye s stature is a concern.
Some fans will remember midfielders at Everton FC the likes of Alan Ball, Colin Harvey, Howard Kendall, Peter Reid, Sheedy, Bracewell... later players like Kanchelskis Gravesen and Arteta. All top players who are miles ahead of the current crop.
Now, Everton fans think Gueye is good enough to take us forward!!!.Gueye might be oayk for a Stoke, WBA type club but to keep him here for what could be 7 years is pathetic.
Tell me guys how many goals or assists does Gueye have since he arrived here? In fact he can't get a strike on target and is a red card waiting to happen.
Absolute joke trying to support Gueye as a top player. All I want at this club I are top players. Gueye and Co are far from it.
Oscar Huglin
35
Posted 27/10/2017 at 18:19:44
Tony Marsh, you're funny you are.
Gueye was the second best tackler in the league the season Villa went down. Only Kante made more interceptions than him.
His stats have been just as impressive for a lot of his time at Everton. By my recollection, this is his first real dip in form, and he's still always giving 100%.
Fans like you make me sad.
Mark Riding
36
Posted 27/10/2017 at 18:22:40
Gana signing a new deal before everyone realises he's bang average. Had him sussed for ages. Just like I had McCarthy sussed when everyone still thought he was the second coming.
I hope any new deal includes a clause fining him every time he shoots from outside the box as well.
Rudi Coote
37
Posted 27/10/2017 at 18:23:06
I like Gana but a 5-year contract for a 28-year-old is mad. 2-year extensions would be better. More controllable.
Colin Glassar
38
Posted 27/10/2017 at 18:27:29
Mark, sounds like you need to made Director of Sussing. It could save us a few bob in the future.
Geoff Lambert
39
Posted 27/10/2017 at 18:28:14
Great news! One of the best players at doing what he does in the Premier League.
Sign him up for 10 years.
Mark Riding
40
Posted 27/10/2017 at 18:32:29
Is right, Colin, I could be Director of Football as well, if like Walsh, it involves signing players like Vlasic, who you haven't even heard of until they play against you!
And signing England's record goalscorer, Ajax's captain and the lad with the most assists in the Premier League for £45m.
Tom Bowers
41
Posted 27/10/2017 at 18:33:06
Mark, you are correct. Gana is only average, tries hard but not the best or strongest of tacklers. Stood out in a poor Villa side. Davies is better and so is McCarthy although he can be rash at times.
I would like to see Besic given some playing time and certainly would like to see more of Vlasic and Baningime. Gana and Schneiderlin may have suffered like others from the Koeman malaise although individual performances should not have been affected if they are true professionals.
Lee Jackson
42
Posted 27/10/2017 at 18:33:49
Jesus wept, sometimes I wonder if some fans like ANY player in the squad...
Ian Hollingworth
44
Posted 27/10/2017 at 18:39:55
Steve my point is that I expect a midfield player to be able to pass, shoot and dribble when necessary
I might be old fashioned but I expect footballers to be able to do those basic elements of the game.
Oscar (35) this site is about airing our views, we won't always agree and that's the beauty of the site. Your final comment aimed at passionate Evertonians is uncalled for.

Lev Vellene
45
Posted 27/10/2017 at 18:42:25
Gana can be very good in his position, but he needs to be taught (coached) about risk assessment! He's gotten some unnecessary early yellow cards since he joined, but once he gets a grasp on when it's necessary to abort, or soften, his planned intervention, I think he'll be extremely valuable for us.
Steve Ferns
47
Posted 27/10/2017 at 18:43:20
So Ian, would Makelele not deserve a place in your side? A player so limited they called him the "water carrier", but yet so brilliant there was a long period where the holding midfield role became known as the "Makelele role".
Edit: Zidane said of replacing Makelele with a better footballer like you and Tony suggest: "Why put another layer of gold paint on the Bentley when you are losing the entire engine?"
Tony Marsh
48
Posted 27/10/2017 at 18:47:47
Oscar @ 35, Koeman was sacked on this season's performances. Gueye has been awful – he gets a new 5-year deal...?
If you want to accept bang average players then expect to watch your team struggle in the bottom 3 of the table. That's the harsh reality. Look were we are.
It's nothing personal, my views on Gana it's just that I want a better standard of player at the club. I've seen nothing this season to justify handing out bumper contracts to any players.
We were told Barkley wasn't good enough for Everton yet Gana and Morgan play every game. Keep lapping it up if you must. I demand more, mate.

Ian Hollingworth
49
Posted 27/10/2017 at 18:51:04
So you are saying Gueye is as good as Makelele? Makelele scored 25 goals in his 800 odd appearances so although not prolific he occasionally could shoot and I remember him being able to pass.
Just to be clear I was commenting on you saying Gueye could not pass,shoot or dribble, I didn't say it. I was merely amused that it's okay for a footballer not to be able to do such basic things.
John Graham
50
Posted 27/10/2017 at 18:51:20
Great news if he signs. Best midfielder by a mile last season. Not reached the same heights this. First name on the team sheet when on form.
Let's hope Unsworth can get the best out of him until we get the new manager in.
Steve Ferns
51
Posted 27/10/2017 at 18:52:18
So Tony, who can do everything Gueye can do and more?
Bill Gienapp
52
Posted 27/10/2017 at 18:54:43
The bottom line is that N'Golo Kante won Player of the Season playing an identical role and he and Gueye have had very, very similar stats the past two years. To harp on Gueye's goalscoring record seems to be deliberately missing the point.
Mark Riding
53
Posted 27/10/2017 at 18:56:05
Steve, how many do you want ? Yaya Toure, Matic, Dier ?
Tony Marsh
54
Posted 27/10/2017 at 18:58:22
Steve @ 51
Probably not but could Gueye beat me at Hopscotch?? Pathetic reply mate. Seriously lame.
Steve Ferns
55
Posted 27/10/2017 at 19:01:00
Matic maybe. Dier is just as limited. Toure five years ago.
Could we sign any of them? No chance. If we sold Gueye, Arsenal are already interested (which is the reason for the new deal) and after Matic and Dier turn us down (and Busquets – the only player who is better than Gueye at being Gueye and can pass and dribble) who would we sign?
Lev Vellene
56
Posted 27/10/2017 at 19:01:04
I wonder why I'm still on Grumpy-Pop-web 20 years after I first visited... Oh, I was badly depressed back then and our regulars made me see rays of sunshine everywhere else! Thank you, ToffeeWebbers! :D
Ian Burns
57
Posted 27/10/2017 at 19:01:04
Steve – my point about Makele was simply to answer Tony Marsh's scathing criticism of Gueye. I was trying to say people such as he; Kante and Gueye are vital components in a team playing a specific and important role.
Oliver Brunel
58
Posted 27/10/2017 at 19:01:08
One problem. He doesnt score any goals.
Steve Ferns
59
Posted 27/10/2017 at 19:02:05
Seriously lame to ask you who can be better than Gueye since you want to offload him?
Lee Jackson
60
Posted 27/10/2017 at 19:03:04
And this crap about Gana not being able to pass – he has the 26th highest pass success percentage in the entire Premier League this season – 87.3%. Yep, higher than Mata, Ozil, Milner, De Bruyne, and of course Kante.
Okay, so he doesn't cross the ball or do defense-splitting passes or long racking passes but that's clearly not his job. The point is, of course he can bloody well pass.
Maybe we should turn it around and say how many tackles, interceptions and blocks does Hazard do? Not many? Oh, he must be shit then...
Peter Cummings
61
Posted 27/10/2017 at 19:03:56
IMO while he has had his moments, I believe he is too inconsistent and very prone, like Williams, to 'carding' for reckless behaviour – depriving the team of their services in the process.
Okay, teams need players who can put themselves about, but not those who rack up cards on a regular basis, possibly affecting an important result, so I feel a 5-year contract is far too much for him, a couple of years maybe would suffice. Just a thought.
Mark Riding
62
Posted 27/10/2017 at 19:07:43
Lee, have you got the stats for passes forwards over two yards please mate?
Tony Marsh
63
Posted 27/10/2017 at 19:09:31
OMG... Look at the table – we are in the bottom 3 and Idrissa Gana Gueye has played in every game so far. Each week, after we lost yet another game, fans came on here slaughtering Gueye and Schneiderlin.
I don't see where the improvement is coming from. Why are we not craving midfielders who best men with pace and score goals? When did Everton become spoilers? Is this the sum of our ambition – to break play up and spoil?
God give me strength... no wonder we are in such a mess. Nil Satisfaction we should rename our motto.
Steve Ferns
64
Posted 27/10/2017 at 19:12:05
Ian Hollingworth, I would not say Gueye is world class in the role, but I would say he is the level below. So not quite on a par with Makelele but not far off. He's one of the few players we have who could get into a top 4 side.
And no, he does not need to be able to pass, shoot and dribble. And he can do this as well as Makelele could. Gueye was best last season when he got the ball and got rid of it quickly to feet.
Steve Ferns
65
Posted 27/10/2017 at 19:14:35
Tony, yes we need midfielders who can dribble past people, who can hit the ball accurately over 40 yards and can shoot. But those players need a Gueye behind them, mopping up and giving them the ball. You can't just be all-out attack.
Lev Vellene
66
Posted 27/10/2017 at 19:19:34
Tony, did they all do the same bad stuff last year? Could this drop in performance in any way be linked to the drop in performance of the whole team? Or have you singled out specific players for causing all of this?
The team-spirit has been rock bottom! So I would expect that to seep into everything, even the performances of those who worked well within a prior team of yesteryear that no longer existed in spirit well before RK got the sack.
Lee Jackson
67
Posted 27/10/2017 at 19:24:07
Have you Mark? Better still, name one feasible player we could replace him with who would provide the same tackles, interceptions and blocking ability, not to mention work rate.
Perhaps the fact that last season he made 33% more key passes (0.8) per game than Kante (0.6) may be the closest thing to that stat.
Mark Riding
68
Posted 27/10/2017 at 19:27:11
Sorry Lee, I don't have those stats, sadly. All I have is the fact that I watch him, and, in my opinion, he's crap. I'm not having a pop or anything btw.
Brent Stephens
69
Posted 27/10/2017 at 19:28:57
Tony "Look at the table we are in the bottom 3 and Idrisssa Gana Gueye has played in every game so far".
And Koeman managed every game. Next.
Mark Riding
70
Posted 27/10/2017 at 19:31:40
Brent, Koeman managed every game last season, when Gana would have been keeping Champions League, World Cup winning Makele out the side though. Can't have this both ways.
Lee Jackson
71
Posted 27/10/2017 at 19:35:27
Fair enough, Mark, it's just an opinion after all. BTW, I don't think he's a great player and it doesn't particularly bother me when he doesn't get in the side especially at home against the 'lesser' sides when we should be the ones doing the lions share of the attacking.
But against the top sides he does the job he does and does it better than anyone else we have or could currently attract atm. Hence, an extended contract works for me.
Danny Broderick
72
Posted 27/10/2017 at 19:37:00
Tony,
Is Gueye the reason we are in the bottom 3? I think it's pretty clear we are in the bottom 3 because we have had no pace and width in the team and nothing up front. It doesn't matter how good the rest of your team is, if you can't score goals, you'll eventually start shipping them as well.
Gueye is a modern day Dog of War. Big Joe and Unsie are going to love him. You might as well get used to it, mate – his job will be getting the ball and giving it to others. All top teams need one of these, in my opinion – this has been the case in any era of football.
Mark Riding
74
Posted 27/10/2017 at 19:39:37
Does it not grate somewhat then Lee, that the club are putting this out in the open, when we fannied about over Ross and his deal then? A player, who genuinely could get into other sides?
I've called Ross out over not signing, but the more I see of how we are operating now, the whole club stinks the place out.
Jamie Evans
75
Posted 27/10/2017 at 19:40:39
Have I misread something on this thread or are some people actually rating Eric Dier. And Thomas Gravesen?
Oh the hilarity... Tommy Grav – The ninjas favourite cheerleader. What a fraud he was. A proper blag hardman.
But those eyes, my word those eyes. Ha ha ha. Have a word with yourselves. Tommy Grav.
Lee Jackson
76
Posted 27/10/2017 at 19:40:55
Well I'm not one of Ross's biggest fans either Mark so... let's leave that one to another thread!
Lev Vellene
77
Posted 27/10/2017 at 19:42:20
What would this season's Gana have looked like if he had the same kind of team-spirit around him like the second half vs Chelsea? Gana has been one-on-one, with static players around him; in the second half of that Chelsea game, we often had two (or even three) players closing in on the opposition player with the ball!
Rob Halligan
82
Posted 27/10/2017 at 19:48:26
I'd love to sit down in front of Unsworth and anyone criticising Gueye, and listen to each person's analysis of Gueye, and then form an opinion as to whether he should stay or go?
I think I know in what direction my opinion would sway to. Somebody who knows what they're talking about, as opposed to somebody on this forum who hasn't got a clue what they're talking about.
Jeff Armstrong
83
Posted 27/10/2017 at 19:51:07
Tom Bowers, 41, your argument fell apart when you said "I'd like Besic to be given more game time" ... oh dear!
Steve Ferns
84
Posted 27/10/2017 at 19:57:43
I suppose it comes down to modern tactics. Tony is clearly a 4-4-2 man. And yes Gueye is not good enough for 4-4-2. No doubt about it. Because he can't attack well enough.
I prefer 4-2-3-1 or 4-5-1. This allows you to play with even more adventurous players like Hazard who would have to play up top in a 4-4-2 as he doesn't track back enough for 4-4-2. But in a 4-2-3-1 he's balanced out by a Gueye.
Gueye does his job excellently for me. Of course he has good games and bad. But he's not the problem. It's the lack of width, pace, speed of transition and our back to front speed.
Karl Jones
85
Posted 27/10/2017 at 19:59:19
Doesn't deserve it. He's been awful this season and looks like he'll always be close to a Yellow/Red Card. His shooting is terrible and he can't find a forward pass to save his life.
Far too many sideways backwards players at Everton these days.
Brent Stephens
86
Posted 27/10/2017 at 19:59:28
Mark (#74) my point is about why Gana's form might have dipped (as it did into last season). But if you want Koeman, have him.
Greg Hasbrouck
92
Posted 27/10/2017 at 20:13:48
If the rest of the guys on the squad played with the same energy and intensity as Gueye we wouldn't be in the relegation zone.
Tony Hill
97
Posted 27/10/2017 at 20:25:05
A very good move if we can get him to sign. When he began with us, his passing was incisive and often in a forwards direction. He was not just a destroyer, though he was and remains excellent at that too. See, for example, his assist for Lukaku's first at Sunderland.
As with so many talents who come to us or come into the first team, something seems to get paralysed and they stop expressing themselves naturally. If Unsworth can release players from that disease then all hail.
Paul Kossoff
98
Posted 27/10/2017 at 20:29:48
If you look at both Gueye's tackles, he follows through on top of his opponents foot, reckless, deliberate? Stupid, yes.
In one tackle, he easily gets the ball but then follows through, also in a part of the pitch where the tackle wasn't needed. Will he learn? Doubt it.
Dave O'Connell
119
Posted 27/10/2017 at 21:21:32
He needs to improve; he's been woeful this season.
Mike Gaynes
128
Posted 27/10/2017 at 22:19:17
Gerry #30, I've been preaching that for two years now. Of course you'll get the reflexive dismissal of "statistics" from some folks, but the fact is that Gueye is one of the very best ballwinners on the planet. He led all Europe in tackles per game last year.
What makes him far inferior to Kante is his work on the ball... he commits passing errors and turnovers that Kante simply doesn't. Kante triggers offense -- Gueye does not.
But he does his job very, very well and leaves absolutely maximum effort on the pitch every game. Glad to see he'll be staying with us.
Mike Gaynes
129
Posted 27/10/2017 at 22:30:40
Karl Jones #85:

"...looks like he'll always be close to a Yellow/Red Card."
The foolish red against Arsenal was the first of his career.
Robin Cannon
130
Posted 27/10/2017 at 22:42:01
On a general basis, I really wish we'd shut up about "almost completely signed" and "very close to signing".
Jamie Crowley
132
Posted 27/10/2017 at 23:06:37
I'm "gobsmacked" Gueye is polarizing opinions.
I'm a meathead former hockey player, so I have a big, big soft spot in my heart for players who put in hard challenges and a lot of tackles admittedly.
But to say Gana is crap? I'm seriously stunned. I think he's fantastic.
Every team needs a Gana in my opinion. Someone who will break up play and get you the damn ball back! And he covers more ground than anyone I can remember in a blue uniform in the 10 years I've been watching.
I do have some hesitations though. Any time a Tony Marsh, Darren Hind, or the like has reservations about anything football related and I disagree with them? It usually takes about a year and I end up saying, "well, they were right!"
I dunno... for me he's wonderful. I could watch him play all day long. Glad we signed him.
Neil Copeland
133
Posted 27/10/2017 at 23:15:51
Lots of excitement over a player that hasn't signed a new contract yet!
For what it's worth, I think we should wait at least a few more games to see how Gueye performs for Unsworth (assuming he gets a ahem ahead of Beni that is). It may be that he was suffering with the Koeman impact that seems to have at least some negative impact on other players.
Another side to this is that an extended contract probably increases his transfer value. Arsenal were rumoured to be interested in the summer so this could be another reason for the contract negotiations although 5 years seems excessive to me, why not 2 or 3 - how long does he have on his existing contract?
Phil Hoyle
135
Posted 27/10/2017 at 23:41:07
James – I fully agree. His work rate is immense. He is not going to score goals. That is not his game.
He is not Kante who, in my view, is the most underrated player in the Premier League. Idrissa is not a millions miles off.
Teams are a sum of the players and he is such an important cog. I was made up with this news. Sign him up. Hard worker, great tackler, does things within his ability which he understand his own limits.
Kevin Moorcroft
136
Posted 27/10/2017 at 23:57:27
Get him signed. He's just had a lull in form but will come back like last season. He's quality when on form.
Chris Bentham
137
Posted 27/10/2017 at 00:02:54
Interesting difference of opinions and I can see arguments for both sides.
The Makele argument. He played next to Zidane or another creative or offensive centre midfielder. Two Makele's wouldn't have worked.
Gueye is a great energy and expert ball winner but he is not an offensive centre midfielder which he has been asked to develop.
Him and Schneiderlin don't work too negative.
Can he operate in a 3 man midfield in the forward positions I think not good enough creatively.
Summary. Holding midfielder on his own.
Chris Corn
138
Posted 28/10/2017 at 00:17:15
I think he has some good attributes but he is very sloppy in possession and is one of the worst for giving it away cheaply. I also disagree with a 5-year contract for someone of 28.
John Smith
139
Posted 28/10/2017 at 00:31:45
"Ghana is our best midfielder by a country mile and it was Koeman's job to sub him and he didn't."
Agreed. Also he had to guard Alex Sanchez. No easy task on a yellow.
Peter Gorman
141
Posted 28/10/2017 at 00:47:35
I am well aware about this being a forum, about sharing opinions, all opinions being valid etc. but for some fans to refer to Gueye as 'crap' means the penny has finally dropped with me that some people are simply just full of it.
Jack Convery
142
Posted 28/10/2017 at 00:54:57
Contract is too long but he's a good player. If he has a release clause, we'll get good money for him. Arsenal could do with him, as Xhaka is seriously shit.
Rob Dolby
143
Posted 28/10/2017 at 01:09:09
Gueye is as good as it gets for breaking play up and playing it simple. Kante won the league 2 years on the trot doing the exact same thing.
Does anyone think that playing a No 10 in that position is the answer? McCarthy and Schneiderlin are not in the same class.

John Pierce
144
Posted 28/10/2017 at 01:33:48
Lets be right, he's a reasonable player with but he is limited. In a team that needs to improve and progress five years is too long.
As has been repeatedly said his ability with the ball is very limited. You need more than a one dimensional footballer.
John Charles
145
Posted 28/10/2017 at 01:43:59
A decent player but no more. Offers very little going forward and defensively we have been appalling. Not all his fault but he was there virtually every game and has done very little to shore us up. Is a dogs of war player all we want now?
Barry Williams
146
Posted 28/10/2017 at 03:57:52
A number of comments seem to focus on Gueye's weaknesses or what he cant do, which let's face it have only been an issue this season, a season in which all have under-performed!
A new contract means resale value, 5 years is long, but he'll still only be just turning 33 at the end of it, only just turning 31 running into the last 2 years, It makes sense, he was excellent last season and ain't been that bad this season in a rather thankless role. Yes, he's made mistakes this season, but who hasn't?
Ernie Baywood
147
Posted 28/10/2017 at 04:01:13
He's a good player and well worth his place. He's limited in terms of attacking, though.
I thought that back when there were people rating him as the best thing they'd ever seen. I still think it now there are people rubbishing his ability.
I often wonder if I have no real opinions, or could it be that this website has people who jump to extremes just for a reaction.
Matthew Williams
148
Posted 28/10/2017 at 07:07:53
Decent player... but I'd rather give young Beni Baningime a 10-year contract now!
Dave Evans
149
Posted 28/10/2017 at 08:58:34
Tony Marsh (#1) – Do you have any suggestions for defensive midfielders who meet the standards you say Everton should aspire to, and who are not in your carthorse/crap folder?
Ash Moore
150
Posted 28/10/2017 at 09:26:25
I don't like teams in relegation places handing out 5-year deals to 28-year-olds to be honest. If Tony Marsh gets the gig, for example, we'll instantly have another Koeman - Niasse situation.
BTW, Tony – Gueye isn't a bad player. He's no Makelele – don't be fooled, Claude was much better on the ball than given credit for.
Gueye performs a role, and if you set your team up to play to its strengths, he'd be more than useful. Ideally, you want him to win the ball and get it to someone who can pick a pass, which is sadly nobody in our midfield.
Seeing how rusty Jimmy Mac was against Chelsea shows we need him regardless.
Tony Marsh
151
Posted 28/10/2017 at 09:37:21
Dave Evans,
I do not advocate playing defensive midfielders at home against teams like Bournemouth, Burnley etc. When did this mindset take hold within our football club? I always thought Goodison Park was supposed to be a fortress were we outplay or simply batter teams?
Tell you what, Dave: keep Gueye and Schneiderlin in there defending the back 4 and why not throw an extra defensive midfielder in for good luck. Let's just totally shit our selves in games and raise the white flag before we kick-off.
I prefer Everton to go out and outplay teams – not sit back afraid like Koeman and Moyes had us playing. Gueye is 28 years old in terrible form this season and we offer him 5 more years? Jeez... welcome to Dad's Army, Idrisssa.

Charlie Dixon
152
Posted 28/10/2017 at 10:13:16
Tony Marsh... the Katie Hopkins of ToffeeWeb!
Great news this. His dispossession for Rooney's goal on Sunday is exactly what we need right now seeing as counter attacks look our most likely way of scoring.
Dave Evans
153
Posted 28/10/2017 at 10:27:00
Tony,
You seem to be arguing to someone in your head who said they like negative / defensive football, particularly at home.
I agree with you (not him) about the need for a new positive attacking mindset that will make Goodison Park a fortress again. But I doubt if there is a team in Europe who do not have players in the role or interchanging into the role of 'defensive midfielder'.
It seemed bizarre that you have labelled Idrissa Gueye a carthorse and crap – hence the question about your opinion on players in a similar defensive midfield role who you thought would take us to the higher level.
Tony Marsh
154
Posted 28/10/2017 at 11:46:51
Dave,
While I agree that there is a need for a defensive mindset in certain games surely not when we play minnows at Home? This season we have started games with 5 defenders and 2 holding midfield players and wonder why we are shite going forward.
I thought Gueye was poor from January last season until present day. Koeman was sacked for being poor in 9 league games yet Gueye gets another 5 years here? I don't get it.
We at Everton are too soft. There is no way Gana Gueye would get a game for any of the clubs who finished above us last season and there lies the problem. We are too easily pleased with our expectations having been dumbed down by the Moyes years..
I want better quality than Gueye, I don't rate him. I don't see anything more in his game other than being a spoiler. So he tackles... big deal – who doesn't expect tackles from a midfielder??
Brian Murray
155
Posted 28/10/2017 at 12:24:38
Re Tony Marsh's comments. Gueye is synonymous with the Everton that the boardroom have moulded over the years: "Make do and mend" is our motto.
Dave Evans
156
Posted 28/10/2017 at 12:48:48
Tony,
Low expectations can be a problem but so can a lack of understanding of how players can flourish with great coaching within good systems (eg, Fabien Delph... Eric Dier).
I'm disappointed you didn't mention your favoured players such a crap Idrissa Gueye could aspire to.
My final opinion is that he will be a player who is a good asset to squad over the next few years – and who knows, with the right coaches in place, a vital one.
Richard Reeves
157
Posted 28/10/2017 at 13:18:42
Last season, he proved what kind of player he is or can be. Maybe Unsworth can inspire him to be more consistent but, of all the defensive midfielders we've got, he is the one I would keep. McCarthy is a sicknote and Schneiderlin is not good enough.
Gueye would suit a high tempo Unsworth team IMO.
Ashley Roberts
158
Posted 28/10/2017 at 13:35:55
While not totally agreeing with Tony, I do have some sympathy and understand his point of view. Gueye is no Kante and definitely not in the same league as a Makelele but does do a good job in breaking up play.
However, I do wish he had another string to his bow but moving the ball forward with any authority once he has dispossessed somebody is severely lacking in my eyes. If you give a player a new 5-year contract, to me, that means his name should pretty much be on the team sheet week-in and week-out and to be honest I am not sure whether he even makes my first 11.
I have to say I would sooner Gueye than Schneiderlin at the moment but I would sooner play Davies maybe with McCarthy or maybe Rooney who all show much more offensively. Then you also have the new lad Beni Baningime who played the other night who Rhino rates highly. Gueye for me is just a one-trick pony and so offering the lad a new 5-year deal now is somewhat perplexing.
The team tomorrow is going to be very interesting to see if he goes with the team that played against Chelsea or he brings back the likes of Keane and Gueye. I think Vlasic deserves to at least be on the bench so we could have a few big-name signings not making the squad. It just has to better than what has been served up so far this season.
Andy Meighan
159
Posted 28/10/2017 at 14:08:30
Looks like you've ruffled a few feathers there, Marshy lad! And I haven't even read all the posts... Not like you to write anything controversial, is it?
Bobby Mallon
160
Posted 28/10/2017 at 15:03:15
Tony Marsh – who would you like instead of all the midfielders... who?
Michael Kenrick
161
Posted 28/10/2017 at 16:15:27
"A good guy, really humble"...
Sorry Davey, I luv ya, but are those the qualities we're looking for in players who are gonna challenge the cocky arrogant in-yer-face twats who play for the top six? I thought we were gonna break out of our "plucky little Everton nice guys" stereotype?
Tony Hill
162
Posted 28/10/2017 at 16:20:54
He described Baningime in similar terms. Nothing very humble about his approach, nor about Gueye's as far as I can see.
You can be humble off the pitch, I suppose, and a nasty bastard on it. I suggest Unsworth's future as manager depends on that sort of division in his own case.
Michael Kenrick
163
Posted 28/10/2017 at 16:24:05
Good points, Tony Hill.
I had a thought that "humble" could be shorthand for our new manager to say "a player who takes my instructions without any backchat and does just what I want him to do"!
Brent Stephens
164
Posted 28/10/2017 at 16:27:17
Michael #163 - good point - in my humble opinion!!
Daniel Lim
165
Posted 28/10/2017 at 17:05:56
Tony (#154),
I don't think Koeman was poor in just the 9 league games this season. He has been doing badly since March of this year, which adds up to almost 20 league games.
Khalil Peerbocus
166
Posted 28/10/2017 at 17:22:06
Hi, all Evertonians... I'm from Mauritius, an Everton fan since birth... I have blue blood in my veins.
But I'm disappointed with the results and position we are in. We need someone like Ancelloti to bring the team back on track
Kim Vivian
167
Posted 28/10/2017 at 17:44:06
Khalil - Hi, and welcome to the asylum!
Always good to hear of Toffees from around the world.
Tony Hill
168
Posted 28/10/2017 at 18:35:35
Hello Khalil. I agree with what Kim says.
Des Farren
170
Posted 28/10/2017 at 21:57:56
Ernie @ 147. Could not agree more. It is a binary thing.
You are either awesome or you are shite .
An objective opinion is seen as a weakness. It does not help rational debate.
Ian Riley
171
Posted 28/10/2017 at 23:07:32
Tony marsh#154. The club have allowed the previous two managers to out spend Moyes by a country mile. No one was moaning when Moyes came and we avoided relagation. Qualification for European competitions with midfielders who fought for the cause.
David Moyes was given pennies for transfers. Are we any further forward since Moyes left? We were struggling before he came. Walker and Smith come to mind. Moyes offered stability with limited finances.
Let's not put our current situation down to Moyes. We are in trouble because the previous two managers were not good enough.
Andy Williams
172
Posted 28/10/2017 at 00:00:31
Hi Khalil.
Ernie Baywood
173
Posted 29/10/2017 at 01:35:48
Defensive midfielders always divide opinion. Interestingly it's the ones that have the least to do that usually get the credit. Take the "underrated Makelele" who hardly left his half in a Chelsea team that had massive amounts of possession. I think he ended up massively overrated. Had time to do whatever he wanted in a team with loads of movement and no need to ever expose himself by trying to force play.
Idrissa does a great job. But in this team he's forced into doing more than he's comfortable with.
In my opinion, Kante is the exception. He's a defensive dynamo who can also damage teams with the ball at his feet.
Alex Mullan
174
Posted 29/10/2017 at 09:49:04
Have to laugh at people giving off that Gana is not getting assists and goals. He's a fucking defensive midfielder who breaks up play you nimwits. You may as well have cried that Pickford should have more goals and assists!!
Tony Marsh you're a cretin.
Brent Stephens
175
Posted 29/10/2017 at 09:53:55
Now you mention it, Alex, the yank between the posts did get more goals than Pickford.
Tony Marsh
176
Posted 29/10/2017 at 10:01:39
Alex @174
Patrick Viera at Arsenal was a player who broke play up but he also powered forward and scored goals.. Traore at City a few years back similar.Steven Gerrard at Liverpool again broke things up and commanded midfield but also made bursting runs and scored great goals.
These guys I mention are quality footballers Gana Gueye is bang average a 6/10 at best..Any cretin can see that.
Ernie Baywood
177
Posted 29/10/2017 at 10:12:35
Delete... duplicate post.
Ernie Baywood
178
Posted 29/10/2017 at 10:12:38
You'd never call Gerrard a defensive midfielder, Tony. Liverpool pretty much freed him up from all responsibility to get the best out of him.
Actually, I wouldn't even call him a midfielder.
Tony Marsh
179
Posted 29/10/2017 at 10:34:48
Ernie Gerrard did put himself about and break stuff up.He basically covered the whole pitch on his own.Gueye just goes sidewalks or back.Dosent ball carry or get forward at all. Lets face it Gueye is average but if fans think he deserves 5 more years on £100 k a week I must be losing all sense of understanding. I just don't get it.Gana is 28 FFS what a waste of money.
Kim Vivian
180
Posted 29/10/2017 at 11:27:53
Why is anybody actually bothering to debate this with Tony Marsh?
Tony Marsh
181
Posted 29/10/2017 at 12:12:03
Kim@ 180
Bit strong there aren't we.Who made you judge and Jury.I hope Gueye proves me wrong and scored today or maybe just a MOM performance but somehow I don't think he will..Come back at 6.00pm tell me all about it mate.

jason wilkinson
183
Posted 29/10/2017 at 13:20:00
Good luck to Gana, he shows passion which is more than we get off half the players every week.
Off topic but I've seen a report that says we are readying a £30M bid for Alexis Sanchez. Do Arsenal have a no. 10 by that name? Or a 19yr old who would be one for the future.
Probably shit journalism but the cynic in me thinks it is more spin from Moshiri and Kenwright. We wouldn't exist on Alexis Sanchez' wish list of places to play football. We have plenty of good footballers in our squad let's get them playing well first then we can look at grabbing bastards from other clubs.
Get the managers situation sorted. Give some positive news on Bramley-Moore. Stop using Jim White as your press officer and buy a centre forward who can hold the ball up in January.
Ian Linn
184
Posted 29/10/2017 at 14:22:42
Not opposed to this, we have to retain players, I think Gana is decent enough but it's difficult to see player's real potential under Koeman because he was obviously a shit coach/manager/tactician and couldn't get the best out of any player.
Kim Vivian
185
Posted 29/10/2017 at 14:57:22
Tony, mate - I'll see you on the match thread at the end of the game. Here's to a win in the meantime.. COYB
Tony Marsh
186
Posted 29/10/2017 at 17:54:18
Well what did I tell you ?
Kim Vivian
187
Posted 29/10/2017 at 17:56:50
Well, Tony - I have to agree with your comments but direct them at every single one of those players today.
Tony Marsh
188
Posted 29/10/2017 at 18:01:41
I know, Kim, but my gripe with Gueye is the 5 more years we are offering him.
Kim Vivian
189
Posted 29/10/2017 at 18:07:03
Thing is he has shown some good signs, Tony, like in that first season, and now appears to me to be affected by the general performance and demeanour of the whole situation. We know without a shadow of a doubt that he can play better than that today.
They all can for that matter.
Thursday and Sunday are going to be interesting to see the next reaction.
Mark Riding
190
Posted 29/10/2017 at 18:11:52
Great yellow card today from Idrissa Makele. MOTM.
Kim Vivian
191
Posted 29/10/2017 at 18:37:03
What was that for? Dissent?
Rob Baker
192
Posted 30/10/2017 at 06:30:54
Why gift him 5 more years? Hardly on form and doesn't warrant being tied down as no-one is gonna come running for him at the moment.
Mark Riding
193
Posted 02/11/2017 at 19:31:24
Five more years. Can't wait.
Michael Kenrick
194
Posted 19/02/2018 at 17:07:26
An article in
The Sun
a couple of months later (29 January 2018) confirmed that this new contract was indeed true but noted it was never publicised by the club...
why on earth not
???
Add Your Comments
In order to post a comment, you need to be logged in as a registered user of the site.
Or Sign up as a ToffeeWeb Member — it's free, takes just a few minutes and will allow you to post your comments on articles and Talking Points submissions across the site.