Tosun deal hangs in the balance

117 Comments [Jump to last]
Monday 1 January 2018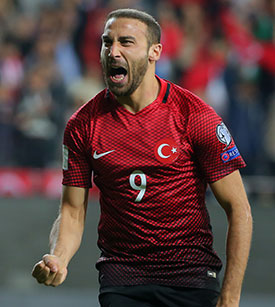 Sam Allardyce says Everton have done all they can with regard to their attempts to sign Cenk Tosun and that the club is waiting for Besiktas to accept their offer.
The striker travelled to England on Saturday and had been expected to complete his move to Goodison Park tomorrow after a deal worth a reported £25m had been struck with the Turkish club.
It appears, however, as though Besiktas have upped their asking price after being told to increase their bid for the man they want to replace Tosun.
"We've done all we can to try to secure the player," Allardyce said after today's defeat to Manchester United during which his team failed to register a shot on target for the second home game in succession. "Whether that is enough, only time will tell in the next 24 hours.
"Our [bid] is in there and it's up to them whether they accept our deal or not.
"Our ratio of chances created is very limited and that's because we need to strengthen that front line. I think we all know that.
"We're trying to do the hardest job of all in trying to secure a player in that position... it may not get achieved this January."
---
Reader Comments (117)
Note: the following content is not moderated or vetted by the site owners at the time of submission. Comments are the responsibility of the poster. Disclaimer
Tony Twist
1
Posted 01/01/2018 at 21:36:59
Getting the excuses in early. Center forwards seem to be going extinct if you believe the shambles that are Walsh and his cronies. Relying on one transfer target, doesn't this club ever learn. They are farcical in their approach.
Brian Williams
3
Posted 01/01/2018 at 21:43:16
Not our clubs fault this time if it's right that Besiktas have upped the price after agreeing a former price.
Turkish clubs are notorious for fucking about and going back on agreements.
We had a load of hassle with the Yobo to Fenerbache move too.
I'd tell 'em "we've made our offer, take it or leave it."
Peter Laing
4
Posted 01/01/2018 at 21:43:39
Anyone with half a brain can see that Everton are toothless up front. The Turks will be well aware of our current plight and in a buyers market with Strikers seemingly at a premium who can blame them in their attempt to drive up the price ?
Paul Birmingham
5
Posted 01/01/2018 at 21:44:10
Let's see what 2018 and fresh hope brings..
Karl Jones
6
Posted 01/01/2018 at 21:44:34
Unbelievable! Sounds like Sigurdsson Giroud all over again. Hopefully they have a plan B this time.
Tony Everan
7
Posted 01/01/2018 at 21:51:22
Pay the bastards and mark their card.
Jim Bennings
8
Posted 01/01/2018 at 22:05:27
Correct me if I'm wrong but don't we actually need more than just one man??
A player with no experience of how demanding and fast and physical the English league is could , and I say could not definite but could, take many months or games to get up and running and we are in a position where we simply don't have time for another Sandro or Klaasen situation.
We are absolutely desperate for a guy or guys to come in and hit the ground running .
We need a transfer window akin to Moyes in January 2012 when he completely transformed the attacking options with Jelavic, Pienaar and Donovan.
One man is not enough.
I'd consider a loan enquiry for Sturridge and a move for Charlie Austin too , we need a brave physical player that holds the ball up and can find the net.
Kunal Desai
9
Posted 01/01/2018 at 22:17:16
Wouldn't surprise me if we get no players in, stumble our way to another 10 more points to say safe and buy again in the summer. Can't see any striker coming in who is going to get 15+ goals in Jan, unless your going to pay 60+ million which we clearly are not.
Jim Bennings
10
Posted 01/01/2018 at 22:20:46
Even by signing a striker it doesn't disguise the fact that this is the most pedestrian and worst Everton midfield I've seen since the days of Scott Gemmill, Alex Nyarko and Tobias Linderoth.
It's one thing having a striker but who is reliable enough to supply him with the service?????
Chris Owens
11
Posted 01/01/2018 at 22:21:58
I really believed that when Moshiri took over, he would bring in some competent businessmen to sort out our transfer dealings. We seem to have hassle like this every time. What was Tosun doing flying to London? He should have been at Goodison tonight, signing for us in the centre circle before the game.
James O'Connell
12
Posted 01/01/2018 at 22:24:06
Jim@8 totally agree.
Can't afford a possible prospect we are so toothless up front I would add more names to that list so we have a plan B C and D.
King and Gray realistic options.
James Stewart
13
Posted 01/01/2018 at 22:27:18
Could sign Messi and it wouldn't make a blind bit of difference with Allardyce's tactics.
Dave Williams
14
Posted 01/01/2018 at 22:32:32
Jim is right – we need an instant impact which means a proven Premier League scorer. Try Vardy.
Ray Roche
15
Posted 01/01/2018 at 22:37:06
Jim (#8),
Austin is a sick note. He's out for a month or two (again) and stated some time ago that he wouldn't want to uproot his family from his home on the south coast where they are happy.
James (#12),
Josh King? From Bournemouth? The guy who has score 2 goals in 17 games? That's worse than Niasse's record. Last season was the only time he's reached double figures in a season.
Dave Pritchard
16
Posted 01/01/2018 at 22:39:29
Dave, maybe Vardy and Mahrez. Problem is would cost at least £50 million and why would they come?
Jim Bennings
17
Posted 01/01/2018 at 22:46:55
Ray
Just an example , we won't be going for Sturridge or Austin but for me we need more than one striker , we need to change the dynamic of our attack and simply signing Tosun and isolating him with no quality service or support will make not a blind bit of difference.
Kase Chow
18
Posted 01/01/2018 at 23:01:01
Why are we only after 1 striker?? Is our club mad?
What if he gets injured/loses form/Gets sent off/needs support?
If we are to believe the press reports then we are worse off the field than on it
Ray Roche
19
Posted 01/01/2018 at 23:06:11
Jim#17
Agreed.
Carl Allan
20
Posted 01/01/2018 at 23:31:27
Maybe we could swap Schneiderlin or Sigurdsson for a Turkish Delight whilst we are at it.
Drew O'Neall
21
Posted 01/01/2018 at 23:38:43
Perhaps we should stop buying £20-45m players and try to sign a £65m player.. buy cheap, buy twice.. or four or five times as seems to be the case with us (Klaasen, Sigurdsson, Rooney, Sandro, Schneiderlin, etc)
Dan Davies
22
Posted 01/01/2018 at 23:39:55
Well the way things are going we either pay the piper or we continue as we are.
Everyone knows the huge windfall English teams have had of late, TV deal etc, plus a Billionaire takeover with us.
Football teams/businesses know we are desperate so their playing the game.
Everton either do a Chelsea or Man City and pay the cash or we stay with the likes of Stoke, Swansea and Newcastle and so on.
Which is it going to be Mr Moshiri?
Chris Gould
24
Posted 02/01/2018 at 00:44:24
John, that's not possible these days. It isn't the club that announce who they are interested in. It's agents or selling clubs that leak it to the media in order to generate further interest and more money.
We only ever confirm an interest when it's already been reported by every news outlet and/or the player has put pictures of himself on Instagram jetting over to the UK.
Besiktas are taking liberties, but if it's pay an extra £2 million or continue with the strikers we've got, then pay the bloody money!!
Gavin Johnson
25
Posted 02/01/2018 at 01:10:09
Why am I not surprised?! Turkish teams are awful to negotiate with and usually want something for nothing. Ever since we loaned Yobo to Fenerbahçe and they reneged on terms to buy I've been very sceptical of any deal being straightforward.
If you see anything in the media about purported interest in our players (Niasse) it's always a loan or derisory offer so why would anyone be surprised when the goal posts move when they're the selling club.
I'm surprised Besiktas have no interest in Niasse being part of the deal.
Mohamad Haryan
26
Posted 02/01/2018 at 01:39:12
I'm beginning to think Schneiderlin has a "must be played when fit" clause in his contract... As somebody mentioned that his agent must be knighted lol. So here's hoping he gets injured big time although am sorry to say that. Somebody in training could accidently injure him lol.. Well thats the only way for him no to play.
Phil Head
27
Posted 02/01/2018 at 04:29:50
I find it hilarious that people have been completely taken in by the media ran propaganda regarding the Premier League. Contrary to what you've been led to believe, you don't actually watch a decent standard of Football week in week out. There are six clubs in this league currently capable of competing for honours here and in European competition and every single other team, is absolutely hopeless.

Therefore, when I here people make comments about players/managers not being capable of cutting it in the holy grail of the Premier League it both tickles me and annoys me at the same time. Just look at how the teams from our country (outside of the top six) do in the Europa League every single year? And the utter dross we have to endure week in week out watching this club of ours.

In regards to Cenk Tosun, he's currently plying his trade for one of the top 15 clubs in Europe and as we speak, one of the top 8 teams in the Champions League this season. There must be 10's if not hundreds of teams currently placed between Besiktas and Everton in the Fifa club rankings. There's simply no comparison between the standard of these two teams.

Therefore, this lad, quite knowingly, is exchanging footballing success on a global stage, at the highest standard, for financial gain, playing in a bog standard team in a bog standard league.

With all this in mind, the only opinion on the possible snag in the transfer of Cenk Tosun to Everton, is GIVE THEM WHAT THEY WANT! This lad shouldn't even be contemplating demoting himself to us, so before someone bigger and better comes along, and pays the money he's worth, snatch their bloody hands off.
Phil Head
28
Posted 02/01/2018 at 04:50:35
While we're at it, we should seize the opportunity to take advantage of the plight of some of the desperate teams below us and sell on some of the expensive flops who's value will be halved come the end of the season. OK I'm specifically talking about Sigurdsson, Schneiderlein, Keane and Klaassen but we've also accumulated a big squad of Championship standard players, who we should be actively looking to move on. The likes of Martina, Besic, McCarthy, Lennon, Niasse to name a few.

Our policy of settling for third/fourth choice players every transfer window has unfortunately left us with a squad of undesirables. I much prefer a strategy of a smaller squad, having single targets and if you don't get them, possibly sacrifice that window and scout the next top target.
Steavey Buckley
29
Posted 02/01/2018 at 05:04:15
If Tosun does decide to come to Everton he will have to take on the opposition defence all by himself, while he waits for eventual support from midfield. Good crosses will be hard to come by. In fact, the last decent winger Everon bought was about 10 years, Steven Pienaar, who could not only beat a man, cross a ball but kept hold of the ball until he created another likely cross for Baines or by himself.
Amit Vithlani
30
Posted 02/01/2018 at 05:35:31
The amateur comedy show that is the Steve Walsh transfer set-up held to ransom by a club from an inferior league.
A striker badly needed, and no sign of a Plan B.
We play United and 30m of talent - Klaassen and Sandro - no where to be seen.
When will this bloke and his shit show be run out of town?
Brian Porter
31
Posted 02/01/2018 at 06:13:57
If we really want this guy then surely Walsh must have some latitude in his dealings. If Tosun has indeed been over here and wants to sign for us, what is an extra £2 million at the end of the day. Pay the buggers and garden him in quickly to give him time to assimilate. With four goals in the Champions league this season he is no slouch and don't say he plays in an inferior league as if that means he's no good. He can only be judged on his record and I think any of the top Turkish teams, Benita a, Galatasary or Fenerbache would make mincemeat of our current team. So please let us not act as if we are somehow greatly superior to them. We're not, at least at present.
Pay the extra if it means we can get him in and move on to the next signing.
Steve Brown
32
Posted 02/01/2018 at 06:24:29
Brian 31, couldnt agree more. Are we really haggling over £2 million when we need a striker in NOW?! How the hell Walsh has survived given the summer transfer disaster is a mystery; can only assume Koeman has taken the blame inside the club for the transfer targets.
Get Tosun signed and then get onto a central midfielder (looks like N'Zonzi might stay at Sevilla) and a left back. The club could sell Mirallas, Besic and Schneiderlin to part fund the transfers and no supporter would blink. The only doubt would be whether anyone would sign them!
As for Klaasen, that is a complete mystery. Ajax captain and a Dutch international but cant even budge Tom and Benny from the squad. God knows how bad he must be playing in training not even to make the bench in this team.
Brian Porter
33
Posted 02/01/2018 at 07:02:11
Thanks Steve #31. I of course meant Besiktas in my post above. Damn predictive text took liberties with my spelling there. I totally agree with you regarding Walsh who seems incapable of wrapping up a deal quickly, quietly and efficiently at this level. Could it be significant that most of his best buys with Leicester were from the lower leagues where he was representing a much bigger club than the players' existing team? He seems completely out of his depth negotiating from a lesser position of strength. No problem signing youth players for the U23s, but appears impotent when dealing with the grown-ups.
If we have midfield or defensive targets lined up we need to move fast as this window will close sooner than we think and the time for protracted negotiations will visibly diminish with each passing day.
Also concur with your thoughts on Klaasen. Maybe the fact that Koeman has gone has had a negative effect on him. Who knows what promises he,was made by RK regarding his place in the team. Or it could just be that he has gone from being a big fish in a small pond,at Ajax, to being a minnow among the sharks in the Premier league where he has been exposed as being far from the player we thought we were getting.
All I can say to those in charge of the current signings, is get your finger out and get it sorted, fast!

Liam Reilly
35
Posted 02/01/2018 at 08:23:45
Mohamad #26
"Here's hoping He gets injured Big Time"
Pretty nasty comment that which has no place on this site.
Certainly a mystery who is targeting these players. If it is Walsh and there's no plan B, then he needs to fall on his sword.
Derek Knox
36
Posted 02/01/2018 at 09:25:19
I am not only getting hacked off with this protracted negotiation, but I am tempted to say, forget it. Not that I have any say in it, or any of us for that matter.
I doubt whether the player is at the root of all this, maybe I am wrong, but suspect greedy agents, and the Club (Besiktas) have got a whiff of Moshiri's Money and are milking it for what they can.
I would love to ban agents altogether, generally they are contributing towards the decadence of the Beautiful Game, which has been so for some time now.
As many have alluded, Turkish Clubs are known for protracting deals and moving the financial goalposts. Let's face it, initially it was reported a deal of 17-18 M Euros, then it went to GB Pounds, now it's up to £27-28M, we could get Dembele and another for that.
Also, as a few have said, he will need time to bed in; and may turn out to be like Klaassen and Sandro; looking the business via YouTube video; but not being able to hit a cow's arse with a certain stringed instrument.
I was suspicious from the start; but him going to London; when purportedly about to sign for us; is totally mystifying; echoes of Willian, who Tottenham brought over, put him through his medical; and Chelsea, with Mourinho at the helm; snatched him.
Steve Ferns
37
Posted 02/01/2018 at 09:25:45
Can't believe that Walsh has agreed terms with the player, and with the club, and then the club line up a replacement, but then they are quoted £2m more than they thought, and Bestikas try to pass this on to us, and this is somehow Walsh's fault and he's not doing his job?
Criticise the past dealings by all means, but Bestikas are moving the goalposts here, let's not make stuff up to bash Walsh.
Peter Barry
38
Posted 02/01/2018 at 09:44:58
Turks are mainly Muslim and Islam alone amongst all religions not only condones but actually encourages its adherents to lie to the Kafirs. They even have a name for it, it's Taqiyya for the Sunnis and Kitman for the Shia. So logic and common sense tells you you cannot trust a thing a Muslim tells you which is why doing business with Muslims, as I have done for over 30 years or more, is so difficult.

Eric Myles
39
Posted 02/01/2018 at 09:45:50
Steve #37, presumably if we tell them to get stuffed they don't get their target and are left with a player they don't want?
Kenny Smith
40
Posted 02/01/2018 at 09:46:15
If Walsh can't get this deal done then he's got to be put under serious pressure. He might of unearthed Marez and took a chance on Vardy at Leicester but let's face it all his stars aligned that season.
I know we probably don't want to pay the extra 2 mil out of principle but in a transfer worth about 45 million over 5 years what's that ? Don't want to compare us to the RS but they forked out 25 mil more than they were originally quoted for Gerbil Van Dijk. We need that big club attitude.
Tony Abrahams
41
Posted 02/01/2018 at 10:00:31
I think you know more about this type of stuff than most Steve, but why would we send Walsh anyway, I thought his job was to find players, not negotiate a fee for them as-well?
I can't believe Everton, have not brought in someone to do this specific role, because it doesn't look like it's a role that suits are very own Tom Hagen!
Clive Rogers
42
Posted 02/01/2018 at 10:20:44
"Pay them what they want". No way. You just don't do that. You pay them what you consider they are worth. We did that with Sigurdsson and payed £45M for a player who has turned out to be a £15M player tops. Similar for Shneids and Keane. We spent £100M for about £40M worth of footballers.
Mike Allison
43
Posted 02/01/2018 at 10:34:07
If we play a midfield of Gueye, Rooney and Sigurdsson then we'll be creating chances for whoever plays up front. All three of those work hard and cover ground, and two of them are excellent at picking out forward passes.
It doesn't matter who plays up front if you pick three defensive midfielders with limited creativity. It's not even a good defensive tactic as you concede so much possession and momentum to the opposition that you're bound to concede eventually. It may work for one game, perhaps even two, but you can't sustain it as a medium term tactic.
You have to threaten the opposition. It's basically 'the best form of defence is attack'. If they're occupied chasing runners like Bolasie, Lookman, Lennon etc. whilst attacking passes are played by creative midfielders then the pressure is taken off the defence.
Christy Ring
44
Posted 02/01/2018 at 10:39:50
I know the Turks are tough to deal with, but if the deal is stalling over £2m, it beggars belief. We threw away £45m on Sigurdsson. We are in dire need of a striker, sign him, because Dembele is not in the same league. He was taken off against an average Rangers defence, no where near good enough.
Ray Roche
45
Posted 02/01/2018 at 10:48:09
Christy,
"tough to deal with"?
Try "crooked, dishonest, unreliable, corrupt,shady, unscrupulous,underhanded, deceitful,treacherous"*, don't worry, I'll get to their bad points in a minute.

* allegedly, of course.
Brent Stephens
46
Posted 02/01/2018 at 11:01:30
Ray, you clearly had a bad holiday in Turkey at some point!
Andrew Clare
47
Posted 02/01/2018 at 11:03:44
Does anyone else get the impression that we are hopeless at negotiating transfers?
This just seems to happen too often.
Ray Roche
48
Posted 02/01/2018 at 11:03:47
Or a Tesco Turkey.
Dermot Byrne
49
Posted 02/01/2018 at 11:04:32
Not sure Christy deserved that.
Ray Roche
50
Posted 02/01/2018 at 11:11:25
Deserved what Dermot? It wasn't directed at him, it was directed at Turkish football clubs .
And he's right about Dembele. Doing the business at Conference level is a bit different to the Premier League.
Stan Schofield
52
Posted 02/01/2018 at 11:18:01
Let's face it, whoever the potential striker is, the fee for him is going to be highly inflated. The perception is that we're desperate for a striker, and that will raise the fee. Just like Liverpool paid over the odds for van Dijk, because the perception was that they were desperate for a good centre half.
John Raftery
53
Posted 02/01/2018 at 11:21:48
Every club has the same problem. The selling club are trying to extract every pound of value they can. The buying club are trying to pay as little as they can.
In all honesty I am not too fussed if we fail to sign anybody this month. We only have 16 league games left. Despite the appalling imbalance the squad is just about strong enough to gather enough points to finish in the top half. Unless we are confident a signing will match our long term requirements I would keep the money until the summer when we will have more to choose from and perhaps more clubs interested in taking a few of our expensive duds.
Dave Abrahams
54
Posted 02/01/2018 at 11:27:16
John (53), you would think even this present squad would be able to muster the four or five wins necessary to stay in the premier league but with each defeat the confidence shrinks and there are not enough fighters in the squad to rally them round.
Tony Abrahams
55
Posted 02/01/2018 at 11:45:02
I thought Liverpool, got a £15 million pound fine Stan, even though they had to move quick because Man City also wanted him!?
Jon Withey
56
Posted 02/01/2018 at 12:04:35
Lets hope we have more than one target this time - Besiktas are in the driving seat otherwise - it could take all month before we give them 50 million, like Siggy.
I just hope somebody is as desperate for some of our players.
In the mean-time, sign a left-back please - more than one of you like.
Chris Watts
57
Posted 02/01/2018 at 12:04:40
Does the humiliation for this club ever end on or off the pitch? Why don't we go for dembele. He's definitely going to increase in value
I've never heard of tosun before so not a great loss but whatever we try we fail at. It's embar pure and simple
Kase Chow
58
Posted 02/01/2018 at 12:30:38
Where has the £2M extra come from?
Fact is that we don't know the ins and outs of our transfer dealings.
Granted we seem amateurish at times but we also seem pretty professional on other occasions (eg, 1st half of the summer transfer window just gone).
The new signings haven't worked out and it would be tantamount to criminal (in football terms) if we haven't lined up 3 or 4 possible striking options.
Ian Hollingworth
59
Posted 02/01/2018 at 12:42:47
We are where we are for lots of reasons but one of the biggest reasons is the inferior quality we have in the squad.
If we are truly ambitious, then we need to identify the players required and pay the going rate for them (which will be a lot of money for the quality we need).
If we carry on doing what we are doing, then please don't be surprised when we are competing mid-table with West Ham, Stoke, West Brom, Watford etc. Oh, and it won't matter who the manager is.
Mark Burton
60
Posted 02/01/2018 at 13:55:13
Ian, if we don't do something soon, we will be competing in the relegation – not mid-table.
Steve Ferns
61
Posted 02/01/2018 at 13:58:08
Where has the £2m come from? See my post at 37. Bestikas are trying to pass costs on to us.
Clive Rogers
62
Posted 02/01/2018 at 14:08:14
We will never get anywhere until Kenwright has gone. He was in charge of the disastrous dealings last summer which cost us £140M, made us worse and didn't even address our needs. And before someone says he wasn't to blame, he is the chairman and the buck stops there. Moshiri has no football experience so Kenwright should be guiding him through it. God help us.
Steve Ferns
63
Posted 02/01/2018 at 14:18:26
Seriously Clive, what is Kenwright doing to be responsible for this?
Moshiri is in charge. He owns the club. He appointed a Director of Football. We have a chief executive. We have a whole recruitment department. We employ agents and teams of lawyers.
But you're telling me, that a 72-year-old man, who has been extremely ill, gets involved and stops things happening? He's chairman, not CEO, not DoF, not an agent, not a lawyer. All Kenwright does is shake a few hands and say a few nice words.
This constant derision of the man has got to stop. He's not the owner any more. Stop scapegoating him.
John G Davies
64
Posted 02/01/2018 at 14:31:55
A glowing testimonial Steve.
Shakes a few hands and says nice words?
He is responsible for the stagnation of this club.
His refusal to let a fellow director get a few rungs up the ladder cost us an iconic stadium on the Kings Dock.
His cosiness with the CEO of Tesco saw him try to take us out of the city.
And his inability to run the club in a proper manner put us in massive long term high interest debt.
He has lot to answer for the greatest living Evertonian.

David Barks
65
Posted 02/01/2018 at 14:31:56
Steve,
That is total and complete nonsense. He's the chairman for fucks sake, and you come on here and say he has nothing to do with the running of the club??!! He put Elstone in place, and has kept him in place. Staying on as Chairman he has continued to have a leading role with the club.
Can you give me an example of a major club, like Everton, being sold but the previous owner staying on as Chairman? And stop trotting out this nonsense about him being extremely ill. He's been traveling around and sitting in the stands in both home and away matches. That "illness" line has been used for a few years now every time pressure starts being applied because of the poor performance on the pitch.
Daniel Lawrence
66
Posted 02/01/2018 at 14:34:36
Steve,
Although you are likely right to a large extent;, the parasite has his name to every good piece of news that comes out the club. His name is the first on every press release that the comms team release under the guise of players leaving and thanking the club etc.
He can't have it both ways. If he wants all the self gratitude he has to take account for the clubs failings as well.
Steve Ferns
67
Posted 02/01/2018 at 14:36:00
David, few clubs have the owner as Chairman. You must have a 70s notion of football if you think that the chairman actually does anything anymore.
Have you seen the wagebill for the back office? What about Moshiri's man, the Russian I think, he gets paid £370,000 a year. Moshiri is the one who kept Elstone in place, and Moshiri kept Kenwright in place. Elstone does most of the job you think Kenwright does. He is the CEO and he is the one who is at the club day in and day out. Kenwright is never there.
John G Davies
68
Posted 02/01/2018 at 14:38:54
He was there the day he picked his cheque up for £27 million, Steve.
Steve Ferns
69
Posted 02/01/2018 at 14:39:23
John G that was then, Kings Dock and Kirkby were different times, and I was as pissed off at those failings as anyone. He is rightly blamed for them.
But attaching blame to him for the failings of the summer's transfer policy is absolutely ridiculous.
John Keating
70
Posted 02/01/2018 at 14:46:15
Steve (#63),
Your last paragraph. Do you mean like Allardyce?? Seems you're being a bit two faced, but maybe I'm wrong?
Michael Lynch
71
Posted 02/01/2018 at 14:51:21
Steve is right, but this is ToffeeWeb where nobody ever lets the truth get in the way of good rant.
Fact is, Bill is the face of the club that's all. Sure, it makes my skin crawl to see him with his paws all over Moshiri in the Directors Box, giving it the whole "father hands it down to son" schtick – and I've never seen a man look as uncomfortable as Moshiri does when it happens – but that's all he does now, play the elder statesman, play at being the soul of the club.
My hope/guess is that Moshiri's in it for the long term. In the short term, he's interested in keeping us in the Premier League, that's about it. In the medium term, he's interested in us getting a new ground that doesn't bankrupt him. In the long term, he's interested in building us into a big commercial organisation that can compete in Europe and eventually be worth a big paper profit, or cashed in for a real profit.
Someone needs to be blamed for our summer cock-ups, but it ain't Bullshit Bill, king of the Boys Pen. He's got as much influence on our transfer business as we have on here.
Steve Ferns
72
Posted 02/01/2018 at 14:52:37
I don't understand your point, John? I don't blame Allardyce for anything going on at Everton right now, other than picking Niasse instead of Calvert-Lewin, few other minor differences of opinion with him over other selection issues, and team setup but that's the only real gripe I can have with the man at the moment. I can't blame Allardyce for being Allardyce, and I certainly attach no blame to him for the transfer situation, Tosun included.
Darren Murphy
73
Posted 02/01/2018 at 15:36:00
Not that I agree but just pay them divvies the £2 million and stop piss arsing around, then add the £2 million on for Niasse.
David Israel
74
Posted 02/01/2018 at 15:50:22
Where has this £2 m rise in the Besiktas asking price come from? It seems to me someone on here quoted it merely as an example, and everybody seems to have firmly grasped the wrong end of the stick.
Anyway, bring him over quickly or find somebody else. Don't ask me who that somebody else might be, I'm not the bloody Director of Football.
Peter Anthony
75
Posted 02/01/2018 at 16:02:18
Having listened this afternoon to TalkSport radio's interview with a Turkish journalist, he confirmed an initial £25M fee had been agreed but the Besiktas chairman is a greedy git and is now after £30M. He said it is typical behaviour of the Turkish chairman and that he expected a compromise fee of around £27M would see the deal done this week.
He said Tosun is a class striker, clinical finisher and was surprised the club would let him go before the summer but that Tosun has said his goodbyes and is in England already awaiting the deal to be rubber-stamped.

Stewart Lowe
76
Posted 02/01/2018 at 16:06:25
What a stench Everton still carries from the days of Martinez. When Moyes left for Man Utd, we had a very good top 6 team that, with the addition of a couple of Number 9s, which Everton back then could never afford, could have gone on to much much bigger things.
Then Martinez came in and ripped up the building that had been slowly going on over a number of years and said, "Right, we are going to play a style of Guardiola football that will thrill that doesn't need a defence, and will be brilliant at passing." The only problem with Martinez is that Guardiola's football is so so so much more that this, ask Brendan Rogers who tried to do this at Liverpool and ask Eddie Howe who is still trying to do this at Bournemouth. Plenty of flawed / fraud Guardiola Disciples but there is only one Guardiola.
Then came Koeman who's arrogance thought he could breeze into Everton, spend £200M and catch the next flight to Barcelona but, as with Moyes at Man Utd, Koeman will be picking up the pieces for years to come.
To be fair though to Koeman, he probably never really stood a chance, as it's not easy to dissemble a team that had been forced to pass sideways and backwards, claiming 70% possession each game, only to lose. It's hard to un-teach that type of football when they had been forced to do that for over two years under Martinez (the fraud). So on to Unsworth and now Allardyce, there is still an air of Martinez in this squad and, until that goes, we won't stand much of a chance of going forward.
I know fans are crying out for us to play a more expansive brand of football that thrills us all, but we have a young kid in Calvert-Lewin, who at just 19 has been asked to perform absolute miracles, and that's just not fair. Niasse is never going to be an option, so that then leaves us no other striking options. Yet when you look at Liverpool, they can constantly rotate Salah, Coutinho, Sturridge, Firminio, Mane, and even have the cheek to be able to send Origi out on loan.
So it's clear to see why Allardyce is playing a cautious brand of football because he just doesn't have the tools. It's okay fans saying, well at least blood some youth, but Allardyce's stay at Everton is determined by results, and if they don't come using more youth, then he will be gone at the end of the season, it's called a rock & a hard place. Let's get Cenk Tosun in first as a priority then, and we are going to need another striker from Dembele, Aubeyamang, Batshuayi, or Giroud to start the new season with.
David Pearl
77
Posted 02/01/2018 at 16:20:56
Come on Stewart, so Martinez ripped up the building with our highest total point finish and got us to 5th. I'd rather say Koeman demolishes the building. Perhaps if RM had the money for couple top defenders he'd of taken us higher too. I'd love to see us play 70mins under Martinez, followed by 20 mins of Sam..
Stewart Lowe
78
Posted 02/01/2018 at 16:36:25
David #77: Please tell me that's not a genuine comment? Martinez only got us to 5th in his first year because he had taken over avery well balanced side from Moyes, who was only lacking a top striker to take us forward. We didn't score many under Moyes, but we certainly had one of the tightest defences in the league and Martinez was very lucky enough to have inherited this to compliment his pressing football. Then came the following year where he broke up our great defence and started signing numpties like Funes Mori. He then decided to to make Jagielka, Baines and Coleman play out from the back, players who had never been asked to do this in their careers.
There are loads of Managers out there that close up shop at the back and hope to nick a goal, Allardyce, Pullis, Moyes. There are also plenty of flawed Guardiola disciples like Martinez, Rogers, Howe, Marco Silva, who no one way and haven't got the foggiest how to adapt to changes in the game. Guardiola, Mourinho, Klopp have that ability, the rest are poor students of the game.
Ray Roche
79
Posted 02/01/2018 at 16:43:30
David#77
It was the two following seasons that Martinez cocked up. When he was still using most of Moyes team and some of his defensive tactics in his first season we did indeed hit 5th and a record points but once Martinez put his stamp on the team we were royally Donald Ducked. And don't forget that Martinez was given the money for Lukaku that Moyes never got a sniff at.
I don't think Martinez would have been able to see a couple of top class defenders.. Alcatraz was his limit.
Brian Wilkinson
80
Posted 02/01/2018 at 16:44:07
So it's Kenwrights fault for the Summer transfer failings, Jesus I know the guy has a lot to answer for, in past blunders but to blame this on the guy is really scraping the barrel.
In hindsight, we can take a step back, Klassen one of Holland's top talents at his previous club, Sandro a potential striker at a snip, Keane, Pickford future England backline, no one then was saying why have we signed so and so, but for whatever reason, it just has not worked out.
It is easy after the event to slate the signings, we needed a striker no question about that, that was a big failure not to land one, and to put our eggs in the Giroud basket instead of lining other options up.
I agree with another poster, get Dembale in, the price is low and cannot see anything but good coming out of this, if Tosun signs, that's two strikers we badly need in the squad,
I am sure we could offload some and in the same breath, make room to register Luke Garbutt who is a natural left footer and could fill the gap, give the guy a run out, if it does not fix the issue, then get a left back in, later in January.
All in all, we need a striker or two brought in as a top priority, then see where we can fix other areas.
Pat Waine
82
Posted 02/01/2018 at 16:58:20
Firstly, we should not just pay whatever is asked. We are clearly not in the bracket of Chelsea or Man City so stop talking in those terms.

We should pay £25m which is an inflated price. If we pay more we are indeed a soft touch. Evertonians who blame Kenwright should step into the real world and cop on.
James Hughes
83
Posted 02/01/2018 at 17:00:22
Brian. it is BPB's fault. we were told by Farhad (penfold) Moshri that Bill would be in charge of transfer dealings.
The results speak for themselves, well documented by all and sundry on here. No replacement LB, no striker, too many of the same type of player bought.
The man may love the club but he is not fit to run it. Being a successful theatre producer does not equate to club owner. It is not just on the pitch we have failed, it is off it.
It seems to that we have not had a long term strategy or targets and we have bumbled and stumbled along since 1999. Moyes stayed too long, then we hire over-hyped managers. Where was the oversight and objective.
Our kit deals, sponsorship and general marketing have been poor, so yes, I blame Bill for that as well.
Bless him, he is one of us but he was out of skill set and depth.
Paul Ellam
95
Posted 02/01/2018 at 17:50:17
Everton in "transfer problem" shocker!!
It's like the Yarmolenko deal over again.
Clubs must see us as an easy touch and just keep pushing the prices up.
I'm torn because on one hand I think we should set a price and stick to it, not be bullied.
But on the other hand I think like I did with the Sigurdsson deal - if we're prepared to pay so much and are desperate for a player - just pay the effing extra!!
I hate to see the club getting messed about but we really really need a striker so in this case I think we should just cough up.

Mike Dolan
96
Posted 02/01/2018 at 17:58:08
Day two of the January window might be a little early to panic especially over a very expensive player from a league with three decent teams in it. But we desperately need a front man who can keep a defense occupied and create some space for our mids to run into. We have missed that for a long time as in spite of his goals Lukaku was hopeless at holding the ball leading a line .
Heres hoping that Cenk if he does sign becomes an Everton great and is joined by at least one good left back.
Jason Bowen
97
Posted 02/01/2018 at 18:07:33
Sturridge?? Fucking Sturridge! You must be round the bend. 😂😂😂
Grant Rorrison
98
Posted 02/01/2018 at 18:08:20
Martinez hardly broke the defence up by choice. The players became past it. If anything he persisted with them too long in the case of Howard in particular and also Jagielka.
The only Moyes defender he dropped was Distin, who was utter shite at the time, making terrible errors every game. The guy went on the fail establish himself in Bournemouth's team the following season. He was obviously finished.
Martinez may have signed Alcaraz and Mori but he also signed Holgate who looks a player in the making.
Stewart Lowe
99
Posted 02/01/2018 at 18:09:05
How about shipping out:
Klassen
Bescis
Mirallas
Lennon
Schneiderlin
And bringing in:
Arda Turan
Tosun
Nzonzi
Andre Schurrle
Come on,,,,,,,,,,I can dream :)
Joe Foster
100
Posted 02/01/2018 at 18:23:12
I reckon Moyes would buy a few players off us.
Stewart Lowe
101
Posted 02/01/2018 at 18:26:14
Grant#98: If I remember correctly, Martinez wasn't a bad scout, but an utter garbage Manager. Martinez could have taken some of the best defences we have ever seen and have them doing pretty little 5 yard passes but it would have bled goals Grant. Every team in the country knew how to play against our defence. They would allow our defence to press as high up as the half way line, leaving one of our defenders back. Then as soon as we had passed the ball around the box 5000 times from left to right and from right to left, without great effect, we would lose the ball. This resulted in one long pass to 2/3 opposing attackers flying past our sole defender as the rest of the team ran from the halfway line. Do you not remember this Grant?? It wasn't too long ago. Do you not remember the look on Klopp's face during his first derby as they cut through us like butter? Oh yes, he did break up Moyes's defence, and then had no great plan to assemble a better one because he doesn't know how defending works. Look at the stats for when he Managed Wigan, they bled goals for two years whilst they fought relegation. Martinez was a fraud and we all bought into it at the time.
David Johnson
102
Posted 02/01/2018 at 18:26:28
Soft arse is in charge of transfers do people imagine they'd hand that sort of money to Walsh ?
Our midfielders take unmerciful stick on this site when the reality is soft arse has left them with nobody in attack. The ball just keeps coming back.
Wayne Percival
103
Posted 02/01/2018 at 18:32:54
The Tosun deal reminds me of the Yarmolenko deal under Bobby Brown Shoes. We want him but won't pay the money.

Just pay the extra 2 million!

Tony Everan
104
Posted 02/01/2018 at 18:35:00
Surprised Super Kev is not going the other way as a makeweight.
Wayne Percival
105
Posted 02/01/2018 at 18:47:50
What chance have we of landing N'Zonzi with Arsenal in the mix for him if we can't land Tosun?
Clive Rogers
106
Posted 02/01/2018 at 18:52:52
David, true. Kenwright spent nearly 5 weeks negotiating with Swansea leaving no proper time to go for strikers. Also he should have walked away when the fee went past £30M. He has cost Moshiri £100 for FA.
Paul Birmingham
107
Posted 02/01/2018 at 18:57:55
Let's hope this deal gets nailed today. Ahead of Friday and this months fixtures we are realistically gonna need more than a few miracles, but signing Cenk would give us a Moral boost, as the erosion of the club spirit has advanced rapidly this season.
All that's been said on here shows the passion and care of Evertonians, and if the team played with an ounce of this passion, we might just see som3 endeavour and shots on goal.
Hoping for the biggest shock in recent Derby history on Friday.
Kevin Tully
108
Posted 02/01/2018 at 19:09:04
If it's true that uncle Cyril's nephew has nothing to do with running of the club, then you have to wonder what those three of four calls every day to Unsworth were about when he was interim manager? Or every single player we signed in the summer who publicly thanked the Chairman?
One for Eugene or John Daly there.

Jackie Barry
109
Posted 02/01/2018 at 19:26:22
Hope the Tosun deal get pushed over the line, would be nice. So how much would Shaqiri cost from Stoke? I think he's a good player that needs a move to reignite his career.
Clive Rogers
110
Posted 02/01/2018 at 19:26:47
Tony, #104, Mirallas is on massive wages, too high for Turkish clubs unless EFC are prepared to subsidise.
Nigel Munford
111
Posted 02/01/2018 at 19:36:57
Stewart why get rid of Lennon he's been pretty consistent compared to some this season.
Oliver Brunel
112
Posted 02/01/2018 at 19:40:15
Lets be honest , this board under Moshiri have an appalling record in the transfer market. I'm just not confident about anyone they buy. How much more money can we waste until The Mush starts to lose his shirt
Clive Rogers
113
Posted 02/01/2018 at 19:40:35
Steve, #63, Kenwright was in charge of transfer negotiations last summer and definitely did all the negotiations with Swansea which Koeman confirmed at the time. He is the chairman.
Stewart Lowe
114
Posted 02/01/2018 at 19:41:59
Nigel #111: Because his pace was nothing like it was 3-4 years ago, and there is not enough end product. He is way too inconsistent too.
Eric Paul
115
Posted 02/01/2018 at 20:24:39
Well said Steve @63

Clive Rogers
116
Posted 02/01/2018 at 20:28:22
Lennon has no goals and no assists this season and hardly ever crosses the ball.
Grant Rorrison
117
Posted 02/01/2018 at 20:30:12
'Fraud' is a bit of an exageration. We played much better football in Martinez's final season than in the 2 seasons since. Up until the wheels fell off completely at home to West Ham that is.
We had a 3 month spell from October 24th until January 24th where we only lost twice, winning 7 and drawing 7 games in all competitions. Our biggest problem at the time was converting total domination of the game into a win. Oh to have such problems now.
We were sitting 8th up until the February, a position that is now suddenly seen as about right when at the time it was seen as complete under-achievement largely due to Martinez talking us up and claiming we could get Champions League football.
We finished 11th in a league campaign where would have needed 61 points just to finish 9th. A points total that got Moyes Champions League football and he seldom achieved any more than this in his other 10 seasons at the club. Surpassing it, I think twice?
Made it to both domestic cup semi's. A feat that we havent achieved in decades and wont do again for at least as long I suspect. Losing to the eventual winners both times. Once in injury-time against the run of play and the other where we surrended the aggregate lead thanks to a goal set up from off the pitch entirely.
I would happily trade the last 2 seasons of utterly depressing, boring, mind-numbing and meaningless dross for the excitement, anticipation and even ultimate catastrophic failure of Martinez's final season. I think 'fraud' is a bit harsh.
Eric Paul
118
Posted 02/01/2018 at 20:35:44
As kenwright doesn't take a wage from Everton if he spends 5 weeks negotiating 1 deal when does he do his day job, do people really believe he is involved in transfer activity at all for fucks sake. He is like the queen a figurehead with no influence whatsoever
Eric Paul
119
Posted 02/01/2018 at 20:37:02
How did we beat Newcastle, Clive?
Tony Abrahams
120
Posted 02/01/2018 at 20:38:28
Do people believe that Kenwright does it all for nothing, for fuck's sake?
Eric Paul
121
Posted 02/01/2018 at 20:45:06
He obviously gets a return from his investment for fucks sake but unlike other chairmen he doesn't take a wage for fucks sake
Darren Murphy
122
Posted 02/01/2018 at 20:50:46
Lennon I'd keep ahead of a lot of others, Bolasie before the injury was overpriced and overrated too, his end product isn't any better nor are his left wing runs that are predictable neither, so if people want Lennon gone ahead of Mirallas, Schneiderlin, Besic- too injury prone, then Bolasie should be shipped out then. Klaassen won't last long either as his preferred role is where Sigurdsson plays and there's no chance unless of an injury he'd be placed ahead in the pecking order.
Colin Glassar
123
Posted 02/01/2018 at 20:56:37
Eric, I have heard Bill Kenwright being referred to as an "old queen" so there. And, he might not take a wage but Moshiri made him a very rich man. Don't cry for me, Argentina.
Jay Woods
[LAT]
124
Posted 02/01/2018 at 20:57:13
Eric Paul, wash your mouth out. And while you're at it, stop talking utter tosh about Kenwright having no influence.
As for Lennon, he can't take on and beat anyone, but he has won us a few penalties so he's only partially useless.
Ian Horan
125
Posted 02/01/2018 at 21:20:27
See the Turks want Slimani as a replacement for Tosun, tell the Besikshikas owner we will bid for Slimani if he continues to freck us about. Or sign both
Tony Abrahams
126
Posted 02/01/2018 at 21:22:50
Kenwright takes the gullible on a major fucking ride for fucks sake.
Clive Rogers
127
Posted 02/01/2018 at 21:55:41
Eric, Rooney scored after a terrible goalkeeping mistake.
Bobby Thomas
128
Posted 02/01/2018 at 21:56:07
Seems to be the odd bit of chat about Roberto Martinez on here.
His sides were unfit, weak, had a soft center, and were one of the easiest teams to play against I've ever seen.
They were also disorganised, couldn't defend, were too nice, mentally suspect, had an extremely predictable pattern of play, and were one of the easiest teams in the division to hit on the counter.
He should have been dismissed immediately after the second 4 - 0 at Anfield. If left in charge he would have relegated us, without a doubt.
He was abysmal.
John Keating
129
Posted 02/01/2018 at 22:09:13
If the World's Greatest Evertonian really was, he would use some of the mega millions he made off the shares he never paid for to buy back Finch Farm and gift it to the Club, after paying back his remortgage of course.

Eddie Dunn
130
Posted 02/01/2018 at 22:25:37
Phil Head (#27). I agree, the Premier League from the seventh team down is totally ordinary and some of the football served up is awful. Of course this Turkish lad could be tempted by the money but also because it puts him in the spotlight through the incredible coverage our league gets worldwide. We would be a possible stepping stone to someone bigger and better.
James Stewart
131
Posted 02/01/2018 at 22:38:06
@125 Very surprised we didn't just go for Slimani. Always looks a real handful to me and not getting game time.
David Pearl
132
Posted 02/01/2018 at 23:16:50
Bobby 128, l would Watch the abysmal Martinez side (year 1) over anything else I've seen since he left. I think we should of kept to a similar style instead of starting again from scratch with Koeman. Moyes, in my eyes was a good manager who bought in the likes of arteta and Pienaar who we've yet to replace. We will have to wait and see who Sam brings in to see what the future holds. On paper we looked quite attacking against utd... but we are just not good enough and have bought poorly (Walsh)
Tony Everan
133
Posted 03/01/2018 at 07:10:40
Martinez's side in its death throes was a sideways passing, mistake ridden bore. Awful to watch and frustrating.
It was better than I have had to watch this season though. With Barkley, Lukaku and Coleman to watch there was always a glimmer of hope in attack.
That's been taken away from us.
Add Your Comments
In order to post a comment, you need to be logged in as a registered user of the site.
Or Sign up as a ToffeeWeb Member — it's free, takes just a few minutes and will allow you to post your comments on articles and Talking Points submissions across the site.