Moshiri admits he was shocked by poor start to 2017-18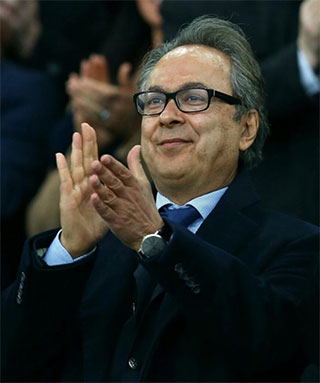 Farhad Moshiri says he is "quietly confident" that Everton will have a much stronger second half to the season now that Sam Allardyce and Cenk Tosun are through the door.
The Turkish striker's £21m move from Besiktas was confirmed last Friday, a deal that ends the search for a replacement for Romelu Lukaku and provides what the club's major shareholder describes as the "last piece of the jigsaw."
Evertonians holding out hope for a left-back signing to cover for and then replace Leighton Baines or another creative presence in midfield might disagree with that assessment but there was plenty to encourage Blues fans from a revealing interview with Moshiri on evertontv.
"We had a very difficult start to the season. I don't deny it; it was a shock for me," he explained.
"After the very good season we had last year and the heavy expenditure, expectations were high. The fixture list was bad, we didn't have a proper pre-season, we had the [early start in the Europa League] but still the team didn't appear to have a shape.
"So we had to take action. Now the team is performing much better, and I'm confident that with Bolasie, McCarthy and, hopefully, Seamus coming back that we we will have a very good second half of the season. So, I'm quietly confident.
"We have invested quite heavily in infrastructure. What you see is the visible part — buying — but there is an awful lot going on behind the scenes to make success sustainable."
The action that Moshiri referred to was to replace Ronald Koeman with Sam Allardyce in November, a manager whom he described as "a real football man" with "a tidy football brain who makes things simple.
"Performances are, in many ways, as important as the result so the first seven games under Sam were very good and we just didn't have the rub of the green — the last minute goal at Bournemouth, the soft penalty at Liverpool — but it will turn.
"The important thing is the fighting spirit. If you're fighting, we have enough quality to do well.
"We've bought £200m in players. Some of those were long-term [acquisitions] With [the likes of Michael Keane], very expensive young English players, we invested in for the next 10 years.
"The defence was ageing and we wanted to rectify the goals issue [created by] Romelu's absence so the last piece of the jigsaw wasn't completed and that gave us a problem.
"Calvert-Lewin has done an admirable job. The number of goals, assists and penalties he has created, for a lad of his age, is incredible.
"It's just too much pressure on him so buying Cenk Tosun is to take the load off him so he can develop in a proper way. We really rate him. Now with Bolasie back and Sigurdsson and Rooney we have our own 'Fab Four'!
"We are optimistic. I think there is a big second half [of the season to come] for us. With the players coming back, with Cenk Tosun who is a very, very good striker…
"There are not a lot of strikers around, so, hopefully, we've hit it right. He's got the physique, speed, a good left foot and right foot and header, and we need a target for Sigurdsson's bullets!"
---
---