Coleman is back in training

40 Comments [Jump to last]
Wednesday 10 January 2018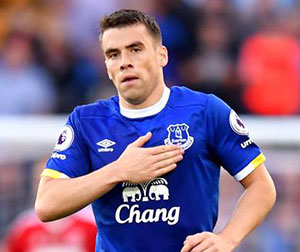 Seamus Coleman has resumed training with Everton's first team as he prepares for his much-anticipated return from a double leg fracture.
The fullback has been out of action since last March when he suffered the horrific injury on international duty for the Republic of Ireland against Wales but has been in light training for the past few weeks.
Manager Sam Allardyce revealed at last night's AGM, however, that Coleman is training again which could mean he will be available for selection before the end of the month.
---
Reader Comments (40)
Note: the following content is not moderated or vetted by the site owners at the time of submission. Comments are the responsibility of the poster. Disclaimer
Melissa Connolly
1
Posted 10/01/2018 at 06:16:10
Great news – can't wait to see him back.
Derek Knox
2
Posted 10/01/2018 at 06:28:25
Fantastic news; I suspect it will be two or three weeks before Seamus gets up and running. I am basing that on Bolasie having been training; and actually appearing for the first time.
It will be interesting to see if he comes straight back in; deposing Jonjoe; who, despite a nervous start has almost made the position his own.
Slightly off topic; but looking at some of the transfers we are getting linked with; it makes me laugh, when they are talking in the £30M bracket; and then go on to say, the player has been a total flop, since his high profile transfer to Club X!
If £30M is the going rate for flops; where does that leave us?
Christopher Timmins
3
Posted 10/01/2018 at 06:36:53
Fantastic news, hopefully, he can be eased back in over the next 16 games and be absolutely up and running next August.
Liam Reilly
4
Posted 10/01/2018 at 07:35:49
Great news, top player and top lad.
Kenny has done well but the side needs a fit Seamus; perhaps Kenny could get more time further forward and be back up for the right-back slot.
Robert Leigh
5
Posted 10/01/2018 at 08:55:33
Agree with that, Liam.
Seamus did an apprenticeship at right midfield so it wouldn't be bad for Jonjoe to do the same; it'll help his crossing and finishing no doubt.
Phil (Kelsall) Roberts
6
Posted 10/01/2018 at 10:12:35
Even though friends will say my command of English is not the best (O-Level Grade 4 back in 1973), can I point out that he has suffered a double fracture of the leg and not a double leg fracture. He broke both lower bones (tibia and fibula) in one leg, not a fracture both legs.
But glad to see him back training and I hope mentally he is also fit and not worried about it happening again.
Charlie Lloyd
7
Posted 10/01/2018 at 10:35:33
Some good news.
We need to have patience though and he shouldn't be rushed back in.
Kenny has performed really well and is getting more confident.
Martin Clark
9
Posted 10/01/2018 at 12:49:09
The performances of Kenny allows us to ease Coleman back in and means he'll have some solid competition to get his spot back. Exactly what we want and would be nice to have in a few more positions.
Tony Cheek
10
Posted 10/01/2018 at 16:12:58
Just wondered, as the tackle that did Seamus leg was a real horror, did the assailant get his come-uppance?
Tom Bowers
11
Posted 10/01/2018 at 17:24:24
Kenny still learning the ropes but has done quite well.
However, Seamus on form is who we want as his attacking flair has been sorely missed.
Hopefully he can regain the confidence he once had as injuries like he had can have consequences.
Des Farren
12
Posted 10/01/2018 at 18:39:59
Best wishes, Seamus. Hope the rest of your career is injury free.
Mike Gaynes
13
Posted 10/01/2018 at 19:26:05
Glory, glory, hallelujah!
Welcome back, future captain.
Brian Williams
14
Posted 10/01/2018 at 19:32:59
I just hope his first come-back appearance is at a home game. The reception he gets will be amazing!!
Gerry Ring
15
Posted 10/01/2018 at 19:36:00
We shouldn't underestimate the influence & passion that Coleman brings to Everton. Its not just his performances as an attacking fullback that he gives us but an infectious determination & commitment which is sadly lacking in a lot of our players. He won't accept anything less from others than what he gives to Everton himself & that's 100%.
A born leader & captain, all going well. Really hope as an Evertonian & more so, on a personal level for Seamus, that he picks up from where he left off.
Dermot Byrne
16
Posted 10/01/2018 at 19:44:44
Agree Gerry. Best captain we have and his spirit could get the best out of some we have who have been poor. Imagine Seamus telling Schneiderlin what is required!

Mike Gaynes
17
Posted 10/01/2018 at 19:47:51
Tony #10, Neil Taylor got a red card and was suspended for Wales' next two World Cup qualifiers.
Never spoke publicly but was reported to be devastated and phoned Coleman to apologize. (Not surprising, given that Taylor had his own leg broken in 2012.) Also reportedly tried to see him, arranged by Ashley Williams. No word on whether it actually happened.
Taylor apparently didn't learn his lessons very well, because he came in over the ball against Bolton's Le Fondre back in September and got another red and a three-match ban. But it was his first red in 176 career league appearances, so apparently he's not a habitual hack man.
Jay Woods
[LAT]
18
Posted 10/01/2018 at 20:07:52
He's a major attacking asset for us on the right, one we have missed very badly this season. The sooner he's back, the better.
His injury in particular has made me hate the other-worldly sport that is international football even more.
Jack Convery
19
Posted 10/01/2018 at 20:56:04
Coleman – he's mustard! Welcome back, Seamus – god do we need your influence back into are mentally challenged squad.
Martin Reppion
20
Posted 10/01/2018 at 21:01:59
Phil (*6). Nice to see another pedant out there.
I thought it was just me.
Love it.
Rich Jones
22
Posted 10/01/2018 at 21:16:00
Great news about Seamus. Good to see that Sam's new wonder physio machine is paying dividends. Let hope it works on the other lads as well.
Tony Cheek
23
Posted 10/01/2018 at 21:38:15
Thanks, Mike (#17).
I knew there was a it of a hoo-ha about it at the time and a lot of blues were baying for blood!

Eddie Dunn
24
Posted 10/01/2018 at 21:43:08
Phil (#6). If you really are such a pedant, wern't "O" Levels graded in A, B, C, D, E, etc? CSE's were 1, 2, 3, 4, 5. Or did they change by '77, when I took mine?
Colin Glassar
25
Posted 10/01/2018 at 21:46:42
They were still in Roman Numerals when I took mine, Eddie. Those clay tablets were murder to write on.
Eddie Dunn
26
Posted 10/01/2018 at 21:49:05
Colin, clay! Someone out there is going to say that you were lucky!

Will Mabon
27
Posted 10/01/2018 at 23:53:07
Great news - we need him. I hope he finds his previous fitness and form.
Gerry Ring
28
Posted 11/01/2018 at 07:45:12
Mike #17.
Regarding Neil Taylor, Have a look at his tackle on Kyle Walker a few seasons ago. More at home in a Bruce Lee movie. Nearly decapitated him! If I hear "Not that type of player" again I'll cry.
This guy has form & It does seem from video evidence that there was serious intent when he "took out" Seamus. Lucky for him that McCarthy wasn't playing that night!!
Eddie Dunn
29
Posted 11/01/2018 at 09:25:27
I am sick of hearing from managers that excuse "he isn't that kind of player". If you make those tackles, then you are that kind of player.
Jamie Evans
30
Posted 11/01/2018 at 09:43:50
Welcome back, Seamus, you have been missed. I mean this in the nicest way possible but there is absolutely no rush to bring him back, due to Kenny's progression at right-back lately.
As some other posters have suggested, Coleman and Kenny together down the right hand side could be the solution initially. We would certainly be solid down that side with both of them playing.
Fran Mitchell
31
Posted 11/01/2018 at 12:32:02
Kenny has done brilliantly, and Coleman is no longer a guaranteed starter. But excellent news to have him back, he will offer something to our attacking play which has been sorely missed.
Rob Dolby
32
Posted 11/01/2018 at 15:39:48
Tony (#10 & #23).
Are they serious posts. Have you just been revived from a Dixon of Dock Green sketch or stuck in a time warp?
Not many times will the words, 'Comeuppance', 'assailant', 'hoo-hah' and a lot of Blues baying for blood be used on these pages.
Oh, and by the way, it's great that Coleman is on his way back... though I wouldn't expect too much from him this season.
John Keating
33
Posted 11/01/2018 at 15:57:03
I appreciate he's back training but I reckon he should keep away from first team action for a while.
Our season is over and better to slowly get him back for next season rather than push him for a few games in this meaningless season.
Dave Pritchard
34
Posted 11/01/2018 at 16:10:10
Eddie 24, O-levels were numbered grades in 1974 as were CSEs. Then a Grade 1 was the best whereas today it is the worst (apart from a U).
Andrew Clare
35
Posted 11/01/2018 at 16:10:20
I see no reason why we can't go on a run and finish in a good position. If Seamus is ready then why not bring him back sooner rather than later?
A couple of good defensive signings, a driving midfielder and we could be flying.
PG Malcolm
37
Posted 11/01/2018 at 21:41:44
Fantastic news. Don't rush him back, for crying out loud!
Geoff Lambert
38
Posted 11/01/2018 at 21:54:05
Would it be correct to say that Seamus is the only player in our squad that could get in to the top 6 teams?
And if so, that must make him the most likely to move on, as we seem to sell all our best players.
Gerry Ring
39
Posted 11/01/2018 at 22:05:59
Kenny has done well but let's be honest, he's no Seamus Coleman. When he gets past the half way line he seems to lack confidence. He offers very little threat going forward & is a poor crosser of the ball.
Coleman takes watching & opens up space when we attack. We have sorely missed that extra attacking threat since he got injured, which makes us much more predictable.
Phil Lewis
40
Posted 12/01/2018 at 12:52:03
Coleman's was one of the worst breaks that I have ever seen.He has been sorely missed. I sincerely hope that the lad has made a complete and full recovery and experiences no problems, now back in full training.
Young Kenny has done very well, but is still learning his trade, whereas Seamus, as we all know was virtually the finished article. It is surely down to modern technology and advances made in surgery, that his career wasn't ended. It wasn't that long ago, that a player sustaining such injuries would undoubtedly be finished.
Full marks to the club, in these days of ruthless management, for showing loyalty to the player, by extending his contract considerably, while his recovery was still very much in the balance. I doubt many clubs would have made such a generous gesture.
The cynics might say it was simply a gamble, intended to keep him here. If that were true, then it was indeed still quite a risky deal. It is not just the healing of the injury to consider, but also any loss of pace and most importantly, his mental state. Such a traumatic injury often leaves mental scars, long after the physical ones have faded.
Let us all get behind Seamus when he returns, be patient with him, support him fully and don't expect immediate miracles. I wish him every success.
Michael Kenrick
41
Posted 12/01/2018 at 16:02:32
It's great news that he's close to returning and I expect a tough lad from Donegal isn't going to have any lingering mental qualms...
He knows the awful circumstances of the break and must have by now fully come to terms with what I would have thought was the most challenging part of it all: he broke his leg by kicking through the other player's leg as it came in over the ball, rather than the force of Taylor's direct lunge connecting side-on with Coleman's leg.
I hope he has not lost anything from his game, except the last year of inactivity, which must be the absolute worst thing for a professional footballer, something no amount of money can assuage.
Terry Underwood
42
Posted 12/01/2018 at 23:26:27
Now he is getting back to fitness, wonder how much we can get for him?
Will Mabon
43
Posted 12/01/2018 at 23:34:22
Terry – don't encourage them...
Add Your Comments
In order to post a comment, you need to be logged in as a registered user of the site.
Or Sign up as a ToffeeWeb Member — it's free, takes just a few minutes and will allow you to post your comments on articles and Talking Points submissions across the site.