Allardyce confirms interest in Walcott

97 Comments [Jump to last]
Friday 12 January 2018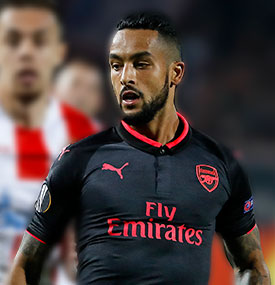 Sam Allardyce has admitted that he would like to see if Everton could get a deal done for Theo Walcott.
The Arsenal winger has been out of favour at The Emirates this season and has been the subject of reported interest from the Blues and his former club, Southampton.
Those media claims have suggested that Everton are better placed to match Walcott's £110,000-a-week wages and the Gunners' £20m asking price.
Allardyce was asked about the speculation during his press conference today and he confirmed the the club's desire to sign the 28-year-old, although he cautioned that no conclusion to the talks is imminent.
"You're all aware of our interest in Theo Walcott," the manager said. "If it's possible to get that over the line, I'll be delighted.
"Theo is not [a risk] because he's proven. He's scored over 100 goals for Arsenal from wide positions, plus assists. His pace is one of his key strengths which we lack in this squad. To add power in our goal scoring ability would be very important for me —- and he's only 28.
"Negotiations are happening at the moment and that can all be sorted out, which is one of the most difficult things to do today difficult, then that would be a great addition in my opinion."
Walcott scored 19 times last season but while he has yet to start a Premier League game for Arsenal this season, he remains an attacking option for Arsene Wenger at a time when Olivier Giroud is injured and there is uncertainty over the immediate future of Alexis Sanchez who is said to be wanted by both Manchester clubs.
"I've told Theo I'd like him to stay'" Wenger said in his own presser. "I cannot give him assurances over game time because you just cannot do it — it's not honest.
"I have a good relationship with Theo and I don't want him to be frustrated or lose an opportunity to go to the World Cup because Theo went to the World Cup in Germany in 2006 and he has not been since for different reasons, so that is a sensitive subject."
---
Reader Comments (97)
Note: the following content is not moderated or vetted by the site owners at the time of submission. Comments are the responsibility of the poster. Disclaimer
Liam Reilly
1
Posted 12/01/2018 at 17:12:12
He's got a point to prove in a World Cup year and I reckon he'd be a great signing.
Ian Burns
2
Posted 12/01/2018 at 17:22:24
Theo Walcott – ah... that reminds me why I didn't want Sam Allardyce as our manager.
Mark Tanton
3
Posted 12/01/2018 at 17:24:50
As opposed to Ronald 'I signed Klassen' Koeman, or Roberto 'Alcaraz is my man' Martinez?
Jim Bennings
4
Posted 12/01/2018 at 17:30:43
He's a proven quality Premier League player – why do fans laud transfer rumours with players we've never heard of but, whenever we are chasing a proven Premier League player, they become all sceptical!??
19 goals last season; if he comes in and gets half of that for us, then it's good business.
Kids like Lookman will have an older experienced player to learn from.
Des Farren
5
Posted 12/01/2018 at 17:39:51
Ian – touche!
Mark – bit selective there, are you not? What about Lukaku, McCarthy, Cleverley, even Niasse???
You want to concentrate on Alcaraz to make what point exactly?
Craig Walker
7
Posted 12/01/2018 at 17:42:48
I'd welcome Walcott at Everton. He's better than Niasse. He would offer some pace and a goal threat.
Derek Knox
8
Posted 12/01/2018 at 17:44:17
I agree Jim @4, he is a proven scorer and assist provider; and has been mostly played out wide; when you look at his goals to minutes played; we could do a lot worse.
My only proviso was paying a stupid fee; but it seems £20M is about right in this climate; I think he could surprise a few people and have the doubters believing.
Chris Corn
9
Posted 12/01/2018 at 17:51:53
I have to agree with Jim Bennings. Some deluded blues still thinking we can compete for players at the top table. We pay six-figure weekly wages now and we still won't get anywhere the fantasy league players until we can qualify for Champions League regularly or be able to win some silverware and give the Europa League a proper go, and even then .
Walcott is a big Premier League name and has pace and scores goals. People have been crying out for both those attributes since it became apparent our summer transfer policy was actually cack. Yet still he's not good enough for us?!!

Paul Dewhurst
11
Posted 12/01/2018 at 17:53:10
Get him through 1 on 1 no decision to make he is a great player, give him time to think and he can fluff it. He is better than what we have, he is Aaron Lennon with 15-20 goals in him
Dermot Byrne
12
Posted 12/01/2018 at 17:59:06
I would be made up to get him. Exciting player.
Si Pulford
13
Posted 12/01/2018 at 18:02:58
The idea that Walcott isn't good enough for us shows how far from reality some of our 'fans' are. A wideman with genuine pace and 100 + goals. Proven in the Premier League, Champions League and on the international stage. And for £20 million?!!
Two things to consider:
1) Neymar, Sanchez and Suarez etc wouldn't even consider signing for us so we have to take players from the bracket below or more realistically the bracket below that one – get used to it.
2) Walcott fucking walks into our team and instantly becomes one of our three or four most important players. That is where we are at.
Michael Lynch
14
Posted 12/01/2018 at 18:12:11
I'd take him on a 3-year contract for sure. As others have said, he's better than what we have.
Steve Griffin
15
Posted 12/01/2018 at 18:13:21
Sign him up. Shows good intent and he will bring experience, pace, assists and goals.
Clive Mitchell
16
Posted 12/01/2018 at 18:14:36
Brilliant addition to our 4 x 100m relay team...
Oh bugger.
Peter Larkin
17
Posted 12/01/2018 at 18:16:19
Yep I'll take him for sheer pace alone. No doubt he will get more goals than the likes of "Super Kev" ever did. Only concern from me is he is injury prone, which is the last thing we need.
Kevin Tully
18
Posted 12/01/2018 at 18:16:27
We generally have a 'type' of player we go for, or are able to attract.
1. "Big fish in small pond" players, who look good in relegation-threatened sides.
2. "Past their best" players, hoping we can squeeze a last couple of seasons of magic from.
3. Championship players, who we hope can step up a few levels.
4. Promising youngsters who show exceptional talent in the lower Leagues.
5. Bargain basement unproven foreign players.
6. Expensive unproven foreign players.
7. Loans.
Walcott is none of the above, and is a step up from our usual target market. Proven Champions League level player. It's a definite Yes from me.
Mark Tanton
19
Posted 12/01/2018 at 18:21:48
My point is, Des, that Ian made the rather odd point that this is why he didn't want Allardyce.
Brent Stephens
20
Posted 12/01/2018 at 18:22:30
A small frisson of excitement from me on this one. Not ecstatic but we're not in that league yet where we can sign ecstasy-inducing players. If the likes of Theo can consistently step us up in the league, we can expect the small frissons to become gradually bigger.
Jack Convery
21
Posted 12/01/2018 at 18:22:58
Two Arsenal fans I know can't believe we are after him. They've slagged him off for the past two seasons as he's either injured or flattering to deceive. I reckon his best days are behind him but would love it if I was proved totally wrong.
John Pierce
22
Posted 12/01/2018 at 18:29:33
Proven in what context? Arsenal have the ball most of the time in most of their games. Everton don't, odd inspite the managers enthusiasm, even less so under Allardyce.
Walcott has a record worth looking twice, sure, but in a team outside the top six this style of player needs much more to his game.
My only crumb of hope is that despite a career which contradicts my thoughts, Allardyce might be trying to change is stingy defensive ways?
Hard to see Walcott prosper when he has to show more than speed, in a side who often finds itself defensively positioned.
Where's the 'effing left back?!
Jason Wilkinson
23
Posted 12/01/2018 at 18:30:07
Kendall Mk1 bought Alan Biley, Mick Walsh, Alan Ainscough among others. He got it right after 3 years in the job.
Sam can only bring players who are (a) available and (b) want to come and ply their trade for us.
Joe Foster
24
Posted 12/01/2018 at 18:33:43
In this day and age £20 million is a bargain.
Andy Meighan
25
Posted 12/01/2018 at 18:34:46
Good post, Jim (4). A lot of people on here were excited in the summer about Klaassen, Sandro, Keane and to a lesser extent Sigurdsson. They haven't turned out to be value for money have they?

If Walcott does offer one thing it's pace and, as Allardyce said, that's one thing we are lacking so at least he can see what we've been moaning about all season.

As Jim said, a proven Premier League player who's got a good pedigree. Every signing is a gamble. Look at the money Man City, Man Utd and Chelsea have wasted the last few years.
Les Martin
26
Posted 12/01/2018 at 18:50:47
A cert to sign for us, as he is being allowed to leave, he won't go to Southampton and he is in negotiations with us. He will sign!
Chris Watts
27
Posted 12/01/2018 at 18:53:56
I reckon some on here would still hate Sam if he signed Messi and Ronaldo.
Getting rid of Niasse who simply isn't good enough and Lennon who is past it and replacing with Tosun and Walcott is a good window for me. We desperately need a left-back although Sam seems to want to have a look at Garbutt
We need to get rid of Lennon, Niasse, Schneiderlin and maybe a couple of others as well but I do hope Sandro, Klaassen, Lookman and Vlasic stay – they will be better players next season.
Oliver Brunel
28
Posted 12/01/2018 at 19:03:57
Is this the type of player we need? We have this type already , granted hes better than Lennon and Vlasic but don't we need a No 10/Centre-mid playmaker?
Ron Marr
29
Posted 12/01/2018 at 19:18:24
We have a player who scored 19 goals in the Premier League 2 years ago? Who is that?
Anybody we sign is a roll of the dice. Speed never goes into a slump. FFS get it done.
Barry Connor
30
Posted 12/01/2018 at 19:19:29
He is a good player – even these days you don't score a hat-trick for England against Croatia (albeit 2008) if you haven't got an eye for goal.
Understandably the Manager wants options up front (none at present) and who is to say that an injury could undo any signing we make, so it is good management.
In addition I would like to see a hard centre back (to replace our ageing and somewhat gentle existing choices) and a full back to cover for Baines.
A creative midfielder would also be welcome but we supposedly have choices here already – the problem seems to be getting someone who can convert the chances.
Lev Vellene
31
Posted 12/01/2018 at 19:23:26
I really don't like his injury-proneness. But apart from that, he might be just what we need. Especially as someone for our younger players to learn from before they eventually relegate him to the sidelines...
Jack #21 "Flattering to deceive", yet still scores 19, as was pointed out by Jim #4? I think I'd take the chance on him! Even if he has that dreaded 'pace' that is so foreign to Everton these days... ;D
Paul Dewhurst
32
Posted 12/01/2018 at 19:29:39
We need to add pace and goals to the squad, and people don't like it when we are linked with someone with pace and scores goals.
Mike Allison
33
Posted 12/01/2018 at 19:36:59
John, 22, I'm not sure you've avoided autocorrect or typing errors entirely there so perhaps I'm reading you wrong, but you seem to suggest that Walcott benefitted from Arsenal having the ball, so is unlikely to do well for us because we have less of the ball. Am I right in what you're saying?
If so I disagree with you. A player like Walcott, whose main asset is pace, is better suited to a team who doesn't have the ball as much and wants to stretch opponents on the counter attack. Arsenal often find themselves trying to pick their way through tight spaces, which doesn't suit Walcott; we're more likely to be counter attacking into space, which will.
Christian Watson
34
Posted 12/01/2018 at 19:37:15
I'm with @18 Kevin Tully. Theo is a class player and certainly a step (large step) up from many players we've been linked with in the past. He's been doing it for years, so much so it's hard to believe he's only 28!
England international with a point to prove in a world cup year. Stereotypically the 'type' of player that needs a new challenge. Big yes for me. Go and get it done Everton!
Jamie Evans
35
Posted 12/01/2018 at 19:46:45
Yes please.
2 pacey wingers in Walcott and Bolasie, backed up by 2 young pretenders to their respective thrones in Lookman and Vlasic. Options options options, wouldn't that be nice.
Lennon could then be allowed to leave as we'd have plenty of cover for both flanks. Frightening pace in each of the 4 players I've mentioned.
Yes please.
Gaute Lie
36
Posted 12/01/2018 at 20:06:00
Usually the fast pacy players loose their extra speed before they are 30, and each injury will also contribute to loosing speed. Just look at Rooney.
Walcott is nearing 30 and is injury prone.
What does he have when hes not speedy anymore?
John Pierce
37
Posted 12/01/2018 at 20:08:23
Mike, nice of you to be gentle in your response to disagree. You read right, and your point might indeed be correct, as a counter-attacker, deffo a consideration.
To clarify without the ball Walcott will have to defend and under Allardyce to date more so than he's ever had to.
He offers very little in that respect, as Arsenal have the ball most of the time, that weakness was rarely exposed.
Were he could be useful defensively is if, and a big if Allardyce manages to get the team to press? Then that speed is an asset and the lack of physicality matters less.
Still Lookman for me though.

Mike Price
38
Posted 12/01/2018 at 20:11:54
Get Sturridge as well and we'd have a strike force.
Si Pulford
39
Posted 12/01/2018 at 20:12:35
Proven in what context? Arsenal have the ball most of the time in most of their games. Everton don't, odd in spite the managers enthusiasm, even less so under Allardyce.
—————————
No offence John but the above comment just underlines how effective he could be for Everton. Pace being his main asset, you would assume he would thrive at a team that has less of the ball so he can counter attack?
Sure, football is a game of opinions but there's having an opinion and being obtuse to prove a point. Proven in what context? 11 consecutive seasons in the Champions League and over one hundred goals. I'm not sure how you don't get that to be honest?
Brian Williams
40
Posted 12/01/2018 at 20:18:35
Sturridge??? First thing we'd have to do is get another treatment table in.
Jim Bennings
41
Posted 12/01/2018 at 20:21:22
Gaute
Jamie Vardy and Arjen Robben still blisteringly quick over 30?
Cristian Ronaldo?
Lev Vellene
42
Posted 12/01/2018 at 20:26:21
Gaute (#36),
At 28 (so a way off 30, yet...), he offers pace and hopefully goals for 2 more years or so. And letting hungry youngsters looking on from the sidelines when he is playing, eager to learn to learn the really good tricks of the trade!
And he WILL get injured, I can't really hope for that not to happen. But he should be an inspiration for the youngsters to try to keep him out!
Andy Crooks
43
Posted 12/01/2018 at 20:37:30
I think he would be a top signing. We can offer him regular football and he will thrive on it.
Sturridge? Never, ever. His goal celebrations alone should render him unfit to be in the company of grown ups.
Steven Jones
44
Posted 12/01/2018 at 20:37:33
This is a dream signing for me. When this guys is on song he rips side apart and although he got 19 goals last season he gets loads of chances through his pace. He also makes great runs in behind defences and Arsenal have poor centre-midfielders that don't release it quick enough.
One thing that does happen is that opponents do drop a metre or two when he is on the pitch as they don't want to get done behind.
Imagine him with Coleman and Kenny. Then imagine him down the middle with Cenk late on linking with Rooney and Sigurdsson and Theo running in behind.
This would be amazing – if he stays fit and we play him the right way.
Get it Done! For me even £35 would be good value compared to the likes of Sigurdsson, Klaassen etc.
Jerome Shields
45
Posted 12/01/2018 at 20:54:50
'In the past 9 years, Walcott has missed an incredible 117 Arsenal games through injury.'
Walcott is a big risk at £20million,given Everton's experience with injury prone players they have purchased.
Tony Abrahams
46
Posted 12/01/2018 at 21:06:53
A player who scored 19 goals last season, has been totally bombed this season. It's got to be down to more than football, I'd say?
Joe Ainsworth
47
Posted 12/01/2018 at 21:32:26
I would never, ever sign a player with an injury record like Walcott's – no matter what other qualities he might have to offer. He has missed nearly four full season's worth of matches over the course of his Arsenal career. I wouldn't be surprised if that was a worse record than that disco-dancing uber-crock Sturridge.
Also, I'm desperate to see Lookman break into the first team as I think he has something really special about him and Walcott's presence (if fit) reduces his chances as no way Allardyce is going to shell out £20m for him then play one of our kids.

John Davies
48
Posted 12/01/2018 at 21:39:07
Don't want him. A lazy bastard who is more interested in his weekly wage than playing a full season's football. The boy plays 90 minutes about 10 times a season at best. And he's done that for the last 10 years.
His track record for consistent playing time is nothing short of pathetic. The lad is not injury prone, he's a bloody shirker. He doesn't have the capacity to run through a knock or a slight niggle in a muscle.
Just as long as the weekly wage lands in the bank he's happy. There is not a chance of us getting 20+ games a season out of him because he doesn't want to play that many times.
If Allardyce reckons this lad is the answer, then God help us. What the fuck has this football club come to?
Andy Crooks
49
Posted 12/01/2018 at 21:49:20
John, you seem to know Walcott very well. Could you quote the sources that lead you to your conclusions or is it, in fact, pure conjecture based on nothing more than jaundiced opinion?
Ian Bennett
50
Posted 12/01/2018 at 21:56:15
I'd prefer a swap deal – Zaha for Niasse and Schneiderlin.
Jeff Armstrong
51
Posted 12/01/2018 at 22:08:07
Ian (#50), Palace might prefer something a bit different from what you prefer... it doesn't quite work like you want it to.
Si Cooper
52
Posted 12/01/2018 at 22:11:28
A risk worth taking? It's very hard to judge but that is what the manager is paid to do.
It's hard to realistically imagine getting better quality in this window and presumably if he chooses us over Southampton he would be buying into a project rather than just taking the easy option.
Tony Everan
53
Posted 12/01/2018 at 22:31:19
Walcott is worth the gamble, if he's fully fit for the job.
For him this is it, it is a big chance to make a statement that he is the real deal.
We better double up on experts though when he comes in for his medical. It worries me a bit if Arsenal know more than they are saying. They're letting him go quite easy even with Sanchez on his way out.
Alarm bells.
John Davies
54
Posted 12/01/2018 at 22:32:42
Andy (#49).
Research his stats and see the number of times he has completed 90 minutes football – not the number of appearances he has made for Arsenal. The answers are there. Nothing wrong with colour of my skin buddy.
Si (#52). It would be nice if you're right mate.
Sam Hoare
55
Posted 12/01/2018 at 22:47:34
He's 29 in a month or so and the vast majority of Arsenal fans seem happy to let him go. I don't think he'd be the worst signing by a long shot but it seems a short-term move when the season is already gone and we should be building the future.
Jerome Shields
56
Posted 12/01/2018 at 22:47:49
Thanks for the information, John (#48). I got stats on Walcott which I posted above. I had difficulty understanding why a player with such a poor record wasn't known as being injury-prone. I was worried about about him coming, because he's an answer to Allardyce's tactic as a holder and passer in his attacking tactics.
This means that Allardyce is going to continue with the same defensive tactics and hope that Walcott will be able to put his attacking tactics into operation. No chance the attacking tactics don't work, no thanks to stats... and John, I know that Everton will never be a top 4 side under Allardyce's management.
James Flynn
57
Posted 12/01/2018 at 22:58:10
Yes on this deal. Please let it happen.
We don't score goals. We have a U-23 Team 20-year-old leading the line (manfully, to me).
Tosun in and, hopefully, this lad next. If Bolasie's leg holds up, we could now get after opponents.
Give Wayne and Sigurdsson some things to aim at.
Because we have to score goals.
I really hope we cut a deal for this player.
Trevor Peers
58
Posted 12/01/2018 at 23:08:25
Sam, so many Sam's. The position we are in it makes sense to sign Walcott, having just released Mirallas and Lennon maybe going to Burnley we need a better experienced alternative to add to all the youngster's we have like Lookman etc.
So what's the problem, he scores, creates goals, seems like a sensible choice given the circumstances we find ourselves in.
Sam Hoare
59
Posted 12/01/2018 at 23:27:17
Trevor, I agree with the first paragraph but just not convinced Walcott is the right player.
Not a terrible choice but wouldn't be mine. He has profited by playing for one of the best attacking teams in the league for the last decade but will have to do things differently for us and won't have the likes of Ozil supplying through balls.
I think he'll do fine for a few years but would prefer we bought someone 24-27 who's proven but with their best years ahead of them.
Andy Williams
60
Posted 12/01/2018 at 23:32:29
I posted this on the other thread just to give some idea of what an improvement he could be on what we have(but have included some info re. injuries):
He has scored 74 and assisted 41 in 252 games (many of those as sub). Goal or assist every 1.5 games (measured by mins on pitch). This rate has been consistent up to this point. Obviously has his flaws but bloody hell he can do a job that very few others can do. I bet there are few who can match that kind of record in the premiership never mind at Everton.
By the way that compares very closely to Sanchez's rate. He obviously does not compare re overall influence but we could certainly use someone who can deliver like that. Bolasie's rate by the way is a goal or assist every 3.3-ish games whilst Lukaku's is only slightly better than Walcott's. Del boy's is one every 2 games.
Re. his injury record – he has played in an average of 32 games each season (this includes the 2 seasons 2013 - 2015 when he only played 15 games). Do for me.
Don Alexander
61
Posted 12/01/2018 at 00:04:15
Sam (#55),
I fully agree we should be building for the future but we have a manager whose future with us is minimal as a result of his 18 month contract. What future does HE want? If it's to embellish his own profile (and he's not shy in saying that his profile is very dear to him) he may well deem he's entitled to sign a "name", even if it's a name in his late 20's with a record of butterfly performances when he was younger and uninjured, and screw the hopes of any aspiring youngsters already at Finch Farm.
It's a short-term outlook but what choice has he been given? Had he been given a three-year "project" type contract he may have been more willing to take a risk by nurturing rather than gambling, but he simply doesn't have that time and that calls into the question the part Walsh is now playing in "scouting" Walcott.
After all, Walsh is here for longer than Allardyce. Is this the best WE can expect from him, a bloke who presumably got his job on the back of allegedly signing total unknowns such as Vardy, Konte and Mahrez, and inconspicuous others, now far more accomplished, such as Drinkwater and Albrighton, all of them gelling within two years to win the league?
Hiddinck at Chelsea aside, can anyone actually name a manager, and especially at a club as "legendary" as ours, achieving European qualification having been granted a mere 18 months?
Nah, didn't think so, but maybe the legendary "Fab Three" of Moshiri, Kenwright and Walsh know better.
Here's hoping.
Sigh.
Nicholas Ryan
62
Posted 12/01/2018 at 00:06:12
I am sitting here, with my head in my hands, in despair at the people out there, who think that this would not be a good move! Ask yourselves this question; Who is there, out there, who is:
(a) better
(b) available
(c) at a sensible price
(d) who would want to come
...deafening silence
As to his age and speed: Usain Bolt is 31, the only man who has beaten him in the last decade, Justin Gatlin, is 35. Tyson Gay is 35, Asafa Powell is 35, and Yohan Blake is 28. Fancy catching up with any of them?!
Nicholas Ryan
63
Posted 13/01/2018 at 00:11:32
ps: Walcott is younger than Lionel Messi!
Lev Vellene
64
Posted 13/01/2018 at 00:27:00
Nicholas (#62),
Only his injury proneness is keeping me from clapping my hands fervently! With luck, Walcott will be a very good signing, though!
And as I said before, we should have youngsters ready to take his place, after all they should have learned from having him there to study!
David Connor
65
Posted 13/01/2018 at 04:07:34
Bloody hell. When are we ever gonna learn? This fella will want over £100k a fuckin week and he is made of glass.
Brian Porter
66
Posted 13/01/2018 at 06:20:59
It amuses me when people say we don't need Walcott because we have Bolasie! Oh please... Just compare their goalscoring records. Bolasie comes nowhere near Walcott who I think would be a great signing for us.
David Hayes
67
Posted 13/01/2018 at 07:16:19
This pace that almost everybody is crediting Walcott with, is firmly based on images of him as a 19-/25-year-old in a relatively slower league.
Right now, after numerous long term injuries and a an increase in the speed of the game in general, fitter, younger players cancel out what was Walcott's advantage and use. Therefore relying on distribution only which was never consistent in quality.
Long term injury has finished him; an impact late sub at best. He can keep Bolasie company in the treatment room for months on end, sorry to say. Lookman will be the player that Walcott never really was. Please, EFC, look elsewhere.
Jackie Barry
68
Posted 13/01/2018 at 07:27:53
Well, it must not have been Walcott who scored 19 goals and was running pretty fast last season. Oh well...
Brendan Fox
69
Posted 13/01/2018 at 07:52:13
For those people reporting stats about reasons why the club should buy Walcott please open the link below:
https://www.premierleague.com/players/2839/Theo-Walcott/stats
In the Premier League which is what truly counts for our club his scoring record in the various teams that Arsenal have had averages as a goal every 4.13 games played based on the stats pasted below:
Appearances
269
Goals
65
Wins
146
Losses
63
To put this into perspective this is not better than what alternatives we currently have.
Give game time to Lookman, Vlasic and Sandro in the games between now and the end of the season as they could be the future lifeblood of the team for many seasons to come.
For likely similar money to what Walcott would cost If the club are determined to bring in additional reinforcements up front then go for someone like Dembele from Celtic who at 21 would if successful be a greater long term asset.
Mike Dixon
70
Posted 13/01/2018 at 07:59:12
Nick (#62).
Interesting list... Not sure I trust their true physical prowess.
Might some be chemically aided?
Mike Dixon
71
Posted 13/01/2018 at 08:04:13
Don 61
Spot on. Hiddinck walked into a dressing room far more capable than the one currently at Finch Farm.
Sam will do a great job in 18 months. Just cast you mind back to Soton and Atalanta. We have made massive progress.
More will come.
Tony Sullivan
72
Posted 13/01/2018 at 08:15:31
To all the statisticians, I thought the game was played on the pitch – not on a spreadsheet?
Sam Hoare
73
Posted 13/01/2018 at 09:24:51
For those interested in stats/goal returns here is his page on Whoscored which rates all players across Europe in every match.
https://www.whoscored.com/Players/13796/History/Theo-Walcott
Historically despite the decent goal return he's struggled to score above 7 most seasons. His career average is pretty similar to that of Kevin Mirallas though slightly better (perhaps to be expected playing in a better team). Someone like Zaha has averaged over 7 for the last 3 seasons
I think he would be an okay signing who would improve us in the short term. I'd rather spend the money on a really good left back and give Sandro, Lookman or Vlasic some time to develop.
Jim Lloyd
74
Posted 13/01/2018 at 09:27:31
It's amazing how many great potential managers, Directors of Football, Doctors, Statisticians and Coaches we have, bestowing their wisdom to us on these pages.
From, "Dembele, if successful, would be a greater long term asset." Really?
In my humble opinion, we need players are proven Premier League professionals with a good record of success in whatever part of the pitch they play. And we need them NOW! Dembele might do a job for us but there again, he might not and then we'd have another, young "prospect."
There's one or two little problems to overcome though, such as, are they available? Would they come to Everton rather than a club who are way more likely to be in Europe than us?
It's all very well preferring someone "who is 24 to 27, is proven with their best years ahead of them."
Isn't it just possible that our club would dearly love to be in a position to pick and choose from these players; and have them queuing up to join "The Mighty Blues" as that plonker of an announcer we have, persists in calling us before every match?
From where we were (in my view going into the Championship, unless we were very lucky indeed) and with the collection of players we have, I think Allardyce and Lee have made a major improvement. I don't see a rapid improvement in our playing style until we can get more quality players in. I don't think it's likely that January will prove to be the best time to pick those players.
We still have a long way to go before we get anywhere near challenging the top six and January is a notorious time for clubs who need to bring players in.
I think it might just have crossed the minds of our recruitment team, that we need a left full back of proven quality. It's just a little matter of one wanting to come here... providing his club are prepared to let him go.
So, to me, it's more a case of who we can get, not who we would ideally choose from the lists of the great.
If Walcott gives us anything in the remainder of this season like the goalscoring and chance making that he did last season, then he would surely be a great asset to us and for maybe the following season or two.
I don't see this season as "Over" – I see it as a time when the club uses what players it's got to ensure first of all, we don't go down. If the players continue to gel more than they did under Koeman, then we may just begin to become a recognised team, rather than a collection of players.
I think that process is well under way and it will be in the Summer that the chance to bring in better players and dispense with the players who aren't good enough, will take place.
Sam Hoare
75
Posted 13/01/2018 at 09:42:49
Jim "It's all very well preferring someone "who is 24 to 27, is proven with their best years ahead of them." Isn't it just possible that our club would dearly love to be in a position to pick and choose from these players; and have them queuing up to join "The Mighty Blues""
What I would dearly love is for the scouting team to do its job and go and find some players who perhaps the whole world haven't heard of to improve us over the short and long term. We pay better wages than all but about 15 teams in the world. It might not be easy but that's why they are paid so much. Don't tell me there aren't such players out there. I for one have been pretty underwhelmed by our transfer dealings these last 2 years.
Jim Lloyd
76
Posted 13/01/2018 at 09:53:18
I'm not telling you anything, Sam. But I'd guess that trying to find some wonderful players that the whole world haven't heard of, to improve us now and in the future, might be more a job for Superman than a team of scouts.
I'd agree with you that the players that Koeman brought in have been, in the main, underwhelming, though I was absolutely buzzing in the summer. It seems to me that there's a lot of shifting of players required before we can bring in the amount of players required to make us a good squad.
Sam Hoare
77
Posted 13/01/2018 at 10:15:04
Jim, I believe Superman is more of a baseball fan.
It's not easy of course but I do believe that it is the job of the scouts to find the next Sane, Mane, Coutinho, Eriksen, Mahrez or even a Richarlison, Payet, Lanzini, or Shaqiri. Walcott is a safe option because we have seen him performing at a 7/10 level in the Premier League for years. I believe there is no threat of relegation and so we should be looking for or developing someone who can do better than that.
Jim Lloyd
78
Posted 13/01/2018 at 10:49:46
Heehee...,well said Sam. But being Superman he should be able to turn his X-ray eyes to footy.
I'm not so sure that the club can afford to be blase about whether we could go down or not. To me, I'd hope the club would not take the slightest chance. What do they reckon? Isn't it around 40 points that is considered to be the accepted safety level.
As for the players you've mentioned, yes but weren't most of them discovered by clubs other than Premier League clubs, then bought by Premier League clubs, once they'd proved to be of a quality that would perhaps suit that club. I'm thinking of Mahrez and Mane in particular. As for Shaqiri, weren't we after him at one time?
And as with most others, weren't they bought by Premier League clubs during the time that we had an owner who was always looking for cash down the back of the couch?
I can remember Moysie's lament about knife to a gunfight. So now, with Sam Allardyce in charge and a team backing him, well, I'll see how we get on this Summer rather than criticise him for the mistakes of the past.
I think the club have a massive task in the Summer, trying to sell players who might not want to go but are happy "fighting for their place" even if it's on the bench. As you say, we are now paying fairly high wages, and that makes me wonder who would buy some of our players, considering the wages they're on.
I'll be happy if (big if) we can get Walcott and a proven full back during this window. I don't think we have the luxury just now of developing a player who might prove to be better than Walcott. I think we need to have someone right now, capable of producing good standard football and if we can get better than Walcott, then I'm sure we would; but I think it's a matter of what's available now.
That's not disagreeing with you regarding developing players, it's just a difference of opinion regarding timing.
It'd be great if we could also get another defender but, they reckon it is a hard time to do deals in January so it might be we have to play with maybe one or two additions on top of what we've already got.
I know that there are a lot on here who don't like Allardyce and call him a Dinosaur. Well, I don't agree with that view. He is playing, in my view, a brand of football which gives us the best chance of getting at least a point, and, equally, running another match down to nearer to the safety point.
Whether Klaassen can make it in the Premier League, who knows, I hope so but I wouldn't want us to see him develop at the expense of us having a more useful player in the team. I just hope for him, and us, he can reproduce in the Premier League, what he was producing for Ajax.
I think with getting someone in of Walcott's quality is likely to give us more of a chance of seeing an immediate improvement on what we have available now.
John Smith
79
Posted 13/01/2018 at 11:38:15
He's had around 20 injuries in the last 4 years.
Geoff Lambert
80
Posted 13/01/2018 at 12:05:59
John, can you list them please? All in order and for how long he was out?? And how they happened???
Geoff Lambert
81
Posted 13/01/2018 at 12:25:08
NO????
Let me help you, since his Cruciate injury in January 2014 (that kept him out for the season) which is four years ago he has been injured four times:
16/17 Calf strain Dec 23, 2016 Jan 27, 2017 35 days
16/17 Hamstring Injury Oct 25, 2016 Nov 6, 2016 12 days
15/16 Calf Injury Oct 29, 2015 Dec 1, 2015 33 days
14/15 Groin strain Nov 20, 2014 Dec 18, 2014 28 days
13/14 Cruciate Ligament Rupture Jan 6, 2014 Oct 13, 2014 280 days .
James Marshall
82
Posted 13/01/2018 at 13:21:54
I can't help thinking a lot of people are looking for something that doesn't exist for a club like ours – we're Everton, an upper mid table team so we can't attract the best players at the right age etc. We have to be realistic – signing Walcott would actually be a big deal for Everton in my view.
We're not able to buy players like De Bruyne or Pogba et al so Walcott is the next level player below them, and an upgrade on our current players.
We're getting rid of Mirallas, have Lookman, Lennon & Bolasie and if you think Walcott is a lesser player to any of those, I would have to disagree with you. He's better than what we've had in recent years and would signify a step-up in player quality and 'name'.
Vlasic – who? Lookman – who? Walcott – he's experienced and has played for a top team for 10 years. Why on earth he wouldn't be welcomed with open arms for £20m is beyond me.
Len Hawkins
83
Posted 13/01/2018 at 13:25:02
Jim (#74)
100% Correct, I don't know how all these foreign managers get jobs when just this one site is full of experts who know the answer to how to crack the top 4. There have been more than enough from the RS side who haven't won a championship since Pontious was a Pilate.
The engravers used by the FA haven't struggled much over the last 25 years except for Blackburn Rovers or Leicester City, i before e except after c must have given them a headache a couple of years ago.
Paul Tran
84
Posted 13/01/2018 at 13:42:53
Since the summer I 've been reading on here that we need goals, pace and players with experience at this level. Of course, this is ToffeeWeb, so when we line one up, he gets slated.
Bolasie isn't fit yet, Lookman and Vlasic, for me, are impact subs for now and belting players for the future.
We're not getting the players the bigger clubs are going for, because those clubs are, er, bigger and more attractive. We need to find players just below that level, with some scouted 'gems', then get the best out of them.
I hope we get him.
Michael Lynch
85
Posted 13/01/2018 at 13:44:49
Yeah I agree with Jim @74 too. We aren't in a position to attract "A List" players, and we've bought loads of "future potential" players recently – Vlasic, Lookman, Calvert-Lewin etc.
We need a balance, which means we need some proven quality, and Walcott is that. Sure, he's not causing the excitement he did when he was 21, but if he was he'd be signing for Citteh not us. As it is, I think we'll be lucky to persuade him to come to Goodison.
Going back to the "future potential" players we've bought – most of the ones who turned into something special have moved on to bigger clubs. Stones, Lukaku, Barkley, all gone. But that happens to everyone, even the Shite, even Man Utd have lost their best players to bigger clubs.
Let's be honest about where we are. Sure, we aspire to being top six, but it will take time. There'll be false starts, like with Martinez, like with Koeman, and we'll end up going back to the likes of Moyes and Allardyce to start again when that happens. But that's football. And Sam seems to have a good football brain, loads of experience, and – yes I'm going to say it – honesty; he might or might not like a bung, but he's honest about what he sees on the pitch and on the training ground. He's honest about what we need, and where we are.

Brian Cleveland
86
Posted 13/01/2018 at 13:55:52
I thought it was an interesting take from Charlie Nicholas and Leon Osman on Sky Sports
Link
regarding Walcott and not sure that Everton are the right move for him.
With Bolasie back, now playing Lennon again, and Walcott wanted to be a striker, and we've just bought Tosun, so where would we play him?
Ashley Roberts
87
Posted 13/01/2018 at 14:54:11
I watched the Forest/Arsenal game last weekend primarily to watch Dowell who I thought did okay but there is still room for improvement. Having said that, I paid special attention to Walcott who I must say was awful and it has to be remembered that this was against a Championship team who have been struggling of late.
Based upon my viewing of this game, we should be looking to sign Brererton, the young Forest forward, who I thought was brilliant, rather than Walcott, who was appalling with the ball at his feet. I know this is just one game but I am not sure he is what we need.
While I understand this will be controversial but for an extra £10M we could pick up Sturridge who I think would definitely add quality if we could just keep him fit. So for me, I think we could do better than Walcott in building for the future.
Brendan Fox
88
Posted 13/01/2018 at 15:08:08
Given the club's current position and average position for the past 10 seasons we'll finish mid table or at best in the top 7. Being realistic ,do we need Walcott to maintain this position, I'd say not as he's not been consistent enough or played enough matches consistently for Arsenal.
I appreciate people think we need proven Premier League players to kick on but another school of thought and business is to buy potential and, where necessary, sell them on at a healthy profit to enable the club to be debt free and pay for hopefully a new stadium.
Granted this is not where I nor any supporter want to see our club languishing but this has been the case for a long time.
Unearthing talent for now or the future is fraught with risk but so is buying players well past their prime based on past reputations or form.
George Cumiskey
89
Posted 13/01/2018 at 15:23:02
Arsenal have sold Francis Coquelin to Valencia for £11 million, and he's head and shoulders above Schneiderlin.
Why weren't we in for him?
Steve Harris
90
Posted 13/01/2018 at 22:45:40
So he doesn't give Lookman a chance but will spend £20m on someone who can't get a look-in at Arsenal!!!! The fat bastard is worse than a Local League Sunday morning manager!!
Paul Birmingham
91
Posted 14/01/2018 at 09:50:51
For me Theo's had his day as over the last 10 years he's been consistently unavailable due to a injury and I don't see why Lookman and Vlasic aren't getting a fair crack.
After yesterday the club needs a full time shrink as there's some thing basically wrong in our play and we don't have any game management plan.
Another dire season in a malaise that's perpetuating. Hand on heart I m not expecting any major improvements in what's left of this season, as Messi wouldn't shine in this team. Sad that the players are just turning up and not trying and showing that they don't care. Without Pickford it could have been 8-0. This is the pits.
Jerome Fander
92
Posted 14/01/2018 at 12:08:42
At 0-0 we had a goal disallowed (rightly) for offside by the linesman. From that point on during that first half he raised his flag every time we attacked. Come the second half and first attack, Kane scores an offside goal. Clearly offside but not a flicker from the same linesman.
Clearly he had disintegration the game being a fair contest. Even the ref was at it. Booking Haha for missing the ball!! No foul but he chose to book him. They committed many fouls but rarely were penalised.
With this in mind, I cannot castigate the players for the result. It must be so demoralizing to play against 13, two of whom can bend the rules to suit the agenda that the premier league continues to promote. Fairness does not exist in this league and must be so difficult to tolerate for the best of the rest!!
Drew O'Neall
93
Posted 14/01/2018 at 12:26:47
What is the point in having a director of football if we are going to become the retirement home for second rate players?
Surely if the player isn't good enough for Arsenal he isn't good enough for what we want to become and he isn't going to turn in to that player in the final contract of his career.
Our strategy should be out pricing Chelsea and Arsenal and others for the pick of 17-23 year old players where we can compete and then get them on the pitch.
The only players we should be paying the significant fees for are international class players and my view is there should be fewer targeted and they should be in the >£50m, £150k/week category not the £20-50m <£100k/week where you are buying up players who aren't good enough for someone else.
Think on Steve Walsh.
Ian Bennett
94
Posted 14/01/2018 at 18:39:38
Don't want him. Another player we will be looking to get rid of in twelve months time, and stuck with a £20m transfer fee and £100k a week wages.
Antonio is another transfer dud we shouldn't be looking at either. I am really unimpressed with the players we are going after. Rejects from elsewhere that have failed, and that explains the zero hunger about the place. It's like a zombie retirement home for shit footballers.
Ray Smith
95
Posted 14/01/2018 at 20:29:06
George 89
Because Steve Walsh is DoF.
All the time he remains and BK gets involved in transfers nothing will change.
BK thinks he's clever holding transfers up for minor % add on's etc, and we wait until it's too late and lose out on the last day of the window.
I have said many times on TW that Ross is a very good footballer who has been badly advised about signing a new contract. However, I am now starting to think he may have held out for his transfer because he could see what was happening behind the scenes. Perhaps he may explain one day?

Ralph Basnett
96
Posted 15/01/2018 at 19:10:11
But why the fuck does it take us so long?
Dick Fearon
97
Posted 15/01/2018 at 22:26:45
Walcott cannot get a game in Arsenal's worst team in 20 years. I guess that makes him a perfect fit for Everton.
Colin Glassar
98
Posted 15/01/2018 at 22:52:38
Theo could become the next Landon.
Geoff Lambert
99
Posted 16/01/2018 at 23:20:00
Paul #91 "Over the last 10 years, he's been consistently unavailable due to a injury."
What a load of total bollocks! Do your homework if you are going to make pathetic claims like that.

Add Your Comments
In order to post a comment, you need to be logged in as a registered user of the site.
Or Sign up as a ToffeeWeb Member — it's free, takes just a few minutes and will allow you to post your comments on articles and Talking Points submissions across the site.