Tosun can't wait to make Goodison bow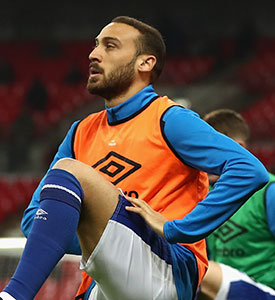 Cenk Tosun took his first press conference as an Everton player at USM Finch Farm today and spoke of his initial impressions of the team, the league and imminent new signing, Theo Walcott.
The Turkish striker is looking forward to play in front of his home fans for the first time this weekend against West Brom following his debut in the disappointing mauling at the hands of Tottenham last Saturday.
On Everton and competition for his signature:
"Everton are a massive, historical club. Sam Allardyce played a big role in the move and I felt how much the club wanted me. It has been my dream to play in England.
"There was a club that was interested in me and my club was dealing with that but I don't want to name any clubs here. I can say that Everton was the first team that seriously wanted me and I seriously wanted to come here."
On his previous club Besiktas: "I spent three-and-a-half great years there. I loved our manager, he was like a father to me, but everybody needs new targets and missions in life. It was my mission to play in the Premier League."
On settling in at Finch Farm: "This might sound a bit of a cliche but they have all been great, really warm towards me. They all accepted me. If I need to name any names, Wayne Rooney has been great, Sigurdsson and our captain Jagielka."
On the Premier League and his aims: "It's very fast with a high tempo. But I play at that pace too. I would have liked to have had my debut go better but I can't wait to meet our supporters at Goodison.
"The main aim is to take the team to better places & score as many goals as I can. This year it looks a bit difficult but we would like to win cups and I'd like to be a part of that."
On Theo Walcott:"Theo is a great player. He's a proven player. He's done really well for Arsenal for many years. He's really fast, a good crosser. I would say that he would be a massive signing for us. I think I would link up well with him."
Quotes sourced from @RichardBuxton_, @philkecho
---
---