Everton unlikely to resolve left-back problem before the deadline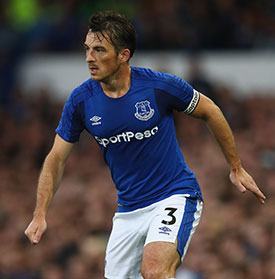 Leighton Baines's lengthy spell out with a calf inury has left the Blues without a senior left-back but the size of the squad may preclude the acquisition of cover for the veteran
Updated
Sam Allardyce has played down the chances of Everton addressing a problem position in their squad this month, suggesting that the emphasis is on moving players out of Goodison, not in.
The Blues have moved to add attacking options to their line-up in the past week with over £40m spent on Cenk Tosun from Besiktas and Theo Walcott from Arsenal, both of whom are expected to feature against West Bromwich Albion tomorrow.
While the club have been credited, however, with serious interest in two defenders in Europe that would shore up the team at left back, where Leighton Baines's absence through injury has been keenly felt, or centre back, where Ramiro Funes Mori has been missing all season, the prospect of plugging the gaps with new signings looks small.
Allardyce has admitted that Everton are struggling to find a suitable target for the left-back role and that he doesn't see any more incoming transfers before the deadline.
"No, I don't think so," he said in his pre-match press conference today after being asked whether he envisaged making more signings. "We would be more in terms of where we are at the moment [and be looking at] moving players on.
"The squad is too big. There are 33 players here at the moment and I think, from my point of view, reducing those squads numbers is important for me.
"We don't know who those players are because you are waiting for other clubs to show an interest. But moving a few players on is the order for us."
Kevin Mirallas has already been loaned out to Olympiakos and one of the next players to be linked with a move away has been Aaron Lennon, with reports now claiming that Burnley have secured a deal for his services.
The 30-year-old winger, who is out of contract this summer, was already competing with Yannick Bolasie for the first-team role playing wide on the right and faces fresh competition following Walcott's arrival.
Allardyce was asked about Lennon specifically and said: "I don't know. That lies in the hands of the chairman and Steve (Walsh), the director of football. They handle all that side of it, those negotiations if and when they go on."
Everton's squad may be big but the manager has not been able to call on all of his players. That has been slowly changing as injured members of the team complete their recoveries and it looks as though another long-term absentee will be ready to start being eased back into action.
"Seamus Coleman is close to coming back," Allardyce said. "He's back in training and that's another bonus for us.
"Michael Keane is [also] back so the squad is getting stronger, hopefully, and getting bigger [in terms of availability]."
Looking inward at Luke Garbutt and Brendan Galloway has been floated as a possible option to resolve the crisis at left back where Cuco Martina, a right-back by trade, has deputised but there has been no word of Everton registering either player with the Premier League this month.
Both have played first-team football for Everton and excelled at times but have battled to find their form out on loan. Garbutt played 25 games for Fulham in 2015-16 and had a large;y unsuccessful spell with Wigan last season, while Galloway has been loaned out to West Brom and Sunderland.
In the meantime, Martina will continue in his unorthodox role, with Allardyce saying: "There's no doubt that Cuco is doing a fantastic job and yet he, myself and everyone knows it's not his strong position but at the moment we are finding it difficult to fill that position.
"So we do need a left footed player, not just at left-back, we probably need three left-footed players in the squad but we're not going to get that this season.
"But certainly the balance of the squad will have to be addressed next season with more players capable of having a strong left foot."
---
---