Allardyce demands workrate and attitude from fringe players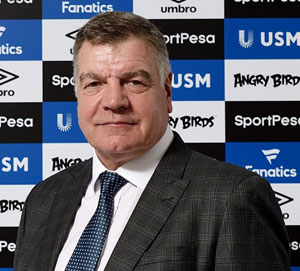 Sam Allardyce has put the onus on Everton's out-of-favour players to demonstrate their 100% readiness at all times if they are to seize any chance they are given in the first team.
The manager has made public his belief that Everton's squad is too big and that players would need to be moved out before more incoming transfers could be sought. He has also suggested recently that players on the periphery of the team might only get one chance to impress him and his staff.
With Everton in a poor run of form that has seen them fail to win a game since 18 December, Allardyce has been asked if he is looking to make use of his full squad in an effort to find the right combination of players to improve results and he says it's going to take more than talent for certain individuals to convince him they are worthy of another shot.
"We know there is a lot of talent [in the squad] but it is much more than talent needed to perform at this level," Allardyce said.
"Mental strength and mental resilience, decision-making processes and general aptitude to physically be able to hit the levels of the Premier League in that position [are required].
"We have every optimum Premier League performance in every position here — it's something I insist on — and we ask what is the optimum? What is the elite Premier League level, not just for fitness, but for abilities. What is the average?
"And we use those key performance indicators to monitor our players' performances on a weekly basis and say: 'one, as an individual, where are we hitting; and two, as a team, where are we hitting'?
"At the moment I'm looking to improve in all those areas to get Everton, or give Everton's players, the best possible chance to get results."
"The players who don't play (as regularly)... what effect do they have on themselves and on the squad?".
"If we ask a player to step up and he hasn't looked after himself well enough because he's not playing so he doesn't quite do as well in training as he should or he doesn't quite do that bit extra he should, that's a very important part of being in the squad here.
"Because it effects everybody. It effects my opinion, the coaches' opinion, the fans' opinion, the press' opinion of them as his team-mates' opinion of him.
"If that's good then he stays in the squad. If that's bad, you've had your chance and not taken it so that's always a difficult management factor and that is why we need to move some of the players on because the squad is too big.
"Sometimes, there is more to look after that are not playing than there is [those who are] playing."
Davy Klaassen and Sandro Ramirez are two players whom Allardyce has seemingly written off as not having adapted to the pace and demands of the English Premier League and both have been linked with moves away this month.
Sandro has reportedly asked that the club listen to offers for him, with a return to Spain mooted, while Klaassen is being talked about concerning a potential loan move to Fenerbahçe, with suggestions in the media that Cenk Tosun has been advising him on the merits of a switch to Turkey.
---
---