Boss looking for Vlasic to kick on next season
Wednesday, 7 March, 2018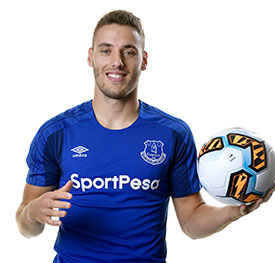 Sam Allardyce says that Nikola Vlasic is one of the young players of whom much is expected next season after falling out of the first-team reckoning lately.
The promising young Croatian made a positive start to his career at Goodison Park after joining from Hajduk Split at the end of August, that despite the rest of the side struggling through the final weeks of Ronald Koeman's reign as Everton manager.
Used infrequently by interim boss David Unsworth as he tried to settle the team, Vlasic has been ignored by Sam Allardyce since his last start on New Year's Day against Manchester United, joining the ranks of younger players like Ademola Lookman and Mason Holgate who have lost their place in the senior side.
Allardyce points to the number of young players who have turned out for the Blues this season but admits that not all of them are benefitting from regular action.
Where Vlasic is concerned, he tacitly acknowledges that the 20-year-old is unlikely to get much more game time this season because of the need to focus on seeing the club to Premier League safety and that he will have to be patient.
"It's been a difficult season for him," Allardyce said of Vlasic. "We've had so many young players [and] those players have come out with an awful lot of credit this season for what they have actually achieved and what they have actually done.
"Unfortunately, some of the more senior players haven't hit the heights that, certainly, I would have expected on a consistent basis.
"So, when you talk about Vlasic, it's another young player and their confidence may suffer. It's his first season here and next season we would like to see more of those young talents flourish.
"The disappointing thing for that young talent is some of it is playing and some of it isn't," Allardyce continued, speaking more broadly about the breadth of youth at Everton and the need to monitor its progress.
"At the moment in time, more of it is not playing so that is a great concern for us because development for them is about them playing at those teams on loan that are not as good as Everton, so that gives us an indication about where their development is.
"For me, we keep an eye on those all the time. The system is in place to monitor all those players but my main focus is week in and week out to try and get another result, to the end of the season and then look at the overall structure of the football club and try to get it better going forward.
"A lot of change is why the club is in the position it's in at the moment. Certainly, I've got to bring stability to the club in the hope of pushing forward."
---
Reader Comments (72)
Note: the following content is not moderated or vetted by the site owners at the time of submission. Comments are the responsibility of the poster. Disclaimer
Terry McLavey
1
Posted 07/03/2018 at 08:09:18
Not sure I'm liking Allardyce to be making decisions about next season!
Jeff Spiers
2
Posted 07/03/2018 at 08:14:52
Sam, mate, don't worry about Vlasic. You won't be here next season.
Gerard Carey
3
Posted 07/03/2018 at 08:22:00
What a horrible thought, that Sam will still be here in August.

Trevor Lynes
4
Posted 07/03/2018 at 08:22:52
Age does not matter if the player is good enough. Lots of young players at many clubs are flourishing and I do not need to list examples.The lad Vlasic is not playing for the under 23s so where is he going to get improvement ? Holgate has been better than Williams in my opinion so why is he not making the starting eleven? The so-called senior players like Williams, Schneiderlin and Rooney are not playing well. Williams and Rooney are liabilities in their present form.Opposing sides are just running through our midfield as our guys have no pace and are not closing down. Rooney is spent after 50 minutes yet he is not being subbed early enough. Schneiderlin is showing no urgency in his game at all, but instead of shaking the team up Allardyce is playing both Rooney and Sigurdsson together instead of giving Siggurdson the number ten role he was bought for.Surely Baningime must be better than Schneiderlin or Rooney on the left side of midfield. I am sure that Baines would be a better choice than either of those two.
Ralph Basnett
5
Posted 07/03/2018 at 08:35:10
The problem with this buffoon is that he has never worked with young talented players before, in fact he has never worked with talent players and does not know what to do with them – just get rid of Fat Sam ASAP!!!!!!!
Rob Baker
6
Posted 07/03/2018 at 08:41:21
Seriously, why is he making these remarks re next season. He is a shoo-in for the sack at end of season.
Rudi Coote
7
Posted 07/03/2018 at 08:44:33
Sam seems to be ignoring what is best for Everton FC – it's like it's his mission to have the club relegated. I'm really expecting to be in the Championship next season.
The RedShite wouldn't put up with this situation. Why is Everton?
Jason Leung
8
Posted 07/03/2018 at 09:07:26
For some unknown reason, I have a sneaky feeling Fat Sam is here to stay for the length of his contract.
Unless we get into a relegation scrap, and I highly doubt we will, Moshiri will give Fat Sam a whole transfer window and next season to prove himself and hopefully Vlasic is part of his plan, as well as Lookman and Klaassen.
Chris Clark
9
Posted 07/03/2018 at 09:09:09
It's not like the senior players have shown anything that warrants them starting.
Victor Yu
10
Posted 07/03/2018 at 09:10:43
I don't think Sam has improved us from Koeman. In fact, I feel like we are even worse!
Liam Reilly
11
Posted 07/03/2018 at 09:27:56
You can't blame Allardyce for not playing the youngsters when his first choices are performing so well!
Rarely is there a poll on TW so one-sided as to get shot of this buffoon.
Kevin Dale
12
Posted 07/03/2018 at 09:40:40
Big Sam seems to think older senior players are the answer to his problems, and he can play them in any position? This is exactly why he is the wrong man for this job; how they ever considered him for the England job beggars believe!
He has persisted with playing Williams when we all could see he has lost his form and confidence. he has consistently played Martina at left back when we can all see he is easily dragged out of position. he consistently include Schneiderlin another player massively low in confidence and out of form.
Bolasie is nowhere near fit enough; he plays Calvert-Lewin out wide and Davies centrally in midfield, both out of their favoured positions? And he plays (probably our best player and I'm not faulting him) Rooney in a deep central midfield position!
We have young players like Vlasic, Holgate, Baningime, Kenny, Calvert-Lewin, Davies, all have played exceptionally well in their favoured positions when called upon, but the moment a so-called senior player becomes available, he changes things to fit them in! He sent out Lookman on loan when all he needed was a run in the team to build his confidence.
He doesn't seem to have any trust for the younger players, and thinks playing older senior players will get him a clean sheet?
As for his tactics, lots to be said on that, for another thread, I think!

Alex Mullan
13
Posted 07/03/2018 at 09:55:38
Who in their right minds would join Everton this summer? We're a graveyard for the talented (and vastly untalented) of Europe.
Frank Wade
14
Posted 07/03/2018 at 10:00:53
Sounds to me like an 'up yours' retaliation to his 'reception' from the Everton fans at the end of the game at Turf Moor.
If I'm reading this correctly, he is saying that some of the senior players haven't hit the heights, ie, have been poor, some of the young players have come out with a lot of credit, ie, have done well, so the young players can't be trusted.
The official site reported last week that Allardyce had played 13 under 21 players in the first team this season, as a 'see, he does trust young players' argument. 7 were involved in Unsworth's last game v West Ham, another 5 were introduced in the Limassol away game (3 in last 10 minutes) that Allardyce didn't attend plus Morgan Feeney, who Unsworth had given a debut too as well. Hardly warrants the 'Praise the Lord, he plays the kids' label.
Young players learning their trade, plus Klaassen, are probably better off playing in U23s with Unsworth, rather than under this buffoon. He can't even coach a team to defend a corner. Step 1: Mark the 6ft-3in centre-forward.
Kim Vivian
15
Posted 07/03/2018 at 10:01:15
Jason (#8) – I don't think you could be more wrong.
For Sam to get the gig next season as well he will need to get at least 21 points from the remaining games, and that is being realistic. 7 of our remaining games are winnable. In fact I would go so far as to say our final fixtures of the season are the diametric opposite of the opening fixtures. That is the only way he can crawl slightly back into favour with the fan base. Moshiri will know that.
If he can achieve that and entertain us at the same time even I would be a little swayed – but I'm also hoping for my Euromillions to come in.
John Hughes
16
Posted 07/03/2018 at 10:08:10
Kim – I genuinely don't believe we can beat another Premier League team at the minute? Brighton at home Saturday; Stoke away in a couple of weeks for example. Would you bet on us?
John Kavanagh
17
Posted 07/03/2018 at 10:09:24
I forget which thread I read it in, but didn't one of our loan players recently say that he had not heard anything from EFC since going out on loan?
This hardly squares with Allardyce's statement above that "For me, we keep an eye on those all the time. The system is in place to monitor all those players."
Simon Harris
18
Posted 07/03/2018 at 10:12:59
Waiting on Wigan platform with Sam and Steve Walsh heading to London. Suited and booted.
Probably just off to watch a game.
John Hughes
19
Posted 07/03/2018 at 10:18:00
Probably going to Wembley to give Harry Kane the once over. Walsh became aware watching him on MotD2 at the weekend.
Roger Helm
20
Posted 07/03/2018 at 11:05:12
I am sorry, I'm sure he is a nice lad, but for me he is not good enough. All I ever see him do is receive the ball on the wing, run forward a bit and then stop and pass sideways or backwards. We need more than that.
Also, like nearly all our players, he doesn't have the size, strength and speed to succeed in this league.
Gaute Lie
21
Posted 07/03/2018 at 11:10:02
Brian Harrison
22
Posted 07/03/2018 at 11:13:17
Simon,
Let's hope they are meeting Moshiri and Kenwright in London to be officially be given their P45s. We don't play Spurs again this season so it can't be to watch them, and I can't see us signing any of the Spurs or Juventus players.
Jim Bennings
23
Posted 07/03/2018 at 11:22:45
We will see what Eddie Howe or Paulo Fonseca think.
Ray Roche
24
Posted 07/03/2018 at 11:24:08
Roger (#20),
"All I ever see him do is receive the ball on the wing, run forward a bit and then stop and pass sideways or backwards."
So, he does just what every one of our outfield players does: Baines, Schneiderlin, Gueye, Sigurdsson, Davies etc. When they're not hoofing the ball skywards that is.
Maybe if the lad had some options when he gets the ball, he might show some consistency. A bit of movement upfront would do for a start.
I think, like some of our other young players, that in a good team he'd look like the good player/prospect he is.
Darren Marsh
25
Posted 07/03/2018 at 11:27:52
Hippo Head talking about next season, ffs. Himself personally shouldn't be here this fuckin week. The shithouse board should've got rid on Monday, at the latest.
John Hammond
26
Posted 07/03/2018 at 11:34:58
Sam, Sam, Sam, what makes you think you'll be here next season? Daft bugger.
John Hammond
27
Posted 07/03/2018 at 11:36:01
Roger (#20),
What's the optimum size, strength, and speed for a player to succeed in this league? Do you have to have all three assets?
David Silva, Raheem Sterling, Xherdan Shaqiri (to name a few) seem to do pretty well.
Simon Harris
28
Posted 07/03/2018 at 11:58:02
Brian
Got to be honest it was my first thought. I went into full detective mode.
Missed training – Do they train on Wednesdays?
London bound – bit early for a night game. (Trains gets in 12:10 ish)
Looks frazzled – yes, but so do I...
Steve Walsh turns up as well – a double whammy.
Couldn't see an overnight bag – that's a clincher.
Ha ha – probably just a scheduled meeting or a chance to watch some proper football, who knows..
Tony J Williams
29
Posted 07/03/2018 at 12:35:33
Roger, have you based your judgment over the 30+ games he has played for us?
Oh, hang on, he hasn't even made it to 10 yet and how many starts?
He has been thrown in occasionally in a side bereft of any hope or spirit and the fact that he is able to receive the ball and move with it beats about 60% of our senior players to date.
George Cumiskey
30
Posted 07/03/2018 at 13:06:54
John Hughes @ 19, brilliant mate – couldn't stop laughing.
Let's hope they're on their way to see Moshiri to get their P45s.

Kim Vivian
31
Posted 07/03/2018 at 13:28:06
John (#16).
That is what I was trying to say really. The likelihood of Sam & Everton achieving whatever it would take to keep him the gig is as likely as my Euromillions coming in.... and I don't even buy a ticket.
So I think we're safe from the loon next season.
Brian Wilkinson
32
Posted 07/03/2018 at 15:32:35
Simon, he's probably heading off to Catterick to watch some horse racing; that would not surprise me one bit.
Fran Mitchell
33
Posted 07/03/2018 at 15:36:29
He should be an option from the bench at least, but given our choices, I'd start with him:
Davies Gueye
Sigurdsson
Vlasic Walcott
Tosun or Calvert-Lewin
Rudi Coote
34
Posted 07/03/2018 at 16:01:57
I'm not getting this "winnable" games thing. I'm not sure they are even "drawable".
Worrying, very worrying.
Clive Rogers
35
Posted 07/03/2018 at 16:35:42
Vlasic certainly has ability, but is a long way from the finished article, perhaps not surprisingly. Having watched all his home appearances, I have not even decided what his best position could be. Certainly not on the wing, and probably not striker. Seems more of an old-fashioned inside-forward type.
Steavey Buckley
36
Posted 07/03/2018 at 16:40:19
Everton have too many players who favour their right foot when playing on the left. That is why the right-footed Lookman went out on loan and Vlasic has been sidelined.
The reason why there are so many players favouring their right foot over their left is down to those who bought these players in the first place, by not knowing their right foot from their left.
Paul Richardson
37
Posted 07/03/2018 at 17:45:13
Not a Sam fan, but it seems to me he's making a few reasonable assumptions:
1) Finishing top 10 from where he picked up the job is not a bad recovery if you want to stay in the job;
2) The experienced players with game time are going to attract (okay, limited) interest next seaon in terms of transfer fees. For example, we could get close to £20m for Schneiderlin because of his career record, but that won't happen with any of the youngsters, some of whom we probably overpaid for. If the seniors are not playing nor in and around the squad, they won't command the sort of fee we should be looking for, considering our investment;
3) Can we (supporters, who only have matchday eyes to view them) actually judge how the young players are developing, coping with a difficult situation, raring to go, confused, homesick, poor attitude, whatever... when he sees them five or six days per week? It is a risk to throw them in for a couple of games, because it might have an even bigger effect on them when he takes them off or drops them for the next game – see comments on ToffeeWeb.
4) The club clearly want Unsworth and the U23s to perform well, and so virtually run the first team and the U23s as two separate entities. Either Sam has sensed this, and is complying with the policy, or got a feel of what's required, or was told this was the way the club wanted it to go, and is respecting that. So he's trimming his first team squad to release players for Unsworth's end of season run-in.
5) Maybe the youngsters are so inconsistent in training (see point 3 above) that, at the age and career stage he is, Sam believes it is better to stick with what you know, or think you know, from performances he sees in training in the week. And don't forget he has a very experienced back-up team, so he's not making these decisions in isolation.
6) See also point 2 above. This may sound ludicrous, but could you have too many youngsters? Or rather, too many youngsters of the same calibre? We could probably name two separate teams (if you include those out on loan) of players under 23, but even then we would probably be shoehorning many of them into positions that aren't their very best. For instance, this thread started about Vlasic and there is no agreement as to what his best position is.
In other words, the club is unbalanced, position-wise, from top to bottom, probably because of the policy outlined in point 4 above not being implemented properly. The blame here lies with the Director of Football.
For example, for the U23s, Calvert-Lewin would appear to be an Unsworth recruit, Lookman via Walsh. We can all cite examples for Martinez - Walsh and Koeman - Walsh periods.
That's the trouble when, to quote Bill from the AGM, you have an owner who always says yes.
John Davies
38
Posted 07/03/2018 at 17:53:45
Why is Allardyce still at our club talking his usual drivel? The man should have been sacked last weekend. The idea that he will still be at our club next season is simply unthinkable.

"I've got to bring stability to the club" he spouts. Just go man, for Christ's sake just go. That would be a good start towards stabilising the club.

David Hallwood
39
Posted 07/03/2018 at 18:03:12
Slightly off the subject, I haven't heard a single Evertonian say they want Allardyce as the manager; it's almost impossible to think that he'll survive the season – let alone get to May.
Darren Marsh
40
Posted 07/03/2018 at 18:19:45
Paul Richardson, a few reasonable assumptions, vastly outweighed by the bollocks that this bung-taking charlatan of a knobhead spouted last week about us having the same ambitions as Newcastle and West Ham United.
For that alone, he should of had his hippo head removed from his smug body.
Dermot Byrne
41
Posted 07/03/2018 at 18:44:19
Darren (#40) "bung-taking charlatan of a knobhead..."
Wins an award in my book!
Jerome Shields
43
Posted 07/03/2018 at 18:45:09
Big Sam should be gone sooner rather than later, before he completely damages the club.
Kunal Desai
44
Posted 07/03/2018 at 18:50:06
He has to make statements as though he will be here next season. He isn't going to say "whoever the manager will be". The statement he makes has to be as things presently stand. The likelihood is that he won't be manager at the start of next season.
James Marshall
45
Posted 07/03/2018 at 18:50:47
What a crock of shit. I seriously hope Lardiola isn't here next season to have anything to do with Vlasic.
Jamie Evans
47
Posted 07/03/2018 at 20:00:45
James Marshall (#45), did you come up with Lardiola?
If so take a bow young man 👏👏👏
Material of the highest order, ha ha ha.
Paul Tran
48
Posted 07/03/2018 at 20:08:51
If anyone's on Twitter, there's a hilarious spoof musical from @canningtownlen regarding Big Sam. Very funny.
Kim Vivian
49
Posted 07/03/2018 at 20:19:04
Can you post a link, Paul?
Jack Convery
50
Posted 07/03/2018 at 20:50:51
It will damage his confidence!!! Ha Ha – playing him damages his confidence WTF does not playing him do? What a dickhead this guy is. I would play Vlasic on the left before I would play Bolasie or Calvert-Lewin there.
Don Alexander
51
Posted 07/03/2018 at 20:53:23
I wish I could find a spark of optimism for anything other than the debt removal and talk of a new stadium but Mr Moshiri has been a major party to a helluva mess in just about every other area of concern.
If the recent allegation is true of five or so senior squad members not giving a tinker's cuss's about anyone associated with the club, many of them still being selected to play presumably, can you imagine what the likes of Vlasic, Lookman, Holgate, Calvert-Lewin etc must be thinking as they seek to develop their own careers?
They presumably signed on to be part of a winning club at last taking steps to winning trophies, as publicly promised by Mosh. Instead they find huge holes in the squad with little or no effort made to fill those holes even in January, by the board/DoF they showed faith in by signing for us. Then they get saddled by a new manager whose short-term contract requires avoiding relegation and little more, the mode of football being Neanderthal to do it.
Many of these lads before they signed for us will have attracted interest from football clubs with proper footballing principles and management/coaches to develop them into the top players they all should be seeking to be. Will anyone in "Football World" still be looking with anticipation at the prospect of signing for the sorry state Everton have now visibly become?
I doubt it, sadly.
Len Hawkins
52
Posted 07/03/2018 at 23:25:32
All this conjecture about where Allardyce and Walsh were going is way wide of the mark. It is patently obvious they were off to Kenwright's retirement do.
The matinee performance of The Mousetrap, followed by a finger buffet at Westminster Temperance Institute, washed down with various flavours of Lucozade. Train back to Limey then a swift half in Ma Edge's.
Dan Parker
53
Posted 07/03/2018 at 23:50:29
We don't play as a team so it's hard to see how any player can kick-on next season without profound change at the club.
Brian Williams
54
Posted 08/03/2018 at 09:50:38
I hope he does kick on and I hope Allardyce enjoys watching him... from Dubai!
Colin Glassar
55
Posted 08/03/2018 at 10:03:41
They will flourish next season, Sam, but not under you so don't worry.
Sam Out. Raus. Fuera. Fukovski etc.
Mal van Schaick
56
Posted 08/03/2018 at 10:58:35
We have enough problems for the remainder of this season. I don't understand why Vlasic is being talked about for next season.
Sam, Moshiri, the Board... explain the goings on this season, explain with 9 games to go, where we are going to get the required points to stay in the Premier League?
Talking about players of the future and next season is not needed now; what is needed now is a calm head, hard work, and playing strategies for each game to ensure we stay in this league.
Talk about the future and players in June.
Paul Tran
57
Posted 08/03/2018 at 11:10:11
Kim, I'm no good at these link things, but go on YouTube, look up Canning Town Len, then scroll down to Big Sam's Big Number, you'll find it.
Paul Welsby
58
Posted 08/03/2018 at 11:22:21
By the sounds of it, they are reporting in the Echo that FS has been having talks with Farhad about his future which will remain confidential. Fat Sam is here for the long term that is why he came out of retirement the echo are reporting.
It makes for scary reading I for one don't have the same confidence as others that he will be automatically sacked as soon as this season is over.
If Fat Sam and Steve Walsh have tag teamed Farhad and fed him all the bullshit they are well capable of then it might be that he sticks with these two fraudsters which is just unthinkable. So we as loyal passionate supporters of our great club have to make sure Farhad knows we will not accept this.
The headline in the echo is; Sam Allardyce in talks with Farhad Moshiri and wants to stay for the "long term". Very scary indeed. Unthinkable... but – with our club's record – very believable?
Lawrence Green
59
Posted 08/03/2018 at 11:53:41
Paul #58
I suppose Sam has to give the impression that he wants to stay for the long-term, else the short-term may see a continuance of Everton's form since Christmas. However, I wonder if Moshiri is going to be as stubborn as Bill and stand by his man? I'm not sure how the fans will react if Sam stays past the Summer but how will they react if Moshiri extends Sam's contract past next season.
It would be a major gamble by the majority shareholder to ignore the concerns of the supporters, but he may also think, "I have listened to the supporters on two previous occasions and it has dented the club's bank balance significantly, so this time I will do what is best for me"?


Tony J Williams
60
Posted 08/03/2018 at 12:19:16
Paul, he is going through the motions knowing if we stay up then he will get a lovely little pay packet to get the fuck away from Goodison come May.
Ian Hollingworth
61
Posted 08/03/2018 at 12:38:57
We should ready ourselves for the scenario where, we, the fans turn out to be the deluded ones. We survive the drop, season ticket sales remain high then maybe Moshiri goes for the stability option.
Let's face it – our board are clueless... do you trust them to make a right decision?
I am afraid, very afraid.
Michael Penley
62
Posted 08/03/2018 at 13:02:57
Could someone buy poor Vlasic a razor? It doesn't look like his is working properly.
Paul Welsby
63
Posted 08/03/2018 at 13:05:57
Tony and Lawerence, my heart and my head agree that Moshiri would never be stupid enough to keep these two blag artists on but I have this real sickly feeling in my gut that he could easily be convinced that stability and working together would be better than making another change.
It just wouldn't surprise me with our club. As I have said many times before, it can't get any worse can it? Lo and behold, Everton never let me down and does just that.
I hope you are right but waiting and watching if it does just doesn't sit right with me so, if we get safe I will vacate my seat until at least Fat Sam has gone.
Even if it's just me who does this, then at least I have made my point and backed up what I believe is right for our club. I have no issues at all with supporters who choose not to. I just hope they don't regret it come May.
Andrew Clare
64
Posted 08/03/2018 at 13:17:15
The way we are playing, it's guaranteed that Allardyce and his cronies will be gone at the end of the season.
I know Moshiri's football knowledge is debatable but even he won't put up with this for much longer.
James Hughes
65
Posted 08/03/2018 at 13:35:54
Sam had his presser this morning, apparently in talks with Moshri about next season. God help us!
"Of course I want to remain here beyond this season. I came out of retirement to take a job at a club with a big history. We have to excite the fans.
"I'm having talks with him (Moshiri) but that is confidential. It is my responsibility to get the team to play to the level they can play. I think when they play their best we can give anyone a game."

Nicholas Ryan
66
Posted 08/03/2018 at 13:53:28
So, Sam wants to stay for the long term... he shouldn't even be allowed to stay for the school term!
Eddie Dunn
67
Posted 08/03/2018 at 14:03:59
I hope that the club are not daft enough to go along with Sam's delusion.
Soren Moyer
68
Posted 08/03/2018 at 14:12:25
We were extremely lucky to get those few wins under Fat Sam. We were shite then, we are shite now! No improvements whatsoever IMO.
Paul Welsby
69
Posted 08/03/2018 at 14:22:17
He's a sneaky bastard saying the home fans have been great and yes they have Sam! No mention of our brilliant away support, travelling miles, spending hard earned wages even though they get served up utter shite every away game.
Is it because, you vile twat, they gave you the truth last week and you think you're above it? Is that why you smiled with your head down whilst walking shamefully off the pitch? Also, laughing like we are stupid when asked what the fuck you was playing at when bringing Sigurdsson off?
I never disliked the previous two managers before you. I just thought they weren't up to the job. But you, I can't fucking stand. I despise everything about you and I am ashamed you are our manager. I never wanted you anywhere near our club, you rat.
Maybe, and it's just a suggestion but, this Saturday, we can show Sam by singing the same songs as last week, we feel the same as the away fans as we are all part of the same great club, you rat.
Mick Davies
71
Posted 08/03/2018 at 16:32:03
There is one constant in our continuing demise as a top club, and that is the smarmy egotistical gobshite who made over £20M out of our club after Moshiri's investment, yet still manages to retain control.
The sooner Kenwright leaves Everton, the better, then we can get rid of the so-called Director of Football and the other useless morons and get someone in who can spend the owner's money wisely. I hate that man as much as I love Everton!
Rob Halligan
72
Posted 08/03/2018 at 17:03:56
Paul (#69). If Allardyce thought it was bad at Burnley, the amount of abuse that was dished out to him, then he must be totally dreading Stoke next week. The tunnel is right in the corner by the away fans, so the amount of dog's abuse that will be hurled at him at half-time and full time will be horrendous for him.
I don't care if we are walking that game at half time, or go on to win it, I will look forward to seeing him cringe as he heads towards that tunnel. You can almost reach out and touch anyone walking into the tunnel if you are right in the corner. Best do what you did for the away game in Cyprus, Sam, and throw a sickie.
Paul Welsby
73
Posted 08/03/2018 at 17:28:05
I know Rob been there on numerous occasions. I would like to hear a full Goodison Park singing "You're just a fat greedy bastard" amongst other songs directed at him on Saturday. Just for our owner to see under no circumstances this rat should spend one more day at our club, and we as supporters are not happy.
The 4% on the ToffeeWeb poll don't have to sing, okay? So everyone is happy?
Paul Welsby
74
Posted 08/03/2018 at 17:46:09
Yes Rob you're dead right. Even if we are winning 4-0 Sam and Moshiri should hear the discontent from the supporters. No good just making our point when we are losing otherwise just comes across as sour grapes.
Karl Meighan
75
Posted 09/03/2018 at 10:36:14
The only reason Sam won't be in charge come next season is if we are relegated. Let's not forget none of these young players were his signings, their failings or success of which there has only been glimpses should not be laid at his door. If you don't have the tools it makes the job a lot more difficult.
The senior pro's in the squad are either falling to bits and no longer good enough or up to now have been shocking signings for big money that have produced garbage or scraps and that's under how many managers?
I have not been impressed at all by Allardyce but this notion that we change manager yet again and suddenly become a Club challenging the top six is fantasy.
Most of this squad did help to finish 7th but in a Premier League were a handful of points separate 7th from 16th. In reality we were far closer to being a mid table side than breaking into the top six and changing managers two or three times a season won't change that.
Add Your Comments
In order to post a comment, you need to be logged in as a registered user of the site.
Or Sign up as a ToffeeWeb Member — it's free, takes just a few minutes and will allow you to post your comments on articles and Talking Points submissions across the site.