Coleman returns to captain Ireland
Turkey 1 - 0 Republic of Ireland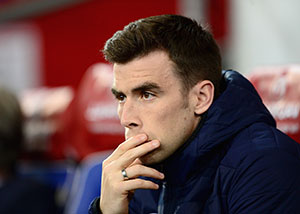 Seamus Coleman took to the field for the Republic of Ireland this evening, a year after he suffered a horrific double leg-break in a World Cup qualifier against Wales.
The Everton fullback was back as captain of his country's side as they faced Turkey and his Goodison team-mate Cenk Tosun in a friendly in Antalya.
Both players figured for just over an hour as Turkey ran out 1-0 winners.
Coleman says that he doesn't bear any grudges against Neil Taylor, the Welsh left back whose part in the collision that cost the Irishman 10 months of his career as he went through lengthy rehabilitation.
"I haven't even thought of Neil Taylor five times since the injury," the 29-year-old said in the Irish Times.
"He played a part in the tackle, and it wasn't a great tackle. I was going for the ball, he was a bit high.
"But these things happen in a tough international fixture, and if I hold any grudge against him it's not going to help me in my rehab. He has to get on with his journey and I have to get on with mine.
"If I hold any anger towards him it won't help me. Let him carry on with what he has to do, and I'll crack on myself."
Any long layoff provides ample opportunity for reflection and fears to enter a player's mind that they might not recover from such serious injury.
Coleman insists that he never doubted that he would be back on the pitch playing at the top level of club and country.
"It never crossed my mind," he explained. "I knew if I did everything I was told and the work I needed to do in the gym that I'd be back in the football pitch.
"I'm back now for five or six weeks and feel good in the games and hopefully I can do the same in the Irish shirt."
His international manager, Martin O'Neill paid tribute to his skipper and described how much of a loss he has been to Ireland over the past year.
"I sometimes think he doesn't know himself how influential he is," O'Neill said, "not only in the dressing-room but out on the field of play, which is the main part.
"I think it almost goes without saying that we missed him. Had he been fit, I think we may have made it, who knows, but he certainly would have given us a much better opportunity. I've said to him, I'd rather say it when he's not in the room, he's an absolutely world-class player.
"You talk about someone with a leg break getting back but even when we saw him in the hospital in the first few nights, when he was really down, you felt that with his determination he would get through. That's just his character."
Tosun, meanwhile, has certainly been doing his bit to further the Blue cause in his country with Turks, it seems, adopting Everton as their chosen team in droves as the striker's Premier League career starts to take off.
"Cenk Tosun is the man of the moment in these parts," wrotes Emmet Malone in another Irish Times article, "with locals excitedly revealing themselves to English-speaking visitors as devoted Everton fans.
"Taxi drivers, their pride obvious, were asking their passengers if they know Tosun the way they surely would have known Arda Turan in his heyday a few years back."
Quotes sourced from Irish Times
---
---