Allardyce reveals Blues' derby disappointment

43 Comments [Jump to last]
Sunday 8 April 2018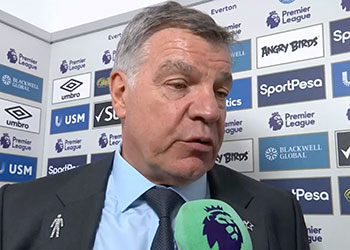 Sam Allardyce credited his players' effort and his own substitutions for putting Everton in the position to win the game against Liverpool yesterday, even if they couldn't quite manage it.
Having drawn 1-1 at Anfield in December, the Blues had to share the spoils in the Premier League derby for the second time this season after a goalless encounter at Goodison Park but they came close to winning it at the end.
After Loris Karius had pulled off a fingertip save to deny Yannick Bolasie and Jordan Pickford had denied Dominick Solanke and James Milner in the first half, Everton forced two good chances in the closing stages.
Unfortunately, Cenk Tosun's header searching for the inside of the far post was off target and fell just too far ahead of the lurking Seamus Coleman while Dominic Calvert-Lewin miscued a right-foot shot after Coleman had picked him out with a right-wing cross.
"When it comes that late in the game, yes," Allardyce said afterwards in reference to the feeling that the point gained should really have been three.
"Walking into the dressing room just now, [the players] are pretty disappointed they haven't achieved that for the fans and for themselves.
"They know they had that opportunity [to win it] and they worked very, very hard to create that opportunity today by doing the right things and continuing to press on and try and put Liverpool under pressure.
"That didn't happen on many occasions because of our sloppy passing but when we got substitutes on and fresh legs on we started to use the ball better, shut Liverpool down more and create chances.
"But it was a storming finish from the lads and a big, big effort by them. One of the reasons why we could have won it today was the way in which they restricted the number of chances they allowed Liverpool to create today, particularly in the second half.
"In the end, we got the chances to win but didn't. If fortune's in your favour, [the ball] either drops to Seamus Coleman or drops inside the post; if fortune's against you, it falls between the two and goes out.
"But we can't make any excuses for the next one. Poor old Dominic is really disappointed because he knows as a centre forward he should have finished it or, at the very least, hit the target.
"The effort was there, the commitment was there, the desire was there; unfortunately, in front of goal, the quality wasn't quite there."
---
Reader Comments (43)
Note: the following content is not moderated or vetted by the site owners at the time of submission. Comments are the responsibility of the poster. Disclaimer
Neil Cox
1
Posted 08/04/2018 at 11:03:09
Not as disappointed as the fans are. We couldn't beat that lot when they were there for the taking.
Bolasie should never have played – he leaves the full backs exposed, Walcott was anonymous, Rooney was poor, and I felt sorry for Tosun who tried but couldn't do it without decent service. Oh well... at least the season is nearly over.
Jimmy Hogan
2
Posted 08/04/2018 at 11:42:01
The difference between success and failure is often a hair's breadth. In this case, Calvert-Lewin will have had a sleepless night...

Dave Ganley
3
Posted 08/04/2018 at 12:19:45
Maybe if you'd got at them at the start and not waited 75 mins to start having a go, then we would have won. Shithouse tactics from a shithouse manager.
Brian Harrison
4
Posted 08/04/2018 at 12:39:27
Yet another post-match press conference were Allardyce lets us know, through his brilliant tactics, we have managed to draw both league games with Liverpool.
He was also quick to say his substitutions helped change the game, which to be fair they did. But you have to ask why, apart from the first 10 minutes, did we wait till there were 15 minutes left before we closed them down and had a go? Why are we always set up to defend first, played more like a back 6 in the first half with both Walcott and Bolasie playing alongside their full backs.
Liverpool didn't want to get into a war with Everton and it seemed for large parts of the game we didn't want a war with them. Now what did we have to lose by going at them? Absolutely nothing... but Allardyce doesn't do attacking football, so we shouldn't be surprised by his style of play. He has made a living by pedaling this rubbish, which is why he has a reputation for keeping clubs in the Premier League, rather than winning trophies.
This team is so short in all areas, and I just wonder were the new manager starts to put this right. Well he will inherit 3 players who were regulars under David Moyes, but Baines and Jagielka are getting on and will need replacing. He will also inherit the problem that is Wayne Rooney, our highest paid player whose legs have sadly gone. But he is reported to be on £150,000 per week and, apart from America, I can't see where he would go for that sort of money.
Schneiderlin is again, like Rooney, too slow to play in central midfield; at times yesterday, he could have held hands with Keane and Jags, very rarely venturing into the opponents' half. The plus is we have Gueye who, along with Sigurdsson, are our best midfield players. Tom Davies has had a hard season but he will get better, so is well worth keeping.
Then up front, where for me all the problems lie, as has been discussed to death, we never replaced Lukaku – and still haven't. Tosun is way too slow to lead the line if you want to compete with the top 6. Walcott is just a younger version of Lennon. Calvert-Lewin is nowhere near ready to play in the Premier League and Niasse – despite being a willing runner who has scored some goals – again long term he is not the answer.
Finally we have Bolasie who, for me, is a complete waste of time. I have yet to see him have a good game since he arrived. That leaves us with Lookman and Vlasic; I haven't seen enough of them to know if they are good enough but, with both being shunned by Allardyce, they may want to look for pastures new next season.
So I do really feel for whoever is appointed as our next manager; surely Allardyce going at the end of the season is a given... isn't it? I just hope we appoint the right guy – for me, either Fonseca first or Silva – then let them get on with turning the club around. I have said on numerous times, Simeone would be my choice but, being realistic, he will only move to a club that is always in the Champions League.
Winston Williamson
5
Posted 08/04/2018 at 12:50:44
Bloody hell, Schneiderlin played yesterday? I must've missed that! I swear I didn't see him!!
Most Premier League managers, knowing the circumstances of LFC's week of football, would've set us up to attack. Unsworth's style would've had a super chance of obtaining all three points (just an example).
Allardyce meanwhile, extols the virtue of his tactical genius, by praising himself for crawling to a bore draw at home. Against a weakened team, with both eyes and mind on Man City in the Champions League.
Fuck me! I have to seriously reconsider investing my time and money in football, if this is the pinnacle of expectations and results?!?! I should've just cleaned the kitchen cupboards out instead, at least the wife would've been happy... for five minutes
Mark Burton
6
Posted 08/04/2018 at 13:41:23
Oh Sam, you really are convinced that it was you that saved us? When it is a draw or unusual win, it is always because of you, but a loss is because of the lack of commitment from the players.
Wake up and smell the coffee, it was because of your depressing, unattractive style and lack of skill in motivating players that we only managed a dull draw against a team who were more interested in protecting their players than winning. You sure love yourself.
Darren Hind
7
Posted 08/04/2018 at 13:56:36
I cannot afford the fella any credibility.
Martin Clark
8
Posted 08/04/2018 at 14:01:56
Spot on Brian and Mark!
Never misses an opportunity to big himself or self praise but what has he actually achieved?
Who would want to play under a guy who would push you under a bus than take any responsibility. Please, please, please just get rid!
Let Unsworth have another go til the end of the season so we might get some entertainment or attempt at attacking football or even just playing to win rather than not get beat.
I'd love us to bring in Fonseca as he's a realistic target who plays attacking football. He might even persuade Bernard to join him on a free!
As an Everton fan, I seem to be forever hopeful
Geoffrey Williams
9
Posted 08/04/2018 at 14:54:08
I can't believe how poor a footballer Bolasie is. To think the club paid £30M for him, £20M for Schneiderlin, £12M for Williams and pays £150k a week to Rooney. Sheer lunacy.
Len Hawkins
10
Posted 08/04/2018 at 15:11:21
Bolasie – what can you say?
Nothing that doesn't contain foul abuse and Industrial language; other clubs must rub their hands when Everton show interest in a player.
Barry Lawler
11
Posted 08/04/2018 at 15:19:03
Brian (#4), Sorry but I found your post bizarre.
You start by asking the question "Why can't we play more like we did in the last ten minutes?" You then answer yourself by saying you don't know where the next manager starts because we are short in all areas?
Big Sam knows we aren't good enough going forward, which we proved, and by going forward, you are open to counter attacks.
It's very simple: the squad is poor. I'd like to see the great Fonseca come in and see how he does with no additions.
John Pierce
12
Posted 08/04/2018 at 15:28:46
Another post-match presser were the boorish one enlightens us, the disgruntled minority, on how he masterminded a draw with Liverpool 'ressers. Thanks for that.
On a slightly different note, in our current nadir, I'm a little sick of Moshiri being the absentee landlord. Sure, I guess it's tough to leave Monaco for Merseyside and when things are crap, leaving Bill to front up.
But he barely comes to a game from my observations? Maybe I could be less bothered about the ivory tower this lad hides in if he'd appointed a top-notch CEO and DoF? It's just soul destroying.

Danny O'Neill
13
Posted 08/04/2018 at 15:29:17
The new manager needs additions Barry. But it needs to be someone who knows what to do with those new additions.
Allardyce will never do anything different regardless of the players he is provided with. He's had over 20 years to prove that; his recent comment that a win against one of the big teams is a bonus is one of numerous examples of where his ambition sits. Try not to lose versus try to win; if you do win, bonus.
We need to stop recycling British failures around the Premier League. Pardew sacked from Palace last season and came in to "save" West Brom. One is down, one still hanging precariously. Mark Hughes could likely be in a position where he has effectively overseen the relegation of two teams in one season.
British managers are simply not good enough. They have one target and a defeatist mentality; survival and often the don't achieve that. Anything else is a "bonus".
Jim Bennings
14
Posted 08/04/2018 at 15:32:59
You get the feeling yesterday was Allardyce's last chance to really stake any remote claim he should still be manager next season and he has failed it. Winning yesterday would not and should not have made any difference to him staying but you just never know with Everton's board...
Perhaps, if he had been the first Everton manager victorious over Liverpool in 8 years, they might have started getting all gooey-eyed but Allardyce failed to take the bull by the horns and grab the moment with both hands and yesterday was sadly just in keeping with his brief stay here, caution and fear overtaking a will to win.
As it is, he'll leave next month probably crowing to the media that he succeeded in what he was appointed to do which is reach 40 points as grimly as possible. It hasn't been pretty but maybe the man we really need to start expecting more from should be Farhad Moshiri himself.
His last big managerial decision was one of panic; let's hope the next one he gets spot on!
Peter Fearon
15
Posted 08/04/2018 at 16:03:18
The fact is that Liverpool barely broke a sweat and had 66% possession in the first half. We never seemed to get out of second gear even when we were pressing near the end. Allardyce is a deluded clown.
Phil Walling
16
Posted 08/04/2018 at 16:04:13
Moshiri was there yesterday, John @12, sitting next to Kenwright. But what difference that makes, I know not. He's not a football man and leans very heavily on Boys Pen Bill for enlightenment. God help him... and us!
I reckon if he finishes on 8th, the Big Man has the gig into next season. After all, we couldn't have expected much better – we never do!
Mark Smith
17
Posted 08/04/2018 at 16:29:09
I was at a family gathering on the Saturday and – for the first time in my six decades of following the team – I didn't even look at the score. Until later.
It seems the tactics were hopelessly wrong against an understrength Liverpool team. Allardyce knows the Premier League but doesn't really know anything about Everton. We like to attack and, at the very least, show ultra commitment. No Red Cards!!
West Brom will be a good stop and at the right level for Sam. The season is over and so let's look forward.
Right... where is that bottle of Chianti!?!
Don Alexander
18
Posted 08/04/2018 at 16:34:31
Moshiri retaining Allardyce simply cannot happen if he wants to create or sustain any credibility as a major contender. What would it say to us and the football world in general regarding his much vaunted ambitions if, after approaching Allardyce and then putting him on the back-burner whilst he unsuccessfully pursued Silva before effectively having to go back cap in hand to Allardyce he now confirms him in-situ, the price of which as far as Allardyce will be concerned is very likely to be an extended contract? I say that because any manager will be justified in pointing out that trying to galvanise an iffy squad is way, way harder when everyone one of the buggers knows you're here for one season max.
Not that Allardyce has much evidence to show he can galvanise though. And if he's going to get the boot, and if his successor is out of work, like Silva or Tuchel, why is Allardyce still in post? To me, that indicates they are no longer contenders. So that seemingly leaves Fonseca, who's under contract until May, or possibly Howe who's contracted until 2020, or maybe even Dyche who's got one until 2022.
My guess is that Moshiri will be acutely conscious by now that even his finances can no longer be squandered on compensation to other clubs for their managers so, to me, we'd better start practicing saying "Obrigado, Senhor" for when Fonseca rockets us to the top!
John Pierce
19
Posted 08/04/2018 at 17:25:28
Phil, thanks for that. Can't ever remember the camera panning to the directors box?! Very early here in the 'States maybe still asleep!
When your largest shareholder isn't there or is often absent from communications and basically doesn't act like a leader, everyone follows suit.
He is the de facto leader but you'd never know it. Allardyce acts like he is, only knowing a call Farlad! is all it takes. He pays no attention to anyone else at the club.
Regardless that's not healthy.
If I were to look at other clubs: Levy at Spurs acts and behaves like a leader. Yes, there are some negatives to his style. Even this week, the players found out he earns more than anyone, but why not, he's in charge?
It really feels like a hobby under Moshiri and that's a worry.
Darryl Ritchie
20
Posted 08/04/2018 at 17:53:00
Allardyce will always try and spin events in his favour. If we lose; it's the players fault. If we win; it was all because of his moves.
When Sam hold a presser, he's talking through the media to the board, in an attempt to save his job. He doesn't give a rats ass what we think. The problem is, the press have finally clued in, and aren't buying it. Now, if only the board was as intelligent.
Andy Meighan
21
Posted 08/04/2018 at 18:54:33
I can't see how he's saying the substitutions changed the game. It was 0-0 before they came on... and it was 0-0 at the final whistle. It was shit all round – as it has been, not just under him, but under Koeman and Unsworth also. The sooner this nightmare ends, the better.
Jim Bennings hit a good point saying he'd like to see the shackles thrown off in the last 5 games. Sorry, Jim, but ain't going to happen. We'll be lucky to get another point away though we will take 4 points at least from the two home games I can't wait til it's over personally.
Andy Crooks
22
Posted 08/04/2018 at 21:50:44
Sam fucking Allardyce is our manager. How bizarre
Andy Crooks
23
Posted 08/04/2018 at 21:52:01
Sam fucking Allardyce is our manager. How bizarre.
Peter Mills
24
Posted 08/04/2018 at 21:54:00
I've just read that Allardyce has said that had our 2 league results against Liverpool been in the Champion's League we would have gone through on aggregate.
You've got to admire the guy!
Jay Harris
25
Posted 08/04/2018 at 22:10:14
No, you havent Peter.
Peter Mills
26
Posted 08/04/2018 at 22:25:15
Jay, I believe it's known as "chutzpah", although I suspect there are other words for it.
Brian Williams
27
Posted 08/04/2018 at 23:07:04
Don't panic over Allardyce being here next season. He won't be.
Moshiri's letting him see out this season because we're safe, because sacking him now would reflect badly on the club, and to afford Allardyce a little self respect.
He's gone at the end of the season, end of!
David Currie
28
Posted 08/04/2018 at 23:27:24
Danny 13, Dyche and Howe are very good and Fergie was better than all foreign managers in his time. Chris Houghton has also been good at Newcastle and Brighton. There are plenty of poor British managers as well as poor foreign managers.
Brian Wilkinson
29
Posted 08/04/2018 at 00:02:50
No cards against City, no cards against our neighbours, says all we need to know about getting stuck in.
Struggling to remember a derby match with no yellow or Red cards, previous to this one.
Danny O'Neill
30
Posted 09/04/2018 at 00:52:42
Dyche has done a great job this season. But really does he fill you with enthusiasm that he's going to challenge for the title? Moyes-esque & best of the rest; will likely fail when asked to achieve more than keep Burnley up; yes that's the expectation it's just this year's league is that bad he's hit a bonus and looked good. At one point they went 13 games without a win.
Howe; admire his approach and philosophy but I sense he's the English Martinez. His team's can entertain and score goals on their day...just as much as they ship them and lose.
Ferguson was a previous era; he was around with the great Howard Kendall.
Simple fact is our system is screwed from grass roots. We don't produce good enough players and subsequently coaches. We are average at best.
Look at the top 6; no British managers there and if they had to appoint tomorrow they would not look to these shores.
It gives me no pleasure to say that by the way.
Jim Hardin
31
Posted 09/04/2018 at 02:24:13
Danny,
Burnley went 13 games without a win while their starting striker, two midfielders, one center-half and both fullbacks were injured. Oh yeah, one of the attacking mids/forwards was out at the same time. They did manage points during that stretch keeping them above everyone but the traditional top 5 plus Tottenham. BTW, now that everyone is back (Mee was injured this weekend and didn't play) Burnley is once again winning.
What is with you and others not willing to give Dyche credit?. His job was to keep Burnley up last season, not this season. His job was top 10 this season (reasonable for a second season goal) and to turn over part of the squad. He has done that.
Along the way at a club that has spent a fraction of Everton's gross or net, he has been responsible for Ben Mee (as a center-half instead of a good left back), fine-tuned Trippier, and turned Ward and Lowton into good fullbacks. Don't forget about the likes of Heaton, Gray, Barnes, Ings, Pope, Wood, Keane, Tarkowski, and the midfield duo of Cork and Defour. Not too shabby I would say.
Dyche doesn't pat himself on the back and doesn't blame the players or the refs. Sorry, but compared with our current joke of a manager, Dyche is several rungs higher up the managerial ladder already.
I suggest that Dyche does have a ceiling as a manager at Burnley. It is not his ambition but rather the limit of the the funds Burnley is willing to commit. Dyche has taken points from the big 6 so why would you think he couldn't or wouldn't have aspirations to compete for Cup trophies and top four spots. Even at Everton, he wouldn't have the funds available that Man City, Liverpool, Arsenal, Man Utd, and Chelsea have, so a title might be beyond his, or any other manager's, grasp at Everton as things stand now with FFP.
I suggest Dyche is exactly what Everton needs as a manager, but then again, I actually watch Burnley and follow the club quite a bit.
Jason Leung
32
Posted 09/04/2018 at 03:43:37
Unfortunately, FS will be here next season. End of.
Dermot Byrne
34
Posted 09/04/2018 at 06:21:59
It is the nuanced case you put that convinces me Jason!
Danny O'Neill
35
Posted 09/04/2018 at 06:23:38
Sorry Jim,
For the record, Dyche has done a fantastic job at Burnley and absolutely deserves credit.
I don't believe he's what Everton need. Our next step is to break into the top 6 / top 4. If we have ambition, I don't think Dyche is the person to help us do that.
If we appoint Dyche, we'll be back here in 2 seasons time debating who our next manager should be.
Ian Bennett
36
Posted 09/04/2018 at 06:56:15
" I can't believe how poor a footballer Bolasie is. To think the club paid £30M for him, £20M for Schneiderlin, £12M for Williams and pays £150k a week to Rooney. Sheer lunacy".
This morning's headline - Cresswell for £25m. Things aren't getting better. We just seem foolish in the transfer market. Average players for big fees.
Gary Mortimer
37
Posted 09/04/2018 at 09:25:28
Apparently Jim White is having a big feature around an interview with Sam today. Big changes at the end of the season are suggested.
There better had be!
Steve Brown
38
Posted 09/04/2018 at 09:25:53
Everton had four touches of the ball in the Liverpool box in the opening hour. They have mustered a solitary first-half goal since January. Under Allardyce, they have hosted Chelsea, both Manchester clubs and Liverpool. Over 360 minutes, they have recorded only three shots on target and one goal.
Spin that Lardiola.
Sam Hoare
39
Posted 09/04/2018 at 09:46:38
Dyche has done unbelievably good work at Burnley. But only at Burnley.
There are a few managers who have succeeded at one club over a decent period of time but then struggled badly once moving on (the likes of Moyes and Alan Curbishley).
I think there's a pretty decent case for him being our next manager and I certainly would be happier at that than I was at the prospect of Allardyce but it would be a big risk. He's never really had money to spend. He's never been expected to play decent football. He's never won anything.
Also, would he want to come? Burnley will be in Europe next season there and he has squad of players he trusts and has working well. We on the other hand look a poisoned chalice right now, high expectations but lots of very average players on big wages. At Burnley he is adored, at Everton if were playing pragmatic football (which seems his modus operandi) and struggled initially, perhaps we were around 13-16th after 15 games you could see the fans turning on him pretty quickly saying we should have got someone more experienced...
Michael Lynch
40
Posted 09/04/2018 at 10:04:43
Dyche should stay at Burnley - he's doing a great job there and will enjoy a little Europa adventure.
Personally, I would disagree with those who say our main aim is to find a manager who will break us into the top 4/6. After this awful season, I think our main aim is to find a manager who will play a brand of football that will help us all fall in love with football again. Exciting, fast, attacking football, with a tough core. Spurs is the blueprint, Citteh is the ultimate dream. Dare I mention it, the kind of football a certain clown is getting a certain shite team to play across the park
Len Hawkins
41
Posted 09/04/2018 at 10:31:00
"Disappointed" If anyone is disappointed look no further than me I did a double on Everton and United winning now which one let me down.
My "other" team is St Helens RLFC and just out of interest they were World Beaters 12 years ago they have had a succession of coaches unable to carry on the success and have finally, I hope, just found a coach to bring back the exciting fast flowing rugby that Saints were famous for so finding the right man (including one club legend who failed miserably) is not an easy task. In the midst of the mediocrity they had a new stadium built which has taken front seat from the playing side, so expecting instant success and a new stadium going hand in hand is a big ask.
Ciaran O'Brien
42
Posted 09/04/2018 at 15:18:21
That derby like so many other derbies before it was total horse manure. Only Seamus showed any bit of passion when he squared up to the tattooed wanker Ings. No bookings, hardly any crunching tackles apart from Rooney's on Milner which amazingly didn't result in a booking.
The Red Shite were there for the taking today with the team they put out but as always we bent over to them and took a red hot poker up our arses.
Big Sam showed that he is quite clearly not up to the job and doesn't give a flying fuck about the fans. Schneiderlin, who did have a good game can't play with Rooney and Gana. Rooney and Schneiderlin are too slow and Gana can't pass for shite.
Midfield is the most important are of the pitch and we have absolutely stunk the place out there for years. We have no quality at all. Rooney is not a midfielder, he's a number 10 or support striker, he is too slow and gives the ball away too fucking much. Davies is having a horrendous season but he tries and works hard but I struggle to see much creative and controlling quality from him. Gana and McCarthy are the same players in that they are just ball winners while Schneiderlin isn't good enough even though he played well on Saturday.
It's time to try Klaassen and Beni in the middle with Rooney behind Tosun, it can't be any worse than the other shit combinations we've had this season.
Bolasie is no better than McGeady, lots of tricks but hardly any end product in terms of goals and quality crosses into the box. He needs to be sold in the summer.
But the main problem is Fat Sam, his coaching team and the pathetic excuse of a board.
Hopefully the appointment of Marcel Brands is a giant step in the right direction with a proper coach such as Fonseca, Silva, Howe etc.
I want to see exciting football again at Everton, all it takes is a confident coach with understanding of the modern game. I want to see the end of this shite defensive dinosaur long ball game which has been played way too much by coaches who bang on about "results".
The summer needs a big clear out.
I would keep Pickford, Coleman as our new captain, Kenny, Jags who's still our best defender, Keane, Baines as a backup, Gana, Davies, Benigime, Rooney till his contract runs out and as an option from the bench, Siggy, Walcott, Lookman, Tosun, Onyekuru, Vlasic and Calvert-Lewin.
Funes Mori, Holgate, McCarthy, Martina and Klaassen are possible departures while Robles, Stek, Garbutt, Williams, Schneiderlin, Besic, Bolasie, Mirallas, Niasse and Sandro to leave.
Brands or whoever needs to identify a quality, pacy, young and dynamic left back such as Tierney at Celtic. Two centre backs, one who's a monster in the air and strong in the tackle and athletic and decent on the ball, the other a pure ball playing centre back. A good back up keeper to keep Pickford on his toes. Two centre midfielders who are dynamic, skillful and strong while a proper number 10 in the David Silva mound. A pacy left footed winger who can score and another prolific striker. That'll cost a huge amount but it should be spread out over three or four windows.
I want to see an Everton side I can be proud off and so do so many others. I'm fucking sick of bang average mediocrity. I'm sick of not challenging for anything. Is it too much to ask?
We need to start living our motto. "Nil Satis, Nisi Optimum" used to mean something. Let's start earning our motto.
Trevor Peers
43
Posted 09/04/2018 at 23:06:51
Phil (#16); Kenwright isn't a football man either that's the problem, advising Moshiri with his nonsense is a recipe for disaster.
Fonseca represents a huge gamble his track record is pretty poor, he's had more clubs than tiger Woods, and he has no premiership experience.
We will be inviting Fat Sam back by Christmas if it doesn't go to plan, that should frighten a few of the punters on here.
Danny O'Neill
44
Posted 09/04/2018 at 23:26:22
He didn't really say the Liverpool Champions League thing, did he? That was fake news right? If not, just simply embarrassing.
Add Your Comments
In order to post a comment, you need to be logged in as a registered user of the site.
Or Sign up as a ToffeeWeb Member — it's free, takes just a few minutes and will allow you to post your comments on articles and Talking Points submissions across the site.