Allardyce: Bolasie needs more time

35 Comments [Jump to last]
Friday 13 April 2018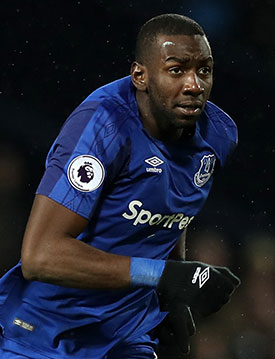 Sam Allardyce says that more patience is needed with Yannick Bolasie as the winger tries to regain fitness, sharpness and confidence following more than a year on the sidelines with a serious knee injury.
The £28m signing from Crystal Palace ruptured the anterior cruciate ligament and tore the meniscus in one of his knees in December 2016 and didn't return to action until Boxing Day last year.
Since then, Bolasie has struggled to make a consistent impact in matches and it was put to Allardyce by Sky Sports' Vinny O'Connor today that there were some grumbles towards the 28-year-old from supporters during last weekend's Merseyside derby during which he went off in a second-half substitution.
"I didn't hear [an adverse reaction]," Allardyce retorted, "[but] I see an adverse reaction from every crowd.
"If you do a pass wrong there's a negative reaction, if you do a pass right there's a positive reaction.
"Your cruciate ligament, like many long term injuries… when they come back they're expected to be what they were before the injury. While fit it sometimes takes a little bit longer for some than others.
"It's taken Yannick a little bit longer to get in his stride, on the reverse of that it hasn't taken Seamus Coleman quite as long.
"We have to just be patient and allow him to get back to his best but the more he plays, the better he'll get."
---
Reader Comments (35)
Note: the following content is not moderated or vetted by the site owners at the time of submission. Comments are the responsibility of the poster. Disclaimer
Robert Leigh
1
Posted 13/04/2018 at 17:49:43
Agree with Sam, but part of the frustration (certainly on my part) is that he knew Bolasie was going to take a while and he still let Lookman go out on loan.
If Lookman was here, we'd have another option and Bolasie would have been given time. Yet again, we're square pegs in round holes putting Calvert-Lewin out there whenever Bolasie can't play, which makes the absence of Vlasic even more baffling!
William Cartwright
2
Posted 13/04/2018 at 18:52:50
Robert's comment is extremely baffling... Yet another instance of a simple-minded supporter stating the bleeding obvious (no offence, Robert) when the highly paid self-proclaimed expert manager can't see his nose in front of his bloody face!
Can't Moshiri see what an absolute utter pillock Allardyce really is?
Ian Hollingworth
3
Posted 13/04/2018 at 19:38:38
Sorry but he is shit and was never that good anyway. Everton FC needs to take a harsher view to progress we are too nice from top to bottom.
Drew O'Neall
4
Posted 13/04/2018 at 19:47:48
Ian – He is not in the slightest bit "shit" and your comment adds nothing to this thread.
Michael Lynch
5
Posted 13/04/2018 at 19:58:48
To be fair, Lookman has done nothing at Leipzig since his debut day goal. Everyone was using his move as a stick to beat Sam with but, on this occasion, Allardyce may have been right.
Rob Dolby
6
Posted 13/04/2018 at 20:00:12
Bolasie has been getting his fitness and match fitness whilst playing 1st team football. Not ideal as he hasn't contributed anything and looks miles off the pace.
If the squad wasn't so unbalanced, he wouldn't be anywhere near the team. We only have Walcott who doesn't really want to play out wide. Lookman obviously isn't rated by Sam so it's Bolasie on the wing until the end of the season.
Let's hope that the new manager addresses the deficiencies next season. Fingers crossed.
Peter Warren
7
Posted 13/04/2018 at 20:07:33
Bolasie would be better on right, Vlasic on left, Walcott though middle and Rooney benched.
Sam Hoare
8
Posted 13/04/2018 at 20:16:48
Though I always wanted Zaha instead of Bolasie, he was looking one of our best players at the start of last season before his injury. 4 assists and one goal in his first 12 games for the club was not too shabby.
But do you ever really recover from this severe an injury if your primary assets are pace, acceleration, agility etc? I'm not sure. He'll be 29 next month and I'd worry that his (few) best days in an Everton shirt are already behind him. I hope I'm wrong though.
Jay Wood
[BRZ]
10
Posted 13/04/2018 at 20:29:11
Never understood the Bolasie signing at the fee we paid for him when, as Sam mentions, the younger and superior Zaha was available at a similar price.
He seems a smashing lad, but very hit or miss on the pitch.
And as Michael Lynch mentions above, those pining for Lookman, he really hasn't shaken the tree over in Germany, other than scoring on his debut.
Nine Bundersliga games Leipzig has played since he arrived, he has featured in 6 of them, mostly as a sub for a total of 224 minutes. That's averaging less than 25 minutes a game over the 9 games. In fact, he didn't get on the pitch at all in 3 games. And – as happened twice for Everton this season – one game he started he was subbed out at half-time.
I hope Lookman can still blossom for Everton, but he ain't there yet, not by a long way.
Bill Gienapp
11
Posted 13/04/2018 at 20:32:15
While a lot of people seem to have soured on Bolasie, if we're being realistic here, this season was always going to be a wash as he worked his way back from injury.
Next season is when we can properly evaluate where he stands. Best case scenario, he still has the sort of skills (pace, athleticism, unpredictability) this side desperately needs.
Kristian Boyce
12
Posted 13/04/2018 at 20:33:56
He got thrown in too soon after coming back from injury. I think he had maybe 1 U23 game and then was playing 1st team football straight away. He still isn't fully up to speed and playing in an Allardyce team doesn't help. He doesn't really have a defensive bone in his body, but how FS has set up his teams, mean's he has to combine a more defensive role to his game.
With Mirallas and Lookman departing, Allardyce has basically brought it on himself overloading the player.
David Currie
13
Posted 13/04/2018 at 20:36:40
Bolasie, before we signed him, was an above-average Premier League player. Since coming back from injury, he is now at the moment an average player. Sam says it will take more time to get back to his best. I'm looking forward to seeing him be an above-average player again.
Clive Rogers
14
Posted 13/04/2018 at 20:57:49
Bolasie was a bad signing and his record tells us that. Wherever he has played, his goal return has been 1 in 10, even in the lower divisions. At Palace he scored 9 goals in 90 games. When you pay £90M for a forward you expect a better goal return than that. He is a Championship player at best.
Anthony Murphy
15
Posted 13/04/2018 at 21:27:26
Let's see what he's like with a decent pre-season and new manager. Although the injury was a major blow, it's quite alarming how many careers have stalled or gone backwards since joining us over the last couple of years. I hope I'm wrong, but I don't think we'll ever see the best of him.
Tony Marsh
16
Posted 13/04/2018 at 21:49:55
Another weight around our neck that Koeman bought. Why was the Dutch Mike Walker allowed to squander so much money? Honestly, if I was Bill Kenwright, I would of done an Abramovich and told Koeman to do one. If not last season, at least last summer. Ronald Koeman has fucked this club good and proper.
Michael Neely
17
Posted 13/04/2018 at 21:55:22
I'm with Ian #3, we made a mistake signing him, he's absolute garbage, and not just because of the injury. He may be able to run with a ball at his feet, but he does knack all with it, his decision-making is woeful.
I could go on but what's the use Sam will still pick the useless tosser.

Gaute Lie
18
Posted 13/04/2018 at 22:05:14
Nice guy I'm sure, but he can't be what he never was.
Even before his injury, he was at best a mediocre player, with not much special up his sleeve.
Perhaps he's being played to get a good sum of cash for him this summer? >I really don't know why he's playing as he's no good player if I am to be honest.
Michael Penley
20
Posted 14/04/2018 at 04:35:52
I bet Klaassen is wondering why he doesn't receive the same patience as Bolasie does to allow him game time in order for him to reach his best as well.
Mike Gaynes
21
Posted 14/04/2018 at 04:38:35
Michael (#20), maybe it's because Bolasie has more pace with the one leg than Davy has with two.
David Barks
22
Posted 14/04/2018 at 04:59:35
Bolasie is nowhere near good enough of a footballer. Pace is one thing, every Olympics is filled with track stars with pace. Unfortunately football requires people to be able to, you know, kick and dribble a football.
Phillip Warrington
23
Posted 14/04/2018 at 06:05:30
Why weren't Vlasic or Sandro shown the same patience? They have tons more potential, this transfer and others show what mugs Everton FC have become and how every club look to Everton to offload their players that don't work out – at more than they initially paid for them.
Bolasie was never a £30M player; Crystal Palace saw Everton coming, as do every other club rubbing their hands together. I have yet to watch one game where you could say Bolasie tore the opposition apart and you could say, "Yep, he was worth every penny." Even before his injury

Ian Hollingworth
24
Posted 14/04/2018 at 07:36:18
Drew @4 I am sorry but he is.
I accept that my wording maybe harsh but my point is that whilst we accept mediocre players at the club please don't be surprised at our performances and the fact that we have won nothing for 23 years.
Read that again... 23 YEARS.
As for not adding anything to the thread, I thought this was a fans website? Guess what we all might have different views but in future I will check with you first to align... lol!
Jim Bennings
25
Posted 14/04/2018 at 08:32:51
The trouble with Bolasie is the stupid over reliance on doing these "skills" which news flash Yannick, defenders have sussed it out years ago, they don't work anymore.
The thing Bolasie is good at, however, is crossing a ball and if he just simplified his game and starts cutting out the unnecessary step-overs all the time, then he might be a useful asset to have on the right wing.
You need super quick feet to perfect the art of the step over a bit like Deulofeu had or a better example Ronaldo. Bolasie hasn't really got quick feet, he looks cumbersome when doing it and it never comes off.
Eddie Dunn
26
Posted 14/04/2018 at 08:58:53
More often than not, he has been the epitome of a luxury player.
Colin Malone
27
Posted 14/04/2018 at 10:35:26
Defending is not in his remit.
Paul Tran
28
Posted 14/04/2018 at 11:55:08
Bolasie was bought and is picked because of his unpredictability, pace and strength. Pity Koeman couldn't find anyone like that for centre midfield.
We paid over the odds for him because, generally speaking, that's what new-monied, non-achieving clubs have to do.
Hopefully when we have a manager with some ideas on picking a team with pace, pattern and method, Bolasie will be fit enough to fit into it.
Brian Harrison
30
Posted 14/04/2018 at 12:18:40
Allardyce now suggests that Bolasie needs more time, yet it was Allardyce who chose to play him after only completing 30 minutes with the Under-23s. A blind man could see he was nowhere near ready for first-team football. Then, to compound this, he starts him in the next few games.
He sent Lookman out on loan and Vlasic has disappeared completely. Now I am not saying long term they are the answer but at the time they were fit to play in the first team when Bolasie clearly wasn't.
Getting away from his injury which 10 years ago was a career finisher. I don't think Bolasie gives us anything at all. His goals per game ratio is poor, he seems more intent on doing a trick every time he receives the ball. But if Allardyce thinks Bolasie when fit is the answer then we really do have problems.
Alex Bennett
31
Posted 14/04/2018 at 12:48:19
I thought he was awful before his injury and don't see any difference in his game since he returned. Average at best.
Bobby Thomas
33
Posted 14/04/2018 at 13:34:22
Its not his fault we signed him. And whenever you have had a big injury and come back with about half a season left ,you can pretty much write that season off as well, so I feel its out of order to get on his case at the moment. We signed him as we desperately needed some pace and width adding to the squad at that point in time.
However, although I understand why we took him, unfortunately Yannick was totally the wrong man.
Bolasie, pre- or post_injury, is an inconsistent, self indulgent, non goal scoring or assist providing, 1 good game in 3 player. A Match of the Day "highlights" player who has just never been that good. This is the reason he played for Palace for years.
Walsh and Koeman identifying Bolasie as one of the "ready made" buy for now purchases was ridiculous as he had quite frankly never even made it. Bolasie was 28 when we took him and the flaws he has in his game are never going to be eradicated. He is never going to get any better.
If we had paid £28 million for a 22-year-old Bolasie and his faults I'd have been ok with it, as the potential would be there to develop him and then, by the age of perhaps 25, you'd have some player. But this won't happen as, in football terms he is what he is. He is basically a fast version of Peter Beagrie.
When he got injured there was a thread on here and I got coated for posting that he was one of the most over-priced players I'd ever seen. This is still the case. I live in London at the moment and was talking to a Palace fan a few weeks ago. He said that when we came calling with the £28 million the majority of their fans basically thought, "That'll do us."
For me, Bolasie is an irresponsible, immature and self-indulgent player. One of his posts on Twitter was quite revealing. There was some "skillz" hashtag thing (I can't remember exactly what) and Bolasie posted a clip of himself playing for us away to Sunderland. He had the ball just inside the Sunderland half on the left, did some mad elaborate bit of skill to get away from the first man and then did an old-style kick and run to outpace the next opponent. He over ran the ball but, because of his genuine pace, just managed to get a cross in on his left foot before the line.
The clip ended as the cross, which was poor, was cut out by the first defender. Yannick seemed to think this was good play. I assume this was why he posted it. It sums his game up. Flashy, but ultimately not much product.
As I say, it's not his fault we signed him. What he does represent, however, is one of the worst excesses of a mental transfer policy which will take years to recover from.
Nicholas Ryan
35
Posted 14/04/2018 at 13:59:21
I'm still convinced that we thought we were buying Wilfred Zaha!!
Geoffrey Williams
36
Posted 14/04/2018 at 18:17:30
Bolaisie would quite easily find a spot in Everton's worst ever XI.
I keep reading in the Echo that Schneiderlin has played well in the last two games: he scored 7 today, but he is absolutely useless.
Finally, Rooney is being asked to play a role for which he is totally unsuited.
All-in-all, Everton start each match at a disadvantage.
Gerard McKean
37
Posted 14/04/2018 at 18:47:51
Mike (#21), Klaassen and Bolasie are different types of player who specialise in very different roles. Michael (#20) was not comparing them as players but rather the treatment each has received.
This manager is clearly very indulgent towards some players and contemptuously dismissive of others. This is no way to run a railroad and, with nothing to play for I for, one would not have minded seeing what Klaassen could do in his favoured position.
Damian Wilde
38
Posted 14/04/2018 at 23:05:03
Before his injury, Bolasie was hit and miss. Overall – he is garbage and should be sold. Tbh there's probably about five players we should keep.
Joe Ainsworth
39
Posted 15/04/2018 at 01:18:13
Breaking news: Billy Smart's Circus have offered thirty bob for Bolasie as they're looking for someone who can do a hundred stepovers on a tightrope while ignoring the rest of the troupe. I'd bite Mr Smart's hand off right now. Awful, headless chicken waste-of-money signing at the time; now, two years older with a knackered knee to boot, utterly worthless in every way.
Remember the days when our wide men used to link up with our brilliant overlapping full-backs to great effect? Now, we have to put up with this shapeless, hopeless, unutterable shite from no-marks on more money than the likes of Spurs are paying fellas who perform superbly, week-in & week-out.
I've never felt less interested in my team and I've been going for 48 years.
Justin Doone
40
Posted 15/04/2018 at 05:17:39
My opinion of him has always been the same. A player to bring off the bench when chasing a game and give him a free role to run, create, shoot, and mix it up.
Common words to describe Bolasie are 'pace', 'athleticism', 'unpredictable'... I use 'frustrating'. We have a few players similar: Lookman, Mirallas, Niasse.
Bolasie has the raw ingredients but no football brain and that isn't going to improve at his age. He's always been the same so, when he does score a goal, it's often out of nothing, a piece of individual magic.
An expensive piece of luxury we didn't need but, just like Sigurdsson, now an Everton player certainly worth keeping for Plan B.
We just need a manager with a Plan A.
Mancini is the man for me.

Add Your Comments
In order to post a comment, you need to be logged in as a registered user of the site.
Or Sign up as a ToffeeWeb Member — it's free, takes just a few minutes and will allow you to post your comments on articles and Talking Points submissions across the site.