Allardyce: We've captured hearts and minds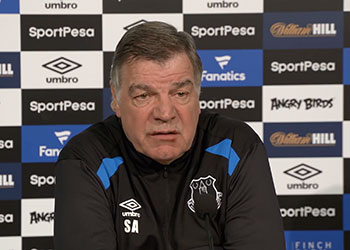 Sam Allardyce again promoted his record as Everton manager during his pre-match press conference this morning ahead of tomorrow's match against Southampton.
The Blues host the relegation-threatened Saints in what is the final home game of the season and Allardyce says that recent results and performances at Goodison Park have helped win over Evertonians who have been critical of the standard of football during his tenure.
Everton have won five of their last 10 League games, all of them against teams below them in the table, which has elevated them into eighth place as Leicester City's form has fallen away.
"The efforts of the team and the turnaround of results over the period of time I've been here speaks for itself," Allardyce said. "We have improved the level of the team consistently now from the beginning.
"There was a middle period in January, February where we dipped but we've come through strong. The players are giving everything they have got and that's why results are where they are at the moment.
"We want to try and finish the next two games and be undefeated when the end of the season comes.
"It's a volatile world in the Premier League; it increases as the money, transfer fees and wages increase then the pressure increases and then there's criticism that you have to accept and move on with.
"It's an entertainment game. You're trying to capture hearts and minds and I think, particularly from a home point of view, we've achieved that with not just the results but the way we've beaten teams."
Allardyce's future remains a topic of much speculation in the media, although talk that Paulo Fonseca is being lined up his replacement has died down. Former target Marco Silva was the subject of an unreliable report linking him with the Goodison hot seat again earlier today but the present incumbent is still looking ahead to pre-season and beyond based on his comments during his presser.
"I would very much [like a pre-season with these players]," Allardyce said. "Pre-season, in terms of what we're going to do and when we're going to start back is all in place; what happens at the end of the season for recruitment of players or players out is pure speculation at the moment.
"Realistically, you have to wait to see what's available and if anybody comes for your players and whether everything falls into line [in terms of] negotiations then you decide all together which is the right thing to do for the football club.
"I think where we are — seventh last year, eighth at the moment — we'd like to maintain that position of eighth in the league but I think it all depends on the recruitment in the summer and what the quality of the player might be.
"Plans are in place and names are on lists but are they achievable is another matter? When you're in a volatile market in such a short space of time this summer with the window shutting before everybody else's and a World Cup in between makes life very difficult."
---
---