Pennington signs new contract with Everton
Friday, 11 May, 2018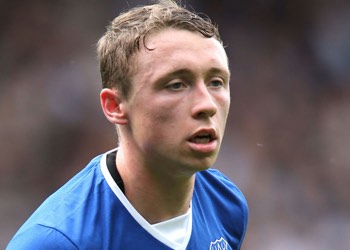 Matthew Pennington has agreed a new three-year contract with the Blues, the club have announced.
The 23-year-old centre-half has spent the season on loan at Leeds United and there was talk that the Yorkshire side might try and making his move there permanent.
Pennington appears to have committed his future to Everton, however, by signing a new deal, adding two further years to his existing terms which would have expired next summer.
Having made his debut three years ago and playing the odd game at the tail end of Roberto Martinez's time in charge at Goodison Park, Pennington got another chance in the first team last season and scored his only senior goal to date in the Anfield derby last year.
---
Reader Comments (34)
Note: the following content is not moderated or vetted by the site owners at the time of submission. Comments are the responsibility of the poster. Disclaimer
Gavin Johnson
1
Posted 11/05/2018 at 17:37:43
Baffling!! Leeds fans reckon he's not up to scratch for them so why give a player who is 23 and miles away from the first team a 3-year deal, God only knows. From what I've seen of Pennington he's solid, but unspectacular and definitely lacking pace.
John Graham
2
Posted 11/05/2018 at 17:37:44
At 23 he needs to spend time with the first team squad. For me it looks like we have only given him a contract in the hope of getting a fee for him in the future.

Did look at one time as though he would make the grade. But he hasn't managed to make the next step. Hope he has a good summer break and comes back to show everyone he deserves a chance.

Good luck, Matthew.
Matt Edwards
3
Posted 11/05/2018 at 17:42:29
I've watched him in a couple of Leeds games and he wasn't great at all. Only a couple of games so it may have just been a bad run of form but the couple of Leeds supporters I know wouldn't even have him in the Championship. Contracts to our youngsters seem very hit and miss - maybe they think they can get a transfer fee for him at some stage.
Si Pulford
4
Posted 11/05/2018 at 17:42:48
Friend of mine is a Leeds fan and said he started really strong for Leeds but faded badly and didn't really cut it. Ended up being dropped although he did better in the last few weeks of the season.
Hardly a glowing report. He said they'd like to keep him. But only at the right price. That's the view of a Championship fan. Someone at the club must see something Leeds fans don't. Who knows? Wish him well but am skeptical if he'll make the grade.
Jim Bennings
5
Posted 11/05/2018 at 17:56:47
Insane!
He's not Premier League quality at all and looks like it's going the same way as Luke Garbutt this one!
Baffling.
Jay Harris
6
Posted 11/05/2018 at 18:02:55
We say the same things about Keane. 23 is quite young for a CB. Most of all he needs top level exposure so he can learn what he is up against and the movement of top forwards.
I would put him on a par with Shane Duffy who we never thought would make it.
I would put him out on loan to one of the lower Premiership clubs or top of the championship. Leeds is a graveyard for managers and players given that the owners are lunatics.
Mike Gaynes
7
Posted 11/05/2018 at 18:17:35
Jay #6, Shane Duffy hasn't really "made it", except maybe with Katie Price. He's an adequate CB for a side that barely stayed up. Always powerful in the air and has gotten many of the ugly mistakes out of his game, but he still has the pace of a cement mixer. Never good enough for us.
Gavin #1, not sure who you were watching, but Pennington actually has terrific pace, on a par with Holgate. His problem is that he's not physical or assertive. Prem forwards shrug him off. Looked like a scared rabbit for the first half against Leicester last year before gathering himself in the second 45. We don't know the terms of the contract, but obviously the club isn't quite ready to give up on him. I have.
Jay Harris
8
Posted 11/05/2018 at 18:35:28
Mike,
I think we judge the kids too hastily on here.
Pennington was put in at a time when the whole squad was shorn of confidence and as I have said in the past it is a chasm between U23 and the Premiership.
Leeds also took a dive since when his form has been erratic but he was a stalwart before that until he picked up an injury and he has been played at full back since then according to all accounts.
I would put Shane Duffy ahead of Ashley Williams and Keane but agree with you he is not top 6 material.
Christopher Timmins
9
Posted 11/05/2018 at 19:01:32
Ashley Williams, another one of collection of top notch purchases, he was a Ronald acquisition, was he better or worse than the guy who Roberto brought with him from Wigan, I can't put a name to the guy but the game in Kiev finished him off once and for all. Roberto also sold Duffy who might not be top six material but he helped in no small way to keep Brighton up.
I am not an advocate of the current manager but he could do no worse in the transfer market than the last two occupants of the hot seat. What he can't do is improve the younger members of the current squad, you are either ready to go or you don't figure.
Michael Lynch
10
Posted 11/05/2018 at 19:06:57
Presumably it's so we can get a decent fee when we sell him to a Championship club, which makes it a reasonable piece of business I suppose. Alternatively, the club is a total fucking basket case and doesn't know what the fuck its doing. Take your pick.
Derek Knox
11
Posted 11/05/2018 at 19:11:01
I agree with most on here who have seen him play for Leeds, and equally am baffled by him getting the opportunity to sign a deal with us.
Unless of course, it is to guarantee a decent figure for any possible future transfer. I can't envisage too many lining up to take him.
I would be happy to see us go for both Mawson and Lascelles, and feel they would solidify central defence for years to come.
Phil Walling
12
Posted 11/05/2018 at 19:14:37
A year ago, I was reading we had some good kids coming through. Now their reputations have all been demolished and even Tom Davies is thought to be decidedly 'iffy'!
The fact that none of them are likely to be first team regulars any time soon says everything about 'Unsy's treasures'. Fools' gold more like – just like dozens before them!
Mike Gaynes
14
Posted 11/05/2018 at 19:21:09
Jay, Pennington wasn't put in
"at a time when the whole squad was shorn of confidence"
-- he got his best shot last spring in the middle of our hot streak of wins. You may be right about the quick judging process, and I'm certainly not upset that Matthew is getting another shot, but to me he's not even close to Holgate's level, and Holgate is two years younger. Plus Matty Foulds waits in the wings.
But if you'd really take Duffy over Keane, I think you and Katie are the only ones. Keane ain't quick, but Shane is a glacier.
Jay Harris
15
Posted 11/05/2018 at 19:44:31
Mike, my view on Keane v Duffy is that Duffy is consistently solid whereas Keane is erratic even over 90 minutes. Speed doesn't come into it defending corners and free kicks.
I agree with you about Holgate but the lad does seem to have an attitude problem.
I don't particularly rate Pennington at this moment in time but I do think he has scope to develop.
The centre-back I most rate in the current up-and-coming set is Morgan Feeney.
Dave Abrahams
16
Posted 11/05/2018 at 19:58:44
The most interesting thing about Pennington getting an extra two years on his contract is who is making this decision?
I wish Matthew luck with his career but I will be surprised if he has a future at Everton.
David Currie
18
Posted 11/05/2018 at 20:03:17
He will never make it in the Premier League; we should have got rid.
Bill Gienapp
19
Posted 11/05/2018 at 20:26:39
Seems like a really nice kid, but has always struck me as being a firm notch below Premier League level.
But hey, he can always say he scored a goal in a Derby.
Cathal Naughton
20
Posted 11/05/2018 at 21:29:17
Mr Pennington look pretty wasted in that wonderful photo.
Worryingly it appears the young man is about to go down hard at any moment. Either that or he's been exposed to a motivational video from Big Sam.
Gavin Johnson
21
Posted 11/05/2018 at 21:30:10
Mike
Whenever I've seen Pennington he didn't look particularly fast or blessed with great physicality for a CB. My impression was that he wasn't up to standard but playing in the championship might make him a bit more robust and give him experience to read the game.
The only logic in this contract extension is to loan him out to another Championship club and see if he progresses without being blighted by injury, if not, sell him next summer. It sounds harsh, but it's how Chelsea have operated for years with younger players. One thing's for sure. He's not good enough for Everton at this present time.
Stephen Meighan
22
Posted 11/05/2018 at 21:34:53
One word: Why?
Brian Wilkinson
23
Posted 11/05/2018 at 21:42:17
We could try a swap deal, Mawson for Williams, with Pennington as backup.
Could be we have an eye on one of the Leeds players and gives us a better bargaining in landing the player, who knows.
All I will say is Jags is coming to the end of his career, looks like a Funes Mori and Williams could be on their way, Holgate has his Injury problems, do we really want to be left short of cover again.
Makes sense to give him an extended contract, until we sort out cover and quality replacements.
Once that is in place, then we can take it from there, rather than have another Barkley/Gosling contract balls up on our hands.
Gavin Johnson
24
Posted 11/05/2018 at 21:45:56
Brian,
I'd be trying to offload Ashley Williams and £25m in a part exchange for Mawson or Lascelles from Newcastle. I'd be happy with either but would edge towards Lascelles.
Anthony A Hughes
25
Posted 11/05/2018 at 22:30:29
Surely this can only be a business decision to enable us to get some sort of fee when he's moved on. He's 23 and not a kid and if he was good enough he'd be in a Premier League first team now. This use of the term "kids" for men in their twenties is annoying. If they're good enough, they're old enough — let's stop making excuses for them.
Kieran Kinsella
26
Posted 11/05/2018 at 22:53:30
Kevin Ratcliffe in the Echo says our team is too old and among others cites Sigurdsson (aged 28) as proof. On the other hand we have kids of 23. So the useful life of an Everton player seems to have been shrunk down to a 3-year time frame.
I read in the Echo a few months ago that Unsworth was keen to retain Pennington. To Kevin Ratcliffe again in the Echo, he also pondered recently why Unsworth has a budget for recruitment and wages for Under-23s. Given that there aren't that many "unknown 23-year-olds" who will benefit from being signed by Unsie and playing Premier League 2 football.
In the Echo – again, I also read an Unsworth interview a few weeks back where he suggested he would be the one deciding whether or not to offer David Henen (aged 22) a new deal. It just appears to me that the so-called Director of Football has no overall plan. We have Kenwright indulging Unsworth with a make-believe Premier League team called the U23s.
There seems to be no coordination around recruiting. Case in point being with wingers. The full team signed Vlasic (age 19), when they already have Lookman (19) while the U23s go out and sign Bowler (18) and have Dowell and Broadhead on the books. Why does the club need half-a-dozen "promising wingers" who are all the same age? Especially as we also spent a combined £60 million on Bolasie and Walcott. And our current and former managers both shy away from playing two wingers.
Don Alexander
27
Posted 11/05/2018 at 23:05:52
If you didn't know better, Keiran, you'd think the entire Finch Farm set-up is a fiasco.
Peter Gorman
28
Posted 12/05/2018 at 00:12:25
My take on Duffy vs Keane - Duffy can at least defend and mark a man.
Matty Pennington is a smart young guy with a solid grounding in football courtesy of our youth coaches but it is doubtful he has the self-confidence to make it at the top level. He'll make a good career at another club I am sure and best of luck to him; this contract is merely protecting an investment.

David Barks
29
Posted 12/05/2018 at 00:55:06
My God, some extreme harshness going on here. He was exposed in the derby, no doubt about that. But he simply wasn't ready.
I have no idea what he will turn out to be. But as for signing him to an extension, why not? In today's age of inflated transfer fees for English players, it makes total sense. Sign him up and see if he grows in ability. If not, try to make him look as good as possible and sell him for a decent amount.
Steve Ferns
30
Posted 12/05/2018 at 07:31:20
Surely it's as simple as Unsworth really rating the lad, Allardyce not having a say and the new DoF coming in?
I think Unsworth is allowed some indulgence here. He's had a good eye for talent so far and if Pennington is someone he rates that highly, why not?
If Unsworth doesn't successfully rebuild the u23s or his signings stop paying off for the first team, then he won't be making any more signings and I bet Mr Brands will put a stop to it soon as well.
Apparently Calvert-Lewis and Holgate were both Unsworth signings. So, Clearly he can spot a player at that level.
Justin Doone
31
Posted 12/05/2018 at 09:43:50
I think Pennington got shown up 3 times by Courtinho in the derby but there was a lack of a defensive midfield shield.
He was allowed space and time to run at Pennington and he's a class player so no real shame in that.
I think he's got ability and decent pace but I rate Holgate and Galloway far more in ability, technice and pace for young defensive prospects.
There's also Browning who looked like he had ability but on the flip side Martinez rated him so how good a defender he is questionable.
We could have done with a Duffy this season. He'd out jump and power any of our current defenders. But he does lack pace.
Rob Dolby
32
Posted 12/05/2018 at 10:45:32
We will hopefully move on Williams in the summer. Jags isn't getting any younger. Mori may have a decent world cup and want away.
That leaves us with Keane and Holdgate. I don't see what is wrong with giving the lad a new contract as he is decent enough cover if he is needed.
Foulds, Feeney and the big Greek lad are still too young.
Jeff Spiers
33
Posted 12/05/2018 at 16:51:34
So, if Allardyce is on his bike. Who is responsible for signings???
Kieran Kinsella
34
Posted 12/05/2018 at 17:12:30
Jeff Spiers 33
That is the problem, the answer seems to be everyone and no one. Unsie seems to have an open check book, Walsh is following up last year's Italy vacation with a trip to South America, BK is operating some kind of social security scheme to keep Everton rejects solvent, Mosh is apparently at the mercy of Raiola, and Sam says he has already made his summer signing plans. This is where I see the value in a Brands type figure who hopefully can wrest control from all these factions and assume control over a coherent strategy.
Andy Crooks
35
Posted 12/05/2018 at 21:53:19
Mike Gaynes, who would you rather have, Duffy or Williams? There are few centre backs with a lot of pace. Adams, Watson, Terry, Huth, Labone, Keown, Lyons wouldn't have beaten my nan over 20 yards. I don't compare Duffy to any of them but you make a big deal about his lack of pace.
He is a proper committed, gutsy, 100% defender who offers a threat at set pieces( can you ever see Keane scoring a goal?). His sale was another ridiculous decision by the lamentable Martinez and I just don't get why you have it in for him.
Lenny Kingman
36
Posted 13/05/2018 at 08:56:18
Maybe this fellow is a chum of fat Sam and so was given this gift by the latter as an up yours to the Blues before he is taken out onto the scaffold.
Add Your Comments
In order to post a comment, you need to be logged in as a registered user of the site.
Or Sign up as a ToffeeWeb Member — it's free, takes just a few minutes and will allow you to post your comments on articles and Talking Points submissions across the site.