Opinion
Alex The Great
In order to share the 60-minute film with other Blues, Dr David France has made 'Alex the Great' available on YouTube. It is required viewing for football fans of all persuasions and all ages.
No doubt you've read this before, but it's well worth repeating…. For as long as Everton Football Club survives, men will talk in awe of the sublime skills of Alex Young who could do things in a match that no other player would even attempt in training. But because of the dearth of television coverage at that time, the centre-forward never received the national fame his talents warranted. One exception was 'The Golden Vision', written by Neville Smith and directed by Ken Loach, which was the first docu-drama of its kind back in 1968.
Fast forward to 'Alex the Great', the follow-up film which chronicles Alex's career through exclusive interviews with his opponents as well as his team-mates. Initially filmed in 2012, its commercial release was shelved because, in Dr France's opinion, despite the exquisite fusion of dramatic music with stirring narrative it struggled to capture the majesty of the subject. Ironically, the film-makers were handicapped by his manager's distrust of TV cameras and the dearth of video evidence to reinforce the consensus of team-mates and opponents interviewed who, notwithstanding his hearing-loss and super-sized blisters, rated Alex's sublime skills alongside those of Bergkamp and Messi.
After learning of Alex's dementia and failing health, the Everton icon and his family were invited to preview the uncompleted film. At that time, Dr France noted: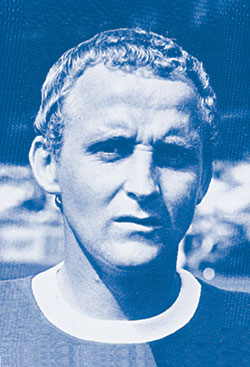 'Football fans have become a nostalgic and sentimental bunch who pay their respects to a fallen hero and a good cause every matchday. That said, I thought Alex deserved to hear those tributes for himself at Goodison. More than anything, I wanted him to preview the uncompleted film in the suite that bears his name and to bid farewell to his fellow Evertonians and vice versa. I'm glad I did because a few months later, my dear friend passed away quietly.'
In the interim, Dr France has battled a series of medical issues and, rather than finish the one-hour film, has elected to post the uncompleted documentary on YouTube.
Critically acclaimed by audiences in Liverpool and London, it features interviews with Colin Harvey, Tommy E Jones, Bill Kenwright, Bob Latchford, Ken Loach, Dave Mackay, Duncan McKenzie, Pat Nevin, Joe Royle, Graeme Sharp, Neville Smith, Ian St John, Derek Temple, Ron Yeats and, of course, Alex Young and his children. Again, like its Ken Loach predecessor, it should be mandatory viewing for football fans of all persuasions and all ages.
Dr France commented: 'For those of us privileged to have marvelled at Alex in action, he was the most gifted British player we had ever seen and proof that the football gods wanted us to be happy: Alex didn't run, he glided across the turf. He didn't turn, he pirouetted. He didn't jump, he floated. He didn't kick the ball, he caressed it. In fact, his first-touch was like a mother's tender kiss. The combination of his balletic balance, delicate feints and elegant body swerves left defenders rooted to the spot as he glided past them with astonishing economy of effort. Never ostentatious, his feet stroked the ball with the uncommon motion usually reserved for the foreheads of their newborn infants.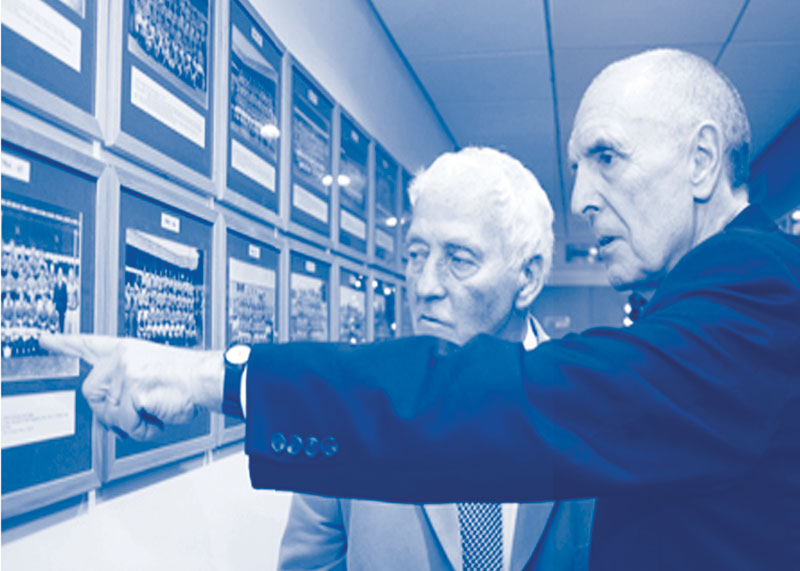 He added: 'Probably because he had toiled in the coal-mines and served in the Army before winning every prize in Scotland and England, Alex remained an unassuming gentleman who never displayed a hint of pretentiousness. His disinterest in self-promotion is as fascinating as his natural abilities. I suppose those who didn't see him play will never entirely understand why those of us who did remain convinced that Alex was more cultured than anyone else who has graced Goodison. If you don't believe me then please digest the words of his admirers and take a look at the film. While it doesn't do credit to Alex's majesty, I think it's worth 60 minutes of every true Evertonian's time.'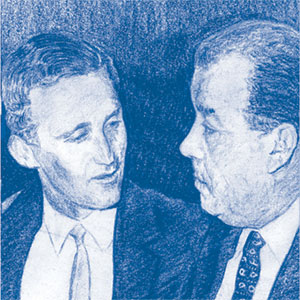 Alex was fantastic in the air and simply sublime with the ball at his feet. Shanks warned me that if you give him space, he'll take you to the cleaners. The wee man was the finest centre-forward I've ever seen and way ahead of his time.
Ron Yeats
There are no doubts that Dixie is our most celebrated footballer. But just behind him is a forward of matchless grace who displayed Nureyev-like balance. While you can never say never, I predict no-one will match Dixie's 60 League goals in one season and, with great regret, that we'll never see the likes of 'The Golden Vision' again.
Bill Kenwright
I watched him make his debut from the Paddock. We all stood with our mouths wide open like goldfish. The merest shimmy of his hips made people fall over. A quite unique talent.
Joe Royle
Alex had an immaculate touch which allowed him to master the ball like few others. He oozed so much God-given ability that it's impossible to draw comparisons with todays' stars. No-one plays football like he did. Very few have ever had the flair or skills to do so.
Alan Ball
Alex possessed grace and balance. With today's manicured surfaces, fancy boots, lighter balls and endless television coverage, he would have been one of the biggest stars in Europe.
Tom Finney
---
Watch Alex The Great:
Perhaps because of the way in which the Golden Vision is so revered by the Good Doctor Everton's and because my favourite players have always been skilful attacking midfielders, Alex Young is perhaps the one player I wish I had been alive to see grace Goodison Park, perhaps even more so than Bill Dean.
What would his value be in today's market, I wonder? Would we even be able to attract someone of his quality in the first place or would the club, as they did back in the day, have astutely plucked him from the relative obscurity of Scotland and made him a Goodison idol forever to be under-appreciated by the football world at large?
---
---
© ToffeeWeb