Everton History
Billy and Bob: The Fabulous Balmer Brothers
Rob Sawyer

22/11/2018
4

comments | Jump to last
Share:
William and Robert Balmer formed a fearsome, and fruitful, fraternal partnership in Everton's back-line in the early years of the 20th Century. William's selection for national team duty would also make him the club's first Scouse England cap.
They were the sons of James (a carpenter and joiner) and Martha. William Atherton was born on 29 July 1875 whilst Robert followed on 28 November 1881. The pair — better known and Billy and Bob — grew-up alongside their siblings John (born 1874) and Mary (born 1877) at the family home at 14 Crosby Green, West Derby. The boys trained as joiners but also embarked on football careers.
For Billy, the road to Goodison Park would not be a direct one. After playing youth football in the Aintree Church team, he would ply his footballing trade at full-back for a season, across the Ribble estuary, with South Shore (the Lancashire League outfit which went on to merge with Blackpool FC). Everton's committee signed Billy on 20 March 1896 on wages of 20/- per week (£1). He was joined by his elder sibling, John, who played in the forward line. The earliest record of the boys playing together was for Everton reserves at Glossop North End on 9 March 1896.
Letter to John and Bill Balmer from Everton FC, 1896 (care of Bren Connolly)
John dropped off the Everton radar fairly quickly (he preferred running to football) and concentrated on working in the family joinery business. Billy, however, was retained and debuted for the senior team on 6 November 1897, a 2-2 draw at West Bromwich Albion. It was reported that '...the work of Muir, Barker and Balmer was thoroughly sound. The last-named player improved considerably as the game went on.' In his second start he drew great praise: 'None the less brilliant were Muir, Storrier, and Balmer, who coped with the occasional heavy rushes of the home forwards with great coolness and dexterity, and in addition their kicking was always clean and effective. In Balmer, the club has an understudy of exceptional merit. For a second acquaintance with League Football, the young player came out of the ordeal with flying colours, and there should be no misgiving in future should a vacancy arise in the back division.'
Within two months of the start of the following season, Billy was the first-choice at right-back — a position he held down for a decade. In time, he was joined in the Everton ranks by Bob — who would work his way up from the Lancashire Combination team. As a youth, Bob played at full-back for Shaw Street College for three years and then participated in local junior football for a further three seasons. He was on amateur terms with Everton from the 1900-01 season, progressing to professional status. An inch shorter than Billy, and a stone lighter, Bob relied slightly less on brawn, and more on timing, than his older brother. That said, as was the full-back's remit of the era: both were adept at stopping wingers in their tracks and hoofing the ball downfield. A 1925 Liverpool Echo article described, compared and contrasted them, thus:
'There was a sturdy sureness about the defence of the Brothers Balmer, Billy and Robert, that was both taking to the eye and consoling to those famous followers of the Everton club who took their pleasures each week on the goal stands. Robert, the younger brother, was of a slimmer build than his famous brother, but as he matured and developed in his play there was a finish, and a skilled diplomacy in his style that marked him as a player of resource and enterprise. Billy, on the other hand, always impressed as one of those rugged, stonewall players, who never know fear or funk, and who could be relied on, whatever, calls were made on him to do justice to himself and to his team… Billy Balmer, at the top of his form, was an inspiring player, to watch. His resolution was quick, his methods generally fair, his tenacity superb.'
Bob would make his bow for the first team at left-back, alongside Billy, on 5 January 1903 when the Blues defeated Middlesbrough 3-0. It was almost a dream start when he went close to scoring following an early corner. The Liverpool Courier commented: 'The Northerns next attacked, but the brothers Balmer defended strongly, both with regard to kicking and tackling.'
It would be mid-way through the 1904-05 season when Bob broke into the team on a regular basis and worked in harness with his brother to protect Leigh Richmond Roose and/or Bill Scott in the Everton goal. With Tom Booth frequently unavailable through injury, Billy captained the team for the vast majority of matches and was rewarded for his consistency with a call-up for England. It came in a 1-1 draw with Ireland staged at Ayresome Park on 5 February 1905 (he had previously represented the Football League against the Scottish League in 1901). This would be his only 'cap' but he had written himself into the history books as the first locally-born Everton player to receive such recognition. The domestic season would end in frustration as two away defeats in the final three matches saw Everton pipped by Newcastle to the title.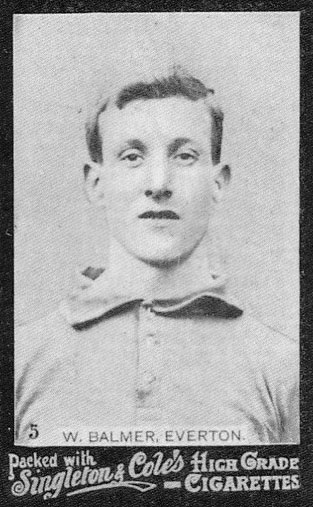 Billy Balmer cigarette card
Another chance to win silverware would come a year later. Having beaten Liverpool in the 1906 FA Cup semi-final, the squad departed from Liverpool in advance of the final to be staged at the Crystal Palace stadium. The Liverpool Courier reported:
The Everton players, or rather the contingent from which the eleven will be chosen, left Liverpool on Tuesday for their training quarters at Chingford, which borders on Epping Forest. They broke their journey at Stafford to enjoy the brine baths there, and according to the latest reports, this experience was most beneficial. The contingent, which was in the charge of Mr. B. Kelly, and Mr. E.A. Bainbridge (directors), consisted of: - Scott, W. Balmer, R. Balmer, Crelley, Hill, Booth, Abbott, Makepeace, Chadwick, Sharp, Bolton, Young, Settle, Hardman, and Donnachie. At the Royal Forest Hotel, Chingford, the men have found comfortable quarters. They are staying in a beautiful district, and nothing in the way of arduous training, will be undertaken.
There was much speculation as to who would occupy the two full-back births with the Balmer brothers challenging fellow Scouser, Jack Crelley, for selection. The Courier reported on the build-up, which had little to do with football practice:
I have just seen Mr Cuff, the Everton secretary, and learned that the members of the team were all fit and well. They have benefited greatly by their stay at Chingford, which has been more like a rest than a period of special training. Golf on a four-mile course, walking amid beautiful country scenery, and occasionally sprinting has been the programme. Not a football has been kicked. The men will take the field fresh as paint, eager for the fray, and confident of victory. The exact constitution of the team will not be decided until the morning, there being just a doubt, so Mr. Cuff informs me, as to which of the Brothers Balmer will partner Crelley at the back. The younger brother, Robert, has so greatly improved that he may possibly fill the position.
Shortly before kick-off, it was confirmed that the directors had overlooked Bob in favour of Crelley and his elder brother (who occupied the left-back slot). In the tightly packed 80,000 crowd, the Liverpool Echo reporter spotted a former Toffee in Leigh Richmond Roose: 'Among the early birds was the great Roose, keen and energetic as ever, and who was attached enough to his old club to express his heartiest wish for their success and confident in their ability.'
Billy's selection was justified as he gave an outstanding defensive performance in a 1-0 victory — Everton's first cup triumph. The Echo praised him: 'W. Balmer probably never played a better game than on Saturday. He tackled coolly and kept a good length with his punts. He was a trifle shaky at the close, but on the whole, his performance was of a sterling character.'
1907 badge
In spite of being over-looked for the final, there was a school of thought that Bob was become a superior player to Billy. In October of that year, the Lancashire Evening Post asked: 'Is Robert Balmer as good a back as his elder and better-known brother? On the few occasions I have seen the former he has impressed me very favourably, remarkably clean with his kicking and perhaps rather safer than William, who is inclined to be risky at times.' Regardless, the brothers were the preferred full-back pairing in the 1906-07 season and lined up at Crystal Palace when Everton sought to retain the FA Cup against Sheffield Wednesday. In the event, the Yorkshiremen ran out 2-1 winners and neither Balmer enjoyed a good afternoon. Athletic News reported:
'The Balmers were fairly serviceable, but I do not think they constituted a strong pair, and they were just about on a level with the Wednesday backs. William Balmer is not quite well, and extenuating circumstances can be urged on his behalf, as he has a knee. His brother, Robert Balmer, was possibly the better of the two.'
After a further season in tandem in the back line, the siblings played their 65th and final match together in an FA Cup defeat to Southampton on 11 March 1908. At the conclusion of the season, Billy's first-team career with Everton ended on 331 competitive outings (he had scored one goal — a penalty in 1899 — but conceded eight own goals in this time). Although still registered with Everton, he was able to play for Croydon Common for whom he would make 3 FA Cup and 43 Southern League appearances over two seasons. By 1911, Billy was back on home turf and working as a newsagent at 20 Mill Lane in West Derby. He subsequently signed for Chester of the Lancashire Combination in 1912 but it was an abortive comeback as, after just two matches, he was deemed to be too immobile for further selection.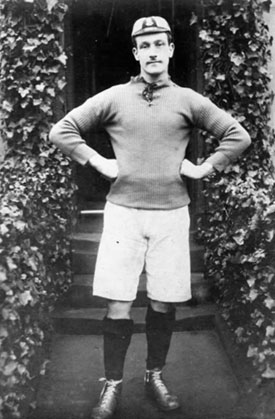 Bill Balmer
Bob, meanwhile, continued to serve the Toffees with distinction. In October 1910, Athletic News commented on his selection for an inter-league match with Ireland: 'Like his brother, William, the younger Balmer has been one of the most consistent backs that ever donned the Everton colours and in League colours has rendered excellent service.' That same month he as reported to have kicked-off refereed a game of 'rink football' — played on skates at the Tournament Hall. Losing his regular starting berth in the spring of 1911, and struggling with a knee injury, he made his 187th, and final, appearance for the Blues in April 1912. He remained registered with Everton as a player — but available for transfer at £300 — until the eve of the (cancelled) 1915-16 season.
In April 1913, club director Dr. Whitford proposed that Bob be offered a non-playing engagement by Everton but the proposal was voted down by fellow board members. Instead, that August, he was signed by W.J. Sawyer for South Liverpool FC. Bob's former teammate, Alex 'Sandy' Young, was already on the books at Dingle Park. Early in 1914, the Liverpool Echo reported on Bob turning out at right-back for his new club, against The Central in Walkden. He was described as 'simply unbeatable.' In April 1915, Bob was reunited with the 1906-07 team for a wartime charity match organised by Jack Sharp against a team of boxers. The Echo journalist reported on the match which raised £300: "At full-back Bob Balmer played capitally and showed partially again for keeping the ball in play and for overhead kicks which were specialities with him before he took to running a book. No, not that kind of book but an insurance business in which I wish him all good fortune" (nb: Some match reports record — probably erroneously — that it was Billy, rather than Bob who played in this match.)
On 25 November 1916, Bob married Blanche Farley; they had no children together. It seems that Bob remained in the Everton hierarchy's affections for he was given a complimentary season ticket by the club in 1926 — a gesture that was repeated for many years. By the outbreak of the Second World War the couple were living at 12 Rosthwaite Road – close to Everton's Bellefield training ground; Bob was listed on the 1939 Register as working as a docker. Having been predeceased by Blanche, Bob passed away in hospital on 9 January 1959, at the age of age 79. He was laid to rest in West Derby Cemetery.
As for Billy, he appeared to sever all ties with Everton although he remained a 'Blue'. He lost his first wife, Alice, in 1916 and remarried Mary Thomas in 1918. By then, he was living and working in Huddersfield. By the turn of the 1920s, he was doing some coaching at Huddersfield Town. In 1939, Billy was recorded as living at 114 Church Street, Huddersfield. His occupation was noted as "Joiner — incapacitated" whilst Mary was a 'woollen burler'. He passed away in February 1961 at the age of 85. At the time, he was living at 154 Lowerhouses Lane in Huddersfield. He was cremated on 15 February at All Hallow's Church, Almondbury.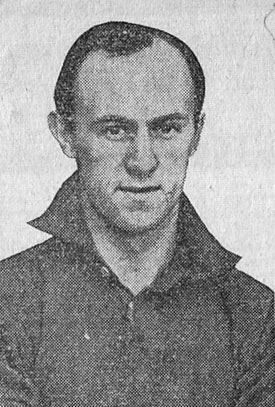 Jack Balmer, 1939
That is not the end of the Balmer story in Merseyside football circles, however. John Balmer's son, 'Jack' (John) — the nephew of Billy and Bob — played football at centre-forward whilst studying at the Liverpool Collegiate. He recounted to George Harrison for his The Unforgettables series in the Liverpool Echo in 1974 that he was always destined to join Everton:
'My uncles were Everton stalwarts… I was brought up in the Everton tradition by them and my father. When I was making the grade at 16 as centre-forward for Liverpool Collegiate Old Boys, Everton was obviously the club that came first.'
Jack duly joined the Toffees on amateur forms in 1933, aged 17, and appeared for the reserves on a number of occasions. One such outing saw him paired in attack with Bill "Dixie" Dean who was on the comeback trail after an injury. Jack was excited, but awestruck, to be lining up with his sporting idol. Dean spotted his nervousness and said, 'Don't worry, son, I'll lay one on for you just before half-time.' True to his word, 'Dixie' headed the ball into Jack's path five minutes for the break: 'I couldn't miss. It made me feel great, getting a goal from my hero' he recalled. When Everton sought to sign Jack on professional forms, the talks broke down: 'I was working as a joiner in my father's building business and Everton offered me only £5 to be on full time for them. It wasn't worth it to me… I was still on Everton's book as an amateur so I saw out the season for them. Meantime, Jack Rouse had been along to offer me £8 a week with £6 summer wages for Liverpool. So I signed, much, I should add, to the family shame. Red was not their favourite colour.'
Having joined Liverpool in September 1935, Jack made his first-team debut almost immediately. Often mistaken for a veteran due to premature balding, he carved out a highly-successful career as a clever inside-forward. During the war years, he served in the King's Regiment, teaching soldiers to drive Bren-gun carriers and Jeeps near Formby and, towards the end of the conflict, he was posted to Germany. He earned a wartime England cap in 1939, playing alongside Everton's Tommy Lawton. Post-war, paired with Albert Stubbins, he captained Liverpool to the 1946-47 League Championship and scored three consecutive hat-tricks in November 1946. In spite of these credentials and an impressive career strike rate, in the late 1940s he found himself a target of some Anfield 'boo-boys' who took exception to his intelligent, dare I say, Corinthian, approach to the game. These malcontents craved a more harum-scarum style of forward-play which was an anathema to Jack. His game was more subtle: based on skill, creativity and nous. He explained to George Harrison: 'They were entitled to their opinion. Maybe I didn't go in for the crunch tackle — it seemed unnecessary to me. Even now, when I go and watch Everton or Liverpool, or see television games, I get a shudder when I see the boot going in. I was never a coward at the game, but that kind of tackling was never my idea of football.'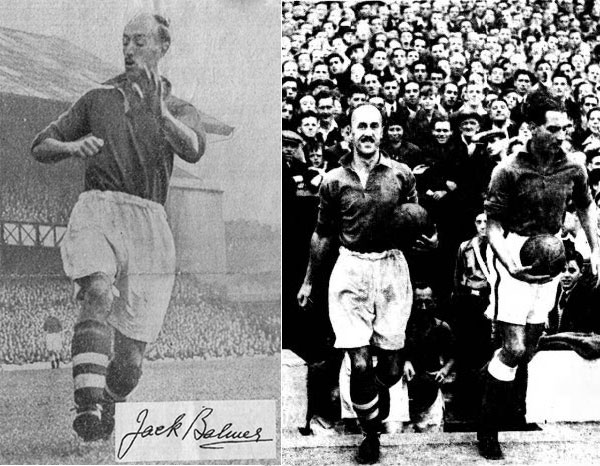 Left: Jack Balmer in post-war action versus Everton; Right: Jack Balmer and Tommy G. Jones take to the field for a Merseyside derby
Jack hung up his boots in 1953 and, after a period coaching Liverpool's youth players and scouting, he concentrated on the family building business — enjoying playing golf in his spare time. He passed away, suddenly, on Christmas Day 1984, at the age of 68 following a heart attack. After a funeral service at St Mary's Church in West Derby, he was cremated at Anfield Crematorium. Concluding his 1974 interview with George Harrison he said: 'I cannot forget those great years I had at Anfield, even if some of the Kop didn't go for me all that much. And you know something? I still like Everton!'
Sources and acknowledgements
Thanks to Billy Smith for encouraging me to write this piece, several years ago.
Members of the Balmer family
Neil Caple (for photo of Billy wearing his England cap)
Liverpool Courier
Liverpool Echo
Liverpool Daily Post
Lancashire Evening Post
Athletic News
The Everton Encyclopedia — James Corbett
Everton: The Official Complete Record — Steve Johnson
Bluecorrespondent.co.uk
Englandfootballonline.com
bobpaisley.com

Follow @robsawyer70
---
Reader Comments (4)
Note: the following content is not moderated or vetted by the site owners at the time of submission. Comments are the responsibility of the poster. Disclaimer
Bill Watson
1
Posted 23/11/2018 at 00:57:51
Thanks, Rob, for another really interesting article.
I grew up in West Derby and Balmer's Joinery Contractors had premises in Mill Lane, just opposite Crosby Green. This was in the late 1950s early 1960s.
I assume this was the same family?
Thirty odd years later, the Anfield faithful subjected Jimmy Melia to much the same treatment as Jack had received!
Paul Richards
2
Posted 23/11/2018 at 02:43:00
It's amazing the level of detail you come up with, Rob. A labour of love indeed, to pull together these nice portraits of Everton players from days gone by. We should never forget our history, it's what binds us together in the Blue Family.
I see there's really fascinating detail on the EFC headed notepaper from 1896:
The shield — but showing Everton Beacon, not the Everton Brow lockup! I have never seen that before!!!
Liverpool and District Cup Winners — on 5 occasions... can't quite make out the dates... is that now the Liverpool Senior Cup?
The League Cup — err... I think that's the Football League Championship trophy.
Another sheild... featuing Adam & Eve (well, it could be!) and a blue Liver Bird... or is it a dodo!!!
The Telegraph Address is simply brilliant: FOOTBALL, LIVERPOOL.
And I love the way they crossed out the Office address (15 Exchange Chambers, 4 Bixteth Street — are they two different locations?) and scrawled in Goodison Park... Classic!
Pete Jones
4
Posted 23/11/2018 at 19:49:49
Excellent work as ever, Mr Sawyer. Interestingly (if you use the word in its loosest Steve 'interesting' Davis sense) there are crossovers with three things I'm working on at the moment.
Thanks to the eagle eyes of Paul in post 2, we have an official club use of the Everton Beacon, which was the original Prince Rupert's Tower, over 40 years before the lockup appeared on the club badge. The original had fallen down in 1804, having stood in what is now St George's churchyard. I was too busy a) trying to read the handwriting and b) checking that Spellow Station was on County Road by what is now the Tesco – the ticket office is now a bookies.
The Balmers' last game together was, I suspect, the 3-2 FA Cup quarter-final replay defeat to Southampton. If I remember correctly two of the Southampton goals were scored by a player called Frank Costello, who reportedly had the game of his life against an Everton team that had reached the final for the previous two seasons. He was killed at Bas Mesnil near Bois Grenier 19 December 1914, not far from where ex Evertonian Wilf Toman was killed in 1917. On Christmas Day a truce was agreed to bury Frank and his comrades which appears to have led to the more general truce in the area. There's no record of any football being played in that area between the lines, however.
I know, you're right; I need to get out more. I'll get my anorak.
Rob Sawyer
5
Posted 26/11/2018 at 07:15:23
Hi Bill (1), yes that would have been the Balmer family business.
Paul (2) that letterhead from 1896 is fantastic isn't it (thanks to Bren Connolly for letting me use it).
Pete (4), thanks for your kind words and observations – looking forward to your next installments on ToffeeWeb.
Add Your Comments
In order to post a comment, you need to be logged in as a registered user of the site.
Or Sign up as a ToffeeWeb Member — it's free, takes just a few minutes and will allow you to post your comments on articles and Talking Points submissions across the site.
© ToffeeWeb