Report
Wolves (away) - A (long and boring) tactical analysis
By Steve Ferns

20/08/2018
23

comments | Jump to last
Share:
Wolves 2 - 2 Everton
Some wanted me to write something like this last season, but I thought it best to wait for the new season. Analysis requires watching the game more than once. I go the games, and you get a very different viewpoint from in the ground (Park End for me) than you do on TV. You miss stuff sat behind the goal, such as the fact that Pickford made a great save from Ings, and not that he hit the bar from point-blank range. You also miss a lot from just watching on TV.
I missed the Wolves game for family reasons. I did watch it live, but on an iPhone, with dodgy wifi, and therefore, it was barely watching it at all. Of course, I have now seen the game a couple of times, so for completeness let's start there.
Formations:
Everton lined up in a 4-2-3-1 or a 4-3-3 and Wolves in a 3-4-3 formation. Whether we played 4-2-3-1 or 4-3-3 depends on your interpretation of Gylfi Sigurdsson's position. I think he was slightly deeper than an out and out 10, and so I'd put him at the tip of a midfield 3 and call it a 4-3-3. We're talking a mere matter of yards and it doesn't really matter.
In this photo Gylfi is deeper in a 4-3-3: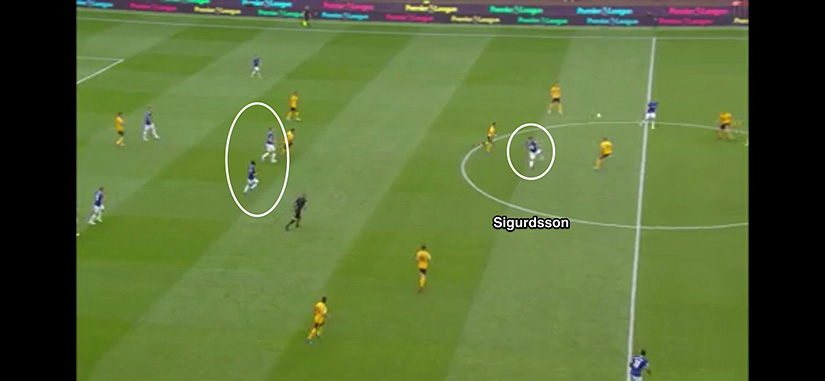 Whilst here he is in a 4-2-3-1: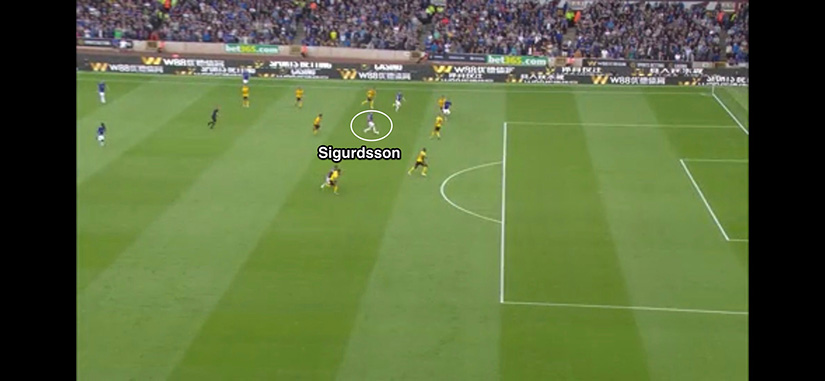 I will refer to the following website which is brilliant for statistical analysis; feel free to read the stats yourself and interpret them to back up your own points of view.
Who Scored: Wolves 2 - 2 Everton
Statistical Analysis
The stats that stand out to me are shots, Wolves won this 11-6, but you can see that it was 7-6 and even after we scored and then Wolves had to really open up and get at us to rescue a point. Wolves had 57% to 43% possession, but we only had 10 men so this was to be expected. Aerially, Keane was dominant in the middle and Raul only won one duel (for his goal). Tackling tells the real story of our success though. Baines and Coleman won 5 and 6 respectively as they made a big impact out wide. Gueye and Schneiderlin won 3 each. Conversely, Wolves lacked bite in the middle and had we had 11, we could have made more of this. But it underpinned our attacks as every one of them was a counter-attack.
Wolves had 745 touches to our 588. But, as I said before, understandable as they had a one-man advantage, and of course, they were also at home. The heatmap makes interesting reading. Baines clearly had a lot of the ball and a lot of joy down the left, whereas it was a tougher day at the office for Coleman who instead did fine work defensively. Schniederlin's heat map shows that he was also doubling up with Baines and helping us win the ball on our left. He had the majority of his touches in this position. Gueye was very central.
Match Report & Analysis
As for the action itself, it was a scrappy opening. The first real opening came after Gueye blocked a pass, and Schniederlin collected it and hit a short ball to Gueye who then hit a sideways pass onto the right for Coleman to run onto. There was significance here as Gueye actually hit the pass with pace (as opposed to trickling the ball to players last season) so Coleman could run wider, and collect the ball at speed, and drive into space. Gueye then continues forwards ready as the safe option for a pass. Walcott is marked by two and holding back to try to create space behind the two attending defenders (left wingback and left centre-back) or to receive the ball short, Tosun is on the RWB and Richarlison is making the run from deep with Sigurdsson also deep getting forwards into the middle. So 5 are quickly getting forwards to support the fullback.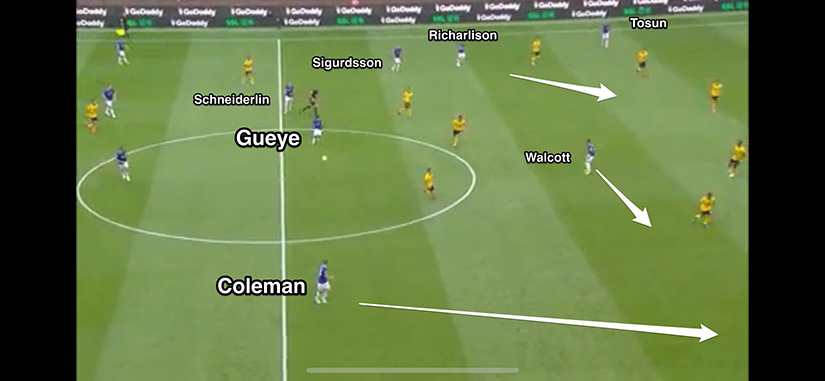 Coleman used Walcott to play a one-two and Jota (in a left wingback position) makes a good interception that favourable fell back to Coleman, who takes a touch in the area and goes for goal with a tame shot. I liked the attacking movement from our front four; obviously Walcott is out of the area having created the space with the one-two but Sigurdsson was free and demanding the ball and with hindsight, Coleman should have played a short pass to him. Richarlison was lurking for a rebound in the edge of the area, Tosun was attacking the far post ready for a cross or a rebound.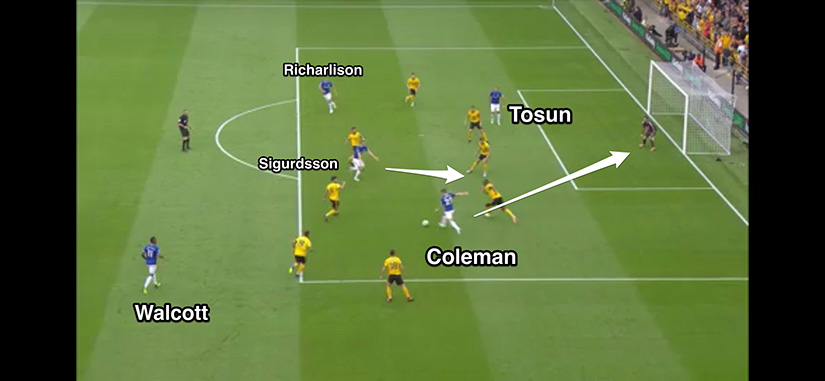 Richarlison won a good freekick in a dangerous position out of nothing and Baines whipped in a decent free-kick. Note we had 5 in the box, from right to left: Walcott, Jagielka, Richarlison, Keane, and Tosun. Schneiderlin and Gueye were sat on the edge of the box ready for any clearance. Coleman was the only man back, with Baines and Sigurdsson over the ball. As we all know, the fall fell to Richarlison after Wolves failed to clear Keane's header, and he scored his first Everton goal.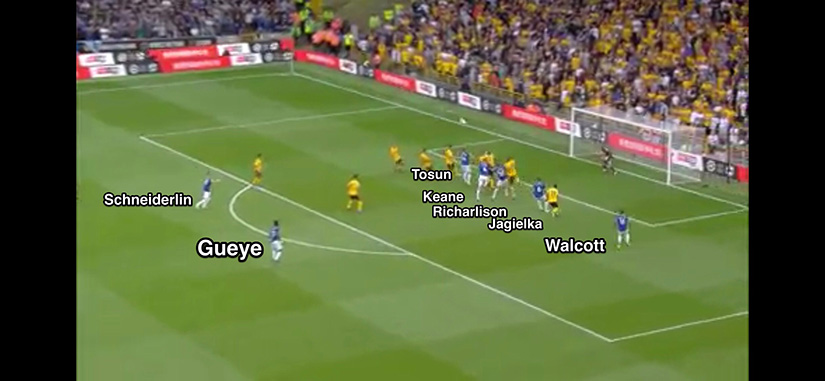 Gueye did pass the ball longer than he had attempted previously under previous managers, but his passing was less than accurate. With 11 men the defence played a narrow compact shape, with the fullbacks less than the width of the penalty apart. Gueye and Schniderlin sat almost on top of them to create a block of 6 that formed the solidity that we had in those early 40 minutes. Wolves were limited to shots from distance.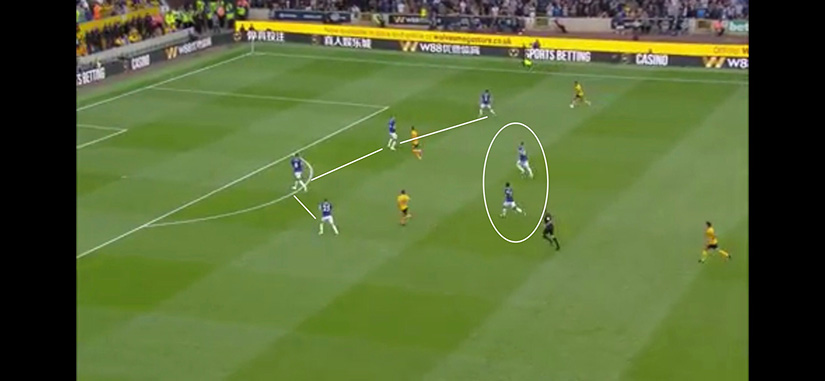 Pickford's kicking was clearly a key part of the game plan as he was back to hitting a lot of balls long and this would have been under the direction of Silva. Pickford's distribution is something that requires further analysis, but I'll restrict it to this. When he gets it right, he really looks good. The reality is though that his kicking often does not find a blue shirt, or when it does, we don't get the ball cleanly enough to make the most of it. His accuracy must be worked on, and Silva must have a good think about how best to launch the ball from the back.
The next good chance for the 11 man blues was when Baines received the ball off Schneiderlin, who covered for Baines as he surged forwards, beating his man, and looking for a one-two off Tosun, but he instead put the offside Sigurdsson through. Tosun, should have known though that had Sigurdsson been onside, there was a poor angle for him to shoot and no one attacking the far post. Sigurdsson would have needed something special to score from there and disappointingly, Walcott had not got himself into the box...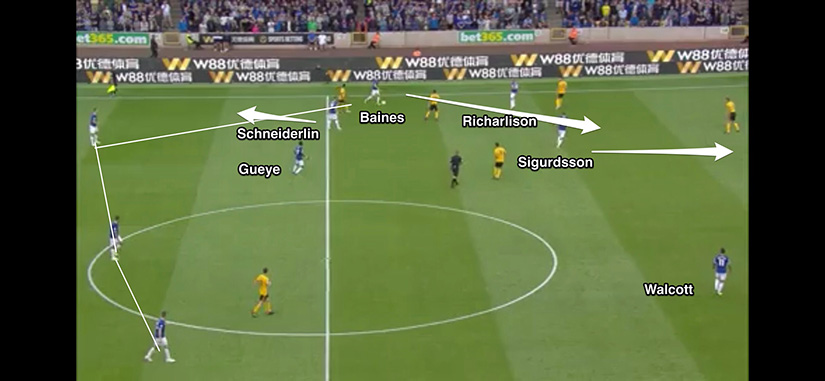 The game changed on a dreadful Jagielka touch. The incident has been talked to death elsewhere, red or not, foul or not, he was the author of his own misfortune here. Keane fizzed the ball into him, Wolves pressed him hard, and he panicked. He had seen that his preferred pass to Coleman was closed off, and Gueye was now heavily marked by two. Jags should have just hit one long, but instead, he tried to look and get his head up and his miscontrol left him lunging to get the ball back and he was then sent off.

The Wolves goal was a great hit from Neves. But Pickford is better than that. He clearly didn't trust his wall, and went the wrong way as the ball was hit and could never recover to keep it out on his side of the goal. He'll learn from that. As for the substitution, if you were playing 4-4-2, you always take off a striker and play 441. You never take off the target man, you always take off the second (support) striker, so surely it's common sense to take off the n10 in a 4-2-3-1?
it was great to see that Everton didn't just rest on their laurels and defend for a point. Even with 10 men they felt they were the better side and pushed to retake the lead. Our next attack came as Baines got forward down the left from the ball being played across the back but quicker than under previous regimes and with a purpose, thus enabling Baines to attack the right winger and surge past him and into the Wolves half. He knocked it inside to Richarlison and overlapped down the left as an option wide left. Tosun stopped the Wolves defence attacking Richarlison by pushing them back threatening to get in behind them at the edge of the box, Gueye was getting forward from deep and Walcott was attacking the box on the far side.
When Richarison knocked it inside to Gueye, Coleman took his queue to break forwards from deep on the right, with Baines still wide left and the front three narrow and pushing the Wolves defence deeper and creating some space, which Coleman then exploited as Gueye played a quick pass into Walcott who quickly released Coleman. Sadly, Coleman was tackled inside the area and we had to make do with a corner. The attacking intent was clear to see from that move. Despite having 10 men, we still had 5 in the box from the corner and a couple outside the box (Gueye and Schneiderlin), and only Coleman back.
There were some tweaks in the second half. As we defended early on, the wingers were noticeably deeper, and helping the defence, so rather than a block of 6, it was more like 2 banks of four (although far less rigid).
Tosun's chance came after good work by the Turk, fighting hard like he does and winning the ball and going on himself was Walcott stretched the defence. The winger was furious that Tosun didn't play him on, but I think Tosun was entitled to hit that. The shot was poor though and lacked enough power from that range, and it was far too close to the keeper.
Keane went close from a corner, with the same 5 in the box, and Gueye and Schneiderlin positioned just outside ready for any short clearances.
Everton had a lucky escape when Raul got in behind. Schniedelrin had closed down a defender and so was the furthest man forwards, Richarlison had hesitated and allowed a charging Schneiderlin to push on and half dropped backwards.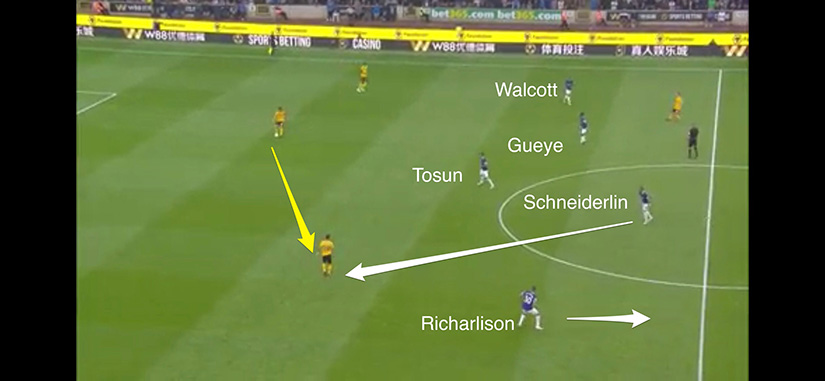 Schniederlin didn't push on to the fullback after a short pass was hit, instead favouring getting back into position. Had Richarlison closed down instead, he would have closed the fullback and Sigurdsson would have been back. Keane was wary that there was a hole where Schniederlin should be and moved forwards to cover it.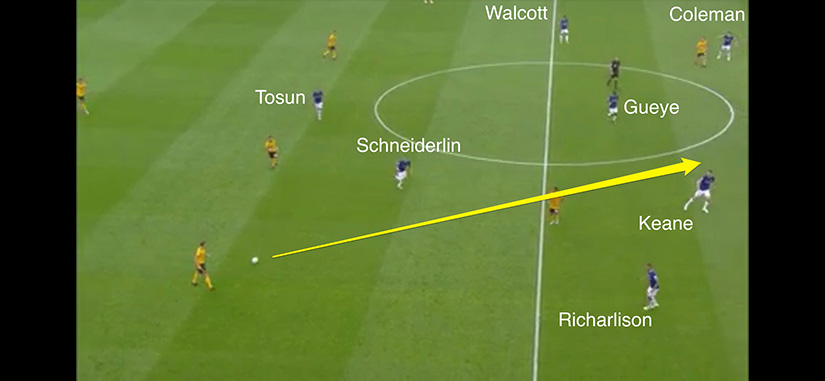 The striker moved to run in behind Keane, and Holgate saw this and was on Raul's shoulder and so played the striker onside (looked off on the replay). Keane's position wasn't bad, it was the hesitation that all came from Richarlison allowing Schneiderlin to close down the defender instead of doing it himself. Raul races away from Keane, Holgate loses a step from appealing for offside, and Pickford came to the rescue charging out well and closing the angle.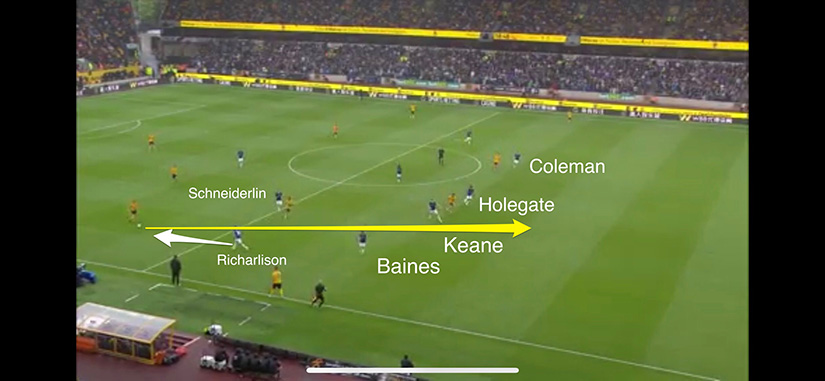 This is something he is excellent at. From the rebound we had decent shape but the left wing back got a great pass from Neves, and Walcott was nowhere near him, and the defence allowed a low cross which Pickford collected easily. Holgate didn't do enough to block the cross and instead left it for Pickford. I don't know if there was a call. But Pickford was furious with what was presumably Walcott, Coleman or both.
Everton's next chance was a good example of what Silva is after. It starts with Keane deep in his own half, he looks long but doesn't see anything, so hits a pass square to Holgate. He hits a great pass low and inside to Walcott, dropping from the right forward position in the channel and hitting it first time to the flank where Coleman has got forwards. There's not enough pace on the ball so Coleman slows to a standstill knowing he has two men to beat and Walcott is not in an immediate position to help him, Schneiderlin is deep in the defensive line covering Coleman and Gueye heavily marked. He goes safely back to Schniederlin, who finds Gueye who hits an awkward ball to feet for Tosun, who flicks it first time to Coleman, who can only head it inside to a Wolves player, who hits a square pass and is surrounded by blue shirts (Tosun and Coleman), which allows Coleman to steal the ball and to hit it first time to Gueye, at pace. He does very well to evade a tackle and feed Tosun who attacks the right corner flag and gets a cross inside to Richarlison who does well to head it back across goal but whilst Walcott gets the ball, he allows it to bounce and gets an awkward shot (was it a shot or a bad touch?) straight into Wolves players and they clear it. This wasn't a vintage move, but it shows how we commit men forward, look to move the ball quickly, cover positions so it's not kamikaze football, and work hard to win it back when we lose it.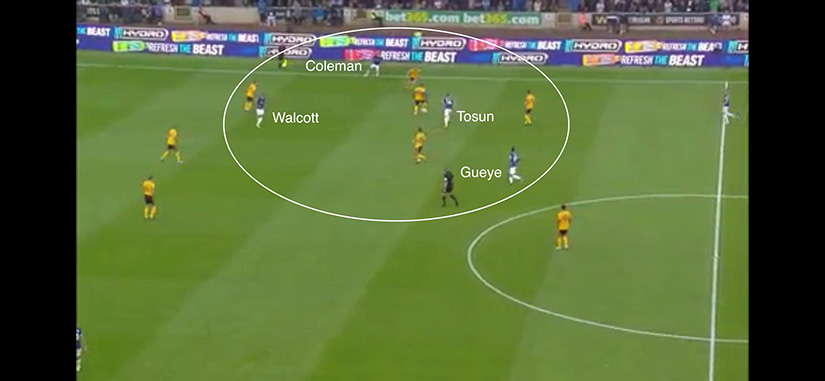 We had a real grip of the game at this point, despite 10 men and the goal was the climax of this. Baines took a throw on the left, Richarlison gets it back to him, Baines finds Tosun, Richarlison attacks the box, and Tosun feeds him, and he curls the ball around the defender and the keeper into the far post, using the defender to leave the keeper unsighted. Great goal.
Wolves then push hard for the equaliser. Everton start to defend deeper and the wingers drop back to help the fullbacks who are narrow and compact in the Silva style, so the wingers are playing a fullback position being penned back by the opposition wingbacks, having had them pushed back for most of the game.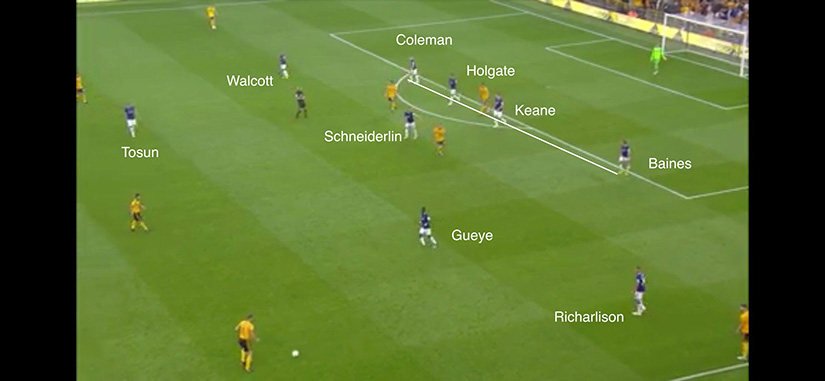 The next time Wolves got in behind was due to Holgate again playing Bonatini onside by not keeping a rigid line. To his credit, he forces him wide and out of danger as he plays it backwards and Neves whips a cross in, under no pressure as Schniederlin and Gueye are in their own box. Keane lets Raul get free of him, misses the header, and Raul scores. Holgate had also lost his man and he would have had a tap-in had Pickford parried a save. I think Pickford's positioning was fine, but wonder if he could have done more to keep it out and get a hand on it.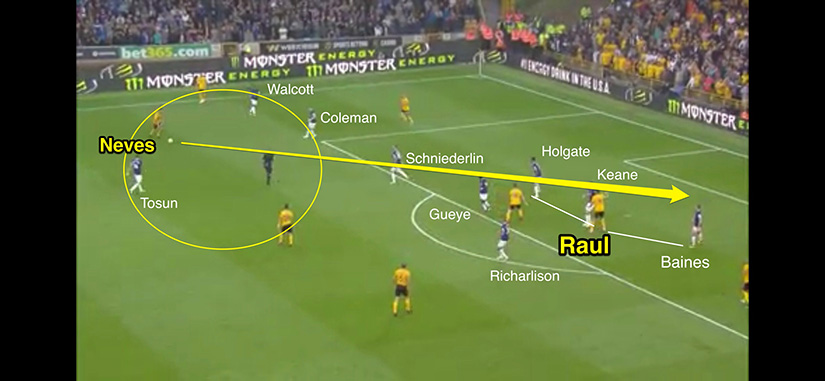 Niasse came on for Tosun, and Digne for Richarlison. But not before Richarlison had one last run at the Wolves defence, but he was tired and easily dispossessed. Wolves then came forward once more, very much in control of midfield at this point, as Everton looked leggy and tired. We still defended well and Coleman set up a blistering counter by winning the ball in his own area, playing it into Naisse's feet, who held it up well, and turned his man. His loose control looked ot have lost him the ball, but instead, he poked it past the defender and Coleman raced clear on the right side of the pitch. He then looked tired as he hit neither a cross or a shot and the ball went tamely to the touchline with Niasse ready to tap the ball past the keeper with two defender's helpless to stop him and the keeper scrambling across his goal, looking beaten.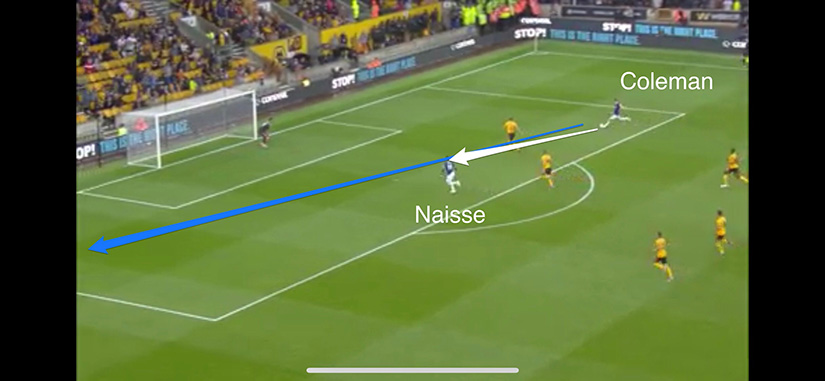 Tactical Analysis
Tactically speaking, the back four looked a lot more solid. The line was noticeably deeper (although still a much higher line than under Allardyce) than it had been in pre-season. Wolves only tried to get over the top of it twice, and both times better communication could have seen us activate the offside trap and make the move come to nothing. The fullbacks were under orders to get forwards, but they did not do so with reckless abandon. A perfect example is above when Baines gets forward down the left, he goes for the overlap but is not used. He plays no further part in the attack but he is still forwards, albeit facing his own goal and walking back into position with an eye on the play and ready to spring into action if needed. On the other side, Coleman has stayed back and only comes forward when the ball came into the middle and Gueye invites him forward due to a lack of other options. Schneiderlin was responsible for covering both fullbacks on both sides, and this is perhaps why only one would go at a time. The fullbacks sit so narrow, never more than the width of the penalty area apart, so we are very compact in defence. When we were under the cosh late in the game, the wingers slotted into a back 6 with the wingers in traditional fullback positions and the fullbacks themselves had not made any adjustments to accommodate this such was the narrowness of the defence. Silva is clearly happy to allow teams space out wide and to block the ground through the middle, and he did this to great effect.
We conceded due to a lapse in concentration by Jagielka and Keane. A hesitation by Keane caused by Schneiderlin pressing high up the pitch caused Holgate to play Raul onside for what was a clear goalscoring opportunity. The only other error was a hesitation by Holgate that recovered well, and the defence snapped back into shape. This is far from a perfect defensive performance, but taken in the context of where we were in pre-season as we got ripped apart at will, it was a vast improvement. Of course this is not setting a standard to hit game after game, this is setting a base on which to build and to get better defensively game after game.
The midfield did well. The trident became a duo after 30 minutes so there was little time to analyse Sigurdsson, but the duo played as a pair. Frequently, Gueye gets ahead of Schneiderlin and he sweeps up behind. This was not the case here. Schneiderlin was the one to cover the marauding fullbacks, on both sides, and Gueye covered the area just outside the penalty area when we attacked the Wolves final third, but that apart the pair played as a pair, and kept good shape and afforded the defence good protection.
Silva's style is now to press high up the pitch and in numbers. This means both Schneiderlin and Gueye will press together. In most scenarios you will see that Schniederlin and Gueye keep good shape, both are central, both shielding the back four and so Wolves had just two opportunities that came through the middle, both of which the defence should have caught offside. As stated above, it was Schneiderlin who covered the marauding fullbacks on both sides. This left Gueye centrally alone, he would take up central attacking positions behind the line of the ball, ready to receive the ball and recycle possession. I've been critical of his ability on the ball, but he did very well in this game, particularly when he kept it simple, and didn't go for the long pass. Passes fizzed to feet, and were controlled well by the midfield and the key to what we did well was the speed at which we moved the ball through the middle at speed. I had anticipated that we would do this by a skilled long passer, but as we don't have one, we are instead using a series of short or medium passes to move the ball quickly and cleverly through the middle and so caused Wolves problems.
Sigurdsson only played 40 minutes, sacrificed for Holgate after the red card. He took up a position ahead of the defensive two in midfield. He was considerably further up the pitch than them, with a sizeable gap. We attacked with a front four, with Sigurdsson very much part of that. He was not quite as far forwards as the two wide men though, and so the formation was more 4-3-3 than 4-2-3-1, but we're really talking about the difference of 5 or 10 yards in his position here. We'll get a better examination of his role in the Southampton game.
The front three did well. Richarlison scored two good goals, in the right place at the right time for the first and the second was more glamorous with a lovely finish. Walcott didn't have his best game, but he has played little due to injury and it appeared rustiness. He appeared to be prepared to work hard, like Richarlison and tracked back to cover the right-back position when we were under pressure. Tosun ploughed a lone furrow in the middle. He never really had a chance other than the one he made for himself. It's hard to think what exactly to make of him. He is big and strong, without being tall. He's not slow, but he lacks the pace to get away from defences. He lacks the guile of a creative striker. Instead, he's someone who will work hard, press, close down, and if he gets a sniff of the ball in the box, you can bet good money he will put it away. We'll have to monitor him over the course of the season to see just how good he can be, or if his finishing prowess is in fact overstated.
Richarlison and Walcott were close to Tosun, but did get wide to find space. They were able to get into the box and support the striker and to run beyond him. They were also able to allow the fullbacks to overlap them as by playing narrow they did not block the fullbacks' lanes.
In summary, after the horror shows in pre-season, it was good to see the old guard perform so well with just the addition of Richarlison and this gives so much hope for the future as the big signings break into the first XI, and everyone gets to grips with Silva's tactics, and his coaching continues to improve players.

Follow @ferninho
---
Reader Comments (23)
Note: the following content is not moderated or vetted by the site owners at the time of submission. Comments are the responsibility of the poster. Disclaimer
Bill Watson
1
Posted 21/08/2018 at 08:38:29
Brilliant tactical analysis, Steve, and certainly not boring.
You should be employed by Everton, reporting on our opponents!
Ajay Gopal
2
Posted 21/08/2018 at 09:49:15
Wow! The passion that Evertonians have for the game and their team is just amazing. Well done, Steve, thank you.
Steve Ferns
3
Posted 21/08/2018 at 11:17:13
Cheers, Brian and Ajay. I'm working on the Saints one and hope to submit that tonight or tomorrow.
Brian Harrison
4
Posted 21/08/2018 at 11:37:47
Steve
When you look at the Southampton game just look at where Richarlison and Tosun are just before the cross comes in from Walcott. They are about a foot apart yet one attacks the near post as a good striker does, which leads me to believe that it won't be long before Richarlison is leading the line very soon.
Ian Burns
5
Posted 21/08/2018 at 11:42:58
Some excellent work gone into that piece, Steve. Take a bow, a pat on the back and bring on the Southampton report!
As Bill Watson says – surely there is a job for you at Finch Farm?
Alex Parr
6
Posted 21/08/2018 at 11:59:24
Great stuff Steve, thanks for this. Always enjoy your insightful posts.
Hope all is as well as can be expected with you and our family mate. My thoughts are with you.
Brent Stephens
7
Posted 21/08/2018 at 12:06:14
Better than watching England lose to India in cricket. Time well spent reading that. You're never too old to learn. And there are always things you realise you've missed in a game once somebody points them out. Lots I could comment on – just one, then – the quicker pace in the passes; those lazily-hit passes in the past did my head in.
Mike Gaynes
8
Posted 21/08/2018 at 12:13:18
Steve, wow. Just wow. With your passion for analytical thinking, you probably don't lose many cases, do you?
And evidently you don't need much sleep.
Jay Harris
9
Posted 21/08/2018 at 12:58:26
Steve,
You missed your vocation but you wouldn't be lacking for a second job.
Personally I am of an age now where I let my eyes make my opinions but your detailed analysis and conclusions are far more accurate and scientific.
Keep it up, mate, if you can find the time.
Mike Galley
10
Posted 21/08/2018 at 13:33:33
Very, very interesting Steve. Thanks. Really looking forward to your Southampton article, as Jagielka's sending off obviously changed the balance of the game and to an extent made this sort of analysis a little difficult for you.
I was a little indifferent to our new manager in the summer, but he's already winning me over. It's early days but I'm liking what I'm seeing.
Jay Wood
[BRZ]
11
Posted 21/08/2018 at 15:52:30
Strewth Steve! I had to take half a day off work just to read this!
A good read. Very thorough.
I also like the Whoscored site you link to, but it still isn't a patch on the now retired and much missed 4-2-4 Opta app I've referenced to you before, as used by the also retired (and much lamented for its absence) the Executioner's Gong.
I agree with much of your analysis and there is a clear design that must come from the manager. One or two things I viewed differently include:
* Whilst I agree Jags was the author of his own misfortune for his sending off, Keane didn't 'fizz' the ball into him, nor was his error due to being pressed by Wolves initially. It was simply a bad touch at a bad time in a bad location on an easy pass, without pressure. It was without doubt a game-changing moment because until then Everton had looked totally in charge of proceedings.
* The Baines and Coleman full-back roles recall some of their best marauding days, but as you note there is a tad more defensive discipline in when they stay at home or boom forward. Baines appears to have adapted to this tweak better than Coleman thus far and calls for his demise appear extremely premature. I am still not happy that unpressured crosses are still getting into our penalty area from both flanks, predominantly Coleman's, so I hope that is something that will improve.
* The above was most evident in Wolves' 2nd goal which many unfairly IMO blamed Schneiderlin for. Wolves recycled the ball well, having first reached our goal line, and get the ball to Neves in space. Your still photo clearly shows how many players were closer to Neves than Morgan, but he took the rap for it..? Unlike you and many others, I exonerate Keane from any blame that he 'missed' the incoming cross. You sometimes have to give credit to the opposition for the quality of their play and I think the quality of Neves' cross (the space he was afforded was the core reason we conceded) and Raul's movement and finish is one of those occasions.
* Walcott and Pickford were not at their best, but in the immediate aftermath of the game, like you, I noted both had played little or no part in pre-season so they are excused a tad for that.
* Much is made of Tosun's lack of pace. Not enough is made of his hold up and lay-off play. His movement and harrying of the opposition. His clean finishing in half chance situations. I like him - a lot. I think Tosun is a perfect foil to go with the speed, trickery and finishing ability of both Walcott and Richarlison. This season opposition defences will not be able to brew a cuppa and read the racing form as Everton ponderously build an attack from deep as has been the case for too long. We now counter rapidly and in numbers. We will benefit from this.
* Gueye and Schneiderlin have demonstrated in the right system they can play together and that both can look and be better, more effective players, if their roles are clearly defined and they play to their strengths to the benefit of the team.
* Paramount in all this is this crisper, sharper, FORWARD passing the team now displays. It was refreshing to see the team still on the front foot even when reduced to 10 men, looking to add goals rather than sit deep and stop goals.
Overall, a good start by the manager and the team alike.
PS Steve - you must have a very, VERY understanding partner who allows you so much time to dedicate to the analysis of all things Everton!
Graham Holliday
12
Posted 21/08/2018 at 16:58:16
Cheers Steve. A comprehensive tactical analysis of games is something ToffeeWeb has been missing for a while, in my opinion, so this is most welcome.
Where do you go to get replays of the whole game? I've wanted to re-watch games with more of a critical eye and less emotion attached than when I watch them live but I never know where to find them?
But based on what I've seen so far, the biggest tactical change for me is how quickly we're moving the ball about the pitch. You mention it in your article - both the time and pace at which we're hitting passes is a huge change from last season.
We are so used to players getting the ball deep (in defence and deep in midfield), ambling around, taking a few touches and then being forced into hammering a long pass or underhitting a short pass after the opposition has had a chance to get themselves set.
We appear now to be using the ball to move opponents around the pitch by playing earlier, crisply hit passes allowing us to utilise the space created. A massive difference and one which should see a talented group of players more easily control games and create goalscoring chances.
Paul Birmingham
13
Posted 21/08/2018 at 21:43:25
Outstanding analysis, Steve. To get so much detail together must take some real time analysis, and then compilation.
There's 24 hours in a day, and to get such detail so concise and easy to read is another skill. No doubt you enjoy this type of work and fair play.
EFC and the FA should get you employed. Well done! Good signs for this season, though it's very early days. If we get to the Emirates unbeaten, and win, then that would be an excellent start to this season.
Jerome Shields
14
Posted 21/08/2018 at 22:04:06
Thank you. Excellent analysis.
Paul Rimmer
15
Posted 21/08/2018 at 22:41:43
Something I noticed as an aged centre half was that Keane's pass was slightly errant, ie. at Jags, rather than in front of him, where he expected it, and leading to his weak touch. Still, he shouldn't have been sent off like.
Roy Kjaerstad
16
Posted 21/08/2018 at 23:05:22
Absolute quality work, Steve. I always look out for your posts on ToffeeWeb due to your perception of the processes of interaction on the pitch – as well as your ability to communicate it. I am sure you would make an excellent tactical coach or media pundit, but I much prefer to keep you on TW and really hope you make this a regular column.
As pointed out by Jay (#11) the insight provided by the late, great Executioner's Bong is sorely missed, but if you could find the time to keep up these analytical reviews I can't see any website give me a better return for my time online!
Andy Finigan
17
Posted 21/08/2018 at 23:35:58
I enjoyed this thread, Steve, but hope the opposition coach don't see it.
Frank Wade
18
Posted 21/08/2018 at 23:47:42
Thanks a mill for this, Steve. Took me a long while to get through it. I too am very appreciative of the time you have spent on this, especially at such a sad time for you and your family. Most certainly a labour of love.
The pitch snapshots are great and show clearly the space Neves had for his cross and the angle that Seamus had for a pass behind rather than in front of the defender near the end.
Another major difference is the increase in fitness, energy and one-for-all team ethic. To achieve this with basically the same team as last season, albeit a major addition in Richarlison for Bolasie, speaks volumes for Marco Silva and his team.
As Jay mentions in 13 above, I too used to examine the 4-4-2 Stats and enjoy the Executioner's Bong. Does anyone know how to get the match stats, heat maps etc now, or is the Premier League site the only source now?
Don Alexander
19
Posted 22/08/2018 at 00:37:39
I realise that managers down the decades of my support of the club have no doubt analyzed to death the "stats" around every performance from their own perspective and I commend Steve on his exhaustive/ing work on this one match. I genuinely think it has its place.
That said, another player moving five yards further up or down the pitch on account of such-and-such a scenario is just not going to cut it with the "value-for-money" experience sought by the vast majority of fans.
What they want is the sublime moment, the moment replayed endlessly by even such dickheads as Lineker, and sadly our club has shown way too few of those for way too long.
David Ellis
20
Posted 22/08/2018 at 05:28:08
Great analysis Ferninho. Please keep it up.
Peter Mills
21
Posted 22/08/2018 at 17:11:25
Whilst watching our first our first two games I have noticed quite a few elements of play that Steve has been telling us to look out since Silva's appointment. It has added an extra dimension to viewing the games.
Steve knows I am not completely sold on Silva, given his seeming inability to organise a defence. That has been apparent in those two games, but these are early days and we have two large centre halves to come in who may change that situation.
As for Don's "sublime moments", Richarlison's second goal at Wolves, his flick over the head of a Southampton player, and Schneiderlin's "no look" reverse pass probably equally in two games the best moments of the entirety of last season.
Keep them coming Mr Ferns, and best wishes.
Clarence Yurcan
22
Posted 22/08/2018 at 20:36:15
This is a lot more in-depth than the tactical analysis I come up with coaching my daughter's U-8s team.
Tom McEwan
23
Posted 27/08/2018 at 20:05:26
Gee thanks Steve! You are just great, can't wait for the Saints one, please make it soon!
Add Your Comments
In order to post a comment, you need to be logged in as a registered user of the site.
Or Sign up as a ToffeeWeb Member — it's free, takes just a few minutes and will allow you to post your comments on articles and Talking Points submissions across the site.
© ToffeeWeb