Report
Tactical Analysis – Southampton (H)
By Steve Ferns

27/08/2018
55

comments | Jump to last
Share:
Introduction:
It was great to be back at Goodison after the summer and to get a chance to see Silva's blues up close for the first time, after I was unable to go to the Valencia game due to family reasons. It was interesting to see how the Blues warmed up, I was down the wrong end so couldn't see so clearly, I was straining to see who was who, and it was about the time I ended that I worked out what was happening rather than paid close attention so I will look for this next game. Silva had Keane and Holgate working with Duncan Ferguson. The were warming up by leaping for headers and controlling waist height balls. The rest of the side were grouped up by position and doing position specific warm ups, such as long passing for the midfielders Gueye, Sigurdsson and Schneiderlin. Gueye was hitting some lovely long passes, so he has the ability, much to my surprise. Can Silva get this out of him in a match?
Southampton are not a bad side, despite their struggles last season. They looked great when they demolished us, putting 4 past Unsworth's Everton, and ruining our dream that Unsworth could make the step up. They were actually 9th to our 10th on the Xg table for last season. What the Xg table tells you is that they didn't score enough wonder goals (which have low Xg points) and missed too many sitters (which pay out more Xg points). So basically they did play well but finishing let them down. I'm expecting them to be mid-table this season.
Formations:
Everton lined up in a 4-2-3-1 formation, this week I had no doubt at all about that. Saints lined up in a 4-4-2. However, Charlie Austin dropped back a lot behind Ings and so they made a 4-4-2 very like a 4-2-3-1 as they tried to compete with us and find space. Again, we were very narrow. Baines and Coleman tucked right in on defence and Richarlison and Walcott did so in attack, and the attacking width was provided by Baines and Coleman, particularly Baines on the heatmap.
Statistical Analysis
As usual, I refer you to Who Scored for complete statistics. Have a look around on the site as there is some interesting stuff on there.
Interestingly, Saints had more shots that us, but this was 8-8 at half time. However, the real story is told by the fact that we edged it 7-4 on shots on target for the game, with 6 of the 7 coming in the first half. Possession was at a steady 58% in our favour in each half, clearly with 11 men and at home, we will have more of the ball. 74% of pur passes were successful so clearly we were taking risks and a bit sloppy in possession. We had more dribbles at 8-4, 3 of them (all ours) coming in the last 35 minutes though. In a turnaround from Wolves, we were far less dominant in the air, but Saints are fast becoming a mini-stoke in Hughes' image, and this should be little surprise really. We had 18 tackles to 11. This is clearly becoming a hallmark of our side under Silva. This is shown by catching Saints in possession 15 times, whilst only being dispossessed ourselves 7 times, which is not bad considering we were dribbling more. The passing stats are interesting and show there's more forward passes, not as many long passes, and those we did hit were on the ground, 43 of 69.
Something else the stats show us, is so obvious everyone has noted it, but the stats show the full extent. This is the return of the Everton left side. Between 2009 and 2015 (the Baines and Pienaar era) Everton regularly topped the stats for most attacks down the left. For the first time since we top the league stats for most attacks down the left. 47% of our attacks against Southampton came down the left, as opposed to the centre or the right. I think there's two reasons for this, obviously the form of Richarlison and Baines, but also that Saints went with Ward Prowse on the right, and he spent most of the game trying to play in the middle where he prefers and did lot to stop us roaring down the left.
Match Report & Analysis
Everton were as excited as the fans at the prospect of playing at home. It showed as we roared "out of the traps" and played with a very high tempo from the off. We looked to get forward at every opportunity. This led to even the likes of Gueye playing ambitious passes forwards.
The pressing, especially in the first half, was immense. This was something we've seen in the past, as closing down is nothing new, but not in this way and in such numbers. It was harder to analyse the press in the Wolves game as we only had 10 men for most of the game, and we were away from home. So the press is started by Tosun, he is key (not central but key) to the press as it relies on his work rate, determination and willingness to drop backwards, chasing and harrying opponents. The number we tend to see in the press is 3. So usually it starts with Tosun, and then either Walcott or Richarlison and Siugrdsson. If the ball is further up the pitch then Schneiderlin or Gueye will replace Tosun in the three fighting for the ball.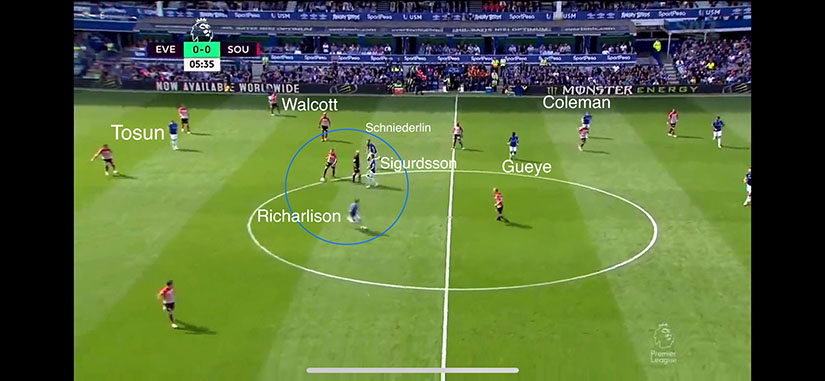 The press
As soon as we aggressively won the ball back, we went on the attack immediately. Sure we did pass it around many times, but that was only if there was no opportunity to get forwards first. One such example of our attacking play came on 6 minutes. Baines takes a short throw back to Morgan Schneiderlin. Schneiderlin turns inside and has his head up, looking inside for the pass. He turns back to Baines and hits a short pass to where the throw in came from. Baines receives the ball and plays a quick one two with Richarlison (out of camera shot on the left on my screenshot). Having got the ball back from Richarlison, Baines then plays another quick one two with Sigurdsson. Baines was making a beeline for the box, but instead Sigurdsson has to play a back heel towards the by-line to get around the defender. Baines does get there, but he's got four Saints defenders in close attention and they manage to get the tackle in on him. Meanwhile Tosun is open in the box for a tap-in and Richarlison is getting there to give Baines a second option. It's a move that didn't come to much, and didn't make the highlight reels but it was quick, incisive, exciting play that hints at the capabilities of those players and highlights the good running and movement of Tosun.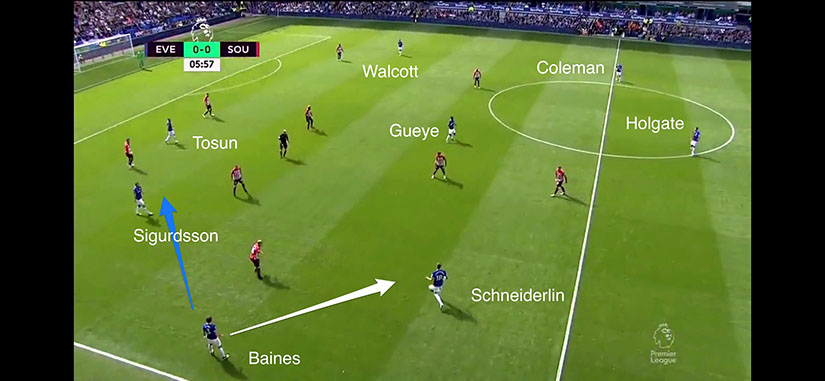 Schneiderlin on the ball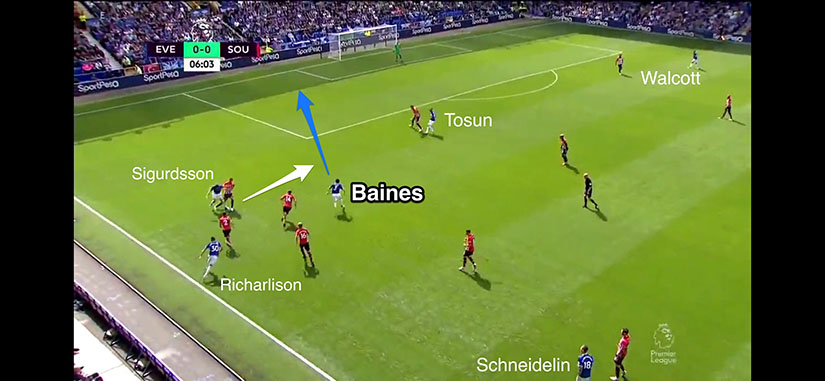 The one-twos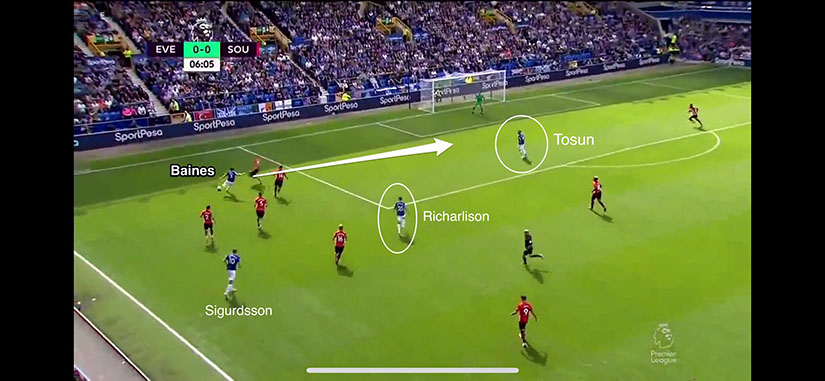 Options in the box
The resultant corner I've screenshotted to highlight our attacking setup. This is exactly the same as against Wolves. Tosun, Richarlison, Walcott and the two centre backs in the box, Sigurdsson taking it, and Gueye and Schneiderlin on the edge of the box for the rebound. Baines is available for the short ball and only Coleman is back, and even he is not quite on the halfway line. This corner was actually a Paul Scholes -esque move and it fell to Gueye who hit it true and hard, but the volley was blocked and difficult to say if it was on target.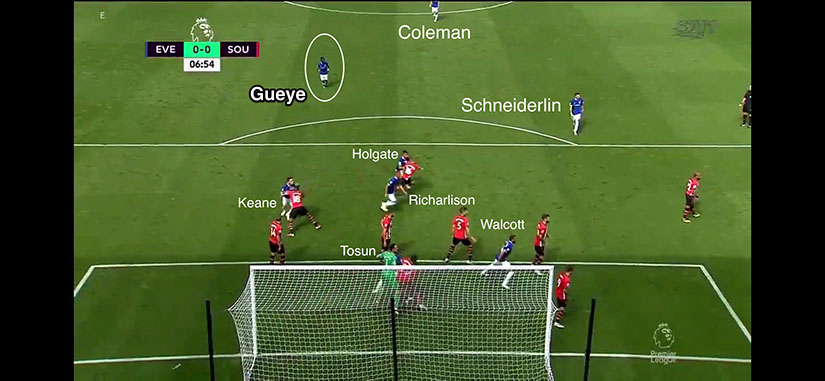 Attacking the corner and Gueye's position
I'll admit I have reworked this since we had the zonal marking discussion, but note that Southampton themselves lined up in a zonal marking formation. The difference being that they man mark Keane, Holgate and Tosun, and by the time the ball is in the box it looks like man to man as they adapt to the situation in front of them.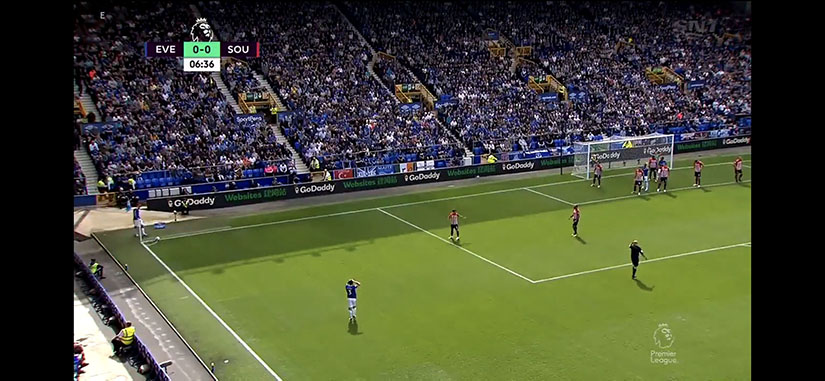 Saints zonal marking
I thought Schneiderlin was very good against Southampton, one of the best halves he's had a blue shirt. I've highlighted the below picture for an example of how he played. It's still very early in the game and it's all Everton and Schneiderlin and Gueye are controlling midfield. Here, Richarilson can be seen on the turn, you may wonder why he's so deep. Well he's just sprinted 20 yards to make a great interception and with one touch hits a great short pass to Schneiderlin who has his head up, as you can see, and spots the pass indicated by the arrow and Tosun is on the move into the area indicated. Tosun tries to beat two men in the box and is tackled. But it was a great pass from Schneiderlin. Richarlison was racing up and down the pitch, not only winning this interception but wheeling around and sprinting back up the pitch to give Tosun an overlap!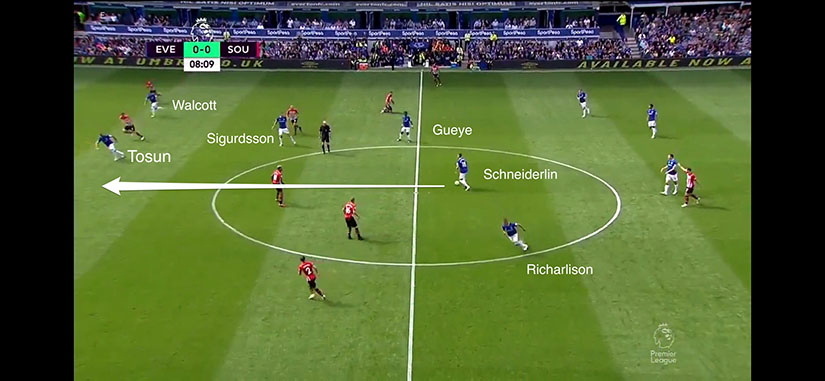 Schneiderlin dictating play
The first example of the zonal marking failures to come, came when Saints won their first free-kick. Holgate allowed Austin a free header by not picking up Austin, who was clearly in his zone, and therefore his responsibility.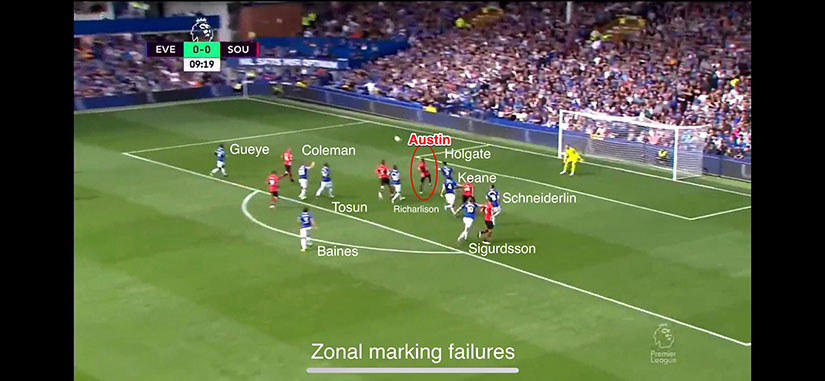 Zonal marking failures.
I've barely mentioned Sigurdsson so far. Well he had a great game, perhaps his best in blue. There are other aspects of his game I will discuss below, but first I want to mention his ability to win a freekick. He was excellent at it. Whilst we saw Richarlison writhing on the floor in agony, something I do not like to see, Sigurdsson showed how to win freekicks, and similarly ended up on the floor each time. In the photo below, Pickford has his hit one of his backspin side volleys down the pitch and it's dropping straight down onto Sirgurdsson. The clever player he is, he knows where the defender is, that he can't win this ball easily with his feet and instead he would have to take it on his head and that's not his strength. He instead positions himself and waits for the foul. Just like we will see 10 minutes later when he wins the free kick that leads to the first goal, he knows a foul is coming and sets himself up to take it. For the goal he ends up facedown on the grass and lies there a moment catching his breath and gets up. Nothing wrong with that, and just as effective as winning a freekick as Richarlison's method.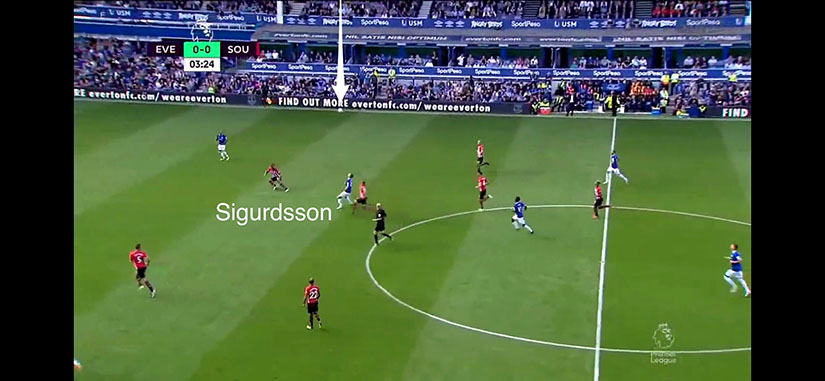 Sigurdsson setting up a foul
The goal we have all seen to death. There's no point analysing it, but I will put a link here for the official YouTube site where you can enjoy it in all it's glory from "all angles". This is a real team goal. They worked together on it. It belongs to all of them, and it shows in the celebration, which is as emphatic as a last minute winner. A clear sign of a very together dressing room, at least for these players on the pitch, as opposed to the toxic dressing room of last year.
Between the two Everton goals there is nothing to highlight. Everton were excellent. They played with tempo, they pressed hard, they passed well, the ball moved quickly, and there was excellent movement. So perhaps the only thing that needs to be said is that two players were at the hub of it all. Schneiderlin and Sigurdsson. The former was always an option for the back four and rarely hit a bad pass, even including those much maligned backwards passes. The latter was on the ball most in the opposition half. There was no real amazing defence splitting passes but there was plenty of clever play.
I highlighted in the Wolves came the proximity of Schneiderlin and Gueye, and there was signs of that in his 25 minutes on the pitch, but as Everton were more expansive in his game, and more defensive in the Wolves game (with 10 men), it's hard to really compare. What was clear was that things did change when Davies came on. He was frequently further up the pitch when moves broke down and not in the area you can always be assured that Schneiderlin inhabits.
The gap without Schneiderlin
Now I need to be fair and say that Davies played well. I in fact think the world of the boy, more so than the vast majority of you. Perhaps, I expect too much. After this clip he does indeed get back into the area highlighted and then takes the ball off the defence Schneiderlin-esque and starts a move with a good forward pass. People have queried what Davies is good at. There's a bit right before half time when Davies takes a ball out of the sky on his foot and turns a man and almost wriggles past three of them and they have to foul him to stop him. His control is always excellent. He turns and goes. Never backwards, always wanting to attack. He's not an attacker. He's not a no10, or a no8, he's a no6. He is a younger, still to improve, version of Gueye. But where he lacks Gueye's exceptional qualities, he makes up by having a lot more to his game. He is a more rounded no6. There's very few good young no6, it's a wiser player's role, you need to have a lot of experience, you need to read the game, Davies needs experience. He can be the single no6 we want. Silva said that Davies does not fit the Schneiderlin profile. No one at Everton does, Silva said. That means Gueye too, he simply cannot do what Schneiderlin excels at, the discipline, the positional sense, the passing, the composure, and the ability to just take the ball off the back four and build an attack.
Southampton found a lot of joy down the Everton left. Baines was getting forwards and so they were able to get either in behind him, or in the channel between him and Keane. Nothing came of this in the first half and chances were few and far between, but it should have been a warning sign for Silva.
I won't analyse Southampton's best chance of the first half, as it's been done to death elsewhere. Pickford was clearly not at his best this game, or the previous game. He lost the flight of the ball and let a routine save bounce off him and then Ings blasted it at goal and his lightning reflexes allowed him to get a glove on the ball and tip it onto the bar. It was a great save, but one that should have been avoided. The best and worst of Pickford in a split second. From my vantage point in the Park End, we thought Ings had blasted it straight onto the bar!
The second Everton goal is worth considering in detail. It shows what we are all about. Saints have a freekick well inside their own box and hit it square between their centre-backs, before launching it long after teasing us to press them.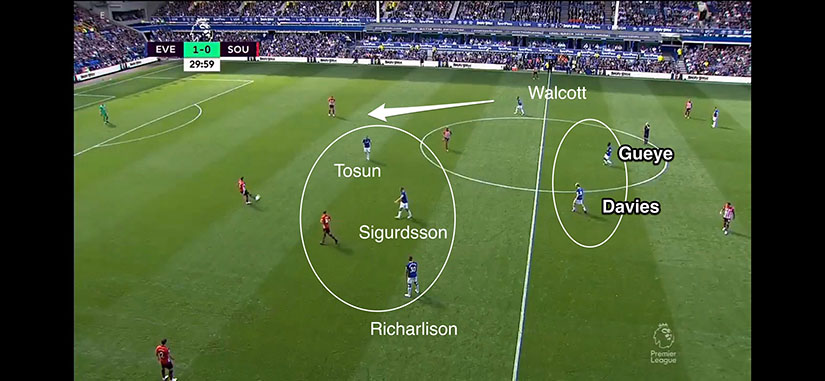 Everton start the press
Saints launch it long toward the Everton penalty area, due to the pressure of the press, and it's an aimless ball which Keane nods down to the feet of Davies. He taps it to Gueye, who takes it and sets off at speed in a diagonal towards the right hand side, allowing Coleman to sprint forwards on the right.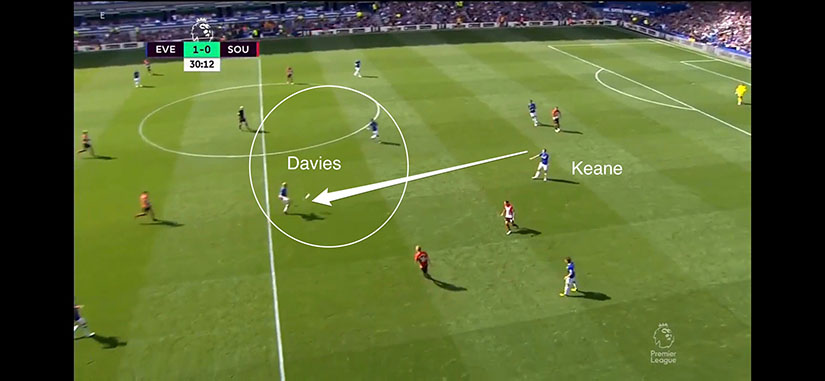 Gueye surges forwards
Gueye slips a pass to Walcott in the channel, and he feeds Coleman who checks and lets the bodies arrive in the box. Coleman starts to come inside before knocking it back outside to Walcott who has got himself into position to cross. I liked that the three in box did not stand like statues (like under previous regimes) and kept their movement allowing Richarlison to be where he was and Tosun had pulled to the edge of the box.
Walcott's cross
It was a fine header by Richarlison for the goal. They say he doesn't speak much English. He's been here a year so I find that hard to believe. All the Everton payers call him Charlie, which indicates more communication. When he scored, he ran to the Park End, as you saw on TV, and he was mobbed by the players. One by one they gave him a hug (all except Pickford). Then Coleman was last to hug him. It wasn't caught on TV but I saw it clearly from the Park End. Coleman says something to Richarlison, shouting in his ear, and pointing to us. Then Richarlison does his pigeon dance. Silly I know, but it shows the togetherness the camaraderie and the connection with the fans Silva was talking about. Here was the new captain and fans' favourite telling the new fans' favourite, do your dance, they'll love it. And we did.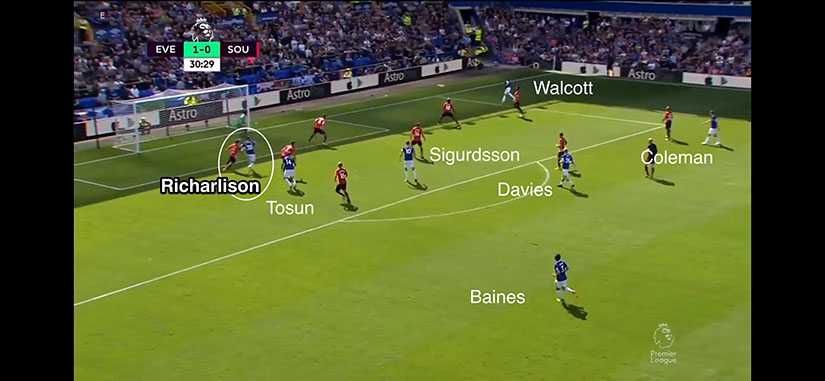 Richarlison goal
Zonal Marking Woes
There's more zonal marking woes before the half is over. As Darren Hinds had noted (I hadn't spotted it) all 11 Everton players were back in the Everton penalty area. And yet Saints manage to get 4 v 4 on the near post and flick it on, dangerously across goal, but no one got on the end of it and it was a goal kick. I'm not going to identify all the players, but Walcott is the one on the edge of the box and the likes of Tosun are closest to the keeper.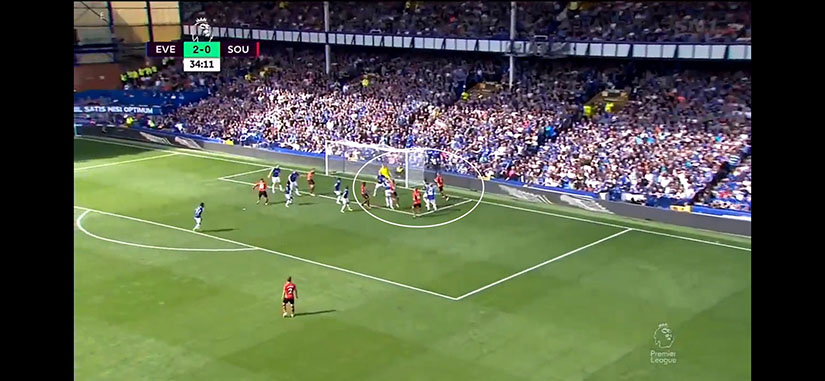 Zonal marking woes
Zonal marking needs to be understood before it can be criticised. You will hardly ever see any evidence of man marking in open play, and when you do it is a "man-marking job". In other words, you would man mark just one player of the opposition. So this means the other 10 are actually zonal marking. And in reality, you will not have seen Everton do anything other than zonal mark in open play for well over 10 years. Now this is most evident with a back four. In this article and the one for Wolves I consistently highlighted the defensive midfield two and analysed their zone. Above I criticise Davies for not being in his zone. But this zone is fluid. If the ball is on the right flank, Baines is almost on the centre of the pitch, not on the left flank. That is because zones are fluid, they move with play and the ball and with players. The right winger comes at Baines in his zone and Baines will have him, he's his man. But yet, he's not man marking, he's zonal marking, yet here is a dangerman for Baines and he takes him. However, if the right back has overlapped and runs at Baines, Baines takes the right back and if the right winger makes a move it is for someone else to be in Baines' zone and pick him up. If Baines is left isolated and is outnumbered, we'd be shouting where is his support. What was Keane, Richarlison or Schneidelrin doing? We wouldn't be screaming bring back man marking.
This is the same on corners. Everton have not adapted the zonal marking to be more fluid. They don't move as a unit. In the photo you see too many Everton players standing in isolation. They've not moved as a unit. Now is this teething problems? Is there a more serious issue? Silva did not bring all 11 back for Watford. Maybe we've been so flat footed in training that he's got 11 back to defend better. Well it wasn't working, because 11 couldn't get to the ball first. I say, be patient, it's two games in, not twenty. It may be all season that we have hearts in mouths on corners and set pieces, but as long as the penny drops before the season is out, and not much damage is done, then it'll be ok, we take it on the chin and learn for next season.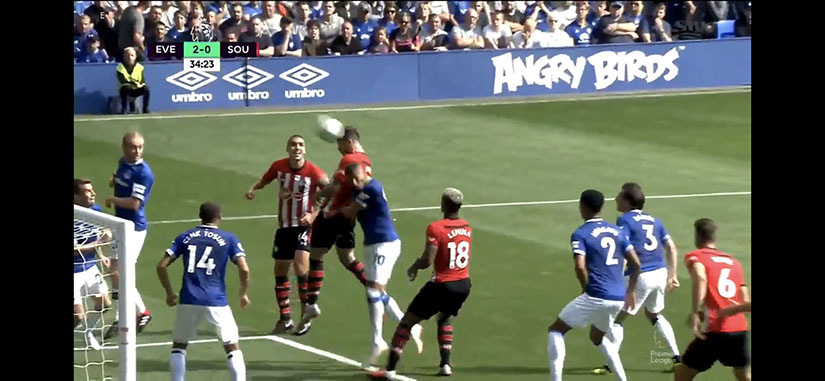 Ings head on the ball
One thing to consider though is a trade-off. Last season we were brilliant (particularly under Allardyce) at defending set pieces, and yet we were poor at converting them. This season we are poor at defending them, and brilliant at converting them. We've scored 2, and conceded 2.
In the photo below you can see that free a corner, Saints are countering Everton. I can assure you that those defenders are it for Everton, and if Ward-Prowse could get beyond them, there's only Pickford to beat. But Everton do this well under Silva. It's controlled defending, as Baines allows Ward-Prowse to wriggle free and shepherds him to the flank, allowing players to get back. Pressure is applied from the trio, Gueye makes the covering run, and Sigurdsson comes racing back to get stuck in. We do this better than I've ever seen. We risk being counter-attacked breaking in such numbers, but we are clearly well drilled in these delaying tactics, and it's something I have noted before about Silva's teams. We have got this nailed early, which is encouraging.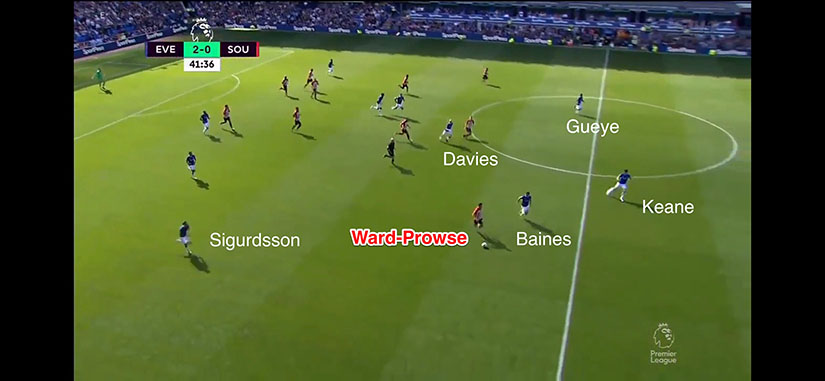 Saints on the break
in the second half, Saints come out hard. They were desperate to get back into the game. It was them who set the tempo. They pressed hard and chased us. We pressed less, ones and twos, instead of threes. We were also struggling to pass through midfield, hitting other Saints rather than through them.
Saints were on top and so deserved their goal. They hadn't really threatened us, but won a corner and zonal marking came back to haunt us. Look at the photo below. You'll see a second before the ball arrives for Ings, Saints have 4 v 2, and one of the Everton two (4. Keane) is helpless where he is. This 4 v 2 is right there in the middle of the goal, more or less with 7 players marking 3 Saints.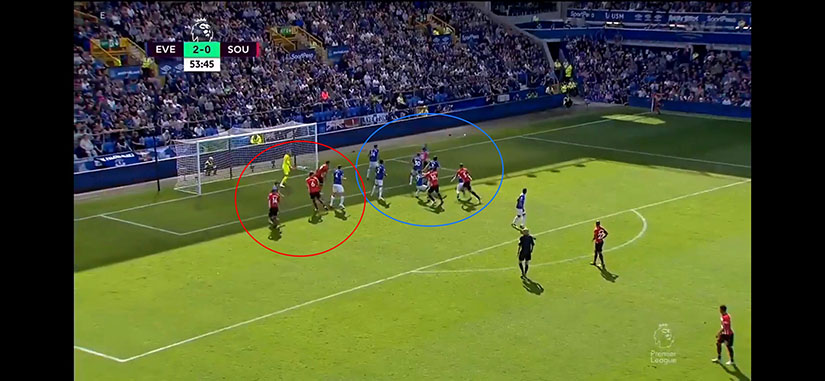 Ings goal
in the next photo, you can see how Ings has got free of Keane, who had two men, Sigurdsson struggling with two men, whilst the rest of the boys in blue turn and look like fools as the ball goes into the net. Problems to be sorted as detailed above.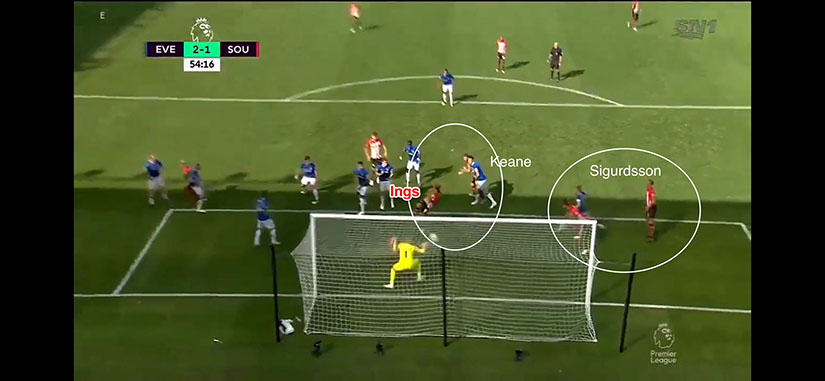 Ings unmarked
After the goal, Everton woke up a little and were in a better defensive shape, and had a better tempo. Southampton responded by kicking us. Their rough house tactics saw a succession of fouls and Everton players, Richarlison, Tosun, and Sigurdsson left on the turf. Not enough bookings were given, and so Southampton continued kicking us undeterred. So we sat a better deeper, kicked it further and carried it less.
Walcott scored against the run of play. Only for it to be disallowed. Pickford hit it long down the pitch. It was headed back by Saints and collected by Sigurdsson who hit a great pass slipping Tosun through. The top picture shows him looking onside, but on the bottom picture he does look offside.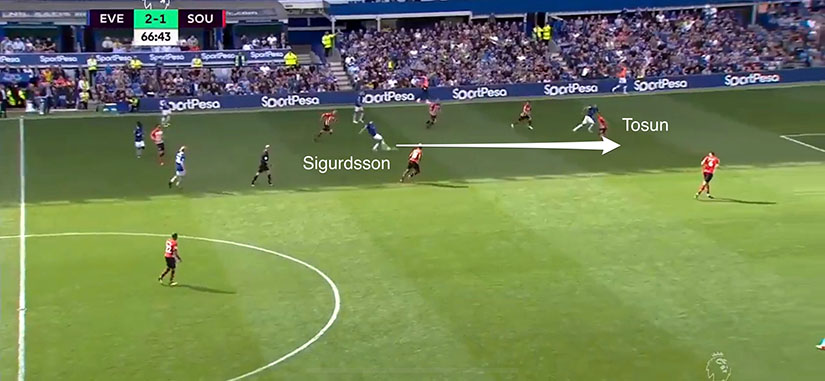 Tosun onside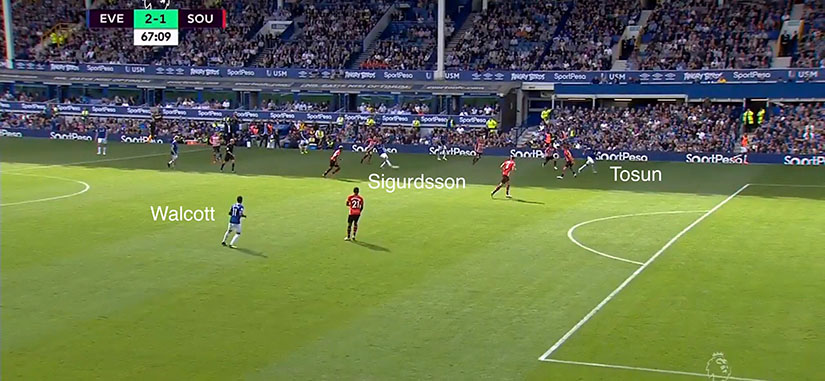 Tosun offside
Tosun did well with the ball and Walcott made a great run into space, and stroked the ball home with aplomb. It took most of the fans in the ground a good while to realise it had been chalked off for offside. I couldn't wait to get home and see why it was offside, only Match of the Day only showed it as part of their "analysis" rather the actual highlights.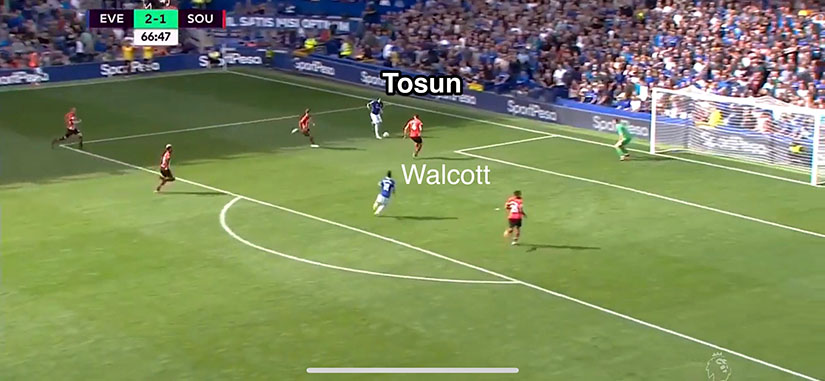 Walcott in space
The next point of interest sees Holgate receive the ball from Keane and he takes a few touches and comes forward and hit a gorgeous long ball to Sigurdsson's feet: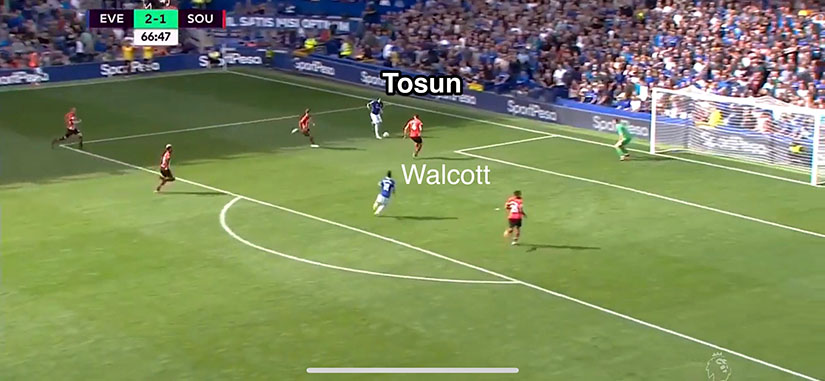 Holgate's pass
Sigurdsson lays it off with one great touch: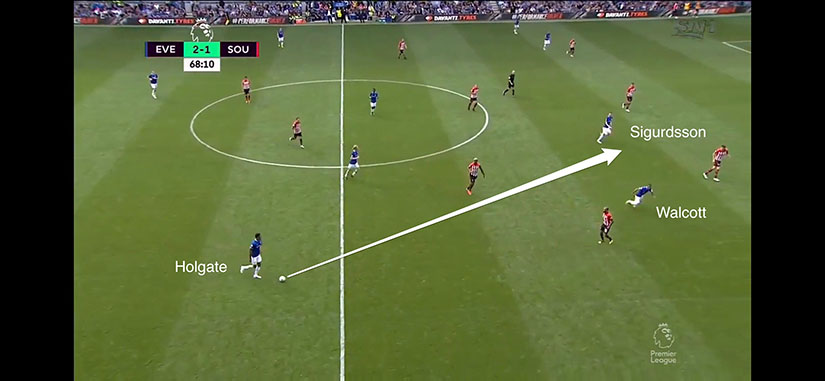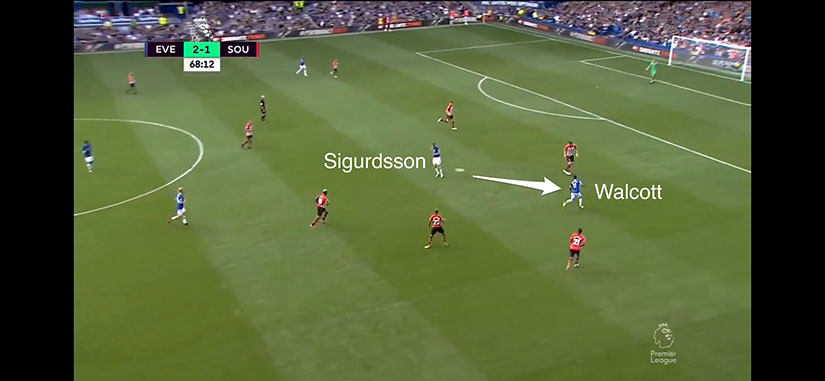 Sigurdsson layoff
Walcott takes a touch and comes inside, and plays it back to Sigurdsson who draws everyone to him like a magnet and plays it first time back to Walcott, in acres of space, clearly onside, and he fluffs his lines dragging it wide of the far post. Perhaps if he hit it first time, or having taken a touch if he squeezed it inside the near post.
Walcott in misses a sitter
The game then becomes relatively scrappy and this is summed up by an aimless Southampton punt down the pitch. Pickford and Ings challenge for it. It's not a 50-50, it's more a 60-40 in Pickford's favour. If I was Ings there, I'd expect to lose out and get clobbered, but he charges in. There's no way he's getting there first which is why he turns his back for Pickford to kick him in it. Ings knew what was coming or why less turn his back. He was second best to a ball he wasn't going to win and so cannot complain that he got hurt.
Pickford v Ings
Southampton put too many attackers on the pitch to get the equaliser that we comfortably gained control of midfield and the ball and the game petered out to a relatively tame end. Although there was time for Calvert-Lewin to show his willing running and for Niasse to come on and be a nuisance like only he can be.
The end of the game showed more of Silva trying to establish a connection with the fans. The players were told to stay on the pitch and clap, and he walked onto the pitch and hugged the players (the biggest was for Gueye for the immense running he did all game long), and then he clapped the fans turning to each stand to show them he was grateful for the support.
I think it was a good Everton performance. It was probably an offside goal for Walcott, but that one or the one he missed were deserved as it was more of a 3-1 game than a 2-1 game. I've read others who've said we played more of a 433 and that Sigurdsson was in midfield. No, he was very much in the no10 position. However, unlike normal no10s he runs, and he runs a lot. He was up and down the pitch more than any other no10 and so it appeared like he was in midfield, as when we didn't have the ball he was dropping deep and helping out. But when we did have it he was making a front 4 and being at the bottom of an attacking diamond shape.
So many positives to take from the game, but it was far from perfect. There's issues with the defending of set pieces. There's also a worry over Schneiderlin. I don't think we have a replacement for him. I hope that Andre Gomes can be the answer, but we will have to wait and see. We will be better than this. This is all about progression. We can see the progress with our own eyes today. We ran more. We pressed. First half in real numbers, before tiring. We harried and chased and Southampton couldn't cope with that. The passing was good, but it can be better. It was crisp and it was quick, but it can be quicker. So many reasons to be positive and I can't wait for the next home game.

Follow @ferninho
---
Reader Comments (55)
Note: the following content is not moderated or vetted by the site owners at the time of submission. Comments are the responsibility of the poster. Disclaimer
Greg Anderson
1
Posted 27/08/2018 at 23:29:54
Many thanks, Steve, for yet another excellent, superbly crafted, and deeply thoughtful read. Your incredibly thorough, anthropologist-like field reports from Silvaworld have helped to make that rather exotic realm much more intelligible (and appealing!) to all of us.
Just one other thought in passing, since I don't comment on this site much, but your piece also well illustrates the absurdity of the idea that players can have a single "objective" monetary value as individuals. They should be worth only the value of the roles that they can perform in a particular system, so this value will often vary. So while a Schneiderlin may be worth "only" £10-12m in, say, an Allardyce system, he suddenly becomes a £25m player in a Silva one. So perhaps Koeman didn't overspend on Schneiderlin after all, even if it is his successor who now reaps the benefits!
David Ellis
2
Posted 28/08/2018 at 03:19:28
Nice job Steve Ferninho. [The "Sigurdsson setting up a foul" photo appears twice and the first time I think you intended to have a photo of "Zonal Marking Failures". —
fixed, thanks, Ed
]
But thanks for all the time and effort that went into this – very illuminating.
Gary Russell
3
Posted 28/08/2018 at 03:57:02
Thanks for the effort Steve, and Greg, what a spot on observation (doffs cap).
Ian Burns
4
Posted 28/08/2018 at 08:54:19
Wow Steve – a fascinating read to follow on from the Wolves report. You have a genuine talent which I am delighted you share with us here on TW.
Thanks for the time spent – appreciated and respected.
Brent Stephens
5
Posted 28/08/2018 at 12:51:39
Ah, 10 minutes or so well spent reading that! Even after all these years I can continue to learn about football and I do with analyses like that (almost as good Phil Thompson).
Greg makes a good point about a player's value being relative.
One point. Tosun's contribution is clear form this. His lack of goals is no reflection on his contribution to our goal-scoring.
Nicholas Ryan
6
Posted 28/08/2018 at 13:44:26
Steve, I'm not saying the piece is long; but when I started reading it, I was a single man, and when I finished, I was married with 3 kids!!
John G Davies
7
Posted 28/08/2018 at 13:56:51
Great piece Steve.
Well worth the read mate.
Alex Parr
8
Posted 28/08/2018 at 15:38:06
Brilliant again Steve, thanks a lot mate. Very interesting reading.
Frank Wade
9
Posted 28/08/2018 at 15:40:15
Great work Steve, very much appreciate your analysis. Many thanks. Isn't it great to be able to have a discussion about Everton football tactics again after the disaster of last season. A few points. Can you explain the Xg table – it's a new one on me. The 'Who Scored' URL doesn't work for me. Do you have a source for the footage apart from the Evertonfc highlights on the official site?
How pleasant to see that we are now having more than one shot per game. Of the 15 times we caught Saints in possession, do you know how many of these was by Gana?
On the Zonal marking. Southampton set up for one of our earlier corners shows a much better spread of players than our rather lopsided setup. I'm not so sure we were set up for zonal marking, as surely, we would have had defenders in the key zones, such as centre inside 6 yard box about 4 yards from goal (Ings territory), level with post about 4 yards out with instruction to attack the ball with run and jump (Rooney and Lukaku have done this well for us in the past) and an even spread of 4 along the 6 yard box again with instruction to attack the ball.
When I was playing, we always had a man on each post, as well as Roman numerals on our jerseys !!! If not enough players for that, if the ball goes long, the man level with front post should drop back to post. You may have seen the Kane goal last night. Lukaku was the front man as he was for us many times. When it's clear the ball is going to clear him, he should pop back to cover the post. He should certainly have time and would have cleared the ball. The Ings goal and the Ake goal both came from an opposition player making a run across our front man to get the knock on.
Now that your are our official ToffeeWeb tactical technician, any chance you could include some examples of how a Chiellini or Godin lead defence approaches corners. Man mark 2 or 3 of opposition's best headers and zonal for the rest is my considered tuppence worth, but careful not to venture too far out to man mark, as this can allow the attacker get goal-side using a bit of NFL/Pulis blocking. I love the Chiellini lead high five celebrations when one of the Juve defenders prevents a goal with good defending. It's not enough to just mark a zone for them, they are all willing to take responsibility.
Keep em coming Steve.

Gerard McKean
10
Posted 28/08/2018 at 16:04:30
Another forensic analysis Steve, really helpful; thank you. Have you ever considered a job swap with Duncan Ferguson?
Dermot Byrne
11
Posted 28/08/2018 at 17:15:01
Just great to read Steve and to learn from.
As our reactions to a game cool down, analysis like this is so valuable.
And the link that shows "that goal" over and over again was a joy to watch.
Thanks mate and hope you have the time and desire to keep doing these from time to time.
Steve Ferns
12
Posted 28/08/2018 at 19:05:24
Cheers guys. I'll try and complete the Bournemouth one by Wednesday night.
The Xg stuff is being pushed by the football statisticians and Sky and BBC. This explains it: Link
As for Juventus, pretty sure they play man-to-man marking on corners. Italians love to man mark and they're the real masters of the dark arts.
I'd love Ferguson's job. It'd be fascinating to observe an elite coach (all of them at this level are elite – even Craig Shakespeare). I'm sure I could lay down the cones and participate in the drills like Dunc does!
Andy Crooks
13
Posted 28/08/2018 at 19:35:11
Steve, we have Michael's on the spot reaction. Lyndon's cooler analysis. Paul Trail's superb fan's view. Ken Buckley, sadly, seems to be having a break. So, your stuff is welcome, erudite and a great read. If you could find the time, even for just the odd game, to provide these articles it would be the icing on the cake for every game.
I wrote a while ago that a friend was working on a guide to fan sites. I have looked at loads. Nothing, absolutely nothing, anywhere, comes close to ToffeeWeb.
Tony Abrahams
14
Posted 28/08/2018 at 21:20:30
It's too much for me to digest Steve, but I scrolled down and as you say, Southampton, had some good joy down our left, especially in the first half.
Baines, was our best attacker during the first half, but he was a lot more conservative in the second though, and I was wondering if it was because of the managers instructions, or because Tom Davies, plays a different type of game?
Anyway they got a corner off a simple, straight-forward diagonal ball, over Keane's head and no fullback there to sweep, and they scored off the resulting corner.
Same thing happened on Saturday, but this time Baines gave away a penalty, and then after this Bournemouth, just kept sweeping the ball, over the top, or down the side, mostly into the area between Keane, and Baines.
I hope a change in personnel might change this, but I'm not sure it will though, because we do seem very open down this side at the minute?
Paul Birmingham
15
Posted 28/08/2018 at 21:26:19
Superb, firm but fare critical analysis, of the game.
Great work Steve, I'm sure you have found a new vocation!
This level of review helps digest the game and provides insight into the way that Silva, is drilling his team. It will take time.
I'm sure Silva & Brands would appreciate your analysis. We TWers, have much to be hopeful for this season.
Cheers, Steve.
John G Davies
16
Posted 28/08/2018 at 21:37:05
Just read it again, Steve. Even better second time around.
Eye-opening analysis.
Steve Ferns
17
Posted 28/08/2018 at 21:41:00
Cheers guys.
Tony, I think the opposition are able to exploit two things, one Baines' "engine" is not what it was so he fades later in the game and there is space behind him, and secondly the left centre-back (usually Keane) is less willing to get across there, also Schniederlin does sweep up behind Baines but he was injured.
Marco Silva Everton Tactical Video those guys at Tifo have analysed us early and got a video out on our tactics. See what you think.
Bill Watson
18
Posted 28/08/2018 at 23:03:37
Steve; thanks for another brilliant analysis. Who was it, again, who said football is a simple game?
Like Brent I'm pleased you highlighted Tosun's pivotal role in the press as I think he gets a lot of unwarranted criticism. His contribution is immense.
Jay Tee
19
Posted 28/08/2018 at 23:11:35
Excellent analysis,
Laurie Hartley
20
Posted 29/08/2018 at 00:43:50
Steve – thanks for putting so much effort into this tactical analysis – it is obviously something that you enjoy very much.
I am not very good with tactics and I don't understand zonal marking but I would like to ask you a question about the "Ings unmarked" photo.
As I recall both Ings and the man on the back post behind Sigurdsson were actually free as the corner was being set up. Meanwhile Baines and Tosun are marking no one at the front post. Can you explain to me how that makes any sense at all - either from a man marking or zonal marking point of view because I just don't understand it.
We have 9 men along the 6 yard line versus there 6 and yet 2 of theirs will score if the ball reaches them. It just looks like a big cock up to me. Is there any excuse or explanation for what happened there?
I don't want to sound as if I am on a downer because I am not. I am feeling good about how we have started the season. As you said, the progress is there for all to see. I just can't get my head round how much time and space Ings had even before the ball came in.
Frank Wade
21
Posted 29/08/2018 at 00:58:05
Wow Steve, That Tifo tactical analysis video is good. Thanks very much. Do you have a way of watching the games again other than recording from Live TV. I am intrigued as to how you got all the footage for your piece above.
Jay Wood
[BRZ]
22
Posted 29/08/2018 at 02:01:18
Laurie @ 20.
An easy way to explain it is to quote the late great Sir Bobby Robson who told his defenders:
"The reason we concede goals is because one dozy sod didn't do his job. Don't be the dozy sod that nods off!"
It doesn't matter if the system the manager goes with is man-to-man, zonal or a hybrid of the two, if some dozy sod doesn't do his job you will concede a goal.
On the Ings goal, there appears to be a collective hypersomnia with quite a number of dozy sods sleeping on the job.
Jamie Crowley
23
Posted 29/08/2018 at 03:39:44
Steve -
Awesome.
I have to say it's very comforting to me to see you back Tom Davies. I too, think there is an exceptional talent there waiting to be developed.
Davies has gotten an incredible amount of poo flung at him recently. I realize he wasn't Johnny Superstar this last weekend against Bournemouth. But he certainly wasn't near as bad as many made him out to be.
I have a feeling the dissenters on this site with Tom are the same ones who bashed Stones and Lukaku.
The boy is 20 years old! At 20 all I was doing was drinking far too much and chasing tail! This kid is, well, a kid.
I hope we're patient enough with him to see his best years in a Blue jersey.
Great piece. Thank you for the time and effort you've put into this. It's a very fascinating and great read.
Laurie Hartley
24
Posted 29/08/2018 at 05:27:28
Thanks Jay - that is more or less what I thought.
I have decided I like man to man marking with a license to do something about it if their is a "real and present danger"
Tony Abrahams
25
Posted 29/08/2018 at 10:08:45
Yes Steve, I know Baines tired rapidly against Bournemouth, but my question was about the Southampton game mate. In this game he was great going forward until half time, but then he never really got going in an attacking sense until near the end of the game.
That's only my opinion by the way, but I was wondering if it was because the manager told him to reign it in a bit, or because of the change in personnel. Snides, constantly plays little simple passes to the fullback, whereas Davies, looks to play the ball forward more, and maybe this is why Baines had a much quieter half?
Tactics change, good teams try and pull you out of shape, and that's were you need leaders out on the pitch. I honestly thought Baines had been told to stay back a bit more in this game, to stop The Saints, exploiting the space in behind/between him and Keane, but after watching the next game against Bournemouth, I couldn't be so sure?
As I say, you can talk and organise as much as you want, but if you haven't got leaders out on the pitch, it will always just fall apart. Holgate never had a good game on Saturday, but this kid looks to be the only real vocal leader, and I expect his game to come on now he's playing next to someone with real pace.
That's me sticking my neck on the line, so I hope he doesn't let us down!
Tony Abrahams
26
Posted 29/08/2018 at 10:25:17
I might be ignorant/arrogant, but I can't take that Tito video seriously. Look at were he talks about Everton pressing passing lanes (that's informative) but then watch where he puts the opposition fullback for his example?
Darren Hind
27
Posted 29/08/2018 at 11:12:18
Tony A
I get the impression you played at a decent level, is that right? Don't you dare come back and say you played for CG.
Regarding the two contrasting halves Baines had against Southampton, I sat in the Top Balcony and got a decent look at the "chess". My take is that Mark Hughes went for broke when they went two down. He went three up top. Silva simply cancelled this out by steadying his fullbacks and taking advantage of the spaces left in midfield — something which Davies particularly enjoyed. A lot has been said about our first half performance, but I think we played some great stuff in the second half.
Steve
I don't know where you find the time, but that was a monumental effort. I noticed you didn't pick up on the guy in Row C going for his pie and pint 5 mins before the half-time whistle (a very shrewd tactical move) but you just about covered everything else!
Tony Abrahams
28
Posted 29/08/2018 at 11:45:14
I used to play for Godfrey, Darren, loved it, even though you had to wear your school uniform on a Saturday morning. We merged and went to a school called Nugent and, although the standards in education went down-hill, we got some cracking players coming in from the south end, which was a great bonus for us footy mad teenagers!
I played, Darren, but never quite got there, probably because my legs never went as quick as my brain, even though every teacher used to always tell me that my brains were in my feet.
Steve is great, he reminds me of myself, until I found out that football has got as many "jobs for the boys" as the local council, and is nowhere as intelligent as it should be.
Laurie Hartley
29
Posted 29/08/2018 at 11:49:24
So Tony, why don't we have full backs on the post anymore when we are defending corners?
Tom Bowers
30
Posted 29/08/2018 at 12:26:54
Laurie, that is something I have been wondering about for years. Many modern-day ''coaches'' do not bother with it and teams pay the penalty, as did Man Utd on Monday with Kane's goal from the corner kick.
Maybe these ''coaches'' are not as good as they think they are.
Erik Dols
31
Posted 29/08/2018 at 12:41:50
Tom #30 – I'm not saying you're wrong and I absolutely hate it when a team leaves the posts unguarded on corners. But this could be a case of confirmation bias.
Not having players at the posts means they are somewhere else. Perhaps they prevent the ball from entering the box. Perhaps they prevent the knock-on header towards the far post. It could be that they prevent a lot of dangerous situations and goals. But it is hard, if not impossible, to tell how many clear chances/goals are prevented by not having full backs at the posts. It is however very obvious when a corner kick goal goes in at the post with no one guarding that post. So every time that happens, you feel confirmed, but you never feel it when a dangerous situation is prevented by a full back being higher up the pitch.
Don't get me wrong, every corner kick and free kick around our area makes me look away in fear. I feel Silva/the team still needs to find the right setup to defend those.
ps: Darren, it is a sign of great experience and very cunning to go for a pie and beer just before half time. Everton should sign that lad up immediately. Are you watching, Mr Brands??
John G Davies
32
Posted 29/08/2018 at 12:53:32
Tony A,
If you don't mind me asking, how old are you?
Tony Abrahams
33
Posted 29/08/2018 at 12:54:39
I could never answer that question Laurie, because it just doesn't make sense to me that one mate.
I don't know how wide a goal is, but I do know that you will be reducing its size by at least one metre, if you have players on the posts, so it's a no-brainier for me, especially if you have got all eleven players back defending?
Players on the posts, only have to concentrate on the ball, whereas everyone else also has to contend with an attacker, if they are doing their job properly? (Maybe if we had men on the posts on Saturday, the man at the near post might have even reacted before Acke, for their equalising goal)
Anyway during the debate the other day Laurie, I'm sure I was even reading people telling us why we can sometimes break quicker if we have every man back for a corner? Very admirable if true, but also very fucking stupid though, because when defending a corner, it should always be about stopping the opposition scoring a goal surely? SO ITS MEN ON THE POSTS FOR ME!
Tony Abrahams
34
Posted 29/08/2018 at 13:07:17
I'm going to be 49 in December, John G. I think Godfrey closed in 1983, just before Everton got their shit back together!
Funny we went to the old St Nicks building on Brownlow Hill, and I used to walk to Islington after school to get the bus home. Someone had painted on the wall behind TJ'S, EVERTON 3 SHEFFIELD WEDNESDAY 2, and it was still there and I always remember because we won the cup again in 84!
I just hope we don't have to wait much longer for the next one, although a part of me feels we will only win again once "the Kenwright years" finally come to pass.
John G Davies
35
Posted 29/08/2018 at 13:08:38
If Steve analysed the pie issue Darren you could bet your bottom dollar it would be thoroughly dissected, stripped down and a perfect report would be posted.
Any of your own thoughts on the tactical summation Steve posted?
John G Davies
36
Posted 29/08/2018 at 13:13:09
Thanks Tony,
I thought you were a bit younger tbh, mate. Some great players came out of the Nugent, Robbie Fowler amongst them, but a little later than yourself.
Talking of St Nicks, and again out of your age range, did you ever hear talk of a great Blue, sadly no longer with us, Ambo Lowrie?

Steve Ferns
37
Posted 29/08/2018 at 14:32:48
Cheers Guys.
Tony - I think Darren is right. They had four attackers on the pitch at the end and I think we were trying to have a solid defensive base by keeping Baines back.
Eric - I agree about the corners. I always got a post. But it seems that this is an old-fashioned view. Was it last weekend where 14 of the 20 teams had no one on either post? If not, it happened this season. The theory is that you have two less men to defend in the box and pick up the men, also you tend to put the smaller guys on the post, and then they end up beaten, like Mina beat Trippier in the Colombia v England game.
Gerard McKean
38
Posted 29/08/2018 at 14:52:00
Tony #28, you are so right about jobs for the boys in football, especially at Everton. We need people like you and Steve Ferns at the club because not only are you both more intelligent than most of what's there you're also more passionate for the team to succeed rather than for your salary to increase.
I absolutely refuse to enter this dialogue you're having with John G about school football. I'm above that. But I will say that the likes of Cardinal Godfrey and Nugent were no match for the mighty Cardinal Allen!!
Dave Abrahams
39
Posted 29/08/2018 at 14:57:10
John G (#36),
I know you are not asking me but I knew Ambo well, he had his finger in a few pies, Ambo loved amateur football as well as The Blues, I worked with his brother Kenny (Noddy, very good with his head, much better than our Brazilian), John G they were from round "The Bully" but did they go to St Nicks?
By the way John (got my shawl on here) did you know another great blue, Alan Hartley, has recently passed away.
John G Davies
40
Posted 29/08/2018 at 15:16:27
I was sure Ambo went to St Nicks, Dave, but memory could be playing tricks. A great lad and a tough footballer who could also play.
Kenny is doing well, runs an electrics company. Another stalwart of amateur football.
Alan, was a great man and a great Blue. Had an extreme dislike of the neighbours across the park and wasn't shy to tell you. One of life's great characters who will be sadly missed.

John G Davies
41
Posted 29/08/2018 at 15:18:02
Meant to add Dave.
Ambo had more pies than fingers. :-)
Gerard McKean
42
Posted 29/08/2018 at 15:38:02
Players on the posts AND a fast player on the half way line to occupy at least two of the opponents.
Tony Abrahams
43
Posted 29/08/2018 at 18:07:18
Brings back great memories of the dockers club, every Sunday that JohnG. Three teams, The Sandon, The Seymour, and Canada, and I've got a little picture in my head of Ambo, but I can't remember if he was a Seymour or Canada man?
I think Leighton Baines's grandad, used to always be there when I first started playing for the sandon, he was a cracking fella, (Dixie) always helping people were he acted like a kind of Physio.
Great days, great characters, people playing and watching for the love of the game, and also because you always got a great stay-behind, in whatever pub, your team ran from!
Dave Abrahams
44
Posted 29/08/2018 at 18:14:50
Tony (#43), Ambo was a Seymour supporter, if that little picture you've got in your head was always trying to sell you something, then that was Ambo. Anything from a handkerchief to a three-piece suit.
Tony Abrahams
45
Posted 29/08/2018 at 18:26:29
Maybe I never had the heart for it Gerard, but once I stopped playing, something always stopped me from really getting into coaching.
It's not easy, full of different opinions for a start, but it's the stabbing in the back, that I couldn't stand, especially when the chances are, it would usually be coming from the arse lickers?
Sometimes I think it's never to late, possibly because football is the only thing I've felt, that ever came naturally to me, but I know I'm kidding myself deep down, because it's no good being in for a penny, and just maybe I've never had enough application.
Steve is different though, he loves what he does so maybe he could become a great analyst, put it this way, I don't think anyone would put their heart and soul, into the job as much as Steve.
Dermot Byrne
46
Posted 29/08/2018 at 18:29:35
Watching the first goal for the 100th time, two things I noticed.
1. The number of players who looked over to Silva. Good sign.
2. The respect Walcott seemed to have for Coleman after they got together after goal. Keep him Capt!
John G Davies
47
Posted 29/08/2018 at 18:32:50
Tony,
Your dad's right. Both on the Seymour and on the entrepreneur aspect.
A great lad, Ambo, decent footballer but also a tough man. If he hit you on the pitch you stayed hit; never a bully though, treated all the same big and small.
Gerard McKean
48
Posted 29/08/2018 at 18:35:15
Tony, there were two great self-educated physios in those days. As well as Dixie Baines there was Ron Swain, a gentleman and staunch Evertonian. They were so good that, in the early 1960s, Everton actually invited them to Bellefield to teach their skills to the club's backroom staff. The days of the dreaded wet sponge panacea for all ills were coming to an end!
Ronnie's two sons, Ronnie Jr and Alf, were both outstanding players and in another time (ie, nowadays) Ronnie would have made professional. As it was, he was kicked out of most games.
For anyone who remembers Ron Sr, he passed away at a grand old age just a couple of years ago; a visionary, humble and brave man who fought his way into Malta with the famous Santa Maria convoy that finally relieved the siege of the island in 1943.
Laurie Hartley
49
Posted 29/08/2018 at 22:04:41
A picture is worth a thousand words - so can someone tell me how to insert one into a post. I have a couple of screenshots for Aker's goal that I would title "Find the full backs".
Barry Jones
50
Posted 31/08/2018 at 03:40:52
Steve, thank you. If you have the time, keep this going because it is incredibly informative. Stats can be interpreted to mean almost anything but when you have the combination of the game knowledge and someone who has an understanding of how the team plays (you), the picture becomes quite accurate.
Peter Mills
51
Posted 31/08/2018 at 10:47:05
Another very informative article, Steve, thank you. I think you concentrate a little more on our attacking than our defending, that probably reflects your positive nature.
Apart from our well-chronicled problems with defending corners and free-kicks, we are also vulnerable to diagonal crosses from deep in open play, and I am wondering if this is down to our playing a "narrow" game – you have mentioned more than once the fullbacks concentrating on defending to the width of the penalty area. It's something I will watch for on Saturday.
Kim Vivian
52
Posted 31/08/2018 at 19:31:37
Not sure if it's been said but I hope our opposition coaches aren't reading these analyses – they are very insightful!
Steve Ferns
53
Posted 31/08/2018 at 19:38:14
Haha nice one Kim.
Peter you've a point against Bournemouth and I'll try to highlight more on the defence especially when I finish the Bournemouth one.
Ian Bennett
54
Posted 03/09/2018 at 06:47:10
Here's an analysis. MotD are quick enough to highlight when Pickford clears the ball against Southampton, but say fucking nothing when Tosun gets punched, yes punched when putting a header in at a corner.
Absolute joke.
Eddie Dunn
55
Posted 03/09/2018 at 08:38:52
Steve, I really enjoyed your analysis – fascinating stuff, please continue, if you have the time.
On the zonal marking versus man-marking, I still play 5-, 6-, 7-a-side weekly, and the occasional full game, and often play in goal (57 years old and slower than I look).
When in goal at corners I tell my defenders who to pick up and to look out for the late runs into the box. This all takes place as the corner is being set, as players move into the box.
Who has responsibility for this in our defence? Is it Pickford or one of the defenders? Perhaps someone who sits behind the goal would know?
Whether zonal or not, communication and familiarity are key.
Add Your Comments
In order to post a comment, you need to be logged in as a registered user of the site.
Or Sign up as a ToffeeWeb Member — it's free, takes just a few minutes and will allow you to post your comments on articles and Talking Points submissions across the site.
© ToffeeWeb