Report
Embarrassing Blues come gift-wrapped for lethal Spurs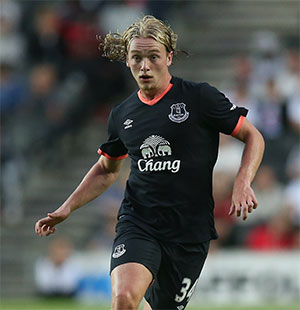 Tom Davies gets a starting role in place of the injured Idrissa Gana Gueye
EVERTON 2 - 6 TOTTENHAM HOTSPUR
Everton took the lead well through Walcott only to gift four goals to Tottenham in a depressing show of seasonable generosity at Goodison Park.

Theo Walcott returned to Everton's starting line-up - one of two changes from the side that started the 3-1 defeat at Manchester City on 15 December.

Tom Davies was also recalled while Yerry Mina was dropped to the bench along with Brazilian forward Bernard. Idrissa Gueye was still out injured and Lookman did not appear in the squad, his place on the bench taken by Oumar Niasse, who has not appeared there for a Premier League game since mid-September.

Mauricio Pochettino mades four changes to the Tottenham side that started the last league game. Colombia defender Davinson Sanchez mades his first top-flight start since 29 October after injury, while there were recalls for Son Heung-min, Harry Winks and Christian Eriksen. Danny Rose, Oliver Skipp, Erik Lamela and Lucas Moura dropped to the substitutes bench.

It was cagey stuff early on, with few indications of how the game would eventually go, Sigurdsson getting clattered by Sanchez, the ball going out of play numerous times in the first 3 mins. Richarlison tried a forward ball that was overhit.

High pressing by Calvert-Lewin forced Sanchez to handle on the edge of his area but, of course, not given. Some great movement from Everton looked to play in Walcott a couple of times but the former Arsenal man could not produce an end-product

Coleman was looking to play the long ball down the right wing but so far it had been well defended. Alli fouled Davies but the free-kick was played sideways. Sigurdsson had a great probing run, the cross perfect to Richarlison who headed wide, a glorious chance gone begging and Spurs were immediately in Everton's area,

Kane easily fouled Zouma to get in behind and came very close to lobbing one in over Pickford — a massive warning sign. Son then got forward and took the ball over the line before cutting back for Trippier, Pickford saving well.

Kane got the ball in behind but was flagged offside this time. However, Spurs were now threatening in a serious manner, Kane through again, tackled robustly by Zouma to dispossess him.

Walcott had a chance to create but passed instead to a Spurs defender, initiating another fearsome Spurs surge upfield. Everton kept going forward down the right side but too much reliance on the inaccurate long ball. A poor cross-ball by Digne was intercepted and the Spurs attack earned a central distant free-kick, lashed wide by Kane.

A great pick-out by Sig gave Calvert-Lewin a great chance to get forward and his perfect cut-back to Walcott was rammed home with great delight by the ex-Arsenal man. Slightly against the run of play perhaps, but a goal scored with some fine football from Everton.

Kane went for glory at the other end, the ball dropping just over Pickford. At the other end, and excellent header by Calvert-Lewin off a deflected cross from Walcott but it was disallowed, the defender Sanchez making the most of a feeble touch on his back. Oh for VAR!

Spurs were looking very dangerous going forward and Pickford rashly came out to get in Zouma's way on a bouncing long ball, Son benefiting ridiculously with a good finish into the empty Everton net. A horrible mess between Pickford and Zouma destroying all the good work so far.

Ricarlison looked to run forward down his favoured left-channel but his ball to Sig was again overhit. At the other end, Spurs waltzed through, Kane firing wide of Pickford, looking sad over another incongruous cock-up.

Trippier earned a yellow card for an unintentional high boot on Calvert-Lewin. Everton's big striker was then called for a push in the back. Everton were passing the ball well enough but the build-up was too laboured to fool Pochettino's men, Walcott overhitting his cross.

Spurs showed them how to do it, a rapid counter with Son getting free behind the Everton defence, Pickford pushing out his shot nicely for Dele Alli to lash the ball into the Gwladys Street net.

Gomes dispossessed Sissoko and Sigurdsson fired a pass to Walcott but he was immediately double-teamed, with Calvert-Lewin fouling as he fought to win back the loose ball. Zouma caught the back of Son's heel, removing his boot, for a very dangerous free-kick. Trippier sent a screamer round the wall, smacking off the post thanks to Pickford's fingertips in a determined lunging dive, and there was Harry Kane who could not miss, despite two defenders seemingly closer to the ball.

Goodison Park was massively deflated as Everton and played out the remaining minutes without threatening, apart from Pickford doing a nice two-footed lunge on Alli after the whistle had gone, that perhaps could have drawn a sterner punishment from Referee Paul Tierney.

Alli did not reappear, Lamela on in his place, with predictably, no changes from Marco Silva. Sigurdsson won an early corner but the delivery was hardly testing... meat and drink for the Spurs back line.

Another gift made it 4-1, with just 3 minutes gone in the second half. Kanes's cross headed out by Coleman straight to Eriksen who fired in a superb strike beyond Pickford. Lambs to the slaughter.

Stinging no doubt from justified criticism Sigurdsson showed exactly what he is capable of, picking up a great ball from Richarlison and cutting across the Spurs area, dragging defenders with him, before picking his spot with a brilliant reverse shot that totally fooled Lloris. Schneiderlin then replaced Gomes, a very strange move from Silva.

Schneiderlin's first contribution was an impossible ball for Coleman to chase out of play. But Everton were at least playing up, Spurs patiently waiting their chance to pick off one of the many sloppy passes. They eventually slice through, Son slotting easily past Pickford. Embarrassing. The first 'clean' goal for the visitors after four nice Yuletide gifts from the home side.

A free-kick was taken well enough by Sigursdsson after Eriksen was booked for not retreating, and Digne crossed in superbly from the clearance but Richarlison's header was off-target.

With 17 minutes left, Spurs made it six, a fine ball in from Son after beating Digne down the Everton, Kane scoring his second with consummate ease. Bernard replaced Richarlison as the Goodison faithful abandoned the ground in droves.

Sigurdsson saw a deflected shot saved by Lloris. At the other end, Kane wanted to make it seven for his hat-trick but his progress toward the Everton goal was thwarted.

Another dangerous free-kick for Spurs inside the last 5 minutes saw Eriksen's low drive deflected just wide. Bernard fired in a late corner that came to nothing. Digne tried an intelligent cross late on that was deflected then defended away, Schneiderlin's late volley blocked by Skipp.

Paul Tierney finally brought things to a painful end for the few Blues that remained at the end of a very sad and sorry Everton display.

Scorers: Walcott (21'), Sigurdsson (51'); Son (27', 61'), Alli (35'), Kane (42', 74'), Eriksen (68')


Everton: Pickford; Coleman, Keane, Zouma, Digne; Gomes (53' Schneiderlin), Davies; Richarlison (753' Bernard), Sigurdsson (81' Tosun), Walcott; Calvert-Lewin.
Subs not Used: Stekelenburg, Mina, Baines, Niasse.

Tottenham Hotspur: Lloris; Trippier [Y:32'], Alderweireld, Sanchez, Davies; Winks, Sissoko (83' Lucas); Eriksen [Y:71'], Alli (46' Lamlea), Son (79' Skipp); Kane.
Subs not Used: Gazzaniga, Foyth, Rose, Walker-Peters.

Referee: Paul Tierney

Attendance: 39,319
---
Reader Comments (232)
Note: the following content is not moderated or vetted by the site owners at the time of submission. Comments are the responsibility of the poster. Disclaimer
Christy Ring
1
Posted 23/12/2018 at 15:12:14
Schneiderlin on the bench ahead of McCarthy, disappointed to say the least.
Christy Ring
2
Posted 23/12/2018 at 15:14:48
No Lookman on the bench?
Joe McMahon
3
Posted 23/12/2018 at 15:16:36
There was me hoping for Lookman to start, no even on the bench.
Frank Crewe
4
Posted 23/12/2018 at 15:20:11
Mina on the bench. To be honest I don't see much of a future for Mina at Everton. He's just another Keane. He lacks pace so playing both him and Keane at the same time is a liability against quick forwards which is what all of our main competitors have these days. Probably why Barca let him go. Best to try and hang on to Zouma if we can.
What's with Lookman not even making the bench. If he's injured they kept it pretty quiet. What's the betting he chucked his toys out the pram again so he's been dropped.
Jay Wood
[BRZ]
5
Posted 23/12/2018 at 15:24:52
Good to see Silva taking a big decision and benching Mina and going with our best centre back pairing this season, Keane and Zouma.
There must be an explanation as to why Lookman isn't in the match day squad: injured, sick (Gomes and Richarlison also had a bug this week and missed some training days), or disciplinary (no leaks of that nature). I'm guessing he's got a knock or a bug that has ruled him out.
Better balanced line up than last week.
Give us a show, Blues.
Christopher Marston
6
Posted 23/12/2018 at 15:25:25
Getting tired of Lookman Watch'. He's not good enough to start. Bernard is a full Brazilian international. Tosun is a full Turkish international. Only so many spaces can be filled.
John Hammond
7
Posted 23/12/2018 at 15:35:04
Lookman probably has an illness. Would've liked to have seen Bernard at No10. Disagree with the clamour for McCarthy. Nothing against the guy but he's one we should be looking to sell due to his terrible injury record that isn't going to every improve.
Jim Harrison
8
Posted 23/12/2018 at 15:51:13
Macca? Comeback today? Against Spurs? You are having a laugh!
Christy Ring
9
Posted 23/12/2018 at 16:54:48
Shocking defending by pickford for the first,and why didn't Digne stay in the wall for the third goal, all this after Calvert-Lewin denied a perfect goal to go 2 up. Midfield not in the game.
Ciarán McGlone
10
Posted 23/12/2018 at 17:01:05
Shouldve been a red for Pickford.
Entertaining match. Dont think its over yet.
John Voigt
11
Posted 23/12/2018 at 17:01:45
Typical game against a top 6 side.
It's just not good enough.
Paul Carsley
12
Posted 23/12/2018 at 17:03:12
Same garbage served up week in, week out. Game is just bypassing our midfield and as for Pickford. No organisation at all throughout the team. After watching Everton for 37 years nothing surprises me anymore. Premier league is just a very average product. Take away top six teams and you're left with very average overpaid players.
Tony Twist
13
Posted 23/12/2018 at 17:06:57
Naive players and even more naive manager, Martinez all over again. At least they are playing attractive football! Let's hope for an early goal in the second half then spurs score a few more.
Jay Wood
[BRZ]
14
Posted 23/12/2018 at 17:09:19
I don't have a problem losing a game to a superior side with well-created goals. It hurts, but you have to acknowledge the other team was better.
I do have a problem when Everton gifts goals so cheaply, which is what we did with all 3 Spurs' goals.
We give ourselves a great foothold in the game with our excellent worked goal between Sigurdson, DC-L and Walcott...and then Pickford - I exempt Zouma totally - screws up big time. Cool finish by Son, but the situation doesn't happen without Pickford's brain fart.
Spurs look like scoring on every attack with their clever movement and swift passing. Does not the manager on the sidelines, or the players on the pitch (particularly the captain) not see pushing on our full-backs in allowing Spurs in behind our defence down the flanks?
That's where the second goal came from. Son in acres of space down the left with Seamus way out of position. Jordan makes an initial good save, but Dele Ali has been alert to the situation, whereas Gomes was not, and fires in the rebound. OK - Pickford was maybe unsighted, but could he have done better than allow the goal through his legs?
Then the free kick. Why don't we have a player standing over the ball, delaying the taking of it until the keeper has sent up the defence wall correctly? Why are we still arranging the wall with Spurs ready to take it? Digne slow to do what Pickford asked and so half and half in the wall. Son's feinted run pulls Digne further out of the wall, Trippier's free kick goes through the vacated space, Kane runs off the other side of the wall anticipating a rebound and duly scores.
I hope Spurs have declared at half-time, as they did in the corresponding fixture last season, or this could get very, very messy.
Ciarán McGlone
15
Posted 23/12/2018 at 17:16:30
I hope Gomes is injured.. otherwise thats probably the most ridiculous substitution ive seen in a long while.
Mike Galley
16
Posted 23/12/2018 at 17:40:52
That was painful. I say that in the context that I've left and now having a jar in the black horse.
I don't think I've ever seen a bigger gulf between us and Spurs. And to think, it doesn't look like they'll challenge for the big prize this year.
This is a gutless, characterless group of players .
Alan J Thompson
17
Posted 23/12/2018 at 17:50:02
Schneiderlin on when we're 4-2 down! What was he did with Estoril in the Portuguese 3rd division? To compare him to Martinez is an insult to the Belgium manager. Just as well we are in transition, another 3 years and 27 transfer windows at 90M a time and we'll be up there challenging for 6th. At this rate he'll be the 3rd 10 million pound manager looking for a job with a national team.
Mo Guindi
18
Posted 23/12/2018 at 17:50:25
Right - that's it!! After 55 years of supporting this club - mainly courtesy of the great Alan Ball I will sadly cease doing so with immediate effect. Who to switch to though? Arsenal- given that's where Bally moved to and I get to hate Tottenham properly as well as beat them!
Gerry Ring
19
Posted 23/12/2018 at 17:52:06
Pickford is turning into David James. Responsible for giving away 3 goals today. Dreadful. We were overrun in midfield again. Davies tried his heart out but 80% of his passes are misdirected. Walcott is a 45 minute player with no real determination. Schneiderlein would be more at home in the championship. There is hope though! (I hope)

Winston Williamson
20
Posted 23/12/2018 at 17:53:08
Disgraceful. End of story. I hate being an Evertonian. Hate it.
James Byrne
21
Posted 23/12/2018 at 17:55:25
Piss poor today. IMO, Pickford should have been dropped after the Derby.
Michael Kenrick
22
Posted 23/12/2018 at 17:55:27
Kenwright applauding like a bloated sea-lion at the end? WTF?
Dave O\'Connell
23
Posted 23/12/2018 at 17:55:34
Absolutely shocking... and to think of all the fans who slated Martinez at least we had a team; this is a shambles. Silva is totally out of his depth.
Jay Wood
[BRZ]
24
Posted 23/12/2018 at 17:57:49
Brutally, brutally exposed.
On that performance, Spurs is the best team we've played this season.
They are everything I want Everton to be. But we are sooooo far off them.
They are genuine title contenders.
Our organization, our shape, our style has totally collapsed since the last-minute loss in the derby.
Michael Lynch
25
Posted 23/12/2018 at 17:58:30
Dreadful.
The gap between us and the top 6 is huge. SIlva seems to have simply found a new way to be shit. Open, entertaining shit. Better than the shit served up by Koeman, Unsie and Sam, but I fear the outcome will be bottom half rather than top half.
Mark Tanton
26
Posted 23/12/2018 at 17:59:43
My mates who are non-blues regularly tell me how utterly useless Pickford is, all bread and no filling. Hard to defend him today.
Michael Lynch
27
Posted 23/12/2018 at 17:59:55
Jay, Spurs are good, but they're not title-winning good in my opinion. But they're absolutely light-years ahead of us in every department. And the gap is widening rather than closing, which is the most depressing thing about it.
George Cumiskey
28
Posted 23/12/2018 at 18:00:05
Well, boys... come on ToffeeWeb and tell me how we're a work in progress, and you can see a light at the end of the tunnel, and how much we've improved since last season, and we only need a decent striker to break into the top six.
By the way, good job he brought on Schneiderlin or we could've really been in trouble.
Mike Oates
29
Posted 23/12/2018 at 18:00:10
Some bare facts:
- Pickford is a disaster waiting to happen
- Keane, Mina, Zouma just aren't good enough, no matter what combination
- Davies will never make it as a Premier League player
- Richarlison is a con-man
- Out of the 11, there is only Sigurdsson a true top 6 player
Silva is a joke, stop taking teams on as though we will outscore them, we are nowhere near good enough. Get back McCarthy, Gana, and Baningme to give us some backbone – drop Bernard, Richarlison, Davies, Schneiderlin, Walcott. Start with 4-4-2 and learn how to defend.
Jamie Crowley
30
Posted 23/12/2018 at 18:00:13
Could have drove a Mack truck down our midfield today.
That's up there with worst I've seen.
Make it stop, God. Please.
Mike Allison
31
Posted 23/12/2018 at 18:00:18
We need some sort of psychological reset button, today wasn't so much a gulf in class as a gulf in confidence. The refereeing will be forgotten because of the scoreline, but it provided some key turning points. If Son played for us he'd have slipped over on his first and been flagged offside for his second. Eriksen's and Kane's first wouldn't have been goals if they weren't in exactly the right inch.
Keep the faith Evertonians. Show some character.
Brian Hennessy
32
Posted 23/12/2018 at 18:00:47
Disgraceful performance. Not a single Everton player can come out of this with any credit. Pickford set the tone with his moment of madness.
Ah well, look at the positives: Schneiderlin is back.
Phil Smith
34
Posted 23/12/2018 at 18:02:41
That performance is down to the coach. 100%. What were we playing at at the back???
There was little pressure from midfield. Gomes shouldn't have played if we were to press them high up. Him and Davies did nothing all game in that regard.<> Everyone is blaming Pickford for the first one but I blame Zouma. Pickford clearly shouted to him but Zouma did nothing except knocking our keeper over.
Shocking defending today across the team. Only Sigurdsson was pressing. Awful. Just awful!
Jim Bennings
35
Posted 23/12/2018 at 18:03:23
Do you know what?
The players don't give a shit about the Blue shirt so why should we?
Embarrassing club to support that never gives anything back to the fans.
Ray Jacques
36
Posted 23/12/2018 at 18:05:37
We got away with that today. It could have been 10!!
I've never seen a team so open in a top league game, ripped to shreds on both flanks and through the middle.
John Keating
37
Posted 23/12/2018 at 18:06:53
Never supported anyone leaving before the final whistle. Now joined the ranks.
Okay let's accept Spurs man for man are superior to our squad and are in a better place.
I have never been embarrassed being an Evertonian, not even when Allardyce was signed, today I was embarrassed.
I thought Carey going under the circumstances he went was a disgrace but what I witnessed today was equal to that.
There's a thread about Premier League week 18 Paul Tran said we only needed strikers. I answered and agreed with Paul but added that we also needed a pragmatic management team that would pick a team and employ tactics to suit the opposition.
Today just proved my point.
Silva is 100% Martinez Mk.2.
I am all for this type of football and tactics he is trying to employ but for fucks sake wait until we've got the team to do it!!!!!!!!
A week or so ago a Watford supporter wrote an article praising Silva when he was winning but questioned him when things were going wrong. How right he was.
That disgrace of a result had nothing to do with individual players – though Pickford could be pulled up - that was purely a tactical fuck up from kick off until final whistle.
No doubt we'll get a few posters seeing positives like we competed after we went 6-2 down. Unbelievable.
Stephen McNally
38
Posted 23/12/2018 at 18:08:14
Some vitriol comments on here. People just need to accept, we're light-years behind Tottenham at the moment.
I have got to agree with Merson, not one Everton player is good enough to break into the Spurs team. Never mind, if we finish in the top half of the table, we can all be happy.
George Cumiskey
39
Posted 23/12/2018 at 18:08:18
The saddest thing about this is people are saying Sigurdsson put in a shift and he was our best performer; if he was, that shows how bad we were... because he was shit as well.
Kenny Smith
40
Posted 23/12/2018 at 18:09:11
There are no positives to take from that today. We are a million miles away from Spurs are right now.
It was a ridiculous decision by Pickford which set the ball rolling. I can't help but think we lost more than a point when we lost to the RS. The knock-on effect is there for everyone to see.
We missed Gana massively. Davies is not good enough and never will be.
Two big away games to come and we need to be getting 6 points or it's a bottom-half finish, I reckon.
Dave Williams
41
Posted 23/12/2018 at 18:10:43
Just got in from a trip to Bath to see my brother and I couldn't believe what I saw when I turned on the TV.
In 'transition', we may be... but six conceded at home is a bit extreme. What was the defence doing?
We have certainly gone to pieces since the derby defensively and Silva needs to sort it out and quickly. How come Palace can win at Man City yet we get thrashed at home?
Marcus Taylor
42
Posted 23/12/2018 at 18:11:02
Right then. What have the happy-clappy 'we're in transition' Marco Silva brigade got to say about that debacle?
Here's your Silva Sycophants Bingo Card. Play along at home:
* First time we've been thrashed
* Disallowed Goal
* Pickford's fault
* We're in transition
* Rome wasn't built in a day
* Silva needs time
* What do you expect in 18 games?
* We're better than we were under Allardyce
* We're making clear progress
* He needs two more transfer windows
* Results aren't important this season
* Fatigue

...Nothing to do with Silva's shit tactics, of course! He clearly learned nothing from the 7-1 shellacking Pochettino's Spurs dealt his Hull City side a few years ago.
John G Davies
43
Posted 23/12/2018 at 18:12:42
HOUSE!
John Boswell
44
Posted 23/12/2018 at 18:14:08
Well said Mike @ 31. Of course it is a disappointing result, might have been different if Calvert-Lewin's goal had been allowed to stand. Should the Spurs defender be referred for simulation? I believe he should as the contact was minimal and not deserving of the reaction. He deceived the referee, resulting in a goal being disallowed.
However, I will not be spitting out my dummy like many earlier posters, I do not hate Everton, I am not going to stop supporting Everton, and I am not going to look for another club to support instead of Everton.
Get a grip, you know you will be back for more on Wednesday at Burnley. We are having a bad spell, that is all.
Merry Christmas everyone, and a happy and healthy New Year to you all. COYB.
Anthony Murphy
45
Posted 23/12/2018 at 18:16:36
Need to ensure we don't concede the next couple of games. Need to work on defence and steady the ship. Unfortunately, Silva isn't that type of manager.
That derby goal looks increasingly like a turning point for both clubs.
Martinez Mk 2 today – same naivety.
George Cumiskey
46
Posted 23/12/2018 at 18:18:37
Marcus @ 42 – exactly right, mate, the sycophants are on already.
Joe McMahon
47
Posted 23/12/2018 at 18:19:14
Defence no better that under Koeman or Unsworth.
Pickford is not a top 4 keeper. Not knee-jerk: vs Liverpool in the FA Cup, Turf Moor last season, Wolves this season etc.
Matthew Williams
48
Posted 23/12/2018 at 18:19:56
Merry Xmas to all at Tottenham Hotspurs Football Club... From Everton FC.
Sigh.
Winston Williamson
49
Posted 23/12/2018 at 18:23:50
John, 44, I didn't actually say I hate EFC, I said I hate being an Evertonian.
Just coz you're pissed off at the club, but feel it's not good form to have a pop at it, don't come on here having a pop at other people!
It's a fan site ffs. We've just been hammered at home, 6 fucking 2!!
What sort of reaction would you consider proper??
Richard Mason
50
Posted 23/12/2018 at 18:24:19
First time I have left a pub 3 beers in. Absolutely disgusting performance.
Jerome Shields
51
Posted 23/12/2018 at 18:25:28
Silva, throughout this season, so far, has had the one way to play: the high press. But he has failed repeatedly in his selection and coaching to implement his preferred tactic.
Play in the final third is uncoached; players cannot complete a pass, often overhit or inaccurate.
Players are either wingers or have their back to goal, with no intention of beating their man.
Only the midfield trio of Sigurdsson, Gomes and Gueye are of the right standard; the rest for these positions are not.
Defence is poorly coached, though players do have ability.
Silva and his one-trick pony tactics, which he is struggling to implement, are beatable and Premier League teams all know they have nothing to fear from an inept Everton in the final third. They can push up their defensive line, flood midfield, and put pressure on a badly coached defence.
Silva has no alternative tactics.
To compete in the Premier League, a team needs to be able to adapt different tactics. They need to be able to be solid in the offensive, mobile in midfield, and clinical in attack. Everton are nowhere near this. How good of a coach is he really, when recurring problems occur, week-in & week-out?
Tony Everan
54
Posted 23/12/2018 at 18:26:29
After that, we need to win at Burnley. To do that, we need to have a midfield.
The midfield as an efficient operating unit for us does not exist. Tottenham exposed us for what we are at the moment – a work in progress at best, bottom-half also-rans at worst.
I am in the 'work in progress' camp, but any more of today's shite and that line starts wearing a bit thin.
Andy Crooks
55
Posted 23/12/2018 at 18:27:12
I cannot see one positive from that truly appalling performance by the players and the coach.
The coach and players lack any kind of edge and steel. They were weak and feeble. I believe we are the team the others like to play against. Nice guys who don't get too upset.
That was two fingers up to the supporters.
Paul Tran
56
Posted 23/12/2018 at 18:29:23
John Keating #37.
Fair point; on today's showing, we need a lot more than strikers. I've consistently said we need a real physical presence in midfield.
Big test for Silva right now. The wheels have come off in the last three weeks and he needs to turn it around quickly.
Jim Bennings
57
Posted 23/12/2018 at 18:31:45
The club and the players have had the backbone of a jellyfish for years, let's be honest, so it's no surprise.
We piss away millions on players but the end result is the same. Go back to doing what Moyes used to do, sign hungry players from the Championship that will at least put a shift in.
A second year running and Spurs have their easiest away game of the season at Goodison Park.
Phil Rodgers
58
Posted 23/12/2018 at 18:32:14
Disgusting, gutless, pathetic display. Don't know what else to say.
Mike Allison
59
Posted 23/12/2018 at 18:33:00
Tottenham are a great example of what happens when you keep the same manager and stop changing your players. Silva has some serious questions to answer, but I don't think I blame him in the same way as I did for picking three at the back against Man City.
Tottenham spent nothing in the summer. Nothing at all. However, that won't stop people coming on here saying we need to change this player, sign that one, get rid of X, splurge £100m on Y and so on.
We used to finish above Spurs, despite them outspending us on transfers and wages. We did it through continuity and stability. We kept the same manager and we couldn't afford many new players. Now, they've become us and we've become them. The answer to our problems is stability, continuity and patience, not more change.
Having said that, it's a vital test of Silva's mettle now. A result like that should be a watershed, he should be using it, and in 6, 12 or 18 months we should look back at that game and recognise how that was the turning point. I worry that he is not a good enough manager to do that. However, we have no choice but to give him the chance to do so.
Jason Wilkinson
60
Posted 23/12/2018 at 18:33:41
We need a reaction vs Burnley. I would suggest Marco makes a few changes in personnel. Pickford should keep his place in goals (despite the clangers). Mina and Keane at centre-half. Give Leighton and Kenny a go at full backs. McCarthy in for Davies. Tosun in for Richarlison and Lookman on the left.
Pickford,
Kenny, Keane, Mina, Baines (back four)
McCarthy, Gomes (midfield)
Sigurdsson (attacking mid)
Tosun, Lookman, Calvert-Lewin (forwards)

Eddie Dunn
61
Posted 23/12/2018 at 18:35:46
Michael,
Kenwright was applauding that super football from Spurs, and the rest of the crowd should have stayed and clapped them off the park. This is what it is all about... playing like them. Good for him and good for them – I hope they overhaul the Reds and win it.
George Cumiskey
62
Posted 23/12/2018 at 18:38:29
Jason @60,
You'd have Keane Sigurdsson Tosun and Calvert-Lewin in your team... really?
The mind boggles.
Jay Harris
63
Posted 23/12/2018 at 18:39:04
Tactical suicide by the manager to think we could go toe to toe with Spurs.
We are like a sieve with gaps all over the pitch.
This is starting to feel like Martinez Mk 2.
I thought Silva had more in his locker but he is being tactically naive lately.
Tom Bowers
64
Posted 23/12/2018 at 18:39:42
Hard to believe what has happened over the last month or so.
It seems the more Everton fall flat on their faces, the more RS look like the best team in the World.
Okay that may be true to some degree and we all know why but what happened today is just totally unacceptable from Silva and Co. So, unless something is done soon after 1 January, then I'm afraid it has to be goodbye Marco.
He is looking more like his predecessors on the touchline (a deer in the headlights) so to speak. He may indeed be totally out of his depth in which case who the hell wanted to bring him in the first place?
However, fair is fair, maybe he has plans to turn this around with some new bodies in January but if not then what on earth can we expect with what he has here now. It's scary, to say the least.
Kunal Desai
65
Posted 23/12/2018 at 18:39:50
Couldn't even say it was men against boys. I've seen more commitment and effort shown by my son's little kickers side aged four.
It was much worse than embarrassing.
Frank Wade
66
Posted 23/12/2018 at 18:40:28
Mike, totally agree. We have to persevere. If I were Silva, I would play the recording of that game as an example in the team room. Pocchetino praised his team's energy in his interview. That's what we need as a starter.
Dave Ganley
67
Posted 23/12/2018 at 18:41:04
Just back from the game, not sure what to say about that apart from the same rhetoric that most others have used. Yes, Spurs were a decent team but, first 20 minutes aside had a very easy ride today.
As soon as Pickford and Zouma gifted them the first goal, the heads dropped and it was one-way traffic. The 2nd and 3rd goals players are just ball watching, shocking defending. We played with no pride, no heart and to all intents, nobody looked like they cared.
I'm not going to single anybody out mainly due to I can't think of a single player who came away with any credit. I'd like to think there would be debris flying all over the dressing room and players having very harsh words with others as well as themselves but, after watching that shite today, I doubt it.
They just gave up and for me that is just unacceptable. I thought that we had turned a corner but I'm not so sure. How can a team play like we did in the first 20 minutes just cave in like we did? How can you be a top level athlete and have such a fragile mentality?
Very very poor and that's being kind. I hope that Silva comes up with solutions and quickly as the level of effort put in by the players collectively over the 90 minutes was quite frankly embarrassing.
Spurs are going to be lauded as being fantastic but they weren't. They were decent but we beat ourselves quite comfortably. Shocking performance that I hope never to see again. I'm ashamed after today.
Jason Wilkinson
68
Posted 23/12/2018 at 18:42:36
George @62.
Why not? Tosun can hold the ball up. Calvert-Lewin and Sigurdsson can score goals.
Keane was left badly exposed by those (not) around him today.
Derek Taylor
70
Posted 23/12/2018 at 18:44:28
Let's take stock after the Lincoln game in New Year. Nobody is getting the sack right now but, if we've lost a couple of Premier League games and can't murder the Imps, watch out for departures.
Then it's back to Moyes. You wait and see!
Paul A Smith
71
Posted 23/12/2018 at 18:46:58
What we saw today was dreadful. Hero Pickford at it yet again. Shouts of missing Gana who can't pass 2 yards. How bad are we if we miss Gana.
The club need to keep improving the squad or stand still. Spurs are excellent. The opposite of us. Ambitious size stadium and hold onto their young gems to build around them.
We sold all ours to buy from relegation sides. If that doesn't hit home for you, nothing will.
Gary Willock
72
Posted 23/12/2018 at 18:48:14
That was just unbelievably worrying. Felt like Martinez without any of the flair.
The midfield is simply woeful without Gana. Davies is NOT good enough for a midfield two, and Gomes is like having a Roller and not enough money to put any fuel in. Schneiderlin getting anywhere near the team tells you all you need to know.
We really need to move to a midfield 3 to stop teams running through us there. If Gylfi can't drop back in, then he moves to impact sub. Bring in two generals there to work alongside Gomes. Three if Gana goes to PSG. Perhaps Loftus-Cheek and Ramsey if they'd be mad enough to come.
John McFarlane Snr
73
Posted 23/12/2018 at 18:48:25
Hi all, I wasn't able to attend today's game, but listening to the Radio Merseyside commentary, I got the impression that, although it wasn't a particularly good performance from Everton, the big reason appeared to be a gulf in class.
I believe that, if a player is not good enough, it's not his fault, but if he doesn't try hard enough, it certainly is his fault.
Hi Mo [19], the best of luck with your new club. I don't think that you'll be missed; whoever we support, the magic word is 'support'.
Brian Williams
74
Posted 23/12/2018 at 18:48:27
Derek, don't talk tripe mate.
Jim Bennings
75
Posted 23/12/2018 at 18:51:10
Nothing less than 6 points from Burnley and Brighton is good enough now to try and salvage a disgraceful last month.
We have won ONE game since November 3rd, what a pathetic return that is.
Anything less than two wins from the next two games will be deemed as a big disappointment.
David McMullen
76
Posted 23/12/2018 at 18:55:52
I've never left a game as early as I did (5-2).
It was bad. But Tottenham are showing the way on the pitch and off it (with their new ground). How have they stole ahead of us so much in the last decade?
Some are calling for Silva's head! Yes it was a shocker all round but we'll pick up. After a season of Koeman and Allardyce it will take quite some time to turn us in to a team to compete with the likes of Tottenham.
Dave Ganley
77
Posted 23/12/2018 at 18:58:00
Hi John Mc, you probably did yourself a favour not being able to attend today.
It's just too easy to say Spurs were better. Undoubtedly the final score suggests that but that lets Everton off the hook.
Your second statement about players, actually you could just say the team today, not trying hard enough is very applicable. They were embarrassing after Spurs equalised. They just fell apart and virtually gifted the game to Spurs. This is definitely Tottenham's Xmas present; I doubt they will have an easier game this season.
John G Davies
78
Posted 23/12/2018 at 19:03:05
Comprehensively beaten by a far superior football team. A team benefitting from being allowed to grow over time, being allowed to build into the very good side we watched today.
The ONLY way we can ever hope to achieve their level is for the manager to be offered the same patience.
Jim Bennings
79
Posted 23/12/2018 at 19:05:29
Should we have given Martinez more time then, John?
John Keating
80
Posted 23/12/2018 at 19:05:48
John 73.
Yes there was a gulf in class, for sure. However, as we have all seen over the years, sometimes this can be overcome with determination, commitment and most important, tactics.
Unfortunately, today we totally lacked determination and commitment. As regards to tactics, well there wasn't any. In fact, the tactics at the Friary infants school in the '50s, when we played SFX, were better.
Peter Jansson
82
Posted 23/12/2018 at 19:07:56
Pickford's mistake against Liverpool started the downslope. Then, just when we got out of the tunnel, he did the same thing again. The problem is that the tunnel he put us in this time is even darker than the last one.
His decision making is just awful. Every time he get a pass I get stressed out...sorry. The nervousness then spreads around the team. Only Gomes that can make a pass right... and he get's taken of... I miss the proper words to describe my feelings here.
John G Davies
83
Posted 23/12/2018 at 19:08:32
Jim @79,
Would you have sacked Martinez after 18 games?
John Hammond
84
Posted 23/12/2018 at 19:11:46
Got to hand it to the guys, that was a lovely gesture towards the away team in pretending it was a training game!
Spurs are light-years ahead of us and yet we could've been 2-0 up. Should've kept it tight but gave them all the space in the world. The simplest ball over the top and we were done time and time again.
It's all about the reaction now.

Derek Knox
85
Posted 23/12/2018 at 19:12:15
I haven't read every post but just skipped through, how long do we have to keep making excuses? The tactics today by the manager were totally inept, the players, apart from a couple, just didn't seem committed at all.
I have said it many times, that Silva was not my choice, but I was prepared to back him, but I am afraid today was almost the final straw!
A few have accused him of being another BS Merchant, as were his previous counterparts, today and the last few games have exemplified those remarks.
Where do we go from here?
Jim Bennings
86
Posted 23/12/2018 at 19:13:37
No, John,
Because, after 18 games under Martinez, we were absolutely flying and had just beaten Manchester United at Old Trafford and drew at Arsenal.
Marcus Taylor
87
Posted 23/12/2018 at 19:13:43
#John 83
Who is calling for Silva to be sacked? It is a common inference on ToffeeWeb that criticism = wanting the manager to be sacked. That is not the case... but Silva should not be exempt from criticism – especially after a 6-2 thrashing.
Dave Williams
88
Posted 23/12/2018 at 19:15:01
I'm still recovering from this – I recall a humbling by Man Utd 2-6 on Boxing Day in the days of Hill, Coppell, Pearson and Greenhoff and it encourages the sort of reaction on here this evening.
Silva has to be given more than six months. Sir Alex was close to the sack at Man Utd and then got it right. Klopp had RS fans calling for his head in his early days but suddenly he bought the right people to shore up his defence and look at them now. Even City with their wealth took a while to get going.
From what I have read Silva was naive to attack them today – surely we need to be solid at the back and hit on the break against a team which is clearly better than us – and one can only hope that he has learned more about his players in the last five games than he did in the previous six when the results were good.
I agree with many on here that we need a physically imposing defensive midfield who can win the ball and dominate – Davies and Gomes were never going to do that today.
Maybe Spurs will have done us a favour in exposing how badly we need a good transfer window.
Finally, I have supported us through thick and thin since 1963. I sat through the 5-0 hammering at RS in 1965, the 1-5 Keely derby, the 1986 and 1989 CF defeats, the semi in 2012, 16 against Man Utd as above and far too many more humbling and depressing defeats – but you NEVER stop supporting your club.
By all means save your hard earned cash til things get better and don't go but we are Evertonians not by choice and we don't give up – ever!!
Philip Yensen
89
Posted 23/12/2018 at 19:17:20
Where do I start?
Pickford: this boy is not good enough for Everton or England. No goalkeeping brain at all. Get shut. Total clown
Coleman, finished, looks backwards every time, lost pace and ability to read the game, and captaincy?
Keane, can't mark. Immobile, can't direct a header.
Walcott, luxury player, no defensive qualities and not strong or effective enough.
Davies, an average player at most, no vision, loses the ball, no fight to get it back, watches the game too much.
Richardson is not a wide player, needs to be involved all the time.
One decision by the ref fucked us up, the "push" by Calvert Lewin, never in a million years a free-kick. Just before half-time, he had exactly the same push on him,,, nothing.
These same gutless refs won't give a decision when the players have arms around each other or grabbing shirts in the area.
The game is fucked now. No slide tackles, because that is a "follow through" now. Next: no-contact football.
New stadium for 52,000? We will be lucky to have the last 4 digits watching soon.

John Keating
90
Posted 23/12/2018 at 19:19:41
John,
If you remember when Martinez came in, the first few games were crazy. Nobody, players nor supporters, could understand what we were doing and why.
By the 18th game, things were such that teams couldn't suss us out and we were doing good. By the end of the season, if you remember, teams had well worked us out and the signs were there. What did we do? Long-term contract. That cost us.
So no, after 18 games we were riding high. The rest is history.
Koeman comes, long-term contract, didn't learn our lesson. Koeman goes. Allardyce in, 18-month contract. Happy days, Sam.
Silva comes in. 3-year contract. Still haven't learned. Especially when you consider a more prominent manager like Emery gets a 2-year deal at Arsenal.
I appreciate we have to give Silva time. But everyone has to learn by their mistakes. Has Silva?? If not, then another expensive golden handshake.
Peter Jansson
91
Posted 23/12/2018 at 19:19:43
Well, there must be a deeper problem with the club. It cannot be only the manager's fault that things start to slope downwards again and again. Do we have a culture problem within the club? Backroom leadership and staff good enough?
I seriously wonder why I should devote my time to watch this. I could have spent 23 December in a much better way.
Dermot Byrne
92
Posted 23/12/2018 at 19:20:22
Marcus #42: everyone hated today. I would direct your wrath at the overpaid players and manager rather posts like #42 which are just searching for fellow Blues to have a ding-dong with.
John Pierce
93
Posted 23/12/2018 at 19:22:31
Silva's tactics were brutally exposed for the second week running.
The high line was suicide, when you pick midfielders who either can't or were instructed not to pressure the ball then Spurs were allowed time to pick their passes.
It was clear even before our goal, Kane lobbing wide. Remember Kane isn't quick, a well-timed run and no pressure on the pass.
So why no adjustment? The back four spent the game with their hands up!
Not one player was worth praising today, because no one stepped up in-game and decided the tactics were killing us. Really good players are brave enough to do so.
The most scary bit was the way we just became completely disorganized. Running around like 7-year-olds following the ball.
Silva's post-match interview ignoring his part in the debacle. Time for a rethink Marco.
Ash Moore
94
Posted 23/12/2018 at 19:24:01
I have not given up supporting them, Dave. Just realised that I can't afford new phones every awful performance, and I like being married to my wonderful missus than being single and having Everton all to myself.
It was bringing a lot more pain than pleasure watching them – so I stopped watching them. Only good decision I've made in years to be honest.
I still look for the score – hurts a lot less reading "Everton embarrassed 6-2 by rampant Spurs" than by actually watching it unfold in front of you.
Derek Knox
95
Posted 23/12/2018 at 19:27:23
Dave @68, I was at that match and, although it felt humbling at the time, I can't remember it being conceded so easily.
Putting things in perspective, we hadn't spent large amounts on players who were supposed to be the future of the Club.
Dan Davies
96
Posted 23/12/2018 at 19:27:53
Silva needs to decide who his centre-backs are and stick with them. Come back, Gana please!
Dave Williams
97
Posted 23/12/2018 at 19:29:16
I can sympathise with that, Ash. I couldn't watch the derby for the same reason in that I wouldn't inflict what would have been a Gould mood on my wife and daughter.
Tony Marsh
98
Posted 23/12/2018 at 19:31:46
Everything that the really good football teams do starts and ends at the back. Take Liverpool for example. Last season they played some of the best football seen in the EPL yet won nothing and consistently threw games away. They go out, buy a top keeper and a top centre-half. Hey Presto, they are fixed and will now probably win the title.
Jordan Pickford is a liability. The last club Pickford played for are in the 3rd tier of English Football which sums it all up really. I said last season, Pickford was too small and made poor decisions. This season is worse than ever and Pickford needs moving on. Coleman I feel sorry for but he just doesn't have it anymore. Some fans are still waiting for the Seamus of 5 or 6 years ago to return but he won't return; this is it.
Davies is still dining out on the City goal a few years ago, Walcott isn't good enough neither is most of the squad. The only decent players we have are the Marco Silva signings. The rest of our players are a useless group of desperate buys and a few veterans. It's simply not good enough yet a large proportion of Evertonians remain delusional to the very last. There is no point blaming the manager, he has only had one transfer window. God knows where we would be with one of the Old Guard in here. Moyes, Hughes, Allardyce, Bruce, Pardew etc.
Time to buckle up, guys. Bumpy roads ahead. This will get much worse until at least Pickford, Coleman and Walcott are removed from the starting 11. We need a keeper as badly as we need a proper striker.
Raymond Fox
99
Posted 23/12/2018 at 19:38:23
Supporting this club is like a punishment, it's become embarrassing. You get given a carrot of hope and, just a quickly, it goes bad.
How do we climb out of this hole we find ourselves in? Answers on a postcard, please. I know one thing: sacking every manager we employ is not the solution.
Dave Ganley
100
Posted 23/12/2018 at 19:41:03
Yeah, I was at the 6-2 hammering by Man Utd in the '70s on Boxing Day; I was only a kid so can't remember that much but, like Derek says, I can't remember it being that easy for United like Spurs had it today though.
As a side issue, didn't the floodlights fail for a while against United? I seem to remember the United fans chanting they wanted their money back.
John G Davies
101
Posted 23/12/2018 at 19:43:43
Jim, 86
Would you sack Silva after 18 games?
Marcus Taylor
102
Posted 23/12/2018 at 19:44:52
Dermot #91,
I'm not after a ding-dong, Dermot. Just tired of hearing the same of old excuses week-after-week. I thought the 'Bingo Card' was quite a humorous way of presenting my opinion. Obviously not!
Maybe it's time for a break from Toffeeweb. I'm becoming too cynical.
Joe McMahon
103
Posted 23/12/2018 at 19:47:05
Ash, I'm with you on that one. I haven't gone to an Everton game in 2 years (and yes we lost). It's more rewarding having more Saturdays with my other half.
Of course I will go and see Everton again, been a supporter since 1976, but not this season when we are just the same old same and Liverpool win the title.
Pat Kelly
104
Posted 23/12/2018 at 20:11:29
Silva will be gone at the end of the season. He has been found out. He can't put an organised team together. Their confidence is now shot to pieces. It's falling apart around him and beyond his ability to fix it.
Dan Davies
105
Posted 23/12/2018 at 20:12:39
The culture of the club behind the scenes needs looking at here.
Those at the top need to be knocking on Brands's door first chance and he should be asked What The Fuck is going on here?
Marcel then needs to do the same with Silva. They both then should get the players together and have a good chat because it just ain't good enough at the moment!
We need a reaction in the next game big time.
Dave Abrahams
106
Posted 23/12/2018 at 20:17:57
No way could any Evertonian defend that performance. Spurs were just a different class to us, as many have pointed out. The midfield was none existent and even when we were ahead Spurs had been the better team in all departments of the field, not going over the top but it could have been another 10-4 game.
The most disappointing part for me was the lack of fight, pride and any sort of unity in the team; it certainly looks like the Derby game has completely affected the form of the team and the spirit within the club since that game.
No real purpose in having a go at any single player because hardly any of them could look back on that game with any credit.
Brands and Silva need to assemble the squad and watch that game together, discuss it and see if the sense of shame they should feel brings the reaction it should.
Christine Foster
107
Posted 23/12/2018 at 20:19:47
Look guys, as I said on the live forum, at every level imaginable from players and management, we got and deserved nothing. We are short of quality and there will be days when we are exposed because we are not good enough and neither is the manager, but he will come right; the lack of quality won't.
What I expect is for a quality manager to understand our limitations and adapt our play to compensate. We lost because of the lack of quality in the team, lack of commitment from those same players, and the tactical absurdity of a manager who did not or could not change when we could all see it going wrong.
David Midgley
108
Posted 23/12/2018 at 20:19:56
Tottenham players passed the ball to Tottenham players, Everton players did the same. They couldn't find their own players for most of the game. Digne couldn't seem to find any of our players.
Everton hardly had anyone showing for the bal; they had two or three. We kept trying cross pitch passes; they kept it short, sharp and on the ground .
Why do we keep having to pass it back to the 'keeper?
Was young Tom on the pitch?
Don Alexander
109
Posted 23/12/2018 at 20:32:05
In trying to find out just how many four-goal hammerings we've had at Goodison (way more than any "top" team, that's for sure), I came upon an alleged fact that no club has suffered as many defeats as we have in the entire history of the Premier League.
Step forward, Mr Kenwright and take a bow. Sigh. Again, and again, and again.
John McFarlane Snr
110
Posted 23/12/2018 at 20:32:29
Hi Dave [77], You may find this difficult to believe but I would have loved to have been at Goodison today, lying in a darkened room listening to a match commentary, is akin to watching the game through someone else's eyes.
I'm on record as saying that two fans could sit together to watch a match and see a different game, thus the diverse opinions. I think that reading the views of fans who either attended the game or watched on TV can be misleading, the bottom line, however, is that the result was horrendous, but I can recall the day that Spurs beat us 10-4 at White Hart Lane and that result wasn't terminal, and if losing 6-2 to Spurs is the worst thing to happen to you this year, you've had a good year.
Hi John [80], Not having seen the game (I failed a late fitness test) and as you will have observed from my reply to Dave, I have no definitive view on the happenings of this afternoon's disaster.
I'm not big on tactics, I only know that if you keep the ball out of the net at one end of the pitch, and put it into the net at the other end, you've every chance of winning the game. Football is a simple game, isn't it?
John Keating
111
Posted 23/12/2018 at 20:35:59
Dave 106,
Dave if you think about it this effort is not just since the derby. Go right back to the opener at Wolves. Couldn't finish it off. Same at Bournemouth. Look at Huddersfield at home, Southampton. Cardiff all really disappointing performances.
Also, nearly, unlucky, if only, at Arsenal, Chelsea, United. We've had numerous excuses. The most pathetic one I heard was that we looked tired!!! Unbelievable.
We can't win every game and nobody – except one or two on here – thinks we can. But we have to compete. The management have to give the players the tactics and belief that we can compete and so far this season I see not a sign of that. Lots of talk but no substance.
As our neighbours have shown, winning becomes a habit hard to break. Losing becomes the same.
Kieran Kinsella
112
Posted 23/12/2018 at 20:37:17
Don
That fact is somewhat misleading since the only other all time present teams have been the top – barring Man City. Swindon played fewer so lost fewer. The Hammers, Newcastle even Man City have been relegated. That said, Yes, Kenwright is a disgrace.
Jim Wilson
113
Posted 23/12/2018 at 20:40:11
Baines and Jags practically pensioned off and Holgate shunted off, millions spent on defenders and we are shipping goals more than ever.
With yet another manager who fails to know the basics, where do we go from here?
The amount of money spent for no improvement is remarkable.
Dermot Byrne
114
Posted 23/12/2018 at 20:40:27
Marcus, mate, it will pass!
John Boon
115
Posted 23/12/2018 at 20:42:52
I am a dyed in the wool Evertonian, but today it should be "DIED". I have to say that part of humour is to laugh at the absurd. What I saw today was absurd, and this ridiculous game could ruin my Christmas. However, I have decided to laugh in the face of adversity. I am fortunate enough, or unfortunate enough, to clearly remember another Spurs encounter when we lost 10-4. So we have improved since then.
So, for all those poor souls who are about to give up everything, for ever Evertonian, just hang in, even if you have to donate your brand new Everton Christmas shirt to the poor. Being a life-long Evertonian is difficult. Just when things are going right, they go absurdly wrong.
I have to laugh rather than cry because I have my six Blue Grandchildren coming over for Christmas Dinner. Sometimes I even feel guilty because I am the one mainly responsible for them becoming Blues. One of them was around during today's game and he told me that Granddads don't cry. That was after the Pickford - Zouma Charlie Chaplin collision when I stated, 'That' was enough to make you cry!!! Even after that disaster, I still did not think that it would get even more ludicrous. How wrong I was....


Peter Jansson
116
Posted 23/12/2018 at 20:45:43
#108 Digne has been totally useless the last games. It seems like he can't pass a ball right, neither can he make a crossball or corner right. Also, he has done several defensive mistakes leading to goals.
If he is not better than this we have a problem.
Why the hell cant Baines get a chance to play? Last game he played, he was good.
Dave Abrahams
117
Posted 23/12/2018 at 20:50:08
John (111), you have a point about some of those games but, in the Wolves and Bournemouth games, I thought we did well considering we played with ten men for large parts of both games. Huddersfield came to spoil and niggle, as did Newcastle. We have to learn to beat these sorts of opposition, but I repeat – it's early days.
Today felt different: there was no real fight or togetherness within the team, just an attitude of let's get the game over and get off the pitch, No player seemed to care, it was like a lost cause and the manager is just as culpable as the players, even more so since it's his job to sort it out and getting them playing to a proper plan and system; there was just chaos today, totally not good enough.
Let's hope for a reaction at Burnley, we certainly can't have a repeat of today's horror show.
Phil Rodgers
118
Posted 23/12/2018 at 20:52:17
It's gonna get messy on here if we lose to Burnley...
Tony Everan
119
Posted 23/12/2018 at 20:53:25
Jay 63 sums it up in two words: tactical suicide.
Apart from Gomes, our midfield is too lightweight; without Gana, we're easily beaten to the ball, out-muscled and out-played. Passing and composure are non-existent.
The whole team suffers when the midfield engine room is incoherent. There is no shape or organisation, no class to make time and grab a modicum of control over the game and nearly always exposed.
Tottenham had the freedom of Goodison park going forward and our midfield was nowhere to be seen, it needs sorting out. Tactically, using the right personnel for the right games in the right formation.
Today was a disorganised joke of a performance, in our ''bear pit'', Mike Kenrick's got it right, it is fucking Embarrassing.
Pat Kelly
120
Posted 23/12/2018 at 21:00:45
I should add to my belief that Silva has been found out as tactically bereft and will be gone at the end of the season.
The squad is abysmal. Pickford can pull off some wonder saves but is now error prone too often. Coleman, unfortunately, is finished as a dependable full back and we miss his attacking wing play which is gone forever. Davies is out of his depth in the Premer League and will never make it there. Bernard is worth every penny we paid for him, enough said.
Richarlison is turning out to be a poor investment and Silva doesn't know where to play him. Walcott is a bit part player. Our strikers would give the three stooges a run for their money but no one else. Schneiderlin, why is he still here? Lookman, if Leipzig want him good luck to them.
It's just as well Bramley-Moore Dock won't be ready for four years, if at all, because it'll take that long to build a team that would fill it.
John Keating
121
Posted 23/12/2018 at 21:01:39
Thing is Dave, and you're right about a reaction, so far this season we have never shown any reaction to a bad performance – and there's been a few!!
Silva may well be a great manager at Finch Farm and getting all the info on the opposition but is he a motivator? Can he make game changing decisions during a game when we are toiling? Can he get the best out of lesser players? Put a game plan together to beat a better opponent?
In my opinion, and so far, from what I have seen, the answer is no. Hopefully he proves me wrong but the sign of a good manager is the ability to do some, if not all, the above.
It is early days and he will get longer for sure but he has to show the players supporters and management improvements sooner rather than later or he will be forever marked down as Martinez Mk 2.
Sam Hoare
122
Posted 23/12/2018 at 21:02:47
Bad day at the office and my faith in Silva is wavering for the first time. This is certainly a bad patch and how quickly/effectively we can get out if it will be a good indication of Silva's resourcefulness.
I still feel certain that we have better players than last season and are capable of better football but that counts for little if the results and performances don't cut it.
We really missed Gueye today and had very little bite. Even though Spurs had loads more possession they still made more tackles than us. Davies and Gomes made only 3 tackles between them all day while Sissoko made 4 by himself.
Richarlison also had a very poor game with pass completion of 62%.
David Connor
123
Posted 23/12/2018 at 21:11:33
Well, well, well... People will start comparing Silva to Martinez now that's a cert. I can't help to think he has brought it on himself. At least Martinez almost got us into the Champions League in his 1st season.
Today's top 4 are a million miles away from us now. We will never break into that now, especially when you see how bad we were today. Even though they were good, we were pathetic. No excuse for that display.
Many more performances of that standard and Silva can do one and take half of them useless fuckers with him. We are a bloody laughing stock.
Jim Bennings
124
Posted 23/12/2018 at 21:22:19
Sam,
Davies and Gomes were utter shit today and it was like watching little boys getting swatted aside by big men compared to their midfielders that just walked (not ran) past ours.
The only player that adds the bite and energy to our midfield when Gana Gueye is injured is James McCarthy, but he's never fit sadly.
Clive Rogers
125
Posted 23/12/2018 at 21:27:34
Bernard has been a massive disappointment after what I read when he signed. He is too lightweight and will never make it in the Premier League. He looked like a schoolboy when he came on today.
Colin Metcalfe
126
Posted 23/12/2018 at 21:29:53
I went to the game today. We seem to be on a continuous loop: different team, different management, same results.
Spurs, like us, were also-rans in the Premier League for many years; now, they are genuine Premier League and Champions League contenders, I don't know how they got so far in such a short space of time but I guess it starts at the top.
Silva needs to weed out the players not able to run through a brick wall for the team. Furthermore, he needs to get the team super fit, like our noisy neighbours. Too many times, they gave Spurs too much space and time.
Pickford's mistake was so unnecessary, he is too rash in his thinking; however, I don't think it would've made a difference to the overall result.
Poor performances all over the pitch today. Sílva needs to make changes earlier when things are clearly not working. I thought Baines should've come on for either Digne or Richarlison at half-time; both of them were so out of sorts!!
So that brings me again to my point about Spurs: How did they do it? Because, on today's evidence, they are streets ahead of us on and off the field!
David Pearl
127
Posted 23/12/2018 at 21:39:32
I'd've kept the same team as last week and given those same players a chance. As it was, Silva was lost, no answers when it was obviously not working.
And for fuck's sake, I just read Kenwright take a bow. What the fuck? If Gana is still injured, I'd give Schneiderlin a go. Enough of our "whipping boy" mentality. He was not the problem last season and he isn't this.
We need a striker. But we also need a manager that the players can look to for inspiration and not someone that looks like a frightened rabbit.
John Raftery
128
Posted 23/12/2018 at 21:39:36
Don (109),
Sooner or later there must come a point when you can no longer blame Kenwright for everything that has gone wrong over the past 30 years. One reason why we have lost the most games is because we have maintained our top-flight status, which – given the gross mismanagement we have seen over the past few seasons – may be something we can no longer take for granted.
If there was mismanagement before 2016 we have certainly reached a new level under Farhad whose money has been poured down the drain in a fruitless pursuit of what used to be known as the top four, then the top six and now the top ten! Bill has been described as a mere figurehead in the current regime. I think that is right; in which case, Farhad must accept responsibility for the errors of the past three years.
We can only hope that one of Farhad's appointments, Brands, proves to be the astute technical director he was reputed to have been in the Netherlands. Without question, we have fallen further behind the top clubs in the past three years despite changing managers three times and throwing millions away on players not wanted by the top six.
Now is certainly not the time for another change of manager, but today's defeat and more particularly the manner of it really puts the pressure on Silva, a coach who has yet to complete a full season in the Premier League. At the start of the season, I said I would be happy to match last season's points total and finishing position. That seemed a little optimistic at the time, but it looks even more so now after collecting two points from the last fifteen available.
But let's see how we perform at relegation threatened Burnley and happy to be in mid-table Brighton before we seriously question the manager's future. He has yet to prove he has it within him to drag a struggling team out of a trough. Now is the time for him to prove he has what it takes to be the manager many hoped he would be when he was appointed.
Tom McEwan
129
Posted 23/12/2018 at 21:48:11
What the fuck's wrong with you all? Fernsy will be along any minute with a five page tactical analysis explaining what we numptys don't understand. The same Fernsy that announced, before he was appointed, that Silva was a great defensive coach. Jeez! Will yer all please stop being so negative!

Gerry Ring
130
Posted 23/12/2018 at 21:51:53
Our defense is coming under pressure due to the "sieve-like" make-up of our midfield. The hope is that McCarthy can get back to his old self. He is like having an extra player on the field & we really need his influence now.
His injuries are more down to Martinez overusing him than him being prone to injury. His last injury was brought about by his attempting to recover a mistake by Schneiderlin. The lay-off will hopefully have allowed all the small niggly injuries clear. Time will tell!
Don Alexander
131
Posted 23/12/2018 at 21:53:43
John (#128),
It's just that, other than Kenwright, I'm at a total loss to identify any other consistent link as to why we've been so weak and ineffectual for so long DESPITE appointing numerous managers, signing and selling loads of players, but still getting mullered on an all too regular basis.
Stuffing Finch Farm with ex Everton players doesn't help, that's for sure. The only two who ever experienced success at the club, Joe and Sheeds, left in very strange circumstances after all, leaving the Kenwright worshipping nobodies to rule the roost there.
I don't believe in karma, luck or demons. I believe in making the people at the top answerable for the club they've bestowed on us – weak, prevaricating and bloody expensive as that is.
Tony Everan
132
Posted 23/12/2018 at 21:55:32
And whilst I'm blowing steam out of my ears, here's another thing
Why is it that Liverpool and Tottenham seem twice as fit, twice as fresh, faster to the loose ball, faster closing down, faster on the press and they play twice a week?
Is it our regime? psychology? Are we not giving them the same vitamins?
Liverpool look like men possessed, I've never seen a team so eager and burning with energy from the word Go?
Why are we miles away?
Pat Whitmore
133
Posted 23/12/2018 at 21:55:50
Hopefully Manchester United may still want Pickford; we shouldn't cash in before we have to give him away – the guy is not as good as he thinks he is.
Coleman, as much as I love him, is finished. Davies is never going to make it in the Premier League – he just hasn't got it. Walcott is way off form and needs to buck up or pack up. Sigurdsson is a joke at the moment. Richarlison is struggling; when you look at the squad, who can we replace them with?
No depth and realistically who would want any of them? We are still suffering the consequences of paying over the odds for tripe who just don't get it.
Where we go from here, I don't know... as, if we don't get 6 points from next 3 games, we'll be staring down the barrel because the teams in the bottom half will at least know how to fight — and that word doesn't exist with our bunch of overpaid overrated prima donnas.
Geoffrey Williams
134
Posted 23/12/2018 at 21:55:57
Pickford is a liability.
What does Richarlison do in a game?
For all his huffing and puffing how many tackles does Sigursson win?
Playing Walcott and Richarlson in the same team is a mistake.
Oh God, I could go on but what is the point? Silva's team selection is suspect but his choice of substitutes compounds matters.
Jim Bennings
135
Posted 23/12/2018 at 21:56:51
Sissoko showed us today why Koeman wanted him two years ago.
He totally skullshagged our midfield today and the amount of times he walked past three men unreal.
Davies tries but the lad is just too weak for the Premier League to have any real impact, he's not got the speed or strength against top athletes.
Gomes is a luxury player when there's movement in the team and things are going well he's a sound passer but he's not really going to dominate opponents, we've seen today the level required to a top top player or just a very good player.
Schneiderlin, I've no words for why he was brought on, he offers zero.
Peter Jansson
136
Posted 23/12/2018 at 22:13:57
No matter what happens, I think all additions Silva has made to the team improved the team. The problem is almost all the other players we have. We still need 5-6 more quality signings to get some kind of squad depth.
The most urgent signings should be 2 quality central midfielders, one quality striker and one goalkeeper.
And my god I am so tired of the 4-2-3-1 formation. It clearly does not work so please adapt. We need more power and ability in the central midfield.
Jay Tee
137
Posted 23/12/2018 at 22:31:10
Absolutely a disaster of a game. Completely overrun by Spurs and Silva did nothing to change the rout through midfield and down the wings.
However, can anyone explain why we were trying to play out from virtually the goal line allowing Spurs to stand on the halfway line and condensing the play into our half?
I never leave early but I left 15 minutes from the end today.
Tom Bowers
138
Posted 23/12/2018 at 22:39:09
The first ten minutes was ominous as Spurs literally walked through Everton's midfield to create chances; even with Gana, I am sure it wouldn't have made a difference.
For a few seasons now, Everton have had midfielders who are just not up to Premier League standard in man-marking or tackling mainly because the people in question have been too slow.
Yes, there was a gulf in class; after some of the home games this season against teams outside the top six, one shouldn't have been surprised today.
Brian Denton
139
Posted 23/12/2018 at 22:42:40
I've seen Everton ship six at home twice before today, but I was on the edge of my seat, excited at the prospect of seeing seven or even eight go past us at Goodison.
We were not good.
Mark Wilson
140
Posted 23/12/2018 at 23:00:06
Perhaps the "we are going in the right direction" crew will just explain what part today's game has in the direction? Don't stop there. I'm constantly reading how much better it is now that we've got shut of Martinez, Koeman, Unsworth, Allardyce and replaced them with the modern partnership that is Marcel Brands and Silva. How are we actually better?
Evertonians believe we are something special, don't we? Our history is important to us but frankly at times it stifles us. We haven't been special for 25 years or more and despite the various managerial changes since Moyes left and Bramley-Moore Dock on the four year horizon and Mr Moshiri's millions we remain the club that constantly raises hopes then smashes them into pieces on a regular basis. Yes we are in a bad spell as they say. Personally I think the bad spell started in August and continued with a only a short four game break.
Harsh? Even the games we've won have mostly had a tinge of good fortune about them and all have been against teams not expected to challenge for anything much. We dismissed the League Cup as if it were beneath us and everything from our accounts to our new senior management team show a massive focus on the new stadium whilst frankly the team shows no sign of progress. I really mean this. Where is the progress?
We have a decent new left back. Great. The keeper is proving to be a bit hit and miss for me. Short on consistency and a tiny bit too arrogant. He will come out of it I hope but honestly I'm never going to think he hasn't got a huge mess in him after that derby disaster.
Mina is scheduled to be a hero. Needs to quickly show why and tho he's hardly played I just have this feeling there's a reason he ended up here and not a Champions League team. Gomes is lovely to watch, his sideways passes are brilliant and okay I know he's good but in the really big games I wonder... he really needs a very strong partner because the gaps he leaves as he wanders forward are huge which is why Gana needs to get back ASAP.
Richarlison at £44m? Loved him early doors as did most. Not so much right now. AWOL a fair bit this last few games, regardless of position. That doesn't bode well for season-long quality performances. Bernard an instant hero then zero for most games after that. It's a recruitment policy that we thought, hoped, was inciteful and bold, but honestly, it doesn't look it so far and when added to to the over-hyped Davies and Calvert-Lewin and Holgate we've got so many average performers that will never get into a top six side. Tosun? One decent showing and then utter dross. This is what happens the second we seem to get a "player". Why?
We all want it to be different but the positivity police have got to stop shouting down anyone who speaks up after shite like this Spurs hammering. You are just hiding behind this transition thing like it's a shield. We are NOT going in the right direction. We are drifting in a bad spell that has its roots in most of the season's inability to keep clean sheets and be less pretty and more solid. But then the Allardyce haters jump all over this cos they apparently love our football now.
Me? I appreciate nice football. I love winning. I applaud the cross-field pass that leads to a many dribble and a goal, beautiful football. I love being ahead at the final whistle even if we've been shite.
Winning is the only progress. Get that mentality back into the bones of every player and we will be going in the right direction. It needs to be joined by a further clear out and investment in January and I don't care how horrid that sounds for all the experts who say don't buy in the January window.
We are on fewer points than last season and I really don't care if, occasionally, it's prettier. We need to toughen up, get a couple of no-nonsense ball winners in and a bloody centre-forward worthy of the name. I know it's hard but Brands must be seeing what we are, he has to be. Surely?
Jerome Shields
142
Posted 23/12/2018 at 23:01:50
Silva is starting to look worse than Martinez. Martinez had a defending problem. Silva has a defending and attacking problem, which eliminates midfield.
Anthony Murphy
143
Posted 23/12/2018 at 23:24:48
Mark #140, great post.
I'm not a knee-jerk merchant, but today has alarm bells going off for me. It's early days still for Silva, but his previous record at other clubs is a concern.
I wonder about his mental strength when the going gets tough. Is he a "chuck the towel in" type? Is he a bit like Mourinho in the way he sulks if things aren't how he wants them? Is he like Martinez in terms of being stubborn re style of play?
On Wednesday, we face a side who are desperate for a win and have started to play better than results show. If we beat Burnley, I'll be confident Silva can learn and get players responding in the right way. I hope today proves to be a turning point.
Tom Dodds
144
Posted 23/12/2018 at 23:30:53
Michael #22,
If you were to go back 200 years to pirate or commercial ships of those eras, Kenwright would've been heaved overboard, or made to walk the plank, the Fuckin' Jonah that he is.
I swear that as long as he is with us in any capacity, he will remain a curse on this club.
Chris Jenkins
145
Posted 23/12/2018 at 23:36:34
I have previously incurred much criticism from other contributors with previous posts in which I stated that I had serious doubts about Silva's managerial capabilities. A manager is ultimately judged by results achieved, as Martinez, Koeman and Allardyce eventually discovered.
What I sat through today was totally unacceptable and cannot be allowed to continue. The writing has been on the wall for several weeks now with inept performances against several of the poorer teams against whom we should have achieved full points.
For goodness sake, before we find ourselves sucked into the relegation mire, Silva, along with his ludicrous zonal marking ideas, needs to be sent packing .
It is absolutely Imperative now for David Moyes to be brought back as manager and given full control over transfers, without the hindrance of a Director of Football. Moyes's record, with the minimal financial resources which he had at his disposal, had us punching well above our weight. Give him the resources and he'll do the job.
Marcus Taylor
146
Posted 23/12/2018 at 23:37:54
Mark #141
Excellent post, Mark. You've expressed my thoughts exactly. And articulated them far more succinctly than I managed to do earlier.
Yes, there have been spells of good play during the season but nothing prolonged. The odd good half here and there, nothing more. The fact is that we've played 8 of the bottom 9 teams at Goodison plus Watford and I've constantly read fans bemoaning the fact that those teams put men behind the ball and played defensively... and that we'd look much better against teams that came to Goodison and played an open, expansive game.
Well, Spurs did that today and absolutely murdered us. There is no way to sugarcoat that.

Eddie Dunn
147
Posted 23/12/2018 at 23:49:11
Just watched MotD2 and Kilbane summed it up saying we were tactically inept. Jenas added that with Spurs looking to get in behind you the obvious response is to drop off. They both thought we failed to do that due to Walcott and Richarlison not tucking in.
Regardless of the individual mistakes (Pickford especially), the coach must take the major responsibility for this debacle.
Paul Jeronovich
148
Posted 23/12/2018 at 23:59:33
The only positive thing in my head now is this is where Marcel Brands earns his cash. More players in and out over the next two transfer windows and deeper scrutiny of the current manager. Silva has a proper boss to answer to and not Bill Kenwright. He will get time but not that much. Other than that, this result is embarrassing and a total kick in the bollocks.
John Austin
149
Posted 23/12/2018 at 00:05:50
Tony @ 132. Exactly the same conversation we were having on our way home after the game. Except add in Watford and possible Newcastle to that as well. Visiting teams look stronger and fitter than we do. We were boys against men today. It was the same last season when Spurs beat us 3 -0. They should have scored 6 that day too!
Pickford is believing all the hype of 'England's No 1' and needs to be brought back to earth. Too many rash decisions and he can't command the 6-yard box.
But what was more worrying for me today was Silva. I sit in the lower main stand and have a good view of him in the technical area. His body language today was very telling. He looked how I felt. Totally dejected and helpless. There was no motivation or signs that he knew what to do or how to change things. It's too early for me to make a judgement about him but after the last three home games, doubts are beginning to grow. I hope I'm wrong.
Paul Birmingham
150
Posted 24/12/2018 at 00:31:06
John, I agree, Silva's eyes and body language today, as a human being, spelt anger, dejection and fear... and much more. It's crucifying the club, as every passing year without success makes the pain worse.
Today was as if we played our U23s... out-classed in every aspect.
A massive few days... and Turf Moor is the game to win. Sadly, we can't hit a barn door, and even Stuart Barlow might do better than we have now.
In my view, we don't have the key players in centre-forward, right-back, or strength in depth. Our subs bench, weeps, compared to other teams.
We live in hope and miracles happen, but we need one soon.
Vijay Nair
151
Posted 24/12/2018 at 00:48:21
Chris (145), what did Moyes produce at Man Utd without a Director of Field, and with all their resources at his disposal? A single Community Shield.
Do you seriously want to go back to just being plucky little Everton, occasionally punching above their weight? Because that's the limit of Moyes's managerial skills.
I for one (and I'm sure there are others here too) have ambitions of being more than that.
Clive Mitchell
152
Posted 24/12/2018 at 00:52:42
Haven't read anything and am not going to. I've got some stuff to get off my chest. I've been home for two hours having spent best part of 10 hours today travelling to see that abject performance. For the first time in my life, I've left a match before the final whistle.
That was footballing suicide today. We set up to take our chances at the back and to attack a team that has more than 11 players who would get in our first 11. How is that ever going to work?
I like Silva, but he won't be permitted too many todays. I'm afraid the truth about this team is we have three players who are good enough – Digne, Gomes (who's on loan) and Sigurdsson; and we have another few who might be good enough – Pickford, Davies, Calvert-Lewin, Bernard and Richarlison. The rest are sub-standard.
John Raftery
153
Posted 24/12/2018 at 01:08:35
Don (131),
Finch Farm has seen a clutch of new arrivals on the staff in support of each new manager appointed from Martínez onwards. None of them were ex-Everton players.
Our Under 23s have enjoyed success under the direction of Unsworth while the Under 18s are performing well under Paul Tait. Both teams are currently top of their respective leagues. Therefore, we appear to be doing something right at Finch Farm.
James Flynn
154
Posted 23/12/2018 at 01:27:19
Any comment against Gana is finally put to bed. There cannot be a handful of players in the Premier League as good as he is at dictating an opponent's midfield play.
Love and affection for Davies, but the difference between him and Gana was glowing today in block capitals.
Brian Dagnall
155
Posted 24/12/2018 at 01:33:28
Much criticism on here covering players, management and poor attitude. Maybe all these points are fair, who knows.
Spurs players play some lovely one-touch passing within triangle and square shapes. Passes are perfectly weighted making the next one-touch pass that much easier. Whereas Tom Davies, Walcott, Schneiderlin, even Gomes found it difficult to control the ball today, often down to poorly weighted passes they received.
For me, as many have said, Spurs as a team are light-years ahead of us. We need better players and better coaching which gets them playing together with quick passing. A few midfield runners would be welcome as well.
I'm not going to pick out our failures as, let's face it, we could all be dead wrong. But I worry about Pickford – he seems a bit mentally unstable. I used to laugh at Grobbelaar in the old days and now we have our own version. Even with 4 or 5 better players, I think Spurs would still be a better TEAM than us. Much work to be done.
Don Alexander
156
Posted 24/12/2018 at 01:40:03
John (#153), say what you like re Unsworth but he's never shown an ounce of ambition to leave the Kenwright nest, and it's not as if he's not had offers to potentially advance elsewhere. Just as he was as a player, he's way too comfortable with the security of a lucrative contract from the teary one above all else. In the years he's been with us, just how many of his "boys" have emerged into becoming regulars in any Premier League first team? Do I hear "none"? Give that man a coconut!
I don't know anything about Paul Tait beyond the fact that he scored just more than one in three games as a forward for the famed Northwich Victoria when he was a player. Does that spell "winner"? That said, I hope he develops just one regular first-teamer though, eventually. It'd be an improvement on Unsworth.
In the meantime, Kenwright has appointed the likes of Ferguson, Jeffers and Ebbrell (dickhead, dickhead, and non-entity) to his coaching team whilst also overseeing the departures of Joe Royle and Kevin Sheedy (winner, winner).
Hmm.
Ernie Baywood
157
Posted 24/12/2018 at 02:18:12
Criticise Silva all you like. He's a very limited football manager. We already knew that. But the vast majority of football managers are limited.
You know what you'd have to do to find someone with an innovative approach to football management? Look outside of the top division in the top leagues. Because managers don't take risks. No-one tries anything. As soon as form drops you get sacked and paid off.
So live with it. And hope we can bring in better players to make our very basic management look like sound footballing strategy.
We'll be better against Burnley. Because we're playing Burnley. We'll be shit against the top 6, because they have better players than us.
No-one is attempting to break that mould, so we'll get the same outcome.
John Boon
158
Posted 24/12/2018 at 04:54:56
I'm no more accepting than a few hours ago... but – to be realistic – I am now really worried about Burnley and Brighton. That's how bad things are. It is beginning to be a lot like last season!!!
Dermot Byrne
159
Posted 24/12/2018 at 05:57:03
Don #156: the "old boys" throughout the club has worried me too. Change the manager but – unless the continuing presence of this lot is ended – we will have danger of similar problems.
Sniffs of teary-eyed sentiment again.
Bob Parrington
160
Posted 24/12/2018 at 06:42:01
I'm completely lost for words after watching this one. What the fuck was Pickford thinking of? It doesn't matter what else happened after that. Psychologically the crap decision by the idiot referee to disallow Calvert-Lewin's headed goal, followed by Pickering's Hari-Kari would knock any side psychologically.
I'm looking forward to the day when we beat these pricks very game over several years. It's just been taking a long time for the worm to turn.
Jerome Shields
161
Posted 24/12/2018 at 06:53:05
Silva's three-year contract was always a mistake. But then he was the only applicant for the job and Brands was started two weeks before his own contract started to talk to him. I am sure Brands wished he had brought in someone he knew, but the momentum was to get Silva. The Board had showed faith in him, even though Watford hadn't.
Everton are back at square one. What manager would want the job? And there is still deadwood to get rid of, that no-one wants. What suitable player would want to risk their career by joining Everton?
To think they let Aaron Lennon go and leave us with the right flank we have now got.
It's obvious that Everton is full of chancers who are hoping for the best, Brands must realise something has to be done after this last three games.
Rick Tarleton
162
Posted 24/12/2018 at 07:17:44
Last season, we had a surplus of Number 10s; this season, we signed a whole batch of wide men – Bernard, Walcott, Richarlison, Lookman – and we feel we need to accommodate at least two of them. The result is an unbalanced team and a midfield that is constantly one man short, especially against top teams.
Yesterday, without Gueye's defensive attributes, the defence was constantly exposed by Spurs' attacking trio, orchestrated by the superb Eriksen.
I'm beginning to see Silva as a Martinez clone, except he's more lugubrious during interviews.
Paul Swan
163
Posted 24/12/2018 at 07:29:18
For my sins, I get into the game long before the kick-off week after week. Yesterday, I actually spent more time in the ground before the kick off than actually watching the game as I left when the 5th goal went in.
I said to my son before the game that we were going to get murdered today and would be out of it by half-time. Spurs were so much more professional, well set up and above all, so much more up for this game than we were. They were warming up 5-10 minutes practicing one-touch give-and-go drills completely prepared for the game even before our lot of losers even came out. Pickford and the other goalkeepers seemed to be pissing about going through the motions practicing his long hoofs into the crowd.
Cut to half-time, their subs were all taken through organised high-intensity drills. Ours did not even step onto the field. We were poorly organised and motivated for this game. The first ten minutes flattered to deceive and all the warning signs were there to see.
Step up Pickford for his usual increasingly more frequent cock-up and the rest was history. We just crumbled the body language of several of the players when the second goal went in told you everything you needed to know – we were there for the taking and Spurs could see it and were prepared for it.
This had better improve and fast. This guy is showing alarming signs of tactical naively where he can't break down stubborn teams and sets us up to be wide open against teams who want to play.
Kim Vivian
164
Posted 24/12/2018 at 08:22:03
Oh dear...
I was out yesterday so unable to watch (thankfully). However, I recorded the game, avoided the score and started watching at about 8:00. Got to 3-1, checked the final score and deleted the rest of the match.
What seemed to me a perfectly good goal disallowed to stop us going 2-0 up; Pickford has a total brain freeze; useless defending of the free kick (I saw from 240 miles away where that kick was going); and we capitulate.
So what's new, boys? At least I didn't sit through it in real time.
Pissed off ain't the half of it. Dreading Wednesday.
Jim Bennings
165
Posted 24/12/2018 at 08:32:23
It wasn't a crap decision by the referee Bob, it was two hands in the back by Calvert-Lewin, I could see it from where I was sitting and even Calvert-Lewin had that wry smile he knew.
Basically we are a team of piss-weak characters that fall apart like a pack of shit cards and none of our players talk, none have got a voice, we need a Stubbsy, Weir or Dave Watson in there.
Zouma should have barked Pickford's head off after that equaliser because, as you say, Bob, what the hell was Pickford thinking?
He doesn't seem to be thinking at all lately – that's just it, and I do feel the World Cup went to his head a bit much in the way it did Tim Howard in 2014.
Any goalkeeper can save a penalty; yes, it looks good, but a true top keeper is defined by his decision-making and how many mistakes he makes with regularity; with Pickford, they are creeping in too often this season.
Dave Williams
166
Posted 24/12/2018 at 08:57:14
I will resist criticising players purely because of time as I am in work this morning. However, the fitness, motivation and dogged will-to-win all appear absent at the moment.
Calls for Moyes to return are desperate though I can understand where that comes from but Silva now has to show us all whether he really has got something or not.
The memories of how Watford imploded last season are all to clear and we are showing the same signs. Silva on Sunday reminded me of Keegan against Germany when, as manager, he openly admitted to being at a loss as to how to counter them during the game and he quit straight after. Silva looked like he was completely helpless and when players see that they will do exactly what ours did and give up.
I was never in favour of him (preferring a punt on Arteta supported by Royle – that's another debate) and we look no fitter, no stronger and to have no more fight/guts than we have since Martinez took over.
We need a big, strong physical presence in midfield and a centre-forward with a mean streak who defenders will fear. A new right-back would help and let's get rid of Theo, who will never be a consistent performer.
I am picking on players now so must get back to work!
Raymond Fox
167
Posted 24/12/2018 at 09:47:24
Its the same old problem that every manager of ours has, can he sign any player that the usual top 6 teams want? Have we anyone now they want? I'm struggling to see any.
We are trying to win things with nearly men and, on the occasion we produce a top quality player, they are soon tempted away.
Peter Jansson
169
Posted 24/12/2018 at 10:56:50
Something is wrong with Silva. We are not progressing, we are going backwards.
Players seem less fit than at the beginning of the season and we look disorganized.
We look mentally weak. Okay, Gomes looks better than in Barca but what the fuck has happened with, for example, Pickford?
Does he have a trainer to help him develop? He looks fragile and shows no signs of development; rather the opposite.
Darren Hind
170
Posted 24/12/2018 at 11:41:26
The teams are miles apart in terms of class.
Kinda says it all when the tackling machine is missed so badly. He wouldn't get near any of the top teams yet we are fucked without him.
The good news is in football, an appointment or a signing can narrow a gulf in class overnight. Will we make the appointments and signings needed to catch Spurs?
At the moment, it looks as if the only way we can get on terms with them is to hope Pochettino leaves, they replace him with a dud, and they come back to us.

John G Davies
171
Posted 24/12/2018 at 11:50:24
Darren,
He would get in the Liverpool team before Henderson. Far better player at the role they both play. He would definitely get in Man Utd's team.
Darren Hind
172
Posted 24/12/2018 at 11:52:54
I'll take a step back then in case I get run over in the stampede.
Peter Gorman
174
Posted 24/12/2018 at 12:01:15
Don @156 – staggeringly ignorant post there mate, you've done little except peddle stereotypes about coaching and over-egg Kenwright's role in the departures of Royle and Sheedy who do actually have a say in their own lives.
Brian Harrison
175
Posted 24/12/2018 at 12:21:55
Yesterday just underlined the massive gulf between us and the top 4.
Spurs looked a class act and had everything we didn't. Great movement excellent first touch from all their players, pace and goals up front and defenders who knew their job inside out.
I begin to wonder what Moshiri is thinking this morning, he has pumped in £250 million which is a colossal amount of money, and has seen no improvement in where we are in the league since he took over. I just wonder when does he reach the point and decide "I am just throwing money away trying to turn this club around."
He must look at the likes of Watford and Bournemouth, who have spent a fraction of what he has yet are better placed in the league. Then there is Wolves a newly promoted team who are doing better again with a lower net spend than Everton. He has sacked 3 managers and paid a fortune to do it, and he must be wondering has he made another mistake in appointing Silva?
I will admit of all the options to replace Allardyce I thought Silva was the best option, mind I didn't realize at the time that Bielsa was thinking of joining Leeds.
The next 5 or 6 matches are going to be crucial for Silva, as players quickly lose confidence in a manager when results start to go the wrong way. We only have to see what happened at Man Utd when it seemed the players had lost confidence in the manager.
I am not advocating getting rid of Silva, he has been here a very short amount of time and, up to the Liverpool game, we could see some progression in the team. But there are for me some worries regarding our inability to keep a clean sheet, something he struggled to do with Hull and Watford. I just thought the reason his former teams couldn't keep clean sheets was because of the quality of the players he had at those clubs.
Burnley are desperate for points and they will fancy playing us after the mauling Spurs gave us, as confidence amongst our players must be very low. So this is now a big test for Silva: two away games before playing Leicester at home.
Anthony Murphy
176
Posted 24/12/2018 at 12:44:58
Paul Swan, some good observations there re the standards and professionalism. Football at the very top level is all about small margins – Martinez sort of got that with wanting digs at Finch Farm etc. Point is – we just aren't good enough to ignore small gains here and there.
People raised eyebrows when Klopp brought in a throw-in coach, but what if that leads to a few extra points? Spurs are sharper, fitter and more organised – that is before tactics are discussed.
For starters, I would track down and employ the world's best coach at set-pieces as we simply cannot attack or defend both.
Ray Roche
177
Posted 24/12/2018 at 13:32:45
Jim Bennings #165,
"It wasn't a crap decision by the referee, Bob, it was two hands in the back by Calvert-Lewin,"
Sorry, Jim but that, along with the same sort of rubbish spouted by "pundits", is the reason that football is becoming a non-contact sport. The effect that the "two hands in the back" by Calvert-Lewin had on the defender was minimal and he made the most of it.
Football is a shadow of what it was only 10 years ago, when tackling was, correctly, regarded as just as much a skill as dribbling past a defender. Shite referees and play-acting, cheating, diving players are ruining the game.
Dave Abrahams
178
Posted 24/12/2018 at 13:52:48
Ray (177), I go along with that, if two light hands on a player is a foul in the penalty area, why isn't a foul in other areas of the pitch? Because Kane did it a couple of times in the centre of the park, along with one or two others, and they were allowed to get away with it.
Poor decisions by a weak and (I think) inexperienced referee.
Gerard McKean
179
Posted 24/12/2018 at 13:56:37
Well said, Don #56; the club is full of mediocre people on fat sinecures in their comfort zones.
As I heard it, Sheedy did leave of his own accord but only because he was not allowed to implement his coaching ideas.
None of the people you mention is bursting with innovation or ambition. Get Neville Southall in to coach Pickford and Kevin Ratcliffe to coach a defence how to defend.
Peter Jansson
180
Posted 24/12/2018 at 14:07:48
I wonder why people think Allardyce was such a bad manager. Okay, I don't like Allardyce and his style, but say whatever you want. He stopped the bad run after Koeman and took Everton to 7th place. Is that so bad with the squad he had? Seriously, it is not, it was a pretty good achievement.
To be honest, I don't think we will manage to get to 7th this year. Sorry, sad to say but I have lost confidece in Silva.
He was talking this week over why his wings don't score more goals. Does he not see that the problems start in the midfield? When our team do not function well with good combination and passes the wings will be kind of isolated, having to do everything by themselves. That I think has happened to us. The wings do not get proper support and quality passes as for example the Spurs wings. How can they then score so many goals?
We have been banging on defensive minded teams or we have been outplayed.
The main problem as I see is in the midfield and Pickford. We seem to have lost our confidence in playing the ball out from the keeper. First, it seems that neither Pickford himself and his teammates trust his passing ability, resulting in Pickford hoofing the ball away and we lose possession.
If Pickford and the back four manage to pass the ball into the midfield we run into immediate problems of possession due to a lack of ability and passing alternatives. When this happens over and over, we lose our self-esteem and the result is that we try more long balls and lose possession. It is a downward spiral.
Who is to solve this problem? It is Silva's responsibility! However, it seems that he does not recognise this problem at all, continuing with the same flawed strategy. He needs to change formation and adapt the midfield. Yesterday, the midfield looked empty. Did Spurs ever get stressed out in the midfield? No, the midfield was given away to Spurs.
Get the shit together fast, because this will end in a farce if not. I sniff a relegation battle rather than 7th place
John Wright
181
Posted 24/12/2018 at 14:21:17
Well said Ray #177; football is goosed when we see them decisions.
Ray #165, do you think we would have got a penalty if Sanchez had done the same to Calvert-Lewin?
I don't think I've seen a decent team of officials at Goodison Park all season.
Jay Wood
[BRZ]
182
Posted 24/12/2018 at 14:25:49
Whatever the ongoing problems are at Everton, the solution most certainly is not reverting back to the likes of David Moyes or Sam Allardyce, as a few posters (thankfully, very very few...) across various threads are advocating.
John McFarlane Snr
183
Posted 24/12/2018 at 14:37:17
Hi Dave [178] I've just plucked up the courage to watch last nights Match of the Day. It appears that Spurs were far better than Everton, and while I appreciate that it only shows 10% of the action, it appears that Spurs were by far the better team and deserved their victory.
I have for a time claimed that football is becoming a non-contact sport, regarding the disallowed goal, I can't decide whether it was a deliberate push or a coming together, accidentally.
On reading various posts, some claiming a lack of effort, others of the opinion that the difference of class, was the deciding factor. I would like to learn your view of events, because although I've known you for a very short time. I have found you to be fair-minded person.
I would like to wish all ToffeeWebbers – especially 'Sensitive old souls' – Seasons Greetings, and a change of fortune on the field of play for the Everton players.
Jay Wood
[BRZ]
184
Posted 24/12/2018 at 14:40:12
Also, what's with the doubting of Richarlison's worth to the team from several posters in this thread?
It is difficult to exonerate or defend almost every player against Spurs, but there may be other mitigating circumstances as to why some of them underperformed yesterday, other than the trite opinion 'he's a con-man and poor investment' levelled against our leading goalscorer offered by some in this thread.
Personally, I thought his energy levels looked way down all game, and that's not Richarlison. If anything, he needs to rein in his chasing back across the entire park.
Anyone on here ever played footy with the 'flu? The head and the heart is willing, but the body can't deliver on your commands. That's how Richarlison played yesterday. And possibly Gomes, too.
I'm guessing, as reported in the week, the bug that both went down with and caused them to miss the bulk of training days was still lingering and impacted on their ability to play at full throttle.
John G Davies
185
Posted 24/12/2018 at 15:00:21
Jay,
They are on £100 grand a week, they should be able to play with a virus.
Or pneumonia, bubonic plague etc etc.
Tom Bowers
186
Posted 24/12/2018 at 15:08:19
It's hard to fathom what is wrong right now.
Being beaten by Spurs is not a disaster but at home and 2-6 is a relegation scenario and thank God there is quite a gap (at the moment).
Okay, that may be thinking really extreme but the last few performances smack of warning bells and Silva doesn't seem to know what to do. Sure he is not going to name individuals and put it down to ''mistakes'' but a team that cannot at least work as a defensive unit when it matters has some real serious problems.
If you take away the 3 games against Man City, Liverpool and Spurs you still have a load of games whereby they were less than convincing against lesser clubs.
Seamus this season has been a disaster both as a player and captain. Between Mina, Keane, Zouma, Holgate and the ageing Jagielka, Silva doesn't seem to know who the central defenders should be but one thing is for sure: the three who have played recently just don't cut it.
Was Gomes injured as he seemed to be one player doing well?
Tom Davies has not stepped up his game and looks slow; dare I say, if Gana had played, they still wouldn't have won the midfield against Spurs.
A game against an honest, working team like Burnley (due for a win) looks like another banana skin so one can only hope the powers that be are working on a solution to rectify the situation.
Michael Lynch
187
Posted 24/12/2018 at 15:34:04
To be fair, everyone says they don't want Allardyce style football, even though it meant a top 8 finish last season. I agree. But we have to accept that we're going to get absolutely fucked over by a few classy sides like Spurs this season, if we play anything other than a solid defence-based system. You have to have a squad full of quality, like Man City do, like the Shite do, like Spurs do, like Arsenal do, to attempt open, high up the park, flowing football and not make arses of yourself on a regular basis.
We are going to be torn apart by decent sides and a few shite sides, but at least it won't be Allardyce style football. Hopefully, in a few years time, we'll be where Spurs are but, in the meantime, it's either/or:- either accept mid-table and the odd thumping, or get a Moyes/Allardyce style manager in and play the percentage game.
Dave Abrahams
188
Posted 24/12/2018 at 15:37:48
John (183), that short clip of the game, which you watched, most probably gave enough to show the big gulf in class between the two teams. Spurs were so much better than Everton, which I pointed out in an earlier post (106 - if you are interested).
We have been off for the last few games but nowhere near to the extent of yesterday's performance, which even the most biased Blue couldn't defend.
Although I've got to say, if Calvert-Lewin's goal was allowed, it might, just might have got us something out of the game. But most definitely not if we had carried on playing the way we did, no way.
Alan J Thompson
189
Posted 24/12/2018 at 15:47:43
Well, let's look at the positives:
1) We kept them to just the one corner
2) We were mentioned on TV & Radio worldwide.
The first probably because we couldn't get between them and the ball and the second for no better reason.
Jim Bennings
190
Posted 24/12/2018 at 15:56:05
Is this football as good as everyone is saying?
I keep hearing "it's better than Allardyce." But is it?
We scored three at home to Crystal Palace under Allardyce with decent football that day in February and won 2-0 at Huddersfield, the 2-1 win at home to Leicester we played good football for a while.
I'm listening all the time to this fantastic new style of play that we have but I don't see any real substance, other than some tippy-happy stuff and no Plan B.
If we wanted that kind of football, maybe we should have just kept Martinez here for a decade.
John Keating
191
Posted 24/12/2018 at 16:03:24
A number of posters on various threads mention we haven't been good since the derby, and that result put us in some sort of downward spiral.
To be honest, in my opinion, we haven't been great shakes since the season's opener. I can't recall one half of a game where we've been totally in control and played open attacking football.
Yesterday was a total embarrassment for Everton Football Club; however, I don't think it will be the last we see this season.
Recent threads have included how we can get kids to support us and how a 52k stadium is too small. Based on yesterday pathetic effort – and numerous other crap performances we've witnessed this season – we've no chance of any youngsters half filling a 52k stadium.
Gerard McKean
192
Posted 24/12/2018 at 16:06:34
Dave #188, you're right; none of us could defend that abject performance yesterday. I keep on saying this but there are people employed by Everton on high salaries who won't care a jot about this result. So long as the team finishes 7th or 8th, they'll be happy to pick up their place-based bonus at the end of the season and have no bothersome European games to organise.
The club is an amateur mess. Every club above us is run more professionally. The tough questions are not asked at Everton because nobody has a clue how to integrate the business of playing into a business that pays with results.
Happy Christmas, Dave, Tony, John Mc, and all TW'ers!
Dave Abrahams
193
Posted 24/12/2018 at 16:26:20
Gerard (192), when you write about the inner workings of the club, I always pay attention. You have seen how they operate from a bird's eye view.
Merry Christmas, Gerard and a happy, healthy New Year. I wish the same to ToffeeWebbers all over the world.
Charles Brewer
194
Posted 24/12/2018 at 16:29:42
From what I saw, the biggest error was the defensive set up. Instead of getting a mass of players between the ball and the goal, Everton were wide open to attack after attack.
A bit of research would have shown that Spurs have not thrived against teams which defended effectively and in numbers (Watford, experts at the "two lines of four" setup – actually beat them).
Something like the first four Spurs goals were due to lack of organised defence with Everton players so slow to react that Spurs had no pressure in putting the ball in the net. My view is that a goalkeeper's first job is to stop the ball going in the net and, only if he can, should he deflect it somewhere safe. It is the responsibility of the defenders to sort out getting the ball clear afterwards.
Gary "Shithouse" Lineker was successful because he was marginally faster than defenders, once age slowed him down he retired to become the least interesting sports commentator the world has ever seen. Defenders need to react at least as quickly as attackers, and yesterday ours failed dismally in that department.
One thing I did like yesterday (and there wasn't much) was that Calvert-Lewin no longer looked like a stick of spaghetti who was brushed off the ball at every challenge. He was much more physically impressive than I remembered.
Of course, he did have a foul given against him every time he went near a defender. (Sanchez knew he'd been comprehensively beaten so he took a dive hoping the ref would be stupid – it was a good bet, the ref was stupid.)
John Keating
195
Posted 24/12/2018 at 16:43:05
Charles, your observations will get no support from many. Read the numerous threads and posts prior to not only yesterday's game but every game so far this season.
Many want "no fear football" "better play open exciting football than defensive dross" "better this than negative football" — You get the gist. Remarks like the above are many.
Great if you have the team and players and tactics. Unfortunately we have none.
The days of pragmatic football and tactics to suit appear, to some, to be a thing of the past. Be prepared, my friend, for similar days ahead with he who can do no wrong.
Kieran Kinsella
196
Posted 24/12/2018 at 16:44:23
Honestly, it reminded me of the Mike Walker era, specifically the 0-4 loss to Man City early in the 1994-95 season when City were crap.
We had Samways who never scored, didn't tackle too well, but was supposedly "stylish". Pretty much how Gomes is described. We also had Parkinson who was young, kind of a headless chicken kind of like Davies.
The defence had no coordination, no leadership. We played "nice football" which meant lots of short passing in the middle third but we had nothing to offer in attack and no one ever thought about tackling. We also looked decidedly unfit. It is almost identical to the current situation.
Mike Walker, like Silva, got the job on the back of an all too brief, albeit successful spell at Norwich. He was horribly exposed when he took on the Everton job. Silva's record shows a few brief spells of success at Estoril and Olympiakos and that is it.
His supporters say "Oh well he didn't have long enough at Hull, Watford, etc to make a difference." But, if you are saying 6 to 18 months isn't long enough for him to make his mark, then how can you also give him credit for his 6- to 18-month stints at the clubs that did well? You cannot have it both ways.
Tom Bowers
198
Posted 24/12/2018 at 17:05:48
Lots of post-mortems with different opinions and many of them thoughtful and to the point.
Defensively we are non-existent, that is to say poor as a unit, poor individually, and poor overall with closing down and tackling.
It was so apparent from the beginning and scary to see Spurs walk through so easily but I thought perhaps Silva would do something maybe even before half-time and he failed.
I am beginning to think he just doesn't have what it takes, never mind some of the players.
Some have suggested that things haven't been right since the beginning and I am inclined to agree somewhat.
They could have and should have beaten Wolves and Bournemouth even with ten men and some of the earlier home games, especially against West Ham, threw up a lot of doubts.
Whilst we know it won't happen overnight and Silva needs more time it is disconcerting to see them have two poor results after the derby match when better teams would have bounced back.
January will be an indication of what Silva is really made of because I am sure money will be available to spend. We hope this will strengthen the starting eleven, as one cannot see what he currently has improving the situation.
Steavey Buckley
199
Posted 24/12/2018 at 17:32:04
Everton are now in a bad place and confidence is being shot to pieces. Pickford must take some of the blame because his moments of madness allowed Liverpool to take 3 points in the last seconds. Then, his rash rush out of goal allowed Spurs to equalise and get back in the game.
Without Gueye, there is no energy in midfield. Surely, loaning out McCarthy would be a big mistake while there is uncertainty in midfield. Gomes, yesterday, allowed Dele Alli to score because he could not be bothered tracking him back.
Coleman's best days are gone. And what Everton need is not the Coleman of now but the one in the past. So Everton need another right-back, especially, as Kenny has disappeared from the squad on match days.
I hope there is a mini-clearout next month, because Everton have too many players that are not needed anymore; hopefully, to make way for others.
Steve Hogan
200
Posted 24/12/2018 at 17:37:40
Kieran (196),
I think your memory maybe playing tricks on you in describing Joe Parkinson as 'a young headless chicken like Davies', he was twice the player Tom Davies is and was a great tackler and reader of the game.
He was on the verge of being selected for the full England squad before a serious injury curtailed his career.
We are talking about the same Parkinson, aren't we?
Kieran Kinsella
201
Posted 24/12/2018 at 17:54:48
Steve Hogan,
I well remember Joe becoming a key dog of war under Joe Royle but, under Walker, he floundered – as did everyone – I think in his case due to inexperience and lack of tactics from the boss. That being said, I liked his grit and we never seemed to lose when he played. But, on a technical level he was terrible.
I remember watching the warm-up one time when we were away at Wimbledon. It was pretty simple, a handful of players in a circle kicking the ball to one another.
I remember Parkinson couldn't seem to kick it properly. He kept scuffing it sending it skyward so it kept drifting off towards the spectators, much to the annoyance of his kick-around partners who included Ferguson and Southall.
Terry White
202
Posted 24/12/2018 at 18:05:51
Gerard (#192), as I have commented before in response to your diatribes, you clearly hold a grudge against the current club administration. You may be right but, exactly what qualifications do you have to make such comments about the inner workings of the club? If we knew this then perhaps we can pay more credence to your comments.
Happy Christmas to all, even Gerard.
John McFarlane Snr
203
Posted 24/12/2018 at 18:07:47
Hi again, Dave [188], I am prepared to accept your appraisal of yesterday's game, because you're not one of the posters who have been describing Everton (to put it mildly) as crap.
Those who have described the team in this way, surely can't expect such a team to outplay Spurs? As I 've stated in previous posts, if players are not good enough it's not their fault, but not to give their all for the cause is unforgivable. Seasons greetings to you and yours.
Hi Gerard [192], I must admit that I have no knowledge of what goes on behind the scenes and (possibly to my shame) I concentrate on the on-field activities. I don't get into team selection, tactics, man-management, stadium designs, and the multitude of other things that are factored into the running of a football club.
I'm quite capable of making a fool of myself discussing subjects I claim to have a little knowledge of. Seasons greetings to you and yours.
Kieran Kinsella
204
Posted 24/12/2018 at 18:14:58
Gerard @192,
Who are these people? Everton were 7th or 8th when Moshiri came along. Why spend all that money if he is happy with the status quo?
One would assume his appointees at the club would also be expecting more, as Rayazantsev said last week when he declared "4th place and last knockout stage of the Europa League" as where we should be in 12 months.
Marcel Brands may be satisfied with 7th or 8th if he feels the club are on track to hit their longer-term goals in 3 or 4 years. I say "may" because he said he told Moshiri upon arrival that he is not here to make a quick fix but a long plan change.
Them apart, who else is there to be happy with 8th? Barrett-Baxendale? Surely not since she is driving the new stadium bid. Keith Harris? Money man... surely he is eyeing the revenue that comes with top four.
So that just leaves Kenwright. Now he is one person who would probably be quite happy to see us finish 18th as it would support his whisper campaign against Moshiri and Co for marginalizing him.
Steve Hogan
205
Posted 24/12/2018 at 18:37:31
Kieran (204)
What whispering campaign against Kenwright? What's your source?
Kieran Kinsella
206
Posted 24/12/2018 at 18:44:14
A mutual friend.
Clive Rogers
207
Posted 24/12/2018 at 18:50:56
Steve, it's the other way round. It's Kenwright and Co against Moshiri.
Darren Hind
208
Posted 24/12/2018 at 18:58:49
We should bring back Koeman or Allardyce... cower into retreat from the off, fly in the face of the very ethos of the game... and still get twatted. I think those who supported those two think we can't see them sneaking in.
No manager will change the miserable excuse for a team these two assembled between them in just a few months.
Silva gets more time from me by virtue of the fact he isn't either of these two cowards.
Simon Dalzell
209
Posted 24/12/2018 at 19:01:38
The hardest thing to take is that Spurs didn't have to be that good. It looked like a training exercise, Everton being the cones.
Most of this 'Team' is not good enough. Where do you start? Even Gomes was at fault for 2 goals. Basic tracking back. Shambles. The bottom line is effort. Not even that was evident.
Silva was never the man. Not hindsight. I said that from the start.
Brian Williams
210
Posted 24/12/2018 at 19:08:27
What Darren said!
Clive Rogers
211
Posted 24/12/2018 at 19:10:20
Silva has made the same mistake as Koeman in not buying an established centre-forward. Even one who is not a prolific scorer but can lead the line well would be better than what we've got.
Neil Copeland
212
Posted 24/12/2018 at 19:20:49
Darren #208, spot on.
Kieran Kinsella
213
Posted 24/12/2018 at 19:21:51
Darren Hind,
How did Allardyce "assemble a miserable excuse of a team"? On his watch, we signed Tosun who had apparently been targeted by Moshiri and Walsh before Sam even came on board. The only other signing was Walcott. He gets some stick but he has more goals and assists than Bernard or Gomes.
Not saying I want Sam back by any stretch but I don't understand why people blame him for our failings. Everyone knew the kind of industrial football he produces. He came in with a mandate to pull us away from the relegation zone and finish as high as he could. He did that, we finished 8th. Mission accomplished.
We then fired him. If we want to play the blame game, we have numerous people to blame who have been involved in the club for long periods of time over the last three decades.
Neil Copeland
214
Posted 24/12/2018 at 19:25:10
Clive #211, so far yes but he needed to prove out what he already had and gas only had one window to work with so far. I think that once he identifies who we NEED in that position Brands will go and get him.
Paul Tran
215
Posted 24/12/2018 at 19:37:14
Don't always say this, Darren, but you're spot-on there. Merry Christmas and hope we finally have that drink next year!
Mike Gaynes
216
Posted 24/12/2018 at 19:56:31
Same here, Darren. And you too Paul!
Neil Copeland
217
Posted 24/12/2018 at 20:05:02
Merry Christmas to all on TW
Joe McMahon
218
Posted 24/12/2018 at 20:14:09
Darren, I tend to agree with Kieran, I'm not an Allardyce fan particularly, but Koeman, Walsh and everyones fave Unsworth were keeping us to near the trap door. Sam drew at anfield and would have got a FA cup reply against them at Goodison had Pickford not had his trademark last minute howler. I just think it's way to easy to blame Sam for everything.
We've been awful for years and as I pointed out yesterday a Moyes team conceded 6 at home to Arsenal also. We've had dreadful managers since Royle was sacked, every single one of them.
Dave Speed
219
Posted 24/12/2018 at 20:15:49
I believe we have good players, and yes, others who are not. Even if we manage to get a 'top 6' player or 2, things are not going to change. They will be corrupted like all new players seem to be when joining us.
I think we actually need better fitness trainers of the Sergeant Major type we have had in the past, so that we are able to come out of the traps lightening fast, and sustain it over the 90 minutes, like the top 6 seem to do. Also strength needs to improve, as we are knocked off the ball too easy, or lose out in 50-50 challenges. Also, the players need to train with the ball even more that they do now, as we seem incapable of hitting passes accurately, and with somewhere near the correct weight. We don't seem to be able to do this, even when we (sometimes) have time on the ball. More work also needs to be done on correct movement, as our players don't seem to know how to find space to receive a pass. We always seem to be outnumbered, whether we are attacking or defending, or moving the ball through midfield.
That would leave Silva to work on systems and tactics, knowing that the players have at least the basic skills to carry them out.
Wishful thinking I know. To all, Merry Christmas (not at the moment) and a Happy New Year (I hope and pray).
Mike Gaynes
220
Posted 24/12/2018 at 20:15:49
Clive #211, I don't think it was a "mistake"... I believe they tried very hard but did not close a deal due to player disinterest (Giroud, Werner), injury history (Wilson) or overpricing (many others).
I would also point out that among the many strikers we were seriously connected with last summer, very few are blowing the doors off this season. Only Wilson has really made me wistfully wish we had gotten him.
And finally it's worth noting that amidst yesterday's wreckage DCL had his best game as a Blue in my opinion. Great assist, sweet finish on the header and some effective passing.
Neil Copeland
221
Posted 24/12/2018 at 20:24:39
Mike#220, you beat me to it regarding DC-L, he was also good in the air. IMO the jury is still out but he is not doing his case any harm at the moment.
Paul Tran
222
Posted 24/12/2018 at 20:39:43
Cheers Mike #216, though I think the nearest we'll get would be a Skype drink!
Peter Jansson
223
Posted 24/12/2018 at 21:57:34
Dominic Calvert-Lewin was maybe the only one that had a good game against Spurs.
John Raftery
224
Posted 24/12/2018 at 22:10:37
Kieran (213) Absolutely correct. Sam walked into an absolute shambles and started to eke out results with a squad devoid of quality. Despite adding some quality in the summer we find ourselves unable to win games against teams we beat last season such as Huddersfield and Newcastle while continuing to lose to the top six.
We may have gained some style but the evidence of the past month points to a loss of substance. Once again we are a soft touch with the only thing missing being a few thousand fans singing 'We hate Sam Allardyce' or something similar but more profane.
We cannot however keep changing our manager every six months in the forlorn hope we will eventually happen upon the right appointment. That is the road to relegation.
Raymond Fox
225
Posted 24/12/2018 at 22:21:03
Picking up on what Darren said, I think we need to decide what we want.
Do we want to play 'lovely' football or winning football? Of course, we would like both in a perfect world. Problem is, we have not now, nor have we had over the last 20 or so years, players good enough to achieve both against the top sides.
It's no coincidence that we have had very little success against the money clubs; if you play better teams the way they want to play, you're going to get burned.
By all means play a free-flowing open game against the lesser teams in the league but I don't care if it has to be ugly to get results when playing Spurs, Chelsea etc – it's a case of 85% results and 15% style for me.
Eric Paul
226
Posted 24/12/2018 at 22:34:30
Raymond...
Winning football is lovely football.
Michael Kenrick
227
Posted 24/12/2018 at 23:04:40
Peter @223,
Just got a contribution in that (inadvertently) called him:
Demonic Calvert-Lewin
Well, it made me smile. He scored a good goal with a bit of agro... so perhaps the requisite pair of horns would be a step too far in making him any more aggressive!
Andy Riley
228
Posted 24/12/2018 at 23:30:43
Not sure what I feel at the moment. Up to Anfirld was really positive about the progress being made but the failure to see off the likes of Newcastle and Watford at home makes being so far off Man City and Spurs harder to take if anything. Feels like we're rudderless with no real leaders on or off the pitch. I was hopeful of Silva but right now he does seem like a less positive version of Roberto and at least for 75% of his first season he did seem like he could be the real deal whereas Silva didn't even get that feeling for 33%.
James Flynn
229
Posted 24/12/2018 at 00:08:48
Constant comparisons to Roberto. None valid yet.
Martinez took over a talented, disciplined Team and wrecked it with his "training" and signings after the Barry-Lukaku coup that propelled his first season.
Silva has taken over that wreck (Yes, we just don't suffer from Koeman. We still suffer from Roberto's signings) and we have to give him time.
What happened yesterday was bad, no question. I am in the camp that says he and Brands need time to prove incapable. No more chop and change for this and the next 2 seasons.
If we're still floundering, they go. But we need to sit still and see what happens.

Peter Jansson
230
Posted 25/12/2018 at 00:14:25
It all started with Pickford against Liverpool, it seems like it suck out tons of engergy... and now same thing against Spurs. He needs some guidance. I don't know where to begin, but he needs to relax a little more, make things more simple and use his head. Talk to the coaches, begin yoga lessons or something. Improve communication with his teammates during games etc.
Laurie Hartley
231
Posted 24/12/2018 at 00:28:59
Darren # 172 & John # 171 - no stampede but in my view you have both in your own way got to the heart of our problem.
I don't like Henderson because he is a red.
I like Ghana because he is a blue.
The thing is though we do not have one single player in our squad who is liable to get "in your face" or sort an opposition player out if they are taking liberties. Mina May become that individual but at the moment we are too nice.
The 60's teams were full of hard men. Roy Vernon was about 10st ringing wet but a fearsome opponent, and the golden vision was not averse to putting his foot in (if George Best was still alive God Bless him, he would agree). Not to mention Morrissey, Kay, Gabriel, Pickering and co.
The 80's team was the same - Reid, Van Den Howe, Gray etc.
Then there was Joe Royle's dogs of war - nobody liked them (except us).
Moyes for all his faults, came up with some real fighters in his teams - Cahill and Carsley immediately come to mind.
Players like Bernard, Lookman, Walcott, and Richarlison, need a couple of characters like that on the pitch taking care of the other business. I have a memory of Tim Cahil lying on the ground with Gerrard in a choke hold. Who have we got who could that now?
We are not horrible enough and we, the fans, know it and that is why the club is loosing its soul.
My fix - find a couple of hard cases - the school of science team was full of such characters.
Up the Blues and a Peaceful and Merry Christmas to ToffeeWebbers one and all.
Geoff Lambert
232
Posted 25/12/2018 at 01:08:35
"Constant comparisons to Roberto. None valid yet."
Correct we have been toothless compared to Robertoes first season and spent far more cash.
Steavey Buckley
233
Posted 25/12/2018 at 01:14:25
James#229. If Martinez had the money Koeman and Silva have at their disposal, he could have bought better players. Yet, when he was sacked, he brought on Stones as centre half and Barkley and Lukaku as more than adequate replacements. When Koeman left, Stones and Lukaku were sold and Barkley wanted to leave. MacCarthy was a good replacement for Fellaini (except for the goals) and Barry is still one of the best players at WBA at 37 years of age.
Jason Broome
234
Posted 25/12/2018 at 05:31:29
I still think Silva is the right manager but he has to learn fast. Tactically that was a shambles.
Pressing high up the pitch and zonal marking against a superior counteracting side exposed us. He has to adapt his tactics to suit the opposition.
We also need a striker with pace and skill to counter the opposition as we died out after midfield. Also 2 central defenders with leadership qualities.
We were easy to read and punished due to the lack of direction.
I remember Martinez being hit for 5 by average teams a couple of times. Moyes 0-7 against Arsenal. Holding on to the faith. It has to come good at some point.
Alan J Thompson
235
Posted 25/12/2018 at 06:09:45
Keiran(#213); Quite right, nobody is saying that Koeman who achieved a 7th place finish the season before or Allardyce (8th) should be recalled but to say that a team that includes Bernard, Digne, Gomes, Mina, Richarlison and Zouma as the dross that Silva inherited is just plain wrong!
Koeman had 10 games last season, Unsworth 4 and Allardyce the rest (somebody said 26) but when it comes to the present incumbent it seems the goalposts have been moved and has to be given more time despite only winning, drawing and losing in equal numbers. The entertainment value of the football may have improved but not the results.
Having said that I don't think it would be right to move him on at this time of the season but surely we have to have some criteria that demand somebody in a senior position have a chat with the Manager, if it is not already part of the weekly timetable.
Derek Taylor
236
Posted 25/12/2018 at 08:49:03
'Tis the season to be jolly,' but whether that applies to Everton and 2018/19 remains to be seen. Perhaps we should forget how badly we were done to in the derby and then by Sunday's ref and pretend it all starts tomorrow.
Of course the league table will tell a different tale but we all believe in Father Christmas so why shouldn't we suspend reality just for a day or so ?
Happy Christmas, fellow Evertonians !
Andrew Clare
237
Posted 25/12/2018 at 09:53:43
This season was always going to be one of transition. Remember that a lot of the players including the manager and associates have only been here a short time. Give them time and keep the faith.
Happy Christmas to everyone everywhere especially Evertonians.
Tony Stanley
238
Posted 25/12/2018 at 14:13:24
What the hell is going on at Everton? I've seen this movie before.
Simon Dalzell
241
Posted 25/12/2018 at 17:42:32
Happy Christmas to all. 2- 0 or 2-1 victory tomorrow.
Dermot Byrne
242
Posted 25/12/2018 at 19:00:04
I think it is all down to live TV. We get stage fright!
Paul Tran
243
Posted 25/12/2018 at 21:33:05
Comparing recent managers is like comparing apples with pears.
Koeman's first summer of spending resulted in abject failure and there seems to have been a toxic atmosphere around the club. I bet he wonders how different things might have turned out had he been working with Brands rather than Walsh?
Allardyce was clearly a stop gap. His idea of forward-planning never went beyond the next game. We'd have stood still at 8th/9th.
Silva is the first manager in The Project 2.0, working closely with Brands. He'll get time to sort things out, but I think/hope he'll be accountable to Brands. The whole point of a Director of Football is to make things easier for the manager; the flip side is that, if he doesn't get results, it's easier to sack him without destabilising the club.
Big test tomorrow. Good managers turn around poor periods of form; will Silva?
Add Your Comments
In order to post a comment, you need to be logged in as a registered user of the site.
Or Sign up as a ToffeeWeb Member — it's free, takes just a few minutes and will allow you to post your comments on articles and Talking Points submissions across the site.
© ToffeeWeb