Report
Everton furious and out on a terrible goal call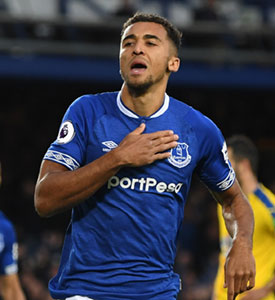 Dominic Calvert-Lewin got the call but failed to deliver yet again
Millwall 3 - 2 Everton
Everton were denied a victory, or at least a replay, after Millwall's second equalizer went in off Cooper's arm that would have been disallowed with VAR, and thus fail to take their place in the 5th Round of the FA Cup.
Marco Silva has named a strong line-up with just two changes: Dominic Calvert-Lewin and Yerry Mina come in; Bernard and Kurt Zouma are on the bench. Calvert-Lewin leads the line, with Richarlison dropped back to the left side, Lookman on the right.
No place for Leighton Baines, who is on the bench with Walcott and Tosun; Jagielka is injured and James McCarthy is not match fit.
For Millwall, who sit 19th in the Championship table, Tom Bradshaw, Tom Elliott, Ben Amos and Conor McLaughlin are all injured, while midfielders Ben Marshall and Ben Thompson are both cup-tied and cannot play.
Millwall got things underway in the pouring rain, Everton wearing white tops and dark blue shorts. Gueye was tackled by Williams. Coleman got a decent cross in from the right that just evaded Calvert-Lewin. Digne's long throw-ins won Everton's first corner, over Keane, who was being held by the neck, and Millwall could break upfield.
A good chance for Millwall from a free-kick, the ball won but headed behind by Cooper. At the other end, a great cross by Coleman and Richarlison with a horrible airshot completely misses the ball. Terrible!
Lookma and Coleman combined well down the right but the cross was surrendered too easily by Calvert-Lewin.On the other side, a great Digne cross bounced harmlessly away past the far post, no-one attacking it.
Coleman again, for the third time, put in a great low cross into space, and again, no-one taking the bait in the middle. Not exactly bad service to the strikers, who simply aren't showing any anticipation for the ball??
Yerry Mina went down after chasing a ball out, perhaps overstretching his hamstring, and needed a few minutes of treatment. Richarlison was taken out by Hutchinson, but it was given against the Everton layers as things started to get a little more physical, Coleman getting pushed over.
Lookman tried a clever give and go but it was too easily read by the defender. Richarlison went down very easily but Oliver gave him the call, Digne's good ball in but Mina flagged for offside as his shirt was pulled.
Everton tried to work the ball in form the left, Gueye falling to an effective a body check, but Coleman called for a high leg. Still no clear-cut chances, Everton showing a familiar reluctance to score away from home.
Lookman was again involved in some good passing butt the ball from Gueye? was overhit and bet Digne to the line. A poor clearance for Archer fell for Sigurdsson but he failed to dig out a shot to test the keeper.
Lookman did well to fight Ferguson for the ball but then Everton lost the ball in close passing that broke down on the edge of the Millwall area. The home side advanced and won another deep free-kick, this one largely wasted by them.
Pressure from Millwall but Everton kept them outside their area effectively, et built very slowly. Gomes tried to find Calvert-Lewin but the ball worked around to him and he fed Richarlison who drove it goalwards with tremendous pace, deflected off Hutchinson and under Archer, who seemed to have it covered, but it squirmed into the Millwall net.
Gueye got free to break but his forward hoof out left was hopeless. Another deep free-kick, headed on by Cooper and Gregory pushed off Digne to loop his header well over a stranded Pickford into the net to level the score just before half-time.
Zouma replaced Mina after the break, and Everton drove forward but couldn't make anything of their tight passing. A further attempt to penetrate with worked passing collapsed. It was Millwall's turn to attack and they produced a dangerous cross to the back post where Coleman shepherded the ball away.
More laboured round-te houses play ended with a ball forward from Lookman to where both Sigurdsson and Calvert-Lewin had been standing before they ran the other way... what exactly do they do at Finch Farm???
Calvert-Lewin fell awkwardly under a meaty forearm smash from Cooper. Better play from Gueye then Lookman set up Sigurdsson for a deflected shot. Calvert-Lewin missed Sigurdsson's driven corner as Zouma's shit was tugged as the rain got even more torrential with standing water visible in places, A brilliant free-kick delivery from Sigurdsson was again directed away from any Everton players in the scrum.
A much better move out to Digne saw a great cross in to Lookman alone near the spot who totally messed up, when a first-time strike was required... wasted. Everton were really struggling in more and more of a bear-pit atmosphere as they were unable to show any class in the conditions.
Another low cross from the Coleman overlap won a corner, headed away. Gueye lost the ball poorly. Silva called up Tosun, to replace Calvert-Lewin, who had patently failed yet again to get the job done.
Millwall won a contested corner, unfairly but it was headed away by Digne. Lookman was dragged back, Wallace booked. Everton pressing again, but slowly, Digne's cross too high. Coleman doing well to cross, keeping the pressure on until Keane passed the ball straight out of play.
The Everton build-up got even slower, if that was possible, and seemed to be going nowhere, certainly not toward the Millwall goal. That was until Sigurdsson turned and ran at goal, feeding Tosun on his left, who fired confidently inside the far post. Good goal out of almost nothing!
But a crazy melee at the other end and it was driven in after a kick given away by Digne near the corner flag. A shot was saved by Pickford but it flew up and in off Cooper's arm just above the elbow, with a slight but deliberate movement that would have surely been called if this game had VAR.
But the goal stood, despite initial questions of offside. The assistant referee was consulted, Everton players were livid, Coleman, Gueye and Tosun booked for protesting, but the goal was given. Why no VAR in this game? Another incredible Everton injustice.
Everton needed a third goal, and the rain thankfully eased, with better build-up in the attack. Gueye came in hard on Leonard, and was lucky not to have seen a second yellow, the Millwall player needing treatement.
Walcott replaced Lookman: no end product for no end product! Millwall attacked at pace, sensing another goal into added time, a fantastic interception by Zouma. Richarlison broke well but the cross didn't fall. At least Sigurdsson had a strike but it was easy meat for Archer.
Digne was penalized yet again for a soft one wide right, the ball nodded down as Millwall showed far greater desire to get to the ball, Wallace there to drive home from short range and win the game for the Lions.
So no chance of redemption for Everton and the beleaguered Marco Silva, denied a replay for Everton and a massive massive grudge for the blatantly wrong decision on Millwall's second goal, which should never have been allowed to stand.
Scorers: Gregory (45'), Cooper (75'), Wallace (90+45'); Richarlison (43'), Tosun (72')

Millwall: Archer, Romeo, Hutchinson, Cooper, M Wallace [Y:67'], Williams, Tunnicliffe, Leonard, Ferguson (89' Morison), Gregory, O'Brien.
Subs: Martin, Meredith, Pearce, (86' Skalak) White, Alexander, Hanson.
Everton: Pickford, Coleman, Keane, Mina (46' Zouma), Digne; Gomes, Gueye [Y:77'], Lookman (75' Walcott), Richarlison, Sigurdsson, Calvert-Lewin (65' Tosun [Y:77']).
Subs not Used: Stekelenburg, Baines, Davies, Bernard.
Referee: Michael Oliver
Attendance: 16,354
---
Reader Comments (454)
Note: the following content is not moderated or vetted by the site owners at the time of submission. Comments are the responsibility of the poster. Disclaimer
Neil Cremin
1
Posted 26/01/2019 at 16:44:00
Team in:
Calvert-Lewin at centre-forwad; Richarlison and Lookman on wings and Bernard sub.
Kieran Kinsella
2
Posted 26/01/2019 at 17:01:56
Maybe Mina is there both to address and to pose an aerial threat?
Brian Wilkinson
3
Posted 26/01/2019 at 17:06:01
Liking that starting 11, never have a better chance of finally going on a cup run, what could possibly go wrong?
3-0 all the way, for Everton.

Jay Harris
4
Posted 26/01/2019 at 17:22:11
I just hope our support stays safe and enjoy the game — which means an all-important win.
Coyb
Tony Williams
5
Posted 26/01/2019 at 17:45:43
Frightens me, no-one on the posts.
,
Ian Lloyd
6
Posted 26/01/2019 at 18:04:46
I just don't get what we're trying to do — we are as dire as we have ever been in my 30 years of watching EFC.
Jerome Shields
7
Posted 26/01/2019 at 18:11:10
Poor link play in the final third. Most of the play channelled down the wings. Central forward play non-existent.
Ian Lloyd
8
Posted 26/01/2019 at 18:16:40
It's a good job we've paid their keeper to throw one in... lol!
Jim Bennings
9
Posted 26/01/2019 at 18:22:16
Absolute shit fest between two Sunday league teams.
Our football is (and has been for weeks) atrocious and as far as I'm concerned we don't possess a single top flight worthy striker at the club.
We've scored through a keepers blunder, utter garbage.
Paul Armstrong
10
Posted 26/01/2019 at 18:22:48
Ian, with you 100%. Dire.
Ian Lloyd
11
Posted 26/01/2019 at 18:25:12
This manager has to go and along with him at least 10 players – I'd rather watch the Under-23s – at least they'd try? Or would they?!? This club needs a massive overhaul from top to bottom
Win or lose we are a shambles.
Jay Harris
12
Posted 26/01/2019 at 18:29:46
The spectre of the Martinez philosophy has returned. No defense and no goal threat = losing games.
We are pathetically limp – why bring Mina in and break up an established centre-back pairing.
Jim Bennings
13
Posted 26/01/2019 at 18:30:45
Too many Everton players are quite simply passengers and it's been the same for nigh on two months now hasn't it?
No movement, we are clueless as to how to get behind a team.
Gomes should have been rested about five weeks ago and looks gone, offers zero and talk of £40 million is just flying pigs stuff at this moment in time.
Anyone who thinks Calvert-Lewin should start ten games on the spin needs their head testing, the lads a late substitute at best.
Lookman is not all that, and if this was Walcott out there tonight he'd be getting ripped apart.
Too many bang average players.
Ed Prytherch
14
Posted 26/01/2019 at 18:31:28
This looks like walking football.
Joe McMahon
15
Posted 26/01/2019 at 18:42:11
After Burnley away last year, I got slated on here for saying that Pickford costs us too many goals. I stand by that still, and would rather have kept Robles.
Ian Lloyd
16
Posted 26/01/2019 at 18:43:56
Ditto, Joe.
Most overrated keeper in the Premier League.
Peter Cummings
17
Posted 26/01/2019 at 18:45:49
Apparently, Millwall are without several of their regular players (like Southampton were last game) but we are failing to take any advantage and as we all know can't hold on even when we score first.
So far, there hasn't been any threat at all from us except for a goalie blunder giving us a piece of luck, then we return to type by gifting a leveller almost straight away.
A good Cup run?? I think not.
Paul Armstrong
18
Posted 26/01/2019 at 18:47:41
A good cup run would hide the truth.
Karl Meighan
19
Posted 26/01/2019 at 18:55:55
6 months in as manager and he cannot organise a defence to defend set-pieces? Not good enough and certainly not earning his pay. It's poor — even Allardyce could do that.
Paul Setter
20
Posted 26/01/2019 at 19:01:58
Yawn....
Jim Bennings
21
Posted 26/01/2019 at 19:29:02
Goodbye, Marco... and fuck off to those spineless wimps that call themselves players.
Jason Broome
22
Posted 26/01/2019 at 19:29:07
Anyone surprised!?

Ian Lloyd
23
Posted 26/01/2019 at 19:29:54
Not surprised at all.
They won't sack him though — clueless from top to bottom.
Disgrace of a club.
Les Moorcroft
24
Posted 26/01/2019 at 19:31:10
Well, it's good night from him. Let's start again.
ps: Millwall are shite.
Ed Prytherch
25
Posted 26/01/2019 at 19:33:03
Hopeless. Any team that lobs the ball into our box will score.
No energy, no guts, no idea.
Frank McGregor
26
Posted 26/01/2019 at 19:34:02
I really don't know the answer to take the club forward. Allardyce was poor but this is a lot worse.
Things are looking very grim for the future of Everton Football Club.
James Byrne
27
Posted 26/01/2019 at 19:34:55
Utter shite. The conditions were not great but both sides had to play in it. Nothing is going to change unless everything changes!
The employee situation at this rotten club needs a complete review, top down.
Tony Heron
28
Posted 26/01/2019 at 19:34:56
Can we please get a goalkeeper who will come off his line?
Dave Parry
29
Posted 26/01/2019 at 19:35:12
Quite simply, Marco Silva offers nothing: no passion, no tactical awareness, no coaching skills...
The man believes his own bullshit – ever get the feeling he doesn't care????
An abject failure of an appointment again.

Charles McCann
30
Posted 26/01/2019 at 19:35:26
Got what we deserved. All those needless free-kicks we give away which led to the goals was crazy. I'm sorry but that's not acceptable.
Jim Bennings
31
Posted 26/01/2019 at 19:35:54
Another massive fuck up from our great leader, Moshiri, headhunting this guy.
We'd've been better off in hindsight just tolerating Allardyce until the end of his 18-month contract (given to him by Moshiri).
No-one can tell me the football I've witnessed this last two months is any better than under Sam Allardyce last season.
Our players are a disgrace and I'd not be arsed to see any of them flogged to be honest, we big players up far too much but they deliver next to nothing.
Every one of them out there tonight was an absolute disgrace.
Ron Sear
32
Posted 26/01/2019 at 19:36:00
Ten points needed to avoid the drop, isn't big Sam still drawing a wage?
Philip Yensen
33
Posted 26/01/2019 at 19:36:09
Absolute shambles of a performance, not one decent player for us. No heart, no brain, no system. Stupid fouls in the most dangerous places for us, out on the wings.
Time to get shut of Pickford and Keane. An utter fucking embarrassment.
Brent Stephens
34
Posted 26/01/2019 at 19:36:14
Transition? They reckon the Brexit transition could last 5 years.
Spencer Ramsay
35
Posted 26/01/2019 at 19:36:25
When will Silva ever learn about zonal marking??????????
Graeme Dodd
36
Posted 26/01/2019 at 19:37:46
What an absolute laughing stock and disgrace. No spine, no quality, no fight, no hope.
I have 3 kids who are all Blues and now they just look at me and ask "Why, Dad, Why???" Like Marco Silva, I have no answers and have no defence
Utter shite!
Jim Bennings
37
Posted 26/01/2019 at 19:37:53
Last season we have Moshiri with his "We have our own Fab Four".
This season it's Brands with "Calvert-Lewin, Richarlison and Lookman are the envy of every Premier League club"
Just fuck off and stop embarrassing yourselves and patronising the fans.
Ian Bennett
38
Posted 26/01/2019 at 19:38:02
Absolutely shambolic free-kicks given away, and uncontested set-pieces. Limp attacking threat against limited opponents.
We can't keep sacking managers, but something has to change.
Daniel Bentley
39
Posted 26/01/2019 at 19:39:03
Everton board: Please, please, please go and get Rafa Benitez!
Dave O\'Connell
40
Posted 26/01/2019 at 19:39:09
Season over. Just sack Silva now, get a new man in for the rest of the season. Absolutely shite once again... embarrassing to be an Everton fan.
I haven't felt this bad since Walter Smith was in charge – and to think we sacked Martinez because we slipped away from the top 6.
Sean Patton
41
Posted 26/01/2019 at 19:40:36
No, what's not acceptable is officials like that, and no accountabilty for the cretins that make those decisions. VAR was in the last round so why not this?
Tony Williams
42
Posted 26/01/2019 at 19:40:44
Scintillating.
Paul Swan
43
Posted 26/01/2019 at 19:41:11
I'm shaking with anger. You could see that was going to happen from the first 10 minutes.
Not one! Not a single player on that pitch tonight is fit to wear the shirt. Richarlison, Sigurdsson, Calvert-Lewin, Keane, Pickford, Digne, Lookman, Coleman — all absolute shite.

Don't let the disgrace of a referee paper over any cracks here, that was a disgusting performance and the blame in my eyes lies completely at the manager's door. We can't defend, you fucking idiot! And you don't know how to fix it. I pray the axe falls quickly here because this prick is clueless.
Kevin Prytherch
44
Posted 26/01/2019 at 19:41:23
Let's see...
Defending a free kick, we try to defend a high line then drop back when the ball is played in. It doesn't work, the attackers have a run on goal and the defenders either have to try and head it out while retreating, guaranteed not to go far, or head it behind. Advantage attackers. They score.
Next free kick – we'll do the same. And again, and again.
Wasn't it Einstein that famously said that the definition of insanity was doing the same thing over and over again and expecting different results?
Why not, in the 93rd minute, defend a free kick like it's a corner and allow our piss poor zonal defenders to actually attack the ball rather than trying to retreat and head it clear.
Or better still, hold the defensive line rather than backtracking, maybe even take a step forward, and play most of Millwall offside. Risky in the 93rd minute but what's the point of having a high defensive line at a free kick if we just run backwards? Why not start deeper and attack the ball?
John Keating
45
Posted 26/01/2019 at 19:42:40
Not sure what everyone's moaning about?
Apparently, we have to put up with this due to being in transition...
Jeff Spiers
46
Posted 26/01/2019 at 19:42:47
Heart goes out to those away supporters. The players don't give a fuck. I am 66 years old and it still fucken hurts.
Derek Knox
47
Posted 26/01/2019 at 19:43:23
Okay, they shouldn't have had that 'goal' allowed, but I remember the Commentator saying 93 minutes and Everton have had 3 shots on their goal.
That about sums it up for me, I was prepared to stand by Silva, but this has finally convinced me he has to go, or it could be Championship Football next season.
Brian Harrison
48
Posted 26/01/2019 at 19:44:20
3 free kicks 3 goals. Yes, their 2nd should have been disallowed but we must have sent a clear message to all our opponents: Get the ball in the box against Everton and you will score.
Pickford offers no help to his defenders with his refusal to come and compete for balls in his 6-yard box.
I don't think we lacked effort or determination; what we lack is quality, and now it becomes a very long season. Knowing how trigger happy Moshiri is, I don't know if Silva will survive till the end of the season.
Jim Bennings
49
Posted 26/01/2019 at 19:46:09
It would've been far better spending the money on Deeney, Charlie Austin and a bunch of honest hardworking lads from The Championship rather than piss millions away on mercenaries with no heart.
Mark Andrews
50
Posted 26/01/2019 at 19:46:47
Sorry, he has to go. Week after week, we succumb to set-pieces (3 of them today!) and this managerial lightweight is powerless to do anything about it.
"Fire him time."
"We can't keep sacking managers!"
He's had time, he's useless and his record is truly awful; yes, we know it's bad going through managers, we just need to spend time selecting one that knows what he's doing. We're not a testing ground for wannabe coaches.
Tony Twist
51
Posted 26/01/2019 at 19:48:16
Niavity throughout the team, no excuses, yes the second was handball but to give away that free kick was pathetic, from someone who has played for his country. All through the team they act like spoilt children who expect everything on a plate rather than having to earn things.
Silva was lorded for his influence and work on the training pitch, I can't see it myself. Extremely bad choices from Everton and they will have to pay for it. For a team with so many attacking players they really are toothless.
Liam Reilly
52
Posted 26/01/2019 at 19:49:02
Struggling to even get annoyed anymore.
Shouldn't be blaming a dodgy goal for going out. 3 shots on target versus a very average Championship side is disgraceful with that amount of talent on show.
Andy Riley
53
Posted 26/01/2019 at 19:49:39
Mourhinho is available. Proven winner — get him in now to sort things before the summer.
Tony Abrahams
54
Posted 26/01/2019 at 19:50:05
Digne was possibly our best player, and then he goes and gives two absolutely stupid free-kicks away, but the team lack so much heart and fight, that it wasn't a shock when Millwall got the winner.
This team lack so much heart and fight, that it's worrying, especially when you consider Everton's weekly wage bill.
Fucking cowards, on absolute fortunes, is nothing but a recipe for disaster, especially when the cunts don't resemble anything that Everton FC should always stand for.
Brian Williams
55
Posted 26/01/2019 at 19:50:13
Not out on a terrible goal call at all.
Out on a total inability to defend crosses into the box.
Out on an inability to put maximum effort into a game for 90 odd minutes.
Out on a lack of urgency going forward.
Out on a lack of guile and effort and heart!

John Audsley
56
Posted 26/01/2019 at 19:50:38
This club is killing us all slowly...
James Hughes
57
Posted 26/01/2019 at 19:51:00
We are in free-fall, we still need 8 more points to be safe.
All I heard from match reporters is that we can't defend. HELP!!!
Jason Saggers
58
Posted 26/01/2019 at 19:52:09
We were crap, but when are we gonna catch a break, refereeing shocker.
Wonder how many more games Silva will get. Live, die, repeat.
Jamie Crowley
59
Posted 26/01/2019 at 19:52:11
Someone buy a cab for Mikel Arteta. It's his time to step up to a big managerial job.
Gerry Quinn
60
Posted 26/01/2019 at 19:52:43
And as usual, Millwall fans don't let anyone down – Everton fan stabbed and mindless violence... horrible supporters of Millwall, always have been.
Kieran Kinsella
62
Posted 26/01/2019 at 19:55:05
£250 million worth of "talent" versus one bad call. Hard to argue "we was robbed".
Credit to Millwall. Shame on Everton.
Steve Guy
63
Posted 26/01/2019 at 19:57:22
Silva needs to stay. We just need a true focal point for our attack. Zonal marking has to go though. We have good defenders playing in the wrong system.
Millwall would have been beaten if not for a ridiculously poor decision. The sight of their manager realising they'd cheated and screaming for them to stop playing the "goal" on the big screens was sickening.
Arild Andersen
64
Posted 26/01/2019 at 19:58:00
The goall call is wrong, but absolutely no excuse and should not be the story here. Not able to defend on set pieces and only three or four shots on goal against a Championship side is the story. Simply not good enough. Big decisions to be made.
Julian Exshaw
65
Posted 26/01/2019 at 19:58:12
I could write endlessly about who is or isn't to blame for this. At the end of the day though, I feel crushing sadness and disappointment seeing another season slip by. I know it's only football and what happened to that poor Argentinian lad puts things into perspective.
Yet once again I sit here bemoaning our luck, do we ever get a bit of luck? Are we paranoid or do nights like tonight only seem to happen to us/ Another 8 months to get through then until the beginning of a new season and hope refreshed.
Dermot O'Brien
67
Posted 26/01/2019 at 19:58:45
I'm fucking raging. What a useless shower of shite. All those Everton players must be descended from Dracula. Every time they see a cross...
Absolutely no guts or grit. Shitehawks every one of them.
Ashley Roberts
68
Posted 26/01/2019 at 19:59:45
Luckily I did not get to see this debacle!! Seems like the same tactics and same formation. This coach is a total imposter and what makes it even worse is how much Koeman and Silva spent. He just does not have a clue and does not know how to change tactics.
The football over the last couple of months has been just as dire as with Fat Sam. The big difference now is we now do not know how to defend and the points and wins are a thing of the past.
I have never been one for chopping and changing managers but this guy has to go and now before we end up in relegation trouble. Based upon the write up, it seems that at the moment we are no better than a Championship team and this is where this guy is taking us. Absolute disgrace.
Dave Abrahams
69
Posted 26/01/2019 at 19:59:54
I'm going to a birthday party in a few minutes, God help the poor people looking at my face later on, I wouldn't be able to put a smile on it if I find out I've won the lottery.
Keith Dempsey
70
Posted 26/01/2019 at 20:00:23
Of course the players care, I'll accept that, but it just goes from bad to worse.
I'm not a serial poster on this site but I'm in my 51st year of following our team. I've always been affected by the good and bad times but I just watched this on television and I feel nothing, which is in itself a disappointment. All of you seem to have the answer because the same names are on here every night with opinions.
I think to start enjoying supporting our team again, they might need to drop down a division and see if that works. No guarantees, I know, but I would rather have the chance of a play-off final to look forward to than this.
Neil Copeland
71
Posted 26/01/2019 at 20:01:08
Some very poor refereeing decisions but we didn't deserve anything from the game. If we cannot beat a team as shite as Millwall then we have some very serious issues. I kept expecting us to move up a gear and brush them aside but it just didn't happen
Very frustrated and extremely angry at the players who obviously don't give a shit. Silva was clearly upset but the buck stops with him and this continual decline is simply not good enough.
Something needs to change, I think we are not in danger of relegation so we should use what is left of the season to prepare for next season. Mr Moshiri should task Marcel Brands with finding a top class successor to Silva. The aim should be to have the new man in place by the end of the season.
Lenny Kingman
72
Posted 26/01/2019 at 20:01:44
Everton are out because of all round ineptitude and not a single player on that pitch has a milligram of fighting, never say die, blue blood in them.
They were out fought, out foxed and shown up for the debauched weaklings that they are.
The hullabaloo about that goal is a distraction, and a false one to boot, from a reality.
At this present time, and maybe permanently, EFC are fooked.
Fran Mitchell
73
Posted 26/01/2019 at 20:03:13
Didn't see the game, just saw the result and my reaction was a smirk and thinking 'of course'...
Truly abysmal. We are shite.
For Silva, the clock is ticking.
Stephen McNally
74
Posted 26/01/2019 at 20:03:48
I feel sorry for the fans. I'm a follower these days because I'm not prepared to get stung to line the pockets of average players who are mercenaries. The "beautiful game" has been ruined by greed/money and a complete lack of local identity.
It's a shame the latest generation of Evertonians couldn't see Everton and football when it was at its best: the 1980s. A team packed with British players who knew what it meant to play for a fine old institution called Everton.
RIP, a game played by the people for the people. What would the immortal "Dixie" make of it all?
Dermot O'Brien
75
Posted 26/01/2019 at 20:04:00
Frank Crewe
76
Posted 26/01/2019 at 20:04:47
I see no point in binning Silva unless the next guy is a proper big name with a history of success. Otherwise, we will just end up with another half-baked know-nothing we'll be sacking in a year or so.
We all push for Calvert-Lewin to play but, the moment he starts, he's rubbish. Same with Lookman. Just doesn't do enough. Our defenders are devoid of confidence.
Every time a cross comes in we go into headless-chicken mode. Gomes is showing why he couldn't keep a place at Barca. Started out strong but has retreated into his shell.
Silva insists on playing 4-2-3-1 even though it plainly isn't working. If we had a really strong striker, it can work, but we don't. We need a second forward on the park to give the opposition's defenders something to do and stop our single forward getting marked out the game.
All we have left is 15 league games. Let's get rid of 4-2-3-1 and try 4-4-2... even if it means dropping the likes of Gomes.

Oliver Molloy
77
Posted 26/01/2019 at 20:04:52
"Everton furious and out on a terrible goal call".
Sorry, Michael, I completely disagree with the headline.
Millwall took their chances against a shit scared no balls Everton defence. Giving away needless free kicks just helped them, and they knew we are useless with set pieces.
We are out because this team is just very very poor indeed. The doubt's some of us had regards Silva being the man to take us forward are clearly visible.
Brands has fucked up with the purchase of Mina. There has been a lot of money been thrown down the drain since Moshiri came on board who by the way also seems to be a very stubborn man, he is not learning.
Jordan Pickford world class? Don't make me laugh, another keeper afraid to come off his line.
We really are quite pathetic.

Eric Paul
78
Posted 26/01/2019 at 20:05:00
Sílva is responsible for zonal marking, their 3rd goal might as well have been a penalty. Time to bring Schneiderlin back and get shut of Gana Gueye... and if Lookman is the answer, what's the question?
I try not to be a negative poster but it's hard, very fuckin hard.
Simon Dalzell
79
Posted 26/01/2019 at 20:05:02
Silva must go now. End of.
Jamie Crowley
80
Posted 26/01/2019 at 20:05:08
When I dug in my heels over Martinez, there was one guy on the Live Forum from early days who told me I was wrong. I backed Martinez until he had hung himself, debating with this fella every single week. In the end, he was right, and he was right early in the debate. I was too blind to see it.
Today, Joe Clitherow came on the Live Forum and said it's time for Silva to go. That'll do for me. It's time. Silva is not motivating the players.
He's not changing his approach or tactics. It's not working. I watched a listless team accept defeat today, with no fight.And that's down to the manager.
Even if I'm wrong, a voice that's rarely been incorrect popped up on the Live Forum today and called for a change. I took note.
It's time for Marco to go.
Denis Richardson
81
Posted 26/01/2019 at 20:05:13
That's this season well and truly over and we're only in January.
Absolutely nothing to play for, we haven't got a hope in hell of finishing top 6 and will struggle for top 8 given the home games we've left and our inability to pick up points on the road. Personally, I predict we'll finish between 10th-12th.
Yet another exit to a lower league club – 15 Premier League sides will be out before the 5th round kicks off, what a completely wasted opportunity.
Let us not dwell on the handball goal, we only managed 3 shots on target in the whole game playing a relegation contender in the Championship!
Paul Tran
82
Posted 26/01/2019 at 20:05:48
If we'd not had 4 managers in 3 years, he'd be out now. And if he was sacked, I wouldn't argue with the decision.
Stephen Brown
83
Posted 26/01/2019 at 20:06:37
Reid, Sharp, Nev, Watson, Beardsley, Rooney, Arteta, Cahill. I loved these players playing for us, cared for them!
Couldn't give a toss about any of this lot (Baines and Jagielka excluded). They don't care!
Pat Kelly
84
Posted 26/01/2019 at 20:07:32
I'm not sure which is the greater risk. To keep Silva till the end of the season or sack him now. He is clueless. That much is clear.
On balance, I'd prefer he went now and we had time to be prepared for next season rather than starting next season on the back foot. There is no way back for Silva.
Jim Bennings
85
Posted 26/01/2019 at 20:07:57
I've said for ages that the people at the top at this club need to grow a pair of bollocks and drag it into the 21st century.
Moshiri has been here three years but has just thrown good money after bad, too many half-hearted mercenaries here for the wages and too much sentimental and blind hope shown in players past their best or kids that just aren't good enough to make the grade at the top level.
It's utterly embarrassing in a season watching Liverpool win the Premier League, our season is over at the end of January yet again!!
Losing to a bunch of Neanderthal knuckle dragging Burberry clad cavemen like Millwall with three free-kicks is just the thing of schoolboy proportions.
I hate this club, hate the players that represent it nowadays, and they have made me fall out of love with the game of football.
Justin Doone
86
Posted 26/01/2019 at 20:08:00
It's almost laughable but I'm annoyed with myself for not putting a bet on Millwall and winning some good cash.
The free-kicks were questionable. But the ref gave a foul for every little nudge. You have to learn to stop giving them away and learn to win free kicks ourselves.
We can't defend, everyone knows we line up the same rigid way all the time. We have 5 in a row they put 6.
Basic rules of crossing. Aim for the far post every time. Make it hard for the keeper. Nod back across, have 3 or 4 players rushing in.
They work on it. A lot! We don't and it shows in our lack of goals scored and the amount conceded.
Excellent by Millwall. Defended well and played to their strengths to win the game.
I'm not one for criticising individuals but I was surprised how poor Lookman was today since he did actually play for a lower league team only a few years ago. It was like he had never saw rain and mud before. He looked clueless in what to do.
Here's a hint, run forward and beat the player before crossing. He constantly failed to make any positive runs or passes until 5 mins before he was subbed for Walcott. How embarrassing.
Dan Davies
87
Posted 26/01/2019 at 20:08:39
That's it for me. Silva has just proved that he is out of his depth. Tactically inept. Our defending is a disgrace and embarrassing, they're standing around at set pieces not knowing what they're meant to be doing! A fuckin shambles.
Add to that a toothless non-existent attack. Richarlison the exception. Three shots! And we were taking the piss out of Allardyce!
It doesn't matter what type of football you play if there's no end product. If there is one mistake Moshiri has made in all his time at the club it is not employing a proven world class manager.
We have no bite, no zip in attack, the players' heads drop when things go against them. Where is their pride? Their fight?
The captain should be calling them into a huddle on the pitch after their equalizer and ripping into them telling them it's not good enough and to want it more and work harder!
No heart, no team spirit, a bunch of overpaid individuals who can't or won't play as a team for each other, the club or the fans! I'm disgusted and insulted with that shite we saw today.
For me, Silva is a dead man walking. C'mon Steve Ferns – where are you??
Dave Williams
88
Posted 26/01/2019 at 20:08:43
A complete and total disgrace. I feel so sorry for our fans going to that awful area of London and getting soaked to witness that.
If Pickford is to be allowed to stay on his line for crosses then the giants at centre-backs surely have to be given permission to attack the ball and what about the second ball – they had 3 or 4 players hunting the second ball in the box while our lot stood and watched.
Again we suffer from clueless free kicks given when there is no threat. Millwall were poor and yet we, a premiership team allowed them to fight back twice then pinch the winner – words fail me!
No passion, no fight, no organisation, slow and ponderous in our play, Sigurdsson hardly got a kick, Gomes peripheral, Lookman seemed overawed.
But as for Silva, there is no sign of passion from him. I fear for us now with the difficult home games – this squad is so spineless that I could see us going into free fall and getting caught up in a relegation fight.
I never knew why Silva was pursued so vigorously as he had little top class experience and a dodgy record in England and whilst I know we can't keep firing managers I just don't see what it is he is trying to do.
Rafa, Jose, Mikel Arteta, Roberto Mancini – there are guys out there who could do a much better job. This is a truly dark day to be an Evertonian!!

Jim Bennings
89
Posted 26/01/2019 at 20:09:33
ps: I notice Watford are really missing Silva this season, aren't they?
Brent Stephens
90
Posted 26/01/2019 at 20:10:05
Silva seems to build neither fight nor tactics (defensively and offensively). At least one of those would get us further than we are.
Mark Burton
91
Posted 26/01/2019 at 20:12:33
The goal doesn't matter. The foul should never have happened and Silva's marking plans definitely don't work. Three set pieces and three goals says it all.
Conor Skelly
92
Posted 26/01/2019 at 20:13:27
A calamity keeper. Donkey Centre-backs. Air-head left-back. A limited right-back, a defensively inept manager.
Millwall 3 - Everton 2
David Greenwood
93
Posted 26/01/2019 at 20:13:28
That was an utter shambles.
My heart goes out to all those fans there today.
Fuming, can't quite put into words how I feel at the moment.
Phil Smith
94
Posted 26/01/2019 at 20:14:21
That defending was truly shocking, but the gaffa picked the wrong players for a wet evening at Millwall! Gomes and Sigurdsson should never have played together. That defending was criminal!
Digne shouldn't have got the nod when Leighton was so good last game either. Lookman was poor, but so was everyone else.
John Keating
95
Posted 26/01/2019 at 20:14:29
The good thing about going out is now we can concentrate on avoiding transitional relegation.
Dave O\'Connell
96
Posted 26/01/2019 at 20:14:48
Pickford's confidence totally gone. Coleman tried, no end product. Digne crazy fouls for free kicks. Keane not good enough. Zouma did okay. Gomes and Sigurdsson offered nothing.

Gueye not good enough. Lookman tried, too lightweight. Calvert-Lewin non-existent. Richalison goes missing too much. Tosun did okay.
Andrew Yates
97
Posted 26/01/2019 at 20:17:05
Silva will not change his tactics, not in game time, not for the next game, nor the game after that... nor game after that. That scares me.
Neil Copeland
98
Posted 26/01/2019 at 20:17:06
Thing is, if Silva goes, then who do we bring in? I am not convinced that Benitez, Mourinho or Mancini would be interested and Simeone is out of our league.
I wonder if we could tempt Bielsa away from Leeds?
Struggling to think of anyone else worth considering.
Denis Richardson
99
Posted 26/01/2019 at 20:17:38
Whilst we're shite and I certainly wouldn't shed a tear if Silva was given the boot, can we leave the R word out of it?
We're on 30 points with 15 games to go, we only need 5 or 6 points to stay up so we certainly won't be going down!
We desperately need players with fight. We should be looking for hungry players from lower leagues who want to prove themselves and will run through brick walls to do it.
Jason Wilkinson
100
Posted 26/01/2019 at 20:18:46
The FA Cup... hmm. Small boys in the park. Jumpers for goalposts. Round three huddled around the radio, waiting for the draw. Giant killing. Live on the telly. Not in my day.
The BBC pundits (especially Lineker) sound like Ron Manager. Maybe that's the answer? Get Mike Basset or Ron Manager.
Huddersfield away! I can't wait. Oh hang on I can.
We had one competition to compete in. Something to give us hope, a day out, a chance, something to cling to that might just might change our fortunes.
How the fuck have we got to where we are? We longed for an owner (investor, sorry Bill) to let us compete. We are competing but at the wrong end of the table. We had more hope between '71 and '84 for fuck's sake.
This current bunch is one of the worst Everton sides I can remember.
Pat Kelly
101
Posted 26/01/2019 at 20:18:51
Brands, do your job as Director of Football and direct Silva to the exit, I doubt he could find it himself.
Jeff Armstrong
102
Posted 26/01/2019 at 20:18:51
I'm sorry but I've given Silva the benefit of the doubt until now, we were a shambles once again, we can't defend free-kicks yet we give silly free-kicks away all the time.
Experienced players cannot think ahead of the game, he keeps out-of-form players (Gomes, Richarlison, Mina, Sigurdsson) in hope they might improve, but they don't because he does not inspire them.
He is finished at Everton because the players know he has no idea how to change, how to inspire, how to rejuvenate, how to motivate... they are playing for someone they no longer, and the fans no longer, respect, as a top coach.
He simply has not got it.

Mike Jones
103
Posted 26/01/2019 at 20:19:29
Sack him. He's cack!!!
Jim Bennings
104
Posted 26/01/2019 at 20:20:57
Huddersfield will do a number on us Tuesday night, new manager effect and no doubt we will have the ready-made excuse that tiredness cost us.
It's just one excuse after another but I see no way of saving this season now, it's just basically diarrhoea in the pan this season now and it all came apart when fuckin shit for brains Pickford dropped that ball on the bar at Anfield. Ever since then, Gomes has had a full personality and body transplant into Gareth Farrelly and the whole team have just stunk the shitter out.
We are just lucky that the bottom three are so bad because, the run of home games we have coming up coupled with the fact we don't win away, we could easily have claimed that last relegation spot.
Paul Carsley
105
Posted 26/01/2019 at 20:21:05
This club is rotten to the core. Absolute disgrace and the worst thing is I don't care anymore. Numerous managers come and go and serve up same old rubbish. I get more enjoyment now watching Harrogate Town.
Dick Fearon
106
Posted 26/01/2019 at 20:22:47
How did our petulent boy wonder (insert name here) play?

Sam Hoare
107
Posted 26/01/2019 at 20:22:59
I think they'll give him till the end of the season as we're not getting relegated but, if we keep being as bad as we have last two or three months, then I'm not sure they can keep him. As much as I think we need some consistency.
Jeff Armstrong
108
Posted 26/01/2019 at 20:23:14
Zonal marking is, and will be, the death of us, and Marco Silva.
Has been all season.
Trevor Peers
109
Posted 26/01/2019 at 20:23:15
Moyes and Pearce till the summer to steady the ship. We need people with some steel; otherwise, it's the bottom 6 for sure.
Silva sat out of the rain today when the going got tough... disgraceful.
Marcus Taylor
110
Posted 26/01/2019 at 20:23:16
Silva has not earned the right for patience. He's got a shit record in English football – end of story.
Let's face it, Moshiri took a punt on him and it is not working. He may have a done okay for 50 games in the Portuguese top-flight but we don't play in fucking Portugal.
He clearly doesn't learn from his mistakes. His Hull, Watford and Everton sides concede(d) a disproportionate amount of goals from set plays. He's basically Martinez -– minus the charisma.
Hopefully Marcel Brands will have a big say in choosing the next manager. Moshiri is fucking shite at it.
Clive Rogers
111
Posted 26/01/2019 at 20:24:24
Silva must go after that. He has placed a lot of faith in Calvert-Lewin and any fool can see he has not got it. Lookman was almost as bad. They will cost him his job. If he thinks those two are our future, he has to go.
Jason Wilkinson
112
Posted 26/01/2019 at 20:24:40
Watching Nazis on Sky now. More cheery than watching Everton defend.
Marc Hints
113
Posted 26/01/2019 at 20:25:15
Marco Silva being interviewed and going on about VAR, dear oh dear, forget VAR, Marco.
Your very expensive team had three shots on goal against a team in the championship struggling and also missing key players and lost. No idea of basic football defending which is evident once again.
Very dark times now, I had faith in him and defended him but now I think we know this is the end. Season over again in January, players should take pay cuts and refund fans today.
Total embarrassment of a club. That's me finished for a while, I'll support my local club.
Kunal Desai
114
Posted 26/01/2019 at 20:27:01
This club is drawing very similar parallels to that of Aston Villa. Throwing as much money to achieve success in the short-term. Hiring and firing poor managers. Eventually getting found out, like Villa did.
Jason Broome
115
Posted 26/01/2019 at 20:28:24
If you sign relegation fighting managers, expect to fight relegation.
Silva has fallen into the same trap as Roberto Martinez. His philosophy isn't working, he's run out of clues, so he keeps maintaining the status quo expecting a different outcome... That's how teams get relegated.
Spending £30 Million on a new player won't solve anything. If you are going to spend big on someone, make it the manager!
Kenwright to Moshiri... The club runs better. Stadium becomes a reality.
Walsh to Brands... Better players start signing, shit gets sold or loaned out.
Silva to Mancini or I dear say (controversially for some) Mourinho is out of work (with something to prove). Put the money into signing a top manager.
Solskjaer is proof that the right manager can turn things around immediately.
There are no excuses, we are a fucking big club with huge expectations, good enough names on our books far greater than the media portrays. Our history dwarfs Spurs but we can't beat a team whose entire squad doesn't financially amount to a Gana Gueye!?
Joke.
Charles McCann
116
Posted 26/01/2019 at 20:28:37
If Silva was a decent manager he would have had it drummed into the players "Do NOT give away stupid free kicks in our half."
I don't think the zonal marking thing is the problem though. As someone earlier said, it's the poor application of it that is the problem. Players' positioning before the free kick and not attacking the ball is a big fault. To be honest, I felt the effort was there tonight but Silva is letting them down.
It used to be that I couldn't stand Benitez but actually I think he is just what we need and get Arteta into assist him. This can't go on. My fear is that the rose-tinted glasses will come out and some will be crying for the good old days of Moyes or even worse Allardyce.
I would have faith in Brands to get the right man for the job but definitely not Moshiri. This season is over unless we have a relegation battle to fight.
Jamie Crowley
117
Posted 26/01/2019 at 20:30:52
Kunal,
The similarities are frightening.
Matthew Williams
118
Posted 26/01/2019 at 20:32:10
Can we possibly sink any lower?
How the fuck are we gonna fill Bramley-Moore Dock, Moshiri?
John Britton
119
Posted 26/01/2019 at 20:32:18
Time is up for Silva now after this shambles.We need a manager with a CV for winning trophies. Rafa Benitez and Jose Mourinho are the only ones who could shake this crap up now for me.
If we want to think big, we need to aim big with proven managers, or we will be forever always the bridesmaids.
Jamie Crowley
120
Posted 26/01/2019 at 20:33:24
I'm not a fan of zonal marking in the least.
But zonal marking is not defined as contesting the initial ball in, in a half-assed manner, then standing around watching to see what happens next.
There's a clear lack of desire and motivation. That's down to the manager.
He could employ a "Quad-marking" system agains set pieces and it wouldn't matter.
He couldn't motivate Jesus to save souls presently!
Frank Crewe
121
Posted 26/01/2019 at 20:33:54
Why would Arteta leave Man City to join us? The whole idea is ridiculous.
Moshiri needs to get Silva in and lay down the law. He has 15 games left and we are two points off 7th. If he can't get us to at least that position by the end of the season, he's out.
If he can he gets another season. But he needs to know he can't go on like this.
Keith Dempsey
122
Posted 26/01/2019 at 20:34:41
I'm guessing we won't be on last on MotD. We'll have to wait til we draw 0-0 with Huddersfield for that to resume.
James Ebden
123
Posted 26/01/2019 at 20:34:43
Dan #87,
Yeah, I'd love to hear an in-depth tactical analysis of THAT game from Steve Ferns. Let's see him highlight all the positive work Silva has been doing as a "training ground coach" now.
Not sure what he's training them at, but it sure as hell isn't football.
He needs to go. His Plan A is weak at best, and he has no Plan B, let alone C or D.
Jeff Armstrong
124
Posted 26/01/2019 at 20:34:48
Who do we get in? It only costs £10 million to change managers, so it's a lot cheaper than a shit manager (Silva) buying players, so for the price of an average player (Tosun, Walcott, Keane, Richarlson, Gomes, Sandro, Mirallas, Mina etc.,) we could change our manager tomorrow.
Diego Simeone – do you fancy a real challenge in the Premier League? A sleeping giant? A club with a bitter rival in the same city?
Come on down, we've got the perfect job for you – and we'll double your salary...
Ian Riley
125
Posted 26/01/2019 at 20:35:46
We made a very average side look world beaters. Every time they attacked, we looked scared. Everton need to look at it again. We look more a bottom-four side.
I like Silva but he looks like a someone in the deep end of a swimming pool who can't swim. Our options are we stick with Silva or we bring David Moyes back. I know most of you will gasp or think I'm mad but we need organising now. The team need discipline.
David Moyes had his faults but we played with passion and we defended as a team. Fans want Jose but we don't have the funds to bank role such a manager.
All I know is supporting Everton Football Club is not good for your health!!!
Jamie Crowley
126
Posted 26/01/2019 at 20:36:06
Frank Crewe -
If we give Silva until season's end, fair enough.
But to think Mikel Arteta wouldn't jump at a job at one of England's biggest clubs, one he used to play for no less, as his first managerial gig?
Of course he would! Plus we'd give him two to three million reasons a year to change his mind if he were on the fence post!
Tony Marsh
127
Posted 26/01/2019 at 20:39:07
On the way home from the game just witnessed blood spilt on the streets of South London as brave Everton supporters fought for their lives being attacked by fans and Police alike. It was a war zone. Afghanistan, eat your heart out.
To all of you Evertonians worldwide who don't know about the animosity between Millwall and Everton, it stems back to the early 1970s and has never gone away. Tonight, only the brave and the foolish made their way to Millwall. The Police in London and Millwall's fans have the same opinion of Liverpool people!!! There is no difference between a Millwall fan and a London Copper. Bet that'.
The Everton fans as always turn up in numbers but, yet again, piss-taking players earning more in a month than my Father earned in a lifetime working way at sea and on the docks in Liverpool – when playing for Everton meant something special.
These Muppets that represent our club today all repulse me. I can't believe a club like Everton pay so much to mercenaries for so little in return? Sunday League players on Merseyside show more heart passion and desire that these Muppets currently representing our club.
This is not a Marco Silva disease, this is an Everton disease and it is 20-odd years in the making. Kenwright's stupidity and romantic indulgence has ripped us apart. Things cannot be this bad in any other club in the world with Everton's spending power surely?
Marco Silva is the Everton version of Frank De Boer. Fuck Silva right off as we battle our way home tonight. This result is a shocking indictment of how disrespectful imbeciles like Bill Kenwright and the whole club feel towards our fans.
Kenwright will be home safe in bed while our lads fight for their lives on the way home on trains and tubes tonight. Be aware that this tonight was 1980s type violence and treatment of Scousers. I am not complaining – I told younger fans what to expect.
Jesus, I'm so angry about this club... We are not a fucking charity giving out blankets and letting fans sleep out on the Park End terrace .We are supposed to be a serious Football club. Moshiri, as astute as he may be, is listening to Boys Pen Bill and that is why we are still fucked.
I wish I had never supported Everton. I wish had never talked my kids into this life.
I don't regret anything about today as I knew what to expect. I'm from Huyton and I know how to tough it tonight wasn't pretty on the streets but it was a Damn sight worse on the pitch.
Tony Abrahams
128
Posted 26/01/2019 at 20:39:36
Ian, not only did we look scared when they attacked, we also looked scared when we had possession of the football, for at least 50% of that game imo.
Jeff Armstrong
129
Posted 26/01/2019 at 20:40:12
Oh, and Diego Simone is a fucking street fighter,which is what we need right now.
Simon Smith
130
Posted 26/01/2019 at 20:40:16
Silva has to change his defensive set-up from set plays, it's been our downfall all season.
We were punished 3 times by similar goals, plus no matter how many games we sneak away without conceding these goals, we all feel shittified when any cross enters our box.
Things have to change. It's not all down to the manager, but we have no bottle at all. Once again, our team have let us down.
Mike Connolly
131
Posted 26/01/2019 at 20:40:57
Looking at the pics coming out of Finch Farm, the players seem to be laughing and joking and I'm sure this carefree attitude is carried on to the pitch. Would you see Roy Keane larking about on the training pitch... No!
The players don't seem to care and that comes from the top. So I say Silva out and the quicker the better.
A pissed off Evertonian of 61.
Peter Jansson
132
Posted 26/01/2019 at 20:42:36
Sack Silva please!
I am so sick and tired of watching us go backwards.
Go and get a manager with a trackrecord!
Please now! We will get relegated if it continues like this.
Digne - what an overrated player. He has a couple of goals and assists, but it does not weigh up for his bad defending. I don't know how many mistakes and actions leading to goals for the opponents this season.
We have Baines on the bench with this team... is this a joke?
Neil Copeland
133
Posted 26/01/2019 at 20:43:17
Frank #121, the message that Moshiri sent at the AGM came across as pretty much just that. Moshiri needs to let Silva know he was bring serious.
Kevin Moorcroft
134
Posted 26/01/2019 at 20:43:43
It's hard to realise when you have seen the eras of Catterick, Kendall, and Moyes... but this man has not a clue and his players have no motivation. His defence is non-existent
We are not safe yet but how lucky he is that there are a few bad teams this season or he'd relegate us.
I'm sure the money men know the implications – just a matter of time now!!!
Pat Kelly
137
Posted 26/01/2019 at 20:44:33
Jeff @124, agree, I've made the same point before. Given what we've spent on players, even in Silva's time, it's cheaper to sack the manager, who can't get any return out of them, than have the team ground down week by week.
Daniel Bentley
138
Posted 26/01/2019 at 20:45:01
I think unless you're taking kids the match now you must be a fucking gonk to go and pay to watch that shite.
Mike Jones
139
Posted 26/01/2019 at 20:45:09
I'm in despair. This really is cack. And I don't know the answer. And I'm watching then win the league. What a horrible time to be a Blue. Reminds me of the seventies.
Peter Jansson
140
Posted 26/01/2019 at 20:45:43
I rather take Unsworth, Moyes or Allardyce compared to this.
Jason Broome
141
Posted 26/01/2019 at 20:46:58
I'm not going to blame the players because I truly believe that we have some good ones on our books.
9 games ago pundits were saying how poor Man Utd players were. How some weren't Man Utd material... and now listen to them!
I knew we were fucking doomed the moment Paul Merson tipped us to win cup.
Julian Exshaw
142
Posted 26/01/2019 at 20:47:41
I think Moshiri would feel he'd become a laughing stock if he sacked Silva now having pursued him so vigorously just a year ago. Silva has to change things now or he will be gone sooner or later.
Despite our lack of efforts on goal we dominated the game tonight but we lack the killer instinct. As for the defending well, that's a disaster.
I'd be happy to see a completely different 11 against Huddersfield. Those who played tonight need serious 'resting'!
Justin Doone
143
Posted 26/01/2019 at 20:48:19
Positives.
I didn't go to the game. We didn't lose at home. We didn't lose a Premier League game.
If your not going to win the FA Cup then we can save any more disappointing Wembley trips.
Silva did show passion when we scored and at their 'arm' goal.
Richarlison was played on the left, his best position.
If you didn't already know it, I hope that it is now clear we are not a top 6 team.
I think we should keep Silva at least until the end of the season. He can try to prove he can get us out of a slump and change things.
But we should be drawing up a realistic short list of possible next managers. It should not include Mourinho we even if you thought it was realistic.
Joe McMahon
144
Posted 26/01/2019 at 20:48:47
Jamie Crowley – are you sure Everton are one of England's biggest clubs? No Champions League football ever seems to say Everton are not. Last time we won anything, I was 25 and now I'm fucking 49!!!
Why on earth would Arteta leave working with the best manager there is and a team playing 150mph football to come to this dying basket case club in a dated hole of a stadium, living in the past.
Simon Dalzell
145
Posted 26/01/2019 at 20:49:29
An absolute embarrassment on national TV. The whole team is crap, but the defence must be about the worst ever.
Digne has been one of the few positives, but, he consistently gives away needless free-kicks in dangerous areas, blatantly shoving players over.
John Keating
146
Posted 26/01/2019 at 20:49:36
Denis @99, Sam @107,
Guys, have a look at our remaining games. Remember how we have capitulated the last month or so. Don't forget our away record the last few seasons.
Look at the teams in the remaining games and what they will be fighting for... How many points do you think we will pick up?
Phillip Warrington
147
Posted 26/01/2019 at 20:50:38
Just great, forget about whether it should have been a goal or not. If Everton are serious about being a top team in the premiership, they should never lose to teams from a lower division. I don't think to replace manager after manager is the answer, we badly need a player cull but the trouble is our players are playing so badly no one wants to buy them even at reduced rates.
There is only one thing worse than the defeat today is the thought that at the end of the season all those players we have out on loan, and none of them except maybe one is performing, will be coming back and there are at least 6. We are in a bad way financially and I know we need a top striker (£50 - 70 mill ) but it would be financial suicide at the moment until we can sell not loan at least 4 of the players we have on the books.
This season, I feel, will be about survival and trying to stay mid-table and honestly although Moshiri millions have been welcome it has also been a curse compounded by are neighbours going from strength to strength.
I just don't know any more... you watch Everton and you just shake your head. It reminds me of Aston Villa and Sunderland – big clubs with good support, almost the same scenario – both had lots of highly paid has-beens who weren't performing and they couldn't sell them either.
Steavey Buckley
148
Posted 26/01/2019 at 20:51:07
There are 3 aspects of Everton's game that caused them to be knocked out of the FA Cup besides the obvious foul for Millwall's second goal:
Everton's passing and control in the last ⅓ is woeful;
Pickford is usually unable to come out of his goal and collect crosses, putting his defenders more under pressure to clear the ball;
And the downright stupidity of Everton players fouling players, giving away stupid free-kicks that put unnecessary pressure on the Everton goal.
Sam Hoare
149
Posted 26/01/2019 at 20:52:07
John, enough. I think 36 points will probably be enough this year.
Paul Birmingham
150
Posted 26/01/2019 at 20:52:25
Sadly, as we all feared, the worst scenario in true EFC style unfolded. I've no issue with losing when we have given our best but today, the team lacked character, guts, backbone belief against a team of nomads and journeymen, no disrespect.
In football terms we got as team what Everton deserved. Very poor refereeing decisions with penalties for us, and their second goal doesn't come into it.
Tomorrow morning surely the coin drops and as professionals these players must stand up and be honest. There's no Captain on the pitch and for me until we do find one, we'll get the same fair.
The RS defeat at our old ground was a bad feeling, this is worse for me. As basics in football requirements come in the equation, to build a team, this team, squad lacks fight, belief, desire, common sense, and pragmatism, team spirit, communication and guts.
I'm damned in that I didn't go today, but I've gave the best years of my life to EFC, and I told my nephew, to not go, and at the end of the day, 30 years on what has changed.
Everton in my view, as it stands, will need the last day and the resurrection to come back to ever being taken seriously in football terms.
This is as disillusioned as I've been, in over 45 years of mainly rank disappointments. The few golden years have been seriously diluted by dire straits and consistent mediocrity.
For the life in me, whilst, we know Millwall took the piss on the park, with gamesmanship, surely that's what our players would have expected.
Today, Calvert-Lewin showed that he'd struggle in non league football, and the now very difficult issue, for Brands, and Moshiri, is how can you make money on out of date goods.
For the life in me, tonight is on par with the worst of results in my time, as without doubt this evening Everton really did in terms of the effort on the pitch, failed on a different level.. This is worse than Leeds at home, Tranmere, Birmingham, Fulham, Port Vale, York City, etc.
Tonight showed the manager and the team are not learning and the same traits of this season, the opposition fill your boots, at every dead ball, stands and tonight killed aspirations for this season.
Oh how well we've done to get to the 4th round after going out in the 3rd round last season. It stinks to high hell, how bad the demeanour has become at our beloved club, and for myself and forever a thimble half full spirit, in terms of Everton, it's now the thimble is a tap drip of hope.
There's some serious delusion behind the scenes at Goodison Park and Finch Farm.
Losing last week in the shat style at Soton, set the tone and now Huddersfield will aim to start their miracle, against us next Tuesday. I know a few Geordies, Boro, Spurs, Arsenal, West Ham, Brighton, Villa, Celtic, Hearts and Sunderland fans well, and respectfully they feel pity for how far we are falling down the slope.
In business terms and the investment to date and accounting and success criteria, then EFC, is in Blight Creek, and Bramley-Moore Dock, or not, it will be very, very hard to attract backers and players, when we can't beat Championship teams away, but in a way that there was never any convincing spirit or belief that they could.
Too much respect and if that's our best team, so God help us! For the rest of this season.
Hand on heart, I've no expectation, any more and it's not doing my mindset any good hoping for some success. Over to Brands Silva, and Moshiri. This crap and lack of professional pride and care can't fester on. They'll be no kitty in the summer and we are really back to square one, as Moshiri will no longer sign off mega bucks for mediocrity.
Final thought for me, is, was Mina really injured? I stand to be proven wrong, that he was genuinely injured. Seems to me, he's lost the stomach and wants out, but I'm just an interested and duly concerned Evertonian!
Benjamin Dyke
152
Posted 26/01/2019 at 20:54:12
To think we're being forced to discuss a new manager already...
It's so sad being a Toffee right now but Silva sadly is Martinez Mk II. His defensive record at Hull and Watford was clearly not down to inferior players.
Denis Richardson
154
Posted 26/01/2019 at 20:54:40
Everyones entitled to their opinion but can we please, for the love of God, leave Moyes out of any manager talk. Just embarrassing.
The guy's a complete dinosaur and has been garbage at every club he's been at since leaving us, some 5 and a half years ago. Utd, R.Sociedad, Sunderland, W Ham all binned him in ever record time - please lets move on. Same with Allardyce, I stopped watching Everton the whole time that bitter twat was in charge - still can't believe the club could stoop that low.
The one thing I'm really grateful to Moyes for is taking Gibson and McGeady off our hands!
Peter Roberts
155
Posted 26/01/2019 at 20:56:06
Why do we seem to be the only club whose fans look backwards at managers with some sort of regret as if sacking them was a bit too soon??
The last manager to win anything for us was Joe Royle
Did Liverpool fans wish they never sacked Dalglish??? No. It was part of identifying when a manager hasn't done well enough and getting the next one in.
It's harsh but they are paid millions... they aren't gonna go skint.
Silva should have addressed our defensive issues. Btw what is Big Dunc's role? He has been a part of 4 failed managers now.
Mark Jolly
156
Posted 26/01/2019 at 20:56:34
Just got back to my hotel piss wet through... that was fucking shite!
I've never been so low about the club. I can't blame Moshiri – he has put his money in and trusted the people he has hired... but Silva, Kenwright, and the rest of the cronies need to fuck off now.
We are Everton, we have the best supporters bar none! Off to get hammered... COYB
Jeff Armstrong
157
Posted 26/01/2019 at 20:56:37
I said weeks ago that Digne was average and his goals masked defensive frailties. Baines is not the long-term answer but he'd be a safer bet just now. Digne needs a break.
Brian Denton
158
Posted 26/01/2019 at 20:56:40
Paul, this is Everton!
53 years in my case.
Jay Harris
160
Posted 26/01/2019 at 21:05:21
Teams now know they only have to put a ball into Everton's box and they stand a chance of scoring.
This what happens when you get players who can't get a game for a decent side or who have been part of a relegation team led by a manager who has had his side relegated.
'Everton' and 'big club' can no longer be mentioned in the same sentence.
Stephen Brown
161
Posted 26/01/2019 at 21:05:46
Why not make a real statement against Huddersfield and make 11 changes! Can't be any worse?
Got the feeling some think they are doing the club a favour playing for us?!
Mark Dunford
162
Posted 26/01/2019 at 21:07:21
Just got back from the game – having been stuck in car park with all the other travelling fans for an hour.
It was a disgraceful performance. In all the years I've watched Everton, I can only think of a few comparable defeats. A huge loss made worse by high profile TV screening. Team is disjointed, lacks any threat and can't defend.
These are all coaching issues that need to be resolved very quickly if Silva is going to have any chance of keeping his job. I suspect we passed that point this afternoon and he is treading water till the end of the season. All feels like Martinez's tenure on fast forward.
Peter Jansson
163
Posted 26/01/2019 at 21:07:36
Paul #150. "As basics in football requirements come in the equation, to build a team, this team, squad lacks fight, belief, desire, common sense, and pragmatism, team spirit, communication and guts."
We lack absolutely everything. I don't even know where to start.
Common sense, heart and desire and the ability to use their heads lack in the players and that is Marco Silvas fault. He needs to correct the problems, and he does not.
Pickford. Every single game he kicks the ball out the field a couple of times and tried to start a contra attack quickly when he should not. He does not control the air infront of the goald and he looks nervous and he makes the defence nervous.
The defense, we simply cannot defend at the moment. However, I think that is because of a lack of a good defending strategy (read zonal marking etc) and because of a very weak midfield and a not very solid and nervous goalkeeper.
The midfield is dysfunctional.
The attack. On paper all the players are good players, but as a team they look like they have never played together. Too many bad passes and bad judgement. Sadly I would like Dominic Calvert Lewin to get better, and I get dissapointed every time. He never seem to be able to score winning goals.
Today the best players, Bernard and Baines are on the bench. What a joke. The sooner we can get rid of Silva, the better it is.
Brian Murray
164
Posted 26/01/2019 at 21:08:23
Since when has anyone ever scored from an out swinging corner? hardly ever. The basics in defending and attacking set pieces is so naive like the manager. If we can't grasp that then we will find it really hard to get the 10 points or so needed. Whose turn is it on Monday after Seamus to come out and say we must stand up and be counted?
I got blocked on live forum for suggesting this team could never get over the line in a derby or a big game and I stand by that. Total gobshites the lot of them. C'mon, Jose, do you fancy a proper challenge!!!
Jim Bennings
165
Posted 26/01/2019 at 21:08:58
I've just watched the highlights again and frankly it's just laughable how brain dead our players are.
How many times do you need to give stupid fouls away where they can throw a cross into the box for some big grock to get on the end of?
Our movement is pathetic, I've just had a shit with more movement than I see out of this Everton team.
People calling for Gomes to be signed?
People rooting out Walcott and saying give Lookman the chance, well he's had a few games now and disappears up his own arse.
Calvert-Lewin deserves 10 games?
Just fuck off on all counts, none of them should happen.
Shit club with shit players!!
Raymond Fox
166
Posted 26/01/2019 at 21:09:35
I agree, our so-called creative players created little in the final third and we defended crosses into the box like amateurs but apart from crosses they weren't dangerous either.
This game was never going to be easy especially in that weather. On their crosses we were on panic mode but one goal was handball and they got the bounce of the ball on another, overall I don't think we deserved to lose the game. I know – look at the scoreboard.
Our problem, which has been with us for years, is that we always find a way to lose.
I thought the officials were very very poor also, to add to our woes.
Chris Leyland
167
Posted 26/01/2019 at 21:10:08
I haven't felt this low about us in years. Even in the mid 90s with the relegation scraps. There is simply no desire, no heart, no tactics, no plan, absolutely nothing whatsoever to be positive about.
Oh wait, we are 17th in the Deloitte's Money League. I can hold my head up high in work on Monday safe in the knowledge of that.
Henry McDonald
168
Posted 26/01/2019 at 21:10:52
"They were out-fought, out-foxed and shown up for the debauched weaklings that they are." This from another poster and it absolutely sums up the pathetic shower of twats that turned out in Everton jerseys at New Den tonight.
They have no fight, no bite, no defensive acumen, no cutting edge up front. And they have a manager who I hope is gone by the end of this season. Sadly we probably can't get rid of him now but if Moshiri really means this is "not good enough" then he should be already searching for someone to replace Silva.
Some of the names put forward are fantasy land - Simeone, Mourinho, even Arteta sound too outlandish. But we need to find someone who can train a team to do the basics like defend set-pieces, have the balls to go in and tackle the opposition, get into other teams' faces, play with a bit of passion for the shirt.
We also need a new captain who in true Keane style (I mean Roy Keane, not our supposed defender) calls out the shirkers and cowards on the fields. A manager who gives the captain the divine right to bollock the rest of the side when they are not bothering to play. But who? Would Eddie Howe, for instance, want to come to this shambles of a club at present?
I am dreading the derby but perhaps it will be Silva's last stand. Moshiri should tell him that if he gets nothing out of it then he will be gone. Let's see if that ultimatum can make Silva in turn put some steel into this limp, lifeless side of chancers.
Very depressing time to be an Evertonian but we soldier on. My heart goes out to the brave souls who went down there today, some getting injured and abused, all of them disgustingly let down by their players & manager.

Chris Jenkins
169
Posted 26/01/2019 at 21:11:13
I've been calling for the return of David Moyes for months – we would never have been in this position if he had been reappointed instead of Silva.
The results to date under Silva and the incoming transfers since his appointment speak for themselves-an absolute utter shambles. We may well end up flirting with relegation if he is allowed to continue. His dismissal is now a matter of the utmost urgency, as is that of both Brands and Barrett-Baxendale – both of whom add nothing except an unjustified cost.
Get Moyes back and we will see a strong improvement within weeks and a solid foundation will be built for a top six place next season.
Dan Davies
170
Posted 26/01/2019 at 21:11:19
A proven world class manager with a track record of winning leagues and cups should be recruited by Brands asap.
Moshiri should be told by Brands to let him do his job and recruit that manager. Moshiri should stay away from that process.
It's like having a brand new ship then getting fuckin Manuel from Faulty Towers to sail it for you with Silva!!
That should now be the highest priority at Everton Football Club.
Silva is not good enough – he has to go.
I'm praying Moshiri is better at building stadiums than picking managers!
Ron Sear
171
Posted 26/01/2019 at 21:12:30
Mr Silva, this was the day when you lost the fans.

Michael Lynch
172
Posted 26/01/2019 at 21:14:18
Sack him. Allardyce was better than this fucking idiot.
Marcus Taylor
173
Posted 26/01/2019 at 21:15:58
Paul #150
Absolute rubbish!
Anyone who knows anything about Mina knows that he's had foot injuries in the past. He fractured a metatarsal when at Palmeiras and had another foot injury at Barcelona. He arrived at Everton with a foot injury post-World Cup - hence why he didn't play for two-months.
A Millwall player landed on Mina's foot when they were running side-by-side. That's where the injury occurred. He was clearly limping before half-time. To suggest he 'bottled it' or feigned an injury is absolutely fucking disgraceful.
William Gall
174
Posted 26/01/2019 at 21:16:03
Criticism of zonal marking is not acceptable as other teams seem to manage okay. What is unacceptable is poor defending and poor marking which boils down to poor coaching. The manager can scream as much as he wants about lack of VAR but this was experimental in the FA Cup and only used at Premier League grounds.
The people who should be complaining is upper management and that at the manager for such poor coaching, but they can't, as they will be admitting they made another poor choice of a manager.
There are a number of supporters that wanted to give Silva a chance, myself included, but when you are given a chance you have to grasp it with both hands by showing improvements. Going over the last 12 games there has been very little improvement shown, with the same mistakes happening week after week.
This was a difficult game against a lower division club but, as Everton had their full compliment to choose from and Millwall had a weakened side, there is no excuse for defeat.
I never had any confidence with Bill Kenwright at the helm and was hoping for someone to take over ownership in the club, and thought that when Moshiri took over there would be light at the end of the tunnel, but that light has been extinguished, I would doubt if they will fire this manager, and by the end of the season we will be in the bottom 6.
Managers who have been relegated show that they don't improve, and unfortunately that is all we get. We might as well move Unsworth up as he at least is used to winning as a coach.
Darren Hind
175
Posted 26/01/2019 at 21:16:25
I penned an article early this year saying Silva would be forced to abandon zonal marking because his teams are shit at it... Seems his pride won't allow him to do that. It will cost him his job.
Individual defensive dumbfuckery is going to be the death of me. It has plagued us for years. Barca and Burnley must be pissing themselves laughing at us.
Dan Davies
176
Posted 26/01/2019 at 21:18:30
Chris @169. Are you taking the piss?
Andy Kay
177
Posted 26/01/2019 at 21:20:59
I've said to my cousin on numerous occasions over the past couple of months that we are the new Aston Villa. We have a owner who doesn't know about football, players who don't care about the club, and results that show we really are mid to lower Premier League team in freefall. We could seriously be battling relagation by April.
We are totally rudderless again. New signings flatter to decieve. Younger players not making the grade. A formation that doesn't work alongside our plan of dreadful zonal marking at set pieces. We're a soft touch. No passion from the players and abject apathy from the fans.
"Meh, Everton that, I knew he'd score / they'd win'. We're living off a reputation of being a "Big Club, but a sleeping giant" for far too long. The only achievement we've had in the past 20 years is not being relegated. 20 years since an Anfield derby win. Ovideo's goal being the only away win against Chelsea, Arsenal, Liverpool or United in 70 games!!
This isn't a recent issue since Moyes, this is nearly 30 years of mis-Management, short sightedness and playing catch up, while others flourish and progress. Look at Liverpool and Spurs just 10 years ago compared to us. Losing to teams like Blackpool, and finishing outside the Top 4. Now look, New Stadia and Champions League football and Finals. Not accepting mediocrity and dealing with it.
What do we do? Who out of the old 1st Division "Big 5" would you bet on screwing up in the Premier League era. Obstructed views in 2019. Really? Honestly, take a step back and look at how we really are.
The only difference to a Villa, Leeds or even a Forest is we've stayed in the top flight. No wonder the media write us off. We prove them right time after time. Liverpool flying at the top and in Europe and we have to stomach watching gutless spineless performance after performance.
Millwall wasn't a surprise to anyone. But, hey EitC is going great, so that alright then. We're "planning" a new stadium soonish... watch this space. White Hart Lane rebuilt while we've been dicussing who pays for Bramley-Moore Dock. Anyone else think its all going to go tits up and Moshiri take his cash with burnt fingers? Then what? Look at Sunderland, one relegation follows another.
If we get into a Dogfight at the end of the season can anyone see the players having the guts to stay up? I honestly don't,and away at Huddersfield with a new manager bounce will really show up this team for what it is. Only a win will do for me or we're in serious trouble .
Chris Jenkins
178
Posted 26/01/2019 at 21:21:43
Dan @176,
I've never been more serious – if things carry on as they are, then Moshiri will be off. We need to get back to basics and do so quickly.
Peter Neilson
179
Posted 26/01/2019 at 21:23:32
Far too comfortable for the players for many years now. No real pressure to achieve anything and so well rewarded financially that "failure" is meaningless to them. All in their comfort zones.
Finch Farm — the School of Mediocrity.

David Greenwood
180
Posted 26/01/2019 at 21:23:32
Michael/Lyndon,
Could you issue life time bans for anyone advocating the return of Moyes?
Cheers

Conor Skelly
181
Posted 26/01/2019 at 21:24:02
The team lacks discipline, aggression, and purpose. The club won't spend any more money. We need a manager that can get the most out of the players he has.
The Moyes shout is an obvious one and as a fan that knows what he did for our club, it is an appointment I would support.
Brian Wilkinson
182
Posted 26/01/2019 at 21:24:59
I was one of the ones calling for Silva to be given time, I also said months ago we need to bin the zonal marking. Well, I throw my hands up, I cannot defend the past few weeks' performances.
The manager played his strongest 11 against a weakened injury hit Millwall, not once, not twice but three times we did not learn from giving away set pieces.
I bow to the masses who called it early on Silva, how right you were. We cannot carry on much longer under a one trick poney manager, with no plan b or desire to change the zonal marking.
Man City, our neighbours, and a resurgent Man Utd will tear us a new one when they visit Goodison Park.
Time for Silva to go.
Mike Price
183
Posted 26/01/2019 at 21:25:00
Benitez should have been our manager, he was clearly angling for it too. Top class and it would get under the RS skins too which would be nice!
As a few of you have said, this horrible assembly of players has me hating football and feeling massive anger and resentment towards Everton. The only thing worse would be to be Moshiri who isn't a supporter and is losing hundreds of millions because of horrific recruitment.
I've never seen such a pathetic bunch of spineless losers in one squad in my life. Weak and soft, no fight or heart and absolutely no leaders. Yet again, we'll need our home support to will us over the line because a relegation fight is a strong possibility.
Paul Birmingham
184
Posted 26/01/2019 at 21:25:02
Nice one Brian, we have a lot in common.
It must be some fucken curse made by the dark side, from the time we moved grounds, that has come to strike over the best part of the last 50 years?
It seems right now that this is the darkest hour, in 100s of dark hours, but in context of monies spent etc... as a club and in business views of perception, rank and kudos, our stock value and potential to attract right now must be very poor.
The off the field projects will be adversely impacted by consistent, poor performances and returns by the Everton first team.
Yep a lot to learn and put a brave face on, but in simple terms, are we better now than in 2005-2008? I'd argue not, and accepting the finance muscle and football style has changed, seriously in my view, and that in itself, is Everton, has become a prisoner of the past and bygone times.
This squad has no spirit, guts, or belief, and it's pathetic. It's been said the walls fell in after the Derby defeat, but in my view, we've not been steady and consistent all season, and dead balls anywhere on the park, have been a freeby for the opposition.
History is great, I love history, but this is not the history Everton, should be making. Every passing year now feels like 5 years, as the defined modus plans to do this and achieve that, done happen any more at Goodison Park.
It's Biblical, and this season I pray won't be made worse by the RS in May.
I'll sink a few extra beers tonight, seriously worse than many bad defeats: Grimsby home and away in the old League Cup, Oxford when we lost the league. '77, cheated at Maine Road.
At least those teams fought with pride and belief. The club has lost its identity as much as I hate to say it, as 25 years behind par, is enough in any business, to say that's not good enough.
Tonight cemented the view.
Tony Everan
185
Posted 26/01/2019 at 21:25:54
Disappointed with the Referees and linesmen.
Disappointed no VAR.
Disappointed with our defending of crosses.
Disappointed with the system and formation we choose game after game.
Disappointed with our midfielders' distribution, defending and driving forward with the ball.
Disappointed with our attacking four of Lookman, Richarlison, Calvert-Lewin and Sigurdsson.
Disappointed the season is over bar a sucked-in relegation fight or an unlikely chance of 7th.
Disappointed that we will struggle to defend against Huddersfield unless we change the formation and system of playing.
Disappointed that I am disappointed every week.

Ashley Roberts
186
Posted 26/01/2019 at 21:26:27
For all the ToffeWebber's on here wanting to give Sílva time until the end of the season, can one of you tell me why??
The football is turgid and we get beat by a Championship side and thumped by a team fighting relegation in the Premier League. I think he has been given long enough; there are not even any green shoots it is just getting worse week on week.
For those comparing this guy to Martinez, please do not do Martinez a disservice at least he got us to two cup semi-finals in his final year. Sílva is nowhere near this level and we have only beaten one team in the top half of the table. That basically shows you our standard.
We need somebody who is going to inspire some fight in the squad and adapt as needed. Silva has shown he is not this type of coach.
David Metcalf
187
Posted 26/01/2019 at 21:26:27
As an Evertonian of almost 50 years standing, the saddest thing for me tonight was the fact that I wasn't even surprised, let alone shocked, at this result. In fact, I said to some fellow Blues in work during the week that I could see us being "intimidated" out of this game, though I was desperately hoping to be proved wrong. But this is Everton we're talking about and historically we don't usually prove anyone wrong, even our own fans.
The lack of true leadership within this group of players is truly disturbing, and very worrying for the rest of the season. In the past, we've watched the likes of Ball and Reid bully, cajole and encourage their team mates who were having off days. Even our teams that struggled had players who would try and do this with the likes of Horne and Parkinson.
More recently, we had Cahill and Carsley doing something similar for Moyes's team. But this team, group, squad are totally and utterly lacking in this. When something goes wrong, they just stand and stare at each other as happened three bloody times tonight!!
Yes,of course Silva has to take a lot of the blame for his complete failure to sort us out defensively, but why is there such a lack of character and heart in this squad? Why don't some of these players show some bottle and step up to the fucking plate in these awkward situations?? Because they NEVER do!! Yes, we certainly need more quality up front – that much we all know. But getting someone into the team with a big mouth, a pair of balls, and who doesn't think twice about bollicking team mates who aren't pulling their weight is just as vital. We've got to stop being too nice, too passive and too quiet.
As for Silva? Well, I think sacking him now would not make that much difference. But he's got to bring about a massive improvement in both performances and results in the remaining fixtures because if he doesn't, it will prove that he doesn't have what it takes to arrest a slide in form and turn a situation around.
John Hammond
188
Posted 26/01/2019 at 21:26:29
Silva won't be sacked unless we drop into the relegation zone or get perilously close to it. We're 3 points off 7th.
We've now hit an absolute low where surely he realises he needs to fix this set-piece shambles asap.
Davie Turner
189
Posted 26/01/2019 at 21:27:58
Isn't Rafa Benitez out of contract at the end of the season? Still may not be popular but, I'd hire him.

Jay Davo
190
Posted 26/01/2019 at 21:29:57
Problem was they wanted to win, while we just expected to win.
3 managers can't all get a team of different players acting the same way can they, it's fine to blame Silva but constantly under every manager they resort to playing the same way, that has to be a backroom problem.
Something is drastically wrong on the training pitch because we have some decent players here but they just can't play as a team, their passing is worse than schoolboy levels and it's just not good enough.
If Sylva insists on not playing a striker (okay, he played one today with Calvert-Lewin but he isn't getting enough play time and, to be honest, he isn't a strong forward that can hold a ball up, is he? Tuson is...) Then why are we constantly playing down the wings when there's no target man in the middle? Silva is a problem because he can't see past Richarlison.
But, for me, the main problem is what's happening in training, or do they all just go the pub instead? I have my doubts the way they try to play as a team.
Michael Lynch
191
Posted 26/01/2019 at 21:30:12
I think, in his time so far in English football, all Silva has managed to prove is that he was overachieving in Greece.
And if Steve Ferns ever tries to sell me a used car, I'm going to count the number of wheels on it before I hand over any cash.
Chris Leyland
192
Posted 26/01/2019 at 21:30:41
This club is a shambles. We have pissed the best part of a quarter of a billion pounds on shite with no apparent plan. We are going through manager after manager without a clue as to what to do.
It's the younger fans I feel the most for, though. At least I saw us winning things in the 80s. What have our younger fans got to look forward to? Another 8 managers in the next 10 years whilst we battle to try and get in the top half of the league?
The odd semi-final where we will inevitably bottle it anyway? Maybe they might see us scrape a draw at Anfield? We are an embarrassment and a laughing stock. It's hard to keep the faith. What's the point?
Ian Riley
193
Posted 26/01/2019 at 21:32:59
Denis #154. Please explain realistically who can we get as manager?
I'm sorry but we are not a sleeping giant. Once we were but now we are not. Today's result was not a major surprise. Sam Allardyce was not good enough, Moyes, Martinez and Koeman have gone.
Problem is our squad is mid-table and our expectations are fairy tale stories. We could go for broke. Spend £300 million and see what happens. Leeds United did it and lived the dream for two seasons.
My point with Moyes is with the very average players. We had heart and still average top eight in the Premier League with the lowest spent on transfers. Players you name are dictated by money available. Today, our defence cost nearly £60 million and Sunday park defending would be polite. Could he do better with this bunch of players?
If we are totally honest, top four or a cup win is way off. We have to accept we are average. Let's stick with Silva and save a few quid by not sacking him.
Tony Williams
194
Posted 26/01/2019 at 21:33:34
Blaming Silva is okay but how many players did Brands bring in?
Jerome Shields
195
Posted 26/01/2019 at 21:36:21
Quite frankly, Everton deserved to get beat.
Brian Wilkinson
196
Posted 26/01/2019 at 21:36:31
All we need now is our neighbours to lift the Premier League to cap it all off.
People asked could it get any worse this season, well yes if the above happens, give up worrying about Everton this season, total write off and a shambles.
Does not get any better with our loaners returning this Summer.
Pat Whitmore
197
Posted 26/01/2019 at 21:36:45
Andy @177, I totally agree with you regarding the comment about the Villa.
I live in Birmingham and work in a factory full of Villa fans. I constantly tell them we are becoming the Aston Villa of the north. One of them texted me tonight saying how much it reminds him of the Villa!!
Totally spineless, leaderless, and basically pathetic. All I say is sack Silva... and then what?? Guardiola would struggle with this bunch of twats, you can't polish a turd let alone a whole squad of them.
Who would get in another Premier League side, let alone a top-six side? Pickford isn't anywhere near as good as he thinks he is; Coleman, as much as I love him, is done; Keane is poor; Mina can't hack it; Digne shows promise but gives away stupid fouls; Gueye can't pass; Gomes has given up; Sigurdsson is lost, Richarlison can't stay on his feet; Lookman was non-existent; and Calvert-Lewein was never in it.
Oh for a Peter Reid or a Kevin Ratcliffe to put some fire in these spineless overpaid excuses!!
Colin Malone
198
Posted 26/01/2019 at 21:37:26
Idrissa Gueye is no Kevin de Bruyne by a long way. Idrissa Gueye is great at breaking up opposition play.
Why are we playing Idrissa as a creative midfielder?
Juan Kermode
199
Posted 26/01/2019 at 21:38:38
Everton under Silva are a disgrace, particularly with their so-called zonal marking, as – yet again – it cost us dearly today.
Yes, the referee was again a joke and not only for their 2nd goal, how come their fullback didn't get a card for the early foul on Richarlison?
Inconsistent referees in general are a joke though. Richarlison got sent off against Bournemouth for putting his head into the face of one of their players... yet late on in the Arsenal v Man Utd cup game the other night, two players did exactly the same yet only got yellow cards.
Some BIG changes have to happen at Goodison Park though … and NOW.
Jason Broome
200
Posted 26/01/2019 at 21:39:29
I still think Brands is good. I wouldn't exchange one of our players for any of the Millwall players (being realistic). We lost because of something missing on the training park, changing rooms, team talks, tactics, etc.
Go big or go home... Get Mourinho!
Jim Bennings
201
Posted 26/01/2019 at 21:41:22
I blame Moshiri more than I do Silva.
Moshiri is the man overseeing this pile of wank fest and so far nearly every key decision he has completely fucked up.
From getting and sacking Koeman and Walsh, to being slung over a barrel by Allardyce, giving him an 18-month contract and having to sack him and give him a costly payoff (same as Koeman), to them headhunting Marco Silva for nine months only to see it spectacularly blow up in front of him.
It's just amateur shite at its best.
Paul Birmingham
202
Posted 26/01/2019 at 21:42:00
Peter, @163, agreed mate, it's the pits of hell at the moment.
I couldn't put all thoughts down, but in summary, your spot on, this first team squad is a fraud, and the results don't lie.
I hope the club refunds all the supporters who've been to every away game this season and gives free season tickets to ST holders next season.. that# the minimum, with x5 free beverages of your choice... As if. 😉
I think many wouldn't and won't put up with is misery any more. In the context of life, it's more than draining watching, and supporting EFC, people work very hard and give their spleen, for consistent abject blight.
So and so they say, it can't get any worse..
We need a proper centre-forward, on today's show, in my view, Calvert-Lewin proved he's not got the drive, hunger, desire and nous to be the centre-forward for EFC. But in fairness to Calvert-Lewin, the bulk of this team, bar perhaps three, need replacing. That won't happen.
It's getting close to Babel?
As my mum always said and still says,"They don't pay yer wages"
I've a good sense of humour and hope as that's the way life has made me, but I reflect and like all of us, we must wonder, why?
Everton FC, hope eternal!
Gerry Ring
203
Posted 26/01/2019 at 21:43:54
A new low. Bring back Moyes.
Digne was an absolute disgrace but we like to pretend he's great & hammer Coleman instead.
Silva has been found out as totally incompetent & when we look at his record, we shouldn't be surprised. We are now a struggling Premier League team with a shower of players who don't give a shit.
Karl Meighan
204
Posted 26/01/2019 at 21:43:57
Half a season to organise a defence and he still hasn't been able to do it.
I hate to say it... but a manager unable to marshall and get players to do basics or see faults and play to players' strengths has no right being in charge of the Club we are.
Denis Richardson
205
Posted 26/01/2019 at 21:49:32
Ian 193 - I like what you've done there – the old 'But who else can we get?' trick.
Getting a manager is not my job but given the Premier League pays (by far) the highest managerial salaries in the world, I'm sure we can attract a number of people who would be interested and, more importantly, qualified. Silva is just another snake oil salesman and I take no pleasure in saying that – I could see through him a mile off. I still cannot understand what Moshiri saw/sees in him. He did nothing at Hull or Watford.
If I could choose, it's a no-brainer for me: Benitez. I've wanted him ever since Moyes left and cannot for the life of me understand why we haven't signed him. He's managed the likes of Madrid, Inter and Napoli, FFS, and is utterly wasted under Ashley at the barcodes, where he's been given fuck-all money. He also loves the area and would move back in a heartbeat. Want a quote?
'He is the only manager in history to have won the UEFA Europa League, UEFA Super Cup, UEFA Champions League and the FIFA Club World Cup'. He also got his training at Madrid.
Please let's leave the 'but who can we get' aside – a shit load of talented managers would chew their right arms off to be given a crack at a Premier League club with regular 35-40k crowds and the not too small matter of a £2-£4m salary!
Someone said Benitez is out of contract in the summer – I'd fax him a contract now to start on 1st May.
Kevin Prytherch
206
Posted 26/01/2019 at 21:49:59
I've said it before regarding commitment...
Today:
French left-back – 1st season in the Premier League
Columbia's centre-back – 1st season in the Premier League
English centre-back – Man Utd realised he wasn't a leader
Coleman – should do better
Brazilian winger – 1st season in Premier League
African midfielder - should do better
Portuguese midfielder - 1st season in Premier League
Icelandic midfielder – should do better
English winger and striker – both 21.
Those calling for some fight – don't get excited by the next big name foreigner. We have no drive and a big name Columbian, Frenchman or Brazilian will not solve this.
Paul Birmingham
207
Posted 26/01/2019 at 21:54:10
Back to basics, but so far in football terms what are the basics in terms of EFC, first team players, in football context?
That scary.
Jason Broome
208
Posted 26/01/2019 at 21:55:09
Diego Simeone, Mancini, Mourinho.
Jason Broome
209
Posted 26/01/2019 at 21:56:00
We have the money and ambition... so why not target the manager?

Christy Ring
210
Posted 26/01/2019 at 21:57:25
3 goals from set pieces, shambles. Millwall are a very poor side. We offered nothing. How can Silva not drop anyone from his dream team?
I felt sorry for Seamus; I thought he tried so hard today.
Anthony Dove
211
Posted 26/01/2019 at 22:00:28
Referee gave them one goal. Their goalkeeper gave us one.
Millwall had seven players unavailable. Do the maths.
Tim Wardrop
212
Posted 26/01/2019 at 22:03:53
There was nothing wrong with their goal. Accidental handball. We were rubbish. Move on. Nothing left to play for apart from helping stop Liverpool winning the Premier League.
Paul Birmingham
213
Posted 26/01/2019 at 22:04:31
Kevin, @206, a very good point, and raises questions about player chemistry and team spirit etc..
EFC is the worst advert for the Foreign Legion.. in which team spirit and covering each over is the normal.
This EFC first team does look every week like a Hyde Park, Sunday team
It's staggering in this day and age how EFC, is so predictable and how it the fuelled the BBC football cheeses, to have a field day and bring more angst on our club.
Fekkn disgrace today and that's being polite..
Lose at Huddersfield and I feel that many supporters will just give their book or seats away.
Hope eternal for EFC!
Paul Setter
214
Posted 26/01/2019 at 22:05:12
Since Liverpool and including that game Everton have drawn with Watford and Newcastle both at home, beat Burnley away Bournemouth and Lincoln at home and lost to Liverpool, City, Brighton, Saints and Millwall away and got humped by Spurs and Leicester at home.
So, if anyone thinks Silva is the man to sort out this mess, these 12 games hi-light that he really isn't. With the remainder of the fixtures left, is this really gonna change?? Not for me, it isn't!!
Brent Stephens
215
Posted 26/01/2019 at 22:06:12
Daniel #138 "I think unless you're taking kids the match now you must be a fucking gonk to go and pay to watch that shite".
Daniel, it's the "gonks" that provide efc with a significant income - not as significant as the tv money but important nevertheless. Anybody who watches efc is watching players bought, in part, with money from the "gonks". You're happy to not pay to go and watch, just to watch on tv, but to denigrate those who pay to watch (home and away)?
Yours
A totally dispirited gonk who'll be at Huddersfield.
PS, I'll take it that your post is borne out of despair and isn't literally meant!
Paul Hewitt
216
Posted 26/01/2019 at 22:07:57
I don't know about sacking Silva. If Moshiri had any sense, he would just leave this shower of a shite club, and save his money.
Will Jones
217
Posted 26/01/2019 at 22:08:18
Absolute disgrace. I have walked the dog and gone shopping but I am still fuming! We are 100% better than Millwall on paper, yet they beat us. I should have bet against us... I would be making a fucking fortune.
Soren Moyer
218
Posted 26/01/2019 at 22:09:47
If anyone can see any improvement, even slightly, in our performance since last season, please enlighten us! We are laughing stock of the Premier League!
Phil Bellis
219
Posted 26/01/2019 at 22:12:24
Not read all the posts, too not arsed to hurt any more... Drying out at Euston Square. When did a zone ever score a goal?

Paul Johnson
220
Posted 26/01/2019 at 22:13:25
I've not read any of the posts or the initial match report. Going to use my own judgement as I a saw it today. And I have to say we are going backwards at a serious rate of knots. We won't be relegated but Silva is not the answer for progression. Our shape is fuckin negative even when we are in the opposition half. And we genuinely look like a team that has only just met.
This is not a knee-jerk reaction but a judgement of the first half of the season – Silva has to go now. Let's not waste another half season.
Who do we replace him with? My choice would be Mourinho purely to build consistent structure that is tough to beat and let that mentality become ingrained into the psyche of the club.
I am tired at seeing teams supposedly poorer than us show more heart and willingness turn us over. It is fucken draining all the positive energy in my body.
Rob Dolby
221
Posted 26/01/2019 at 22:14:31
Forget about blaming the ref. The tactics are to blame.
The manager and coaching staff need to go back to square 1 and learn how to defend. The Millwall defence went big for big and succeeded in keeping us out on set pieces. We go zonal which is pathetic against teams in the prem it may work abroad but it doesn't here.
The sideways and safety first passing is another factor. Coleman could have given the ball to Lookman countless times but turned back to the centre halves. Gueye and Gomes do the same for the entire game.
What is wrong with mixing things up and playing a percentage ball into space and playing to people's strengths. Defending is not rocket science so don't overcomplicate it.
There has to be a reaction against Huddersfield otherwise the writing could be on the wall for Silva.
Jim Bennings
222
Posted 26/01/2019 at 22:15:01
Moshiri will walk before that first brick will even be laid for the stadium.
The feeling is anyway that any new stadium now is just coming 5 years too late and, if it's ever built, we will simply be rooted in the bottom half of the table. If that stadium ever does get built, we will be more Sunderland than Spurs.
This club just hasn't got the brain capacity or men at the top to move forwards into this century.
John Keating
223
Posted 26/01/2019 at 22:16:08
The manager won't be getting the heave before the season ends even though he appears incompetent. However, the players are not helping him either; in fact, they are putting more pressure on him.
Might be an idea for Silva to show he has balls by dropping everyone he can from today's new low and just play anyone he can in their positions. Could it be any worse?
Jim Bennings
224
Posted 26/01/2019 at 22:19:06
Worst thing about tonight was that I predicted it last week after Southampton.
I said that we needed to show bollocks and man up in a hostile shithole of a place where the team would put us under with direct football.
Predictable old Everton (just like predicting our results against the top six) didn't let me down anyway.
We went there and we shit ourselves and blew it as per usual, classic classic fucken Everton.
Garry Corgan
225
Posted 26/01/2019 at 22:20:04
When Marco Silva was first approached and later, when it became apparent we absolutely wanted him, serious questions were asked about his credentials on this forum. This is a man who had been relegated with Hull and been sacked from Watford. Let's look at what happened there.
Hull were 3 points adrift of safety when Silva took over. They were not the absolute lost cause some would have you believe. They simply needed to pick up 3 more points than the clubs around them. They didn't. They went down with Silva at the helm.
Fast forward to Watford. Silva had a good start. He won four of his first eight, losing just one. They went on to lose 11 of their next 16, winning just three. Some say that Silva's 'head had been turned' whatever that means. In any case, it's no excuse – Watford still lost those games.
So, we appointed a manager whose record in England consists of a relegation, a short decent streak containing four wins, and then a collapse in form to rival any. Yes, I am omitting his record abroad. I believe a manager's record in the Premier League (if they have one) is a much better indicator of their ability than anything done overseas.
What exactly did we see in this guy? I'm sure we could prise Rafa Benitez away from Newcastle if we wanted to. And at some point, Mikel Arteta will surely want to put into practise all he's learned under Guardiola.
It's clear that continually changing the manager at the first sign of trouble is a self-destructive strategy, but so is continuing with somebody who is clearly, clearly out of his depth (if that is the case). At the moment the standard line from the media is that "he needs time". For what? You give somebody time when you see that things are progressing and simply need to develop further. You give somebody time when you believe they're doing the right things but perhaps need more resources. You don't give somebody more time when they're floundering around or fiddling when Rome burns.
It is another oft-quoted opinion that we were doing well until the derby. We weren't. All of the teams we've beaten this season occupy the lower echelons of the Premier League table and perhaps only the Fulham game was what could be called convincing. We have failed to beat Huddersfield, Bournemouth, Newcastle and Watford, amongst others. We may have picked up some good points prior to the derby but we dominated none of those games and could just as easily have lost any of them.
What of Silva himself? Where is this season going wrong? Why isn't he addressing the issues?
Has he made us solid at the back? No, we are laughably poor from set pieces and high balls into the box. He doesn't appear to have impressed upon the players any sense of organisation. In fact, it's as if he hasn't addressed it at all.
Are we good going forward? No. We have some talented attacking players, but we struggle to really break anybody down. Our passing is disjointed and obvious. There's very little movement and everything happens so slowly, it's easy to defend.
Are we just missing a decent striker? Not in my opinion. A decent striker will put the ball away when given the chances, but we're barely creating any chances! Just three shots on goal against Millwall! If we were creating left, right and centre but couldn't hit the target, I'd say we needed proven goalscorer, but even the best hitmen need chances to be created for them, and we're not creating many!
Is he building a close-knit, passionate side? Nope. This Everton side has no mettle and shows very little desire. Not once have we seen an Everton performance this season which showed a bigger will to win than the opposition. Instead, the players look nervous, jittery and somewhat detached. And Silva himself? Most often found at the edge of his technical area, looking like a naughty schoolboy with his arms half-crossed with a curled finger against his lips.
Are we at least getting better? No. There has been absolutely no progress in any of the areas of the pitch since Silva's first league game against Wolves. Whatever he's doing on the training ground is having no discernible effect on the playing field.
And yet, despite all of that I still want him to succeed. Maybe he still will. But for the life of me, I can't see it happening. I expect he'll be given until the end of the season at the very least but I see very little point keeping him on beyond that.
Ian Edwards
226
Posted 26/01/2019 at 22:20:11
Do we really want to go back to the dark days of Dreary Dave with his one up front try to nick a goal and never win a big away game in your lifetime. He was a coward. Always was. Always will be. I'd sooner have Silva than the dour anti football horrendous Moyes
Marcus Reynolds
227
Posted 26/01/2019 at 22:21:16
Seriously, if Silva goes, who's available to come in? Not on a short-term basis but to take us to the next level? What managers are available that would get the best of the current Everton squad?
Geoff Bull
228
Posted 26/01/2019 at 22:21:56
I have supported this team since the late fifties, spending the last 40 years in Canada and watching most of the games live. This has to be the worst team I have seen in the royal blue. Things have to change, it can't get much worse.
Ian Edwards
229
Posted 26/01/2019 at 22:24:06
Gary Corgan 225. Spot on. Agree every point you make.
Gordon Crawford
230
Posted 26/01/2019 at 22:24:09
We are going nowhere. We have a huge squad of players who for the most part just aren't good enough. We are struggling to get rid of this deadwood and so we are stuck between a rock and a hard place.
We can't buy because we can't sell and so I don't see how this situation will improve. We truly have been screwed over since Moyes left.
James O'Connell
232
Posted 26/01/2019 at 22:29:48
19th in the championship and 7 players unavailable. We managed 3 shots at goal in 96 minutes. What manager would want to manage this group of players.
Gerard Carey
233
Posted 26/01/2019 at 22:30:59
Three-and-a-half months left to the end of the season, and ours is over already. That says it all.
Clive Rogers
234
Posted 26/01/2019 at 22:33:24
Ian, 226, add to what you say that he is now a much worse manager than when with us. He has lost his way and nobody wants him.
Steve Barr
235
Posted 26/01/2019 at 22:34:24
I will be making a trip back to Liverpool from the USA next week and just logged onto the Official Site to book myself a ticket for the Wolves game. Tickets sold out!
We truly have the best fans and they are being royally screwed by this shower!
Michael Lynch
236
Posted 26/01/2019 at 22:37:04
Garry Corgan – absolutely spot on.
Ian Riley
237
Posted 26/01/2019 at 22:40:22
Denise #205.
I would have benitez tomorrow as our manager. Sadly the Liverpool link would be to much for him. I'm not naive to think fans of our club will not be happy to have a previous Liverpool manager at our club. We could only ask him. It's not who can we get but who can get us back on track?
Manchester United went back to previous players and coaches to get them back on track. Knowledge of the club and fans is an advantage. Silva may change his style but, if he doesn't, then it will be painful till the end of the season.
A "shit load of managers" are out there and we have had some. Yes, a pay day we have become. The owner will become bored of spending/pouring money down the drain.
Let's remember a real big name manager has a salary between £5-7 million a year with promises of big name players coming. I don't want average but stability.
Top managers want Champions League or funds to get there quickly. Can we do that? No. The new ground will give us revenue to bring a top manager in. Fees and salaries to bring top talent to the club. At present the ground is to small and season tickets remain same price.
If we stay with Silva or not the next manager must be given time.
John Davies
238
Posted 26/01/2019 at 22:40:43
For 60 years, I have been an Evertonian... but the spineless, clueless frauds who run manage and "play" for my football club have finally knocked all the stuffing out of me and killed my passion for the game.
If I can't watch my own team (and I simply cannot bear to watch any more of the total, gutless shite they serve up) then I can't watch the game, full stop.
Good luck to all you fabulous Blues who stick with it. I'm afraid I'm done. This is such a dark day for me.
Tony Twist
239
Posted 26/01/2019 at 22:44:39
Well, at least we can now concentrate on the league!
Let's be quite frank here, we are not safe by any means. I wonder where the 10 points will come from?
Maybe we will get a reaction after that debacle but hang on – wasn't all the talk before the match that the players were hurting and going to put things right in the match today!
We have had this time and time again; there is never any putting things right with these players and this manager.
Sam Hoare
240
Posted 26/01/2019 at 22:46:18
Crappy cup set-up that has happened before and will happen again. West Ham got beaten even worse by an even worse team. Wolves were lucky. It doesn't make it any less painful but life carries on.
I've backed Silva continually but tonight topped off a 2-month period from which it is nigh on impossible to draw positives from.
Irrelevant of any of our feelings, I strongly suspect he will be given the rest of the season as we won't get relegated and Brands will have a wider net of replacements to choose from in the Summer. So he's got a few months left to get the defense, midfield and attack working; to win more games and get us 7th. If he does that (and I wouldn't bet on it) then he may get next season.
The players deserve a bashing too. One thing Silva will not have told them is to continually give away needless freekick near the touchline. Especially after scoring. Inexcusable stupidity! Terrible stuff.
Phil Bellis
241
Posted 26/01/2019 at 22:47:11
A coach to coach defending; Big Nev to mentor Pickford; after that... I'm struggling.
Any new manager would be a gamble... So is sticking with Silva. I lean towards gambling.
Les Graham
242
Posted 26/01/2019 at 22:48:03
I like, as many other Evertonians do, to put on rose-tinted glasses when a new Everton manager is appointed... I hope to do so again when this useless fecker is deservedly booted out of the club... I mean, c'mon...??
Screws up in the League Cup... screwed up in the FA Cup today... and quite regularly screwing up in the Premier League... doesn't need a brain surgeon.. .does it?

Henry Lloyd
243
Posted 26/01/2019 at 22:49:30
I think the only thing I can say now, despite so many people disagreeing with me, is finally and completely:

Marco Silva — You Must Be Sacked!!!
Mark Hughes
244
Posted 26/01/2019 at 22:49:56
We need a captain!
That's all...
Stephen Davies
245
Posted 26/01/2019 at 22:51:37
Narcus #227
I can't see there being any finance available for a replacement.
In the last few years, we have forked out tens of millions in compensation ( have we even finalised the compo for tapping up Silva yet?)
Huddersfield & Southampton had the best foresight methinks... change of mindset... long-term plan.
Les Graham
246
Posted 26/01/2019 at 22:56:36
To be clear, if it wasn't already... I have no confidence in Marco Silva. All who agree, say "Aye"...
Then let us all get down to Goodison with the flaming torches and a length of rope... :)
Tony Twist
247
Posted 26/01/2019 at 22:59:37
Aye, god damn it Les, Aye.
The writing was on the wall bringing Silva in, it is not as though he hasn't done all this before. We don't want and in my opinion need a world class manager – just a competent one who has never got a team relegated, knows how to set up teams to both attack and defend consistently good, and has something to prove.
The likes of Mourinho we certainly do not need, he has really lost all drive and only wants established world class players, he would bankrupt us.
Benitez is red through and through and would take satisfaction with things turning sour for us. Moshiri said things need to get better, well I don't see how Silva can improve our performances now for the remainder of the season.
Does Brands really know what he is doing? Does he know the Premier League well enough to find an adequate (let's face it, as Everton supporters, we don't ask for much!) replacement for Silva?
Brian Porter
248
Posted 26/01/2019 at 23:00:58
Geoff Bull #228,
Like you I have supported Everton since the 1950s and I agree with you in your statement that this is the worst Everton team I have seen in all those years. Today, we led twice against a team in danger of relegation from the Championship and both times we allowed them to equalise within a couple of minutes.
For a Premier League team our defending is consistently woeful and inadequate. When Silva first arrived (I never wanted him), I recall Steve Ferns extolling his virtues as a coach and telling us all just how great he was and the he was going to transform our team.
Well, I must admit, Silva has indeed transformed our team. From a useless, pathetic shower of shit into an even bigger useless, pathetic shower of shit.
Moshiri has to take the blame for the situation we now find ourselves in. He hired Koeman and Walsh, and then he goes and compounds that folly by actually head-hunting this latest charlatan for 9 months until he got his man.
Once Koeman was gone ,I wonder if Moshiri even considered any of the highly qualified managers/coaches who were available or temptable at the time. I have a feeling he didn't. For whatever reasons, his mind seemed set on getting Silva, and look where it's got us.
If he has advisors, he should sack them tomorrow, closely followed by bloody Marco Silva who seems completely out of his depth at Everton. Let's face it, he doesn't exactly have a track record of Premier League success, does he?
Now, we are once again unable to buy players unless we sell some, in other words, we're skint.
We need a manager with a record of actually achieving something, and I don't mean in Greece! Who that may be, I have no idea but when the manager of a struggling Championship team is capable of out-thinking and out-witting him, then I think it's now clear to all that Silva, and his so-called fantastic coaching skills are just the latest train-wreck to have hit the buffers after terminating at Goodison Park.
After 60 years of supporting Everton, I am beginning to feel that there are better things to do in my retirement than suffer more of the crap being churned out in the name of a once-great club.
I'm sure I'm not the only one who feels like this. Moshiri needs to realise we can only put up with so much ineptitude and naivety in the running of the club.
Forget Bramley-Moore Dock or any new ground. If we carry on like this we would probably end up with the best ground in the championship. Is that what he wants? If not, he needs to get shot of Silva asap and bring in a coach or manager who can actually coach and manage a football team. Marco Silva, over half a season has proved he certainly can't do it.
I don't care how many managers we've had in the past few years, if Silva is a failure, he must be replaced before he drags us down to the Championship, as he did with Hull City. We are already in the bottom half of the table. Can anyone, hand on heart, say where our next win is going to come from? Silva makes Walter Smith seem like Pep Guardiola by comparison!
Anthony Murphy
249
Posted 26/01/2019 at 23:10:38
What is it with this club?
If you had said to me before the weekend that a Premier League team would be caught up in a controversy around the use of VAR (in this case not use of) and would also concede an injury-time goal to go out – I would say that team will be called Everton.
These aren't excuses. The blame today has to lie with Silva since he and his coaching staff are responsible for working on defensive drills and preparation. At the moment, we just don't know what we are doing when defending a corner or a free kick is conceded in a dangerous position.
On Tuesday, we will be up against a struggling side with a new manager and a determination to pick up points against one of the poorest performing sides away from home in the league. If I was Silva, I would work on keeping a clean sheet first and foremost. How many clean sheets this season? Not many. How many games lost or drawn from winning positions?
I want the guy to succeed because I want Everton to succeed but you get a very short window of opportunity in the Premier League as a manager these days don't you. He is lucky in that Moshiri will give him every chance.
Some have compared our plight to that of Villa or even Sunderland. Just a thought, but what happens if Moshiri says enough is enough in terms of transfer funding? What new manager would touch us knowing the club won't be spending on players?
My concern is that we will now actively seek to sell players to create funds and this won't be easy for whoever manages us. With the new stadium, we will see Moshiri focus his finances on this as a priority whilst happy treading water in the league. Is there a manager out there who is available and can work under such constraints?
It couldn't happen, could it?
Who'd be a Blue, eh?
Jim Bennings
250
Posted 26/01/2019 at 23:12:30
Solskjaer has had an immediate impact at Manchester United because they have players capable of doing basic things well.
I very much doubt there's a player currently in the Everton squad that knows how to go "back to basics" because they can't even do the basic things of the game!
Tony Twist
251
Posted 26/01/2019 at 23:15:09
Oh, forgot to mention, Well done Cenk Tosun for a very smartly taken goal. The only bright spot on a very dark day for Everton.
Alan McGuffog
252
Posted 26/01/2019 at 23:25:24
"Everton Furious" – sorry but I didn't see any fury today. I did see a pusillanimous, inept, cowardly, passionless display that was on a par with cup exits against Middlesbrough and Tranmere.
Apparently, the players are still hurting because of losing against that lot across the park in such a heart-breaking manner. With the possible exception of Seamus and one or two others, none of this squad has any great feeling for EFC other than being employed by the club. So why this can be quoted as a reason is beyond me.
Some of us have had our hearts broken by the RS for decades! Feckin man-up!
Gaute Lie
253
Posted 26/01/2019 at 23:31:57
Obviously Silva is not a saviour now, and perhaps he never will be.
However, there is also the other coaches on the team who have been here for a long time, eg, Duncan Ferguson.
I would sack them now and / or get in somone who has something to their name other than "has-been player".
A first team Coach should be able to promote and better the players' qualities. They should be able to better players' technical abilities. And they should be able to get the players in a good state of fitness.
I would say that only a few players have bettered themselves at Everton the last years... if anyone.
Who's to blame? Not just the manager, I would say.
James Stewart
254
Posted 26/01/2019 at 23:32:43
There is a time for patience but now is not it. Silva has shown a habitual negligence to stop his teams conceding 2 or 3 goals every game. You don't win football games doing that. It is embarrassing that we have regressed since even Allardyce.
Moshiri has to come under scrutiny for some atrocious recruiting of substandard managers. The season is over, we will not go down, so I see no reason to wait. Losing to Southampton and Millwall in both cups is simply unacceptable; he has to go.
Johan Elmgren
255
Posted 26/01/2019 at 23:33:44
A few bad results and chaos reigns at ToffeeWeb. We really need to cool down right now and not panic.
I know, it was a bad result, but the circumstances were atrocious. If you have a team that tries to play attractive football versus a team that just want to defend in such bad conditions, it really only favours the destructive team.
Millwall had a gameplan, get free-kicks in our half and try to punish us on set-pieces. It was their only chance to win the match and it worked. They didn't have anything in attack apart from that. The Millwall players threw themselves to the pitch at any given chance and the donkey in black fell for it and gave them many dubious freekicks...
But yes, we should have defended them better. But zonal marking isn't to blame, it is how you execute it. We were passive and let them dominate us in the air. You can't be passive in any system for defensive setpieces, because you will be punished.
You need to be active and you need to be focused, and the player that is closest to the place where the ball is going to land, must take command and be first on the ball. The solution isn't just "switch to man-to-man marking and it'll be alright"... You will be punished there too if you're passive.
Regarding the sacking of Silva, we all need to chill a bit. Yes, we are playing poorly now and the results aren't what we want them to be, but we are not in any danger of being relegated. The thing is that every manager faces bad results and slumps... It is how they react to them that's important.
If we sack him now we will never know if he has the ability to bring a team out of slump. And it will become really tough if we are to judge and sack every forthcoming manager just because the team has a slump. What kind of stability would that give? None at all! In fact it would be a dangerous path to tread...
Guardiola and Man City had a slump a couple of months ago, loosing a couple of games and letting the pack across the park race to a comprehensive lead in the Premier League.. Should they have sacked him then? No, of course not... Slumps happen, it's how you deal with it that is important.
I also believe a certain Howard Kendall had a though start as a manager in the 80s, but the board persevered, and he got us a couple of league titles, an FA-cup and a Cup winners cup. It would be another story if we were close to being relegated, then it would be a solution to shake life into the squad, but we aren't. Give him the rest of the season and let us see how he handles this situation. Anything else would be a huge mistake in my eyes.
The big problem as I see it right now is that we loose possession to easily in the attacking third.. We never create any pressure on the opponent, and never get a grip on the games. We have poor passing, poor movement and poor decisionmaking at the moment in the final third, and the other team turns us over far to easily.
It could be a confidence-thing, but I think that Gylfi isn't appropriate in the role he has now. He doesn't have the awareness and doesn't seem to be able to find good spaces near the opposition penalty area. I think he could be better in a deeper-lying role and get a new number ten who has awareness, anticipation and good technical ability, someone like David Silva for example... We need to be better and more thorough in attack and really pin teams back. If we do we will create more chances and eventually score more goals...
Come on, let's just calm down and see if Silva can turn this around!
Tony Twist
256
Posted 26/01/2019 at 23:38:18
I wonder, what are the chances of David Moyes phoning up Bill Kenwright, sending his commiserations, and then finishing their conversation with "If there's anything I can do"!
I could see him doing a West Ham and taking over from Silva for the rest of the season, for old times sake! What a nightmare!
Paul Birmingham
257
Posted 26/01/2019 at 23:40:49
All who've stated today is the pits in terms of will, desire and understanding. I don't think the magnitude of today's game was appreciated by the first team squad before the game...
It saps any normal expectations of hope as defined as human beings.
On a human level, it's like being stuck on an atoll and despite the waves of hope that happen, in terms of EFC, I'm getting worried that this is it.
There's only so much ale and blind hope you can take.
Once Upon A Time, Everton.
Chris Gould
258
Posted 26/01/2019 at 23:41:24
Interesting to read many people calling for an experienced manager who has won trophies.
West Ham got one and suffered an even more humiliating defeat than we did. They are only one point ahead of us and spent considerably more than us in the summer. Their net spend was £22 million more than ours. They already have the 60,000-seater stadium that so many here covet, and they are also located in the player magnet, which is London. And yet, they are a million miles away from the top 6.
Seems like yesterday that Leicester won the league, and then reality set in and they are also a million miles away from the top 6.
I think that fans of West Ham, Leicester, and ourselves all believe we should be challenging the top 6, but the hard truth is that we are all fighting to be the best of the rest, nothing more. The bottom 14 of the Premier League are inconsistent, they don't string results together, each week is a lottery, and every one of them can beat each other on any given day. That's where we are, and a new manager won't change that.
Silva is having his annual slump. It's both infuriating and perplexing. Why don't we allow him the chance to sort this mess out? Give him time to put things right?
He was on his way to making this team really tick and then it all went to shit. Why not give the man the chance to lick his wounds, take stock, and bounce back? We aren't going down, so why not give him some support and see what he's made off?
The club are in a mess financially due to horrendous recruitment. We need some stability and some cool heads. I said in August that Silva gets a free hit from me this season. Bringing in someone else won't change a thing. Silva's position is not untenable as many of the players are here because of him and are clearly trying.
We can't keep sacking managers after 6 months. It's desperate and clueless, and we'll become as abhorrent as Chelsea, but without their success and trophies.
Tony J Williams
259
Posted 26/01/2019 at 23:46:40
I honestly don't care anymore.
Henry McDonald
260
Posted 26/01/2019 at 23:49:40
Oh God take a reality check! Silva couldn't turn around a roundabout!

Roger Helm
261
Posted 26/01/2019 at 23:50:46
Three goals conceded at set-pieces? Two 6'-4" centre-halves who can't jump to head the ball? Something is seriously wrong at the club. It seems to me that, since Martinez got rid of those strength and conditioning coaches, that we have become physical push-overs.
We have to give Silva to the end of the season at least... but, unless things turn round and improve, we have to conclude that he has been found out at this level.
I would like Benitez – he is free this summer and at least he knows how to organise a defence, which is the first thing to sort out.
Paul Birmingham
262
Posted 26/01/2019 at 23:55:29
Johan @255, all the best, mate, and let's hope for us and all EFC, fans, that 2019, will be fertile. In context the season is a struggle, and there's a hard slog to endure, and I am not convinced we are safe.
Today was not acceptable and whilst I don't want to clamour-for another manager, aka QPR, (we could become like Leeds Utd, Nottm Forest, fallen giants), it's one game too far today.
Everton's season was on today, the lack of basic human, team attributes, All that have been mentioned on this thread is simple and true. Today was the game to win, and the lack of desire and belief, in my view was betrayal.
Good fans struggled to, before and after to get to and get home, for this game, but the performance and attitude, from the EFC first team, today was pathetic.
The volcano inner face EFC is on, now we are on a slow roll to fate, which, ain't good, bar a miracle.
Hope eternal, Everton FC!
Dan Davies
263
Posted 26/01/2019 at 23:59:04
Tony Twist - we don't want or need a world class manager?
What are you smoking pal?
David Connor
264
Posted 26/01/2019 at 00:01:01
Silva has two games to save his job, in my opinion, after another spineless team performance – one of many since the Red S hite defeat. Not one of them fuckers is worthy of wearing our shirt! ...Not one.
Lose the next two and it should be "Bye-bye, Marco" – and rightly so!
We all know he has inherited some shite players but, if he is any good at all, he should be getting more out of the useless fuckers we have in our squad. Whoever is our defensive coach should be sacked immediately and Duncan Fergusson should be told that his job is on the line if our strikers' performances don't improve sharpish.
We are a fucking laughing stock and on a very fast downward spiral and it has to be stopped before we are dragged into a relegation dogfight because it's a fight these cowards will lose.
We are rotten to the core and have been for years. No more jobs for the good old ex-Everton players because they weren't that good as players; as coaches, they are even worse. People who call Fergusson a legend must have shit in their eyes. The fella only got up for a game if it was a bigger team. He was nothing special against the rest.
For fuck's sake, we are no better than when we had Fat Sam... Now that's a big fucking worry!!!
Martin Berry
265
Posted 26/01/2019 at 00:02:36
There can be no excuses, even with their disputed goal, we could not keep a clean sheet nor score more than a poor Championship side. The recent dire performances had this as a potential banana skin so no-one should be shocked.
We are just awful all over the pitch, simple defending and the problem of passing to another team member seems beyond us which asks the question: What is happening (or not happening) at Finch Farm?
Simon Dalzell
266
Posted 26/01/2019 at 00:07:03
No. Sorry Johan. # 255 I've seen more than enough to suggest otherwise.
Gary #225 i reckon you are spot on. Good piece. Cant add to it.
John Kavanagh
267
Posted 26/01/2019 at 00:10:53
Well here we go again. Desperately seeking a management and coaching team capable of getting the best out of very average, and expensive, players. Posters above are quite right to make comparisons with Sunderland, a club that also wasted loads of money on expensive flops and paid the ultimate price. Make no mistake, Everton are the next 'fallen giants' in line.
Anyone saying there's no chance of relegation is being unduly optimistic. Where are the 10 survival points coming from?
Every other manager knows how easy it is to beat Everton – just stay competitive and lump the ball into the 6-yard box at every opportunity. Even if that doesn't work, just wait for the inevitable defensive error. Keep on going until the final whistle and you will be generously rewarded.
Unfortunately this season isn't over, especially if/when we lose badly again against Huddersfield. We really are heading in the direction of Sunderland and at an accelerating pace. Silva's 'strategy' (if indeed there is one?) isn't working and clearly never will. P45 time I'm afraid. No manager at all would be an improvement on the shambles we've got.
I'm looking forward to Everton's next big performance against the Austrian blind school in July.
Ben Attwood
268
Posted 26/01/2019 at 00:12:46
This clown is not a Premier League Manager, Full Stop. Greek league but not Premier League. His three jobs with Premier League clubs have shown how poor he is. He was an awful appointment.
I don't agree that we give him until the end of the season. He must go now.
Where are the positives to justify keeping him? Pre-season was crap. We had an easy start to the season and failed to deliver wins against the easier teams. We have been poor since November.
We were crap in both cups. We were terrible vs lower league opposition in both games played not just tonight. We are average at home and absolute dirt away. Players are not motivated. Where is the brand of football to be proud of we were promised? All of the above is down to Marco "Martinez Mk II" Silva.
Why is this guy still being given time...?
Time to go.
I hope the board have been working away lining up a replacement. Clearly they have not been arranging transfers...

Matt Woods
269
Posted 27/01/2019 at 00:12:52
#156 Mark Jolly.
Soaked through to the bone in London Town for your beloved Toffees. It's painful, it's torture, and it just pure does ya tits in. You / we are Everton Football Club. It hurts so much because of the depth of love we all share. It does feel like relentless heartache but our day will come.
Be a proud Toffee: go out and drown your sorrows and make the most of ya night.
Paul Birmingham
270
Posted 27/01/2019 at 00:14:53
Hope eternal — that's all we have as it seems there's no progress. We live in hope eternal at Goodison Park.
Mike Jones
271
Posted 27/01/2019 at 00:15:44
Sack Silva. Choose a winner. I'm sick of my team being shite .
John Raftery
272
Posted 26/01/2019 at 00:23:34
Well, I was one who felt we should have kept Allardyce for the remainder of his contract. In terms of the players, he knew what he was dealing with, while it always seemed that Silva was a gamble for a club which had already suffered two years of instability. But Moshiri bowed to pressure from fans and spent a small fortune to ring the changes in the summer.
Now that we have Silva, I think we just have to make the best of things, get through this season, and take stock in May. For him, making the best of things must mean finding some sort of a team in the truest sense of that word. That might entail not selecting what he regards as the best players but a combination of those who can deliver a few wins; any sort of wins. Perhaps even a few draws.
The midfield is crying out for a shake-up. They do not control the play, they are not collectively alert to danger and do not create enough attacking momentum or goal chances.
The defending by supposedly international class players is truly pathetic. To concede three goals from routine set-piece crosses in the space of fifty minutes of football amounts to negligence on a grand scale by both players and the people who coach them.
As for our attack, Silva can no longer justify playing four forwards including Sigurdsson. They do not deliver enough end product in a team struggling to keep clean sheets which usually needs to score three or four goals per game to win.
We probably need another seven points to be safe. Based on the performances of the past two months that may prove more difficult than anyone might have imagined two months ago.
Chris Hockenhull
273
Posted 27/01/2019 at 00:29:09
I mentioned a few days ago... go watch the wonderful Netflix "Sunderland Till I Die" series.. ditto everything said in those episodes.. It is absolutely Everton stumbling from one chaos to another... from players to boardroom..behind the scenes..players...that is going to be us..if it isn't already.
And as Dylan said, "It's A Dirty Rotten Shame"... but older watchers like myself have seen this coming for decades. I'm lost to think what the fuck we can do? I firmly believe we are cursed.
Jeez, the Red Shite hound out managers who win things... they sign shite rejected journeymen players who then go on to become "legends" and string endless games together and claim medals whilst we spend stupid money on those who we end up loaning to others and still end up paying them??
And behind the scenes, the same old tossers pull the strings as if fireproof. You couldn't pay people to act so daft... Oh, hang on... we actually do!
Jeez, this is as low as I've ever felt since 1963 when I took up the trail.
Don Alexander
274
Posted 27/01/2019 at 00:31:01
Trying to be as kind as possible, I'll call tonight's performance insipid. Maybe I'm saying that because I've had to have a dram to try to stop me really saying what I think.
Anyway, Moshiri (and I used to always call him Mr Moshiri until his endless mistakes became visible re managers and Walsh, and Allardyce, and Koeman, and Unsworth, and especially the teary-eyed wanker who fleeced him when he bought in, fleecing him at our expense, by the way, inheriting as he did the quagmire of Finch Farm inertia and inadequacy that's been the hallmark of Kenwright during his entire tenure) must soon be coming to the conclusion that he himself is clueless about football and that as a consequence he's also clueless about the financial viability of a new stadium for a club still stuffed full of useless players, coaches and board members under the "esteemed" chairman's tenure.
If I'm right, we're on the road to ruin – and there's little evidence since Moshiri took over that I'm wrong.
David Edwards
275
Posted 27/01/2019 at 00:37:59
It's already been said, but the 'handball' decision is not the issue here, Michael - and it smacks of the kind of news control the official site tend to use.
No deflection - we were absolute garbage and while I'm no Moyes apologist - our classic mid-era Moyes team (our Europa/UEFA cup run squad) would have taken Millwall apart!
We have some very ordinary players with no spirit led by a manager lacking basic ideas. Our defence is seriously the worst I've ever seen at set pieces – and I go back to 1968 with respect to my support.
I'm not in the 'Silva out' crowd, because frankly I have no idea who could replace him – but some serious talking and action is needed behind the scenes. We have players not worthy of the shirt and, even in the dark days of Walker, Smith and Koeman, I never thought that! Sigh!
Tony Twist
276
Posted 27/01/2019 at 00:38:17
Dan Davies, 263, unfortunately, reality bites. Everton aren't a big fish anymore. Mourhino will just bankrupt the club and then move on when he is done.
Peter Jansson
277
Posted 27/01/2019 at 00:40:11
How can you say we cannot go down this year?
We only have 30 points and these are the games we have for the rest of the season. If we play like this, we end up with around 36 points and that is not enough for not getting relegated.
Huddersfield away 0 points
Wolves at home 1 point
Watford away 0 points
Cardiff away 1 point
Liverpool home 0 points
Newcastle away 0 points
Chelsea home 0 points
West Ham away 0 points
Arsenal home 0 points
Fulham away 1 point
Man Utd home 0 points
Cr Palace away 0 points
Burnley home 3 points
Spurs away 0 points
Man City home 0 points
And how the hell on earth can you see Silva turning this around? He does not change anything even though things do not work. We have seen it before. Doing the same thing and expecting different results. That's the definition of madness. It does not work sorry.
It is cheaper to get rid of Silva before he make things even worse. This is urgent because he will make things worse.
You can say whatever you want but we don't need to try to play beautiful football, we need to win games. That's what football is about, winning games. Moshiri obviously does not have a clue so someone has to help him appointing a new manager.
Bill Watson
278
Posted 27/01/2019 at 00:44:02
On the way back from another game where we showed absolutely no organisation or desire. The alarming thing is Silva seems unable, or unwilling, to change the formation and tactics.
Painfully slow build-up and shambolic zonal marking is costing us, game after game.
I've supported the appointment of Silva and defended him, since the Derby, but enough is enough. He has to go and go now.
Phil Sammon
279
Posted 27/01/2019 at 00:51:01
God, I hate that we have become a club who cycles through managers on a near yearly basis. But what option do we have? Something has to change and the manager is the cheapest and most comprehensive solution.
As I say, I don't like it, but I'd rather pay £25M to get Silva out the door than give him that money to spend on another flop.
Gordon Crawford
280
Posted 27/01/2019 at 00:52:22
Every managerial appointment is a gamble, but it's a gamble I think we might have to take sooner rather than later.
His stubbornness when it comes to zonal marking is just one of the reasons why he might have to go.
Mike Jones
281
Posted 27/01/2019 at 00:59:39
Why hasn't he been sacked yet? I'm sick of losers at my club. He's Shite!!!
Mike Littler
282
Posted 27/01/2019 at 01:09:47
Another dreadful day...
I'm struggling to think of a decent match we have had with Silva as manager. He should be sacked – he has no real style, never changes formation, is slow to react, and has no in-game management... Not good enough and never was.
Season is over and he doesn't deserve another. Take our abysmal coaching staff with him. They never improve – every player we get becomes worse!!
Martin Berry
283
Posted 27/01/2019 at 01:15:32
Twelve months on from now, same stats/situation then Silva will be gone, but from now the hierarchy will give him another summer of transfers to give him a reasonable time to get the results we wish.
The manager we really need is at Newcastle. Like it or not, Benitez is one of the best managers in Europe and we could get him, regardless of his past comments and associations to the dark side.
Terry McLavey
284
Posted 27/01/2019 at 01:25:58
Peter Jansson,
I couldn't agree more. If you don't win games, you get relegated. So which of the upcoming games do you think we can win, I don't see any?
We can't even beat the Benitez "small clubs" of which we've now become ourselves, like it or not!
In fact, now I've accepted losing every week, and don't get annoyed any more, not much I can do about it anyway so why waste the energy? – they certainly don't! They get their obscene money, win or lose, and it tends to be the latter?
Maybe we could win a few in League One?
Shame on you, my beautiful club, now in the hands of assassins !!!!
Phil Lewis
285
Posted 27/01/2019 at 01:26:31
I'm getting tired of saying this and amazed that nobody else can see it. Pickford is not up to the job. Full stop!
I'm not interested right now about his potential. He's 'dining out' on the strength of a good World Cup. There are far too many areas of his game that are weak. Coming for crosses is one of them.
How on Earth can you persist with an obviously unsuccessful zonal marking system especially if your keeper isn't commanding enough to inspire confidence when dealing with high balls? We need a solid experienced goalie who can marshal the defence now. I'm not solely blaming him for our disastrous dip in form.
I could single out several outfield players whose recent performances are woefully inadequate. But make no mistake, unless someone is bought quickly, as Stekelenburg is not good enough, then young Jordan could easily find himself in a 'Sunderland' scenario.
David Edwards
286
Posted 27/01/2019 at 01:30:30
I'll tell you how bad Everton have become: One of my most hated people of all time – Rafa, whose comments on our club when in charge of the Red Shite still hurt me so much... I would consider him to be an acceptable replacement for Silva!
God Almighty! That is how low I have been dragged down to by the current regime. Help... I need therapy!
Jamie Crowley
288
Posted 27/01/2019 at 01:47:47
Tony Marsh, all the way back @127:
On the way home from the game just witnessed blood spilt on the streets of South London as brave Everton supporters fought for their lives being attacked by fans and Police alike. It was a war zone. Afghanistan, eat your heart out.

To all of you Evertonians worldwide who don't know about the animosity between Millwall and Everton, it stems back to the early 1970s and has never gone away. Tonight, only the brave and the foolish made their way to Millwall. The Police in London and Millwall's fans have the same opinion of Liverpool people!!! There is no difference between a Millwall fan and a London Copper. Bet that'.
Your post is exactly why us Blues who are "adopted" can't "get it." And it's exactly why some day I will follow the Blues home and away, before I die. To try and get just a taste.
My Dad was born in Southie (Boston, when Southie wasn't "gentrified" and was a hard, Irish-American, working class neighborhood). A tough fucker done well, my Dad was. I'm the "flower of a child" who grew up in a decent neighborhood because of his hard work.
Your words are exactly why I know, I have, will, and always will be happy with, the team I've "chosen".
It humbles me beyond words that I feel comfortable enough to come on TW and spout shite from an ocean away, when I read what you have submitted.
Millwall can have their day. They can not take from Everton the soul of the Club.
The soul which I believe you encapsulated. From afar, in America. Respect. Be well. I've never felt so unworthy to be honest.
To all of you Evertonians worldwide who don't know about the animosity between Millwall and Everton. . .
I don't know. But I know we're great. I feel it in my bones.
Tony Marsh, son of a hard working man, if you ever stop posting, I'll travel to Blighty and beat you to a bloody pulp. And I say that with the utmost affection and respect.
Our supporters deserve better than the steaming pile of shit they were served up today. Of that, I have no doubt.
David Edwards
289
Posted 27/01/2019 at 02:04:25
Tony Marsh #127 – You have spouted a lot of stuff over the years I have disagreed with... but your post deserves a lot of respect, and it is uncomfortable reading. Every Evertonian who made it down to London for the match deserves complete respect, and the players and management responsible for today's debacle should hold their heads in shame.
Talk about 'The People's Club' – I think we're heading for a 'People's Revolution'! I do hope Moshiri's staff are monitoring TW tonight – I feel it is one of those threshold moments that need to be considered carefully.
Jamie Crowley
290
Posted 27/01/2019 at 02:13:22
Link
I hope someday they come to Goodison, and get a Liverpudlian welcome.
Rob Halligan
291
Posted 27/01/2019 at 02:18:29
Just got in following a miserable coach journey home. Before I start, what I'm going to say, in no way defends a terrible performance.
People say to me that referees decisions do not decide the outcome of matches. Well, I beg to differ on this. Their second goal should have been disallowed, for what I have since been informed was blatant handball. On the giant screen, the scorer also looked offside.
Not having seen the goal since it was scored, I cannot comment on whether it should have been disallowed or not. As I say though, I have been getting texts and WhatsApp messages all journey home saying the goal was a blatant handball. For the entire team to hound the linesman and referee tells you something was not right with the goal.
Who knows what the outcome of the match would have been had it been disallowed, but it seems to me, until at least I can see the goal again, that a poor refereeing decision has partly determined the outcome of the match.
As I mentioned at the start of this post, all the above does not defend a terrible performance. To concede needless free-kicks and then not defend them sensibly is criminal. Pickford needs to be a lot stronger in commanding his penalty area, and certainly his six-yard box. FFS, go through everyone and take them all out if you have too, but make some effort to get the ball from free-kicks and corners.
To only have three (?) attempts on goal against a shit Championship side is embarrassing, and god, we were even helped with our first goal.
I could probably go on all night with this post, but fuck it, I've had enough, so I'm going to sit down with a couple of cold beers and wallow in me misery. Roll on Tuesday!!
Peter Gorman
292
Posted 27/01/2019 at 02:21:30
I feel for you Rob, and everyone else who travelled. What a slap in the face.
Bill Watson
293
Posted 27/01/2019 at 02:24:42
I hate to say it but I'd take Moyes to the end of the season. He'd at least be able to organise this chaotic, shambolic excuse of a bunch of players we currently have.
Unfortunately, Silva has demonstrated the task is beyond him.
Jamie Crowley
294
Posted 27/01/2019 at 02:33:51
I'm seriously pissed.
Every fucking player, and all of management, should read Tony Marsh's post, and watch that YouTube video.
Everton fans slashed with knives. Everton fans beaten while cops stand and watch. Everton fans victims of assault and battery, unfettered violence.
Will there be an outcry? Of course not. It's Millwall fans and Scousers, what would you expect? ... Say the privileged commentary cunts.
I can't speak of the, "us versus them" dynamic, but I just saw it in video.
If this isn't a galvanizing game for those players to fucking strap up their boots, and play for the people they represent, come Tuesday and beyond?
Then every one of them, and Marco Silva too, can seriously just fuck right off.
Have some pride. You play for your fans. And they just got shit on physically by cretinous, sub-human jackholes.
Take note and give an effort half as worthy as your fans. If you don't, you're pond scum.
John Raftery
295
Posted 27/01/2019 at 02:37:16
We need to forget all the nonsense spouted at the beginning of the season about aiming for a top-six place with more stylish football. Finishing 8th and 49 points was the most we could realistically expect with a bunch of players new to the league and new to each other playing for a novice manager who had completed two unconvincing half seasons in the Premier League.
At the moment, 8th and 49 points looks like a distant dream. Whoever is manager needs to get back to the basics of making us hard to beat. The only football that really counts is winning football but if you can't win, at least make sure you don't get beat.
Yesterday's result was entirely predictable. Until someone addresses our defensive weaknesses, we will continue to lose most of our matches, irrespective of the strength of the opposition.
Justin Clark
296
Posted 27/01/2019 at 02:42:19
At the rate each season devolves and the performances become more dire, I think more and more about skipping games. I'm a USA blue who has watched every game I could get my hands on the last 10 years.
What drew me to this team when all my mates were supporting Chelsea, Man U, Arse plastics etc, was the fight, drive, and genuine want the team seemed to have to perform for the fans. That is gone now and I honestly am going to have to force myself to get up for Huddersfield as I fear more of the same we saw today and against soton.
Someone talk me off a ledge but, at this rate, maybe we should be thinking more of a 42,000-seat stadium. I feel for anyone who was there and certainly those exposed to the senselessness.
Ed Prytherch
297
Posted 26/01/2019 at 02:57:18
It's easy to criticize Digne for giving up cheap free kicks but how can anyone play if he knows that one mistake is dead cert to give up a goal. The lack of defending the free kicks was the real problem. Whoever is coaching our defenders does not know his arse from his elbow.
I also don't understand the attacks on Coleman and Gana today. They both put in a shift and Seamus played his best game in many weeks. How many times did he put good balls into the box and no-one attacked them.
I am a natural optimist and I thought for a while that Silva could be the man but, after today, I am certain that he is not. We have a decent squad but they do not have any drive. A decent coach and a good centre-forward could turn this around.
Jamie Crowley
298
Posted 27/01/2019 at 02:58:39
Justin, fellow American, you're a Blue because you're not a glory hunter. That means you'll stick it out through thick and thin. That's why you're Blue, and not one of the plastic, glory hunting, soulless dicks.
You've been talked off the ledge. You didn't sign up for this for gratification. It's a higher calling:
"I take you, Everton, for my lawful Club, to have and to hold from this day forward, for better, for worse, for richer, for poorer, in sickness and health, until death do us part."
Cheers friend.
Paul Kelly
299
Posted 27/01/2019 at 03:02:22
Fuck Silva right off, get rid. Mike Walker Mk 2. Bad ref decision, yes. But don't forget the rest of the performance or the previous matches.
We are shit! His Premier League record is atrocious. As for the FA Cup, he can moan all he wants about VAR, he should look at our own misgivings!!!!
As bad as I remember, the Walter Smith days weren't this bad!!!
Rob Halligan
300
Posted 27/01/2019 at 03:07:24
Jamie, you really need to get over here ASAP and sample a game at Goodison before we move. It would be a pleasure to take you under our wing, as we did with Mike Gaynes, and have a few pints with you.
It's so easy for anyone to pick a team, and become a glory hunter. I'm sure you've told us on here the reason why you picked Everton as your team, but I can't remember if you did?
A mate of mine, who's well into his 60s, was a wolves fan for years, even though he was born and bred in Liverpool, when suddenly, about 20 years ago, he changed to support Man Utd. No guesses as to why!
Kase Chow
301
Posted 27/01/2019 at 03:07:45
It's getting worse and worse and worse.
I was a big advocate for Silva and I've been a big advocate in giving him more time. But for me, he's very much on borrowed time now.
The fact that the set-piece defending is not improving, instead it's gettjng worse, is ridiculous what the heck are the fools doing in training.
We conceded 3 goals from set pieces .that's awful.
If Silva doesn't practice nothing but set pieces this week then frankly he deserves to go. I'd be happy with 3 x 0-0s in the next 3 matches as it might prove he's learnt something.
Honestly, another season over and we're going to have to at worst watch them lot lift the Premier League trophy. And at worst watch them choke when secretly we wish we were that good.
We are absolute pants and supporting Everton gives me no joy whatsoever. We're pure utter rubbish.
Conor Skelly
302
Posted 27/01/2019 at 03:13:50
Say what you like about the lads going at it, but it represents, in it's purest form, what's missing from the team. How many of our lot are going to stand and fight for Everton and how many would turn around and run away?
Obviously, I am being metaphorical but the coked-up football factory Evertonians are putting their actual safety on the line and fighting toe-to-toe with other nutters for nothing other than tribal pride. Where's the players' pride?
Any good team is built on a collective and mutual trust of the man next to you. Stick together and play as one unit. Communicate.
We are going into battle as individuals and scattering everywhere. Passing, disjointed. Runs, poorly timed, no natural unity that comes with knowing the guy beside you has your back.
Alex Ferguson told his dressing room after they won their first Premier League title to look around the dressing room and be grateful that the person next to you was on your team. This is a group of players but it could just as easily be a squadron. This is war. At it's essence. Fought by men (mostly) however daft or irreverent that may sound.
Now look around our dressing room. Where is the toxic masculinity in our players? It's not good for society but it works damn well in competitive sport.
Paul Kelly
303
Posted 27/01/2019 at 03:17:26
Gary Corgan @ 225.
Sums it up perfectly. Take a bow lad. Couldn't of said it better if I tried.
John Hall
304
Posted 27/01/2019 at 03:24:12
Wait for the Echo on Monday.
At least one of the over-paid, under-performing, gutless stars will issue the usual rallying call as they always do: 'We must do better."
Zonal marking with nobody commanding a zone. I said it last week after the Southampton game!!!
Utter crap from a manager with little to offer.
I won't post again now. I am done with this shambles of a club after 60 years.
Paul Kelly
305
Posted 27/01/2019 at 03:32:07
Nice one there, Rob. As Jamie alludes too, you've got to be fucking mental to support us; no glory-hunting where our fans are concerned.
John Pierce
306
Posted 27/01/2019 at 03:41:04
So we are now in reverse... because this is deffo not transition; allowing this slew of shit to continue unabated has consequences.
The season is over, what's the point... right? If Everton slide into the bottom half, then we risk being picked off. The outward lack of ambition that a lower-half finish will signal to our brightest stars and other clubs is that Everton can be got at.
So to those extolling time and shoulder-shrugging that he, Silva, needs another window, blah, that finishing no less than 7th leaves Everton vulnerable, especially if it doesn't carry European footy.
Richarlison, Lookman & Pickford would definitely attract bids. Lose any of them and that's another year of treading water in a little pond.
Standing still in this Premier League or going through transition only leaves you further behind. We need a manager who can over-achieve, it's not going to happen gradually over five years. If we don't over-achieve, the knock-on effects of building a ground will destroy us financially. Everton cannot afford it.
Sílva has run out of credit, definitely insolvent, bankruptcy pending.
Jay Harris
307
Posted 27/01/2019 at 04:02:14
John, I totally agree.
My old chairman, when he set very stretching targets for sales and profit, used to say, "Without a good short-term, there is no long-term."
Paul Kelly
308
Posted 27/01/2019 at 04:05:23
So, Sam Allardyce takes over a train wreck, Koeman took over a train wreck from El Bob, El Bob created a train wreck from steady tracks inherited from TGT.
But back to our last train wreck, a la Fat Sam, was it any worse than what were witnessing now? Yeah, it probably was (footballing wise), but if a so-called limited manager in Sam can get us 8th, should we not expect at least the same with Silva? He's spent more, he has a quality DOF in Simba, plus he's had a pre-season, yet were worse?
He's got an almost equal percentage as Mike Walker, miles off Walter Smith!!! Who'd have them back?
Get rid I'd say, can we get any worse?
John Pierce
310
Posted 27/01/2019 at 04:28:50
Jay, on TV for all to see what an embarrassment we are from top to toe. The texts from friends teasing me about Everton, long stopped. It's turned to pity. Can't blame them.
I really wonder if managers or their superiors split the season into chunks, quarters I guess, review and re-assess?
The biggest test is a coach who encounters adversity, and how he adapts, stops the rot, and finds a way to get back on the rails.
Silva has not shown any inclination to change his ways at three Premier League clubs, stepping up in talent each time he moves, yet the same problems are clear and prevalent in each iteration he produces. That is the crime. No way back from there.
I think the single most shameful part of the debacle was the players' actions for the winning goal, crafted by desire and grit.
Last minute, already conceded in ident-i-kit manner. No-one led and decided to get the team to attack the ball, forsaking the orders and take the replay. Zero game management.
They lamely set up their failed hybrid zonal shitstorm just like the coach asked, and said "After you, Claude."
Proper dev'oed.
Kieran Kinsella
311
Posted 27/01/2019 at 05:01:05
Tony Marsh 127
"Afghanistan eat your heart out" seriously? One fan gets his face cut so we are worse off than Afghanistan where girls are murdered for going to school, people get blown up every day by extremists. Get a grip mate. It is a football game.
Yeah, 50-odd thugs from a crowd of 20,000 decided to live down to their media-fueled reputation as yobs and one man got cut. Sorry for him but it is insulting to compare that with a Third World War zone.
Sorry Everton has ruined your life. Sorry you wish you never supported them. Here is an idea: get a life. If you hate the team all that much then why don't you enlist and go off to have an easier life fighting the Taliban in Afghanistan.
The team is a bag of shite, true. But get some perspective mate.
Phil Jeffries
312
Posted 27/01/2019 at 05:10:21
I get the feeling that Silva may walk. Just a feeling. He isn't happy, he is out of his depth and Goodison will become toxic again with a few more results that go against us.
We have most of the big boys to play at home, including Man City, Man Utd and that shower across the park. I can see a 'Silva leaves club following mutual agreement with board' on the horizon.
John Boon
313
Posted 27/01/2019 at 05:31:03
I am really amazed that so many Evertonians have the energy to write such long posts. Watching the 2018-19 version of Everton just saps out all my energy and leaves me virtually speechless.
I just have to agree with everything that our loyal supporters have to say. We were awful.
Martin Mason
314
Posted 27/01/2019 at 06:01:29
I'm hoping that it is a matter of having to reach the bottom before we start a long-term improvement. Or, put another way, our darkest moments may be before that long-awaited dawn comes just as it did with Howard Kendall. Where is the bottom for us though?
Whatever we do, though, we must not sack and compensate another manager after having done this 3 times in as many years. Without bottomless resources, it never works. The club must work together to get over this and that includes us fans.
A clear-out of players is essential but a clear-out of deadwood management and staff from Kenwright down, even to likes of Unsworth and Ferguson. Sometimes the only way to recover is to cleanse the club of everybody associated with long-term failure.
Rahman Talib
315
Posted 27/01/2019 at 06:25:11
Do our strikers and forwards know that when in the box they don't have to take so many touches?
At most two touches or pass or shoot?
Is that too much to ask?
Tom Dodds
316
Posted 27/01/2019 at 06:25:31
We have now reached the territory of 'What is to become of us?'
The type of manager we need right now would have to be an outright Bull of a man. A leader of men with a list of the highest credentials within the echelons of the football world. And a knowledge of the game (in this country) like no other.
Someone who would actually need and want this challenge after the inevitable soon to be (next stop is): Retirement.
And in a strange or even a lot would call even twisted passionate Evertonian.
You all know who I mean. Don't you ?
Simon Hermansen
317
Posted 27/01/2019 at 06:55:37
In recent years, since the Moyes era, our players just don't seem to improve and generally just go downhill. Often a new buy or young player hits the ground running (Davies, Gomes, Walcott, Schneiderlin etc) but soon deteriorate. Meanwhile regulars just seem to tread water at best.
This can only be down to how the team is coached/managed and organised or motivated on the pitch, yet we've had 4 managers have a go at it and it's still the same.
I'd personally love to see Arteta come in – he turned down Arsenal but that might just be cos he didn't feel ready but with another season under his belt, learning next to Pep, it might be worth a try??
Ernie Baywood
318
Posted 27/01/2019 at 06:59:50
We're dreadful. We've been dreadful for a while.
On the plus side... we have an owner who seems to be able to back us, we've made steps in the footballing side that make sense. The new stadium is, erm, progressing I guess.
Any big change usually means you go backwards before you go forwards. That's what I was keen to point out on here at the start of the season, so I'm trying to remember that and keep things in perspective.
But we're just so shit – I don't know how to justify the coach's position. He seems so basic in his planning and tactics, yet omits so many basics from his planning and tactics.
Sam Hoare
320
Posted 27/01/2019 at 07:40:50
Chris Gould makes a good point. West Ham have an 'experienced' manager who 'has won things' and 'commands respect'. They had an even worse result than us yesterday. And are one point above us in the Premier League. Should they sack Pellegrini?
It's been grim as hell this last few months but we are still 3 points off 7th which would constitute a decent season (in the league).
I have strong doubts now about Silva's ability to turn things around but we can't just keep sacking managers because we are not in the top 6! Also, Brands will have more managerial options to choose from in the summer.
We won't get relegated. Anyone suggesting that has let the dark cloud get the better of them. We will finish somewhere between 7th and 14th. I'd imagine that, if it's not 7th or 8th, Silva will likely be gone in the summer.
Stephen Jones
321
Posted 27/01/2019 at 07:56:22
The malaise has well and truly set in now. It has been evident since Moyes departed.
What frustrates me is the lack of basics. Corners poor. Saw one of ours go back to Pickford within seconds. Throw-ins... how often do we secure proper possession from a throw-in?
When a player is boxed in at the corner flag, do we ever come away with the ball? No matter who we play, they all do it better than us.
Start getting these basics right and it will have positive effect on a platform to play from, mindset, confidence, desire, commitment. There is absolutely no doubt that we have a talented squad, we need to get the basics right and it will reap rewards.
My guess is that these are overlooked in training as they are assumed competencies. For that, I blame the manager.
Ian Lloyd
322
Posted 27/01/2019 at 08:31:43
It's not about sacking managers because we're not in the top 6 – I'd gladly see us finish 10th (for example) if it meant watching a team / manager who at least played well and committed to the badge and had some sort of game plan?!?
Under this joker, and the previous one or two, we've been and are a shambles despite all the millions that have been spent.
As others have pointed out, there's something not right at the whole club and, through gross mismanagement, we are where we are now!
Derek Knox
323
Posted 27/01/2019 at 08:48:07
Stephen Jones, you are so right in what you are saying. The Club's recent history reminds me of the Hit TV Series 'Lost' in which one of the main characters, Hugo Reyes (Hurley), wins the big Lottery in US, and has nothing but bad luck and misfortune after winning the money.
The parallels are strikingly similar, but the worrying thing is the TV series was fiction; the situation at Everton is fact.
I truly don't know what the answer is, but another poster mentioned it further back in this thread, and I mentioned it also a couple of days ago. I think Silva, who appears and acts like a rabbit in the headlights — and acts accordingly — may resign.
It may be via pressure from within (ie. Brands) or if he is honest enough with himself, of his own volition, but it is so obvious he is way out of his depth and can't even get the basics across to the players.
I know the basics should be in every player, if they are really professionals, but again surely they are acting under his instruction too.
It would be expensive to sack him with compensation at this stage but, if he 'walks', surely it would be the best time to get someone in to prepare for next season, and this time get a man, not a boy with football comic aspirations, a serious manager of men and tactics with a ruthless streak. The big question — if that does happen — is who?
Mark Dunford
324
Posted 27/01/2019 at 08:54:11
I agree with Sam (320), despite the scary run of fixtures in next few months (top six to Goodison)), it would be a shock if we got relegated and we're likely to finish mid-table.
The squad has improved since Brands arrived with a better shape and balance. There are still some gaps, most glaringly at centre-forward. Some players have improved under Silva; well, at least one in Keane. He has also found a decent replacement for Baines.
On the downside, the team lacks mettle, is disjointed and can't perform basic defensive tasks. I suspect Silva will have till the end of the season and then Brands's preferred choice will arrive.
The complete lack of incoming activity in the transfer market suggests everyone expects this to happen. It is strangely reminiscent of Martinez's final few months. More worryingly, the chopping and changing reminds me of Aston Villa's decline.
Mark Murphy
325
Posted 27/01/2019 at 08:57:31
I can't see the club sacking Silva before the summer but the worrying thing for me is that was our best available 11 out there at the start (give or take Zouma for Mina) and none of them stood out as in a different league to Millwall.
I've said this before but maybe our blue-coloured specs are clouding our reality and we need a more drastic overall than just a tinkering. I'm not just talking about last night – I was at the Brighton and Southampton games and we were exactly the same. All these teams with "players that wouldn't get in our team" are beating us all over the park!
Starting with Pickford (we're shite at defending high balls into the box but I've never seen him come off his line to claim a high ball). I think we need a complete and ruthless overhaul!
The season's over – just the derby to "look forward to"... so it's time to rip it up and start again, even if it is with Silva still in charge. Give some of the "best 11" like Sigurdsson, Gomes, Coleman & Pickford a rest and try something different.
And for fuck's sake, get a striker in — Calvert-Lewin is not going to make the grade!
Geoffrey Williams
326
Posted 27/01/2019 at 09:04:02
Everton is not a team of bad players but rather a team of players playing badly because of non-existent coaching, poor team selection and questionable tactics. The manager and his coaching team are simply not up to the job.
Where will the next win come from? If you think we are too good to be relegated, then you need a reality check. On the playing side, the club is in serious trouble.
Dave Abrahams
327
Posted 27/01/2019 at 09:11:22
For all those saying we cannot sack another manager, well ask yourselves what this manager brings to the team?
If you want organised chaos, then Silva is your man for this. He is just not for changing, mostly the same men and the same method of playing, he will not budge.
Just listening to the radio now and his signature tune has come on "Bewitched, Bothered and Bewildered" — sums him completely!
Frank Sheppard
328
Posted 27/01/2019 at 09:15:09
I think we have a better squad than last season and a better manager, which makes the results since Anfield so hard to bear and difficult to understand. Saying the majority of the players and the manager are now crap and the manager is clueless, is surely an (understandable) knee jerk reaction. I think we have to stick with Silva and stop being a fireing club.
Post Moyes we have spent gazillions and not improved, bar one season. We have to stick with them at present, and lower our expectations. We are a mid-table inconsistent outfit, that can't defend set pieces, and can't take a game by the scruff of the neck and dominate. We have to accept that at present, and be happy we are not Villa, or Leeds, or Forest etc etc — which hurts, but that's the reality. 😕
Brent Stephens
329
Posted 27/01/2019 at 09:19:54
Garry #225 - and there you have it - says it all.
0151 263 2222!
Paul Kelly
330
Posted 27/01/2019 at 09:24:44
As David Metcalf says, "As an Evertonian of almost 50 years standing, the saddest thing for me tonight was the fact that I wasn't even surprised, let alone shocked, at this result."
And that sums it up. I, myself, have no belief in this team anymore. It's sad to admit, but we go from one disaster to another, we are rudderless. Get rid of Silva asap, the damage he could inflict by the end of the season... well, I don't want to even think about it.
There is a pattern to his Premier League results. I shudder to think what may become if he is allowed to continue.
Kim Vivian
331
Posted 27/01/2019 at 09:27:07
I just watched this on MotD and had it confirmed I was not dreaming last night.
A truly shambolic attempt to turn over a struggling championship team, and until something changes, it looks like this is our level. I anticipate a point at best on Tuesday and feel as demoralised as I have for a long time.
I feel sorry for the thousands of season ticket holders who have shelled out big money in the hope of good weekends of football and socialising, and for my part, sad to admit, have no desire to spend the £100 or so every time I get a rare opportunity to watch Everton. Even under Sam Allardyce, I got to the odd game but will save my hard earned for now.
I commented on the Live Forum last night that I simply do not understand how a group of footballers operating at this level can consistently defend so badly. Midfield and attack not really any better but at least one can make the excuse that we do not have an attack of any merit.
So Christ knows what happens now. Another year of football is written off effectively in my life. Every week the task for the club looks harder and we become less of an attraction for players and potential new managers alike.
Whether a change of manager now would pay dividends, I simply don't know... but I believe it is unlikely to happen, so I guess as a supporter it's just a case of watching week to week and hoping for some metamorphosis away from the current shit storm.
Alan J Thompson
332
Posted 27/01/2019 at 09:29:11
What sort of logic is there behind the call not to sack Silva as we couldn't attract any worthwhile manager, would we even notice a difference?
I find repugnant the suggestions for FSW - "Small club" Benitez and, for me, it's on a par with suggesting a statue of Shankley outside Goodison next to Dixie.
It's also a no to Moyes if for nothing else than going back to the past has never worked for Everton and Mourinho, apart from wanting a fortune to buy a new team, looks like a nervous breakdown waiting to happen.
So that leaves us with the choice of a caretaker manager, Silva until the season ends, in which I see little point, or appointing a co-manager to work with Silva. As for a permanent replacement, I've always fancied Simeone and for those who say he'd never come, let's see what dangling a juicy carrot might do, you don't try you won't know.
If, however, we choose to gamble on another up and coming manager then there has to be get out clauses (KPIs) along the lines that he can be (not must be) dismissed if we go, say, 8 games without winning and if after the first 6 weeks of a season we spend a month in the bottom six or 8 weeks in the bottom half of the league or exit any Cup competitions before the 5th Round.
And as for criticism of Steve Ferns, who surely can defend himself; he didn't appoint Silva and nor, do I suspect, does Silva ring Steve each week asking what changes should be made for the next game. He has merely stated his opinion, rightly or wrongly, on that which he saw of Silva in Portugal and comments by Silva's former players.
Save your criticism for those who may actually be responsible and able to actually make changes.
Brian Patrick
333
Posted 27/01/2019 at 09:33:27
I'm not into blaming people but it can't be a coincidence that Kenwright and his cronies asset stripped the club for years. Moshiri isn't dumb he knows this, he knows the nepotism rife at the club, the abysmal 'academy'. These people need to be culled.
They need to adopt the Leinster Rugby model, from the bottom up, and hard work. Barrett-Baxendale, a woman who knows nothing about football, got the job through 'you know who' — sums up Everton.
Brent Stephens
334
Posted 27/01/2019 at 09:36:17
We have four (four!) players converge on the guy who heads the ball down for their winning goal! Four! Is that zonal marking? Man-marking? A team of no-marks.
Kevin Dale
335
Posted 27/01/2019 at 09:43:43
I'm not one for advocating sacking the manager after a few poor results but, when you take everything into account, things are not looking good!
The first sign of madness is persisting with something that doesn't work! The system Everton are playing, this 4-2-1-2-1 or as some would prefer 4-3-3 just does not suit our players! Playing just two recognised midfielders in Gomes and Gueye with two wingers in Richarlison and Lookman puts the midfield under pressure, and with Sigurdsson playing the so-called No 10 role (creative link? He is too slow for this in my opinion!), this just leaves whoever playing at centre-forward on their own, you'll often see our wingers putting in a cross but no one in the centre Sigurdsson often just sits outside the area and with our winger out wide and the centre-forward trying to outmanoeuvre two centre-halves, and that's why we have very few efforts on goal!

Yesterday's game was crying out for a 4-4-2 game plan, playing in midfield Gomes, Gueye, Davies and McCarthy (if not fit - Baines would do a job), up front Richarlison and Calvert-Lewin (or any from Tosun, Bernard, Lookman, or Sigurdsson), this would also have taken the pressure off our defence, especially when we are defending at set-pieces; we would not have needed wingers (who cannot defend) in our box, flapping their arms about!
The problem as I see it: he plays the same system – no matter who the opposition. To me, this is not good management. This was a typical English game, the midfield needed to be dominated!
The frustrating thing is we do have the players to do this job, we just did not play a system or game plan to beat a poor team we were playing. We are seeing this week-in & week-out at the moment, and that's what worries me about this manager: he is too inflexible with his team tactics; he is playing the same system, week-in & week-out, even though it's not working!
Everton have some very good players going backwards because of poor tactics and coaching – and that's worrying! We still have games to win!

Andrew Clare
336
Posted 27/01/2019 at 09:52:45
We have been in decline for years.
11 years of mediocre Moyes put the final nail in the coffin for me. His only achievement-if you can call it that- was finishing 4th with a negative goal difference. This was deemed acceptable for one of the giants of English football.
Since then we have been a joke. Sam Allardyce, new stadium capacity a paltry 52,000, a list of non-first team players on ridiculous high wages and long-term contracts all point to a farcical situation. Let's face it we have been a badly run club for decades.
Unfortunately signing players who didn't make it with top six clubs whether they be in the Premier League or La Liga is not the answer – their only motivation is money. We need to be scouting young up-and-coming players.
As for Marco Silva, I still think he needs time. He had the team playing the right way up until the daft error by Pickford at Anfield. It's pointless (excuse the pun) sacking him now; it's best to see where we are at the end of the season.
For all his good intentions, Kenwright has been responsible for the demise of Everton.
Eddie Dunn
337
Posted 27/01/2019 at 09:52:55
Having slept on the result and read most of the comments on here, my opinion is the main difference between us and Millwall was our defensive frailty.
The problem is the communication between Pickford and the back four. Obviously it doesn't help when the likes of Digne gives away stupid free-kicks, but the back line was caught out several times with Pickford in no-man's land for the first and rooted to his line for the other two. Who is making the calls?
Is Pickford happy to stay on the line and let his big lads get to the first ball? If so, then he isn't reading the flight of the ball to sweep -up the second ball.
Zouma and Keane are decent centre-halves and the full backs are also okay, but someone needs to be making the calls and in the box I expect it to be up to the keeper.
There were a few rabbits-in-headlights performances last night. The atmosphere, the conditions and yet another trial by TV combined to expose the frailty of our defending.
The pundits laughed at our defence and, for weeks now any football fan, player or coach has been aware how the way to score against us. Silva clearly has failed to put this right.
I am sure he will get no money to spend and the heirachy will sit on their hands in the hope that we somehow show some improvement over the rest of the season.
However, I just can't see it happening. The club will not want to be seen to be wielding the axe willy-nilly, and they will wait until the end of the season and our hunt for the right man will start all over again.
Ian Edwards
339
Posted 27/01/2019 at 10:18:37
With hindsight we should not have sacked Martinez. 75 pts first season, 2 cup semis second season. Blip third season and 50 idiots do a stay behind protest behind the goal when Moshiri visits. He should have been given longer instead of bumbling from Koeman to Allardyce to Silva. Martinez took on a huge job after the 11 years of Dreary Dave killing all expectation and bravery at the club.
Mads Kamp
341
Posted 27/01/2019 at 10:28:54
Ian #339
Totally agree. I've been saying so all along.
Franny Porter
342
Posted 27/01/2019 at 10:30:14
Although not on the pitch second half, Yerry Mina is one of the worst attempts at a centre-half I've ever seen.
Seamus McCrudden
343
Posted 27/01/2019 at 10:37:06
I don't agree with that at all. Just go back and listen to some of the post-match interviews Martinez gave in that last season when it all went pear-shaped. He had no answers nor a plan to fix it, all he offered was complete guff. It was akin to someone having a complete breakdown.
James Newcombe
344
Posted 27/01/2019 at 10:40:32
@336 — if you thought the Moyes years were mediocre, you should have seen the preceding 12 or so (bar Royle).
I think we give our marking too much credit — it's less zonal and more 'stand-there-and-watch-the-opponent-react'. Teams have got us sussed out now and, unless the manager changes his spots, it's going to be a long run-in.
Bill Watson
345
Posted 27/01/2019 at 10:43:06
Those who say we can't get relegated need a reality check. We've just lost away games against Brighton, Southampton and Millwall and struggled at home to Bournemouth and lower league Lincoln. I've been to all those games and we've been completely disorganised in all of them.
We're toothless upfront, weak in midfield and shambolic at the back. Apart from the first half hour against Lincoln, we have failed to put any sort of sustained pressure on any of those sides. Silva seems incapable of changing the way his team plays so expect more of the same.
If the manager refuses, or is incapable of changing things, then there is only one solution. Change the manager...
If we fail to beat Huddersfield, then surely his time is up.
Phil Sammon
346
Posted 27/01/2019 at 10:45:30
Ian @339,
Dear Lord! I can't believe people are re-writing Martinez's history. The guy was a joke towards the end. Sacking him was absolutely the right thing to do. The sad thing is Silva is following a similar pattern. Silva is holding a tenuous grip on reality at the moment – something that Martinez eventually lost entirely.
Ian Edwards
347
Posted 27/01/2019 at 10:47:10
We can't win away and our remaining homes are Wolves, Burnley and the top 6.
Dave Ganley
348
Posted 27/01/2019 at 10:50:36
What utter rubbish Ian #339, you obviously forgot how awful it was with Martinez. Pretty similar to how it is now really. Slow distribution, break out at pedestrian speed, no heart or fight, poor recruitment, players not willing to put the effort in, 3rd season just a blip, nothing like rewriting history. He left us in an utter mess.
It's a moot point really his first season. It doesn't really matter whether It was his inspired tactical nouse or whether he was riding the back of Moyes's squad full of team ethic and just setting them free, what matters is the state in how he left the club which was a mess.
To say he took on a mess is, again just total rubbish. He took over a regular top 6 team and made them into a bottom half team. As for the 2 semi finals, well apart from the chavs in the fa cup quarters, which was our Millwall game, we just played lower league teams until both Manchester clubs knocked us out, that included an awful Man Utd side at Wembley with Barkley crying his eyes out at half time, that shows the level of fight we had. Shocking.
I've said many times that Moyes should have gone in 2009 after the final but to say 11 years of dreary Dave, well I guess you didn't go to the game much during that period. Martinez killed the Goodison crowd with his dour football, it was never like that with Moyes. What we would give to have an Arteta, Cahill, Pienaar, Baines and Carsley et al now. They would walk into any Everton side since then.
Kenwright started this mess. When Moyes left, the state of the club was probably as high as it had been for over 20 years. We had a decent squad of players who would give their all for the club. We could and should have gone for a manager with proven stock and we could have got one then.
Instead, Kenwright was still applying his penny pinching unproven manager scenario and look where that has got us. Martinez, Koeman, Allardyce and now Silva. Unproven and never have been. Just looking at those names makes me shudder as to how low we have gone since, Moyes left.
We are all devastated about what's happening or happened over the last 5 years but crikey, to say Martinez's last season was a blip — I think you need to stay off the hard stuff for a while. It was relegation form.
Grant Rorrison
349
Posted 27/01/2019 at 10:52:27
Phil 346. He had more high points than we've had since he left. The record points total and the two cup semi's in one season. Who's re-writing anything? Define losing a grip on reality? Do you mean trying to be positive?
Dave Ganley
350
Posted 27/01/2019 at 10:57:58
You know we are in such a shit state when people are trying to paint Martinez as a success.
Darren Hind
351
Posted 27/01/2019 at 10:59:14
Not many teams would go in all square at half-time having taken the lead in the 43rd minute. Not many teams could be leading after 75 minutes and still manage to avoid being in the draw...
I feel utter disgust towards the highly paid wankers who treat our club as little more than an ATM.
I feel so angry when I see Pickford smile every time he fucks up.
I couldn't sleep last night churning over Digne's dumbfuckery.
I can't forgive Keane for his inability to control a ball, or show more desire than his opponent whenever a ball is punted into out box.
I could strangle Silva for persevering with this half-witted Zonal Marking
As for Yerry Mina? What the fuck was that signing all about? Did they actually watch this guy before he signed or did they sign him on the basis of that goal he scored against England? A shocking signing.
I'm not exonerating the midfield or the attack, both were toothless, but when you take the lead twice in a cup tie, you should, at the very least be able to expect to be in the hat.
We don't have enough physical presence to employ zonal marking. Every team we play are simply creating mis-matches by putting the big men on the shoulders of our shorter guys on the back post and murdering them.
Silva wasn't my choice, but I have backed him solidly simply because he wasn't Allardyce or Koeman, but alarm bells are ringing, he doesn't seem prepared to change a plan which is consistently failing.
I don't subscribe to this idea that you can't keep sacking your managers. If a manager won't change, you have to be prepared to change the manager.
He's going to have to turn this around... Pronto.
Grant Rorrison
352
Posted 27/01/2019 at 11:03:47
Dave @348. We were challenging for 5th up until around February. We put 6 past Sunderland. 4 past Villa. 3 against Southampton, Chelsea twice, Bournemouth, etc.
I think the problem lay with the players and their mental strength. The ability to suddenly throw away a promising position has to be psychological. Stones crying off with a stomach problem in the derby. Barkley, as you mention, trudging off dejected at half-time in the cup semi-final.
That said, our 4 best players were arguably all kids the crowd turning on them over every error and misplaced pass probably didn't help. The most likely reason why the football often became pedestrian and slow was the loss of confidence as a result of the toxic atmosphere.
I don't think the style of play Martinez was looking for fits with the type of personality that watches Everton play. They would rather watch a team of yard dogs sticking it up the opposition.
Marcus Taylor
353
Posted 27/01/2019 at 11:05:12
The Silva apologists have come out with some shit over the last few months but this idea that we should be taking solace from the fact that West Ham also lost to a lower league team and are only 1 point above us is unbelievable.
West Ham will be delighted with their league position. They have finished in the Top 10 of the Premier League twice in 10 years. We've been in the Top 10 eight times in the last ten years (six times in the top 7). Our expectations should be higher than theirs.
They can also claim to be showing small signs of progress. After 10 games of the season, they had 8 points (3 of them courtesy of you know fucking who) and we had 15 points. Over the last 13 games, they've picked up 23 points (1.77 ppg) whereas we have picked up 15 points (1.15 ppg). Their results have improved – ours are getting worse.
I've just had a quick glance at the fixtures, they've got 5 or 6 extremely winnable homes games left, we've got 1 or 2. Expect the 1-point gap to grow between now and May. Then we can compare ourselves with Bournemouth and Brighton.
Anthony Murphy
354
Posted 27/01/2019 at 11:05:40
Eddie, for me the problem is defensive coaching not the personnel. Like Martinez, Silva is too gung ho in his approach and naive generally. Defensive duties are not being implemented throughout the team, not just at the back.
We are wide open through the middle and our full-backs are bombing on at times when we need to be more risk-averse with more solidity. This is an almost identical problem we witnessed with Martinez only Martinez was given a much stronger head start based on the work done by Moyes previously.
My take on the situation (in a nutshell) is this:
Having made a mistake with Koeman, Moshiri identifies Silva as his Pochettino and goes after him. He identifies Brands to replace Walsh and gets him too. So far so good.
Brands did not pick Silva and, if truth be known, would never of selected him as the man for the job if he had arrived at the club first. However, is happy to work with him and give him time.
Silva knows he is Moshiri's pick but not Brands. Brands has taken a look and knows he could get better. Silva by now is very aware of this and this has had a detrimental impact on him and therefore players.
He knows he's on borrowed time and his head has gone. As a result, behind the scenes is a mess and this is being played out on the pitch each week.
No money for Silva in only his second transfer window = no confidence from Brands in his capacity.
Brian Patrick
355
Posted 27/01/2019 at 11:11:01
You can't have it both ways. Look at the patterns:
Moyes started off great; slow decline. Martinez again started brightly; then the flame burns out. Koeman – just a shit manager. Silva starts excellent, we are all excited, then a sudden decline.
There must be something at the club which is doing this?
Ian Edwards
356
Posted 27/01/2019 at 11:19:26
Could someone explain to me what Brands has done to justify promotion to the Board of Directors? Apart from oversee the appointment of a dreadful manager and signing gutless players?
Tony Everan
357
Posted 27/01/2019 at 11:24:57
Sack the defensive coaching team today. Don't wait until tomorrow morning.
We are incompetent and are failing in the most basic areas of defending. Just what is going on at Finch Farm?, defensively we are an embarrassment. Worse than amateur level . It has gone too far with no glimmer of hope on the horizon.
Get defensive coaches in this week, people who know how to organise a defence and drill the bastards for 12 hours a day all week.
I mentioned getting Moyes in as an assistant to achieve that, but anyone with a track record of achieving it or knowing what it takes would be a start.
The current set-up is totally lacking any clue. I don't want Silva sacked yet, I want him to have more time.
But sack the inept incumbent defence coaches and get someone in to help him defensively tomorrow. It may give us a chance of us getting back on track and save Silva's bacon.

Ian Edwards
358
Posted 27/01/2019 at 11:25:58
Turning point for the season was the 85th minute at Anfield. Everton in control and Silva takes off a midfielder and puts on another defender and the team got the message to defend. Liverpool bombed forward and panic set in.
Dave Ganley
359
Posted 27/01/2019 at 11:27:36
Grant, hit the nail on the head there mate, mental strength or lack of.
We have had very poor recruitment of players since Moyes left. It used to drive me mad the amount of time it took to sign a player, but for most part Moyes got it right regarding a players mental strength, whether they would the extra mile for the club and whether they would fight in adversity.
He also got his squad full of team players who would back up their team mates, who would take it as a personal affront to concede a goal and wouldn't let their heads drop. We probably have much better players now than when Moyes was here but Moyes teams would thrash this side simply down to the fact that they were a proper team.
If Barkley, Stones and other talented kids had come of age with the likes of Cahill and the rest then they would have become more complete players with Everton. (Barkley just wasn't ready when Moyes was here.)
There is nobody and has been nobody over the last few years to instil team ethics and lead the team. The squad now is just full of talented yet selfish players. Not one leader among them. Such a disjointed squad now. I'm not sure where we go from here now.
Well to be honest Grant, we all want to watch good football and to win with style. But you have to put the hard yards in first. Whenever an evertonian has the temerity to suggest that players aren't tracking back or tackling or winning the ball back, people interpret that as just wanting a team of cloggers. Nothing could be further from the truth.
Every successful team works the hardest. Look at the RS now, Man City, Man Utd in the late 90s, even Barca in their prime, all work like Trojans to get the ball back. No one calls them cloggers. Since Moyes, nobody has instilled that. Barkley was allowed to stroll around the pitch and woe to any one who called him lazy. Lukaku was another. Both really good players but so idle. Even now lukaku is still trying to win over the Mancs because he's so lazy.
Martinez allowed them to become so lazy and unfit, which in turn leads to lazy play which we saw on a regular basis. Martinez wanted the style without the substance. Nothing to do with Evertonians not knowing how to appreciate good football and quite insulting to most supporters for you suggesting as much.
Ian Lloyd
360
Posted 27/01/2019 at 11:30:48
Yes, Brian... it's rotten to the core.
Eddie Dunn
361
Posted 27/01/2019 at 11:39:34
Anthony, I have no real idea of back stage manouvres but what you say sounds plausible. Moshiri has already made public his reticence to back Silva in the January market and mentioned he should be doing better.
Silva is under pressure and if we can see the disconnect between Brands and Silva, then the players must also.
There must be several of them who are equally frustrated at the set-up and obstinacy of this manager.
Unlike others, I witnessed plenty of team spirit when Tosun scored and when Richarlison scored. The problem with the team was the lack of discipline giving away silly free kicks apart from the poor marking.
There are many who point to the undermanned midfield, but even if we had deployed anthoer man in there it would not have stopped their goals. We had the majority of the possession and we resticted them to very few shots from open play. Therefore the call for 4-4-2 (though I would have liked it myself) was beside the point. We scored twice, which playing against a team sitting 19th in the Championship, should have been enough.
We ost because we can't defend set-pieces. Silva mentioned that they had spent 30 hours on the training pitch on this issue.
Well, in that case they are not teaching them the right things.
Silva is the manager and needs to sort this out. Perhaps he can't.
Watching them is like groundhog day. When the snake oil saleman left, I thought we had seen the back of obstinate delusion but it seems we have found ourselves another man who is out of his depth.
As Dave Ganley says above, we have appointed another coach without a track record.
The accent on young, foreign "modern"coaches is a mistake. We need someone who isn't learning his trade. A guy who knows how to set-up his team, can change formations ingame and can inspire and motivate individuals, moulding them into a TEAM.
What we have at present is a squad of mixed ability, being badly led not playing to a pattern that they have any faith in.
I would weild the axe now, I have seen enough.

Colin Malone
362
Posted 27/01/2019 at 11:39:59
Gylfi Sigurdsson and Idrissa Gueye are two square pegs in round holes. Gueye goes wandering out of position to help Gomes, who is on his own in midfield.
Sigurdsson, who is not doing the business in the Number 10 role, should be playing alongside Gomes and a non-wandering Gueye behind them both, with Bernard in the Number 10 role. Then, maybe, we can keep possession.
Kevin Field
363
Posted 27/01/2019 at 11:51:00
[Anthony 354] I think you are on the money.
If we look at the AGM, Moshri wasn't critical of Brands, but he was of the teams recent performance saying that clubs position in the league "is just not good enough".
He went on to say "We did our homework and we put a big bet on Marco and we stick with him. He has our total support and we have a professional in Marcel Brands who monitors the progress."
Progress is the key word here; if there isn't any, we may well see a change. It would be interesting to know what the expectations agreed by the board were for this year.
From the soundbites it seems stability, now whether that was a cup run, or a % win rate and finishing above last season or the same position, a settled team – either way I'm not feeling stability right now. In comparison with other teams in a similar position (West Ham), perhaps it is.
The current form is really concerning; if they are targeting stability there's much work to be done, but yet each week it seems the same approach. The old saying "Insanity is doing the same thing over and over again and expecting different results" – Mr Silva needs to change it up. I'm not sure he can.
Chris Gould
364
Posted 27/01/2019 at 11:53:59
Marcus #353,
It would be great if we could all refrain from the boorish use of the word 'apologists'. Everyone wants the club to be successful and nobody knows if sacking Silva will improve the team or not. The last 3 sackings haven't improved us.
If anyone believes that Silva should have the chance to see the season out, and try and put things right, it doesn't make them an 'apologist'. There really isn't any point in turning on each other. We are all on the same team.
With regards to West Ham: the comparison was made because they are a club who employed a big name manager who had won trophies, which is what many are calling for. Their manager has spent more money than Silva and is also likely to spend in this window. He is also struggling to find consistency. Every team outside of the top 6 struggles to find consistency because there really isn't much difference in terms of quality in about 10 of the bottom 14 teams.
We are still challenging for 7th and if we achieve that then we will have done well. Anyone believing that we should be higher need to have a closer look at our squad and then compare it to all of the top 6's. It's a million miles away. We are the 7th-9th best squad, which is probably where we will finish.
The frustration comes from the fact that we have spent like a top 6 club, and pay wages very near to that of a top 6 club. Sadly, we haven't recruited players to the standard of a top 6 club. We don't have a squad full of players better than Leicester's or West Ham's squads.
We pay our players more and that's what's wrong and frustrating. The club have monumentally screwed up a huge chance of closing the gap. Moshiri spent and wasted millions and won't do it again until we get rid of most of the shite that he bought.

John Keating
365
Posted 27/01/2019 at 11:56:40
Over the years the meaning of words and meanings have changed.
When I was a kid a common word like "gay" meant being happy, now it's not used in that context.
When players didn't put the effort it and it could be seen by one and all we called them lazy bastards not fit to wear the shirt; now we call them "fatigued"
When we had crap managers with zero tactical skill that caused us nightmares like Walker, Martinez and dare I say Silva, we used to call them incompetent arseholes that didn't have a clue, now we say they are in "transition".
Personally I prefer the old way at least you knew exactly what the thing was.
Silva should be given the rest of the season to show us if he can turn things around or at least show us he is on the right track. If, at the end of the season, we are still in the same situation and he is still making the same mistakes then I am afraid there will be no option other than to bin him. Then please please, no more long-term contracts. Maximum 2 years with options, this is getting expensive!
Andy Meighan
366
Posted 27/01/2019 at 11:59:52
Is it just me or can anyone honestly see us getting the 9 or 10 points needed for safety?
If I wasn't an Evertonian, I'd be having a good few quid on Huddersfield at 3/1 to win on Tuesday because these clowns haven't got a clue how to defend. That coupled with our disastrous away form and I think you get the message.
Those saying we have not got a chance of going down... think again: We are in freefall and are easily bullied. Watch Huddersfield do it on Tuesday. We are a shambles with a squad full of cowards.
As Darren Hind brilliantly put it, they use the club as their own personal ATM — not one of them have got any heart, fight, passion, balls, etc.
I was one for giving Silva time but he keeps making the same mistakes. Thing is, who do we get? I've said on many occasions, there's not a coach out there who'd get a tune out of that shower... but I really can't honestly see this fella turning it round.
Alex Fox
367
Posted 27/01/2019 at 11:59:54
Geoffrey/Bill - We are not going to get relegated. The bookies have that scenario at 500/1 for a reason... 34 points was enough to stay up last year, and we have 30 already.
Not saying that things aren't utterly dire, but that kind of scaremongering is exactly why we ended up with Allardyce last season.
Justin Clark
368
Posted 27/01/2019 at 12:05:09
Jamie 298
If whatever you are currently doing doesn't work out I think you have a career as a motivational speaker. I have been following this site for the last 5 years and you and Mike Gaynes give me hope we have some sort of fan base across the pond (Michigan based blue here).
It's tough to try and recruit new fans for the blues here at time, but you're right it's something that grabs hold of you and as someone that 10 years ago didn't understand the basics of the offside rule I find Everton to be on par with my favorite American teams (luckily I root for the Lions and Wolverines so I'm used to losing).
It's hard sometimes but knowing there are other blues out there frustrated because they want what is best for this club helps me keep the faith!
Having worked with an office full of red shite before, if they are worse than they are over here, I praise fellow Blues in the city for their strength! COYB
Rob Halligan
369
Posted 27/01/2019 at 12:18:43
Just been talking to a mate who is a close friend of someone on the backroom staff at Everton. (I know this person as well).
This person has said that the players hate zonal marking, so why does Silva keep persevering with it? Someone on the playing staff, either jags who is club captain, or Seamus the current team captain, needs to tell Silva that the players don't like playing the zonal marking system.
Surely Silva would understand this, and try something different, as in MAN TO MAN MARKING!!
Paul Jeronovich
370
Posted 27/01/2019 at 12:20:13
Just for a couple of seasons of decent consistency. Just to go the match and not feel totally fucking depressed. Just to know what the 'project' actually is and that the 'project' is in good hands, I'd take Moyes back without even blinking. This is not a pissed off rant fuelled by yesterday's result and that I'm still not rationalising properly. I'm genuinely concerned that we could do an Aston Villa very soon. Get Moyes in now.
Derek Taylor
371
Posted 27/01/2019 at 12:20:17
So as long as we don't get relegated, everything is pretty much alright. Like most on here, I can see no prospect of suffering the drop come May '19 although I wouldn't want to risk a shilling on what is to happen next campaign.
Experience so far will have taught Moshiri to hold fire on sacking the man he had literally staked much of his fortune on, so chances are that come what may, Silva is safe well into 19/20. That is unless we lose 0-4 to Huddersfield !
Lee Brownlie
372
Posted 27/01/2019 at 12:24:53
Brian Williams (#55),
Absolutely! Those reasons are why we're out of the FA Cup, and why we're – as often as not – a soft touch in the Premier League!!! Pretty sickening, no??? :(
Marcus Taylor
373
Posted 27/01/2019 at 12:44:28
Chris #364
"If anyone believes that Silva should have the chance to see the season out, and try and put things right, it doesn't make them an 'apologist'."
That's not what I said. I didn't even mention sacking Silva. Even Silva's staunchest supporters can surely see that results and performances (to date) have not been good enough. Will they improve by the end of the season? Hopefully...but at this moment in time there in very little to suggest they will. I'd call that a realistic viewpoint.
You are perfectly entitled to your opinion, of course.
P.S. I stand by my use of 'apologist'. It was used in this context: 'a person who defends or supports something (such as a cause, or organisation) that is being criticised by other people.'
Ash Moore
374
Posted 27/01/2019 at 12:58:26
Watching Everton fail has become as inevitable as the sun coming up in the morning, and the fans getting angry has about the same effect. i.e none.
Another game I'm glad I couldn't be arsed watching and just looked for the result. Still hard to believe though.
This club lost me three years ago, I'd sooner give a crackhead a tenner than Everton a penny. At least the crackhead would get some use out of my money
Thirteenth in a dreadful league surely beckons.
Jay Wood
[BRZ]
375
Posted 27/01/2019 at 13:01:27
Couldn't get a decent feed to watch the game yesterday due to a mother of a tropical storm which made the weather in East London during the game look like a light shower.
As such, I'm in no position to assess or comment on the game and performance.
I'll stick to two sub-themes that have developed post-match.
1) The 'R' word: we are NOT going to be relegated THIS season and we will NOT fall into a relegation dog fight, THIS season.
We do NOT need the mythical 40 points, and thus another 10 points from our current 30, to be safe. 35-36 will be the tide mark this season, so just another 5-6 points required.
Even Everton, as poorly as we are playing, will achieve that by the end of May. Pitiful and poor ambition and well short of what we should be striving to achieve as it is.
From Southampton in 14th place to bottom-placed Huddersfield, 7 teams are averaging less than a point a game, with 15 games to go. We have an 8 points advantage over Southampton, 19 over Huddersfield and 11 points over Cardiff in the third of the relegation spots.
To believe we risk relegation THIS season presumes a minimum of five of those seven clubs are all going to radically pick up form while Everton fail to win another game all season.
As Alex Fox says above, anyone believing this scenario, fill yer boots! You can get 500/1 on Everton getting relegated, THIS season.
However, I write of the near zero chance of relegation THIS season. Repeating and continuing in the vein we have for 3 seasons now since Moshiri came on board - a constant changing of manager, expensive but poor player recruitment, hamstrung with too many players on long high ticket contracts who are not fit for purpose, flattering to deceive before form collapses - and the unspeakable starts haunting the conscience.
My second observation.
2) Steve Ferns. A few posters are taking snide pops at Steve which he absolutely doesn't merit.
Steve's support and championing of Silva is legendary. He went 'large' on Silva and evidently studied him for hours.
What's the problem with that?
Steve was simply expressing an opinion in an eloquent, well-researched way.
Now Steve and I most certainly do not always agree on a wide-range of topics, but I will always acknowledge his passion and devotion to all things Blue.
To snidely call him out in a thread in which he hasn't even posted is cowardly IMO and reflects not badly on Steve, but the posters who do so.
Les Moorcroft
376
Posted 27/01/2019 at 13:01:33
Zonal making will be this fella's down fall if he refuses to change. Also what ever happened to a keeper coming of his line?. I hope this fella Silva is at Everton for the next 25 years because that means he has turned it round. Don't think so. COYB.
Karl Meighan
377
Posted 27/01/2019 at 13:13:52
Rob@369 If Silva cannot see that his zonal marking tactic is a complete failure and he isn't flexible enough to see it and change it, does he really deserve to be a manager at any level let alone are Club?
We have a goalkeeper who refuses to come and deal with crosses, defenders who don't attack the ball, lack power and are bullied with ease. All faults that point to anything but zonal marking.
The defensive coaching is so poor that so far into the season the best option maybe to bring Jageilka and Baines back into the side which is laughable.
Ffs Lincoln had the nous to beat Silvas pathetic defensive system and other dross at the bottom of the Prem, defeat at Huddersfield and the writing is on the wall and who would back us to win there?
Keith Gleave
378
Posted 27/01/2019 at 13:16:26
Having taken time to let last nights result settle, it highlights a number of issues that have been evident since the derby.
Silva cannot seem to select a team to beat the opposition of that day, neither can he change things with substitutions nor motivate the team.
Last night our full backs put crosses in, good and bad, generally no one on the end. Add to this we had two wide men who never ran at a low championship defence.
The defence of free kicks in particular is abysmal and the zonal marking has to stop, the second ball is always going to the opposition.
There are constant comments about both Calvert-Lewin and Tosun being poor. That may be but to show how good or poor they are they require some decent service, even Lukaku or Higuin would struggle to score with the service given to them.
Again last night our press was non existent for a good deal of the game, most evident in the last 10 minutes when they were camped in our half. If you add to this our lack of passing ability and how slow it is to move forward, we get no where.
Again from last night, knowing our defence of free kicks is so poor, why do we give away cheap free kicks around our box.
Most of what I am saying is pretty basic stuff, so what is or who are the problem. This as been there for 2 or 3 managers now and the only thing that is the same is a good deal of the back room staff (coaching), do they need to go. I do believe and always did that Silva is not good enough by a long way and don't believe he can or should survive but I really don't know who can sort this mess out.
Justin Doone
379
Posted 27/01/2019 at 13:35:36
The FA Cup will continue to through up surprising Cup upsets, its not the first or last time we will suffer from the embarrassment.
We never looked like a cup team this season, so is it better we go out now and save further heart ache the nearer we get to Wembley?
No I'm not really having that but Millwall were full value for the win. Played better and adapted to the conditions much better.
I can't help comparing it to the reaction of the league Cup. Many wrongly believed if we had played a stronger team we would have won Southampton that day. Well I think this proves otherwise.
So should we have played the kids and rested players for Tuesday? It's times like these managers are in a lose:lose situation, unless they win.
Ronaldo, Messi or Mbape upfront yesterday could not have done much more than DCL and its the poor and infreq service that is the biggest concern.
No service and DCL and he was left chasing down goalkeeper and defenders on his own. Why? Are we a pressing team or not, just like under previous managers the basic concept of how we play has deteriorated.
A real lack of cohesion, belief and effort all around from the managers and coaches to the players. I want Silva to find a way to win which may mean adapting style and formation.
I hope he's given the time to prove one way or the other if he's worth keeping next season. So no more money but give him until the summer to work with what he has.
Alan Rooney
380
Posted 27/01/2019 at 13:37:22
Solskjaer has taken a squad of players that were not performing to expectations and won 8 on the bounce with them. He was a mediocre manager at Cardiff, but his love and passion for Manure has motivated that squad. I don't see any such connection in Silva and didn't in Martinez. Moyes had it through his longevity. Arteta may have it.
Alan Rooney
381
Posted 27/01/2019 at 13:38:20
PS Brent. Thanks for not selling me your ticket for yesterday!

Karl Meighan
382
Posted 27/01/2019 at 13:53:38
No offence Justin service or not Calvert Lewin is a poor excuse for a centre forward worst first touch than Lukaku, weak, cant strike a ball and is never going to create something out of nothing. The likes of Abraham are streets ahead of him and I don't ever see him as a starting striker regular for any Premier League team.
The sad state of affairs is we have much bigger problems at the other end of the pitch. Shite like Southampton have 4 strikers better than anything we have got and thats not including Redmond.
Chris Gould
383
Posted 27/01/2019 at 13:56:56
Marcus,
When you use the word 'apologists' in this context:
"The Silva apologists have come out with some shit over the last few months"
It simply sounds hostile and unnecessarily provocative.

Darren Hind
384
Posted 27/01/2019 at 14:00:03
John Keating.
I would give up on this one if I was you. You seem unable to grasp the point
Everton football club IS in transition. You'd have to be deaf, dumb, blind, or stupid not to see that.
Silva is getting it badly wrong with his tactics, selections and this zonal shite. has got nothing to do with this transition . . Listen to this very carefully THEY ARE TWO DIFFERENT THINGS !!!!!
The word transition was used repeatedly when Your boy Allardyce was in charge, but it didnt stop people turning away in disgust at his cowardly tactics.
Nobody used the "transition" as the reason he was putting glass eyes to sleep, mainly because one had nothing to do with the other . . . TWO DIFFERENT THINGS
Craig Walker
385
Posted 27/01/2019 at 14:00:47
When do we learn? Leading the RS in a semi final. Distin makes a mistake. 1-1. Coleman gives a stupid foul away. Carroll puts them in the final. 3-2 lead at Goodison in Martinez' honeymoon period. Distin gives a stupid foul away. 3-3. 1-1 at Anfield after getting back into the game. Silly corner given away. Pickford flaps at it. Van Dyke knocks us out. It's all SO Everton. I just KNEW we would lose yesterday and I predicted it on TW before the game. We are simply not good enough all over the park and my worst fears of the Silva reign are coming true. Where do we start?
A goalkeeper who isn't commanding enough and is nowhere near as good as he thinks he is. He palms the ball back across goal like the kid in the playground who wants to make Hollywood saves. His distribution is considered a great asset but it's an unwarranted reputation in this fan's eyes. Keane is ponderous and too slow. Mina is the latest calamitous signing. Bernard is way too lightweight and falls into the McGeady/Vlasic/Deulofeu type of winger who prove ineffective after a promising start. Richarlison is just what the Watford fans said he was : great on his day, awful when not involved. Sigurdsson has one good game every 5 or 6 and the odd wonder goal masks his true performance levels. We have forwards who other clubs wouldn't want. Walcott is a has-been with pace but a jigsaw in the box. How many goals had Rooney or Owen or Fowler got at DCL's age? He isn't a 16 year old kid. Gueye is industrious but lacks creativity. Gomes can play but is ominously looking like the next Schneiderlin - his confidence is shot and the player up to December has disappeared. We have no leaders, no pace, no will-to-win, no creativity, no goals, no solidity in defence. We are ponderous in possession. We never shoot. We centre balls aimlessly with no one gambling. Poorer sides than this at least had heart.
To cap it off, our fans are involved in off the field stuff and making headlines for the wrong reasons. No doubt Millwall thugs are to blame but we don't need our brilliant away support being tagged with an undeserving bad image.
It's a depressing time to be a Blue.
We need a manager who has won things. Who has worked with top players and managed big clubs at the right end of leagues in big European competitions. Who knows how to win big games. Who has won derby matches. I'd go for Benitez. It doesn't bother me what he once said or did. We need winners throughout our club. He kept Newcastle up last season despite their lack of investment. He beats Silva on every detail you would want as a manager apart from him being an ex RS manager. I think we need to move on and change the mentality throughout the club.
Martin Mason
386
Posted 27/01/2019 at 14:00:56
For apologist I'd rather say pragmatist. That is to see the reality rather than the fiction.
Don Alexander
387
Posted 27/01/2019 at 14:09:46
I'd like to join with Jay Wood (#375) in paying my respects to Steve Ferns. For the record Steve didn't have Silva as his first choice but he did make a case for him based on what he'd achieved in management. His research made sense to me, but when we appoint a manager, any manager, I try to support him. I even did so re Martinez to start with despite my own misgivings, and I still do re Silva.
I don't think Silva will be getting the boot this season but something's gonna have to give re zonal marking that's for sure, and soon.
Derek Taylor
388
Posted 27/01/2019 at 14:14:58
Alan @380. do you and others see Arteta as a serious candidate for next Everton manager ? Could he bring the Ole type influence to bear on our sorry band with only very limited experience to work with ? Maybe.
I fear Brands will opt for another dodgy'no mark' ( probably from Holland ) to carry on the Martinez/Koeman/ Silva trail of failure and insensitivity. Were Kenwright still at the helm, I guess Moyes and Benitez would be very much in the reckoning.

So who is it to be ?
Dan Davies
389
Posted 27/01/2019 at 14:17:16
Jay @375, I can assure both you and Steve that when I called Steve out earlier in the thread it was by no means in a ' snide ' way by myself.
I respect Steve's enthusiasm and knowledge for the game and for taking the time to write some really good articles for TW.
I called him out in a ' banterish' type of way. Nothing horrible or personal. Also I would like to here what he has to say about the current situation we find ourselves in.
Anything wrong with that? If posters want to jump on the back of one of my posts and get personal with Steve that's up to them, unfortunately I can't control that.
And I say once more - c'mon Mr. Ferns where are you?

Darren Hind
390
Posted 27/01/2019 at 14:19:04
Jay Wood. Point 2)
Right on the money.
Steve Ferns put up some fantastic stuff up in the summer. His posts probably did more than any others to keep the close season interesting.
Those who disagreed had months and months to challenge him, some did and they were rewarded with great debate from Steve.
Calling him out now because the guy he backed is faltering is really poor form.

Andrew Presly
391
Posted 27/01/2019 at 14:23:24
Was in with the Millwall fans down in the corner near ours last night and at the end it was hard to begrudge them the win.
Not only because I would have been in big trouble otherwise as the atmosphere was out of the old school but to see a team fight for its fans and give them something to cheer against the odds (supposedly in this case, it wasn't that much of a shock) was just nice to see after the grim, relentless, unremitting bleak shit we get year after year.
I'd agree with a few above, bite the bullet, swallow pride and go for Benitez now, even though my heart says risk again and go for someone like Arteta.
The bastard is the best bet available and we have to end this trophy drought soon or we'll become a different sized club for future generations to come, it's as critical as that.
Mike Allen
392
Posted 27/01/2019 at 14:24:03
Two stonewall penalties on another day and a dodgy goal should not take away the fact that we have been very poor since the Liverpool game. Never mind the results – the performances have turned upside down from looking half-decent to a poor side.
Silva has looked down in the mouth for weeks... so what's gone on or going on? A lot of money spent on players that now look grossly overpriced.
And the players out on loan – they will take some shifting, even though most are not interested in the club. All this is in the Moshiri era – a new dawn? My arse.
Paul Tran
393
Posted 27/01/2019 at 14:39:41
We've played 11 games since losing to Liverpool.
Before then, it looked to me like a team was taking shape. We pressed well, passed fairly well, just lacked a good finisher and the time it takes a team to properly develop.
11 games, 10 of which we were poor. No pace, no pressing, poor passing. Weak mentality & mindset. Mentality isn't celebrating a goal. It's doing the basics under pressure, the collective sense that conceding is a personal affront, that losing is unthinkable.
The manager instils this, the players continue it. The worry for me is that we've done it and we've stopped doing it. These players look to me like a group that doesn't know where the change is coming from. If the team 'works for 20 hours' on set piece defence and this keeps happening, it tells me that the manager is not getting his message through and/or they're simply not listening to him.
I know I've mentioned this before, but if any manager can't communicate well enough, it negates any coaching ability he may have. I am unconvinced of Silva's ability to get his message across and motivate the team, which is increasingly resembling his downbeat, defeated, dull persona.
I've often said that, like other clubs, we may have to go through a few managers before we get the right one. We're not unique here, it's difficult for a club like us to get it right.
I don't think Silva is that man. I hope he turns it round. My stronger hope is that Brands is sourcing his replacement.
Sam Hoare
394
Posted 27/01/2019 at 14:43:12
Marcus@373 I struggle to believe you would not be aware of the negative connotations of the term 'apologist'. It's negative and provocative.
As for comparing our plight with West Hams I don't see any issue. They may have had a few worse years recently but they pretty similar in terms of squad quality and wage bill etc. it's true that they seem on the upwards curve whereas us on the downwards but form can change quickly in the PL. They lost by 2 goals last night to a team adrift in league one. Only time will tell how rest of the season goes for both clubs.
Derek Knox
395
Posted 27/01/2019 at 14:46:58
Andrew @391, if Benitez was such a good Manager, he would be achieving better results at Newcastle than he has been doing.
I know his hands have been somewhat tied in buying players, via Mike Ashley, but surely a 'good manager' should be able to manage a set of professional players, and achieve a better outcome? It's not as if he has a bunch of amateurs who have won some sort of lottery to be in the Premier League.
Personally, I am hoping Silva has the decency, or succumbs to suggestion and resigns, but his stubbornness to deviate from that zonal marking – which clearly is neither popular, or working with the players – suggests otherwise.
It's not only the zonal marking which has blotted his Fantasy Football sheet in my opinion, but his failure to deploy any recognised system of play and get it across to the players, and his inability to recognise on-field problems and rectify them.
Sorry, but he has to go.
Paul A Smith
396
Posted 27/01/2019 at 15:05:21
Same old same old from team to fans. I'm still seeing posts that suggest fans think Allardyce should have had Martina, Kenny, Calvert-Lewin, Davies, Williams, Keane, Gana etc playing open make-believe attractive football. They won't hear anything else because of preconcieved ideas.
Ask the same people: Did Bolton play the same with Davies up front as they did with Anelka? They are dumbstruck. This is what everyone is up against. If you can't change, don't expect anything else to.
Allardyce is dodgy blah blah we all know, but some of the analysis and reasoning is just pathetic. Expecting football of any kind from last years squad was wishful thinking but the fact you don't like his personality or profile is your real reason.
Loving any mercenary manager (that's all of them) is insane. Arsene Wenger started all this anti-football at Allardyce, like he started Andy Johnson is a diver, while Sir Alex and Mourinho had loads of respect for his work. Gudjohnson, Djorkaeff, Okocha, Anelka — anti-football. Get a grip.

Andrew Presly
397
Posted 27/01/2019 at 15:05:49
There are pros and cons to all managers, Derek. Benitez is operating on very very meagre rations at Newcastle so as it seems we've shut the purse strings he has experience of working with a steady group as well as with resources at other big clubs around Europe, winning things and working with high profile (for which see 'temperamental tosser') players.
I'm open to other ideas for obvious reasons. Fonseca and Conceicao were both interesting Moshiri previously, Brands will have his ideas like Cocu and then there is a great candidate like Eddie Howe hiding in plain sight as well as another Blue in Arteta. Options out there. Silva would have to secure 7th (& Europe) playing in an identifiable and successful style to win me over now.

Paul A Smith
398
Posted 27/01/2019 at 15:08:45
Andrew @397 — it's make-believe, mate... cliche. Fans now say Mourinho doesn't move with the times.
Ask them how Pep does that? You know, I know: he brings better players in to play the same way he's always played. If he'd done anything other than succeed at Man City, he would be a joke.
John Keating
399
Posted 27/01/2019 at 15:16:04
I don't know why people are against Benitez as his Newcastle team are also in transition. Trouble is, their transition has been longer than ours... which, as far as I know, began in 1988.
Ian Edwards
400
Posted 27/01/2019 at 15:16:22
As bad as the Arteta shouts are the ones calling for Cahill as assistant. Just because they played for the club doesn't mean they should come back as Manager or Assistant.
It's the same as promoting Niclas Alexandersson as Manager and Li Weifeng as Assistant. Same experience. See the point I'm making???
Denis Richardson
401
Posted 27/01/2019 at 15:21:13
Marcus 353,
I agree re the West Ham comments, not sure what the point is myself. Also to add to your post, I think they had to play 4 of the top 6 in their first half dozen league games this season, which explains their poor start. I believe they won 4 on the bounce in December which shot them up the league. They will guaranteed finish higher than us. And I'd love to have Fernandes and Arnautovic in our squad (even if the latter is a bit of a nutter).
We have some decent players; we just lack proper leaders and players with fight and hunger. We're mentally weak and have been for years. Having had someone like Jagielka as captain for years didn't help. Then Martinez blowing smoke up eveyone's arse regardless of performance. (I am still waiting for Atsu to 'explode'!)
If stories re what happens at Finch Farm are true, then the players have it far too easy with little discipline, just going through the motions.
Alan J Thompson
402
Posted 27/01/2019 at 15:27:48
Chris (#364); It's not the last three sackings which haven't improved us, it's the four who were hired.
Joe McMahon
403
Posted 27/01/2019 at 15:28:18
Jeff Armstrong @ 157, the problem is many still think of the Baines from at least 4 years ago. But he also doesn't stop crosses coming into the box and has always turned his back on shots, including an Anfield derby goal, in a match we would have won.
Jamie Crowley
405
Posted 27/01/2019 at 15:36:04
I couldn't agree more with the points about Steve Ferns. The man spent countless hours trying to give all of TW as much information about Silva as possible. To say things like, "Steve Ferns, where are you now?" as if Steve was the Champion of Marco Silva, is absurd, and dare I say very immature.
Justin back at 368:
Thanks for the kind words. My wife is from Allen Park and is a Spartan. So please know I will overlook one obvious shortcoming you posses for being a Wolverine fan. ;0) She's actually there at this very moment - she took my youngest up to see her parents and "experience winter".
It's been 10 years for you and I both (think I'm 11 but close enough). Makes no sense bailing now. Keep the faith. Post more often, too. You'll get ripped to shreds at points, but you'll come out the other side better for it. I love seeing my fellow 'Mericans on the board.
And if you ever get called out for elementary tactical analysis, what's judged as silly comments, etc, just hide behind Mike Gaynes. He knows more about the sport than most Brits. ;0)
Take care of MI and stay warm!

Luigi Perfetto
406
Posted 27/01/2019 at 15:53:44
Get Antonio Conte in. I hate him as a former Juventus player then coach, as same as former Chelsea manager, but I have to admit he can transform teams into Dogs of War outfit – just what we need desperately.
Alan Rooney
407
Posted 27/01/2019 at 16:06:43
Ian @400. Explain Solskjaer's success then.
Tony Abrahams
408
Posted 27/01/2019 at 16:13:16
Some great posts that show how much Everton means to so many of us.
Rob, Darren H said that Silva would have to change the defence before he could implement his zonal marking properly, (months ago?) but even this hasn't worked.
I was reading the Echo website, late last night, because one of my sons best friends, has been killed in a car accident, and I knew this had made him too upset to go the game. There amongst the flowers, scarfs, and Everton kit, I saw a picture of a ticket for yesterday's game.
I texted him early this morning and he texted back to tell me that he left his ticket with his mate, but he still couldn't get us a win. (Humour is the only thing we've got sometimes, even though I know it's killing him inside.)
I texted him back saying "You mean the bastards couldn't win for him, lad". His reply saying "That's the one".
Everton make us fucking sick at times but we always go back to them because they are in our blood. I just wish the players had the same fucking blood as us sometimes, or even just be like my American amigo (JaC) who doesn't know what he's getting himself in for because the bastards always let us fucking down.
Steve Ferns
409
Posted 27/01/2019 at 16:15:54
Who said that, Jamie? Some people are ridiculous.
Some people on here live firmly in the past. Football has moved on from what you grew up with. The sergeant major type manager is done. The last of those dinosaurs was Alex Ferguson and he was able to do it because the players respected him. Moyes tried the same tactics with the same players and he could get nothing from them. You cannot come in and shout and scream at these players, they get straight onto their agents and get a move. Sorry lads, the way you think someone could sort it out does not wash in this day and age. And yes, that's the problem.
How many players fail to make the grade at the senior level after being hype up at Youth Level? They get a big fat contract and suddenly they believe the hype and stop doing the work. The players are paid a fortune and so, when we say they don't look hungry enough, they aren't. How can they be?
Seamus Coleman would play for us for free. He gives his all, game after game. But, yet again, it's not good enough. So being hungry and passionate is not enough either.
What I said all summer long is that we need a coach. Someone who can come in and actually work with our bunch of misfits and get them playing as a team. I believe that Koeman's first side was a good one. Robles, Coleman, Williams, Jagielka, Baines, Schneiderlin, Gueye, Davies, Mirallas, Barkley and Lukaku. 4-3-3. It had a nice balance to it. We needed to replace the front three for various reasons, but the rest would all still be here, if we wanted them to be, only Robles is off our books. Losing the entire front three was actually an opportunity to get one that fits together even better. I like the idea of a back-to-goal man flanked by one with tricks and another with speed.
Koeman had different ideas. He thought he could change us completely and wanted a narrow fluid side with an interchangeable 3 in attacking midfield (Sigurdsson, Klaassen and Rooney). Clearly it didn't work. I'm sure with hindsight he would agree that it was far too ambitious and that with the start we had (fixtures) it was asking for trouble.
After the Allardyce debacle, I believe we needed to get someone in who could work the players hard on the training ground and get them set up, just so. Silva should be such a man. He does his homework, you won't find anyone who can dispute that. He spends hours researching the opposition, studying them and trying to work out a plan. He devises coaching to implement that plan. We don't just play a few games of five a side, few laps of the pitch, and work on some set pieces. Even Allardyce has move on from that. ,P.They work on specific movements to exploit perceived weaknesses in the opposition. An example of this was the Chelsea game. Up until then, Chelsea were really coming together, and it was Silva who devised the plan to get at Jorginho. Others have copied it since, and Sarri, who for my money is the best pound-for-pound coach in the Premier League, well he had no answer and he's had erratic form ever since.
There's many different types of manager. There's the coaches, of which there is sub types, and there is the motivators. Many on here kept dropping names like Ancelotti. He is very much a motivator type. Not much done by him personally on the training ground, a few wise words in the dressing room, and if it's not working then open up the chequebook.
I am fed up of Everton spending all this money. My fear is that Moshiri gets fed up. He walks away. I doubt he'd shaft us. But I don't think Lerner wanted to shaft Aston Villa. Right now we have a wage bill we can only survive with if things stay as they are, and that means propping up by Moshiri.
I believe a top quality coach can take an U20 world cup winner or 5 and make them premier league quality. For my money, Kenny is better than Coleman right now. With games and experience, and a bit of luck, he should get better and better and become good enough. I also believe the same with Calvert-Lewin, Lookman and Davies. Not sure about Connolly or Dowell, I think they've missed their (very fleeting) chance.
Silva is not doing anywhere near as well as I hoped or expected, that's a fact. The zonal marking issue is something he needs to resolve, and he had appeared to have done so. He won't stop playing it, so it's better to request modifying it, just like Pochettino and Klopp did.
Defensively, we are far too open as we push on to win games, games we should be winning, instead of doing what Allardyce and Moyes would do and just take a disappointing draw.
Good managers can have bad spells though. If we sacked Silva now, how many of you would welcome Bielsa? Yet the great man was terrible, absolutely terrible, at Lille and was sacked with them bottom of the league. He had a very good 6 months at Marseille and had them top at Christmas a couple of years ago, only to burn out in spectacular style and go into free fall and then be erratic the following season before he gave it up admist a load of behind the scenes turmoil.
All top managers have bad spells. Our manager sits 3 points off where we want him to be. Is that now the benchmark? You've got 6 months to be where we want you to be, if you're 3 points off it, you're sacked? And you won't have time to change the football as all that stuff in the summer about giving you a season to get things fixed and results don't matter is just a load of rubbish that will be forgotten as soon as you have a few bad results.
Fortunately, Moshiri is not going to panic this time, Silva will get time. Class is permanent and form is temporary. Hard work always prevails and all those other clichés. I still expect Silva to deliver. The players have not given up on him, that it still clear to me. Results will turn and things will get better.

Peter Jansson
410
Posted 27/01/2019 at 16:17:36
I cannot understand why people think Moyes did a good job. Yes, he was not a winner type of guy and he was too defensive minded. I was frustrated many times watching us under Moyes.
However, in retrospect. Was he that bad? Not really. When he left Everton the team was well organized and strong. I remember the last game when we won 2-0 against Newcastle I think it was. The Norwegian commentators praised us with good organization and quality.
We are nowhere close to what we were under Moyes as we speak. Moyes turned greystones into gold. Now we are turning gold into mediocre shit. If Moyes had been given money he would probably have made it much better than all the clowns afterwards.
I prefer boring football and stability compared to what we have now. I hate to say it but the team needs to change starting with Pickford. He is simply not good enough. He looks good because he makes good saves but he cant command his defending 4 and the airspace. Maybe he was one of the reasons Sunderland got relegated when we snapped him up?
We need, a new coach, a new goalie, at least 2 midfielders and a striker. I believe the rest of the team (including the defense) good enough for a quality coach to work with.
Michael Lynch
411
Posted 27/01/2019 at 16:31:25
Steve, you really are the Pollyanna of this board mate. I admire your optimism and I hope you're saying "I told you so" to the rest of us in a year's time.
But I think you're deluding yourself. Yeah, class is permanent, and so is cluelessness. You think Silva's class – I think he's clueless. His record in the Premier League speaks for itself.
As for saying: "Our manager sits 3 points off where we want him to be. Is that now the benchmark? You've got 6 months to be where we want you to be, if you're 3 points off it, you're sacked?" well, none of us were saying that when Sam was in charge.
It's not about whether we finish 7th or 13th, it's about how absolutely toothless hopeless, spineless, predictable and weak we've become under Silva's management.
Tony Abrahams
412
Posted 27/01/2019 at 16:32:31
Very good post that, Steve, although if the players have not given up on him, then it's really worrying, because some of them looked scared to death when they had possession of the football during yesterday's game.
Clive Rogers
413
Posted 27/01/2019 at 16:35:10
After a period of reflection, some observations;
Pickford is a decent shot-stopper, but doesn't command his area, not even the 6-yard box.
Digne, needs to improve defensively and stop giving daft free-kicks away
Mina looks a total write-off. Slow, can't tackle and can't judge the flight of crosses (runs underneath them).
Gomes, too slow, a plodder won't provide goals or assists.
Sigurdsson, well past his best; Swansea did well selling him.
Lookman, didn't seem up for the game and let it pass him by.
Calvert-Lewin, atrocious, anonymous, couldn't control the ball. Good athlete but not a footballer.
Bernard wasn't picked as he is too lightweight for English football.
Paul Tran
414
Posted 27/01/2019 at 16:40:30
Tony, watching the match on BBC last night, one thing I picked up from Pearce's commentary was that he watched us at Brighton and thought 'Some of the players had an attitude problem'.
Either Silva's not getting through to them, or there's something bad going on behind the scenes.
This group of players has it's limitations, but is better than the last 11 games have shown us.
Bobby Mallon
415
Posted 27/01/2019 at 16:44:40
We have been absolutely shite at set pieces for years and years. I remember playing Chelsea a few season past and Terry scoring as we could not defend a fucking cross. It's been like it under every manager ... fucking toothless.
Dave Abrahams
416
Posted 27/01/2019 at 16:48:46
Steve (#409),
You say Silva does his homework on the opposition, works hard on devising a plan to beat them, works hard on the training ground to implement that plan... and yet, Steve, it seems to me, we play the same way against every team.
Nothing changes to my eyes, except the repeated way we defend, resulting in goal after goal against, especially from set-pieces, he just doesn't change the system – no matter who we play.
Every opposition team profits from knowing how we are set up. It would be laughable except we are on the wrong end of the joke.
Jay Harris
417
Posted 27/01/2019 at 16:57:53
Steve,
I hate to disagree with you mate and I think we should all compliment you for the excellent tactical posts and analysis of Silva's strengths and weaknesses but to say we are calling for his head lying 3 points of 7th is "fake news".
We have conceded about 13 goals from set-piece deliveries this season, the whole squad looks bereft of motivation, organisation and determination.
That is all on the managers roster. We seem to be in freefall and it's purely coincidental we are three points off 7th.
I still can't understand why we pursued a man who has a disastrous record in the prem, maybe it was guilt because he got the sack from Watford. I don't know but I do know common sense told me he had nothing on his resume to give him the reigns at a top(?) football club.
I still think in fairness we should give him to the end of the season and get behind him and the team but I think that ship may have sailed.
The toxicity has returned and dissatisfaction with the manager is at an all-time high so it will take a superhuman effort to get through this.
Derek Taylor
418
Posted 27/01/2019 at 16:59:08
Bloody hell, Steve Ferns, you do go on. But all you offer is patience. Unlike your goodself, some of us have been donating that to Everton for more than 50 years!
Steve Ferns
419
Posted 27/01/2019 at 17:03:22
I don't think we do, Dave. We have played quite differently in many games this season. The problem is the players are reverting to type. Zombie football as Darren calls it. It's the same as we saw at the end under Martinez, under Koeman, under Allardyce and now under Silva. It's the tactics and game plan going out the window and the players panicking through a sheer lack of confidence.
We came out for the first 20 minutes or so of the second half against Millwall and looked a different side. The manager had clearly had an impact. But then that was quickly lost and they went back to type.
The manager can only do so much. It's not a FIFA video game. He's not controlling all the players. What a decent coach will do is to make players better over a prolonged period of time. And yes, we've seen no sign of that at all.
We go again on Tuesday. Huddersfield will think they can beat us, after that performance, and on this run. We can use that as an advantage. We can win both of these next two games, and if we can then get a result against Man City, then things will have changed. We just need some confidence from somewhere. That comes from winning games, not from the training ground.
If you want to give players false confidence, then look at Martinez. He tried to do it. Even in defeat, he tried to make them believe. Clearly that was the wrong way to go about things. Moyes did the opposite and said how shit we were and would make them work hard and treat the opposition as champions in a run like this and would be happy to come away with a point against a side like Huddersfield. I expect us to win.
Ian Edwards
420
Posted 27/01/2019 at 17:05:38
Alan 407. Solksjaer has had managerial experience in this country with Cardiff and abroad with Molde. Arteta and Cahill have none whatsoever.
Eddie Dunn
421
Posted 27/01/2019 at 17:06:23
Steve, it isn't that we are 3 points away from where we wanted to be; the way things are going, our points haul is going to be quite a way behind the team in 7th.
The inflexibility of Silva's approach smacks of a stubborness reminiscent of Martinez.
If the rumours are true that the players are sick of the zonal system then we are in trouble, because as you said, these days if players don't like it, they get on the blower to their agents.
Confidence is shot throughout the team. They can score two goals but it is useless with the defensive howlers.
You may be content to sit and hope Silva cracks it, but I doubt that he has what it takes.
I know (failing a few hammerings) the board will back him till the end of the season, but, for me, if he doesn't show pragmatism and adjust the tactics, he can hop it.
Paul A Smith
422
Posted 27/01/2019 at 17:09:41
Steve @409, I have never read posts so contradictive.
You seem to have age as a marker of knowledge and pretend to have inside knowledge of training ground activity from clubs across the world.
You make points you can't see through yourself, basically explaining a coach is as good as his players.
You have Silva down as a top manager somehow? I have nothing against the man but lets not pretend hes the only workaholic and praise him for focuusing on the opposition, which seems to be too much lately.
You even had Steve Walsh down as a genius who discovered Drogba, as you put it.

Anthony Murphy
423
Posted 27/01/2019 at 17:20:16
See Spurs are looking a bit ordinary with a few key players missing – they could be heading out 2 cups in a week and set for another trophyless season.
This season looks ideal for a team outside the so-called big boys to lift the FA Cup. Ah well...
Dan Davies
424
Posted 27/01/2019 at 17:24:33
Good man, Steve, I might not agree with you but it's good to hear from you.
Paul A Smith
425
Posted 27/01/2019 at 17:27:20
Anthony #423 adds more substance to my point, Pochettino without Son, Alli, and Kane, does he seem the same great manager?
Still, the penny won't drop. Above, we have Steve typing contradictive novels on tactics and managers, explaining how Bielsa was poor in one job, great in the other, while everybody else his age is a dinosaur.
Ranieri at dinosaur age won the league 3 years ago. I wonder if he all of a sudden found a modern gameplan he didn't want to use anywhere else? My word!
Again, will the penny drop? No chance.
Steve Ferns
426
Posted 27/01/2019 at 17:30:51
Paul, Bielsa (a man in his 60s) is a pioneer, not a dinosaur. I called Ferguson a dinosaur. Not because of his age but because of his management style. It's done. It's dead. It's finished. It belongs in the past. No one else does it. No one can do it.
A young Alex Ferguson in this day and age would be a completely different manager. You can't use "the hairdryer", kick boots across the dressing room hitting players in the face.
You can't have Archie Knox running wild with his baseball bat or the antics Brian Kidd got up to. Those days are gone. For better or for worse.
Eddie Dunn
427
Posted 27/01/2019 at 17:34:08
Paul, Spurs are without Lloris, Sissoko, Kane, Alli, Eriksen, Son, Alderweireld, Vertongen and Rose. Llorente is a cut above any striker on our books. This shows the gulf between us. They might be struggling but we struggled with our first team.
Eric Paul
428
Posted 27/01/2019 at 17:41:04
Steve,
What do you think goes on in the dressing room? It's only what goes on publicly that causes problems as it can affect earnings iwo image rights and egos.
Steavey Buckley
429
Posted 27/01/2019 at 17:48:33
If Prince Philip could have spotted the obvious foul that caused Millwall's second goal; even there are calls for him to stop driving due to his ageing eyesight. Michael Oliver should be prevented from refereeing if he can't spot with his eyesight what Prince Philip could have spotted with his.
Steve Ferns
430
Posted 27/01/2019 at 17:54:33
I wish I knew, Eddie.
Rob Dolby
431
Posted 27/01/2019 at 17:56:55
See what reaction we get on Tuesday. The manager should not need to motivate a team after an embarrassing defeat.
It feels like we are in freefall, we look nervous defending, midfield not daring to pass the ball forward and relying on Richarlison or Sigurdsson doing anything.
Be interesting to see who he selects. Is anyone safe from getting dropped?
Brian Murray
433
Posted 27/01/2019 at 18:04:43
Rob Dolby. The reaction you yearn for on Tuesday would've happened over two months ago but they are total bottlers on the pitch and have no belief or desire to be proper winners. Same as the boardroom.
Stephen Brown
434
Posted 27/01/2019 at 18:04:50
Spurs, Arsenal, Liverpool, plus a whole host of other Premier League teams out — what an opportunity missed!
I hope Millwall draw Man City away in the next round; that will make me feel 1% better!
It is shit being an Evertonian but it won't stop me travelling the 350-mile round trip on Saturday!
Brian Wilkinson
435
Posted 27/01/2019 at 18:18:54
First things first: scrap the zonal marking, it just is not working. And when fit bring Jags back in to sort the mess out in defence, get some fire in the midfield and get McCarthy in there.
Finally, get Neville Southall in short term to coach Pickford, coach him how to command his area and attack crosses, rather than rooted to his goal line. A few tweaks here and there can be sorted out with Southalls knowledge.
The seasons as good as over now, ring the changes now, try a plan b but we simply cannot carry on with these tactics, week-in & week-out. Every team knows our weaknesses, sort it out starting with Huddersfield.
Go for the three at the back, either Gueye or McCarthy to link-up defence and midfield, with the other linking up with Gomes in midfield, the two wide men with either a Number 10 or two strikers.
Paul A Smith
436
Posted 27/01/2019 at 18:26:46
Steve, that's my point, mate; you brought Bielsa into it by saying how he's done well and hasn't done well. Obviously down to players.
I don't want to knock anyone, Steve, I just wish you put as much thought into why, since Moshiri came in, we have sold half a very good side and are struggling to cope.pbr>Our best striker in years went to the side one place above us. Why are you and thousands of others not asking why we decided we didn't ever want top topple Man Utd... because that's the message it sends.
Instead, you are wondering why players that wouldn't get into top sides are struggling under certain managers and why a certain brand of football is failing us. It's down to personnel. Plain and simple.
Pep doesn't win titles with poor players, does he? He tried his modern way of football with his first Man City squad and we took 4 points from them, why? Because he had worse players then and we had better players. There's no rocket science.
Fans are fastly believing any cliche the media portray. That rubs off quickly with the access to players and managers through social media. Before you know it, you believe in tactical genius, believe we understand the tactics the manager is missing, and the boring old "everything evens itself out over a season". Shocking how fans ride this out and wonder why the teams above us stay above us.
Spurs have kept Kane how long? While we sold every one that could win us games. The problems didn't start this season; Pep couldn't win the league or get top 4 with this squad.
And, if you truly believe in modern ways, you should certainly know that selling under-25s to the top sides and buying over-25s from the bottom sides is a recipe for disaster.
Steve Ferns
437
Posted 27/01/2019 at 18:38:49
Paul, I like football. I like to watch football and I like to watch teams of differing styles and see how they work against each other.
I'm not a fan of business. I have enough of that at work. So no thanks. I'll stick to watching football and reading about tactics and training methods in my spare time. Not that I have much of that these days.
One thing I can comment on is that they made an agreement with Lukaku that he'd give us 12 months (Koeman's first season) and if we got champions league or came close he'd stay. We didn't.
There was supposedly a price in that agreement and Man Utd met it. So, if that is indeed true, I fail to see what we could have done. If it's not true, then sure, we could have tried harder, but the want-away player often gets his own way.
Paul A Smith
438
Posted 27/01/2019 at 18:52:47
I am no fan of business either, Steve. However it would be blatently ignorant of me to believe its not a major factor in football.
It would be ignorant of me to study tactics and believe quality isn't a major factor.
I think everyone knows all the greatest ideas in football won't work with a lesser talent. I know what Lukaku wants too, mate, that's why I mentioned Kane.
If you want to act big, you look after the player like Spurs obviously have. He has made it clear as often as Lukaku he wants to win trophies.
Plus it's what we want that matters – not the player. I don't think a player downs tools now really, it's too documented and bad for their reputations.
Dave Abrahams
439
Posted 27/01/2019 at 18:54:21
Steve (419), thanks for your reply, not trying to have a go but although we might have played differently during the season since the Liverpool game we have played the same way, to me anyway and we are also getting bullied in too many games, although there was a positive reaction in the Bournemouth game, and giving up without a real fight.
Maybe Silva can get a good response from the players in the next few games but I doubt it and certainly don't expect it because the manager seems to have given up.
Tommy Surgenor
440
Posted 27/01/2019 at 18:55:03
I'm still on team Silva. I don't think we would gain much by sacking him.
I'm far from a tactical genius but I think a few tweaks here or there and we wouldn't be far away. I believe we have the personnel at the club to make these changes.
So what would I do? First things first, we need to up the tempo. Our tempo is dire. On the occasions we play sharp interchanges we look a much better team.
In my opinion, the crux of our tempo Issue is the #10 role. Our lines are too far apart and Sigurdsson is then forced to slow it down while waiting for reinforcements. We then have a backward pass or take one touch too many. Then, before you know it, we are back into our passing sideways routine with the opposition properly set in their defensive shape and any momentum is lost.
To get around this I would drop Sigurdsson back. Play 1 in the pivot position and 2 in the box to box. Sigurdsson has the engine and work rate to do this.
Another change I would make to aid our increase in tempo is play the more "drop back press" (sorry made that name up but I don't know how else to describe it.) What I mean by this is we should retreat to our own half. As soon as the ball crosses over the half-way line that should be a trigger for our team to go press and hunt it down. The benefit I see to this is that we would be more compact and would be able to counter at pace.
Obviously, on occasion, teams will get set in their defensive positions and sit deep against us. This is where Lookman and Richarlison should shine. Whatever happened to "trying to make things happen" or taking on your man? All to often, we jog in and out of position, happy just to get a touch and play it safely backwards to our centre backs.
Anyway, I apologise to anyone who took the time to read this. ToffeeWeb is a bit like therapy so I just needed to get some opinions off my chest. Einstein claimed that insanity was doing the same thing over and over but expecting a different result. We need to shake things up. Break the meta.
Someone above mentioned Leicester and that was exactly what they done. They broke the meta and went back to 4-4-2. They were happy to take risks and be over run in the middle as long as when they got the ball it resulted in a shot without the need for 725 passes first!
The premier league is losing its charm and becoming so one-dimensional. Too many teams lose momentum with their attacks and then are happy to play the safe sideways crab football. They take too many touches and make too many safe passes.
To me, it is no coincidence the number of "upsets" that are happening this year in the FA Cup. Even sitting here watching this Chelsea game and it infuriates me how many sideways passes there are. Players are jogging back and forward, shielding the ball then taking the safe option. Whatever happened to pinging the ball into a forwards feet for him to play the ball around the corner at pace.
I honestly feel more like "something could happen here" when Sheffield Wednesday get the ball.

Gerry Ring
441
Posted 27/01/2019 at 18:59:35
It's obvious to most of us that Silva doesn't have what it takes to successfully manage a Premier League team. I would add that it would also appear obvious that the entire coaching staff are clueless also.
A good start would be to poach Lee Carsley away from the England U21 team and give him a role before somebody else does. I saw him playing in the Sky indoor International series recently and he'd still do a job for us at Everton. As tenacious as ever.
Eddie Dunn
443
Posted 27/01/2019 at 19:11:43
Tommy, I'm a loyal supporter and I've tried to give the current incumbent the benefit of the doubt, but I suppose I felt the same about Martinez for a while, and Koeman too. Now, I have less patience. Normally a new boss gives results a boost. We started okay but it has worn off rather quickly.
Every week that goes by, we have articles on here hoping for a turning point, we have players wheeled out for soundbites and we hear Silva's explanations. None of it is of any use.
I know the ball struck the lad's arm, but as the Millwall people have said, the other way round, it strikes a defender- no pen. Contrary to Kilbane's assessment that the arm moved towards the ball, I would suggest that any movement was after the ball struck or even an attempt to move it out of the way. Even so, it was at his side, upper arm, Fellaini scored one just like it for us with a lot more intent.
We bottled it. Millionaires scared of the ground, the fans, the TV and the elements. We played our best stuff when the rain stopped. One bonus for me was Tosun. He was up for the fight, scored a good goal and did enough to suggest if he played in two, he would do well. Oh, and Seamus did okay. That's two players.
I doubt Silva will turn it round. We have had enough turning points, crossroads and "most important games of the season" to convince me that he is lost in a sea of obstinacy.
Steve Ferns
444
Posted 27/01/2019 at 19:14:13
I thought Coleman was terrible. Again. All bluster and no quality. He needs dropping for a prolonged period of time. He's also not a leader.
Tommy Surgenor
445
Posted 27/01/2019 at 19:33:50
Who is a leader in our squad?!
That is part of the problem. No-one seems to want to take responsibility or grab the game by the scruff of its neck.
Happy to have great pass completion by playing it sideways and occasionally spray a ball into the corner. We are crying out for someone to put in a challenge, beat a man and get the crowd on side. We need a central midfielder who can burst forward and barge through a man. Break the lines and make something happen. Too many balls to feet with back to goal. Brick wall passes as they come straight back to sender.
Eddie, at the risk of contradicting myself... I too "would" have lost patience with Silva by now if It was not for the shambles that went before him.
Oh for the stability and passion that was shown in Moyes era. But changing manager is not solving the issue, need to approach it from a different angle.
We need to regroup. Sort out the mess of the squad. So many names still need shipped out. Even those on loan need permanent homes.
Brian Harrison
446
Posted 27/01/2019 at 19:42:22
I wanted Silva and I liked his high pressing and hitting teams quickly on the counter-attack. For the first 5 months, that's exactly what we got and most of the posters on T/W at the time the main criticism was we weren't clinical enough in front of goal.
We created many chances both home and away even going down to 10 men in some away games didn't disrupt our style of play. But since the Liverpool game were we played very well all game and only for an horrendous error from Pickford stopped us getting a well deserved draw.
But since that game we havent looked like the same team, we look ponderous going forward and we seem to have got into the same mindset as we had with Martinez. That possession became the overriding factor in our play with us taking 7 or 8 passes to get the ball into the opponents half. Now when we get within 15 yards of the opponents box we look lost, not intricate passing amongst the forwards that was happening in the opening games.
I don't think the comments from Moshiri at the AGM helped, those comments should have been kept in house. His choice of manager was already coming under pressure and to make those comments public didn't help Silva. Now if he thought that might help galvanize the team well, it hasn't worked and the results have got worse not better since the AGM.
I can well imagine the pressure that Silva is under, he has a team very very low on confidence and results are going against his side. He badly needs to stem the tide and with Huddersfield playing their first game since appointing a new manager this game just became a whole lot harder, probably the last thing Silva needed. Should we lose against Huddersfield and fail to beat Wolves on Saturday I fear for Silva.
But more worrying for our club is if those results do go against us where do we turn. Moshiri has already sacked 3 managers at a cost of around £26 million, and I don't care how rich he is you – can't keep sacking managers so regularly and paying £10 million a time in redundancy.
So if Silva goes that will be another £10 million taking his redundancy payments to manager to £36 million in 4 years. Then he has the problem of who to recruit certainly no top manager will touch us, and with a trigger happy owner it may even limit our options even more.
Throughout our history we have never appointed a top manager, even our most successful manager was a young manager doing well with a 2nd division club but no trophies to his managerial career before joining us.
So I hope that Silva can get results against Huddersfield and Wolves and all talk of sacking can be put to bed. But we still have major problems to address with the enormous size of the squad and wage bill come the summer, when all players on loan return.
I read a piece the other day that shows our wage bill for players out on loan is £500,000 per week. So how do you get these well-paid players off the books, just take Sandro who is on £120,000 per week – who the hell is going to pay him that sort of money?
So he will be back in the summer and yes we can loan him out but we will still be paying the lions share of his salary. So without something miraculous happening our money for transfers come the summer may be a lot less than many would like.
Andy Meighan
447
Posted 27/01/2019 at 19:44:21
I didn't see a different team for 20 minutes at the start of the 2nd half. I just saw a spineless bunch of idle cowards who don't give a flying fuck for those brilliant fans who travelled down there on a wretched Saturday night. They couldn't wait to get off that pitch as soon as the ref blew his whistle and did any of them actually go over to the fans?
Steve Ferns, as for your statement "form is temporary; class is permanent" – when has this manager been 'class'? And if you honestly think we'll beat Huddersfield, Wolves and get a result against Man City, the only person you're convincing is yourself.
Any Huddersfield (spy) watching that would be rubbing their hands with glee with how we defend... ditto Wolves. I truly truly do hope we get at least 4 points from the next two games but, in my heart of hearts, I truly believe it won't happen because quite simply we can't defend.
Neil Halliwell
448
Posted 27/01/2019 at 19:50:40
I am up tight against a forward at the corner flag and he is going nowhere and is no danger. All I need do is make sure he does not cross the ball. I know! I will shove him over instead.
Woops, I forgot that means they have a free-kick and he can cross the ball. Oh shit, they scored from the set-piece. Must remember to raise this as an issue in training next week!!!
Neil Carter
449
Posted 27/01/2019 at 20:11:04
Is a major part of our problem that the board are a soft touch when it comes to transfers? We pay over the odds for average players and then can't insist on a sale when anyone shows any interest and happily loan them, creating a massive wage bill?
Perhaps a good place to start taking a long look at what's going wrong at the club? Brands is now a member of the board- time to see if he can have a positive impact on decision making on players and whether we can start to make some hard business decisions like taking a loss on some of players to move us forward.
Only the board can take responsibility for their own actions; over to you Mr Moshiri and your colleagues. And by the way – if you see this as a business, an entertainment business, then the show stinks and time for the circus to leave town and move on.
Gerry Ring
450
Posted 27/01/2019 at 20:24:29
Steve #444.
If Digne had performed to Coleman's level yesterday, he'd be hailed as having had a super game.
Looking at some of the posts here, it's apparent that where contributors have "nailed their colours to the mast" incorrectly on some issues, eg, "Coleman is finished", "Silva is the man" they aren't willing to change their opinions but would prefer to argue in support of their views even when wrong.
Andy Meighan
451
Posted 27/01/2019 at 20:38:11
Coleman was our best player by a mile yesterday. If any of the other jokers would have showed his commitment, we might be in the hat tomorrow.
As for those who need dropping for a prolonged period of time, try any of these: Pickford, Keane, Mina, Sigurdsson Richarlison, Gomes – all of them are absolutely average and have been for a couple of months.
Coleman hasn't been the player he was no way... But, by God, that lad has never hidden. I wish I could say the same about the shite that I mentioned above.
Paul Richards
452
Posted 27/01/2019 at 22:41:33
Neil Carter (#449), I gotta wonder what's behind this stern warning to Moshiri:
"If you see this as a business, an entertainment business, then the show stinks and time for the circus to leave town and move on."
It is a business. It's been a business almost from the start. Everton Football Club Co Ltd. That's Company Limited. If ya know yer 'istory, you'll know when it was incorporated.
It's a sports business. A component of that is being part of a broader entertainment business. Are you in denial of this? Or do you think there's a risk that he is using our club as an investment, to make money over the long term? Cos that's what business owners do...
Despite him making many mistakes, I'd be very concerned if a torch bearing lynchmob like yours were able to run him out of town.
Frank Rice
453
Posted 27/01/2019 at 23:22:46
Although the time before the derby, our results were mixed, the spirit seems to be knocked out of the side since then. Gomes looked a great buy before that game and looks lost now.
Apart from the obvious flaws in zonal marking, Pickford seems a disaster waiting to happen. Is our goalkeeping coach (Doliveria) earning his money? Pickford needs to be more assertive on crosses and not stay rooted to his line. I don't know whether his mistake in the cup game against Liverpool was a factor – allowing that free header from Van Dijk to happen.
I wasn't sure about Silva's appointment – not a great track record in the Premier League. He doesn't seem to have great motivational skills and for a so-called great tactician, doesn't seem to have a Plan b.
We need a bit more grit in the team – if McCarthy is anywhere near fit, he's got to play.
Looking at the fixtures left and our away form, relegation could still creep on us.
Brian Wilkinson
454
Posted 28/01/2019 at 00:13:51
Sounds like me and you are singing from the same hymn sheet if you read my post @435.
Alan J Thompson
455
Posted 28/01/2019 at 03:54:50
Steve (419 & 426),
You say that after the impact of the Manager's halftime chat the players came out more determined which lasted only 20 minutes and then, that Silva could have done only so much. Why then didn't he make a couple of substitutions with instructions to rectify the position?
As for Ferguson being the last of the RSMs. It is not a new idea that it may not be the best way to treat players.
I'm trying to recall the name of the Leeds manager (Irish bloke used to play centre half) who was in conversation with Houllier when he suffered his heart attack and he was asked what they were discussing at the time. His reply was, "How to get the best out of a group of young millionaires".
Eddie (#443); Forgive me if I'm wrong but you sound/read old enough to remember a similar incident of a goal being scored off an arm in a Cup tie back in the '60s, I think, against Ipswich at Goodison.
It came off the arm of Crawford, their centre-forward, and it was said at the time that the rules stated that regardless of it being deliberate or otherwise a goal could not be scored off a players arm or hand. Any Refs out there know if that is or ever was part of the rules?
Jeff Spiers
456
Posted 28/01/2019 at 07:38:23
Pickford is instructed to stay on his line. Let the defenders deal with crosses.
Paul Cherrington
457
Posted 28/01/2019 at 10:12:21
I hope the very vocal section of Everton fans who hounded our previous manager out are feeling pleased with themselves after the weekend. The mess we are in is down to them and the weakness of the board in listening to them.
People now want to talk about stability – we could have had stability with Big Sam this season and built on the progress he made in his short time here.
At least when he was in charge we showed grit, desire, character and were tougher to play against.
Thanks to the Everton fans who never gave him a fair chance, we have gone backwards by years to Martinez era Everton – a soft touch who teams can't wait to play.
It's probably the same fans who hounded players like Barkley out of the club though – who had a great game for Chelsea yesterday by the way. no wonder the club is where it is really with some of the fans we have.
Before everyone jumps all over me, I am not talking about the majority of fans who understand the game and are superb.
Terence Connell
458
Posted 28/01/2019 at 11:46:39
Leadership and quality of decision-making issues are endemic from the very top downwards.
I'm still not convinced by Moshiri tho we would be relegated by now if it wasn't for him. His public utterances do not convince me that he quite knows what he is doing other than to continue the mediocrity.
Maybe the new stadium (if it ever gets built) will galvanise us in some way – maybe even attract a proper new owner in the long-term!
Paul A Smith
460
Posted 28/01/2019 at 15:19:29
Paul Cherrington, that is more like it. A fan not brainwashed in cliches and the ability to think against the fashionable statements.
That's how Evertonians were when I grew up. Great post, mate.
Brian Williams
461
Posted 28/01/2019 at 15:26:18
If anyone thinks the board "listened to the fans" with regard to the sacking of Allardyce, then they must be very, very naive indeed.
Paul A Smith
462
Posted 28/01/2019 at 15:41:21
I think you are, Brian. If you think the board were willing to lose thousands of season ticket renewals, you're on another planet.
Paul Cherrington
463
Posted 28/01/2019 at 15:47:41
The other Paul @460 – thanks for that, is nice of you to say so. I think there was a big element of some fans believing what they were being told to think about Big Sam. I know it wasn't champagne football but at least we showed some desire and passion with him there. It's like how so many fans were quickly convinced that Silva was the answer to all our problems despite clear evidence to the contrary – crazy.
Brian @461 – I don't think it is naïve to believe that the vocal section of the fanbase who wanted Allardyce out played a big part in his sacking. From my perspective, it was the fans' protests that forced the board's hand in it all. Without the fans input, they would never have sacked him and we would not be in the mess we are now with Silva in charge instead.
Paul Richards
464
Posted 28/01/2019 at 16:41:20
Sorry to jump in, Paul (#463), but it is really insulting of you to claim some fans – any fans! – were "believing what they were being told to think about Big Sam", rather than obviously trusting their own abilities as observers of the game to see the utter shite he was having us play.
Your campaign to rehabilitate the rightly tarnished reputation of this odious character is either extremely valiant or totally misguided. I think I know which it is.
It was a wrong-headed appointment that was meant to last only 6 months, but Fat Sam wouldn't play ball and rejected that. Everton were forced to go back to him, cap in hand, and give him the 18-month contract he wanted — but they had no intention of fulfilling it. Fan protests only made sure there would be no blow-back when that decision was finally enacted on 16 May 2018.
End this revisionism now, please.
Andy Bonner
466
Posted 28/01/2019 at 19:48:06
What exactly is a Director of Football? Nobody seems to be leveling any blame his way... What's he done in the last 6 months?
We have not bought anybody yet in this transfer window. Can he not influence the style of play, or the selection of players?
Sam Hoare
467
Posted 28/01/2019 at 20:07:00
Paul@463, "I know it wasn't champagne football but at least we showed some desire and passion with him there"
What desire and passion was this? I really don't recall any. He had us better organised and the results were decent i'll give him that. Also during his time we were bottom of the league for shots, shots on goal and chances created. That's nothing to do with perception. Not sure that's the type of stability I'm after.
Max Murphy
468
Posted 28/01/2019 at 20:27:58
I agree with most of the comments about Pickford. Many of us have said he's not good enough for a long time, and as Joe (#5) says, we get slated for our opinion.
He is another Richard Wright. He gives our defence the jitters, as they don't know what mistakes he's going to make next. His instability leads to instability in the back four, and eventually to our midfield – it becomes infectious.
He is not tall enough, which is one reason why he won't come off his line to challenge these big 6'-4" or 6'-5" centre-backs and centre-forwards.
It is no coincidence that one of our best eras was when we had Nev in between the posts. It was big mistake letting Robles go – and we're paying the price now.
Billy Roberts
469
Posted 28/01/2019 at 20:43:56
In the battle of the Pauls, Paul Richards comes out the clear winner.
Well done Paul.
Paul A Smith
470
Posted 28/01/2019 at 20:50:30
Paul 464 maybe you are right and its an exaggeration to say fans were told how to think.
I understand where Paul is coming from. Not just Evertonians but the nation has a sheepish belief to think Allardyce is anti football.
Its insane mate. Now we don't want to be going backwards in discussion all the time but to me it is crazy
Our fans actually went from "hes a long ball manager" before realising we didn't do that much, to "hes anti football"
If that isn't blatent hate or brainwash I don't know what is.
I don't remember anyone calling England anti football after his one game or when he had Gudjohnson and Anelka at his disposal.
He has always played to the strengths and abilities of players wherever he went.
West Ham also expected ticky takka with Andy Carroll up front.
Thats how ridiculously stupid the Allardyce theories get and shows how small memories are when they forget about the class players he somehow brought to Bolton.
Neil Copeland
472
Posted 29/01/2019 at 19:01:48
Alan #455, the Leeds manager was David O'Leary mate.
Paul Cherrington
473
Posted 30/01/2019 at 09:14:35
To avoid this turning into a long reply, I'll try to keep it brief. if that comes across a bit short or abrupt then it is not the intention.
Some Everton fans might think it insulting to accuse them of jumping blindly onto the anti-Allardyce bandwagon but it is not – it is simply true in most cases. Why do I say this? because it is inconceivable that all the Allardyce bashers would objectively look at the facts to form their own opinions and all come out with the same unfounded rubbish.
We hear the same old garbage trotted out when his name is mentioned – this shows it is a classic case of many people wanting to adopt a herd mentality and go along with the narrative established by figures they listen to in the media or on forums like this.
Let's take the classic accusation that he is a poor manager and was terrible for us as some fans would still like us all to believe. A simple look at where we were when he left compared to where we were when he took over shows this to be untrue. If he were that bad we would have been relegated. Instead we moved up the table, gained more points and finished about as high as anyone could hope for after the start we had. Yet a large portion of our fanbase still mindlessly say he was a bad manager because that's what they have been led to believe by others.
Everyone has their own opinion but if you are really saying to me that all the anti-Allardyce fans can take examples like the above into account and still come back with their own opinion that he was a poor manager for us, I would question their understanding of football. Remember, just because he played in a way that you might not like does not mean he was wrong or bad at his job. Getting the ball into the opposition box quickly can be just as attacking as playing 40 passes between your own defenders in your own half, as is the fashion now it seems
As for revising history – I agree that should stop but it is mainly the anti-Allardyce camp who do this. many now claim we would have been fine without him and easily avoided relegation which is laughable. I remember what a shambles we were right before he came in and we were in real danger of going down. Or the claims that he did not play attacking football – I saw some decent performances when he was here and pretty sure we scored goals & won games which suggest there was some attacking going on.
I think what really irks me about the whole thing is not only the sheep-like view that may hold on Big Sam but actually the disgraceful way in which some fans and the club treated him when he had done a decent job. Some fans and the club showed a real lack of class and gratitude. This is especially highlighted in the many personal insults and abuse directed towards the man from people who do not even know him.
Anyone with a half decent set of manners would have said thanks for coming in and pulling us out of the mire. Quite how people are sure he is an 'odious' character when they do not know him personally is beyond me. I guess its the same as people claiming to know your motives on things when they don't know you either which is a bit silly.
The fans DID have a big say in Allardyce leaving which then meant Silva was hired and were are where we are now. The board were terrified of all the protests and trouble going on and that forced their hand. Do you really think they would have got rid of him with the money they had to pay out and the decent job he had done otherwise? The fans who hounded Allardyce out cannot now try to pretend it was nothing to do with them.
As for the stability question – I would rather have the stability of a proven Premier League manager who built a team who put a shift in, had some spirit, were organised, could defend properly, knew their roles and performed well mostly compared to what we have now. It's like how some fans couldn't wait to get rid of Moyes because it got so boring to finish in the European places most years and not to have to worry about relegation. in terms of using stats to gauge progress, I think its not a great idea. stats can tell you whatever you want them too and do not always reflect what went on. of course, they do not matter either – the result is what matters.
But if people do want to use stats – why are we not saying Marco Silva is a poor manager who plays terrible anti-football after only having a couple of shots on target against Millwall in the FA Cup defeat? the problem is that many people have an ill-judged and prejudiced view on Sam Allardyce which they then find stats to support. some fans wanted him sacked before a ball was even kicked!
I'm not saying Allardyce is the greatest manager who has ever lived but he is nowhere near as bad as many would have us believe. Even a cursory glance at his Everton tenure and overall managerial career with an open mind will tell you that.
Paul A Smith @470 - you are spot on again there. If people look back at what he has done in his career, they will see what you are talking about. Trouble is most people simply repeat what they hear and can't be bothered. same as many on here slating Moyes when he was manager (mainly because he was ginger and Scottish which is always the best gauge of a manager's progress I find) or constantly barracking Ross Barkley for being lazy or not good enough.

Add Your Comments
In order to post a comment, you need to be logged in as a registered user of the site.
Or Sign up as a ToffeeWeb Member — it's free, takes just a few minutes and will allow you to post your comments on articles and Talking Points submissions across the site.
© ToffeeWeb