England come up short against Croatia
Croatia 2 - 1 England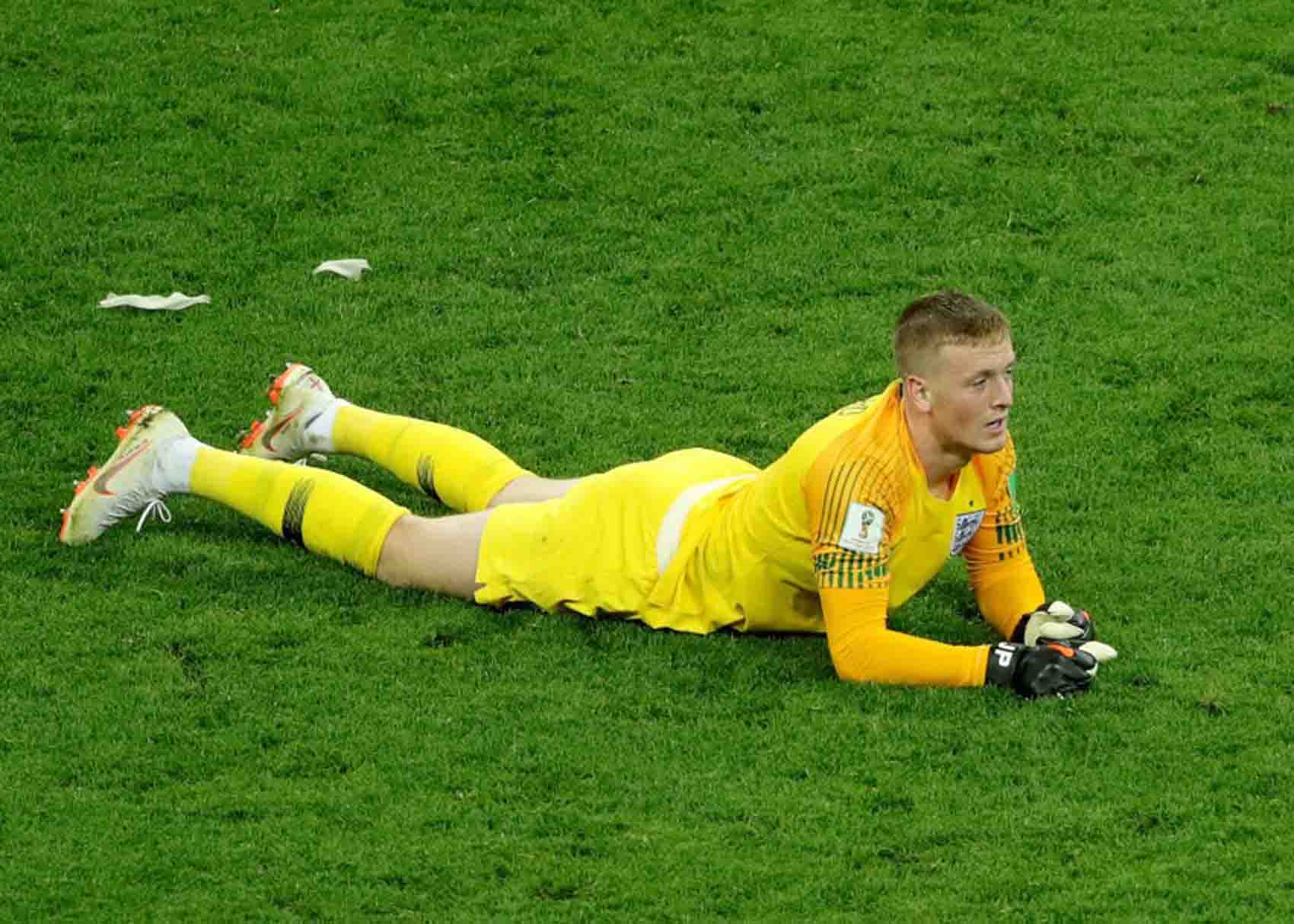 Alexander Hassenstein/Getty Images
Jordan Pickford will head home this weekend having fallen just short of the World Cup Final following England's defeat to an indefatigable Croatia in Moscow after extra time.
Gareth Southgate's team had a strong first half and scored early through Kieran Trippier's sumptuous free kick but Harry Kane's miss where he hammered the ball off the post rather than doubling the lead would prove costly.
Ivan Perisic equalised to press home Croatia's second-half superiority and with England out of ideas by the time extra time rolled around, Mario Mandzukic capitalised as John Stones lost concentration to ram the winner past Pickford to send the Croatians through.
Croatia set out their stall to press England's back line in the early going but a smart ball forward and a lovely touch by Jesse Lingard allowed Dele Alli to drive forward where he was fouled by Modric.
Trippier stepped up to aim a perfectly-placed shot to the left of Subisic and gave England the lead after just five minutes.
Pickford was forced into his first meaningful save with half an hour gone, a parry and then gather after Kane had seen a shot saved and then the ball come off the post from very close range at the other end.
A few minutes later, Alli laid the ball off on the edge of the box to Lingard following a powerful Kane run but the Manchester United man miscued his placed shot.
England started the second half slowly but were almost in after Lingard's drive was deflected over and following the resulting corner, Trippier crossed first time looking for Kane but it was hooked away by Dejan Lovren before he could trouble the 'keeper.
Croatia remained on the front foot and when the ball broke to Ivan Perisic outside the box, Walker took the full force his powerful drive to block it away.
That only delayed the equaliser, however. A wicked cross was swung in from the right a Perisic got a leg in front of Walker to guide it home in the 68th minute.
The match was almost turned on its head when Pickford was involved a defensive muddle on the edge of their box, Stones could only clear it to Perisic who jinked left and fired off the post and Rebic hit the rebound straight at the 'keeper.
Southgate removed Raheem Sterling in favour of Marcus Rashford with 18 minutes of the regulation 90 remaining but it was Lingard who was played in by Kane in the 77th minute but he dragged his shot across goal.
Pickford then blocked well from Mandzukic's half-volleyed effort before Perisic floated the ball over after Pickford had punched it straight to him under pressure from a Croatian attacker.
But England could not get going after the extra-time restart, Kyle Walker half clearing the ball, it was headed back in, Stones didn't react and Mandzukic did, latching on to it and firing in left-footed from about 6 yards out.
Trippier would hobble off leaving England to play out the last few minutes of their Russia 2018 World Cup campaign with 10 men, a real disappointment after making such a great start to the game.
England now face Belgium in Saturday's third-place match.
---
Reader Comments (184)
Note: the following content is not moderated or vetted by the site owners at the time of submission. Comments are the responsibility of the poster. Disclaimer
Jamie Crowley
1
Posted 11/07/2018 at 17:11:56
Big day!
Will mighty, young England book their place in football's biggest game?
Or will Luca Modric, arguably the best midfielder in the world in my opinion, tear them a new one?
Answers in two hours.
If England do win and go out in the final to an exceedingly strong France team, cue the brain dead, "told ya they were shite" comments! Despite reaching a World Cup final with an average squad age of what? Twenty-three?
Good side this England I tell ya! Fingers crossed.
Really fired up for this one. I'd love to see England win it all.
God save the Queen! And the Pope, and while He's at it, everyone else for that matter.
Brent Stephens
2
Posted 11/07/2018 at 17:16:51
"God save the Queen! And the Pope, and while He's at it, everyone else for that matter".
And the rs, Jamie?
James Hughes
3
Posted 11/07/2018 at 17:27:43
Jamie, I just love your attitude for this, cheers mate. A bit like our club, England have had too many false dawns and failed attempts.
Maybe, just maybe we can put this right tonight.
Jamie Crowley
4
Posted 11/07/2018 at 17:36:59
Thank You, James. I believe in them for what it's worth. They are young, energetic, have a solid defense, speed out wide, a defensive mid who we all hate but in an honest moment can spray a ball around pretty damn well, a striker who finishes with his eyes closed, and the world's best keeper!
And a coach who I'd argue actually knows what the hell he's doing.
Brent – God is color-blind. Yes, "that lot" too. ;0)
Jay Wood
[BRZ]
5
Posted 11/07/2018 at 17:38:01
Nerves starting to kick in now with 90 minutes to kick-off.
If we as fans feel it, what must it be like for the players and coaching staff? Will the 'nerves' factor be the telling one in this game?
England – the second youngest team in Russia after Nigeria – against the very talented and very seasoned Croatians. Any team that can field the collective talent of Modric, Rakitic, Mandzukic and Perisic is going to be a challenge.
Will the wily old heads prevail, or will their minds and bodies be sufficiently fatigued from two protracted knock-out games to give the more youthful but less experienced England an edge?
Yesterday, I voted with my head rather than my heart for a France win. Today, both my heart and my head say the same thing: England to win, 2-1.
Please.
Liam Reilly
6
Posted 11/07/2018 at 17:49:30
I can see this one going all the way to penalties.
I'm off the booze but might be tempted by a cheeky Cabernet tonight. Going to be interesting...

John Pierce
7
Posted 11/07/2018 at 18:28:06
Three nil. Three lions.
David Graves
8
Posted 11/07/2018 at 18:43:34
Jay Wood, you've consistently spoken more sense than anybody on here during this World Cup so I am relieved that you've gone for an England win.
However, I now hold you personally responsible for this strange feeling I have that I believe is called "optimism".
Jay Wood
[BRZ]
9
Posted 11/07/2018 at 18:59:54
That's me and England cursed then, David.
Bugger!
Jay Wood
[BRZ]
10
Posted 11/07/2018 at 19:54:30
Very impressive. England should be two goals to the good.
It looks to me that the Croatians exertions through the knockout phase has caught up with them. Their legs have gone. They have neither the pace nor the power to get in behind and beyond England's strong backline.
Modric is lying extremely deep, but not influencing the game. They are being forced out to the wings where they are firing in hopeful crosses from 30-40 yards out which is meat and drink to Pickford and his defence, or in desperation trying exceedingly ambitious long shots from the same distance down the centre.
How Lovren hasn't been yellow carded yet is beyond me. Keep on playing as we are and England will get the cushion of the second goal. Sterling playing well. Lingard and Kane a bit more errant, but nobody is playing badly.
Tom Bowers
11
Posted 11/07/2018 at 19:56:19
No doubt about it, Pickford was the catalyst for this team to believe in themselves when he made that penalty save against Colombia.
Stones is playing tremendous and dare I say Sterling is looking dangerous and might even score.

Ray Roche
12
Posted 11/07/2018 at 19:57:47
Just seen Roy Keane as a pundit... he's turned orange. Looks like an Irish David Dickinson trying to sell antique furniture.
Peter Cummings
13
Posted 11/07/2018 at 20:01:19
England need to get more involved in attack. If the continue to try to hold on to a single goal lead, the big fear is if the Croats get more of the attack as we fall back, they will carry on pumping long balls into the penalty area.
Jim Bennings
14
Posted 11/07/2018 at 20:42:08
Croatia have got some seriously class players, what a footballer Perisic is!
Jay Wood
[BRZ]
15
Posted 11/07/2018 at 20:55:51
As good as they were in the first half, England were extremely poor in the second.
They dropped off 10-15 metres, stopped pressing on the toes and heels of Croatia, gave the wing backs far too much room and it was from that situation the equalising goal came from.
It looks to me as if nerves got to England. They started to defend and try to hold what they had rather than continue playing as they were to wait and create the second goal.
The momentum all with Croatia in the second half. Which England and which Croatia are we going to see in extra time?
Anyone's game now. Who is going to step up and win it for their nation?
Harvey Miller
16
Posted 11/07/2018 at 21:01:04
With players like Perisic and Rebic, we would again rule the Premier League but then we would look like the old Revie's Leeds. The old motto of playing the beautiful game, well I really don't know the answer.
Okay, short answer, yes. I want us to win again, but then...
Stephen Davies
17
Posted 11/07/2018 at 21:08:52
Why don't they bring Kane on?
Jeff Armstrong
18
Posted 11/07/2018 at 21:17:21
Stephen, yes... good idea... maybe Alli too, lol!
Jim Bennings
19
Posted 11/07/2018 at 21:25:03
Croatia just look a class above sadly, England's enthusiasm and endeavour has faded and we just don't possess the Croatians brilliance and technical ability.
Jay Wood
[BRZ]
20
Posted 11/07/2018 at 21:38:58
Thoroughly deserved.
The better, the stronger, the team with the best game management won.
Jim Bennings
21
Posted 11/07/2018 at 21:40:20
Can't really argue with that, Croatia just so much better.
Sad because it was arguably England's one great chance to win it with all the top sides out like Brazil, Argentina, Germany etc.
Hard work and effort was commendable but as we have seen with Everton hard work and effort only gets you so far.
As we have good knowledge of, if you don't have that class ball player in central midfield creativity becomes greatly reduced and scoring opportunities will be more limited.
Michael Kenrick
22
Posted 11/07/2018 at 21:41:21
Since I heard twats today singing that "It's Coming Home" bollocks, I had a bad feeling about this one.
Gary Mortimer
23
Posted 11/07/2018 at 21:42:42
8 man England beaten by Croatia.
Harry Kane, Jesse Lindgard, Delli Alli. The invisible men
Don Alexander
24
Posted 11/07/2018 at 21:43:16
Jim, in all my decades, we've never had a team noted throughout for "technical ability", and by that I mean not only reliable ball control but reliable ball control in such a way that the opponent is immediately left for dead by our ensuing pass or run.
Admittedly it's a helluva skill in itself, and may be outside the realm of mere training to acquire it, but winning teams (apart from Greece a few years back though!) have it in all the important areas of the pitch.
Croatia, a team representing a country with just one million more people than Wales, had more "savvy" and "technical ability", in my opinion, despite playing their third 2-hour match on the bounce.
Joe McMahon
25
Posted 11/07/2018 at 21:43:42
Mr K, I agree 100%
Rob Hooton
26
Posted 11/07/2018 at 21:44:28
The lads did well, better than expected. Unfortunately, the better team won tonight!
Simon Smith
28
Posted 11/07/2018 at 21:48:55
So sad. Our Jordan came out well though. Great first half. Unfortunately crap second half.
Let's do Martinez in the 3rd/4th
Jamie Crowley
29
Posted 11/07/2018 at 21:50:00
Crap. Really wanted to see them win it all.
They had, despite the cries of, "They haven't played anyone," a great tournament.
Hopefully we can watch a run in 2022, only to get knocked out by the Americans in the semis. ;0)
Thank you, England and Garreth Southgate, for providing me with a ton of entertainment. Be proud.
Now to all things Everton.
Colin Glassar
30
Posted 11/07/2018 at 21:50:50
Apparently, Roberto did the half-time talk – hence the second-half collapse.
Michael Lynch
31
Posted 11/07/2018 at 21:50:53
Sadly we had our chance to put the game to bed in the first half and didn't quite do it. At 2-0, I think we'd have held on, but Croatia were much the stronger side in the second half and in extra time.
Good effort from a young and unfancied team, but France v Croatia is probably the correct final.
Gutted for them as a group though. Southgate was right when he said he'd give us an England team to be proud of. First time in years I've really supported them.
Rob Hooton
32
Posted 11/07/2018 at 21:51:57
Jamie, would rather you beat us in the final!
Great tournament though, some great games and shocking results – it will be an interesting final hopefully.
Jamie Crowley
33
Posted 11/07/2018 at 21:54:04
Rob, it's the fucking USA, dude – if we did it in the semis I'd be thrilled!
Our expectations aren't quite as high over here, buddy!
Jamie Crowley
34
Posted 11/07/2018 at 21:59:48
For any tried and true "patriots" over there who backed England and are sad to see them go out, I give you one Mr Jordan Pickford.
If you're not bursting with pride that he's "your man" then I honestly hold no hope for you.
Pickford was absolutely immense. He played so incredibly well in my opinion. I was absolutely thrilled with him and his performance, attitude, and effort.
What a Blue to be proud of. Evertonians everywhere should applaud this kid.
I hope he gets the "standing O" on his return to Goodison. Clap that boy hard for me please if you're there. I'll be clapping until my hands swell up over here.
Tony Abrahams
35
Posted 11/07/2018 at 22:00:07
Stones fell asleep for the winner, but once England get a couple of midfielders as good as that kid on the ball, then they could become as good as all the top teams in world football.
Once Modric started pulling it both ways, it exposed the English system. Too many crosses started coming into the box, and the inevitable was always going to happen.
Stopping the cross is everything; I hope Silva, is working on this in Austria every day!
Agree with Jim, that Persic is some player; he never stops finding great positions, and never stops trying to do positive things with the football. Class told in the end... but I believe, if England can keep their honesty and intensity, and find a class midfielder, then they could become the best team in Europe in two years time.
Oliver Molloy
36
Posted 11/07/2018 at 22:00:26
England played two decent teams, got beaten by both.
Every commentator and pundit dismissed Croatia. All of a sudden, Croatia are a great side and have great players who play for big clubs.
If England had have went the Belgium route and played Brazil, they would have been home by now. My opinion is it's a blessing in disguise because France would have absolutely stuffed England.

Paul Swan
37
Posted 11/07/2018 at 22:06:51
Too many show ponies. Alli has been piss poor all tournament; Lingard missed chance after chance and it then had to happen; Stones switches off for his long-overdue mistake.
How many aimless long balls did we end up playing? Almost as if Southgate found Allardyce's game notes in his waistcoat pocket
Liam Reilly
38
Posted 11/07/2018 at 22:08:34
Don't understand why England get 2 promising free kicks in the last few minutes and Rashford takes them! Both floaters with no pace.
Surely Lingard or Alli should've been standing over those.
England lost that game in the middle; no creativity.
Ian Bennett
39
Posted 11/07/2018 at 22:10:12
Didn't go for the jugular when they had them on the rack. Three artisans in midfield vs three water-carriers were the difference. Technically outplayed.
Credit to Southgate for getting to this stage. I would have liked to see Loftus Cheek rough them up. Well done, Jordan, you did us proud.
Brent Stephens
40
Posted 11/07/2018 at 22:12:02
Tony (#35), yes a fair analysis.
JaC (#34) - I'm brimming with pride about our Pickford. Don't want to talk about any increase in worth as I want to keep him. It's all about what he can do for us.
Brian Williams
41
Posted 11/07/2018 at 22:12:26
Unfortunately, we ran out of a few things: ran out of steam, out of ideas, out of luck, and out of enough players influencing the game.
Alli, Lingard, Kane and Rashford (when he came on) all failed to basically do enough. Croatia started pinging it round in midfield in the second half and England couldn't really respond in kind.
They had several very good creative players and we had the likes of Henderson. We did well to get as far as we did, better than most of us imagined.
Fine lines, fine lines between a good player and a match winner or a player to influence the game.

Steve Ferns
42
Posted 11/07/2018 at 22:17:24
Gutted. Southgate has been brilliant. Not just on the pitch but off it. He's a massive part of what happened.
I feel bad to criticise him, but he should have swapped formations when the Croats were on top early in the second half. We were outnumbered and overrun in the middle. An extra man in there, Delph preferably, could have wrestled control back.
Still it's been one hell of a ride and many of us never expected to be cheering England on with such passion. Southgate, I salute you.
Jay Wood
[BRZ]
43
Posted 11/07/2018 at 22:17:34
Annnndddd... within minutes of the game ending, out come the sneering cynics condemning England, the players, the manager, all of whom have greatly enhanced one of the best World Cups ever.
I'm really glad I don't live in their world where negativity rules.
Brent Stephens
44
Posted 11/07/2018 at 22:20:20
Jay (#43) — yes, yes, yes.
Paul McCoy
45
Posted 11/07/2018 at 22:25:00
We just didn't have a midfield. I've certainly no beef with Southgate and would like to see him stay on.
Steve Ferns
46
Posted 11/07/2018 at 22:28:47
Paul he should be given 4 years more at least. There's a great batch to come through and he's the man to do it.
Ray Roche
47
Posted 11/07/2018 at 22:31:39
Good effort. United the country and fans of all teams but, in reality, Croatia were the better team. No disgrace losing to them.
Mike Doyle
48
Posted 11/07/2018 at 22:35:21
Credit where it's due. Overall the best/cleverest team won. England gave it a good go but lacked an Alan Balll — or a Luca Modric. Players and manager emerge with credit... just the final to go then the focus will return to the Premier League nd all things EFC (where, of course, it should be).
One last thought. In true ToffeeWeb tradition, should we blame Osman or Hibbert for England's exit?
Tony Abrahams
49
Posted 11/07/2018 at 22:37:55
I didn't think we needed another man in the middle of the park, Steve, I felt we needed another out wide.
We played Man City early last year, and although we had a man more, we played 5-4-1, and they couldn't find a way through. Koeman, stupidly changed our formation to 4-4-2, and they made a sub right away, and he comes running on shouting to his team-mates 4-4-1.
Holgate made a mistake, but suddenly Man City are getting down the sides because our subs have created the space that was missing when we had a five-man defence.
Sorry for going on, especially with it being so easy to criticise, but, once they took control of the midfield, we needed more bodies out wide imo.
Brent Stephens
50
Posted 11/07/2018 at 22:41:17
BBC commentator - Southgate has junked the old "thud and blunder" (sic)!
Michael Lynch
51
Posted 11/07/2018 at 22:42:58
Jay @43 I agree. But to be honest I've been surprised by just how many of us on here have enjoyed the ride and got behind the team. I was expecting a lot more miserable cynicism, this being ToffeeWeb. That alone is a measure of how well Southgate in particular has done, making the national team likeable again, even to us!
Peter Cummings
52
Posted 11/07/2018 at 22:43:00
Sadly, my first post proved to be accurate and we paid the price of failing to see the writing on the wall. The goal apart, it became obvious that we couldn't cope with the physical contact of the Croats or their defensive methods, our so-called 'stars' Kane, Alli, Sterling etc, were almost non existent as an attacking force and subs like Vardy and Rashford came on too late to make any impact as England were completely outplayed after the equalizer.
A poor result for a very poor England... and when, oh when are we going to do away with that 'National' Anthem when clearly it isn't,
Michael Lynch
53
Posted 11/07/2018 at 22:43:56
I spoke too soon...
Paul Birmingham
54
Posted 11/07/2018 at 22:45:44
The team done well, beyond expectations, and perhaps we scored too soon.
As we know, the mentality of sides from this part of the bloc was always solid. Dukla Prague has never faded, as a kid at the match, in the late 70s.
All is not lost, in the end, lack of experience and in my view a quality squad let us down. Their subs were better, in terms of positional play and balance than ours.
All-in-all, a far better venture than was dreamed.
Now for EFC, and some genuine hope and signings and promise for the new season. Based on what I've seen in this World Cup, our current squad, is miles away in all aspects of play and fitness and mentality.
So, as it stands, hurting but being honest, I'm expecting better conditioning and mental approach, due to Silva's coaching, but in terms of results, the rest are buying; as yet, we haven't.
The next few weeks will be interesting.
Jay Wood
[BRZ]
55
Posted 11/07/2018 at 22:49:04
Indeed you did, Michael.
Sigh...
Steve Ferns
56
Posted 11/07/2018 at 22:50:19
Tony, if we had moved Delph or Loftus-Cheek into the middle, we could have pushed Sterling and Lingard wide and got more width that way.
Alli and Lingard tried hard, but they were in positions and doing jobs to which they are not best suited. Croatia got through us too easily in the middle and we just couldn't get our foot on the ball.
Darren Hind
57
Posted 11/07/2018 at 22:51:08
We had the chance to win it in the first half; we lacked the killer instinct.
Inexperience did for the young England team; that and poor decision-making when we were in great positions.
Young team. It would have been nice to be in the final instead of playing Belgium in football's most pointless game. But I enjoyed the ride.
Steavey Buckley
58
Posted 11/07/2018 at 22:53:12
Eventually England went out when it finally dawned on England fans that England players who do well for their clubs — such as Harry Kane, Ashley Young, Lingard, Henderson and Sterling — struggled to come to terms with Croatia who played better football and also defended better.
No wonder 2/3rds of Premier League players are not from England.
Tony Abrahams
59
Posted 11/07/2018 at 22:53:59
I think Pickford, has probably come out of this tournament as England's most likeable footballer. What was he shouting at Mandoukavic? Get up you fucking twat!
I know, the twat got up and scored the winner, but it looks like we have got a proper winner between the sticks. We just need a few more like him now.
Si Cooper
60
Posted 11/07/2018 at 22:58:10
I'm not looking for Southgate to be given the push but I think he's still got stuff to learn. Personally, I think he's been hesitant to roll the dice with 20-25 minutes to go throughout the tournament.
He got away with it against the Tunisians but I think we paid the price for it tonight.
William Gall
61
Posted 11/07/2018 at 23:03:22
England did well in the competition; there are no easy games in this tournament, as some of the favorites found out. They have a young squad that will be the basis for future England teams with more experience. Some of them will only be 26 when the next World Cup comes around, unless there are players better in their positions.
They may have made mistakes but, with more international games, should improve; this includes the manager who stepped up from the Championship to running his country's team.
There are not many players in the world who don't make a mistake now and again, but they usually get on with it.
I supported England from the start, not expecting them to reach a semi-final but, though I am not happy they lost , they seem to have laid the foundation for a good future team.
Oliver Molloy
62
Posted 11/07/2018 at 23:03:45
Tony,
Yeah, he was certainly roaring something at the Croatian, why I don't know.
Pickford certainly is the best keeper we have had in some time... but he has some way to go yet.
Tony Abrahams
63
Posted 11/07/2018 at 23:08:14
I saw it differently, Steve. I didn't think they were getting through the middle too easily, but more that they kept stretching us, down both sides.
I think, once their quality started to show, we were never going to have much of the ball. I think Welbeck would have been the best choice to play on the left, but it doesn't really matter. What's more important, is for England to go and find two quality midfielders if they want to get to the next level.
Anyway, it's back to Everton, and hopefully Brands will get us a couple of "brand new" players soon to help get us going again!
Eric Paul
64
Posted 11/07/2018 at 23:08:24
Steavey Buckley,
Words fuckin' fail me, you must have been waiting to post that shite from game one, you dick. That young side, which was the youngest in the tournament, did the country proud. Yes, they came up short against a more experienced side, two games further into the tournament than they should have gotten to.

Tom Dodds
65
Posted 11/07/2018 at 23:13:01
Michael (#22),
True that. The Media Microwaved everybody into 'The triumph of the will'!
Steavey Buckley
66
Posted 11/07/2018 at 23:22:45
Eric (#64). I posted something similar after the Sweden game where England had nobody to cross from the left with their left foot first time, nobody upfront who could share the attacking threat with Harry Kane and nobody in midfield who could spray the ball about like Modric.
The rest of the team played decent. Although Lingard's trade mark shots were not up to scratch.
Steve Ferns
67
Posted 11/07/2018 at 23:22:56
Dare I say it, Tony, but they missed a peak Barkley, Wilshere or even Oxlade-Chamberlain. There was no-one to make things happen in the middle and release the boys who have the pace.
Paul Tran
68
Posted 11/07/2018 at 23:25:16
At half time, I was thinking of the 1986 Cup Final. One up with the opposition in disarray and shouting at each other.
At the end I was thinking of the 1983 quarter-final at Old Trafford. Young team, a couple of quality players short, starts well and lacks the nous to see it through.
Tonight wasn't as disappointing as those two, but a shame nonetheless.
Tony Abrahams
69
Posted 11/07/2018 at 23:26:27
The great thing about football, is that most of us can avoid the media, and hopefully try and work it out for ourselves!
Of course we all see a different game, but it's the best major tournament I've seen since I was a child, with my faith in international football restored.
I would have loved England to win, but they are not quite good enough just yet. So let's just hope Marco Silva can give us Evertonians our pride back now... please God.
Eric Paul
70
Posted 11/07/2018 at 23:29:42
Steve Ferns @67
Barkley, Wilshere or Oxlade-Chamberlain for who? They are all shite.
David Graves
71
Posted 11/07/2018 at 23:33:11
You're right, Tony – no way was the game lost in the middle of the park, it was the width that killed us. We were pushed back into a back five that left Alli and Lingard chasing shadows. We were exposed by the little genius Modric.
The best two teams in the competition will play in the final. Can't complain about that.
Jay Wood
[BRZ]
72
Posted 11/07/2018 at 23:33:42
Tony @ 63 I agree with you more than Steve @ 56, although Steve is right that the centre of midfield was conceded also.
I posted at the end of 90 minutes how because England dropped off 10-15 metres in the second half and stopped pressing on the toes and heels of Croatia, this gave the wing backs far too much room to play in and it was from that situation the equalising goal came from.
I was pleased when Strinic went off early in extra time, because he was leading Trippier and Walker a merry dance down England's left flank.
I agree with Darren @ 57. The chance to put it to bed was spurned in the first 45 minutes and that inexperience did for the young England team over the 120 minutes.
But like Darren, I have enjoyed the ride and, indeed, the whole World Cup.
Tom Bowers
73
Posted 11/07/2018 at 23:39:31
I had said from the start that not taking an in-form Wilshere was a big mistake. The creative skills he has were sorely missed.
England's goals in the whole tournament came mostly from set-pieces. All England could really muster today were long balls from Henderson to his ex-buddy Sterling. Sterling's lack of scoring was a big problem. He has the speed and gets lo's of possession but doesn't deliver.
Everyone got overly excited after the demolishing of Panama who were in reality not worthy of the finals.
I was surprised also that Loftus-Cheek didn't get to start the game today in place of Sterling. The strength of Dier might also have made a difference much earlier as Croatia started to come back into the game.
These are all points I think Southgate failed on.
David Graves
74
Posted 11/07/2018 at 23:42:16
Ian at #39.
"Should have gone for the juggler".
That's the best comment of the whole tournament!
What if they missed the juggler? Should they have gone for the trapeze artist or the lion tamer?
Paul Hewitt
75
Posted 11/07/2018 at 23:44:53
We are supposed to have the best league in the world. Against Croatia, we were shite, end of.
Jamie Sweet
76
Posted 11/07/2018 at 00:08:58
It would have been very strange to get into the final with a team of players, half of which I would struggle to give more than a 5 out of 10 for the entire tournament.
Kane looks like he's running in treacle and despite his inevitable golden boot, really hasn't tested any of the half decent defenders he's faced.
Alli and Lingard are skillful but lacking any sort of creativity. They need creativity around them to be effective and that is what we severely lacked in the final third. We don't have a Modric type player pulling the strings and knitting it all together.
I thought Sterling was actually the most dangerous out of our attacking players and yet he seemed to let this bullshit media pressure get to him.
Walker was a bit sloppy at times although his pace was also an asset at the back. Henderson was nothing more than a water carrier, at which he did ok. Young had a reasonable game against Sweden but not convinced he was the best choice overall.
I think only Pickford, Stones, Slabhead and Trippier can look back and claim they played at a consistently high level anywhere near worthy of making a World Cup Final.
I really hope that Croatia do the French in the final now, but surely three lots of extra time and a day less rest is going to make an already difficult task that bit harder.
I would still like us to beat Belgium to get a bronze too! Will the teams be taking that game any more seriously than the last meeting though?

Jamie Crowley
77
Posted 12/07/2018 at 00:32:48
If you had to come up with player ratings for the entire tournament?
Pickford – 9: Immense.
Walker – 7: good tournament.
Stones – 6: I blame him for the goal that knocked out England, and I'm sorry but that does it for me; always a defending error in there. And no, I saw sme comments saying McGuire was at fault and I'm not buying that.
McGuire – 8: hellava player.
Young – 3 drove me nuts not crossing with his left... didn't do a damn thing IMO.
Rose – 5 bang average.
Trippier – 9: This kid has everything IMO. Did he do anything wrong at all this tournament, or is my memory shit?
Henderson – 7: People slagging the RS forget some of those beautiful longer cutting passes he made. Hate to say it, he did wonderfully.
Dier – 5: (maybe a 6 )
Alli – 4: on your feet, son! Dives and whines. It's him and Young I'd replace for 2022!
Lingard – 5: dude can't finish.
Sterling – 6: if he even scored a single goal, I'd give him an 8. Stretched opponents wonderfully but just doesn't score! Frustrating he should have an 8-9 rating but can't do it!
Kane – 7: Golden boot winner absent for the big game. Good striker, we needed him today.
Rashford – 8: Yup, an 8. He was excellent when he came on. I might, with retrospect, question why he didn't play for Sterling? He looked excellent to me. Probably saved as an impact sub by Southgate.
Anyone I miss?
Andy Crooks
78
Posted 12/07/2018 at 00:40:52
Jamie, I thought Stones had a good World Cup and confirmed what some on here thought: that losing him was a blow to our club, that we were robbed by Man City, and that he will, with normal luck, go on to be a truly great centre-half.
Maguire was superb, but, in my view, Stones is really special.
Bob Parrington
79
Posted 12/07/2018 at 00:50:02
Uninspiring midfield in the semi. Kane went AWOL and Alli & Lingard looked very ordinary. Young looked buggered from the start.
Southgate has done a good job overall but, even before Croatia scored their first, which was obviously coming, he should have brought on two sets of fresh legs – probably to replace York and Alli.
IMO, a fair result in this game but still hard to take!
Jamie Crowley
80
Posted 12/07/2018 at 00:58:17
Andy,
I'd have John Stones back in a heartbeat. Beats watching Ashley Williams!
But a Blue friend of mine said to me a few years ago – and he's very level headed – that Stones always seemed to always make a mistake or two, and that he wanted his defenders to defend.
Stones has had years, a few under one hell of a coach, to fix his problem. He hasn't.
His feet are gold. But he always has an error or two in him. Hence the "downgrade" to a 6.
If he'd gotten through this tournament unscathed, I'd have given him an 8. But it's just a recurring issue with the boy that never goes away!
Having said that, please don't misread me. I liked this England team, I like John Stones. I'm just "rating" them and you've got to be honest and that's what I see.
Doesn't mean for a second I'm going all negative on them. Overall, the team were wonderful.
Pete Clarke
81
Posted 12/07/2018 at 01:03:21
It would have been an injustice to football had we reached the final. Just like in the earlier games, we slowly retreated into a shell and hoofball became the way forward and that's not good enough for the watching world.
Lingard did absolutely nothing and having Henderson in the midfield has been similar to us having Schneiderlin on a good day.
They gave it a go but the English coaching system fails the players and they don't seem to learn to pass and move.
Hats off to Croatia who were knackered but ran their socks off and started to play some very nice football. They are going to have it tough in the final but what a fitting end for football if this tiny nation can win it.
Best wishes to them.
Dave Bowen
82
Posted 12/07/2018 at 02:11:16
Pickford can certainly hold his head up high. Tonight though, showed why I was pleased we took £48 million from Man City for Stones.
There's no doubt he's a good defender, but not top-class, which is why he can't get into Man City's first team. There's always a mistake in him, which any good striker will know & Manzukic is one of the best.
Derek Thomas
83
Posted 12/07/2018 at 02:28:46
KITAP1 at the next to highest level in the world (it was 'only' a semi-final, after all) which got what should be, in theory, the perfect start with an early goal.
In hindsight, doing the keep it tight bit for an hour or so might've been better. But ultimately shown up as a busted flush of a system.
It's easy to bag Henderson, just for being a RedShite, but he wasn't at fault, he did his job... and his job is not to be a Modric. The fault lies in front of him, the lack of a genuine top class player (Erikson??) to feed Kane... who looked tired and a bit off the pace.
Alli, Lingard and Sterling – meh... and why would nobody shoot from the edge of the box? Pass, pass, pass, lose it.
Ed Prytherch
84
Posted 12/07/2018 at 02:58:32
The lads did us proud. Second youngest team in the competition and full of fight. Not a slacker in sight. Much credit to Gareth Southgate for leading them to the semi's. We almost got to the final with no play maker, just honest effort.
I may not want to watch the re-match with Belgium. It will be a meaningless game. Does anyone else think that Martinez looks like an ant?
Gavin Johnson
85
Posted 12/07/2018 at 03:12:58
In some ways, it hurts less to go out now... cos I don't think we had it in us to beat France in the final!
Victor Yu
86
Posted 12/07/2018 at 04:15:08
Stones has grown a lot since leaving Everton.
Alan J Thompson
87
Posted 12/07/2018 at 04:36:09
England did well to get as far as they did and, while I've always thought it a stupid thing to say, they scored too early which seemed to change their game. Alli was involved in getting the free kick that led to the goal and then promptly disappeared.
Trippier scored a marvelous free kick and then started to think he was some sort of midfield maestro, ignoring the simple ball and giving it away trying to thread it through.
Lingard was awful, Kane looked tired, Sterling troubled them with his pace but looked lost when he stopped with the ball at his feet, Henderson's only moment of note was being subbed and the central defence again looked very efficient on the ball but less so defending.
England need to find the two players they seem to lack to make them into a very good side and the most important being someone to make the creative difference in midfield.
On to the Euros.
James Hill
88
Posted 12/07/2018 at 04:52:36
Jay Wood, it was an entertaining World Cup for sure. Really poor standard though. It will be a long time, I would suggest, till we see a Brazil team that poor and so many aging teams like Germany.
Our lads did great and don't deserve some of the criticism I have heard today; let's hope with a few additions in midfield they will become a real contender again.
Yes, it looked easier on our side of the draw but who cares – you need a bit of luck. But, to be fair, while I think the best team won on the day, it could have gone either way – even after Croatia scored.
Not close to being the best world cup I've seen. But then I've have seen since 1966 onward; not sure which ones you have seen. For me, 1970 had the best Brazil and football team I have ever seen – they were quite simply sensational.
Come on, the Croatians.
David Barks
89
Posted 12/07/2018 at 05:07:31
It was just too bad Harry Kane completely blew it in the biggest moments, along with Lingard and Sterling of course. The fact is that, if Kane hadn't wasted a glorious chance to put England up 2-0, it's almost a certainty that the "hit them on the break" strategy would have seen England to a World Cup Final.
Pickford was England's hero yet Kane still gets the plaudits.
Victor Yu
90
Posted 12/07/2018 at 05:50:40
England's last big-game striker – Gary Lineker.
Phil (Kelsall) Roberts
91
Posted 12/07/2018 at 06:05:54
Missed Opportunity.
My feeling is that we would have lost to France in the final but this was a real missed chance.
I cannot see Italy, Netherlands, Germany, Brasil, Argentina, Spain being this poor again (I include the first two for not even making it) and therefore we will have to be even better in the future to get this far again. 2030 seems our best hope when hopefully we will be at home again.
In the last 4 games we failed to score, scored a penalty, scored two by defenders and one by a midfielder. Kane still leads the Golden boot by virtue of 5 goals in the first two games and a penalty. I think typical English frailties were exposed of not having enough World Class players (Moore, Banks, Charlton, Wilson, Ball) especially going forward.
One huge positive has been Southgate. Having a not too glorious 3 and bit year career as manager of Boro, he does seem to have grown into this job. And the other positive is we signed the best goalkeeper in Britain last summer and on the performances over the last 3 weeks, we signed one of the best in the world.
Our other problem is how many of these players will be signed by the rich clubs as back ups to overseas stars (Stones, Rashford) and not have the week by week exposure. And second, how many players from the top international teams (apart from Germany) play outside of their nation. We just do not develop players. And to light a blue touchpaper comment, will be brave enough after Brexit to insist on a number of English players in each team because it will no longer be against EU law to discriminate? But would that make the team better?
Christopher Timmins
92
Posted 12/07/2018 at 06:59:17
England did fantastic to get as far as they did with the talent available. They got a break with the draw and they took it. You should have no regrets.
Ash Moore
93
Posted 12/07/2018 at 07:20:26
What a shame, fluffed their lines on the biggest stage of all. That was their best chance since Japorea in 2002; I don't think they'll get another one in my lifetime. I'm 37 by the bye.
Didn't push the Croatians enough with the lead unfortunately. One goal was almost certainly never going to be enough.
As for the Croats, they battered the worst Argentinian side in my lifetime and then lucked their way through the knockout stages. World class players? They needed penalties to take out Denmark and Russia, two very average sides, and against England they looked devoid of anything until the equaliser. They have been the one thing England never have been – lucky.

Ian Burns
94
Posted 12/07/2018 at 08:00:10
Can't deny England have given us a great ride; Southgate deserves a huge pat on the back. Thoroughly enjoyed it all and it was hard to take that defeat last night. However, it is true the better team won on the night and I would like to see them beat the French in the final.
We lacked a Modric; Coutinho, dare I say it, a Gascoigne, just someone with a moment of magic in their feet.
Kane has done well but he looked tired last night and if I have one criticism of team selection, it would be of Ashley Young instead of Danny Rose – but take nothing away – it was a great ride.
Gavin McGarvey
95
Posted 12/07/2018 at 08:19:43
Whilst I broadly agree with a lot of the comments on this thread, I can't believe that nobody is talking about the refereeing of last night's game. I can only presume comments praising Croatia for being "savvy" are some sort of euphemism. There was a foul count where England had fouled seven times and Croatia had fouled sixteen times (if memory serves). Take a moment to soak up those silky "technical" skills.
Whilst Croatia were significantly better after their equalizer until the end of the match, both before and after there were decisions that mystified me. There was an obvious throw not given, and a corner too. Add to that several body checks ignored. I can't swear the ref was biased as not enough of these incidents were replayed on the television. That being said, those that were seemed to be stonewall free kicks. If that had been Everton, then we would have been spitting teeth and rightly so, so forgive me if I don't join in the general Croatia love-in.
As for England, I thought they did well in the tournament, and in my opinion over-achieved a little. They need to be a bit more clinical in front of goal, but that will come with time. I don't agree with us needing two extra midfielders. I think there is plenty of creativity in the side; I just feel it needs to mature. In Gareth Southgate, they seem to have a pretty down to earth manager, and although perhaps he should have changed things around at the 60-minute mark, he seems like someone honest enough to learn from his mistakes (not something you could say about a lot of old-school managers).
As ever, I feel our biggest problem will be the general public and the press. If we can't be happy with this tournament, then when will we be? I also disagree with this "poorest tournament", "easier side of the draw" etc... Whilst it's true that Brazil might well have put us out, it's still conjecture (Belgium were lucky to get past them). There have been plenty of World Cups and European Championships where England fans have been left talking about What ifs, "If they can get through, to the Semi-final etc... why can't we?" Well, this time we did, and I think we can be fairly proud of this team. They try to play the right way which for me counts for a lot. And while they may not be the best team in the world, they are the best team we as a country could put together and they played quite well.
Ash Moore
96
Posted 12/07/2018 at 08:35:02
I dunno Gavin. They did what they were supposed to. Beat Tunisia, battered Panama, lost to Belgium, needed penalties, beat the Swedes and then went out. It was just so open, and the French are definitely beatable.
I'm disappointed, I think they were better than they showed second half on. Southgate was telling them the Croatians were going to run dead, but in a World Cup semi-final that was never going to happen. Particularly with the pace England played at with the lead. No regrets, but a better outfit probably puts the Croatians away there. And an inferior one never gets that far in the first place.
I wish I'd seen seen them push it a bit harder when they had the lead, although Southgate then would have been castigated for letting the players gas themselves for the final. Damned if you do, damned if you don't.
He played it conservative, and this young side didn't have the leadership or nous. What a shame, they were so, so close. They'll probably never be that close again.
Jer Kiernan
98
Posted 12/07/2018 at 08:51:34
Fair play to England, they had a great run and Southgate ouzed class throughout the tournament, even the way they took defeat looked very calm and professional. It could be the start of something good for the England international side,
To state the obvious but goes to show the value of a Modric type in any team, I think Gazza was the last player of that ilk England produced and not surprisingly they played their best football with him in the team; Henderson's distribution of the ball is appalling
Pickford was immense throughout and hopefully can bring some of that confidence into next season with him he seemed to take a stretch as it were. He knows he is the best in England now without any doubt. Hopefully Moshiri's money will keep the sharks at bay
Martin Berry
99
Posted 12/07/2018 at 08:51:53
A great first half should have seen us "home and hosed" but for squandering chances that you always rue in the end.
In the second half, our passing was awful, either long punts or misplaced passes which made Croatia look better than they are. We really needed to give Henderson help in the engine room and was surprised Loftus-Cheek did not come on to add a more physical presence.
However, Gareth and the team have given everyone a lift and it was fun while it lasted.
Tom Hughes
100
Posted 12/07/2018 at 09:18:54
England population: 55 million, Croatia population: 4 million. Not the whole picture obviously, but should be wiping the floor with them 9 times out of ten. As soon as Croatia equalised, England looked second best both individually and collectively. T'was ever thus.
Derek Taylor
101
Posted 12/07/2018 at 09:26:04
After his heroics in England's cause, Jordan deserves and may well be advised to have more than a month's recuperation upon his return.
With Robles here no more, it looks like it's back to Stekelenburg for the opening fixtures. Is he up to it? I somehow doubt it!
Brian Williams
102
Posted 12/07/2018 at 09:45:42
Derek, if that happens, I'll give you a piggyback from your house to the first home game, doesn't matter where you live.
Bob Parrington
103
Posted 12/07/2018 at 09:49:24
Allan (#87), You put it in plain, simple English and IMO pretty spot on!
I need to correct the mention of York on my previous post – meant Young!
Michael Lynch
104
Posted 12/07/2018 at 10:13:59
Gavin @95 – yes to a lot of that. Even my missus, who hates football, thought the reffing was shit; he was clueless as were the linesmen. Strange in a semi-final of the World Cup. Especially as this has been the tournament in which reffing mistakes have been mostly eliminated by VAR. Of course VAR doesn't help with all the small errors, as we saw last night.
I agree about England playing the right way, despite their limitations. That was probably the best thing about this team. Though, as Southgate pointed out, when our bottle went a bit in the second half, we were hoofing it too much.
It was indeed the best England team we could put together in my opinion. Southgate was strong enough to pick the players he thought would do a job, not necessarily the biggest names if they weren't fit enough or in good enough form. But the Premier League is now majority overseas players, so he was picking from a fairly small pool compared to previous managers.
Ray Roche
105
Posted 12/07/2018 at 10:17:05
Tom (#100),
''England population: 55 million, Croatia population: 4 million.''
True, but you can have a population of eleven and if that eleven are the best players on the planet, you've got trouble.
Don't Croatia also churn out good tennis players? Maybe their ''grass roots'' Sports infrastructure is better than ours? Maybe the schools have playing fields. What a novel idea that is.
Kevin Prytherch
106
Posted 12/07/2018 at 10:28:01
This is the first England side for as long as I can remember that I didn't mind; it's not just made up of individuals, it actually felt like a team.
In reality, we only beat Tunisia, Panama and Sweden and only scored 3 goals in 6 matches from open play, so there's a lot to work on. Especially in creating chances as I feel that both Alli and Sterling play in similar positions and both benefit from having some creativity around them.
However a glance at where these players were at the last World Cup shows how far they have all come.
Pickford - Carlisle (loan)
Trippier - Burnley
Maguire - Hull
Stones - Everton (played only 21 games)
Lingard - Brighton (loan)
Alli - MK Dons
Kane - Spurs (played only 10 games)
If they can come this far in 4 years, then the next World Cup should surely include Pickford, Kenny, Holgate, Baningime, Connolly, Davies, Dowell, Lookman and Calvert-Lewin??

Charles Barrow
107
Posted 12/07/2018 at 11:16:17
Surely the reality is we over achieved, helped by a kind draw (being in the right side). The first really good team we played, we lost. I think Southgate did okay but suffered the curse of managers everywhere – having your favourites.
For example, when it was clear Alli was off form, he should have dropped him. We desperately needed creativity in the midfield and perhaps Loftus-Cheek would more likely have provided that.
Tom Bowers
108
Posted 12/07/2018 at 11:17:42
Pickford amazingly is the best passer in the England team.
Christine Foster
109
Posted 12/07/2018 at 11:20:44
Reality check. We blew it but I have to agree that Alli, Sterling, Lingard gave nothing of any note. Sterling lost every ball and made the wrong decision every time. Alli, always said this guy was a trumped-up waste of space... Was Lingard on the pitch?
We lacked steel, experience and tactical discipline... that's what beat us in the end.
A missed opportunity to kill the game with another goal, no outstanding world-class individuals, tactically Southgate should have shuffled the deck in the second half to counter the Croatia midfield but he fluffed it. Many of those players were lucky to be in the team, it was their one and only chance of history.
Half the team will fall by the wayside as a rebuild takes place.
Kunal Desai
110
Posted 12/07/2018 at 11:21:43
A young and enthusiastic England side, first time in 20 plus years who want to actually play for the shirt and country, they have managed to restore some pride back to the English public.
However, at this level you cannot afford to waste chances and employ the Moyes school of tactics, defending a goal lead. That's criminal.
Jer Kiernan
111
Posted 12/07/2018 at 11:33:08
I think there is some overly critical views on here and hindsight being dished out in abundance but, from the perspective of a Paddy looking in, I can only compare England's World Cup performance to previous major tournaments and I thought they did extremely well,
I can recall in the past "superstars" (Rooney, Beckham, Gerrard) playing with white faces and fear, falling over the ball, looking clueless, and being dumped out by lesser nations. and basically making a mockery of their "status" in the game.
England had a plan this time and it worked and, but for some lax defending in extra time, could have been a penalty shootout away from the final. It's bound to hurt right now but when the dust settles, I think it will be acknowledged that Gareth Southgate got the team as far as he could have and may even have changed the face of English international football for the better
We shall see. Anyways, only Toffee-related comments from me from now on,
Onwards and Upwards, COYB
Brent Stephens
112
Posted 12/07/2018 at 11:34:09
Australia and New Zealand also with small populations but very good teams in Rugby Union and Rugby League.
Brent Stephens
113
Posted 12/07/2018 at 11:39:43
Jamie (#77) – good ratings and comments.
Loftus-Cheek?
Brian Harrison
114
Posted 12/07/2018 at 11:49:58
A lot of credit must go to Southgate for connecting the players with the fans, and also achieved the impossible of getting all the press on his side.
I think the results were about par for the course: beating Tunisia and Panama to get out the group, then beat Colombia on penalties and defeated a very average Swedish side. We started very well against Croatia but we paid for not putting our first half chances away that could have won us the game.
I thought our front players didn't really play very well, and Alli hasn't looked like the player we watch week-in and week-out for Spurs.
I know many have been critical of Sterling, but when he went off it, allowed the Croation back 4 to push up a bit and I think they were relieved that they didn't have to worry about the ball over the top for them to chase.
I see Modric has tweeted that the English press and pundits didn't give Croatia the respect they deserve. That is absolute bollocks; most said what a great player Modric is and how beating Croatia will be very difficult.
But surely the best tweet of the lot came from Lovren, he said people should stop criticizing him and realize he is one of the best centre-backs in World football. I think he was the luckiest man to see out the 90 minutes, some of the fouls he committed in the first half warranted yellow cards. But seems like the ref was intent on refusing to book anyone so later on he wouldn't maybe have the job of sending someone off in a World Cup semi-final.
Craig Walker
115
Posted 12/07/2018 at 11:54:23
It's been an enjoyable tournament and there are positives for England. I think we always struggle though against top quality midfielders (Pirlo and Scheinsteiger have destroyed us in the past) and Croatia were the first team we faced that possessed such players.
Colombia were missing James Rodriquez which was a massive loss to them. I suspect it would have been a different game and outcome if he had played. Whenever England were rattled in this tournament (following the equaliser against Tunisia, first half of extra time against Colombia, and after both goals last night), we resort to the same old traits of relinquishing possession too easily.
When the dust settles though, this will be looked upon as a massively missed opportunity. The draw was extremely kind with the other half of the draw loaded with the better sides.
Pickford was outstanding but I just hope he is our goalkeeper for many seasons to come. I have mixed feelings to supporting England because it seems that, whenever one of our players performs well at a major championship for England, they end up leaving us (Lineker, Rooney). I hope this doesn't happen this time.
Pete Clarke
116
Posted 12/07/2018 at 12:25:29
Now that the dust has settled we can probably look back with a smile and say that they give it a better go than the Prima donnas of the past.
There are a few players who will still be around next time and with that bit more experience and intelligence could make the difference in turning the likes of this defeat into victory.
I don't know how an England team can be without a proper full back though. Ashley Young was average years ago as a winger on the right so don't get that one. Our own Leighton Baines would have been a much better option.

A few people have mentioned it on here and I thought it myself too. We have not had a player like Paul Gascoigne who actually loved having the ball and yet opposition stood off him because they didn't know what he would do. He didn't actually know what he would do himself but we needed someone in the middle like this to ease the pressure and push forward.
As soon as Croatia sensed we were retreating that few yards, they pushed up even harder and we only had Pickford as the outlet. That composure is hard to come by but we missed it a lot.

We could end up coming home with 3 defeats having reached a semi-final so given what we have just witnessed I think there is a call for a few changes to the team with only pride at stake.
David Graves
117
Posted 12/07/2018 at 12:27:12
I agree that the referee appeared to be particularly lenient with some of the challenges in the first half. Croatia certainly won't be able to be anywhere near as physical with Matuidi, Griezman and Mbappe who are "world class" at getting fouls.
Steve Ferns
118
Posted 12/07/2018 at 12:29:36
Okay. England is out now, bronze medal match aside, so time to come back to Everton.
So as a link, what have England done well, on and off the pitch, that you hope Everton can copy / take on board?
Ash Moore
119
Posted 12/07/2018 at 12:39:21
England beat the teams they were supposed to, Steve, that's the only real improvement I can see on previous World and Euro expeditions. Previous England teams wouldn't have found a last-minute winner against Tunisia or battered Panama.
And in this new era of VAR, no back pass and more substitutions, there has never been a better time to play positive attacking football. We need an Everton team that plays to win, instead of trying to grab a point or just "get out alive" in Moyes speak.
Colin Malone
120
Posted 12/07/2018 at 12:48:39
It was just like watching Everton under big Sam, hoofball to the forwards, no creativity at all in midfield. Alli and Lingard in positions that they don't play for their clubs, having to come deep and retrieve the ball without success. There was only room for one in that team.
f only we had a Gazza last night. Loftus-Cheek should have had a chance. Got to give credit to Henderson, worked his socks off, he had to because of the midfield set-up.
Time to go, Southgate.
Steve Ferns
121
Posted 12/07/2018 at 13:01:16
What about the England approach to the press?
For example, England in the past shut Fleet Street out and they would slaughter the team. Southgate gave them access and made them feel part of it all and look at the headlines and opinion pieces today, you'd almost think England won.
Everton seem to have a difficult relationship with the "Red" Echo. Perhaps it's time Everton try to repair that and improve it. We also need to improve our coverage elsewhere and are there lessons to be learnt?
What about commercial opportunities? England have had a tie-in with Marks and Spencer for a little while now, and not much was done about it. But Southgate and his waistcoat have everyone knowledge of the tie-in and #WaistcoatWednesday led to the England clothing range becoming sold out fast.
What's this got to do with Everton? A lot of us are office-based. Everton don't do enough to sell office-type clothing. Last season, they had a fancy club suit made famous by Niasse not getting one. Every player was wearing it before and after games, often in interviews and wearing the club tie.
Everton could easily shift ten thousand or so club ties each season. Not the polyester crap they have in the club shop but a decent one. They'd also shift a good few of them club suits if they sold them. In short, we can learn more about marketing.
Dean Johnson
122
Posted 12/07/2018 at 13:11:16
As soon as Pickford made the save from Mandzukic and shouted at him as he was down as he was injured, I said to my missus that he would score the winner, and he did.
Pickford has been immense but that was a wrong move
My take is that we over-performed with an average team. I can't honestly have seen us being effective with any other players or formation. It was truly the best we could've done but I'm not proud.
Pride always comes before a fall, I am just satisfied that we did our best.
Colin Glassar
123
Posted 12/07/2018 at 13:20:34
I haven't read any of the above posts but I would like to thank Gareth Southgate for restoring pride, and love, for our national team.
After the disastrous reigns of Sven, Wally, Capello, Sam etc.. I really started to dislike the English teams and wasn't arsed after our predictable early exits from tournaments. I particularly disliked our highly talented serial bottlers like Ferdinand, Gerrard, Lampard, Beckham, Rooney etc... so much talent wasted. They were more interested in their self-promoting hype, and Wags, than winning games.
Yes, Southgate has work to do but so much good, young talent is coming through eg Mason, Fodden, Calvert-Lewin, Brewster, Trent-Alexander, Lookman etc... that this could be like the young German team who fell to Italy (semi-finals) but who became World Champions in 2014.
We ran out of steam, and ideas, last night but they will learn from that as long as we keep the manager and faith in these young players. Thank you Gareth.
ps: Do we have to call Pickford, Pickers now?
Darren Murphy
124
Posted 12/07/2018 at 13:23:09
I don't buy into this idea that England had a great World Cup. They did akay and finally won a penalty shoot-out but ultimately they beat Tunisia (just), Panama, Sweden and Colombia (on penalties), lost a reserve match against Belgium and were well beaten in the end by a country of four million people. Had they been in the other half of the draw, they would have been nowhere near the semi-finals.
Well done Pickford though. Quality.
James Marshall
125
Posted 12/07/2018 at 13:29:14
Too many people, not just on here, very quick to have a pop at the England players without taking the time to look at the opposition – Modric and Rakitic are probably the best midfield pairing in International football, and Modric in my view should win the Ballon d'Or this year yet people are complaining about our players.
After Croatia scored, we were dragged from a 3-5-2 into a 5-3-2 by their fullbacks pushing way up the park and the way Modric and Rakitic controlled midfield, constantly switching it from left to right, dragging our now stretched midfield 3 (which should have been 5, see above) from side to side, opening acres of space.
If anything, Southgate (in my view) should have changed it to a 4-5-1 at that point, flooded midfield and attempted to nullify Croatia's strangling of our midfield – a missed tactical mistake but not something to lay into him for. I like the guy, he's doing all the right things generally speaking (from grass-roots up) and we have a lot to thank him for over this World Cup.
I've enjoyed it immensely and I give thanks to Southgate and his team for putting on a fun ride for all of us. Yeah, we lost in the semi-final, but a month ago not one of us would have even dreamed we'd get that far – despite defeat to a very very good side, we have a lot to be proud of.
Colin Glassar
126
Posted 12/07/2018 at 13:36:49
I don't get this denigrating our teams achievement in cup competitions be it at club or national level. Is this a uniquely Everton/British phenomena or is it a general rule amongst fans everywhere?
I remember Everton losing semi-finals, and a final, in recent years and it was never a case of "Well done lads", but "We only got so far cos of shite opposition". Once we faced a decent team, we fucked up.
Celebrate the fact that we got further than Spain, Germany, Brazil, Argentina (not to mention Holland and Italy.) Uruguay etc... so-called powerhouses. That massive advances have been made and these young lads can only get better. Stop trying to always find the negative angle and just enjoy the spectacle we are witnessing.
Jay Harris
127
Posted 12/07/2018 at 13:50:00
Fine margins.
If Lingard had put away that golden chance, it would have killed the Croats off.
However, we allowed them to get up a head of steam and Stones lost his concentration as nerves got the better of them.
I agree with those that say we were far too lightweight in midfield. To give Henderson credit, he was the only one there most of the time.
I always felt the side was unbalanced and Alli should have been up front alongside Kane. Trippier and Walker are too similar and Walker is not a centre-back.
With Lingard, Kane, Alli and Stirling all essentially forwards not midfield players, we looked lightweight in what is Croatia's strongest department.
However, Kudos to Southgate and the squad for making England proud. We've just got to make sure we beat Belgium now.
Christine Foster
128
Posted 12/07/2018 at 13:50:44
The best teams are the most critical of their own performance, it's not negative to be critical if you seek to win.
Some players have it; others don't... but we lost because of our shortcomings and the fact that some were not up to it. Some performed brilliantly but others didn't. It's not a "glass half-full or half-empty" thing – it's dealing with the reality of a loss.
James Marshall
129
Posted 12/07/2018 at 14:03:51
Colin @126,
I'm entirely with you and your view on this, Colin. It bothers me that people just seem to want to let rip and tell them how shit they are – some of my friends have been doing it since last night too.
Sport is about the joy, and especially the World Cup – it's a thrill ride, and one we all enjoyed greatly for the last 3 weeks or so. I see no reason to suddenly berate a young team for not winning one match, a semi-final no less.
I'd call that relative success for an unfancied, and massively new-to-all-this young team. We're all set for the next few tournaments in my view and I'm looking forward to watching England again.
Jay Wood
[BRZ]
130
Posted 12/07/2018 at 14:05:52
Have we got any sports scientists around who can shed light on a question I have?
In the first half last night, Croatia weren't at the races. They really looked leggy and ponderous, both physically and mentally, possibly due to their earlier exertions of playing two extra-time games and penalties previously.
But from the second half onwards, they were rejuvenated. They were the stronger team in all aspects.
Now I appreciate professional footballers at this level undergo mental training as well as physical training to help them get through the pain barrier and times of adversary, but I wonder if there is a natural biological reason that so transformed Croatia from the second half onwards.
And – No! Before anyone suggests it, in no way am I implying any dodgy doping by Croatia. I'm genuinely intrigued to know if there is some biological, psychological, or scientific rationale behind such a striking transformation as I saw it.
Brian Williams
131
Posted 12/07/2018 at 14:22:24
I think you've answered your own question, Jay. England played well in the first half, so overshadowed Croatia.
In the second half, Croatia knew it was improve or go home. They give it a go and realised England were flagging and running out of ideas.
I firmly believe that with the realisation dawning on them that they could win the game, the mental side of things boosted the physical side. Mind over matter if you like.
It's similar to what elite armed forces personnel are taught in a way. Yes, you are tired but, if you don't ignore that fatigue and overcome it, you'll die. Some incentive, that, like.

Paul Tran
132
Posted 12/07/2018 at 14:46:54
Jay, Croatia tweaked their midfield for the second half. I suspect they got a bollocking at half time.
I think it was more mental than anything else. Tactically, they created space in midfield, our wing backs retreated and our centre mids struggled.
When we had the upper hand, they hung in. When they had the upper hand, their class in midfield told and we wilted.
Hopefully our lads will be stronger for the experience, but we still need a bit more class and creativity in midfield.
Jay Wood
[BRZ]
133
Posted 12/07/2018 at 15:04:08
Yeah Brian and Paul. I get the mental boost thing – the adrenalin rush that comes from 'fight or flight' that is biologically innate in us since we took on or ran away from sabre-tooth tigers!
But that tends to be an immediate and short-lived energy booster as a counter to the moment of threat. Croatia sustained it for a further 75 minutes.
I also get how Croatia tweaked things at half-time as you mention Paul. I mentioned the same at the end of 90 minutes in this very thread live last night. For me, it had more to do with England's defence and midfield retreating 10-15 metres than Croatia initiating the change. Either way, the result was as you describe it: Croatia's superior and more experienced midfield gained ascendency and their wing backs were a constant, more advanced threat (and from where their goals came from), which stifled our own attacking options.
But I remain intrigued as to the science and biology behind their sustained upsurge that was evident from half-time onwards, over and beyond that which was induced from the 'fight or flight' adrenalin rush.
Whether they can 'go again' on Sunday against France having effectively played one full game more than Les Bleus (3 x 30 minutes extra time) AND with one day less recovery time is another question.
I certainly hope they can. It would be a fantastic achievement.
Rob B Williams
134
Posted 12/07/2018 at 15:13:30
JW (#130) – 'dodgy doping'? I don't think so... but I am convinced there was dope about – reminds me of the 'rope a dope' tactics so brilliantly adopted by no other than the Greatest – Cassius Clay/Muhamed Ali.
The dopes in question were wearing white – they were suckered, by a Croatian team. Nothing biological, psychological or scientific about it other than the primeval smell of blood and fear of their opponents.
They were enlivened, encouraged and emboldened by what they saw in front of them – beaten men! with no Plan B and they went for the jugular and executed a brilliant kill.
Paul Kossoff
135
Posted 12/07/2018 at 15:16:32
Manager tactically inept, clueless, not a team, just a bunch of over hyped individuals with apparently no clue as what to do to win a match. Players picked because of who they play for not because of form.
Kane looked like a big soft lad who wasn't aware just what a striker was supposed to do, and was in because his dad ran the team. Young, right-footed winger playing left-back and it showed. Rashford, no idea how he's playing for Manchester United – never mind England!
I could go right through the whole team; apart from Pickford and one or two others, the whole lot were below average!
World champions? Nowhere near it!

Colin Glassar
136
Posted 12/07/2018 at 15:19:58
I think the realisation we were only 45 minutes from a World Cup final got the better of some of our players hence the sloppy passing, loss of formation, weakening of knees etc... Sometimes when nerves get to you you can lose concentration, physical, and mental, strength etc.. We visibly wilted in the 2nd half and they smelt the fear and went for it.
We made mistakes. I would've brought on Rose a lot earlier as we never had any balance down the left side. I'd have also substituted Alli and Sterling earlier as they had become ineffective in the 2nd half or maybe brought on Cahill for Trippier and pushed Walker out to the right side.
All ifs and buts I know. Still immensely proud of the lads though.
Colin Glassar
137
Posted 12/07/2018 at 15:24:20
Paul, that must be the stupidest post of the day! Meshuggener 😂
Paul Kossoff
138
Posted 12/07/2018 at 15:26:40
Before I get pilloried for not believing all the hype shite of "It's Coming Home", Southgate picked his side thinking he's still the Under-21s manager; he's clueless and should go.
Last night, England were found wanting against an average side.
Jay Wood
[BRZ]
139
Posted 12/07/2018 at 15:31:00
Colin @ 137: "Paul, that must be the stupidest post of the day!"
That was said before you had a chance to read 138...
Paul Kossoff
140
Posted 12/07/2018 at 15:32:38
Colin 136, nerves got the better of them? That must be the most stupidist post of the day!😋 Only joking, or am I?😁
Paul Kossoff
141
Posted 12/07/2018 at 15:33:52
Jay, hooray!!! I've got two stupidist post's of the day!!!!😁
James Marshall
142
Posted 12/07/2018 at 15:38:55
Paul Kossoff - an average side, Croatia? Are you off your head, mate? They have the best midfield partnership in International football, brilliant wide players, the second highest goalscorer in their history, someone coveted across Europe, a brilliant goalkeeper, and two flying fullbacks — and you call them average?
Seriously, I do wonder what planet some people are on. Modric should be nailed on for the Player of the Year, Rakitic is class, Perisic would walk into any Premier League team, and all the ic's are bright, energetic, quality footballers. Sorry but you're absolutely 100% wrong if you think Croatia are an average side.
Colin Glassar
143
Posted 12/07/2018 at 15:42:38
Paul, take a bow. Two on the same thread takes some doing.
Tom Hughes
144
Posted 12/07/2018 at 15:52:54
The fact remains that for the size of our country, its football history and infrastructure, our record at international level is, and almost always has been very poor.
There are anomalies in the "size of population" argument of course, and smaller nations have occasionally excelled and produced their own so-called golden generations, and as was mentioned New Zealand and Australia have pretty much always dominated Rugby (although I'm not sure if more people play those sports there than here). However, given that basic criterion, we should've produced far more success than we have over the years.
Even when English clubs dominated Europe in the 70s and 80s, we failed to make any real impact internationally (we didn't even qualify for the World Cup Finals in 1974 and 1978).
I think the problem is more one of psyche and culture. Football is a team game and in this country the onus is more on the team ethic than the individual; while our well-drilled teams could beat anything in Europe, when stripped to their individual parts to represent the home nations, those strong team bonds and organisation were lost and individually we were always found wanting.
Watching England often felt like watching a gang of strangers from the lower leagues playing hot potato footy. On occasion, they have looked better than that, but not much better imo.
Stephen Davies
145
Posted 12/07/2018 at 16:08:35
Paul (#135),
I wouldn't quite go that far but I know where you are coming from. There was a problem with midfield.
The likes of Kane, Rashford, Alli and Vardy thrive on through balls and balls crossed into the box; I didn't see much of that... in fact, there was no-one in the squad who was capable of doing that regularly. (And what was the idea of Dier and Rashford taking those free kicks into the box?)
They are all very good players, and yes, in the 2nd half, they played like the England teams we have seen countless times before. How a nation as big as ours can't produce a creative player of the calibre of Modric, Fabregas, Mahrez etc, I can't understand (or maybe we can... look at the record of the national youth teams).
There was a problem in the midfield last night and this wasn't really addressed. From what was available, I would suggest Loftus-Cheek should have had some game time... replacing Henderson with Dier didn't do anything.

Jay Wood
[BRZ]
146
Posted 12/07/2018 at 16:13:53
Tom @ 144. There is a good deal of merit in a lot that you say.
Last week I similarly flagged up Uruguay who have a remarkable international record and an incredible production line of players for such a small country - a population equal to Croatia's.
Given England's population and football culture the national side has indisputably underperformed IMO for the very reasons you list.
However, there does seem to be a bit of a sea change to the England set-up since the national training centre was established (St George's isn't it..?).
England's junior sides are winning major international tournaments. As the second youngest squad in Russia after Nigeria, the senior England side at this World Cup had a heavy representation of players who have grown up within the new structure, passing from age level to age level. Young as they were, they far exceeded most people's expectations.
Down the years Spain and Germany did something similar. They invested heavily in the national youth structure and progressively dominated across different age groups, culminating in Europa and World Cup trophies.
It doesn't come with guarantees and any discerning football fan can identify 1-2 key positions England lack in. But (finally) there at least does appear to be a structured system in place to maximize the national team's chances of achieving something at senior international tournaments, rather than the jingoistic chest thumping of the past that presumed England could be successful by birthright alone as founding fathers of the game.
James Marshall
148
Posted 12/07/2018 at 16:23:17
I think this tournament will set us up nicely for the next few (Euros and World Cups). Southgate and the whole setup is way better now — they're addressing the issues of culture some people have mentioned on here.
The new setup is working from the lower age groups up to the senior side, similar to the Germans and Spanish who have both seen the fruits of having a proper setup.
I still think we have reasons to be cheerful for the future of English International football.
Tony Abrahams
149
Posted 12/07/2018 at 16:41:50
England's intensity was keeping Croatia back, imo, Jay. Once that intensity dropped that little bit, Croatia done what Roy Keane was talking about; they smelt it and then they took advantage of it?
Paul Tran has called it right. Croatia knew how to hang in, just like the French did the night before, when Belguim were all over them early in the game.
If we have learned anything off England, Steve, it's how important playing as a proper team can be. If I've learned anything about football after watching this World Cup, then it would be that, if you haven't got the best players, then you have got to learn to play without the ball.
It's what eventually cost England a place in the final, and it's why international football can be so fucking boring at times!
Pete Clarke
150
Posted 12/07/2018 at 16:49:09
Gareth Southgate is only young, learning his trade and rightly taking the plaudits from many on getting to the semi-finals.
I think it is more in the calm way he keeps himself that has impressed people but a top coach would have seen what was happening early in the second half and changed things around. Whether the fresh players would have made a big difference, we will never know; the same thing happened against Sweden but we got away with it.
In answer to what Jay asked about teams suddenly getting a boost and transforming a game. I think that it may have been a good thing to have gone behind earlier and then the players and manager would then have realised it was react or go home. After Manduksic scored, our players did react with an urgency that was not there earlier but it proved to be too late and in vain.
I am possibly the least patriotic Englishman around but still wanted them to win. It's when I see that pathetic uncomfortable passing around the back followed by a big punt upfield to nobody that I turn against them.
People have criticised Brazil and Germany but I watched both of them and they threw everything and the kitchen sink at the opposition to get back into games with only heroic defending and poor finishing putting them out.
England laboured big time in the last 3 games and, for a nation with the resources we have, that was piss poor. There seems to be a lack of determination in some players and the team was definitely lacking a leader on the pitch.
Let's hope the manager and players learn from this campaign and build a solid team for the future.
Pickford and Trippier were definitely the shining lights followed by Maguire and Walker.
It's over to Everton now though and a nice League Cup win to start a success story will do me. That would give me more joy than England winning the World Cup.
Alan J Thompson
151
Posted 12/07/2018 at 16:55:24
Jay (#146); Wasn't St George's training centre going when John Ebrell was a kid? I think it was referred to as a "Centre of Excellence" in the FA's usual modest way of explaining where all the money was spent.
Tom Bowers
152
Posted 12/07/2018 at 16:55:45
James Marshall, that is a little optimistic isn't it ?
There are so many problems with Southgate and his selections, I doubt it means anything getting to the semi-final.
Picking a Man Utd player at wing back/full back who won't cross with his left foot was farcical.
Not taking Wilshere and expecting Lingard and Sterling to excel was inane – not to mention Dele Alli.
He kept with the same team based on nothing. Struggling to beat Tunisia and brushing aside a pathetic Panama was no yardstick to play the same players against Colombia, Sweden and Croatia.
Southgate goofed big time by not using his other players (the Belgium game was inconsequential).
I think it's time to go back to the drawing board as the easy side of the draw was the only reason England got to the semi-finals.
Jack Convery
153
Posted 12/07/2018 at 17:04:18
Southgate's lack of tactical nouse cost England. When Perisic moved wings and imo became the MotM, we had no idea how to handle him. He was so good, Trippier, who had been excellent all tournament, was knackered by the end of extra time and Walker wasn't far behind him.
Modric got on the ball and poor Henderson – I can't believe I've typed that – was on his own against one of the best midfields in football. Lingard went missing for most of the match and Dele Alli wasn't fit and hasn't been for a couple of games.
I also reckon Harry Kane had to do far too much given Strirling was his normal useless self – and please don't give me that "He worries defenders with his pace" nonsense. At no point did he influence the game like Perisic did –scoring one and the assist for the second, plus pushing Trippier further and further back towards Walker.
Alli and Lingard should both have come off after 55 mins, replaced by Deplh and Dier, to solidify the midfield. Dier could have man-marked Modric. Stirling should have been replaced by Vardy. Rashford coming on was a waste of time as he doesn't know the spaces to get into to hurt the opposition – Vardy does.
The team deserves huge credit for getting as far as they did but experience counts and, unless your manager gets fresh legs on when you're under the cosh, the result will go against you. 9/10 for effort and bringing some pride back to English Football at last.
England's Player of the Tournament – Pickford, no arguement. I just hope he's still our goalie come the Wolves game.
Jay Wood
[BRZ]
154
Posted 12/07/2018 at 17:07:27
Alan @ 151.
Just checked St George's out on Wiki.
Reading up on the history, I'm guessing you are referring back to Lilleshall Hall where England's finest youngsters were sent which died a death as clubs built their own superior academies, and Bisham Abbey used as a base by England in the past.
St George's came into being because the FA wanted their own exclusive national training centre. As you allude to, the cost and return of investment has been questioned and challenged by some.
Ash Moore
155
Posted 12/07/2018 at 17:08:56
A strange old thread. Lot's of revisionism here.
Firstly Croatia. They're not world beaters, no matter how you like to dress it up. They were out-qualified by Iceland. They were very very lucky against Denmark. They looked to have bottled it late against the hosts, whom I contend are a limited football team. And any one of the quarter-finalists from the other side of the draw – Brazil, France, Belgium and a Uruguay with Cavani – would start against Croatia heavy favourites, and would have bitten England's arm off to be facing Croatia for a spot in the final.
They're not dross, but they have benefited massively from being on this side of the draw, including having England for opponents in the semi-final. Now they've got a chance to "do a Greece" and pinch a major tournament from the big boys. On what we've seen, the French will murder them.
You also have to be realistic about England. England were only fortunate against Colombia – did you think they'd advance after Henderson predictably bottled his spot kick?
If the Colombians had did the business at the penalty spot and sent England home a week or so ago, would they still would have restored the nation's pride and had a great tournament?
Kane is the best English striker since Shearer, and an obvious choice to build a team around. It was always going to be the talent around him that was pivotal. Sterling had an average tournament – strangely subbed against Croatia, as he was keeping their backline honest. Alli was anonymous, despite the vaunted Spurs connection. Lingard at least looked to make things happen although seldom did.
England were crying out for a playmaker, someone to play through, the way the Croatians do with Modric. The Belgians have three such players in their starting eleven. England arguably don't have one in their entire squad. That's probably most of the problem.
Football lags strangely behind, but lottery money has changed the sporting landscape across Britain. I never thought I'd see British Tour De France winners, Wimbledon winners, winning gold medal counts at Olympics, beating the Aussies at cricket in Australia. The Under 20 World Cup win shows it's coming.
My feeling is that the national team will find success when the next generation of managers and coaches come through, when the likes of Calvert Lewin and Lookman are in the management sphere.
Jack Convery
156
Posted 12/07/2018 at 17:18:12
Huge semi ends in disappointment... The ladies know that story very well!

Alan J Thompson
157
Posted 12/07/2018 at 17:29:16
Thank you, Jack, (156 cms) — sex rears it's ugly head again then, eh.
Paul Tran
158
Posted 12/07/2018 at 17:37:00
Jay (#133), my point was a little more than fight or flight. There's a few players in that Croatia team that have won things, as well as having experience of losing big games. If your learn and process the lessons from that, while applying a high level of technique, you've got a more resilient team when it matters.
Croatia pushed us back and we stayed there. They knew they had more creativity and knew they were stronger mentally. You could see the doubt in our players.
Once you get tired, your body sends different messages to your brain, telling you what you can't do. Those with greater mental strength are more able to access the memory of skill/ability and override the fatigue. That's why Neville was talking nonsense last night when he said the Croatians would get tired first. He focused on the physical rather than the mental.
Jack Convery
159
Posted 12/07/2018 at 17:37:11
A woman I work with told me it – thought it was worth repeating! Roll on the new season. COYBs.
Gerry Quinn
160
Posted 12/07/2018 at 17:55:31
Dean (#122)...
Pickford made the save from Mandzukic and shouted at him as he was down as he was injured...
I never watched the match as I was visiting – what's the story behind Jordan and this comment?
Steve Ferns
161
Posted 12/07/2018 at 18:07:11
Not much Gerry. He appears to shout, "get up, you twat!" Now if he'd been a bit more polite about it would that have stopped Mandzukic from scoring? That's ludicrous to me. Therefore, what Jordan said hardly made him play better.
Brian Williams
162
Posted 12/07/2018 at 18:12:46
May it please the court, I believe he said "Get up, you fucking twat."
Trevor Powell
163
Posted 12/07/2018 at 18:28:29
My thoughts are likely to be ignored . I am fed up of hearing about Harry Kane [the equivalent of the great american heavyweight WHITE hope]. Having listened to Pat Nevin's scathing comments about Lukaku in the first semi-final, you can parallel him to Kane. They both scored a hatful of goals against Panama and Tunisis . then what .... ZILCH. Half of Kane's goals were from the penalty spot . So why does he win the Golden Boot? Lineker's were all in open play in 1986!
Then we get onto Sterling. What really did he contribute, everytime there was a sniff of a chance, his legs made Bambi's look like tree trunks. What has he got on Southgate? Why has his poor form not been addressed, loads of other players down the year were never given such leeway?.
My wife asked me if I was disappointed. Nah! England are not in my soul like EFC!
James Marshall
164
Posted 12/07/2018 at 18:30:54
Tom@152
Yep, I am indeed being optimistic. I just wish more people would give it a try - it feels a lot healthier than the doom & gloom I've lived with following Everton and England for knocking on for 40 years!
The older I get (mid 40's) the more I seem to see things from a more relaxed standpoint - I used to go nuts and scream and shout but I've given all that up and I feel a lot better for it.
Jay Wood
[BRZ]
165
Posted 12/07/2018 at 18:54:13
Paul @ 158.
My opening paragraph @ 133 replies to the TWO previous posts, yours and Brian Williams. All of us reference the mental side of the game, Brian's more pointedly by talking about elite military training and being placed in extreme and literal 'survive or die' situations. Thus, my fight or flight comment was not exclusively addressed to you.
As my posts in this thread demonstrate, we are largely in agreement about the Croatia team, their individual players, their experience in big games, which makes them more resilient when it matters, as opposed to the more youthful, less experienced, English.
I'm still intrigued to find out, beyond the mental buoying the physical in challenging times, what is going on biologically that impedes or boosts a fatigued athlete's body that means they either fall by the wayside or catch their second wind. What is the critical tipping point, if you like, whereby even the strongest most determined mental desire simply cannot spark one last effort from a depleted body because it is running on empty.
James Marshall
166
Posted 12/07/2018 at 18:59:57
Jay - morale is well known to keep people alive in survival situations and the same is to be said in sporting ones. The brain keeps you going against the physical, but I can't tell you the physiological reason why, however to quote Frank Herbert:
"I must not fear. Fear is the mind-killer. Fear is the little death that brings total obliteration. I will face my fear. I will permit it to pass over me and through me. and when it has gone past, I will turn the inner eye to see it's path. Where the fear has gone, there will be nothing. Only I will remain."
Jay Wood
[BRZ]
167
Posted 12/07/2018 at 19:25:28
Strewth James! That reads like a pray!
Is that lifted from one of Frank Herbert's Dune books? Absolutely loved them as a Sci-Fi enthusiast. Never understood why there has only ever been David Lynch's one-off Dune film back in the 1980s.
The scene of Baron Harkonnen's sadistic pulling the 'heart plug' on one of his young slaves can still send shivers down my spine.
I think I'm digressing. Whoops!
Darren Hind
168
Posted 12/07/2018 at 19:27:46
The criticism on here defies belief. Do people actually realise we are talking about the youngest team (by some distance) in the competition. Did anybody think we should have won the world cup ?
I'm not speaking with Hindsight I came on here and stated at the start of the competition that I thought England would reach the semi finals. but given the ages of some of these players we all kinda knew that somewhere along the lie, they were highly likely to come across a team who simply knew too much.
I find it staggering to listen to some of the criticism. So some of the midfield players may not brilliant South American lock pickers, but Messi, Saurez and Coutinho are . .How did it go for those three ? . .and how do people who see Harry kane as an overrated waste, playing for a team who are not good enough, square that opinion with the fact that he had all but secured the golden boot before the semi finals ?
John Stones was the best defender in this competition. His passing was head and shoulders above any of the other defenders. He didnt have the luxury of playing with a partner he had played with for 5-6 years. He didnt have a solid experienced back four who were all singing from the same hymn sheet. He was the main man in an a three man defence which Has only played together 6-7 times and were treating the world cup as school.
His marshalling sent wing backs on when it was on and drew them back in when it wasn't. He pulled Henderson's strings talking incessantly to him, He confidently minded the shop and enabled Harry Macguire to go on eye catching marauding runs. he bailed the team out time and again taking total responsibility of the ball when they were all getting nervous . . .yet All we hear on here is how he cost us a place in the final.
If John Stones had not have been so brilliant last night saving teammates with his blocks interceptions and accurate passing, Croatia would probably not have needed extra time

Michael Lynch
169
Posted 12/07/2018 at 19:31:39
I love Modric, fantastic footballer, but he must be in a "Who's the Biggest Twat" competition with Lovren. Firstly, nobody underestimated Croatia, and every pundit and fan I've heard made it clear that Modric himself was one of the best players in the world. Why's he giving it loads now about the English pundits firing Croatia up? What would you expect the pundits to do, moan about how shit England are like some of the ToffeeWebbers are doing on here? Where's the fun in that?
As for Lovren telling us we should be recognising him as one of the best central defenders in the world - once a RS always a RS. What a massive bellend.
I hope France win 8-0.
Kieran Kinsella
171
Posted 12/07/2018 at 19:51:59
Michael Lynch,
I would say Domgaoj Vida edges Modric in respect to being a tw@t. Shouting "Burn Belgrade" after scoring. The Yugoslav war was 25 years ago. Can you imagine Bobby Charlton shouting "Burn Dresden" after the 1966 final. Or Landon Donvoan shouting "burn Hiroshima" after a game v Japan. Then we have Davor Suker who is a bigwig in the Croatian FA who openly supports the second world war time Croatian government, which pledged to "kill one third of serbs, expel one third, and convert the rest." You have people drawing swastikas on the field before a game against Italy. A fascist/gangster getting 50% of the salaries of Modric and co. All in all, "lil' ole Croatia" have quite a number of tw@ts in and around their football team.
Stephen Davies
173
Posted 12/07/2018 at 20:25:19
Darren #268.
Not necessarily...but we thought they should have won that game.
When half time came they were the better team and should have been 2 up.
I think the comments have generally been fair and the 2nd half performance is not beyond criticism and in the end they were beaten by a better team...and that was the issue..Croatia played as a unit and their defence was excellent.
England have many talented individuals but as a team Croatia were far stronger and organised.
As for a lock picker..Modric is doing ok.
Shane Corcoran
174
Posted 12/07/2018 at 20:33:55
Darren, I haven't read the thread as I'm not that bothered but I disagree that Stone was the best defender in the competition.
He played against Panama and Tunisia. I think I remember him giving the ball away inside 20 seconds against Tunisia and again shortly after. I don't think he had too much defending to do in either game. I think he was rested for the Belgium game.
Colombia decided to argue with the ref for 70 minutes before they made any attempt to play and last night again, although he did some very good things, he was again guilty of giving the bally away.
Varane has been much steadier if it's a good defender you're looking for.
Kieran, not to get into politics too much, but what does it matter how long ago the Yugoslav war was? Very easy to have that kind of opinion when you haven't lived it. I'm not saying anyone is right but as its the 12th July, you don't need to look too far to see that people don't just move on from such conflicts.
Kieran Kinsella
175
Posted 12/07/2018 at 20:47:42
Shane
My point is, that it was about the same timeframe from World war II to the 1966 world cup that it is from then until now. The 66 world cup steered clear of a politics.
Moreover, politics has nothing to do with football. FIFA talk a lot about kicking out racism, tackling sectarianism, etc but in one way shape or form, it is becoming more and more evident in the game. A little 5,000 franc fine here or there doesn't discourage it. You start with the odd illicit banner, then drones flying flags over the field to incite fans, then you have players making inflammatory gestures and remarks.
At some point it becomes dangerous. The words are coupled with violence.
Darren Hind
176
Posted 12/07/2018 at 20:54:23
Stephen
I don't believe the were the better side. they were at times played of the park
That they were still in the game at HT was more down to England's profligacy than anything their ropey defence did. In the end, they were more street wise. They didnt blink first. They were able to make their experience tell.
I nailed my colours early and although I'm disappointed I don't feel let down that "we" didnt get further. These lads had a proper go.
Sometimes its about timing in sport. I once saw a tricky young Brummies' beat the very great Roberto Duran. Very stylish fighter, but he wouldn't have been allowed in the same post code as the Panamanian in his prime. We all know several similar examples
Croatia were at their peak. most of the England team wont reach theirs for another world cup . .or two
Tony Abrahams
177
Posted 12/07/2018 at 20:54:51
I think the French kid, is the best defender Darren, I watched him get Madrid, to the Champions lge final, when they were getting overrun by Bayern, in the second leg, at home the other month, and thought his positional sense, was fantastic for one so young.
But, you know me, and you know how much I admire John Stones. He fell asleep for the winner, but he's the best "FOOTBALLER" in the England squad by a country mile. His bravery to constantly offer himself, or just get on the ball, is an absolute joy to watch imo, and no other defender comes near him, when it comes to getting their team to play?
Stones, as you have indicated is also a footballing midfielders dream, it's just a pity England never really had one for this tournament, and it was a much bigger pity, that he wanted to leave us to sign for Man City.
It's not always pleasant, but I'm sure we learn more from our own mistakes, and if I was Southgate, I'd be giving John Stones the captains armband, for Saturday's dead rubber against the Belguims?
Shane Corcoran
178
Posted 12/07/2018 at 21:13:59
Kieran, I don't disagree with your ideal, I'm just saying it's easy to point out this ideal having not experienced war. For example, I've read that Modric's father was shot dead when Modric was 6 and he and his family became refugees in a warzone.
That doesn't condone his words, but it might make them easier to understand.
Stephen Davies
179
Posted 12/07/2018 at 21:14:09
Darren
I agree to a certain extent, I thought England would win it after that first half..but the 2nd half was Croatia,hands down.
As for the future, it looks bright, however Germany Italy and Spain will be having their own post mortems and will come back stronger. England do need to find a bit more creativity if they are to go head to head with those teams

Darren Hind
180
Posted 12/07/2018 at 21:18:42
Did he fall asleep Tony, or did the guys behind him (who could see it all) not react ? Stones certainly wasn't blameless, but solely to blame ?
I listened to Roy keane throw an army of proper Toby's a large slice of fucking nonsense after the game
"You don't get a shout in a world cup semi" he said as he wound up the rest of the panel.

Anybody and I do mean ANYBODY who has ever put on a pair of boots knows Keane was talking out of his arse, that you simply cannot play the game at any level without talking to team mate, especially about what going on behind his back. Stones was entitled to somebody to even give him a shout or cover the run. He got neither and I wont accept this was anything but a failing of the unit rather than the individual.

I take all things into consideration Tony. I wonder if your boy would have been a natural enough footballer to drive what was a brand spanking new system, adopted leading up to the tournament and trialled in the middle of it.

Stones for me all day long. He will be around for Two possibly even three more world cups and he will only get better
Paul Tran
181
Posted 12/07/2018 at 21:42:02
Blaming Stones for that goal was harsh and simplistic, he's had a very good tournament. Him and Maguire have been a great combination.
Varane has been the best centre back in this tournament. He's got the presence Stones will get in the future - if he gets the time on the pitch.
Tony Abrahams
182
Posted 12/07/2018 at 21:54:35
I think if you asked John Stones, he would probably blame himself, but if you asked the England team, then I'm not sure any of them would blame him though, because I think he has earned the respect of everyone for the reasons I've already mentioned?
I think Varane, is a fantastic DEFENDER, but I wouldn't swap him for Stones, for the reasons you gave before Darren.
He never totally switched off, but he never anticipated that Trippier, might lose the header, and in a game of such magnitude, that little lapse in concentration proved to be fatal.
Paul Tran
183
Posted 12/07/2018 at 22:21:11
Jay #165, I don't know much about this; a while back I read something about muscles having memories. When the brain is slow/stopping the muscle's memory kicks in. I read stories of amputees still 'feeling' what they've lost from the end of the remaining limb where the connection used to be. It may be momentum-linked: I've seen it occur when racehorses are seriously injured. I've also worked with people who have had concussion, yet still functioned 'normally', while having no memory of the events. I'm also certain that there's still a link with the brain, albeit more sub-conscious.
Beyond that, Jay, I can't help you, though if anyone has any insights, I'd love to hear them.
Danny O'Neill
184
Posted 13/07/2018 at 01:21:53
Never done the international football thing. British, not English & Everton not England. I also have a dislike for the collective England fan mentality. Always found it sinister & south-east England driven.
So my take is that a pretty average team characteristic of the failings in English grass roots football (opt for physicality / speed / power - or combinations of - over technical ability and creativity) done better than expected in part due to a favourable fall of the post-group draw.
Sure, it got exciting and hopeful for England fans, but reality was they played 2 decent teams and lost to both. As mentioned previously, Croatia's 3rd 2 hour slog on the bounce yet because they don't rely on chasing shadows, they can handle it. The England boys were hooped after a half because their game relies on working hard; anyone who knows tournament football will understand that takes its toll. Let the ball do the work as the basic coaching instruction says.
Scarred by years of youth coaching on muddy pitches listening to idiots shouting their "philosophy" of "get stuck in" and "get rid". I don't speak Dutch, but I doubt you hear that on the 3G pitches in the villages & small towns of Holland.
So, being a Scouse exile in London, whilst it was amusing & entertaining watching the Eng-er-lund mob hurl their £40 rounds in the air, I'm glad it's over and look forward to the real stuff starting next month.
Lee Brownlie
185
Posted 13/07/2018 at 04:31:54
Ultimately.. I reckon its clear [NOW] that this was just a step too far for our boys, and that, ffs (as in I hate to hear it in football but its true when you play against class) we actually 'scored too early'. Of course, you'd NEVER advocate NOT scoring (as if, lol!), but thats just how it sometimes works out! We rallied a bit after, Kane missed his golden opportunity.. (I actually don't think he was that great since colombia!)
2009 FA cup Final v Chelsea, just 22 seconds on the clock and Saha's left foot oh so friggin' sweetly puts us Toffees ecstatically 1-0 against a Drogba-Lamps etc etc Chelsea, anyone? I remember, later on just starting to get this foreboding feeling.. just as during this semi.. (just remembering back, I spent those moments of EFC celebration dancing round my then 'local' bar in Chiang Mai, The Chiang Mai saloon, northern Thailand (my third year in the country, and town, where I now mostly live) with a Japanese friend of mind who just sat sipping his beer, and looking incredulously over his glass at me, as to what all the fuss could possibly be about, haha!!!)...
Alan J Thompson
186
Posted 13/07/2018 at 10:19:37
Fancy not being able to defend unless someone tells you to.
Eric Paul
187
Posted 13/07/2018 at 12:09:09
The Dutch philosophy didn't even get to the world cup
Don Alexander
188
Posted 13/07/2018 at 13:38:35
On another matter I'd just like to offer my condolences to the Addams Family now that their cousin is no longer coming home, again.
Danny O'Neill
189
Posted 13/07/2018 at 18:26:41
On this occasion Eric; I'm sure they'll be back. I just think that this World Cup (for England) was in danger of papering the cracks of what is fundamentally wrong with English football.
Then again, my argument can be countered in that you should play to your strengths, which England did to be fair. Trouble is, graft only gets you so far and when they did come up against quality, they got beat x 2.
Add Your Comments
In order to post a comment, you need to be logged in as a registered user of the site.
Or Sign up as a ToffeeWeb Member — it's free, takes just a few minutes and will allow you to post your comments on articles and Talking Points submissions across the site.