Cottee: Silva has plenty to prove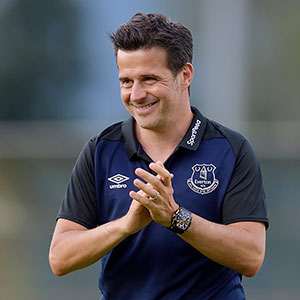 Tony Cottee wasn't convinced by Everton's decision to hire Marco Silva as their new manager, arguing that he hasn't won major honours in any of Europe's big leagues.
The Portuguese was named as Ronald Koeman's long-term successor at the end of May after Sam Allardyce's arrival on a two-year contract ended up being an interim appointment following the Dutchman's sacking in October last year.
Major shareholder, Farhad Moshiri, had earmarked Silva as his chosen replacement at the time but was unable to prise him away from Watford. He had to wait until the former Hull City boss was fired from the Hornets himself before handing him the reins at Goodison Park.
Cottee is mystified by Moshiri's eagerness to land Silva, however. "I don't understand Everton's obsession with Silva and I hope he proves me wrong," the former Everton striker said in an interview with sportingbet. "He was relegated with Hull and was sacked after a poor run of results with Watford.
"Other managers could have come in and done as good a job, so I think he needs to prove himself still."
"He's got a lot to prove to the fans. They will be looking for something different after what happened to Sam Allardyce as well with Koeman before him. They need a period of stability and I hope Silva does that, but overall, I don't see the big obsession with his appointment.
"He hasn't won any major honours in the big leagues around Europe, so Everton has got someone with potential, rather than the finished product."
---
Reader Comments (28)
Note: the following content is not moderated or vetted by the site owners at the time of submission. Comments are the responsibility of the poster. Disclaimer
Amit Vithlani
1
Posted 18/07/2018 at 07:55:30
Google "Cottee and Allardyce" and an interesting pattern emerges of Cottee providing support to Big Sam, to the extent of saying in May that it would be a bad idea to replace Allardyce with Silva.
His comments also sound curiously similar to Allardyce's comments on Silva in one his early press conferences.
He also has form of expressing Support for Allardyce at previous clubs.
I wager Cottee will be championing Big Sam the next time he is linked with a position at another club.
Victor Yu
2
Posted 18/07/2018 at 08:47:39
If he means we should have picked a more proven manager, then I would agree with him.
Les Green
3
Posted 18/07/2018 at 08:53:08
Amit, you beat me to it. I was thinking the same thing
Mike Allison
4
Posted 18/07/2018 at 09:00:37
Of course Silva has a lot to prove, but Everton aren't there yet. Anyone who was completely proven and had already done it all would be likely to have offers from clubs in a stronger position than Everton to win trophies and compete at a higher level.
Silva and Everton seem like a good fit right here, right now. My biggest worry is something that Watford fans say about him which reminds me of Martinez, which is that when things went wrong last season, he didn't have a way of changing things and arresting the slide. My fear is that we make a good start, but when things go wrong, we get a key injury, some bad luck or just a difficult run of fixtures then fans patience will wear thin if Silva doesn't appear to be dealing with the situation.
Having gone through Martinez's last two seasons and then Koeman and Allardyce last year, Everton fans can't have much patience and faith left. I think we're going to need it, but I am generally optimistic about where we're going now. Far more so than many on ToffeeWeb it would seem.
Steve Ferns
5
Posted 18/07/2018 at 09:20:41
Mike, the one question mark over Silva is his ability under pressure.
At Estoril he was like a god to the small number of fans they had, so there was no pressure when they lost a couple, not that it happened often.
Then at Sporting, he was only under pressure from the president. He told the fans that the president was holding the side back and they wouldn't sign the players he needed to win the league. He only lost a couple of games and had no pressure from the fans.
There was great pressure at Olympiacos, but he hit the ground running and didn't stop winning so he was never actually under pressure.
Then at Hull, their fans were impressed with his results and didn't put him under pressure at the end of the season, they begged him to stay.
So Watford was the only time he was under pressure. But flirting with us cost him the trust of the fans and the players and he has a management style that depends on trust. The players have to buy into his methods otherwise it won't work.
I still think he has what it takes. And unlike Martinez he has many strings to his bow and can vary things.
As for Cottee, I used to idolise the guy, but since he left I fail to recall him saying much good about us. He also surprisingly displays about as much knowledge of the wider world of football as Paul Merson.
Tim Locke
6
Posted 18/07/2018 at 09:22:19
Classic snipping from the armchair. It's too easy to say he is probably not the right man but I might be proved wrong.
I am more interested in who is the right man, why he is the better man and can we actually get him. Careful thought through analysis, rather than sound bite journalism.
Victor Yu
7
Posted 18/07/2018 at 09:26:53
"... Anyone who was completely proven and had already done it all would be likely to have offers from clubs in a stronger position than Everton to win trophies and compete at a higher level..."
It is about money. If proven managers are willing to manage in China, then I don't see why we can't attract them to Everton if we are offering them enough money.
Bob Skelton
8
Posted 18/07/2018 at 10:04:16
I'd be happier if he recognises the deficiencies that we have. We need a dominant centre-half, a left-back, and a creative midfield player.
Not sure we need another winger. Let's give him a chance though and see how the season starts.

Martin Nicholls
9
Posted 18/07/2018 at 12:38:16
Cottee gets paid to spout bland comments like these from a position of little knowledge and I don't see the point of giving them space on TW. I would be willing to bet that our own Steve Ferns knows far more about the strengths and weaknesses of Marco Silva than Tony Cottee ever will.
James Hopper
10
Posted 18/07/2018 at 14:49:34
As a pundit, Tony Cottee talks a lot of shite but, let's be honest, he's not far wrong on this one.
Silva does still have to prove himself in England. Maybe there have been flashes of something but he's yet to take a job which hasn't ended in failure. Whether that failure has been his fault or not remains to be seen.
I also agree with Cottee about Everton's single-mindedness in hiring him. Of course we don't know if anybody else was considered or approached but Moshiris determination to get Silva was steadfast. Arguably there were other potential candidates available this summer who, it seems, we didn't look at.
Oliver Molloy
11
Posted 18/07/2018 at 14:57:14
Moshiri desperate to prove he is right in hiring Silva. Silva desperate to prove he is the man!
Personally I think Silva will get us playing attacking brand of football but will be found wanting a lot of the time – hope I am wrong.
Dermot Byrne
12
Posted 18/07/2018 at 15:04:56
"...what happened to Sam Allardyce as well with Koeman before him?"
"What happened to... ?" Jaysus — they are victims now?
Ian Burns
13
Posted 18/07/2018 at 16:39:40
Martin (#9), I agree Steve Ferns could tell Cottee a thing or two and I prefer his assessment than our former striker's.
Of course there are question marks over Silva but he is here now and he should given every chance and encouragement. He also has Brands to turn to but nobody that I am seeing is questioning his appointment.
Given the state we are in, it has oft been said recently that patience is the key – we need to take a deep breath and let the season unfold.
Jim Hardin
14
Posted 18/07/2018 at 18:27:47
Silva, other than at Estoril, has landed at "powerhouse" clubs in each's respective league, outside the Premier League. Honestly, how hard was it to win at Sporting and at Olympiacos? He did not have to build anything and never stayed long enough to see if he could.
For example, Olympiacos, when he arrived, had won the league 5 years running and 10 out of the previous 11 seasons before he arrived. Under him, the club lost the Greek Cup. He did manage a record number of points in the league, but how much of that was down to the squad's natural improvement from the previous year or the league peculiarities from season to season?
Silva managed the club to an impressive road win over Arsenal in Champions League pool play. However, at home against Arsenal, needing not a win or tie, but just to lose 2-1 or 1-0 to move on into the knockout stages of the Champions League, lost 3-0. Both, Silva and the team could be said to have choked. Worse, Silva then managed the team straight out of the Europa League in the first knockout match-up.
His performances at Premier League clubs, whatever excuses some on here make, have been less than satisfactory using players not of his choosing. If Everton, not a league powerhouse like Sporting and Olympiacos, goes into the season with current players, is he going to be able to improve the players he has? I would suggest, his record in the Premier League indicates that he is being figured out by the other clubs within about 10-12 games and is unable to adapt sufficiently to counter. (I already like him better than Big Sam but if he finishes in the same position as Big Sam, is that reasonable or should he be able to better that?)
I, like Mr Cottee, am not sold on Silva. I do hope I am 100% incorrect though. This is especially true, given the other coaching choices whom could have been approached and apparently were not, given the lack of any press about actual verified Everton inquiries being knocked back, and Mr Moshiri's seeming infatuation with him as coach.
Kieran Kinsella
15
Posted 18/07/2018 at 19:37:07
Cottee isn't exactly brain of Britain. I have doubts of Silva but Cottee is not my go-to man for incisive commentary. He was a tap-in merchant, why score 1 goal when you can score 3 against a crap opponent, then do nothing for weeks in all the 0-0 or 0-1 games where a goal would mean something?
He has no pedigree as a manager or a coach either. In fact, most "pundits" are jokers and take that route because they have tried and failed as managers (Lawrenson, Shearer, Neville, Jimmy Hill). The good managers are usually terrible pundits.
During the World Cup, here we had Guus Hiddink. Great manager, but incoherent, boring pundit who made Alexei Lalas seem like a brainiac – even though we know obviously Hiddink is superior. Likewise, Ferguson was a mumbling incoherent blaggard when commenting but excellent as a coach. Therefore, let's no longer even discuss pundits. They know nothing.
Paul Mackay
16
Posted 18/07/2018 at 19:39:55
I had doubts over the signing of Cottee but it worked out okay.
Kieran Kinsella
17
Posted 18/07/2018 at 20:01:22
Paul
"Worked out"? — British record transfer fee for the occasional hat-trick in the Simond Cup isn't exactly fulfilling expectations.
Paul Mackay
19
Posted 18/07/2018 at 22:34:00
72 goals in 184 Everton games, not a complete disaster but not great, I'd call it okay.
Danny Baily
20
Posted 18/07/2018 at 23:24:45
He's hit the nail on the head here.
Gary Carter
21
Posted 18/07/2018 at 00:01:05
I have to agree with him, our pursuit and eventual appointment of Silva has mystified me too. He's done nothing, barely scrapes a 30% win average as a Premier League manager, and got Hull relegated.
A poor man's Martinez, basically.
Denis Richardson
22
Posted 19/07/2018 at 20:48:01
Completely agree with Cottee. The marathon to get Silva was a bit odd to say the least, even offering £10m in compensation, if rumours are to be believed.
Either way, he's here now so we hope for the best. Easy way to start to please the fans is by signing players we need in the right positions.
Kunal Desai
23
Posted 19/07/2018 at 20:59:36
Whenever I have heard or seen Cottee speaking about us, it's generally a fair assessment; he does talk highly of us compared to some of our ex-players who are in the punditry world.
I sincerely hope I'm wrong but I'm not so sure on Silva, my gut feeling tells me he's going to turn out to be another Martinez and will be gone in two seasons. Really hope I'm wrong, but I'm not sure this guy has the characteristics to tough it out when the shit starts hitting the fan. I will back him all the way and hope to be proven wrong.
Paul Birmingham
24
Posted 20/07/2018 at 09:10:55
Easy to put the boot in, but the whole club has a lot to prove this season.
Phil Walling
25
Posted 20/07/2018 at 13:46:49
The most optimistic one can be about Silva is to believe 'the jury is out'.
Certainly 'a left field' appointment by Moshiri but so was Kendall 1 at the time and we can only hope he delivers the same results !
As far as Allardyce is concerned, I've always suspected he was appointed on the advice of the so called Director of Football Walsh. Certainly the two were great mates and that did for him.
Meanwhile, Cottee continues to spout 'the bleeding obvious'. I'm just hoping Silva turns to gold !
Jerome Shields
26
Posted 20/07/2018 at 14:19:32
I remember Cottee as being a much-heralded underachiever, who got picked for an FA Cup final because he cost so much.
Silva is a risk which Everton should have not had to take, but he was the only serious contender for the job, given the basket case Everton is. Brands is the man I pin my hopes on, to sort out basket case Everton. The other risk that was taken was giving Silva a three-year contract which was completely unnecessary.
The reality is that Everton has been badly managed at Board Level for years. It's only now that the fans, who where quick to identify the football management weaknesses, have woken up to the Board management weaknesses. Remants of these weaknesses are still obvious.
But more importantly these perceptive weakness are how Everton is painted when attempts are made to select new managers and new players, limiting the choice available. This is the reality of Everton today.
But there is hope, with Brands on the Board. His status within Everton will increase and. He will increasingly call the shots. His appointment is the first wise move that Moshiri has taken and Brands feels he can work with Silva. Gradually the Board will change and with it Everton's fortunes.
A fully supported Niasse will be turbocharged. This shows the influence Silva can have. He has not only given him a locker, he has given him the dressing room. Other players will benefit from his influence.
Mick Quirke
27
Posted 21/07/2018 at 15:53:22
Very good post, Steve (#5).
Alan J Thompson
28
Posted 24/07/2018 at 06:15:19
At the time it was widely thought Cottee was signed because he was the right size,he fitted the team photograph, he didn't make anyone else look too short or too tall and it was a fact that was well hidden unless you actually attend a match.
Tommy Carter
29
Posted 24/07/2018 at 06:47:21
@15 Kieran
Interesting point you make
Ferguson has been described by few however as a great coach. His skills were more aligned to management and leadership of a whole football club.
Roy Keane hardly hides his disdain towards Sir Alex Ferguson. But he also is on record as saying that in the hundreds of occasions he played for him, he never once failed to inspire the team before they went into the field, often with short but inpactive motivational speeches. Not bad for a 'mumbler'
As for TC, a decent goal scorer, an average player and an average pundit. I'm not too fussed on his opinion about most football mattters, particularly when it comes to Everton
Add Your Comments
In order to post a comment, you need to be logged in as a registered user of the site.
Or Sign up as a ToffeeWeb Member — it's free, takes just a few minutes and will allow you to post your comments on articles and Talking Points submissions across the site.