Williams joins Stoke on loan as Fiorentina court Mirallas
Thursday, 2 August, 2018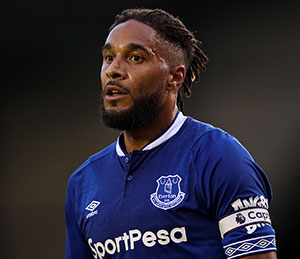 Ashley Williams has likely played his last game for Everton after finalising a season-long loan with Stoke City while Kevin Mirallas looks set for a spell in Florence.
Williams has been recruited by the Potters to bolster their attempt to return to the Premier League at the first time of asking following their relegation to the Championship in May and it will take up the final year of the 33-year-old's contract at Goodison Park.
Confirmation of the Welsh skipper's switch comes in the wake of news that he, Mirallas, Cuco Martina and Nikola Vlasic were training away from the first team on the order of Marco Silva.
The exclusion of the quartet is an indication that they are surplus to requirements at Everton as Silva tries to whittle his squad ahead of the new season.
Mirallas, who is reportedly in talks about joining Fiorentina for the season, began pre-season in promising fashion but has been used less as the summer fixtures have progressed, while Vlasic, who could be being prepared for a year away on loan, has also been used sparingly.
Martina, a free acquisition by Ronald Koeman a year ago, has barely featured because of an apparent injury while Williams is in talks with Stoke City over a potential season-long loan.
---
Reader Comments (203)
Note: the following content is not moderated or vetted by the site owners at the time of submission. Comments are the responsibility of the poster. Disclaimer
Graham Coldron
1
Posted 02/08/2018 at 14:46:49
Is this a sign of how ruthless the new managerial regime is to be? Needless to say Talk shite was not to happy with this when the news broke this morning.
Jamie Crowley
2
Posted 02/08/2018 at 14:51:34
Why in the world does TalkSport even care?
I can only imagine the inclusion for Vlassic in this black-booked group of four is his attitude? Surely if he wasn't quite making the grade he'd be loaned out?
Conjecture admittedly, but Unsy had some issues with Vlassic too if I remember correctly, and Koeman didn't play him much at all.
We need to twiddle down the roster. If this is what Silva wants, so be it.
Dean Johnson
3
Posted 02/08/2018 at 14:53:12
well I for one am over the moon, about time we got ruthless. I think sometimes "The People's Club" is too much of a moral moniker and it weighs heavy on people like BK in their decision making.
Time to stop being nice and start showing some backbone
Tony Ateman
4
Posted 02/08/2018 at 14:55:11
I see Lookman is not one of the four. Does this mean he is staying?
Brian Williams
5
Posted 02/08/2018 at 15:00:08
I think "maybe" somebody is making a bit too much of all this to be honest.
If Silva wants a squad of two outfield players for each position it could be that he has that now, excluding these four, and he's simply told them (nicely) that as they're not part of his first team squads plans that they won't be training as part of that group so must train from them separately.
I know it sounds more or less the same but it might not be the ruthless, beheading that it's been made to sound like, and what's more it might well be what happens at every club at the start of every new season.
Steve Ferns
6
Posted 02/08/2018 at 15:03:15
Mirallas had his chance to shine. He worked hard and did well, but once the quality of opposition improved, he was found wanting.
Williams was clearly not up to it. He's far too slow for Silva. He's too small and he now lacks strength. He's still a good backs to the wall, defend your penalty area defender and would do well for a team like Cardiff.
Martina is just not good enough. Sure he could be back up to Coleman but Kenny has potential and is probably better than him already. Therefore, Martina is too old to waste time on. It was also telling that he played right wing and not right back in the early training matches.
Vlasic is the big surprise. I don't know what's gone on there for him to be out of favour. He's young and talented. In the first real training video we saw him with the yellow bib playing not ways in attack. Silva clearly had a good look at him. He figured prominently in the early pre-season games, but he didn't do enough.
Could it be that one of him or Sandro needs to go and Sandro is going nowhere on those wages. Sandro also works harder and shows some signs of being a player (albeit a backup) and maybe silva thinks he can work on Sandro long term and turn him around as he is still young and can learn and is eager to learn.
James Morgan
7
Posted 02/08/2018 at 15:03:34
Mirallas going Fiorentina. Why on earth did we give him a new deal last year? A complete sap on wages, would've been smarter to let him go on a free, no one wants to pay a fee for him!
Denis Richardson
8
Posted 02/08/2018 at 15:15:10
So Williams (Stoke) and Mirallas (Fiorentina) soon to be gone, that should free up a bit of the wage bill. Hopefully a transfer fee for Mirallas will help pay for part of Willimans' wages for a year.
Looking up on the cull front.
More importantly where's the new CB(s)?
Kelvin Thomas
9
Posted 02/08/2018 at 15:16:14
Two out of the four mentioned are very close to completing loan deals (Mirallas and Williams). I'm guessing that the other two are also subject to similar offers to move away. Hence why Silva has asked / told them to train away from the group.
They have clearly stated that we need to move players on, I have no problem with these four moving on.
Vlasic might come good as he has age on his side but he hasn't done enough I'm afraid. This will allow Dowell more opportunities in my opinion which can only be a good thing.
Jay Harris
10
Posted 02/08/2018 at 15:16:37
I actually saw signs of the old Mirallas in preseason and for me he is the only one of the forward players who opens up a defence and can score himself although the view seems to be Richarlisson is better.
Also Bainsey has been one of our better performers preseason so we buy a new LB.
While I think this has been needed for a while the length of time spent on getting Digne would have been better spent on a proven goalscorer, a MF enforcer and 2 quality CBs.
I am not overly impressed so far.
Neil Carter
11
Posted 02/08/2018 at 15:21:01
Change coming but will take time.
Rennes game confirmed the need for new blood.
Seems Vlasic not going to get a chance-times up on the others so right to move on.
Not sure Sandro should not be moved on- like Klassen the Premier league is not for him.
Need to make more signings and competition for places- quite a few need to play for their Everton careers before the next window.
Transition needed but will take time.
Sam Hoare
12
Posted 02/08/2018 at 15:27:18
Seems a clear and well executed strategy to me this Summer.
1. Start with a relatively blank slate. Let the management team take a good look at everyone to make assessments.
2. Buy in most clearly lack areas: a) Strong, dangerous left winger- done b) new left back- done c) new CB- in progress
3. Get the unwanted players off wage bill- Rooney, Robles, Mori, Klaassen etc gone with Williams, Mirallas and more on the way.
So far so good.
First team is stronger. Squad is smaller. Wage bill is smaller.
Just need a CB (Lascelles please) and possibly a CM (Loftus-Cheek?) to add to first team now.
The problems of the last 2 years were never going to be fixed in one or even two or three transfer windows but there seems more clarity and sense being applied now.
Kelvin Thomas
13
Posted 02/08/2018 at 15:30:00
Agree 100% Sam, with the addition of Lascelles and Loftus-Cheek as you mentioned!
Mike Gaynes
14
Posted 02/08/2018 at 15:30:27
Neil, Sandro played more minutes in the preseason than any other field player in the squad, and he has not been separated from the first team, so it would seem Silva disagrees with your assessment.
Personally I was impressed with his relentless work rate and improved confidence, although the end product wasn't there.
Paul Bernard
15
Posted 02/08/2018 at 15:30:36
Mirallas is finished, Martina has done his job, Williams is a sweetener in the N'Diaye deal, vlasic seems to have an issue with the management team generally, I wonder if he was given false promises by the previous regime? I would also be wound up to be honest, imagine moving to a new country to sit on the bench behind bolasie and Lookman who apparently fancies the german move.
I also think a lot of people are over hyping Vlasic far too early.
John Hammond
16
Posted 02/08/2018 at 15:34:46
His pre-season form counts for nothing - we know his attitude stinks.
Now all we need are a couple of CBs, a midfielder and a forward. Easy (cough, cough).
Jon Ferguson
17
Posted 02/08/2018 at 15:49:19
This level of ruthlessness is needed. There's no way I thought they'd get rid of as much dead wood as they have (if Williams and Mirallas leave). 9/10 for the removal service to date, 10/10 if they get rid of Martina and Sandro too. I think the jury is still out on players we're bringing mind.
Les Murray
18
Posted 02/08/2018 at 15:50:33
If I could pick four players to go, these would be the four.
Adam Scott
19
Posted 02/08/2018 at 15:55:26
I don't really think anyone can complain here. Silva has to be honest with the lads, and I think he has been. Talk of banishing people is probably unfair, he has seemingly told them all that at the moment, none are in the first team plans.
I'm a little surprised at Vlasic, but all things considered, he isn't going to get games at the moment, and he needs them. It's also a fact that despite having few opportunities, he shows promise, but nothing that leads me to believe he is ready for a regular place just yet. I would like to see him loaned out. Somewhere where he can play in a more competitive league than the Croatian league he has come from. Make a longer term call in twelve months.
On the others. No real surprise. Nothing personal against thrm, but they are not good enough, are over the hill or have frankly been here too long. You can pick out who is who.
Robert Leigh
20
Posted 02/08/2018 at 16:07:30
Vlasic is an international for Croatia, so has something about him.
A loan (to Leipzig, leave Lookman alone!!) would work well, we then get him back should he do well.
An attitude problem would surprise me given he was playing for a no-name team this time last year, we plucked him from obscurity and gave him his chance so you'd have (thought) hoped he'd be grateful.
Williams/Mirallas/Martina - how many of us expect them to get on the bench, let alone in the 11?
Pete Edwards
21
Posted 02/08/2018 at 16:20:15
Jay, they won't be doing just the one deal at a time, the Digne deal will have been going through as well as the club speaking to plenty of other players/agents/clubs to bring in and move on players
I've heard Vlasic to Newcastle on loan, not a bad move if true
Stewart Lowe
22
Posted 02/08/2018 at 16:27:27
For me, excellent news to hear 4 players have been asked to train alone. I always felt that Williams and especially Mirallas could be trouble makers. I think the fact Silva doesn't want them with the main group could suggest that. Vlasic is a bit of a wonder to me, I don't think anyone from Silva to my mother knows his natural position. He doesn't naturally fit into a Silva team and we can see that Silva wants LB at LB and a CB in a CB position. Martina was never any good so that was a no brainer anyway. I never liked Mirallas as he and Williams never looked like they gave a shit in my opinion. Schneiderlin and Davies would be added to that quartet also, as they have been lazy for 18 months. New players, new system and new mentality, I am loving this.
Phil (Kelsall) Roberts
23
Posted 02/08/2018 at 16:30:11
I think we are forgetting the various stories about the Vlasic family and him being unhappy at Everton and not getting enough game time and he was better than we thought he was from the middle of last season.
Does he still have a strop?
Pat Kelly
24
Posted 02/08/2018 at 16:39:36
We still need a striker. Otherwise it's gonna be backs to the wall.
Christopher Timmins
25
Posted 02/08/2018 at 16:44:07
Only 4?
Kevin Prytherch
27
Posted 02/08/2018 at 16:48:09
Assuming they all leave...
That leaves us with a 25 man squad of (assuming a 4-3-3)
Gk - Pickford, Stekelenburg
RB - Coleman, Kenny
LB - Digne, Baines
CB - Keane, Holgate, Jagielka, Pennington
CM - Schneiderlin, Besic, Gueye, Davies
CM - Sigurdsson, Dowell
RW - Walcott, Sandro
LW - Richarlison, Lookman
CF - Tosun, Niasse, Calvert-Lewin
Not sure where Bolasie fits in.
Also could mean loans for Baningime, Connolly and Robinson, which would continue to aid their development.
I think it's clear from this that centre-back is still the big area we need to recruit. I wouldn't like to be relying on Jagielka and Pennington if injuries hit.
Gavin Johnson
28
Posted 02/08/2018 at 16:58:49
It's great news that it looks like we're offloading Mirallas and Williams in the next couple of days. Just need to get rid of Schneiderlin now and the 3 biggest wasters in the squad will be gone!
James Hopper
29
Posted 02/08/2018 at 17:05:58
There has been a toxic attitude throughout our side for a few years now. I firmly believe the atmosphere at Finch Farm and the dressing room has had a bigger effect on results than the talent or age of our squad.
I don't know who the main negatives influences are, but hopefully Silva has identified them and is getting ready to ship them out. No player, regardless of ability, should be retained if they are a negative influence on the team as a whole.
Jerome Shields
30
Posted 02/08/2018 at 17:07:26
I was surprised that Vlasic is in this group. I thought he had potential. Was unaware of problems mentioned in the thread.
The recent interview seems to suggest he is homesick. I thought the intervention of his sister was inappropriate. Hope he is loaned out to somewhere suitable so as to develop and mature. Good Luck!
Steavey Buckley
31
Posted 02/08/2018 at 17:08:17
Silva needs to wrap up further transfers as soon as possible. It is risky leaving deals to the last minute. The next best time to buy is next summer.
Rob Halligan
32
Posted 02/08/2018 at 17:13:27
Gavin, 28. It looks to me like Schneiderlin has been given a reprieve if he's not been told to train away from the first team squad. It looks to me like he is well and truly in Silva's plans for the season. Not saying I want him to stay by the way.
Mark Tanton
33
Posted 02/08/2018 at 17:17:41
I agree with James about that there must have been serious dressing room unrest. Did it start with the bad apple Eto?
Ajay Gopal
34
Posted 02/08/2018 at 17:20:53
Kevin (27), I am pretty sure McCarthy and Baningime will feature in Central Modfield. For that reason, Besic/Schneiderlin will need to be shipped out.
Alan Templeton
35
Posted 02/08/2018 at 17:28:38
I'm not sure people understand how our current roster compares to our ambition. We have a massive bloated payroll and roster that is out of sorts. If our goal is to be a mainstay top 4 club, how many on our roster do you see playing on a current top 4 club?
Brands and Silva are at the beginning of their tenure. Patience is needed as they sort out this mess so they can begin building our proud club back to relevancy.
Michael Kenrick
36
Posted 02/08/2018 at 17:33:59
"Vlasic is an international for Croatia"
— didn't they just play in some big game recently? Funny cos I coulda sworn Nikola was not on the field that day... Why is that, I wonder? Heck, he wasn't even in the squad.
It's like many players who our scouts only seem to notice when they happen to play against us. And that's been reason enough, apparently, for us to buy them. From Jermain Beckford to Aruna Kone to Yannick Bolasie...
Don Alexander
37
Posted 02/08/2018 at 17:43:14
To me the toxic attitude in FF started when Kenwright employed Martinez. I don't know why Eto'o decided to down tools but my guess would be his disgust at being managed by such a clown who had massive public support from on high. So, if we're wondering what's needed to improve things in a professional way I suggest removing Kenwright is the remedy. Oh and as many as possible of "his lads" on the training staff too.
Frank Crewe
38
Posted 02/08/2018 at 17:43:17
People are saying loan Vlasic out. I don't like the idea of loaning young players out to decent clubs, especially continental ones. They get a taste for it and don't want to come back. Look what happened with Lookman. If they must be loaned out loan them to a lower division club in this country. That way coming back will feel like a step up.
As for making players train alone or in a small group. I'm against it since I do not think grown men should be humiliated in this manner. We may not like them but I know I wouldn't like to be treated like a naughty schoolboy. If you don't want a player fine put him on the transfer list and sell him or bite the bullet cancel their contract pay them off and let them go on a free.
Gavin Johnson
39
Posted 02/08/2018 at 18:01:10
Not that surprised about Vlasic. When we signed him we were told that he could be a replacement for Barkley. On paper he looked a good signing. From what I've seen, he's not a bad player, but not exceptional. I thought he'd have more pace if I'm honest.
I suspect like a few others that this might be down to attitude problems. His sister and dad also had a few things to say about his lack of games.
Before Williams goes to Stoke, I'd be offering him and Vlasic plus £25m for Lascelles. Newcastle need a replacement CB, tick! They want attacking players and were recently linked with Vlasic, tick! And They get a big fat cheque that will please Ashley.
Raymond Fox
40
Posted 02/08/2018 at 18:04:37
You mean the clown that managed the team that came 3rd in the World Cup Don?
Theres more guesswork in the thread than a series of 'who's done it' crime mysteries.
Dave Ganley
41
Posted 02/08/2018 at 18:18:23
Come on Raymond let's not start rewriting history. The downturn in performance, fitness, team spirit, professional attitude, caring about the club all started when Martinez took charge. The club was in a healthy state when he took over and he started the malaise that has seen us where we are now. Don is spot on, Martinez was a clown backed by idiots like Kenwright. He should never have been near the club in the first place. I don't care what he's done with Belgium, in club football he has a shocking record really when he got his feet under the table barring the fortunate cup win with Wigan, but even then he managed to get the club relegated in the same season with his ridiculous defence free tactics.
Joe McMahon
42
Posted 02/08/2018 at 18:18:44
Don I certainly agree about the cosy all ex players at FF, including unsworth. But calling Martinez a clown is a bit strong. He's doing ok now which is more can be said of David 11 years of nothing Moyes.
Bobby Thomas
43
Posted 02/08/2018 at 18:19:11
Mirallas is nowhere near the player he was. He's lost a yard, at the least. His attitude is poor. Hopefully this loan will be the last year of his contract as well, like Williams.
David Israel
44
Posted 02/08/2018 at 18:25:15
This a well-known, albeit debatable, habit in Silva's home country of Portugal. If a manager doesn't want to keep some players, he puts them on a sort of gardening leave-separate training, thus putting pressure on the board to sell them/ship them off. Still, it shows that Silva has got some mettle.
Gavin Johnson
45
Posted 02/08/2018 at 18:26:17
Martinez suits the cup competitions of international football where teams have to win! He got us close to a few cup finals. In the league it was a different matter, and he was shown time and time again to have no plan B when a team sits back. In terms of where he sits amongst Everton managers, he's far from the worst. Had he stayed I wouldn't be at all surprised if we'd have won a trophy, but it would have been mid table to bottom half finishes. Personally I'd take that, cos I want to see Everton win a cup again in my lifetime.
Stewart Lowe
46
Posted 02/08/2018 at 18:34:55
Don#37
I think you hit the nail on the head there. Martinez was not a tough character, and was always way too nice. I'm not saying nice and that made me like him, as I thought he was a terrible and one dimensional Manager. I just cant see him lecturing players for fear of not having them on side. I think it was a slow decline in discipline amongst the players from mid-way through his 2nd season, and we all know how players seemed to down tools for the duration of his final season in charge. So the stench at Everton and player unrest has been festering amongst players for 3-4 years now, since the self respecting players under Moyes
Darren Hind
47
Posted 02/08/2018 at 18:35:00
I had it form a very reliable source that Mirallas has turned up on his very best behaviour and that Silva was delighted. He thought Mirallas would solve a massive headache and trusted him with very specific instructions.
He wont be the first manager to find out Bentley boy can't be trusted, but at least he found out early and has acted.
Silvas's job is to separate the wanted from the unwanted. Brands has the unenviable job of getting them out of the club. Both seem to be getting down to work now... but how the fuck has Schneiderlin convinced them he is worthy of their trust?

Clive Rogers
48
Posted 02/08/2018 at 18:40:11
I am not surprised Vlasic is out of favour he has been a massive disappointment. After initially showing flashes of promise, he seems to have gone into his shell. On his last few appearances he did absolutely nothing. So much so that it was difficult to even guess what would be his best position. Certainly not on the wing or striker. Simply not good enough.
Stewart Lowe
49
Posted 02/08/2018 at 18:41:18
The only reason that Schneiderlin hasn't been asked to train alone is because lets face it, we could easily end the Everton careers of 20+ players, but we cant let them all go in the same transfer window. But still expect 12-15 to go this window, maybe 2-3 in the January window, and the remaining deadwood by next summer.
Peter Gorman
50
Posted 02/08/2018 at 18:43:39
We all have our little theories on where and when the toxicity crept in (say what you want about Moyes but he built a team).
Personally, I always thought it was Lukaku. Great striker but the 'big I am', got away with openly disrespecting the club under Martinez, then Koeman did it for him. From my own experience in teamwork you can't have one ego (even justifiably) thinking he is better than the team and his teammates. The squad kept rotting even after he moved on.
Who knows.
Tony Abrahams
51
Posted 02/08/2018 at 18:48:59
You only had to see Jagielka, giving Martinez, the ice bucket challenge, to see how little respect he had for him. More than a bucket, shouts Roberto, and our captain, showed how snide he can be, with his little smirk, and a total lack of respect.
It was Something a scouser would describe as a shit-house trick, and it showed me a bit more about the character of both these men.
Hopefully Snides is getting saved for next week Darren, because this would give most of us a massive boost just before the big K/O.
Jack Convery
52
Posted 02/08/2018 at 18:54:14
Martinez is and always be a clown - a clown who got lucky. In Belgium he had a team that should have won the world cup - on paper they are better than the French but he couldn't get the right tune out of them and they got thrashed in a semi final. How many times did Efc let 3 or more goals in during a match ? Hes an idiot - simples. As for this non story - when players are surplus they train away from the first team - that's simples too.
Richard Mason
53
Posted 02/08/2018 at 18:57:54
Looks like Pennington and Robinson out on loan as well, and like everyone else I'm not sure why schneids is being kept. I wonder will Connolly get a look in
Mark Tanton
54
Posted 02/08/2018 at 19:20:13
Martinez deserves a little more respect - who else got as many Premier League points in a season? Who else walked into Old Trafford and beat them? We also walloped Arsenal and Chelsea too.
Grant Rorrison
55
Posted 02/08/2018 at 19:27:40
Jack 52.
24 times in 3 seasons. An average of 8 a season. Compared with 18 times in the last two seasons, an average of 9. We have actually managed to get slightly worse in that respect since Martinez left.
Moyes's record was 55 times in 11 seasons. An average of 5.
James Hopper
56
Posted 02/08/2018 at 19:38:56
To expand on my post earlier about toxicity in the dressing room...
I was at a game with a friend a few years ago when Martinez was in charge. I can't remember which season it was but we had been on a decent run.
We won the game but I remember saying to my mate that the body language of the players was all wrong. From the moment they stepped onto the pitch, they didn't look like a happy, right-knit bunch. It was even more evident after our goals. The TV cameras focus on the scorer of course, but I noticed the other players reaction to our goals just wasn't . right.
Whatever has crept into our dressing room certainly started during the Martinez years and subsequent managers have failed to address it. I don't want to speculate on who might be responsible but I only hope Silva finds them and gets it sorted. As I said earlier, tactics, ability and team selection don't matter if the players aren't happy.
Dave Ganley
57
Posted 02/08/2018 at 19:46:38
Mark #54 if you can't see that Martinez started this horrible slide down the league then there's no helping you. Give him all the respect you want but he just gets my contempt for dragging us back to the level of the late 90s early 2000s, a bit of a laughing stock. It's going to take a long time to rebuild and get back to where we were when he sabotaged us. He will always be a buffoon to me for what he started.
By the way I think you'll find there was quite a few that went to United and won that year. We did hammer the arse in possibly Martinez finest game but you neglect to mention the thrashings handed out by the RS, the constant plucking losses out of the jaws of victory, the mind numbing shite served up week after week that all but destroyed the atmosphere at GP and of course made it a kindergarten to come to for all opposing teams. But hey you respect him if you like, whatever floats your boat
Rian Magee
58
Posted 02/08/2018 at 19:51:42
Dave, can you explain '...Martinez started this horrible slide down the league'.
You mean from us going from regularly challenging for the title under Moyes?
Sorry, but I'm really not sure what point you're making there mate.
Stewart Lowe
59
Posted 02/08/2018 at 19:53:01
Mark#54
The only reason Martinez was lucky enough to amass a record points was because he had a high pressing attack, that when partnered with his inherited and extremely tight Moyes defence, it made for some exciting football. However, by the start of his 2nd season, the reliable Moyes defence was being changed and moved around, and defenders were expected to bring the ball out from the back. They were defenders for fuck sake, not forwards, and it went down hill from there. And the only reason we beat Man Utd at Old Trafford was because at that stage of our season, Evertons defence wasn't quite yet creaking. Couple this with Moyes trying to get Man Utd playing like Everton did under him and the result was inevitable.
I once read an extensive and very compelling article about Martinez and Brendan Rogers in 2015 that likened these muppets to Guardiola's disciples. Both Manager's testified to being huge fans of his football and studied his work closely. The only problem with that is, not matter how much you study and try to emulate him, they could never be close to him. In my opinion, Martinez blagged two years as Everton Manager whilst continually telling us all along that the team is excellent after a 5-0 hammering.
And anyone who says, give him a break as he did get to the world cup final, a lot of their games were not entertaining, and on paper he had at least one superb player in every position, so wouldn't that be expected???
Stewart Lowe
60
Posted 02/08/2018 at 19:59:43
Does anyone remember all those games under Martinez where we would play 40,000 beautiful passes, have 73%, and lose 2-nil??? Yes we were the laughing stock. Every player from Kone to Alcaraz was "phenomenal", even if we lost. Ya couldn't really make it up can ya ha ha. It got to the point where we had to try and score 4 goals per game to win one 4-3 :) Such short memories.
Raymond Fox
61
Posted 02/08/2018 at 20:00:15
James 56# All the players or at least most of them are millionaires or potential millionaires, the dynamics of the players to the manager has changed for ever.
They'll disagree with the manager on tactics, selection, training, who's being paid what etc.
If the manager wants to put the emphasis on attacking, the defenders wont be happy, if he's defence minded the attackers wont like it.
As far as the four training separately, maybe they just want to be playing regularly and Silva cant give them that.

Steavey Buckley
62
Posted 02/08/2018 at 20:02:47
Stewart (#59) Martinez was actually unlucky, he had to sell Fellaini, when he would have helped Everton win a top 4 place in the premier league in his first season. His 1 goal in 3 matches and the ability to dominate both penalty areas have been sadly lacking since he has gone.
Dave Ganley
63
Posted 02/08/2018 at 20:04:47
Rian Moyes made us into a decent top 6/7 team that managed to compete against the top sides. He had his faults as we all know like not having the self belief to go to top 6 teams and win. Yet he created a squad of players that would fight tooth and nail for the club. At home we were more than a match for anyone which made his reluctance to have a go away from home all the more frustrating. We needed a top level manager to take us forward to the next level and all we got was Martinez, a buffoon who started the rot and koeman carried it on.
You forget how poor we were when he took over. A bit more belief and we could, probably should have won the Europa league in 2007 and the fa cup in 2009. He should have gone then but that shouldn't detract from the fact that he left Martinez a decent squad and Martinez destroyed everything built in 11 years in a couple of short years. We now have to go through this rebuilding process again and will probably be a good 4 or 5 years at least before we are back to how we were when Moyes left. No we weren't challenging for the league but given the right manager we could easily have been in that top 4. Instead we are miles from being at the level of the top 4. Let this sink in, when Moyes left you could consider ourselves on par with spurs, look at the difference now in 5 years. That's the point I'm making. One team progressed and one regressed.
Stewart Lowe
64
Posted 02/08/2018 at 20:09:18
Steavey#62
There is no doubt that we might have missed Fellaini, but I don't think Martinez liked the player anyway. Martinez liked players to keep possession and play it on the ground, whilst Fellaini plays most of his best football in the air, so I would never say that was an issue. The reality is that he inherited what I believe to have been either the 2nd or 3rd tightest defence under Moyes, to literally doing the opposite to parking the bus. Fellaini going is a poor excuse.
Stewart Lowe
65
Posted 02/08/2018 at 20:14:35
The sad thing is that when Moyes was in charge and when we had no money, it maybe would have took a couple of good strikers to compliment the balanced team we had and we could have got in the top 4 each year. Now that we have a Billionaire owner and possibly a blank cheque book, we will be lucky to make top 6 or 7 next season.
Jamie Evans
66
Posted 02/08/2018 at 20:23:36
Great news, the cull continues. Would like to see more of Vlasic but hey ho.
By the way, Ashley Williams is a lot of things but a troublemaker 😳 - an all time classic TW conspiracy theory that is.
Martinez is a clown though. That be true.
Kev Jones
67
Posted 02/08/2018 at 20:24:47
Good shout Mark #54 on Martinez . He got the team playing the best and most exciting football I've seen us play in years. Yeah he got it wrong in defence, became possession obsessed and yeah unreal in his spiel. I remember the amazing 'we got a diamond called Ross Barkley' moments and I think Martinez gets it in the neck partly because he really raised our hopes and really did leave us feeling blue.
A shame he did not get ten or was it eleven years like Moyes, instead Moshiri came in and made his mark. Roberto evolved and had a plan B that ensured Belgium progressed in the world cup and they lost to the eventual world champions. Shame he was not given the chance to evolve with us.
Good on Silva sending the message to our current passengers- lets give Marco time.
Rian Magee
68
Posted 02/08/2018 at 20:26:51
Cheers Dave, juat wanted to hear your take on it...the slide down the league phrase confused me a tad as we havent slid that far (position wise).
Agree totally in what you say about him forging a squad that would fight tooth and nail. Been saying it for a while regarding our transfers, I'm not mich fussed on 'big names' or the the 'next big thing' . Its that determination pride and being in it together, bleeding for each other that I want..thats the kind of spine you want to build on.
I always think its difficult to compare though Dave. Its unfair to compare 11 years with barely 3. We have no idea what would have been created if Martinez, or Koeman for that matter were given the same 11 years to really put their stamp on things.
You're right in saying we have regressed, we certainly have...fingers crossed we're going in the right direction but it is going to take time. Time and patience, which in todays game are very elusive commodities.
Peter Warren
69
Posted 02/08/2018 at 20:29:20
Moyes second to third best defence in the league, challenging top 4? Not that I remember. I'm not having a go at Moyes for that and always thought his home record and transfers were very good.
However, we were not challenging top teams (reasons for this are debatable) and I thought his record in cups and results / performances away from home was extremely poor.
Jamie Evans
70
Posted 02/08/2018 at 20:35:24
Williams is a goner. Confirmed.
Paul Tran
71
Posted 02/08/2018 at 20:45:01
What strikes me with this is that, right now, Silva & Brands appear to have a lot more clout within the club than Koeman & Walsh had. My hunch is that Brands is making the difference, getting deals to shift the unwanted.
As Steve Ferns said, Schneiderlin is only here because he's the only one who can pass a ball on a good day. Now, I've just heard that Spurs will listen to offers for Dembele. That's the kind of player we need, if he'll come here.
Richard Mason
72
Posted 02/08/2018 at 20:45:58
On a different note, I just watched Digne in training today. Wow, that lad has some serious pace, looked really good in attack and defense, looked like he outpaced Walcott!
Rob B Williams
73
Posted 02/08/2018 at 20:46:50
MK 36 to this fella from Rennes?
Dave Ganley
74
Posted 02/08/2018 at 20:49:28
Rian I think Moyes was given that length of time due to the state we were in when he came, fighting relegation, cannon fodder for the top teams etc. It probably took 3 years before we started to reap the benefits of what Moyes was building. By 2007 we had a very good team and played some cracking football, something that a lot of people seem to forget. Moyes certainly took his time over transfers but for most part he got it right, you either bought into the club or you didn't and if you didn't you were out. I remember Blomqvist who I thought was an excellent player show dissent by being substituted, next thing he was out. I didn't like that decision but it was the right one. His scouting network was second to none. He got some fantastic buys for not a lot of money. Cahill, Arteta, Pienaar jags lescott Coleman etc all great buys who not many had heard of. He even got a tune out of Mirallas.
Martinez bought poorly in my opinion. Bought too may players who didn't buy into the club and couldn't care less when it was all going wrong. Even the so called one of our own, Barkley played for himself. Martinez would have took us down in my opinion had he been given another season.
I think Silva should be given time because of the state of the club now. Poor attitude, poor fitness, poor team spirit and a totally unbalanced squad, it will take time to correct.
Peter #69 that's why Moyes had to go, total lack of belief that we could win away and win cups but he did build a team that could and should have won away and won trophies.
Rob B Williams
75
Posted 02/08/2018 at 21:03:19
DG 63. 'he left Martinez a decent squad'. OFM
I do believe that the rot started when 'he left' Having spouted about the grass being greener etc etc, the twat upped sticks and left his team in the lurch. If there was any fault on Martinez (and I wasn't really a fan after his 1st yr. ) it was that he had to pick up the pieces and probably moral was at a low ebb.
Steven Gerrard slipped on his arse but Moyes "left" and the whole club 'slipping on it's arse' and is still floundering as a result. The blame here is not only with Martinez or his successor but the fact that this club was jilted by a 'glory seeker' who as it turned out couldn't cut the mustard... and a Chairman who has overseen the whole fucking mess for far too long.
ps: I though he was due to go this month – but he will cling to office until they carry him out.
Dave Ganley
76
Posted 02/08/2018 at 21:15:28
If you read my posts Rob you'll see I thought Moyes should have gone in 2009. However, to say he left us at a low ebb and low moral is misleading as is Martinez supposedly picking up the pieces. Even allowing for the fact that Moyes stabbed us in the back we still finished 6th and we were part of a top 6, on a level par with spurs as I stated earlier. Now if that's not leaving the club in a decent state I don't know what is.
Totally agree with you on Kenwright though, he's been a leech on us for years and as you did, I thought he would be gone this month, although I guess there's still plenty of time.
Frank Sheppard
77
Posted 02/08/2018 at 21:26:27
These changes in personnel should be viewed as positive. Sounds good to me.
Andy Crooks
78
Posted 02/08/2018 at 21:31:03
Raymond@ 40, Martinez is the worst manager I have ever seen at Everton. Belgium, with any other manager, would have won the World Cup.
He was, and is, utter shite. He relegated Wigan and fucked off. His appointment at our club was shameful.
Brian Murray
79
Posted 02/08/2018 at 21:32:57
Those who keep plucking Loftus-Cheek out the air are deluded. We have made no bid even if he would consider a set-up like Everton.
Kenny Smith
80
Posted 02/08/2018 at 21:34:50
Great bit of business because I though we'd of struggled to get rid of those two in a car boot sale.
Steve Ferns
81
Posted 02/08/2018 at 21:35:02
The worst manager we ever had gave us the best season we've had since I was 8. It was all down to Moyes though, who couldn't get within 5 points of him in 11 seasons. It was all luck, yeah beating all those top sides was all luck.
Dave Ganley
82
Posted 02/08/2018 at 21:38:33
Dress it up any which way you want, Steve, but Martinez started this horrible rot with his God awful tactics and shocking man-management of players. Doesn't matter what the reason for that first season was, he has nose dived us which will take a lot of time to recover from. He and Kenwright have a lot to answer to...

Gavin Johnson
83
Posted 02/08/2018 at 21:40:17
Andy - Koeman and Walsh have left the club in a bigger mess than Martinez! And to say he was worse manager than Mike Walker and Walter Smith is just plain daft. Martinez got record points and two semi finals in one season! What did Walker and Smith do?? Why don't you just admit you did and still have an irrational hatred of the man.
Steve Ferns
84
Posted 02/08/2018 at 21:42:07
In your opinion. Dress it up anyway you want. But you can't get past a record points total, a European quarter final (only Kendall has done better), and two semis in a season. But sure don't let facts get in the way of your scapegoating.
It's the one thing I hate about this club the need to always have a scapegoat. It's absolutely ridiculous.
Frank Crewe
85
Posted 02/08/2018 at 21:43:53
"But the fact that this club was jilted by a 'glory seeker' "
Managed the same club for 11 years. Which by modern standards is an eternity. Decides to leave to manage a club with more money, a much bigger profile and far better prospects yet he's a glory seeker. This is the same attitude as those who think any famous scouser who doesn't live in Liverpool is a traitor.
Is a manager not entitled to improve himself and the living standards of his family? Was he a glory seeker when he jilted PNE for us? People move on. We are not living in a petrified forest. He wanted his shot at the elite. He took it but it didn't work out. Such is life. As least he can say he had a go instead of regretting that he didn't. All managers want to manage the top clubs.
Moyes made a decent fist of it with the resources at his disposal. He got us into the top 4 and an FA Cup Final on a shoestring budget. It is not for us to pine about what might have been but to concentrate on what is.
Eddie Dunn
86
Posted 02/08/2018 at 21:44:16
Andy, well said, the man is a total and utter fraud. I would have brought the World Cup home with that Belgium squad. People have perhaps forgotten the mind-numbing nonsense that cretin spouted pre- and post-match.
Neville Jones
87
Posted 02/08/2018 at 21:45:24
First of all, I find this "let's get tough and ruthless" alpha male approach in some of the comments a bit pathetic. By all means, trim the squad but this grandstanding leaves a bad taste in the mouth especially as it doesn't guarantee anything, least of all results.
I'm afraid that this business of players being separated from the main team in training is unnecessary and will not help either the players or the club. Whilst players are with us, on no matter what salary, they should be treated with respect. Too reminiscent of Koeman "the hard man" in the way he treated Niasse who showed great dignity.
So, while we're are at it, let's get rid of Jagielka and Keane because they have struggled preseason and on current form are not good enough. What about Bolasie? What about Schneiderlin?
There is no logic in getting rid of Vlasic who has showed promise. Yes, he's inconsistent but he's young and can play in different positions. A bit baffling when you consider that Marco is keen on young talent. Let's hope this is a loan to give him first team experience and develop.
Losing Vlasic and keeping Schneiderlin is equally baffling. We have more than enough players in that position and if pre season is the judge, he is a liability. We have 4 players in that position who are all better (Besic, McCarthy, Baningime, and of course Gueye).
Good luck to Kevin, he has been excellent and looked all right pre-season. Williams has been poor but good when in his first season, too old when we bought him. Well done, Sam, for turning Martina into a good left back but not a long-term prospect. Let's wish them all the best if they leave and get them back as "squad" players if they don't.
Agree with you Dave, Moyes an excellent manager with no money to spend. We shouldn't let the nature of his leaving impact on how good he was. Rob you should be ashamed of yourself.
Steve Ferns
88
Posted 02/08/2018 at 21:46:10
Frank, your last sentence is spot on. Why we even arguing about Martinez and Moyes. Who cares. They came, he promised much, neither brought us success. Let's concentrate on the here and now. If we can only get a centre-back and decent deep-lying passing midfielder we could surprise ourselves this year.
David Pearl
89
Posted 02/08/2018 at 21:49:04
Moyes had us yoyoing before he stabilised us as a top 5/7 team. Martinez never had that opportunity. The mess most certainly started when Walsh was appointed in my opinion.
The fact that Browning, Galloway and Garbutt failed to replace the ageing defence hasn't helped. We've thrown away millions on failed managers... nearly £20m was thrown at the Under-23 squad. I don't fully agree with letting go Funes Mori or Robles but here's hoping when we finish this window we've replaced the leaving players with better ones and not worse.
Steve Ferns
90
Posted 02/08/2018 at 21:49:24
Neville, none of the players you named plays Schneiderlin's position. They all play in Gueye's Position. Maybe Besic at a stretch can play there. But he had two poor games against better opposition, when he passed to the opposition more than a blue shirt. He's a championship level player.
Chris Watts
91
Posted 02/08/2018 at 21:54:13
Williams going is a start, but I won't be happy until jags Morgan and Keane are gone. I've mever seen a worse defensive performance than against Rennes and the final goal, where some unknown striker raced in between both our central defenders from about 10 metres behind them was a disgrace.
All 3 need to leave the club. Niasse isn't good enough. Bolasie isn't good enough. However I like the new signings and we now have a core of around 6 guaranteed starters so things are looking up

Stewart Lowe
92
Posted 02/08/2018 at 22:00:00
Any (#78),
You bute!!!
Absolutely!
Frank Sheppard
93
Posted 02/08/2018 at 22:08:25
The real point about Martinez at Everton is why did it go so badly wrong, why did we become dull and embarrassing, when we had been exciting and successful by our standards?
Why did he change in interviews from a genial guy with a twinkle in his eye, with good points to make, into a gibberish-speaking bore ? Not sure this has ever been successfully explained.
Jack Convery
94
Posted 02/08/2018 at 22:12:00
Yippee!!!
Bill Watson
95
Posted 02/08/2018 at 22:22:53
Good to see Williams signed (on loan), for Stoke, tonight. The cull continues!
On the Martinez debate: I think we were all fooled by that first great season but by the second season the warning lights were well and truly flashing and the third season was just horrendous. The penultimate game v Sunderland was very much like Smith's last game at Middlesbrough. Totally inept. Martinez would most certainly have got us relegated.
The false dawn was Koeman, and Walsh, and the resultant shambles of a season. Brands and Silva at least appear to have some sort of plan and are moving the players out who have been sucking the life, and cash, out of this club. Martinez wasn't a clown: just a poor manager and he proved this in the World Cup.
Jerome Shields
96
Posted 02/08/2018 at 22:26:47
It has been clear for years there was an attitude problem in the dressing room, amongst certain players. I have often seen on ToffeeWeb highlights where I thought it existed and it's affected on the team. There are still players in the squad who I would like out, because of it. But they are deeply ingrained and have support within Everton. It will be how Brands and Silva deal with this element, which we determine whether they are successful or not.
Dave Evans
97
Posted 02/08/2018 at 22:32:23
Ashley way past his best to be with us. By all accounts a good man off-field. Good luck at Stoke.
Mirallas talented feet scuppered by his head. Good luck also.
Jamie Crowley
98
Posted 02/08/2018 at 22:34:56
On a different note, I just watched Digne in training today. Wow, that lad has some serious pace, looked really good in attack and defense, looked like he outpaced Walcott!
TY Richard @72. Between Digne, Richarlson, and hopefully a new CB, we're looking up. Positive reports from discerning TWers on incoming players always lights the Hope candle for me.
Good luck to Ashley Williams too. Never my favorite, but I hope he does well at Stoke.
Hugh Jenkins
99
Posted 02/08/2018 at 22:40:22
Neville (87). None of us knows what happens in training nor why Silva has issued this order.
However, Mirallas definitely has previous form as a trouble maker and may have been separated because he is a bad influence. As I recall, Vlasic's sister and father also blew their mouths off in the press just after he first joined us, saying that he was too good a player to be on the bench and that he deserved to be a regular starter, so that may be manifesting itself again in the form of Vlasic himself. etc.
We have learned tonight that Williams has signed for Stoke City on loan for next season and there is a strong rumour that Mirallas is to sign in the next 24 hours for Florentina on loan and that Vlasic is going to join Newcastle (whether that is a loan, a sale or part of a deal that will bring Lescalles our way I don't know).
However, given that everyone is agreed that the squad needed pruning, it looks like at least three of the four mentioned are about to leave the club more or less immediately.
In the circumstances, I expect that Martina will also be leaving on loan, or by sale pretty soon, so it seems that the culled players, training alone were already well on their way out of the club before this instruction was given.
In fact to put another slant on it they may have been told "No need to come in to train with the team, since you are leaving, but if you want to come in and use the clubs training facilities to keep your fitness up in the meantime, you can". which, of course, puts an entirely different complexion on it.
Kevin Prytherch
100
Posted 02/08/2018 at 22:41:07
Where were you lot in the last couple of years under Moyes?
All we heard from this forum was that Moyes had been here long enough, the squad was old and stale, he never gave youth a chance and we'll never do anything with him at the helm.
All of a sudden he's the messiah again.
I give you the great one's last season...
A midfield consisting of Hitzelsperger, Gibson, Fellaini, Osman and an injured Pienaar or Mirallas and a strikeforce of Jelavic.
Compared to Martinez - Barry, McCarthy, Barkley, Osman and an injured Pienaar or Mirallas, with Lukaku up front.
Moyes did well, but he should have gone many years earlier.
Martinez didn't do as badly as people make out - he lost all confidence in what he was doing by the 3rd season. He had to go, but what we wouldn't give to be the leagues highest scorers by December (his 3rd season) and to narrowly miss out on 2 cup finals.
Tom Bowers
101
Posted 02/08/2018 at 22:42:48
To be honest, Williams was a stop gap after Stones went but his best years had gone and last season it showed. Having said that there were a number of players who underachieved which may have been partly due to the manager problems although that shouldn't be used as an excuse.
Those particular players will have to really show something different this season for Everton to get into the top six. Not too sure that this Lascelles guy will improve the defence but then I never rated Van Dijk and look how much RS wanted him.
Rob Halligan
102
Posted 02/08/2018 at 22:48:34
Just prey none of the centre backs who we have come the start of the season, get injured, otherwise Williams will be recalled. 😨😨
Mick Howard
103
Posted 02/08/2018 at 22:50:13
Think the fans and social media destroyed Martinez. It was unfortunately and unfairly toxic at both home and away at the end but to be honest we have never played as well since he left and he never spent the money his successors did. Good stint at Everton and good stint at Belgium and a shame we chased him out (shhhh Silva is very similar and cost us an absolute fortune to get back to where we were).
Sam Hoare
104
Posted 02/08/2018 at 22:52:09
We need a CB, that much is obvious, ideally someone big, strong and most importantly, fast. I think Lascelles fits the bill. I am not totally convinced by Mina or Rojo. Jullien at Toulouse is a name I saw mentioned today who might be perfect.
Anyway the other big question is midfield, do we need a deep-lying midfielder who can distribute or a box to box type player? Probably both in an ideal world. Looks to me like Silva is prepared to give Schneiderlin a go at the 'regista' role (I really think we missed a trick with Max Meyer) in which case I reckon he wants a box-to-box to compete with the likes of Gueye and Davies (who needs a lot more minutes this year and could even be best served by a loan).
Chris Watts
105
Posted 02/08/2018 at 22:53:18
I know it's been said a million times but our recruitment over the last 3 years must be the worst in Premier League history. We clearly tried to buy some players in their late 20s as an attempt to close the gap on the top 4 however they proved to all be disasters and now Silva is left with a total rebuild of the squad.
I hope one day we'll find out what has gone down over these 3 years. £120m on Sigurdsson, Bolasie, Scheneiderlin, Williams, and Klaassen. Oh my lord...
Chris Gould
106
Posted 02/08/2018 at 23:06:37
How about £60 million on Alderweireld and Dembele. Both available apparently. Of course they probably wouldn't want to come to us but they would be excellent purchases. If you don't ask you don't get.
I would also be happy if we were in for Nzonzi.
Don Alexander
107
Posted 02/08/2018 at 23:08:40
Steve Ferns (various), the reason I'm criticising Martinez and Kenwright is that there has always been a perception by most of us, at least, that since Martinez started to put his stamp on the club following a promising start with Moyes' team, with the addition of a reliable goal-scorer (whose attitude stank though), the team has not been as fit as others, nor as fast, nor as hard-working, nor as brave. Until those features are removed or massively diminished within Finch Farm, I don't expect M&M to be able to do much about getting us to "the heights" Moyes got us to, as pointed out by Dave Ganley (various) but right now I'd take the sixth place he left us with like a shot next season.
On Sandro I just wonder whether he might not just have a bit of Vardy about him? Coming from non-league Fleetwood to Championship Leicester at the age of 25 (Sandro's just turned 23 by the way) must have seemed like arriving in a new country to him and in his first season he pretty much stank the place out, so much so that he was apparently on the verge of quitting football altogether had Nigel Pearson not persuaded him to stay, get his head down and learn. Vardy says that's exactly what he did and the results speak for themselves. Here's hoping anyway.
Gavin Johnson
108
Posted 02/08/2018 at 23:19:59
Going completely off subject I saw today that Fulham have paid a mind boggling £27m for Mitrovic. Quite truly astonishing!! In context I think we've got a great deal on Richarlison.
Simon Smith
109
Posted 02/08/2018 at 23:20:04
It's good to move these lads on but don't we get a fee for them like everyone else does ??
Williams £4M
Miralas £6M
Then move on:
Schneiderlin £20M
Bolasie £10M not another loan deal.
Sandro, Galloway, Vlasic – okay for loans as still young.
Browning needs testing and keeping or selling, at 24 it's now or never so sell or sign not loan.
Also, I wanna add Lookman must stay, and any so-called fan wanting Davies or Calvert-Lewin gone needs to wobble there heads as these lads played well in a poor side last season and are Premier League ready at young ages.

Tony Page
110
Posted 02/08/2018 at 23:24:58
Told you he was a carthorse!
Leader my backside, don't come back!
Terry White
111
Posted 02/08/2018 at 23:25:58
Truly an amazing off-the-wall message, Simon (#109). In what world do you live?
Peter Morris
112
Posted 02/08/2018 at 23:26:16
£130m received for Stones and Lukaku masks incompetence which ranks alongside some of the worst in the PL era of other clubs . It is only less accute because they had more money to waste in the casino in the first place.Andy Carroll's £35m would be at least twice that today, but is largely forgotten because of the lottery wins of Suarez and Coutinho. Just saying.
Derek Thomas
113
Posted 02/08/2018 at 23:45:02
The crowd as a whole don't get it wrong too many times, so I refer my learned friends to exhibits QPR... 3-0 up at home and boo-ed around the ground for playing the Martinez way.
Moyes was oft-lauded for having 'The finest squad since XXXX' and in many peoples opinion, all he had to do was change his defensive ethos a bit and take off the hand brake.
Martinez came in and again, all he did for the first few months was do exactly that... or so it seemed. Then he seemed to go full throttle with the 'Philosophy' thing and ended up throwing out the Moyes defensive baby (the fitness coaches, physios and others too... can't say we actually missed Steve-clipboard-Round though) with the Moyes 'knives to gun fights' bath water.
All it ever needed was 'The Goldilocks Option' of Not too much Moyes and not too much Martinez.
We've may have just had the clock reset to 2005 and have to start again.
Si Cooper
114
Posted 02/08/2018 at 23:46:15
Not sure what Phil Jagielka has done (or not) to deserve calls for him to leave the club sharpish! He might be well past being a first choice regular but he could provide back-up. Never given less than his all as far as I am concerned and doesn't deserve the chuffed to see him go sentiment.
Funes Mori and Williams are gone, so I'd expect to see at least one centre-back in before I'd be desperate to see another couple out the door.
Anyone know what James McCarthy's situation is? Is there any chance he'll ever overcome his injury problems?
Grant Rorrison
115
Posted 02/08/2018 at 23:53:39
Moyes got out at the right time. His famed defence that he based his 'success' upon was fast approaching its natural expiry date. His midfield too, another line of defenders, led by then captain Phil Neville, who retired that summer. Throw in the fact that his best 'striker' was defensive midfielder, Fellaini, and how anyone can call this squad 'great' and claim that Martinez dismantled it for some unknown reason is beyond me.
Martinez did incredibly well that summer to bring in the inspired signings of McCarthy, Barry and Lukaku. Sadly it never got any better in terms of transfers than that.
His inability to adequately replace the remaining relics of the Moyes era. In part due to a lack of proper funding at that time and consequent need to go for the cheaper option, Funes Mori, over the more expensive Van Dijk. Also, the fact that Martinez didn't appear to have clue about or much interest in defending anyway, ultimately leading to his demise.
The vitriol aimed at a man for having higher ideals than just treading water year in year out for eternity and actually publicly claiming that the goal is to be successful and win something, while attempting to play football the 'right' way too is... wel…. incredible.
Given the complete wastage of millions of pounds and 2 years of the project only to seemingly do an about turn with the appointment of Silva, I wonder if Moshiri is regretting his hasty attempt to appease the baying masses in 2016?
David Pearl
116
Posted 02/08/2018 at 23:55:18
Peter, Not forgetting £50m for a crocked Torres.
I would mind Dembele. Alderweireld probably too much. We are toothless in attack, weak in creation and we have very little in the heart of defence. So that's 3 needed. But apart from that... this is our year. Will the real Siggy please stand up? nteresting season ahead. West Ham and Leicester should do well too (Evans and Maguire isn't too shabby and purchased for minimal amounts. Maybe Walsh was really just the groundskeeper and they sold him to us as a DOF). Useless arse.
David Israel
117
Posted 03/08/2018 at 00:29:01
I think this business of constantly going back to blaming everything on Martinez, Koeman and Allardyce (and even Moyes, sometimes), even though it may be correct in some aspects, is highly detrimental to a cold analysis of the problems at hand and how the people now in charge should go about solving them. What would any of us say if Brands and Silva started bleating 'this is all down to – insert Marinez, Koeman, Allardyce'?
In his memoirs, Richard Nixon said: 'When I got to the White House, the Vietnam War was Lyndon Johnson's war; six months later, it was my war'. That's how we should look at things, and I'm sure that's how Brands and Silva will look at them.
Bobby Thomas
118
Posted 03/08/2018 at 00:35:50
Grant #115
Martinez first season, with the handy additions that you mentioned, was actually the last hurrah for the old stalwarts of that Moyes team. It was the last season of peak Baines. The last one for Ossie. It was all downhill for Howard, Jags, and Distin. Mirallas has done virtually nothing since.
As for Van Dijk, I was listening to the Monday Night Club on Radio 5 the other week and Pat Nevin was on it. I think Martinez knows Nevin from his time in Scottish football, possibly around the time Nevin was either winding his playing career down or maybe doing the chief exec role thing he did for a while at a club Martinez was at, I forget where.
Anyway, from the way Nevin talks it seems he and Martinez are on pretty good terms. Whenever he mentions Martinez its "Robbie" and he speaks highly of him as a manager and a man.
The reason I mention this is that during the programme I listened to Van Dijk was discussed. Nevin indicated that he had recommended Van Dijk to TWO Premier League managers, suggesting he had said something along the lines of "Go up to Celtic, take Van Dijk, you will get him for £10 million or under and you wont regret it."
I'd be very interested to know if Martinez was one of those managers. From the way Nevin talks about Martinez, I think he was.
Karl Mark Zarb
119
Posted 03/08/2018 at 01:06:34
I may be a bit harsh.. but this is how I see it.
Keane is not good enough, or simply needs competition. We need 2 centre-backs. a midfielder a backup winger and an attacker to help poor Tosun. Niasse is not good enough for me. Staying with Keane and Schneiderlinin the first team means we are going to aim for top 7 again.
Ed Prytherch
120
Posted 03/08/2018 at 01:34:47
Silva is not being mean or ruthless in telling those four that they may not train with the first team, he is being practical. He does not need to confuse practice by having them there and they take away from him some of the attention that he can give the other players.
His job now is to prepare for Wolves and not to culture the self-image of players who are on the way out. It is still a pity that Vlasic has been unable to demonstrate value to the club. He is a very good athlete, he seems to be intelligent and he probably has a future with another team.
Steavey Buckley
121
Posted 03/08/2018 at 01:46:11
Koeman spent £13 million on a player who returned little on the investment at an age when he was too old for Everton. But this was Koeman all over, spending a lot of money on players in their late 20's who are not value for money. Never a worse manager in Everton's history.
Dan Parker
122
Posted 03/08/2018 at 01:53:04
I'll always wish players the best in their future endeavors and I do with Williams but I've never been so livid than with some of his performances and behavior wearing our shirt last season. Schneiderlin equally but he at least pulled himself together at the end of the season and put some decent performances in at important times.
One of many players that simply don't belong in an Everton shirt. Which is a shame because I thought he was a good signing at the time and looked to shore up the dodgy Martinez defense.
Our pre-season performances have been abysmal but I actually thought players like Mirallas and Sandro put in decent shifts. But there's more to it than that, we have to try and get results against premier league opponents, no time for sentiment. It's all about the team.
Digne is as yet unproven in the premiership. A centre-back desperately needed, and a solid striker.
Rome wasn't built in a day but the Brands - Silva strategy is looking good so far. Proof is in the pudding, expectations much like the England team going into the World Cup.
Dan Parker
123
Posted 03/08/2018 at 01:54:19
Apart from that shite house pair of Barkley and Lukaku of course 😜
Paul Mackay
124
Posted 03/08/2018 at 03:50:06
Wasn't the type of player we should have been going for. Been poor for us. Found his level now.
Victor Yu
125
Posted 03/08/2018 at 04:43:35
With Mirallas going I believe Sandro will be staying with us?
Darren Hind
126
Posted 03/08/2018 at 04:58:14
Fair bit of history being re-written on this thread.
Moyes assembled our best team for decades, Pienaar and Osman were proper footballers and in Baines and Coleman we had the most swashbuckling pair of full-backs possibly in world football. His problem was he maxed out. He didn't believe we could go any further so how could he have convinced the players? Even if he was given the funds to bring in that one missing ingredient, a top striker, he'd have probably stood him down when we played the big boys.
Martinez was a complete joke. I sometimes think those who sang about him reconvening the School of Science are embarrassed by their foolish claims. We didn't need a great manager to progress with that team, just somebody braver than Moyes. Instead we got this fool.
He destroyed that team. he put an end to the attacks of Baines and Coleman by making them stay in their own half and indulge in his possession obsession.
I feel sick when I hear of this mythical attacking football. The longer he was here, the less we came over the half-way line. The way we knocked it around at the back until somebody fucked up was the most painful and mindless exercise.
Andy Crooks is a little harsh when saying he was the worst we ever had, but he was up there... at least I thought he was until straight talking Ron and fireman Sam came along. Neither of whom dared come out to play.
Fuck me, we've had some Frankie Howards in charge, all overseen by a Kenneth Williams in the boardroom... Carry on, Everton!
Ash Moore
128
Posted 03/08/2018 at 05:56:59
It's one of those things Darren Hind. A Moyes led Belgian team would never have beaten Brazil.

Jerome Shields
129
Posted 03/08/2018 at 06:09:57
Martinez was a victim of dressing room issues, which he failed to address.
David Ellis
130
Posted 03/08/2018 at 07:25:36
M&M are moving pretty quickly. This is all good
Jim Bennings
131
Posted 03/08/2018 at 07:40:42
We need to hurry up with the centre half signing.
We need two defenders, the thought of anyone partnering Keane gives me the jitters to be honest so I'd be looking at a whole new central duo (Jags can't be doing it and for me Holgate is flimsy as centre half).
We still haven't addressed our need for a ball carrying central midfielder nor am I really happy with our lack of striking options.
Sam Hoare
133
Posted 03/08/2018 at 08:02:15
Jim@131, I think there's very little chance of getting two CBs. Either Keane or hopefully Holgate will be starting the season for us.
In terms of who that new CB is I'd like Lascelles but I think Zouma could be a good option. He's big, strong and surprisingly fast. He was Stokes best player last year and would surely be available for £15-20m.
Another cheap-ish option is Christopher Jullien at Toulouse who is 6 ft 5 and was in the top 3 defenders in Europe last year for aerial duels. Again he is surprisingly quick. Probably get him for around £15m.
Colin Glassar
134
Posted 03/08/2018 at 08:05:35
I've been away for a bit but this news has had me smiling since yesterday. The cart horse has bolted the stable!
Jim Bennings
135
Posted 03/08/2018 at 08:23:32
Sam
Should have got Zouma last summer, to think he spent a year on loan at Stoke is frustrating given our defensive woes that have gone on for years.
Derek Taylor
136
Posted 03/08/2018 at 08:34:14
Totally agree with Jim at 6. Anybody charged with playing alongside Keane has his work cut out- and that was said during his time at Manu !
As far as progress with signings is concerned, Brands has no magic wand and, in this crazily time-reduced window, he was up against it from the moment of his appointment.
However, I suspect the Kenwright meeting was called to enforce the importance of getting players OFF the payroll rather than bringing them IN and I think he's 'passed muster' on that front.
I just hope there will be no last - minute signing of second-raters to re-clutter the roster as in recent seasons. Let's see if it is Silva who is the magician.
Andrew Ellams
138
Posted 03/08/2018 at 08:46:53
I'm gong to give Keane the benefit of the doubt this season based on the fact I was so chuffed when we signed him last year. I'm going to blame Koeman and Allardyce for shattering confidence right through the squad and claim a new manager and hopefully a better quality defensive partner will bring the best out of him. If he'd stayed at Burnley he would have gone to the World Cup.
Victor Yu
139
Posted 03/08/2018 at 08:55:31
Moyes' favourite quote is always 'if someone offers me a point before the game I would have taken it' (he even said that after Man Utd tied Fulham when he was in charge).
Had Moyes been in charge of Belgium, I think he would have said 'if someone offered me a loss in overtime before the game against Brazil I would have taken it. I am proud of what we have done up against a strong team like Brazil'.
He would probably have played 8 defenders against Brazil and hoof it up to Fellani and hope for the best.
Rian Magee
140
Posted 03/08/2018 at 09:21:48
Sam, I have to agree. The chances of getting 2 CB in this window are slim, but who knows? I get the distinct impression Brands wasn't lying when he said he'd start immediately..it appears that theres more going on behind the scenes than we are hearing about. The ins and outs have been relatively quick (its just the official announcements that are ridiculously delayed). There seems to be little getting released to the media until things are pretty concrete, which I like, concentrating on business rather than feeding gossip, which is probably why we get a lot of unfounded nonsense from papers 'linking' us with players, just trying to sell a story.
This Jullien lad looks like a very good option is its true we're after him, but I have faith in M&M at the minute. They seem to have decent grasp on what we need and what we don't. If we could get 2 CB, Batshuayi and a creative or box to box midfielder Id be delighted but I think thats asking a tad much, but I live in hope.
I'd love Keane to prove me wrong but Ive never been impressed by him and his arms bother me, he has too many elbows..his arms look like flamingos legs 😜 One CB at least has to be the priority?
Paul Curwen
141
Posted 03/08/2018 at 09:26:42
Ghastly Williams face on SSN when he says he is happy to be at Stoke I bet he's no good at poker :)
Tony Abrahams
142
Posted 03/08/2018 at 09:27:39
"AN IF YOU KNOW YOUR HISTORY" you will know Everton football club, have never gone so long without winning anything.
Forget about Moyes forget about Martinez, I know it's hard forgetting about Ronald, and Allardyce, but it really is the only way forward, especially considering how long it is since we even won at Liverpool, Arsenal or Chelsea.
Let's get behind our new manager, because when Evertonians unite, and get right behind their team, then Goodison, becomes a place that not many teams enjoy playing inside, and it will even become a pleasure again, which is what we all need most ?
If this happens then Marco, might even have to change a couple of letters in his surname to "MARCO FUCKING SILVER" even if he will never be better than "KENWRIGHTS—-DAVID MOYES!"
Charlie Dixon
143
Posted 03/08/2018 at 09:40:11
I have seen that Spurs are happy to listen to offers for Dembele.. seems a perfect solution even at his age... would rather Loftus-Cheek but I think Sarri will play him at Chelsea so an unlikely target.
Justin Doone
144
Posted 03/08/2018 at 09:58:10
Ive said it a few times. I'd keep Mirrallis he's the only proven back up to Ricky. In his absence Lookman is the only other option so there is no way both can leave. Would love Lookman to force his way to be a starter, so much potential but I'm afraid he may be more Bolasie than Ricky.
Every team needs an outlet, someone who can to get on the ball and make things happen, run at the oppositions defence and create chances.
I can only presume the club have decided Bolasie must be kept because we over paid and we can't take another massive financial loss after Klassen. Otherwise he's as much a team player as Trump.
I know what Mirrallis is about, frustrating but able to score and create chances. Bolasie is just a unique individual but has done nothing.
Vlasic has a football brain to go with his talent. He'll be a top player but it looks like he's not going to get another chance with us. Big mistake. He's just needs a few years to grow, adapt and settle. He reminds me of Ericson at Spurs.
Gavin McGarvey
146
Posted 03/08/2018 at 10:12:59
While it would be a good idea to get in two CBs (though I think the new management would ship out one if we did this), we'll probably do well to bring in one good one.
In common with most fans, I have no idea whether the players we've brought in are any good, but there seems to be a pattern to the players we're bringing in. Highly rated, expensive, young, but just off the top teams radar. It seems to be a kind of halfway house between the bargain bin shopping of Moyes and the Harrods approach of Koeman. Koeman paid whatever the going rate was for experienced professionals, but this seasons transfers seem to be a bit more risky. Whether that pays off or now only time will tell.

Interesting to see that they have let Williams go before bringing in his replacement. That's also quite a change in direction transfer wise. In the past, we would probably have waited until later in the window, and after we had got someone else in. They seem to be ticking them off one by one, rather than bringing in several very quickly at the start or end of the transfer window as with previous managers. I quite like this seemingly methodical approach as it appeals to my sense of orderliness (whether it's any good as a transfer strategy we'll see by next Thursday). Also, it's less stressful than all that buying them all on the last day nonsense we've seen in the past.
Whether the new transfer policy turns out to be a success remains to be seen. At least, Moshiri seems to be giving Brands and Silva more or less free rein to get this right or wrong. In the past, BK seems to have been more central to transfer strategy, but this summer even if he is party to negotiations, the overall strategy is quite different.
On a side note, it's good to see that the old Moyes v Martinez debate has started up again. Another by-product of this strategy) not enough excitement to get us talking about the next season, not enough negativity to be calling for the new manager's head (just yet). COYB
Chris Gould
147
Posted 03/08/2018 at 10:17:50
There's so much transfer shenanigans going on that the final week will be very interesting.
I don't believe Utd are interested in Mina. He is not a Mourinho type of player and is totally unproven at the top level. Mourinho wants Alderweireld and this Mina nonsense is likely an effort to drive Spurs' ridiculous valuation down. Alderweireld wants to go to Utd and if he doesn't go this summer then a release clause of £25 million will be activated next summer. Once Levy accepts that Alderweireld will only sign for Utd and they aren't going to pay £75 million, a deal will most likely be made and that will end there interest in Mina.
It would seem that they need to move a CB out before they can move one in. If we believe their interest in Mina is real then what better way to sabotage their move for him than by making them believe we intend to buy Rojo, only to pull out at the last minute. (Probably not how Brands operates)
I don't want Mina anyway. He doesn't want to come and is a big risk. Rojo is less of a risk but is overpriced and his wages are too high. I can't believe he'll be the one.
It's all fun and games. I just hope Brands is playing a blinder.
Grant Rorrison
148
Posted 03/08/2018 at 10:52:11
Darren 127.
In what way is it 'daft' to point out the truth? The facts are that besides Baines who was 29 and Coleman, every player in the back 5 plus most of our midfield were in their early to mid thirties when Moyes left and were consequently nearing the end of playing at the highest level.
Jagielka has been a joke for at least 3 seasons and Baines is a shadow of the player he was under Moyes. That either of them still get a game says more about our transfer failures over the last few seasons. Thankfully the signing of Digne will hopefully rectify one problem. We're still waiting for a competent centre half or two.

Laurie Hartley
149
Posted 03/08/2018 at 10:54:50
I think Don Alexander has posted somewhere about the number of threads and posts commenting on the lack of team spirit, mentality etc in this squad.
Looking at Kevin's squad at # 27 I asked myself "who is the leader and who are his trusted lieutenants (enforcers) in this group".
My answer is no one, although Seamus Coleman did come under consideration. He is the nearest thing we have got to a leader but he is not it. He will make a fine lieutenant as will Pickford, Walcott, and my surprise choice Besic.
I don't think we have had a leader since Phil Neville. Not the greatest footballer in the world but when he came Moyes made him captain and the team, which contained some strong personalities (Pienaar, Arteta, Osmon, Cahill) accepted him as their leader.
My conclusion, we need a centre back and a leader - someone who when he walks in the dressing room for the first time will command their immediate respect.
Brian Williams
150
Posted 03/08/2018 at 10:58:49
When does the window close, Thursday isn't it? That gives us 6 days to sing three players minimum (IMO).
The centre back's the obvious one, as I don't think we'll get two. More dynamic midfielder required too.
Lastly I'd love to see another striker come in and if any of the gossip is anywhere near believable I hope the Batshuayi one is legit. He'd be excellent as a loan and even better if we managed to buy him.
Can we get a player every two days between now and Thursday?
Mark Tanton
151
Posted 03/08/2018 at 11:01:55
I'm sure there are deals nearly over the line, or halfway there. We are not party to the strategy, but we should have confidence, I think, that Marco and Marcel know exactly who they want before Thursday and are on their way to signatures on dotted lines.
David Milner
152
Posted 03/08/2018 at 11:23:26
I too am sure there are deals in the pipeline & a few nearly over the line. I do not like to see our transfers all over the newspapers & do not wish to be party to our deals until they are officially announced.
To me it is important to see the dead wood shipped out as quickly as possible. Williams & Mirallas are a start but there should be 5 or 6 more as well including loan deals.
Keeping fingers crossed!
Jay Harris
153
Posted 03/08/2018 at 11:24:13
Mark
I wouldn't be too sure about that if Kenwright is involved in any way.
Grant Rorrison
154
Posted 03/08/2018 at 11:31:48
Darren 126.
I don't know what you were watching. In Martinez's final season we played some great attacking football. Had one of the best away records in the country until the last few games. Were scoring goals for fun. All of them came from open play. How we managed to do this while 'coming over the half way line less and less' is a complete mystery. Just makes the achievement all the more remarkable really.
We went into a game at home against West Brom knowing that a win would have put us 3 points behind 5th place United. This was the middle of February, yet some people want to have us believe that we were going to relegated under Martinez sooner or later.
That final season we were so close to actually being a great and successful side. All we needed was to replace some of the old timers and add a bit of depth to the squad. Cover for the by now usually injured McCarthy being particularly needed. But we never had the investment at that time to do so.
Two years later and we've wasted millions on second rate players, have a shocking side and play terrible football. Wonderful.
Kase Chow
155
Posted 03/08/2018 at 11:38:20
Grant #154
Sorry fella but we were crap in Martinez's final season. Boring, stale and dull
He managed to nullify the best to offensive fullbacks in Baines and Coleman (the opposition didn't have to do it .it was his horrible tactics)
He was a chancer that did great in Season 1 But was terrible thereafter
David Pearl
156
Posted 03/08/2018 at 11:40:35
Darren 135; if Martinez had a steering job to reach the final beating England and Brazil along the way, what did Southgate have?
Rob Halligan
157
Posted 03/08/2018 at 12:11:06
The squad numbers for the season have been revealed on the Official Site. Interesting to note that the number 5 has not been allocated to anyone. Can only be because a new centre-half is coming in the next few days?
Ernie Baywood
158
Posted 03/08/2018 at 12:27:09
Rob, who would have taken it? Holgate opted for 2 and both Keane and Jags have low numbers (4 & 6).
Is there another CB of any note in the squad?
Mirallas moves to Number 8... What's the point in that? Unless...
Raymond Fox
159
Posted 03/08/2018 at 12:32:09
The transfer dealings are not making me optimistic about next season as of yet, the impression I get is that, as usual, we are struggling to tempt players of top quality to come to Goodison. Of course, I might be completely wrong and we sign a few crackers, but I'll believe it when I see it.
As we stand now, we are on track for the 7th to 10th places again with this squad. We need to give Silva plenty of time to get a tune out of our lot, we're going through managers like there's no tomorrow. He doesn't look like he's someone that will be able to stand a lot of pressure to me.

Mark Tanton
160
Posted 03/08/2018 at 12:39:34
Why the pessimism for the last six days of the window, Raymond? We wanted pace and aggression and we got Richarlison, we have been crying out for a Baines rival/replacement and we have a got a very good, pedigree one.
Whatever else we need is highly likely at a reasonably advanced stage, even if it gets close to the deadline.
The new team seems to have a plan and I am the most relaxed I've ever been in a transfer window.
Rob Halligan
162
Posted 03/08/2018 at 12:49:17
Ernie, Ashley Williams would have had Number 5. I can only assume due to his loan move late last night to Stoke, the club didn't have time to 're-allocate it before sending the list off to the Premier League?
Alan Bodell
163
Posted 03/08/2018 at 12:53:34
We have wasted serious money since Moshiri came in with the gold card but none more than this idiot, £12m and all we got was the one goal against Arsenal and no more that I remember. He lacked everything from skill to enthusiasm; thank fuck he's gone.

Jamie Crowley
164
Posted 03/08/2018 at 12:56:10
There's been a lot of people saying things like, "only six days left and we need three signings."
We're not signing three more players. I think there's only going to be one more signing and hopefully a few more out the door.
We'll sign a CB. At that point we'll have Richarlson, Digne, and said CB. That will constitute a good window for me. Bringing in 6-7 new players is almost always a recipe for disaster as too much change simply creates chaos.
With these signings the question then is what are our goals for the season?
I'd say Europe (targeting 7th place, 6th would be a welcome miracle) and a better brand of football with more attacking intent.
Just one CB to go, and 2-3 outgoings and it'll be game on. M&M know what they are doing, and Rome wasn't built in a day.
Chris Corn
165
Posted 03/08/2018 at 13:01:33
Alan 163 circa £0.3 billion give or take spent, if you factor players and managers since Moshiri took over. Frightening really.
Tony Marsh
166
Posted 03/08/2018 at 13:03:19
The signing of Williams only serves to prove what a useless out-of-touch twat Ronald Koeman really was. Add in to the mix Schneidelin and Klaassen and it makes you wonder how he is in the management game...
Good luck to Williams – it's not his fault he isn't good enough for Everton FC. If I was at Swansea and the chance came along to step up a tier, I would do the same as Ashley did. Like I say, blame that prick Koeman for this pitifully mistake, not the player.
Andrew Ellams
167
Posted 03/08/2018 at 13:03:53
Jamie I have a feeling we'll bring in a midfielder too.
James Morgan
168
Posted 03/08/2018 at 13:08:10
Sky saying we are considering Oxford from West Ham for £3m. Seems cheap for a promising young English player.
Si Cooper
169
Posted 03/08/2018 at 13:13:03
Just what I was going to say, Andrew, and it's a case of at least one.
Even with 2 more quality signings we are going to be praying for youngsters to come good, old stagers to find their form, and virtually no injuries.
Alan Bodell
170
Posted 03/08/2018 at 13:17:39
Chris, never in my lifetime and i'm not young, can I remember any team blowing the amounts we have since he arrived to 'push us to the next level', he keeps changing his 'advisers', hope he has the right ones in place for this season but I wont hold my breath.
Tony Everan
171
Posted 03/08/2018 at 13:17:50
The centre-back signing is at the heart of Brands to do list now. It sounds like we have tabled an acceptable offer with Barca and the player's terms are sorted. Lyon have matched it and Man Utd are dithering.
We are waiting because he is the No 1 player that Silva wants. He is reluctant to give up and go full on for an alternative. Brands must be getting some encouragement from the agent .
I am concerned we are playing a very dangerous game, similar to the Giroud situation. We will be left vulnerable in a crucial position.
Man Utd hold all the cards, while the try to get Maguire if they fail they will sign Mina on the last day. Poor old Everton will be left spitting feathers again.
The waiting game has gone on too long, Brands has told Mina's agent as much. The agent as told Barca to sort it out as a result.
I think we need to put the Mina issue to one side. Sign a top centre-back in the next few days. Lascelles? Or come up with a similar and even better option. We can't leave this position to chance or all the hard work will be undone.
If Mina is still available on the last day, take him on loan for a season.

Jamie Crowley
172
Posted 03/08/2018 at 13:18:10
Andrew and Si at 167 / 169 -
I don't get that feeling at all. I hope you're correct.
Now the question is if that does indeed happen that we bring in a midfielder, will it be a player who will slot in straight away, or a younger prospect?
When I say one more signing, I mean one more of note, not including 20-year-old kids snatched up for £1 or 2 million.
I only see one more signing.
Alan Bodell
173
Posted 03/08/2018 at 13:23:06
Forget about Mina people, he obviously doesn't want to lower himself to come to Everton... fuck him.
And anyway, one goal in the World Cup... how many have we seen play well then fail badly afterwards?
Mike Doyle
174
Posted 03/08/2018 at 13:26:25
Jamie #164. Agree totally. Bringing in multiple players is likely to cause chaos. Like you I expect 1 (max 2) in – and a few more out – that would be sensible for this window.
Main thing is that M & M have clearly identified the main areas and are busy addressing them.
However you can't force people to sign for you and I'd prefer we bide our time and buy players who will improve us rather than repeat the nonsense of Walsh & Co.
Jamie Crowley
175
Posted 03/08/2018 at 13:29:30
Alan -
I agree. We can't let potential signings dick us around. The clock ticks, especially in this window.
Fuck off Mina and go sign a CB who isn't playing three to four teams against one another. And also, it's clear to me - we aren't the prize, we're the leverage in this relationship while he waits for Man Utd to make up their mind.
Cut the cord.

Neville Jones
176
Posted 03/08/2018 at 13:30:07
Hugh, thank you. I take your point but it looks a bit weird if you find that these players actually stay and they haven't been training. So, doubt very much that they have been told not to train. Then, if they stay, you have already alienated them by telling them they are not wanted.
Perhaps you did not read my comments about Niasse, thank god he stayed and Koeman (to me along with Walsh the real villain) went. This underlines my point. Besides which, they are with us and they are Everton players so deserve respect.
Dave Ferns:
1. Are you suggesting that Schneiderlin is currently a better player than Besic? How odd. Did you watch pre-season? If so, then you would have noticed that apart from one 45 minutes, Besic was our one of our best players and Darren Griffiths said as much. Schneiderlin has loads of ability but for an experienced player he seems to have lost his way completely, why do you think we fell apart (again) at Rennes when Gueye went off? Besic certainly a good squad player and never did anything much wrong. Works his socks off and would have had him last season instead of Morgan any time.
2. What is Schneiderlin's position then if not defensive midfield? Gueye, Besic, Banigime and McCarthy all play a basically similar role although they each bring a slightly different approach. Marco seems to want to give him time (but not Vlasic) but in pre-season Schneiderlin was useless.
We lack a strong midfield ball player to take the team forward and make defence-splitting passes as well as tackle. A fully fit Rooney might have done it but my favourite is Nzonzi or 2nd choice, Ndiaye.
Desperately need a central defender, Jagielka and Keane together a disaster waiting to happen.
A quick corollary, I don't rip players apart but criticise them when it's due, all our players no matter what is their current form have given something to the club in their time and I respect them for that (even Schneiderlin and Williams).
Si Cooper
177
Posted 03/08/2018 at 13:34:36
Jamie, I can't work out if that is hope or expectation for you?
You say one more in and you would see it as a good window. Not for me, not if the midfield isn't markedly improved on what we put out last season.
I realise things may not happen but I'd be disappointed if Silva and Brands weren't aiming for about 5 new faces in total this summer.
Jamie Crowley
178
Posted 03/08/2018 at 13:43:46
Si, it's expectation.
I think without a CM it's a good window. We addressed the real concern areas and have improved. Plus we've trimmed the squad which desperately needed to be done.
With a CM coming in, and again I don't see it occurring (expectation), it would be a great, great window on par with Bobby Martinez's summer of McCarthy, Barry and Lukaku.
Jamie Crowley
179
Posted 03/08/2018 at 13:47:31
Also Si, the above at 178 is predicated on us signing a CB!!!
If we don't sign a CB I'll be flummoxed, disappointed, and bordering pissed!
Tom Bowers
180
Posted 03/08/2018 at 13:59:59
When is enough enough? Many of us feel that another couple of class signings could make things a lot rosier but maybe the powers to be have a different assessment of the situation. Everton still appear to have a huge pool of players both experienced and youthful but are they up to par for the challenges ahead?
Richarlison and Digne could make some difference in their respective areas as long as they remain fit and consistent but I still have my doubts about the strength in midfield. They do have some youth to turn to if Silva can do some magic but most of the onus will I suppose rest on Gana, Sigurdsson, Davies or Schneiderlin for now.
Many others will be pushing for places but it depends on what strategy Silva opts for and so it may be a few games before anything looks remotely like a successful formation (or unsuccessful). That first game against Wolves will be so important.
Fran Mitchell
181
Posted 03/08/2018 at 14:14:00
If Dembele is available we should most certainly try, be it on loan or permanent. He has been one of the best and most consistent midfielders for the last 4 years. His experience could have an impact akin to Barry, and would certainly be a good role model for Davies who should be aiming to emulate Dembele's style.
He is apparently lacking fitness for a full season hence spurs willing to part ways, but with no European football this should be less of an issue with us, plus we can rest him or sub at 70 mins for Davies or Williams.
Levy may well want top dollar, waiting for a call from China, which then changes the situation, but is worth a try if it means having a midfield of Dembele, Gueye and Sigurdsson. (Baningime, Dowell, Davies and Williams in reserve means a great combo of youth and experience.)
Raymond Fox
182
Posted 03/08/2018 at 14:32:04
Mark (#160),
We need 2 or 3 world class players to make us competitive with the usual top 6, we haven't signed them yet. As I said before, I'll be delighted if we sign them in the time left.
If we don't, it's more of the same in my opinion which does not make us a bad side, there are lots of clubs in the Premier League that would prefer to swop us places.
Arild Andersen
183
Posted 03/08/2018 at 14:32:58
A lot of people had high hopes for Tom Davies, but did he show anything in pre-season to suggest he's better at the moment than, say Connolly – who in my opinion looked the better player in Algarve.
Great hair, though.
Chris Gould
184
Posted 03/08/2018 at 14:41:09
Mina may not be a lost cause. One report from Spain suggests that it is Barcelona who are waiting on a bid from Man Utd because they believe it will force his price up.
Apparently Mina's uncle/agent has accepted terms from Everton and it is just a waiting game to see how serious Man Utd are. I don't think they're serious at all. I think they're waiting on Alderweireld and are using Mina in an attempt to bring Levy's exorbitant valuation of Alderweireld down.
In turn we're looking at Rojo to force Barcelona to negotiate with us before it's too late. Game of poker with high stakes. I reckon he'll come to us or Lyon.
Sam Hoare
185
Posted 03/08/2018 at 14:47:15
I don't know if getting Mina is a good or a bad thing to be honest. He's certainly very raw, not the fastest and would represent a considerable risk. Would be fun for our set pieces though!
Dembele is brilliant. The player I've most wanted us to sign when we're supposedly competing with Spurs for him. But he's 31 now and unlike Barry a strong part to his game is his pace and balance, the ability to go past people in the middle. I'd still have him in a heartbeat but suspect the fee and wages would be prohibitive for a player with no re-sale value. What we should be doing is looking hard for the new Dembele. Denis Zakaria?
James Marshall
186
Posted 03/08/2018 at 15:14:39
We will buy a centre half this window - time will tell which one.
Brian Williams
187
Posted 03/08/2018 at 15:26:15
Arild#183.
Spot on about Tom's hair. It's both luxuriant AND plentiful.
The lad's truly blessed.
Joe McMahon
188
Posted 03/08/2018 at 15:29:53
Brian, I wondered if Toms dip in form is because of his commitments to his Nirvana tribute band? All the late nights.
Dave Abrahams
189
Posted 03/08/2018 at 16:06:19
Bobby (118), we didn't need Pat Nevin to tell us to go and sign Van Dijk, there were plenty on ToffeeWeb telling Martinez to go and sign this player.
Brian Williams
190
Posted 03/08/2018 at 16:16:13
Joe, it may well be that or his penchant for late night keepie uppie in Bold Street or skate boarding in front of Saint Georges hall lol. The lads gone off the rails since he got turned down for the L'oreal advert!
Martin Nicholls
192
Posted 03/08/2018 at 17:11:55
I agree with those who feel we've waited long enough/too long for Mina - we must draw a line now. Some feel we might pick him up on loan on TDD in the belief that he/Barca will be desperate. That is highly unlikely as he can still move to another European club (e.g. Lyon) after our window has closed. Move on now!!
Tony Everan
193
Posted 03/08/2018 at 17:17:05
Sam#185
Dembele at his age will want to be playing, not benched, so it is a possibility that he will want away.
Dembele and Mina would certainly put some meat on the bones and turn us into a meaner unit. It would be interesting if we could get him on loan .
Drinkwater and Mooy need considering too . That combo would be a step up from what we have got in CM. They are both top midfielders who chip in with goals too.
Kev Jones
194
Posted 03/08/2018 at 17:24:22
Frank #93 Thats a great question. I wondered if as things went wrong and Roberto could not find a solution it was emotionally so painful he sought refuge in motivational speech and stopped thinking. As many pointed out on here he would have been better off being direct about the problems, instead of going into denial.
Kev Jones
195
Posted 03/08/2018 at 17:26:50
Steve#84 & 88 I wonder what it satisfies in some posters who scapegoat and feel the need to reduce complex human beings to 'simples' 'clowns' 'charlatans' 'useless', to grind them to nothing under their heels?
It is interesting how Moyes and Roberto reappear in between the main topic of the thread. Maybe its something about
what we need in the space between the hope found in the insights of a coaching manual and the hopes and desires that our past managers carry for us.
Martin Nicholls
196
Posted 03/08/2018 at 17:33:34
One signing made - Jaoa Virginia from Arsenal. That was kept under the radar even if he is only a reserve!
Martin Nicholls
197
Posted 03/08/2018 at 17:35:14
*Joao
Kev Jones
198
Posted 03/08/2018 at 17:40:00
Grant #115 & #154 appreciate your attempts to redress the balance re Roberto. The crowd were baying for Roberto's head at end of season three because they were seeing real problems that Roberto, for all the school of science hope he inspired, was not able to address. However, I'm not sure an angry disappointed crowd was neccesarily the best judge of what to do about the problems on view.
Grant Rorrison
199
Posted 03/08/2018 at 17:40:14
Darren 191.
Nearly everything you mention happening in the final 10 games of Martinez's reign when it was obvious that he had lost the dressing room. Any manager would produce results on a par with those in the same circumstances.
Prior to that we had played attacking, entertaining football most weeks and certainly didn't score goals 'playing in our own half' as you constantly try to claim.
Even in the games where we only managed a goal we were often all over the opposition and managed to create and miss a hat full of chances.
You've clearly got a problem with Martinez. But then you thought Unsworth was doing a good job so maybe you've just got a problem? :)

Grant Rorrison
202
Posted 03/08/2018 at 20:32:55
Darren 200.
We've conceded 102 league goals in the last two seasons since Martinez left. The fact that players like Jagielka still get a game says more about our horrendous transfers since coming into money. Prior to that we didn't have the funds to replace anyone anyway. We have only had one other left back on the books in something like the last 13 years and that was Oviedo, who broke his leg and was sold to Sunderland. Leighton Baines still gets a game you say? How about that!
You neglect to mention Howard, Distin, Neville, etc.
In the first two thirds of the final season under Martinez we were involved in two 3-3 draws, a 4-3 loss, a 6-2 win, a 4-0 and 3-0 win and a 3-1 win. If this doesn't constitute being entertained then what does?
You can keep parroting the 'football in our own half' line. It isn't true. How did we manage to score 59 goals, all from open play, while never leaving our own half? :O
Jim Harrison
203
Posted 03/08/2018 at 20:38:28
Grant. I often disagree with Darren's statements, by in this case he is right.
Amit Vithlani
204
Posted 03/08/2018 at 21:32:02
Martinez lovers unite! But before then, pause to consider the following:
1. Worst Home record in Premier League era. Would have been the worst ever had all seasons had 2 points for a win.
2. 47 points (twice) lowest points total in Premier League era besides the nadir of 2003/4. Less than the 49 points achieved in the car crash that was last season.
3. Never practiced set pieces by the admission of Leon Osman - criminal considering how many goals scored and conceeded from set plays.
4. Shite football despite having Lukaku, Stones and Barkley (150m+ worth of talent)
5. Lost 4-0 to Liverpool twice; biggest defeats since 1982.
6. Can you name a form team he beat in the cup competitions? Nope me neither. We beat a Chelsea side in a post Mourinho slump (under caretaker Hiddink) and fell to City, United and Dynamo Kiev. Basically the moment we met a team in form, we lost.
7. Belgium? Deserves credit but he was a tad lucky. Courtois was unbelievable against Brazil - how many shots did they have? The woeful defending continued against France who should have won 4-0, and only the Japanese team can tell you how they threw away the 2-0 lead, where both sidea defended terribly. Belgium did twice beat an England side in form so some credit due there.
7. Marc Wilmots, a very average manager (sacked by Ivory Coast no less in 2017) achieved 2 successive quarter finals with a younger Belgian side. I think the quality of Belgium's squad had a big part to play in reaching the Semis.
8. He was not a particularly phenomenal manager. In fact his record with us was phenomenally average. I think he averaged 1.44 points per game over all. A record not too disimiliar to Koeman, Unsworth and Allardyce. Wasn't Moyes averaging above 1.5 points per game?
Chris Leyland
205
Posted 03/08/2018 at 21:41:13
I think if you rearrange the letters in Grant Rorrison they spell Roberto Martínez.
Seriously, how anyone can claim that we were anything other than shite in his last two seasons with us is quite frankly ' phenomenal'
Steve Ferns
206
Posted 03/08/2018 at 23:26:03
Sorry Darren, but I too enjoyed the Martinez football. Sure we didn't play well every game and it was on a downwards trajectory, but I did enjoy watching his sides. More than anyone since Royle. Beauty may be in the eye of the beholder, but I wasn't alone with Grant in that either.
Amit, Whats that point about 47 points? We've had far less than 47 many times in the premier League era, and usually with a highly negative goal difference. Don't understand if you're really trying to say it's our worst or what.
This really is a pointless argument. It's old news. We move on. Raking over old wounds helps no one. Let's look forwards to the new season and hope for the best and that our dreams aren't over by autumn.
John Audsley
207
Posted 03/08/2018 at 23:26:51
Martinez should have gone along time before he did.
The defence was disastrous in his final year.
Koemans career ending decision was selling Lukaku and replacing him with nothing. Someone at EFC should have been sacked asap after that fiasco.
John Audsley
208
Posted 03/08/2018 at 23:30:23
And anyone who thinks Koeman was the worst Everton manager ever clearly never lived through the Mike Walker year we had.
Walker was the worst manager we've ever had.
Colin Gee
209
Posted 03/08/2018 at 23:40:17
That first season under Martinez was the last time played decent football!
Ernie Baywood
211
Posted 04/08/2018 at 05:13:49
We all remember where that last Martinez season went... but I think people are incorrectly equating that shocking last few months with drab football throughout the season.
For much of the session he had us within a few points of the top 6 playing attacking, albeit possession based, football. It was defensive naivety that was costing us doing any better.
Playing football in our own half? If only!!! I lost count of how many times we got undone because we only had one player anywhere near the halfway line. Teams only needed the ball a handful of times to hurt us such was our focus on attack.
Yes, the last three months was shit. And the obsession with possession combined with a lack of any kind of defensive focus was ridiculous. But some of the revisionism here is well off the mark.
Amit Vithlani
212
Posted 04/08/2018 at 06:06:09
Steve - my wording was rubbish. The point was that 47 points was the worst "since" 2003/4, not "besides" 2003/04. Bob achieved that feat twice with a good side which clearly punched below its weight.
Ernie Baywood
213
Posted 04/08/2018 at 12:21:59
So Mirallas to Fiorentina is confirmed by the club.
Shame. I think back to players of genuine quality we've had at the club in the recent era and he's absolutely up there. Never even gave the impression of not being arsed - on the pitch at least. Just a mystery why he can't put it together consistently.
Add Your Comments
In order to post a comment, you need to be logged in as a registered user of the site.
Or Sign up as a ToffeeWeb Member — it's free, takes just a few minutes and will allow you to post your comments on articles and Talking Points submissions across the site.