Silva reiterates his stance on Lookman
Monday, 6 August, 2018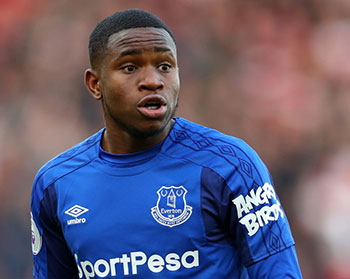 Marco Silva has said again that Ademola Lookman is Everton's player as speculation over another approach from RB Leipzig continues.
The 20-year-old made a surprise loan switch to the Bundesliga club in January where he made an impact, scoring five times, including as a substitute on his debut.
Leipzig have made no secret of their desire to sign Lookman on a permanent basis, with manager Ralf Ragnick publicly asserting that the player wanted the move just as much.
Everton have, however, have been insistent that they have no intention of selling a player whom they signed just 18 months ago from Charlton Athletic for a fee that could eventually top £10m.
"He is our player and he stays," Silva was quoted as saying by The Guardian when asked about Lookman's future, a topic of discussion that began again after Saturday's friendly with Valencia at Goodison Park.
The forward, who has apparently been dealing with a minor muscle injury, only came on for the last few minutes.
---
Reader Comments (27)
Note: the following content is not moderated or vetted by the site owners at the time of submission. Comments are the responsibility of the poster. Disclaimer
Colin Glassar
1
Posted 06/08/2018 at 06:57:08
This old chestnut again? Just slap a £45m price tag on him and tell them to take it or leave it. I like the kid but right now he's nothing more than a promising squad player.
Kase Chow
2
Posted 06/08/2018 at 07:32:48
I would love to keep Lookman and see him do great things for us
At this stage it is allpotential
Victor Yu
3
Posted 06/08/2018 at 07:42:03
I can see this in both ways.
He has potential so we don't want to sell him. But what if he is the next Cadameteri?
The best way (assuming he really wants to go) is to ask for a good price in return and a good % on the next sale.
Brian Williams
5
Posted 06/08/2018 at 08:32:40
There's a few things to consider here.
Is Lookman going to be a regular starter? No.
Is the player happy to stay knowing that? Yes/No.
If it's a yes, end of discussion.
If it's a no then tell Leipzig our price, and any addons and leave it to them to meet that valuation. Lookman can still move to them after our domestic window shuts.

Tony Everan
6
Posted 06/08/2018 at 08:48:23
Do what Barcelona do to us.

Sell him for 20m include a buy back option for 30m, and a 50% sell on fee.
Keep him or sell him on our terms, terms that can safeguard and benefit Everton Football Club. It irritates me that we have bought him to develop him to be a top player for us in the future. Half way through that development he may be departing , as far as I am concerned he went to Leipzig for experience not to end up being sold to them.
Sam Hoare
7
Posted 06/08/2018 at 08:49:26
If he stays I hope he will work hard and show his undoubted talent. My worry is that he may sulk a bit and work less rather than more. Much as we hate him Suarez showed the way when he didn't get his initial transfer away from Liverpool he worked even harder, scored 31 goals in 33 games and almost won them the league single handed.
Phil (Kelsall) Roberts
8
Posted 06/08/2018 at 08:51:17
with manager Ralf Ragnick publicly asserting that the player wanted the move just as much.
Is that allowable or is it just inside the UK that managers can not say such things?
Mal van Schaick
9
Posted 06/08/2018 at 10:36:36
We need to keep Lookman, up his contract if we need to. He's direct and positive and creative. Play him.
Drew Shortis
10
Posted 06/08/2018 at 10:42:56
Even with Richarlison & Walcott as first choices on the wings, I can see Ademola getting plenty of playing time this season. He is a talent but does need to develop. Everton & our current setup have a good track record of bringing through youngsters. I hope for his sake & ours that he puts last season behind him & fights for his place in the starting eleven.
Andy Meighan
11
Posted 06/08/2018 at 12:09:20
If he's serious about keeping him, start him in the first few games of the season. Providing we don't sign a playmaker, and I doubt we will, a front 5 of Sigurdsson, Lookman, Walcott, Richarlison and Tosun looks okay to me.
At the risk of repeating myself, surely he can't go with Schneiderlin and Gueye – it just doesn't work; I personally think our midfield can't accommodate the pair of them. Gueye is a far better player when the Frenchman isn't clogging up his space, so bin him.
I heard Saturday there'd be two big signings before the deadline. Looks like Mina could be one; Dembele of Spurs would be my preferred choice... getting him would be another thing. I just hope he doesn't start with Schneiderlin.
Fran Mitchell
12
Posted 06/08/2018 at 12:31:55
During this whole 'saga', the only thing to suggest he was going was Ragnick saying 'he wants to come to us'.
Nothing has come from Everton that he is available, and Silva's latest statement confirms that. Brands identified him as a player he wanted to stay at the start of the summer. Lookman has been mute on the subject, which while doesn't mean he is nit open to ho, it doesn't mean he has been pushing for a move either.
Unfortunately, the rumours will continue until 31 August as the European window will not close til then.
Lookman can play an important role in the squad, be it as competition to both Walcott and Ricky, and also down the middle.
Still only potential, but the guy has real potential. Hopefully he gets fully involved in the first few games and signs a new contract during the course of the season.
Loko Sanchez
13
Posted 06/08/2018 at 13:01:59
He did not look too happy when he came on against Valencia. He didn't seem interested. Why can't they all be like Niasse?
Anyway, we should sell. He is not the type of player that will impact games for Everton at this time.
Lewis Barclay
14
Posted 06/08/2018 at 13:25:22
This is where good managers really show their stuff.
I don't think Ferguson, Mourinho, Guardiola, for example, would allow the whim of a single player to affect what they need from the team.
I hope this is Silva doing the same.

Justin Doone
15
Posted 06/08/2018 at 14:27:33
Potential needs patient from both club and player. Unfortunately this appears one sided and therefore it turns to profit.
I hope not but I think a few more million could settle any misunderstanding.
I said last season £16m would be probably see him go under Sam who didn't fancy him. I think Silva is after £20m or simply state nothing under £40m is worth considering for Englands most exciting prospect.
I'm hoping if nothing else a buy back clause is inserted or better still depending on incomings a £3m loan fee with no other options. He gets another chance to impress at a club that want him and we don't loose a top talent.
Mark Taylor
16
Posted 06/08/2018 at 14:39:09
I'm with those who propose a buyback or loan, that is assuming he wants to go, because he is convinced he well get more game time there. I don't think we are so blessed with talent that we can afford to let go one of the few English youngsters regarded as having real start quality.
In addition to competing with Walcott and Richarlison, I could also see Lookman playing as a second striker alongside Tosun, who I think might be better if he was less isolated.
Either way, replacing Lookman with Richarlison for a net loss of £25m does not strike me as sound business, more that we're getting ripped off yet again.
Geoff Risebrow
17
Posted 06/08/2018 at 14:56:59
We shouldn't sell this young man under any circumstances. It amazes me that people think we can afford to sell him? We need quality in, not quality out. Lookman hasn't been given a fair crack of the whip yet. Allardyce is a dinosaur!
Ray Smith
18
Posted 06/08/2018 at 16:35:36
Play him against Wolves, Southampton and Bournemouth, this leaves 6 days before the window closes in Europe.
Let's see how he performs.
He defied Sam (regardless of what you think of him) to get his own way, and maybe thinks he can do what he likes again.
I don't want him to go, and the new management need to make him understand that if he knuckles down, who knows how good he can be.
If it's down to attitude, I hope he sees sense, gets his head down, and shows Marco that he can't leave him out of the team.
Mike Gaynes
19
Posted 06/08/2018 at 17:36:11
Ray, I think Lookman's telling Fat Sam to shove Derby up his ass shows exactly the right attitude, and his success at Leipzig showed that it was exactly the right thing for his career.
But if Silva says he stays, he stays. And I think he'll do just fine for us this season.
Ray Smith
20
Posted 06/08/2018 at 17:55:07
Mike
I'm with you on him telling Sam where too go.
I don't want him thinking he can please himself if he doesn't get his own way, and ruin a potentially very good career ahead of him.
Stephen McNally
21
Posted 06/08/2018 at 19:25:58
He's got a number of years left on his contract, so Everton are in a strong position. If he's committed to Everton and his attitude is good, then keep him and let him develop. If his attitude isn't right, cash in on our terms.
Victor Yu
22
Posted 07/08/2018 at 08:47:23
I don't see him wanting to be the backup if Bernard signs when he knows he can get lots of playing time in Germany.
Unless he accepts another year on loan I don't think he would be an Everton player for much longer.
Joe Clitherow
23
Posted 07/08/2018 at 09:47:07
I was watching the reception Silva got on his first home game and everyone was clapping him, players and staff.
Except Lookman who sat there with his arms folded tight and a scowl on his face.
Bad attitude, get shut as soon as Bernard is onboard.
Anton Walsh
24
Posted 07/08/2018 at 11:05:18
At his age he should be a lot less bad decisions on the pitch. Granted players of his type are allowed to lose possession as this comes with his risk taking style of play higher up the field. But his often to frequent mistakes eventually cost us. Just like Delafoe and Bolasie he has no brains but occasionally can be great. He hasn't come out stating he wants to stay so I say if we get anywhere near 30m he should get the bums rush. Looks like a sulky trouble maker to me.
Ray Said
25
Posted 07/08/2018 at 11:23:15
The lad has hardly had a chance here. I think he is a big talent especially as a 10 but maybe he just doesnt want to work or live here and, therefore, will never never give us that 'discretionary' extra 10 % that a happy player could give? That happens to plumbers, plasterers and footballers.
If he tells the club he doesnt want to be here then set a fee and if someone meets it then let him go. If no club meets the fee then don't play him.
Barry Jones
26
Posted 08/08/2018 at 01:48:27
I like him. He has talent, an eye for goal and he is a great ball striker. We should definitely hold onto him.
Anton Walsh
27
Posted 08/08/2018 at 09:45:26
Barry do you think we should hold on.to him if he's not getting enough game time and starts sulking. If he was a high earner it would already be gone. As it is he's no massive drain on the finances but it's the disruption he can cause. Not that it will cause a massive problem in the ranks as he is still wet behind the ears but it will reflect in any selling fee. If hes willing to dig in and fight for a shirt I would be happy but I can't see it. Hope I'm wrong and your right.
Tom Dodds
28
Posted 08/08/2018 at 11:12:51
Hang on
To all the let him go if he want's to goers group,what if this was true but we kept him anyway and slowly but surely he integrates well with the team/new tactics/manager etc?
And 12 months down the line he's leading it ?
Simply got to keephim another season.Its bloody obvious for HIS sake.
Add Your Comments
In order to post a comment, you need to be logged in as a registered user of the site.
Or Sign up as a ToffeeWeb Member — it's free, takes just a few minutes and will allow you to post your comments on articles and Talking Points submissions across the site.