Everton trio will begin training this week
Monday, 13 August, 2018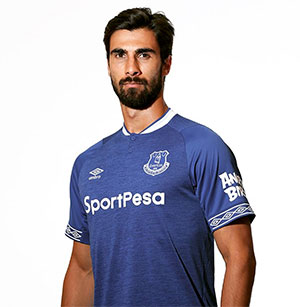 André Gomes won't be back in full training for a couple of weeks but will continue his rehabilitation from a hamstring strain at Finch Farm
Everton FC
Three of Everton's four deadline-day signings are expected to train with the first-team for the first time this week as Marco Silva prepares for the visit of Southampton.
Together with André Gomes, Bernard, Yerry Mina and Kurt Zouma were all acquired on an eventful final day of the transfer window but were signed too late to be involved in the opening day draw at Wolves on Saturday.
Mina had only recently returned to full training with Barcelona following his World Cup break but, like Zouma, who went through pre-season with Chelsea, is likely to be further down the road towards full fitness than Bernard.
Both players could be in contention for this coming weekend's home games against the Saints given that Phil Jagielka will begin his suspension after being sent off at Molineux.
Bernard, however, has not played a competitive game since March after he injured his shoulder playing for Shakhtar Donetsk. Silva says that he does not expect that injury to still be an issue but it remains to be seen if he can get up to speed in time to be included in the squad to face Southampton.
Gomes, meanwhile, won't start full training with the group for a couple of weeks. He arrived at Everton carrying a minor hamstring strain sustained on Barcelona's pre-season tour of the United States.
Everton hope that he will be ready for his first action in Blue next month after the first international break.
---
Reader Comments (156)
Note: the following content is not moderated or vetted by the site owners at the time of submission. Comments are the responsibility of the poster. Disclaimer
Tony Everan
1
Posted 13/08/2018 at 07:53:56
The sooner Mina and Zouma are match fit the better, Saturday shows that there cannot be any weak links in a team or you will get punished. Jags is 36 and is not what he was, it is unpalatable but true that he has become a weak link.
Apart from Jags's momentary lapse of concentration we looked assured and likely to win a tough opener.When we have a fully fit Mina, Zouma, Holgate and Keane competing for the CB role we will be a very dangerous outfit and top 6 challengers.
Jakub Kollar
2
Posted 13/08/2018 at 08:20:01
Tony, apart from that momentary lapse, as you described it, how was Jags a weak link? I agree that he will probably play smaller part this season but same kind of mistake can happen to any world class defender.
Tony Everan
3
Posted 13/08/2018 at 08:29:28
Jakub, the poor control from the lapse of concentration was symptomatic of the fact that he is not the defender he was. If the player is not on the pitch for 50 mins and his lapse costs us an equaliser when we were cruising . It counts as being our weakest link in that game by some margin.
I know it's harsh because of one mistake, but it will happen more and more often . Even pre season he was half a yard too slow on occasions.
Don't get me wrong I love the guy and don't question his desire or commitment to Everton . It's just time for a back seat and a squad role.
Si Pulford
4
Posted 13/08/2018 at 08:42:54
I wouldn't rush any of them for Southampton. I though Holgate did really well when he came on and would start him and Keane. As said in earlier posts we where cruising with 11 men so no need to panic. I've always liked mason, last season he had about six centre back partners most of which where awful and his protection from crosses cam from Martina and Kenny-it was a shambles. No wonder he struggled at times. However when fit and playing alongside the right partner I think he has something about him and wouldn't be surprised to see him starting a fair few games this season regardless of Zouma or Mina.
Gary Russell
5
Posted 13/08/2018 at 08:46:45
Indeed Si. He's two months away from turning 22 and bought for, was it 1.6 million quid? Bargain and a half.
Jakub Kollar
6
Posted 13/08/2018 at 08:47:40
You're right, Tony. I'm just probably getting nostalgic as Jags and Bainesy are the only two left from the times when Everton became huge part of my life.
Tony Abrahams
7
Posted 13/08/2018 at 08:48:54
I don't think Jagielka, has ever had a problem with defending, its having the ball at his feet which has usually caused him most of his problems.
He got a really bad injury, when his failure to pass a football ten yards, had him turning to scamper back, and his knee went forcing him to miss the biggest game we have played in during his long stint at our club.
Been a very good servant though, and also a very good defender, even if I never thought he was ever as good, once he got that awful injury. I don't know what the future holds, but football is a cruel game, especially if that sending off turns out to be his last game in a blue shirt.
With no room for sentiment, then hopefully it is? no wonder they say you have no friends in football, but only because it will mean that we have signed better players, who are hopefully also better on the ball.
Jerome Shields
8
Posted 13/08/2018 at 08:50:07
At least there is a recognisable team with an offensive strategy in place for him to fit into. After watching the game, they will be raring to go. Keane I feel can improve as his confidence builds, I have always felt he suffered being paired with Jagielka. Jags was a good centre-back, but suspect to lapses in concentration, which as he got older were exposed by lack of pace.
Baines is more consistent and determined to keep his place. I bet he trains harder than anyone else. At the Premier League level, mistakes cannot be tolerated. Keane needs to cut them out of his game. Holgate will develop and has a lot of potential.
Mina, who's weakness is lapses in concentration, will know that he has to cut it out of his game also. Zouma already has something to prove; Digne will know he can't get caught in possession. .
Cutting out crosses and challenging on the edge of the box will be a big part of training this week, as will beating your marker for the forwards and providing better quality ball into space for forwards to run on to.
Definitely the team is being set up right and the goals for every position are recognisable and have been set. The players are being coached well, but in some cases can't get the necessity of self-preservation out of their game from previous seasons. All of the players are being challenged and aware of what is expected.
Once they get use to this and get results, confidence will increase. Confidence will also increase amongst supporters,
Brands and Silva will prove a strong partnership. I hear Man Utd are looking to change their structure and appoint a Football Director. I wonder where they got that idea from. ?
Jim Bennings
9
Posted 13/08/2018 at 08:52:40
Saturday will be Keane and Holgate with the other lads short of fitness.
With all due respect even with Keane and Holgate we shouldn't be getting troubled at Goodison by a woeful Southampton team that has limited attacking threat.
We got trounced 4-1 at their place last year and only salvaged a draw in the 95th minute against the Saints at Goodison in May in what was the final bottoming out of our dreadful 17/18 campaign.
I'd be very surprised and disappointed if we don't make them pay at Goodison Park come Saturday afternoon.
Sam Hoare
10
Posted 13/08/2018 at 08:53:46
Tony, I agree that Jags is not reliable any more in the way he was but I wager we will see some similar lapses is touch/concentration from Zouma, Holgate and in particular Mina who showed some suspect positioning at times in the WC.
These defenders are young and raw. They don't know each other and they don't know the manager or his system. I think they could for a superb partnership in time but I fully expect some some horror shows along the way.
All our signings have great potential but may take time to show it regularly.
Iain Love
11
Posted 13/08/2018 at 09:23:39
Holgate Zouma and Mina will only get better; sadly Jags will only get worse. He was a great servant for Everton but, like everybody else before him, time is passing him by.
I would be amazed if all our new signings hit the ground running, but I'd hope that by October we will begin to see M&M's plans take shape.

Mal van Schaick
12
Posted 13/08/2018 at 09:32:46
Crying shame that Jags is coming to the end. A good servant to the club. Use him as a squad player this season, and then employ as coaching staff. It's a cut throat business and Everton will have to eventually move on from Jags and Baines. Everton are rebuilding and this has to be done this season. COYB.
James Marshall
13
Posted 13/08/2018 at 09:49:32
It may be true that Jags will and should play a squad role this season, but being a squad member means he WILL play some games and likely make the odd mistake. All players/humans make mistakes, it's just some get punished and others don't - they're also more glaring when you're a centre half or keeper.
Case in point being Pickfords mistake to take a step to his right just before the free kick was taken which meant he was unable to get a full hand on the ball.
Mistakes do and will happen - laying into a player for it doesn't do anything.
Any player can miscontrol a ball - if you think Mina, Zouma, Holgate and Keane will go a full season without making a mistake, then you're also making a mistake.
Phil Greenough
14
Posted 13/08/2018 at 09:55:49
I can't understand people saying players shouldn't make mistakes, we know they shouldn't, but they always will. Players are human and mistakes are inherent in any profession.
If you read Garth Crooks this morning on the BBC football website; he is of the opinion that the ref made the mistake, not Jagielka. Of course it's all about opinion and I may have made a mistake when proffering this one.
James Marshall
15
Posted 13/08/2018 at 10:03:30
Phil - you're right, it's entirely about opinion. Alan Shearer made the point at the weekend that under the current laws of the game it was indeed a red card. I noted that a lot of people on here were calling him every name under the sun as a result. Ian Wright thought it was a yellow card.
I'm of the opinion that the referee made the call based on current laws and that in slow motion it was a bad tackle. He was also the last man (in my opinion) as the player would have been clean through and Jags 100% took him out.
You can say he got a bit of the ball, but he nearly broke the guys ankle if you look at it in slow-mo so IMO it was a mistake by Jags letting the ball slide past him, a bad tackle and a red card.
None of this means I'm right as you say, nor does it mean Alan Shearer is a f**king p**ck or whatever other unreasonable insult want to throw at him, it's just interpretation of the laws and an opinion. Nothing more.
James Marshall
16
Posted 13/08/2018 at 10:03:30
Phil - you're right, it's entirely about opinion. Alan Shearer made the point at the weekend that under the current laws of the game it was indeed a red card. I noted that a lot of people on here were calling him every name under the sun as a result. Ian Wright thought it was a yellow card.
I'm of the opinion that the referee made the call based on current laws and that in slow motion it was a bad tackle. He was also the last man (in my opinion) as the player would have been clean through and Jags 100% took him out.
You can say he got a bit of the ball, but he nearly broke the guys ankle if you look at it in slow-mo so IMO it was a mistake by Jags letting the ball slide past him, a bad tackle and a red card.
None of this means I'm right as you say, nor does it mean Alan Shearer is a f**king p**ck or whatever other unreasonable insult want to throw at him, it's just interpretation of the laws and an opinion. Nothing more.
Phil (Kelsall) Roberts
17
Posted 13/08/2018 at 10:15:18
Holgate - the view at Barnsley was that Holgate was the better of their two young centre halves bought by Everton. The other was John Stones.
I don't think it was a bad tackle - as a tackle I always assumed was when you tried to get the ball of a person. The Wolves player never had the ball at any point and Jagielka was using the side of his foot to block the ball as the player came through. You can tell me I am wrong.
I think on his performance on Saturday, Digne will struggle to replace Baines at Left Back - and you can take on both counts.
Jerome Shields
18
Posted 13/08/2018 at 10:32:31
Mal (#12).
For years, Jags has been the main weakness at the heart of the Everton defence. I remember as far back as when Trevor Brooking was a pundit, putting the blame squarely at Jagielka's door as the Everton defence collapsed to defeat, having surrendered a lead. He cited a lack of concentration, positioning, marking and lack of cover by Jags as the reason for the collapse and clearly showed in replay analysis where the problems arose caused by Jags and their effect on other members of the team. He was obviously angry about it, as he put it down to a lack of effort by Jags.
At the time, I thought Brooking was a prat; but after any good Everton win, and thinking to myself they need to win the next game, I was repeatedly let down by defeat. It got to the stage that I tried to erase this thought out of my head, to hopefully somehow inspire a win. On watching the game or highlights, there was Jags in the middle if the debacle, and Brooking's analysis coming back to haunt me. This went on for years and Jags was a regular in the England set up.
The Martinez era brought some relief, but then the Jags dilemma raised its ugly head again. What's more, I started in the second season of Martinez's term wondering how Jags could hold down the Captain's role. He clearly wasn't a leader on the pitch, though if you as a leader make mistakes, how can you say anything to those who make mistakes around you?
Also, I saw his performance as central to the attitude to the Manager, particularly the lack of effort and lack of pride in playing for Everton. I came to the conclusion that Jags was a Leader in the dressing room and, as Managers came and went, he was the leader of the squad's attitude in the dressing room,
I have repeatedly pointed out my concerns regarding the centre of the Everton defence on ToffeeWeb and defended the young players who have had the nightmare of having to play alongside Jags.
Jags has done well out of Everton. A long career, inflated extended contracts which he would have never seen at another Premier League Club. His contribution to Everton attaining trophies has been suspect, but I am sure he accepted a long time ago that getting a winner's medal would never happen.
I hope to never see Jags on the coaching staff. I think he has buddies on the backroom staff that need to be shipped out anyway. I am prepared for the onslaught.
Martin Berry
19
Posted 13/08/2018 at 10:40:26
Holgate is going to be a massive talent, I think Marco has already seen it on the training ground. Jags has been a great defender in his time but his time is coming to an end like anyone.
It will be interesting to see how the new lads are in training and how quick they get up to speed.
I am particularly interested in how Gomes progresses as he looked special at Valencia.
I believe in midfield we are lacking, also an injury in that dept and we have few quality options.
Simon Jones
20
Posted 13/08/2018 at 10:41:52
A lot of negativity surrounding Jags, some justifiable, so just for nostalgia, remember that screamer he scored against the dark side...
James Hughes
21
Posted 13/08/2018 at 10:55:52
Phil #14 I didn't think it was a red card when I was watching the game, just looked at the highlights and still don't.
I read that article and was surprised that Garth actually defends Everton. It was interesting to see his take on Refs and them sticking to the letter of the law and not using common sense. Something we have muttered about over the years. Rodwell's sending off in the derby springs to mind.
Jerome, you can add to the charge sheet, being far too nice, especially in the tunnel pre-match with the RS. Not getting in the ref's face and arguing decisions and going missing when the going gets tough.
Derek Thomas
22
Posted 13/08/2018 at 10:55:56
Jerome @ 18; no onslaught from me. Good servant and all that... But 3 years past his use-by date.
How does a has-been player and the world's most silent captain suddenly become the 'go to' guy as a coaching guru?
Brian Murray
23
Posted 13/08/2018 at 11:08:59
On a separate issue, Lookman needs to be involved or it will give him and or his agent an excuse to stamp their feet and create more unrest. Sadly, that's modern football.
Tom Bowers
24
Posted 13/08/2018 at 11:43:01
It is a sad fact that players lose something mentally and physically when they reach 32-35 especially when playing defence and being so consistent for many years as Jags has.
Playing on defence is a liability when you have lost a yard of pace. Time has caught up with him even if it wasn't a foul on Saturday. The newer/younger boys have to be called on now.
Keith Monaghan
25
Posted 13/08/2018 at 11:49:35
James @ 15 - you say "he nearly broke the guys ankle if you look at it in slow-mo".
Are you Shearer in disguise? I think you'll find Jota, the guy Jags tackled played the rest of the match! Football matches are played and decisions made by refs in real time!
The ref hesitated before blowing his whistle and was pulling out his red card as he did so. Foul, red or yellow is opinion – I believe that if a foul it was not intentional, and there was no malice. It is fact that the ref made a big mistake in allowing the free kick to be taken 4/5 yards in advance of where the incident occurred.
For me, Jags has been a good servant to Everton, who in turn have rewarded him well. IMO he has never been a natural leader, unlike Dave Watson or Phil Neville.
He's been a decent defender, but ball control and distribution have been weaknesses throughout his career. Like Baines, he should have played a lesser part for us in & since Martinez's last season – age and declining pace has been a problem for our defence for 2 or 3 seasons. It's great for people to be sentimental towards our good servants, but a liability when it blurs decision-making (like when BS Bill brought the washed up and bad servant Rooney back).
I'm encouraged that our new regime shows good signs of strong management (eg, dumping Rooney and the handling of Lookman).
Phil (Kelsall) Roberts
26
Posted 13/08/2018 at 11:50:00
I love this – doesn't get in the ref's face to argue decisions. He didn't even argue his on Saturday. But we also call the players from other teams for doing that. We need to get our views sorted.
a. It is not acceptable to get in the ref's faces and we should complain as long as hard as possible about it and rise above all others.
b. We should descend into the gutter like all other teams and be as obnoxious as they are. "Sauce for the goose" principle.
c. It is okay if we do it but not if anyone else does it.
Rob Dolby
27
Posted 13/08/2018 at 11:54:19
I have been watching the blues for quite a while, not as long as some on here and I rate Jags to be up there with the best that I have seen in a blue shirt.
The red card was a joke, if the rule is that whilst making a tackle you cannot make contact with an opponent, then fine... but it isn't. There will be hundreds of those tackles over the course of the season and Shearer and the like will praise the defenders or attackers depending on which team they play for.
Are we going to appeal the card?
The Huddersfield player chopped Alonso whilst clean through, penalty and yellow card. No consistency.
David Hallwood
28
Posted 13/08/2018 at 12:10:17
Tom (#24) like all humans, when you're physically tired you're automatically mentally tired. That's why only special, driven people can keep performances up year on year, and sadly Jags has run his race.
Moving on to the red card. The ref said at half-time that he sent Jags off because he denied a goal-scoring opportunity. If that's the case, then it should be rescinded. To change it to dangerous play is the equivalent of being booked for speeding then it being changed to driving without due care and attention because it suits the narrative.
Obviously nothing will happen to the buffoon, but this lack of accountability and checks and balances is having an effect on the quality of officials. When was the last time that there were no English officials in a major competition, and when was the last time you were impressed by a ref's performance?
James Hughes
29
Posted 13/08/2018 at 12:10:37
Phil. I am more for a modified Option B. Stand up for yourself and show a bit of fight. Not one player questioned where the free-kick was taken, they either weren't paying attention or didn't want to question it.
No gutters and no need for being obnoxious, there is a need to be assertive though.
James Marshall
30
Posted 13/08/2018 at 12:30:27
Keith @25
If you watch the slow-mo, he almost turned the guy's ankle over. No, I'm not Shearer in disguise but Shearer and I happen to share the same view of the incident.
As I said on another thread, none of us are right or wrong on this, we just have a view/opinion. People on here have slated Shearer but I agree with him. So what? Does that make a fucking wanker as well?
Seriously, people on here need to have a long hard think about what they say or insinuate – we're all Everton supporters but we have different views on incidents and that's what football is all about. Opinions... arseholes. It doesn't make me a hate-figure just because I don't agree with you, Keith.
Raymond Fox
31
Posted 13/08/2018 at 12:40:59
The reason Jags lost control of the ball, was that he looked up for who to pass to as the ball was coming towards him.
They scored in my opinion because the ref allowed them to take the free kick 7 yards approx closer to the goal than it should have been. That made the difference between them scoring or not. Pickford would have had a fraction of a second longer to reach the ball.
Thats what cost us 2 points and the ref and even the linesman should be held to account for the game-changing mistake. Don't hold your breath, though!
Eddie O'Neill
32
Posted 13/08/2018 at 12:42:28
Okay, so Jags made a mistake...so what? So did Pickford (little said about that here) but that's life. We all make mistakes, some big some small. It's easy to kick a guy when he's down, and I think this is unfair to Jags.
It seems people here are blaming him for not winning the game yesterday... Well I don't agree. We had many chances to put the game away but failed.
Some of you need to have a look at that game again. Jags was and is still a good defender, but we all have our sell-by date. Give him a break.
Daniel A Johnson
33
Posted 13/08/2018 at 12:44:08
Lots of slagging off of Jags at the moment.
Let's not also forget, Pickford should have saved the frigging free kick. Amazing how Schneiderlin and Jags have been getting unnecessary criticism but Pickford gets off scott free. If he saves that free kick, we go in at half-time 1-0 up.
James Marshall
34
Posted 13/08/2018 at 12:50:45
I agree, we're all too quick to lay blame and slate our own players – human beings make mistakes, whether you blame Jags, the ref or Pickford perhaps they were all at fault in one way or another.
We did well to get a 2-2 draw away from home.
Dave Abrahams
35
Posted 13/08/2018 at 13:25:37
Regards to players getting in the refs face, surely it is acceptable if the captain of the team makes his point of view known to the referee and argues for his team and team mates.
Paul Birmingham
36
Posted 13/08/2018 at 13:31:18
We are all flesh and blood, and make mistakes. In footy it rarely forgives nor forgets. Age, fitness and confidence are some of the key factors in a players mojo.
Based on the preseason games, in my view Jags looked off the pace, out of sorts, whatever people view his pre-season displays.
It's time as the M&M era unfolds, to appoint a new captain, whose got the trait of a nark, but narks legitimately and when required.
Jags has always been too nice and I'm sure Silva, will have his plans for the captain role.
Jags has been a good servant to the club, but now seemingly fate may mean he is now only a squad player. The club must go forth and rebuild with no sentiment for any player.
That goal at Anfield will never fade. I dream we get the elusive victory sparking a new dawn also against the spawnies.
On another note, and my heart bleeds (joking), I saw some stat the other day suggesting they were the most hard-done-by team, based on bad decisions. If they could do that stat over 50 years, it would be a different story.
David Nicholls
37
Posted 13/08/2018 at 13:39:05
I love Jags. He's probably one of my favourite ever players. His partnership with Lescott is the best Royal Blue CB pairing I can remember.
As well as the screamer at Anfield, I always remember during the 09 FA Cup run when we knocked out Liverpool, he had a prime Fernando Torres in his pocket.
I know he gets some stick for his captaincy style but I would rather have someone that leads by example than one of those peacocks that spends much of the game screaming, arm-waving and gesticulating to no real effect only to lose their own discipline and let the side down (I'm sure many Sunday League players on here will have played with that type and know what I mean).
When Jags eventually does lose is regular place in the team, who is gonna have everyone in stitches with their tunnel banter?
Chris Corn
38
Posted 13/08/2018 at 13:57:37
I was quick to criticise Jagielka myself on Saturday because he was the master of his own downfall but, to balance it, if Seamus would have executed a straightforward cross/pass to Niasse, we would likely have got the three points. Not many are talking about that though.
Mark Taylor
39
Posted 13/08/2018 at 14:26:11
The red card was unlucky in the sense that some referees would not have given it. It is very debatable it was serious foul play – excessive use of force – or that it denied a clear goalscoring opportunity. But some referees would give it, it's a matter of interpretation, so very difficult to standardise.
The real issue was that the referee allowed the free kick to be taken around 5 yards nearer the goal. The original foul was a long way from the penalty area, well outside the D but was taken from well inside the D. Had it been taken from the original position, he would not have scored, pure and simple. This has received precious little coverage in the UK media yet to me is key. Are we to allow penalties to be taken from 8 or 9 yards? Obviously not, because it massively increases the chances of scoring. Same goes for free kicks around the box.
There's no excuse for this because the ref would have had to consider the position of the foul when thinking about a sending off. Had he just forgotten? This isn't a grey area of interpretation, it's a clear, non marginal and significant referee error that basically led to a goal.
I think the ref needs to be 'disciplined' for this and maybe miss a match in the Premier League.
Derek Knox
40
Posted 13/08/2018 at 14:29:11
Chris, we can all be wise in retrospect, having the benefit to re-run incidents and talking points in the game, in this game there were more than a few.
Daniel @33, while I agree to a point about Jordan missing the save from the free-kick, let's not forget the 'free kick' was taken from the wrong place.
Hypothetically if it had been taken from the correct position, he 'may' have saved that one. We can go on and on, and even in the unlikely event of the Officials admitting culpability to incorrect decisions. There is no way, with the possible exception of Red being changed to Yellow, that the result of the match would be altered.
James Marshall
41
Posted 13/08/2018 at 14:37:10
Mark@39
The ball was outside the D for the free kick. I just watched it all again on MOTD, and I can't see Jags touch the ball at all. I do however wear contact lenses so maybe my eyesight is playing up.
From every replay he doesn't touch the ball at all and completely takes the player out = foul and a red card. It seems pretty clear-cut to me.
The free kick is not taken from inside the D, but it is taken from the wrong place.
Pickford moves the wrong way then fails to save it = mistake.
The only mistakes I see are Jags not controlling the ball, Jags lunging and missing the ball then taking the player down - he's the last man = red card.
Colin Gee
42
Posted 13/08/2018 at 14:41:19
It looked a bad tackle from the away end in real time, but I was right up at the other end. I have watched back loads of times now and I still can't decide if it was a red card or not, a yellow yes, but a red? Not sure? Perhaps I am looking at it through my Evertonian eyes.
It goes down as one of those that I have seen given as a red and a yellow. Had it been the other way round, then it would have been a definte red though!
Tony Abrahams
43
Posted 13/08/2018 at 14:44:24
Referee sends off Jagielka for an alleged foul, and then lets Wolves take the free kick, six yards nearer to the Everton goal, has also got to be a massive mistake James? But it's gone now, and it wouldn't surprise me to see Jagielka go to.
Jim Bailey
44
Posted 13/08/2018 at 14:44:56
Mark @39. I was thinking the same thing but it also shows up a lack of street wiseness in the team. Surely someone should have been in the refs face about it. Hopefully this sort of thing will grow in the mentality and we will become less nice.
James Marshall
45
Posted 13/08/2018 at 14:51:30
Tony, yeah I agree. The free kick is definitely taken from the wrong place. That's a refereeing mistake for certain. In fact that's the only thing that's certain!
Daniel Lim
46
Posted 13/08/2018 at 14:53:15
LOTFR.
Some people really can say anything to argue his point, including Jags didn't touch the ball and "completely" take the player out.
SMH really.
Gordon White
47
Posted 13/08/2018 at 14:55:09
I agree with Tony (#1).
And it was a red card following an unfortunate mistake.
Mike Gaynes
48
Posted 13/08/2018 at 14:55:57
Completely off topic, here's an incredible play from a player we used to know.
Saves a breakaway goal on an empty net, then sets up a 96th-minute gamewinner with a 50-yard cross.
https://www.blackandredunited.com/2018/8/12/17682328/wayne-rooney-highlight-dc-united-orlando-city-luciano-acosta
And not one teammate goes to him to congratulate him on this bit of insane brilliance. Not one.
James Marshall
49
Posted 13/08/2018 at 14:58:42
Daniel@46
I assume you mean me? If so then I task you with going to watch it all again and then disagree 100% with the statement.
It isn't me saying 'anything' to argue my point, it's based on what appear to be the facts based on all the replays.
Daniel Lim
50
Posted 13/08/2018 at 15:01:16
No need to watch it again. I 100% disagree with your statement.
Yes, I was referring to you, James.
James Marshall
51
Posted 13/08/2018 at 15:04:21
If you can 100% see him make a clean tackle, touch the ball and not take the player down, then I'm afraid I have to say that your view is based on nothing at all.
He 100% takes the man down and that is a fact, whether he touches the ball or not. He's also the last man which is also a 100% fact.
Daniel Lim
52
Posted 13/08/2018 at 15:08:09
When did I say I saw him made a "clean" tackle?
Putting words in my mouth this time?
Tony Abrahams
53
Posted 13/08/2018 at 15:08:33
I think the other thing that might be certain James, is that the game has got to fast for only having one referee, but even if there was ten, I'm not sure it would stop people arguing!
Anyway something much better has happened to Everton, over the last five days, and I'm even begining to feel a little bit of excitement about going to Goodison again, so hopefully they don't let me down!
Dave Abrahams
54
Posted 13/08/2018 at 15:12:59
Gordon (47), maybe you could also agree with Jacub (2) who says Jagielka played alright before that error and you could look at Pickford's effort for the first goal and possibly Keane's for the second. Nobody is perfect, including the referee and linesman for letting the free kick being taken from the wrong spot, which to be honest might have put Pickford in a better position to save it.
Lots of errors, Gordon, why let Jagielka carry the can?
James Marshall
55
Posted 13/08/2018 at 15:15:08
Daniel, you said you 100% disagree with what I said. I suggested that your 100% disagreement must mean that he therefore made a clean tackle?
That would be to 100% disagree with me.
From the replays you can't see him make a touch on the ball, but you can see him take the player down = foul = last man = red card.
Mike Gaynes
56
Posted 13/08/2018 at 15:18:23
James #41, you need to get those lenses replaced immediately.
Jags gets the ball solidly with his right foot (which then follows through and gets the left ankle). The ball couldn't possibly go directly back up the field, which it did, if Jags "doesn't touch the ball at all."
And you're misinterpreting the "last man" rule, as the referee appears to have done. It's very clear in the new FIFA guidelines. Just being the "last man" and committing a foul is no longer sufficient justification for a sending off. If the defender plays the ball and the attacker never controls it, it's not a denial of a scoring opportunity. Both that and the misplacement of the free kick (NBC calculated it as exactly 5.0 yards) are egregious refereeing errors, and I believe Mark Taylor is absolutely right that Pawson will not ref a game this weekend.
As to "Pickford moves the wrong way then fails to save it = mistake"... no again. On a free kick by an excellent free kick taker from that distance, a keeper has no chance if he's just rooted to a spot. You have to anticipate and be moving. If Navas had gone to the other corner, we'd have been complimenting Pickford's reaction. But it was a perfectly taken free kick from the wrong spot, and he did well just to touch it.
Daniel A Johnson
57
Posted 13/08/2018 at 15:27:40
Don't get the mass hysteria.
Replays clearly show the lad's ankle bending 30 degrees under the tackle. It was a hard/fair tackle that unfortunately connected with the lad.
I certainly wouldn't want any Everton players on the receiving end of a tackle like that and that for me sums it up.
He connected with the player and was the last man it had to be a red. Then Pickford dropped a bollock with his positioning. It's time to move on.
John Tierney
58
Posted 13/08/2018 at 15:36:45
James Marshall, various posts.
Despite the fact that you CAN clearly see the ball being won on most replays (that I have seen), you only have to see how the ball reacts to know Jags won it. Should've gone to specsavers mate.
Never a red card for me.
James Stewart
59
Posted 13/08/2018 at 15:47:20
@38 Correct. You could add the Walcott miss to that as well. Empty goal on his right foot, awful miss.
Tony Abrahams
60
Posted 13/08/2018 at 15:50:38
Bit harsh that one James, but it was another chance that was forged through good attacking play though.
James Marshall
61
Posted 13/08/2018 at 15:50:42
Mike Gaynes - Pickford takes a small step to his right as the free kick is taken because he thought momentarily the free kick was going to the right, he then readjusts and doesn't get a full hand on the ball. That's a goalkeeping error.
John - like I said, maybe my eyesight is failing me (I am quite old!) but I cannot CLEARLY see Jags get the ball first, though as I mentioned above, even if he does touch it slightly, at full speed it looks like a foul, and even in slo-mo he clearly took the guy down so it's a foul and a red card for me.
Anyway, I'm not an expert and as I've said numerous times, all of this is down to interpretation and opinions. It's done now, and the ref made the decision which I agree with.
I'm not claiming to be correct, and I'm not saying you're wrong, I'm just saying that he DOES take the guy down and Pickford made a mistake on the free kick. If I'd been the ref I would have sent him off.
Gavin Johnson
62
Posted 13/08/2018 at 15:52:19
I think Jags reaction probably tipped the refs decision into giving the red. He reacted like a guilty man. I'm 50/50 and can see both sides of the argument. I think it should have been yellow (Jags won the ball) but can understand why a red was given. As I say though, Jags did himself no favours looking resigned to his fate before the card was even given.
Phil Smith
63
Posted 13/08/2018 at 15:52:41
Jags just fucked himself there. Now he will struggle to get back into the side, as Mina, Zouma and, if he plays to his potential, Holgate will all be ahead of him now.
Peter Gorman
64
Posted 13/08/2018 at 15:53:34
Hmm, I'm with James on the tackle. I saw (repeatedly on the replays) Jags connect with the lad's ankle first. I think I need to check my lenses as well then, or maybe other people do. I don't care at this stage. Who would be a referee, eh?
In any case, can't wait to have these new signings on the pitch.
Grant Rorrison
65
Posted 13/08/2018 at 16:13:55
Hopefully we can appeal the 3 game ban and get it extended. Shite defender. If I never see him play in an Everton shirt again I wont be sorry.
Mike Gaynes
66
Posted 13/08/2018 at 16:19:07
#65, no class.
Dave Abrahams
67
Posted 13/08/2018 at 16:21:55
Mike (66), echo that Mike.
Mark Taylor
68
Posted 13/08/2018 at 16:25:40
James 41
I could do with drawing this rather than verbalising it.
When I say taken inside the D I don't mean within the D- it wasn't that central, it was to the left. But if you drew a horizontal line from the top of the D, it was taken well inside that. Whereas the foul was committed quite a long way outside this imaginary line. I'd say 5 yards nearer is, if anything, being conservative, I don't think I've ever seen a free kick taken so much from the wrong position, and to the attacking team's advantage, other than in parts of the field it doesn't matter much.
Jim 44, I agree we lacked street wisdon in not pointing it out to the ref. I guess of all people, Keane should have known the position, he was the most level. You can be pretty sure some more outgoing and vocal defenders in the EPL would have let the ref know and quite likely prevented a goal.
But of course, they shouldn't have to. The ref should have spotted it himself, this is not a matter of a couple of feet or so. I think he got distracted by the sending off. And that's not good enough for a top ref, it's below the standards required, so he should take his next match in the Championship.
On the foul itself, I think the decision was far from clear cut and as I say, there won't be an argument against the red card because it is defensible, even if we know full well some refs won't give it for basically the same foul later in the season.
One issue might emerge is what the red card was for. There was a rumour that at half time, the ref was claiming it was for denying a goal scoring opportunity. I think that would be harder for him to defend, not least because as a result of the tackle, and the fact Jags did connect with the ball, it was heading away from goal. If it was for dangerous play, then it's excessive use of force, which might be a bit harsh for what I think was a genuine attempt to play the ball, but I think that reason could be justified.
This matters because I believe the punishments are different for the two offences. Jags may be looking at 3 games out.
Jay Harris
69
Posted 13/08/2018 at 16:26:29
Why are we so hard on our own players.
Jags clearly got a touch on the ball BEFORE he caught the onrushing Wolves player who went down like he was auditioning for a part in Swan Kake as the dying swan.
If that would have been Van Dych or Phil Jones the commentators would have been going on about what a magnificent recovery and RS supporters would have invaded the pitch if their man had been sent off for that.
Then, to add insult to injury Pawson totally out of control of the situation, let them take the free kick from where they wanted.
And again, if that had been De Gea or Courtois they would have been going on about an unstoppable free-kick right in the corner of the goal.
It speaks volumes that Jags and Silva both feel totally wronged by Pawson's decision who also btw let Wolves foul Richarlison throughout the match.
Bitter, yes I am because I feel we have been robbed by officialdom yet again.
Dale Rose
70
Posted 13/08/2018 at 16:26:37
Seen a lot worse over the years than Jags tackle on Saturday. It's the way the game has gone.
That apart, it was a good result on Saturday. All the pundits and Wolves thought we were there for the taking; how wrong can you be. A great team performance.
Having said that, there will be teams that will struggle against Wolves this season. Says a lot for us that we weren't one of them.
Brian Murray
71
Posted 13/08/2018 at 16:27:30
Nice one, Grant — say it like it is, lol. If half these on here have their way, Jags will have a job for life, along with big Dunc and Jeffers.
Gary Russell
72
Posted 13/08/2018 at 16:34:51
It is hard not to have a persecution complex in the way the media have viewed us for the last few years. Only way it's gonna change is that we rise and become the force we all hope to be. I am feeling positive it might not be too far off.
Andrew Clare
73
Posted 13/08/2018 at 16:36:40
Too true Mike. No class at all. Jags has been an excellent defender for Everton over the years. He is just coming to the end of it now and it is bad form to talk about him in such a way.
John Tierney
74
Posted 13/08/2018 at 16:47:10
Thanks James - and whilst he did get the ball first, I understand there was still a decision to make regardless.
We had a redshite in our midst whilst watching it and having already stated Pawson was a terrible ref earlier said he'd have been aggrieved had one of theirs been sent off for that.
It was a good tackle and unfortunate to catch his man.
Does anyone know, did Pawson (not that other gobshite Walton on BT) actually change what he said he gave the red card for?

Aidan Wade
75
Posted 13/08/2018 at 17:19:05
Presume it will be Holgate starting at the weekend and otherwise the same team that started against Wolves. Can't wait to see the new guys in action, Bernard in particular - although doesn't he play the same position as Charlie? Can he play on the right?
Figuring out our best team is fun again.
Rob B Williams
76
Posted 13/08/2018 at 17:23:13
Everton trio will begin training t
his week
It was a red/ no it wasn't.
No foul/foul.
Jag's is past it/ good squad player.
Good tackle/ he nearly broke the man's leg.
He got a touch/ no he didn't.
Do you get my drift? - all about the Red Card incident BUT the thread says quote 'Everton trio will begin training this week'. FFS. keep on subject.
Kristian Boyce
77
Posted 13/08/2018 at 17:25:26
As Mark Taylor @68 highlighted, my biggest issue of it all is the perceived opinion that the ref had changed the decision from stopping a goalscoring chance to dangerous play. The media had confirmed that the 4th official said at half time that the card was for stopping a goalscoring chance, but after the game it was announced it was changed to dangerous play.
With no VAR in the league this season to aid in these decisions, did the ref watch the incident after the game or was told by someone to change it to dangerous play? Many pundits highlighted that if it was for stopping a goalscoring chance, it would be liable for appeal as the ball wasn't going the direction of the goal. My issue is that supposedly the decision of the ref is made on the field at the time of the incident. The changing of the decision looks like that either someone told him to change it or that he had watched it after the game. Either way, he has covered his back and in doing so landed Jags a longer ban.
Peter Roberts
78
Posted 13/08/2018 at 17:43:12
John
I only ever heard one quote from Pawson which was at full time when he said the card was for denying a goal scoring opportunity. It was Walton who said at HT he believed the card was for serious foul play.
People say we didn't protest the position of the free kick. Watch again and look at Richarlison trying to talk to the referee. In his defence, he's 30 yards away because he's not expecting Jags to miscontrol the pass. He then has to make a split decision as to where to place the free kick as well as administer any punishment. At least in American football I have penalty flags to mark the spot of the foul (crucial for enforcement in some cases). However, what isn't deniable is he missed the spot of the foul and it ended up costing us.
Andrew Clare
79
Posted 13/08/2018 at 17:44:54
Zouma and Mina may feature next week but Bernard and Gomez probably are another 2 or 3 weeks away regardless of whether they become fit sooner.
I don't think we will see the best of them for at least 8 weeks. Then, I think we will be a match for anyone.
Pete Clarke
80
Posted 13/08/2018 at 18:07:29
We can dissect that incident all we want but if he had not made that tackle and the striker breaks free and scores then he looks a massive fool after mis controlling the ball.
Also if we want to go on blaming players for the goals conceded then we scored two goals that both should have been defended better but it's all part of the game.
Anyway, incidents like this give others a chance so we may well see a new central defensive partnership soon if Holgate can step up to the task and the new lads get their fitness up.
David Ellis
81
Posted 13/08/2018 at 18:44:11
Rob #76 - hear, hear.
Can we move most of these posts to the other thread where this has been done to death??
I hope Silva makes the newcomers earn the right to get into the first team. I hope the current team plays well enough to make it hard for them to get in. I remember having to wait quite a few months before Moyes gave Baines an automatic starting berth and I think that allowed him to hit the ground running when he finally came in.
The new boys will naturally be nervous, particularly those that haven't played in the Premier League before. Ease them in. Possibly Zouma to start on Saturday but I would be okay with Holgate and Keane on last Saturday's performance.
I think Jagielka's great weakness has always been his poor ball control. The game has changed over the course of his career and higher standards of ball skills are required from a centre-back now. This is why I would want him to be replaced, regardless of age. Don't think he's coach material either. But a great last-ditch defender and good servant to the club.
Mark Taylor
82
Posted 13/08/2018 at 18:56:59
Rob 76
To be fair, this is an issue of huge controversy and not all of us have the time to trawl the various other threads to see where best to place a comment. My starting comment on the (different) topic of this controversy was because that was what people were talking about on the thread. In the end, this place is simply a means by which discussion commences among like minded people, nothing more rigid than that.
As to the original news item, it is news, pretty obvious news- what else would they be doing, if not starting training- and comment opportunity is fairly limited other than saying 'good' and maybe speculating on who might be first in the frame. So if it pleases you, I suggest Zouma because I believe he has done a pre season with Chelsea.
Alastair Donaldson
83
Posted 13/08/2018 at 18:57:15
Really looking forward to seeing Bernard become involved. Not quite sure how he'll be fitted in, but we have really lacked someone to take the ball forward instinctively and commit players. I was disappointed with Coleman/Walcott on Saturday, it just didn't click, early days I hope.
Poor Jags getting the column inches usually reserved for Schneiderlin. FWIW I felt very begrudgingly it was probably a red and no doubt they'll be far worse tackles that receive less.
WRT Mina and Zouma, Mina looks the most interesting / effective with what little I've seen of him to date... they will no doubt make mistakes, but if we can play the percentage and put the foot through the ball when needed, we reduce the risk. Thought Keane's passing was heavy on Saturday.
Darren Hind
84
Posted 13/08/2018 at 18:58:18
Jags has always fallen just short of being top class because his control has always been a little suspect, but he has been a magnificent servant to our club.
I won't remember him for his occasional lapse. I will remember his penalty against the Mancs in the semi-final. The magnificent job he did of marking a then world class Torres out of a cup game at the old lady and of course for the fact that he scored the goal I have always dreamed of scoring myself. When he hit that missile into the top corner of the Kop goal in the dying seconds, they could have had three goalies and they still wouldn't have stopped it. The stunned looks on the Gobshites behind the goal completed the unbridled joy... Never allow his drift into decline get in the way of those sorts of memory's.
Of the new signings, I'm most looking forward to seeing Gomes on the pitch. It is he who possess the slight of hand. I cant wait to get him out there
Mal van Schaick
85
Posted 13/08/2018 at 19:21:20
Jerome (#18). He was a Championship player from Sheffield Utd, and came to Everton and showed tenacity and commitment. He is a whole-hearted player.
For me, when Suarez trounced us in the derby game, he was shown not to have enough pace, and life is all about the pace. At 36 he's even slower in the first 10 meters.
He may have buddies on the backroom staff, but as an Everton captain, with experience of club and international duty, he would serve the club well.
Mike Gaynes
86
Posted 13/08/2018 at 19:48:31
Darren (#84), one of my greatest memories as well. Paul Columb and I were watching that game in my living room. When he blasted in that shot, I cleared the coffee table with one joyous bound. Magnificent.
Also he scored in both of the games I saw last season at Goodison Park. Did a cartwheel after the one against Burnley.
Re Gomes, I hope you're not disappointed.
Tony Abrahams
87
Posted 13/08/2018 at 19:53:44
Only player I've ever really see get the better of Jagielja. On a consistent basis was Suarez, Mal.
Not sure it was just about pace though, maybe more about clever little movements that often had him playing on Jagielka's blind side?
As an out and out defender, he was up there with most of the best I've seen in a blue shirt, so for that alone the man deserves our respect.
Football waits for nobody though, and I hope Mina, is not just a World Cup wonder, because if we can sort ourselves out defensively, then there is no reason whatsoever why we can't have a very good season?
Dermot Byrne
88
Posted 13/08/2018 at 20:00:02
Darren: it is Gomes that excites me too. Prior to Barcelona he was god's gift as far as I know and he should be gunning for it.
Peter Mills
89
Posted 13/08/2018 at 20:49:49
Mike #48, I saw Rooney do something similar in the FA Youth Cup semi-final at Goodison in 2002. He was crocked but picked himself up to make that same run and tackle, in front of the dug-out. However, instead of crossing from deep, he ran with the ball down the right into the Park End penalty area and laid it on a plate for the centre-forward (a lad named Symes I think).
It was one of the greatest bits of football I've ever seen at the ground.
Peter Warren
90
Posted 13/08/2018 at 21:25:37
Bloody annoying if Ref changed his mind from last man to violent conduct. Reminds me of a derby game when Graham Poll blew the final whistle after the ball crossed the line from their rubbish keeper kicking it in the back of Don Hutchinson's head.
Refs have never had it so easy with lack of violent play and should be more accountable and mic'd up like rugby so we can hear their decisions. It's clear they collaborate a lot after the event (I think it happened against the shite at their place v Chelsea last season).
Rob B Williams
91
Posted 13/08/2018 at 21:36:57
MT 39 & 68. Mark you were not the first or last to deviate from the subject matter. Pity that you don't have time to trawl the other threads, but you obviously came on this thread to post about the new lads in training, didn't you - so why change your mind and follow the herd on this Red Card Issue? Now it seems that those wanting to discuss the theme of the original thread have to 'trawl' elsewhere to discuss the 'new boys' issue.
It never ceases to amaze he how a thread can be hijacked so easily and I am surprised that the mediators allow this sort of thing on TW, after all Lyndon saw fit to raise the issue and no doubt is surprisingly happy that we continue to wander all over the place.
Now ffs we have someone on 89 wanting to discuss 'Rooney's Greatest Moments'. Fuck me pink!!

Peter Mills
92
Posted 13/08/2018 at 22:09:04
Rob (#91), I can only apologise, I do have a tendency to wander off on a tangent occasionally.
Paul Kelly
93
Posted 13/08/2018 at 22:13:55
James Marshall,
"From every replay he doesn't touch the ball at all and completely takes the player out".
Talk about making stuff up to suit your narrative. So let's say he didn't touch the ball, as you claim, who did? Let's look at the alternatives;
It would have to be the Wolves player I assume? So he back-heeled it then, meaning it wasn't a goal scoring opportunity as he wasn't going towards goal, referee got it wrong — no sending off then.
Gust of wind — no player had the ball. Let the ref deal with that one.
Divine intervention — the lord supreme is an Everton fan, didn't want Wolves to score but thought he'd get Jags sent off as to not look too biased.
Let's go with the last one, makes more sense than you claiming he didn't get the ball.
Dick Fearon
94
Posted 13/08/2018 at 23:01:57
In the RS vs Hammers via TV I saw four incidents, two by each team, similar to Jagielka's red carder. Two of them earned a free kick but not one merited a yellow. Each of them barely raised a mention from commentators.

English referees lack of consistency was probably partly why FIFA overlooked them for the World Cup.
Peter Gorman
95
Posted 13/08/2018 at 23:44:15
Paul Kelly - I'd let it go in all honesty but if you think Jags made contact with the ball (and in umpteen replays in slow-mo I can't really see it) then it wasn't half the contact he got on Jota's ankle.
Why the hell are we even debating this anymore, let alone getting upset.
Back to the new signings - like Dermot and Darren, for some reason I am most excited to see Gomes. Maybe because I fondly imagine he'll be slotting straight in for Schneiderlin. Not sure if that is the role Silva plans for him but it is the one that makes me happiest.
Andy Finigan
96
Posted 13/08/2018 at 23:53:22
Dick (#92), there were at least two in the Manchester City game that were similar or worse. At least Jags got a touch on the ball... In the Manchester City game, the lad never even touched the ball but caught the player with his studs up, foot of the ground. Not even a foul given. No-one mentioned it.
Brent Stephens
97
Posted 13/08/2018 at 23:53:39
Steve Ferns, I think, has argued that Gomes is more suited to Gana's role than Schneiderlin's role?? Might have misread Steve! Sorry, Steve, if so.
Ian Smitham
98
Posted 13/08/2018 at 23:55:08
Peter (#90), what do you mean about "last man"? What is that??
Paul Kossoff
99
Posted 14/08/2018 at 00:33:18
"André Gomes won't be back in full training for a couple of weeks but will continue his rehabilitation from a hamstring strain at Finch Farm." — Everton FC.
Injured before he kicks a ball. Can we stop his wages till he's fit then? How did he pass the medical?
Darren Hind
100
Posted 14/08/2018 at 05:53:41
Paul
We knew he was 3-4 weeks away from fitness before he came. but Silva decided it was better to get him in and let him recover here than risk losing him. Calculated risk
Gomes and Gana are totally different players, for a start, one of them is better without the ball. You wont see Gomes chasing around harrying everything that moves, nor will he break up as many attacks with tackles, but he does position himself well and he will gain possession through his ability to read the game.
It didnt work out for him at Barca. The club didnt seem to suit him and their fans didnt take to him. That sometimes happens.
What struck me on the half a dozen occasions I saw him play for Valencia was he does a very clever line in reverse passing, switching play, (shaping to pass to one way then passing in a different direction to an unmarked wide man). Very simple, very clever. Got a goal in him too. I guess this is what Silva has in mind for him
This is no tackling machine, he's not as tenacious as Gana, but IF he can rediscover his pre Barca form he will bring some much needed guile and our wide men will love him. . . So will the fans
Kunal Desai
101
Posted 14/08/2018 at 07:31:05
Probably won't see Gomes until after the international break. Possibly on the bench against West Ham is what I reckon.
Andrew Clare
102
Posted 14/08/2018 at 07:31:33
For a long long time Everton have lacked creativity, once Bernard and Gomez are fully fit and playing that will all change. Tosun will reap the rewards, meanwhile with our three new defenders we will be a very difficult team to break down.
All this will happen in about 8 weeks once the team has gelled.
Before that I am sure we will see the same spirit and determination that was displayed against Wolves last week as Silva will continue to instill his philosophy into the team's mindset.
Eddie Dunn
103
Posted 14/08/2018 at 07:54:24
I expect that whichever of the new signings is included, we will be cursing more defensive errors. We will need patience for the new lads to bed-in and get up to speed.
Whilst we look critically at our central defenders, it was a cross from Coleman's side that provided the equaliser.
I know we were down to ten men and stretched, but once again the cross was allowed to be put in.
After the goal I caught Mason shouting "Morgan, Morgan", perhaps suggesting that he had not stayed with his man?
A good performance though . On Jags, he has always had a poor touch and his passing is often wayward. He has though, saved our bacon countless times, and as for him smiling- don't be ridiculous- everyone outwardly displays differently to how they feel inside. The guy is a massive competitor and is as ruthless as most. The players are often holding the hands of a child in the tunnel, so it is good that they are not snarling at that time.
Derek Taylor
104
Posted 14/08/2018 at 08:21:51
Rumour is that first qualification for getting signed up by Everton now is the ability to speak Portugese. That's how the coaches communicate it seems !
Victor Yu
105
Posted 14/08/2018 at 08:30:43
Rooney passed his medical too when he joined Man Utd injured.
I don't mind signing an injured player knowing that he would be back in a few weeks.
Colin Glassar
106
Posted 14/08/2018 at 08:42:56
A bit off topic but I love the way the likes of Tony Adams and fat Sam, two managerial legends in their own minds, are already ripping apart Emery at Arsenal after ONE game!
This is it now, Marco. Lose a game, or play badly, and the bloodfest will begin. This is why (modern) football is so off putting these days.
Tony Abrahams
107
Posted 14/08/2018 at 09:04:36
Ian@98, I know it's to Peter, and not me, but is that really a genuine question?
Barry McNally
108
Posted 14/08/2018 at 09:04:46
Colin, I think Fat Sam win a corner - once!
And Adams lost the plot after retiring from playing - sad in a way.
Steve Ferns
109
Posted 14/08/2018 at 09:07:50
Exactly Colin.
Emery is a first class manager. He's only young, but he's won a stack of titles and trophies already. His first game was against Man City, he had a successful pre-season, then lost one game against a great City side that is very settled and playing well, and these two wankers are sharpening their knives. You don't come in to Arsenal after 22 years, press reset, and suddenly be playing a different way and perfectly. What are these guys on?
Had we lost against Wolves, even with 10 men, after being much the better side with 11, then you can bet the same two, especially the gravy swiller, would have been laying into Silva. I bet they're already queuing up on talk shite to do so. I bet that Paul Merson would make a special appearance just to do so. Marco really does need a good start, or I can see the pressure really being on from those gutter media sources.
Saints and Huddersfield are almost must win games.
Steve Ferns
110
Posted 14/08/2018 at 09:10:58
Derek, so two Portuguese guys should communicate to each other in English, rather than their mutual mother tongue, when they're talking just to each other? What are you trying to start here?
Do you think ex-pats in an office in Dubai will be speaking Arabic to each other, just because they are in Dubai? Do you think the locals would be passing judgement? It's very little Englander of you.
Dave Abrahams
111
Posted 14/08/2018 at 09:38:08
Colin. (106), you are absolutely correct about Allardyce, Adams and dozens like them prostituting themselves with their opinions, how many football fans, knowing what these pundits represent, take any notice of them, I would rather listen to many posters on here who talk sense, for free, than most of the TV posers.
Tony Abrahams
112
Posted 14/08/2018 at 09:40:15
I think the media, or certain people in the media, will be very paranoid about Everton at the minute, and those same people, will be even more paranoid about Evertonians.
The common theme from most of these phoney bastards, (sorry) last season, was what do Everton fans actually want?
Well when you pay your money, and also put a lot of time and effort into following your team, then the least you can expect is a bit of entertainment, especially when your club, has got a great history/heritage, and it's something you pride yourself on.
Everton were awful last season, and where well on the way to being the most hated club in the country, simply because of the absolute shite football that they were playing, which didn't belong in the top tier of any footballing league, and definitely not at a club, with such a proud history of EVERTON FC.
They mock us for ruining the transfer market, but they will never be able to mock us over our beliefs, and I just hope "these new signings" enjoy it as much as the fans who demanded change, when they win at Wembley, and hear that great footballing anthem, that the nation robbed off us, when "WE'RE SINGING, WE SHALL NOT BE MOVED"
Ajay Gopal
113
Posted 14/08/2018 at 09:44:26
As I mentioned on another thread, I agree with those that feel that the new signings must be made to sweat for a starting XI slot. For me, Baines, Holgate and Keane played well enough to warrant starting the game against Southampton. Unless Holgate is unfit. In that case, I would have Zouma in just because he is familiar with the league and has had a proper pre-season. Digne will come in if Baines needs a rest - either during the game or after a few games have been played in the season. I would like to see Bernard for Walcott, if Theo does not hit the ground running in the next few games. The pressure is on Baines, Schneiderlin, Walcott, Keane, Holgate and Tosun. In fact, I would say that except for Pickford, Coleman and Richardson, no one is guaranteed a starting spot. Long may it continue.
Pickford
Coleman Holgate Keane Baines
Gueye Schneiderlin
Walcott Siggy Richy
Tosun
SUBS: Stek, Zouma, Digne, Bernard, Lookman, Niasse, Davies
James Marshall
114
Posted 14/08/2018 at 09:46:01
Paul@93
Making stuff up to suit my agenda? Have you spent any time watching the replays? I honestly can't see him making any clear cut contact with the ball at all - I can see him making full and complete contact with the player and taking him out entirely though.
If you think that's me making stuff up, I would unfortunately have to suggest that you're a fantasist. There isn't a human being alive that can claim Jags 100% made a clean tackle and 100% did not take Jota down.
I tend not to get into arguments on here these days, I gave all that up a few years ago but your comments are complete rubbish. No offence.
Tony Abrahams
115
Posted 14/08/2018 at 10:07:40
Agree James, it's better not getting involved in arguments mate, it's much better to sleep on it!
Brian Williams
116
Posted 14/08/2018 at 10:18:21
With regard to Steve's comment (#110) I wonder if the club arrange intensive language course for those who don't speak English?
I think Potchettino, at Spurs, did one and his English, from not speaking a word I believe, became very good in a short space of time.
If our new imports do have a crash course they still won't be able to understand a word Seamie says mind!
Paul Kelly
117
Posted 14/08/2018 at 10:27:55
James Marshall, no offence taken. Your entitled to your opinion.
I'm not saying Jags never got the Wolves player, never have, but what yourself and others are deluded to, is that if Jags didn't touch the ball, what happened to that ball to make it piss in the face of Newton's first law?
Nobody has mentioned the Wolves player touching it, not that I've seen. I offered that hypothesis in a previous post but no one was taking it up. I even offered the solution that he back heeled it but again nobody seems happy with that, probably because it's not what happened, certainly doesn't look like that's what he was trying to do, thought his right leg would of been the one to take the ball forward in my opinion ( you'd have to change your whole body position to back heel which I didn't see)
But as we know it went in the opposite direction but anyone saying Jags doesn't get the ball doesn't offer up another explanation.
For the record.
Jags got the ball and then got the player.
Steve Ferns
118
Posted 14/08/2018 at 10:28:52
I've stayed out of the Jags stuff so far. The fact that it is still raging on is really just an indicator of how little else there is to talk about.
Back to this topic, I think Zouma should be closer than Mina to making the starting line up come Saturday. If Marco holds his nerve, then he would give Mina a mini pre-season and introduce him for the League Cup game, that's usually about 3 or 4 games in I believe. Bernard is hopefully a bit more ready, and I'd love to see him make the bench.
I think he will be a Sigurdsson alternative initially. But I await with interest to see what Marco Silva actually does. It's all exciting stuff. Much better than wondering if Allardyce would bring back Williams for the suspended Jagielka or if we'd play our new star strikers Troy Deeney and Nikola Kalinic or if Nzonzi would be fit enough to play.
James Marshall
119
Posted 14/08/2018 at 10:33:45
Paul - fair enough. I can't see him touch the ball, but we can all agree he took the player down, which whether he made a slight touch on the ball or not, suggests that in the refs view it was a foul, and last man (in the refs view) thus a red card.
Anyway, whether we agree or not doesn't really matter and it's all down to interpretation as I'm sure you agree. We did well to get a 2-2 draw away from home should really be the final word on this in my view :)
James Marshall
120
Posted 14/08/2018 at 10:36:58
Brian@116
I spoke to a Southampton fan way back when Pochetino arrived and wasn't able to speak to the media due to his lack of English, but the guy I met said he bumped into Poch on a train and he could speak English - it was all a ploy not to have to speak to the media apparently :)
Steve Ferns
121
Posted 14/08/2018 at 10:38:07
Brian they can all speak good English, don't worry about that.
On a recent trip to the French Alps, I was shocked to find that a lot of French people (at least 75%) didn't speak a word of English, and instead we got by on our French.
The Portuguese I know all speak perfect English. I would concede that they all leave in an area (the Algarve) that is reliant on tourism and so it is essential for the locals to speak English, but I do go off the beaten track and find that even away from the touristy places, the locals still speak great English.
Derek's point is that the backroom staff are all speaking Portuguese to each other. Others have noted that this will be highlighted when the results are bad, and Derek is being mischievous in getting it forward now.
There is a marked difference between Marco Silva and Joao Pedro or Pedro Conceicao talking to each other in Portuguese to making Portuguese the language of the training pitch. It's a private conversation between 2 or 3 men, and why should they not communicate in the language that makes communication clear and concise?
Brian Williams
122
Posted 14/08/2018 at 10:44:55
Steve I'm ignoring ANY mischevousness (not saying that you were being mischevous Derek) and ALL arguments, having only just cleared my moderated posting punishment for an outburst on a different thread.
I agree with everyone!
Steve Ferns
123
Posted 14/08/2018 at 10:46:52
Haha ok Brian. I can't see you getting into trouble on here, you must have been misinterpreted.
Brian Williams
124
Posted 14/08/2018 at 10:50:13
Errr probably not Steve but we'll park that one mate :-)
Raymond Fox
125
Posted 14/08/2018 at 11:01:05
Off topic I know, but I see our odds to win the Prem. finish top 6 and finish top 4 have all been reduced after the Wolves game.
Darren Hind
126
Posted 14/08/2018 at 11:12:18
"I cant see him touch the ball" . . How on earth can anybody miss the contact which sends the ball in the opposite direction ?
I also feel that a player needs to be goal side or at the very least be in possession of the ball, for it to be deemed a goal scoring opportunity. Neither applied here
Mark Taylor
127
Posted 14/08/2018 at 11:41:16
Rob 91
I came on to find out if there were any specifics about Gomes's injury and time to recover. Then I read the posts and joined in the conversation pretty much everyone else was having.
It's a shame if this offends your desire for order, but there you go.
The thread hasn't been 'hijacked' it has just evolved into whatever people want to debate, and that includes issues other than the sending off and indeed the original subject of the thread.
Steve Ferns
128
Posted 14/08/2018 at 11:46:13
I believe the point Rob was trying to make is that there was another thread that was all about the Jagielka red card, this is about the new signings, and yet we're discussing the red card here too. I've not commented on the red card issue as I've nothing to add to the debate and it's going on and on and on.
The real issue Rob is highlighting is that because people are limited to a number of posts, they have run out and brought the debate here to get around the rules. This has effectively killed the thread. If you don't want to discuss the Jagielka red card, then there is little to say on here, although it has died down somewhat today.
James Marshall
129
Posted 14/08/2018 at 12:04:31
I just watched it AGAIN and he absolutely HACKS Jota down with a studs up tackle against his ankle. The ball then diverts in the opposite direction so he possibly does touch the ball (thought you can't SEE him touch it) but quite clearly gets ALL of the man = red card. End.
Tom Bowers
130
Posted 14/08/2018 at 12:10:12
The Jag's deal is all academic now . Let's move on.
The team won't change for the Soton game except Holgat for Jags.
This a big opportunity for Holgate as he has competition from Mina and Zouma down the line.
Personally I think he is not an out and out kingpin in central defence but maybe a better right back who can sub. for Seamus.
The rest of the team played well enough to start again against Soton who are very average at best.
Derek Knox
131
Posted 14/08/2018 at 12:44:41
Steve @128, good point there, I initially thought I was on the wrong thread.
Looking at the OS it shows Bernard and Zouma being introduced to all the first team squad and then jogging round the Training Pitch.
There was no sign of Mina however, which is bit of a mystery, as along with Zouma it was being mentioned, they were nearer to match fitness than Bernard.

Mark Taylor
132
Posted 14/08/2018 at 13:06:58
Steve 128
Out of curiosity, are you saying people have a maximum number of posts they are allowed to make on any given thread? If so, do you know how many?
Steve Ferns
133
Posted 14/08/2018 at 13:12:24
It's around 20 but I went past that before it stopped me (on a different subject - probably Silva!).
Jay Harris
134
Posted 14/08/2018 at 13:50:53
Anybody have any info on why Mina was not at training today with the others?
Mark Taylor
135
Posted 14/08/2018 at 13:58:33
OK, thanks Steve, not much chance of me breaking that amount!
Steve Ferns
136
Posted 14/08/2018 at 14:11:02
Peter Gorman
137
Posted 14/08/2018 at 14:35:31
Steve, that's some good banter there.
Andy Finigan
138
Posted 14/08/2018 at 15:54:09
Had me in stitches, Steve Ferns!
Paul Tran
140
Posted 14/08/2018 at 18:48:33
Steve #121, I completely agree with you on this language issue, my point on another thread was that when The Mob decides they don't like Silva, this will be one of the first bullet they fire.
Brent Stephens
141
Posted 14/08/2018 at 19:07:45
Steve #136 - that link is pure gold. Hilarious!
Andy Williams
142
Posted 14/08/2018 at 22:27:06
Steve - thanks for that. Superb.
Jay Wood
[BRZ]
143
Posted 14/08/2018 at 23:10:09
Unbelievably funny Tweet!
I like as well the photo from Jaws with the famous words: "We're gonna need a bigger boat."
My word, he reeled in and landed quite a few fish in his net.
Mike Gaynes
144
Posted 14/08/2018 at 23:18:52
Steve, Lord only knows how you find this stuff. I'll be chuckling all evening.
And somehow we have to invite "Mario Silva" onto this board. Man is a genius.
Andy Bone
145
Posted 15/08/2018 at 10:17:46
Aside from these new signings, I would be interested to see if Lookman is anywhere near the squad until the transfer window closes. I still think we have a player there but needs game time. Obviously he can't play if the attitude is wrong.
Jay Harris
146
Posted 15/08/2018 at 10:29:55
Steve, great find, mate. Had me in stitches.
Still no news on where Mina is?
Phil Sammon
147
Posted 15/08/2018 at 11:20:24
Steve Ferns,
Thank you... that was hilarious.
Tom Bowers
148
Posted 15/08/2018 at 13:44:07
Only Everton can sign a bunch of players who are not yet ready. Go figure!
Anyways, one would think that the available players should be able to take care of business for a couple of weeks but it will be very interesting to see when and how the new boys fit in and what impact there will be especially Gomes and Bernard in midfield where games are usually one or lost.
I have long thought that the Everton midfield selections have been very weak compared to other teams so hopefully the extra options will make a big difference.
Derek Knox
149
Posted 15/08/2018 at 14:02:15
Agree Tom, but it seems strange regarding Mina, after coming through the World Cup apparently unscathed, then initially training with Barca, one would think he would be pretty near availability for selection.
Yet he doesn't appear in any of the OS Training Videos, I must admit it does seem strange.
Having watched the video of Kurt Zouma, I was quite impressed at how sensible and focussed he came over, and although it's early days, he seems very happy to be with us. I hope we may see something of him at the weekend, with Jags' obvious absence, even if it is from the bench.
Should he prove to be a success, I foresee another Auction with Chelsea demanding a ridiculous fee.
Steve Ferns
150
Posted 15/08/2018 at 14:21:19
DK, the Spurs World cCup lot have been mixed so far this season. In particular Harry Kane looks knackered.
Mina has had his pre-season interrupted and delayed by the transfer. Zouma was training with Chelsea, and so slots into our training as we get him ready to play. Bernard, I have no idea. He looks slight, maybe he's been training hard in Brazil and Silva wants to get him ready through training with the first team.
Could it be that Mina needs some intensive fitness work? If so, could he be off with a fitness coach doing gym stuff? I actually think that's unlikely as Silva would be more likely to work him hard before normal training and then make him train normal with the rest of the guys, as he likes to have a lot of ball work and how else would Mina get that. Silva likes to tire players out and then make them train with the ball. Which is why we were so knackered and out of it in Pre-season. Now we should start to see the players fit and sharp as the season is under way.
Mina might just have a knock or something. Time will tell. I didn't think he'd get near the first team for a couple of weeks anyway. Zouma is fitter and more ready. Mina will need to get fit and to work on adapting to the new style of play.
John Pierce
151
Posted 15/08/2018 at 15:05:31
Derek I read somewhere Mina had one session with Barca. Let him find we're the bogs are at FF first. ☺️
For me Keane's performance on Saturday was borne from adversity. It was backs to wall. That's his bag. He had to do little more than defend in a shell. Was I surprised, no.
Would I be equally surprised if he played well on Saturday, yes.
Keane is left fighting for scraps, logically only the lack of fitness of the new signings is giving him a chance.
Against a rubbish Southampton unlikely to be troubled I'd play Zouma & Holgate and stick with it. The up coming games are idea to bed that partnership in. Mina might despite the fee have wait to get in.
Nicholas Ryan
152
Posted 15/08/2018 at 16:11:02
On the subject of Jags and Age
. Towards the end of my [undistinguished] cricket career, I opened the batting, and got hit on the head, and hospitalised, by a very fast bowler. Whilst being stitched up [pun intended] and drafting my retirement speech, it dawned on me, that age does not bring any falling off of talent, or strength, or endurance; what it brings, is the inability to concentrate at 100% for long periods. The ability to concentrate fiercely, is either there, or it isn't. And, once it's gone, it ain't ever coming back!
P.S. I did feel slightly better about the stitches, when said bowler went on to play for Hampshire, and England A !
James Marshall
153
Posted 15/08/2018 at 16:34:04
I would expect Mina to be close to fitness - he barely played for Barcelona last season but did play 3 or 4 games in the World Cup, including 30 minutes extra time v England.
Isn't Holgate carrying an injury? Zouma & Mina possibly our best bet. I reckon Keane will play at the weekend anyway.
Steve Ferns
154
Posted 15/08/2018 at 16:46:58
Nicholas, on the subject of age, I always come back to what the wisest man in football said, in perhaps my favourite ever sporting interview.
Feel free to see what the Everton Legend says about age.
That interview, and the subsequent series where he asks the questions is worth a watch. It's fascinating stuff. Why this guy has not been utilised as one of the game's great thinkers I'll never know. Gerrard did give me a reason and I'm inclined to believe it, that Everton wanted yes men, and Big Nev is simply too opinionated.
Brent Stephens
155
Posted 15/08/2018 at 17:02:44
Nicholas (#152), sorry I couldn't get to the end of your post. I'm chronologically challenged.
Derek Turner
156
Posted 15/08/2018 at 17:04:20
Watch the Big Nev best saves video after the interview. Unbelievable.
Andy Crooks
157
Posted 15/08/2018 at 21:18:28
Nicholas, your post is spot on. Think snooker. Concentration, focus and tactical nous goes before physical prowess. I can walk for miles; I just don't know where the fuck I am going.
Add Your Comments
In order to post a comment, you need to be logged in as a registered user of the site.
Or Sign up as a ToffeeWeb Member — it's free, takes just a few minutes and will allow you to post your comments on articles and Talking Points submissions across the site.