Richarlison has lofty goals for himself and Everton
Wednesday, 22 August, 2018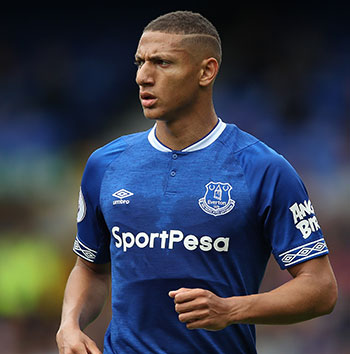 Richarlison has his eye on one day being awarded the Premier League Golden Boot and wants his goals to fire Everton into the Champions League.
The Brazilian star has bagged three goals in his first two appearances since arriving from Watford and is well on the road to proving wrong the pundits who scoffed at the £35m it took to sign him over the summer.
Richarlison made a fast start to life at Vicarage Road last season, scoring five times in 12 games but failed to register another goal for the remainder of the season as his form nosedived in tandem with that of the Hornets.
Many have cited the fact he was adapting to a new league on the back of a full season back in his native Brazil and that fatigue and the loss of his mentor, Marco Silva, when he was sacked in January were all additional contributing factors to his goals drying up.
Now reunited with Silva in an Everton team that looks far more balanced and potent than last season, Richarlison is allowing himself big dreams for his time at Goodison Park.
"I feel more prepared [this season]," he told UOL Esporte in his native Brazil. "I already know the rhythm and style of the Premier League, which helps me on the way to [achieving] my goals," Richarlison said.
"I want to be the top scorer of the league, take Everton back to the Champions League and reach the Brazilian national team."
The 21-year-old was disappointed not to have been called up by his country for their forthcoming friendlies against El Salvador and the USA.
It was his scintillating form at the Under-20 World Cup that initially sparked Watford's interest in him but he is hopeful that it is only a matter of time before he is recognised by the senior Brazilian national team.
"I was really looking forward to the [announcement of the call-ups on] Friday," he said. "I watched with great anticipation, but unfortunately it was not this time .
"There are 24 names and it's difficult for the coach to choose. I'll keep working to be on the next list."
---
Reader Comments (64)
Note: the following content is not moderated or vetted by the site owners at the time of submission. Comments are the responsibility of the poster. Disclaimer
Victor Yu
1
Posted 22/08/2018 at 06:40:05
As soon as he gets into the national team, the big clubs will try to sign him.
I would rather see him staying away from the national team for as long as possible.
Brian Porter
2
Posted 22/08/2018 at 06:49:21
Victor, you are forgetting the fact that Charli sees Everton as a big team. We are currently building a team capable of challenging for a top 6 place and you can be sure he will want to stay and prove himself under the tutelage of his mentor, Marco Silva.
Even if he makes the Brazilian national team, I have a feeling we will offer him a contract he can't turn down to stay and achieve his dreams with us. We have to lose this small team mentality and think big. If we don't, we won't achieve anything.
Eugene Kearney
3
Posted 22/08/2018 at 07:06:11
Mark Andersson
4
Posted 22/08/2018 at 07:33:28
Victor... you really are a "glass half-full" kinda fan, eh. This boy will be with us for at least 2 to 3 seasons, it's up to the Everton to match his ambitions and grow together. Early day's of course but it looks far better than last season.
Big club mentality will be achieved once the fat controller, Bill Kenwright, has gone.
My only concern is how much kicking can this young man take. We still need a proven centre-forward or a 15- to 20-goal machine unknown to be found.
Victor Yu
5
Posted 22/08/2018 at 07:57:44
He sees us as a bigger club than Watford. I doubt he will refuse if Real Madrid or Man Utd start calling his agent.
Steve Ferns
6
Posted 22/08/2018 at 08:09:07
Victor, have you seen this lad at the grounds? Around the city? I've never seen a foreign player for any side come in and have such an impact and connection.
It started when he name checked Marco silva 7 times in 3.5 minutes in his interview and referred to him as a father figure.
If he maintains this level of happiness and the connection with the fans and we can make progress to the champions league, then I think he would stay.
In any event, he's been here two games. Let's enjoy him before we talk selling him. He's been brilliant so far so let's wait and see.
Victor Yu
7
Posted 22/08/2018 at 08:27:59
Real Madrid or Silva?
Man Utd or Silva?
Money or Silva?
Liam Reilly
8
Posted 22/08/2018 at 08:30:53
He clearly sees Silva as a positive influence and key to his improvement. I can't see him looking to break that bond any time soon.
Also, we're 2 games into the season; let's not put too much pressure on the kid yet.
Geoff Lambert
9
Posted 22/08/2018 at 09:15:45
Victor Yu or Victor Meldrew?
Steve Ferns
10
Posted 22/08/2018 at 09:16:41
Victor, maybe he's got principles. I wouldn't play for Facist Madrid for all the money in the world. I remind any of my mates in a Real shirt just who they are funding. I'm not alone in knowing what a truly evil club they are.
After also Man Utd are imploding, we might stay above them in the league.
Jakub Kollar
11
Posted 22/08/2018 at 09:17:59
Using the word "nosedived" in relation to Richarlison sounds exceptionally funny.
Gary Russell
12
Posted 22/08/2018 at 09:23:08
Victor MeldYu strikes again!
Dave Abrahams
13
Posted 22/08/2018 at 09:23:50
Steve (6) and Liam (8), well said! He's only played two games — nice for Charlie to be ambitious but Charlie do your talking on the pitch and the rest will take care of itself.
Oh, and Charlie, less of the theatre and dramatics on the pitch, leave that to Salah — he's got enough of that for both of you, but keep scoring like him, just leave the cheating out.
Brent Stephens
14
Posted 22/08/2018 at 09:29:25
Victor, you don't want him becoming as good a player as possible for us (because that means he'll get picked by Brazil and then poached by other clubs). Do you want all of our players to under-perform?
Eugene – I "hear" what you say.
Steve Ferns
15
Posted 22/08/2018 at 09:34:46
Dave, it's great he's ambitious though. It shows this lad has the desire to get to the top and wants to achieve everything.
So did Romelu and Ross. But both never talked up getting us into the Champions League, it was just that they wanted to play in the Champions League.
For me, this is a change in mentality. If Charlie is talking Everton in the Champions League, and the likes of Silva, Bernard (who we've yet to see), Gomes (ditto), Tosun and Walcott are all thinking it too, then maybe it is achievable. Why did I mention Silva, Bernard, Gomes, Tosun and Walcott? They've all played in the Champions League regularly. Silva with Olympiacos, Bernard with Shaktar, Gomes with Benfica and Barcelona, Tosun with Bestikas and Walcott with Arsenal.
Man Utd are wobbling badly this season, Mourinho's typical third season implosion is dominating the back pages, and Arsenal are bottom of the league and will be under immense pressure unless they win a load of games quickly. There's a real opportunity for us this season. We're far from the finished article, but some early season belief, a bit of luck, some good performances, and surely we can mount a proper assault on the top 6?
Maybe then even Victor would be a happy blue.
Bill Gienapp
16
Posted 22/08/2018 at 09:42:20
If all goes according to plan, Richarlison's rise will coincide with Everton's rise. Let's hope for the best and enjoy the ride.
Alan McGuffog
17
Posted 22/08/2018 at 09:45:03
Steve... I would never pass judgement on another man's principles but as a matter of interest who were you cheering on in Kiev back in May? Forces of Fascism or Forces of Darkness?
Steve Ferns
18
Posted 22/08/2018 at 09:55:22
As I said on another thread, Alan. My late father raised me to support Everton, the City of Liverpool, the North West, the United Kingdom, Europe (Ryder Cup especially), in that order.
So yes, I was supporting on the Forces of Darkness, but I hardly gave a cheer. I also found it difficult to suppress a snigger at Karius antics.
My dad was cheering on the Reds though, but that's just the guy he was. As I said on another thread, he always told me that surely I'd want my uncles and cousins to be happy, and that I should think of the Reds I love when I think of LFC, not the idiots I don't know.
Brian Harrison
19
Posted 22/08/2018 at 10:08:37
How nice to see Richarlison set himself these targets, I think if he keeps this form up its only a matter of time before he gets into the Brazilian squad. His other 2 objectives might be slightly harder, but I believe in time he will play centre-forward everything about him tells me he is a striker rather than a winger. Getting us into the Champions league, that might be the biggest challenge of his ambitions.
It is very early days in his and Marco Silva's career at Everton but they have both made decent starts. The good thing with Richarlison having a very close relationship with Silva is that if he fulfils his first 2 ambitions it will take a massive bid from 1 of the worlds top clubs to tempt him away. Now should he achieve his 3rd ambition and get us into the Champions League, then that would be brilliant. Let's hope they all come true.
John G Davies
20
Posted 22/08/2018 at 10:13:10
"Every day I think about where I come from and I am still proud to be who I am: first, a Kabyle from La Castellane, then an Algerian from Marseille, and then a Frenchman"
Zidane.
Dave Abrahams
21
Posted 22/08/2018 at 10:14:02
Steve (15), I'm as ambitious as any Bluenose for Everton but one step at a time, don't run before you can walk. With Brands looking after the financial side, as well as spotting new recruits, and Silva sorting the tactical side of the game, I think we are in very good hands, but it is a three-year job, at least, so proceed with caution.
Jim Harrison
22
Posted 22/08/2018 at 10:17:37
Bit early to worry about him leaving!! He's only played two games!
Hopefully teams like Real do start paying him attention. It will mean he is playing at an exceptional level and we will be the immediate beneficiary.
John G Davies
23
Posted 22/08/2018 at 10:17:40
Absolutely bang on the money, Dave. Patience is required from us fans.
Two games in and we are being told his defensive methods will not work. Let him work with them for a few months on the defence then we can judge.
Steve Ferns
24
Posted 22/08/2018 at 10:19:35
Of course we should have caution, Dave. Everton haven't won the league since I was 8. It's never dampened my optimism though. As Big Nev once said, you have to go into every season believing you can win the league, or what's the point?
That doesn't mean if we finish a strong 7th (won more games than we lost) we should be disappointed, as we can be happy with the progression from last season's mess.
Ray Smith
25
Posted 22/08/2018 at 10:26:25
Steve 18 the same principles I was brought up on.
Dave 21 very wise words, we are only 2 games into the season.
On a lighter note Arsenal v West Ham 6 pointer!!! Only joking😀
Alan McGuffog
26
Posted 22/08/2018 at 10:38:46
Steve... Very well put sir
Eddie Dunn
27
Posted 22/08/2018 at 11:30:19
The squad is beginning to look of a better quality as some are moved on and better are brought in. The general mood seems positive and the players and fans can buy-in to the new set-up with renewed hope for the future.
Surely if we can build on our good start then most of our good players will want to stay and be part of it.
If things peter out, it will be inevitable that heads will be turned and offers made. We have to progress and keep the ship on its course.
Full steam ahead to the Champions League!
Derek Knox
28
Posted 22/08/2018 at 11:31:13
While I am very impressed with Richarlison at this early stage, I feel it is a very bold statement to make, so early in both the season, and his Everton career.
I would be more than happy if he fulfilled his target, but feel if for some reason, he grossly underachieved, he would be left looking rather silly.
Geoff and Gary, you had me creased there with Victor MeldYu.
Steve Ferns
29
Posted 22/08/2018 at 11:40:11
DK, it was part of a longer interview. Charlie told how he was hoping to be in the Brazilian side, and was disappointed not to be. When you consider his rivals, he's expecting a bit too much in my opinion, and he needs a prolonged period of form to play his way into their squad.
Anyway, he was making the point that he can be top scorer in the PL and Everton can get in the CL, and then he'd be in the Brazil team.
My point is that he is talking about achieving goals here, and not leaving to achieve them. But he's just joined so he would say that? Well just look back at a similarly aged Lukaku when he joined, he was talking about using us as a stepping stone. Not our Charlie, and that tells me a lot about the lad.
Anyway, it's two games in. He did something similar last season and was on 5 goals, and it went downhill fast. I really do believe he's in a different place (physically and metaphorically) this season and so he can sustain this period of form and treble last season's total.
Tom Bowers
30
Posted 22/08/2018 at 11:47:27
We should all be aware of the ups and downs of football by now and with ''Charlie Riches son'' even more so. However, the lad has shown he belongs and with luck will become a leading striker in the Premier League.
Alongside Walcott and with Sigurdsson just behind, he can take us to the top if the defensive side of the team can tighten up.
Ian Hams
31
Posted 22/08/2018 at 11:56:06
This is what we need, and we have to believe we can keep these players.
Looking at the squad on paper now it's not such a stretch to imagine a real good international striker t want to join us.
If said strikers sees a Brazilian wonder kid feeding him on one side, Walcott on the other, Sigurdsson, Bernard, Gomes etc... Why not?
It looks to me that we are slowly building something; yes, some will come, some will go... but that happens — even to the mighty Barca and Real Madrid.
After all, we all spent a good few seasons laughing at Man City once the sheiks moved in.

Ian Burns
33
Posted 22/08/2018 at 12:21:24
Brian @2 – good point about big team mentality.
Steve – as always well put and considered posts but Dave Abraham makes a good point in that we need to walk before we can run.
It was only a very short few weeks ago when sensible posts on TW were urging patience and to give M&M the time they need to get us where we all wish to be – ie continuous Champions League challengers and a cup or two.
Only two games in and the bar has already been set higher even ridiculous talk of Charlie being sold to the highest bidder! Incredible!
I am just as anxious as the next supporter to see us fighting for the top 6 (or even four) but nothing has changed – it will still take a little time even for the new signings to bed in and influence matters on the pitch.
Underlying excitement with a little patience is still the name of the game.
Tony J Williams
35
Posted 22/08/2018 at 12:35:55
"Bit early to worry about him leaving!! He's only played two games!"
Abso-fucking-lutely!!!
Gary Russell
36
Posted 22/08/2018 at 12:50:28
Derek @ 28, I called him that a couple of weeks ago. No idea if he gets it as he never seems to personally respond and if he does, I hope he gets it for what it is, a bit of banter. My father is called Victor, too.
Derek Knox
37
Posted 22/08/2018 at 13:05:05
Gary @36,
"I don't believe it!!" :-)
Gary Russell
38
Posted 22/08/2018 at 13:14:42
Derek, you won't believe how many times I have stopped myself these last few weeks from responding to his less-than-positive posts for fear of coming across as just taking the piss. We all have our opinions like.
Gary Russell
39
Posted 22/08/2018 at 13:23:07
I meant to say, responding with, 'I don't believe it.'
Jay Wood
[BRZ]
40
Posted 22/08/2018 at 13:38:24
To give this story some further context, this is the Brazilian manager's (Tite) first selection following the disappointment of being eliminated at the quarter-finals of the World Cup.
Now I understand for some international football is not a big deal, even resented. But it is a big deal in many countries, possibly nowhere more so than in Brazil.
There was live coverage of the squad announcement on Brazilian national TV. All manner of different images were shown of player reactions on hearing their name called out. Tears. Wild yelping. Group hugs from family and team mates.
Next year, 2019, Brazil hosts the Copa America, the South American equivalent of the 4-yearly Euros. For job preservation, Tite needs to do very, very well in that, all the more so given the disastrous home WC of four years ago. That was the only time in their last six international finals Brazil has reached the semi-final. The pressure is well and truly on.
The 24 man squad he called up is for two friendlies in the US against the USA and El Salvador. It retains just 13 players who went to Russia. The other 11 players are mostly 'virgins' at international level and still young, in the 21-23 range. Out goes the like of Marcelo (BIG surprise), Miranda, Paulinho, Fernandinho and Gabriel Jesus. They may well earn recalls for competitive games, but Tite wants to look at a new generation of players.
To add further context to Richarlison specifically, he has a LOT of good competition for the position and role he could fill: Coutinho, Willian, Douglas, Arthur, plus some of the young guns called up to this squad.
I can understand Richarlison watching the announcement anxiously in Liverpool, wanting to hear his name called out. I can understand why it wasn't. If he continues playing and scoring as he has for Everton, he will get noticed and as the player himself said:
"I watched with great anticipation, but unfortunately it was not this time. Even so, I continue with hope and I want to be prepared if the opportunity arises in the future."
The best way to prepare for an opportunity with the Brazilian national side is to be in great form for your club. Everton can only benefit by such drive and ambition as young Richarlison declares.
Stephen Brown
41
Posted 22/08/2018 at 13:42:12
Mike Newell, Andy Johnson, Tony Cottee, Brian McBride, Mick Madar!! They all had similar starts so let's not get ahead of ourselves!
Nice to see ambition from the player though!!
Pete Clarke
42
Posted 22/08/2018 at 13:59:50
A footballer's allegiance to any club is based on how much money they are being paid and how ambitious they are. As a club, we can satisfy him on one of them because we have just made him a millionaire. The other thing is if we can not only challenge for but actually win a trophy which would keep most players happy.
Of course, then you have all the other distractions like the media deciding that other clubs are looking at him, other players telling him that he's too good for us, the wrong side of the Liverpool nightlife, women, being young and rich, missing his family, getting stick from the crowd after a bad game, not being able to walk along the beach in Brazil with all of those beautiful sights in front of you and how about playing a night game away to Newcastle in the freezing cold with snow everywhere in February when he should be dancing Samba in the Carnaval. Poor kid!
Must be horrible being a footballer, I reckon!
Simon Smith
43
Posted 22/08/2018 at 14:21:48
Peter Clarke,
I bet you wanted to use Stoke as your example!!! Won't be the same without that "rainy Tuesday night at Stoke..."
Jay Wood
[BRZ]
44
Posted 22/08/2018 at 14:26:53
Pete @ 42.
Funny you should mention Samba. So does Richarlison at the end of the original interview!
In reference to Mina (who of course also played in Brazil), Richarlison says:
"He is very opinionated! [this can also mean 'strong personality' in Brazil]. He arrived dancing, promised to repeat it when he scores a goal and said he wants to learn Samba, which he doesn't know yet."
Sounds a happy dressing room.
Pete Clarke
45
Posted 22/08/2018 at 14:30:36
I used to like going to Stoke but I used Newcastle as it's just that bit colder up there.
Mind you, that doesn't stop the Geordies wearing tee-shirts on those freezing nights.

Richard Scanlan
47
Posted 22/08/2018 at 14:52:07
Nothing wrong with his ambitions — they are in line with what the board and management team are at least stating. Worrying that the player will be poached when they express ambition is part of the timidity that needs to be vanquished from Evertonian psychology.

Pete Clarke
48
Posted 22/08/2018 at 15:15:24
Hello Jay. Tudo Bem ai?
Going back to your earlier post on the players getting picked for the national team.
I was in Brazil back in 2000 and I remember reading about the corruption in Brazilian football where average players were getting thrown into the national team just simply to put them into the shop window and also give them the game time needed as a pre requisite of European policy of bringing players in from Brazil.
Quite a few players were getting picked up by European teams for substantial fees and of course lots of this money filtered through to politicians and sports executives.
My missus worked at The sports journal 'Lance', in Rio and I also read a few bits in the daily edition. One of the players who I saw close up was Jo after we got him on loan from Man City. He had the worst first touch I've ever seen (on a Brazilian footballer) and this summed up what I had read in those articles.
Back to our very own Richarlison, I have seen enough of him briefly to tell me that he is a very clever and technically gifted player with a hunger for goals but as you mentioned the Brazil squad has lots of them. If he gets in that team then it will mean he is doing the business for us.
Derek Knox
49
Posted 22/08/2018 at 15:22:12
Gary @38,
I have it on good authority that both Margaret and Mrs Warboys have insisted that he refrain from any comments whatsoever. :-)
Charles Brewer
50
Posted 22/08/2018 at 15:26:45
Here is grossly premature analysis.
Man Utd are a mess. Arsenal are not.much better, Chelsea is still a war zone and Spurs are still a 2- or 3-man team. Liverpool and Man City look streets better than anyone else in the Premier League.
If Silva really could get this lot to gel, this could be a surprisingly good season for the Blues. Richardson may get his wishes earlier than he expects.
James Hughes
51
Posted 22/08/2018 at 16:17:35
Agree with Charles and will now go and find my kite, grass skirt and practice my clapping.
John Wells
52
Posted 22/08/2018 at 16:33:15
Charles @50,
I was thinking that very thing the other evening with the exception of Chelsea, if we gel and travel to Arsenal and Man Utd early and beat them – no draws, beat them – it will be a massive boost to the dressing room. Get everyone playing well and great team spirit, sensible rotation then why not.
Steve Ferns
53
Posted 22/08/2018 at 16:46:40
Don't forget the lack of European football. I repeat again that I expect Burnley to be around 10 places lower as European football stretches them too thin.
Unlike Koeman last season, Unsworth and Allardyce, Silva gets a good run at most games. This good recovery time, time to reflect on the last game, prepare for the next game and time to drill.
Emery and Sarri have no time at all and they are opposites of the manager they replaced.
We have an opportunity I think. Whether we can be in a position to take advantage remains to be seen.
James Hill
54
Posted 22/08/2018 at 19:18:48
Steve Ferns, I tip my hat to you and your father. I remember Blues and Reds, brothers and uncles from both sides welcoming home LFC when they won their first European Cup. Good for the city. Only downside was Emlyn Hughes. How times have changed.
Jack Convery
55
Posted 22/08/2018 at 20:04:09
Old head on young shoulders comes to mind.
Ian Bennett
56
Posted 22/08/2018 at 20:20:26
All the best players have ambition and workrate.
Can he be truly world-class? Too easy for sure, but that workrate won't be out of place for sure.
Lewis Barclay
57
Posted 22/08/2018 at 21:25:54
Ademola Lookman, let's see this kind of attitude from you please.
Peter Laverty
58
Posted 22/08/2018 at 23:56:19
Can't believe people are calling him Charlie ffs. What is wrong with using people's names?
Jay Wood
[BRZ]
59
Posted 23/08/2018 at 02:04:47
Hi Pete @ 48. Just looked back at this thread and saw your post.
Did we chat on another thread some months back about your time in Brazil? There were two ex-pats recalling their time in Brazil.
Ironic that, today of all days, you reference corruption in Brazilian football at the highest level when the former president of the CBF - head of Brazilian football, Jose Maria Marin - has just been sent down for 4 years as part of the US investigation into corruption at FIFA.
There is a very dark side to the recruiting and marketing of Brazilian footballers, as you and your missus as a journo in Brazil will know all too well. Sadly, it is all something deeply cultural in Brazil in all walks of life. The daily stories and astronomical sums coming out in the wash as the Lavo Jato case plays out is eye-watering.
Brazil would be right up as one of the world's richest and most socially evolved nations on the planet if its natural resources and monies from the public fund weren't systematically drained by literally thousands of corrupt politicians at every level of governance, hand in glove with big business happy to foot the bill for their own extreme avarice.
Speaking of Jo, he's had something of a renaissance. Last season he helped steer Corinthians to the league title, ending the year as the league's top scorer. They flogged him to a Japanese club for a profit and have struggled to get goals this season and are meandering along in mid-table. Watching Corinthians live now against Fluminese. Just gone 1-0 down.
As for the topic of the thread, Richarlison, he really isn't on the radar here in Brazil, but if he continues scoring and playing as he is for Everton, he soon will be.
As you rightly say, if he gets into the Brazilian team then it will mean he is doing the business for us.
The one and only time I've seen and heard Everton mentioned as a news item on Brazilian national news was...Hibbo's testimonial!!!
They dedicated a good 2-3 minutes to his Everton career, never scoring a goal, showing highlights of the game then Hibbo sticking that free kick in and the crowd - living up to the promise! - 'Hibbert scores, we riot!'
Loved it!
Don Alexander
60
Posted 23/08/2018 at 03:02:39
Enjoyed reading your post Jay, again. "Thousands of corrupt politicians" certainly resonates for me living in the UK.
Alan McGuffog
61
Posted 23/08/2018 at 07:44:13
Wonder if we'll ever see a Brazilian back four consisting of Ginger, Henry, William and Douglas? Could end up a bit of a Jumble I suppose.
Pete Clarke
62
Posted 23/08/2018 at 08:23:02
Teixeira was the main man in charge of the Brazilian football at the time and he was found guilty on corruption but typically there was an appeal and not sure if he was ever put away.
Brazil has everything to be the richest nation on the planet but lazily still rely on so much foreign technology to get things done. Obviously bent politicians have a hand in most decisions made.
I read a story one time where a foreign investor had come to sign a multi million dollar contract and it was officially done on the beach at Ipenema. Lots of distractions going on whilst this was done of course...
The way the kids grow up playing football is beautiful though as it seems all of the tricks they do are natural to them. They generally play with a swagger and a smile and I loved watching it on the beach everyday.
I have been waiting for us to sign a genuine footballer who loves having the ball and Showing that will to get forward. It's early days but looking promising and Silva may just be that man to let him flourish in the Premier League.
Jerome Shields
63
Posted 23/08/2018 at 09:26:17
We have only played Wolves and Southampton. There is a bit of Everton. com, about this. A player been wheeled out to give the fans some sop. He has played well, but he will come up against better defenders and markers. We need other forwards who can score goals and take on and beat defenders.
Mark Andersson
64
Posted 23/08/2018 at 10:34:36
As always, some great points made by other posters and a laugh or two...
All that matters is the next game...
I'm gonna put a fiver on the red shite to win the league coz it's a win-win situation...
Ernie Baywood
65
Posted 23/08/2018 at 10:58:12
I'm not going to make any big predictions... But...
I like this guy!
Fran Mitchell
66
Posted 23/08/2018 at 11:55:20
Last season, we had a very difficult start, with Man City, Arsenal and Co all coming in the first games and it set the tone for the season. Of course, not discounting poor recruitment, management and such, but the poor start really just sapped any confidence for the season. The players and the fans never really recovered.
This season, we have a reasonably 'easy' start, and this could be a platform to build confidence to take for the rest of the season.
Man Utd are there for the taking, Arsenal are too (in fact, look at the Arsenal team and there are not many players who we'd take). So 5th is there for the taking, then with confidence and luck, we really can challenge Chelsea and Spurs. Not a given, but challenge we can.
On Richarilson, I said when he came and got dismissed by many, but I see him as a centre-forward in the long run. He has a bit of Thierry Henry about him.
If Lookman manages to kick on, what a strike force Lookman-Richarilson-Walcott could be.
Jay Wood
[BRZ]
67
Posted 23/08/2018 at 23:46:40
Pete @ 62.
Ricardo Teixeira... what a beaut he is!
To give you a notion of just how deeply culturally embeded corruption is in Brazil, Teixeira, of course, is the son-in-law of Joao Havelange, the man who ousted Stanley Rous as FIFA President in the 1970s.
It was Havelange who ruled FIFA as his personal fiefdom and started commercialising FIFA into the cash cow (his personal bank!) it now is.
He taught his disciples well. Who was his protege at FIFA who eventually succeeded him? Sepp Blatter.
Havelange and his son-in-law Teixeira are believed to have milked $40 million in bribes during their association with FIFA.
As you say, he has never been sent down for his proven corruption. The arrogant prick openly boasted to the Brazilian press who were hounding him ahead of the home World Cup in 2014 that:
"I couldn't care less about the charges. I will do whatever I want during the World Cup, including denying press credentials to anyone who criticises me. I'll change the match schedules if it pleases me!"
Nasty, nasty piece of work. And all too typical of exposed politicians and businessmen caught with their hand in the till in Brazil. Absolutely zero humility, remorse or acknowledgement of their crimes. And the creaking justice system and the glacial slow legal process works very much in their favour, as you and your wife are probably all too well aware.
Add Your Comments
In order to post a comment, you need to be logged in as a registered user of the site.
Or Sign up as a ToffeeWeb Member — it's free, takes just a few minutes and will allow you to post your comments on articles and Talking Points submissions across the site.