Mina debut delayed until after international break
Thursday, 23 August, 2018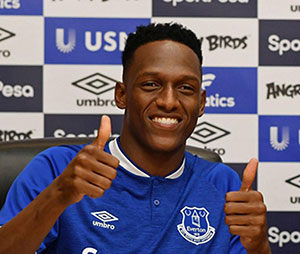 Yerry Mina has been ruled out of Everton's next three games at a minimum as he continues to recover from an unspecified foot problem.
The Colombian has joined his former Barcelona team-mate, Andre Gomes, in the treatment room at Finch Farm, with neither player expected to join in with training with the first team until after the upcoming international break.
Gomes arrived at Everton with a hamstring problem picked up on Barca's pre-season tour of the United States and was not expected to be fit until the Premier League campaign resumes in mid-September but it was hoped that Mina might be fit to make his debut before then.
However, manager Marco Silva told the media today that the defender's minor foot problem will need five weeks to heal. That means he won't be available for this weekend's trip to Bournemouth, the League Cup tie against Rotherham or the home game against Huddersfield on 1st September.
"I don't want to go into all the details but I can give you a small report," Silva said. "It (the metatarsal) is an old injury but this is nothing special.
"In the past he had an injury in his metatarsal and he had surgery but this is nothing (to do) with the previous injury in the past."
---
Reader Comments (57)
Note: the following content is not moderated or vetted by the site owners at the time of submission. Comments are the responsibility of the poster. Disclaimer
Jim Bennings
1
Posted 23/08/2018 at 19:03:28
Disappointing but give him the time he needs to recover.
Zouma needs to come in at Bournemouth for me, he's been signed to help keep clean sheets and we needs to start keeping some sooner rather than later.
Shaun Laycock
2
Posted 23/08/2018 at 19:05:56
Oh dear. I was looking forward to seeing him sooner. Rather keep him off and be fully fit than play him too soon and risk further or more serious injury. Hopefully, those who hold the position will make it hard for him to get in due to the sheer weight of clean sheets they are keeping!
Liam Reilly
3
Posted 23/08/2018 at 19:07:41
Minor foot problem - 5 weeks to heal?
On a positive note, he won't be missing any games against the top sides where he'll be needed. Gomes and Bernard also for that matter.
Mike Allison
4
Posted 23/08/2018 at 19:19:59
I'm a little worried about Mina. His time at Palmeiras was injury plagued, which makes it three seasons without him playing a full season. The ones he has played are in Colombia, and I don't know what the standards are like there.
Harry Hockley
5
Posted 23/08/2018 at 19:25:16
Disappointed but it is what it is, whatever it takes for him to be fully fit, so be it – don't rush it.
I'd like to see Holgate paired with Zouma for the Bournemouth game; Keane still looks shaky.
Jakub Kollar
6
Posted 23/08/2018 at 19:28:33
I just hope it won't be the same as Niasse's unspecified hand injury or what that was...
Zahir Jaffer
7
Posted 23/08/2018 at 19:33:53
I got this feeling it is exactly that, Jakub Kollar.
Fran Mitchell
8
Posted 23/08/2018 at 19:34:47
On the bright side, hopefully it gives a boost to Holgate and Zouma (who needs to come in for Keane) to state their claim for their right to stay in the first 11.
Same with Davies: with Schneiderlin out and Gomes still not ready, it is chance for him to state his claim and prove he is good enough.
Team for Bournemouth:
Pickford, Coleman, Baines, Zouma, Holgate, Gueye, Davies, Sigurdsson, Richarilson, Tosun, Walcott.
Subs: Stekelenburg, Keane, Digne, Baningime, Bernard, Lookman or Niasse, Calvert-Lewin.
Pat Kelly
9
Posted 23/08/2018 at 19:48:59
So we signed two players with injuries, Gomes and Mina. Mina looks like he won't play for another three weeks at least. And no one can say with certainty when he will be available.
Our desperate need for a centre-back made us take a gamble. Let's hope it pays off! You have to wonder if the medicals just involve counting limbs.
Chris Gould
10
Posted 23/08/2018 at 20:02:02
Two separate metatarsal injuries? Could just be bad luck or poor choice of footwear, but could also be an underlying problem. I'm sure our medical staff will have assessed his injuries thoroughly, and that we have nothing to worry about.
I was looking forward to seeing if he was going to be the answer to our Zonal marking concerns. It probably wouldn't have been a good idea to make too many changes to a team that has played pretty well. Zouma and Bernard will be fine for now.
Darren Hind
11
Posted 23/08/2018 at 20:10:19
"It (the metatarsal) is an old injury."
"In the past he had an injury in his metatarsal and he had surgery, but this (same metatarsal) is nothing to do with his previous injury in the past."
That clears that up.
Mike Galley
12
Posted 23/08/2018 at 20:16:23
Darren, I thought exactly the same. The boss wasn't very clear there.

Dermot Byrne
13
Posted 23/08/2018 at 20:17:37
Umm.
Could it be a different one of the 5 bones in the metatarsus?
Who knows?
Dennis Stevens
14
Posted 23/08/2018 at 20:35:50
It's quite concerning that what was previously described as a small foot has now become an unspecified foot. Is it a foot or not? Has he got a wooden leg & won't make his debut until after International Talk Like A Pirate Day [19th Sept]??
Jay Wood
[BRZ]
15
Posted 23/08/2018 at 20:39:11
The original metatarsal injury was incurred a year ago whilst still at Palmeiras. He was missed by Brazilian's reigning champions as they failed to defend their title.
He returned late October following a 10-week lay-off, playing both for Colombia and Palmeiras until the end of the Brazilian season in December before transferring to Barcelona in January of this year.
Whilst he didn't feature much for Barca, he did feature in all but one of Colombia's games in Russia.
As Dermont notes, it could be a different metatarsal to the one he originally injured.
A bit premature to conclude we've signed a crock.
Brian Harrison
16
Posted 23/08/2018 at 20:40:52
As disappointing as the delay through injury is, Silva expects him to be available after the international break, so only a couple of weeks to wait.
As I said on another thread, the most interesting thing for me was when Silva was questioned about Lookman. He reiterated what he said last week and the week before: he is our player for the present and the future. I bet Leipzig were sick when we sacked Allardyce as he would have sold Lookman.
He also said of Bolasie that he was happy either way, but he went on to say but the competition for places will make it difficult.

Colin Glassar
17
Posted 23/08/2018 at 20:57:37
Some mothers do 'ave em and some teams do buy 'em.
Clarence Yurcan
18
Posted 23/08/2018 at 21:58:20
Non bueno...
Kristian Boyce
19
Posted 23/08/2018 at 22:01:45
Probably why Zouma was also signed, as it probably came up on his medical.
George Cumiskey
20
Posted 23/08/2018 at 22:18:32
Signing one injured is taking a chance, signing two smacks of stupidity.
Michael Lynch
21
Posted 23/08/2018 at 22:22:11
Our transfer business seems to be a bit like getting a load of Christmas presents but only opening one a month until April.
At least we won't have to buy anyone in January, cos we'll still be waiting to see some of our signings from the summer window.
Bill Gienapp
22
Posted 23/08/2018 at 22:35:01
I think people are getting a bit worked up here, acting like Barcelona may have pulled a fast one on us or something.
Gomes just tweaked his hamstring. He'll be fine and word is he's already resumed light training.
As for Mina, if he's still sidelined after the international break, we can start to express concern. Otherwise, let's just be thankful that our squad balance is strong enough that we don't have to rush him into anything.
Christy Ring
23
Posted 23/08/2018 at 22:39:37
A bit strange, considering he was fit for the World Cup; on the bright side, Williams is not covering for him.
Colin Metcalfe
25
Posted 23/08/2018 at 22:55:38
When we signed Ashley Williams, people on here posted "A great bit of business that, selling Stones for £48M and buying Williams for £12M."
Well, I guess it didn't really work that well as he was one of the worst defenders I have seen at the club.
I just hope Mina is the real deal and not just a tournament show pony – as was Williams after the Euros!
Brian Williams
26
Posted 23/08/2018 at 22:58:54
What would be stupidity is missing the chance of signing a player you've been after for months because he has a short-term injury while there's no time left in the transfer window to get an equally good alternative.
What would also be stupidity is missing out on the chance to loan a player that could have a huge effect on our team and ultimately our season, because at the time the transfer window is closing he has a short-term straight-forward injury.
Short-sightedness is stupidity.

Sam Hoare
27
Posted 23/08/2018 at 23:04:55
Not a big problem as they both would have needed some time to adjust to English football and Silva's systems anyway.
Hopefully they'll be ready by the time the harder games start rolling around (not than any game is a breeze in the Premier League).
Paul Kossoff
28
Posted 23/08/2018 at 23:39:00
New signing injured, really? What a surprise! Just who is writing this script?
Frank Wade
29
Posted 24/08/2018 at 00:43:52
Brian #26, Spot on. We are talking long-term here.
George #20, Following so soon on your assertion on Saturday that Sigurdsson has been a passenger in his two games so far, with your post here that signing two players with minor injuries is stupidity, all I can say is that it certainly is a game of contrasting opinion.
Drew Shortis
30
Posted 24/08/2018 at 01:06:24
This may actually work in our favour. Keane & Holgate get the opportunity to prove their worth, aware that their places are under threat. We have Zouma to come in and Jagielka as backup.
The team that had a pre-season is mostly fit & playing well and the new signings can come into the team gradually, hopefully avoiding the disjointed performances of last year. If they were all fit from Day One, there would be a clamour to see them all involved immediately. None of them are long-term issues.
It may feel like an eternity, but a few weeks will pass by quickly & the team will grow in strength & depth as we go along. The fixtures have also been kind to us and the new guys should be coming into things for the Arsenal & Man Utd games.
Mike Gaynes
31
Posted 24/08/2018 at 01:53:25
I hate to be a pessimist here, but there is no such thing as a minor, five-week foot injury. Of course he's not a crock, he played great in the World Cup, but this is a problem.
Also Gomes did not just "tweak" his hamstring, he yanked it badly and had to be helped off the field. I saw it happen. And I have never thought that September was a realistic return date for him.
Hope I am wrong on both counts, but I think we'll have to wait a while on both of the Barcelona boys.
Mike Gaynes
32
Posted 24/08/2018 at 01:55:25
Brian and Frank, you are two very wise men.
Victor Yu
33
Posted 24/08/2018 at 02:17:09
I hope I am wrong but 5 weeks don't sound minor to me.
And Silva sounds like he is trying to hide something from us.
David Ellis
34
Posted 24/08/2018 at 02:53:12
Not good news but doesn't affect whether he'll be a good signing or not. It's a bit like saying Arteta or Jags were bad signings because at some point during their career with us they got injuries. All players get injured. It just seems more frustrating when they are injured at the start of their career with the club. But this is all normal stuff.
Medicals are designed to catch long-term problems – for example, when Sean Davis, then of Fulham, failed his medical, stopping Moyes from buying him (and Spurs then stepped in); good decision as injuries blighted his career.
Michael Kenrick
35
Posted 24/08/2018 at 04:22:12
Fran, I think Beni Baningime is injured.
Alan J Thompson
36
Posted 24/08/2018 at 04:45:08
So we've signed a player with an injury. So long as the Club is sure it is one he will recover from before the next transfer window it is not too great a problem.
What I don't understand is how Barcelona would stand off selling an injured player who, it was reported, was surplus to their allowed non-EU players and raising the possibility of other clubs interest and therefore a bigger transfer fee, and then pulling something similar with a second player.
Bill hasn't moved to Barca has he, or is he still ringing Mr Brands ten times a day.
Ajay Gopal
37
Posted 24/08/2018 at 05:22:38
I believe this injury happened during training AFTER he joined Everton. He is not carrying this from Barcelona. Also, the OS has pictures of Gomes training with the rest of the boys, so no need to go overboard with the "we have signed crocks" hysterics.
David Barks
38
Posted 24/08/2018 at 06:22:33
He said it's expected to be 5 weeks, were already through 3 weeks. Chill. The Gomes injury was known as well.
It's about a 10 month season, 38 league games of which we're about to play only our third. Mina wasn't signed for the start of this season. He was signed to begin the rebuild this season and many in the future. The first 5 weeks when taken against the next 5 years is simply nothing.
Holgate is healthy. Keane is healthy. Zouma is healthy. Mina will be healthy. And Gomes, we'll see what he's capable of in the next few months. Might he turn into the next Arteta? Who knows. Patience.
David Barks
39
Posted 24/08/2018 at 06:33:15
And no Victor, to answer your typical type of post. Silva didn't sound like he was trying to hide something and 5 weeks is not a major injury. 3-6 months, that's major. 5 weeks at the start of the season, with an international break thrown in, not major in any way.
Amit Vithlani
40
Posted 24/08/2018 at 07:20:01
"And Silva sounds like he is trying to hide something from us."
No facts to support such a sentiment but I don't think facts have ever particularly worried you, Victor.
It would, however, be good for our £28M signing to be fit as soon as possible as, if the Zonal Marking experts are to be believed, we need Mina and Zouma in our back line sooner rather than later.
I would say the thought of Keane continuing in the side for an extended period leaves me a touch worried. I am hopeful he will not be asked to defend far up the pitch and go tight to his man. I also hope we sort out our defending at set plays. I am not a fan of Zonal Marking but if that is the way Silva wishes to operate then, as pointed out in the Twilight Zone thread, we really have to improve. We coughed up far too many chances in the opening two games and need to tighten up.
Simon Smith
41
Posted 24/08/2018 at 08:02:26
Shame about Mina, the sooner he's at the heart of our defence the better.
For those of you who like to talk up his potential partnership with Zouma, I'd like you all to look at the ability of Holgate.
It's typical of us Blues fans to overlook our kids, but imo Holgate is quality and, even at the age of 21, he's ready to become a permanent fixture in our defence.
If he was at Man Utd or somewhere similar, he would be raved over. Quick, strong, aggressive, good in the air and composed – he's the future of our back line.
Frank Crewe
42
Posted 24/08/2018 at 08:07:23
We've still got Keane, Holgate, Zouma and Jags will have completed his suspension so we're not short of cover. Just have to wait.
Colin Grierson
43
Posted 24/08/2018 at 08:28:10
The medical prior to signing a contract discounts injuries that don't have a long-term implication.
Let's not write him off as a crock before he's even started. As stated, it's a chance for others (Keane!) to up his game and stake a claim for his place. Competition for places is what we're after. I hope that when he's fit, he has to wait for his chance due to the form of others.
Nicer problems than we've had for a while though.
James Flynn
44
Posted 24/08/2018 at 10:43:37
I don't like to see "metatarsal injury" attached to the name of an athlete who needs to run and jump for his living.
Two brilliant basketballers over here had their careers ruined by injuries to the metatarsal, Andrew Toney and Bill Walton. Those names mean nothing in here. But they were among the creme-de-la creme of the NBA, unstoppable forces at their position.
Always think of their careers being ruined when I see an athlete is out due to a metatarsal injury.
Brian Harrison
45
Posted 24/08/2018 at 10:51:52
Seems like some are always looking for the downside. He has had a medical and if any of the doomsday scenarios on here were true, we wouldn't have signed him.
The manager has stated it's a minor foot injury and he will be back in 3 weeks, so just put the paranoia to bed till we see what happens in 3 weeks.
Peter Howard
46
Posted 24/08/2018 at 11:04:52
James (44)
Would you say Beckham and Rooney had their careers ruined by metatarsal injuries?
Brian Williams
47
Posted 24/08/2018 at 11:12:47
James, you can always find the bad to prove a point if you look hard enough.
I knew loads of people who died from cancer. Me and Mike Gaynes didn't though! ;-)
Brian Williams
48
Posted 24/08/2018 at 11:49:04
Anyway, forget about Mina for a minute....
Just try to picture, once Andre Gomes is fit, him and Tom Davies playing together in midfield.
They'll definitely be "worth it".
Duncan McDine
49
Posted 24/08/2018 at 12:18:08
Everton foot the bill for an expensive Mr Mina....
Tony J Williams
50
Posted 24/08/2018 at 12:56:45
Christ! I would have hated to have been in the trenches with some of you pessimistic fuckers! That and the fact people were trying to shoot or bomb you like... ermmm, bad example.
The lad had just played a full World Cup without any issue; we bought Beattie and McGeady when they were carrying injuries... and fuck, my examples are shite today.
Ermmmm... up the Blues!!
Brian Williams
51
Posted 24/08/2018 at 13:13:05
Duncan (#49).
How long you been working on that one Duncan?
I like that one; funny, mate.
Si Cooper
52
Posted 24/08/2018 at 13:18:52
What's the deal with Bernard? Nobody else keen to see him play?
Mike Gaynes
53
Posted 24/08/2018 at 13:38:07
Brian #47, are we gonna drink to that when I come over for the derby?
Jerome Shields
54
Posted 24/08/2018 at 14:25:05
Everton have played two teams that are destined for the lower half of the table. In both games Everton leaked goals. All goals conceded were the result of defensive weakness, particularly in the centre-back positions and not cutting out crosses.
Jageilka had to be replaced because of his red card, though his proness to errors would have ruled him out anyway. Keane had errors in both games and should also be replaced. Holgate has played better and Zouma should be bedded in to the centre-back position.
Mina it now appears has a recurring injury. Since Zouma is on loan, we need another centre-back. It's is disappointing that such a glaring weakness in the team has not been sorted out. The top half of the table will be able to exploit these weaknesses and are fully aware of them at this stage. Silva needs to get alternatives sorted out and they need game time.
Duncan McDine
55
Posted 24/08/2018 at 16:36:24
Longer than I probably should have, Brian!!
Tony Dove
57
Posted 24/08/2018 at 18:37:46
Lets hope it's just a minatarsal problem.
Andrew Wayne
58
Posted 24/08/2018 at 19:06:26
You would think that, when he (Mina) turned up with a parrot and an eye patch, the medical team would have smelled a rat.
Pat Waine
59
Posted 27/08/2018 at 09:32:45
I don't like the sound of this. We have paid big money for this guy and, even if he makes a debut in late September, he will take time bedding in and getting match fit. While we will be meeting Arsenal on 23 September.
We are already after 3 games 4 points off Liverpool. It's not a crisis but we need to sort our back four.
Add Your Comments
In order to post a comment, you need to be logged in as a registered user of the site.
Or Sign up as a ToffeeWeb Member — it's free, takes just a few minutes and will allow you to post your comments on articles and Talking Points submissions across the site.