Everton vs Rotherham United
Wednesday, 29 August, 2018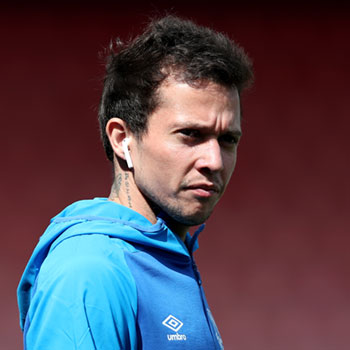 Bernard is in line to make his full debut this evening along with Kurt Zouma
Dan Istitene/Getty Images
Everton set out on one of the roads to Wembley this evening when Rotherham come to town in the second round of the League Cup.
With the exception of two trips to the semi-finals in the last 10 years, once under David Moyes and once under Roberto Martinez, Everton's performance in the League Cup has been pretty miserable in the Premier League era.
All too often it has been a case of successive managers seemingly not prioritising high enough one of the three main domestic trophies, with countless defeats blamed on squad rotation and weakened teams. And where progress was fleetingly made, as was the case against Chelsea in 2008 and Manchester City in 2016, the Blues often came up against the harsh realities of the infamous glass ceiling — one caused by an imbalance in resources or Everton's inferiority complex — between themselves and what has now coalesced into the cabal of "big six" clubs.
With Everton's painful trophy drought stretching into its 24th year, the clamour for the club to throw everything at trying to win this infernal tournament that has vexed them ever since it was introduced in 1960, has grown. There is a demand now among supporters that the club take seriously any opportunity to land a piece of silverware this season and with new manager Marco Silva showing signs of progress since assuming the helm, there is a feeling that the Blues are well placed to do so this season.
Were their opponents in the second round anything other than a Championship side (and assuming he will be putting something close to his strongest foot forward) Silva might have been tempted into making more changes to his starting line-up than have already been forced upon him by injury and suspension.
Phil Jagielka serves the final game of his three-match ban while Richarlison starts his. Michael Keane, meanwhile, is ruled out with the skull fracture he sustained at Bournemouth on Saturday, leaving Silva with just two of his first-team centre-halves available.
By default, Mason Holgate and Kurt Zouma should start and while Yerry Mina remains around three weeks away, it's their opportunity to stake a strong claim to be in the first-choice pairing going forward. Matthew Pennington will likely come into the squad as cover but hopefully only on the bench. Lucas Digne will surely get his first start at left back.
In midfield, Morgan Schneiderlin is unlikely to be risked, which gives Tom Davies another game to show what he can do while most Evertonian eyes will be on Bernard who is also expected to make his full debut following his 10-minute cameo at the weekend.
The Brazilian is an obvious replacement for his compatriot Richarlison wide on the left but there is also the question of Ademola Lookman over whom there have been questions regarding his fitness and his Goodison Park future. This would ordinarily be an ideal fixture for the winger to strut his stuff and he may get to, either from the bench or the starting XI, perhaps in place of Theo Walcott.
Up front, both Oumar Niasse and Dominic Calvert-Lewin will be hoping for an opportunity to start but will have to wait for the manager's decision.
It's an old cliché that whatever team a Premier League club with European aspirations puts out should be able to beat one from the Football League but cup football is often not as straightforward.
The motivation generated by the chance for a lower-division club to claim a scalp combined with that afore-mentioned propensity for the top-flight managers to mix up their starting XI can be a recipe for surprises as Everton have found to their cost plenty of times in the cup.
Everton should have too much for Rotherham, though, in what will be the first meeting between these sides since they met in this competition 26 years ago, and the game will hopefully provide a springboard for the Goodison careers of Bernard and Zouma that also vaults the Blues into the next round.
Kick-off: 7:45pm, Wednesday 29 August, 2018
Referee:
Last Time: Everton 3 - 0 Rotherham United (League Cup, Oct 7, 1992)
Predicted Line-up: Stekelenburg, Coleman, Holgate, Zouma, Digne, Gueye, Davies, Sigurdsson, Walcott, Bernard, Niasse
---
Reader Comments (125)
Note: the following content is not moderated or vetted by the site owners at the time of submission. Comments are the responsibility of the poster. Disclaimer
Amit Vithlani
1
Posted 29/08/2018 at 06:44:52
It would be great to see starts for Digne, Zouma and Bernard. I am hoping Lookman will feature too – it would be a good signal that he is staying.
I also hope we take this competition by the scruff of the neck.
Phil (Kelsall) Roberts
2
Posted 29/08/2018 at 06:53:52
European Football is guaranteed down to 5th place. Winners of a domestic cup also qualify for Europe. If one of the winners of a domestic cup qualify from their league position, then the next placed team in the league also are in Europe.
So with Everton, Wolves and Fulham all splashing the cash it is only one of them who will be able to attract players with the promise of European Football. If one of these cups is won by a team other than a "big six" then 7th will not be enough to get into Europe.
And gone are the days when the runners-up in the cup qualified. It is now only the winners who get the European Place.
So this competition is important for the silverware but it is also important for the ability to attract players in the future.
ps: There is one of the "big 6" whose only silverware (the League Cup (twice)) since our last trophy and we have won the league 4 times since their last win. "Rich Six" is a better phrase. Or "BBC/Sky Darlings"
John Keating
3
Posted 29/08/2018 at 07:00:38
I would give Kenny a run at right back.
Brian Porter
4
Posted 29/08/2018 at 07:33:35
Agree with your predicted line-up with one exception, Lyndon. After his pre-season performances, I have little or no faith in Stekelenburg and, bearing mind the fact that he is still making up for lost time with his later return from World Cup duty, I feel Pickford needs the game time to help him reach full fitness.
Sam Hoare
5
Posted 29/08/2018 at 07:57:00
Some of the back ups will be needed this season. This is a chance to give them some competitive time.
Pickford
Kenny Holgate Zouma Digne
Davies Gueye Dowell
Lookman Calvert-Lewin Bernard
Only concern would be that's quite a small team and set pieces have already proved an Achilles heel.
Mike Allison
6
Posted 29/08/2018 at 07:58:09
I think we need to balance bringing players into the side and giving them game time with giving our team a chance to continue getting used to each other.
Pickford, Zouma, Holgate and Gana should all be retained to give a solid foundation to the team. I'd keep Coleman in, despite the temptation to play Kenny, and this is a perfect chance to give Digne a game. We're then choosing between Davies and Beningime in midfield, I'd be happy with either.
Where I'd be radical is in rotating the entire front four. I'd go Lookman and Bernard wide with Dowell behind Calvert-Lewin. Rotherham are no mugs, but Dowell has produced at Championship level and Calvert-Lewin deserves a chance at No 9.
Lenny Kingman
7
Posted 29/08/2018 at 08:03:26
I hope that at the start of this new era the club take this much maligned event to heart. Put to bed the ghosts of 1977 and 1984.
I am going positive for tonight's game anyway.
7-0 with a Bernard hat trick thrown in.
John Smith
8
Posted 29/08/2018 at 08:08:24
Richarlison is available tonight as suspensions don't count in the 2nd round. He misses 3 league matches instead, so I think he will play on the left with Bernard on the right giving Walcot a breather before Saturday. We've quite a few players who might need a rest before Saturday based on playing another half with 10 men...
Gordon White
9
Posted 29/08/2018 at 08:16:36
I would like to see Kenny play. Also, an opportunity for Bernard to show us a few tricks perhaps?
Liam Reilly
10
Posted 29/08/2018 at 08:19:06
It's a domestic ban John, so Charlie is suspended this evening. Doubt he'd have played anyway, to be honest.
if Lookman is not involved, then I suspect he'll be on his way. I would like to see him given a chance though.
Derek Knox
11
Posted 29/08/2018 at 08:19:49
Brian @4, I too share your lack of trust in Stekelenburg, in pre-season some of the goals were down to his poor positioning and schoolboy type defending. He is allegedly an experienced keeper, but I am not convinced at all.
Like many have said we should take this Cup seriously for once, and play a strong side in order to progress.
Gordon White
12
Posted 29/08/2018 at 08:24:47
Only 7 Lenny? And them not scoring with Stekelenburg in goal?
Jim Bennings
13
Posted 29/08/2018 at 08:28:14
This Cup is massive for us regardless of what the "modern day fan" thinks.
Everton are not in a position to pick and choose what trophies we want to win, that's for the Manchester City's and Chelsea's etc.
We have totally starved a generation of Evertonians of success (proper success — not 7th place finishes as some will have you believe).
23 years without a trophy and just a mere ONE Cup Final appearance in that time is a disgrace for our football club.
We should be swatting Rotherham aside tonight and have no excuses no matter what team is selected, if the young players come in, then it's time to start showing that all this clamour and rave is justified.
Bill Griffiths
14
Posted 29/08/2018 at 08:38:12
I'd go with,
Pickford
Kenny
Holgate
Zouma
Digne
Gana
Davies
Sigurdsson
Lookman
Calvert-Lewin
Bernard
I would guess Lookman had to play some part tonight; if not, he's probably on his way in the next couple of days.

Mike Allison
15
Posted 29/08/2018 at 08:43:54
John (8), this has confused me so I've looked it up properly. Richarlison
is
suspended tonight. The change in rules this year is that a yellow card picked up in the EFL/Carabao cup won't count towards a suspension in the league. However, suspensions picked up in the league can still be served in the cup.
FA page detailing Everton suspensions: http://www.thefa.com/football-rules-governance/discipline/suspensions
The Metro explanation of this season's Carabao Cup rule changes: https://metro.co.uk/2018/08/13/league-cup-rule-changes-season-carabao-cup-ditches-extra-time-7833098/
Jim Bennings
16
Posted 29/08/2018 at 08:47:15
Is Dowell injured?
I'd rather see him given the start tonight ahead of Davies, surely he's more attack minded and again everyone has been raving about him so start him and see what he's got.
Brian Porter
17
Posted 29/08/2018 at 09:01:36
Why are some of us wanting Calvert-Lewin to lead the line? As others have said, we need to be prioritising this as a winnable trophy IF we take it seriously.
Calvert-Lewin just hasn't proved his worth as a central striker yet. His goals to minutes ratio is actually quite poor. He does have a tendency to rush his shot or show poor decision making in and around the box.
With far fewer minutes, Niasse has a far better strike rate, and would probably put the fear of God into Rotherham's defence with his direct running and unpredictability.
Jim Bennings
18
Posted 29/08/2018 at 09:07:01
The team should be
Stekelenburg
Kenny
Holgate
Zouma
Digne
Gana
Dowell
Walcott (or Lookman)
Sigurdsson
Bernard
Niasse
It's bloody Rotherham at home!!
Dave Abrahams
19
Posted 29/08/2018 at 09:10:49
I will be surprised if Jonjoe isn't picked tonight to give Seamus a break. I hope there is not too many changes, we have to go for this cup with serious intentions. Whoever plays in the centre of midfield, we are limited in that position; whoever plays — not counting Gomes (we will have to wait and see how he turns out) or McCarthy (who is still injured).
Eddie Dunn
20
Posted 29/08/2018 at 09:18:04
I would play Pickford and get Lookman in, but I wouldn't tinker with the side too much. Keep the continuity and take this competition seriously. If we change too many faces and Rotherham pull off a surprise, we will lose a lot of momentum for the next match.
Jay Harris
21
Posted 29/08/2018 at 09:28:48
The danger in making wholesale changes is we end up with a team of strangers who need more than 90 minutes to understand each others game.
Although I would like to give the kids a chance I would look for no more than 4 or 5 changes.
I believe Lookman is gone so no game for him but I would give Kenny a game based on Seamus recent form.
Pickford is a no-brainer (sorry, Stekelenburg, but you don't inspire confidence)
Zouma and Holgate (no choice) and Digne make up the back 4.
Gana and Davies as anchors with Dowell providing the creativity.
Walcott Niasse and Calvert-Lewin to complete the attack.
Neil Wood
22
Posted 29/08/2018 at 09:37:19
Keeper - Shouldn't matter who as we shouldn't be troubled
Coleman - Holgate - Zouma - Digne
Walcott - Dowell - Gueye - Lookman
Bernard
Tosun
Ajay Gopal
23
Posted 29/08/2018 at 09:57:00
My team (copied from the other thread on Zouma):
Stekelenburg
Kenny Holgate Zouma Digne
Davies Schneiderlin
Bernard Sigurdsson Lookman
Tosun
Let Tosun play so he gets an opportunity to get on the score sheet and boost his confidence ahead of sterner tests. Not sure if Schneiderlin would be fit, but if he is not, then I would pull Siggy back alongside Davies and play Dowell in the advanced role.
Subs: Pickford, Pennington, Coleman, Baines, Gueye, Calvert-Lewin, Walcott.
Shaun Laycock
24
Posted 29/08/2018 at 09:58:58
Pickford
Kenny
Digne
Zouma
Holgate
Davies
Gana
Lookman
Dowell
Bernard
Niasse
Lookman in behind Niasse as this is where he has success on loan with Dowell out left and Bernard out right. All can interchange causing their defence problems. 3 -1... Up the Blues.
Mike Allison
25
Posted 29/08/2018 at 10:00:24
Brian (17), to answer your question directly, I want Calvert-Lewin to start because I think he has the all-round game to lead the line and the potential to be a very good player in the near future.
You say he hasn't proven his worth as a central striker yet, but how can he if he doesn't get a chance in games like this? We need to balance the immediate with the longer term, and Calvert-Lewin both has the chance to be effective now and needs the chance to develop if he's to become the player we hope he will.
You also say his goals to minutes ratio isn't very good, but I think it's perfectly reasonable given that he's often played as a sub, in wide positions and in a directionless team under a poor manager.
You prefer Niasse, but his career stats (in England at least) show that he is far more effective as a substitute than when he starts, so it makes more sense for Calvert-Lewin to be given the chance to impress from the start. If not, then it's hard to see what future he could have here. By your logic, he's not established himself, therefore he doesn't deserve the chance to do so.
Brian Harrison
26
Posted 29/08/2018 at 10:06:48
Always interesting to see what team is picked for home ties in the League Cup when playing teams from a lower league. I will be interested to see if he starts Lookman, although I think he will leave him out till the window closes on the 31st. I don't think you can go public and state this player is the present and the future of this club and then sell him. Makes your decision making look floored.
I think he will start Bernard on the left, as this is an ideal chance to get some game time in.
Victor Yu
27
Posted 29/08/2018 at 10:13:52
I would give Walcott a break and put in Dowell instead.
Also, let's give Sandro a chance.
Sean Herbert
28
Posted 29/08/2018 at 10:17:42
Although this is a game we should win fairly comfortably, we do need to put out a strong team. Rotherham is my home town so, naturally, I do keep up to date with how they are doing.
One thing we will have to be good at is set pieces. It's Rotherham's particular strong point and they are very good at them. Saying that, if we defend well, there should be no great problem.
So let's hope Zouma shows us how good he can be and Holgate continues to progress. Because they will try to hit us with their set-piece routines.
Jerome Shields
29
Posted 29/08/2018 at 10:39:39
The performance of Everton that see them competing only in the Premier League in the second half of most seasons in damning, The poor performance in the Premier League is further exacerbated by the non-performance in the other competitions, which sees players on popstar contracts with loads of days off and fans with nothing to watch.
The objective in the Premier League is to get into the top five so there is extras income and fans get to see football at a higher level throughout the season.
Since Everton are not in the Champions League or the Europa League, they should be looking to perform in the League Cup and FA Cup as preparation for this.
I do not buy into second-string teams and concentration on the Premier League for what is nothing but underperformance in these two cup competitions, I expect that the best team is picked and excuses, such as "too many games" and "tiredness" — for players on such contracts — don't exist.
If I am only following Premier League games involving Everton in the second half of the season, as far as the Silva era is concerned, I will know that nothing has changed.
This is the test of Everton's performance this season — not getting into the top 5 this season. Getting into these positions in the Premier League without good performance in other competitions is a false dawn because, in the following season, they will have to perform in the associated competitions. How will they be fit to perform at that level? They will be straight back into mid-table in that season.
Nick Lacey
30
Posted 29/08/2018 at 10:44:28
Is there anyone who can tell me what time and what channel the highlights will be shown? I've had a look at the TV planner and I'm unable to find it. Thanks in advance.
Tony Abrahams
31
Posted 29/08/2018 at 11:08:43
Great description given to Goodison, by the Rotherham manager. "It just smells of football" and to think most people in the media had the temerity to actually criticise Evertonians for wanting rid of Big Sam!
Shane Corcoran
32
Posted 29/08/2018 at 11:13:03
Funny to read some of the over-confident comments here. Reminds me of the pre-Europa League talk last season.
By all means give some lads a run, but unless Rotherham decide to do the same, I don't see this being easy.
Gavin Johnson
34
Posted 29/08/2018 at 11:34:50
Fingers crossed Lookman comes in tonight. Play Lookman in place of Walcott and Bernard in Richarlison's place.
Sadly, I don't see it happening. I think the club are resigned to selling him.
Tony Everan
36
Posted 29/08/2018 at 12:27:17
I too think Lookman is gone, maybe with a Barca style buyback clause.
I don't think there will be wholesale changes either tonight, Silva will field a very strong starting line up with a view to putting the tie to bed before the hour mark. The youngsters will be given the last half an hour (if all goes to plan!) and when has that ever happened?
Mike Allison
37
Posted 29/08/2018 at 12:32:01
Shane it's not about 'giving lads a run', or thinking it will be easy. It's a genuine belief that there is real quality outside the 'first XI' at the moment and that the club is better off, in various ways, utilising it.
A) These 'second string' players are good enough to be in the first team, and thus win this game.
B) They're hungrier to prove themselves, as they're behind in the pecking order.
C) They lack experience and will become improved and developed players by playing.
D) We'll need them ready to come in and produce at some point in the season. Playing now will help that.
Sam Hoare
38
Posted 29/08/2018 at 12:34:00
Brian @17, Calvert-Lewin's goals to minutes are not great in part because he has been played out wide quite a bit. Having said that, I believe Calvert-Lewin got more assists for us last season than anyone. His finishing certainly needs work but I think there could be a decent striker in there and he needs game time if he's going to progress.
Tony J Williams
39
Posted 29/08/2018 at 12:35:47
As stated above, can't have too many changes as the team wouldn't have played a competitive match together and can go against you.
One of my pet hates is the phrase "there for the taking", no team is, even the lower league sides. How many upsets occur in the cup?
If we play a full strength side, you will expect a good win, but how many times does that happen in a cup match?
Respect the opponent, not too much but don't expect a piss easy ride.
They will be there kicking lumps out of us and spoiling play and will have seen how shite our zonal marking is so expect shed loads of punts into the box or trying desperately to get corners.
Good strong side out, as internationals coming up soon so no reason to rest too many after just 3 weeks into a new season.
Eddie Dunn
40
Posted 29/08/2018 at 12:47:17
Mike @37, Rotherham have just beaten Millwall, who were in good form themselves, and if they keep most of their first team involved, I can see them being a tough nut to crack.
Many people have mentioned that we need to win a trophy and the League Cup is the easiest to win, so I don't want us experimenting too much and having to bring on the big guns in the last quarter. It is better to pick our strongest team and if we can get a few goals, then bring on some lads for the experience.
I am sick of us bombing out of this competition when resting first-teamers.
Jay Wood
[BRZ]
41
Posted 29/08/2018 at 12:47:42
Tony @ 31.
That is a cracking quote by the Rotherham manager. Someone knows their 'istory!
A wee warning signal that they will be well up for this tonight.
I agree with some squad rotation, but I still want to see a competitive side out there.
This is definitely a competition we should be targeting to land some silverware this season.
Jamie Crowley
42
Posted 29/08/2018 at 13:13:16
USA Blues -
The only option I see is audio only from the official site? Doesn't look like it's televised.
Anyone know different?
Alan J Thompson
43
Posted 29/08/2018 at 13:14:59
Given that they won't have played together before I'd play the defence that I'd play next weekend and, if over his collision with Keane, Gana so they all have some idea of what to expect from each other. I'd also play Lookman, Bernard, Dowell and Niasse which leaves one other, Sigurdsson so he has some understanding of Bernard and for set pieces.
The most interesting part might be the bench, in the hope they get a run if and when a good lead has been established.
Anyone for pens?
Jay Wood
[BRZ]
44
Posted 29/08/2018 at 13:21:08
Just watched the lastest 'Backstage Blues' YouTube offering vs Bournemouth:
From around 6:30 minutes in you can see a couple of minutes of the Blues warm-up session. Earlier in the video you see the training staff meticulously count out the strides, laying down disks as markers.
From the glimpse offered, even our warm-ups look very structured, with different pockets of players separated into different groups.
This is something non-match-going Blues don't get to see in detail.
Any match-goers able to give deeper insight into what goes on in our warm-ups under Silva?
It certainly looks a considerable step up from everyone taking pot shots at the 'keeper typical of park football!
Derek Knox
45
Posted 29/08/2018 at 13:21:31
Jamie @42 I had a cursory check before and it looks like frontrowsports have a link for the game. I have Kodi and it's on that, allegedly, can't obviously give you a link, as it is through that platform, and I won't know myself until kick-off, if it's working.
Might be worth checking out mate, hope we take this Cup with serious intent this time around.
Rotherham knocked Wigan out earlier and they have been playing well, so not to be under-estimated.
Pete Edwards
46
Posted 29/08/2018 at 13:28:11
Not so sure this is the easiest cup to win, have a look at the winners from the last 10 or so seasons!
Yes a lot of them play a "weakened" team early but to be a top team the "weakened" 11 are generally still very strong.
Jamie Crowley
47
Posted 29/08/2018 at 13:39:47
Derek Knox TY and I will check that at game time. I'm not sure what Kodi is, but I'll do a cursory check and Google it.
I'm so spoiled with the NBC Gold pass that I simply can't stand dodgy streams any longer. If that firstrow option is remotely shite, I'll listen while at work.
The announcers on the radio - I've only heard them a time or two admittedly as I watch on TV - are absolutely freaking hilarious and fantastic. I can't recall their names and can't be bothered to look it up. I'm sure almost every single TWer can name them immediately; ignore the bastard 'Merican.
But for the folks over yonder, they're really lucky to have that entertaining and excellent audio option.
So I'll probably join that audio brigade today.
And yes I'm with you - we should be targeting this competition. If we don't take it seriously I'll be pissed.
Richard Mason
48
Posted 29/08/2018 at 13:44:24
Rotherham have a poor away record this season. I think they won't play a full strength team, and I feel we should give lads a run while keeping the backbone of Pickford, Holgate, Gana and Tosun.
Tosun needs a goal.
Jamie Crowley
49
Posted 29/08/2018 at 13:45:26
Surely Bernard has to play today?
I've been chomping at the bit to see this kid. I think he's going to be a wonderful player and I'm very, very excited to see how he does.
We've been screaming out for a creative, tricky little shit of a player. I think he's our answer.
Bob Parrington
50
Posted 29/08/2018 at 13:56:26
I agree with some on here suggesting Silva should not be too adventurous this evening:
Pickford, Coleman, Holgate, Zouma, Digne, Gana, Bernard, Dowell, Lookman, Walcott and Tosun.
Subs: Baines, Davies, Baningime, Niasse and Kenny
Mike Gaynes
51
Posted 29/08/2018 at 13:59:26
Derek #45, thanks for that info.
Regarding the lineup, I would definitely give Coleman the day off and fire up Kenny. And of course I would love and expect to see Lookman and Bernard.
Lewis Barclay
52
Posted 29/08/2018 at 14:09:31
I think this should be all about players who want to press for a place to start on Saturday and to show they can play how Marco wants:
Stekelenburg,
Kenny, Zouma, Pennington, Holgate, Digne,
Davies,
Dowell, Baningime, Lookman,
Calvert-Lewin
Bench: rested first team players! They all seem like contenders for that to me.
Chris Gould
53
Posted 29/08/2018 at 14:10:36
I think Tosun needs a goal or two to get him up and running. Strikers feed off goals and confidence. I'd play him from the start and bring him off in the 2nd half.
If Dowell doesn't get any game time tonight then when will he? We're down Richarlison and Schneiderlin and probably need to protect Walcott, so now is surely the game? If not, then he may as well go out on loan.
Steve Ferns
54
Posted 29/08/2018 at 14:18:04
I would play:
Pickford
Kenny Holgate Zouma Digne
Gueye Davies
Bernard Sigurdsson Lookman
Calvert-Lewin
That's 6 changes, albeit two have to be made (Richarlison and Keane). I think we need to keep as much as the first team as we can, so really use the subs. Coleman and Baines are key for us and need a rest. Digne is a big money signing and needs a run out. Kenny needs games. Holgate needs to bed in. Zouma needs games and those two have to play anyway (with Jags back for the weekend). Pickford behind for stability and to get used to the two centre-halves with Davies and Gueye adding some first team stability (but Baningime, McCarthy, Schneiderlin and Gomes are injured anyway). Richarlison can't play, so Lookman needs to come in. Bernard also needs a game so he could come in for either Walcott or Sigurdsson. Walcott looks more in need of a rest for me. Tosun has been battered in recent games and he needs a rest. Calvert-Lewin needs games, and Niasse is best off the bench.
I'm very interested to see what a beefed up (he's put muscle on) Calvert-Lewin can do. It looks like he's kept his pace despite the weight gain. I know I'm in the minority, but I honestly believe that there is a goal scorer there. I don't think he will be another Shearer, but he can be better than Tosun is now. Like Tosun Calvert-Lewin has a good all round game and can be heavily involved in the build up. He can pass, he has neat flicks, he has height, he has strength, and he has pace to beat most defenders. I think he will get real goal scoring opportunities in this side. I want to see if he can take them, if he does, then brilliant we have the player we need. If not, then the likes of me can shut up about him.
What I don't see is Calvert-Lewin in training. I don't know how accurate his finishing is. Silva and his team will. I heard that they were very impressed with Tosun and he was smashing in the goals in pre-season. I can't really remember him getting any good opportunities so far this season. But he lacks that pace to get away from defenders, which is why I'm interested in what Calvert-Lewin can add. Niasse is a great impact sub. A real handful against tired defenders and can turn a game from the bench. I don't think he's anywhere near as effective from the start, and is less of a team player, in that his build up play is not as strong due to limited abilities in passing, vision, and awareness.
Mike Gaynes
55
Posted 29/08/2018 at 14:23:37
Steve, talk about a guy who has also packed on some serious muscle... check out Kenny. In the preseason it looked like he had been in the gym every day this summer, and pushing heavy. No more skinny kid.
Tony Everan
56
Posted 29/08/2018 at 14:27:01
I want to see Calvert-Lewin start too, I want him demanding to start, to be chomping at the bit. If he can get 1 or 2 in a game like this he will kick on. He will have a shout at starting league games. With the improved service and playing his preferred central role we will have a far better chance of seeing what he is made of. If he starts I will back him to score.
Kieran Kinsella
57
Posted 29/08/2018 at 14:41:54
Unless you're say Burnley who have three England keepers, I do not get this "cup goalkeeper" malarkey. We don't have Europe to contend with so we don't need to "rest" tired players.
Pickford was late back for pre-season so is still getting up to speed. Why does it make sense to "rest" him for the cup? We have a makeshift center half partnership as it is which breeds uncertainty at the back. We exacerbate that problem if we change the keeper also, not to mention we may well have rubber playing at LB so basically only Coleman of our regular back 4.
I understand we "should" be Rotherham, but how many times have we heard this play out down the years as we have put out weakened teams and been dispatched by "lesser" opponents.
I would put out the best possible team with the only exception being made where we have players who are legitimately at the level of the players they could replace, e.g. Rubber for Baines, maybe, maybe, maybe, Lookman for Walcott.
Mike Gaynes
58
Posted 29/08/2018 at 14:52:07
"Rubber"??
Jamie Crowley
59
Posted 29/08/2018 at 14:53:26
Chris @ 53 -
Tosun isn't about goals in this system - that's my opinion.
He'll be lucky to get 10 this season.
But he's already up and firing.
Watch him if he plays today. It's not about turning to goal like a traditional striker.
He harries, chases, and his distribution is sublime. Watch him lay the ball off for the guys streaking down the sides.
He's doing exactly what's asked and required of him in this system. Goals are a plus, but not necessarily the be all end all for him under Silva.
I stand to be corrected by Steve Ferninihdo.
Kieran Kinsella
60
Posted 29/08/2018 at 15:04:38
Rubber Digne
Shane Corcoran
61
Posted 29/08/2018 at 15:13:47
Mike #37, there were comments saying such as "it's bloody Rotherham at home" that I'm referring to.
Tom Bowers
62
Posted 29/08/2018 at 15:13:55
This is the ''Mickey Mouse'' Cup and most Premier League clubs will just use it as a chance to play the some ''second stringers'' – ie, those who have not yet been pencilled in as a first-team starter although they have first team experience. This usually continues until the team gets further in the competition which Everton rarely does.
However, it could be interesting today under a new manager when some of those other players can serve notice of intent but, if you can't shine in this competition against a team like Rotherham, then what chance do you have of getting a starting role with the first team?
I quite like Tosun and Niasse although neither are comparable to Harry Kane but they do work hard in an unenviable role which last season was even harder. With some new midfielders in the mix, like Bernard, these two may get some better reward.
Brian Harrison
63
Posted 29/08/2018 at 15:16:27
I think Silva will be looking hard and long for a striker, for me Tosun isn't good enough, and neither is Calvert-Lewin a willing runner but like Tosun doesn't look to me like a goalscoring centre-forward. One solution could be to move Richarlison into that position, he has all the attributes to play there.
Now I am sure there will be many who will come on and defend Tosun and Calvert-Lewin and that's fair enough football is all about someone's opinion. But before defending either I would just ask, tell me one of last years top 6 who would have either of our lads up top.
Mike Gaynes
64
Posted 29/08/2018 at 15:16:43
Kieran, I assume that's a play on words of some kind, but I'm still missing it.
Kieran Kinsella
65
Posted 29/08/2018 at 15:18:39
Mike, one of those inflatable boats.
Brian Harrison
66
Posted 29/08/2018 at 15:18:43
Mike,
Is rubber dinghy a clue.
Mike Gaynes
67
Posted 29/08/2018 at 15:22:01
Ah, got it. Digne/dinghy. I dunno, it seems like kind of a stretch to me.
Get it? Rubber? Stretch? Ha-ha-hee-hee.
I'll leave by the back door.
David Ellis
68
Posted 29/08/2018 at 15:25:55
Jamie Crowley – on commentators on the official audio, the expert summariser is Ian Snodin. A Yorkshireman who turned down Liverpool to join us in the late 80s as a midfielder, but ended up being a pretty decent fullback. He's a bit "glass half-empty"... but yeah, he's from Yorkshire!
Mike Allison
69
Posted 29/08/2018 at 15:35:54
Shane, 61, when I scanned back through I could see what you mean. Someone's gone for 7-1!
As I said earlier it's about a balance, we need to take them very seriously, but that is compatible with giving opportunities to other players who should have the quality and the hunger to win this match.
Simon Smith
70
Posted 29/08/2018 at 15:37:03
It would be nice to blow Rotherham away first half so as we could play the likes of Kieran Dowell for a good 45/35 minutes.
Sigurdsson has been in great form, and this competition is one I'd take serious as it keeps up momentum and gives us a real chance of silverware, so I'd start a strong side.
With Holgate and Zouma playing together for the first full game, we are already stepping on new ground, I'd hope Pickford starts and I'd probably start with Digne and Kenny so the back line would be brand new.
Davies and Gana would give us a good solid base in front of the back line, so Siggy would give us craft, Tosun up top may start his goal trail off, and wide I'd play Bernard and Walcott.
That should be enough to blow away Rotherham or we have problems within our squad.
Pickford
Kenny Holgate Zouma Digne
Gana Davies
Walcot Sigurdsson Bernard
Tosun
Dowell, Calvin-Lewin and Niasse as subs if all goes according to plan.
I've not mentioned Lookman as I'm not sure he will be here after next day or so, but if Silva really is keeping him then he has to start, possibly over Bernard who is still catching up to speed fitness-wise.
Mike Gaynes
71
Posted 29/08/2018 at 15:41:24
By the way, this will be the first game Everton has ever played with VAR.
Brian Harrison
72
Posted 29/08/2018 at 15:43:28
Sources in Spain saying Real Sociedad have reached agreement with Everton to take Sandro on loan for the rest of the season.
Kieran Kinsella
73
Posted 29/08/2018 at 15:48:43
If we are using VAR hopefully Collina will be reffing and we can have Big Dunc upfront to settle some old scores. Scratch that, get Clive Thomas to ref... scratch that, get Clattenburg!
Fran Mitchell
74
Posted 29/08/2018 at 15:50:46
Hope to god Niasse doesn't start, he's a sub at best and should only ever be used as such.
At the end of the day, it is a chance to try some young or fringe players, or integrate new buys.

For me:
Pickford
Digne Holgate Zouma Kenny
Baningime Dowell Gueye
Bernard Calvert-Lewin Lookman
All players here should be aiming for a first team place, so wouldn't call it a weakened team.
Paul Rimmer
75
Posted 29/08/2018 at 16:00:49
About time we won this trophy. I'd play Coleman as I think he needs games to get back to his best but I'd rest Baines for Digne. Gana, Davies, Sigurdsson in the middle with a front three of Bernard, Lookman and Tosun. Not too many changes and looking forward to the game!
Jamie Crowley
76
Posted 29/08/2018 at 16:36:46
David Ellis @ 68 -
Cheers and thanks for that!
He might be a bit "glass half-empty" but the audio is hilarious. For this American, listening to them call the game is wonderful. I really need to play their audio more often and mute the NBC fellas.
Let's win this. I really hope we're playing in this competition, dreaming of silverware, in February.
Steven Jones
77
Posted 29/08/2018 at 16:50:06
I would love the goalkeeper position to go to Joao Virginia…
He has won the Euros with Portugal at two different age groups and we pinched him from Arsenal…
I saw him warming up with Pickford and Stekelenburg against Southampton and he looked a class apart. I think he is special and got MotM rave reviews when the U23s played Leicester and won 1-0.
He is very tall, agile, athletic and when he catches the ball you can see his finger tips feel the ball into his hand… He made not one error as Jordan looked to be fumbling and have a World Cup hangover hovering over him …
Merle Urquart
78
Posted 29/08/2018 at 16:51:36
A lot of posters have gone for Calvert-Lewin up front... so nil-nil then. I hope Lookman gets a start instead. Let's see him get some game time under his belt.
Dave Abrahams
79
Posted 29/08/2018 at 16:52:40
Jamie. (76), I think there is a big divide between American
and Brittish humour if you think those two commentators are remotely funny. Heard them once his season, never again, switched them off after a few minutes. Not as bad as Michael Owen... but, then again, who is? The three of them would give an aspirin an 'eadache.
Steven Jones
80
Posted 29/08/2018 at 16:58:25
Jay Wood (#44) – Yes, I watched every moment of the warm-up against Southampton and the preparation was a different class.
Next time, I will video it for my own academy and teams – just brilliant from the dynamic stretches, pressing routines, passing drills to the players they play with, right through to the in-match formation and passing routines with almost dress rehearsal role playing break-aways from centre of midfield via diagonal balls to the wingers/fullbacks who interchange passes to delver strong high tempo crosses with the defenders trying to block and the attackers alternately attacking the ball from the edge of the area – the goalkeeper coming out where they could to take the cross.... very choreographed – Loved it!
Steve Ferns
81
Posted 29/08/2018 at 16:59:10
Can I clear up Lucas Digne's name?
The S is silent so it's 'Luca'. The surname is close to Dean as in Dixie. Call him Luca Dean and you're not far wrong.
Call him Lucas Dig-nay and you are. To be 'nay' you need an é at the end.
Mike Gaynes
82
Posted 29/08/2018 at 17:09:52
Steve, the Barca announcers pronounced it Deen-yay.
Gary Russell
83
Posted 29/08/2018 at 17:11:02
Mike, the back door is far too dignefied.
Steve Ferns
84
Posted 29/08/2018 at 17:11:26
My French speaking girlfriend (as in it's her mother tongue) and my French friends, and French journalists all independently agree it's Deen.
The yay sound needs to have a é at the end. That I know from my own French.
Brent Stephens
85
Posted 29/08/2018 at 17:19:00
Pronunciation of Digne. Not a grave issue.
Mike Gaynes
86
Posted 29/08/2018 at 17:19:34
Good 'un, Gary.
Steven Jones
87
Posted 29/08/2018 at 17:19:50
My Team for the Pot …
Stekelenburg
Kenny, Holgate, Zouma, Digne
Gana, Davies (would love Baningime in there)
Bernard, Dowell, Lookman,
Calvert-Lewin (Niasse 50/50)

Gomes off the bench for last 15 mins; Tyias Browning for second half to rest Holgate or Zouma as we need both on Saturday.
Steven Jones
88
Posted 29/08/2018 at 17:21:48
Lucas – said himself in his first press conference it was pronounced 'Deen'…
He also said feel free to do it anyway as he does not get offended.
Mike Gaynes
89
Posted 29/08/2018 at 17:22:27
Steve, all I hear around my house is Chinese.
Steve Ferns
90
Posted 29/08/2018 at 17:22:42
Yes Steven. Just checked. He confirms it at 8:10 on he official press conference.
Tony Everan
92
Posted 29/08/2018 at 17:23:08
With VAR in operation, there will be a penalty at some stage.
Who is on penalty duty tonight? Baines if he starts?? Sigurdsson???
Arild Andersen
93
Posted 29/08/2018 at 17:28:45
I hope we go for it, not too many changes. Pickford must play. Digne in for Baines, Bernard for Richarlison. I'd start Tosun too, hopefully he'll get a goal or two.
Get the game buried with three goals before half-time and then make the substitutions at 60 mins (Kenny? Pennington? Calvert-Lewin/Niasse? Lookman?). Oh well, I can hope.
John Raftery
94
Posted 29/08/2018 at 17:33:37
Last September in this competition Calvert-Lewin scored two goals and hit the post in his 66 minutes versus Sunderland. There is no reason why he cannot repeat that this evening.
Frank Crewe
95
Posted 29/08/2018 at 17:39:02
I don't want to see Stekelenburg in goal. If we should get anywhere in this competition, I want to see a better goalkeeper than him between the sticks if we come up against stiffer opposition. Look to the future, not the past. Pickford or Joao Virginia. Not to mention it would be a real encouragement for Joao Virginia.
Virginia
Coleman or Kenny, Zouma, Holgate, Digne
Gana, Davies
Walcott, Bernard, Dowell
Tosun
Subs: Pickford, Pennington, Baines, Niasse, Calvert-Lewin, Baningime, Sigurdsson.
I think Tosun could open his account tonight.
John Pierce
96
Posted 29/08/2018 at 17:41:09
I cannot change a broken record. Stay strong for this competition. How many ignominious failures to pap teams in this competition?
Don't break the momentum we've gained by fielding wholesale changes.
Change where it is needed. Lookman for Richarlison, Digne for Baines, Zouma for Keane.
Bernard to feature as the game wears on.
The whole team needs as much game time under Silva's system as possible.
Tosun needs a goal to match his efforts to date, he deserves one. If Silva understands the club then this must be an avenue to pursue.
UTFT!

Brian Hennessy
97
Posted 29/08/2018 at 17:41:41
On the pronunciation of names, I always get confused, particularly with French players.
I thought Schneiderlin's first name was pronounced simply as Morgan, but the general consensus seems to be it's pronounced "Fucking Schneiderlin" — who would have thought!!
Jay Wood
[BRZ]
98
Posted 29/08/2018 at 17:42:44
Steven @ 80.
Cheers for the insight on our warm-up.
Very professional by the sounds of it, sharpening both mind and body for the battle to come.
If and when you film the full session and if there is a way to share it with us, I for one would be interested in watching it.
Thanks again.
Mark McParlan
99
Posted 29/08/2018 at 17:45:10
I also don't buy into this 'Cup Goalkeeper' business - especially with no Europe this season, and with Pickford having returned to training late. So Pickford in goal for me.
It's universally agreed that we want to see Digne at left back. Holgate and Zouma is going to have to be our centre back pairing. Personally I want to see Kenny at right back. Coleman wasn't great on Saturday and I am a massive believer in Kenny.
Gueye and Davies are pretty much our only central midfield options at the moment. They start. Would be nice to have Gomes fit soon.
Ahead of them is where I want to see some other players come in. Calvert-Lewin as the centre-forward (he excelled in a similar fixture last year... bagging a brace in the 3-0 win over Championship Sunderland at Goodison in this same competition). Behind him Kieran Dowell. And with Bernard and Lookman as the wingers.
I believe that should be enough to see us through. If not, the bench should be strong enough to change the game.
Starting XI:
Calvert-Lewin
Lookman Dowell Bernard
Gueye Davies
Digne Zouma Holgate Kenny
Pickford
Subs: Stekelenburg, Baines, Coleman, Sigurdsson, [U23 midfielder], Walcott, Tosun.
Neil Humphreys
100
Posted 29/08/2018 at 17:46:54
Anybody know if they are selling walk-up tickets tonight?
Derek Knox
101
Posted 29/08/2018 at 17:51:52
John @94, what repeat hitting the post at 66 minutes?
What will that achieve? :-)
Matthew Williams
102
Posted 29/08/2018 at 17:52:41
Just get the job done in 90 minutes, no fuck-ups, no hard luck stories, just win it & onto the next round.
23 years without a Cup is one thing but 59 years and counting trying to win this Trophy is killing me slowly.
This year eh Blues... please.
Gareth Clark
103
Posted 29/08/2018 at 17:56:19
Sandro looks like he's on his way; also not sure about the fitness of Schneiderlin & Baningime. I would start Baningime if he's fully fit & been training. However, given the uncertainty, I'd go with the following:
Pickford
Kenny Holgate Zouma Digne
Gueye
Bernard Dowell Sigurdsson (c) Lookman
Calvert-Lewin
Subs: Stekelenburg, Jagielka, Coleman, Baningime, Davies, Niasse, Tosun.
I would like to test out Gueye as a #6 – and this is the perfect game to do so. However, I would only play him for 60 mins maximum (game dependent) and rest him for Saturday.
If we dominate the game, I'd do the following:
Baningime <—> Gueye (55')
Davies <—> Sigurdsson (55')
Jagielka <—> Zouma (70')
Ending with a team of:
Pickford
Kenny Holgate Jagielka (c) Digne
Davies Baningime
Bernard Dowell Lookman
Calvert-Lewin
Giving Sigurdsson, Gueye & Zouma some rest before the Saturday game. Against Huddersfield, I'd go:
Pickford
Coleman (c) Holgate Zouma Baines
Gueye Davies
Walcott Sigurdsson Lookman
Tosun
Subs: Stekelenburg, Jagielka, Digne, Schneiderlin, Bernard, Calvert-Lewin, Niasse.
Jay Harris
104
Posted 29/08/2018 at 18:01:32
I would think so, Neil, but to be sure, why don't you try StubHub?
The tickets are heavily discounted for tonight anyway. I got a senior in the lower Bullens for ten quid.
Duncan McDine
105
Posted 29/08/2018 at 18:01:57
Neil (100). Looks like there's plenty of empty seats, so imagine you can just rock up to the box office this evening
Gary Russell
106
Posted 29/08/2018 at 18:11:46
Duncan, is that McDine, McDeen or McDinner?
Duncan McDine
107
Posted 29/08/2018 at 18:21:57
Hi Gary (or is it pronounced with a silent 'r' ?), it's McDine - the clue is the fact it is spelt McDine, not McDeen or McDinner.
Paul Kossoff
108
Posted 29/08/2018 at 18:31:25
30,000 expected tonight, according to Radio Merseyside.
Steven Jones
109
Posted 29/08/2018 at 18:33:17
Jay Wood 98 - thanks, I was in the Bullens middle tier near the Street end.
Would be good to get it video'd from the middle of the Street Upper Tier.
I am not there Saturday, was planning for Fulham on the 29th but I am now moving house, so if anyone else is there this Saturday against Huddersfield, And has seats in the Street Uppper would love to see the warm up video'd
We can then get Steve Ferns analysis from the build up and even a pie eating analysis t'boot!🙏🤗
Brian Cleveland
110
Posted 29/08/2018 at 18:33:42
Frank (95), I too was thinking more of Virginia than Stekelenburg, apparently he had a really impressive commanding first game for the U23...
Either play him or put him on the bench and with Pickford continuing; Stekelenburg is the past and either now or soon should be third choice.
Harry Hockley
112
Posted 29/08/2018 at 18:37:19
If Lookman don't make the squad tonight that must be it for him.
Ian Hams
113
Posted 29/08/2018 at 18:46:43
For what its worth I would keep Pickford in with Coleman, Zouma, Holgate and Digne then leave Gana and Davies unchanged through the center with Sigs and Tosun in front of them. quite enough changes there already.
Out wide I think you can afford to be more adventurous and give both Bernard and Lookman starts.
I do realy hate it when we play with 8 or more changes.
Simon Bradley
114
Posted 29/08/2018 at 18:48:36
No Lookman in the squad. He's done I'm afraid.
More worryingly — No Bernard? Why??? Yet he is playing Sandro who is leaving. Davies as captain... Oh dear.
James Marshall
115
Posted 29/08/2018 at 18:49:08
Stekelenburg, Kenny, Holgate, Zouma, Digne, Sigurdsson, Davies, Dowell, Ramirez, Niasse, Calvert-Lewin.
Subs: Virginia, Baines, Walcott, Tosun, Schneiderlin, Coleman, Pennington.
Kevin Prytherch
116
Posted 29/08/2018 at 18:51:56
Bernard being saved for the league? Unfair to play him twice in a week for his first competitive games if he is.
Lookman on his way?
Sandro staying?
Made up for Davies, he'll be buzzing and will hopefully reflect this in the game.
Steven Jones
117
Posted 29/08/2018 at 18:52:24
Sorry guys, I have only just realised, we have a chance of playing a group of players that won the World Cup!
Kenny
Calvert-Lewin
Lookman, and
Dowell
And they dominated the assists, goals and leadership of that team. And some of us are concerned about keeping momentum?
These guys are winners and will stand and fight. I hope and believe Mr Brands has this vision in mind. He would have watched the final and see these guys take on the world and win.

Tom Bowers
118
Posted 29/08/2018 at 18:54:07
Huddersfield had 10 changes for their game last night so it follows Everton may do the same and save most for the Huddersfield game on Saturday.
Brian Williams
119
Posted 29/08/2018 at 18:54:42
Surely Sandro can't be travelling tomorrow for a medical with Real Sociedad if he's playing tonight?
They just wouldn't risk that, would they?????
Steven Jones
120
Posted 29/08/2018 at 18:57:26
I don't understand the formation, any ideas guys?
BTW, hoping they are sitting on Lookman.
Kevin Prytherch
121
Posted 29/08/2018 at 18:59:55
Stephen @120,
I reckon it's Davies sat in the Schneiderlin role with Sigurdsson and Dowell further forward, Sandro and Calvert-Lewin as inside forwards flanking Niasse.
I reckon he's not predicting a lot of defending.
Karl Masters
123
Posted 29/08/2018 at 19:04:08
Lookman not even in the 18-man squad. Sandro starts.
Bizarre if rumours Sandro is leaving are true, and Lookman seems a long way from the first team for £22m to be rejected.
Steven Jones
124
Posted 29/08/2018 at 19:06:18
Thanks, James @115
I forgot the kock-off was 7:45.
Thanks for the team news, shocking that it is for the front players, our record signing Siggy is showing his metal, and the boss is giving him more fitness tonight. I think he is a bottomless pit on energy and pressing; it will be interesting where he plays tonight.
Jim Bennings
125
Posted 29/08/2018 at 19:06:23
Is Bernard injured?
Surely this game should have been tailor made for him to get up and running?
John Pierce
126
Posted 29/08/2018 at 19:07:00
Extremely disappointed by that line-up. They may even win 5-0, but it sends the wrong message.
You put additional pressure on the game this coming Saturday which under any regime we should win hands down. By resting those players, you ultimately break the rhythm of the team.
I really hope it works but I'm far less confident about both fixtures now. With the international break following Huddersfield it just doesn't make sense to me.
Oh well.

Steven Jones
127
Posted 29/08/2018 at 19:07:58
Kevin @122 — that makes sense.
Mike Allison
128
Posted 29/08/2018 at 19:08:58
Calvert-Lewin and Sandro wide. Davies as the 'one' who sits, Sigurdsson and Dowell as the 'two' who go.
Silva has referred to his preferred midfield formation as a 'one and two', it looks like we'll see it tonight.
Looks like Lookman's leaving and Sandro's staying, which surprises me.
Peter Salisbury
129
Posted 29/08/2018 at 19:18:09
Mike 128: "Looks like Lookman's leaving..." according to the club website he's injured, which may be bollocks of course:
"Couple of injury concerns for the Blues ahead of tonight's game...
Idrissa Gana Gueye strained a knee in the 2-2 draw with Bournemouth on Saturday.
A groin problem has also ruled out Ademola Lookman, while deadline day arrival Andre Gomes has suffered a minor setback in his return from a hamstring injury and is expected to miss a further three weeks.
Fellow summer signing Bernard picked up a muscle strain in training and will be assessed tomorrow.
Club captain Phil Jagielka has sustained a knee cartilage injury and will be sidelined for the next three weeks."
COYB!
Neil Wood
130
Posted 29/08/2018 at 19:44:54
Sandro hat-trick – you heard it here first.
Add Your Comments
In order to post a comment, you need to be logged in as a registered user of the site.
Or Sign up as a ToffeeWeb Member — it's free, takes just a few minutes and will allow you to post your comments on articles and Talking Points submissions across the site.