Real Sociedad secure loan move for Sandro Ramirez
Thursday, 30 August, 2018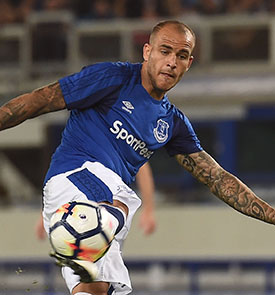 Sandro Ramirez has returned to La Liga on a season-long loan with Real Sociedad.
The forward was included in the starting XI for last night's Carabao Cup win over Rotherham and acquitted himself well playing in a wide role, weighing in with his first assist as a Blues player for the first goal.
Afterwards, manager Marco Silva indicated that it was his preference that Sandro, who spent part of last season at Sevilla, stay rather than leave on another loan but, ultimately, the 23-year-old's desire for guaranteed first-team football appears to have won the day.
The loan arrangement for Sandro, who was signed by Everton last year from Malaga in a £5.3m deal, was confirmed by the club this evening. He becomes the 13th Everton player to go out on loan for the full season since Marco Silva resolved to reduce the size of the club's bloated pool of senior players.
---
Reader Comments (167)
Note: the following content is not moderated or vetted by the site owners at the time of submission. Comments are the responsibility of the poster. Disclaimer
Steve Ferns
1
Posted 30/08/2018 at 14:52:15
This the rumour last night. I wonder why he played. No matter.
Question is:
1. any loan fee?
2. % of wages to be paid?
We need £6.5m a season to cover his reported £120k a week wages. So we need to be getting at least £4m from this deal.
Amit Vithlani
2
Posted 30/08/2018 at 14:56:19
I think Sandro will blossom in a deeper role, where he can run off the ball and use his technique in dangerous positions.
I do expect him to do well in a more technical league even if his stint at Sevilla was not great.
Hopefully he will do well and we can recoup a decent a transfer fee, as, unless Silva finds a system to suit him, he might be an expensive bench warmer.
James Kenny
3
Posted 30/08/2018 at 15:03:59
It's been a good transfer window to date as we've off-loaded a lot of has-beens, never-to-bes, a few with no pace, and a few more not interested, whilst the signings look interesting. Now, to cap it off, it'd be nice to get rid of Schneiderlin, Sandro, Tosun, Keane, Browning, Galloway, and Pennington.
Steve Ferns
4
Posted 30/08/2018 at 15:04:12
Do you mean a wider role, Amit? Or deeper as in a No 10 or a No 8 role in the middle?
Steve Ferns
5
Posted 30/08/2018 at 15:09:33
James, wait, what?
Get rid of Schneiderlin and Tosun? You know we can't sign replacements right?
Why get rid of Browning, Pennington and Galloway? Some perspective here, each of those players barely earns in a YEAR what Sandro makes in a WEEK. So, why the need to get rid so desperately?
I'd agree none of them will ever be good enough for a top 6 side. They're under contract and should make the correct move. It's critical for their careers. I hope all of them get to the right Championship club as each of them have shown enough to play at that level at least, I'd hate to see them drop through the leagues.
Sean Herbert
6
Posted 30/08/2018 at 15:11:17
Get rid of Tosun!!!? So who would we replace him with? Not sure I can see any positives in that idea...

Pat Kelly
7
Posted 30/08/2018 at 15:11:18
We're not going to make money out of this fiasco. It's just a matter of cutting our losses by getting someone to pay some of his outrageous salary.
Gary Russell
8
Posted 30/08/2018 at 15:16:28
Yet more negativity about Tosun. Madness.
Darren Hind
9
Posted 30/08/2018 at 15:21:43
A desperately poor signing.
I got a lot of stick on here for calling him the Spanish Andy Johnson when we signed him.
I deserved it, he's nowhere near that good.
Steve Ferns
10
Posted 30/08/2018 at 15:24:18
Haha nice one Darren!
Neil Wood
11
Posted 30/08/2018 at 15:35:42
Agree, Darren. madness.
Tosun is an excellent frontman and still learning this league. He will score and contribute far more than you think.

Erik Dols
12
Posted 30/08/2018 at 15:40:19
Let's just hope he finds his Malaga-form when on loan and we can sell him for a nice fee to some Spanish outfit.
Dave Abrahams
13
Posted 30/08/2018 at 15:56:43
Neil (#11), I hope you are correct; can't see it myself. I'd rather have Niasse with all his faults and he showed nearly all of them last night. For all of Tosun's apparent movement and awareness, there is not much of it in the penalty area, at both ends of the field!!!
Victor Yu
14
Posted 30/08/2018 at 16:23:22
He is better than Niasse and Calvert-Lewin.
Erik Dols
15
Posted 30/08/2018 at 16:25:23
He is better than Niasse and Calvert-Lewin.
So, Victor, going from your logic from other threads you must be glad he is leaving? Good players are prone to be called up by their National teams and then sold. We don't want to have that!
Amit Vithlani
16
Posted 30/08/2018 at 16:28:42
Steve, I am not sure what number you would assign, I am a bit old fashioned. It really depends on formation.
I suppose he would be an old-fashioned No 10 or No 11, an inside forward but deeper with license to go wide. Perhaps the right-side attacking midfielder in a X-mas tree.
He reminds me of Nick Barmby. I remember how badly he struggled until he began to feature as an attacking midfielder rather than an outright foward.
David Greenwood
17
Posted 30/08/2018 at 16:30:29
I see Victor's random Everton comment software is still working well.

Jim Bennings
18
Posted 30/08/2018 at 16:34:09
Kind of surprised really... if this move was in the offing. then why play him last night?
What's the news on Bernard because I thought a start last night against meek opposition would have been just the way to get up and running for the lad?
John Reynolds
19
Posted 30/08/2018 at 16:35:43
Andy Johnson? That's one I'd pretty much erased from the memory banks along with James Beattie.
James Stewart
20
Posted 30/08/2018 at 16:38:25
Considering his wages, he has to be up there with the worst signings we have made. The clearout of Walsh - Koeman signings continues.
Brian Williams
21
Posted 30/08/2018 at 16:39:46
For those who can't understand why we'd pay a portion of Sandro's salary... If reports are to be believed, we'll pay a third of his £120k per week in order for the loan to go ahead, saving us around £2.88M for this season.
Not to be sniffed at.
Frank Crewe
22
Posted 30/08/2018 at 16:42:43
I'd like to see both Sandro and Lookman stay if for no other reason than squad numbers. I think they both have something to offer and, in the event of a suspension or injury crisis they could fill in. They had a poor time under Koeman and Allardyce but they are gone. Under Silva players such as Tosun, Schneiderlin, and Keane have visibly improved and Sandro and Calvert-Lewin had good games last night.
I see no reason to write off decent players just because of last season. Every player should start the season with a clean sheet and should be judged on what we have seen of them under Silva who wants them both to stay.
If they want to go then fine. No point in keeping players who want to leave. But if they want to stay and improve under Silva then they should be given the chance to do so and we should back them. There will be other transfer windows and if they haven't made the grade by then we can still let them go.
Phil (Kelsall) Roberts
23
Posted 30/08/2018 at 16:42:46
James Kenny #3
So you would like our squad to be:
GK - Pickford, Stekelenburg
FB - Kenny, Coleman, Baines, Digne
CB - Mina, Zouma, Jagielka, Holgate
MF - Gana, Davies, Gomes, Sigurdsson, Bernard, McCarthy, Dowell, Baningime
Forwards - Walcott, Niasse, Calvert-Lewin, Richarlison, Lookman.
Yeah. Right. Ones in bold are available. The rest are injured, banned or with their head not in the right place. Seems the bench picks itself this weekend if you were the manager. Can we get 7 for the bench if you had your way?
Just don't apply for the job if Marco Silva leaves.
Drew O'Neall
24
Posted 30/08/2018 at 16:42:56
John – there's a lot of Everton centre-forwards I'd erase from the memory before Andy Johnson.
Victor Yu
25
Posted 30/08/2018 at 16:51:12
If anyone needs to go out on loan, it is Calvert-Lewin. He is clearly not good enough / not ready for the Premier League yet.
I just don't believe Sandro could become bad overnight. He was awesome in the tournament before joining us and there were two other big clubs after him. He looked good in the first two pre-season games after joining us.
If people are willing to give Keane a 2nd chance, then why not Sandro?
Steve Ferns
27
Posted 30/08/2018 at 16:52:47
Brian, if we pay £40k a week, then we pay £2.08M of the £6.24M a year wages. Saving us over £4M. It'd actually be a bit less than £4M as it'd be for a 9- or 10-month period rather than the full 12 months. But as you say, £4M a year is a big saving.
Amit, I can't see how Sandro could play as centrally as you suggest. He can't play Sigurdsson's role as he doesn't have Sigurdsson's passing ability.
I rather think he's better in the Richarlison position. That is standing in the channel. The new buzz work for the channel is the "half space", and this basically means the gap between the full-back and the centre-back. What Richarlison does is he drags the fullback inside and creates space wide for Baines to get forward unmarked. Fullbacks and centre-backs hate a wide player driving inside at speed as they have confusion over when to pass the man over to each other and this can be exploited. Mirallas did most of his best work doing this, and Richarlison scored his best goal cutting into this area against Wolves.
This is where I believe Sandro would be most effective and would have the most space to get the ball to feet, stretch his legs and run at defenders and get a shot off. Centrally, most teams have a block of 4, namely 2 CBs and 2 DMs and there is no room here, and you need a clever player like Sigurdsson to find the room, and quick passing to move the opposition about to create space to run into. I don't think this is Sandro's game.
Brian Williams
28
Posted 30/08/2018 at 17:06:37
Steve. I was working on £80k saving per week x 36 weeks remaining (9 months Sept-May) equalling £2.88M.
I think you're using your 9-5 way of working out bills, mate... lol!

Amit Vithlani
29
Posted 30/08/2018 at 17:07:00
Steve – not suggesting Sandro can fit into our starting XI. I also don't think he belongs on our bench.
What I am saying is in my view he needs to go to a more technical / less physical league and play for a side with a formation that suits him. The whole number thing you use confuses me as it means different things in different formations.
I think a team playing two attacking midfielders or inside forwards behind a lone forward, with deeper lying wide men, would work for him. It seems he is suited to a deeper role where he can run into space and use his technique in dangerous areas.
I felt this was Nick Barmby at his best, thriving in Venables x-mas tree.
Thats just my humble take. I doff my cap to your tactical know how – so would not disagree with a word you are saying if you think he is a No 11.
Brian Williams
30
Posted 30/08/2018 at 17:12:53
Isn't a Number 11 a left winger?
Steve Ferns
31
Posted 30/08/2018 at 17:29:47
Fair enough, Brian. You're right.
Amit, I think an 11 as in an inside forward coming in off the left flank in exactly the way Richarlison does.
Conor Skelly
32
Posted 30/08/2018 at 17:44:25
I like Sandro and hope he stays.
James Newcombe
33
Posted 30/08/2018 at 18:00:34
Why are people moaning about Tosun? He might not be scoring goals at the moment; but, if you can't see the contributions he's making, then football is lost on you.
Jerome Shields
34
Posted 30/08/2018 at 18:05:02
Silva's assessment of Sandro must have come out okay. There has been talk all summer of him going out on loan and Real Sociedad are no RB Leipzig.
I think he will be staying unless he demands a loan. On his play, he is not up to the standard of the Premier League and was not worth the contract he was given. But he seems to be in Silva's plans and must be showing something.
I wonder how he would get on playing with Bernard and Gomes? Who may suit his style of play better. . .
Darren Murphy
35
Posted 30/08/2018 at 18:09:37
Get rid of Tosun? Holy fuck me sideways...wtf .
Darren Murphy
36
Posted 30/08/2018 at 18:11:30
Agreed, Victor and Conor.
Steavey Buckley
37
Posted 30/08/2018 at 18:16:27
Are Everton becoming the 'try before you buy' club?
Dave Abrahams
38
Posted 30/08/2018 at 18:21:36
James (33), fair enough. Tosun doesn't do it for me, maybe has you say his contribution is just lost on me. If you like him, that's fine...I might see what you see now the more I see him; I hope so.
Dermot Byrne
39
Posted 30/08/2018 at 18:22:17
Steavey #37: I think that has previously been the approach but think we may be moving away from that now. If the new scouting is as good as we are led to believe we may have better recruitment..
John Pierce
40
Posted 30/08/2018 at 18:29:08
Potentially a player in there, but at this time the wages, which are more important to the club to trim, rather than finding out if he can actually get up to speed.
I personally think he's still in shock from the offer we gave him last year. A relative unknown, lad here's £120k/week, gracias mister Bill. Stunned ever since.
Derek Knox
41
Posted 30/08/2018 at 18:58:44
John @40, agree there, how long do you wait for promise or potential to turn into actual consistent performances?
How can he possibly be on that Lottery Win, on a weekly basis, baffles me to be honest?
His work rate cannot be faulted whatsoever, if Lookman was to go, which is looking increasingly likely, and Niasse was to move too before the Euro Window shuts, he may be worth keeping, but it's all ifs and buts.
David Pearl
42
Posted 30/08/2018 at 19:49:51
Guess that's why he had his best game yet for us yesterday.
Brian Harrison
43
Posted 30/08/2018 at 20:59:25
Everton confirm Sandro on a season long loan to Sociedad.
Colin Glassar
44
Posted 30/08/2018 at 21:18:37
Sandro reminds me a bit of Diego Forlan when he was here with Man Utd. He couldn't hit a barn door but then went to Spain and couldn't stop scoring.
I hope the lad recovers his form and confidence.
David Pearl
46
Posted 30/08/2018 at 21:26:11
He went to Spain last season too, Colin, and couldn't hit 3 barn doors. I'm not holding my breath. I'm thinking we won't get rid of him till the final year if his enormous contract. Who else will pay anywhere near those wages?
Once again, brings me back to Steve 'Wally' Walsh. We need him in the stocks next to Dixie's statue, part of the pre-match fan park area.
Gareth Clark
47
Posted 30/08/2018 at 21:27:28
Good luck to him – always seems to have a good attitude & work ethic.
Paul Birmingham
49
Posted 30/08/2018 at 21:50:44
In my view, Sandro been played out of his most effective position. He's a box player and no more as he lacks natural drive, pace and stamina to play elsewhere.
He's quite an intelligent player but so far thus he's playing too deep or too wide to be effective and it's like being a player down sometimes.
I don't know the rationale for Steve Walsh's take on him, but he did show a few good touches in his first game in the last pre-season friendly at Goodison Park last summer, but that in hindsight has been, along with a few decent passes and his goal in the Europa League last season, his only contribution.
Square peg in a round hole, but on face value, he seems a decent lad but he needs to be playing at his age.
It beckons what could or will happen to Galloway, Browning, and to a lesser degree Dowell and Davies, the latter in the next 12 months, possibly, if they don't break into the squad as regulars, into the starting 11.
I hope Sandro has a great season for Real Sociedad, there must be a change of luck for him very soon.
Let's hope we can beat Huddersfield!
Jon Withey
50
Posted 30/08/2018 at 21:52:28
Remember watching Forlan later in his career for Uruguay and thinking he was the complete striker – not sure Sandro will get there!
Gareth Clark
51
Posted 30/08/2018 at 22:01:46
Paul #49
Completely agree – I think he'd be fantastic in a front two, playing through the middle. He is slippery & quite strong for his size & has a great shot on him.
But he isn't a winger – or, as you say, it isn't his best position.
Mike Gaynes
53
Posted 30/08/2018 at 22:16:05
David #17, you crack me up. Always. But it's not software, it's just a low-tech recurring brain cramp.
James Kenny
54
Posted 30/08/2018 at 22:19:31
Phil @23,
Our next game is the 1st and after that the 16th – by then, you'd expect Mina, Jagielka, Gueye, and Bernard to be fit and, soon after, Richarlison and Keane available.
I can see a reason to keep one out of Galloway, Browning, or Pennington but not all three and for their benefit now they need to move on as I cannot see a situation where they'll play.
The real issue then is do we sell Lookman? For me, No.
Do we sell Schneiderlin? Absolutely!
Will Tosun ever make it? For me... No, as he's just too slow.
I hear what you say, though, about squad sizes.
Mike Gaynes
55
Posted 30/08/2018 at 22:19:58
Gareth #48, Beni badly injured his ankle in a workout in Austria. According to Royal Blue Mersey, he was still on crutches yesterday.
Eddie Dunn
56
Posted 30/08/2018 at 22:23:04
Sandro – we used him mostly out wide so how can we judge him fairly?
Tosun is a superb finisher – he will prove the doubters wrong.
Calvert-Lewin is a rough diamond, but will he get enough minutes to progress, rather than having a season in a lower league?
Frank Wade
57
Posted 30/08/2018 at 22:34:04
Good luck to Sandro, never worked out for him but it wasn't for the want of effort.
Roll back 12 months and we were all applauding Steve Walsh for pulling off a coup, getting a 14-goal La Liga striker for £5.5M and, if I remember correctly, beating off competition from other clubs to sign him. The £120k salary is also up for debate as some sites quote £65k.
Steve Ferns
58
Posted 30/08/2018 at 22:55:18
Sandro isn't a box player. Watch his highlight reel. Count the number of penalty box goals he scores. The goals he scores from open play are all him scampering onto a hoof and running past people. Therefore, it is right to play him wide. He'd do even worse as a box player in England than in Spain.
For £120k a week, we're well rid. Feel sorry for the lad, as he hasn't had much luck, then again, he earns £120k a week, so no I don't feel sorry for him.
Colin Metcalfe
59
Posted 30/08/2018 at 23:12:32
Bugger!!! I was hoping he could stay and fight for a place in the team. A useful player although admittedly we haven't seen the best of him in his time here.
So we are left with Calvert-Lewin and Niasse as back up to Tosun – both of whom are inferior to Sandro, in my humble opinion.
Matt Butlin
60
Posted 30/08/2018 at 23:17:00
I remember when we were all bricking it when the rumour came out that Real Madrid were trying to sign Sandro from under our noses.
Also. Reading earlier coments. I think Tosun is class. His has obvious talent, can finish and occupies defenders so the likes of Richarlison can operate.
Paul Mackay
61
Posted 30/08/2018 at 23:50:37
I don't understand this at all. How is he ever going to get used to English football if we keep loaning him to the Spanish league? I assume Everton must have made their mind up on him and that he has no future (which contradicts what Silva said the other night).
Dan Davies
62
Posted 31/08/2018 at 00:13:29
I'd have Andy Johnson over this guy any day of the week, Mr Hind. Not good enough, fuck him off.
Jamie Crowley
63
Posted 31/08/2018 at 00:22:08
The kid doesn't lack the one trait every footballer should have: effort.
I wish him well. It's just not going to work out here at this point in time.
We need to offload salaries and we've done that. Even if partially, it's a positive move for the Club.
Brands has done one hell of a job. Trimming this squad, coupled with the signings he's made has been a masterstroke.
Peter Thistle
64
Posted 31/08/2018 at 00:32:03
Thought he looked sharp in pre-season when he first signed but hasn't stepped up another gear. He isn't meant for the Premier League so good move all round. Still can't believe they paid him so much on his contract, what were they thinking?
Barry Jones
65
Posted 31/08/2018 at 03:22:22
What baffles me is that, after the Rotherham game, the manager said: "I like the guy and want to keep him". A couple of days later he is gone.
Surely it takes longer than that to settle these deals? Not that I want to keep him but the communication lines in the club appear to not function too well.
Daniel Lim
66
Posted 31/08/2018 at 03:31:28
I still remember last year June when his transfer was a hot topic, with rumours of him showing up in a hotel in Liverpool, picture of him (allegedly) wearing headphones walking past a table in the hotel cafe etc.
Is he really that bad? I have no idea. Didn't see him much, if at all.

Bobby Mallon
67
Posted 31/08/2018 at 05:46:57
Paul McCay @61 — this is not about talent; this is about balancing the books, plain and simple. Watch as Lookman is sold today (I hope I'm wrong).
Michael Burke
68
Posted 31/08/2018 at 06:17:12
Daniel #66, yes he is! Someone mentioned him being awesome in the tournament before we bought him. I think you may have been watching the wrong player. He stood out for all the wrong reasons.
Victor Yu
69
Posted 31/08/2018 at 06:26:14
Sandro was awesome in that tournament that both Dortmund and Atletico Madrid were rumored to be interested. I just don't believe he would become terrible overnight (he still looked sharp in the first two pre-season games).
But the same thing happened to Deulofeu too. He was always awesome playing for Spain's U21.
Maybe that's our luck.
Gareth Clark
70
Posted 31/08/2018 at 06:38:51
Mike #55
Thanks for the news! There isn't anything on the site – with all the injuries – it's the first time I've been thankful for an international break!
Mina
Gueye
Lookman
Keane
Gomes
Bernard
Jagielka
Baningime
McCarthy
And Richarlison is suspended 😮
Hopefully a lot of them will be back by the end of the break.

Jim Harrison
71
Posted 31/08/2018 at 07:24:02
Hope he does well, if only to boost his transfer value.
Ian Bennett
72
Posted 31/08/2018 at 07:57:59
Agreed, Jim – we've got to hope Sandro, Martina, Vlasic, Mirallas, Besic and Bolasie all impress to rescue the fuck-up that was last summer – that's potentially £30-40m+ towards the new striker fund or converting Zouma or Gomes into permanent deals.
Hugh Jenkins
73
Posted 31/08/2018 at 08:03:57
Bobby (67) - I hope not, as that would seriously undermine Silva. He is on record as saying that in his view Lookman is the "present and future" for this club. So, to sell him now, unless he has put in a written transfer request, would hardly send out the message that the board are fully supportive of their manager.
John G Davies
74
Posted 31/08/2018 at 08:04:50
Barry, 65
The alternative was Silva to say he is not in my plans at all, thereby weakening the club's hand in negotiations of how much of Sandra's wages Real Sociedad pay.
Jerome Shields
75
Posted 31/08/2018 at 08:14:50
He must have wanted out and demanded a loan.
Martin Berry
76
Posted 31/08/2018 at 08:40:12
I am amazed as to how many players Everton have managed to "shift", the majority on loan.
I will be even more amazed if we can remove them on permanently; it will be interesting to see how Marcel concludes the deals.
John Graham
77
Posted 31/08/2018 at 08:47:25
Seems to be whittling the squad down nicely now so a few of the kids might get the chance to prove themselves.
Talking of great forwards, how's about Bernie Wright? Now he was a forward... or was he a farmer? I couldn't work it out at the time.
Brian Williams
78
Posted 31/08/2018 at 08:54:14
Sandro's had his chances, IMO. He hasn't had a long run in the side but there's a good reason for that. He's not good enough. He wasn't good enough for Sevilla either when he went on loan to them.
Yes other clubs may have been trying to get him when we were but Sevilla saw enough to not want to keep him. He was dropped from their squad completely at times so let's not use our blue-tinted specs and claim that he'd be a world beater if given the chance.
People said the same thing about Deulofeu and how we'd regret letting him go and how the management didn't know what they were doing.
Deulofeu was struggling to get into last season's Watford team.
It's almost déjà vu!
Steve Ferns
79
Posted 31/08/2018 at 08:58:59
Victor, was he awesome in that tournament? I watched only one game but he did nothing in that. Just a couple of dribbles down blind alleys.
Then there's the goal tally. He scored one or was it two in that tournament. He didn't score many for Malaga either, but we (me too) said he'd score more for a better side.
I hope he does well for the Basques and gets a move there and we're rid of his wages. Good luck to the fella.
Jon Withey
80
Posted 31/08/2018 at 09:03:03
I think Silva is savvy enough to put the club in a better bargaining position for selling players. A bit of a poker face as to how desperate we are to loan or sell was needed with Sandro.
Lookman might be different though – unless they reckon they can get £25 million+ and are playing the hard sell.
I doubt he feels undermined and is pretty clear on what is going on.
Victor Yu
81
Posted 31/08/2018 at 09:07:16
I don't think there is much of a difference between Sandro and Calvert-Lewin based on performance in the past year. In fact, I think Sandro is a better player than Calvert-Lewin. So I don't understand why we keep saying give Calvert-Lewin time while we want to show Sandro the door as soon as we can.
Jon Withey
82
Posted 31/08/2018 at 09:27:19
Because Calvert-Lewin scores goals and gives defenders problems? I feel like I've got at least 18 months of sticking up for him to do.
Nothing against Sandro but Calvert-Lewin has contributed more over the last 12 months — including the national side.
Darren Hind
83
Posted 31/08/2018 at 09:34:33
Have to agree with Dave A about Tosun: another awful buy.
Strikers are judged on the goals they score. I was going to dub him the Turkish Andy Johnson but he'll have to get into double figures to earn that right.
Brian Williams
84
Posted 31/08/2018 at 09:35:05
Except, Victor, without Calvert-Lewin we'd have drawn 1-1 in midweek so he's done more in that one game than Sandro has during his albeit brief spells.
Jim Harrison
86
Posted 31/08/2018 at 09:52:37
James 33
Agree, and the bigger picture, the front 3 are doing well as a group. We have scored 2 or more in every game so far.
It doesn't matter who scores as long as we are getting the goals. Look at Liverpool, Man City or Spurs. They have goals across the front line. We seem to be where Koeman wanted us to be upfront now, but with better signings than last year. Given time, his goals will come.
Chris Gould
87
Posted 31/08/2018 at 10:01:33
So that's Mirallas, Bolasie, Vlasic and Sandro gone. I was convinced Lookman would leave today but that would leave us worryingly short of wide men.
With Bernard not being fit, Richarlison suspended, and Walcott prone to niggling injuries, surely Lookman has to be told that he's going nowhere? I think it's obvious that he wants to leave, but we need to stand firm and he needs to be professional.
John Hammond
88
Posted 31/08/2018 at 10:31:54
The negativity towards Tosun is mental. We only signed him in January and in that time he's had to adapt his games twice to suit two different managers in a new country and league. This season he's done exactly what Silva has asked of him and, while he's not scored, he's assisted twice. Goals will come.
Paul Birmingham
89
Posted 31/08/2018 at 10:35:28
Respecting all views but he hasn't managed any of his wonder strikes when he's played in the Premier League, though his Europa league goal, showed a glimpse of what he's capable of, cutting in. Of course, he's been here half a season, so hasn't had a full season to prove himself. But on merit, he's done very little and so can have no complaints.
Depends on everyone's view of a position and role. Sandro has a good dig but, in my view, he's never an out and out winger, inside right at best, and would only be a support player to a main strike line, at best, if the team was down to a skeleton squad. Based on his touch, passing and work rate when he has played, I reckon he'd struggle in the Championship and Scottish Leagues, which are brutally physical.
He's not an attacking midfielder as he hasn't got the engine, to be a midfielder nor play to Everton's current style. Perhaps once he started out as a midfielder or winger, and shone when he was younger. The pace of the Spanish game is pedestrian compared to the Premier League.
A shame but his Spanish wonder goals, were very good, but to date his input at EFC, suggests that the Premier League, isn't for Sandro, he isn't mentally and physically set up for it.
He's a young lad, he could still strengthen up, but I'm not sure how he'd cement a regular place in our starting 11, not now or next season, unless there's a massive mental shift of playing style, on his behalf.
Silva is working to his plan and early results are encouraging, accepting defence, needs improving.
Good look to him and I'll be looking at Sociedad's results, and hope he's playing and scoring, but M&M's strategy is being implemented and the cull is also encouraging better competition for places, and the clubs bottom line will benefit, saving money.
Priority is Huddersfield, could be a line of buses but I'm expecting craft, guile, teamwork, and composure to win the day.
The next month is tough but let's hope the team keeps the momentum going.
Jerome Shields
90
Posted 31/08/2018 at 10:53:53
Tosun has not beaten his marker in any of the games so far and his play mainly consists of laying off balls and often coming deep to do so. Maybe Silva wants him to do this, but you would think that a centre-forward should be trying to play his marker out of the game and pushing the defensive line back and trying to get beyond it.
If the centre-forward isn't doing this and is just laying off passes, it allows the defence to stay organised, maintain their shape and push the defensive line up. If they get it into their heads that the centre-forward hasn't got the ability to beat his marker, they can really push. This happened regularly with Big Sam, where the centre-forward was dependent on loss ball. Anyway Everton's midfielders and wingers should be providing quality play instead of running onto laid-off passes.
Tony Everan
91
Posted 31/08/2018 at 11:17:51
Sandro has got what it takes to be a top player, he is the type of player who will improve with age. Watching him on the pitch last season he was all over the place, the thought process was being blanked out by his insatiable desire to run and do well.
When he matures a bit the mental side of his game will improve and he could then become a really top player. He is 2 years away yet.
The loan move is best for him, he can mature a bit more and will have the confidence to do well in the Spanish league. I don't think we should completely write him off, he could yet have a future here.
Brent Stephens
92
Posted 31/08/2018 at 11:29:09
Above all else in supporting Everton is the ecstasy of Everton scoring. I don't care who scores. If Tosun contributes intelligently and tirelessly to moves that lead to Everton goals but doesn't score many himself, no problem for me. I can appreciate the contributions that are made by those who assist.
Silva might want Tosun to score more goals (though Silva has only recently joined us, and Tosun not much before that). If so, either Silva has Tosun playing in inappropriate positions, or Tosun isn't playing to orders. My sense is that Tosun is playing (effectively) to orders, as part of a fluid, mobile, interchanging attacking "unit".
Brian Williams
93
Posted 31/08/2018 at 12:57:05
Derek Knox
96
Posted 31/08/2018 at 14:20:49
Tony @91, there's something about Sandro that has us liking the lad, yet considering he is a striker, his goals and even assists, are rarer than rocking horse shit.
I do wish him well, you never know he may come back after discovering he has been playing with his boots on the wrong feet, and take the Premier League by the scruff of the neck.
However, we can all dream I suppose, I just hope we don't miss him too much, oh wait a minute he hasn't played much for the first choice team all.
Steve Ferns
98
Posted 31/08/2018 at 14:44:14
If Sandro was on £20k a week or less (even that is an astronomical £1m a year and more than Davies, Holgate or Calvert-Lewin is on), then sure, let's all get behind Sandro and give him every chance and hope he can do it.
The reality is he's on £6m a year, for 5 years. This transfer will cost us around £38m (if the reported £120k a week is accurate). Would you really want to give Sandro a chance for £38m or get shut and try to recoup every penny you can? If he does well on loan we can get the £6.75m transfer fee back, the wages are largely covered these two loans.
Imagine the problems in the dressing room last year. Calvert-Lewin is on comparative peanuts, £5k a week or something, and there's £120k a week Sandro sat there. He must have been banging on Walsh's door (when he's not living it up in Italy or one of his other fruitless jaunts) demanding a payrise. same with Tom Davies and Davy Klaassen, and then Holgate and Keane, or Kenny and Martina. Wages will have caused a lot of friction. Getting the likes of Sandro out of the club, and making sure the high earners are earning their wages and being the stars of the side will improve the dressing room.
Wages do play a massive part to footballers. I read about Messi and Ronaldo. Both are on astronomical sums, and you'd think they wouldn't be bothered about getting a little bit more. No, each of them was determined to have the kudos of being the best-paid footballer in the world. So, whilst the actual money in their hand didn't matter quite so much, it was the competitive nature of the salary reflecting ability, pecking order in your side, and kudos against your teammates for the national side.
Brian Williams
99
Posted 31/08/2018 at 15:15:41
And your last paragraph, Steve, illustrates why "some" of these overpaid prima donnas are complete and utter arseholes!

Mike Gaynes
100
Posted 31/08/2018 at 15:22:09
Tosun will get well into double figures, and thus score more than our top scorer last season. I predict he will also have at least five assists on layoffs like the one to Richarlison.
Jerome #90, "Anyway Everton's midfielders and wingers should be providing quality play instead of running onto laid-off passes." Why isn't running onto laid-off passes quality play? This is clearly how Silva is coaching Tosun to play, and he has repeatedly sprung Charli and Walcott into space. To my eyes, our attack is operating much more smoothly than last year.
Brian Harrison
101
Posted 31/08/2018 at 16:02:14
Mike (#100),
I sincerely hope Tosun does score more than the 10 goals that Rooney scored last season, but remember last season's top scorer played more games in midfield than he did as a striker.
I think, now Lookman is staying, I can see Silva playing Richarlison up top with Lookman and Walcott on the wings in a couple of weeks time. Yes, Tosun has improved under Silva, but I don't see him scoring enough goals to keep a regular place.
I just never see Tosun terrifying defenders, he has no pace and is often outmuscled in 50-50 challenges.
Andrew Ellams
103
Posted 31/08/2018 at 16:11:14
I don't see Tosun scoring bucket loads this year simply because I see the goals being split between the front 3. This isn't a striker being serviced by two wide men operation.
Harry Hockley
104
Posted 31/08/2018 at 16:12:56
Happy that we're really moving the deadwood out and fast.
Simply not good enough for Everton, lacks pace and looks like a cat on a hot tin roof every time the ball goes his way, poor all round but a decent enough lad maybe he can prosper in his homeland.
Good luck and thanks for the goal you scored and the wonderful memory.
Steve Ferns
106
Posted 31/08/2018 at 16:36:33
Brian, no chance will Richarlison play as the tip of the attacking spear.
Silva likes big strong strikers, like Tosun, like Calvert-Lewin, like Islam Slimani (formerly of Leicester and Sporting). He doesn't care if they score, and looks for them to create space and be a focal point and for players like Richarlison and Walcott to score instead. They have 5 goals between them in just 3 league games. Silva will be very happy with that, and clearly in his press conference, he did not care about the lack of goals from Tosun.
Richarlison does play up front, anyway. He's not a midfielder, he is just left of the striker and this is his position, and he will come inside, unmarked and score headers like against Southampton.
If he plays the Tosun role, then he's back to goal, he's getting battered (kicked up and down the pitch) and has few opportunities to run at anyone. This is not Richarlison's game. Let's leave him on the left, eh?
Paul Thompson
110
Posted 31/08/2018 at 17:03:58
For all his hard work Sandro has had his chance and he isn't suited to the Premier League. Tosun is an intelligent player who we know can score goals from last season. It's early days – let's see what he can do this season (to add to his two assists).
Darren Hind
113
Posted 31/08/2018 at 17:09:53
Steve 106
Silva doesn't care if his strikers don't score? You might want to give that a bit more thought...
You may want to start by refraining from calling them 'strikers'!

Brian Harrison
114
Posted 31/08/2018 at 17:10:22
Steve
My point about playing Richarlison up top is he obviously rates Lookman, so to fit Lookman Walcott and Richarlison in the team Richarlison in that case would play up top.
I wouldn't be to carried away with what Silva has done in the past as he has never had the money to spend that he has now, so with his former teams he has largely had to work with what he had. Let's not forget he took Niasse on loan at Hull and he may be many things but a big strong centre-forward he ain't.
I don't see Tosun as the long-term answer for the reasons I gave earlier. As Man City and Liverpool have shown 3 pacy forwards can take some holding. Yes you can say well Spurs with Kane and Alli arent particularly fast, but the difference with them is Kane is a brilliant target man who will hold the ball up, as well as scoring 20-odd goals a season.
If we are to challenge for a top 6 or top 4 in the near future we have to have 3 goal scorers up front, because our present midfield don't score many.
Mike Gaynes
116
Posted 31/08/2018 at 17:20:03
Brian (#101), like Steve I say no way. Richarlison isn't suited for up top... you want him wide, attacking the play in front of him, like Ronaldo at Real Madrid. That role requires a strong holdup presence in the middle.
As I see what Silva has done so far, Tosun's job is to play the Benzema role, not "terrify" defenders, and he's well suited for it. I predict Tosun will remain our #1 striker for quite some time.
Steve Ferns
117
Posted 31/08/2018 at 17:20:50
Darren he said the goals will come, but the point is he plays a front 3, and if the front 3 are scoring as a whole 5 in 3 games with one from Keane, then he's not too bothered about Tosun drawing a blank. Tosun has not had an real opportunities though, and works hard creating space and chances for others. So, why wouldn't he be happy with that? Why would he change things up to get Tosun scoring again if it then meant the goals from the wide forwards dried up?
Brian, as in all things, the past gives you an expectation for the future. People go with what they know. Silva has always favoured a big strong single forward with runners off him. This is when he can attack teams.
When he plays defensively, like at Hull and Estoril he has played two strikers who split and run from inside to out, pulling the defence apart and creating space for runners from midfield in the middle. Niasse was someone who he had success with doing just this, running wide and taking defenders with him.
As for Tosun long term, it depends on what you want. Top 8, sure he's good enough. Top 6, probably not. Top 4, definitely not. Long term you'd be thinking a top class right back, maybe another centre-back, a Defensive Midfielder who can tackle and pass (Neves), and definitely a striker. Those positions I think need to be addressed in order to even get close to getting into the top 4. But for this season, Tosun will do fine and we should get 7th quite easily.
Mike Gaynes
119
Posted 31/08/2018 at 17:28:54
Steve #117, spot on except for your right-back comment — Seamus is only 30, and I'm very high on Kenny, so I think recruiting for that position will be a very low priority.
Brian Harrison
120
Posted 31/08/2018 at 17:29:42
Guys, I beg to differ over whether Richarlison can play as the lead striker, but if your right and our forward line is Richarlison, Tosun and Walcott, why did we not let Lookman go to RB Leipzig.
Also, Silva has said Lookman is the present as well as the future, so I don't think he envisages Lookman just being a bench-warmer.
Steve Ferns
122
Posted 31/08/2018 at 17:30:42
A couple of years time, Coleman might be reduced, Mike. Kenny has a lot of improvement to make (and I have expectations he can do it). Brands should be making plans for a right back, it doesn't mean we have to sign him.
Gavin Johnson
123
Posted 31/08/2018 at 17:32:55
The goals haven't come yet this season for Tosun but we've seen he is a clinical finisher when given the opportunity. Irrespective of no goals I appreciate his hold up play and the goal assists. He will score when he gets the service. To say he is a crap buy doesn't add up for me.
Steve Ferns
124
Posted 31/08/2018 at 17:35:19
Fair enough on differing, Brian. But, Silva plays a high tempo energetic system. This means we will have injuries. Players will need rests. Davies is clearly third choice midfielder, yet he's played 3 of the 4 games so far.
Lookman if he was committed and fit, would be coming off the bench most games, either for Richarlison or for Walcott, and would have started on Wednesday and would be starting the next to league games. So not quite a bench warmer, but like Tom Davies, a vital first team player.
Mike Gaynes
125
Posted 31/08/2018 at 17:35:28
Two words, Brian... squad rotation. We need three wings, not just two. And Lookman is unproven here – even at RB Leipzig, he wasn't a full-time starter.
Mike Gaynes
126
Posted 31/08/2018 at 17:37:38
Steve #122, in a couple years time we'll all be reduced!
Steve Ferns
128
Posted 31/08/2018 at 17:39:37
Speak for yourself Mike, I'm in my prime!
Dermot Byrne
131
Posted 31/08/2018 at 17:51:11
I wonder if Davies plays tomorrow? Can he deal with Premier League yet?
Worst thing for me is the internal battle of looking forward to Schneiderlin playing well after getting to the stage last season where I would just watch him alone to see how bad he was.
Fickle or what?
Steve Ferns
132
Posted 31/08/2018 at 17:53:59
Dermot, Gueye is ruled out for tomorrow. Davies plays.
Anyone seen that Lacina Traore just cancelled his contract with Monaco? Who you say? That 7 foot tall fella Martinez signed on loan and he scored with more or less his first touch and then went off injured with his second and was out until after the loan ended.
Not saying we should sign the fella, just a remember him.
Darren Hind
133
Posted 31/08/2018 at 17:59:53
Steve
The whole team is contributing. Tosun no more than anybody else, but the others have to do their day jobs too.
A striker's job is to score goals and, if Tosun doesn't start scoring, he will be out on his arse. Especially if Clavert-Lewin continues in the same vein.
Geoff Lambert
136
Posted 31/08/2018 at 18:07:40
Darren. I take it you mean scoring against second-rate opposition?
As he can't score against any half-decent team.
Dermot Byrne
137
Posted 31/08/2018 at 18:09:33
Ta Steve. Wasn't sure of length of injury
Davies should feel v confident. Still cannot forget "that goal" re Man City. It was so so good.

Darren Hind
138
Posted 31/08/2018 at 18:32:23
Geoff,
Calvert-Lewin didn't choose the opponents he simply slotted the chances to put us through to the next round.
That's a good thing... isn't it ?
Jay Wood
[BRZ]
139
Posted 31/08/2018 at 18:41:11
Geoff @ 136:
"[Calvert-Lewin] cant score against any half decent team."
Have Chelsea and Arsenal, teams Dom has scored against, fallen so far in your estimation, Geoff..?
Geoff Lambert
141
Posted 31/08/2018 at 18:58:46
Jay, Darren,
I would love him to come good for us, but just can't see it happening. 1 goal in every 9 games is not very good for a midfielder never mind a Premier League striker.
I can't see him getting into any other Premier League team lineup; he might get a start in the Championship but only a mid-table team.
I was referring to Champions League teams, Jay.
Jay Wood
[BRZ]
144
Posted 31/08/2018 at 19:31:25
Geoff @ 141.
"I was referring to Champions League teams, Jay."
Of course you were, Geoff (cough!).
Because Chelsea and Arsenal are not regular Champions League qualifiers, are they? (Oh! Hang on! Chelsea were playing in the Champions League as English Champions last season when Dom scored against them...).
11 in 58 Everton appearances for Dom, many of those as a sub. So closer to one in five, rather than the one in nine you claim. Pretty decent for a 19-20-still only 21-year old who isn't a regular pick.
I'm guessing scoring the winning goal in a World Cup Final doesn't cut much slack from you with regards to Calvert-Lewin either, Geoff.
Geoff Lambert
147
Posted 31/08/2018 at 19:36:13
World Cup Final!?!? Haha – the player of the tournament who scores goals for fun can't even get into the Red Shite's squad. Says it all really. He is not good enough in my opinion.
Wow, 11 in 58 – we will struggle to hold on to him then. Not.
He will be plying his trade of 1 in 5 as you say in the Championship in the not too distant future.
ps: It's 5 in 43 Premier League appearances, if you're happy with that return, Jay????
Steve Ferns
149
Posted 31/08/2018 at 19:48:35
Geoff, you're being very unfair.
Calvert-Lewin has played 58 times for Everton and scored 11 goals. However, he's only been on the pitch for 2,914 minutes. If you work it out that's slightly better than 1 goal for every 270 minutes (or 3 games).
Also, he's played less than half of those games stuck out on the wing. And let's not forget he's only just turned 21. How many goals have his peers Abraham's and Solanke scored in the Premier League? The former has had to drop a division to get game time and the latter is supposedly off to Scotland.
Geoff Lambert
152
Posted 31/08/2018 at 19:52:00
Steve, he only played that many minutes for a reason, he is not good enough. Would you be happy if he was our main striker for the rest of the season? I for one would not.
Steve Ferns
154
Posted 31/08/2018 at 20:01:34
Geoff, I think that by the end of the season there is a good chance he will have earnt the right to be our main striker.
The question everyone asks is can he put the ball in the net regularly enough. You think not. I think so. By the end of this season we should be closer to settling that argument.
Taking away the issue over goals, I think he has everything else we need. He's lightning fast, fastest in the league did I read today? He's 6'2" so he's tall. He's quite strong but will get stronger as he gets older and fills out. He's got a good touch, quick feet, skilful with flicks and tricks, he works hard and runs the channels, he can run over the top, he can play back to goal, he can link up play, he can hold the ball up well, he can draw fouls, he's got a great temperament. people inside finch farm rave about him. Maybe he'll never be a 20 goal a season striker, but he offers so much more. I think he can be though. I have faith in our World Cup winner.
Jay Wood
[BRZ]
157
Posted 31/08/2018 at 20:15:05
Geoff @ 141 "I would love him to come good for us..."
Geoff @ 147 "He will be plying his trade in the Championship in the not too distant future."
Bit of slippage in the 38 minutes between the two posts.
Not much 'love' or patience from you there, Geoff.
Each to their own.
Jay Wood
[BRZ]
161
Posted 31/08/2018 at 20:39:35
Geoff @ 152:
"Steve, he only played that many minutes for a reason, he is not good enough."
The ONLY reason..?
Nothing to do with being just a 19-year-old with Lukaku in front of him in his first season?
Or just a 20-year-old last season when he was a regular pick under both Koeman and Allardyce in a struggling side, before getting injured for a third of the season?
Righty-oh!
John Daley
168
Posted 31/08/2018 at 21:04:07
Which Everton players were directly involved in more goals than Calvert-Lewin last season?
He started the season leading the line (way ahead of schedule) for a snail-paced, creativity-sapped outfit, spent large periods of games being instructed to get up and down the wing, even performing as a pissing wing-back at one point (a position he still managed to contribute an assist from despite being totally unsuited to the role), he ruffled the Man City defence single-handedly, won a decisive penalty against the Shite, scored against Chelsea and Arsenal, but he's a wasting pile of wank wipes because his goal ratio is gash in comparison to all his many peers currently ripping it up in the Premier League, like... erm... err... 'some other lad of the same age who is shit hot simply because he plays for someone else'.
Given the way Silva seems to want to set this side up and the attacking style opted for so far, then I would say Calvert-Lewin is already close to being the best option to start in the central role right now, with the added bonus of him being likely to get better and better the more starts he is handed giving him the edge in the long run as well.
The other strikers in the squad have certain qualities but their all-round game and athleticism doesn't come close to that of their younger colleague and any scope for improvement at this stage of their career is narrower than Skeletors arse.
Niasse is eager and has an eye for goal but the good stuff is often counteracted by the fact he's got all the control and technical ability of a runaway shopping trolley with 2 twatted wheels tossed down the fucking Exorcist steps.
Tosun is a tidy player, who can finish when found in a bit of space, but he sorely lacks a burst of pace and I've seen nothing so far to suggest he's anything more than a less Nigel Havers looking Nikica Jelavic clone.
Eric Paul
171
Posted 31/08/2018 at 21:05:27
Steve,
I'm with you on Calvert-Lewin, so much so, I'm having a score on him getting a full England cap before the end of the season. Maybe some on here should have the same bet on him not getting one?
Geoff Lambert
172
Posted 31/08/2018 at 21:08:25
Eric, when the fun stops... stop.
Steve Ferns
173
Posted 31/08/2018 at 21:12:38
John Daley, that was a belter of a post!
"He's got all the control and technical ability of a runaway shopping trolley with 2 twatted wheels tossed down the fucking Exorcist steps."
" I've seen nothing so far to suggest he's anything more than a less Nigel Havers looking Nikica Jelavic clone."
Superb mate! Really did make me laugh out loud.
I think Tosun is better than Jelavic, he's much stronger. He's lacking height to be a real strong Number 9 though, he's too small to get his head on crosses. And as you say he lacks pace. And you're bang on about Niasse. All his flaws were on show when he was deep against Rotherham.
Eric, I don't think people should bet against our own players. I hope anyone playing for Everton explodes into a great run of form and gets caps, goals, and all the accolades going, even if that's at the expense of my personal favourites.
Eric Paul
174
Posted 31/08/2018 at 21:13:41
The fun hasn't even started, Geoff!
Kieran Kinsella
175
Posted 31/08/2018 at 21:18:55
Looking at Lucina Traore's stats, since joining Monaco he has scored 12 goals in the last five years, with 5 of those being while on loan at CSKA Moscow. All-in-all, over his 11-year career, he has scored 36 goals in 81 games for Russian teams, 32 goals in 91 games in the Ivory Coast league, and 8 goals in 53 games split across France, Spain and England.
These statistics seem to imply two things: one being that he is crap. The second being that the Ivory Coast league is tougher than the Russian league. This is supported by the signings of Bilyaletdinov and McGeady.
My point in all of this is Vlasic has gone on loan to Russia... so, even if he seems to do well there... it means nowt.
Steve Ferns
176
Posted 31/08/2018 at 21:37:01
Kieran, you forgot to mention Niasse playing for Locomotive Moscow. He scored 19 in 42 and won Player of the Year.
Jay Harris
177
Posted 31/08/2018 at 21:40:46
John Daley
Brilliant stuff.
For me the big advantage Calvert-Lewin has is that he gets on the end of the 50/50s and holds the ball up. better than any of the others.
I don't think I've seen Tosun win a header from a ball launched up front but he is a clinical finisher (normally).
Niasse is just Niasse full of running and endeavour with a smile as wide as the Mersey and gets the goals (somehow).
If Calvert-Lewin adds the goals to his already arsenal of talent, he will be some player.
Tony Hill
178
Posted 31/08/2018 at 21:50:38
Calvert-Lewin is the fastest recorded player in the Premier League this season. Is he any good? Don't know yet. That flick for Sigurdsson last season against Huddersfield, and his goal on Wednesday suggest he is; he's a hell of a leap on him too. Other times, he looks horribly inept.
On balance, I'm still in the pro camp.
Jay Wood
[BRZ]
179
Posted 31/08/2018 at 21:56:26
Geoff @ 165.
Simple, really. You make the pretense of saying 'you'd love to be wrong' about Calvert-Lewin, but the message in all your posts in this thread is clear.
Without offering anything of substance or explicitly describing his failings as you see them – anything at all – as to why you are so dismissive of him, you just invent things which are demonstrably false, without actually offering an analysis on his football.
Together with what I see with my own eyes, I've done the research on Calvert-Lewin. He is way ahead in his development, appearances and goals in the Premier League than our own Graeme Sharp, or his contemporary, Harry Kane, were at a similar age.
Calvert-Lewin is doing just fine and dandy by me (and others, judging by this thread).
Eric Paul
181
Posted 31/08/2018 at 22:21:42
Steve,
Are you familiar with the saying, "Put up or shut up"?
Steve Ferns
182
Posted 31/08/2018 at 22:41:47
Put up or shut up what?
Tom Bowers
183
Posted 31/08/2018 at 22:59:38
Let's be perfectly honest, Sandro will never make it in the Premier League and I cannot fathom how he scored goals in La Liga but he has looked very poor with Everton.
Whilst nobody really knows what may have happened if given an extended run by this manager it has to be said that like Berahino he has become goal-blind.
Pennington and Besic are two others who can play a bit but have to stay down the pecking order behind more accomplished players at this stage.
Despite Calvert-Lewin's goals against Rotherham, he still has to prove he can do a worthy job in the Premier League. But, with neither Niasse nor Tosun setting fires, he may get a good chance under Silva but will remain behind Richarlison and Theo at the present time.
Jay Wood
[BRZ]
184
Posted 31/08/2018 at 23:12:24
Steve, I rather think Eric's challenge @ 181 is not to you, but to those bad-mouthing Calvert-Lewin not willing to take a contrary bet to one Eric is willing to make – that Dom will get a full England cap before the end of the season.
Andy Williams
185
Posted 31/08/2018 at 23:21:52
For my part, for what it's worth, this is a new start. We now have a team with pace and movement and will see how good all the team is.
Just get behind the feckin' players and try not to groan or shout derision at your particular scapegoat anytime they make a mistake – like so many are prone to do. It is this kind of mudslinging that promotes such negativity in the ground and had helped turned Goodison Park into a shadow of itself. Along with players like .....
Don Alexander
187
Posted 31/08/2018 at 23:42:13
Moon Drivel more like, Andy (#185). Great voice by the way and, after M&M fully bed the squad in, we may all be able to sing "We're Almost There".
Colin Metcalfe
188
Posted 31/08/2018 at 23:42:50
Tom (#183) — what do you mean "He is not good enough for the Premier League"? A whole host of Spanish teams were in for him and, let's be honest, most La Liga temas would wipe the floor against most Premier League teams.
Sandro is more than good enough but he needs to adapt and he hasn't had the chance, big shame we have let him go and we may live to regret it if Tosun gets an injury but then again we always have Niasse ffs!!
Gavin Johnson
189
Posted 31/08/2018 at 23:57:26
Colin #188
I'm with you, I'd have preferred Niasse to be offloaded than Sandro.
James Gardner
190
Posted 01/09/2018 at 00:10:49
Steve @164,
I'm looking forward to more attacking football, results are a bonus at the moment as I'm in the camp of giving the team and the management plenty of time to adjust.
So long as the team play with passion and purpose, I will be happy! The task that M&M have undertaken is nothing short of massive. I know the expectation is high but to me this is a three-year project and we cannot judge the team or the management until they have had long enough to implement their philosophies on the training ground and on the pitch.
I'm also looking forward to (hopefully) another tactical review of the game ;)
Tom Bowers
191
Posted 01/09/2018 at 02:18:07
Sorry Colin, Sandro has had his chances and has never once looked the part hence the loan deal as no team wants to spend money for him. Only Everton got stung for a transfer fee.
Barry Williams
192
Posted 01/09/2018 at 03:58:11
Just a little aside to the strikers debate and out and out goalscorers etc.
The last time we got Champions League, we had Marcus Bent upfront and, if my memory serves me right, well he scored a grand total of 7! Might need to check that!
I remember Yakubu scoring loads at Blackburn and they got relegated!
Bill Gienapp
193
Posted 01/09/2018 at 04:17:33
Tosun was on pace to reach double figures over the course of a full season, playing in Allardyce's braindead system. Not sure why it's a stretch to suggest he should bang in 12-15 comfortably under Silva.
But just to be clear, if he keeps on teeing up Walcott and Richarlison and we're winning games, I'm not sure what the problem is?
Eric Paul
194
Posted 01/09/2018 at 05:15:17
Thanks Jay, that is what I meant.

Andy Williams
195
Posted 01/09/2018 at 09:25:56
Fully warranted editing!
Dave Abrahams
196
Posted 01/09/2018 at 09:30:39
Don't get this, that Tosun set up Richarlison and Walcott for their goals, to me they both had a lot to do when taking their chances, both were individual goals for me.
Geoff Lambert
197
Posted 01/09/2018 at 09:55:47
Jay 179
Love the way you make things up ."You make the pretense of saying 'you'd love to be wrong' about Calvert-Lewin" bollocks, I never said that.
"Without offering anything of substance or explicitly describing his failings anything at all" Bollocks. 5 goals in 43 games in the league is not good enough.
"Together with what I see with my own eyes" Bollocks. Do you actually go to the game?
If you don't like my opinion tough. But don't fabricate something or try to belittle someone because they have a different point of view to yourself. There are enough keyboard warriors on here already.
Like I said in my post earlier, "I would love him to come good for us, but just can't see it happening." My opinion, if that's okay with you Jay??
Jay Wood
[BRZ]
198
Posted 01/09/2018 at 13:30:58
Geoff @ 197.
Thanks for the early morning chuckle.
Before I address your post specifically, let me first share with you something I wrote on here back in April, shortly after Dominic's 21st birthday:
"I really don't get the questioning and doubting some have about Dominic Calvert-Lewin.
"He is clearly highly regarded at Everton. Even last season [2016-17] under Koeman, he was frequently selected for the matchday squad ahead of the likes of Mirallas and Valencia, even though he was only 19.
"This season – just last month he turned 21 – he has been a virtual ever-present, contributing 8 goals and 7 assists across all competitions. He has excellent movement, showing, chasing and harrying for the ball across the width of the park. He has excellent control plus the ability to shield the ball well, Sharpesque-like. He is a good header of the ball. He has shown time and again he can take on and beat a man in tight quarters, with good pace to carry him away from chasing defenders.
"For someone of seemingly slight build, he handles the physical aspect of the game very well. He also displays canny game craft, as witnessed by his winning of penalties vs the 'poo and Brighton and in seeing Kyle Walker sent off at City.
"More than anything else he needs to sharpen his finishing skills [bolded, just for you Geoff], but again, he has already demonstrated a cool head and clean finishing. He needs to raise his consistency levels in this area. [again, bolded for you Geoff].
"How about a like-for-like comparison to England's current golden boy, Harry Kane?
"As an 18-year-old Calvert-Lewin scored 8 goals in 26 appearances on loan at Northampton. At the same age Harry Kane scored 5 in 18 on loan at Leyton Orient.
"At 19 Kane scored 9 in 27 on loan at Millwall in the championship. At the same age, Calvert-Lewin was playing exclusively for Everton in the Premier League, scoring 1 in 11 (mostly as sub).
"At the age Calvert-Lewin is now, Harry Kane was loaned out to both Norwich (Premier League) and Leicester (Championship) scoring 3 goals in 20 appearances all up.
"Kane was a barely used squad player on his return to Spurs for a season. His breakthrough year came in 2014-15 when he was 21, going on 22, scoring 25 in 38 Premier League appearances.
"Internationally, Kane scored 6 in 14 for England U-19s, 1 in 3 for the U-20s, 8 in 14 for the U-21s. And he flopped at the Euro U-21s when England were eliminated at the group stage and flopped again for the seniors at the Euros in France. [all this written before the summer World Cup, of course, when Kane turned 25].
"Dom has 6 in 14 for the U-20s and won England the World Cup last summer. He is currently 2 in 7 at U-21s.
"We have a wonderful talent on our books. He strikes me as a serious dedicated professional, intent on going all the way."
**********
The above, Geoff, constitutes considered opinion, solidly based on observational evidence (yes, what I see with my own eyes Geoff) and statistical comparative data. Something totally lacking in your own posts. To the above, I can add at the same age as Dominic is now, Graeme Sharp - Everton's 2nd highest goal scorer ever after Dixie - had been at Everton 2 seasons, played a grand total of 3 games with 0 goals.
**********
Now to address your last post.
Have I denied your right to express an opinion? Nope. So let's put that 'bollocks' to bed right away.
Have I 'fabricated or belittled your opinion because it's different to mine? No. More 'bollocks'. I have simply challenged it with my own opinion. Which, to paraphrase someone from this parish, I hope that's ok with you, Geoff.
Have I made things up? No. YOU have.
@ 136 you stated Calvert-Lewin 'he can't score against any half-decent team.' @ 139, my gentile, playful response to that was 'Have Chelsea and Arsenal, teams Dom has scored against, fallen so far in your estimation, Geoff..?'
Your counter to that @ 141 was 'I was referring to Champions League teams.' @ 144 I chuckled at the new standard you were applying, pointing out even by that new yardstick, Dominic scored against Chelsea, the then champions of England and Champions League contenders.
I also playfully asked that I guess you weren't prepared to cut Dominic any slack as being the player whose goal won the World Cup for England's U-20s.
Predictably, @ 147, you denigrated that achievement, even going so far as to (bizarrely) referencing a Liverpool in your evident scorn for Calvert-Lewin. (Did you seriously not derive any proud that 5 Everton players were in that World Cup winning squad and that our player scored the winning goal in the final..? Some people really do have a problem in conceding a point to maintain an extreme position).
All you have offered, Geoff, is a superficial, unsubstantiated, bald opinion, summed up @ 14: "1 goal in every 9 games is not very good for a midfielder never mind a Premier League striker. I can't see him getting into any other Premier League team lineup; he might get a start in the Championship but only a mid-table team."
No one on this thread (other than you) have any idea on how you arrive at this conclusion because (unlike me, at the start of this post) there is a total absence of any assessment of Calvert-Lewin's abilities (or lack of them, as you see it), other than a simplistic (and statistically false) listing of his goals to matches ratio (which ignores many factors).
So in conclusion, I hardly think the 'bollocks' is emanating from me.
Your posts in this thread demonstrate to me you want the liberty to post any unsupported, unsubstantiated opinion and the impunity not to be questioned and challenged by others. That is NEVER gonna happen on TW.
And Geoff, if you consider me a 'keyboard warrior', do I get a moniker and 'every fink'?
'Jay the Juggernaut - Castrator of Bollocks' has a nice ring to it...
I fancy Dom might get a start today in the absence of Richarlison. I hope that doesn't enrage you too much, Geoff.
Geoff Lambert
199
Posted 01/09/2018 at 13:41:34
I take it that means you don,t go to the match then. Thought so. Or do you fancy a pint in the Oak just on the way there now. I will leave you to your YouTube links and stats.
PS enjoy the match on your dodgy stream.
Dave Abrahams
200
Posted 01/09/2018 at 13:48:18
Geoff (199), I don't think Jay will make it to The Oak, he lives in Brazil, but definitely knows the game.
Jay Wood
[BRZ]
201
Posted 01/09/2018 at 14:22:12
Judging by your posts Geoff I rather think you are living proof that live match day attendance does not automatically qualify someone as a more fit and able judge than the overwhelming majority of worldwide Blues who can't attend.
Calvert-Lewin in the starting XI as predicted. Try watching him with a less jaundiced eye that you evidently have for the lad.
You might just learn something to please and encourage you.
Enjoy!
Dan Davies
202
Posted 01/09/2018 at 14:39:47
Hat-trick for Dom today!
Geoff Lambert
203
Posted 01/09/2018 at 17:55:58
Never said I was a more fit and able judge.
I learned today that my nan would have burried the 2 hedders he missed from 6 yards. Hope you are happy with that performance!!
Jay Wood
[BRZ]
204
Posted 01/09/2018 at 18:27:05
Funny Geoff!
Your first thought on coming back to TW after going the game is to address me.
Read your post @ 199 and all it implies.
Why am I not surprised you highlight Calvert-Lewin's 'misses' and don't reference his goal today, or his other contribution to our play?
That's him our joint top scorer for the season in less minutes game time than Richarlison, with today's goal salvaging a point for us and the brace against Rotherham ensuring our passage through to the next round of the league cup.
I'm guessing it's a forlorn hope that you can pen a more considered assessment on why you don't rate Dominic, without resorting to a vitriolic personal attack against a poster who simply expresses a different opinion to you own and who can support that view with hard evidence.
Because pure gainsay – 'I goes the match, yous don't' – is not a winning or persuasive argument.
Geoff Lambert
205
Posted 02/09/2018 at 12:08:01
Pure fabrication again, Jay.
Maybe if you botherd to read my post and do a little research which you claim to be so good at.
I said "Calvert-Lewin should have had a hat-trick, the two 6-yard headers he fluffed over the bar would have been buried in the back of the net by my Nan. Took his goal well though."
Can you read that? "Took his goal well"
No more lies and fabrications please, Jay. just go back to fawning over your life-size poster of Calvert-Lewin and wipe it down with a wet-wipe.
Geoff Lambert
206
Posted 02/09/2018 at 12:27:26
Jay, do I see a little dig there because I am a scouser? Because pure gainsay – 'I goes the match, yous don't' – is not a winning or persuasive argument. I think that is a little below the belt like lar.
I go to the match and I sit with lads that have been going for 50 years like myself. We choose what part of the game to look at and are not dictated by some TV cameraman who picks out the best bits for you far away boys.
I have every admiration for all the Evertonians around the world and I am sure they would love to go the match every week. But to believe you can actually see all the game as we do is plain daft lar.
See ya, wouldn't wanna be ya...
Eric Paul
207
Posted 02/09/2018 at 12:38:19
On the contrary, Geoff, us match going fans don't have the benefit of replays and slow motion. I regularly get texts whilst at the match from mates who aren't at the game to tell me how "he should have scored", "the ref got it wrong" and so on, as I'm sure you do.
Bobby Charlton once said "If you have 10 shots and score once, fans will forget the 9 misses" — how wrong he was.
Geoff Lambert
208
Posted 02/09/2018 at 12:46:34
Eric, I get instant replays on my phone when I am at the match, if I so wish to watch them.
Eric Paul
209
Posted 02/09/2018 at 12:59:34
"I go to the match and I sit with lads that have been going for 50 years like myself. We choose what part of the game to look at and are not dictated by some TV camera man who picks out the best bits for you far away boys"????
Amit Vithlani
210
Posted 02/09/2018 at 13:28:57
"We choose what part of the game to look at and are not dictated by some TV camera man who picks out the best bits for you far away boys."
Far away boy here, Geoff, and one of probably tens of thousands who can't attend games like those priviledged enough to go to the Old Lady.
Are you saying we are not entitled to an opinion? That your opinion matters more simply because you attend matches?
Your brand of short sighted parochialism – summarised in 4 words – "you far away boys" is, fortunately, not what the club itself thinks. Last time I checked, Everton FC was actively canvassing supporters from the US, India and the Far East, and is sponsored by an East African company which does not render services in the UK. East Africa is of course the region the blues visited in the summer of 2017 as part of the sponsorship deal, which was also designed to attract more "Far Away Boys".
In my case, I was already converted by the School Chaplain in 1983 and my son too is following the same path, but I have already seen a growth in Evertonian followers in Kenya since the SportPesa deal, so I am pleased to report to you that the fanbase here is growing and by the looks of it ordering merchandise from the Online Store.
This is of course a global game with wall-to-wall coverage, so forgive me if occasionally I have the temerity to have a view as a Far Away Boy.
Perhaps you are right – my view is skewed by what the cameraman chooses to show. Consequently, as a Far Away Boy would tend to do, I will read the reports from several other match goers on this site – Brent Stephens, Paul Traill to name two, Ken Buckley from the past, and the excellent Luke O'Farrell from ESPN, who, amazingly, often hold different views of the game even though they will have watched the same game.
As an example, Paul thought young Dowell "blew hot and cold" in midweek whilst Brent agreed but expanded to say Dowell's moments of quality during the game outshone some of the negatives.
Near or far, the game is about opinions, Geoff. You are welcome to hold your views towards Calvert-Lewin, as we Far Away Boys (and Girls) are entitled to hold ours.
So try if you can to engage in a level of debate that does not solely rely on crude one-upmanship based on geographical proximity.
From what I have read of Jay's posts, he has afforded you every opportunity to do so, and yet you have failed to take it.
Steve Ferns
211
Posted 02/09/2018 at 13:32:47
Amit, season ticket holder here. I value your opinion and that of others watching on TV around the world. I sit in the Park End and obviously it's hard to see exactly what happens down the other end (the Gwladys St) and I regularly check ToffeeWeb (especially now I can't text my dad) to see what the TV cameras made of the big incidents.
Dan Davies
212
Posted 02/09/2018 at 13:49:04
In a hole now, Geoff; stop digging, mate. As for those restricted views – don't get me started!
Amit Vithlani
213
Posted 02/09/2018 at 14:35:18
Steve – I intend to make the pilgrimage again and hope to buy you lunch. I am a fan of Jonathan Wilson and I feel some of your insights are definitely on a par!
Franny Porter
232
Posted 05/09/2018 at 02:15:09
People still holding out hope for this lad, I think his ship has sailed.
He is just crap.
Add Your Comments
In order to post a comment, you need to be logged in as a registered user of the site.
Or Sign up as a ToffeeWeb Member — it's free, takes just a few minutes and will allow you to post your comments on articles and Talking Points submissions across the site.