McCarthy edges closer to full recovery
Tuesday, 4 September, 2018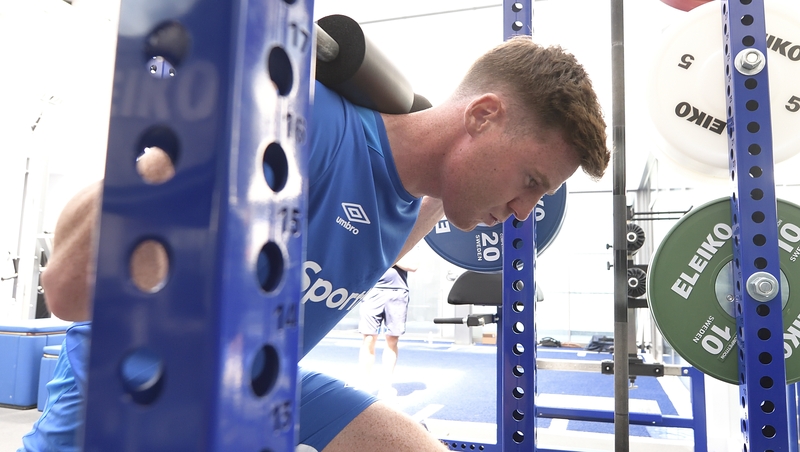 McCarthy is looking to move out of the gym and onto the field
Everton midfielder James McCarthy is close to a return to training at the end of September as he continues his rehabilitation from a broken leg.
The Ireland International has been recovering since January when he sustained a horrible double compound fracture of his lower right leg in a challenge with striker Salomon Rondon during a match against West Brom at Goodison Park.
McCarthy underwent an operation a few days later and has been on the hard road to full recovery ever since; he will be gradually re-integrated into the full training set-up at Finch Farm by the end of September.
"He is progressing well," manager Marco Silva told the Liverpool Echo.
"We expect in the next weeks to start, slow-by-slow and step-by-step, working with the team."
---
Reader Comments (126)
Note: the following content is not moderated or vetted by the site owners at the time of submission. Comments are the responsibility of the poster. Disclaimer
Shane Corcoran
1
Posted 04/09/2018 at 15:49:33
I'm getting in first. O'Neill and Keane, Nations Cup.
Mick Davies
2
Posted 04/09/2018 at 15:53:11
I for one am looking forward to seeing some good old blood and guts tackling again, and this is the player who can provide it. I just hope his injury hasn't affected him too much as he was the one man I could guarantee to leave everything out on the pitch, a real honest player
Steve Ferns
3
Posted 04/09/2018 at 15:54:14
Excellent news.
Haha Shane, actually it's true so it's not funny!
Geoff Lambert
4
Posted 04/09/2018 at 15:59:28
Let's hope he can recover from such a nasty injury, I don't think Seamus has been able to fully recover from a similar break as of yet.
Christy Ring
5
Posted 04/09/2018 at 16:04:21
It would be massive to have a fully fit Macca back. We've lacked his aggression, and pressing game. Hopefully the long layoff after his horrific injury will have cleared up his hamstring problem.
Brian Harrison
6
Posted 04/09/2018 at 16:15:04
I see the Irish Times are saying McCarthy should be available for their double header in October with Wales and Denmark.
The guy has hardly kicked a ball for us in 2 seasons, and will need time and rehabilitation — not International games in October. I think the club should make it abundantly clear to the Irish that he will not be available for the games in October, we only have to see what effect the bad leg break has had on Coleman.
I am sure McCarthy loves playing for Ireland but he needs to realize that he needs to play a number of 90 minute Premier League games before even thinking of making himself available for Ireland.
Ian Bennett
7
Posted 04/09/2018 at 16:22:44
Totally agree Brian. Everton should be saying he's not available. He needs a number of Under-23 games to ease him back gently after so long out.
A full-blooded international game is just a muscle tear waiting to happen. He simply can't afford yet another season of big injuries. If that isn't accepted, he's got to be sold at the next opportunity. Everton has to come first.
Gary Russell
8
Posted 04/09/2018 at 16:26:35
Let's hope he gets back to where he was, which seems so long ago when he was shining for the Blues. Not easy being injured and the mental strength more than the physical is mostly the decider for many with such horrific injuries.
Steve Hogan
9
Posted 04/09/2018 at 16:36:57
I have every sympathy for a player who suffers a horrific injury like that, but we need to move on from having too many 'journeymen' in midfield. Nobody chooses to spend nearly two years out the game, but the same player is simply not good enough to be a regular in our team if we wish to progress.
As a midfielder, he is neither creative or a regular goalscorer, or does he make 40-yard defence-splitting passes. The problem is, fans have had to settle for 'average Joes' who run a lot but very rarely have the ability to take the game by the scruff of the neck.
I'm sure his contract must be expiring soon, and there will be no shortage of clubs willing to take a chance on a player who struggles to put a run of half-a-dozen games together before breaking down again.
We need 'game changers'... not 'willing runners'.
Paul Birmingham
10
Posted 04/09/2018 at 16:45:01
Made up for the lad but hopefully our new regime will be firm with the Irish FA.
Bearing in mind where James has been during his EFC career, basically he's had crap luck with injuries, you'd think the Irish FA, including O'Neil, Keane et al, will also see some common sense.
Let's see what Everton's doctor says in the coming weeks.
Mike Gaynes
11
Posted 04/09/2018 at 16:47:07
It'll be great to see him back on the pitch again.
But anyone expecting him to be back to what he was... well, be patient. Very patient.
This is a two-year injury. Diaby, Dyer, Ramsey, Shaw, Oviedo, and now we're seeing it in Coleman. You can get back on the pitch in 8-9 months if you're very lucky. You cannot get back up to your previous performance level anywhere near that quickly.
And as to Ireland calling him up, I would suggest a declaration of war.
Christy Ring
12
Posted 04/09/2018 at 17:02:27
Steve @9,
How is McCarthy a journey man? And he's not going to get you goals, he's an aggressive midfielder who presses and breaks up the play. You say he's average, and then say there will be no shortage of clubs willing to take him?
Regarding his injuries, they go back to Martinez continually playing him, even when he was carrying an injury.
Tony Everan
13
Posted 04/09/2018 at 17:04:00
It will be great to have him back, I hope he can get back to his best. He deserves all the luck in the world with regards injuries. There will be healthy competition for midfield places soon. If anyone falls below the standard expected they will be dropped.
Dave Abrahams
14
Posted 04/09/2018 at 17:07:31
I'm just glad he's on the road to recovery, a good solid player who never shirks the hard part of the game. He will not be at his best for quite a while... but, if he does get back to his best, he will be worth waiting for.
Best of luck for the future, James.
Derek Knox
15
Posted 04/09/2018 at 17:14:27
Good news that he may be back, but as Mike Gaynes said, we can't expect him just to carry on where he left off, yet.
Hopefully he may replace Sch... you know who, can't wait, but I have been reading elsewhere that Gana has picked up a knee injury in training for Senegal.
It's unbelievable really he was missing for the Huddersfield game through injury; and yet deemed fit enough to play for Senegal; where he has picked up a knee injury; you couldn't make it up, and it's only a Friendly!
Mike Allison
16
Posted 04/09/2018 at 17:17:16
I get why no-one wants him to play for Ireland before us, but it'll be an easier game at a lower level of football.
I doubt he'd be ready, but run outs against Wales and Denmark might be good preparation for the much higher standard and more intense Premier League football we want him to play.
Steve Hogan
17
Posted 04/09/2018 at 17:22:19
Christy (#12)
Do you not think we should be setting our sights a little higher than McCarthy?
Not sure being an 'aggressive midfielder' would earn him a place in one of the top six sides either?
Colin Malone
18
Posted 04/09/2018 at 17:23:45
Not much difference between Jimmy and Morgan, square or back passing. Swap both for Mooy of Huddersfield.
Michael Kenrick
19
Posted 04/09/2018 at 17:31:59
Brian (#6), I think I saw that story first yesterday and it really pissed me off. The arrogance and total disregard for the real fitness level of the player...
Why oh why can't we just let his recovery happen in its own good time, rather than forcing the issue with so-called forward-looking puff pieces like this?
Even looking back, I found we referenced this piece of crap back on 1 March!!!! Pre-season return not ruled out for McCarthy — some total nonsense from Sam Allardyce that I'm sure we'd love to forget.
John Cartwright
20
Posted 04/09/2018 at 17:33:17
Seems everybody is singing from the same hymn sheet. Let's hope he comes back to his best and will be a welcome reinforcement.
Jim Bennings
21
Posted 04/09/2018 at 17:45:31
A fit James McCarthy (as in the beast he was in 2013-14) wipes out Schneiderlin and Davies from the starting team.
McCarthy isn't a great passer but, at his fittest, his engine is just unbelievable. I'll never forget the part he played with Gaz Barry in Martinez's first season, two guys playing at the peak of their powers and gave Barkley the license to just go freely forwards and feed Lukaku.
Peter Gorman
22
Posted 04/09/2018 at 17:52:09
"The problem is, fans have had to settle for 'average Joes' who run a lot but very rarely have the ability to take the game by the scruff of the neck."
Steve, I'd argue that in his first season with us, McCarthy demonstrated that he IS a player who can take the game by the proverbial scruff. He had that rare ability to dictate the pace of the game, usually in his case quite a high one. He lost his way (as did others) under Martinez but I think he last clearly demonstrated this ability at home against Arsenal in 2016, instrumental in a 2-1 win shortly before yet another injury in the subsequent derby scuppered his season.
The big questions are: Can he return to that level of ability? And when can it happen? On his day, a very good midfielder indeed and no 'average Joe'.
Jerome Shields
23
Posted 04/09/2018 at 17:53:47
I think McCarthy, if he is serious about his recovery and playing for Everton, should announce he is retiring from International football.
In the case of Coleman, he is always willing to play and Big Sam took full advantage to save his own bacon by playing him for a full two intensive games, though he was still rehabilitating after a serious injury. At the time, I and other ToffeeWeb contributors expressed our concerns. It now looks as if our concerns were well founded. Coleman is a shadow of the player he was.
Liam Reilly
24
Posted 04/09/2018 at 17:54:03
I like McCarthy – a good player who could be a great player if he believed more in his own ability. Perhaps Silva can encourage the more offensive type of his game.
Hope he can get back to where he was but it will be a long haul. I wouldn't expect to see him near the first team until December if he's only getting out of the gym now.
Drew O'Neall
25
Posted 04/09/2018 at 17:56:35
I wouldn't want to be a Ross Barkley type returning to Goodison Park to play the No 10 role with fully fit Gana and McCarthy nipping round.
That said, the likelihood is McCarthy won't be fit at least not for long and we should probably get shut/shot (regional variation).
Shane Corcoran
26
Posted 04/09/2018 at 18:41:18
Is this a different McCarthy you're all talking about? I read on some of the other threads about Schneiderlin not making himself available to receive the pass. Well McCarthy is the fella hiding behind Morgan.
With Ireland he's grand, he can watch the ball sailing over his head and get ready to tackle whoever it falls to. Any team wanting to play through the middle has no place for McCarthy, as much as I'm delighted to see him making a recovery.
Mike Gaynes
27
Posted 04/09/2018 at 18:54:22
Jerome #23, yeah, good luck with that. He'll be 28 this fall, and you're expecting him to
retire
from Ireland? Just to prove he's serious about Everton? Righto.
And as for Coleman, he's no shadow, he's just still recovering. Like I said, it takes two years. By this spring he'll be back to full Seamus.
Tony Abrahams
28
Posted 04/09/2018 at 19:09:30
If McCarthy would have been the man hiding behind Schneiderlin, Shane, then I'm not sure he would have broken his leg against West Brom.
Good player, great engine, I hope he can get his fitness back because, under the right manager, I'm sure James McCarthy could become a very good footballer.
Kevin Prytherch
29
Posted 04/09/2018 at 19:19:07
Shane - McCarthy runs, McCarthy tackles, McCarthy covers a huge area of the pitch, he also tries to get forward when allowed. He definitely doesn't hide behind Schneiderlin, who hides behind the opposition.
My only concern would be the similarities between Gana and McCarthy, although they could be a useful force together against some of the better teams when we need to constantly break up their play.
John Malone
30
Posted 04/09/2018 at 19:20:54
Cracking player – the difference he made last season when he got back in the side was unbelievable.
The tempo and tenacity he plays with makes a massive difference; he is fast and strong and a lot better passer than people give him credit for, in my opinion. He is also clever and holds his position, allowing Seamus to go up the wing without fear.
I'd like to see how a midfield three of him Gueye and a deep-lying quality ballplayer would do!
Get fit asap, Jimmy – we need you in the derbies!

Jerome Shields
31
Posted 04/09/2018 at 19:35:56
Mike (#27),
McCarthy has been injured over a number of seasons. He's now in a side where there is more competition for places and the competition will increase. Injury-wise, he would be considered a risk, even before his last injury. He has to be really serious to compete for his place or Brands will move him on. Things are different at Everton now.
As for Coleman, he was brought back too early without the necessary gradual rehabilitation and would be further along the road to full fitness now had he been properly rehabilitated. There is also going to be increased competition for his place as well.
Brands and Silva are at Everton to do a job. I think you will find that the sentimentality that existed at Everton before will be in short supply. It has to be if Everton are to progress as expected.
Derek Taylor
32
Posted 04/09/2018 at 19:41:11
Schneiderlin and Gana were never going to be better than McCarthy and Barry – even at his age – but Koeman couldn't wait to get shut of the veteran who could out-think them all.
O'Neill has a lot to answer for as well and I'm not entirely convinced Silva will see a place for the Irishman over Schneiderlin.
Not until we ever have a fully available squad, shall we see how shrewd this manager is but that may entail a long wait!
Christy Ring
34
Posted 04/09/2018 at 20:05:31
Derek @15,
I can't believe Gueye was allowed to travel with Senegal. I always thought, if a player was unable to play on the Saturday, he wouldn't be released. Our medical staff must have had some say.
Mike Gaynes
35
Posted 04/09/2018 at 20:19:04
Dr Shields #31 --
"...brought back too early without the necessary gradual rehabilitation and would be further along the road to full fitness now had he been properly rehabilitated."
He would? Really? Forgive me for overlooking your medical credentials. If they're superior to those of the medical staff at Everton – to whom Coleman himself has expressed his appreciation – please share the reasons for your certainty on this.
As for Macca, because of the competition you cite, he may well be moved on irrespective of the injury... but, if you think Brands and Silva are going to give him an ultimatum to either hang up his Ireland boots permanently or pack his bags for the next transfer window, I must say I would find that surprising.
Shane Corcoran
36
Posted 04/09/2018 at 20:36:20
Tony, he broke his leg in a defensive position against WBA. Nobody has as an issue with McCarthy when Everton don't have the ball.
When Everton have it, it's like playing with 10 men. He turns his back on it and always has done. The result is a player with plenty of actual ability on the ball that's hardly ever used it. I can't see that changing at this stage of his career.
Brian Hennessy
37
Posted 04/09/2018 at 20:40:47
I wish him well in his comeback, but just like Schneiderlin, if we want to improve as a team on what we have witnessed in the last 10 years, we need better players than these two.
Joe McMahon
38
Posted 04/09/2018 at 20:41:53
Don't forget, guys, the slow sideways passing, yellow card challenges. He's not what need, but as Moshiri says "he's part of the Everton family". I'm hoping Brands has different ideas!
Justin Doone
39
Posted 04/09/2018 at 20:56:24
Good luck, I hope he is eased back into it slowly, there's no need to rush him after all the transfer window is shut until January.
Oh hold on, I think he's just been recalled to the Irish national team.
Steve Ferns
40
Posted 04/09/2018 at 21:18:40
McCarthy was a key reason for the 72-point haul in Martinez' first season. He was fantastic. The next season, he played injured and has never had a sustained period of fitness. Some of you seem to forget his one great season where he had a load of big clubs interested in him, and you judge him when he was not at his best.
If McCarthy can regain his fitness, stay free of injury, and play to the level he did in that first season, then he's definitely good enough for us to get to where he wants to be. I don't doubt his ability I just worry over his fitness and ability to stay clear of injury.
Jerome Shields
41
Posted 04/09/2018 at 21:19:20
Mike (#35), Brands and Silva won't be giving McCarthy any ultimatums. We will just have to see how it all develops.
Paul Smith
42
Posted 04/09/2018 at 21:21:02
Good ball winner and tackler in the Gana mode. Not the creative midfielder we crave. Could be a regular.
Gareth Clark
43
Posted 04/09/2018 at 21:30:24
It will be good to have him back – hopefully they'll ease him back into it.
He's the perfect back-up for Gueye – and a lot more consistent than Davies.
Also, his aggression and attitude is fantastic. Plus his ability on the ball is well underrated.
Steve Ferns
44
Posted 04/09/2018 at 21:30:58
Paul we have two very creative midfielders in Bernard and Gomes. I believe we need to identify the right combination of defensive midfielders to support them and of course Sigurdsson. McCarthy is much better than Gueye on the ball and is capable of carrying it up the pitch at speed. I think he adds something else to the team.
Ernie Baywood
45
Posted 04/09/2018 at 21:38:58
He does far more on the ball than the other options we have in a defensive role.
Always rated him highly but wrote him off due to injury. But then his comeback prior to his last injury was impressive. He's got some real character which isn't always evident in our team.
He's worth one last go. At least considering our other options right now and the style we supposedly want to play. He looked ordinary when we moved to a ponderous possession game but, when we play with some tempo, he's in his element.
Dave Abrahams
46
Posted 04/09/2018 at 21:53:21
I like ToffeeWeb when I see fans like the same as me. Not that it makes it right, but the James McCarthy in his first season with us and the game against Arsenal and half a game versus Liverpool have me remembering a very, very good central midfielder. He even had Allardyce's miserable team looking better against West Brom until he broke his leg in that game.
Give him time to get really ready to play again and let's see how he does. If he can stay fit I think James can really liven Everton's pressing game to a good standard.
Christy Ring
47
Posted 04/09/2018 at 22:11:08
A fully fit James McCarthy is definitely worth his place. I agree with Dave, he showed his aggression and was the difference against Arsenal, and 45 minutes against Liverpool. Here's hoping.
Paul Smith
48
Posted 04/09/2018 at 22:31:52
I'm not sure he's better than Gueye, Steve, or able to replace or complement Morgan.
I'm interested to see what Silva does with him.
Laurie Hartley
49
Posted 04/09/2018 at 22:40:20
If ever there was a player who needed a change of fortunes, it is James McCarthy. A completely honest footballer with a big heart. At his best, he is definitely good enough for us.
We all know he can tackle and press the ball but he is not shy about getting forward either.
Tom Bowers
50
Posted 04/09/2018 at 22:58:03
Shamefully I had forgotten about the broken leg thinking he was out with something else not as serious.
He has been missed because in my opinion he is as good if not better than what we have on his best form.
Sadly, sometimes, these injuries take their toll particularly on older players as we have seen somewhat in the form of Seamus.
Good luck to the lad in his rehab. and I do hope he can come back in good style
Gary Carter
51
Posted 04/09/2018 at 23:03:29
Steve Hogan (#9) there's the biggest crock of shit I have ever read on this site. He's not a journeyman and he definitely does have the ability to take the game by the scruff of the neck, is more of a leader than any of our current midfielders and is way better than Schneiderlin and Davies and at least on a par with Gana if not better than him too.
Dan Davies
52
Posted 04/09/2018 at 23:06:16
How long before he gets injured again? The bloke is a serial crock. Good luck to the man, I wish him all the best but I think McCarthy is the past.
But hey... what do I know?
Bobby Mallon
53
Posted 04/09/2018 at 23:15:55
Mick@2 so was Besic but we got rid ffs
Laurie Hartley
55
Posted 04/09/2018 at 23:49:08
Regarding my post at # 49 – "McCarthy's 6 goals in 4 season". Not my words. I left the title as "Link".
But since the subject has been raised, I have to agree it is not a very good return from a midfielder. As far as getting forward is concerned... well – I think the video shows he is willing and capable of doing so.

Simon Smith
56
Posted 05/09/2018 at 00:10:47
McCarthy is a ball-winning energetic midfielder who is proven to be of Premier League class.
He's a similar player to Liverpool's Jordan Henderson, nothing spectacular, but a high tempo ball winner who can set the tempo of our team when on form.
Derek Thomas
57
Posted 05/09/2018 at 01:30:19
Glad to see he's on the mend and personal best wishes to him. But from a broader 'Is he what we need to progress'? – well, sadly, the answer is No; we need better.
If he'd been fit, he would have likely moved on this summer, if we could've found a taker.
Victor Yu
58
Posted 05/09/2018 at 02:32:55
I hope he gets back soon. He is a fairly good player when he is healthy. We do need help in midfield.
Gavin Johnson
59
Posted 05/09/2018 at 03:21:08
Will be good to have him back. We need another option in midfield.
Bob Parrington
60
Posted 05/09/2018 at 05:50:26
Michael (#19) and Brian (#6), you and I (and others on here) know that it is a stupid assertion to suggest that Macca will be fit to play a game anytime in October. It is unbelievable the crap that these media sources push out. Must be short of anything sensible to print or, perhaps, just short of brains themselves.
Good luck to Macca in the rest of his road to recovery. It will be great to have him available for selection again but we're not that desperate that we have to risk his full and successful recovery.
Get stuffed, O'Neill, if you're behind this release!
Christopher Timmins
61
Posted 05/09/2018 at 07:17:49
Hopefully, the lay off has helped him sort out his other injury issues. I always thought he was the best of what we had in the midfield sector when he was on the pitch last season.
Ray Smith
62
Posted 05/09/2018 at 08:52:53
Jerome (#23),
I fully agree with your comments, especially about Seamus.
I was one of the TW's who expressed my concern that he was being rushed back too soon when his first two games were for a full 90 minutes, only to be told by some TW's that Sam knows what he is doing and wouldn't risk him. Well, I'm not being a smart arse, but if I can see it, what were they thinking of? Then again, what do I know!
Is it me, but what other team(s) have suffered a series of serious leg break injuries almost annually?Oviedo, Coleman and McCarthy.
James Marshall
63
Posted 05/09/2018 at 09:42:23
I can't remember any player who suffered a compound fracture ever coming back as the same player. Coleman being a case in point (my view is his current slightly wretched form is down to his injury).
Macca is an up-an-at-em type footballer, who may never recover to the same level he was at before, and let's face it, he's a bit of a sicknote anyway.
We've all seen it before, he get's injured time & again so what do we have to make us think he'll be fit long-term this time? Some players are just injury prone, and that doesn't tend to just go away.
Clive Rogers
64
Posted 05/09/2018 at 09:49:43
Coleman could do with a break from the first team and would hopefully come back stronger. Kenny would benefit from a few games also.
Steve Ferns
65
Posted 05/09/2018 at 09:54:28
Ray, Allardyce was taking a short-term view. Either he wanted points on the board for money in the bank (bonus payments) or maybe it was linked to position. Maybe he actually wanted to be here for this season and was getting as many points on the board to strengthen his position.
Regardless, we all saw that Allardyce played the best team possible (for his wretched tactics) in every game, and did not give youth a chance like everyone else does at the end of the season in the meaningless games.
James, I'm not doctor, so perhaps someone else can help. It just seems to me that if his problems are all muscle related (hamstrings) and he is out for over 6 months with a broken leg (longer from last game to first game for sure) and he has total rest, then really eases back into training, will those muscle issues not be helped by the prolonged rest?
I don't know if you guys spotted it, but McCarthy was in Finch Farm over two months ago for the first day of training. I believe he's been going in everyday since. He's a bit further down the line than we may think. Clearly he's not doing any actual football work, it's all about rehabilitation of the injury. No chance we'll see him before Christmas but it seems like the club are doing things right and taking it slowly. Let's just hope he makes a full recovery and those muscle injuries have been cured by the prolonged period of rest.
James Marshall
66
Posted 05/09/2018 at 09:59:56
Steve, some players are simply just more injury prone than others. I used to be one of them. I constantly got muscle niggles, and small tears when I was playing, despite doing the same training and playing in the same games as my team mates. Why?
Well I'm tall for one, and have long limbs/long muscles. I also have slightly hyper-mobile joints which stretch those muscles further.
Is that what we're seeing with Macca? Who knows, that sort of info is never going to be released to us mere mortals, but you never know.
Ryan Giggs went through a series of back pain and hip pain issues during his career and it was pinpointed that his flashy sports car was to blame due to the driving position.
There are so many variables at play.
Steve Ferns
67
Posted 05/09/2018 at 10:04:51
James, he never really had injury issues before that second season for Everton.
It just seems to my (untrained) eye that things were exacerbated by continuously rushing him back because we needed him, then when we didn't need him, Ireland would rush him back, or he'd rush himself back because he was being left behind (in our plans). I just wonder if this prolonged period of rest can cure those muscle injuries.
It may well be that one of us is a quack and comes on and says don't get your hopes up, once you have damaged hamstrings, that's it you're done. Like what Michael Owen was saying. I don't know the full extent of McCarthy's hamstring issues or the effect of rest.
Steve Ferns
68
Posted 05/09/2018 at 10:12:57
Clive, I would agree with you if it was the case that he'd come back into the side and had not had a break. Remember, we're a few weeks into the new season and he's had a summer break and pre-season. I don't think he needs a break.
Coleman is either:
- reduced by injury or even age
- lacking confidence
- just in a poor run of form
If it's the latter two, then he needs games, not rest. Dropping out of the side would negatively affect his confidence rather than help it. He's worn the armband in 50% of the games, so his confidence should be high.
The first game back was pure adrenalin, we wanted him back, he wanted to play, we all wanted him to do well, and so he did. Since then he's been poor. The speed he got around the pitch in that game tells me that he is recovered, it is not the injury and it's either a mental issue (fear of injury, off the pitch stuff, or something like that) or just a simple poor run of form.
Coleman turns 30 in just a few weeks, and clearly moves into the veteran stage of his career. For someone who relies on speed so much, we need to be a little understanding that this is going to be difficult for him as that speed will start to lessen.
I saw him lose footraces against Huddersfield that he would not have lost before. However, he was slow to react, and I wonder if had he gone quicker, would he have dug in and then ran faster and so actually won the race for the ball? Who can say?
What I do know is he's been fantastic for us, and he needs patience and support as he looks to recover his best.
Justin Doone
69
Posted 05/09/2018 at 10:20:40
It always amuses me when average players become great players in people's minds when out injured.
As soon as they come back it's a case of 'he's not yet fully fit' or 'a shadow of his self (pre-injury).
Perfect case in point. I hope he gets fit so we can sell for around £7m in January. He's worse than Davies with less chance to improve. I'd say more energy but poor first touch and passing ability.
He's had multiple injuries and I can only see further fitness battles ahead for him.
Mike Corcoran
70
Posted 05/09/2018 at 10:28:34
The lad has a good engine, hope he fully recovers. Case of wait and see...
Ray Smith
71
Posted 05/09/2018 at 10:40:33
Steve 65
You're right about Allardyce.
With an ego as big as his, he had his nose in the air and couldn't (wouldn't admit) see what was going on under it. That in anyone's book is bad management; however, he was and still is totally up himself.
I notice he is in the Jim White camp now that Jim's (my good friend Moshiri) Everton source has dried up.
He is feeling so sorry for himself after losing the England job that it's quite pitiful. Sting or no sting, he got caught out, that was his mistake, and that's where his ego let him down.
Gone off track a bit, so I'll stop.
John Hammond
72
Posted 05/09/2018 at 11:10:22
It'll be great to have him back but how long until the next injury? It's going to be a long road back and no doubt there'll be related injuries to overcome. Couple that with the fact his hamstring injuries are only going to get worse. I doubt we'll ever see a fully fit James McCarthy again. I think in January it'll be time to move him on.
Eddie Dunn
73
Posted 05/09/2018 at 11:17:17
This is an honest, hard-working pro who has had plenty of injuries, partly due to his wholehearted style of play.
I hope he can get back to full fitness and perhaps develop his game to a less combative style.
I was listening to Luke Shaw on the radio this morning about how he could have lost his leg. Full recovery, as Mike Gaynes has said, can take a couple of years. I just hope he does come back to continue his career.

Tony Abrahams
74
Posted 05/09/2018 at 11:20:53
Shane, he broke his leg after trying to retrieve a ball he had just given away because Schneiderlin offered him nothing imo, mate.
Steve Ferns
75
Posted 05/09/2018 at 11:37:08
I've never seen the tackle on TV, but from my view (I was in the Main Stand for this game) he made a brilliant last ditch recovery tackle and prevented a certain goal. This was typical of McCarthy's defensive prowess.
Barry gets a lot of plaudits for the first Martinez season. Rightly so. He was fantastic. Barry's legs did not go suddenly in the second season, they were going before we signed him. In that first season he had enough about him that it was less noticeable, but that was also in no small part to the efforts of McCarthy to get about the pitch. He was box-to-box as well. He'd win the ball get it to Barry and then he'd get forwards.
And no, Justin Doone is wrong, he's not got better by being injured. I've always rated McCarthy, I have always written in praise or support of him. That first season he was consistent and free of injury. His quality was enough to play for a top 6 side for sure. (We were fifth of course but I mean that he'd get in many of the current top six sides now.)
Brian Williams
76
Posted 05/09/2018 at 12:11:11
Last-ditch tackle is correct.
Dan Brierley
77
Posted 05/09/2018 at 12:35:44
Off the ball, James McCarthy is up there with the best in terms of his work rate, positioning and endurance. My problem lies that on the ball he is extremely limited, which is reflected in his stats.
If he really is a box-to-box midfielder (the Lampard, Gerrard, Scoles position), then he must be one of the poorest performing in Premier League history as he has only managed a goal only every 17 games, and assists even lower at once every 18.5.
I have personally always seen him as an out-and-out defensive midfielder, and I guess the stats support that. Even if we are generous and see McCarthy as a hybrid in the same vein as Henderson, his stats are miles behind Henderson's (11 games per goal, 7 games per assist). I think he is fine as a squad player, but I don't expect to see him in the starting 11 if everybody is fit. I see Gueye and Davies as being well ahead of him with more potential to improve.
And I saw a good point raised above about how to gauge whether or not he is the right man to take us forward. If his contract expired tomorrow, would he end up at the likes Arsenal, Man Utd or Chelsea? Or Newcastle, Bournemouth or West Ham?
Shane Corcoran
78
Posted 05/09/2018 at 12:42:15
Tony (#74), sorry I misunderstood. I only mentioned Schneiderlin as a comparison to McCarthy, ie, if people think Schneiderlin doesn't make himself available to receive the ball, wait until McCarthy gets back.
Steve Ferns
79
Posted 05/09/2018 at 13:24:52
Dan, he ran box-to-box. He was far more limited in the opposition box. Apparently, you think Frank Lampard was box-to-box as well. He wasn't for the opposite reason to McCarthy. Same as Gerrard and Scholes.
These guys were only good in the opponents box, around that box and in the opponent's half. They were all shite without the ball (see all of them for England) and did not get close to McCarthy's ability off the ball. His skills defensively far outweigh his skills offensively. I think everyone would agree on that.
Dan, you say would he end up at Arsenal, Man Utd or Chelsea if he was out of contract now. Of course not. But that is due to the risk he poses as an injury-prone player; it is not a slight on his ability. Would the same three clubs have taken him in the summer of 2014? Yes, definitely, for sure, all of them.
How can I be so sure? Well Man Utd were lining up a bid for him, which is why he signed a new deal and why his contract did not expire this summer. Let's not forget how good the lad was in 2013-14 because of his struggles since. This is due to injury, not ability.
Will we ever see that James McCarthy again? Probably not, no. Injury will have taken its toll, or if not, he struggles to stay clear of injury.
James Hughes
80
Posted 05/09/2018 at 14:00:05
Steve, you were lucky to miss that tackle. They showed it on TV a few times. You see Rondon's boot going through his leg, not nice to see.
Many years ago, early 90s a teammate had his leg broken during a game. I can still remember the sound.,. He never played again; he could have done, he just didn't want to risk it happening again.
Steve Ferns
81
Posted 05/09/2018 at 15:02:02
James, I saw the tackle perfectly with my eyes. I choose not to watch it on TV for good reason.
Ed Prytherch
82
Posted 05/09/2018 at 16:03:14
Silva said that he wants two players for each position. When James is back he will be competing with Gana and Tom Davies for a single place in the team. We will have to wait and see how that works out.
Steve Ferns
83
Posted 05/09/2018 at 16:13:29
Ed, you can't count on McCarthy this season. You'd want to evaluate and assess the recovery from injury and assess his ability to return to top-level football action. There's no guarantees on that.
Should McCarthy be good to go by the end of the window, then maybe Silva will sell one of the three, or perhaps, more likely he would loan out McCarthy or Davies. Loaning out McCarthy for regular football could be a step towards a return to the first team here, or with a view to putting him in the shop window.
Also, you could say that there is Schneiderlin, McCarthy, Gueye and Davies and they compete for 2 positions. Meanwhile, you have Sigurdsson, Bernard and Dowell competing for No 10.
Tony Abrahams
84
Posted 05/09/2018 at 17:27:53
Fair enough, Shane, but he's a much better player than Schneiderlin, IMO. Braver, more honesty, more endeavour, but I agree that he should do more with the ball.
I think he's been over-coached by Roberto, because I think he's been tutored to just keep possession at all costs, and it's affected his ability to try and do more with the ball.
Anyway, it was a very serious injury, so I just hope he retains his speed about the pitch, and also his engine. Peter Reid, had a lot of injuries in the middle part of his career, it's why Everton got him so cheaply, and I honestly think that McCarthy, can become this type of player now he no longer plays for Martinez, but it all depends on what Silva sees in him first, obviously.
Dan Brierley
85
Posted 05/09/2018 at 17:56:08
Steve, this is where I don't agree. Those three players I mentioned were at their most effective from long-range shots, not necessarily in the opponent's box. And often from driving runs that they had made from deep positions. I don't remember seeing McCarthy do that on a consistent basis.
But what they were also excellent at was turning defense into attack, you'd see them playing long cross field balls, and looking for ways of taking pressure off the team. McCarthy would most often play the safe 6-yard pass sideways or backwards, which invited pressure.
He is definitely better defensively than those three but, if after winning the ball, you don't do anything constructive with it, what value does it bring?
I think when a team has a player who can create attacks from deep positions, it causes opponents to stay deeper to watch for runs. If teams know that the central midfield pairing don't have that ability, they will press harder leaving less space.
With the pace we have in the team now, we need players that can defend and win balls, but then pick out attacking passes. Not players that take easy passes and constantly invite pressure.
Jerome Shields
86
Posted 05/09/2018 at 18:15:46
Ray (#62),
Thank you for your comments. Anyone who knows someone who unfortunately experienced a serious injury knows that rehabilitation is a gradual process with specific units and staff available to facilitate them. In the case of a footballer, a broken leg is as serious as it gets.
You don't need to be a doctor or, in my case, a genius to know this; it is common sense. Last year, there were many on ToffeeWeb including yourself that rightly expressed their concerns. In the next game after the two games mentioned, Coleman hobbled off and they again showed concern.
Where I am coming from is that both McCarthy and Coleman need to be really taking their recovery seriously as we all want to see them fully recovered.
Brands and Silva will not say boo to them, but the onus will be on them to take ownership of their recovery and present themselves as able to be selected for their first-team positions. They will not be selected if they are not able and another player in that position is fitter and more able.
Coleman has been assessed by Silva and is, therefore, able but McCarthy has not been assessed yet and he has to get over the level of ability and fitness required, as Steve (#83) has rightly pointed out.
Everton have in the past been a residential home for the slow and recovering, in particular, fed by Man Utd. Those times have changed. . . and if they haven't, they need to. I wish McCarthy and Coleman well and hope they both make a full recovery to fitness.

Steve Ferns
87
Posted 05/09/2018 at 18:44:09
Dan, your three players are all better players. All arguably greats of the Premier League era. McCarthy is not. But box-to-box players they aren't. McCarthy is a box to box player. This means he covers the pitch from box-to-box and effects the ball in those areas.
The three aforementioned never made a tackle and when they did it was always a foul. They're completely different types of players.
If you want to compare him to a Premier League great in his position, then compare him to Keane and sure, he's far short of that level. That doesn't mean he's not a very good player in his own right.
Denis Richardson
88
Posted 05/09/2018 at 19:36:26
Sympathies to the lad re his injury nightmare but imo he's simply not good enough and never was. As already mentioned by some, he runs a lot and can tackle a bit and that's about it, other than being able to pass the ball 5 yards sideways.
Davies already does that. I really don't get what role he's supposed to do. He's not better than Gueye and offers no goal threat at all – what exactly is his point in a team?
I just don't get the enthusiasm tbh. He joined Everton in the summer of 2013, over 5 full seasons ago. He had a decent first season, was then bang average the next two and has basically been injured the last two. So we've had one okay season from him in 5 years and that was the first – next to nothing the last 4 years.
Let him get better and then hopefully sell in Jan or summer next year and finally be rid. Nothing against the lad just annoys me that someone so bang average offering nothing going forward is even deemed good enough for the squad, let alone the first team. Reminds me of the days Neville was playing CM.
McCarthy, like Besic, is just a water carrier and not a very good one. He's contributed very little the (over) 5 years he's already been here. We need to get rid and allow younger kids the chance to step up.
Let him move to Celtic, where he'll find his level.
Christy Ring
89
Posted 05/09/2018 at 19:46:38
Dan, the 3 players you mentioned, great going forward, did nothing defensively, and most times got a yellow card when they tried to tackle.
Totally different players to McCarthy.
Don Alexander
90
Posted 05/09/2018 at 20:54:31
Dan, I fully agree with you in that we really do need midfield players (and defenders) who, when they've won the ball, have scope and ability to make a killer pass forwards. It baffles me that we're so devoid of these skills. Maybe Bernard and Gomes are so equipped. I hope so.
Brian Wilkinson
91
Posted 05/09/2018 at 21:02:54
I do not see a problem with an outcry from a player that is crocked, then risked for an International before being fully fit and against the clubs wishes.
It is Everton who pay the player's salary; time and again because we are Everton they try to dismiss the club and what they have said.
Each time the player has been generally injured; not too much outcry came when Giggs pulled out of a Wales game through a knock, but miraculously returned for his club and played a few days later, time and again.
All the big clubs use "the player has a slight knock" but nothing Is said. Yet they seem to think they can belittle Everton and pick a player that is still returning from a long-term injury.
Two occasions now, McCarthy against the club's wishes has turned out for Ireland – and on two occasions, failed to return to the first team regularly, with being rushed back too quick.

Dan Brierley
92
Posted 05/09/2018 at 21:11:54
To make sure I've understood the term, I have just done a Google search for the best 'box-to-box' midfielders and each time it has come up with midfield players who are defined by being good at both defending and attacking. From what I've understood, it's not necessarily about being able to cover ground and having the stamina to physically run from one box to another.
The names I mentioned regularly pop up, along with the likes of Toure, Seedorf, Matthaus etc. But of course it's not fair measuring McCarthy against those all-time great players.
So who would those who rate him compare him to? And what will he bring to the starting 11 that we don't already have in Davies or Gueye?
Will Mabon
93
Posted 05/09/2018 at 21:20:36
It's easy to say McCarthy has relatively inadequate qualities in distribution and forward play, whilst overlooking the fact that players of his ilk are in very short supply. There are simply very few with the physical engine and tenacity to play this way.
Kante and Gana; it's accepted that they are limited as attacking players, but they are not of that cloth. Pirlo was limited as a defensive entity. Most teams would love/could use a player in the McCarthy mould. Their qualities are very effective.
Hard to know what Silva's end game is for the team, but interesting that there's been no talk of McCarthy leaving. I know it's referring to some years back now, but McCarthy was right up there with the best in his role in the Martinez first season.
His cameo last season before the terrible injury made a huge difference in the centre of the park, I believe. Whether he can regain that form and shake off his tendency to injury, is the pivotal point.

Steve Ferns
94
Posted 05/09/2018 at 21:35:46
Dan, the players you named were not box-to-box though. Sure, they were 9 or 10 out of 10 for attacking but none were above a 5 for defending, especially Scholes who'd get a generous 3. McCarthy might be 6 out of 10 at best for attacking, but on his day (2013-14) he was a 8 out of 10 defensively.
Basically he's the unsung hero who does none of the Hollywood stuff and all of the donkey work. He was quick, and he was great at recovery tackles. The one where he broke his leg was case in point. A fearless player who literally risked everything to make the tackle. The lad should be applauded for what he did.
It wasn't like Coleman were the lad fouled him disgracefully, or a freak accident like Oviedo. McCarthy raced back, put his leg in where it hurts and Rondon went full tilt for the shot and McCarthy's leg was broken. For me, that really sums the character of this lad up.
McCarthy chased by the big guns in 2014
And how do impartial football observers describe McCarthy at his peak?
"The midfielder has been one of Everton's most consistent performers since joining from Wigan Athletic in 2013, displaying craft and economy in his passing as well as intelligence in his positional play. In short he has been integral to the kind of fluid football that Roberto Martinez has tried to play at Goodison."
It's not he's got better as he got injured, it's that people forget what he was like 4 years ago. The second season was plagued by inconsistent form due to playing whilst injured (again going above and beyond for us ungrateful fans) and that did damage to his career; the third season was worse, and he didn't play much in his fourth and fifth seasons as injuries mounted and kept him completely out of the side.
I'm not exaggerating how good this lad is; Google him, see what the impartial journos wrote about him in 2013 and 2014.

Dave Abrahams
95
Posted 05/09/2018 at 21:39:56
McCarthy, at the age of 16, was playing for Hamilton in the Scottish League. Liverpool came in for him at that age and he came down to sign for them. Someone must have told him he'd be sitting on the bench for quite some time at Anfield because he decided to stay in Scotland.
He then signed for Wigan at a young age, was an ever-present with them before he signed for us 5 years ago; he is still only 27. If he comes back from this injury and stays fit, it will take some time before he is ready to play.
He will prove to be a regular and consistently good player for Everton; he hasn't had much luck with injuries since his first year at Everton – I wouldn't begrudge him one final chance to try and prove his natural ability.
Dan Brierley
96
Posted 05/09/2018 at 22:45:59
Steve, I guess we just have to agree to disagree on the definition of box-to-box, and overall on McCarthy.
I wouldn't say I forgot his first season, I remember the £13 million price tag created a huge expectation around him, so I watched him fairly intensively. And I do remember feeling underwhelmed, as I thought Gareth Barry in the twilight of his career was overall better that season.
I had the hope he would grow, but as you say, due to injuries, we will never know. In matches where you are under the cosh, a McCarthy type player has a huge value. But when you are in possession and you need everybody to chip in and stretch a stubborn defense, he adds very little, and often slows the game down with the safe six-yard lay-off.
Brian Dalton
97
Posted 05/09/2018 at 22:53:06
Gerrard was a box-to-box midfielder, Dan, as you say. I've read numerous articles over the years from players who played with him and against him, describing him exactly as that.
I was at a sportsman's do a few weeks ago and Phil Thompson was doing a Q&A and he was asked about Gerrard breaking into the first team when he was assistant manager; he said:
"We saw this young lad who one minute was breaking up opposition attacks at one end of the pitch and the next minute he was at the other end having a shot."

John Daley
98
Posted 05/09/2018 at 23:59:06
McCarthy only qualifies as a box-to-box midfielder if (1) forgetting to bring the ball with you, and (2) breaking into a cold sweat like Colleen Stan at the sight of that scary box getting closer and closer, actually counts.
In Martinez's first season, Barry sat and McCarthy scampered, but both did so deep, acting as a screen in front of the back four and venturing forward only rarely.
I seem to remember, after he scored a collector's item goal against Man Utd, the question being raised in the local rag (by Lee Carsley... of all people) as to why, given his energy levels, McCarthy did not get backwards and forwards more often and whether the leash he usually operated under was self-imposed or held tight in Martinez's sweaty mitt.
I leant toward the former as, while he was prepared to press and harry higher up the pitch when expressly tasked with doing so, once in possession in the opposition half, even when in plenty of space, his first thought was always, always, to knock it square... to whoever happened to be nearest... rather than to drive forward, or give and then look to get in and around the box. Throughout most of that season, whenever Everton broke forward en masse, marauding Jimmy Mac's first thought was... to go and fill in at right-back.
As far as I'm concerned, McCarthy was, and always will be, a purely defensive midfielder, about as eager to go 'box-to-box' as a broke arse gigolo being paid to go down on all fours of the fucking Golden Girls.
Dan Davies
99
Posted 06/09/2018 at 00:24:36
Be lucky to sign for Cardiff. The truth hurts.
Ed Prytherch
100
Posted 06/09/2018 at 00:57:04
McCarthy scored goals for Wigan but Martinez made him play deep and he stopped scoring. From his time at Everton, you might think he is a defensive player but he was a box-to-box player before he arrived.
Even though most of us don't rate Schneiderlin, Silva seems to think that he is our best defensive midfielder and McCarthy is unlikely to change that.
John Pierce
101
Posted 06/09/2018 at 03:05:43
More or less the same as Gana, high energy, great mobility but ultimately winning that ball back is only good if you can transition – and that's where his game falls away.
Like Gana, passing and distribution under duress is poor, movement and instinct to get in the box is unnatural, and finishing is a veritable lottery.
Somewhat unflatteringly, they both chase the ball like a dog, retrieve it, and have no idea what to do with it next. But can repeat the exercise for you indefinitely.
A perfectly adequate player but not one that will start regularly; Gomes is the player in waiting, able to do some of the hard work but tellingly has the skills to execute the transition.
It would need a seismic shift for Jimmy Mac to be a regular starter again for Everton.
David Ellis
102
Posted 06/09/2018 at 04:47:05
James Marshall #63 – you've never heard of a player getting back to form after a double leg break? Luke Shaw I think?
But I agree, players are often never the same again after a long period out for an injury.
McCarthy back at his best would get into our side as the defensive midfielder. He could be better being older and wider. Some silly comments here on his goalscoring record – horses for courses (Reid and Bracewell scored one goal between them a season in a good year and they were the best central midfield pairing we've had in 48 years)
Don't expect to see him in the first team until the League Cup final, or perhaps FA Cup semi-final! Here's hoping.
Dan Brierley
103
Posted 06/09/2018 at 11:55:16
Ed, McCarthy's scoring record seemed to be no different at Wigan, he's never scored more than 3 in a season? is that a good box to box player?
And David indirectly makes a very good point. McCarthy probably would have been a very good player .if it were 1985. I guess things were more simple then, defenders defended, midfielders midfielded (eh?), and attackers attacked. Tony Hibbert would have been one of the best right-backs ever.
The game we watch today is not as static in terms of roles, the best very best teams have players able to play multiple roles and positions. Yaya Toure is one of the best examples. An absolute beast of a defensive midfielder, but also scored a goal every 4 games for Man City.
John Daley, your last paragraph cracked me up, but also put some awful images in my head.
Steve Ferns
104
Posted 06/09/2018 at 12:16:39
Yeah, John's post is hilarious. I don't agree with what he's saying, but the way he says it makes me say he wins the argument!
James Flynn
105
Posted 06/09/2018 at 14:13:28
The McCarthy of his first season is gone and never coming back. He's 2 months shy of his 28th birthday. Our best-case scenario is that he's back to full (playing) health by the Spring, so we can hopefully sell him on to a bottom-half club.
The alternative is that we're stuck with a 29-year-old playing out the last year of his contract in 2019-20.
All the best to him, but we need to be rid of.
Mick Davies
106
Posted 06/09/2018 at 15:35:25
To all those who are shamefully decrying the amount of work and passion that James McCarthy has put in while wearing an Everton shirt, I'd just like to say, what happened in the derby after we were battering them and then James had to come off?
It's hard to quantify this type of player unless you really understand the game, and it's funny to see some of those who moaned for years about the likes of Lukaku not putting in a shift, yet when a player works his socks off, they slate him for not scoring, playing pin-point 50-yard passes etc. No wonder good players don't stay long at Everton.
Christy Ring
107
Posted 06/09/2018 at 16:20:02
Mick @106, Great comment, some fans have a short memory.
Denis Richardson
108
Posted 06/09/2018 at 16:40:57
Mick @106,
Everyone loves a passionate player who puts 120% in each game but some of us just happen to think that alone isn't enough. We've had enough work horses over the years who football wise were bang average.
Each to their opinion at the end of the day. Personally, I never rated McCarthy anyway, being an average water carrier who rarely passes the ball forward and, to add insult to injury, is always injured. Am convinced he'd have been sold long ago if he wasn't injured all the time. I think we were close to selling him to Celtic back in 2016 and cannot see how he'd fit into a Silva team anyway. Fact is he's done fook all since his first season and we already know he's a very limited player. If we want to progress why would we want a player like that in the team?
The frustration with Lukaku is not comparable. He IS a talented player who scores lots of goals. However, people's frustration was due to the him not seeming to but in a shift regularly enough. If he worked as hard as say Aguero or Suarez, he'd be on par with Drogba. The frustration is due to him to not getting to his potential (in some people's eyes anyway). McCarthy is just a limited player who has to try hard to compensate for lack of ability.
Also, citing one game is hardly a ringing endorsement. Besic was bought on the basis of one game – look how that turned out.
Steve Ferns
109
Posted 06/09/2018 at 18:41:42
Denis, he was brilliant in that first season. Too many belittle what we achieved that season. It seems to be the old guard who've seen better.
For us younger fans, that's it. That season is the best season I've ever had as an Everton fan. The best bar none. Not '95, not '04. '14 was it for me and anyone else under 40.
Who did we have that season? Howard, Coleman, Jagielka, Distin, Baines then Oviedo from Christmas onwards, McCarthy, Barry, Osman, Pienaar, Deulofeu, Barkley, Lukaku.
Where's the superstar there? Lukaku was very young. Loads on TW were slating him in his first two seasons. Barkley was shit according to loads on here. I remember when Barry was playing under Koeman and loads on here were saying how shit Barry was! So was it Martinez was a brilliant manager? No, he's shit too.
The reality was we had a very good young side with Lukaku and Barkley finishing. But it was McCarthy and Barry who made it happen.
Since then, McCarthy has not had a sustained run of fitness in the side and his form has suffered.
Harry Hockley
110
Posted 06/09/2018 at 18:58:58
I'll always remember that tackle, when he replaced the ball with his leg just to stop Rondon from scoring, still makes me feel funny even now when I think of it.
That moment, I will always remember what James did for us, poor Rondon's face after I had to feel for the man.
Hurry up back, son, we need your strength and passion back in the middle, something we've desperately missed of late.
Neil Cremin
111
Posted 07/09/2018 at 06:58:18
Haven't visited TW for a few days and saw this piece and had a look to see how long it would take for the naysayers to start having a go. Low and behold there you were, Shane (#1), with the first cheap shot.
Then Brian (#6) quoting the Irish Times (would love to see that source) saying Macca would be ready in October. I would suspect this is "fake news" to stir the anti-Macca bias in this club. Well done to Steve (#9) for jumping on the bandwagon with the "journeyman" quote. How many clubs has Macca played for in the Premier League?
I remember in the dark old days of last winter when this site was full of whiners, moaning about expensive players going through the motions on the pitch and playing with no commitment. Macca came back from injury, Unwsorth recognised his worth and brought him back too early against Chelsea, made the same mistake as Martinez. Allardyce brought him on against Man Utd and he got booed by the crowd. Yet, within 10 minutes, he brought aggression and fight to the team and suddenly we no longer were subservient to United. Had we taken some of the chances when Macca turned the team mindset around, we would have got something from that game instead of being caught by a late counter.
Finally, when admittedly recovering his own mistake, he broke a gut and a leg to retrieve the ball and prevent a certain goal that put him back on the injury list.
We badly need Macca's aggression and determination. We constantly praise Gana for same but he gives the ball away far more often than Macca.
I didn't read past Steve (#9) because it would be the same old bullshit. As an Everton supporter for over 50 years, I see Macca as the equivalent of Peter Reid in the proper set up which I believe Silva could create but there seems to be a lot of prejudicial bias against Macca.
John Hammond
112
Posted 07/09/2018 at 11:56:39
Neil, there's no such a thing as 'prejudicial bias' so I'm not sure what you're actually accusing TWebbers of. Well, the first 9 comments at least.
I can tell you that a lot of the posts (me included) commented that the biggest issues are injuries and fitness. How long will he last until his hamstrings go or something else breaks?
My opinion is we get him fit and sell him in January as we'll never see a fully fit McCarthy getting a decent run of games again. Put those £50k wages to good use on someone who can feature prominently in the first team.
Neil Cremin
113
Posted 07/09/2018 at 13:44:46
John,
Thanks for the grammatical correction but it misses the point of the post, clouded by the bias to get rid of Macca. His hamstring was aggravated by Martinez playing him when he wasn't fit, thereby starting his complicated injury saga.
If you get rid, who do you suggest we have who would drive the team forward aggressively or put his body on the line for EFC? I would be very interested in your recommendations.
In my humble opinion, we do not have any aggressive leaders in the squad just footballers without passion who are earning much more than the reputed £50,000 Macca is earning.
I say, when fit, see how he performs then make the judgement. No prejudice please. We gave others the same respect, eg, Bolasie who were in the club a wet week.
Merle Urquart
114
Posted 07/09/2018 at 14:39:24
We bought the spine of a relegated team – Robles, Alcaraz, McCarthy & Kone – and we were all scratching our heads when it all went tits up...
I really do hope James gets back to full fitness and plays again after probably the worst injury to get as a footballer; however, I don't think he quite cuts the mustard with what we are after.
Victor Yu
115
Posted 07/09/2018 at 14:53:06
I don't think we would have signed Kone if we knew we could get Lukaku on loan. It happened very late in the window and it took a lot of convincing from Mirallas to get Lukaku here.
Neil Cremin
116
Posted 07/09/2018 at 15:25:08
Merle,
Yet, we would be glad of the football that team delivered when we finished 5th. Now, the limit of our ambitions is to get into the top 6. Oh how times have changed.
Also, please advise which of our present midfielders can bring more to the team than McCarthy if he regains fitness? Gana, Davies, Schneiderlin, Sigurdsson? I'd be interested in knowing because IMO all have something but none have more then Macca so I do not understand the constant rant against him in TW.
David Barks
117
Posted 07/09/2018 at 15:48:22
Neil,
To get into the Top 6 is not the limit of our ambitions. The ambition ultimately is to build a team that can compete at the very top. However, that is not going to happen this season because there is a massive mess that is having to be cleaned up and the first steps of rebuilding the team and club from top to bottom are being taken.
As for McCarthy, he just hasn't been healthy. Even before the leg break he was always out injured with torn hamstrings. This isn't a new phenomena with him. We just were no longer able to rely on him so why should that be any different now? It seemed every international break there would be some uproar because McCarthy would go off to play with Ireland after missing the past month or so with a torn hamstring at Everton.
Neil Cremin
118
Posted 07/09/2018 at 16:03:01
David,
I also have more ambition than top six but if you read the posts in TW that is the first ambition. We were there in the first year with Martinez my opinion on that is that he took advantage of the cautious but organised structure and let the players go out and express themselves. Like letting a dog off a leash. Unfortunately, he forgot that teams must be organised defensively to stop conceding goals and fit enough to last 95 minutes.
On the McCarthy issue, how many games did he actually play with Ireland after missing a month or so with a torn hamstring? The only person that I am aware of who played McCarthy was Martinez which resulted in his eventual problem. He was called up and attended Ireland squads, just like Seamus while he was injured, but, to the best of my knowledge, I am not sure he actually played any but I stand corrected. A lot of selective memory, methinks.
David Barks
119
Posted 07/09/2018 at 16:20:09
Neil,
So you don't remember Koeman publicly calling out Ireland and the player himself? It was quite public.
Also, you can go here to see his injury history. It's staggering.
Mick Davies
120
Posted 07/09/2018 at 16:29:14
Merle @ 114, you mention Alcaraz, Kone and Robles which is ridiculous: they only played about 10 games between them in that first season while Mac played almost every one.
I don't mind posters on here saying we should get rid as he is crocked as it's hard to argue against that, but saying he isn't good enough for a team that can't beat Huddersfield at home, and can't keep a clean sheet, is pathetic.
He has one purpose: to stop the opposition, and with the centre-halves that we have had over the last 5 years, his job is priceless. We've seen him score some good goals (not many, of course) but he's proved he could link up with Lukaku well when he was allowed to go forward, so saying he couldn't do that is nonsense.
Yes, he has a bad injury record but, after the way he has conducted himself and gave everything on the pitch, I reckon he deserves another chance to prove he can regain his 2013-14 form.
Brian Williams
121
Posted 07/09/2018 at 17:17:50
David (#119),
That link brings you straight back to here, mate.
Neil Cremin
122
Posted 07/09/2018 at 17:54:44
Yeah, David.
Is this the same Koeman who humiliated him by pulling him ashore in his first few games in charge and who went on to humiliate and alienate many other players before the year was out – including boyhood Evertonian, Ross Barkley, until he eventually destroyed the morale of the team?
I had a look at your link externally. Two things stick out to me in that list of injuries. One is that the majority of the absences are due to hamstring injury which first occurred in the 2014-15 season, which was never allowed to heal properly either because he tried to come back too early or his manager forced him back too early.
The second thing is that the other injury was due to him putting his body on the line for Everton to prevent the opposition scoring. Oh would I wish we had a few more brave souls in our team. Then we may even get a clean sheet and get three points instead of one.
I actually believe Silva is a good man manager and he will bring the best out of the committed players.

James Hughes
123
Posted 07/09/2018 at 18:23:17
Whilst we are talking about James Mac's recuring injuries. Have you the read the very honest article from Michael Owen.
After he got his major hamstring injury, He never really healed. He suffered multiple muscle tears throughout his career. It struck me that some players just can't meet the very demanding nature of the game, through no fault of their own. Ability is there, mindset is there but the body is away on another lower level.
I hope James can play again and play to his potential. He put his body on the line for this / our club and was rewarded by a broken leg. Also rewarded by others questioning his worth and whether he has good enough to play for us.
It may well be that James Mac, may be on his last legs at the grand old age of 27 years.
Merle Urquart
124
Posted 08/09/2018 at 10:43:11
Neil @116,
I would keep Davies & Sigurdsson out of the names mentioned; the others, well, they have all had their chance and frankly I think they are all let-down merchants.
Davies still has potential so gets a reprieve for me because he has suffered under the previous managers; as for Sigurdsson, I just think there is more to come from him; but Gana, Schneiderlin and McCarthy would not figure in any midfield as they just lack ooompff — there's no goals, no defence-splitting passes, just sideways, backwards, poor control, poor marking and mistakes. I've had enough of them and I cant wait for the fresher faces to come in. Are we in danger of any of the teams above us meaning the usual 6 buying any of these?
Mick @120,
In terms of the block of players bought from Wigan, we imported en masse into the squad a losing mentality which profoundly manifested itself in years 2 & 3 of Martinez's tenure despite his first season which was built on a drilled Moyes defence and Lukaku providing us with a bit more up front.
I'm not saying that this was the sole reason that things turned as usual to rat shit but it would be nice if we signed players who hate losing.
Neil Cremin
125
Posted 08/09/2018 at 14:31:35
Merle
I take your point. My series of posts are aimed at those who vilify McCarthy and scream that he should be sold. This makes no sense to me until we see how he performs when he returns and IMO we badly need somebody who will put steel into the middle of the park. I don't see anybody currently at Everton who would bring this badly needed quality to our midfield other than McCarthy at full fitness which would then feed the talents of players who would benefit e.g. Gylfi.
If he doesnt return to his standards of his first season with us then we can consider replaceing him with somebody's who can do that job better. We do not have any steel in the team a quality recognised by the man who humiliated the one man who had that quality.
Rick Pattinson
126
Posted 11/09/2018 at 07:39:40
I never really thought a lot about the lad... but, on his return last season, I realised how much he was missing; he was everywhere... solid... hungry and made a huge difference. I can't wait to have him back fit and playing that way.
Eric Myles
127
Posted 11/09/2018 at 08:05:16
Similarly Rick, a couple of seasons ago I couldn't understand the fuss about McCarthy until in one game he went off and then it was obvious that he was missed.
He's never really returned since then though. Hopefully he can make a difference again.
Paul Tran
128
Posted 11/09/2018 at 08:16:35
He's a good player with a poor fitness record who has been poorly looked after by various managers.
If you look at who we've bought, who we're likely to keep and our stated ambition, he's going to be a squad player at best.
Add Your Comments
In order to post a comment, you need to be logged in as a registered user of the site.
Or Sign up as a ToffeeWeb Member — it's free, takes just a few minutes and will allow you to post your comments on articles and Talking Points submissions across the site.