Richarlison and Robinson face off in New Jersey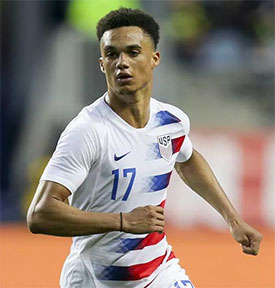 Antonee Robinson played another international game as the United States seek to rebuild following their failure to qualify for the 2018 World Cup
For the last 15 minutes of this international friendly in New Jersey, Richarlison played for Brazil against Antonee Robinson, left back for the USA.
The game ended 2-0 to Brazil, from two first-half goals, and Brazil dominated play without really putting their hosts to the sword.
US Interim Coach, Dave Sarachan, described Robinson as being 'nervous' early on, but left him on the pitch for the whole game, despite making numerous substitutions that killed the game as a contest.
For Richarlison, meanwhile, making his debut for the senior Brazil team was the fulfilment of a strong ambition. He admitted how disappointed he was to initially miss the cut for the current international break but was handed his opportunity after being called up following injury to his countryman Pedro.
Brazil's changes served to significantly reduce the number of chances the visitors fashioned late in the game so Richarlison, who was deployed in a more central attacking role than has been the case at Everton, didn't receive any meaningful service.
Meanwhile, Cenk Tosun played the full 90 minutes for Turkey as they lost 2-1 to Russia in Trabzon.
---
Reader Comments (69)
Note: the following content is not moderated or vetted by the site owners at the time of submission. Comments are the responsibility of the poster. Disclaimer
Mike Gaynes
1
Posted 08/09/2018 at 00:35:31
Antonee Robinson is in the starting lineup for the USA against Brazil.
Richarlison is on the subs bench for Brazil.
Mike Gaynes
2
Posted 08/09/2018 at 01:24:11
And Robinson just got absolutely roasted by Douglas Costa for the first Brazil goal. Costa was instructed by Tite to go right at Robinson, and the first time he did, Robinson got too square and too tight. Costa blew past him and crossed perfectly for the goal.
Jay Wood
[BRZ]
3
Posted 08/09/2018 at 01:26:12
Oof! I thought Robinson was quick but Costa has scorched him there to go past him and get the pinpoint cross in for Firmino's goal.
Jay Wood
[BRZ]
4
Posted 08/09/2018 at 01:33:17
Just saying in the Brazilian commentary that Costa clocked 32 km/h when he skinned Robinson, which is getting close to Olympic 100-m sprint territory.
Rápido.
Mike Gaynes
5
Posted 08/09/2018 at 02:03:06
I believe Costa is considered the fastest right wing in the world. The angle Robinson chose in closing down on him gave Costa all the room he needed.
Costa nutmegged him later and almost created a second goal. Quite a learning experience for the young man.
David Barks
6
Posted 08/09/2018 at 02:25:19
Robinson is very young. Let's allow him to learn.
Mike Gaynes
7
Posted 08/09/2018 at 02:43:35
Things got better for Robinson later. He blocked a goalbound shot, knocked Coutinho off the ball with an excellent tackle, and just showed his blistering pace to catch Firmino from behind on a breakaway and save a goal. Firmino was three yards clear and Robinson caught and passed him within 15 yards. Scorching.
And with Costa now out, he's having a much easier time dealing with Willian.
Jay Wood
[BRZ]
8
Posted 08/09/2018 at 02:44:06
RICHARLISON!!!!
On for Firmino which makes it even sweeter.
Jay Wood
[BRZ]
9
Posted 08/09/2018 at 02:47:11
Interesting.
Playing the #9 role AND wearing the shirt.
Mike Gaynes
10
Posted 08/09/2018 at 02:47:22
Everton is on for Brazil. No kidding, the guy's name is Everton.
Jay Wood
[BRZ]
11
Posted 08/09/2018 at 02:50:05
Loads of players/people called Everton in Brazil, Mike. Very common name.
Mike Gaynes
12
Posted 08/09/2018 at 03:05:57
Overall, okay from the US kids, not a threat to Brazil but they competed. No impact from Richarlison in his sub appearance.
And Robinson can now say he played the full 90 against the best there is. Probably learned more tonight than in the past year.
Mike Gaynes
13
Posted 08/09/2018 at 04:01:44
Michael,
"...the second half a meaningless snooze-fest."
I didn't detect a whole lot of excitement in the first half either.
Hopefully USA - Mexico on Tuesday will be a little more fun.
David Barks
14
Posted 08/09/2018 at 04:30:07
Mike,
I think the focus here was much more on Richarlison with Brazil rather than whatever the US team is doing.
Michael Kenrick
15
Posted 08/09/2018 at 05:04:44
You caught me there, Mike. I missed the first half!
Jamie Crowley
16
Posted 08/09/2018 at 07:44:50
Robinson was beaten for that first goal, but I blame the goal on the USA centre-back (Miazga? Young kid just learning about him as he's one of the great "hopes") who completely lost his man.
He ball-watched and lost his marker completely. A good centre-back might have stopped that goal.
Robinson did well. He was up against the best. Not too bad for a 20-year-old kid.
It was so nice to see all the young kids for America. We need to turn the page.
Martin Berry
17
Posted 08/09/2018 at 08:58:41
Don't worry too much about Robinson as Costa is going to be one of the best players in the world. Had Brazil utilized him more in the World Cup, they may have progressed further.
Both of our boys have great futures ahead of themselves and games like these set a standard they have to aspire too.
Kevin O'Regan
18
Posted 08/09/2018 at 09:20:12
Martin (@28) "Costa to be one of the best players in the world"... the guy is 28 next week... Struggled to make it with FC Bayern.
Fast indeed but I guess Bayern wanted more than that. Nice to see our lads getting game time on that stage.
Chris Gould
19
Posted 08/09/2018 at 09:20:31
Robinson got skinned because he was flat-footed and got caught out by Costa's quick feet and initial burst.
32 km/h is not particularly quick. Calvert-Lewin has been clocked at 34.9 km/h this season. That isn't to say that Costa couldn't go quicker – just that it was his quick feet and Robinson's positioning that made him appear faster.
To put it into perspective, Usain Bolt's top speed was just over 44 km/h.

Mike Allison
20
Posted 08/09/2018 at 09:30:46
Costa's lightning quick and very talented. His problem has been a lack of consistency, but he is an extremely difficult and dangerous bringing the ball out for a fullback to cope with.
As a general rule, if you find yourself denigrating Everton or an Everton player by resorting to denigrating the opposition, you're probably just one of those whingeing moaning blokes on the Internet (especially when that opponent is a Brazil winger who has played at the highest level for some of the world's biggest clubs).
Sam Hoare
21
Posted 08/09/2018 at 09:42:36
Costa would give most left backs in the world a torrid time.
Robinson has to keep working hard for USA and Wigan; if he progresses, he will have a serious shot at challenging Digne for the left-back slot next season.

Stephen Davies
22
Posted 08/09/2018 at 10:17:59
Jay (#11),
Thats interesting...
But what is the reason for this?

Steve Ferns
23
Posted 08/09/2018 at 10:23:05
Because they all love the mighty Blues, of course!
Chris Gould
24
Posted 08/09/2018 at 10:38:33
Mike (#20), who are you referring to? Nobody criticised Costa.
Since when can we not point out mistakes from our players?
Denigration suggests unfair criticism. Where do you see any unfair criticism of Robinson?
Alan McGuffog
25
Posted 08/09/2018 at 10:48:00
I can't remember the game... may have been against the mighty Stoke, around 1965. Wilson was beaten on his outside and the resultant cross lead to a goal. Ramon really was shite, wasn't he?
Jay Wood
[BRZ]
26
Posted 08/09/2018 at 12:13:36
Stephen @ 22.
I wish I knew the answer why 'Everton' is a common name in Brazil. I've asked but no-one knows.
The etymology – the origins of the word – intrigued me, but I couldn't find anything to explain how and why it is so commonly found in Brazil.
It IS a word with English / Anglo-Saxon origins: it comes from 'eofor' – wild boar. That morphed into 'everard' meaning 'hardy, brave'.
Now at the turn of the 19th and 20th century, Liverpool was THE major UK port between the UK and Brazil and even today, in the original docks in the city where I live, are original cranes bearing the name of the city of Liverpool.
Many Brazilian cities and their infrastructure were built and influenced by British companies and engineers around this time.
I'm guessing this is one possible way the name arrived in Brazil: migrants from Liverpool naming their children after the village (as it then was) or fledgling football club of Everton.
Indeed, it was a Scot that brought football to Brazil, but which one is up for debate as this article shows.
Steve Ferns
27
Posted 08/09/2018 at 12:24:35
Didn't Everton tour South America in the early 20th century? Isn't that how we got Everton in Chile? Pretty sure we went round Argentina and Brazil too.
Would it not follow that a famous English club, perhaps the most successful in England at the time, would not impress enough that people started naming children after the club?
Jay, aren't Brazilians fond of naming after such institutions: Walt Disney, Wagner Love, Ghandi, John Lennon... these are all footballers in Brazil.
There's a few Everton's in the Caribbean. Their name is meant to come from the football club too. I mean there's no other Everton and the place itself is an insignificant area of Liverpool.
John Keating
28
Posted 08/09/2018 at 12:33:38
Everton "an insignificant area of Liverpool"!!?!
Nice one, Steve. I recommend you pass through quickly next time you're on your way to the match!
Jay Wood
[BRZ]
29
Posted 08/09/2018 at 12:46:22
The name 'Everton' is indeed found around the world in other English-speaking countries: USA, Australia, South Africa, the Carribean. And again, I'm guessing that possibly came from Liverpool immigrants.
Whilst you're right, Steve, that Brazilians do like to name their children after famous people they like (and some of the spellings are quite funny as they are based on phonetics rather than the correct spelling as we know it), I doubt Everton's short tour to Latin America a century ago alone would have had sufficient national publicity or influence in such a vast country where football was still not widespread to inspire parents to name their children after us.
Indeed, some folk I spoke to about their name aren't even aware they share their name with a football club in England. And more, neither they or their parents follow football. Go figure!
The question naturally intrigues me as an Evertonian living in Brazil.
Stephen Davies
30
Posted 08/09/2018 at 12:59:08
Jay...
Indeed, then why isn't Liverpool an equally or more popular name?
Peter Gorman
31
Posted 08/09/2018 at 13:01:30
Because that would be child abuse, Stephen.
Steve Ferns
32
Posted 08/09/2018 at 13:13:26
John, I used to live down the road from the Everton boundary. I meant that there's only the football club within the village boundaries that would see people from outside of the area take note of the village, even though the football club is now outside the village boundaries.
Anyway, Jay, is it not possible that people named children after the football club 100 years ago? The name then entered the list of Brazilian names and continues to be used as a name without the original meaning of the name?
Just a thought anyway.
Jay Wood
[BRZ]
33
Posted 08/09/2018 at 13:19:06
Very good Peter @31!
Brian Hennessy
34
Posted 08/09/2018 at 13:28:12
I have it on good authority that a British tourist once brought several packets of Everton mints to South America and distributed them to local children.
They went down a bomb, so much so that many locals decide to name their offspring after them.
John Keating
35
Posted 08/09/2018 at 13:29:00
Steve,
Forget the football club for a minute.
I am in my mid-60s and still travel the world. Like many, many, people I meet overseas or in the UK, when you ask them where they're from, like me they say 'Everton'. Might sound daft but there it is!
At family gatherings, parties etc, even though people were decanted from Everton in the '50s or '60s and they may now live in Skelmersdale, Kirkby, even outside the City, they always say they're from Everton.
The football club have nothing to do with it. I meet as many RS who straight off say they're from Everton.
No doubt as the older people die off, we'll get this less and less; however, people still take great pride in saying "I'm from Everton".
Ian Burns
36
Posted 08/09/2018 at 13:32:52
Jay Wood, reading that link you put up about which Scot introduced football into Brazil, it mentions a western suburb of Rio de Janiero called Bangu.
I am sure as a young kid I watched Everton play a team from Brazil (first time I had ever heard of a club from a foreign country playing at Goodison Park) and the name of the team I think was Bangu. My memory might be playing games with me here but if I am on the right track, the game was a 2-2 draw. I recall being astonished that a team from Brazil could hold Everton to a 2-2 draw!
Jay Wood
[BRZ]
37
Posted 08/09/2018 at 13:50:24
Ian @ 36.
Your memory is not playing tricks.
That fixture at Goodison DID take place. I wasn't aware of the fact until a few months ago when someone mentioned it here on TW.
I did some research to confirm it. I was amazed because today Bangu plays in the 4th tier of Brazilian football, which translates as about the 6th or 7th tier in England.
They are not the oldest formed team in Brazil, but Bangu is credited with hosting the first game of organized football in the country.
Mike Galley
38
Posted 08/09/2018 at 13:53:50
Peter Gorman 31. Haha, brilliant. I need to get this topic of conversation going next time I'm in the pub with some of my RS friends.
Jay Wood
[BRZ]
39
Posted 08/09/2018 at 13:54:25
Brian @ 34.
There's some truth in that!
Visiting family and friends don't cross the threshold before a suitcase inspection confirms they have brought Everton mints with 'em!
And very popular they are indeed with the locals too!
Ian Burns
40
Posted 08/09/2018 at 13:57:05
Jay - 37 - thanks I appreciate you following up and I'm delighted my old memory stick is still working!
Andy Williams
41
Posted 08/09/2018 at 14:12:32
My bet is on Everton Weekes, the Jamaican cricketer. He was definitely named after the club as his dad was a fan. As a legendary cricketer I reckon the popularity of the name in the Carribbean is down to him. But there was also a significant number of migrants from the Caribbean to Brazil. My guess is that they took the name with them.
Steve Ferns
42
Posted 08/09/2018 at 14:37:26
Fair enough, John. My granddad always stuck by being from Scotland Road even though my family were sent to Huyton after the war.
If so Andy, then the name indeed goes back to the club. It must do. There can be no other explanation.
Peter Fearon
43
Posted 08/09/2018 at 14:56:31
As someone who grew up in Walton and Everton I would like to state that Everton is NOT an insignificant area of Liverpool. Just what would make one district more significant than another?
There is only one insignificant place in Liverpool I can think of: Anfield. And I don't mean the whole neighborhood.
Kristian Boyce
44
Posted 08/09/2018 at 15:27:23
My oldest's middle name is Everton. He was born in Wisconsin, unfortunately nowhere near Brazil.
Joe Cavanagh
45
Posted 08/09/2018 at 15:27:33
Jay Wood - [at 29] - an Evertonian living in Brazil ? Me, too. Have been here since the start of 2009. My username (Rioblue) gives away my location, sort of I'm across the bay in Niteroi. And you ?
Steve Ferns
46
Posted 08/09/2018 at 15:33:40
Sorry Peter, poor choice of words. I meant that it had nothing to cause people from the other side of the world to want to name their children after it, other than the football club.
Nicholas Ryan
47
Posted 08/09/2018 at 15:40:14
Everton 'an insignificant area of Liverpool...'. I prefer to think, that Liverpool is an insignificant area, surrounding Everton!!
Steve Ferns
48
Posted 08/09/2018 at 15:41:49
Peter Howard
49
Posted 08/09/2018 at 15:49:20
Mike (13)
If Mexico get a free kick, are the USA going to build a wall?
Jay Wood
[BRZ]
50
Posted 08/09/2018 at 15:59:56
Joe @ 45.
This song - one of the cleverest play on words you'll hear - gives you a clue:
Mike Gaynes
51
Posted 08/09/2018 at 16:32:05
I love where this thread went after I went to bed last night! The Everton name speculation is delightful.
Peter #49, absolutely, but Mexico is going to pay for it.
Dave Abrahams
52
Posted 08/09/2018 at 16:51:25
Ian (36)yes that game was an evening kick off and the score was 2-2 asyou say, the Brazillian trainer came onto the pitch with a little red suitcase to roars of laughter and there was plenty of laughter because he was on every five minutes to attend the goalkeeper, every time this goalie got the ball and any Everton player was the slightest bit near him he would drop to the floor like he had been pole axed, terrible actor.
Carrying on Ian, that wasn't the first Brazilian team I saw at Goodison, in the early fifties Vasco de Gama played the Blues on a Saturday afternoon and were trounced
6-3 with Cyril Lello netting a hatrick from the inside left
position.
There was also a German team who played in a0-0 draw,
one of Jimmy Harris's first games and the German outside left only had half a left arm.
Derek Taylor
53
Posted 08/09/2018 at 17:04:44
Dave, I seem to remember that the Brazil trainer was named America. Perhaps Jay can confirm or otherwise?
Dave Abrahams
54
Posted 08/09/2018 at 17:09:43
Derek (#53), I think you are right, I was trying to remember that trainers name, knew it was an unusual one: America rings a bell.
Mike Gaynes
55
Posted 08/09/2018 at 17:15:34
My all-time favorite Brazilian name was a striker from Guarani FC named Creedence Clearwater Couto.
Not sure why parents would name a kid that, but I doubt he considered himself a Fortunate Son.
Jay Wood
[BRZ]
56
Posted 08/09/2018 at 17:32:48
Ohhh Dave!
Thanks for that snippet about Everton smacking Vasco 6-3. That's another game from our history against a Brazilian team I didn't know about.
Vasco is my father-in-law's team. He's gonna hear about this!
As for your comment of the keeper, things don't change much. Here in Brazil you can bet your house that in the dying minutes of a tight game, the keeper of the team wanting to waste time will feign an injury and 2-3 medical staff will rush on and perform open heart surgery, give him a facelift and a vasectomy for good measure, before the player gingerly gets to his feet, grimacing in pain, before doing a James Brown-like shuffle back to his position.
Of course, if called upon within seconds to make a save, he then displays cat-like agility on steroids to make the save.
Drives me (Brazilian!) nuts.
Brian Williams
57
Posted 08/09/2018 at 17:36:26
Mike (#55).
Obviously huge fans of Creedence Clearwater Revival.
Coulda been worse. They coulda been fans of Gary Glitter!
Dennis Stevens
58
Posted 08/09/2018 at 17:44:55
Mike #55 - perhaps he was Born On The Bayou, or even Rio Verde!
Paul Birmingham
59
Posted 08/09/2018 at 17:45:10
There's quite a few places called Everton around the world and also Liverpool. The City has a rich Maritime and cultural heritage, to be proud of.
Being a very famous and important port in recent history and now resurgent as a port, Everton and Liverpool are names, for places in South America, Caribbean, Australia and South Africa, and I recall also on a journey years ago to Luton.
It's never been and will be an insignificant place anywhere, let alone Liverpool.
This is a place for all Evertonians to respectfully have their say, and we are all of differing ages and backgrounds countries, interests, knowledge and creeds. Let's unite behind the team and respect people's views respectfully.
Some of us have friends and relations in L5, so let's maintain respect and dignity for all TWrs and their views but let's maintain good standards of dignity, respect and consideration.
It's great it's such a popular name and makes good talk and debate when travelling anywhere.
nb: Does anyone have any update on Mina and his fitness?
Thank you.
David Midgley
60
Posted 08/09/2018 at 18:15:32
DA #54. If I remember didn't they wear black shirts with a white diagonal stripe?
BH #34. Was he arrested ?
Dave Abrahams
61
Posted 08/09/2018 at 19:41:05
David (#60) what I remember: the shirts were very dark with a bright sash from the shoulder to the waist: so they could have been as you describe them.
Jay Wood
[BRZ]
62
Posted 08/09/2018 at 20:41:52
David Midgely describes Vasco's shirts perfectly.
Joe Cavanagh
63
Posted 08/09/2018 at 22:07:59
Jay @ 50. I listened to the words but didn't get a clue, apart from the obvious one about the Amazon. Your earlier mention of a port where you live suggests Manaus, Belem or Santarem, the biggest ports in the Amazon.
With a father-in-law who supports Vasco he was either a Carioca (for others, a resident of Rio) or a Portuguese immigrant, or both. Are you going to keep me guessing?
Paul McGinty
64
Posted 09/09/2018 at 02:06:25
Went to the game in the hope Richarlison might get minutes. Since I am in the UK next week for the West Ham game, when he won't.
Miazga, an ex-Red Bulls player, notwithstanding the first goal when he lost his marker, did well. Robinson kept at it against a team that was light-years better. Coutinho, Neymar, Costa and Firmino, interchange and, let's be honest, they are dynamite players. It was men against boys.
Hopefully some of the same from the blue boys next Sunday.
Andy Crooks
65
Posted 09/09/2018 at 20:40:34
Andy @ 41, Everton Weeks was also a snooker commentator, as was, is, Clive Everton. Clive Everton once went to Brazil. The rest, is, as has been often said, is history. My late mum went to Everton school in Belfast. It is all falling in to place (taps side of nose knowingly).
Seamus McCrudden
66
Posted 09/09/2018 at 20:51:26
Andy is that the Everton school beside Ardoyne that your mum went to?

Tony Abrahams
67
Posted 09/09/2018 at 21:19:22
Joe @63, I carried on going and eventually listened to Sinaed O'Connor singing this is a rebel song!
Andy Williams
68
Posted 09/09/2018 at 22:21:35
All clear now, Andy. Cheers fella.
Andy Crooks
69
Posted 10/09/2018 at 09:27:05
It is indeed, Seamus.
Add Your Comments
In order to post a comment, you need to be logged in as a registered user of the site.
Or Sign up as a ToffeeWeb Member — it's free, takes just a few minutes and will allow you to post your comments on articles and Talking Points submissions across the site.