Coleman ruled out with foot injury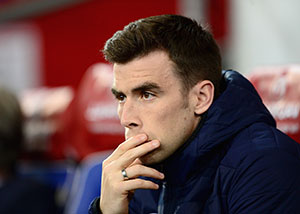 Seamus Coleman has been ruled out of Ireland's next match with Poland.
The message was provided by FAI on Twitter, with no more information given. It is unclear if he will be fit to play for Everton against West Ham United in the Premier League clash at Goodison Park on Sunday.
---
Reader Comments (38)
Note: the following content is not moderated or vetted by the site owners at the time of submission. Comments are the responsibility of the poster. Disclaimer
Christy Ring
1
Posted 10/09/2018 at 16:58:19
Another injury on international duty, a foot injury, must be a doubt for Sunday. Hope Keane wasn't involved!!
Colin Glassar
2
Posted 10/09/2018 at 17:07:55
Well, we can't upset messrs Keane and O'Neill, can we? They'll have McCarthy playing in a wheelchair in a few weeks time. Where's this so-called "luck of the Irish"?
Joe O'Brien
3
Posted 10/09/2018 at 17:41:44
Happens with other international teams too lads... Shaw and Dele Alli got injured playing for England also.
Time for Jonjoe Kenny to make his mark, he's arguably in better form than Seamus at the moment.
Jay Harris
4
Posted 10/09/2018 at 17:54:23
Joe,
I was thinking exactly that. Seamus has been poor all season and if Jonjoe Kenny sniffs a chance, he will go for it. He lacks Coleman's experience but is quicker, sharper and fitter.
Jerome Shields
5
Posted 10/09/2018 at 17:58:17
Sorry for Seamus. Means he has another problem, on top of his recovery from the broken leg.
Lev Vellene
6
Posted 10/09/2018 at 18:02:18
I think Seamus might need to get a metaphorical kick up his behind, never having had to worry about his place lately if fit. So watching Jonjoe (hopefully) doing close to what he did at the cup game, might be a spur for him to improve, not just to assume he can pick up where he left. Of course, he hasn't been close to that this season anyway...
Steve Ferns
7
Posted 10/09/2018 at 18:19:47
Maybe Coleman has had a foot problem all season and now it was exacerbated and ruled him out.
I suffered from foot and ankle issues when I played. They're the worst and they never get better. I hope he's not got a recurring problem.
Brian Wilkinson
8
Posted 10/09/2018 at 18:51:48
It could explain Coleman's poor form this season in the Premier League if it's been niggling and then eventually aggravated it in the Wales game.
A recovery period needed but I feel at the moment, Jonjoe Kenny has stepped up to the mark and will fill the role.
I always thought our back line would eventually be Kenny, Mina, Zouma and Digne, along with Holgate as rotation.
I have high hopes for Kenny, ha has a bit to learn but I always feel comfortable if we call Kenny into the team.
Chris James
9
Posted 10/09/2018 at 19:23:20
Fuck's sake – not again.
We've already lost Coleman for a season and McCarthy to O'Neill and the gimp's pointless internationals – anyone else getting a bit sick of this?
Joe O'Brien
10
Posted 10/09/2018 at 21:13:02
Chris, so what do we do? Refuse to allow them to play for their countries?
I totally agree with you that the McCarthy situation was the FAI's wrongdoing... but Colman got his leg broken by another player playing in a Euro qualifier – that can happen to anyone, nothing to do with Ireland – and Gibson did his knee in a freak accident. Or will we have to blame the pitch also... before we all lose our heads, let's see what exactly is the extent of the injury, he might actually play on Saturday... If not, we've got a fine replacement in Jonjoe Kenny.
Jeff Armstrong
11
Posted 10/09/2018 at 21:33:55
I think it is a good time for Seamus to step down from the team, get fit, and start again in 2 or 3 games. Jonjoe will fill in and not let anyone down.
Neil Cremin
12
Posted 10/09/2018 at 21:43:40
Looks like the wolves are out for Seamus and soon he will probably be vilified in the same way as Macca from the usual suspects and their smart Alex comments.
Not long ago TW was full of shouts to make Seamus captain, now that he is injured TWebbers are saying it is a good thing to give Jonjoe a chance. Comical, I remember last year Kenny was being slated along with Davies and Calvert-Lewin; now he is the bright new hope.
All three are the future but were constantly being slated here last year when they were new kids with talent thrown into a disorganised rabble of a team without any leaders. I used to enjoy reading posts on TW to get the insight into what fans thought but now this is becoming such a fickle website with guys with issues having a rant.

John Keating
13
Posted 10/09/2018 at 21:57:22
In Kenny we have a good young lad who will always give 100%. He may not be quite as good as Coleman yet but he's not that far off.
Holgate has also played right back if Silva prefers additional height
Peter Mills
14
Posted 10/09/2018 at 22:00:36
Spot on Lev (#6). Seamus has definitely been resting on his laurels these last 18 months.
FFS.
Tony Everan
15
Posted 10/09/2018 at 22:08:42
Jonjoe Kenny is an able deputy. I'm all for these kids stepping in and staking their claim as a serious option for a regular start.
Brent Stephens
16
Posted 10/09/2018 at 22:15:19
Peter, "Seamus has definitely been resting on his laurels these last 18 months."
When did he break his leg and when did he start playing again? Was all that outside of the last 18 months you refer to?
Peter Mills
17
Posted 10/09/2018 at 22:41:47
Brent (#16). I'm sorry, my irony was leaden-footed.
I am a great fan of Seamus, the criticism of him is beyond belief. He needs at least half a season to come back up to speed after his dreadful injury. He is an excellent player, a tremendous character, and I would be delighted to see him appointed as Captain.
Brent Stephens
18
Posted 10/09/2018 at 22:50:19
Sorry, Peter, it's more my sensitivity to irony is wanting tonight!! Good man.
Frank Wade
19
Posted 10/09/2018 at 22:52:52
According to the FAI, he picked up the injury in the Wales match. I watched the last 20 mins or so and he didn't look injured, so missing Poland is most likely precautionary. Strange that he was named yesterday in the panel for Poland, if he was injured on Thursday. I expect him to be fit for Saturday.
Shane Corcoran
20
Posted 10/09/2018 at 22:58:19
Chris #9, all football is relatively pointless. Must we endure this conversation every international break? Players want to play for their country, none more than Coleman. Get used to it. It'll make the pain easier.
Mike Gaynes
21
Posted 10/09/2018 at 23:54:01
Peter, you beat me to the sarcasm button on my keyboard. And Brent, you cracked me up by missing it!
Lev, all I can say is that if there is one footballer on this entire freaking planet who has never needed a boot up the behind – metaphorical or otherwise – it's Mr Seamus Coleman of Killybegs.
Jim Bennings
22
Posted 11/09/2018 at 09:12:29
Hate to say it but other than his first game back against Leicester in late January he just hasn't been the same player.
Whether or not he's carried injury or he's just genuinely lost a few yards of pace (understandable given the woeful injury) it's just not really the Coleman of old, and that was very evident against Huddersfield when he collected the ball on halfway from a Pickford clearance and he had acres upon acres to run into but was quickly stopped by some Huddersfield donkey.
The Seamus we know was all about bull in a china shop running head down and on auto (never always the best crosser admittedly so) but since that dynamic running hasn't been in his game we ourselves are missing something down that right flank and I only hope he can recapture some semblance of his former self sooner rather than later.
Kenny will likely deputies against West Ham, to be fair he didn't do much wrong last season, not excellent going forward but defensively he was ok for me under Allardyce.
Brent Stephens
23
Posted 11/09/2018 at 09:38:37
Mike #21 I have to wear an irony-detection device these days (old age and all that) but the batteries had run out!
Tony Everan
24
Posted 11/09/2018 at 09:57:47
Q When was irony invented?
A The Irony age
Eddie Dunn
25
Posted 11/09/2018 at 10:09:09
Mike nails it, Coleman is having problems- probably to do with his injury, but he is one man who always gives his best.
If he needs a rest, so be it, and Jonjo would welcome a run-out, but we surely just have to be patient and hope Seamus can get up to speed.
Also we need to show solidarity with one of the few players we have, who could have held his own in any of the top 4 clubs prior to his injury.
Laurie Hartley
26
Posted 12/09/2018 at 00:34:19
According to O'Neill he has a small stress fracture in his foot.
Brian Murray
27
Posted 12/09/2018 at 00:47:09
Great timing if you ask me. Seamus living and playing on memories. Exciting times off the pitch need to be mirrored on the pitch. Step forward, Jonjoe Kenny... plus Fraser Hornby for the injured Calvert-Lewin.
Be brave, Marco... or be gone!
Michael Lynch
28
Posted 12/09/2018 at 10:51:43
Gutted for Seamus. Another spell in the treatment room beckons. I'd love him to retire from international football but, being the man he is, I can't see that happening.
Liam Reilly
29
Posted 12/09/2018 at 11:54:48
Stress fractures can be irritating injuries and if he comes back too soon then he could easily compound it and find himself out for a prolonged period.
Minimum 6-8 weeks I'd have thought before we see him in an Everton Shirt again.
Will be interesting to see who leads the team out on Sunday if none of Seamus, Jags or Baines start.
Brian Harrison
30
Posted 12/09/2018 at 12:06:29
Looks like we are going to have a few more missing for Sunday's Premier League game against West Ham. Calvert-Lewin came off injured for England Under-20s yesterday, Walcott they reckon won't play on Sunday because of a rib injury. Now Coleman has picked up a foot injury, so seems there will be quite a few changes for Sunday.
The front line seems the most affected: if Calvert-Lewin and Walcott are ruled out, that means only 1 of the front 3 that started against Huddersfield will be fit.
So seems that leaves Lookman for one wing and if fit Bernard maybe for the other wing, unless he changes places with Sigurdsson. Just highlights how much Richarlison's sending off will hurt us.
Will Mabon
31
Posted 12/09/2018 at 12:22:52
This is sad news for Seamus. Anyone know which foot it is? Could be an alignment thing following on from the broken leg. It takes a time for everything to realign and adapt, particularly if the leg is not exactly the same as before the break, which is often the case with that level of trauma.
Lee Preston
32
Posted 12/09/2018 at 12:28:27
#24 "Great timing if you ask me. Seamus living and playing on memories."
Jeepers, four games into the new season and he's written off.
I'm completely biased to be fair, as I think the guy is a great player and ambassador for our club. I'll admit he hasn't been at his usual high standard, but 4 games in... seriously?
Lev Vellene
33
Posted 12/09/2018 at 19:33:06
Peter #14 and others, I haven't been on for a few days, so sorry this is late.
I see how you got my meaning wrong. Move the last sentence to a paragraph of its own, then add 'because he's still recovering from his injury".
The part before that is not a criticism of Coleman, just a caution that like any other player he might grow complacent if he's too certain of his own inclusion in the team.
So I just meant that it would be good for Coleman to see Jonjoe (hopefully) do a very good job while he's sidelined himself. Got to keep those pesky youths in their proper (learning) place after all!
So no insult to Coleman was intended, in fact he's usually been one of the first on the team sheet for me. But as he's struggled a bit this season, I felt that alternating him and Kenny might be a good idea, just in case he needed some rest now and then.
The mind rarely accepts what the body tries to say it needs, after all...
Gerry Ring
34
Posted 12/09/2018 at 22:40:23
I'm a huge fan of Seamus and I believe that now might be a good time for international retirement. Given the injuries sustained and his "never say die" attitude, he will always be prone to injury which could result in a shortened career.
Avoiding International duty may extend his club career. The "rose-tinted glasses" opinions of Joonjoe Kenny's rise to fame are highly amusing. He doesn't come near to Coleman even at Seamie's present poor form.
Andy Crooks
35
Posted 12/09/2018 at 23:10:45
Since Seamus came from Sligo, no-one has championed him more than I have. He has not been the same player since his injury but I agree with Mike Gaynes: it is going to take games and time. He is not finished by some distance. He is a top man, top player with plenty more to come.
Why should he stop playing for Ireland? The notion that Ireland take Everton players and run them into the ground is utter nonsense. Martin O'Neill is better than that.
Victor Yu
36
Posted 13/09/2018 at 06:18:09
Half of the team is out for this weekend's game then?
Peter Mills
37
Posted 13/09/2018 at 08:20:12
No worries, Lev.
Sam Hoare
38
Posted 13/09/2018 at 09:43:42
I love Coleman as a player and I'm certainly not writing him off but there is a definite possibility he will never regain his previous standards. Which means a lot of pressure on Jonjoe Kenny. The youngster has looked very solid at times whilst at others his positioning, decision making and distribution have looked dubious.
This injury to Seamus will give him a great opportunity, though, if I'm honest, I have a sneaking suspicion that first team right-back might just be on our shopping list in 2019; hopefully either Jonjoe or Seamus (or both!) prove me wrong.
Holgate may yet be another option when Mina is fit and partnered with either Keane or Zouma. I feel like Holgate, Mina, Zouma, and Digne would be a very strong backline defensively against the better teams.
Add Your Comments
In order to post a comment, you need to be logged in as a registered user of the site.
Or Sign up as a ToffeeWeb Member — it's free, takes just a few minutes and will allow you to post your comments on articles and Talking Points submissions across the site.