Rooney disappointed by wait for clarity over his Goodison future
Sunday, 16 September, 2018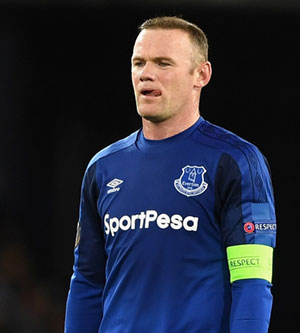 Wayne Rooney says he was saddened by the manner of his second departure from Everton, claiming that it took three months for him to get the clarity over his future he was seeking.
The 33-year-old left Goodison Park in July, halfway through the two-year contract he signed in the summer of 2017 when he made his return from Manchester United after a 13-year absence.
Rooney admits that he was young and impressionable when he abandoned his boyhood Blues for Old Trafford as an 18-year-old in a move that was ultimately worth £27m but says this time all he wanted was a frank assessment of his prospects at Everton following what was an enormously disappointing 2017-18 season for all concerned with the club.
The former England international scored 11 times for Everton over the first half of last season but his goals dried up after the turn of the year once he had dropped back to a deeper midfield role under interim boss, Sam Allardyce.
Rooney was informed that he would be allowed to leave earlier this summer as part of a rebuilding effort under new manager Marco Silva and Director of Football, Marcel Brands. He officially joined DC United on 10 July and has made an instant impact in Major League Soccer.
"It was the owner's decision [to let me go]," Rooney says in the Sunday Times. "He knew he was going to bring a lot of players in and wanted to free money up. That's his decision but I'm disappointed how it happened.
"Sam was the honest one. He said, 'If I'm still here next season you might not play as much but I still want you'. But then he said: 'I'm not sure the owner has the same opinion'. And trying to get an honest answer out of the owner took three months.
"I kept trying and trying. All I wanted was clarity. Even Marco Silva was surprised because before he came in he was told I was leaving - but that was before I was told I could leave."
---
Reader Comments (53)
Note: the following content is not moderated or vetted by the site owners at the time of submission. Comments are the responsibility of the poster. Disclaimer
Ernie Baywood
1
Posted 16/09/2018 at 06:28:45
And I was disappointed with the lack of clarity over his future the first time around.
He had a great career but gave up the opportunity to be an Everton legend. That regret would live with me every day.
Frank Key
2
Posted 16/09/2018 at 06:44:26
How about a bit of context Wayne?
Why not just say, "I love the club and was obviously gutted I could not see my contract out. Saying that, I was on ridiculous dough, and my legs wouldn't allow me to play against the better teams in the league, so I fully understand why Farhad took appropriate action.
"Furthermore, lest we forget the club was in turmoil last year, and sweeping changes were being planned top to bottom, which explains why it took a couple of months to get clarity on my situation.
"I wish Everton all the best."
Jerome Shields
3
Posted 16/09/2018 at 07:05:19
I thought the haunting of Everton by Rooney was over. Obviously harping after some type of furture career. I'm glad it was Moshiri who put the foot down on the transfer that should never have taken place. Means Everton have seen the last of him. Hopefully the saga of Everton being a soft touch for mercenary types and luvvies is over,
Rob B Williams
4
Posted 16/09/2018 at 08:37:33
...and if...your know...your history...
You're 'History' mate - move on!
Martin Berry
5
Posted 16/09/2018 at 08:48:28
Of course he wanted you out Everton needed to move on. Wayne was a great player in his pomp but as a club we needed to look at the future, not pay inflated wages on a player who could not be "shoehorned" into a side wothout detriment.
He should move on and stop the griping, we have and were going places with Mr Moshiri.
John Pickles
6
Posted 16/09/2018 at 08:58:40
It came to an end, because one party wants to improve and go on and win things, and it can't do that when it considers the other party no longer good enough to help it achieve its goals.
Sound familiar?
Liam Reilly
7
Posted 16/09/2018 at 08:59:48
ŕDunno why he keeps t talking about Everton like he was hard done by.
Truth is, he was dam lucky to get the opportunity to come back when he was long past his best and he should be grateful that he got to run out at Goodison again to cheers after his unsavoury departure.
Moshiri is clearly hands on and decided that he didn't want to pay inflated wages to a bit part player. if Rooney can't see that, he'll not get far in the future coaching and management career that he desires.
John Atkins
8
Posted 16/09/2018 at 09:01:09
Jerome #3
Absolutely spot on mate
If he's not good enough for the media / fake' top six then he's not good enough for us
Shame really as I thought had we had a decent side last season he'd be good against the strugglers in games we could control with ease (how delusional was I) and also maybe the last 20/30 mins to change against the top sides when the game was close (another delusional hope)
Moshiri is a business man Wayne and a good job he's not a sentimental old fool so a giant leap in the right direction
As Ernie mentioned ir was Wayne himself who gave up his chance of being an Everton legend, what we would all give for that

Colin Glassar
9
Posted 16/09/2018 at 09:10:12
I don't get all the hatred sent his way. He came back, was played out of position and was still our highest scorer in a shit team under three shit managers.
Yes he would've been an Everton legend if he'd stayed at Goodison. He'd also had won sweet fa like so many other "Everton legends" of recent years.
I love Everton F.C. and would willingly play for free but how many of us would turn down the big money and chance to win glory at another side? Be honest now. He who is without sin may cast the first stone.
Gordon White
10
Posted 16/09/2018 at 09:10:19
what goes around comes around.
Karma.
Derek Thomas
11
Posted 16/09/2018 at 09:18:24
We were saddened when he left the first time, so that makes us even...apart from the 150K per week he took to dull the trauma of being saddened second time round.
Kieran Jones
12
Posted 16/09/2018 at 09:22:09
Wayne should have been told about his future, full stop. A lack of respect from the owners.
Si Pulford
13
Posted 16/09/2018 at 09:32:12
A lot of hate still around for Wayne. Don't understand it myself. I'd still have him in the squad personally. His problem was never being played up front. He scored 11 goals from advanced positions and then got put in defensive mid to accommodate Tosun who scored about 4? Wouldn't be a bad option to bring off the bench today vs West Ham if Tosun still hasn't scored after an hour.
Chris Locke
14
Posted 16/09/2018 at 09:35:16
If I was a multi millionaire football club owner that been convinced to pay £150k a week for a drink driving fat lad with lead in his boots. The last thing I would want to do is spend any time speaking about it.
Rooney was a hindrance to our team last year and was a massive part of the problem.
Few wanted him back and now that he's gone I would think even fewer are interested in anything he has to say.
Any future Rooney stories shouldn't make this site, even if he's talking about Everton.
Leave it for the Man Poo fans sites to give a platform to his cry baby bullsh1t. After all he's their legend, not ours.
Karen Mason
15
Posted 16/09/2018 at 09:35:39
Colin at #9. Summed up beautifully & honestly, without the bitterness some on here show towards Rooney.
Those who harbour bitterness seem to forget that just maybe the lad, like any ridiculously talented youngster wanted to win trophies & earn decent money for his toils. Neither of which our club could give him at the time. He never failed to give his best when he did return. Whether people think that was good enough is a personal opinion. But... He was still our top goalscorer when all's said 'n done. He feels as he does because Everton is the love of his life & arent we all let down when the love of our life dumps us for 'a better model.'
Alan J Thompson
16
Posted 16/09/2018 at 09:42:45
Colin(#9); The point of that parable was Christ telling the adulteress, "Now go and sin no more".
John Davies
17
Posted 16/09/2018 at 09:49:51
Colin #9 and Karen #15 are both spot on. The mark of a top flight footballer is quite simply the number of winners medals he has in his cabinet when he hangs up his boots. Rooney joined United to win things and by God he did. Shed loads! He would have won exactly nothing staying at Goodison Park. Sorry all you haters but that is a fact.
When he came back, his best may not have been enough for some of us but he never gave anything less than his all. The fact the club paid him £150k a week was the clubs' fault, not Rooney's.
I think Moshiri was right to call a halt to all that but I just don't get the hate stuff that goes on here.
Joe McMahon
18
Posted 16/09/2018 at 10:50:23
Considering the money he was on when he came back, the last thing we would have expected Wayne to be doing was community service only months after re joining Everton.
Manchester United know when to sell, Everton don't know when to buy (Darren Gibson et al).
Jason Leung
19
Posted 16/09/2018 at 11:10:21
To those saying they don't understand the hatred towards Rooney, I don't even see the hatred. I just see passionate Everton fans replying to his supposed disappointment and justifying the decision of Mr Moshiri to move him on. There's no abuse or no nasty comments like there was towards Sam Allardyce, now that was hatred.
And I think the bitterness stems from his supposed love for Everton and him kissing his Man Utd badge scoring against us. Everton fans have the right to be bitter towards him. What do you want us to feel?love and cherish?
Every, well, most, understand why he left everton, to win trophies and earn more money. But that doesn't mean we aren't allowed to be bitter towards him. As fans, we have every right to be bitter, as long as it doesn't turn into abuse or insults, and I see none of that in this thread.
Pat Kelly
20
Posted 16/09/2018 at 11:19:55
It's over Wayne. Move on. Forget it. We've forgotten you a long time ago.
Mike Gwyer
21
Posted 16/09/2018 at 11:42:07
Colin #9.
To make your context more real; Rooney WAS offered top dollar to stay at Everton. A club he had supported all his life, a club he joined at the age of 9, basically, a club that was in his blood.
So, would we have won cups & titles if he had stayed? Well, no one can answer that because he didn't.
He fucked off and became a legend at United. That is reality.
Steve Brown
22
Posted 16/09/2018 at 11:59:57
Rooney left Everton because we were willing to trade in our top asset. Kenwright needed to give Moyes money to invest in the squad and that resulted in Champions League for Everton. Rooney went on to have a stellar career and did a decent job for us on his return. I for one was sad to see him leave, but recognise that it was part of a wider clear out.
But to laud Moshiri as an astute genuis who didnt want to pay inflated wages for a 'bit part player' who also happens to be the record premier league goal scorer? I'd buy that if he hadnt allowed Walsh and Koeman to squander millions and hird Allardyce after reading a book.
Shane Corcoran
23
Posted 16/09/2018 at 12:41:02
When's the next edition out? Edge of the seat stuff.
Boy turns back on boyhood club who then get rid of him when he doesn't want to go. It's the fooball business Wayne.
Maybe Moshiri didn't want a foul-mouthed drink-driver as the most well-known player at his club. I'd be very happy if that was the reason.
Kunal Desai
24
Posted 16/09/2018 at 13:16:46
Nothing against Rooney, but it was a daft decision to bring him back to the club last summer. Kenwright had a hand in that and Moshiri ended it. The club moves on.
Paul Hewitt
25
Posted 16/09/2018 at 14:16:39
Boo-Hoo, so Rooney's disappointed the way he left the second time. I was disappointed the way he left the first time.
Victor Yu
26
Posted 16/09/2018 at 14:28:57
We should have kept him.
He would look good and make a difference as a 2nd half substitute this season (he could have changed the game two weeks ago, for example).
Gordon White
27
Posted 16/09/2018 at 14:31:46
Jason 19. I don't see hatred either. Evertonians got use to life without Wayne a long time a go. I don't hold any bitterness towards him. Ineed I understand why he left, even though it gutted me at the time.
But neither am I concerned now he has gone again. Wayne was too big for Everton back then. And Everton are too big for Wayne now.
The situation, our relationship, has been reversed. What goes around comes around. Good luck to you Wayne.

Eddie Dunn
28
Posted 16/09/2018 at 14:49:39
Wayne should have mentioned the fact that he was on silly money(whoever set that deal up was stupid) and so far too much of the budget was wasted on him. He was a shadow of his former self. A shame, but reality.
Frank Wade
29
Posted 16/09/2018 at 15:44:27
One of the advantages in signing him was as a role model for the young lads at the club. I see in the Sunday Times article that he did really well on his community service helping those less fortunate, not the kind of role model we needed.
To use a Martin Keown expression he looked like he was towing a caravan at times last season. It's a lot easier in the MLS and he will do well as Robbie Keane and Beckham did when their legs had gone.
As for clarity, I doubt very much that Silva saw Wayne fitting into his new pressing style of play.
Barry McNally
30
Posted 16/09/2018 at 15:50:21
Meanwhile, Ronaldo, who arguably didn't have the natural talent Rooney had, is still banging them in at the highest level.
Andy Crooks
31
Posted 16/09/2018 at 21:04:35
Barry, you actually think that Rooney had more talent than Ronaldo? I agree with Chris@ 14.
Once a blue always a blue? Oh fuck off Wayne. This club owes you not a damned fucking thing.
I don't hate him. I just have no respect for him.
Paul Mackay
32
Posted 16/09/2018 at 21:34:32
Rooney, please – Just stop talking, it's getting embarrassing, like the ex-girlfriend who keeps turning up when you're out with your new Mrs and drunkenly rattles on about what could have been.
Barry McNally
33
Posted 16/09/2018 at 21:58:10
Andy 33, Rooney scored twice as many goals as Ronaldo in their first 100 top flight games at a similar age, which would suggest to me, that he had more natural talent.
If Rooney had the same work ethic and looked after himself, he'd still be in the Premier League.
Christine Foster
34
Posted 16/09/2018 at 23:53:02
After watching the crap today, it was more than a passing thought to last season when the difference between the side was the Rooney hat-trick. We lost a class player whose legs had gone but to listen to some he was just a lazy, old, has-been.
Well, I for one would have been pleased to see that has been stick a few in the net today because not one player came close in our team today, not one: two strikers who can't finish, 3 midfield players who can't pass a ball. Yep a has-been, but still better than what was on the pitch today.
Oh, and a good goal by Sigurdsson today... did he do anything else?
Steve Ferns
35
Posted 16/09/2018 at 23:55:52
I hear what you're saying, Christine, and I agree to an extent. It's just his salary. Over £3.5m a year. There was even a suggestion that we'd have to up it to £7m to cover the half that Man Utd has finished paying. Rooney wasn't worth that. We had to get rid.
Andrew James
36
Posted 17/09/2018 at 00:11:34
Steve,
Disagree, he was a nice option to have and given we have so many kids on lower wages on the books and Rooney was selling shirts, I say one more season as a super sub was the way forward.
But we've spunked a fortune on a load of other players in 2 years who are either now sold, on loan or currently not fit to play.
Brilliant.
Christine Foster
37
Posted 17/09/2018 at 00:16:18
Steve, it's more to do that Rooney was brought in by Kenwright and not Moshiri... You are right too that it was all about the money but today we had nothing as good as that "has-been".

Mark Andersson
38
Posted 17/09/2018 at 04:29:39
Karma eh??? If that's the case, then Everton are where they belong and the Red Shite still over-shadow us every season. KARMA!!!
Trevor Powell
39
Posted 17/09/2018 at 13:45:45
I am just so distressed, I might not have chips for my tea pondering on the rough treatment given to a washed up multi-millionaire.
Lots of us did not want you back and then you dragged our name through the mud again with your antics with drink and infidelity. The only redeeming feature seemed to be that she was under 60!
Remember, Mr Moneybags that your decision to leave the first time came around from your greedy family and your dubious agent! Do not lay it at the door of the club in any way or your naive attitude!
Now that you are in the multimillionaire bracket, remember how many of your wanted supporters survive in an economy that is more concerned in blaming the working class for all its ills, eroding workers' rights, giving huge backhanders to rail operating companies and yet more!
Get real, Shrek! Get a life and get your head out of your own arse!
Steve Brown
40
Posted 17/09/2018 at 13:55:09
Yes Christine – are Tosun, Calvert-Lewin or Niasse an improvement on Rooney in the first half of last season when he played up front? The acronym LMAO springs to mind.
He would UNDOUBTEDLY have given a better performance in the last two games than any of the forwards we were forced to field. We got a lot of salaries off the books in the close season so could have afforded his.
Victor Yu
41
Posted 17/09/2018 at 15:43:40
Again, he could have made a difference coming into the game in the 2nd half as a substitute.
We should have kept him.
Joe McMahon
42
Posted 17/09/2018 at 19:56:44
Victor, where's your evidence that would have happened? It must have been at the times Wayne took the pitch last season and nowt happened...
And please don't trott out the game against West Ham, that was more or less Moyes's first game.
Jerome Shields
43
Posted 18/09/2018 at 07:37:14
Rooney wasn't told, because both Big Sam and him where being kept on by Moshiri. It was Brands that made it a condition of taking on the Everton role that they both had to leave. It was then that Moshiri made the decision. If you got advice from a respected professional that you where being ripped off, your communication with them wouldn't be the best.
Rooney hasn't changed, his intervention is timed to coincide with those three goals. Trying to give himself some self-promoting air time.
Drew O'Neall
44
Posted 18/09/2018 at 20:54:21
Such concise, witty posts.. to comment would be superfluous.
Well done everyone.
Andy Crooks
45
Posted 18/09/2018 at 22:07:27
You just commented.Well done.
Phil Bellis
46
Posted 18/09/2018 at 22:36:29
"I'd have crawled up the M6 on broken glass to play for Everton again"
Drew O'Neall
47
Posted 18/09/2018 at 23:00:37
No need to continue petty squabbles, Andy.
William Gall
48
Posted 18/09/2018 at 23:07:04
I still believe he could have been used off the bench and would have stayed at the club if they renegotiated his salary,and lets be honest how many in Evertons team are worth the salary they are paid.
As for when he left, how many people would turn down a better pay package with more opportunities doing the same job ?
Gavin Johnson
49
Posted 18/09/2018 at 23:34:27
I prefer it that we brought in Bernard over keeping Rooney for another season. Their wages are in the same ballpark. I very much doubt the Bernard deal would have happened if Rooney had stayed for another season.
Rooney did okay but, you've got to remember, about a third of his goals were penalties. He was too slow. We've already got Schneiderlin and Sigurdsson slowing play down. We don't need a further diminished Rooney playing as well.
If he was on about £50k a year, he would have been a useful squad player, but not on the crazy wages he was on. As I say. I'm very happy that we traded him in for Bernard.
Victor Yu
50
Posted 19/09/2018 at 06:12:16
I would rather have Rooney as a bench option then Niasse or Calvert-Lewin.
David Foster
51
Posted 19/09/2018 at 16:36:46
If he really cared about Everton he would've come back 5 years ago but he chose to stay with Manchester United when he had already achieved everything he desired.
Andy Crooks
52
Posted 19/09/2018 at 19:43:08
Drew @ 47, you are right. I'll take that one back.
Drew O'Neall
53
Posted 19/09/2018 at 19:57:49
Appreciate it. No hard feelings.
Add Your Comments
In order to post a comment, you need to be logged in as a registered user of the site.
Or Sign up as a ToffeeWeb Member — it's free, takes just a few minutes and will allow you to post your comments on articles and Talking Points submissions across the site.