Silva buoyed by Richarlison return
Friday, 21 September, 2018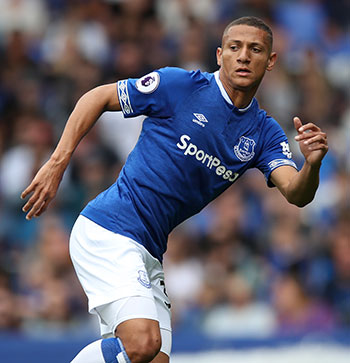 Richarlison is finally available again after serving a three-match ban
Marco Silva has been heartened by an improving selection situation as Richarlison becomes eligible again following his suspension and some of his injured players work their way back to fitness.
The manager is preparing for Sunday's trip to the Emirates to face Arsenal where he will be hoping for a positive performance to partially atone for last weekend's abject result against West Ham at Goodison Park.
As was the case against Huddersfield prior to the international break, Richarlison was sorely missed in the Blues' attack but he comes back into contention for a place against the Gunners.
The Brazilian, who celebrated his first international start with two goals for his country in their win over El Salvador, is Everton's top scorer with three in the Premier League but has been forced to watch from the sidelines following his red card for an ill-advised tête-à-tête with Bournemouth's Adam Smith in the 2-2 draw at Vitality Stadium.
"Of course, he's an important player for us," Silva said of Richarlison during his pre-match press conference today. "He started the season very well scoring important goals and the fact that he's able to play now is good news for us."
Another of Silva's summer signings, Yerry Mina, is yet to make his debut for the club but he has been training with the squad having overcome a foot injury but the boss gave no indication as to whether he will play any part in this weekend's game.
Phil Jagielka continues to work his way back from a knee injury sustained in training last month while Seamus Coleman isn't due back for a couple of weeks at least because of a stress fracture in his foot.
"There is some good news," Silva explained. "Some of the injured players have started training with the squad. We have the same situation with Jags. Next week he will start to train with the team.
"Mina is working with the team and he has had a full week up until now. He's getting better every day and getting good fitness as well.
"The injury situation looks better now. Of course we have the situation with Coleman which wasn't the best for us but now is the time to get him into a good physical condition."
---
Reader Comments (29)
Note: the following content is not moderated or vetted by the site owners at the time of submission. Comments are the responsibility of the poster. Disclaimer
Jack Convery
1
Posted 21/09/2018 at 18:57:49
He's not the only one who is heartened - we all bloody are after the matches we've played without him. We've hardly been convincing - what an understatement that is. Good luck for Sunday we'll need it ! COYBs.
Tony Everan
2
Posted 21/09/2018 at 19:03:16
The manager will be desperate to get Mina in, but it is a very tough introduction to Premier League life. I think he will gamble and start him next to Zouma.
Richarlison has been missed, his reintroduction will give the whole team a boost.
Arsenal have got vulnerabilities as well as us, we can exploit them. Much will depend on how well we defend as I think there is a goal or two in this match for us.
Chris Locke
3
Posted 21/09/2018 at 19:06:27
Having watched the Arse this season, I see no need or benefit to playing 2 defensive midfielders.
Sigurdsson needs to drop back into centre mid to allow Bernard to play left or centrally behind the striker.
Their defence is suspect and would hopefully struggle if we attacked.
Anything has to be better than the last few woeful performances at the Emirates. Lets at least give them a game. I mean pound for pound their team is no better than ours. COYB
Pat Kelly
4
Posted 21/09/2018 at 19:21:40
Any sighting of Gomes ?
Bill Gienapp
5
Posted 21/09/2018 at 19:37:09
It's only been three matches, but it feels like Richarlison has been out forever.
Geoff Lambert
6
Posted 21/09/2018 at 20:07:32
Usual 3 points for the gunners again. Just not good enough at the moment, lets see what this weeks team selection will be.
Hopefully start Bernardio and if ready a start for Mina alongside Zouma
Up front the prodigal son returns hopefully for Tosun and bench DCL and one of the defensive mids.
Could that team snatch a draw??
Ian Riley
7
Posted 21/09/2018 at 20:13:34
Let's have a go on Sunday. Arsenal are in transition like us but to go with fear would be really worrying. We look more open with two holding midfielders. Arsenal's defence is as woeful as ours when put under pressure. Be brave Marco.
Jim Bennings
8
Posted 21/09/2018 at 20:44:40
Tony 2#
You say it's a gamble to go with Mina on Sunday but it's a gamble to play Holgate again after the horror show he produced against West Ham and for me the lad is a bloody nightmare at the minute, let's players run past him at ease and against Arsenal that's one thing you do NOT want to do.
I'd go with Mina and Zouma and lay down the gauntlet to them, a true baptism of fire, you don't pay £20 odd million quid to protect players from games like this, if he's fit enough for that squad on Sunday he can get his ass on the pitch!
Richarlison should start in the middle with Bernard on the left, again give the fella the chance to shine and say to him "these are the venues that you need to showcase yourself".
Playing things safe all the time with tried and tested failures gets us nowhere as we find out season after season.
Tom McEwan
10
Posted 21/09/2018 at 21:14:53
Nearly all of August and thus far most of September, we are still (with the exception of Richarlison and Digne, none of whom have played in every match and discounting twenty-five minutes or so of Bernard) awaiting our new signings to wear a blue shirt week in and week out in competitive matches and show us what they can bring to our team to improve us.
It beggars belief, that we signed so many unfit players during the transfer window and yet, some posters on here at the end of the transfer window were, 'going to enjoy the moment' when we signed these players and wo betide any who would cast any negativity!
On Sunday, we will once again be reliant on the old 'tried and tested' choice of any two from the trio of Davies, Gana and Schneiderlin to be the 'engine room' of the team and yet, despite all evidence to the contrary, expect a positive result
We will still be no further on from seeing Gomes (we used to have our own deluge of long-term 'hammys' now we are importing them) or Mina and probably have only a further 'glimpse' of Bernard.
Its all well and good trying to narrow any criticism down to negativity on here but my questions are, when does positivity become delusional? When has a club ever signed so many players to 'improve' their team who are not ready to step into that team straight away?
To sum up, on another thread we have posters advocating Mina as our future captain. A player who doesn't speak English and hasn't played a game for us.
Should I despair, or am I just 'negative'?
Eddie Dunn
11
Posted 21/09/2018 at 21:20:23
Just read on BBc that Gary Cahill is to ask for a January move...go get him.
Jason Leung
12
Posted 21/09/2018 at 22:05:13
I'm just hoping for a change of formation. I'm sick and tired of having 2 non creative defensive midfielders that give nothing going forward. Please change it up.
Kevin Prytherch
13
Posted 21/09/2018 at 22:23:22
I'm hoping for a bit of an unorthodox one...
3 centre backs - Holgate, Zouma and Mina. This provides cover for when the full backs get forward and also gives us the added height for set pieces with our lovely zonal marking. It also provides cover for any 'rush of blood' moments like the last game from Holgate and Zouma.
2 wing backs - Kenny and Digne.
Here's where I think we should change.
3 midfielders (no number 10) - Davies, Gueye and Baines. Before I get shot down for this I think it could have a positive effect on the team in 2 ways.
Firstly - Baines is a defender, so will naturally take up defensive positions, he can also read a game fairly well. In this respect he's no worse than Schneiderlin. He won't play 30/40 yard passes, but he can ping 20 yard balls to feet and rarely loses it here. He's comfortable on the ball and is used to passing and moving - which Schneiderlin isn't. I don't see him, as a player, being any worse than Schneiderlin.
Secondly - Tom Davies has grown up an Everton fan. Now although he has played with Baines many a time, lining up with him in midfield would be like playing with the closest thing we've had to a hero in 10 years. Tom will up his game. In addition, we have a soft team - I think Baines could be the answer to this. I'm not saying Baines is a hard aggressive footballer - but he doesn't back down. With 3 big centre backs behind him and the effect I think that Baines in the centre will have on Davies and Kenny, I think we will have a core 6 players who will not back down from a skirmish and solve the soft centre we currently have.
Up front - Walcott and Richarlison. These 2 have pace and will occupy 3 Arsenal defenders all the time as they will be wary of their pace. In addition, they will naturally pull out to wider positions, giving defenders the headache of staying with them or not. When Arsenal attack it will be 8 on 7 in our favour as they won't leave Walcott and Richarlison, when we counter we have to hope that the wing backs and Davies get up to support them.
It won't be pretty, but this midfield 3 won't leave Arsenal alone and Arsenal won't be able to afford to leave our from two alone.
If it goes tits up, we can always bring on £92 million worth of talent (?) in Schneiderlin, Sigurdsson and Tosun.
Paul Birmingham
14
Posted 21/09/2018 at 22:41:15
Sunday is a chance to regain pride and belief, but to go and play well.
Will we go for a battle or play and loose playing bad style, as is mainly the case after deadlock game crisis and eventual defeat?
So many times we have chucked it at Highbury and the Emirates.
Common Everton, do us all proud. Now is the time, no more BS, excuses, please fight, and play, win, and win away!
Now soon hopefully we will get strong. Common Everton! Now is the time.
Hope, and hope eternal..

Surely, this is the minim7m
Tom Bowers
16
Posted 21/09/2018 at 23:29:57
Unlike the previous 2 Prem. games we all won't be going in with the expectancy of getting all the points even without Richarleson.
Arsenal are always a tough ask even though they haven't been firing on all cylinders.
They have some class strikers and even if Everton's attack plays well, the defence is shaky enough to give the game away.
We can but hope Silva has cured those shakes at the back and that this game will produce something more than another poor performance
Jerome Shields
17
Posted 21/09/2018 at 23:32:26
Silva has to get his tactics sorted out and players coached to play them. Richarlison may improve things, but you can't depend on one player, to sort out a team that is, failing to implement tactics properly, where there are doubts about the coaching of players and poor organisation of defence. In other games where Richarlison has played there have been glarely weakness , which still have not been address.
Eddie Dunn
18
Posted 21/09/2018 at 23:45:58
The two positives are .the return of Richarlison and the low expectation. We could do what the Hammers did to us last Sunday, and catch them on the break.
Walcott will be super keen to put on a show and Richarlison will be on a big stage.
The only negatives are all of the pathetic showings we have had there over the years!
Hope springs eternal, but we've been there with much better sides and got nowt.
Ashley Roberts
19
Posted 21/09/2018 at 00:04:13
Kevin, I quite like the set up you have provided, my only change would be to swap Bernard for Holgate and have him be the playmaker behind Walcott and Richarlison. The problem is I do not think Mina will be fit enough to start on Sunday.
I agree playing Baines in Shneiderlin's position could be a master stroke because as you state at least he is pretty good at longer range passing and crossing. I have never been a fan of Schneiderlin because of his short sideways passing and his lack of any aggression. I fail to see what he brings to the team. I cannot believe that Silva has continued with playing both Shneiderlin and Gueye in the team. It has not worked for the last 3 managers and so let us put this partnership to bed for once and for all. While Gana is obviously limited as a footballer in terms of his skill set on the ball at least he does a great job of breaking up the opposition play and tracking players and so he gets my nod over Shneiderlin. Also I have been very disappointed with Sigurdsson this season and feel Bernard would make a much better no 10 taking on that diminutive role that Silva has for Citi. We now have some good players with speed and skill and so I am looking forward to seeing what they can do when they all get to play together. I am really excited to see how Silva will line the team up once Gomez is fit as well.
If we go to the Emirates on Sunday with 2 defensive midfielders I believe we will get killed. Let's have a go and get at them and so we need players who will run and chase every ball just like Richarlison has done in the first 3 games.
Jay Wood
[BRZ]
20
Posted 22/09/2018 at 01:50:23
Richarlison has retained his place in the Brazil squad for friendlies next month against Saudi Arabia and the old enemy, Argentina.
Given that Tite has recalled a lot of the WC squad that he rested for the games in the USA, that's quite a compliment to Richarlison.
Sean Herbert
21
Posted 22/09/2018 at 03:44:26
Personally I think Richarlison has to stay out wide left,for me we take away some of his threat if we use him as the main striker and his ability to cut in from the left.
I would go with DLC as the central striker but give Bernard the job of being the creative force that Siggurdsson clearly is,nt doing.If Mina is good to go,a back 3 may well be a good way to start at the Emirates too
Victor Yu
22
Posted 22/09/2018 at 04:08:34
Can Digne switch side to play on the right so that we can put Baines on the left?
Facing Arsenal could be too risky and too soon for Kenny. Go with a veteran against top teams as always.
Anthony Hawkins
23
Posted 22/09/2018 at 08:41:47
I hope the calls for Gary Cahill are a joke? Do you seriously want to bring in an expensive 33 y/o? We've had enough of Williams and Jagielka - the team needs a good young(er) defender. There's no need for someone on the decline.
Niall McIlhone
24
Posted 22/09/2018 at 08:45:03
What's up with some of our players? I mean, Tosun, Schneiderlin, Siggurdsson, Keane, even Coleman of late, good players all, but very inconsistent, and none of them influencing games the way they should. That's £140 million worth of talent that's not earning it's crust. I am sure Silva has seen this, and I am really excited about what Bernard can bring to the team, we have not had a playmaker like him since the Best Little Spaniard. We need to keep our heads, trust that Silva will find his best eleven, and in the meantime, it's going to be a bit of a rough ride. I don't expect any sort of result tomorrow, but I am hoping we show up much better defensively than the shambles last weekend. Onwards and upwards ! COYB
Rob Dolby
25
Posted 22/09/2018 at 09:05:14
It's going to be a tough ask tomorrow. The one thing we have got going for us is their participation in the Europa farce of a cup.
Richarleson in for DCL is the only change I can see happening though Cenk must be looking over his shoulder.
It is worrying the amount of chances other teams are having against us. I don't think we have enough grafters in the team. We have lots of individual ability but off the ball lots of them are a liability.
Brent Stephens
26
Posted 22/09/2018 at 09:19:59
Jay #20, that's really interesting about Richarlson being in the Brazil squad again, despite a lot of rested players now coming back in. Speaks volumes.
Karl Meighan
27
Posted 22/09/2018 at 10:10:17
Last week, Holgate played okay first half, mistakes from Tosun and Pickford handed the first 2 goals to West Ham after that it was always going to be tough.
I would play Baines right-back at the Emirates and play midfielders in midfield, not strikers, and also retain Tosun upfront.
Give Mina his debut if fit, the sooner he is involved, the better it is for the player. We never get anything from the top Clubs away so let's hope we at least see a performance that can be built upon.
Jay Wood
[BRZ]
28
Posted 22/09/2018 at 12:55:09
Agreed Brent.
All the more so when you remember three things:
* He hasn't been playing for his club in recent weeks due to the suspension;
* There is a lot of quality competition for his position in the Brazilian squad;
* He wasn't in the original squad that played recently in The States, only getting called up when another forward withdrew with injury.
This implies he has leap-frogged over quite a number of good players to retain his place. Tite the manager doesn't give out 'charity caps'. He obviously liked what he saw at close quarters.
Frank Wade
29
Posted 22/09/2018 at 13:57:37
Karl #27, Would disagree that Tosun losing a ball half way inside opposition half made him responsible for the goal. For me that was 70% Holgate taking a couple of steps towards the ball rather than stay with Arnautovic. A more settled better drilled back 4 could have had Zouma step out as well and catch Arnautovic offside but tricky so close to half way line.
Anthony Hawkins
30
Posted 22/09/2018 at 16:44:57
Any player losing the ball has a level of responsibility for conceding a goal immediately afterwards. However, there are up to 10 other players the opposition have to get past before they can score. That means up to 10 other players are equally as responsible for not putting the foot in and stopping the goal.
We've not had a solid back four for at least 3 seasons. Last season was abysmal and there's no sign of the defence being any more resilient this season.
Bobby Mallon
31
Posted 22/09/2018 at 09:12:09
I'd love the team to be
Pickford
Kenny
Mins
Zouma
Deign
Walcott
Gana
Sigurdson
Bernard
Richarlison
Lookman
Add Your Comments
In order to post a comment, you need to be logged in as a registered user of the site.
Or Sign up as a ToffeeWeb Member — it's free, takes just a few minutes and will allow you to post your comments on articles and Talking Points submissions across the site.