Missing new signings could be ready for Palace clash
Friday, 5 October, 2018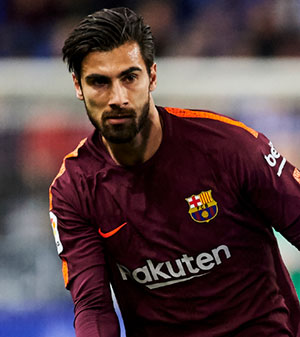 Everton could be in a position to bring some of their injured players into the first-team picture after the international break as they make progress on their respective recoveries from injury.
Marco Silva told the media in his pre-match press conference ahead of tomorrow's trip to Leicester that André Gomes, Yerry Mina and Seamus Coleman could all be available for the game against Crystal Palace later this month.
While Coleman has seen action already this season before sustaining a stress fracture in his foot, neither Gomes nor Mina have yet made their Everton debuts after joining the club from Barcelona in August.
Gomes picked up a hamstring injury in pre-season with Barça and then suffered a set-back in his recovery last month. Mina, meanwhile, had recovered from a foot problem only to suffer an accidental stamp during training last week which has put back his first appearance for the Blues.
James McCarthy also continues to work his way back from the double leg fracture he suffered at the beginning of the year but the manager has yet to put a timescale on his return, except to say that he could be involved in a practice match at Finch Farm to be held next week.
"They are doing well," Silva said. "Andre trained with the team this week. He is progressing well and both [he and Mina are meeting my expectations]. Coleman as well.
"After the break, they will be available for Crystal Palace match if I decide that.
"We plan to do something during the next break not just to help him but to help Mina, to help James McCarthy and possibly Coleman as well. It's possible we will do something next week to give them some minutes in a different way to get them ready to play next week if I decide."
Silva answered responded to the criticism aimed his way for the changes he made to his starting XI on Tuesday night by reiterating that most of the individuals brought in were established first-team players. He also explained that for players like Gylfi Sigurdsson playing 90 minutes, week-in and week-out, for club and country, he has to look after their physical condition.
The Portuguese was asked whether the form of Ademola Lookman and Bernard against Southampton in the Carabao Cup defeat had made the task of selecting the side harder; he agreed that the pair were the best players on the pitch but hinted that they were likely to be on the bench again this weekend.
"It's possible that they could play," he explained. "Like I say, they are working really hard. Okay, the competition is really hard for those two positions. When you are speaking about Richarlison and Theo, they are doing a very, very good job.
"Bernard are Lookman are a different profile of player but they are ready. If I take the decision, they are ready to help the team, I am sure about that."
Silva laughed when he was asked if he already has one eye on the January transfer window when he might look to bring in further options to bolster a squad that appears to be in need of a reliable goalscorer.
"It's too early and I will tell you why: At this moment, I don't have enough time to work with all of our players. Some of them haven't worked with the squad or even had one minute of competition in a Blue shirt.
"I think we have enough time [in the future] to talk about the situation but my focus is just on our squad. We have many, many things to improve but we have quality in the side if we have them in good condition and ready to play.
"Of course, the club is always working with me behind the scenes but my focus is on the [current] squad."
---
Reader Comments (71)
Note: the following content is not moderated or vetted by the site owners at the time of submission. Comments are the responsibility of the poster. Disclaimer
James Stewart
1
Posted 06/10/2018 at 01:04:21
Believe it when I see it with Mina.
Peter Thistle
2
Posted 06/10/2018 at 04:57:54
"We have quality in the side."
Not in center midfield or up front, sigh...
Brian Porter
3
Posted 06/10/2018 at 06:11:07
After he lied to us about not making massive changes for the cup game, I no longer believe a word Silva says.
As for saying the players he selected were all first team players, that's rubbish. They had little or no prior game time with the rest of the team or with each other so couldn't be expected to play AS A TEAM.
Marco Silva = latest bullshit merchant.
Mark Tanton
4
Posted 06/10/2018 at 06:21:15
I'm a big Silva fan but he seems to be saying to Lookman in particular, that it doesn't matter how you play, he is behind the usual favourites.
Dean Johnson
5
Posted 06/10/2018 at 07:18:13
Gomes is the one we need more than anything.
Mike Benjamin
6
Posted 06/10/2018 at 08:00:11
If he thought Lookman was one of our best players the other night, then why did he take him off early in the second half when we were 1 down. Some decisions are bewildering.
Colin Glassar
7
Posted 06/10/2018 at 08:39:17
I've always said this team won't click until about November- December and we'll go onto having a good season (6-7th).
Like others have mentioned, I am slightly worried about his Martinez type mutterings and decisions.
Vinny Garstrokes
8
Posted 06/10/2018 at 08:40:12
Comment #3 & #6
It didn't take long did it!!
Merle Urquart
9
Posted 06/10/2018 at 08:53:27
@8 Vinny
That's because they're probably right...if it looks like shit and smells like shit then...
last Tuesday's exit has done a lot of damage and we tend to respond to these events by embarking on horrendous 7 or 8 game winless streaks
Niall McIlhone
10
Posted 06/10/2018 at 08:54:28
I agree with Dean #5. Just watch the difference once Gomes gets settled in the team, there will be much greater speed and variation in transition from defence to attack. We are very weak in central midfield and it has been a god send that Gana's form has been consistently good this season, otherwise we'd be in worse trouble. I think Schneiderlin is finished at Everton, he is not going to regain the form and confidence of his first season, he might as well take a pay cut and return to Ligue 1, that's if anyone will take him.
Liam Reilly
11
Posted 06/10/2018 at 09:04:17
The honeymoon period is getting shorter and shorter for Managers these days.
The man needs time to get his own players on the pitch before he can truly be judged.
So far th e ones he s introduced haven't d one too bad.

Martin Berry
12
Posted 06/10/2018 at 09:06:37
Colin #7 has it right.
I am continually amazed at the "moaners" who already have their knives out for a Manager who is just getting his seat warm and has yet to be able to field possibly his best team.
When you look at the position we were in as of May, the players ejected and the quality we have brought in, yet there is still the moaning... it just make me smile and wonder what exactly did you expect ?
This team will be something special but its going to take a little time so chill !
John G Davies
13
Posted 06/10/2018 at 09:43:55
Martin,
We live in an age dominated by social media unfortunately. One writes it and others will follow.
Do the people condemning Silva expect us to be achieving top 4 this season? And if so, why.
Mark McParlan
14
Posted 06/10/2018 at 09:57:07
Does Coleman immediately get picked over Kenny once he's back? I'm not so sure.
Phillip Warrington
15
Posted 06/10/2018 at 10:31:40
Yep, I predict that, 4 days before they are supposed to start, they mysteriously pick up a small knock that will set them back another couple of weeks... and so on.
Alan J Thompson
16
Posted 06/10/2018 at 11:12:23
He said they all could be, he didn't say they all would be.
One is getting cameo appearances as he hasn't, so we are told, played or trained for 5 months, is it. Two others haven't trained or played since at least the World Cup so if they get a game in the next 3 weeks they will obviously be fit and raring to go. Perhaps we can get them match fit by playing them in the League (Carabao?) Cup...well, perhaps not.
Then there was the one about......
Merle Urquart
17
Posted 06/10/2018 at 12:25:25
@12
Martin
I think it's a little unfair to have a go at the "moaners", the moaners were 100% correct with respect to our last 3 full time frauds in charge, the moaners have been correct about Schneiderlin and the moaners are correct about the abilities of DCL, Tosun & Niasse.
I am still behind Silva but he did himself no favours the other night with respect to his personal integrity or for that matter his professional managerial prowess (or complete lack of it!)
It shouldn't take moaning fans to point out the obvious like that we were/are utterly desperate for a quality forward but you would expect the experts earning millions of pounds a year to suss this out. Lets see how they respond this afternoon.
Merle Urquart
18
Posted 06/10/2018 at 12:31:31
In terms of expectation levels
I expect the club I have supported for 45yrs to do the following as a minimum requirement:-
1) Play our strongest team...we don't
2) Try to win every game...we don't
3) Try to play entertaining football...we don't
David Hallwood
19
Posted 06/10/2018 at 12:32:20
And its Shergar with a through ball to Lucan
Peter Jansson
20
Posted 06/10/2018 at 13:17:10
I can not believe you people complaining about Marco Silva.
Seriously. Who gives a shit about the Carabao Cup? It only gives squad problems. The statistical chance of winning this cup is 1 in 50, or 2% chance. It is not worth getting injuries and other squad problems to try to win this cup. So why should Marco Silva play his best team?
I would have done the same as Marco Silva.
We have to do it good in the premier league to become a top team and make progress.
About letting Bernard and Lookman play.
What do you want to do? Put Richarlison and Walcott on the bench? The two by far best players for Everton??
What bullshit. That makes no sense at all.
I like to see Bernard play from start but if so, not on the cost of Richarlison on the bench. Maybe as number 10 and Sigurdsson on midfield.
Stop moan about Marco Silva. He has to be the manager for at least 2 seasons. It is too early to come with meaningless criticism.
Tony Everan
21
Posted 06/10/2018 at 13:21:14
Dean 5. Niall10
Agree that Gomes could literally be a game changer . For a long time we have been crying out for quality in the centre . Composure . Quick thinking and some goals from there too. Gomes could bring some of it to the table.
But to really challenge we need Tosun (orDCL) to hit some goal scoring form too . If not the clamour for "Lukaku's replacement" will grow louder.
Without a top class goal scorer top 4 or 6 is a pipe dream.
If Gomes can be a success in the centre of midfield we will be a good step further down the road to being a top 6 team.
John Boswell
22
Posted 06/10/2018 at 13:38:46
Good afternoon, fellow blues,
I am hoping for a win today at Leicester but, whatever the result, I am treating the first half of this season as an extended pre-season.
There have been massive changes behind the scenes during the summer months and time is required for everything to settle down. Time for Players to gain their fitness, to get accustomed to the new coaches' methods and the head coach needs time to identify the players that he can trust to carry out his plans.
So I am hoping for some good results along the way but an accelerated improvement in the New Year. Everton will soon become feared again and we can realistically look forward to winning on a very regular basis again.
Label me an optimist but I go back to the holy trinity of the mid- to late-sixties and I long for such days to return... COYBs
Andrew Keatley
23
Posted 06/10/2018 at 13:38:50
Going out of the Carabao Cup was a definite blow, but some of the criticism Silva is receiving is a tad extreme, in my eyes anyway.
The performances last year under Koeman/Unsworth/Allardyce were consistently poor, with the level of confidence and creativity within the squad almost non-existent. Watching us last season was classifiable as form of torture.
A new manager and a decent summer in the transfer market - including some exciting creative talents in Richarlison and Bernard - are not going to transform us immediately. I read someone on here say that Silva "just does not get Everton"; he's only been here for a few months - maybe give him a chance to work things out gradually rather than expect incredible returns in record time.
Merle Urquart
24
Posted 06/10/2018 at 13:53:18
@ 20 Peter
Peter your first two paragraphs sum up why we are shit and have been for years, try in this game but don't try in that one. This is why we roll over at the usual haunts and why players struggle to motivate themselves or can't /won't be motivated by managers or simply don't care whether we win lose or draw. Winning is a habit so is losing, which category would you put us in?.
Consistently going out or throwing ourselves out of this tournament early on which we do nearly every season has not exactly acted as a spring board for a sensational league campaign has it?
There were also 30000 at Goodison the other night who gave a shit too. Maybe just maybe if the club/manager(s) had give a shit about it we might have won a thing or two since 1995.
Expect nothing? Certainly sir here you are!
Annika Herbert
25
Posted 06/10/2018 at 14:20:04
Merle@18, we do, t try to play attacking football!!?I thought quite a few on TW were of the opinion we were playing too much of the attacking variety and not showing enough on the defensive side of things
Merle Urquart
26
Posted 06/10/2018 at 15:04:52
Annika
Things have improved slightly I agree and we are a little better to watch but things couldn't have been much worse under the previous buffoons. And as we only have the three stooges to choose from up front, we will always be defensively vulnerable because we don't score enough. All three seem to have problems with control, finishing and just plain old being lucky.
I have mentioned on previous threads I think our main three 'attackers' are going to struggle to score 10 goals between them and Silva's philosophy appears to rely on outscoring the opposition ie not paying enough detail at the back or from set pieces. Richarlison I think will get into double figures but I cant see anyone else, it doesn't bode well.
I like what I've seen of Digne & Bernard so far, I think Mina will be good and I'm hoping Gomes is a world beater but I don't know enough about him. What we need to take the pressure off is a top notch forward, and this was ignored over the summer and needs addressing in January or this season will be another write off.

Peter Jansson
27
Posted 06/10/2018 at 17:06:09
Merle #24. Come on, mate. We tried to win the game; unfortunately, we did not manage to do it. There is no single club that top their game every game. Do any Premier League team top their team in the 3rd Round in the Carabo Cup? Did you see the goalscorers this week for Arsenal in the Europa League? I have never heard of any of the three goalscorers.
We have to give game time to other players in ths kind of game. Whenever are they going to get game time?
It made perfect sense to use the team they used. The problem is that the Everton squad is not good enough. And that is NOT Marco Silva's fault. He inherited players that he would never buy himself. So don't blame him.
Merle, give Silva time and we will become winners. Or would you rather go back to the other clowns running this club? Everton is making progress under Silva's management. Can't you see that?
Pat Waine
29
Posted 06/10/2018 at 19:34:52
We need a new right back, I think.
Mike Gaynes
30
Posted 07/10/2018 at 06:46:48
Dean #5, Niall #10, Tony #21 --
Quick question. Have any of you actually seen Gomes play? Just wondering.
You need to manage your expectations. He is certainly a fine passer, exceptionally skilled and strong on the ball. He is also sometimes tactically clueless and loses his confidence easily, and played his way out of Barcelona in just two seasons.
He is a capable and necessary deputy for Sigurdsson and the other attacking mids. He is not a game-changer or a world-beater. And certainly not a goalscorer. He scored 3 in 78 for Barca, perhaps the best attacking side in the world.
Alan McGuffog
31
Posted 07/10/2018 at 07:17:17
Apropos of nothing. Currently enjoying a fact finding mission in South West Turkey. Got a lift home from shop on the pillion of a scooter. No helmets five bags of shopping etc. Sheer foolishness but fun.
My driver was a young Galatasaray fan who said Onyekuru was well thought of over here. He also said Niasse was going there in January. Or it may have been Fenerbahce... didn't hear too well as I was screaming.
Haven't had the heart to tell my Turkish hosts that Cenk is not the next Ronaldo. Great news from Leicester! We'll need those points when the points start getting docked!
Dermot Byrne
32
Posted 07/10/2018 at 08:22:14
Merle #9:
"..last Tuesday's exit has done a lot of damage and we tend to respond to these events by embarking on horrendous 7 or 8 game winless streaks".
As you say, "If it looks like shit...!!
Come on, mate... acknowledge 2 wins on the trot.
Adam Lawson
33
Posted 07/10/2018 at 19:35:00
Mike, I have watched a bit of him.
He is fantastic in the air and comfortable on the ball.
Unlikely to create many chances or score many goals, but he may just help with the moment when you think...where has the midfield gone? I often think this when watching Everton this season.
He does commit a few fouls, so be interesting how he adapts in the Premier League.
My wife likes the look of him.
Steve Ferns
34
Posted 07/10/2018 at 19:49:25
Adam, fantastic in the air? Are we talking about the same André Gomes?
Adam Lawson
35
Posted 07/10/2018 at 19:59:49
Steve, when I saw him for CDM Valencia he was. Barca, he played in so many positions it was difficult to judge him not just in the air but as a player.
He often seemed to struggle at Barca because more talented players were around him and he would often sideways pass to them.
At Valencia, he was a different player his passing accuracy in the final third was excellent without really creating chances.
He was signed to replace Xavi at Barca, he did not do that and to be honest had a horrible time there.
I am however convinced he will be an addition and improvement to our starting 11.
Steve Ferns
36
Posted 07/10/2018 at 20:04:33
I saw him play for Benfica a couple of times. He never challenged for one header. I've also seen him on TV a load. Whilst he's tall he doesn't use his physicality. He chickens out in the air. He's not someone to stick his leg in where it hurts either.
What he is, is a fantastic ball-playing midfielder. He's a typical Portuguese midfielder. Very good on the ball. Quick feet. Deceptively fast (once he gets going) and can show off an impressive array of skills, lovely flicks, tricks, and can dribble through a tight group of defenders. His passing is superb.
But he goes missing. He can let his head go down easily. He can start giving the ball away (last season at Valencia and all the time at Barca).
But the biggest worry is that he always, always, always, is a few games away from injury.
Adam Lawson
37
Posted 07/10/2018 at 20:13:59
Odd, what we pick up about the player is different. I would say his decision-making on the ball was not quick at all and this led to his downfall at Barca. He just did not suit them.
It might be good enough for the Premier Leaguee though, let us hope so. He struggled at Barca, the pressure on him will not be as intense at Everton.
The rest, I agree with.

Don Alexander
38
Posted 07/10/2018 at 20:15:33
The way Steve and others describe him I'm starting to think we've signed an up-market version of Ross Barkley, flaws an' all unfortunately, when it comes to Senor Gomes.
We'll see...
Jon Withey
39
Posted 07/10/2018 at 20:21:15
Gomes and Zouma are both loans though, right?
Advantage of 'try before you buy'.
David Barks
40
Posted 07/10/2018 at 20:21:46
Don,
When you say 'signed', do you mean taken on loan? If he's no good then he's gone at the end of the season.
Steve Ferns
41
Posted 07/10/2018 at 20:34:30
Adam, the Gomes I saw most of was the young Gomes. So maybe you saw more of the Valencia Gomes, and Mike Gaynes the Barca Gomes. I did see a few games of Barca and I didn't recognise that player. A player can be very different depending on who he plays with.
A player with few options ahead of him can appear ponderous, whereas with clever players running at pace ahead of him and suddenly he is transformed. A good tackler begind can make him look more solid.
It remains to be seen what Gomes rocks up at Everton. But like Silva, and perhaps Zouma, Gomes is running out of chances at the big time. He needs a good season to reignite his career. Where does he go if he fails here? Back to Portugal with his tail between his legs, and suddenly into his late 20s and his hopes and dreams fading? Maybe this is the rocket up his arse that he needs, certainly if the crowd loves him enough, I think we could polish him into a diamond. But he does need a lot of good luck, and he's only had bad so far.
Mike Gaynes
42
Posted 07/10/2018 at 20:37:55
I never saw Gomes for Benfica, but I saw him a lot for Barca.
Steve and Adam, I agree partially with you both. Gomes' decision-making problem isn't on the ball, it's off the ball. He's a great, decisive passer and dribbler. But when he doesn't have the ball, he often has no idea where or when to run, no clue how to make himself available. He drove his Barca teammates crazy – particularly Bousquets, Iniesta and Suarez – because they didn't know where to find him when they wanted to.
He does stick his leg in, Steve – mostly when he shouldn't and from poor positions. That's how he piled up 30 yellow cards in 156 games for Valencia and Barca. That's his biggest issue for me. He gives up bad fouls in bad locations. The one place he uses his size well is on the ball -- he's as difficult to dispossess as anyone we've had since Rom.
But what's most striking is what you said, Steve, about his loss of confidence. In his difficult first season with Barca he wouldn't leave his house after a while. It wasn't like he was taking abuse from the fans -- he was just too embarrassed to venture out. Bousquets described how his veteran teammates were constantly trying to buoy his confidence. It didn't work out. And once the guy starts to get timid in a game, he's done.
Adam, I like your optimism but I don't believe he'll ever be in our first 11 for league games unless Gylfi goes down with an injury. Maybe for early-round FA Cup matches.
Mike Gaynes
43
Posted 07/10/2018 at 20:45:04
Don #38, one thing I mentioned elsewhere is that Gomes's greatest strengths – passing, dribbling, power on the ball – are all pronounced Everton weaknesses. I think he has the possibility of earning a permanent place with us as long as he keeps his head up, and as long as nobody expects him to play as a defensive mid.
Given the chance, he will start counter-attacks better than anyone we have. The man can pass out of the back very, very well.
Chris Gould
44
Posted 07/10/2018 at 20:45:42
Steve 36,
Several different reports and websites state that Gomes is very good in the air and wins his fair share of aerial duels. Maybe they're not accurate. I haven't seen enough of him to pass comment. I'm hoping he will come in and compliment Gueye.
Sadly, neither Gueye or Davies are good with the ball at their feet when they're under pressure. Davies misplaces far too many passes and loses confidence once a couple go astray.
One of our centre-mids needs to be able to pass accurately and incisively and so Davies or Gueye are likely to make way for Gomes once he is fully fit. Out of the two, Gueye is a far better tackler and interceptor and so should retain his place at the expense of young Tom.
I don't think it will hurt Davies's development to have him play a little less. I think the responsibility and pressure gets to him at times and he seems to panic a little. He's very young to play central midfield in the Premier League. I would like to see him start less games to protect him from the moans and groans that he is already beginning to hear at every home match.
If Gomes is as good as the rest of Brands's buys, then things may get interesting by November.
Mike Gaynes
45
Posted 07/10/2018 at 20:51:35
Chris #44, believe me, you don't want to see Gomes in for Davies or Gana with any defensive responsibilities. See my comment above about the fouls and yellows.
Len Hawkins
46
Posted 07/10/2018 at 21:07:41
Christ! I hope Mrs Porter locked the medicine cupboard and swallowed the key. A win from this badly managed team away will have Mr Porter in a right strop.
Chris Gould
47
Posted 07/10/2018 at 21:56:03
Mike, I hear you, and I have read that he is a poor tackler, but Gueye is a machine and if Gomes could at least be positionally disciplined then maybe they could work together. It's not as if Davies tackles very much, but I accept that he puts in terrific effort and covers a lot of ground.
It's critical that we have one central midfielder who can play a bit. I think it's our weak point and needs to be addressed.
Mike Benjamin
48
Posted 07/10/2018 at 22:16:43
Vinny #8. If he doesn't mean it, then don't say it. I was there on Tuesday and it was obvious that we needed to keep Lookman on the pitch.
On a separate note, I was in Liverpool to see the Giants event and it was very noticable the loads of shite fans wheeling cases. It made me wonder whether they built the new stand to accommodate a huge left-luggage room!
David Midgley
49
Posted 08/10/2018 at 12:58:24
I won't mind if Gomes doesn't polish up to be a diamond. Semi-precious will do for me. It would appear that the majority of posters acknowledge that Gomes is a very good footballer. Has a good footballing brain, is competent on the ball, deliver a good pass and knows his way around the pitch How many of these players do we have?
Everton could well be the perfect place for him. He will be out of the Barca goldfish bowl and I think could thrive here in his own right. When he has played a game or two, shown his quality and felt the approval of the 'Old Lady', he will know he is wanted.
The signings by the new management team seem to have met with approval by many TWers. We will just have to wait and see. Do you remember when you were a kid, cut the top off a carrot and put it on wet blotting paper? You looked at it every five minutes, waiting for it to grow... Patience, lads.

Merle Urquart
50
Posted 08/10/2018 at 14:02:49
Dermot Byrne (#32),
I do acknowledge the two wins on the trot (three would have been even better as well!) but let's have it right: a win against one of the worst teams in the Premier League at home and an away win (albeit against 10 men but deserved) against Leicester doesn't mean all our problems have evaporated and we're on track for a top 6 finish.
The last 4 seasons have shown too that we are quite capable of 7-, 8- or 9-game non-winning streaks (I don't even remember that in the 70s). And just to bring us back down to earth, a poster quite rightly pointed out on one of the other threads that, just before Wes Morgan was sent off, Silva was about to introduce Schneiderlin with 20 mins left, what result would you have anticipated then? What would we have been discussing now?
Pure speculation, I know, but the fact that he even considered bringing him on at that stage is of concern for me. Let's take the euphoria down a notch as well as the "I told you so"s and see where we are after the next few games.

Crystal Palace (H) W
Man Utd (A) L
Brighton (H) W
Chelsea (A) L
Cardiff (H) W
Liverpool A (L)
Newcastle (H) W
I would love an away win in there but I want to be realistic. We also have Spurs and City in December so we are looking at say C+ to B-.
Mike Dolan
51
Posted 08/10/2018 at 14:38:08
Marco Silva is a brilliant manager who is making Everton into a very watchable team. While I am shocked that some are calling for him to be fired already, I am only too happy and safe in the knowledge that such a decision would only be made by Marcel Brands who seems to know his football.
It is probably safe to say that Marco Silva like any manager in his right mind would want to win every game but will be ultimately judged only on the final position they achieve in the Premier League table. A win at Southampton in the Premier League is worth much more to the club than a win in the League Cup and the simple fact that all of the good managers do rest a lot of their players for these minor cup games proves that conclusively.
Supporters want to see the first team out there for every game. Managers have to be a little more forward-thinking and strategic.
Amit Vithlani
52
Posted 08/10/2018 at 14:52:50
"A win at Southampton in the Premier League is worth much more to the club than a win in the League cup"
Mike, fair enough, this is your view, but I disagree with this particular sentiment. It was not about winning in one game in the League Cup, it was about staying in the competition so that we had a chance to win it.
Martinez orchestrated a brilliant 1-0 away win at Man Utd in 2013-14 but for me our 2-1 loss to them at Wembley a couple of years later overshadowed that result as we lost a golden opportunity to win silverware.
So many good teams have exited the league cup this year and with Leicester away the next hurdle – we had a good shot at progressing.
Steve Ferns
53
Posted 08/10/2018 at 15:00:16
Amit, I wanted us to give the League Cup a good go. I was very disappointed with the selections of Dowell and Stekelenburg and even if they weren't part and parcel of the changes, I'd still say 5 was too many.
All that said, I disagree we had a good chance to win this competition. I don't know why everyone thinks that. This competition has been won by the Sky 6 relentlessly for some time now. Sure they don't take it very seriously, but they have big squads. Everyone makes lots of changes, just see the Saints team, and they even changed their keeper.
So the Sky 6 are more likely to stumble through to the later rounds with their bigger squads and there's always 2 or 3 left in the semis and that's when they do take it seriously and we'd be dumped out.
The FA Cup is the one we have the best chance of winning. The Sky 6 play weakened sides in this too. Remember when the 3rd, 4th, and 5th rounds are. It's a massive inconvenience for the Sky 6. Lots of them get dumped out when they play a weakened side prioritising the Champions League and the Premier League, and so the latter stages really can be wide open and fewer of the Sky 6 have won the FA Cup than the League Cup. This is our best chance of a trophy.
David Barks
54
Posted 08/10/2018 at 15:06:10
Amit, when you say "so many good teams have exited the League Cup this season" — you're only talking about two actual clubs: Liverpool and Manchester United. Because all of Arsenal, Chelsea, Manchester City and Spurs are in the last 16.
Mike Dolan
55
Posted 08/10/2018 at 18:25:05
I'm not sure if the clubs look at these competitions in pure financial terms but I think they are better off financially finishing a couple of places higher in the top half of the table than betting the fitness of the players on winning a Micky Mouse competition like the Cuckooboo Cup or whatever it is branded as this season.
Our disastrous last season, I feel, was due in part with us having to start playing in the middle of July without proper training. It actually makes a difference long-term when you are putting out onto the field a well-rested team. Everyone wants to win every game, that's perfectly and completely understandable, but come on, guys – you have to pick your spots and, on the evidence of the display in Leicester, Bernard was able to unwind a bit as one of the lesser players brought on in midweek, and Gylfi certainly benefitted from the rest.
It took just two moments of genius from those two players. Perhaps that was the result of Silva's terrible team selection... you'll never know. He knows more than we do, let's face it.
Steve Ferns
56
Posted 08/10/2018 at 18:40:26
Mike, there's no doubt playing (mostly) one game a week makes a massive difference.
Some on here go on about the old days, and how many games they played. But they fail to comprehend the reality. The average Premier League player runs 11 km per game, whereas in the 80s it wasn't even half that. Players are running faster, and for longer.
It's not as simple to say a player is "tired". It's about optimum levels and late-season fatigue. If you play twice a week, then you fail to maintain your optimum fitness level and, later in the season, then your fitness levels drop considerably as you suffer burn-out. It's not that the players complain that they are tired. Usually they don't feel so and so want to play. It's the sports scientists saying they are not at optimum levels and that they need to skip a game or part of it to avoid burn-out.
If you think that's a load of tosh, then why has EVERY side, except for the Sky 6, struggled so badly after playing in the Europa League? Like us last year, Burnley have had a shocking start to the season. They've escaped the groups though and so should recover some and stave off their relegation fears. Sides getting to the groups or better have a nose dive in Premier League position.
There's not much difference between Premier League players these days and so even a small drop in fitness can have a big difference in results.
Drew O'Neall
57
Posted 09/10/2018 at 07:04:41
When you look at the players Silva has to come in, you have to admire what a good job he and Brands did analysing exactly what was (and wasn't) needed for the squad.
After the weekend's performance, you would say we are possibly a centre midfielder light of being a really decent team and we have a good one coming in. There are doubts about Keane despite his recent improvements and he has first-team quality cover coming in at centre-back too.
Strikers are harder to come by but I wouldn't put it past Brands to bring in an international class operator there within the next two windows – who's on the bench at Barca these days?
Jim Bennings
58
Posted 09/10/2018 at 08:22:57
It's probably the signings of Mina and Zouma that have actually improved Keane's overall game and physical fitness this season.
Don't get me wrong – he's not perfect but he's a different player to last season.
Tony Waring
59
Posted 09/10/2018 at 09:41:55
Talking of new signings, is there any truth in the rumour that Tosun is to go out on loan to Besiktas in January? If so, which striker is being lined up to replace him?
Steve Ferns
60
Posted 09/10/2018 at 09:59:56
Tony, I guess we will have to wait and see. If we are to sign a new striker, then it makes sense to off-load Tosun. Tosun is on 4 or 5 times more than Calvert-Lewin and is clearly far less willing to warm the bench, and I don't think there's much between those two, in terms of current ability.
I think we would all agree that we need a top striker to get to the next level. I'd be delighted if we could persuade one to join us in January. Finding these guys isn't the problem, it's persuading them to come here.
Rob Halligan
61
Posted 09/10/2018 at 10:18:51
Tony / Steve. There is also talk of Galatasaray making an approach for Niasse in January, and that Everton are prepared to let him go.
I'm not saying we should keep Niasse, far from it, but should we let both him and Tosun go, we will be even shorter up front, with only Calvert-Lewin left as a "recognised" centre-forward. I would much rather keep hold of Tosun than Niasse.
The red Echo is reporting, by the way, that we do have a striker lined up for January, a Tanzanian by the name of Mbwana Samatta who plays for Genk in Belgium. Can't say I've ever heard of him.
Stephen Davies
62
Posted 09/10/2018 at 10:22:22
Steve #60,
I'm not so sure of that. Finding a top striker in January is not easy. Lots of sides will still be playing in the Champions League and those type of players will be at an absolute premium in the January window.
Steve Ferns
64
Posted 09/10/2018 at 11:05:22
Your correct Stephen. Let's wait and see. We shouldn't let Tosun go unless we have a striker lined up.
Steve Ferns
65
Posted 09/10/2018 at 11:15:45
Mbwana Samatta – never heard of him and never seen him. Quick bit of research shows someone who's hardly prolific, scoring just 4 goals last season, and that's in the Beglian League. He's being talked up (presumably by his agent) on the back of scoring 14 in 16 this season (or is that 14 in his last 16 games?). There's talk of "potential" but the lad is already 25. File it under "Agent at Work".
Rob Halligan
66
Posted 09/10/2018 at 11:20:02
File it under "Forget it", more likely, Steve.
Victor Yu
67
Posted 09/10/2018 at 11:21:34
McCarthy would be a huge upgrade over Davies.
Frank Crewe
68
Posted 09/10/2018 at 11:23:34
Steve @60.
"I think we would all agree that we need a top striker to get to the next level." — I don't think we are all agreed on that at all. I'm certainly not.
There is a tendency to obsess about strikers yet the top sides are not relying on one player to score the bulk of their goals. We had a top striker in Lukaku but it didn't improve our position in the Premier League and we didn't win any cups. Lukaku is now at Manu and he doesn't appear to be improving them anymore than he improved us.
What we need is a strike force of several players who can all chip in with a few goals each then the opposition can't mark our striker out of the game. We seem to be working towards that currently. Richarlison, Walcott, and Sigurdsson have scored 11 goals between them and I'm sure once Bernard gets up to full fitness he'll start chipping in as well.
Don't get fixated on this "top striker" stuff. It seems to be more of a status symbol than an actual tactic. We have to look at who is currently doing well and emulate what they do. Barca, City, Chelsea, Even Liverpool are not reliant on one player to score the bulk of their goals and we shouldn't be either. Pace, mobility and fluidity in attack is better than height and muscle. Keep the ball moving and don't give the oppositions defenders any idea what direction we will attack from next — that's the way to go.
Franny Porter
69
Posted 09/10/2018 at 11:34:01
Merle (@50), ref the Schneiderlin proposed sub, I think he was doing that solely as Davies was on a yellow and has always got a bad challenge in him.
Once Morgan walked, I think he just seized the chance to go for it and did.
I for one am thankful for this as, if it was last season, Sam would've still made the change to guarantee one point.
Merle Urquart
70
Posted 09/10/2018 at 13:54:02
Franny (#69)
Don't know about the players but I got a lift when Schneiderlin sat down, both Koeman and Allardyce would have thrown him on so Silva gets a brownie point to even out the negative one for even contemplating putting him on in the first place.
I just wish we didn't have the international break now because momentum can never be underestimated, the home games we have are winnable but how many times do we think that? We've already fell foul of that this season.
However we have better players in the side now and we also have players who look like they're coming into form so it's vital we win the home games because with all the starry-eyed optimism in the world we will most likely get sweet FA out of the aways; the Man Utd game could be interesting though.
Scott Mongomery
71
Posted 09/10/2018 at 14:21:22
We're talking about the possibility of a striker being bought in January but we still have some quality on the books who are out on loan... anyone heard how Henry Onyekuru is doing and whether he'll be eligible to play for us sometime this century?
If he's decent, get rid of either Niasse (couldn't trap a guppy with a whale net) or Calvert-Lewin (couldn't hit a barn door with a banjo), use Richarlison up top with Tosun for the season and see where we are at the end.
Scott Mongomery
72
Posted 09/10/2018 at 14:24:57
We also have U18s & U23s teams who are killing it at the moment. How does that happen and yet no-one burst through to make a meaningful contribution to the first team? No strikers worth promoting there either?
Alasdair Mackay
73
Posted 10/10/2018 at 17:35:35
Gomes is the interesting one for me. Tom Davies is not playing badly and we have McCarthy to come back and Schneiderlin who would want to play in that same role in the 1st team. If he is interested in coming here permanently from Barcelona, he is going to want to get in the side with some regularity, which means less game time for those other three and two of them probably on their way out.
If he is not interested in a permanent transfer – and he is only going to serve to keep Davies out of the team and then go back to Spain in the summer – I fail to see the benefit of playing him. I would rather give Davies time and space to develop and improve as a first team regular.
Add Your Comments
In order to post a comment, you need to be logged in as a registered user of the site.
Or Sign up as a ToffeeWeb Member — it's free, takes just a few minutes and will allow you to post your comments on articles and Talking Points submissions across the site.