Silva happy at Everton and "thinking big"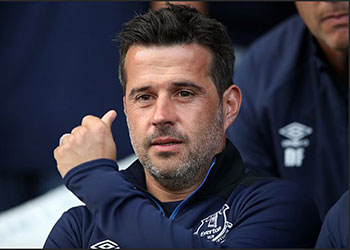 Marco Silva says that he is enjoying the challenge of managing Everton so far and offers further suggestions that he sees the role as very much a long-term project.
The Portuguese sat down for an exclusive interview with David Prentice of the Liverpool Echo in the middle of another international break that gives a moment to pause before the next round of fixtures that starts with the visit of Crystal Palace this weekend.
If the first few weeks of the campaign were marked by some iffy results, a disappointing League Cup exit and a sense of opportunities squandered, two wins on the bounce in the Premier League have created a decidedly more positive outlook for Silva's tenure.
The team's performances in the second half against Fulham and over the 90 minutes at Leicester last time out were especially encouraging and they point to the new signings that Silva and Marcel Brands made this summer not only settling in but making a real difference.
"Am I enjoying it? Of course," Silva said. "I am really happy, believe me!
"Normally I can adapt fast and easy to the position wherever I am. I am really happy, here. I know what I want; I know what the club wants but I don't like to lose my focus if we win 3-0 or if the result wasn't the best.
"It's not easy to see big differences between the two. It's my way and the players know that as well.
"We have to create and to build our club, to achieve something important. For me, it is a fantastic challenge, not just for me and for my technical staff, but for us as a club.
"It's a different step for our club, what we want to do not just now but for our future. It's thinking big, but we have to go step by step. We have to create and to build our club, to achieve something important."
In a clear contrast with the regime he succeeded when he came on board in May following the interim appointment of Sam Allardyce, Silva's signings in concert with Brands appear to have been considered and targeted based on the squad's specific needs.
He also admits that the preparatory work in terms of transfer strategy he made before he pre-season started had to be augmented and altered once he had had the chance to work with the players in training.
"I was clear with Marcel, with our board, with our owners and with our chairman, that to sign somebody we have to be clear that they are coming here to improve us," he explained, "and for the positions that we really need.
"We cannot sign 11 players. It is not our way and it doesn't make sense in my opinion to come in and try and change everything in one month or two months. We have to go step by step.
"I analysed our squad and I knew who our targets were and what we needed for what positions. I was clear. When you come in and analyse a squad, you already have one idea — and I had that idea when I did my homework. But after you come in everything is different when you start to work with those players, when you start to see them in competition with each other.
"You see how they react when they didn't achieve a good performance, how they react when they perform well. Just training and playing with them and being in charge of them means you can get to know your players better.
Silva has been reluctant to get caught up in too much speculation around the January transfer window but he says that Everton are open to making further additions to the team when they can and if needed.
The manager has said on more than one occasion that he won't have a complete picture of his squad's capabilities and depth until all the injured players have regained fitness and been deployed at first-team level.
The likes of Yerry Mina and André Gomes have yet to kick a ball in anger for the Blues while James McCarthy and Beni Baningime both came into the new season recovering from injuries.
"In the next market if we have the chance to improve again, we are open to that," Silva said. "We are always working and aware of everything.
"It is most important for me as a coach to keep focused on our squad. To start enjoying, because that is the right word, enjoying working with all of them. Because up to now, unfortunately because of injuries, I haven't had this chance to work with and enjoy all of my players working hard - to see the competition between all of them.
"It is important for me to repeat one, two or three times the same starting XI, where you can get through some important connections between the players. Then after that we have a long time to talk about January and the next market as well.
"Of course you are always aware, you are always analysing. Of course I won't tell you, but if you asked me what is my idea for the next three months or the next 10 months, I know more or less. But now is not the time to talk about that situation.
"The most important thing for us is to close our squad, produce strong work behind the scenes and improve what we have with our players.
"In the next market, if we have the chance or the possibility to improve again, we are open to that and we will be clear again in our targets because that is my way to work."
---
Reader Comments (62)
Note: the following content is not moderated or vetted by the site owners at the time of submission. Comments are the responsibility of the poster. Disclaimer
Lee Jackson
1
Posted 18/10/2018 at 15:34:21
Of course you can always read to much into these articles and erroneously 'read between the lines' but he doesn't seem to give much (any) credit to Marcel Brands with all the signings that have been made. Interesting.
Andrew Heffernan
2
Posted 18/10/2018 at 15:35:49
Regardless of usual sound bites I believe he talked more sense in one interview than the last three collectively; even Moyes was tripping out garbage towards the end because he was treading water with next to zero focus and ambition...
Alan J Thompson
3
Posted 18/10/2018 at 15:45:33
Certainly well tutored in the use of "our".
Kieran Kinsella
4
Posted 18/10/2018 at 15:45:59
Lee Jackson @2,
I will try to read between the lines further,
"I was clear with Marcel (Brands), with our board, with our owners and with our chairman, that to sign somebody we have to be clear that they are coming here to improve us – and for the positions that we really need."
I wonder if this has something to do with the U23 "transfer budget" oft-mentioned last year that suddenly disappeared last summer once Marcel and Silva arrived. Though, Unsworth acts as if the first team and U23 are separate entities, they are essentially eating from the same pot. It could be a case of saying "Well, Unsie has his eye on x, y and z 18-year-olds that will cost us £10 million," and Silva saying "Bollocks to that, chuck that £10 million to the Yerry Mina deal."
John G Davies
5
Posted 18/10/2018 at 15:47:37
Very impressed with this lad.
I am confident we are in good hands here.
Tony Abrahams
6
Posted 18/10/2018 at 16:50:58
I like this manager, I like the way he doesn't overstate things, and just hope he's the one who given time, can give us back a football team that we all crave.
Jamie Crowley
7
Posted 18/10/2018 at 17:02:00
Nice update and views from the manager. Now let's get back to playing the games.
Jim Bennings
8
Posted 18/10/2018 at 17:16:38
By the way, Silva is very impressive with the way he speaks.
He fills me with more confidence than the previous manager so that makes me content at this moment.
Les Moorcroft
9
Posted 18/10/2018 at 17:40:42
It would not be too hard to be more football-minded than our last couple of clowns, Jim.
Jay Harris
12
Posted 18/10/2018 at 18:09:49
Let's hope Silva is the new Messiah and not Martinez Mk 2.
We do need to be patient but Palace with their counter-attacking style will tell us a lot about if this coach is learning and adapting.
Dermot Byrne
13
Posted 18/10/2018 at 18:53:14
What is not to like about that?
Seems sensible, points out, as most TW folk agree, this may take more than a few weeks and is honest.
Like the guy. Doesn't search for silly headlines.
Martin Berry
15
Posted 18/10/2018 at 19:54:22
This article would have been unimaginable 12 months ago as it reflects on where we were and where we are now, and a sub-article about Koeman's reign to emphasize the point.
The shift in personnel both on and off the field has been amazing and all for the better, a complete turnaround in such a short space of time.
We are entering a special time; when the squad is all available, we will be a force to be reckoned with.
Great times ahead!
Clive Mitchell
16
Posted 18/10/2018 at 19:59:18
I feel totally positive about Marco Silva, he's doing everything I thought he might and his judgement seems spot on. Home performances are interesting – he'll have noticed we've not been great in five home games (including Southampton in the League Cup) but have performed well every time away. It's exciting, isn't it?!
Paul Hewitt
17
Posted 18/10/2018 at 20:03:34
Silva wasn't my first choice as manager. But, seeing the way he has us playing, and listening to him speak, I'm starting to think he is just what we need.
Marcus Leigh
18
Posted 18/10/2018 at 20:08:49
'Us'. 'We'. 'Our'. What a refreshing change to the utter indifference Evertonians were being treated to by Koeman this time last year.
John Boon
19
Posted 18/10/2018 at 20:16:14
Rooney scored a blinder of a free kick to win the game for DC. However, we all have to forget about Rooney. He is no longer an Evertonian and, considering the length of his career, he really wasn't one for very long. He will probably be remembered as a player of immense ability who played for Manchester United. Tough to take but a fact.
Back to the Silva interview. He is so refreshing, particularly after Allardyce, who usually spouted rubbish about himself and his dubious achievements. It is still far too early to draw any definite conclusions, but he is always to the point and never pompous. He still has a lot to prove to win over Evertonians who have had too many disappointments for far too long. It is essential to give him time.
Brian Harrison
20
Posted 18/10/2018 at 20:20:25
I think Silva and Brands knew exactly what was needed before they signed on the dotted line, and immediately had identified the players they wanted. Without doubt, each of the signings we have made have impressed and, if Mina and Gomes are as good as the other signings then we should have great cause for optimism.
The part of the interview that Lyndon didn't include was were Prentice said Silva's approach to buying players was very measured, unlike Koemans who acted like a kid given a trolley in Toys R Us and told he has 15 minutes to fill the trolley.
I know some Blues are very wary to start to get too optimistic, remembering how that optimism under Martinez soon evaporated. And I can understand that and Silva is yet to acheive as high a finish as Martinez. But I always thought under Martinez the cards would all come tumbling down as they did.
Time will tell whether Silva is the real deal, I happen to think he is, and at last when we go away from home I don't think we will do well to get a draw. Even besides his buys, when you think our last two managers were both ex-centre-backs, yet Silva has got Keane playing much better than either of his predecessors.
Mike Allison
21
Posted 18/10/2018 at 20:55:38
Surely Mina's readiness is about playing in a faster, more physical league. He has all the attributes but his career so far is a long way off Premier League standard. He's only actually played 114 career league matches, and 109 of them were in South America.
Kim Vivian
22
Posted 18/10/2018 at 21:19:43
It's so nice to hear (read about) a manager talking like he is a part of Everton FC.
Des Farren
23
Posted 18/10/2018 at 21:42:13
I have always been of the opinion that Martinez was as committed to Everton as anyone could be. He was involved at every level of the club 24/7.
Kieran Kinsella
24
Posted 18/10/2018 at 21:44:46
Mike
I agree. Also, out of respect to the other players, Silva is hardly likely to say something like "We need Mina playing ASAP he is 100% going to be a starter."
Colin Glassar
25
Posted 18/10/2018 at 22:25:56
Big Sam seems like a distant nightmare now, doesn't he?
I hope Marco is the real deal. Only time will tell I suppose.
Jamie Crowley
26
Posted 18/10/2018 at 23:09:27
Des @ 23 -
I couldn't agree more. The man was stubborn and just didn't pay enough attention to defending. And many on these pages just didn't like the possession football he employed.
But I always got the sense he bought into Everton 100%, was committed, and loved the Club.
I think Silva isn't quite as "pink-pegasus-with-wings" as Martinez, but he definitely seems as committed.
The League Cup still grates on me immensely. But overall I'd give Silva a B- grade, and he's trending up in my opinion.
As Colin says, time will tell.
Liam Reilly
27
Posted 18/10/2018 at 23:32:51
Time will tell, if he's given it.
He says himself that replacing the first team wouldn't have been the right strategy until he could run his rule over the players.
He'll need time and possibly 3 or 4 Windows and I hope the supporters get behind him and Brands.
Stephen Jones
28
Posted 19/10/2018 at 01:23:20
I wonder why he and Brands didn't see the need for an out-and-out goalscorer given that he had an opportunity to evaluate Calvert-Lewin, Tosun and Niasse under Allardyce's tenure?
Maybe given time it will happen but so glaringly obvious since Lukaku's departure. Still maintaining the faith but we have to identify a target striker and secure him in January.
Jim Harrison
29
Posted 19/10/2018 at 01:55:51
Stephen @28,
Maybe they did, but the market wasn't awash with options.
What they did bring in is two more attacking players who create chances. When we had Rom, one of the biggest concerns was that he often received very little service. He thrived when Barkley and Deulofeu were at their best, and for a period was effective in his link-up with Bolasie. Koeman identified that we needed greater "productivity" I believe he called it; his signing just didn't work out.
This season, we have 13 goals in 8 matches so far, and in only two of those games has Bernard played. Arguably we would be 6 to 7 points better off if we had a class striker given the amount of decent chances that have been created, but at least this season they are being created. Remember last season, entire games without a shot on target?
I reckon a striker will come, but his priorities were to get the defensive group up to scratch and get the left side of the attack sorted. Even average forwards will get goals if there are enough chances created, just look at Ings, Austin and Murray for example.
Mike Gaynes
30
Posted 19/10/2018 at 03:44:47
Mike #21, spot on.
Stephen #28, I'm quite certain they saw the need and identified goalscorers to pursue. They just weren't able to find one who met all four criteria – good enough, available, rationally priced, and interested in coming to us. (Or whose wife was interested – merci, Mrs Giroud.)
Quality strikers are the toughest thing to find in the transfer market. As Jim Harrison says, it'll happen.
Derek Taylor
32
Posted 19/10/2018 at 09:12:53
The usual claptrap that all managers trot out these days. But it pleases the sycophants searching for a hero so what's the harm?
John G Davies
33
Posted 19/10/2018 at 09:35:05
https://www.collinsdictionary.com/dictionary/english/sycophantic
What advantage could possibly be gained by fans praising Silva?
Could it be they are just expressing their true opinion?
Christy Ring
34
Posted 19/10/2018 at 09:47:17
Very refreshing, no bullshit, and with our injured players returning, hopefully Silva will bring us to the next level. I believe he'll definitely bring in a striker in January.
Tom Evans
35
Posted 19/10/2018 at 09:50:26
John #19.
I saw the free kick on one of the American online services. I was reading the preamble about the circumstances of the goal and Rooney was described as "the former Manchester United forward".
That doesn't detract from the fact it was one of the sweetest strikes of a football I've ever seen.
Chris Gould
36
Posted 19/10/2018 at 10:03:54
It's very frustrating to think that we had a quality striker but didn't have good enough quality around him. Now we seemingly have those missing ingredients but not the striker!
We are a couple players short of having a starting 11 who could really strike fear into the top 6. A top class striker and a central midfielder to partner Gueye and things will get very interesting.
As already pointed out, it's a tough task getting in a striker for sensible money. If he's proven Premier League quality, and in the right age bracket, he'll cost a fortune. If he's from a foreign league then he's a gamble.
Tosun and Niasse were foreign gambles. Lukaku was proven Premier League quality. Getting Lukaku was a masterstroke by Martinez. Silva and Brands need to pull off something similarly masterful. We'd waited sooo long for a striker who could actually score. It's bloody frustrating to have had one and not make the most of it.
I'm optimistic that Silva and Brands will get it right. There will be many strikers who will be excited by the prospect of lining up with Richarlison, Bernard, and Sigurdsson. A top striker will feel he'll get 20 league goals playing with these players. Someone like Rashford should jump at the chance to join us. 20-25 league goals playing in your natural position with us or 12-15 playing out wide for Man Utd? For someone with so much to prove and develop, we would be a great fit. Sadly, he's out of our price range.
January will be interesting.
Tony Everan
37
Posted 19/10/2018 at 10:39:10
Chris, I agree, we have McCarthy and Gomes to come into the central midfield, either one could make that step up. On top of that, Tom Davies has settled a little bit and is starting to find a bit of form. I think he has shown some signs of composure and improvement over the last month or so. He will continue to improve.
So, in my mind, that leaves the striker. I really rate Rashford too . Getting him would be a coup. Shame we didn't demand him as part of the Lukaku sale. We really would have a cracking strike line up for the future Richarlison, Rashford & Lookman are very young and all class.
I really want Calvert-Lewin to make the grade, Maybe a loan and playing every week would be best for his development. But to get to the top 6 and dare I say it beyond we need a more finished article.
Or maybe Richarlison will continue and thrive in the No 9 role. He is a natural finisher quick and has some aerial ability. The service to him will need to be tailored to suit his game.
Against Leicester, Wes Morgan was clearly told, do not let Richarlison turn with the ball. He will leave you for dead. That's why Morgan kept going through the back of him. Richarlison will get more of the same. I'm a bit concerned about him getting injured because of the treatment he will get from desperate defenders of Wes Morgan's ilk.
Playing him Centre is best only as a short-term fix. I'm sure Brands is considering the best options for us there. Maybe even a world-class loan in January? — before it becomes the exclusive transfer priority for the summer.
Neil Wood
38
Posted 19/10/2018 at 11:06:32
Icardi or Immobile.
Yes, both will cost... but are achievable.
John Malone
39
Posted 19/10/2018 at 11:15:53
The Leceister win and Sigurdsson's strike was great for the soul but it only came about after they went to ten men and could've easily have gone the other way on another day.
I'm really looking forward to Sunday's game to watch Bernard first hand and see if we are evolving into a good team or is it still flashes of individual brilliance.
When we start to move and keep the ball with confidence and zip and start keeping clean sheets at the back, then I will start to believe we are becoming a top team.
Hopefully Silva will keep basically the same team as last week with the exception of Coleman instead of Kenny.
Up the toffees!
Jim Harrison
40
Posted 19/10/2018 at 11:31:23
John @39,
The Wolves game turned on Jags being sent off. Away from home, we got something. Morgan ended up being sent off because he couldn't deal with Richarlison. Sigurdsson showed eventually why we paid so much for him, because he can make the difference when it matters.
Ajay Gopal
41
Posted 19/10/2018 at 13:19:17
Someone mentioned Dzeko (32 years old) being maybe available. That would be a great option for a couple of seasons perhaps. Also that Morata is definitely not in Sarri's plans. Maybe a loan with an option to buy in January?
Sam Hoare
42
Posted 19/10/2018 at 14:48:39
'Cucho' Hernandez could be a player worth looking at. Just scored 2 goals on his debut for Colombia. 19-year-old who's on loan but belongs to Watford.
He's not big but very sharp and mobile. The next Aguero possibly. A proper goalscorer. Looks a player to me.
Jerome Shields
43
Posted 19/10/2018 at 15:09:04
What Brands and Silva are doing is completely overhauling the club. It is long overdue.
Ian Smitham
44
Posted 19/10/2018 at 16:02:08
Ajay #41, just to be clear, you are suggesting we get Morrata on loan until the January window when we buy him? A yes or no would probably do it please.
Brian Williams
45
Posted 19/10/2018 at 16:30:26
I think, Ian #44, it's clear Ajay means to loan Morata in the January window, with an option to buy included in that loan.
Simples!

Dermot Byrne
46
Posted 19/10/2018 at 17:03:15
I like the guy... I think he likes winning rather than stardom.
Paul Birmingham
47
Posted 19/10/2018 at 17:42:38
Compared to this time 12 months ago, there is genuine optimism and hope for the future.
It would be nice to see a couple of demolition jobs in the next few games, tomorrow and Man Utd away. Wishful thinking!
I hope the international break hasn't impacted the squad and the team kicks on from Leicester.
Jimmy Hogan
48
Posted 19/10/2018 at 18:12:03
I don't get this desire for Morata. Surely he's flopped in the Premier League?
Colin Metcalfe
49
Posted 19/10/2018 at 18:20:22
If Morata or Dzeko are available in January that would tick the box for a target man a huge upgrade to the likes of Tosun and Lukaku!
Tony Abrahams
50
Posted 19/10/2018 at 18:23:46
I don't think you can loan two players off the same club, during the same season? This might just rule Morata out.
David Hallwood
51
Posted 19/10/2018 at 18:42:54
Do we actually need a traditional target man? The RS and Citteh don't play with one, and I would prefer a front 3 that are quick and can interchange.
Jeff Armstrong
52
Posted 19/10/2018 at 20:00:25
We don't particularly need a target man or a traditional number nine or a fast front 3 etc. We need a goal scorer, like Latchford, Sharp, Inchy, Lineker, Cottee, or Lukaku, anybody who knows where the onion bag is. I don't care if he's left-footed, right-footed, big, small, medium, fast, slow, black, white, green — just someone who nets regularly, that's what we need.
Tosun and Clavert-Lewin fit the above — apart from the scoring goals bit..
Lee Jackson
53
Posted 19/10/2018 at 20:13:56
This quote is on the Echo website and is possibly the best thing I have ever heard an Everton manager say:
"For me when you talk about motivation and commitment, it's an obligation," Silva added.
"It's not that one win can give our players more motivation. It can give more confidence and a smile on a players' face for sure, but commitment and motivation is an obligation when you work for a club like ours."
Lee Jackson
54
Posted 19/10/2018 at 20:18:08
Tony (50) - Don't we have two lads at Wigan atm? Perhaps that rule exists only between clubs in the same division.
Tony Abrahams
55
Posted 19/10/2018 at 20:53:51
Lee @53, I was very impressed when I first heard Silva use these words but then he went and spoiled them against Southampton in the League Cup.
Lee @54, we do have two kids at Wigan but I definitely heard during the transfer window that you can't loan two players off the same club so maybe you're right about different divisions or it also might just be a rule for the Premier League?
Neil Copeland
56
Posted 19/10/2018 at 21:25:44
Silva really got my goat over the League Cup fiasco when he hinted at few changes before the game. Time mellows you and I now wonder whether some of that issue was down to translation. Having said that, I think Marco is learning fast and his team selections since demonstrate that.
I think great things are around the corner and really look forward to every game home and away more so than I have for some time. It feels good to be going to the game knowing that the team will be playing entertaining football with a number of players who can turn a game.
So, hats off to M&M for a very good start so far and also to Mr Moshiri for getting the right personnel.
As others have said, early days but plenty to be positive about.
As for a striker, finding a 20-25 goals a season man will be very difficult particularly in January. Not sure if I can think of anyone who fits the bill. I would like to see Calvert-Lewin sent out on loan if we do bring someone in; I still think he may have a lot to offer but needs more experience and to sharpen up – sink or swim time. Whilst I am suggesting either is the answer it would be interesting to see how Hornsby (when fit) and Henry Onyekerou would perform. Not 100% convinced about Rashford, could Zaha be persuaded to join us?
Don Alexander
57
Posted 19/10/2018 at 22:13:00
We can but speculate what M&M said between themselves on arrival at Finch Farm, but Silva in particular had a vested interest because of the length of his contract to do something immediately to improve the spine, in every sense of that word, of the serial failures he'd have seen at Finch Farm in the flesh. Maybe, just maybe, his team for the League Cup was selected to show Moshiri the true depths of talent available to him even after his six signings.
I've said it before but Moshiri needs to give these guys three windows minimum, with funds to spend by whatever means, before he, Moshiri, can reasonably expect to see any real progress on making a meaningful attempt to secure Champions League football regularly, and if it's there after just three windows, I think he should name the new stadium the "M&M Miracle Stadium".
John Malone
58
Posted 19/10/2018 at 22:38:40
Wellbeck might not be the most proflific of goalscorers and his injury record isn't great but at the moment he might be just be the best man available.
He is fast, strong can hold the ball up and link play and is a decent enough finisher on the deck and with his head. He's scored goal's for United and Arsenal domestically and in the champion's league and also performed well in an England shirt.
I think Wellbeck would be a good signing for us plus he is a manc and would almost certaily jump at the chance to move back up north.
In my opinion the only doubt on going for him is his injury record which is the not the best at all but for the cut price money we could get him for and the impact he could possibly make I'd say he is worth a punt.
Jerome Shields
59
Posted 20/10/2018 at 00:32:37
Agree the League Cup debacle still leaves a bad taste.
Paul A Smith
60
Posted 20/10/2018 at 20:48:57
Unfortunately the transfer windows are bread and butter. It seems Silva has had a very good first window and it's important he keeps that up. It's not science that the clubs spending on major improvements are the ones who will make strides.
It's also the board's duty to back him all the time and give him the best possible chance while showing the fans they mean business.
Stephen Jones
61
Posted 21/10/2018 at 06:44:31
I believe a 10-12 goals man would suffice given there are now goals in the rest of the team, eg, Sigurdsson, Walcott, Richarlison, Bernard plus centre-back contributions at set pieces. Hoping Mina will be weighing in with a few here. Point well made by several that we have the creativity now to provide the service.
Karl Parsons
62
Posted 21/10/2018 at 09:40:45
For me it's not necessarily about the interview and what was said but more about the reaction here. The Club's fan base has been fragmented, disillusioned and frustrated for ages; and for bloody good reason. The reaction to M&M has began to glue us all back together. Beyond the words that's massive progress in my mind. UTFT!
Colin Glassar
63
Posted 21/10/2018 at 21:50:35
Until messrs Darren Hind and/or Phil Walling give their learned opinion I will reserve judgement on Marco. They've been spot on about the last two flops. Haven't seen either of them for a while.
Tony Abrahams
64
Posted 21/10/2018 at 21:55:50
Been thinking the same thing myself Colin, but I don't think Darren H, minds Marco Silva, so hopefully we might hear from Darren soon?
Brian Denton
65
Posted 21/10/2018 at 22:00:31
Is Phil Walling still posting? Haven't seen him in a while. Ditto Eugene Ruane. I don't scour everything on ToffeeWeb these days, but are my impressions correct?
Colin Glassar
66
Posted 21/10/2018 at 22:15:10
Haven't been on much this season either so I haven't seen either Phil or Darren. I'm still recovering from the big Sam nightmare.
Add Your Comments
In order to post a comment, you need to be logged in as a registered user of the site.
Or Sign up as a ToffeeWeb Member — it's free, takes just a few minutes and will allow you to post your comments on articles and Talking Points submissions across the site.