Silva: We kept our focus and deserved the win
Sunday, 21 October, 2018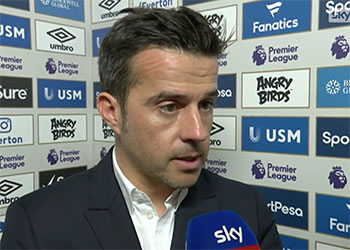 Marco Silva credited his team for their patience as they eventually prevailed over a typically stubborn Crystal Palace team at Goodison Park this afternoon.
Everton used the impetus created by Jordan Pickford's penalty save with an hour gone to go on and record their third League win on the bounce but it needed the intervention of his three substitutes to get the job done.
Ademola Lookman stepped off the bench to replace debutant André Gomes along with Dominic Calvert-Lewin who came on for Theo Walcott and the two subs combined to put the Blues ahead in the 87th minute.
Cenk Tosun, an earlier change for Bernard, then wrapped things up on the breakaway when he fired through Wayne Hennessey's legs.
"Tough game, tough game, like we expected" Silva said in the tunnel afterwards. "Like I told my players, always when Crystal Palace come here to play it's always a tough game for us.
"In the first half, we played a little bit slow, slower than we have to do. It was different in the second half; we were stronger in some challenges and we pushed our opponent back more, creating down the sides and inside as well.
"Of course, they missed a chance with the penalty. It was a good save by Jordan and, in the end, I think we deserved the three points.
"[Jordan] has the quality to play at the high level that he is now, helping us and the national team as well. At that moment it was important.
"[To make Goodison a difficult place for teams to play] is what we want. The Premier League is really hard. Opposition teams respect our team, they come here to wait, to keep good defensive organisation and we have to find the solution to play faster in some moments.
"But we are creating and today our team had the patience and moments to not lose our balance too easily. Our fans, they were fantastic because they didn't lose patience as well; they kept supporting our team the whole time and in the end everybody is happy because we played together, us and our fans."
Asked if he thought he should take credit for the late substitutions, Silva smiled: "It's football, it's our job. We are here to take decisions, not just with the starting XI but during the match as well.
"This afternoon, everything was okay when we changed the three players. Of course, I'm really happy for them because Cenk in the last two home games has come in and scored two important goals for us and Dominic and Lookman created the first goal because they are working really hard to get into the starting XI.
"It's important that we have solutions now off the bench to solve some problems during the match."
---
Reader Comments (30)
Note: the following content is not moderated or vetted by the site owners at the time of submission. Comments are the responsibility of the poster. Disclaimer
Kieran Kinsella
1
Posted 21/10/2018 at 20:10:54
Small detail but the commentator said we have an option to buy Gomes. I thought Barcelona refused to agree to that? My point being that, if everyone is fit, I would think he has to play really really well to stay in the side if there is no option to retain him versus others who will be here for a while.
Tommy Carter
2
Posted 21/10/2018 at 20:17:32
I'm pleased for Cenk and I think he's ready to take his place back in the starting line-up. He looked confident and, with that confidence, he was a different player.
Jimmy Hogan
4
Posted 21/10/2018 at 20:34:53
So much better than Fatty last season.
Steve Ferns
5
Posted 21/10/2018 at 20:54:33
Kieran, Barca haven't loaned us a 25 year old flop for him to recover his form and go back, he's here to join us, or to put himself in the shop window for others. If he does well, then expect him to be purchased swiftly.
You can see Silva's vision starting to snap into place. And it's great to hear him say, "we have to find the solution to play faster in some moments". Silva knows this, he demands this, and so do we.
It's also interesting to read that he had watched the last 11 games of Everton v Palace to prepare. The guy is going to minute levels of detail. He's looking to see what usually happens and trying to improve.
We're 8th now, the likes of Palace and Huddersfield are not seeing us as a team they can beat, and come to Goodison to spoil. Silva is looking at how we defeated them in the past (3-1 last season, but 1-1 the year before, and 1-1 the year before that).
There's a lot of work to be done yet. But we are seeing the fruits of our training ground labour, and the best fruit I believe will be harvested later in the season.
Iain Love
6
Posted 21/10/2018 at 21:00:44
As with most foreign players, Bernard needs to beef up and probably get better studs, there's a quality player there though.
Mina in for Zouma, he's a loanee anyway. Someone needs to tell Gana "Win the ball, then give it to Sigurdsson or someone else." Theo should be a supersub.
Great result; the 2nd goal flattered us though, but there are signs of improvement which is all I'm looking for atm.

Phil Sammon
7
Posted 21/10/2018 at 21:04:23
Steve 5
I wouldn't be so sure of that. Barca took back Deulofeu without him ever really looking like a first eleven Barca player. They have the option of buying back Mina too, of course. They really do not want to let go of these players who they know have quality.
Steve Ferns
8
Posted 21/10/2018 at 21:10:02
Phil, they took back Deulofeu in a very weird way. Why would he agree to rejoin them (because yes he has to agree terms) in the full knowledge that he was going to get sold again.
Gomes is a good five years older than Deulofeu was, six at the end of the season. Read what he says about his time at Barca. It is not an over-estimation to say he hated it. Would he really want to go back to place he described as a living hell, where he was too scared to go out onto the street. Mina and Gomes were derided by the Barca fans. They said the best bit of business all summer was getting us to cough up for a trio of duds. The fans don't like Gomes. He ain't going back. It's only a loan because there was no time to get a deal done and he was injured.
Bill Gienapp
9
Posted 21/10/2018 at 22:29:00
Imagine what Allardyce's response last season would have been, if someone teed him up with, "Do you think you should take credit for...?"
James Flynn
10
Posted 21/10/2018 at 22:32:41
Don't know if that Zaha is like that every game, but even when we swarmed him he came away with the ball. I think Coleman did well to just hang in there against him. What a talent.
Also. That right-back of theirs wasn't having it. Again, not knowing if he's like that every game. Might be one Brands keeps an eye on.
I won't judge Gomes as a long-term prospect. But I will say he looked closer to Barry than Schneiderlin ever has or will. That he can see the game as well as Barry is another thing. We will see.
And someone needs to lift up Gana's shirt to see where the extra battery pack is located.
Danny Broderick
11
Posted 21/10/2018 at 23:16:31
Very pleasing game for me that. We huffed and puffed but struggled to break them down. But what pleases me the most was the intent to win the game by the manager. Positive subs, looking to win the game.
All-in-all, lots of positives. The centre-backs are looking like a good partnership. And Gomes, while obviously short of match fitness, he did more in one match than Schneiderlin has done in the last 18 months.
The front three didn't fire today, but the rest of the team played well. And the subs had an impact when needed.
Lots of positives for me, even if we lacked a bit of quality in the final third.
Gareth Clark
12
Posted 22/10/2018 at 05:48:43
Exactly what I wanted to say!
So many times, we've dominated the game and let it slip with a lapse of concentration and giving away a goal.
What a performance – a special mention for Keane... He is playing unbelievably well, keeping it simple. Also a great assist for a Tosun.
Bernard & Walcott had a very average game – Lookman is breathing down their necks.
I'd give Richarlison one more game through the middle – and then move him back to the left. He likes more space and the wing suits him better.
This would be my best XI at the moment:
Pickford
Coleman (c) Keane Zouma Digne
Gueye Gomes
Lookman Sigurdsson Richarlison
Tosun
Subs: Stekelenburg, Mina, Baines, Davies, Bernard, Walcott, Calvert-Lewin
Dean Johnson
13
Posted 22/10/2018 at 08:44:01
I'm starting to love this Silva bloke.
Also, André Gomes is the player we've been crying out for for years. Note how he plays, he uses both his feet to pass and control the ball!!!! Shock horror!
Whilst he looked a bit rusty at times, he almost always looked forward and passed it with either foot, this is what we wanted guys. Unless you can control midfield, the balls to the front guys are almost pointless. If we can make this place his home, we will have one hell of a player on our hands.
Ace games from Keane and Zouma too. Pickford once again showing his class.
Keep going, boys, it's getting there!

Philip Yensen
14
Posted 22/10/2018 at 10:11:46
My problem with yesterday's performance was the lack of crosses from both sides of the field. On the left, Digne and Bernard had plenty of chances to cross a first-time ball but both players were guilty of losing possession or passing backward. Walcott was doing a similar job. We need to put the crosses in with pace, make defenders worry.
At set pieces, our defence lack a "Derek Mountfield" – just someone to attack that cross ball. We still play impossible balls to a player with back to goal and two defenders in attendance.
Less to grumble about means we're getting there.
Christy Ring
15
Posted 22/10/2018 at 12:10:45
I like Silva in that technically he checks every detail about the opposition, and instills confidence in the players by talking to them individually. He also had no qualms starting Gomes ahead of Davies.
I was impressed with him yesterday, especially with his lack of match fitness; it's great to see a midfielder, with creativity, and passing the ball forward with both feet — something we have lacked since Barry was here.
Ajay Gopal
16
Posted 22/10/2018 at 17:16:49
Steve (5), the story that Silva watched the previous 11 games of Everton vs Crystal Palace must surely be apocryphal because I don't see what use that could be. Players would have changed, managers would have changed, and watching games from seasons group be by would hardly be relevant to the upcoming game. It would make more sense to watch the last 5-6 matches of Crystal Palace's present season, don't you think?
John Pierce
17
Posted 22/10/2018 at 18:27:14
Overall the right selection from the manager. The emphasis on retaining the ball but also picking players who attract multiple defenders to the ball.
In Ricarlison, Bernard, Sigurdsson and Lookman we have players who create space by drawing players in and releasing the ball at the optimum time.
Now yesterday was far from a master class but Palace visibly tired in the last 20 minutes. Silva for my money should have brought Lookman on then.
The best image I have from yesterday was the queue of players waiting to nod the Lookman cross home, 5 blue shirts around the six-yard box.
A promising change to how we've set up at home to date.
Paul Tran
18
Posted 22/10/2018 at 18:39:00
He signs footballers and plays them. He's improved Keane markedly. We create lots of chances every game. I'm looking forward to every game. I'm suspecting that the players will continue to gel and get better.
Easy to improve on his predecessors, but so far so good from me.
Tommy Carter
19
Posted 22/10/2018 at 21:02:18
@14 Phillip
I agree. We could have had 100 corners yesterday and we wouldn't have scored from one. I was surprised that we didn't mix it up and play a short one or try something different.
Set-pieces were something Southgate really worked on with England and it's a part of the game you'll ignore at your peril.
I think Silva is ultimately a better coach than Southgate but the England manager has shown many people up with his inventiveness from set pieces. Maguire looked dangerous from absolutely every corner in the World Cup, whereas he hardly bangs them in with any regularity at club level.
I believe once Mina is added to the side we will have a massive goal threat from set pieces as he is huge and really attacks the ball. I'd like to see us work on exploiting that as a strength. Especially when like yesterday, our general play leads to many corner taking opportunities.
Duncan McDine
20
Posted 22/10/2018 at 22:58:04
Palace were the better team for most of the game and should have been 2 up by the time we scored. That said, I'm happy to see the attacking substitutions Silva made which ultimately won us the 3 points.
Premier League games are so often decided by fine margins and luck – yesterday was a prime example... it really could have gone either way.
Phil Lewis
21
Posted 22/10/2018 at 23:58:39
I have mixed feelings over Saturday's game. The long-awaited debut of Gomes produced a stylish, competent, convincing performance. I'd seen some stunning stuff on Youtube from him playing Spain, but these clips don't always materialise live in the Premiership. However, he didn't disappoint and can surely only improve. I was excited by our teamsheet's named front three, but they really didn't fire on the day. I commented at half-time that Palace were marginally the better side.
The main thing that bothered me was an inclination to fall into the old Martinez perpetual sideways passing routine. I'm not opposed to possession football, in fact when performed the Manchester City or Barcelona way, its perfect total football. But what these teams have clearly perfected and we are such a long way off, is that their defenders and midfielders can get relentless decisive passes to forwards with quick fire rapidity, almost at will.
Their sideways possession passing draws the opposition, enabling forwards the freedom to parade their skills. When we attempt it, far too often we put ourselves under pressure with sloppy passing. Perhaps Gomes will be the catalyst who puts things right.
I was so pleased for the substitues' contributions. Not only will it boost their confidence, but it also served to prove that in this instance, almost with the last roll of the dice, we found the victory through a slightly more direct, dare I say traditionally English approach. Either way, the lads who came on brought fresh legs and a desire to prove a point, to the fans and the manager.
Thank goodness they did!
John Mckay
22
Posted 23/10/2018 at 15:03:47
Amazing what a new manager has done to us over the last 3 months. Jesus, last season was terrible. I'm glad performances are much better, okay, not perfect... but nice to watch the football now. Last season, I was dreading every game.
Team looks good; we just need a prolific goalscorer now and we are sorted.
Andrew Clare
23
Posted 23/10/2018 at 15:46:40
I am delighted with the way things are going. Yes, Palace probably did deserve something out of the game but our players just kept chipping away until they finally broke through.
As I have said before, I can't remember the last time we completely dominated a game; maybe that doesn't happen in the modern game or maybe it's just a question of time?
Once the team has had time to play together for an extended period of time, we will see some great football – of that I am convinced. Some players need a lot of time to find their feet. Look at Keane. Suddenly he looks the real deal. Sometimes players just need the right players around them to click.
We have to remember that Silva has only been with us for a few months.
Exciting times.
Rob Halligan
24
Posted 23/10/2018 at 16:48:27
One of two posts on this thread saying Palace maybe deserved something from the game on Sunday. I've seen some saying they could have been two up, but they weren't.
Like all teams in (nearly) every game, they had chances, the best one probably being the penalty, which brought a great save from Pickford which, after all, he is paid to try and do. The chance they had that hit the bar, maybe they should have scored. I also remember us having chances before they hit the bar. Didn't Siggurdsson bring a save out of their keeper before they hit the bar?
We went to Arsenal and probably at least deserved a draw, but never got one. I wonder if Arsenal fans said afterwards we could have been 2 or 3 down at half-time, and Everton deserved something. We only got a draw at Wolves despite being down to ten men for 50 minutes and were the better team for the majority of the game. We went to Bournemouth and played well to have probably won that match, and only two moments of defensive lapses, certainly the penalty which was needlessly given away, prevented us winning. Leicester last night could have been 2 or 3 up before Arsenal equalised on the stroke of half-time.
So, my point is, let's hear no more about "We could have been a goal or two down". Maybe, just maybe Palace weren't good enough to beat us as they couldn't score. I've been told they have yet to score a goal at home. Can't be that good then if that's correct? A goalkeeper makes saves, that's what he's there for. Pickford made the save when he had too, Hennessey didn't.
Tony Abrahams
25
Posted 23/10/2018 at 17:42:57
I thought Everton deserved the win on Sunday because they kept going against a very physical and well-drilled Palace team.
Palace looked very organised and I was wondering how many of their players had been on international duty the week before?
I was made up with Everton, though, because if you are not at your best, work harder, and this is why I was delighted at the end on Sunday... because the hard work paid off.
Ron Marr
26
Posted 23/10/2018 at 18:43:36
It's true, Palace have played 4 home games and have yet to score at home.
I'm enjoying what I'm seeing so far from Silva & Brands. It's a work in progress.
What's the scoop on Mina? Never seen him play. Will he make a difference on all these corners we get? Here's hoping.
Karen Mason
27
Posted 23/10/2018 at 18:56:48
Just a few points to pick up on. Firstly, what a delight to see Silva change it up in the latter part of the game and go 2 up top to try to win the 3 points. Last season, it would have been changed to 5 across the back and 5 across midfield to try to hold on to a point (at home!).
When teams come and park the team bus and are as well drilled as CP were, it's never going to be easy to break them down. Persistence is the key and it paid off for us. I would say, with the exception of Man City, most teams, including the RS have a problem breaking down teams who park the bus. So, good for us to finally break them and score 2.
As somebody else pointed out, we lack a bit of imagination on corners and set pieces. I would like to see a bit more innovation from those hard-earned situations. We played a great little creative move from a free kick from just outside the box, early on in the season, which resulted in a goal. I would like to see us mix it up more on free kicks and corners. While we have scored one or two from headers from a corner, our strike ratio versus number of corners is not great, and we are very predictable. A few more goals from corners and free-kicks would take the pressure off in tight games, I'm sure. But then, I guess Silva not being able to pick a settled side due to injuries, doesn't help the cause with regard to set piece routines.
While much of the game vs Crystal Palace wasn't pretty to watch, big positives to be taken from the progress our boys are making, both as individuals and as a team. How great that subs can come on and make such a big impact. COYB. I'm lovin' it!!!
Clive Mitchell
29
Posted 25/10/2018 at 01:32:55
Lot of sensible comments above, I felt we thoroughly deserved the win because we never took a backward step, and — even though, time and again, things didn't quite come off — we had 20 attempts on goal which is so much better than last season it's hard to put into words!
Silva has made a great start, and we need to stick with him when the rough patches come along.
Lee Brownlie
30
Posted 26/10/2018 at 12:03:06
For anyone else who reckons Palace were 'the better team for most of the game', 'should have been 2-0 up before we scored' and/ or were otherwise somehow 'unlucky'... well, I'll call that for the negative BS that it is!!!
A team, any team, scores zero goals (in this case despite the dodgy 'Neymar antics' of their supposed main man!!), and then concedes two... Forgive me for not living in the 'We're still shit!' land of some of you, but I'm pretty sure that's called not scoring but being scored against... twice!!!
And how the fuck is that ever 'unlucky'???
Dave Abrahams
31
Posted 26/10/2018 at 12:56:27
Lee (30), while I agree with most of your post, I thought we were unlucky against Arsenal when we lost 2-0.
Lee Brownlie
32
Posted 28/10/2018 at 03:42:17
Dave (@31):
Well, I'm afraid my take on the whole lucky/ unlucky assessment of football games is clearly at odds with many others on here, and I'd certainly be a hypocrite to say Palace weren't unlucky against us but that we were unlucky against Arsenal. I'd rather just stick with my actual feelings, take, anyway.
Both games, as we all well now know, finished 2-0 (to the home side)... and by that simple footballing token 'lucky or unlucky' doesn't come into it... no last-minute goals in by deflection to nick it, or via a dodgy late refereeing decision.
2-0... Says all we need to know, really. Yes, we looked really good at times at the Emirates. This hopefully bodes well for the future. But, still, we couldn't do that footballing prerequisite (to win games) of taking our chances. Arsenal did take theirs. Twice. We weren't unlucky.
Palace did okay against us, but couldn't score, despite a crap ref and Zaha's cheating. We did... Twice. Palace weren't unlucky.
No subjective rosy or darker tints needed to try to see things in either game otherwise than that which actually proved true. My take. Sorry.
Add Your Comments
In order to post a comment, you need to be logged in as a registered user of the site.
Or Sign up as a ToffeeWeb Member — it's free, takes just a few minutes and will allow you to post your comments on articles and Talking Points submissions across the site.