Silva could explore option of keeping Gomes next season
Friday, 2 November, 2018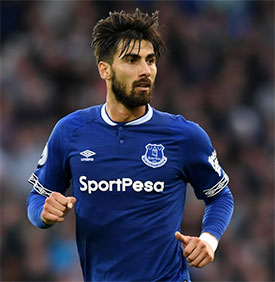 Marco Silva says that Everton will look at the situation regarding André Gomes in a few months and decide if trying to sign the midfielder permanently is an option.
The Portuguese midfielder arrived on a season-long loan from Barcelona in August but didn't make his debut until the home game against Crystal Palace two weekends ago because of a protracted recovery from a hamstring strain.
Gomes has slotted into the Toffees' midfield seamlessly, however, and put in two hugely encouraging performances against Palace and Manchester United, suggesting that he could be the missing link in the middle of the park that Everton have been missing.
His instant impact has already got Evertonian minds thinking of the future and whether it would be possible to sign Gomes on a permanent deal next summer. The club say that no purchase clause was included in the loan agreement but if all parties are in agreement, a deal could be negotiated when the time comes.
Gomes has gone on record with the psychological difficulties he experienced trying to make the grade at the Nou Camp and he appears to be enjoying the opportunity to play regular first-team football again.
Whether he would like to give it another go at Barça next season having regained his confidence or whether Everton will have touched him sufficiently to persuade him to stay at Goodison Park remains to be seen.
Asked when he might start to explore the possibility of keeping a player who appears to have settled so well on a permanent basis, Silva said:
"Let's see what we can do.
"First, it's really important for me to see how our players are enjoying working and playing in our shirt.
"I think it's really important for me — not only the new players but all the others as well — that the environment is good, that they have a good attitude and are working really hard every day.
"You are talking about players who have come from big clubs and they are enjoying playing and working here here is important for us and it reflects what we are trying to create — fantastic group spirit in our dressing room.
"But we will see what happens in the next [few] months. It is a situation] we are always paying attention to and we have to decide in the future what we can do or not."
---
Reader Comments (41)
Note: the following content is not moderated or vetted by the site owners at the time of submission. Comments are the responsibility of the poster. Disclaimer
Colin Leckey
1
Posted 02/11/2018 at 23:30:41
The lad's played two games. Let's not rush to decide this just yet...
Mike Gaynes
2
Posted 02/11/2018 at 23:36:37
Amen, Colin.
Phil Bellis
3
Posted 02/11/2018 at 23:37:52
Early days admittedly but seems as fluent and laid back as Jim Baxter...
Don Alexander
4
Posted 02/11/2018 at 23:54:07
Due respect to Silva, given that he seemingly had to say summat to the media, in putting the ball very much into Gomes' court in terms of whether a permanent signing is a goer. "Play to earn it lad, and we'll see in January!"
David Pearl
5
Posted 02/11/2018 at 23:55:03
I think he's the best by far from what we've bought in this summer. Of course we haven't seen Mina yet.
Paul Birmingham
6
Posted 03/11/2018 at 00:28:21
Better by far than we have, but money talks, but this lad looks settled, but too early to confirm.
Two games and in fair play and respect, the best player
Great boost if he stays.
Gavin Johnson
7
Posted 03/11/2018 at 04:37:55
Gomes has got the pedigree and is looking the part. It's still early days but he's a different type of midfielder to what we have and seems to be the kind of player we need. I'd also like us to get Ramsey. Of course we'll need to lose a midfielder, and that can be Schneiderlin or McCarthy. There looks no way back for Schneiderlin now. He's a big earner and needs to go if he isn't playing regularly.
We're also going to have a big dilemma as to what to do with Henry Onyekuru next season. I've seen a report that Brands is considering selling him. I hope that's not the case. He is a full international now and will get a work permit next season, but if he doesn't develop into an out-and-out centre forward this season we're going to have another winger on the books and will realistically have to sell either Lookman or Walcott to accommodate him. Even if we play him as a striker he'll need to replace someone surmising we also spend big on a centre forward. Niasse will leave in Jan, but will Tosun or DCL need to be loaned or sold next year?
The hope was that Onyekuru would develop into a centre forward last season, but the injury curtailed that. I also remember reading an article where the Anderlecht coach felt that Henry had a tendency to drift over to the wide positions and couldn't command the central position . This kind of echoes the same sentiments Silva made this week about Richarlison moving into the middle stating that there's a lot more to being a striker than scoring goals.
Onyekuru could be a very useful player for us next season but who is he going to replace?? Either as a winger or centre forward.
Ajay Gopal
8
Posted 03/11/2018 at 05:50:51
I like it that Silva is placing a lot of importance on creating a good team spirit. I think that is a good (but not the only) basis for future success. Very encouraging.
Stewart Lowe
9
Posted 03/11/2018 at 08:27:10
By the end of January, I would love us to trial the following:
Pickford
Coleman Mina Zouma Digne
Gomez McCarthy
Lookman Sigurdsson Bernard
Richarlison
Martin Berry
10
Posted 03/11/2018 at 08:47:59
I think Gomes could be a fantastic player for us, a lot depends on him keeping injury free due to the rigors of the prem.
Additionally it depends on the fee that he commands.
I don't see his possible return to Barca being a problem as it sounds as if he was really tainted by it and why possibly repeat the dose ?
He will come to love Everton and the environment and playing with Mina and Digne his ex Barca buddies will certainly help him settle in.
I see Zouma staying also as the road back to Chelsea could be very difficult for him too.
Alan J Thompson
11
Posted 03/11/2018 at 09:46:22
Why wasn't this explored as part of the original deal? Did we really take an injured player on loan without the possibility of making it a permanent deal or was it to facilitate another deal?
The more things change if only for one season.
Jerome Shields
12
Posted 03/11/2018 at 10:35:48
I hope Brands is way ahead of Silva in thinking.
Tony Everan
13
Posted 03/11/2018 at 10:46:50
It's easy to get carried away if a player is doing well or alternatively if he has a bad game . As Colin#1 says it's early days.
That being said there is a lot to admire in his play. He has a touch of class. He has that rare quality of appearing to have a bit more time on the ball than those around him coupled with intelligent accurate forward passing . In the premier league those attributes in tandem are seldom seen . He is player who we will look forward to watching.
If he improves on his already impressive start and is consistent, trying to sign him is a no brainer.
Frank Crewe
14
Posted 03/11/2018 at 11:20:02
If he gets back to the form he showed that prompted Barca to fork out 30 million euros + another 20 million in add ons for him I would assume Barca would want him back. Even if they didn't I have no doubt they would want a sizeable chunk of that money back. Then of course we don't know if the player wants to stay at Everton after the loan is up. I would have thought getting into Europe would go some way to making up his mind. After all he's 25 now. The next few years he will be at his peak so he doesn't want to waste them huffing and puffing away at a mid table PL club when he could be competing with Barca for Champions league success. If Everton can show him we mean business and have real ambition it would certainly help to convince him where his future lies.
Steve Ferns
15
Posted 03/11/2018 at 12:36:42
Alan, Gomes was hawked around Europe all summer, particularly to Man Utd. After it was clear that level of club didn't want to buy him, he was given to us on loan at the last minute.
James Stewart
16
Posted 03/11/2018 at 14:05:49
We need to secure Gomes and Zouma as well.
Zouma is our key man in defence. Mina and Keane are similar and both suffer a lack of pace making Zouma vital.
James Marshall
17
Posted 03/11/2018 at 14:09:45
Quality player, top class. This is obvious, but good news in my view. The kid's a Rolls-Royce.
Alan J Thompson
18
Posted 03/11/2018 at 17:05:40
Steve (#15); Without knowing exactly what the deal is, I would have thought that his being "hawked around" would have put Everton in a good negotiating position with regards to having an option of making it permanent.
Liam Reilly
20
Posted 04/11/2018 at 00:48:29
It will be interesting to see if any deal has or can be done with Gomes. He's already shown in 3 games that he's well comfortable on the ball and his positional sense is excellent for picking up loose plays. Also his tackling isn't poor despite some reports on here regarding his reluctance to get stuck in.
Personally, I'd be taking a chance on the lad and talking to Barca now.
Anthony Flack
21
Posted 04/11/2018 at 09:01:13
There are a couple of Portuguese chaps in my team at work, they both laughed when I said I was impressed saying he was terrible, the Catalans in the team agreed and did not think he would ever be good enough.
Whilst it is early days, doesn't it show how things can happen very differently according to the circumstances and my view is, if a player is happy when previously he was not, it counts for a great deal
From what I saw yesterday, he was bloody marvellous – strong, fast, heading, passing, dribbling, communicating well... The only thing missing was a couple of times when I thought he could be more selfish and shoot... Best I have seen in our shirt in that role since Arteta.
ps: Only the 4th best player on the pitch yesterday: Keane, Gueye and Richarlison were immense!
Steve Croston
22
Posted 04/11/2018 at 09:07:16
I don't think it's any coincidence that Gana Gueye has upped his game since Gomes has been playing. Gueye was outstanding against Brighton; Gomes lets him do what he does best. With McCarthy on his way back too, we have four excellent central midfielders along with Tom Davies.
I hope we sell Schneiderlin who has been an absolute disaster signing apart from a dozen games a couple of years ago. Kudos to Brands and Silva, I think they're great. COYB!!!
Ian Manassie
23
Posted 04/11/2018 at 09:47:02
I agree with Steve (22), I thought Gana was terrific yesterday and he seems to play really well with Gomes, who I think looks a really clever footballer with a good touch.
The only worries with loan deals where the option to buy and price are not included is that, if the player does really well, his price can inflate and may attract other clubs.
It's a bit of a Catch-22 – you do not want to commit fully until you have tried the product but, if it turns out good, it may cost more. Fingers crossed all works out for all parties – especially us.
Steve Croston
24
Posted 04/11/2018 at 10:06:33
Ian, I'm sure (!?!) we have a first option on him, and if we make him feel loved, he will stay if that's what we choose.
I can't remember anyone other than Arteta who looked so classy in the middle for us. We've had so many fallen homegrown heroes, but it seems that our best midfielders of recent times seem to be unloved castoffs from abroad; they find a spiritual home (albeit a very well paid one) at Goodison Park and I'm praying that Gomes is next on that list. Happy days!
Len Hawkins
25
Posted 04/11/2018 at 10:17:47
I'd be on the blower to Barca: "Let us keep Gomes and we won't pursue Messi — plus you can have Mirallas Schneiderlin and Niasse for their scrap value!"
Andrew Yates
26
Posted 04/11/2018 at 13:23:26
The potential power of a player like Gomes is so widespread; if he continues this form, players around him will up their game. Davies, one would hope, will learn from him, be inspired by him, and want to replace him. Gana, if this partnership continues will grow and if allowed to do the job we know he can do will continue to improve; others will fall by the wayside but haven't we seen enough of McCarthy and Schneiderlin to know they may sustain us but won't improve us.
Gomes will and is improving us, no doubt. For me, it's all about the want to improve, the desire to improve and feed off the inspiration, Lookman, for example, should be desperate to dislodge Theo, chomping at the bit, but Theo doesn't necessarily carry that air of inspiration for me; imagine if it was Sheedy or Steven he was trying to replace... then he'd have to really hit the heights. With Theo, it's not going to be as much effort, hence he ultimately doesn't raise his bar.
Anyways I'd support a permanent switch based on the little evidence seen to date.
Peter Jansson
27
Posted 04/11/2018 at 19:07:25
Gomes is on another level compared to all other midfielders we have. He is much better than all the rest. I don't need more games to see that.

Harry Hockley
28
Posted 04/11/2018 at 19:22:46
Looks a great talent on the face of it, he clearly has ability so let's see where it goes but he is playing remarkably well considering it's his first games in the Premier League after a layoff.
I got a good feeling about him. I said early on he reminded me of Arteta and even more so the more I watch him; he has that continental calm, almost lazy skill; let's hope he can stay fit!
Geoff Lambert
30
Posted 04/11/2018 at 19:33:39
He glides around on a cushion of air picking out passes for fun. I love the way he effortlessly slides the ball forward through the small gaps in the opposition's defence.
I've got a very good feeling about this guy, we need to get a song about him and make him feel loved by the blue family.
Brian Harrison
31
Posted 04/11/2018 at 19:48:01
Seems to be a trait of Barcelona to loan out players or, as in the case of Deulofeu and Mina, enclose a buy-back clause. So it becomes a win-win situation if the player plays well for the club he has gone to.
So, at the end of the loan spell, they decide: "Do we want him back? If not, is there interest from other clubs having watched him play regularly?" Same as with the buy-back clause; same rules apply.
Also, if the player has played well on his loan spell or still in his buy-back time, the pressure on the club to pay an inflated price also comes into play. As I am sure Barca would say that other clubs are interested in the player even if there are no other clubs wanting to meet Barca's asking price.
Now while Gomes might love it here at present, if a team with regular Champions League appearances comes in, he will go there. Players and their agents always rightly want to maximize their clients' earning potential, and Champions League teams tend to pay the biggest wages.
I don't want to pour cold water on the chances of Gomes coming here permanently but I think we should view it as a loan spell till the end of the season and enjoy the next 6/7 months of him playing for us.
Laurie Hartley
32
Posted 04/11/2018 at 20:30:54
One of the things I really like about Gomes is that he is very hard to knock off the ball.
Tony Everan
33
Posted 05/11/2018 at 11:34:47
Yes, Laurie, I wasn't expecting that at all, he is much stronger than I thought he would be. In the Premier League, it is needed too.
A number of times he has been in a 50/50 tussle and come out best. He has a natural skill of shielding the ball with his body and giving himself that moment of time to come away from the challenging opposition midfielder.
He is one of the players who can propel us into top 6 territory and further in the coming seasons. We will learn more with games against the top 6 this season.
David Midgley
34
Posted 05/11/2018 at 12:15:48
He reminds me of Tony Kay... He has time, makes space, has awareness.
Lee Courtliff
35
Posted 05/11/2018 at 14:06:47
The fact he can pass the ball with either foot is enough me.
Dave Speed
36
Posted 05/11/2018 at 19:09:07
He looks a class apart from anyone we've had in that position since Arteta at his peak. Doesn't give the ball away, makes the correct pass and doesn't lose it.
Even when he gets a bad pass, he recovers it, like just before Seamus' goal against the Seagulls that forced the mistake that led to the ball getting to Seamus. And he's not yet match fit.
Marcel, give Barca a bell and make an offer now before a Champions League club comes in for him.
Paul Birmingham
37
Posted 05/11/2018 at 20:27:19
If he plays to this form on loan, he will no doubt be on the radar of many clubs, but I think M&M have some magnetism with players so let's see what happens.
He looks like he's enjoying his life at Everton.
Mike Allen
38
Posted 05/11/2018 at 20:36:53
He reminds me of Colin Harvey. I hope we can keep him, as with the rest of the first eleven.
Jay Wood
[BRZ]
39
Posted 05/11/2018 at 20:59:17
Gomes has played well in his 3 games to date, but generally only in the second half of games.
He has not been MoTM in any of those games, contrary to the claims of some. On Saturday, over the entire 90 minutes, I don't think he was even one of our best five players on the pitch.
I would place Gana, Coleman, Keane, Richarlison and Sigurdson in front of him in the Brighton game.
And I say that no to deride the player, because he obviously brings a lot to the table, but rather, to highlight how well the TEAM and individuals within the team played on Saturday.
It demonstrates just how much we are improving and that there is still plenty of room (and time) to improve yet further.
Chris Watts
40
Posted 05/11/2018 at 21:23:59
Now that things are looking up, it is getting interesting thinking how we can make a proper assault on the top 4. I think we need to do what Spurs did a few years ago – hoover up some young players and hope some of them become top class.
I'd love to get the palace right back, he has looked utter quality every time I've seen him this season and he's only 20. Like wide Tierney from Celtic. I know Digne is only 26 but Tierney is 20 and we'd have serious strength in depth. Both could be loaned out for next season and would have to fight their way into the side.
I'd like to see Zaha as well. Imagine a front 4 of Bernard, Richarlison, Zaha and Sigurdsson, with Lookman pushing them. There is a clamour for a top striker as well – Werner please.
Keep Gomes and Zouma and we have a squad to challenge the top 4 and enough young players who will only improve. We then just add one or 2 per season.
Oh, and a massive jettison if dead wood is still required.
Greg Hasbrouck
41
Posted 06/11/2018 at 13:28:33
I've seen a handful of comments about keeping Zouma. From everything I've read, that's not going to happen.
Tom Bowers
42
Posted 06/11/2018 at 13:48:40
All good players should be seriously looked at to be retained if they have performed consistently well. Neither Zouma nor Gomes are out of that category so far and of course depending on what their parent clubs say and what kind of wages they deserve will mandate the ultimate decision by Everton.
With Mina, Keane and Holgate Everton may feel Zouma will become surplus to requirements but Gomes looks like the real deal in midfield.
Of course, no matter how many talented players you have, the key is always getting them to play together as a potent formation and Silva looks like he is doing quite well in moving that objective along.
We may still have to wait till next season to see the fruits of his labors.
Aidan Wade
43
Posted 06/11/2018 at 17:35:36
Jay - what's hard to quantify is the extent to which Gomes enables those other players to excel, by letting Gana focus on disrupting opposition play, giving Keane an out, linking with Coleman to help him down the flanks playing balls forward for Richarlison and Sigurdson to take in stride instead of with their back to goal and under pressure...
Add Your Comments
In order to post a comment, you need to be logged in as a registered user of the site.
Or Sign up as a ToffeeWeb Member — it's free, takes just a few minutes and will allow you to post your comments on articles and Talking Points submissions across the site.