Everton CEO promotes public consultation on Bramley-Moore Dock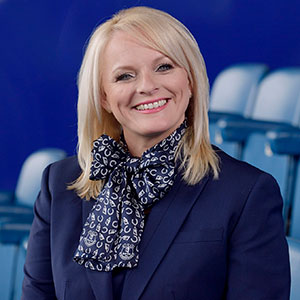 Everton CEO, Denise Barrett-Baxendale, has been talking at length about the public consultation process for the club's new stadium at Bramley-Moore Dock that kicks off this month.
Per the club's announcement last month, a three-week effort to canvass Blues supporters, city residents, businesses and local stakeholders on their views on what is projected to be a significant catalyst for investment and regeneration of the north docks ahead of Peel Group's Liverpool Waters development plans for the rest of the waterfront area is about to get underway.
Everton propose building an "iconic home" on the banks of the Mersey and while US-based architectural firm Meis Studios continue developing visuals for what the new ground will look like, the club's stadium development team are gathering local input to inform the planning application that is expected to be submitted late next year.
Barrett-Baxendale describes this month's consultation process, "the second most significant milestone" in the project to date following the land deal that Everton struck with Peel for the Bramley-Moore Dock site 18 months ago.
"Now it really is important that we begin with our formal consultation to provide the football club with the opportunity to listen," she said in the Liverpool Echo of a process that also involves the club's plans for the Goodison Park site they will be leaving behind. "That's key for Everton FC.
"We have a great desire to relocate to Bramley-Moore Dock. It's a site that we're very ambitious about and we think is a flagship site, an opportunity for our club to develop.
"Obviously our professionals and practitioners internally are working very hard to determine how the stadium could look, could feel, and how we would occupy that site. But it's really important to us that this is a city-region development project. It's a large-scale regeneration project, not just a football club [capital expenditure] project.
"This is our opportunity to go out and formally consult with the residents across the city region, hear their views, listen to what they have to say, and then that forms part of our formal consultation in preparation for a planning application.
"At the moment, we have conceptual ideas ([for the stadium]. We need to test and challenge those.
"And once we get towards planning, that's our opportunity then to share more detail with the fans and residents of the city region. It's not just about Evertonians, though obviously it will benefit Evertonians as we will have a wonderful iconic place to play football moving forward.
"But, due to the location of the stadium and also the opportunity it brings in terms of the regeneration benefits, jobs, employment, the construction phase that will go on, it's important that we speak to the wider community and understand how they feel about such a large-scale regeneration project happening in their city.
"This will happen. We understand that the fans have had stadium projects that haven't come to fruition in the past. The board is immensely committed to the development of Bramley-Moore Dock and we're working very closely with the council and all of the partners in respect of this delivery. So we're very committed to the scheme."
---
Reader Comments (23)
Note: the following content is not moderated or vetted by the site owners at the time of submission. Comments are the responsibility of the poster. Disclaimer
Jimmy Hogan
1
Posted 10/11/2018 at 19:33:30
Oh to know what she does that we don't...
Mike Jones
2
Posted 10/11/2018 at 19:56:10
It's just good to see the Club being professional again. On and off the pitch.
Marcus Leigh
3
Posted 10/11/2018 at 21:05:42
Mike Jones #2
Hear hear. It's almost cathartic.
Martin Berry
4
Posted 10/11/2018 at 00:00:25
"This will happen" so enjoy it!
Pleased we are being so professional as to the process and procedure and learning from other clubs' problems.
Colin Glassar
5
Posted 11/11/2018 at 00:16:14
Oh for gods sake, it's a bloody football stadium not Area 51 we are building!
Public consultation for what? So every moaning get gets a chance to chip in with their bloody negative ideas and worries. Thousands of "ifs and buts, what abouts" etc...
Just show us the blueprints, the dosh and then build the frigging thing and stop all this PR BS which is sounding more and more like a scratched record.
Rant over.
Mark Brennnan
6
Posted 11/11/2018 at 00:24:48
Spurs' new gaff is quite impressive, but I would prefer ours to be "steeper". I don't like being "away" from the pitch.
Dermot Byrne
7
Posted 11/11/2018 at 01:13:16
Seems more clued up than Elstone.
Dennis Stevens
8
Posted 11/11/2018 at 01:19:23
Hear! Hear! Mark #6 Spurs seem to have made the same mistakes as their neighbours - neither of their stadiums look like proper football grounds to me.
Don Alexander
9
Posted 11/11/2018 at 01:53:08
On another worrying level why have/has one/both of our imperious editors chosen to moderate the published photo of DBB from werewolf to wolverine on our/their "home" page?
Kieran Kinsella
10
Posted 11/11/2018 at 03:25:55
So Denise is a smoker I can summise based on her teeth on the home page.
Ed Prytherch
11
Posted 11/11/2018 at 03:31:41
I agree with Colin, it is a load of BS. Next thing will be a public enquiry and some shop keepers in St Helens will object because their business will be impacted.
Bobby Mallon
12
Posted 11/11/2018 at 05:23:35
I must side with Colin here. I'm bored of all the talk now. Just stick a 1st spade into the ground and let's build
Tony Waring
13
Posted 11/11/2018 at 09:15:04
Colin, you said it all. Oh and why does she need hundreds of words when a few will suffice. Overstuffed PR guff! Let's just get the place built before most of us Blues fall over the edge!
Gary Russell
14
Posted 11/11/2018 at 09:25:03
'...the club's stadium development team are gathering local input to inform the planning application that is expected to be submitted late next year.'
Jeezuz, no planning permission yet.
Dave Williams
15
Posted 11/11/2018 at 10:25:09
The PR stuff is a vital part of the process. We need as many on- side as possible so that when we do go to planning the committee can see that the project has been prepared as sympathetically as possible to the views of the local people.
The scale of this development will be such that it affects the City, not just Evertonians and if we are to get permission to go ahead we must do our homework and look like we care about the effect on Liverpool City Centre and its suburbs.
I think this is a very professional approach from people who know what they are doing, or who have engaged consultants who know what they are doing.
Frustrating because we all want to see the plans and for construction to commence but these projects take time.
Phil Williams
16
Posted 11/11/2018 at 10:42:20
Absolutely right, Dave (not related honest!). We cannot risk this being called in by the government for approval. The scale of the regeneration, the legacy left behind in L4 and the emotive nature of the rivalry means we Evertonians should come out in our thousands and thousands to support the move and propose legacy alternatives at Goodison that befit our name and add value to the community. We have to tick all the boxes on this one, and I look forward to having the finished article to enjoy in 4/5 years time, and for my kids and their kids to enjoy for decades to come.
Sean Kelly
17
Posted 11/11/2018 at 11:06:48
Phil #16, I admire your optimism of 4/5 years but I think it's your future grandkids that will see this opening. This PR exercise is just a delaying tactic and excuse to ya fans for more delays.
Dermot Byrne
18
Posted 11/11/2018 at 11:10:41
Without the consultation process, the spade in the ground will never happen.

Peter Mills
19
Posted 11/11/2018 at 13:15:46
Absolutely, Dave (#15), it is an essential part of the process. I am going to make my own, small, positive contribution to the consultation (I think it's great for the city, not just EFC), and I urge as many Blues as possible to do likewise.
Paul McCoy
20
Posted 11/11/2018 at 16:18:33
Gary (14) - Planning applications for developments costing hundreds of millions aren't submitted overnight. You have to consult on them first to find out what any likely objections are going to be. It's not a quick process!
I was talking to a friend of mine who's been involved in our stadium project. I came away with the impression that it'll happen, but it's going to take a lot of time.
Colin Glassar
21
Posted 11/11/2018 at 23:12:38
In our lifetime, Paul?
Martin Faulkner
22
Posted 12/11/2018 at 02:04:59
I think it's important to show our due diligence prior to final planning application, otherwise every Redshite from Oslo to Tromso will moan about our stadium being better than our last one we left them.

David Ellis
23
Posted 12/11/2018 at 02:27:25
DBB is the one for me

Add Your Comments
In order to post a comment, you need to be logged in as a registered user of the site.
Or Sign up as a ToffeeWeb Member — it's free, takes just a few minutes and will allow you to post your comments on articles and Talking Points submissions across the site.