Home is where the heart is for Coleman
Wednesday, 14 November, 2018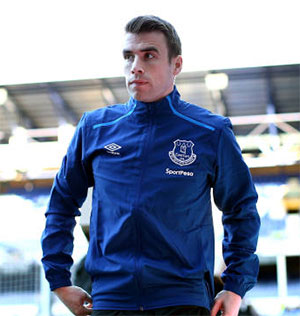 Seamus Coleman has revealed that he has been the subject of plenty of interest from rival teams over the years but says that he never really considered leaving Everton.
Speaking to the Irish Times, the full-back revisits his goal celebration from the game against Brighton & Hove Albion earlier this month but also describes how much it would mean to him to win a trophy with the Toffees after a decade at Goodison Park.
"I was never close to going," Coleman said when the issue of a potential transfer away from Everton was raised. "There was interest from numerous teams but I never looked for a way out. That's me sitting here telling you the truth. Whatever went on between clubs went on, but I've always been happy at Everton.
"Everyone is different. You can look back and people can say 'You need to push on', 'you need to win things', 'you need to go to the top'. But Everton brought me from Sligo, they've been good to me. Loyalty is not really a thing anymore as such, but for me, I feel good there, I feel they have done a lot for me. I know football, maybe 5 or 10 bad appearances and fans, the media, they'll be wanting other players in. That's the way it goes. But for me, Everton is where I want to be.
"And as I keep saying, to win one cup there would mean more to me than winning it somewhere else because I've been there so long. I'm 30 now and it's something that has been in my mind from the start of this season and will be until the end; until that FA Cup final or whenever we are out of it. And if we all believe, it is possible."
Quotes sourced from Irish Times
---
Reader Comments (40)
Note: the following content is not moderated or vetted by the site owners at the time of submission. Comments are the responsibility of the poster. Disclaimer
Mark Andersson
1
Posted 15/11/2018 at 01:44:56
A true blue who has been touched by the Everton way. If we had a few more in the team with his mindset then we would win something...
It will be a sad day when Seamus has to hang his blue boots up, so I for one really hope that his wish comes true; make it this season and let's push on from there...
Phil Sammon
2
Posted 15/11/2018 at 06:33:14
The past couple of seasons have been a bit of a wake-up call for me. I've often wondered why players move teams when they have the opportunity to go down as genuine legends at a particular club. I always thought that loyalty bought you a lot with the general footballing public.
However, the recent treatment of Coleman and Baines has made it very easy to see why players have no issue in prioritising their own best interests. These are two players of genuine class who have carried the club at times. They've had opportunities to move on, to win things, and to earn more money. They've chosen to stay because they genuinely felt connected to the club. Yet literally two poor performances, in Coleman's case, and people are jumping on his back. I'm not for one moment suggesting these guys can't be criticised but the 'he's finished' comments have been totally unwarranted.
John Raftery
3
Posted 15/11/2018 at 06:49:29
Phil (2) I could not agree more.
Jimmy Salt
4
Posted 15/11/2018 at 07:09:56
We might've had a chance of lifting that trophy if we took a certain cup seriously.
Jerome Shields
5
Posted 15/11/2018 at 07:56:51
Coleman's recovery was badly managed by the club and himself. His early, rushed and full return last season wasn't sensible, as was pointed out by some ToffeeWeb contributors at that time. This set back his recovery and resulted in an obviously unfit Coleman at the start of this season.
Though unfit, Seamus decided to play for Ireland, run by one of the highest paid unperforming (admitted by O'Neill in a recent interview) International mangement teams, one step up from Allardyce in mercenary attitude. (Congratulations to the truthful Newcastle Fan. ) Coleman ended with an injury for his effort, which further delayed his recovery.
On Saturday, he had a good performance after receiving a collective kick in the ass from a large section of the Everton supporters, who pointed out the lack of competition for the right-back position and the need for an alternative consideration. Coleman was lucky Kenny was injured.
My advice to Seamus is make sure you don't get injured for those two ejits over the International Break, especially given the opposition. HI hope McCarthy isn't in Dublin and has at last got some sense,
Simon Smith
6
Posted 15/11/2018 at 08:45:00
Phil, I whole-heartedly agree. I feel Jagielka is in the same boat. I also felt Howard went a similar way.
Loyalty is a two-way street.
Simon Smith
7
Posted 15/11/2018 at 08:46:33
Jimmy, I also agree with you too. Pickford for one should start all cup games; if he needs resting sometimes, then why not home games against the bottom 6?
Simon Jones
8
Posted 15/11/2018 at 09:33:12
Football is just a job to many highly paid players, so we should cherish the likes of Seamus and a few others mentioned here.
Stan Schofield
9
Posted 15/11/2018 at 10:27:17
Recalling how Everton treated truly great players like Ball and Young, I could imagine any decent player putting his career interests above 'loyalty' to a corporate enterprise (which is what top football clubs are) or fickle fan-base (which describes a hell of a lot of supporters).
I can fully understand why Rooney, Stones, Lukaku and Barkley moved on, and I'm surprised that Coleman stayed given his quality and interest from top clubs.
Dean Johnson
10
Posted 15/11/2018 at 12:01:26
Right with you on that, Jerome. I believe Coleman got longer than others simply due to his loyalty
I do not believe that anyone should be immune from criticism though, as his comments vaguely imply.
Jim Harrison
11
Posted 15/11/2018 at 12:22:22
Phil @2,
What happened to Baines? I think the two players are different cases anyway. Coleman is still in the peak of his career, even if it be the latter stage. Baines is further down the line and the need for a long-term replacement is far more pressing.
Frank Wade
12
Posted 15/11/2018 at 13:17:27
Jerome #5, I would disagree with your assessment that Seamus's recovery was botched. He was fit again to play and played as well as anyone else in the Allardyce machine, not as good as in 2014 but no-one else was playing well either.
He took a full part in pre-season. He then took a bad challenge on his right ankle by Charlie Daniels early in the game vs Bournemouth, similar to what Sigurdsson took vs Chelsea. Tried to play through it and had a poor game. He ended up with a stress fracture in his foot after the Wales match. All different injuries.
He is a man of loyalty to family, friends, club and National team and indeed to those he sees in need. He is keen to play and do his best for the club and thankfully he is equally cherished by the vast majority of the support base. I hadn't read of his options to leave before, but not surprised he chose to stay as it is typical of the man.
Derek Knox
13
Posted 15/11/2018 at 13:48:11
There is no doubting for one minute that Seamus has been a very loyal and consistent player in his time with us. It is no surprise either that his injury, which could have ended many players' careers, has lost him time too.
He is showing signs of getting back to being the player we all know and love but whether he can eventually get back to his old self must remain a question.
We should be looking to the future for a long-term replacement as, no matter how good a player is, they are human and can't go on forever. If we could ever find another Seamus though is very doubtful; I think players like him are very few and far between.
Mike Gaynes
14
Posted 15/11/2018 at 13:48:48
What a splendid Blue this man is.
Jerome #5, I don't understand what you're on about, and frankly I don't think you have any idea either. You have zero information about how Seamus's return was managed, and zero evidence that his subsequent injury against Bournemouth had anything to do with any mismanagement. And I think Coleman's being back to almost his best just 20 months after the injury speaks to good rehabilitation, not bad. Plus, this is one player who never needed a "collective kick in the ass" for motivation, so excuse me if I completely dismiss any influence from the fans.
Phil #2, I get your point, and I agree that both have been unfairly criticized at times – Baines playing through that long-term ankle injury last year was definitely not at his peak – but I think every club has examples of players who planted their flag rather than pursue larger glories. And I think Baines hasn't been mistreated... he's a true pro and understands that Digne has come in and staked his claim.
John Boon
15
Posted 15/11/2018 at 14:45:00
It is great to read about Seamus and his loyalty to Everton. He deserves all the accolades accorded to him by the above posts.
I also agree that the likes of Baines, Jagielka and many others should be praised for their stellar contribution to the Blues.
However we should also remember that loyalty takes time and a player needs to put in many years before he could be considered as loyal. That is why supporters need to be cautious when slagging off or being too critical of younger players starting their careers.
At the present time we have a solid group of younger players such as Davies, just to mention one, who often have to put up with mean-spirited criticism. Such players do not always have the strength and tenacity of Coleman and certainly the maturity to be able to handle the scorn directed towards them.
We MUST be patient with young players in order for them to become great players and, eventually, loyal to Everton. They need support at the beginning of their careers as well as cheers near the end.
Liam Reilly
16
Posted 15/11/2018 at 14:52:00
A true gentleman also; great to hear he never considered moving because the United link was continuously touted by the media and Roy Keane before his injury, but apparently he was ready to sign a long term extension which Kenwright honored admirably.
On a side note - this guys not a bad corner taker:
https://video.dailymail.co.uk/video/mol/2018/11/14/2065909843328810614/1024x576_MP4_2065909843328810614.mp4
Frank Wade
17
Posted 15/11/2018 at 15:27:24
John #15, excellent point re giving time to young players, but in today's world, sadly there is no tomorrow, only today for some. Personally, I'm delighted with recent progress, compare to this time last season.
Karen Mason
18
Posted 15/11/2018 at 15:48:14
Mike @14 + John @15. Great posts & points well made.
Jerome, as for Seamus needing a kick up the arse to up his game??? Sorry but you are way off the mark with that. You don't get to be loved & cherished by the REAL Goodison faithful (they are the fans who don't hurl abuse when a class player like Seamus is having a little bad run of form), unless you demonstrate the fire, passion & sheer determination that Seamus has shown us over the years. He has rarely had a bad game in all that time.
The fact that he recovered so well from a career-threatening injury proves that he is self-motivated. So your comment that a 'kick up the arse' was either warranted or had anything to do with continuation to regain full match fitness is way out of line for me. A reminder that form is temporary, class is permanent... and Seamus is class.
Neil Cremin
19
Posted 15/11/2018 at 16:45:54
Give us a break, Jerome. YAWN!!! Peddling the usual xenophobia. He was deemed fit by Everton and was brilliant on his first return. Naturally being out for a year is going to take its toll and always requires a player to get up to speed through match practice.
While he was out last season, Everton were leaderless, rudderless and without any soul. Seamus has always given that in spades whether he performed as an 8 or a 4.
Having played at full-back, you depend on the man in front of you to fall back to help you defend when the opposition has the ball. In my opinion, Walcott has contributed to the exposure of Seamus. Watch any of the top teams – they will never allow their full-backs to be exposed two on one.

Terry Riley
20
Posted 15/11/2018 at 18:07:13
Love the MAN!
Christy Ring
21
Posted 15/11/2018 at 19:09:28
Karen @ 18.
I couldn't agree more, a true blue, who wears his heart on his sleeve, NSNO, also he's nowhere near the highest earner at the club, and never held the club to ransom.
Peter Warren
22
Posted 15/11/2018 at 20:41:17
Baines and Coleman mistreated???? Baines has always been a Rolls- Royce player and adored. He is class personified. However, his performances last season were of someone coming to the end of his career, they were okay but nowhere near what he produced previously. I don't remember him being mistreated.
Coleman has had so much respect from fans owing to how he's dragged himself from a raw player to one of the best full-backs in the world and a guy who would run through brick walls. Terrible injury but supported wonderfully by the club and supporters alike. His performances this season have been far below what is expected of him. He's still been supported but people in two minds whether he should be rested and Kenny play. Nothing wrong with that.
Mike Gaynes
23
Posted 15/11/2018 at 21:29:58
Peter #22, I think Baines's performances last season were those of a quality player working on one good leg. Early this season, healthy again, he looked to me like he was every bit the Baines of two years ago. And having seen a fair amount of Digne at Barca, I expected him to be Baines's deputy and
eventual
replacement.
Digne just walked in and flipped the script. He took the job, fair and square, no argument, he's brilliant. But I believe Bainesy still has plenty of career left.
Don Alexander
25
Posted 15/11/2018 at 23:45:08
Given the personality of Seamus, I'm sure he'd be the first to concede that he's not worth persevering with if it meant the team was improved by his replacement. He's a classy bloke after all.
John Malone
26
Posted 15/11/2018 at 00:04:09
I have to agree with the comment's about Digne; I like him – he's energetic and tenacious but, for me, Baines is a classier footballer.
Digne should watch and learn how cute Baines is in and around the opposition's area he always looks for the right ball and knows exactly when to slow down, make the pass, then dart off to make the run as well as executing pinpoint crosses.
I'd say Digne does have the edge defensively but Baines is an old pro at being effective going forward.
I'm actually looking forward to seeing Baines in action again – what a class act he has been.
Peter Gorman
27
Posted 16/11/2018 at 02:53:47
I almost agree with your post, John – except sadly I'd change it to say that Baines WAS the classier footballer.
As things stand, I can't see Baines getting back into the side as Digne has been too good — even a blip in form may be indulged as Silva knows he is the man for him.
Baines may be waiting for a FA Cup tie at the earliest, barring an unfortunate injury.
Nick Armitage
28
Posted 16/11/2018 at 12:15:21
He's no Tony Hibbert.
Jamie Crowley
29
Posted 16/11/2018 at 13:53:53
There is a small, but very vocal subset of Everton fans who seemingly take more pleasure in eating their own young than they do supporting their players and team. Negative Nancy types who couldn't give a guy a break if his or her life depended on it.
Seamus was in the firing line for a few weeks after a few sub-par performances. It's embarrassing, and to use a word I've seen occasionally on this site, I'm ashamed of it.
Des Farren
30
Posted 16/11/2018 at 16:28:27
I could not agree more, Jamie. No player should be above criticism but the vitriol on display here, on occasion, is breathtaking.
Coleman is the latest one to be targeted and it is shameful.
Mark Taylor
31
Posted 16/11/2018 at 18:20:59
Sorry, but I don't think a player is in the firing line or being slagged off just because some of us criticise their performances. What is the point of this forum, other than to comment, praise and criticise?
And, as I have pointed out previously, it is entirely reasonable to criticise a mature player's performance even if you have a lot of time for the player and what he has achieved.
In Baines, Jagielka and Coleman, we have three stalwart servants to the club, loyal almost to a fault, all very good players and a large part of the reason Moyes's sides over-performed. But they are also, to a greater or lesser extent, coming towards the back-end of their careers, Jagielka's most noticeably so, Coleman's with perhaps the most hope of a few more top years, though the injuries he's had are a concern and he has not been on his very best form consistently for a while now. Meanwhile, Baines's form has been dropping as he gets into his thirties and while I don't think he'd let us down, a stronger option has materialised in his position. I think it has been entirely fair to point all this out.
As for the younger players, of course we all want them to do well but the harsh reality of the Premier League is that the odds are very much against.
If you don't believe me, why not take a look at the composition of the various national teams, different age levels, from a few years ago when you'd hope they'd be coming into their prime right now. You'd be surprised by how many names you may just about have heard of but would have no idea where they play nowadays. The same will happen to our crop. Most, if not all of Calvert-Lewin, Davies, Dowell, Lookman, Kenny from that winning Under-20 England side almost certainly won't cut it at the very highest level. We might be better accepting that rather than expecting EFC to have a 'class of 92' type repeat.
Jerome Shields
32
Posted 16/11/2018 at 20:25:23
Mark #31, I agree.
Dave Abrahams
33
Posted 16/11/2018 at 20:42:53
Baines is Number Two for the left back position, no doubt about it, but he's far from finished; plenty of life and good games left in Leighton, which he'll prove in the very near future. Plenty of games over Christmas and the New Year.
Karen Mason
34
Posted 16/11/2018 at 22:30:42
Mark @ 31. Constructive criticism of a player out of form may indeed be acceptable, but 'slagging off' decent, honest, hardworking players like Seamus and vocalising the derogatory loud shouts around the pitch for him to hear, just because he's having a few bad games, in my view, is not acceptable.
Opinions about players' performances are always going to differ amongst fans and we are all entitled to air our views here. But hearing 'Evertonians' around the ground hurling abuse at one of our all-time greatest club players is a whole other matter. I hope you don't mean that type of 'criticism' is okay and acceptable??
Lawrence Green
35
Posted 16/11/2018 at 22:41:06
Karen #34,
I don't think Mark was advocating vocalising displeasure about particular players during the match, but rather on forums such as TW, which is fair game – without different opinions and the many different ways of expressing those views, it would be a very bland site indeed.

Peter Thistle
36
Posted 17/11/2018 at 04:24:08
To be fair to him, he probably should have left if he wanted to win anything in his career. I dig his loyalty but when he was at his peak and we were clearly going nowhere he possibly should have bailed for his own good. We just don't win things anymore. :(
Good on him, though.
Mark Taylor
37
Posted 17/11/2018 at 17:00:47
Karen @34,
I think Lawrence has replied well for me.
I also think that maybe one needs to put the shouts you hear at the ground into some kind of context. People get passionate.
At that moment, if Coleman or anyone else is having a poor game and does something that, for example, leads to a goal, then you are going to get a few groans, shouts or whatever and that may seem negative but it's what happens when you get c 40,000 people engrossed in the moment.
And if you've ever sat close enough to the manager's bench at a game, you'll likely also hear a few choice words about what is occurring on the pitch. I've even seen plenty of players have a pop at each other!
I guess these players are paid enough to have a thick enough skin...
Jerome Shields
38
Posted 18/11/2018 at 08:29:05
John (#26),
Stats show on touches, interceptions, pass completion, accuracy of passes, and crosses in the final third —Digne is consistently one of the highest performing players that Everton have had for some time.
Baines was an excellent player, but is nearing the end of his career. Competition-wise, in his position, he is up against one of the best: the left-back position, though Baines was injured, was well identified in needing added squad depth.
Coleman would find himself in the same position if Everton had a similar right-back. The right-back has now been identified as needing squad depth.
This is the reality of a footballers life in today's Everton. Other players that are up against it and will find themselves increasing so are Zouma, Schneiderlin, Walcott, Tosun, Calvert-Lewin and maybe even Bernard.
James Flynn
39
Posted 19/11/2018 at 23:27:38
He's going to keep sprinting up and down that flank for 90 minutes the next couple seasons? Like Leighton at that age, his legs will protest and we'll watch an increase in his missing games due to some leg injury or other.
If there is a good right-back Brands can get, go get him. Seamus turns 30 — no matter what we say or think about him.
Brian Hennessy
40
Posted 21/11/2018 at 16:30:34
Ah Jesus, just when things were looking up, I hear Fat Sam is being linked with the Ireland job now that O'Neill is gone.
Mick McCarthy for me all the way...
Sean McCarthy
41
Posted 23/11/2018 at 02:42:55
Peter #22. "One of the best full-backs in the world" seriously?? I think those blue tinted glasses you must be wearing need cleaning. I like seamus. He comes across as a committed, loyal, 100% player as well as a decent human being. But he's never been "one of the best full-backs in the world".
Add Your Comments
In order to post a comment, you need to be logged in as a registered user of the site.
Or Sign up as a ToffeeWeb Member — it's free, takes just a few minutes and will allow you to post your comments on articles and Talking Points submissions across the site.