Silva: We didn't control the game like we should
Tuesday, 11 December, 2018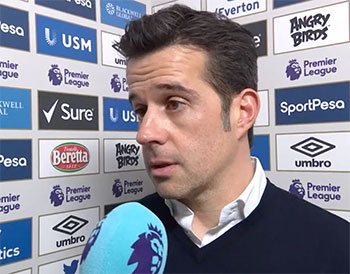 Marco Silva has expressed disappointment at the way his players ceded the initiative to Watford in last night's 2-2 draw at Goodison Park.
The Blues gave up the 1-0 lead that they had earned through Richarlison's eighth of the season to fall 2-1 behind and then miss a penalty in a mad-cap five-minute spell midway through the second half.
Lucas Digne scored a magnificent equaliser six minutes into stoppage time but it couldn't put sufficient gloss on what was another poor home performance from Silva's side five days after the 1-1 draw with Newcastle.
"I think it's a difficult match to talk about [in terms of] whether it's fair or not," Silva said when asked if he felt his team was flattered by the result. "In the second half, they reacted and scored twice because we didn't do what is normal in our team and what we should do.
"In that moment we had to keep playing our football and not going [in the] way [that we did]. In the first half we more or less controlled the match in a better way; in the second half we didn't control [it] and in these moments we have to be strong against teams doing what they did.
"With the ball, we have to keep playing our way, faster if you can, and we didn't do that in the second half."
"We lost our focus completely in that moment. It was lack of communication
for the first goal and for the second, they took a fast free-kick and our players didn't have normal focus to react. It was our fault in that moment.
"We have to improve many, many things, like I have been saying."
Silva was asked about Sigurdsson's continuing role as Everton's designated penalty taker but the manager made no suggestion that he was ready to take the duty away from the Iceland international.
It was Sigurdsson's second missed penalty of the season following his effort against the crossbar against Fulham in late September, although in that game he atoned with a brace in what was, eventually, a 3-0 win.
"Let's see. We'll analyse the match and we'll see what will happen. Of course, Gylfi is scoring many, many goals for us and I understand your question about the two penalty misses but he has also scored one.
"Let's see what will be the decision for the future but, of course, Gylfi has al of our support at this moment."
---
Reader Comments (23)
Note: the following content is not moderated or vetted by the site owners at the time of submission. Comments are the responsibility of the poster. Disclaimer
Jimmy Hogan
1
Posted 11/12/2018 at 20:27:30
"In that moment" Marco, we were shite.
Tony Abrahams
2
Posted 11/12/2018 at 20:29:37
I thought we lost a lot of belief during that second half. Bernard, started getting sucked towards the ball and beaten far too easily by their right-back. It spread through our midfield, which kept getting pushed back, and suddenly everyone started losing their way.
We needed someone to calm us down but it kept going back to Pickford, who overhit at least 50% of his long passes, which kept giving the ball back to Watford.
I thought the shape and personnel was wrong against Newcastle, but thought we done okay for the first 30 or 35 minutes last night, and then lost our way for the next 30 minutes after this.
Tired, lacking a couple of players in key positions, and in desperate need of a centre-forward, especially because the team has been overtaken by the squad, in this very physical Premier League?
Liam Reilly
3
Posted 11/12/2018 at 21:14:44
Centre-forward is a must; it will be very difficult in January though.
John Keating
4
Posted 11/12/2018 at 21:31:11
Great analysis, Marco.
You could have shortened it a bit though...
Something like "Well that was shite and I didn't have a clue how to change it".
Mick Conalty
5
Posted 11/12/2018 at 21:38:24
Progress report from Silva: We are now nearly as good as Newcastle and Watford.
No doubt we (Everton) will be off to Dubai for some warm-weather training (Jolly up) in January or February when we go out of the FA Cup.
Christ, it's the same every fucking season. Pardon me for being cynical but that's how you end up when your an Evertonian.
Wes Ray
6
Posted 11/12/2018 at 22:22:28
Silva is simply out of his depth. Disorganized, flat defence combined with haphazard counter-attacking is not going to take us anywhere. Us fans blaming individual players is the most futile of excuses when the whole team is disjointed without any clear ideas.
When the first signs of real improvement should be evident, we are heading the other way. Only talented individuals have kept us from complete failure but it is clear that lack of faith and insecurity is creeping into players. It will be another Martinez & Koeman show.
Hopefully, next time around, we – finally(!) – recruit a proven world-class manager and leave these promising talents to those who can't afford better.
James Flynn
7
Posted 11/12/2018 at 22:33:45
Wes (6) - This is ToffeeWeb. No trolling allowed.

Tony Abrahams
8
Posted 11/12/2018 at 22:40:46
A promising talent, but out of his depth at the same time, Wes?
I've seen loads of improvement, and I also saw the same lack of belief in quite a few of our players last night.
Another Martinez? Or another Howard Kendall Mk 1?
Who knows? But I've seen more than enough good signs to go along with a couple of bad ones. I also believe that, if we get in a decent centre-forward, then this will get loads more out of a few of the doubting Thomases who played last night?
Bill Gienapp
9
Posted 11/12/2018 at 23:34:35
A couple of disappointing draws and people are back to declaring the Silva era over. Classic from some ToffeeWeb posters. And by classic, I mean cringe-inducing.
Steve Carse
10
Posted 12/12/2018 at 01:12:04
Even speaking as a supporter of Silva, the point is though, Bill, these weren't just two 'disappointing draws' – they were bloody awful performances for the most part, against average to poor opponents.
They revealed that despite the improvements wrought by Silva we are still lacking those certain intangible qualities that we desperately need to challenge those above us; qualities like belief, conviction and determination.
Despite a number of pleasing performances so far, the reality of the last 8 days has been the gathering of 2 points from 3 matches — games from which we collected 7 points last season.
Fran Mitchell
11
Posted 12/12/2018 at 02:56:51
Our weakness is on the flanks, we simply don't move the ball well enough when needed, and this is due to the wide players either lack of movement, lack of anticipation, or making the wrong decision when they have the ball.
We are a work in progress, and this slight regression in the last couple of games is quite possibly a hangover from the pain of the undeserved derby defeat.
No need for knee-jerk reactions, just back to the reality that we have much to improve.
The wide attackers are failing to deliver, and we depend too much on Richarlison or Sigurdsson. Bernard is not delivering, and Walcott is far too unpredictable – occasional moments of brilliance followed by mainly mediocre and ineffective play – so changes need to be made here. Coleman also continues to underperform.
But I still have confidence we are on the right track Silva needs to manage his substitutions better, they seem predictable and pre-planned, rather than reflecting the pattern of the game and treating our needs,
David Donnellan
12
Posted 12/12/2018 at 08:22:29
I think the derby result has taken the wind out of the sails of the team more than we realise. A game in which we matched the RS & with the rub of the green, could have won the game. Instead, we lost the match with the cruellest gift of a freak of a goal deep into injury time. I think this has deflated them a little & hopefully they can pick themselves up again & get back on track.
We are playing much better stuff than we did last season under Allardyce's mind-numbing boring football. Hopefully they can pick themselves up for Saturday and put in a performance to be proud of.
Justin Doone
13
Posted 12/12/2018 at 08:29:30
i agree that despite massive improvements in the football we are playing there is still a lot to work on and improvements are needed when we don't have the ball. Overall though, we are now playing good football that is exciting to watch compared to the last few seasons.
I think a lot of negative comments are based purely on unrealistic expectations; we are NOT a top 6 club yet. Its been less than 6 months and the changes will take a few seasons to bed in.
Happy with Silva and the improvements so far but as I and others mentioned when we got him, it's Martinez Mk 2.
Silva has a lot to do to disprove that but I'm willing to give him time because the football after Martinez was simply awful.
David Harrison
14
Posted 12/12/2018 at 12:24:19
Like most teams in our position, attracting top quality in every position is a huge obstacle. We have to take punts on players who once showed promise but have been rejected by the elite (the Barcelona three); players who did well for lesser teams (Sigurdsson, Zouma, Richarlison, Pickford, Gueye); untried potential (Lookman, Keane, Davies); and journeymen professionals who might hold their own (Bernard, Walcott, Coleman).
As many have previously stated, how many of the top clubs would be queueing up for our players? Am I satisfied with this? After 50 years as a supporter, definitely not... but, after 16 games, I can see a purpose and structure to our play and we are probably as high as I could have reasonably expected.
A long way to go for sure but slow building is our only option and so far I am willing to go along with Silva and Brands. We've tried chopping and changing and look where that got us — ALLARDYCE!!
John Keating
15
Posted 12/12/2018 at 12:26:05
Justin,
I don't think adverse comments are based on unrealistic expectations at all.
When you're ahead at Wolves and Bournemouth – surely teams we would expect to do well against – and can't close the game out.
Teams like Huddersfield, West Ham, Newcastle and Watford all at home and can't get a result.
Scraping past the mighty Southampton and Cardiff.
Throwing away a home League Cup tie against the mighty Saints – one of the few realistic opportunities for the elusive silverware.
Still awaiting a win at one of the supposed big six.
No, sorry – I don't think we have unrealistic expectations.

Mark Andersson
16
Posted 12/12/2018 at 13:54:29
Only a few fans post on here about the morbid atmosphere of the old lady...
Stop blaming the manager, the players, the ref... the common denominator here is the FANS who are so fickle and have way more influence than they care to think. Your negative vibes transmit to the players who feel the pressure, then can't play the simple game.
It's fuck-all to do with how much money they earn, working under so much pressure and scrutiny from wanna-be managers, who think they know better, will get the better of most. Let's not forget that most players are kids, young adults who need encouragement.
You attract what you fear, and for too long Everton fans are more negative than positive and this simply transmits onto the players...
Fuck knows how the darling new boy Gomes will handle having a couple of bad games then the SHITE merchants will be out in force to shatter his fragile ego.
Let's all be honest, if the Red Shite were struggling at the bottom half of the table, then most of you would not be moaning at being 6th with a new manager taking us forward slowly but surely...
Justin Doone
17
Posted 12/12/2018 at 14:44:24
I agree that some of the results have been disappointing, especially when we have taken the lead but that's football, it happens to every club.
In the end, we were lucky to get a draw last night, which is disappointing but it's still early days and our defence hasn't looked solid for 5 or more years, even with Sam in charge.
But I'll take Silva over Sam any day. After the last few years and understanding the difficult task Silva has, my expectations are very low. In short: avoid relegation and play attractive football.
If we beat Man City and Spurs, my expectations for this season will not change. Others will want top 4. At the end of the season, I think I'll be happy; many will want much more.
Stan Schofield
18
Posted 12/12/2018 at 14:45:16
Mark, absolutely spot on.
So far this season, posters on ToffeeWeb has been very positive, until post-Derby. Two relatively bad games after that, and suddenly players who, a few weeks ago, were brilliant are suddenly shite. Sometimes I can't believe it, but yes, it does seem to reflect fickleness of supporters.
It doesn't do much harm if confined solely to social media sites like this, but when that fickleness happens at the match, it can be very damaging. And ultimately it's utterly childish and illogical, achieving nothing positive whatsoever.
As you say, no doubt Gomes will become the brunt of it when he inevitably has a few bad games.
Bobby Mallon
19
Posted 13/12/2018 at 06:37:14
Steve Carr. We are 5 points better off playing a lot better. Yes, five points don't sound a lot but let's not get carried away. For you to say we should be beating these teams, we'll tell that to Chelsea at Wolves, where we drew. The lot of you defeatists need to get a grip.
Jim Bennings
20
Posted 13/12/2018 at 08:41:34
Mark #16,
The atmosphere has been dead at Goodison for a good four or five years with the odd exception (Chelsea FA Cup Quarter Final 2016).
Our fans are so quiet at Goodison, I don't know if it's the modern era of the iPhone/selfie brigade or what, but as someone who's been going for four decades I've witnessed a real change and decline in the atmosphere.
Anyway on to the game, looking back it was a draw in a game that we should have lost let's be honest about it, we were pretty rank awful in that second half and Watford ramped it up, looked fitter and stronger.
I'll go back to what I said last week, we don't work enough shots on goal and we don't score enough goals full stop.
Out of the whole midfield, Gomes, Gylfi, Gana, Walcott, Bernard, how many of them contribute or are likely to contribute 8-10 goals?
Only Sigurdsson will do that.
The subs came on and should have been busting a gut in the time they were on to stake a claim but I'm struggling to recall a single notable contribution from Calvert-Lewin, Tosun or Lookman, all three do nothing apart from run down blind alleys and get dispossessed with consummate ease.
Our right side is a major concern and I hope we don't do with Coleman what we've done in years gone by with other fan favourites and bleed him dry when it's obvious he can no longer really give what he once did.
It's not the Coleman of five years ago, the energy and excitement of his play has gone now, I don't think he feels he can go past players anymore, the yard of pace has gone and in his own head he knows it.
The striker desperation speaks for itself and needs rectifying in January.
Lawrence Green
21
Posted 13/12/2018 at 09:43:21
I wonder if it's the atmosphere at Goodison that creates the poor results or whether it's the poor results that create the quieter atmosphere?
Taking Jim's observation that something has been lost at Goodison for the last four or five years I compiled the home results against those teams that Evertonians would naturally like to use as a barometer as to how much progress that the club is making on breaking the glass ceiling. That may be unfair as it was about five years ago that the inflated market took hold and Everton were not one of the financial powerhouses of the Premier League. Fair or not the results make pretty grim reading, particularly in the last three or four years. The results on the road against those sides during that period are even worse with only a single victory obtained courtesy of Bryan Oviedo at Old Trafford.
An average return of a point a game from 42 home games is less than we would all like, so could the Goodison crowd be forgiven for not being as enthusiasatic as many would like it to be? It will be interesting to see if Silva's Everton can radically alter those results in the second-half of the season.
From August 2012 to present most recent result right hand column.
Chelsea L W L W L D
Arsenal D W D L W L
Man C W L D L W L
Man U W W W L D L
Lpool D D D D L D
Spurs W D L D D L

Jim Bennings
22
Posted 13/12/2018 at 11:02:14
Lawrence
I think it's a combination of many different things regarding the atmosphere.
We have almost reached a stage in football in this present modern era where surprise element has dissolved and in an absurd kind of way the rollercoaster years of the 1990's brought with it unexpected surprise successes and "feel good factors".
As bad as the 90's were, we managed to win then FA Cup, we had a devilishly good Merseyside derby record which saw us win twice at Anfield (regardless what some say, beating Liverpool IS massive to Evertonians and always has been).
We had just come back off a decade of success in the 80's and I think fans still had aspirations all over the country that Everton were still a huge club that had simply hit a few barren years and those relegation scrapes especially the one in 1994 seemed to bring together Everton fans into one and the atmosphere was electric from that moment on again after an initial glum period in the early 90's following Hillsborough amongst other off-field matters.
When Joe Royle took over the atmosphere was bouncing and things really started taking off again for me, fans were in their seats an hour before kickoff singing before the derby or big games and it genuinely was a bear pit.
Somewhere down the line over the last decade or so it's lost intensity.
I believe it's because of almost like a general malaise and acceptance now within fans mindsets that Everton just can't win these big matches anymore, we can't ruffle the feathers playing the role as underdogs which carried Moyes through most of his decade.
Yet we aren't good enough or mentally strong enough to believe we can beat and remain in the top 6 like say Tottenham have quickly developed that mindset from thinking small to at least thinking big and having belief even if not having won anything.
Don't get me wrong there were instances under Moyes in night matches under the lights, Fiorentina, Manchester United, the Gosling derby they proved that fans respond to a belief that their team will attempt to cause a rumpus for visiting sides and play with agggresion and temper, one feeds the other.
But they are becoming further and further away now and it's becoming a myth really that big teams hate coming to Goodison because it's a bear pit.
The last dying embers that tried to regain a flickering spark were probably the 2-1 win against Arsenal under Koeman exactly two years ago.
They are few and far between these days.
Jerome Shields
23
Posted 13/12/2018 at 13:07:41
A new centre-forward is only part of the solution. Play in the final third is poor. Any team playing Everton that can push up a high defensive line, packing and contesting midfield, can be confident that Everton will not be able to play through them, given their low pass completion rate in the final third. And they don't have enough players to get shots on target and finish.
Play in the final third has been ignored on the training ground.
Add Your Comments
In order to post a comment, you need to be logged in as a registered user of the site.
Or Sign up as a ToffeeWeb Member — it's free, takes just a few minutes and will allow you to post your comments on articles and Talking Points submissions across the site.