Silva plays down McCarthy speculation
Friday, 4 January, 2019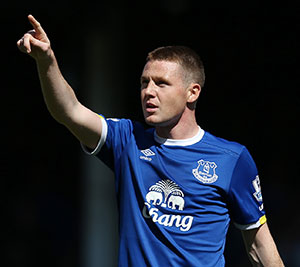 Updated
West Bromwich Albion are reportedly keen to add James McCarthy to their squad but Marco Silva has suggested that Everton aren't looking to loan any more players out.
Having already wrapped up a loan deal for Mason Holgate, the Baggies are, according to Sky Sports, eyeing McCarthy to bolster their bid for promotion back to the Premier League.
McCarthy suffered a double leg fracture almost a year ago, coincidentally in a fixture against West Brom at Goodison Park, and while Marco Silva had indicated that the midfielder was fit enough to play a part in the Blues' festive programme, he wasn't called upon.
That might have been an indication that he wasn't quite strong enough to return and the speculation around a possible loan move to the Hawthorns has centred around how a temporary move would enable McCarthy to regain match fitness over the second half of the season.
Silva was asked about the McCarthy talk during his press conference ahead of tomorrow's FA Cup tie with Lincoln and he said no loan bids have come in and that all the focus is on that game.
"There is nothing new. We're not looking into making any more loans. We want [the players] focused and in our squad and to be ready to play if I take the decision.
"Our focus is on the next game and what we have to do after that was well. It's been a really busy period with games and games and games and the time in between has been used to prepare for the next one.
"We have a really important game tomorrow and we haven't received those kind of offers."
---
Reader Comments (119)
Note: the following content is not moderated or vetted by the site owners at the time of submission. Comments are the responsibility of the poster. Disclaimer
Robert Leigh
1
Posted 04/01/2019 at 07:11:24
This makes no sense.
He's our third choice central midfielder when fully fit, he should be kept and if we can't get rid of Schneiderlin we should loan Davie for experience. This would leave us with 4 senior options plus Beni.
Steavey Buckley
2
Posted 04/01/2019 at 07:29:29
Loaning out James to the Baggies would be a financial loss at his age. The same situation applies to Besic at Middlesborough. James still has a part to play at Everton with so many toothless players in midfield. James loves a tackle and won't back down.
Charles McCann
3
Posted 04/01/2019 at 07:30:04
I agree Robert. Very important we keep him and get him up to full fitness as soon as possible. The fact he hasn't been given some game time already by Silva would appear to be a mistake to me. I wouldn't be surprised if McCarthy got pissed off with a lack of a chance to get match fitness and maybe fancies a go somewhere else. I hope I'm wrong because a fully fit McCarthy would be a very welcome addition to strengthen centre midfield.
And also Robert, glad to see you mention Beni too! A really good prospect. The way Gomes played last day out I would have happily seen Beni get some time on the field against Leicester.
Jerome Shields
4
Posted 04/01/2019 at 07:46:15
Silva needs another plan and quickly. He needs to coach the defence on how to defend set-pieces and similar types of play. Sigurdsson needs to be getting more ball time in his central role as most advanced midfielder and the forward line needs to be, Bernard, Calvert-Lewin and Lookman.
In other words, Silva needs a box to box midfielder. McCarthy, and the other coaching and selection changes as his new plan. All the teams that Everton play will be concentrating on these weak areas – as have previous opponents in the unfestive season.
Loaning McCarthy would show that Silva hasn't a clue, but more importantly that Brands doesn't know the value of a player, which I doubt, unless Brands wants rid of Silva!
Rick Pattinson
5
Posted 04/01/2019 at 07:50:58
Pointless pointless pointless stick him in the team...at least he has some fight. If he can stay fit he can push for a place
Colin Leckey
6
Posted 04/01/2019 at 08:33:30
Agree with all others. Bad idea. Tell them they are welcome to have Schneiderlin, or for that matter Tom Davies as Championship is the level he can realistically aspire to. We should be looking to make most out of McCarthy.
John Keating
7
Posted 04/01/2019 at 08:48:13
Sorry makes no sense whatsoever
Not fit enough to make our bench but fit enough to play for West Brom in a far more physical league
Schneiderlin is crap and Gomes is shot. Not the right time to send Mac out
Alan J Thompson
8
Posted 04/01/2019 at 08:48:45
I'm sorry but I have a problem with loaning out players. Is it just to get them a game, some experience or just to let them trial with clubs interested in buying? There doesn't seem to be, quite rightly, any guarantee that they will play on a regular basis or be improved by the experience both in performance or psychologically. Is it just to reduce the wage bill or justify somebody's judgement of the player?
Jim Bennings
9
Posted 04/01/2019 at 08:59:36
Why loan him?
We know what he can do he's not a raw 18 year old is he?
If he's fit he should be starting ahead of giving Gomes two or three games break and McCarthy is miles more energetic than Davies and Schneiderlin yet they are being considered for a loan or other?
Makes no sense.
Michael Lynch
10
Posted 04/01/2019 at 09:01:31
Probably just paper talk but, assuming it isn't, I can see why they would consider this. Clearly the best way to get McCarthy back to 100% match fitness is for him to play and, right now, he's not going to get a regular start here. Could play him in the U23s for a few games, but he might be better off getting more competitive games.
On the other hand, a couple of sub appearances for us might do the trick and then we have a very useful option for when the going gets tough in our battle for 13th place.
Robert Leigh
11
Posted 04/01/2019 at 09:14:09
Michael - #10.
There's substance to the story, otherwise this would be in the Rumour Mill.
Liam Reilly
12
Posted 04/01/2019 at 09:21:52
If he's fit, he should be starting at the moment to give either Gana or Gomes a break.
There's not enough grit in the team once Gana is out and McCarthy is no shrinking violet; would be madness to let him go.
Let them have Davies for 6 months and see how he fares.
Kris Boner
13
Posted 04/01/2019 at 09:23:58
A double leg break later and people seem to believe that McCarthy, injury prone McCarthy is still the answer to our midfield woes.
Is Coleman still the answer to our right back issues after his injury, most would probably say no now. So why, in the absence of our most absentee player are people expecting McCarthy to be the answer to our midfield problem.
Sure after a horrendous injury he's going to be completely fine throwing himself into tackles like before. Some of the comments astound me.
McCarthy is basically Gueye but more on the tackles than the interceptions. In what way does adding him, without removing Gueye improve us as an attacking unit? We have all wanted McCarthy shipped out for years and its only the dearth of options at the club that confuses the issue.
Chris Gould
14
Posted 04/01/2019 at 09:29:27
This makes absolute sense to me. No player initially comes back from a double leg fracture anywhere near their best. Even when they regain their fitness they will have at least a further few months of struggling to find form and consistency. On top of that, James is prone to niggling injuries which he will undoubtedly have to contend with while trying to recapture his previous form and fitness.
Obviously the medical staff have assessed him and, after watching him in training, Silva/Brands have decided that he isn't currently good enough or fit enough to make our squad.
It has been suggested that it takes 2 years to fully recover from a double leg fracture. Some don't fully recover at all.
Why do people continue to question decisions such as this without being aware of any of McCarthy's medical data, or performances in training?
Jerome Shields
15
Posted 04/01/2019 at 09:32:41
Kris #13,
I agree, Kris, but who else have we got and Silva definitely needs to change his plan. McCarthy, if fit, is a quick fix, giving Gomes a rest and tactical options.
Eddie Dunn
16
Posted 04/01/2019 at 09:35:47
Whatever the state of his leg, as John Keating says, playing in the Championship is going to be rougher than the PL.
Surely he needs to be carefully reintroduced off the bench.
Simon Smith
17
Posted 04/01/2019 at 09:51:46
Sorry Eddie, but you can't "carefully reintroduce" a player. They are either ready to play at 100% or they aren't.
You can't send a player onto the field whilst saying "be careful mr!"
I know you are referring to minutes, but I'd rather West Brom iron out his reintroduction than us. We have enough under performing players right now.
Derek Thomas
18
Posted 04/01/2019 at 09:53:38
Yet another player whose absence made him better than he actually was. Time to move on both for him and us.
Jeff Armstrong
19
Posted 04/01/2019 at 10:03:51
On another transfer note, we need a decent right back,
Nathanial Clyne anyone?
Christopher Timmins
20
Posted 04/01/2019 at 10:19:49
A good move for McCarthy, if he can't get a game over the last month the way we have been playing then he clearly does not feature in the manager's plans.
Christy Ring
21
Posted 04/01/2019 at 10:40:54
Kristen @13 We all wanted McCarthy shipped out for years, I doubt you're speaking for all Evertonian's. When Gueye was missing recently, we were absolutely destroyed, when Silva played Siggy beside Gomes, and then tried Davies. We are toothless at the moment, and now that he's 100% fit, with Gomes off the boil, his drive and grit are a lot better option than Schneiderlin / Davies.
Peter Laing
22
Posted 04/01/2019 at 10:59:04
The last 2 or 3 years have been injury ravaged for poor James. Prior to that and under Martinez he was an integral part of the side. I agree with the above comments in that even taking into account his injury record that he is a better option than either Davies or Schneiderlin. We should be looking to loan out Davies as with Holgate and offload Schneiderlin to whoever will take him. McCarthy has got fight, tenacity and spirit - qualities that are lacking in this current team of players who are consistently under performing and seemingly happy to just pick up the money.
Joe McMahon
23
Posted 04/01/2019 at 11:06:23
He has his uses when fit, but don't forget his sideways passes and reckless fouls/cards. Like Darren Gibson another injury wage bill disaster. A loan would be pointless though.
Denis Richardson
24
Posted 04/01/2019 at 11:24:18
Would prefer us to sell him completely. Massively average player IMO with not a single attacking bone in his body. Championship is about his level, at best.
Completely underwhelming signing who's ridiculously injury prone to boot. Madness giving him a 5 year contract extension back in 2015 but then again we are Everton and we don't do logic. So we have him on the books for another couple of seasons whilst adding nothing, same for the likes of Besic.
Had a half decent season 5 years ago and has done next to nothing since, other than picking up is £50k odd a week. Make it a loan to buy as he's not going to play next season for us so just get shut.
Pete Edwards
25
Posted 04/01/2019 at 11:31:11
Denis, you do know he's a defensive player don't you!
Rennie Smith
26
Posted 04/01/2019 at 11:43:04
Let's be honest, fight, tenacity and spirit = yellow card waiting to happen. Good honest pro but he'll never be more than that. He's well behind Gueye and Gomes, and sitting on the bench isn't going to bring him up to speed after a long layoff. Let him go and get some game time and if he does well, bring him back in to take a look.
If we're looking to McCarthy to turn things around then things are pretty desperate.
John Malone
27
Posted 04/01/2019 at 11:43:14
He was a breath of fresh air when he returned to the side under Allardyce which coinsided with an upturn in results such an underated footballer and is actually a better passer than people give him credit for.
His tenacity, work rate and leadership is much missed from our midfield would love to see him in a three with Gueye and Gomes further forward.
Eddie Dunn
28
Posted 04/01/2019 at 11:57:13
There really is no pleasing some people. This guy bust his leg trying to make a last ditch tackle on Rondon to prevent a goal.
He is a defensive midfielder and at one time we had Spurs sniffing round him and most people were very keen for him to stay.
He gives everything, unlike some, and deserves a bit of respect.

Tony Twist
29
Posted 04/01/2019 at 12:31:12
If there is any truth in this then looks like schneiderlin ain't going anywhere. I would rather have him (McCarthy...and Schneiderlin for that matter) gone permanently. If he is fully fit would have him next in line if one of our regulars get injured.
Fran Mitchell
30
Posted 04/01/2019 at 12:36:15
The fact if the matter is that he has not played regular football for about 3 years, he has broken down with different 3/4 injuries over this period, none of them non-serious.
A big part of his game is tenacity, something he could have lost after a double leg break (caused by his playing style).
Maybe the lad can get back to his best (which was 5 years ago), he'd certainly complement Gomes' style. But he will need a long run of games, and I doubt us fans will support a few months of below par performances and a player who thinks twice before jumping into the tackle.
A move to the Championship seems a good move. West Brom.are pushing for promotion, so there will be pressure to perform, yet McCarthey at 70% is still better than most at that level.
We can then evaluate. If he performs well, and West Brom get promoted, we may sell him and get a decent fee (atm we wouldnt get much more than 5 million, which in today's market is buttons) or we may decide he still has a role with our first team.
But at this moment, he ain't gonna get games ahead of Gueye, and what the lad needs is games.
Christy Ring
31
Posted 04/01/2019 at 13:00:23
Fran that's fine, when Gueye was missing against City and Spurs, we were destroyed in midfield,, Davies and Schneiderlin haven't worked.
Derek Taylor
32
Posted 04/01/2019 at 13:02:03
Pity our more recent 'star signings' don't show a bit of Macca's tenacity. 'Have rid' seems to be the general feeling of our following who obviously prefer the wimps and half-hearted casts-off we have gathered to a committed professional and clubman.
To me, Everton is becoming rancid at an ever-increasing pace but for all that, I will still treasure the memories of the very few successes we have had in my lifetime !
Ralph Basnett
33
Posted 04/01/2019 at 13:02:24
Has to be sold not loaned out, only 18 months on contract so need to make money now!!!!
John Hammond
34
Posted 04/01/2019 at 13:08:51
Never had a problem with the guy but I completely disagree that he is the answer to our problems. I've said before I can't see him ever playing for us again and while I'd rather we sell him, if we can get a loan deal done, get him fit and get him in the shop window then great. Come the summer he'll be in the final year of his contract.
Dave Williams
35
Posted 04/01/2019 at 13:11:50
If he was fit then surely he would have played by now? Whether it's physical or mental it looks like Marco isn't convinced he is ready and tomorrow's selection will confirm this one way or another.
Fully fit he would be very useful right now but neither Seamus nor Oviedo have been the same since their broken legs and James tackles more than they do so whether he will ever fully recover remains to be seen.
Dave Abrahams
36
Posted 04/01/2019 at 13:12:02
I've got to agree with those saying it would be better to keep McCarthy and play him, if he's fit he would add much needed strength to our weak tackling midfield and
he'd add plenty of verbal encouragement to the team.
Denis Richardson
37
Posted 04/01/2019 at 13:20:33
Pete 25, I don't hide the fact I've never rated him. To me he's bang average championship level and if your task is only to defend, tackle and break up play, then at least be very good at it. I'd expect any prem midfielder to be able to pass more than 5 yards sideways.
He hasn't played any footy for 3 years and some people think he's the answer (no idea what the question is).
For me it was madness giving him a 5 year contract in 2015 and I said when we had the opportunity a couple of years ago to offload him to Celtic, we should have jumped at it.
Still the club has done more foolish things in that time - not really sure why I get bothered by it tbh.
Mike Gaynes
38
Posted 04/01/2019 at 13:56:40
Amazes me that people want to "stick him in the team" without having seen him play since the leg break. Haven't even seen him sitting on the bench. Silva sees him in practice every day, and Brands also, and in the opinion of both he's not ready to leapfrog Davies and Schneiderlin into the game day team, let alone start. I'll go with their assessments.
Of course loan him out, don't sell him now. Give him a chance to play competitive footy and get back to full Macca. He's only 28 and his injury wasn't as bad as Coleman's. If he can't cut it, time enough to sell in the summer.
Tony Graham
39
Posted 04/01/2019 at 14:04:55
I would loan or sell the whole lot of em!! And play the youth team – we are rock bottom... can't be any worse. Silva out...
Brian Smith
40
Posted 04/01/2019 at 14:08:02
I don't see a problem with loaning him out or anyone else who is not getting game time as long as it to a decent club that's want to play football. If we need him we just call him back from loan early it happens all the time.
Simon Smith
41
Posted 04/01/2019 at 14:32:37
We can't sell him as he's just back from injury, a loan deal looks a good option for me.
He will get fit and strong with his game time an come back ready to show his true value in pre season or be fit enough to sell.
We have a lot of centre mids at the club atm, most of whom we don't know were there future lies, Gomes is only on loan, Besic is loaned out, Schniederlin isn't playing, Davies has fell out of favour, Baningeme is on the missing list, Jimmy Mc as above, so basically only Gana seems like he's expected to start as first choice in our midfield next season.

Kieran Kinsella
42
Posted 04/01/2019 at 15:12:37
He is at a crossroads. Worst case, he goes the way of Gibson -- occasional appearances between absences due to injury/fitness issues. Best case, he has a Paul Bracewell like revival. I remember when Brace left Everton, honestly it seemed like he was finished after all his injury problems. But he had a renaissance at Newcastle and played very well for a long time. I suspect with a massive wage bill, and zero chance of European football, Brands/Silva want to off load him now rather than keep him around and hope for the rising phoenix effect. I feel a bit bad for WBA in all this, their manager has been doing a good job and it feels like we are mugging them off if we send Jimmy Mac over there.
Jay Harris
43
Posted 04/01/2019 at 16:00:09
Totally agree with Mike Gaynes.
If he is not match fit and we don't have the time or inclination to play him in the prem loaning him to a championship side pushing for promotion gives him the best chance to either prove he still has it while gaining match fitness or gain himself a decent transfer.
Either way it is win win for both parties.
Eddie Dunn
44
Posted 04/01/2019 at 16:01:46
Just seen some breaking news on BBC that Bournemouth have offered £19m for Solanke wonder if our lot were/are interested?
Mick Davies
45
Posted 04/01/2019 at 16:04:17
There are a couple of posts on here professing to speak for all Evertonians. Well when you slag off a player who always leaves everything on the pitch, you don't speak for me. McCarthy is the only player we have at present who can influence a game: the derby match a couple of years back is a perfect example. He is the kind of player who flies under the radar and does all the dirty work no one else is prepared to do. If he is no longer good enough to control our midfield, then we have serious problems, but at least he deserves the chance. Peter Reid was written off and look what happened there?
James Flynn
46
Posted 04/01/2019 at 16:10:30
Good luck to him. Hope he does well for himself, so the Club can sell him this Summer.
Same for Besic at Boro, Martina at Stoke, Mirallas at Fiorentina, Bolasie at Villa, Tarashaj and Ramirez.
And whatever bit of magic Brands can conjure to get Garbutt off the books.
Mike Gaynes
47
Posted 04/01/2019 at 16:18:41
Mick #45, I most definitely wouldn't call Macca
"the only player we have at present who can influence a game"
-- I can only recall a few games where he did so, and they were a long time ago. We have no idea what he's capable of now. That's why the loan makes sense to me.
And as we found out to our dismay when he was out of the lineup, Gueye can certainly influence a game significantly. He is my player of the season so far.
John Pierce
48
Posted 04/01/2019 at 16:29:16
Not many factoring in what the player wants here.
Injury plagued for years at the same club, treading water both literally and figuratively I'd wager the lad would want a change of scene. He knows his playing time will be limited and he needs to play.
I'm probably well off the mark but I'd want to move on. He has a career to save and some self worth to regain. I suspect he'll move on and fair dos. I hope he knocks Ireland on the head for his own sake, and gets back on track.
As for Silva playing him. Why? There's no reason he won't breakdown, so a start would be reckless, and I'd want more attacking options on the bench.
It all points to an outgoing. Both parties hopefully will cut their losses.
Dave Abrahams
49
Posted 04/01/2019 at 16:46:33
Mick (45), I second your post, that Derby game and the
one before it versus Arsenal made Koeman sit up and take notice, in both games he influenced the team urging
them on verbally and also pressing the team forward to a
well deserved victory over Arsenal, even Williams played well that game, unfortunately he had to come off at half time in the Derby game which made a big difference to the result.
Yes James has had plenty of injuries, not helped by being rushed back to soon by Martinez and his his own choice
with his loyalty to Eire, misplaced in my opinion.
He played against the African team a couple of months ago for a cameo role, made a goal, although the opposition were not the strongest and I don't think he has played since, maybe Silva is making absolutely sure
James is ready before he takes a chance with him.
I think James deserves a bit of goodwill from Everton
fans, he doesn't get injured on purpose, always gives 100% and might surprise some fans if he comes back in
the team.
Robert Leigh
50
Posted 04/01/2019 at 16:47:13
Eddie - 44
Hope we weren't. Don't think he's as good as DCL (could be proved wrong!) and for £19mil - is that a joke?!?
Hardly proven himself in the Prem at all, quite frankly I'm flabbergasted.
Kieran Kinsella
51
Posted 04/01/2019 at 16:48:38
Eddie Dunn
I hope not. Solanke is about at the level of Kieran Agard. Good enough to make a splash at u23 level but not good enough for the Prem. Didn't Bournemouth already get duped into blowing a fortune on Jordan Ibe? another RS "wonder kid". All it does is make me thankful we didn't hire Eddie Howe.
Eddie Dunn
52
Posted 04/01/2019 at 17:04:12
Robert #50, it's academic now as he's signed, but I will be watching his development with interest.
Kieran #51, although he has only one Premier League goal to his name, he did get an England call-up and so far Calvert-Lewin, with lots more appearances and goals, has not.
Kieran Agard! Blimey!
Rennie Smith
53
Posted 04/01/2019 at 17:09:44
Come on Mick @45 "McCarthy is the only player we have at present who can influence a game", he can influence with a bit of drive and determination, but nothing creative?
Kieran Kinsella
54
Posted 04/01/2019 at 17:09:53
Eddie Dunn 52
Call my cynical but I have this belief that "young wonder kids" from Utd, Liverpool and Spurs seem to get fast tracked into the England team. Cleverly for example, Ryan Mason, Harry Winks, etc whereas old pros at Everton and other clubs have long careers and never get a look in
Brian Wilkinson
55
Posted 04/01/2019 at 17:14:00
How about a poll Ed, Mecca to stay or go out on loan.
For me it is a no brainier, keep the guy.
Brian Wilkinson
56
Posted 04/01/2019 at 17:17:37
Macca even Ed
Jay Wood
[BRZ]
57
Posted 04/01/2019 at 17:29:08
I like James McCarthy, or certainly, the James McCarthy we signed in Martinez's first season with us.
Sadly, his level of performance and more critically, his ability to be fit to be selected, has tailed off dramatically since then.
Now the double leg break against the Albion last season could happen to anyone, at any time. But that's not the injury I refer to.
James' hamstring injuries are well-documented and they were becoming more frequent.
My own unscientific theory is this: James' professional career started at 16-years-old with Hamilton in Scotland. By the time he joined us from Wigan - still aged only 22 - he had already played a helluva lot of football in the engine room of his teams and came to Everton with a lot of miles on the clock for one so young.
I genuinely wonder if he is now (and in the last 3-4 seasons) paying the price for that and may be the reason why he started being almost permanently injured.
I respect the Irish lads staying loyal and trumpeting their boy - Chrissy and Gerry Ring can't post on TW without referencing him! - but I fancy he is someone Brands wants off the books. To get some transfer funds and to save on his salary.
It is wildly optimistic to believe he can come back from the long lay-off he has had (in addition to the previous two years before that when he barely played) and think he could be the James McCarthy of old.
With Gueye playing as he is, he would not be first choice and it would be too limiting to play both Gueye and Gana together to the detriment of the team's creativity.
As others have mentioned, I'd prefer a fee now for him, rather than a loan. Because with each passing month, any fee we could get for him is rapidly diminishing with his contract running down next year.
Christy Ring
58
Posted 04/01/2019 at 17:40:48
The Telegraph has quoted Silva, who said McCarthy is fully fit, and in the 18 man squad tomorrow. I hope it's true, because Gomes seems fatigued, and we all know what Macca brings,100%,, he deserve a chance after coming back from his horendous injury, if it works, it'll be a huge plus, and we've already seen what Davies and Schneiderlin have offered this season.
Kieran Kinsella
59
Posted 04/01/2019 at 17:52:29
I am worried about tomorrow. I could see us losing 3-0. I am not trying to be melodramatic or making a "fire Silva" post. I am just reading up on Lincoln relying heavily on set pieces, corners, free kicks and exposing dodgy defending. They have nothing to lose, we have everything to lose. I also recall in 1991 Kevin Ratcliffe, Sheedy, and Sharp in our team that crept by non league Woking 1-0. So the idea of an upset is not unreal
Brian Wilkinson
60
Posted 04/01/2019 at 17:54:54
Jay, I always enjoy reading your post and on a whole are spot on, please forgive me for disagreeing on letting McCarthy go.
It recent times, McCarthy has been rushed back, with Gomes showing fatigue, I think it makes sense to use McCarthy as a rotation for Gomes, bring the guy in sparingly at first until he is up to speed.
I would prefer Davies to go out on loan for the time being as he looks like one we can give regular game time out on loan at another club.
I hope McCarthy is in the squad for the cup game and gets a run out.
I think it will be a big mistake allowing McCarthy to go out on loan.
Bernard Dooley
61
Posted 04/01/2019 at 18:10:40
Just to back up Jay's point, James' full debut for Hamilton Academical came just a day before his 16th birthday, and in all competitions he has racked up over 400 games, including his 41 Eire internationals.
He has vast experience but his fitness is a big question mark.Can he get it back? I simply don't know,but if he goes to West Brom, we will all know soon enough.
Jay Wood
[BRZ]
62
Posted 04/01/2019 at 18:26:14
As I said Brian @ 60, I like James, but I also understand the concerns some are expressing on whether the James McCarthy of 22-23 can still do it.
Picking James for tomorrow's game seems a no-brainer to me also to measure his fitness levels, speed and abilities.
However - as with Niasse - if Brands and Silva are looking to get them off the books in this transfer window, we could potentially be jeopardizing a loan or permanent transfer by playing them, thus making them cup-tied and unable to play in later rounds for their new club.
Bit of a dilemma, if so.
Martin Mason
63
Posted 04/01/2019 at 18:27:24
If you look at Liverpool, their strongest team includes Milner and Henderson in midfield. Nobody in their right mind at the top of the Premier League could make a functioning midfield from them based on historical performance... however, they fit into the system, making the whole much better than the sum of the individual parts.
We would be very imprudent to discard McCarthy without seeing how he fits into the current setup. There are times that I've watched him and seen an absolutely top class player; I've also seen him struggle badly, mainly with terrible injuries and being played with them.
Klopp has tried and discarded many players in many positions to get the balance he has now in the team. I really hope that we can try McCarthy again in hard games not send him on loan; you just never know without doing so.
I love Gomes but you can often see why Barcelona fans turned on him, especially players sometimes just gliding past him, many goals that have come from him. We must have alternatives other than Davies, much as I love him.
Bernard Dooley
64
Posted 04/01/2019 at 18:31:19
Hearing about the £19 million Bournemouth have agreed with our neighbours, I am, like Robert Leigh, just a tad surprised. 21 PL appearances, one goal?
If Eddie Howe had enquired about the sometimes maligned DCL, 60 PL appearances and 8 goals, would the blues have asked for anything like £19m ?
Some TW posters seem to think we could sell him for half of that in the belief that we should already write off his chances of making it in this league, but I think his price has just gone up a few quid !
Steve Ferns
65
Posted 04/01/2019 at 18:31:30
Everyone keeps saying if he's fit. He's not fit. He's not playing well in the two games we could see. The guy is good enough, when fit, but he isn't fit. It makes perfect sense to shove him in the championship in a top 3 side and see how he goes. It's only a few months. No need to rush him back. Let's learn lessons from Coleman.
What about the other lad who broke his leg, Oviedo? He's never been the same either. These three aren't young. They're all suffering as a result. He won't be the same player any time soon.
4 months to get fit, out of the spotlight, it makes perfect sense.
Paul Hewitt
66
Posted 04/01/2019 at 19:48:01
Off topic, but Silva is the favourite for the Benfica job. Apparently only from the start of next season. That's from Portugals leading sports newspaper.
Kieran Kinsella
67
Posted 04/01/2019 at 20:21:04
Paul Hewitt 66
I wonder if Benfica tapped him up some time in November? Can we sue them after we sack him? Seriously though, whilst Benfica is a "big" club in terms of pedigree and fan base, there is no way they would be able to afford the compensation to break Silva's contract -- assuming Everton want to keep him.
Gerry Ring
68
Posted 04/01/2019 at 20:33:33
Jay Wood (#57).
My main reason for backing Macca is because I know he gives 100% every time and puts steel into our team. His injury woes were compounded as outlined by Dave #49 where he was asked to play when not fully fit. I also believe that it might be a good idea for him to contemplate retirement from International football.
The Rings have been genuine supporters of Everton ever since our 1st cousin Tommy Ring donned the shirt back in 1960. Unfortunately, his Everton career was short-lived due to a broken leg vs Chelsea.
Macca deserves his chance. I don't want to see him go elsewhere and then start producing displays like we saw in his early days with Everton.
Tom Bowers
69
Posted 04/01/2019 at 20:39:43
I like Macca and if he is fully fit then should get a game against Lincoln and then the next league game. God knows Everton need some steel in the middle third.
Eddie Dunn
70
Posted 04/01/2019 at 20:46:48
Brian, I've had enough of polls!
It will be good to see him if he gets a run out tomorrow. I will be hoping for the best for us and him.
Tony Abrahams
72
Posted 04/01/2019 at 21:27:18
Keep @71 blank Gerry, because you say everything you need to say in post@68!
Christy Ring
73
Posted 04/01/2019 at 21:39:36
Have to agree with Bro @68 and Macca wears his heart on his sleeve
Steve Ferns
74
Posted 04/01/2019 at 21:51:11
Silva was approached by Benfica after he was sacked by Watford. He turned them down. Now they've sacked their manager, any approached will be nothing more than, "are you thinking of sacking him". Which shows that even if he fails at Everton, he still has enough Kudos for arguably the biggest club in Portugal.
I doubt we would sack him, or allow him to leave. I doubt silva will have changed his mind on either job and I bet he's more determined than ever to keep the Everton job.
File it under 2+2 = 5
Steve Ferns
75
Posted 04/01/2019 at 21:58:39
Gerry, can't disagree with what you say. I just don't feel McCarthy is ready. I think Seamus Coleman doesn't look ready either. McCarthy is a tackler and he has an extra mental barrier to overcome with smashing into tackles, as the injury will play on his mind.
Surely, it's better for everyone that he takes his time to come back properly by easing back in the championship, playing with decent players (superior to the opposition) and rebuilds his confidence?
Justin Doone
76
Posted 04/01/2019 at 22:03:37
Sell him!
No better than Gana at running and tackling. Can't play box to box as well as Gomes or Davies and certainly the worst passer of all our midfielders.
Plus he's an injury prone crock that can't be relied upon.
Playing him in the FA cup only devalues him.
And get Schnides gone too.
Jerome Shields
77
Posted 04/01/2019 at 22:06:15
McCarthy named in the squad – and for good reason.
Neil Cremin
78
Posted 04/01/2019 at 22:12:19
So many experts who know how a player is going to perform before he plays. Not only that but the same experts who give out about the performance of the present squad.
I for one would rather see him play and then judge. If he gave a performance like he did against Man U after being booed by the fans when he came on as a sub. I would take over any of the current weather midfielders

Steve Ferns
79
Posted 04/01/2019 at 22:14:48
Neil, did you see the u23 game or the game against the Africans? He's a long way off his best. He needs games and he needs them with pressure off and perhaps at a lower level. 4 months in the championship and then back in the summer and approaching his best.
Carl Davies
80
Posted 04/01/2019 at 23:03:32
I saw him against the africans and he scored the best goal of the game, a goal tosun or dcl would not be capable off and did more in ten mins than tosun did all game. I have no doubt if he had the same opportunities as the other two he would have scored many more goals.
Gavin Johnson
81
Posted 04/01/2019 at 23:17:24
Sell him! Why loan him when he'll only get crocked again. I see no point in loaning James McCarthy or Schneiderlin. We need to sell one of them. The only player who might merit from a loan is Tom Davies.
Tom Bowers
82
Posted 04/01/2019 at 23:19:13
Everyone has their opinions and that's okay.
Macca at his best is as good as if not better at tackling than Gana, Gomes, Davies and Schneiderlin and is also stronger than these guys.
The problem is his fitness as he does seem to get hurt a lot just like Gibson did and when they recover they always seem to be getting back in the groove and then another injury comes along.
Silva and the backroom boys should know if the guy is ready to return and as the current crop have had their chances why not get Macca back in. The season has gone anyway and perhaps with no new signings on the horizon Silva may want to use all available staff old and young before shipping them out.
Paul Birmingham
83
Posted 04/01/2019 at 23:20:22
I've always rated the lad and when fit he's as good as we've had in midfield the last 5 years.
This side needs a fit J McCarthy, as he'd bring genuine fight and guts to the midfield and may inspire other players to learn about true grit and guts and what it takes, to play in midfield.
If we loan him, then to me it's a huge mistake and EFC won't benefit. Hopefully this is media bull.
Garry Corgan
84
Posted 04/01/2019 at 23:23:06
I don't understand the logic of loaning him out. Sure, some may say it'll help him get "match fit" but the Championship is an extremely physical league. Not a place for someone to recover from a long lay-off.
West Brom are chasing promotion, and I'm sure it'll be a very intense few months for their squad. Again, not ideal for Macca's recovery.
I would hope and expect that our facilities and medical team are superior to West Brom's. He should still be receiving the very best care we can get for him.
Keep him at Everton. Get him on the subs bench and give him game time when we can. Meanwhile, let our physios and doctors work with him behind the scenes. That's the way to get the best of our Macca again - all while giving us an extra midfield option we're in desperate need of!
Christy Ring
85
Posted 04/01/2019 at 23:29:42
Justin @ 76 to even mention Macca as a crock, says everything about you as an Evertonian and football fan, sad.
Bobby Mallon
86
Posted 04/01/2019 at 23:37:48
Just get rid please. He is injury prone and we don't need another Gana. Beni is a very good player and he should get game time. But what we should be doing is buying doucour
Andrew James
87
Posted 04/01/2019 at 00:08:11
I like James, he has been unlucky injury wise but gives his all.
Definitely would like to see him play for us rather than be loaned out. He's better in possession than Gueye.
Vijay Nair
88
Posted 05/01/2019 at 00:22:26
Would rather keep James, and get rid of Schneiderlin. If anything he is a better fit to the ball winning midfield role that Gueye plays (and whom we look lost without when he's missing).
Andrew Presly
89
Posted 05/01/2019 at 01:01:53
Play him tomorrow. We've got bigger issues than loaning this work shy pisser out.
Henry Lloyd
90
Posted 05/01/2019 at 01:16:50
Nevermind McCarthy and Loans and all that shit just get rid of Silva and his team of muppetts and start again immediately.
Every thread that comes I will Say it and keep saying it SILVA OUT!!
Henry Lloyd
91
Posted 05/01/2019 at 01:22:53
Marco Silva, you have achieved nothing in the premier in fact you got Hull Relegated... I was against you so strongly from the very first mention of your name!!
Get your stuff together and all the Cretins you brought with you and get the fuck out of my football club!
This is EVERTON the most famous football club in the world!!
MY EVERTON you are making a mockery of this club!!
Vijay Nair
92
Posted 05/01/2019 at 01:28:45
So Henry, who would you replace Silva with?
Sean Herbert
93
Posted 05/01/2019 at 01:39:56
Just who would you replace Silva with Henry,at this stage of the season?So,in your opinion,we should change manager every 6 months if we are,nt top of the league and unbeaten?!!
Whilst I am none too happy with our showing so far,I can,t agree with your sentiments in any way
Peter Gorman
94
Posted 05/01/2019 at 01:46:29
"Every thread that comes I will Say it and keep saying it SILVA OUT!!"
Please don't.
Henry Lloyd
95
Posted 05/01/2019 at 03:32:43
I would replace him with anyone who has experience in the Premier League except Allardyce.
Does that answer your question? If it takes changing the manager every 6 months to get who we need, then yes, I am suggesting we do that!
Henry Lloyd
97
Posted 05/01/2019 at 03:36:15
Sean@93
What are your Sentiments then Sean?
You just gonna let this guy carry on and say things like while I am not too happy with our showing so far
What is the Plan Sean??

Henry Lloyd
98
Posted 05/01/2019 at 03:43:10
I will Manage the club for the next 10 Games and I know my results would be better than Marco Silvas and I would do it for nothing as any Evertonian would.
What I am sick of is the comments from people that don't agree with my sentiment but offer no TANGIBLE reasoning or constructive comment to change the situation.
Marco Silva should never have been employed and my anger an frustration blows my comments up and highlights the negativity in myself and many Evertonians that are perhaps not as vocal or keyboard happy!!
The guy has to go!! please someone give me a tangible reason to keep him??
Henry Lloyd
99
Posted 05/01/2019 at 03:47:41
Someone tell me a situation where a manger has been brought in to a top-7 club (just in case there is any dispute about our position) and loses 6-2 at home to any team?? Never mind Spurs... any team??
Only happens to Everton!
New manager new style all that crap — he should have been sacked straight after the Spurs game, after totally humiliating the entire Everton fanbase...

Mike Gaynes
100
Posted 05/01/2019 at 05:57:33
Henry Lloyd, whatever you have been indulging in, I want some. Appears to be very good stuff.
Steve 65, Oviedo is, in fact, back to his original performance level, both for club and country. It took him three years, but he made it.
Jay 57, if you were determined to sell McCarthy, it seems to me that a proven healthy player with 12 months left on his contract will bring in more money then a mystery with 18 months remaining. No potential buyer at this point would have any idea whether James can actually still play. So while we would be running down his contract, the loan would at least provide the opportunity for him to show he's still got it. And that would increase his value in the summer. At this point, however, it would appear that the manager has made this question moot.
Sean Herbert
101
Posted 05/01/2019 at 06:41:07
I still believe we should give Silva one full season at the very least, Henry. Whilst I respect your opinion, it doesn't mean I have to agree with it!
Nor do I believe changing managers every 6 months is the ideal way to build a top team. You question everyone else's right to express their opinion and challenge them to give any good reason for keeping Silva in charge. But I don't see a reasonable alternative being offered by yourself?
There are no sure-fire certainties that will guarantee returning us to the top of the pile.
David Connor
102
Posted 05/01/2019 at 16:38:11
18 months left on his contract. Always injured, unfortunately. Needs to be sold asap while we can still get a little money from him... along with Calvert-Lewin, Tosun, Davies, Schniederlin, Niasse & Keane. Not one is above Championship standard and never will be.
Henry Lloyd
103
Posted 06/01/2019 at 03:14:06
Mike Gaynes @100
After yesterdays debacle of merely holding on against very meager opposition, Mike, what I have been indulging in is very large doses of reality!
This manager proved beyond any reasonable doubt yesterday that he is useless and if anybody thinks differently then they are the ones who need to indulge.
Henry Lloyd
105
Posted 06/01/2019 at 03:23:19
Just noticed that my Posts are being vetted again!
I have said nothing to offend anyone or said anything that is out of order.
I think it time for me to leave ToffeeWeb or stop commenting as It is glaringly obvious that there are certain things that you are not allowed to say such as Marco Silva is the worst Everton Manager for a considerable time.
Lets give the Idiot the rest of the Season eh??? What a fucking Shambles.
Michael Kenrick
Editorial Team
106
Posted 06/01/2019 at 04:01:11
Making post after post after post, Henry... saying basically the same thing over and over. We geddit already.
Mike Gaynes
107
Posted 06/01/2019 at 04:21:29
Henry, when you announce your intention to be deliberately irritating by saying the same thing in every post on every thread -- and then do it seven times in this one -- you should be prepared for some negative feedback, from the editors and other people too.
Derek Thomas
108
Posted 06/01/2019 at 04:52:05
Harold @ many; Which would be the bigger/worse risk/gamble? Sack him now... and replace him with exactly who... though it has to be said it's cheaper to replace the Manager than the whole team. Or keep him on, with a little word in his ear, while keeping a weather eye on him.
I would say it's 50-50 at the moment, but we're not in a death spiral yet, we're just crap and inconsistent. You have to give the guy some sort of chance to turn it around.
Jim Marray
111
Posted 07/01/2019 at 13:19:18
Like Henry, I too did not want Silva appointed as I didn't see an up and coming young manager nor did I see someone who nearly saved Hull from relegation as a successful manager and the issues that Watford had after EFC had allegedly tapped him up did not give confidence to his man-management skills or ability to compartmentalise different issues. In reality, like Martinez and Koeman, EFC keep picking managers on a style over substance basis and this is a key cause of the current malaise.
Unlike Henry, it is too late to do anything about Silva, he is here and here he will stay at least until the end of the season and probably at least the first half of next season. The argument from the club will be that this is still transition and Silva is on an X-year programme of building a new team where X is probably 3 years but more likely as many as he can get.
The reality for me is that there is a real problem at a basic level at EFC. The inability to pass, poor decision-making, and the other basics of football that the players just don't seem to be able to do with any real confidence. My view is work with Silva to bring in some better coaches maybe that way players would not go backwards in performance and some of them may well improve.
Two key areas from my perspective are: a) improve the speed of our counter-attacking and general attacking play (giving the opposition time for a cup of tea and half-time orange before we get near their box will not deliver victories); and b) improve their passing ability including the key one of putting in a cross (aiming for the far post when everyone is stood by the front post is not good).
Alex Gray
112
Posted 07/01/2019 at 15:39:04
Are we seriously already talking about sacking our manager again already? He's been in charge for a few months with a team that is barely his full of dross from the previous regimes. Silva clearly needs time and, whilst we have been on a torrid run recently, there were a lot of positives prior to the derby.
Every signing made has been an improvement on last season and I still believe that we are moving in the right direction. This was always going to be a tricky season and that has been down to the constant changes in managers leaving us with a mish-mash of players bought by different people who don't fit together.
On a side note, I like McCarthy when he is fully fit he adds energy to our often lethargic midfield. The issue is he's never fit so it's his last chance if he is staying surely.
Jay Harris
113
Posted 07/01/2019 at 17:15:27
It's not rocket science.
We just need someone who can instill confidence in the players and get them playing to the best of their ability with appropriate tactics and team selection.
They have all shown much better ability than they are currently showing and they currently look bereft of the will to live.
What happened to the sports psychologist or did he go with Sam?
I think it's only right to give Silva to the end of the season but he has done little to suggest he is the manager we need so far.
Tony Abrahams
115
Posted 08/01/2019 at 09:52:46
Keep Silva, keep McCarthy, because maybe he might just help the manager, find the balance that my old friend Martin Mason alludes too?
Trevor Peers
116
Posted 08/01/2019 at 10:26:39
Keep McCarthy for sure, he's a solid player when fit, much more reliable than Davies and Schniederlin. As for Silva he'll be given this season to show if he's good enough, his honeymoon period is well and truly over though, his inability to breathe confidence into the team, when it's needed most, is alarming and I can't see how he will improve, at times he looks lost and out of his depth.
The real question however, is why or how the owner is allowed to make bad appointments, his lack of judgement is a real concern when it comes to picking manager's, hopefully he will seek out some advice next time or we will remain an average outfit indefinitely.
Brian Harrison
117
Posted 08/01/2019 at 10:51:16
I really despair at some of my fellow Evertonians, already calling for another manager to be sacked.
So we have become so fickle that its now a case of you get 1 transfer window, and if it isn't working your gone. So these fans think you can come into a club and try and change the style and the personnel in 6 months and get them competing with the top 6.
So if we follow the views of the ones who want Silva sacked then tell us who we replace him with. Before he was appointed some were clamouring for Howe or Dyce, don't think either of their teams are doing that great and they have had a few seasons to work with the players they have got. Others are saying get a proven winner, well I will be interested in seeing who is on that list.
Prior to the derby, we were playing well and for the first time in decades we went into the game full of confidence. That confidence was well founded as only a stupid mistake in the last seconds of the game, stopped us coming away with a well-earned draw. I am sure that would have spurred us on, and since then we haven't looked the same team. But this is a new manager with new players bedding in.
I would also think maybe Moshiri might think, "Silva was my choice and now after a few short months some want me to sack him. So maybe what I was told about Everton fans being great fans and loyal is a load of bollocks and maybe rather than spending £250 million on players and committing to a brand new stadium, I would be better cutting my losses and move on."
So just remember when you suggest Moshiri sack Silva you are actually critisizing his choice of manager.
Michael Lynch
118
Posted 08/01/2019 at 11:32:25
I'm unimpressed by Silva so far, but I would give him at least til Christmas to show what he can do.
The problem with changing managers so frequently is not the cost of the pay-off, which is buttons compared to the amount we waste on under-performers like Bolasie and Tosun every season, but the cost of re-building the team in the image of the new manager every few months.
Trevor Peers
119
Posted 08/01/2019 at 11:46:36
Brian @117, I don't think Moshiri takes much notice of the fans when appointing managers, it's his call. Maybe he is restricted to who will actually come to Everton these days. No one is suggesting it's an easy task.
Hopefully, Brands's input may be the answer to advising Moshiri if Silva can't bring success and stability. Silva will be given enough time, mainly because the bottom three this season are so bad, so nobody should be moaning he's being given a hard time. Some of the games at home have been abysmal.
Brian Williams
120
Posted 08/01/2019 at 11:56:08
Michael #118.
Which Christmas?
Sam Hoare
121
Posted 08/01/2019 at 11:59:34
Brian "So maybe what I was told about Everton fans being great fans and loyal."
Not on this website which I'd say has become even more knee-jerkery over the last 5 years. Dunno whether that's because there's been little to cheer about in our club or in the world in general but the bile that gets dropped on the live forum in particular never fails to amaze me.
Every time we lose, we need a new manager and 11 new players!
Fact is that, at the moment, there are 3 or 4 good teams in the league who expect to win every game and 15 or so other teams where the results could go either way every week.
I have faith in Brands and I still hope Silva will come good. We're playing better football and, up until the festive period, we were getting better results. Moshiri does not have endless money; if he shows as little resilience as a fair few of the fans on here then we'll really be in trouble!
Brian Murray
122
Posted 08/01/2019 at 12:13:28
It's got to the stage where I would be happy with a squad that are super fit and know how to deliver and defend set-pieces. These are basic parts of top-class football that seem totally foreign to Silva. Exactly the same as Martinez.
As has been said, I hope this time when we pick a new manager (which we will very shortly), Brands has a serious input before Moshiri makes another pig's ear of it all... again.
Denis Richardson
124
Posted 08/01/2019 at 15:24:55
Brian 117 – whilst not personally calling for Silva's head I'm certainly in the "Emperors' new clothes" camp. He was massively overhyped by some on this site IMO with supposed worldly coaching abilities, evidence of which is yet to be seen on the pitch (4 clubs in 4 years says otherwise...).
However, half a season is not long enough to give someone a fair crack at the job unless we go into free fall (all be it 1 day was far too long for Allardyce...). If, however, Silva & Brands don't sign a decent striker in the summer, they should both be shown the door as even a blind fan can see we desperately need one and have done since Lukaku left.
Btw – I think Koeman gets a lot of unfair stick on this site. People are quick to forget we finished 7th in his first season and he never stood a chance in the second after Lukaku was sold without being replaced as well as having Rooney forced on him (not a player Koeman wanted), so we started the season with three No 10s and no striker. Starting the season with no recognised striker was a recipe for disaster and led to the inevitable – hardly Koeman's fault.
Last point – this is not a transitional season. There is no such thing given the average life expectancy of a manager and there is no excuse for not taking the cups seriously when we've won nothing for over 20 years and have zero chance of winning the league. Premier League positions get more money (only reason managers take the league more seriously) but fans crave trophies.
Silva needs to treat the Millwall game just as he would a Premier League game – put his best team out and worry about the next game when it comes.
Will Mabon
125
Posted 10/01/2019 at 21:44:25
"Silva needs to treat the Millwall game just as he would a Premier League game – put his best team out and worry about the next game when it comes."
Have to agree with that. We are not in that realm of teams that can target/focus/manage their resources whilst hunting several honours, and should operate accordingly.
John McFarlane Snr
126
Posted 11/01/2019 at 14:59:08
Hi Henry [98, and various other posts] you will no doubt be aware that anything is possible in football. As for tangible reasoning, I'm sure that there were sizable numbers calling for the heads of Alec Ferguson, and Howard Kendall in the '80s, but hope and tangible reasoning won the day.
You appear to be confident of your abilities as a football manager; I would suggest that you submit your CV to clubs and await a lucrative future. I shall be monitoring the newspapers closely.
Add Your Comments
In order to post a comment, you need to be logged in as a registered user of the site.
Or Sign up as a ToffeeWeb Member — it's free, takes just a few minutes and will allow you to post your comments on articles and Talking Points submissions across the site.