Marco Silva: I'm not interested in Sam Allardyce's opinion
Monday, 7 January, 2019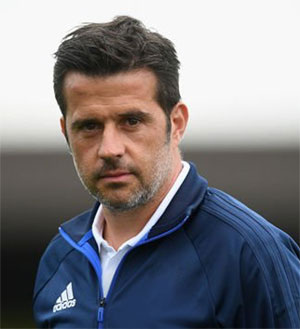 Marco Silva has brushed off criticism from former interim Everton boss, Sam Allardyce, saying he isn't interested in opinions about his team if they aren't born of a love of the club.
Allardyce, who was in charge between December 2017 and May last year before being let go to pave the way for Silva's appointment, hasn't been shy about talking about his short-lived Goodison tenure and he used the occasion of the Blues' New Year'sDay defeat to Leicester to suggest that the grass wasn't greener under the Portuguese's more expansive style of football.
"You can talk about playing it out from the back and attractive football, but you will never survive as Ronald Koeman and Roberto Martinez learnt," Allardyce said. "They all played so-called better football than me, but they didn't survive."
Silva questioned whether Allardyce had "an agenda" with his comments and he was dismissive of his predecessor with his rebuttal.
"My style? How I dress? My hair? Ah, my style of football," Silva quipped. "I am not here to make comments about him. You have to look at whether these people love Everton, if they want Everton really winning, if they want some stability inside the club?
"If there are real Everton fans talking like that, then maybe we have to be aware and to look at it, but if some people don't want good results, just instability within our club, they are not worth listening to.
"If it is David Moyes, maybe I would listen because he did something really important at this club.
"If somebody loves our club and they are not happy, OK. I see a person who loves our club and wants us to win. If not, I do not care. In this case, it is not important at all.
"This club needs stability, our players need stability and confidence," said Silva. "What is important for us as a club is what is happening inside. Don't be aware of what people say if they have another agenda. We cannot live up and down all the time. Even if we have a fantastic run, then a run which is not so good, we have to think of the whole scenario, not just the last few weeks."
---
Reader Comments (63)
Note: the following content is not moderated or vetted by the site owners at the time of submission. Comments are the responsibility of the poster. Disclaimer
Stewart Lowe
1
Posted 07/01/2019 at 07:04:39
Allardyce ya dick.
Anthony A Hughes
2
Posted 07/01/2019 at 07:07:07
Translated into scouse-"fuck off Sam"
James Hughes
3
Posted 07/01/2019 at 07:29:03
But Sam you didn't survive either, what's your point? Your opinion is about as relative as the football you display.
The grass is greener because you are nowhere near the grass. If it was possible I would have your name removed from all records at EFC.
Duncan McDine
4
Posted 07/01/2019 at 07:35:03
Decent response from Mr Silva, but Big Sam's ego is obviously still hurting... being sacked after he performed such a miracle!
Mike Kehoe
5
Posted 07/01/2019 at 07:44:07
It seems that most fans appreciate what Silva is trying to achieve and are pleased to see more progressive football, despite a few shit results. Allardyce will be sharing his wisdom with anyone with a microphone to try and stay in the public eye. He will be watching the Huddersfield situation with more than a casual interest.
Sam Hoare
6
Posted 07/01/2019 at 08:00:32
Allardyce's results were decent and for that he has my gratitude. Everything else including his enormous ego were harder to bear. He also spent £50m on Tosun and Walcott which is looking more and more like Koeman-esque transfer business.
Ray Roche
7
Posted 07/01/2019 at 08:13:18
What does Allardyce know about grass? Green or otherwise. His teams don't play on grass, the ball is usually 75 m up in the air.
Arsehole didn't mind trousering millions, though, did he? Shitbag.
Jim Bennings
8
Posted 07/01/2019 at 08:57:08
Hahaha I love a bit of that!
We need more of it to get a bit of passion involved at the club and Silva has responded in the right way.
Listen, Allardyce came in to do what he was paid to do and he was kept more than happy in gravy rewards with that barnyard exhibit next to him Sammy Lee.
But it was a short era we'd all rather forget.
Jimmy Hogan
9
Posted 07/01/2019 at 10:03:13
He's obsessed about playing it out from the back. It's called modern football Sam, not the Victorian crap you served up for us. Everyone from Barcelona, Madrid, PSG, Bayern and Man City does it. When was the last time a team won the Champions League by lumping it up in the air?
Tony Everan
10
Posted 07/01/2019 at 10:14:36
Sam Allardyce is touting for work. Its that time of year.
John Hammond
11
Posted 07/01/2019 at 10:21:52
Yeah but Sam you lasted half as long as Koeman and everyone hates you.
Graham Coldron
12
Posted 07/01/2019 at 11:25:36
Silva eluded to " an agenda" Fat Sam has many friends and apologists in the media especially that set of deluded shite hawks that work for Sky.Enough said.
Daniel A Johnson
13
Posted 07/01/2019 at 11:45:44
TBH I was willing to give big sam a decent crack of the whip,. But it wasnt the football that annoyed me it was his attitude and behaviour. This bad behaviour has continued since he left, he always speaks ill of us. He has an axe to grind against us and there is obviously no love for EFC. Marco should chin him

Steve Brown
14
Posted 07/01/2019 at 12:10:18
Sam, Sam go away, you stank the place out every day.
John Raftery
15
Posted 07/01/2019 at 12:10:57
One simple way for Silva to reply. Win a few matches.
Steavey Buckley
16
Posted 07/01/2019 at 12:29:40
The big failure is now up front. There is no one up front who has the confidence or the ability to take players on and score goals. The attacking struggles were clearly apparent when Everton played Lincoln. Yet, 2 players who are struggling upfront the most, Tosun and Walcott, were Allardyce's purchases.
Michael Lynch
17
Posted 07/01/2019 at 12:35:40
John @15 nail on the head
Frank Wade
18
Posted 07/01/2019 at 12:46:51
Typical Allardyce bluster translated as : that crowd want attractive football and if you give it to them they will sack you, as it won't work. But,,, if you play crap football they sack you as well, as Manchester United do and West Ham did.
Fair play to Marco, good response. Just need some results now
Kase Chow
19
Posted 07/01/2019 at 12:52:22
John #15 – good point, mate.
Dean Johnson
20
Posted 07/01/2019 at 13:41:08
Gamorrean guards do not talk, they just grunt and make noises.
Move along...
John Boon
22
Posted 07/01/2019 at 14:09:50
Nobody should care what Allardyce says about anything. However, I am probably contradicting myself by even responding. I guess I'm just weak but I just consider him the MOST reprehensible and idiotic person who has ever had anything to do with Everton.

Jim Harrison
23
Posted 07/01/2019 at 14:23:41
In the world Fat Sam exists in, only end results matter. I can appreciate that, and during Moyes time particularly I was an advocate of some of his more pragmatic approaches.
But this twat set up teams with absolutely no interest in playing an exciting game. Things haven't been so good this past few games but at least there has been some enjoyment this season.
Winging dick should remember his payout and jog the fuck on.
Brent Stephens
24
Posted 07/01/2019 at 14:31:21
Fat Sam — the only manager with his own gravitational pull.
Kieran Kinsella
25
Posted 07/01/2019 at 14:36:42
John Boon @22,
I agree. I hate responding to a thread on Sam when I feel like far too many have an unhealthy obsession with the man. But, he is out of work so is doing punditry. People are bound to ask him about Everton.
He didn't say anything outrageous in my view. Keep in mind, he had to field questions about Silva being better than him while he was the Everton manager.
Now their roles have ben reversed, he is getting the same kind of questions, so he probably does feel a bit smug looking at our season. Doesn't make him a villain; just shows he is a little prideful and probably hurt.
Tony Abrahams
26
Posted 07/01/2019 at 14:56:00
Daniel @13, I have to agree with you, mate, on everything you say... but, if the football didn't annoy you, it must have been because it had already sent you asleep!
Richard Lyons
27
Posted 07/01/2019 at 15:01:24
I think I may have to brace myself for a backlash - but I think he has a point. To play like Barcelona or Man City, you need players like Barcelona and Man City have.
Martinez and Koeman both tried the Barca style, but it was really pushing square pegs into round holes, because we simply didn't have enough good players. So it did indeed start to go wrong for them, and they didn't know how to cope.
And frankly, despite some improvements, we still don't have enough good players. I like Silva, but I think that unless and until he's able to recruit better players, we'll have to accept that Everton are not going to be that good.
John Pierce
28
Posted 07/01/2019 at 15:01:27
Fat Sam's comments have come at a great time for Marco. Anyone appears better put alongside that dinosaur. Takes the pressure off, eh?
Silva should be working out shit like getting Pickford to come off his line in a zonal system. At free-kicks and corners, the lad is rooted because the of the system? Potentially, I think so...
Why his teams cannot breakdown defensives sides? Does playing Gana limit our ability to beat these sides?
Does playing players woefully out of form and belatedly pulling them out help them or their replacements?
Rather than cheap points-scoring comments to make himself look better.

Rennie Smith
29
Posted 07/01/2019 at 15:52:59
As many have said the fact that we're talking about what that fat twat has said means he's succeeded in his mission of gaining publicity. You can't turn on TalkSport these days without hearing him droning on about systems and how unfairly treated he was at the biggest, and proudest club he'll ever have the privilege of pulling on that XXXL match jacket.
Playing out from the back = that thing called passing, something we saw very little of when you were helping yourself to extras in the Goodison lounge.
Go for it Marco lad and get back in yer cave Hippo!
Andy Bonner
30
Posted 07/01/2019 at 15:58:15
Big Fat Sam's brief would have been to keep Everton up. Silvas brief would have been to keep us up and build a team to challenge the top six, a far more difficult task.
Silva and Brands have so far bought 6 and 1 on loan, sold 11 and found teams for 16 who either needed experience elsewhere or who he could not sell in the short term. I think they have done fairly well.
The worst result, Tottenham, was not as bad as I thought. The first goal was a mistake by Pickford; the second a decent save by Pickford that went straight to Alli whose shot went through Coleman's legs and then went through Pickford's legs. The third came off the post in an area full of Everton players, straight to Kane: 3-1. The fourth was a poor header by Coleman which should have been in Row Z, not straight to Eriksen; the fifth was initially offside by Son whose shot then went through Pickford's legs. The sixth was their only decent goal.
We scored two good goals, had one disallowed, and were inches away from another when Sigurdson missed Richarlison's early header by inches.
Not all the Manager's fault.
Alan J Thompson
31
Posted 07/01/2019 at 16:22:02
I'd have preferred if Silva had just replied that he had not seen what any former managers have had to say.
As the old adage goes; "Winners can smile and losers can please themselves."
Simon Smith
32
Posted 07/01/2019 at 16:38:50
Why doesn't fat Sam just fuck off and spend his millions, he's always banging on about us, why not discuss the other 10 jobs he's lost.
Mike Benjamin
33
Posted 07/01/2019 at 16:58:52
Please, Sam, just do one. You had the opportunity to go for it when we were already safe. I will never forgive you for the approach v the shite at home when we basically went for nil-nil. Other games when we didn't have a shot on goal.
Kieran Kinsella
34
Posted 07/01/2019 at 17:01:02
Alan Thompson 31
Exactly. Take the moral high ground instead of letting the trash media lure you into a pointless sniping match. I hope Moyes doesn't take Silva up on his suggestion of him making suggestions. Moyes is no better than Sam with banging on about how he was hard done by at Man Utd. He is probably ready to mix it up with a whinge about how Everton never had it better than in his day.
On another point though why does Sam always have the prefix "fat?" Everyone was up in arms when Joey Barton called Unsie fat. I feel like we should be fair here and refer to fat Sharpy, Fat Snods, Chubby faced Stuart...
Michael Lynch
35
Posted 07/01/2019 at 17:11:46
It's hard to take the high ground when your win percentage is worse than the last manager's. Allardyce was no fun to have around the place, but his record at Everton is better than Silva's so far.
Given the choice, I'd have neither of them.
Brian Harrison
36
Posted 07/01/2019 at 17:11:55
Jabba the Hutt spouting off again, Marco was spot on he isn't going to take lessons from a dinosaur. I am still embarrassed that our great club ever employed that man.
This is a man who while managing West Ham, when he realized Gold and Sullivan would not extend his contract, decided to wind up the West Ham fans by talking up his plans for the following season. No class, no integrity, but has made a fortune from playing brain dead football.

Tommy Carter
37
Posted 07/01/2019 at 17:18:38
There is always a lot of talk about Moyes and his pragmatism. But I have to say that his side containing Baines, Arteta, Pienaar, Osman and at times Fernandes played some outstanding attacking football, particularly at Goodison.
He lacked ambition to play this way against the top 4 sides and his approach, especially in away games against these teams, was atrocious.
He was more pragmatic at times during his reign when dictated by the players he had. It was not surprising that he played to the strengths of Fellaini and Cahill for attacking play when all he had was Vellios, Stracqualursi and Magaye Gueye as alternatives.
Kieran Kinsella
38
Posted 07/01/2019 at 17:23:58
Tommy Carter,
I think Claude Puel is the French Moyes. He seems to know what he has doing, allows more flair than he is given credit for, gets some impressive results, but is also susceptible to dreadful cup upsets.
Dermot Byrne
39
Posted 07/01/2019 at 17:38:57
Have you noticed a strong reaction from Silva gets most of us behind him. A trick Liverpool FC has played for generations as well as God knows how many politicians and tyrants.
Well good for him. Be nice to see us a bit more all together rather than spending a much higher % of our time being critical.
Jaysus, play even that interview and Goodison before a game and you would have the atmosphere back straight away. And the players would be better. Much better.
Mark Dunford
40
Posted 07/01/2019 at 17:44:43
More BS from FS. Probably touting for another job. He was the worst manager - Mike Walker was hopelessly out of depth though there was the odd good game, Walter Smith got rid of a dreadful owner despite the merry go round of players and they're about the only two to compare with FS. Time to move on. Good luck to Silva - bad run of form but it all makes far more sense than anything FS did.
Dermot Byrne
41
Posted 07/01/2019 at 17:49:52
Good assessment Mark #40 and in short space!
Dennis Stevens
42
Posted 07/01/2019 at 18:04:06
Sam Hoare #6 - I think you're being generous with that assessment. Despite arriving after we'd clawed our way out of the relegation positions, & having much more time to work with the squad, a transfer window to strengthen & a longer run of games to exert his authority on the style of play, Allardyce performed no better in the League than the much villified Unsworth who, as mere caretaker Manager, preceded him.
Ray Roche
44
Posted 07/01/2019 at 18:18:14
Tommy #37,
Don't forget that Marcus Bent was our striker as well.
Stan Schofield
45
Posted 07/01/2019 at 19:07:00
Good response from Silva.
In the Anfield derby last season, I felt ashamed (apart from being amused by Klopp losing it).
In the Anfield derby this season, I felt the opposite, and felt I was seeing one of the best Everton sides in a long time.
That's my measure of the difference between Silva and Allardyce, who's a cheeky sod.
Rob Dolby
46
Posted 07/01/2019 at 19:46:08
Sam has his opinion and wouldn't come out with the comments if the points didn't back him up.
Reality is that Sam got us to a position of safety and has made a lot of money by getting teams back to basics after players heads have been blown apart by mad cap tactics.
Would big Sam or anyone have Kenny marking Harry Maguire on corners or Baines trying to mark that massive ale house who came on as sub for Lincoln?
Results will dictate how long Silva is in the hot seat for and nothing else.
Steve Ferns
47
Posted 07/01/2019 at 19:49:26
Rob, Kenny was on man marking duty. Which shows Silva was adapting. But we're still playing zonal marking on corners so the big men challenge for the ball, not Kenny. Kenny's brief is to disrupt the player in the way Gaines described and to make sure he doesn't get himself into an unmarked position. He should, in theory, be running into a zone where someone like Mina is ready for him.
Rob Dolby
48
Posted 07/01/2019 at 19:52:28
Sorry Andy #30...
Spurs could have scored double figures that day.

Dennis Stevens
49
Posted 07/01/2019 at 19:53:06
Rob #46,
The reality is that we were in a position of safety when Allardyce took over.
Steve Ferns
50
Posted 07/01/2019 at 19:55:29
Well, when Unsworth finished his last game, we were certainly in a better position. Allardyce keeps going on about where we were before that game as that's when he was appointed. I give him zero credit for that game.
Dennis Stevens
51
Posted 07/01/2019 at 19:57:34
I just give him zero credit, Steve.
Sam Hoare
52
Posted 07/01/2019 at 20:15:13
Dennis, believe me, I'm no Allardyce fan and would happily have given Unsworth some more time but Sam did get us higher up the table. Any manager who leaves us higher up the table than when he came has done okay, though the football was so dire I was delighted he was booted when he was.
Rob Dolby
53
Posted 07/01/2019 at 20:20:32
Steve,
I understand the concept. I just don't agree with it. We are vulnerable from set pieces. Common sense is that you go big for big. It's one of the factors of why we look weak.
Dennis,
We wouldn't have appointed him if we were safe. As much as I want to erase that 6 months, he did a job.
I bet Unsworth must be kicking himself for using his tenure as a job interview by trying to win games expansively rather than going back to basics.
Tommy Carter
54
Posted 07/01/2019 at 20:37:54
Steve @47
Yes I think this is the tactic that Silva is trying to employ. Hence why the smaller and physically weaker players are doing this. Rather than just marking someone their own height for the sake of it.
I think this interview from Marco shows some of the class and single-mindedness I believe he has.
Yes, results and performances since the derby have been poor. But let's see how he can do from this point on. And let's support him. He's had one transfer window and hasn't signed a bad player as far as I can see.
A stuttering early round cup win over a poor side has previously been a decent catalyst for our club; let's hope it can happen again!
Bill Gienapp
55
Posted 07/01/2019 at 20:52:08
Things have gotten a bit contentious on here in recent weeks, so I'm glad to see we can all come together and agree on what's important, mainly that Allardyce is a total tit.
Dennis Stevens
57
Posted 07/01/2019 at 21:03:31
I don't know what you mean, Rob. We were out of the relegation zone when Allardyce took the reins. Obviously, we hadn't reached the magic 40 points at that point, but to do so we would have had to have won all our League matches up to that point & would then have been up at the summit of the League.
It seems clear to me that somebody, perhaps Moshiri(?), made a panic appointment. However, like Unsworth, Allardyce gave us a return of about 1.4 points per match. A very expensive mistake, imo.
Jerome Shields
58
Posted 07/01/2019 at 21:27:22
It's winter in Dubai now and he is trying to earn some corn. Big Sam was never fussy about how he got a few quid and what he said in the process. Even tried to make out the fans to be stupid.
David McMullen
59
Posted 07/01/2019 at 21:29:27
,Fair enough Silva knows the score. I'd rather he didn't respond. Allardyce, loathe him or loathe him, was brought in to do a job he did it and then off ya pop. End of. The only connection between them is they both have been hired to do a job. Totally different worlds.
Silva has to be given time. He's not a miracle worker (at least not right now, maybe a Silva lining this season would be great). He's got work to do. There's a few years of shite to clear up as well him and Brands need to sort.
Daniel (#13), same feelings here too. He wasn't at all class.
John Keating
60
Posted 08/01/2019 at 00:08:26
Sílva should keep his mouth shut when talking about that back-stabbing shit, Moyes.
Concentrate on doing the job you were employed to do. The job you are so far making a mess of...
Billy Roberts
61
Posted 08/01/2019 at 19:59:30
Silva shouldn't keep his mouth shut, Fat Sam should keep his mouth shut and accept he's irrelevant and barely a paragraph in Everton's history. In 10 years time, he will be an awkward quiz question.
I'm glad when the manager of my club comes out fighting for himself and therefore the club; what do people want? A quiet diplomat? He's a football manager – not the fuckin' Prime Minister.
Jim Hardin
62
Posted 08/01/2019 at 23:25:22
David,
"Allardyce, loathe him or loathe him, . . . ."
Kind of limiting our choices here aren't you? Tell you what, I will pick the latter and agree with the former as both being equally good choices.
Alexander Murphy
63
Posted 09/01/2019 at 17:14:03
Haven't read ANY of what goes before, NONE!
Marco, be your own man. Do not be played psychologically by this or any other cretin.
I detested him as a player, I detested him as a manager elsewhere, I detested him as England manager and his appointment to beloved Everton was (in My heart) far, far worse than relegation.
Be your own man, Marco.
James Flynn
64
Posted 10/01/2019 at 14:21:35
Raymond Fox
65
Posted 10/01/2019 at 14:50:19
Sam would be better advised to not respond to leading questions that the press throw around.
I think Richard @27 sums our situation up very well when he says we need better players if we want open football in tandem with winning football.
Personally, give me winning football over pretty stuff every day of the week.
Kevin Prytherch
66
Posted 10/01/2019 at 16:49:42
Anyone seen the comments by Vlasic??
"The football under Big Sam was awful, if you could call it football."
Hats off to the lad, I hope he comes back good and challenging Sigurdsson for his spot.
Add Your Comments
In order to post a comment, you need to be logged in as a registered user of the site.
Or Sign up as a ToffeeWeb Member — it's free, takes just a few minutes and will allow you to post your comments on articles and Talking Points submissions across the site.