Niasse unlikely to be replaced this month
Thursday, 17 January, 2019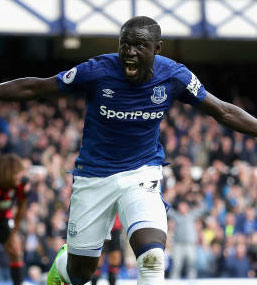 Oumar Niasse's loan move to Cardiff has yet to be confirmed
Marco Silva has again moved to dampen speculation about potential incoming players to Goodison Park this month, intimating that the money is unlikely to be there to fund purchases.
Both the manager and Director of Football, Marcel Brands, have suggested that Everton would need to move players on this month before they would be in a position to recruit new options.
Oumar Niasse is poised to join Cardiff City on loan — the transfer has yet to be confirmed due to an unspecified "glitch" in the deal — but with only all or part of his wages coming off the books for the remainder of the season, the club won't have created the desired breathing room in terms of finances to fund the acquisition of a replacement.
"There is strong interest coming from Cardiff in Oumar Niasse but there's nothing done yet," Silva said in his pre-match press conference ahead of Saturday's trip to Southampton. "We have to wait and see if things will go this way or not.
"What I can tell you is nothing is done, but the interest is strong. Something could happen but until it is done there is nothing more to say about that.
"It's not a matter of me changing my mind [about bringing in a new striker if Niasse leaves]. What I told you before that we could sign someone if someone else leaves the club or if we sell someone, we just can't go and sign new players because the feedback I get from our board is that we don't have the financial conditions to go into the market.
"It's not the moment for us to talk about player A, B, C or D or if they could interest us in our model as a team," Silva said when asked again about the speculation linking Everton with Michy Batshuayi.
"We have to work with the players we have here and get them better every day. That is our job."
---
Reader Comments (62)
Note: the following content is not moderated or vetted by the site owners at the time of submission. Comments are the responsibility of the poster. Disclaimer
Joe O'Brien
1
Posted 18/01/2019 at 01:13:35
Keeping his hand close to his chest. I fully expect one or not two in this window. It's looking like Niasse and Gueye going... hopefully Schniederlin also.
The biggest position to be filled will obviously be Gana's... he won't be let go unless a replacement is lined up. A striker to follow after that.
Niasse, although a hard-working head-down honest player, won't be missed. Neither will Morgan.
Derek Knox
2
Posted 18/01/2019 at 01:30:58
Like you say, Joe, he is covering all bases really, but I do believe that we will get one or two in, before the deadline, but also think as usual it will be a last-minute flurry.
I also hope we can move a few out even if it is only on loan, to balance things up a bit, every team likes to have numbers in depth, but we have numbers with little quality and massive wages to contend with.
Mark Andersson
3
Posted 18/01/2019 at 01:37:12
That is very optimistic of you, Joe @1... Personally, I feel there is more truth to his words. There will be an out cry from some if both Niasse & Gana are moved on without replacements. It's a BIG call from both Brands and Silva. Our season is over, but that's no excuse for not building positively for the future.
Small club mentality... Brands now knows the enormous task of his job. As I said on another thread, the club has been missed managed both on and off the field for years... We're slowly paying a heavy price for it.
Don't kid yerself if you think next season will be any better... same shite different season may be different manager AGAIN..
I feel sorry for the diehard fans who live in eternal hope that something BIG will happen sometime soon... It won't... "If ya know ya history" then expect more of the same from the last 20 odd years.
Moshiri's money has been wasted both on players and managers. Silva is no Sliva lining, performances and results show that...
Fat Sam suited this small-time club... we have become an embarrassment; actually, that is only true in the eye's of some blues... the rest of the country don't give us a second thought.
Will Mabon
4
Posted 18/01/2019 at 02:04:37
"Fat Sam suited this small-time club..."
Jeez, Mark! Suffering a little insomnia, I came down for a glass of milk and ten mins of TW. I'll never get back to sleep after that one...
Joe O'Brien
5
Posted 18/01/2019 at 02:05:28
It had been mismanaged for sure, Mark... massive disappointing that Brands wasn't appointed instead of Walsh. Himself and Koeman put us back 3 years I reckon.
I think it'll be massively different with Brands in charge. Hopefully Silva will work out... maybe not, but Brands has been our best recent signing. He'll get us back on track. Even though I just remember the tale-end of the good times, I think we'll see them again.
Mike Gaynes
6
Posted 18/01/2019 at 02:47:46
Righto, Mark #3. What players acquired by Brands and Silva last summer would you call "wasted" money or failures? Richarlison? Digne? Bernard? Gomes? Every single one of them made us better. And Mina will too as time goes on.
Big things happened last summer. Big things will happen next summer.
Fran Mitchell
7
Posted 18/01/2019 at 02:56:15
Not buying in January is nothing to do with small-time mentality, it is just plain sensible management.
Niasse is not an option, no loss to the squad: Richarlison, Calvert-Lewin, Tosun are all ahead, with Walcott another, and if need be, Hornby back fit.
I am sure Brands has an evergrowing shortlist of players, but in rare exceptions, January is more expensive.
We need to get a number of players off the wage bill so we can truly plan who, and how many we can bring in.
Also, if Richarlison does show enough to be a long term centre forward, and/or Calvert-Lewin starts reaching his potential, maybe we'll be able to focus on other areas.
Last January we signed 2 strikers for a combined £50 million, and if we could, we'd probably offload both of them for little more than half that. January just ain't worth it.
Look at Chelsea, big club, London, big wages, and yet they are getting a seemingly past it Higuain on massive wages.
Alan J Thompson
8
Posted 18/01/2019 at 03:28:56
It sounds like he's just repeating what Moshiri said at the AGM and is reflected in the accounts – wages take up too much of the incomings.
Jay Harris
9
Posted 18/01/2019 at 03:38:08
It is frustrating that we let Lukaku go for £75M with 2 years remaining on his contract and spend around £40M on two Championship standard strikers for £27M and £13M respectively. If that is not small-thinking, I don't know what is.
Too much time has passed now and the likes of Vardy and Giroud are too old to consider.
I actually believe, in the absence of a prolific goalscorer being available, I would spend whatever cash is available to beef up midfield and get a goalscoring box-to-box midfield player. Bernard, for all his silky skills, cannot provide goals and Gomes is currently playing at the level that Barcelona fans wanted rid of him at and he can't score goals either.
I wish we would have had a punt at Ramsey but that ship has also sailed.
Over to you Marcel. Please provide some salvation from this eternal torture.
John Boon
11
Posted 18/01/2019 at 04:34:09
Mark (3). For your own good health you should really consider not watching, reading or even talking about Everton. You obviously don't get ANY pleasure from being a supporter.
I have watched Everton at their very best, winning the league and the Cup. I have also seen them at their worst, when we were relegated.
Sure I am not too thrilled about what I am seeing now, but watching Everton still gives me great pleasure. Even when we lose there is always something to talk about and hopefully one player may have had a good game. Constantly being negative can never be fulfilling.
Consider yourself lucky to be able to watch a game of football whether it makes you smile or feel down. Just think there are about 75 thousand football teams in England that are worse than Everton. And for me, even though we are presently in tenth place, Everton will ALWAYS be number one..
I am sure you must think I am deluded, and you may be right. But you know what I am really happy with my delusions and illusions. CYOB
David Ellis
12
Posted 18/01/2019 at 04:49:10
Sounds like the money reservoir that is Moshiri has run dry and who can blame him? I don't expect any incomings in January.
If Gana goes it will probably be too late to replace him. Obviously no takers for Tosun (who I think isn't that bad actually) and Schneiderlin. Hoping that Niasse does make some sort of move to Cardiff as it will ease the finances a bit and perhaps put him in the shop window.
Next summer, it may be all we can do to sign Gomes and possibly Zouma. I can't see us affording a new star centre forward unless we sell Gana for the kind of money being mentioned, as well as moving on Tosun.
I do agree that Brands's dealings so far have been excellent; let's hope he continues – we can't afford to blow any more of Moshiri's money.
Brian Murray
14
Posted 18/01/2019 at 05:48:26
Once again, I'll bang the same drum to get Simms, Sambou and / or Hornby in the first team squad at the expense of the likes of Tosun and Walcott. We have not the luxury of saying out for them out on loan.
We need to cling on to some hope now before May turns into the unthinkable nightmare. Thanks in part to our stay-on-his-line goalie! C'mon City.
Rick Barnes
15
Posted 18/01/2019 at 05:49:01
I really do love ToffeeWeb, but I do also find myself increasingly looking at the names and skimming past certain names that I just know will be inevitably pessimistic.
So it was refreshing to read John Boon's post and see there are people like me on here who still find joy in watching Everton. Obviously I'm a billion times happier after a win but I'm realistic enough to accept that sometimes we'll lose. Sometimes the opposition is just better. But if I can see a young player showing promise or see green shoots of a developing team, I can still take something from a loss.
So when I see a poster say Everton are a small, embarrassing club, or a different poster on another thread say if we can't make Champions League he might as well stop supporting Everton it makes me a little sad.
Sad that a club they still clearly love brings them so much disappointment. I kinda wish they could watch the clip of the little 10-year-old Irish kid, Ruaric, going to Goodison Park for the first time. For him, the result was irrelevant – for him it was seeing his heroes, being at the game, spending time with his dad.
For anyone who hasn't yet seen the joy Everton can bring to a 10-year-old boy, the link is:
And if the heartbreak Everton can, at times, bestow upon us all, has turned you a little cynical, maybe watch it and think back to when you were 10 – and the feeling you had in the stands when you first heard Z-Cars.

Mark Andersson
16
Posted 18/01/2019 at 06:14:23
John Boon: My health is fine and I actually don't watch any of the games now. I get pleasure out of reading the polar views of Blues on here... perverse I know...
I'm not angry or disillusioned with Everton football club; Brand seems to be doing a good job to most of you. I'm saying that he too is restricted in many ways in getting the right players, for what ever manager is in charge.
The game of football is classed as entertainment, so if your team is playing shite football as some of you say it is then were is the entertainment in that?
Some fans say they don't care about the football as long as we get the results, but that's not true. Every fan of every club would much rather it be entertaining and a good result should be a bonus. Well that's how I view it...
The Bournemouth game just played is indicative of what I'm saying, we won 2-0 yet most of the reports and views focused on how badly we played and we were lucky not to have been beaten in the first half.
Through the many views that I read here on TW, I have become a bit cynical; my "glass half-full" has been replaced by the reality of a glass that's neither half-full nor empty.
However, like most, I still hunger for the glory days – or should I say 'dream'... coz that's all I can do. I hope for all Blues that things are moving forward in a positive direction.
Again only time will tell, but my time is running out... Tick-tock...
Now for one last word: keep up the great work on here, love reading this site..
Kevin Prytherch
17
Posted 18/01/2019 at 06:46:41
Brian 14 - I hate to dampen your spirits.
Simms is a long way off. He's scored for the U18s but is finding it a lot more difficult in U23s.
Sambou looked out of his depth against league 2 Oldham and, despite his size, was regularly pushed off the ball.
Hornby might be the only one out of those 3 at the moment; however, he's just come back from a long term injury.
I have hope for Simms and Hornby, but think this season is too soon.
Mike Gaynes
18
Posted 18/01/2019 at 07:13:02
Rick #15, haven't seen you post before, but welcome... and bravo.
Even when I get irate, I'm with ya wholeheartedly.
Rick Barnes
19
Posted 18/01/2019 at 07:27:03
Hi Mark... I understand where you're coming from, and you're undoubtedly right that the club we love has been mismanaged for years. For me, Koeman has a lot to answer for, and recently my lowest point supporting Everton was under the Allardyce Regime when, after a series of games without even registering a shot on target, I wondered why we all spent 90 minutes a week being perpetually disappointed.
But I really think you should give Everton another chance mate – you're still clearly passionate, and you want the best for our club. Nil Satis Nisi Optimum. You still harbour the dream, the dream we all still hold. I really think you should watch a game or two. Because we might be a little better than you might think.
I can't promise you scintillating, breathless football, I can't reassure you a trophy is on the horizon. I can't say the halcyon days of the sixties or eighties are nigh. You'll probably watch more defeats than victories.
But I do feel, that on our day – when everything clicks, when we play out of our skins – that on our day, when those stars align, we can beat anyone. We show glimpses of it, and one day we'll start winning more than we lose.
And when a game like the 4-0 over Man City happens again, and you lose your voice and you're swept up in the buzz and excitement, you'll cheer just as loud as the rest of us.
Rick Barnes
20
Posted 18/01/2019 at 07:39:09
Hi Mike, yeah I only ever post every now and then, but I've been around for quite a while... (If anything, I pop up on Sigurdsson threads, mostly coz I just can't get my head around what he contributes save for the occasional decent through ball and I'm hoping someone can show me what I'm missing!) 🙂
I love the range of opinions on ToffeeWeb and, even when I don't necessarily agree with something, I like to see how others see the game differently. I also like reading how you and Jamie Crowley see things from across the pond, it offers a different perspective.
(Although I have a hard time seeing things from Jim Hardin's point of view, I tried really hard to understand his defence of Tim Howard even when Tim's own mum must've conceded he'd started to lose his abilities... 😜)
Hugh Jenkins
21
Posted 18/01/2019 at 07:41:52
I don't think that at present the apparent restriction on transfers inward has anything to do with a reluctance or inability on the part of Mr Moshri to stump up more funds.
It does, of course, have everything to do with the FFP rules and, paranoid or not, you can be sure that if Everton transgress – we will be jumped on by an eager bureaucracy.
I think between now and May we will see Everton FC pull off another major "Sponsorship" coup that will provide us with a war chest for summer transfers.
This coup will be necessarily executed before Mr Usmanov joins the Everton board as chairman in place of Blue Bill; otherwise, fingers will obviously be pointed to say that he is putting his own money into the club – against the FFP rules.
Take heart, because I believe that Everton FC is no longer a rudderless ship being tossed and turned in the maelstrom of financial and administrative mismanagement.
Nowadays, there is a clear plan, but change cannot be fully effected overnight and, for obvious reasons, only the inner sanctum can have any inkling of what that plan is and how it is to be executed.
The above, of course, can be dismissed as pure speculation on my part. It is just my interpretation of the straws in the wind that I have seen over the past 12 months.
Adam Carey
22
Posted 18/01/2019 at 08:35:25
Are we really that small minded or just now have a board that is realistic? Spurs have just lost their star striker and not rushing to fill the place due to Daniel Levy's close money management. Arsenal have stated they can only afford loans this window. Both teams have the extra riches of Champions League money and still have to be careful.
Oumar has had barely any playing time this season so far, and I don't think he's even made the bench in the last few months. We are moving out (albeit temporarily) a squad player earning £200k a month to train 4-5 days a week. This is more clever money management.
I also think some of us forget that, although Marcel did manage to move out players in the Summer, many will be returning on high wages at the end of July. Until they can be moved out permanently, freeing up a wage budget and supplying some funds to spend, we have to play safe with cash flow. The AGM already stated we are spending a high proportion of income on wages.
This isn't small-club mentality, but proper management of a business that is planning to build a £500M stadium.
John Boswell
23
Posted 18/01/2019 at 08:37:36
Rick @ 15 thank you for the link to a wonderful clip of the young lad from Cork on his first visit to Goodison Park to watch the Toffees win.
It brought back memories of my first time with my father at the old lady back in the 1950s. I was about the same age and coming from the Isle of Man, population 60,000, a full house at Goodison was awe inspiring to me.
My father kept a good grip on me throughout the match and never lost hold of me throughout the heave and sway of so many people at various scoring opportunities during the game. Fans immediately around us were clearly aware that this was my first game and the friendly encouragement that I received and the care that they took to look after me and be sure not to trample over me will never be forgotten.
I have forgotten our opponents that day but I do remember that Everton pressed and attacked but could not break through the defence. To my surprise my father took me out of the ground with about 5 minutes left, to protect me from the mass exodus of so many fans at full time; looking back I understand better now that decision.
As we walked away from the ground we talked about the game and we could still hear the Oohs and Ahhs coming from the ground when suddenly there erupted a great roar of acclamation, cheers and clapping and I in my naivete turned anxiously to my father and said, "Dad, there has been a goal but we don't know who scored!"
My father smiled broadly as he looked down at me and said, "Yes we do, son, you don't get a cheer that loud for a goal by the visitors."
Everton won 1-0 with a very late goal, fully deserved... and I will be a Blue always. COYB.
Danny Baily
25
Posted 18/01/2019 at 08:46:33
I can sympathize with Mark's post.
We've had very few matches of real consequence over the last 24 years.
A lot of the time the performances are dire. If the matchday experience was affordable that would help but many people are priced out of matchdays.
Doesn't leave much to get enthused about. I hope we buck that trend this year and win the FA Cup against the odds.
Jim Bennings
26
Posted 18/01/2019 at 09:08:34
I can't see why we always seem so against short term fixes these days just to get us through to the summer. If ever a side looked lost on ideas and jaded it's us and it could do with an injection of fresh impetus.
Moyes was the master of canny signings (short-term and long-term). Why are there no signings out there anymore like a Donovan or McBride?
Some of our most telling signings over the years were made in January, it's just a shame that we need to drag out this season in a struggle and it looks like it will be a hard slog with the squad looking knackered.
Tony Abrahams
27
Posted 18/01/2019 at 09:11:05
I have to agree with that Jim, and I would have to say a signing is just a signing – whatever month it's made.
Brian Williams
28
Posted 18/01/2019 at 09:15:52
Or it could be, ignoring some of the over the top reactions, that Silva is just telling the truth and the management team have decided to be professional and sensible when it comes to spending, budgeting etc.
Isn't that what we all want(ed)?
Jim Harrison
29
Posted 18/01/2019 at 09:19:39
Pragmatic really.
If there was a standout candidate out there available then maybe there would be more flexibility, but there doesn't seem to be, so why splash cash to stay still?
That's what happened under Walsh. Players who were maybe 10% better than what we had were brought in (being generous). Only really siggy and Keane good enough and both overpriced
If we signed Harry Kane now, the best we could hope for would be 7th! So better to see if Marco can get results from what he has until the end of the season, that is unless buyers come knocking for some of our cast-offs!

Dave Abrahams
30
Posted 18/01/2019 at 09:24:56
Ric (15),
Thanks for the link, lovely to see such a happy delighted young boy enjoying his first game at Goodison Park. Now I know what I looked like, all those years ago, when I first saw a first-team game at the Old Lady.
Thanks again.
Rick Barnes
31
Posted 18/01/2019 at 09:46:01
Thanks, Dave, and thanks John for sharing your story. All Evertonians who have been lucky enough to go to the Old Lady would have their own unique Goodison memory, but I reckon a lot of our stories have little to do with the result and more a common thread of who we were with. Dads, cousins, sisters, mums, uncles, grandparents...
Funnily enough, my personal Goodison highlight isn't when I went as a kid, but strangely a cup game vs Leyton Orient in 2012. An utterly unremarkable fixture, but one that I took my dad to for his 70th Birthday. I surprised him by buying 17 tickets for my cousins, some friends, his friends... Sitting there, two rows of us all, together, and watching him talk about the game with an older cousin he used to take the game before I was even born was what Goodison means to me.
I'm looking forward to doing it again for his 80th, only this time in our impressive Bramley-Moore Dock stadium... 🙂
Tony Abrahams
32
Posted 18/01/2019 at 09:47:31
Got to thank you for taking me to my first game when I was 5, Dave, even though I always felt you should have taken me a lot earlier.
I honestly only noticed the crowd when I started going on a regular basis, because that first game was mesmerising because it was the first time I had ever seen people playing real football, and I was instantly addicted to the game.
I still think we will sign a forward, but only if both Niasse and Tosun, can be shifted away.
Brian Harrison
33
Posted 18/01/2019 at 09:49:45
I can understand why we won't sign anybody in January, there is the FFP to consider but I think what is really concerning the most is the players coming back off loan at the end of the season.
Should we not be able to offload most or all of them then our wage bill will increase dramatically. That will obviously determine how much we can add to the wage bill for next season, and therefore have an impact on summer signings.
Steve Hogan
34
Posted 18/01/2019 at 09:53:27
Danny Bailey (25),
I'm not sure I agree with your comments about most fans being 'priced out' of going the match these days. At Everton, we have some of the cheapest admission prices in the Premier League.
Paul (the Esk), of Everton Business Matters (free podcast) has done an awful lot of research into this, for instance, kids U-11 can buy season tickets for £95.00, whilst U-18s only pay £199.00.
Our average match day ticket price at Goodison, over a season, nets down to just £17.60 – this cover's all categories, season tickets, tickets bought on the day at full price etc.
Contrast that with the average price of £58.00 paid by our friends at Anfield, bolstered by the new corporate facilities obviously.
Ironically, this will change when we move to Bramley-Moore Dock, prices will simply have to increase, but for now, whatever other flak is thrown at the club, admission prices are very competitive (some will say too cheap).
Tony Abrahams
35
Posted 18/01/2019 at 09:58:33
Rick, if my memory is correct, they had to shut the gates and lock a couple of thousand out that day.
Check your ticket stub, if you still have one, because I'm sure they never printed seat numbers, and people could sit anywhere that day.
Anyway, we all know "proper Evertonians" (what's one of those?) just love the FA Cup, and because of a health &safety issue (people sitting anywhere), they could only let so many people into the ground, thus leaving loads of people locked out?
Maybe it wasn't Orient though? because I've just checked and that game was played in Jan 2002, when Gazza ran the show, for possibly the only time in an Everton shirt.
Rennie Smith
36
Posted 18/01/2019 at 10:08:58
I agree with Steve @34, we are still one of the cheapest clubs for tickets and season-tickets. My lad's (11-17) season ticket is £149, that's an absolute bargain these days.
I suppose what Danny @25 might mean is all the costs around it like travel, parking, food & drink etc – that's where it mounts up.
David Graves
37
Posted 18/01/2019 at 10:09:02
"Moyes the master of canny signings"? Do we really need to start a debate on his worst and best signings? Because let's face it there were some shockers that would certainly suggest he didn't always get it right.
In fact, if you are to consider his transfer dealings at Manchester United, Sunderland and West Ham, then the last word you'd want to use regards his transfer dealings is "canny". I don't understand why there is even a need to reference him.
Given the last transfers we've seen come into the club, I'm happy with the ability of the current management to make good signings.

Rick Barnes
38
Posted 18/01/2019 at 10:15:06
Hi Tony, yeah it was Orient, but my game was the League Cup, August 2012, the one in 2002 was the FA Cup. It was the weekend before my dad's birthday, we ended up winning 5-0 and I think it was Mirallas's debut, he scored in that game and looked pretty good...
I remember Naismith getting a lot of flak too, he could be so hot or cold, and this was one of his 'cold' games...
Daniel A Johnson
39
Posted 18/01/2019 at 10:47:42
In terms of signings Brands & Silva have brought in: Mina, Gomes, Richarlison, Zouma, Digne and Bernard. If you look at that collective quality, I don't think we've ever had a better window in terms of the calibre of player brought in.
Give Brands another two or three transfer windows and we could really see the quality of our players improve and play the kind of football SIlva wants to play.
Even Guardiola took a whole season and nearly £300M to sort out the already impressive Man City squad to meet his demands.
Jim Bennings
40
Posted 18/01/2019 at 11:44:48
Daniel,
I still think the summer of 2007 transfer window will take some beating.
Baines, Jagielka, Pienaar and Yakubu – that was a hell of an exciting window that.
Phil (Kelsall) Roberts
41
Posted 18/01/2019 at 12:03:19
Looking for a red card...
I think he has to rule out not wanting to buy a striker this window. It needs to be taken off the table. This not doing any deal is unacceptable and he needs to only have "buy a striker at any price" as the policy.
[Please DO NOT RESPOND to this red rag post – just smile and move on.]
Chris Corn
42
Posted 18/01/2019 at 12:17:31
This time last season the same things were being said about the desperate need for a striker. We then spent circa £50M on two international forwards who initially everyone said were good value.
Now, they want them written off and replaced regardless of cost and loss. And it's wondered why Moshiri is saying 'No...
Tony Abrahams
43
Posted 18/01/2019 at 12:43:53
What was the squad like when Moyes brought these players in, Jim?
He started by playing Jagielka in midfield and Jags looked awful because the ball has never been his strongest point.
Lescott, kept Baines out the team and I remember Pienaar's debut at Bolton, when he made a goal for Yakubu.
Out of Everton's starting eleven last week, five have been at the club since the summer, another three 18 months, Lookman 2 years, Gueye 2.5, with only Coleman, what you would call a proper experienced Everton player.
Not making excuses, and that's why I would be happy if we could just sign one more player, just as long as that player is a centre-forward.
Tony Abrahams
44
Posted 18/01/2019 at 12:50:26
That's the difference between those two cups, Rick, because sub-consciously I always remember any FA Cup game.
I love the FA Cup, but still think we need a proper centre-forward if we are going to win it this year though.

Martin Berry
45
Posted 18/01/2019 at 14:21:15
I will be very pleased in hopefully watching Oumar banging them in at Cardiff. I hope it all works out for him.
Also, I have a soft spot for Neil Warnock.
Steve Ferns
46
Posted 18/01/2019 at 14:39:30
My belief – meaning it's a guess based on what I have seen written elsewhere – is that Everton is NOT strapped for cash. The general them that we have been mismanaged is absolutely correct.
I would love it if someone had the time to work out the salaries of the unwanted players. Here I am talking Ashley Williams (£75k-£100k a week), Schneiderlin (on more), Sandro (£100k+), McCarthy (maybe not unwanted but ~£60k not used), etc.
This is the problem. We need to slash the wage bill, not because we are skint, but to prevent us ending up like Sunderland, Leeds, Aston Villa, and all those other clubs that had a rich owner who briefly reached for the stars only to crash under the burden of the wage bill when the owner gave up (although Leeds was a different story).
We also have to accept that Arsenal and Tottenham are the most recent examples of clubs moving grounds. West Ham do not count – they got gifted a ground for free and pay ridiculous rent – and this (executed properly) gives them an unfair advantage. City were similar to West Ham, but it was not such a gift.
Anyway, Arsenal and Tottenham were adversely affected by their ground moves. They were not able to spend whilst they moved grounds and for a while after they moved in. Look at Arsenal's turnover, we can only dream of that.
Spurs are not owned by Levy. He is an owner, but the main owner is Joe Lewis who is worth $5bn US. These clubs are richer than us, and so are their owners. Yet they could not spend as they moved grounds. Why do you think we should be able to? Surely it's financial prudence not to anyway.
I believe we are seeing Everton tighten it's belt, getting finances in order, and getting the new stadium sorted. If that means limited transfer outlay, that's fine. I see the bigger picture here and that's getting Everton into a healthier financial position to compete with the "Big 6" in ten years time, rather than now (which is impossible without the new stadium).
I still believe that Moshiri's comments about Everton having cash whilst he is around is true. If we can offload a lot of those massive unwanted wages, we will spend. We have to get the wage bill down, which means selling off the crap and then we can create room on the wage bill for new players.
Moshiri chased a dream thinking Koeman could put us into the top 4 in three years. He got his hands burnt. He's going to do it slowly now, with a young manager. His motivation is either the power and glory or financial. I believe it's the latter with a bit of the former. He intends to sell us for a profit after building a stadium and putting us into the Champions League.
Most of us are old enough to remember Chelsea and Man City being smaller clubs than us. I still think of them as so, but the neutrals will certainly not. Both now have massive turnovers and it's said Abramovich would actually make a profit if he sold now. So Moshiri must have this in mind.
We don't give up our ambition to be the best. We just must be more accepting of slow progression. That means buying better players than we have, not the best players. Trying to secure more points than last season, and to repeat this until we reach the top.
And I for one will not lose my optimism. If I haven't lost it over the last few months, then I never will. Everton should always be entertainment though. If it gets you down, then turn away for a bit, do something else; when you come back, things will be better and you might get your enjoyment back.
Steve Ferns
47
Posted 18/01/2019 at 14:56:30
Tony, I think the FA Cup is easier to win than the League Cup.
With the League Cup, no one takes it seriously initially. We all play our reserves. Then, by the start of winter, the big clubs are usually into the latter stages as their reserves are better than the rest of the Premier League's reserves, and better than the first teams of the Football League clubs. The big 6 clubs start to take it seriously by the quarter-final stage, as we can see at the moment.
Also, the Semi-Finals are two-legged. This means if you play one of the big 6, they usually stick the first team out in the home leg, whack you, and the reserves do enough in the away leg to go through. The winners have been the big 6 every year since 2004, except twice.
Now, the FA Cup is an inconvenience to the big 6. It starts in January. So they, like most of the Premier League field weakened sides. By the fifth round, the big 6 are seeing things get serious. They are fighting for the PL title or top 4. They are nearly always still in the latter stages of Europe. So they take the FA Cup as their lowest priority and they still field weakened sides. Meaning it's easier for them to be knocked out before they actually prioritise it.
Now look at the winners since the same period. Only 2 of them are non-Big 6. So what am I talking about, this proves the opposite right?
No. Chelsea won it last year. Why? They couldn't compete for top 4 and were out of Europe so they went for the FA Cup consolation prize. Two years ago, a similar story for Man Utd. Wigan beat an out-of-gas Man City a few years back. But it's been dominated by Arsenal. think about Arsenal. Arsene Wenger's declining Arsenal, always out of Europe by Spring (can't focus on the League Cup after then) and usually out of the top 4 race and with little to play for.
This year Man Utd are in the Arsenal role in 6th, but still in the CL and going like a train and so will harbour hopes of top 4 and have no priority for the FA Cup. Arsenal are in the Europa League and are very much in the race for 4th. The top 4 are all still in the Champions League and all in the top 4 and even title race.
Therefore, none of the big 6 will prioritise the FA Cup. They will rest players. Some are tumbling out already – like Liverpool. We do have a chance in this competition if we get a bit of luck.
Martin Mason
48
Posted 18/01/2019 at 15:30:45
Would Fellaini be a bad buy at £15M?
Steve Ferns
49
Posted 18/01/2019 at 15:43:00
Now Martin? Yes. He's old. He's not the same Fellaini we had. We don't play the same way.
Where would you play him? Deep? Or in Sigurdsson's position as Moyes did? Or as a Number 9?
He's crap deep. Moyes was right there. He's not fitting into a silva side in his old Moyes position. Nor would he do well in the false 9 role.
Also, he'd be after massive wages. He's a waste of money. Let him go to West Ham or Turkey.
Danny Broderick
50
Posted 18/01/2019 at 16:14:06
Fellaini would be a useful signing for someone – but not us. We don't need someone to take the place of Gomes or Sigurdsson. We are crying out for a striker.
People have mentioned that it looks like we won't be buying a striker. There's nothing stopping us from loaning a striker though. If we can get the likes of Schneiderlin, Tosun and Niasse off the wage bill, that will save us £250,000 a week! That will provide the money to pay for a loan fee and wages for a striker. There must be a talented striker somewhere in world football who has fallen down the pecking order at his club, who could do a job for us.
Over to Brands and Silva anyway. That is what they are paid good money for.
Tony Twist
51
Posted 18/01/2019 at 16:49:03
I hope it is all kidology and they are looking at getting a centre-forward in as we are seriously going backwards. When we had Lukaku, we needed strong competition for him which never materialised, he's gone a while ago now and never been really replaced.
In the past when we were struggling for money we got Yakubu in, where is the progress? Yes, it is a difficult task but that is why we have this set up with a Director of Football.
Simon Dalzell
52
Posted 18/01/2019 at 18:48:28
Totally agree Tony @51. I feel we must get a good forward in. Richarlison up top is just not working. We look so unbalanced, and even when we get a decent cross in, there is usually a big void, in and around the six yard box. He is also more effective wider. I also cant see us progressing far in the cup without reinforcements.
Mark Wilson
53
Posted 18/01/2019 at 19:22:16
I believe Marco May have said slightly too much at the presser. Essentially he has rather clearly told us that the club has zero funds to purchase players in the January window, regardless of need. Think about the impact of that. The so called dead wood will still be dead in June, except if it were possible they would be, you know, even more dead. Worth less, harder to shift, costing the same wages each month.
Into this scenario add the new season. Zouma, alongside Keane, the best of our centre backs, is just on loan. Chelsea will likely sell but not for less than £25m to £30m. Can we afford not to pay up if Zouma wants to stay ?
Gomes, on loan, likely to cost £30m to £35m despite that absurd buyout clause. He started so well, dropped off a lot in my view, may have been carrying an injury, seems to be steadily improving but still outs half his expansive passes to the opposition or out of play and frankly I'm just not sure he's brilliant sideways but less so in proper forward motion. I know, I know, at times he is brilliant, just worried he will cost a lot and need a fortune in wages. Should we pay it ?
So that's about £55m to £60m just to standstill. If we have no money to buy now, we aren't likely to have a lot in the summer are we ? The bloody obsession with loan repayment and the stadium costs, added to Mr Moshiri, Walsh and Koeman between them wasting about £100m for zero return, mean that we tend to spend the £120m Sky money and bugger all else. So this January announcement is far more serious and far more significant for me than arguments about vfm. Put simply we can buy the two key loan players but may only have resources to buy another one ie the quality striker we desperately, desperately, need. And frankly I suspect this is a generous assessment as I think we will have to try and bring in around £40m in sakes for any of even this limited ambition to happen.
We have been very poor this season. Even when we win, like we did last week, we were terrible for a third of the game and could easily have lost. If we can beat Southampton and get a few more wins against fellow poor performers we could sneak 7th. But honestly, where does that leave us except facing more of the same without a larger rebuild ?
It's wheel and deal time and I'd have sold Gana for £35m to £40m if offered. I'd play McCarthy or Baines in that role and risk it. Spend that money plus any scraps from loans or an unlikely Tosun sale on a striker and at least offer some momentum to win more games and see the club move forward into the summer on a much stronger footing than now in terms of the squad performance. It's hardly a revolution is it and still fits with the steafybas you go mantra and the going in the right direction mantra and a few others besides.
Who knows, we may yet be surprised on the 31st, I really hope so because all this "reasonable" approach stuff sounds, well, reasonable until you look at that bigger picture and the reality. We have to manage for four years like this until the new stadium arrives and wins us the CL with its massive capacity and ace iconic position. Sorry, I can't get past the fact that the new owner hasn't focused as he should have on the playing side and wasted millions we desperately needed. He's a nice chap, a decent chap I'm sure, but for someone so sure footed he's made huge mistakes in his judgement of people which given his years in the game is surprising.

Justin Doone
54
Posted 18/01/2019 at 19:31:28
Wink wink Marco, say no more..
We don't want to start advertising we have £x to buy a striker.
Well I can live in hope a little longer.
Paul Hewitt
55
Posted 18/01/2019 at 22:41:32
Keep your money in your pocket, Marco. Spend it in the summer.
Simon Dalzell
56
Posted 18/01/2019 at 23:05:57
I cannot even start to understand the "leave it 'til summer" argument. Too much to play for with the gaping void up front.
John Raftery
57
Posted 19/01/2019 at 08:01:36
Steve (47) Spot on.
At the General Meeting last week Brands made it clear his focus is on the summer. Unless one of his summer targets is available this month he will not be signing anyone. We are not in a relegation battle so there is little to be gained and potentially much money to be wasted bringing in stop gap signings. What we do have is an opportunity to give our younger players further experience and see how far they can progress.
Jerome Shields
58
Posted 19/01/2019 at 09:33:08
There is no money coming in on players sales to fund anything.
Niasse being loaned rather than sold speaks volumes.
Darren Alexander
59
Posted 19/01/2019 at 11:55:57
Whatever we all may think of Niasse, there is little point in loaning him out if there is no prospect of another forward coming in, as we hardly have lots of options when it comes to strikers. I'm also a bit surprised that Silva hasn't given him a few more chances, as he was able to get a tune out of him at Hull.
But if the "no money available" line is true, it's either because there's, er, no money (unlikely), or there is but, on the basis of this season so far, they just don't want to give it to you to spend.
Karen Mason
60
Posted 19/01/2019 at 12:16:14
"Fat Sam suited this small-time club..." is probably the worst and most derogatory sentence about our club that I have EVER read on Toffee web. Not even necessarily about us being a small club, but more that HE is suited to our club.
Words fail me or rather there are too many in my head which would absolutely blow that statement out of the water. Probably all of which have been posted on TW at some time during his sad temporary stay at our beloved club. So I won't waste my time writing on that subject, but Mark at 3, I would encourage you to get some help if you really believe that.
John at 11. Thank for your post. The hairs on the back of my neck still stand up EVERY time I stand in the Grand Old Lady and hear Zcars. I cannot rationalise it, and can't describe how passionate and inspired it makes me feel. EVERY TIME - even the during the dark days we have had at our club. Not even representing my country in my own sport, and standing to the National Anthem made me feel that emotion.
Steve at 46. Yes, as always, you look at the bigger picture. A work in progress does not mean we will be challenging for Champions league this or next season. As you rightly point out, Building secure foundations for our club and gradually improving the overall quality of the squad cannot be done in a season or two. Those who think Silva is failing because we are not currently in the top 6 are perhaps being a little impatient. I would much prefer M & M to spend money on a considered, planned purchase, rather than an impulse purchase, just because a striker has been floated onto the market. Proven, consistent strikers, as we all should recognise, are a rarity as the finished article. I would much prefer to stick to the plan that M & M seem, in my view, to have, to build success on solid foundations. I take the view that both financial prudence and buying players that have been scouted, watched and agreed upon, would be the certain way to achieve ongoing greatness, rather than go down the same root as some historically great clubs that are now floundering in lower divisions. I feel very optimistic about what is happening behind the scenes and although there have been games that have disappointed me recently, I did see, earlier in the season and some brief flashes even in recent games, of what even this current squad are capable of. I do believe we are moving in the right direction, albeit, not as rapidly as some fans think we should.
Brian Wilkinson
61
Posted 20/01/2019 at 18:43:30
If Silva buys a striker then this will disrupt his usual selections, he is already dismissing Calvert-Lewin to play Richarlison out of position.
If we land a striker, that puts Richarlison back on the wing, pushing Lookman on the right wing; we all know Silva likes to play Walcott on the right and Bernard on the left.
A striker is a conundrum for Silva. We can all see how much we need a striker, but I will be pleasantly surprised if we bring a striker in this window..
Jerome Shields
62
Posted 20/01/2019 at 23:29:46
Niasse went to Cardiff on loan. No money in; no money out.
Michael Kenrick
63
Posted 20/01/2019 at 23:42:10
Jerome, your intimate knowledge of Everton's inner workings seemingly knows no bounds.
So you are quite sure there was no loan fee? No agreement regarding even partial payment of his wages? Either of which would constitute some effective change of money in, money out regarding the impact of his loan on our financial condition.
Admittedly unlikely to be enough to swing a transfer in, but read more at Paul The Esk's very informative article on "financial considerations".
Gavin Johnson
64
Posted 21/01/2019 at 03:58:50
It's pretty standard to get a loan fee, partial or full wages covered, or both.
I don't see us bringing anyone in. Unless we sell Gana and buy Doucoure, but it's not realistic. I can't see Watford wanting to lose their best player mid-season.
We have a have a new striker in Henry Onyekuru arriving this summer. If we bring in a striker this window, it'll surely be a loan, but who's available? Michy Batshuayi?! But he seems to want to go back to France.
It's looking more like Silva will have to get a tune out of what we have. And, if we lose to Millwall next weekend, I wouldn't be surprised if he gets his cards.
If that happens, my choice for a replacement would be Leonardo Jardim. As well as winning the French league last season, he guided them to the Champions League semi-finals. He won't be out of work long and, with Monaco being Moshiri's local team, he'll know a lot about him.
Brian Wilkinson
66
Posted 21/01/2019 at 13:40:42
I would certainly put Hornby in the squad for the FA Cup game, give the lad experience and, if it's going well, throw the guy on.
Add Your Comments
In order to post a comment, you need to be logged in as a registered user of the site.
Or Sign up as a ToffeeWeb Member — it's free, takes just a few minutes and will allow you to post your comments on articles and Talking Points submissions across the site.