Silva: We didn't perform well
Saturday, 19 January, 2019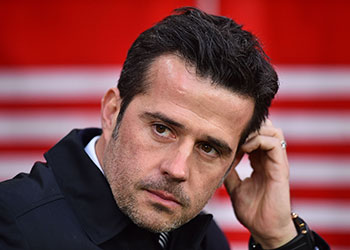 Glyn Kirk/Getty Images
Marco Silva was forced to concede that Southampton were full value for their win at St Mary's Stadium today and he expressed concern at the lack of chances his team is creating.
The Saints bounced back from their midweek defeat on penalties to Derby in the FA Cup with an energetic display that stifled Everton's ability to anything with the lion's share of possession before picking them off with two second-half goals.
James Ward-Prowse capitalised on a giveaway by André Gomes in midfield to drive forward and lash the opener past Jordan Pickford and Lucas Digne inadvertently doubled the home side's lead when he prodded the ball into his own net trying to deny Nathan Redmond a clear run on goal.
Gylfi Sigurdsson scored in stoppage time to ignite faint hope of a last-gasp equaliser but Southampton, who had hit the woodwork twice in the first half, held out for the victory that their display largely deserved.
"When you lose like we lost this afternoon, of course we are not happy," Silva said in the aftermath of what his team's sixth defeat in their last 10 Premier League fixtures. "We didn't perform well, to be honest with you and they deserved the three points.
"I already have my feedback to our players. When you are playing this type of team, they are giving everything to get out of that danger zone where they are, it's up to us to at least show the same perseverance that they are.
"In the first half they were better than us. We spoke during half time and we started the second half really different and better with two moments to score early.
"Then they scored a fantastic goal. We reacted but they they scored the second, a really lucky goal which put them [in a ] comfortable [position] in the match.
"Of course, we weren't in the same way but our players kept trying and when we scored it was really close to the end of the match and we didn't get any more chances to score a second.
"Of course, [the lack of chances we created] it's a concern for us. In the first half we didn't create at all. We started faster in the second half but that goal changed the game and it allowed them to play more on the counter-attack."
Silva was asked later about the possibility that he might be forced into the transfer market on the back of this latest setback but he reiterated his stance that there is no scope for incoming players this month.
That might chance should one of his existing players be sold but Silva told the press again what he said in his pre-match press conference on Thursday:
"I said two days in my pre-match press conference to stop the speculation … that the feedback from our board is that we don't have the conditions to go into the market.
"For us, [we have] enough. It's a moment for our players to keep their minds clear. We will stay with these players and this is the feedback I have from our board."
---
Reader Comments (126)
Note: the following content is not moderated or vetted by the site owners at the time of submission. Comments are the responsibility of the poster. Disclaimer
Jim Bennings
1
Posted 19/01/2019 at 20:36:09
"We didn't perform "
Just copy and paste from the last two months.
Justin Doone
2
Posted 19/01/2019 at 20:37:14
I can't blame the board. We need to sell several players on permanent deals.
Silva has some fantastic players at his disposal and he need to prove he's a good enough coach to improve results and performances with what he has.
Ric is a top player, play him deeper, get him on the ball more and he will create more chances or at least drag two or more players towards him creating space for others.
Secondly he needs to work on the defensive side of the game. We can't open our own defenders too wide whilst under pressure and being sloppy with the ball. It's far too easy to get in against our defenders.
Work to be done Silva, time to shine and show us your metal.
Jim Bennings
3
Posted 19/01/2019 at 20:49:11
Justin
Its no good having fantastic players (I don't think they are really that fantastic by the way) if they don't work hard.
How many heart on sleeve players do we have?
Who in our squad is capable of galvanising the team when it goes a goal behind?
Do we have enough players that know what it means to wear the famous blue shirt?
Do they really care or are they just happy to pick up the massive wages they are on?
Jay Harris
4
Posted 19/01/2019 at 20:50:51
Can't we have a post match interview in English instead of this gobbledygook.
I would love to know where these "moments" were because maybe instead of 39 seconds we could stretch them over 90 minutes.
Marco your team resembles you. Confused, lethargic and lacking motivation and direction.
Sort it out or get out.
John Audsley
5
Posted 19/01/2019 at 21:26:52
I just don't see this working.
The players and the coach are totally inconsistent and don't have any fight or heart.
Silva says the same thing every game and looks like a condemned man.
To put it simply the derby result killed the team and Silva hasn't been able to sort it out. It's shameful that a coach at this level hasn't been able to get the players performing again.
What the fuck is up with these people, draw a line and move on before the fans turn against you
We can forgive defeats but a lack of heart and inability to change things is not forgivable.
Jim Bennings
6
Posted 19/01/2019 at 21:28:12
Going back to the last week of October we have won 4 in 14.
That's basically a pretty shite return let's be honest.
We beat Bournemouth last week and arguably should have been out of that game by HT.
How many games outside of Burnley have we looked that convincing in?
It's a completely shit win ratio and unless we pull our finger out of our arse then with home matches against Wolves, Manchester City and United, Liverpool, Arsenal and Chelsea still to come, it's pretty frightening to think we could finish much lower than we currently are in 11th.
Paul Jeronovich
7
Posted 19/01/2019 at 21:30:42
Silva wanted consistency, not sure being consistently Shite meets the remit.
John Malone
8
Posted 19/01/2019 at 21:38:35
"We didn't perform well!"
"We started the game slow!"
Well sort it out Silva!!
My faith has well and truly gone in Marco the magic man Silva he is for me another fraud who can set a team up to attack which when they posess superior attacking quality is fine but when they don't he is stumped!
Pure and simple tactical naievity the game is up Marco 4-2-3-1 is what got Martinez and Koeman sacked find a solution that work's asap or go!

Pat Kelly
9
Posted 19/01/2019 at 21:39:47
Silva's moments are running out. He'll be lucky to make it to the end of the season. He can't make anything of what he's got and he's not getting any more.
Jim Bennings
10
Posted 19/01/2019 at 21:47:39
Question is, if we got rid of Silva who the hell is out there to replace him?
I can't get excited about managerial appointments anymore, I couldn't in the summer when Silva was signed on because we are now just another one of those clubs on a managerial merry go round.
When Moyes left, it felt like a new dawn and a new era on the horizon and backed up that feeling more after Martinez's first season of such optimism.
Ever since, though, it's become mundane watching managers come and go. Players that no longer have the heart or desire. I miss seeing players like Tim Cahill, Lee Carsley, Alan Stubbs, playing with heart and desire and being vocal on the pitch.
I see a lot of nice clean-cut lads in our team these days but, quite frankly, just a pretty bleak characterless bunch with little personality.
Habib Erkan Jr
11
Posted 19/01/2019 at 21:48:55
Surely Watford will drop the "tapping up" charge now?
Danny Baily
12
Posted 19/01/2019 at 21:59:03
We're stuck with Silva for the foreseeable. I doubt we can afford another expensive managerial change.
Tony Abrahams
13
Posted 19/01/2019 at 22:08:01
It's very hard to play well when your teammates are miles away from you during the game.
Everything has already been said, but I'm shocked at how naive we are right now. I don't think I saw 3 consecutive forward passes during the second half until the last five minutes and we were that bad up until then that I honestly thought for a minute that some of our players had had a big bet on Everton to lose 2-1.
Bobby Mallon
14
Posted 19/01/2019 at 22:13:29
We have boring non-committed players who only play for money.
Martin Berry
15
Posted 19/01/2019 at 22:32:44
Twelve months on from now with these comments from these results and Silva will be emptying his drawers.
However, every manager need time but what I cannot understand is with our squad we played Brighton, Bournemouth and now Southampton and on paper we should be burying these team but are seen second best. Yes, we beat Bournemouth but they were the better team. Why is this happening?
I cannot see any improvement whatsoever under the new Manager and no doubt Marcel Brands and Farhad Moshiri will see likewise.
I can't see us beating Millwall either in the cup if we play like this.

John Keating
16
Posted 19/01/2019 at 22:37:37
Bobby, I also think we have a boring non-committed manager. There's more life in a dead dog.
He'd get a job as a professional mourner and probably make a better job of it.
David Connor
17
Posted 19/01/2019 at 22:57:18
Loaning some of these arseholes out is no good to us as they will just be sent back to us. Just give em away and get rid permanently. We are a fucking joke of a club and have been for years. Hardly ever beat a top 4 team. And our derby record must be the worst in world sport.
Silva is sliding towards the exit door fast. Hopefully, him and Brands will come good. But I have my doubts.
Until we get rid of the garbage on our playing and coaching staff, we will never move forward. Too many men are taking the piss out of our club. And a lot of them are ex-Evertonians.
Colin Glassar
18
Posted 19/01/2019 at 23:01:59
Roberto Ronald Silva, take a bow sir! My copy of 'Football For Dummies' is in the post.
Chris Watts
19
Posted 19/01/2019 at 23:04:14
I was at the game today. Our fans faced merciless piss-taking all match. I still don't know how Pickford didn't save the 2nd goal – it seemed to be going so slowly.
Richarlison was non-existent. Gomes, as others commented, kept giving the ball away.
Such a strange game... I thought we were the better team in the first half and expected us to come out blazing in the 2nd. The only certainty was, as soon as we went 1-0 down, I knew we'd not come back. That is the story of this season; we're so fragile, there is no reaction to conceding – it's pitiful. The rest of the game was awful.
Hard to know how to rectify it... I'm losing faith in Marco, it just doesn't seem to be clicking and players seem to be getting worse. We're talking 30 weeks he's had with the squad now. Every day.
Replacements? Benitez is the obvious one.
John Raftery
20
Posted 19/01/2019 at 23:13:10
Chris (19) I thought we were terrible throughout the game. We were fortunate not to be three goals down by half-time.
Two efforts on target in the whole game was the sort of stat fans liked to quote when clamouring for Allardyce's head.
Liam Reilly
21
Posted 19/01/2019 at 23:14:16
Better team in the first half, Chris?
Sorry mate, we made a very poor side look like Brazil for 97 minutes!
Silva deserves a season but patience is running low with the football on display. What happened to the football played at Arsenal, Liverpool and Chelsea? They didn't win, but at least the played well.
Brian Patrick
22
Posted 19/01/2019 at 23:24:10
I didn't even bother to watch Everton today.
I was watching the Leicester vs Ulster in the rugby. Passion, commitment, honesty.
Brian Porter
23
Posted 19/01/2019 at 23:28:15
I'm fed up with hearing all this crap about not being able to buy unless we sell someone first. The more I hear it, the more it sounds as if we are skint and can't afford to buy a striker or anyone –even if it means we totally write off this season if we don't. Is this what Silva was head-hunted for?
With each new managerial appointment he makes, I find myself questioning Moshiri's knowledge of the game, and wonder just how he goes about selecting a manager... because he sure hasn't come up with much so far.
Jim Bennings
24
Posted 19/01/2019 at 23:32:33
Brian
Seems to me Moshiri is unhappy with what's happening but you could understand he's probably reluctant to fire yet another of his choice of managers.
Koeman was meant to be Moshiri's brainchild, his very own first baby and the beginning of the Moshiri era hence the backing and the amount of money to bring Koeman in.
It must have really hurt to have to sack Koeman after it went wrong, I myself was quite disappointed when it didn't work as I really thought Koeman was the tough guy needed to sort this club out.
Moshiri pursued Silva and was willing to pay Watford a huge compensation fee for his services.
I think he's tightening the purse strings because he might need to keep some cash for another payoff and also does he trust more money on the manager the way it's currently going?
Jim Bennings
25
Posted 19/01/2019 at 23:37:05
It's just a shame that, with all Moshiri's money, we still haven't signed a decent centre-forward. We need a miracle now to try and coax someone like a Callum Wilson here.
I'd rather stick with Premier League proven when it comes to strikers and that's going to take big money, but rather big money on proven quality than overseas failures that take too long to settle.
Chris Watts
26
Posted 19/01/2019 at 23:48:34
Yeh, okay, we were lucky not to concede in the first half. It seems others think we were 2nd best through the whole match. Maybe I just expected us to still win right up until they scored.
Interested to see the highlights now.
Dave Williams
27
Posted 19/01/2019 at 23:57:12
Millwall next week is crucial now – lose that and Silva might well be gone. The atmosphere will be very hostile and they will come out to intimidate, bully and get the crowd on their side. We need men who won't buckle and I don't see many of them in our ranks.
I don't understand the persistence in Richarlison at centre-forward and why he doesn't give Baines a try in the old Andy Hinchcliffe position is beyond me because Leighton can actually pass the ball accurately.
Central midfield is a huge problem as Sigurdsson, Gueye, Gomes and Bernard rarely pass to our own players and this is the main issue- decent footballers who can't achieve the most fundamental skill of control the ball and pass it on to your own player.
I wanted Arteta to get the job and Silva has never really convinced me that I was wrong. He does not seem like an inspirational character but boy he sure needs to find some inspiration now or he will be out of a job. With the potential outlay on a new stadium Farhad can't afford to have the team in the lower part of the league and it will be cheaper to change than deteriorate.
We need fight, energy, physicality, desire and ability to do the basics – at the moment we have none of these and they are surely the basic requirement of any manager. Solskjaer has worked wonders at Old Trafford with the same players as Jose had – I wonder if we could do the same if this goes wrong next week?
Geoff Lambert
28
Posted 19/01/2019 at 23:57:13
Jim 25, You mention "someone like a Callum Wilson"...
Then you say "proven Premier League striker". He has scored 5, 6 and 8 in his last 3 Premier League seasons. That would be a total waste of £50 million.... Imho.
Neil Copeland
29
Posted 19/01/2019 at 00:03:25
Chris, I went to the game also. I wouldn't bother with the highlights, mate – there weren't any.
Jim Bennings
30
Posted 20/01/2019 at 00:07:48
Geoff,
The lad's had bad injuries.
He's scored 10 this season and is looking like a real player.
We ain't getting Kane are we?
Jerome Shields
31
Posted 19/01/2019 at 00:10:42
The reason the team didn't perform, Marco, is that you had no tactics and poorly selected players who were badly coached. Your substitutions made things worse.
As soon as the team was selected, the result was inevitable.
Mike Connolly
32
Posted 20/01/2019 at 00:26:09
No good asking "Who will we get if Silva is sacked?" The team will play the same as we have for the last three managers.
We are rotten to the core. We could get Klopp, Pep and Pochettino in and still end up playing the same way. With this set-up, if we got Kane, we would manage to turn him into Tosun.
As you can tell, I'm really pissed of with them. Hope someone disagrees with me, then I'll have hope. At the moment, I'm rock bottom.
Geoff Lambert
33
Posted 20/01/2019 at 00:26:55
Jim,
That's because Kane is a proven Premier League striker.
I see your point but which of the top six teams have bought a proven Premier League striker to improve their squad?
Peter Barry
35
Posted 20/01/2019 at 00:45:18
Relegation form for Everton.
Eddie Dunn
36
Posted 20/01/2019 at 00:55:49
The players failed to pass accurately so chances were not created and possession was given away. Silva can't do it for them, but is he the reason why they are making so many errors?
Anthony Murphy
37
Posted 20/01/2019 at 00:56:28
I can't see Silva going anywhere in the foreseeable... however, if we continue to slide, the pressure will mount and I'm just not convinced that he has the complete backing of Brands. If he was to go sometime soon – however unlikely – I would put a few quid on Cocu.
Don Alexander
38
Posted 20/01/2019 at 01:29:29
If Silva wasn't the choice of Brands then Moshiri is a total arsehole. If Silva was the choice of Brands, I think we have to step back from "sack the manager" chants, write the season off in terms of any kind of achievement and worry like fuck about how to get rid of so much dross still employed at Finch Farm, on and especially off the field of play, before we ever have a hope in hell of looking even slightly competitive as a team.
Peter Gorman
39
Posted 20/01/2019 at 01:39:34
Anthony, that's interesting – I wanted Cocu before we got a Koeman but haven't been following him of late. The Brands factor could make for a far better set up for Cocu at Everton but who really knows, he could be just another shite mercenary that sees Moshiri has more money than sense.
In any case, it is still premature to be writing off Silva, though patience is rapidly wearing thin. Something is clearly rotten but we should all know that the poor sod inherited a complete shambles which may take years to rectify. I'm in no doubt the current bunch just aren't up to it so I'm hoping for many changes in time.
Bill Watson
40
Posted 20/01/2019 at 01:53:25
Another shockingly awful display with no cohesion, no penetration, no control in midfield and when we do have the ball constantly giving it away.
Surely Silva must realise, by now, that Richarlison is not a centre-forward. He failed to win anything in the air and his poor first touch meant he lost most of what came on the ground. The other glaring weakness is at right-back where Seamus is being targeted yet he keeps on being selected.
I'm rapidly becoming disillusioned with Silva's poor team selections, tactics and being unable to change things on the pitch.
We got what we deserved which was nothing!

Derek Knox
41
Posted 20/01/2019 at 02:06:53
Peter @ 39, I know Silva 'inherited' a bit of a shambles, but I fail to see that, with the addition of some good players, who have suddenly appeared to be playing with no game plan or confidence, how the 'wagging fingers' can be directed anywhere, but at Silva himself.
He continues to play the same formation, with basically the same personnel, expecting to achieve a different result, the fans can see it, week-in & week-out and it seems the only ones who are surprised that the mess we are in, are Silva and the Board.
I think the elevation to Board level in Brands has more to it than meets the eye, I myself, believe that Moshiri believes he has either goofed himself, or been hoodwinked by others in the choices of Manager for Everton, starting with Koeman.
I think Brands is there because he is a Footballing man, not a businessman who knows little about football, and it would not surprise me if we parted company with Silva before too long. Only this time, I believe they would get Brands to 'persuade' Silva to tender his resignation, as his position being regarded as untenable.
While it may be considered by many to achieve little by dispensing of his services, surely we cannot carry on with such dire performances, losing points and credibility, and becoming a laughing stock into the bargain.

Darryl Ritchie
42
Posted 20/01/2019 at 02:58:34
My momma used to say, "If you can't say anything good, don't say anything at all." So I guess that means I can't comment on anything, or anybody, that had anything to do with that performance.
I've been very quiet for quite a while now, and I hate it.
Henry Lloyd
43
Posted 20/01/2019 at 03:01:47
Everybody knows what I have said repeatedly (and I must apologise to the people that were offended by my comments a few days ago as I was stopped from posting).
Sorry to anybody that was offended or annoyed by my constant talk of sacking the manager.
I must ask a very serious question though.
How much more time with performances like that at Southampton does Silva have?
The players have a lot to answer for, quite obviously, but it is very clear in my eyes that Silva is not a very good coach. The Players do not seem to be playing for him.
Jay Harris
44
Posted 20/01/2019 at 04:00:22
With the supporters all saying the players are shite and posting tweets every week to say so and a manager that keeps saying we played poorly and we will review it at Finch Farm essentially meaning he thinks the player are shite too.
Is it any wonder then that the players play shite.
Mourhino was telling anyone who would listen that he needed a load of new players and Pogba was shite. So Mourhino is fired and they bring in an inexperienced manager who knows what motivated players play like and, hey presto, they win 7 games on the trot and Pogba starts playing like a worldbeater again..
I would give Silva until the end of the season but be planning for his replacement now and I hope that is at the top of Brands to do list because he can't even motivate himself – never mind the players on the park.
Brian Porter
45
Posted 20/01/2019 at 06:47:43
I second that Jay #44. Nothing we've seen so far gives me any belief that Silva knows what he's doing, let alone that he's the man to lead us to better things in the Premier League. Yet another charlatan specifically head-hunted by our rather less than football knowledgeable majority shareholder, who I think should sack his advisors and find some who know a thing or two about football management.
Jim Bennings
46
Posted 20/01/2019 at 08:24:44
Geoff
It's not only just about the goals a striker scores.
We have nobody that can play the striker role and do the basics of being a physically strong nuisance factor, play with their back to goal and let defenders know they have been in a bloody hard game.
Richarlison can't do it.
Tosun hasn't the strength nor mobility to do it.
DCL is better as a sub and hasn't yet the physical strength to play the role effectively enough.
Tony Everan
47
Posted 20/01/2019 at 08:26:43
I still have faith in him and want to give him more time, at least until the end of the season . Between now and then is massive for him, I want to see us moving in the right direction again, any more of yesterday's dross and he will be gone . Who could argue?
What concerns me more is his body language and demeanour . He looks like the weight of the world is on his shoulders and the job is too big for him to handle. He seems like he is not in control of events and is crisis managing rather than having an effective plan.
I want to believe he can prove himself, I think he can, but he needs to get a grip because Everton supporters expect a lot better.
Sam Hoare
48
Posted 20/01/2019 at 08:32:37
The way Silva wants to play is attractive but requires a basic level of confidence and accuracy that we are missing. Those are very hard things to coach, I reckon.
Will he adapt? I'm not sure. If it were me I'd be asking the team to get a little more compact and a little more direct. Get some more energy and pace in the lineup:
Pickford
Kenny Keane Zouma Digne
Davies Gueye
Lookman Bernard Richarlison
Calvert-Lewin
You could play Sigurdsson instead of Davies but I'd like to give the Iceman a rest. He's not been great... though nor has anyone.
Duncan McDine
49
Posted 20/01/2019 at 08:38:18
We can't go sacking managers every 5 minutes. Z
I was at the game yesterday, and we were poor, very poor. However, we have been even worse for longer periods under the watchful eye of Martinez, Koeman and Allardyce (not to mention Unsworth's short stint).
There were several things that I feel Silva got wrong, but that doesn't mean we would have won had he done what I wanted! Several important players through the spine of the team are in really bad form... this is the main reason for what's currently happening (or not happening) on the pitch.
We can and will improve.
Paul Setter
50
Posted 20/01/2019 at 08:45:52
I see several comments about how he inherited a shambles and, yes, to a point, he did... but Silva regularly starts with five of his signings —yesterday included.
He wheels out the same tactics each week. Opposition managers just need to watch last week's game and their team talk is sorted in 10 mins. So predictable... so laboured.
I'm not overly confident of beating Millwall next week due to our record against lower-league opponents over the years. Leeds, Brentford, Norwich to name a few.
For me, his record since October is a mirror of his stay at Watford — and his time is up! He simply hasn't got any different tactics.
Simon Harris
51
Posted 20/01/2019 at 08:51:36
The sad thing is that I can't be arsed getting wound up anymore and my mood is akin to a Goodison Park matchday atmosphere right now.
We'll stick with Silva and maybe, just maybe, he'll come good – though I'm not seeing any signs to at least cling onto, so it'll probably just be peter out to the inevitable and the Red Shite will win the Premier League.
Apathy has truly set in.
Stephen Davies
52
Posted 20/01/2019 at 08:52:15
Sam #48.
I think that's more or less spot on. Silva likes to play 4-3-3... a high line, high tempo... but we don't really have the players to play that way and he compromises 4-2-3-1 which again doesn't suit these players.
The defence is too often exposed and gives Gana and Gomes too much to cover in midfield and the forward line don't get enough of the ball.
Something needs to be sorted which suits the players we have now; Silva & Brands need to get their heads together pronto.
Mark Murphy
53
Posted 20/01/2019 at 09:08:38
Stephen, if that was high tempo today I'd hate to see us slow it down!
The ball went backwards more than forwards and the bloke behind me was predicting "it would be at Pickford feet in a minute" and was invariably right.
We had a free kick in their half at one stage and passed it back to Digne who passed it back to the centre half and we ended up in exactly the same position the free kick was given with absolutely no advantage gained.
We are pedestrian and predictable and I'm losing belief in players that I thought were good. Silva may not be cutting it, I don't disagree, but pro players should be able to pass a ball to a teammate without being coached from the touch line.
Gomes absolutely stunk – he was like an 11-year-old who, once he got the ball, just kicked it.
Apart from Digne, Gana and maybe Pickford, I'd change the whole lot of them!
Brian Wilkinson
54
Posted 20/01/2019 at 09:23:59
It will be a scrap next week on the field; take Gomes out of the firing line and put McCarthy there for at least 60 mins of the game, to add a bit of fight.
Chances are he will rotate anyway; if fit, I would stick Jagielka in defence: no-nonsense, no fancy stuff... but does his job defending and throwing himself at the ball instead of backing off.
If we don't get a striker in before next week, then it has to be either Calvert-Lewin there, or a risk trying Walcott as a striker instead of out wide.
We have to try something different. Other teams know how we are going to set up and play, so predictable; mix it up a bit and see what happens.
Charles McCann
56
Posted 20/01/2019 at 09:45:14
Serious questions need to be asked to Silva. Are the players not following his instruction regarding tactics? Or has he changed tactics altogether from earlier in the season? I was optimistic when Silva took over because I thought we had a young progressive manager who liked to play good attractive football but what we are now getting is far from it. Yesterday time after time the ball was played back to Pickford to hoof it in the general direction of Richarlison. This long ball football which basically bypasses the midfield didn't work yesterday and has never really worked so why are we doing this? The Liverpool game definitely has been a turning point. Gradually our style of football and tactics is getting worse and there is nothing to suggest Silva is going to sort this out. Even Digne has resorted to long throws into the box at every opportunity. Why have we given up on trying to play football?what was served up yesterday was like tactics employed by the likes of Allardyce, Moyes, Pulis etc This is not the direction we should be heading.
Derek Taylor
57
Posted 20/01/2019 at 10:12:54
The question of the week.
Will defeat by Millwall see Silva fired ?
Stephen Davies
58
Posted 20/01/2019 at 10:21:10
Mark #53
Sorry I meant to add..if he had the right players that would be his preferred system..but we don't and hes compromised, usually playing 4 2 3 1 which leaves midfield exposed and if the full backs push forward this leaves the defence exposed.
We could splash out a fortune on a forward but he would look average if nothing is being created.
A suitable system needs to sorted for the players weve got now and quickly.

Jimmy Hogan
59
Posted 20/01/2019 at 10:27:20
Colin #18, I remember on another thread you saying that we would have to wait until November 2018 for Silva's team to fully click. What none of us suspected is that the team would peak in November 2018 and it would be all downhill from there.
Andy Meighan
60
Posted 20/01/2019 at 10:41:24
Jim Bennings,
You make some great points and I always mainly agree with you as you tell it like it is. But buying a striker, whether it is Wilson or whoever, will not cure our ills. If we had a bottomless pit of money, no striker in world football could do anything with the miserable service they would receive.
No, the blame for this dire run of form lies solely at Silva's feet. 'Unwilling to change' is one phrase that springs to mind – his whole body language and demeanour screams 'miserable' – has the man ever actually smiled? Like Koeman and Martinez before him, your teams reflect your manager in some respects and ours are downright miserable.
I'm a great believer in giving managers time but, at this moment in time, I'm finding it hard to see where the 10 points are coming from for so-called safety. We are shit away and the home fixtures are scary.
Can anyone see us getting even a point against Liverpool, Man City, Chelsea, Arsenal, Man Utd and even Wolves? No, I thought not... Scary indeed.
Steve Sweeney
61
Posted 20/01/2019 at 10:48:33
Why do our two centre-backs take the same position outside the 18-yard box for every goal kick?
Also, why pay big money for Mina and then not play him?
Southampton just cut through us like butter and the reason is there for all to see: our central defence has no pace and they are being caught out, week after week.
Our defence is even worse now than when Roberto was in charge... jeez, even at the end of his Goodison career, Distin was quicker.

Gary Willock
63
Posted 20/01/2019 at 10:59:05
The 4-2-3-1 with these players is often more like a 4-2-4, which makes it VERY simple to overun us in midfield. This is where the game is controlled. He simply has to change it, and we need to get solid quickly. I'd think about 4-3-2-1 and making sure that 2 of those 3 are grafters and can cover the fullbacks properly too.
Pickford
Kenny Keane Mina Digne
Gana Siggurdsson Davies
Lookman Bernard
DCL
Gomes, Richarlison and Theo need to fight their way back in.
Stephen Brown
65
Posted 20/01/2019 at 11:03:22
We've been on a really bad run of form so my question is why have there been hardly any changes?
A player out of form should be dropped! Otherwise what's the point in a squad!? Play well and keep your place !
Mark Murphy
66
Posted 20/01/2019 at 11:03:32
Stephen (or should I say Maximus?? 😉)
Sorry – I do get your point on second reading.
Personally, as I've said on another thread, I think it's a strong captain and leader in the middle of the pitch that we need. We're too soft by a mile!
We need to scour the leagues for a nasty bastard captain who'll give the team stick and confront the refs who seem to take us for a bunch of awfully nice chaps who they can whistle up with impunity!
Andrew Clare
68
Posted 20/01/2019 at 11:29:16
Over the years we have played these teams like Southampton, who we consider inferior, and lost. We look at their players and conclude that not one of them would get into our team. These teams always seem to have a 'star' or tricky player who is no great shakes, according to us, who causes havoc in our defence.
I know we have to be patient but I would like to see more encouraging signs in our play. We really are going through a barren time.
So many of our players are 'flawed', they are brilliant at one thing but awful at another.
Pickford – great shot-stopper; crosses – average; decision-making – dreadful.
Coleman – not the same player now.
Keane – playing well.
Zouma – playing well.
Digne – playing well.
Gueye – excellent... but poor distribution.
Gomes – class; lack of pre-season taking its toll.
Lookman – needs game time.
Bernard – class; fades later in game.
Sigurdsson – inconsistent.
Richarlison – totally lost and out of position.
None of them looks very well motivated. That's my general view.
George Mc Kane
69
Posted 20/01/2019 at 11:32:29
"The Love You Take Is Equal To The Love You Make".
This is a (Footballing - - not referring to off the field activities) Club that has no Love - - we are defunct of passion, of belief, of ethos, of initiative, drive, of (a) style, a plan, a temper, a will, a philosophy.
I have run my own Organisation/Charity - - that I Founded - - based on my beliefs, my passions and ethos - - in my opinion Organisations are a reflection of their Owners/Founders/ Managers ideals.
We have none.
Who to blame? Well I am not sure who we can blame as in my opinion we are as a whole a rudderless ship floating into oblivion.
We need someone - - to take a giant leap and grab this Club by the scruff of its desperate scrawny neck, give it an incredible shake and then impose a belief system, an idea(l) of what we are all working towards - - step by step.
Do we have anyone with enough wisdom, foresight, common sense and strength - - will power - - within our Current Employees/Owners - - I think not - - maybe Brands - - Moshiri needs to wake up from his apathy if he really means to "steer" Everton form a Museum Piece to a real positive future.
First thing to do is get rid of the Museum pieces and have a look at some clear space.
Steve Ferns
70
Posted 20/01/2019 at 11:58:46
The team is underperforming. No doubt about that. The performances have gone off a cliff since the derby, and any excuses you could have made for a blip after that game wore out long ago.
Sure, we're only 3 points off 7th and this season is not a complete write-off. We're also well clear of any relegation danger. So, the manager ain't getting sacked. I don't think we've ever sacked someone after only 6 months. I think the quickest was Walker who had what, 2 half seasons? And he went because we were bottom. We're not breaking that record for a guy in 11th and still new to the job.
In the summer, most of you would have agreed that Maurizo Sarri was one of the best coaches in the world. He was certainly the very best money could get you this summer as the only coaches you could argue are better are well entrenched in jobs already.
Sarri is under fierce criticism right now. He's playing Hazard up top and it's not working. Sounds like us with Richarlison. His midfield linchpin, Jorginho, won plaudits with his first few games, but the Chelsea fans want him dropped and Kante there. Remind you of Gomes and Gueye? There is much criticism of "Sarri ball" and the way he sets up the side, like us criticising Silva.
If we changed him right now, how many would suggest 007 himself, Marcelo Bielsa? I love that guy, and have always followed his career with interest. 14 months ago, he was sacked with 2011 champions Lille bottom of the league. He couldn't play the only just appointed card as he came in during March and the team struggles continued and got far worse into the new season. He also underachieved at Marseille after initially having had them top at Christmas in his first season, only to do the old Bielsa cliche and run out of steam. The second season never got going.
Listen to Sarri with his post-match comments. Not the best thing in public, but you can imagine silva saying the exact same things to brands. Bielsa also came out with cutting comments on his players at Lille.
The way the team is playing now reminds me of the way we played at the end under Koeman. The only difference is the players haven't given up. They're still running and trying to make things happen.
The style though is the same as we saw under Koeman and under Martinez at the end and under Unsworth. It's a style of players without confidence. Silva's pre-match comments about intensity tell you what he wanted to see. We never saw it. The team is not playing to plan.
Silva will get to the end of the season. Unless he continues this dreadful form, he will still be in charge at the start of the season too. Moshiri has his man, he's not sacking him with little danger to our Premier League status. Brands has a track record of supporting his manager and so he will give him time.
Silva is a hard worker and if he fails to turn this around it will not be through a lack of effort. He's not knocking off at 4 pm to play golf or going on a weekend break on deadline day because Giroud's wife doesn't fancy Liverpool and he is in a strop.
Brian Harrison
71
Posted 20/01/2019 at 12:25:52
Steve,
I agree with a lot you have said but wasn't Allardyce only here 6 months?
Marcus Taylor
72
Posted 20/01/2019 at 12:29:01
Steve #70
"I don't [think] we've ever sacked someone after only 6 months."
You obviously have a very short memory.
BBC Headline: "Sam Allardyce: Everton manager sacked after six months in charge"
https://www.bbc.co.uk/sport/football/44136661

And as for: "In the summer, most of you would have agreed that Maurizo Sarri (sic) was one of the best coaches in the world."
Nope. 20+ years in management and he's never won a major trophy. He won Serie A Coach of the Year in 2016. He's basically the Italian Moyes.
https://www.transfermarkt.com/maurizio-sarri/erfolge/trainer/10073
Mike Gwyer
73
Posted 20/01/2019 at 12:32:29
For me, two things:
Firstly, it's a given, I mean a total certainty, that Brands would off-load all the deadwood tomorrow, but he needs some club to come in and buy them. Well, that's not happening, so we are stuck with these players till their contracts end or a club, in desperation, takes the player on loan or offers us silly money. We have a list a mile long of players who are totally fucking shite and for Brands, it must be embarrassing trying to sell them.
Secondly, we need a striker, big time. What Silva is doing to get around this fact is turning into "Groundhog Day" and it would seem the players are starting to think the same.
However, Silva is paid top dollar to get 11 players onto the pitch and perform; well that's not happening, no-fucking-where near an acceptable level for Everton. Silva needs to have a word with ALL of these players about their performances for this great club.
Steve Ferns
74
Posted 20/01/2019 at 12:40:45
Painful memories made me block out Big Sam!
Ian Bennett
75
Posted 20/01/2019 at 12:49:18
I didn't go the game yesterday. But, away from home, surely you need to play with the centre-halves closer together, with Gueye cleaning up in front of them.
Both goals came from sloppy passing in midfield from Sigurdsson and Gomes that has been going on for weeks now. This left a huge gap between Zouma and Keane.
Defensively we are all over the place, yet create little up top and our possession play is hopeless. So what's the bloody tactic?
George Cumiskey
76
Posted 20/01/2019 at 12:57:42
Steve Ferns, we all know that you were the biggest advocate for Silva getting the job, but even you must be scratching your head thinking: What's going on?
Silva probably is working very hard, but whatever he's working hard at is not translating on to the pitch.
The same team selection, the same tactics, the same subs, week-in & week-out, playing out from the back when the players are not good enough on the ball to do that, 25 passes in our half before we cross the halfway line, midfield too slow on the ball.
I think he'd better find a solution fast before we are dragged into a relegation scrap, and to keep his job.
Marcus Taylor
77
Posted 20/01/2019 at 13:12:36
Steve #74
Fair enough, Steve. It was an instantly forgettable six months.
Lee Whitehead
78
Posted 20/01/2019 at 13:23:26
Couple of things guys!!!
1) Does anyone else think Marco Is starting to sound like "Bobby"?
2) The "Special One" anyone?
NSNO
Brian Wilkinson
79
Posted 20/01/2019 at 13:29:47
Teams do not need to do their homework on Everton.
Every week we set up the same way, if we go a goal down the same subs come on.
At the moment, we are in no hurry to sign a striker, we would sooner play Richarlison out of position instead of playing Calvert-Lewin there – reason being it then disrupts Silva's line of thinking, Richarlison moving back to the left then moves Lookman over to the right, does that then he has to leave Walcott out.
He will not try Gomes further upfield or even Bernard as a number 10 because that then hampers his Sigurdsson set up.
I am not using players in any way as scapegoats, but I do think we need to try something different.
One final note, get rid of the zonal marking.
Dave Lynch
80
Posted 20/01/2019 at 13:29:52
The word "phenomenal" has been replace with the word "moments".
Same shit different soundbite and manager.
Sam Hoare
81
Posted 20/01/2019 at 13:33:52
Steve @70, good post, agree with most of that. Silva will get the chance to get the players out of this torpor. The fact they have been playing this way for several weeks now though is a worrying sign.
Dave Lynch
82
Posted 20/01/2019 at 13:34:45
A good mate of mine who is a Lions fan is convinced they are going to batter us. You know what... I can't disagree with him.
Turn in that performance and it's Goodnite Irene.
Be careful if you're going, by the way, lads – the Millwall idiots are looking forward to this one.
Brian Wilkinson
83
Posted 20/01/2019 at 13:41:07
Now, if I had my way, next week in the cup, and players I select are fit, then I would go with the following 11:
Pickford, Baines, Jagielka, Keane, Kenny, Gueye, McCarthy, Lookman, Bernard (as a Number 10), Richarlison, Calvert-Lewin.
Subs: Stekelenburg, Davies, Gomes, Sigurdsson, Walcott, Zouma, and promote Hornby to the bench.

Brian Wilkinson
84
Posted 20/01/2019 at 13:42:56
That may be the case, Dave @82, but how does he think his team is going to do against us? :-)
Raymond Fox
85
Posted 20/01/2019 at 14:01:54
We need to get away from shouting for the manager's head every season.
I see Sarri was going nuts about his players not being motivated, Mourinho was also scathing about some of his players being prima donnas. Even Alex Ferguson was saying times have changed with regards to how you deal with players.
These guys don't live in the real world, they're pampered from being schoolboys, the better ones are paid ridiculous amounts of money each week – it's little wonder they don't give a monkey's. Their set up for life after a season or two.
Also, we need to get away from this "We must play attractive football as well as winning while also at the same time challenging for the top six. Of course, it would be very nice if we could do it consistently, the problem is we don't attract top six quality players do we?
We need to win games any way we can, I don't care how it's done.
If we could have persuaded Benitez to come instead of Silva, we would have had a better idea where our problems lie; my feelings are that its 80% down to the players.
Neil Copeland
86
Posted 20/01/2019 at 14:03:52
I think the game against Millwall presents Silva with a massive opportunity to start turning things around.
Based upon recent performances, he can at least make a number of changes without getting slated (assuming the changes make sense and he puts out a balanced team). I would give Richarlison a rest for this one as he is likely to get kicked from pillar to post and we don't want to risk him being sent off.
A decent cup run would really raise morale in the team and amongst the support. Silva has his work cut out this week but the one thing above all else is, he has to get some passion and intensity into our game – the rest will follow.
The team I would go with is:
Pickford
Kenny, Mina, Zouma, Baines (capt)
Sigurdsson, Gana, Davies, Bernard
Lookman, Calvert-Lewin
Subs: Stekelenburg, Coleman, Keane, Gomes, Richarlison, McCarthy
I agree that Silva needs more time but a loss on Saturday will put huge pressure on. He must get the message across to the players that this is a huge game for all at EFC.
Sean Patton
87
Posted 20/01/2019 at 14:14:28
Millwall won't batter anyone, well, not on the pitch anyway!
The bad form of the team has coincided with Gomes turning from a dynamic positive midfielder constantly looking forward to a side-to-side merchant who is no better than what we had before.
What I can't understand about Silva is why he stopped the 3 at the back because that was the best we played against Burnley and it was worth persevering with.
John Pierce
88
Posted 20/01/2019 at 14:20:15
Is changing a manager after six months a good idea, probably not. Yet we need a coach who can cope with the twin expectations: good front foot football, and finish comfortably the best of the rest. That for me is how I view Everton at the moment.
Much less talented Everton teams have finished higher playing worse football under poorer managers.
Is Silva that man? At the moment he's struggling to achieve either. "Patience" you say, I agree with the sentiment but to give the man time he needs to earn it and maintain that credit.
The credit he gained in Oct/Nov has long since waned.
You don't blithely give him two or thee windows or an random time span to get it right, in *insert managers name* we trust bollocks. No project or undertaking ever stood a chance of success by giving a manager no definitive timetable to improve or targets to achieve.
Silva needs to check himself and if he wants further windows to reshape the side he has to demonstrate he can handle the players he currently has, prove he can stop a team from coming off the rails.
At the moment he is making the same errors as at his previous clubs in England, of streaky form followed by winless runs. His defensive issues in England are well documented.
Everton are easy to play against, and can't do the two basics: score and keep teams out. Silva hints at his players not executing his instructions. Now either they won't or can't. Either way, he shows little appetite for changing his approach to necessitate a change, even short term to get things back towards an even keel.
Touted as a very good coach, the evidence in England with Hull, Watford and now Everton is anything but, as the same problems are cropping up, despite each time moving to a club with a better talent pool. That's the systematic tactical approach from the manager, not the players, for my money.
The best I can offer from my assessment is currently apathy and ambivalence; I need something to cling to, a sign he can sort it – not just blind faith. Time is now, Marco.
Bill Watson
89
Posted 20/01/2019 at 14:37:23
Good to see you back, George @ 69.
Hope you're back on the mend.
Andrew Clare
90
Posted 20/01/2019 at 14:45:51
I don't think we can put too much hope on the cup game as European managers don't regard these competitions as important. So Silva won't be too bothered about progress in the competition.
I know to us Evertonians the FA Cup has a great magic but now it has become a second class competition. We need a lot of patience to give Silva time.
Clive Rogers
91
Posted 20/01/2019 at 14:54:53
If Silva can't get us out of this slump and move us up the Premier League table, he could well be toast in the summer.
Moshiri is obviously not happy after what he said at the AGM and he mentioned how much money has been spent (badly), which is tantamount to a red rag to a bull.
Kevin Moorcroft
93
Posted 20/01/2019 at 15:22:15
I'm sorry but it's excuse after excuse after excuse. We've had no strategy since Moyes who started at the absolute rock bottom. A lot didn't like him but where are they now!!! He did well with nothing.
We need a man to build a team making the few shrewd buys who can motivate and get a team together. This fella's a joke, already proved. If I was Moshiri, I'm afraid there'd be no more dosh – after all, it's business!!!
He's lucky there are three or four bad teams or it would be curtains. End of story
Brian Wilkinson
94
Posted 20/01/2019 at 15:33:39
It is live on bbc1 Andrew, Silva knows as long as he gets a cup run, it will buy him time to turn things around.
It is one game he cannot afford to lose so expect a performance next week.
Anthony Murphy
95
Posted 20/01/2019 at 15:36:09
I think George #69 hits on something that should concern us blues and that is that we have completely lost our identity over the last few years. We are extremely apathetic and if honest a mid table irrelevance. We are miles off the top teams and the gap is growing. False dawn after false dawn has eventually took its toll. The new ground can't come quick enough for me because that may just be the catalyst we need to stir some passion and belief.
As George points out, we need someone to address the identity crisis. In most cases elsewhere that individual tends to be a manager - someone the fans can identify with and who the players will run through brick walls for. Although I'm in the give Silva time camp, I don't believe the majority of blues see it that way as he just doesn't have that type of connection we need. Let's see where we are in the summer with him.
If I was Brands I would go and seek out a dynamic midfield general with experience and influence. Pay the money and build the team around this person. We really lack a leader with a footballing brain - someone who wears his heart on his sleeve and the armband with pride.
Tony Everan
96
Posted 20/01/2019 at 15:43:45
If we are starting to look like an organised outfit, on an upward trajectory towards the end of the season, Silva will be safe.
If we come up with the kind of performances we have been witnessing of late and in a downward spiral he will be relieved of his duties.
My guess is he is screaming at Mr Brands for a top class striker. A loan deal will materialise over the next week.
Andrew Laird
97
Posted 20/01/2019 at 15:56:27
Silva needs to start wielding the axe and stop trying to be everyone's best mate (Gomes, Richarlison, Bernard and Walcott in particular). Richarlison can no longer start as striker to accommodate Bernard, this is about as clear to see as a haystack on top of a needle. The first few games where Richarlison was out wide actually gave the opposition something to worry about, he also works his nuts off for the team defensively too so put him back wide or leave him on the bench.
Bernard is technically excellent but having 2 diminutive wingers at the same time (lookman or Walcott both not big enough either) leaves us with little chance of playing long diagonal balls when we are countering or trying to stretch the opposition to create more favourable situations. Our Long diagonals are always hit in the air to the player and not in front of them so don't have both options on the wing under 5ft 5 to let a 6ft defender easily win the ball back. If the idea is to have 2 wingers who are technically good and can play 1-2 touch with a marauding full back then great, but not if you only have 1 full back now capable of getting up and down the pitch. I would love to see Bernard behind the striker where one pass or man beaten leads to a chance. This is also pretty obvious?
If we continue to play 2 central midfielders then Gomes needs a rest as the speed and physicality of the Premier league and the constant opposition targeting of him has caught up to him and will result in a red card to go with him rushing and squandering possession. In a central midfield 3 he would be much better, the weight on his shoulders is too much, if that means sacrificing a wide man or number 10 then why not? We don't create any chances now anyway.
In order to proceed I think Silva has to change not just the eleven but the squad as every week its the same players getting minutes and it hasn't worked for far too long now. The same squad, every week, yet the only subs Silva ever seems to make are "like for like" wide men or a striker.
Or maybe Silva knows this shower isn't good enough so he puts them in positions they cannot succeed in to show Brands and Moshiri that he needs upgrades? The problem with that is if you are completely inflexible to a starting formation it's your fault Marco, time to "work with what you have" as you keep telling us and find positions that work for the personnel you have because at the moment you are being found out every week by teams, managers and players who are inferior to what you have.
Lee Brownlie
98
Posted 20/01/2019 at 16:23:13
The manager absolutely has to get all our players fighting for it! and, Like the last few managers before him, I don't believe for a second that he is... nor even that he understands that that's (a huge!!!) part of his job.
It's all clearly seen as being just a case of select your best men and formation (as on paper!) and sit back and watch each game unfold!! It's not Football bastard Manager, ffs!!
After years of the same shit, this is a total fucking travesty really!!!
Dave Abrahams
99
Posted 20/01/2019 at 17:12:15
Nice to see you back George (69), speaking a load of common sense... is there anybody listening at Goodison Park and Finch Farm?
Hope you are doing okay, George; relying on Everton to buck you up won't have done you much good.
It would be great to see one of your brilliant posts before the next home game to follow the team giving us something to shout about at Millwall; we can live in hope.
Tony Abrahams
100
Posted 20/01/2019 at 17:24:19
Up to Sam@ post 48, and agree with everything he says, except for one thing. If I was was Silva, Sam, I wouldn't be asking them, I'd be making them because the lack of compactness is clearly killing us every week.
Paul Tran
101
Posted 20/01/2019 at 17:48:38
Steve #70, what you say makes perfect sense in isolation. Silva is the third manager in a row that talks about aggression, pace and intensity, while delivering football that's often the opposite.
Yes the players are equally to blame, but if they can't/won't follow basic instructions or motivate themselves, you look to the manager. That's what he's well-paid to do.
I was hoping we might have found a manager who can do more than hope the players snap out of their collective sulk and start performing. Now I'm not sure.
My jury's still out and waiting for more substantial evidence for the defence.
Tony Abrahams
102
Posted 20/01/2019 at 17:52:47
Sean @87,
I'm not sure Burnley was our best performance but it was definitely our best result though.
I'm convinced Silva wants to play 3 centre-backs because he sets his team up like we already play this system.
Watching Gomes drop in deep to get the ball during the first half was doing my head in. He was getting on the ball and splitting our two centre-backs; if you watch and think about this for a minute, it is incredibly bad play.
The full-backs are pushing on, so we have a midfielder coming deep getting the ball, and splitting our own central defenders?
Just think about that for a minute if you never watched it because it's no wonder we are so fucking easy to play against, especially if you have ever heard the saying, "Let's keep it tight at the back." Absolute utter madness.
Paul Tran
104
Posted 20/01/2019 at 17:58:03
Steve #70, what you say makes perfect sense in isolation. Silva is the third manager in a row that talks about aggression, pace and intensity, while delivering football that's often the opposite.
Yes, the players are equally to blame, but if they can't or won't follow basic instructions or motivate themselves, you look to the manager. That's what he's well-paid to do.
I was hoping we might have found a manager who can do more than hope the players snap out of their collective sulk and start performing. Now, I'm not sure.
My jury's still out and waiting for more substantial evidence for the defence.
Paul Burns
105
Posted 20/01/2019 at 18:09:58
Get rid of Everton in the Community, get rid of all youth, reserve and women's teams, get rid of the school (?), trim the first team squad to 20 at most, adapt a club way of playing (attractive, attacking football, the School of Science?) and get the best coaches we can.
Back to basics.
The whole set-up is riddled with waste, nostalgia and patronage and a scattergun approach to buying players and forming tactics. Most of the players we have don't even look fit... it's fucken basic and we can't even get that right.
Anthony Hawkins
106
Posted 20/01/2019 at 18:26:41
Without a striker the team is impotent – like we have been for the last few years.
The team now has a top quality keeper and a much better and creative midfield. What we've been lacking is a brilliant striker. We played to Lukaku's strengths but never replaced him nor bought a player who offered any alternative to his goals.
Silva needs to be shouting at Brands for a striker. On loan or permanent, everyone knows we need one.
Karl Meighan
107
Posted 20/01/2019 at 18:33:24
Your right about basics Paul @105. Start with decent basic defending and stop leaking goals.
You cannot play the type of football Silva wants with players who struggle with basic passing.
I would say we have enough decent players to gain results in the Premier League, but would like to see us get the ball out wide faster and use our wide players to put crosses into the opponents' area.
I'm no lover of Tosun but would start him and tell him that Bernard, Walcott, Richarlison or Lookman are going to put the ball in early. All 4 of them players have quality and I'm fed up with them coming back inside and many occassions the ball being at Gueye's feet or back with a central defender.
Trying to pass through teams won't happen often with the players we have imo.
Dean Barton
108
Posted 20/01/2019 at 19:05:47
The problem is the same as it was last season. Our forward line isn't up to it. Walcott, Calvert-Lewin and Tosun aren't up to it. Sigurdsson disappeared in December and the jury is still out on Bernard and Lookman.
Richarlison is being played out of position and can't cope with his back to defenders. If it's possible, go and get Lukaku on loan til the end of the season.
Gomes is struggling with the pace of the Premier League for me. He needs to speed up but I have no doubt he will.
I'm not ready to blame Silva yet. I still think the problem is personnel and not the management.
Clive Rogers
109
Posted 20/01/2019 at 19:34:11
Dean @108, I agree that Gomes is struggling for pace, but he is 25 and is unlikely to gain pace. You can see he is more of a plodder.
If he continues to struggle, he won't be here next season. End of story.
Sam Hoare
110
Posted 20/01/2019 at 19:34:24
I don't think Tosun will help much. He is a good finisher but we are not creating chances. We need a centre-forward who can hold up the ball, win some headers, run the channels and obviously get a goal or two. That has to be Calvert-Lewin for me. He's not the most polished but he's the best we've got.
On a number of times, it seems Southampton were able to beat the press and get a midfielder running at our centre backs to then either slot through Ings or Redmond, or pull the trigger, like Ward-Prowse did. One of our big problems, I think, is that our attacking central midfielder cannot do that; Sigurdsson rarely if ever runs with the ball. But one of Bernard, Lookman or even Richarlison could.
I think its time to see Bernard start behind Calvert-Lewin with Richarlison on the left and Lookman on the right. They can alternate of course but try to get the ball to whoever is central and hopefully beyond the press so that they can turn and run at the back 4. Then, it's up to Calvert-Lewin to make the right run or whoever it is to take a good shot.
Eddie Dunn
111
Posted 20/01/2019 at 20:12:02
George @69, so glad to see you back on here. I do hope you are feeling better and, like Dave above, I look forward to the next installment of your trips over the water to the Old lady via the Dark House.
The soul of our club is us – the fans – we need to keep the faith, it could be worse, we could be in the relegation battle, but of course we all want to see tangible evidence of us moving in the right direction, both on and off the park.
So far, we have flattered to deceive, which makes it harder to take. The arrival of Moshiri rekindled hope, the appointment of Silva made us expect better football and clever tactics. We are disappointed.
The biggest mistake was losing Lukaku without lining-up a decent replacement The fact that we are still without a good striker is evidence that the club has been mismanaged.
Last January, Sam got in Tosun saying he was the best £27M striker out there. A year on, we are told the market isn't right to find a striker and there is nothing to spend. Basically writing off yet another season.
I'm getting older, and I want action.
Justin Clark
112
Posted 20/01/2019 at 20:55:49
First time posting.
I have been following here for many years. I am a toffee in Michigan and started following in 2007 when in college with a house of Man Utd and Chelsea fakes.
I am an ardent supporter of the University of Michigan and the Lions (NFL) — both underachievers and losers in their own right but I have over the years found Everton as the team that tugs at my heartstrings most.
I see the past of the glory days (my best glory day was watching with an Arsenal supporter the day we deployed Lukaku out wide). I am desperate for a winner and know that I haven't gone through the trials and tribulations most Evertonians have, but also haven't known the highs (Martinez first season aside). I try to bring other yanks to support Everton, but it's difficult of late as we have nothing that differentiates ourselves (home support is hit and miss, performances same).
I'm curious as to what the much more educated members of this site would recommend as I try to spread our great club's support worldwide. What is the selling point in 2019 to support the Blues??
I don't need convincing but, if we want to grow as a club, in my opinion, it's something that should be top of mind.
Jay Harris
113
Posted 20/01/2019 at 21:11:10
George,
Great to see you back and sending groovy waves around.
Hope you have fully recovered and are back on form unlike our club.
I see our problems as twofold (Three if you include Kenwright and sycofants but lets not get into that).
Firstly most of us have identified that we need a MF general to beef up the MF and show some leadership. I initially thought Gomes might be the answer but he has two problems. He cant score goals and he folds under pressure which is probably why Barca and their supporters turned on him.
Also we have never replaced Lukaku with anybody approaching his quality. Tosun is clearly not up to the job and is a waste of a shirt.
Secondly the manager is a major issue for me. Why he persists with the same tactics, team selection and lack of motivation in the players is beyond me.
The only time I have seen any passion from him or the players was the second half against Bournemouth.
We have just brought 5 expensive players in of his choosing and the team is no better now than when Koeman was fired.
Like some others I worry about where we are going to get 10 points from. I saw a Fulham side today with more fight and spirit than we have shown all season and OK they lost 2-1 but what a fight they put up so thats three points we cant bank on.
We are just lucky that Huddersfield, Fulham and Cardiff have given themselves a hill to climb but that 11 point gap to Cardiff is still a concern to me.
John McFarlane Snr
114
Posted 20/01/2019 at 21:28:16
Hi George [69] welcome back and I hope you're fit enough to attend matches. I myself suffered an accident on December 7th, my last game was the Newcastle fixture. I know that some will say I've been lucky to miss the fayre that's been served up, but I can assure you that I would much prefer watching Everton playing badly than listening to it on the radio.
I am one of those who is programmed to attend Goodison Park whenever Everton are playing, I have this insane belief that I can influence things from my seat at the Park End, my next fitness test should (hopefully) see me in my seat for the Wolves game on February 2nd.
Like any Evertonian, I want the team to play attractive, successful football, but to compete with the current top sides. I'm afraid that, in my opinion, it's going to take a lot of money or a lot of luck.
I believe that, like most, I'm aware of the problems that the club faces but, unlike some, I don't have the answers, and so I don't lose any sleep over something I can't control. This post is not intended to be controversial, I appreciate that we all have our opinions, and the right to express them.
John Pierce
115
Posted 21/01/2019 at 04:21:47
I'm a little bewildered by the posts that lean towards the players as the issue.
The (first XI) team has players that Silva has either bought or loaned and those from the previous regime which most of us would keep. (Richarlison, Bernard, Gomes, Mina, Zouma, Digne)
Many would keep Pickford, Lookman, Sigurdsson, Gana. Perhaps only Keane, Coleman would be jettisoned by most.
In his first window he has 9/10 players of his choosing? The fact he is struggling to get them to gel says a lot about how he sets them up, what message he puts across and, most damning, his in-game management which is alarming.
Players motivate themselves, Silva is responsible for creating the environment for that to blossom. At the moment, he is well short on that and the players reflect his doubts, and missteps.
Or maybe it's just the curse of Duncan Ferguson: as soon as he's binned, the manager will be great.
So... why can't Silva get a tune out of his preferred players?
Jay Harris
116
Posted 21/01/2019 at 04:31:21
John,
I almost totally agree. Players do not play badly out of choice and players hate losing but if the manager keeps picking you and telling you to play a certain way, the manager has either got the tactics wrong or the team selection wrong.
I honestly think Silva doesn't know what to do. He has brought in some high calibre players who started well but now aren't performing. The same thing happened at Hull and Watford where Richarlison started like a storm and then turned into a whimper as Silva came under pressure.
For me, he seems to get found out pretty quickly and the Premier League is an unforgiving place.
Henry Lloyd
117
Posted 21/01/2019 at 04:44:52
John Pierce 88.
Is changing a manager after six months a good idea? Probably not. Yet we need a coach who can cope with the twin expectations: good front-foot football, and finish comfortably the best of the rest. That for me is how I view Everton at the moment.
Much less talented Everton teams have finished higher playing worse football under poorer managers. Is Silva that man? At the moment, he's struggling to achieve either.
"Patience" you say; I agree with the sentiment but to give the man time he needs to earn it and maintain that credit. The credit he gained in October and November has long since waned.
You don't blithely give him two or three windows or a random time span to get it right, in *insert manager's name* we trust bollocks. No project or undertaking ever stood a chance of success by giving a manager no definitive timetable to improve or targets to achieve.
Silva needs to check himself and if he wants further windows to reshape the side he has to demonstrate he can handle the players he currently has; prove he can stop a team from coming off the rails.
At the moment, he is making the same errors as at his previous clubs in England, of streaky form followed by winless runs. His defensive issues in England are well documented.
Everton are easy to play against, and can't do the two basics: score and keep teams out. Silva hints at his players not executing his instructions. Now either they won't or can't. Either way, he shows little appetite for changing his approach to necessitate a change, even short term to get things back towards an even keel.
Touted as a very good coach, the evidence in England with Hull, Watford and now Everton is anything but, as the same problems are cropping up, despite each time moving to a club with a better talent pool. That's the systematic tactical approach from the manager, not the players, for my money.
The best I can offer from my assessment is currently apathy and ambivalence; I need something to cling to, a sign he can sort it – not just blind faith. Time is now, Marco.
That is the best post I have read for quite sometime...
Let's hope that wakes the right people up?
Laurie Hartley
118
Posted 21/01/2019 at 09:52:51
George # 69 - I think your right :-
"We need someone - - to take a giant leap and grab this Club by the scruff of its desperate scrawny neck, give it an incredible shake and then impose a belief system, an idea(l) of what we are all working towards - - step by step."
But maybe he'd rattle too many cages.
Good to see you back on TW George.
John Kavanagh
120
Posted 21/01/2019 at 14:22:39
I'd like to see Bielsa send a couple of his spies to Finch Farm and provide TW with a report on what exactly they are doing there. 3-card brag? Pie-eating contests?
Clearly passing the ball 3 yards to someone not in the opposing team isn't being worked on. Maybe Silva is putting all the effort into his zonal marking system – aka how to move into space to give completely unmarked players a free hit.
If Finch Farm were a racing stables, the police and anti-doping squad would have been called in long before now.
Simon Smith
122
Posted 21/01/2019 at 15:35:58
I'm a little bit baffled to some of our form, we're slipping back down the Bobby Martinez route of better football with awful results. Looking back at his Everton team it looked good on paper but lacked results.
The blues need to gel, we need options from the bench that Silva has a bit of faith in also, he seems to have to put on subs who started and let him down the previous week.
Lookman and Bernard look like his current preferred option in the wide areas, but if one's not on it, then Walcot is his sub, but Walcot has let him down all season hench why he's on the bench.
Davies has struggled this season yet he's the midfielder on the bench, chosen over Schniederlin and McCarthy, plus we own Dowel and Besic who are loaned out, that must be frustrating as they all command wages which stops us paying for new recruits.
Up top, we've somehow managed to play our new left winger (who hit 2 on his debut and looked lively the whole of his left-sided Everton career) out of form, using him through the middle as it seemed our best option within a squad that boasts 3 genuine strikers all bought by other managers, who simply aren't any better. Again this has to be frustrating, Niasse, Tosun and Calvert-Lewin are all doing less in there position in training than our 21-year-old left winger.
I'm very worried over the current results, but an FA Cup run and an upturn in results would cheer me up, also getting shut of about another 13+ players permanently would make for a brighter future.
In a listed many before but there's a few mentioned above who I'd forgot.
Before the start of next season, outgoings have to include:
Garbut, Martina, Williams, Besic, Schniederlin, Miralas, Jags, Tosun, Bolasie, Niasse, Pennington, Browning, Tarashaj, and Sandro at the very least.
I'd add James McCarthy, Theo Walcot, Galloway and Stekelenburg to that list too if I'm honest.
The total of players I've listed currently stands at 18 players. I have an option of a 19th player who is still absolute quality but is paid a big salary yet not used due to his competition and that's Bainesy. I've always greatly admired Baines, but Digne is the new left back in town and if we're to allow kids room to break through we need to free up squad places and we need to free up any big earners wagers for new first-team players. Imo Robinson and Connerly should be able to back up Digne, especially if we don't get into the Europa Leagu,e which isn't looking likey.
That's 18 players (excluding Baines) who other than maybe Walcot, literally offer nothing to Everton's first team squad yet get paid thousands of pounds per week.
Baningime, Dowell, Connolly, Virginia, Vlasic, Onyekuru, Joe Williams, Anthony Gordon, Antonee Robinson, and Fraiser Hornby should be brought in to bulk up the first team squad, along with around 4 starting players who need buying for various positions before we can fully start to judge what our manager is building.
I genuinely believe the out of the above list Vlasic and Onyekuru can seriously push for starts, Dowell, Hornby, Williams, Baningeme, Virginia and Hornby wouldn't look out of place on our bench, and Connolly is someone who needs a decision making on him pretty soon as it seems pointless having him sat around for much longer if there's not a first team route mapped out for him. Anthony Gordon is young enough to wait a few seasons if he needs it.
Kim Vivian
123
Posted 21/01/2019 at 15:55:29
So Simon, blimey, you basically want Everton to play our 'wild card'.
Simon Smith
124
Posted 21/01/2019 at 16:10:42
Kim, can you honestly see a single player on my list who will push our team on?
It seems a crazy list with it being so big, but that just shows how bad the squad is.
Kevin Prytherch
125
Posted 21/01/2019 at 16:24:05
Simon – I'm with you.
Get shut of the deadwood and play players with desire. Start building from there...
Roger Helm
126
Posted 21/01/2019 at 16:32:44
The good news, for some of us, is that rugby league is about to start again. Non-stop action, constant attacking, total physical and mental commitment for 80 minutes.
The club could do worse than get some input from RL coaches, at least for the strength and conditioning and mental approach sides of the game.
Derek Knox
127
Posted 21/01/2019 at 16:55:01
John Kavanagh @120, Bielsa wouldn't need to send any spies to Grinch Farm, should we ever be playing against them; why? Because Silva is so predictable in his team selection and 'tactics.
Like so many have mentioned we have some decent players, who not so long ago were being praised for their contribution, the same players have suddenly become shadows of their former selves, and I'm sorry but that can only be down to Silva.
Players do have the odd bad game, but not so many collectively, and so often, it has to be the coaching!
I know Silva is under pressure to produce results, but let's face it, it is a position he has put himself in and no-one else can be blamed – he is the ringmaster, the circus performers are all looking like clowns under his tutelage.
I am not advocating his dismissal, but he has got to start getting his act together, or that will be the inevitability, and the start of another upheaval; hasn't the Club had enough recently?
Kim Vivian
128
Posted 21/01/2019 at 17:22:53
Simon – yes I know. I was being somewhat flippant. However, I believe Jags and Baines at the very least still have something to offer our beleaguered squad – not necessarily just in a playing context.
I drafted a long post on here earlier today and deleted it rather than posting it, questioning our management and coaching set up but particularly focusing on the evident lack of a sports psychologist on the spectrum – although I may be mistaken.
I believe it was no coincidence that Liverpool's upturn coincided with the appointment of Dr Steve Peters (one of the architects of British Cycling's rise to power) in that role in 2012 (I think). I am unsure whether he still works for them.
However, I looked at our management structure from Brands down to the kit guy and could not pick out who the sports psychologist might be. Do we actually have someone with that remit? Surely we have.
It has been said ad infinitum how mentally weak, unmotivated, spineless etc etc our players seem to be and perhaps a good investment in someone who can work on this area would show rewards. At the end of the day the players are not simply 'shite' (a somewhat base relative description anyway). They have worked hard and have to have shown real quality to have got where they are, and indeed have shown us both individually and as a group their potential. There is no obvious logical reason why these guys should fall off a cliff after a few months with Everton.
The problem clearly runs deeper than either Silva or the players as I see it. I'm damned if I can nail it, but my mind constantly returns to that mental frailty we have.
Dean Barton
129
Posted 21/01/2019 at 17:42:09
Clive @109,
What I meant was that Gomes needs to adjust to the pace of the league. He wants too long on the ball and teams are hitting him quickly. Factor in the culture shock of winter football in the UK and it's obvious why he is struggling lately.
The lad is obviously an intelligent footballer and I believe he will come good.
Mike Berry
130
Posted 21/01/2019 at 19:58:11
Lots of grumbling about Silva. Me too! But recall Kendall's early problems? We need to stick with him - as Carter did. After all we're mid table
John Atkins
131
Posted 21/01/2019 at 20:00:35
Perfect timing for the Huddersfield game. New manager, new optimism... great! Always bloody happens to us!
Laurie Hartley
132
Posted 21/01/2019 at 21:59:13
Simon Smith # 122 has produced a deadwood list of 18 players. It makes daunting reading.
To me it just proves that you can't just buy your way to success - you need to know the value of a quid and how to spend it.
Brands has taken on a monumental task. I think he is up to it - he better had be for the sake of the club.
Marcus Taylor
133
Posted 21/01/2019 at 22:08:50
Simon #122,
Add Harry Charsley to the list. He's 23 this year and absolutely nowhere near the first team. He had a loan spell at Bolton last season and made one start but was subbed off after an hour.
Should have been released a couple of years ago. Clearly not good enough.
Barry McNally
134
Posted 22/01/2019 at 20:59:39
Everton are 5/6 to beat Huddersfield away next Tuesday - have the bookies not been watching Everton of late???
Tom Bowers
135
Posted 22/01/2019 at 22:08:29
There was nothing wrong with Gomes in his first few games. He was up to speed.
What has transpired with most of the players since the RS game has been nothing short of disgraceful for a professional squad of highly paid people, including the manager – and he hasn't given any indication that he can stop the slide.
One could be cynical and say that he flattered to deceive in those early games, as did some of his new additions, but it has gone pear-shaped to a degree that none of us expected and serious questions have to be asked of his managerial qualities.
We never expected to finish in the top 4 first season, or maybe even top six, but there doesn't appear to be one hint that this squad is anything more than a bottom feeder at present and absolutely no sign of any new additions.
Add Your Comments
In order to post a comment, you need to be logged in as a registered user of the site.
Or Sign up as a ToffeeWeb Member — it's free, takes just a few minutes and will allow you to post your comments on articles and Talking Points submissions across the site.