Bolasie cuts short Villa loan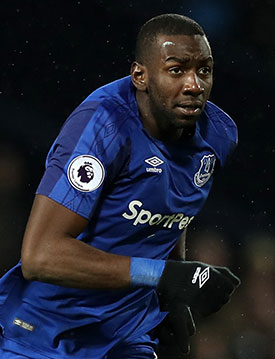 Yannick Bolasie's loan spell with Aston Villa has been ended early, a decision that appears to have been made by the player.
The Congolese winger agreed a season-long spell with the Championship club last summer, a move designed to give him a greater opportunity of regular first-team football than was on offer at Everton who brought in Bernard and retained Ademola Lookman during the last transfer window, but he will now not see it through to the end of the campaign.
Though Bolasie had made 21 appearances for Villa this season, scoring twice with five assists, only nine of them have been starts.
The 29-year-old, who still has 2½ years to run on the contract he signed when he joined the Blues from Crystal Palace, in 2016 in a deal that could ultimately be worth £28m, will now return to Everton but it is not clear whether he will seek another loan elsewhere or try and fight for a place in Marco Silva's side.
A brief statement from Everton read:
"Yannick Bolasie has returned to Everton Football Club today after he exercised an option in his loan agreement with Aston Villa."
Villa meanwhile announced the following in a similar vein, although there are suggestions in the Birmingham Mail that the decision was as much about Villa boss wanting to bring in younger players and offload Bolasie's £70,000-a-week wages as it was about the player wanting to leave Villa Park:
"Yannick Bolasie is returning to Everton after the player exercised an option to return to his parent club."
---
Reader Comments (151)
Note: the following content is not moderated or vetted by the site owners at the time of submission. Comments are the responsibility of the poster. Disclaimer
Tony Abrahams
1
Posted 21/01/2019 at 16:03:25
So Yannick Bolasie is coming back early, I wonder if the lad is cup-tied!?
Fran Mitchell
2
Posted 21/01/2019 at 16:17:31
Bolasie back. The fact that Villa were seemingly so willing for him to come back hardly indicates that he has found any form. Was always a poor signing, he sums up the Walsh & Koeman transfer policy.
Will he have anything to offer for the remainder of this season?
Well, ultimately ineffectual wide players with pace, nice touches and woeful final ball seems to be a regular theme at Goodison Park, he at least won't feel left out...
Len Hawkins
3
Posted 21/01/2019 at 16:39:26
Perhaps Bolaise's car can be got at and change Everton to Exeter on his SatNav.
Christ... as if things aren't bad enough we're getting one back worse than what we've got — that takes some doing.
John Kavanagh
4
Posted 21/01/2019 at 17:30:38
Bolasie's return says everything about our big money transfers — now we can't even give them away.
Clive Rogers
5
Posted 21/01/2019 at 17:52:24
We paid nearly £30 million for this guy and he can't get in a Championship team. Walsh was completely hopeless, but I'm not convinced yet that our present incumbents are much better.
Paul Swan
6
Posted 21/01/2019 at 17:52:54
Christ! Talking about deadwood... here comes Sherwood Forest!!!
Stephen Brown
7
Posted 21/01/2019 at 18:01:30
I'm only half joking here but can he play up front ?! Pace, size and a decent shot!
The new Henry!!
Gavin Johnson
8
Posted 21/01/2019 at 18:05:43
Aren't Villa mid-table? I'm guessing they don't have high hopes of going up this season and Bolasie hasn't done enough to justify his huge wages. There were reports at the time of the loan that inferred Villa were paying all if not most of Bolasies wages.
It sounds like his form has been very up and down. This sounds like Yannick for the whole of his career.
Simon Jones
9
Posted 21/01/2019 at 18:14:58
Wishful thinking...
Couldn't we swap him for Vlasic?
Michael Kenrick
10
Posted 21/01/2019 at 18:18:25
$70k per week for another 2½ years = NINE MILLION QUID!!!
Chris Gould
11
Posted 21/01/2019 at 18:21:48
Bloody hell, we now have to pay his £70k a week unless we are able to sell him or loan him elsewhere in the next 10 days. I don't fancy our chances.
What little chance we had of bringing a striker in will be even less likely now. We needed to lower the wage bill but have now increased it.
Reports suggest that Bolasie forced the return against the club's wishes. In saying that, maybe we're worrying over nothing, and he has returned because his agent has already arranged a move elsewhere?
Paul Jeronovich
12
Posted 21/01/2019 at 18:24:25
Shit!!!
Paul Birmingham
13
Posted 21/01/2019 at 18:24:37
This sums up Everton and makes you wonder what Koeman and Walsh, ever got qualified as UEFA level coaches.
The Dynod Rod contract will now cost Everton even more as we are now over flowing with rubbish.
No Premier League team will take Bolasie and unlikely any Championship Team. Palace would may be do us a favour and take him on a free.
Let's see how the man-management skills of Siva and Brands manage us out of this situation...
Brian Williams
14
Posted 21/01/2019 at 18:30:55
Some reports suggest he himself cut short the loan, triggering a clause in the loan agreement that allowed him to do so.
My question is a simple one: Why the fuck would we agree to that clause?????
Robert Leigh
15
Posted 21/01/2019 at 18:31:15
Not cup-tied – I looked that up immediately.
5 assists isn't a bad return but, as others say we don't want him back.
Frank Wade
16
Posted 21/01/2019 at 18:31:43
The report is contradictory in saying that Bolasie forced the return and also saying that Dean Smith has decided to prematurely end his stay.
Makes sense for Villa as it seems they had the option to cancel the loan. Unless Bolasie forced the return with his form. 2 goals and 5 assists in 21 games doesn't sound great for a £30M man.
Derek Taylor
17
Posted 21/01/2019 at 18:34:33
£70k a fecking week for that poseur? Moshiri must have been mad to sanction such a deal – and all on top of a mega fee. Everton are going to hell in a handcart, I tell you!
Eddie Dunn
18
Posted 21/01/2019 at 18:34:46
It's so easy after the event but I remember that, when we got him, many were lauding the signing as he had done well against us in a Palace shirt.
Remember, the lad got that cruciate injury and thus was out for ages, and naturally struggled afterwards – so you can't blame the management for that.
Peter Gorman
19
Posted 21/01/2019 at 18:35:34
"My question is a simple one: Why the fuck would we agree to that clause?????"
To get him off the wage bill.
Kunal Desai
20
Posted 21/01/2019 at 18:36:42
Brilliant, as if things can't get any worse.
Truely astounded as to what 'second level' approval was in place to sanction and ratify the deals under Walsh and Koeman.
Who actually at the club was questioning the deals and overruling Walsh and Koeman? Was it Elstone? Truely beggars belief.
John Raftery
22
Posted 21/01/2019 at 18:42:12
Tony (1),
In answer to your question Bolasie is not cup-tied. He wasn't involved in Villa's 3-0 third round defeat at home to Swansea.
Drew O'Neall
23
Posted 21/01/2019 at 18:42:59
I thought he was a decent, dynamic player who complimented Lukaku well before his injury.
I wish him luck and hope he is able to recapture the imperious form he showed for Palace against us and in glimpses in blue.
Anthony Murphy
24
Posted 21/01/2019 at 18:43:08
He'll go back on loan this month somewhere else. Loads of desperate clubs out there. Brands will be working hard behind the scenes, shifting as much shite as possible.
Paul Birmingham
25
Posted 21/01/2019 at 18:44:52
Let's see how M & M, manage this one out. The lad has on average x1 average game every 10 games.
We've all said he shouldn't have been bought and a similar fee to Cenk and we won't be able to give him away on a free.
It sums up the state of the club and as football and trading standards go, EFC has well and truly been had.
The recent thread on the 90s tripe buys in the EPL era, will seemingly be maintained in good order by Everton, as the current generation is as bad. Just remembered Magaye Gaye as another flightless winger.
Let's hope there's better news this week, and we can beat Millwall.
Surely
Chris Leyland
26
Posted 21/01/2019 at 18:48:28
It's like a new signing...
Kim Vivian
28
Posted 21/01/2019 at 18:55:00
Is it possible he's cut the loan short because he has been offered a transfer somewhere else during this window?
Brian Hennessy
29
Posted 21/01/2019 at 18:57:27
Michael @10 "$70k per week for another 2½ years = NINE MILLION QUID!!!"
No wonder he is always running around with a smile on his face – pretty depressing for us fans though, not to mention Brands & Moshiri
Gary Willock
30
Posted 21/01/2019 at 18:59:11
Yay, another left winger! At this rate, we may have more of them than we had Number 10's last year. 🤦‍♂️😂
Brian Williams
31
Posted 21/01/2019 at 19:04:35
And he's coming back because he believes he can get back into our side – despite the fact he didn't exactly set the Championship alight!
Sam Hoare
33
Posted 21/01/2019 at 19:16:29
A warning to those on here who are so desperate to sign experienced, Premier League players. Like Vardy or Deeney. Though Bolasie has had some bad luck with that injury.
Our wage bill is a mess and will not be easily rectified. A large bunch of overpaid, ageing players, many of whom have not played much this season. Such players are very hard to shift permanently as no-one want to match their wages. Hence all the loans.
Truly the recruitment team over the last 3 years has a lot to answer for.
Our best hope is that Yannick is prepared to take a wage cut in order to get a permanent move somewhere and get what's left of his career back on track. £8M to somewhere like Middlesbrough? Wishful thinking I suspect.
Paul Newton
34
Posted 21/01/2019 at 19:19:19
Typical. We get Niasse off the wage bill and Bolasie rejoins it!
On the same day, Huddersfield appoint a new manager and their first home game when they are all out to impress and all pumped up is against... Everton! You couldn't make it up.
Martin Berry
35
Posted 21/01/2019 at 19:20:39
Can you imagine, if other deadwood like Mirallas, Sandro and Williams also return (and they probably will), Mr Brands will certainly have a job on "reallocating" — and dead-wood usually sinks without trace.
Paul Jeronovich
36
Posted 21/01/2019 at 19:22:21
Just reading the comments posted, our wage bill and transfer policy has been an absolute joke. No wonder we haven't got the 'conditions' to sign more players.
Kunal Desai
37
Posted 21/01/2019 at 19:30:01
Martin #35. Williams is out of contract at the end of the season. However, you wouldn't put it past Everton to sign him up again on another 2-year deal.
Brian Harrison
38
Posted 21/01/2019 at 19:32:25
Maybe some will realize why Silva and Brands were saying the financial climate isn't right for us to sign anybody in January. I said the other day, when all the loanees return in the summer, all on excellent money, which probably means somewhere in the region of £500,000 per week added to the wage bill.
This will have a major impact on our summer spending, and there won't be many takers at the sort of money Everton would be asking, so how do you get them off the wage bill. You can bet that even though they all spout "I just want to play football", none will go for less money than they are on at the moment. The only way is to practically give them away.
Come the summer, there will be more deadwood at Finch Farm than there is in the Kielder Forest.
Derek Knox
39
Posted 21/01/2019 at 19:32:30
Paul Swan @6, I didn't see that coming mate, must be that I can't see the wood for the trees!
Kim @28, oh I do hope you are so right on that one but, like someone has mentioned on several occasions, Koeman and Walsh have set our Club back decades, not only have we got all this deadwood, and has been proved with Bolasie. It's the mind-boggling salaries and long contracts that go with it, it's easier to get rid of the Ebola virus, or Lassa Fever.
He doesn't seem to be able to cut it at Championship level, yet they have paid Champion's League money for him.
I know crying over spilt milk never right's previous wrongs, but it is so infuriating to see what has happened to our Club in a relatively short space of time.
No-one can blame the fans for any of this either, as if it wasn't infuriating enough, the likes of Koeman gets compensation (very handsomely) for making a total cock-up. In our world, any incompetence in a job results in an empty sack!
Pat Kelly
40
Posted 21/01/2019 at 19:35:10
Great. It'll be like a new signing. He can have Oumar's locker. Oh wait..

Brian Wilkinson
41
Posted 21/01/2019 at 19:44:41
Could be worse, could have been Sandro and Williams returning.
With Walcott's form, it might not be as bad as we think; I'd rather him returning than the above two mentioned.
Frank Crewe
42
Posted 21/01/2019 at 19:48:36
Maybe Villa sent him back because they don't see themselves getting promoted this season and they have some youngsters they want to try out and it gets him off their wage bill.
Although I doubt they were paying all his wages anyway. I'll bet we were covering a good chunk of it ourselves.
Paul Birmingham
43
Posted 21/01/2019 at 19:57:18
It's a rare collection of players who will be exceedingly difficult to off-load even on a free transfer.
A sobering sign of the times and hopefully the new business plan under Marcel Brands will prevent such practices again.
Ralph Basnett
44
Posted 21/01/2019 at 20:03:24
So last season we had a team of No 10 players and this season a team of wingers.
Next season will be defenders and then we will have the biggest squad of shite ever seen in the Premier League. 😂⚽️🙈
Ian Hollingworth
45
Posted 21/01/2019 at 20:04:21
Yippee he'll be like a brand new signing.
Now I know we are cursed.
Can it get any worse for us long-suffering Evertonians?
Christy Ring
46
Posted 21/01/2019 at 20:09:01
Can't understand Bolasie's decision to cut short his loan spell, considering he won't get game time here, unless he has another club lined up.
Pat Kelly
47
Posted 21/01/2019 at 20:11:56
Paul @43, having my doubts about a couple or more of the Brands era signings already. Mina can't get into this team that is doing so well. Richarlison has dried up and Bernard doesn't produce much. Granted, Richarlison is often played out of position. His favourite position seems to be lying down.
Joe McMahon
48
Posted 21/01/2019 at 20:12:06
It was a bad injury (again another Everton player), but the price we paid for him, the damage done by Walsh/Koeman is dereliction of duty,
Jay Wood
[BRZ]
50
Posted 21/01/2019 at 20:17:47
I honestly can't recall another player – not just an Everton player – taking up the option (or even having the option...) to cut short his own loan. It has always been his parent club needing and recalling the player, or the loaning club saying 'thanks, but no thanks'.
As others have already asked, why agree a loan and even allow either the player or the loaning club this 'get out' clause? The terse single line sentence reporting this on the official club site suggests Everton is not exactly partying in the street at this news, so it is possibly completely unexpected.
Trying to put an optimistic spin on it, maybe the player himself and his agent, or even Everton know an alternative loan, or even a permanent transfer out of Everton, is in the offing, but that is probably just wishful thinking on my part.
I was never convinced by the value of his fee, or his ability and what he could offer Everton. At the time, we could have got Zaha from Crystal Palace for the same price.
Derek Knox
51
Posted 21/01/2019 at 20:23:23
Pat @47, regarding Richarlison, in order to improve his mental capacity and awareness he attempted the 'Bournemouth on a windy day deck-chair Challenge' — perhaps that goes some way to explaining his lack of form and desire to lie down at every opportunity!
Pat Kelly
52
Posted 21/01/2019 at 20:26:50
Yes, Derek, he does hit the deck rather often.
John Davies
54
Posted 21/01/2019 at 20:28:36
Bloody hell! We are a complete laughing stock. This club just lurches from one crap signing (players and managers) to another.
And now we are forced to take one back into the fold and back onto the payroll.
WTF has happened to my once proud football club?
Mike Doyle
55
Posted 21/01/2019 at 20:30:31
Jay #50,
A Palace fan I know said that when he saw the headline "Palace forward in £25M move to Everton", he assumed it must have been Zaha as they didn't have another forward close to that value.
What were our recruiters thinking? Answers on a post-card please...
Ian Bennett
56
Posted 21/01/2019 at 20:32:08
FFS
Daniel Bentley
57
Posted 21/01/2019 at 20:32:29
Who brought these bums to our club??
Stevie wonder would've done a better job.
Paul Birmingham
58
Posted 21/01/2019 at 20:32:50
Pat @43, I agree with your comment, the whole squad seems to lack confidence, balls, fire and belief, including all recent signings.
If they can't get motivated for the FA Cup away vs Millwall, then God help Everton.
The uncanny twists of fate do seem to make the worst of the fortunes and all matters Everton.
Let's hope as many on this forum have alluded to, perhaps the player or his agent have had an offer from elsewhere, perhaps China...which seems to pay ransom money for mediocre players and players who can't cut it in the Premier League and European leagues.
We live in hope.
Ian Hollingworth
59
Posted 21/01/2019 at 20:35:45
We are beyond a joke. I want to laugh to keep my sanity but it really isn't funny.
When will this all end?
Pat Kelly
60
Posted 21/01/2019 at 20:37:16
Paul, you might be on to something there. Maybe we should have a yard sale in Tiananmen Square?
Phil Greenough
61
Posted 21/01/2019 at 20:39:25
At 4 pm today, Sly Sports reported that Villa cancelled the contract, because their new manager won't have loanees, who he probably wouldn't buy at the end of the season. So did Bolasie actually terminate the contract?
Ian Hollingworth
62
Posted 21/01/2019 at 20:43:05
I've sussed it: on 6 October, Villa played Millwall at the New Den. Bolasie came on as a substitute as Villa lost 2-1.
Shrewd move Everton going for players with experience at playing against Millwall.
Well, what the fuck else could it be?
Frank Crewe
63
Posted 21/01/2019 at 20:47:46
People always think that professional football is actually professional. It isn't. Not even close. Hardly any Premier League club makes a profit. Playthings for billionaires with more money than sense. Most of the Premier League would go bankrupt overnight if they pulled their cash out.
Most of the managers are nothing but frauds and chancers. They have no more insight into what makes a successful club anymore than we on TW do. But they managed to get a hand on the greasy money pole and we didn't. Usually through some backscratching or other. Ex-player, managers mate etc. Get the sack, big pay off, get another job, rinse, repeat.
Director of Football. Fancy name for a supposed expert talent-spotter. Yet we have had two and neither of them appear to be much cop. It's basically just guess work. A few lucky guesses and you're a talent-spotting genius. That's what we though about Walsh. Look at the players he spotted at Leicester City. Kante, Mahrez, Vardy. So surely he must know what he's doing. Right? Wrong! Unfortunately, his luck ran out at Everton. His guesses didn't pay off. Maybe Brands guesses will pay off eventually. Then again maybe they won't. Time will tell.
Everton is not the only Premier League club carrying a lot of deadwood. Most of them are. The fact is we will kiss a lot of frogs before we find a prince or two. It is the nature of the game because, as I've said, finding good players is just guesswork. It is not an exact science.

Neil Copeland
64
Posted 21/01/2019 at 20:59:17
Pat #60, we certainly have enough dogs for the yard sale.
Brian Williams
65
Posted 21/01/2019 at 21:11:31
Ian #62.
It wasn't the club's decision, Ian.
Derek Knox
66
Posted 21/01/2019 at 21:18:28
Frank Crewe @63, Nail-hit-head-spot-on mate! It is a load of BS, with some bigger BS'rs than others, and very highly paid into the scenario. I was going to use the word bargain, but somehow that didn't seem appropriate.
Dave Williams
67
Posted 21/01/2019 at 21:24:03
I am guessing he has something else lined up – most likely a struggling Premier League team (no, not us!), either on loan or permanent (unlikely). If not, he could do a Van der Meyde and just produce a cross which leads to a goal.
Simon Smith
68
Posted 21/01/2019 at 21:27:31
This guy has to have been brought back to sell!
Simply not good enough.
Mike Doyle
69
Posted 21/01/2019 at 21:39:54
Meanwhile, the one player we have put out on loan who we would like back (Henry Onyekuru, who scored a hat-trick at the weekend) still hasn't got a work permit — you couldn't make it up!
Laurie Hartley
70
Posted 21/01/2019 at 21:47:15
Michael #10 - yes £9 million. It is obscene and immoral.
Tom Bowers
71
Posted 21/01/2019 at 22:12:07
So sad. Everton could have gone for Townsend and Zaha at the time but came up with this dud. Ah well, that's typical Everton.
Could he do any better than what we have here at present? I seriously doubt it at 29. Like Walcott, his best performances are long gone.

Paul Birmingham
72
Posted 21/01/2019 at 22:12:10
Pat @60, let's hope so, but wishful thinking.
Terrible when it's got to this type of business. Let's hope Brands has a master plan for the garage sale at Everton, now or in the summer.
Tony Graham
73
Posted 21/01/2019 at 22:14:14
Just when you think it can't get any worse...
In another life, I'm not going anywhere near any sport.
Mike Doyle
74
Posted 21/01/2019 at 22:20:37
In other news. Any thoughts on the Chelsea manager? Like his 2 predecessors, he appears to have criticised his players (= "lost the dressing room") so will be on his way soon.
Might be wrong but I'm sure a few ToffeeWebbers mentioned him before we appointed the perma-unhappy looking Silva – plus his post-match comments contain similar gobbledegook.
Jason Wilkinson
75
Posted 21/01/2019 at 22:22:25
I have several old golf clubs. I don't use them and they are worth very little in terms of re-sale value. I keep them as I think they are too valuable to just chuck out with the trash.
I think Everton F.C have collected a group of players similar to my old clubs. Too valuable to get shut but superseded by more youthful models with more yardage. Who in their right mind would give good money for our cast offs?
Farhad Moshiri, Bill, Big Sam, Ronald, Roberto... The list of mugs has to stop somewhere.
Andy Crooks
76
Posted 21/01/2019 at 22:32:43
Is there a single other industry or profession or sport or whatever we can now call football that is as insane. Where incompetence, abject failure – Walsh, Koeman, Martinez etc – is rewarded. Where thieves like Van Dijk can cheat his way out if Southampton and become a likely footballer if the year. Where a cheat like Sala can be admired.
Where managers fail abysmally but walk into new jobs after being compensated for their utter ineptitude.
Where Bolasie, Sandro, Mirallas etc, etc, men who are not fit to lace the boots of proper Evertonians are allowed to shamelessly steal money from our club, and those who organised and sanctioned this theft are not run out if town in disgrace.
I have always defended the right of young working-class men to earn big money from football. Not, like Mirallas and others, to steal it and rub our noses in it. Football is detached from reality, morality and the real world. The monstrous sense of entitlement from many of these moderately talented young men is scary.
I do not see, despite what some say, any sign of our players not trying. They care, to a degree, but not enough. Defeat does not hit them up.
I suspect that most of those who were abject on Saturday had a decent night out after the game. They had no right to, they should have been too sick to the stomach. Alan Ball would have been. Roy Keane too.
We have no-one remotely like them at our club. We have nice guys getting money for old rope.
Dan Davies
77
Posted 21/01/2019 at 22:41:25
Stick him in for Millwall. He can't do any worse than the shite being served up at the moment.
Dave Pritchard
78
Posted 21/01/2019 at 22:47:49
I don't mind admitting, and I think quite a few others had the same view, that I was excited by his signing when it was announced a couple of seasons ago. He didn't do great but the injury seems to have messed his career up, but not his earnings of course.
Gary Drain
79
Posted 21/01/2019 at 22:51:36
I can't believe the stick he is getting. If he's coming back but he wants to get back in the side then at least it shows a bit of desire!
He had a terrible injury which any player would find hard to come back from. If he can give us something different, which he does, then fair play to him.
I don't care how much he gets paid because there's nothing that can be done about it; give him a chance and see what happens.
John Hughes
80
Posted 21/01/2019 at 22:57:11
Andy Crooks. Blimey, thanks so much for articulating exactly how I feel about a Club I love and have supported for over 58 years!
Martin Clark
81
Posted 21/01/2019 at 23:00:13
We're good at collecting hot and cold players! Was never a big fan of this signing. Wow, Koeman certainly screwed us with Walsh, almost as if we're agents from the dark side.
Such expensive cock-ups that have little resale value like Schneiderlin, Williams and Bolasie are crippling our transfer budget. The huge problem we have is not being able to sell.
Mirallas will probably be out on loan till he becomes a free, as will Bolasie, as other teams can see they aren't worth what they're paid and will soak up the wages until they have no contract.
It might be worth checking how much it would cost to terminate if we can't get them out the door!
Soren Moyer
82
Posted 21/01/2019 at 23:14:44
If we can't get rid of the useless bunch, can't we just release a few of them? Man! We've got so many!!
Kieran Kinsella
84
Posted 21/01/2019 at 23:27:52
Warm welcome then.
Bob Parrington
85
Posted 21/01/2019 at 23:33:59
Oops! I forgot he was on our books. Says it all!
Eddie Dunn
86
Posted 21/01/2019 at 23:41:30
Andy Crooks - my God you are spot-on there pal.
What a joke it is. The bits of contact, the diving, the inconsistent lawmakers, the leeches sucking the game dry. The whole thing has attracted all of the wrong people to it. The oligarchs, the Sheiks, the dirty Russian money, and the biased, one-eyed media.
What will it all be like in 10 or 20 years?
Dick Fearon
87
Posted 21/01/2019 at 23:56:31
What pisses me off is we never seem to learn. You only need to go back to the Andy van der Drunk years and the lesson that should have taught the club.
That applies not only to the powers that be but also to that load of supporters who, right up to the day he left, were berating myself and anyone else who criticised the fraud.
I remember wing-back Tony Hibbert, who couldn't cross a ball if he tried, and midfielder Leon Osman, who could be knocked over by a puff of wind. Everton made them into millionaires many times over yet neither would get a place at any other Premier League club.
There were lots of others like that yet they had legions of supporters in our ranks and woe betide those who called them out.
It all comes back to my first paragraph...
Gaute Lie
88
Posted 21/01/2019 at 00:02:27
Can we loan him out again? Or, better if some Club would be foolish enough to buy him.
Sorry to say he is a really bad player. He's like a poor man's Kevin Kilbane (who I really liked, despite his lackings). It's like you know what is gonna happen when he runs With the ball – nothing good!
I miss a player like Osman in the team. A bigger and stronger Osman would be a hell of a player. Osman could shoot and had a good understanding of the game.
Bolasie has a big price tag on him – the one we paid. I reckon everything above £5M would be a robbery if anyone is crazy enough to pay that sort of money.

Colin Metcalfe
89
Posted 22/01/2019 at 00:25:52
I still can't believe we wasted £27M on this guy. At the time, I was just lost for words we signed such a shite player! A truly awful, awful player and probably worth about £2/3M now... what on earth were we thinking — or was it that Lukaku wanted his mate around?
Dave Bowen
90
Posted 22/01/2019 at 00:39:39
In fairness to Bolasie, he didn't set the fee. When he first signed, he linked up really well with Lukaku. Then the injury & not even a shadow of the player he was. It happens, look at Seamus. If Bolasie can trap a bag of cement, I'd have him in instead of Richarlison, because after watching the Saints game, he currently can't. Seriously though, he must have another move lined up.
Karl Masters
91
Posted 22/01/2019 at 00:45:06
Jeezus – I know it's the most depressing day of the year (allegedly – another load of made-up shite that people who think like sheep want to believe) but, if he's coming back and makes it on to the pitch, get behind him and give him your support!
This wailing and feeling sorry for ourselves has to stop. It's like a negative cancer pervading our club.
Bill Watson
92
Posted 22/01/2019 at 01:36:07
After last Saturday, I thought it couldn't possibly get any worse.

Laurie Hartley
93
Posted 22/01/2019 at 01:59:55
Aye Andy # 76 – they've never had to file a halfpenny down to the size of a silver shilling for their mam to put in the gas meter.
However, there is one profession that comes close to football for rewarding ineptitude – politician.
James Stewart
94
Posted 22/01/2019 at 02:19:39
I'm probably in the minority but I hope Silva gives Bolasie a chance to prove himself.
On his day, he is a handful, those days may be over post injury but, when your wide options are the simply dreadful Walcott and Bernard, who doesn't really do anything other than lose his temper, surely Bolasie is worth a go.
Steve Carter
95
Posted 22/01/2019 at 03:12:00
"He's like a poor man's Kevin Kilbane".
Fucking hell, Lie [88]. Kevin, bless his heart, was unable to control a football, his only 'ability' being to hoof it forward, chase it, and then, if a defender didn't get to it first, belt in a cross in the hope that Timmy Cahill might be there to get his head onto it.
Alan J Thompson
96
Posted 22/01/2019 at 03:14:42
It's probably Silva's revised tactics. Stick Bolasie, Richarlison, Bernard and Digne out on one wing with Walcott, Lookman and Coleman on the other and Keane, Mina and Zouma as the back three and whichever wing Pickford kicks it to then the other wing all rush in to the middle.
Super transfer business to go with the super coaching.
John Boon
97
Posted 22/01/2019 at 04:49:28
He is just one of the many awful signings which we have made over the last three years.
Mike Gaynes
98
Posted 22/01/2019 at 05:11:51
Dave at 78, you are not the only one, and I too laugh at how many people proclaim this player to be absolute shit. Seems nobody remembers being excited when he was signed except you and me. Lots of convenient memories here.
The fact is, a lot of us were very happy to have him signed, even for £27 million. He had made a habit of tearing us up when he played against us. He had the pace we were desperately craving at that time. And, despite the defects in his game, he established a nice, if brief, partnership with Romelu Lukaku, and he turned in a relentless effort at both ends of the pitch. I was just sick when he blew out that knee.
I don't think he deserves the vituperation I'm seeing in this thread. Personally, I wish him the best, whatever happens. And I hope he finds a place to play.
Jay Harris
99
Posted 22/01/2019 at 05:42:29
James #94, I agree.
You are almost certainly in the minority.
Another player who thinks the goalposts are somewhere in Stanley Park.
Andy Meighan
100
Posted 22/01/2019 at 06:50:00
Great post, Frank @63.
And spot on. Lucky, lucky people...
Brian Porter
101
Posted 22/01/2019 at 07:10:44
He can run, dribble past a man, but then what? He either over-hits a cross that nobody can get near, or runs it out of play, or stands still until a defender whips the ball from his feet. In short, a total waste of space.
Whatever skill he might have had got left behind at Palace the day he joined us.
Rick Pattinson
102
Posted 22/01/2019 at 07:27:00
Send him back to Plymouth Argyle — they need players.
Laurie Hartley
103
Posted 22/01/2019 at 07:41:56
Actually, Mike, I haven't forgotten what the lad is capable of - he started this move off just outside our box at Anfield by fending off two physical challenges.
I would love to have that player back rather than the club forking out £9M for nothing. Let's see what happens.
Interesting to note the manager had our left winger on the half-way line for their corner.
John Murnane
104
Posted 22/01/2019 at 08:26:55
Am I in the twilight zone? I thought we were the People's Club?
So many short memories here. When he arrived he gave us a huge injection of energy that was really lacking under Koeman and Big Sam. For the games they played together, he and Lukaku had a great relationship. I remember the Gwladys Street singing his name so many times. Thousands of times.
Am I wrong?
Then, a career-ending injury. So bad, it needed one big operation just to prepare for the main operation. I admire the guy (as I do McCarthy and Coleman) for getting back to full fitness. We're the People's Club, and we sick by our fallen soldiers.
If he never went to Villa would you all be making these unsavoury comments?
The whole situation is not ideal, but I find the comments here really inhumane. We're the People's Club; he's a good person. Remember that before you go shooting your mouth off.
Eddie Dunn
106
Posted 22/01/2019 at 10:04:03
Mike Gaynes, check out my post @18. I mentioned how many lauded his signing and we remembered how he always did well against us.
At first he nipped in front of a rather disgusted Lukaku on the right to pop a lovely goal in. I had high hopes back then. Who knows how it would have gone had he not had the injury?

Tony Everan
107
Posted 22/01/2019 at 10:23:23
Another player blighted by a career changing injury, so unlucky , he deserves some respect along with Seamus for fighting back from it.
The reality is that in the Premier League it is dog eat dog, only the fittest survive. Weaknesses are targeted and exposed. There is no room for sentiment.
Any Chinese clubs willing to pay £27M Stirling? Or Yuan for that matter.
David Pearl
108
Posted 22/01/2019 at 11:09:43
Okay, well, playing Devil's Advocate here I've seen him play the last couple of months and he looks to be coming back to his best. Now either he knows of interest from another club... or he feels he is fully fit again and thinks he is now ready to prove himself.
He is perhaps the only winger on our books that is truly comfortable playing wide. We shall see what the next week brings.
Colin Malone
109
Posted 22/01/2019 at 11:17:14
Let's be honest, what decent ball-on-the-ground footballer could be comfortable playing Big Sam's hoof-ball tactics?
Let"s see what he can do under Silva.
Don Alexander
110
Posted 22/01/2019 at 11:22:34
Maybe it's a measure of the depression our club serially causes us lot that we're so down on Bolasie. After all, he'll be great at ripping a new one for any team that's got a noticeable lack of spirit, spine and fitness. He proved it against us more or less every time.
Eddie Dunn
111
Posted 22/01/2019 at 12:02:05
On the optimistic front, he seemed very popular around the place. I saw a couple of videos behind the scenes where he was joking around, he may lift the spirits in the camp.
Franny Porter
112
Posted 22/01/2019 at 12:19:29
I'm back at the apathy point which I reached under Martinez, Koeman and Allardyce.
Derek Knox
113
Posted 22/01/2019 at 12:42:42
Franny @112, it can't be that bad surely, mate. Give it till Saturday and I think you'll either change your mind or hundreds will join you!
Slightly off topic, but I was reading elsewhere that Everton are interested in Southampton's 2nd choice right back Cedric Soares... wait for it!
He's 27 and we are allegedly contemplating a £15M offer, now don't you feel a lot better after that?
Karl Masters
114
Posted 22/01/2019 at 12:47:36
Another Cuco Martina? Surely this is just made-up nonsense?
Franny Porter
115
Posted 22/01/2019 at 12:54:19
Derek, you are probably right, I am a fickle bastard.
On the other hand, if we do sign "Cedric", that will tell me everything we need to know about this club.
Craig Walker
116
Posted 22/01/2019 at 13:04:49
Eddie, for £70k a week, I could lift the spirits in the camp.
Eddie Dunn
117
Posted 22/01/2019 at 13:26:01
Craig, :)
Martin Nicholls
118
Posted 22/01/2019 at 14:00:56
Under FIFA rules (Article 5.3) he can be registered for three clubs in a season but can only play for two of them. I hope someone at EFC realises this and doesn't make the mistake of doing what Dan Davies #77 suggests, ie, "stick him in for Millwall" – we'd then be lumbered with him for the rest of the season even if another club would be willing to take him this month.
To those who claim the injury did for him – it didn't – he was distinctly average prior to that. Brian Porter#101 sums him up.
Kieran Kinsella
119
Posted 22/01/2019 at 14:12:14
He did have a good start here but since that injury he hasn't been able to command a regular spot at Everton or Villa. Given his age, is it worth persevering with him hoping he finds his form again or is it better to give game time to younger players? I suspect the latter is more prudent.
As to the contradictions between his and Villa's statements. I imagine that Bolasie wants to play football. I assume Smith explained her doesn't want to sign him long-term and consequently may not utilize him much as he would rather give younger players a chance. This probably provoked Bolasie to leave and hope for playing time elsewhere, but also ties in with comments suggesting Villa pushed him out.
Tommy Carter
120
Posted 22/01/2019 at 14:13:12
We should sign Harry Wilson.
You don't need to be a scouting genius to work this one out. An immense talent who is going to struggle to break in at LFC. Get the money ready and offer it.
He would be perfect for our right or left side with him and Richarlison switching throughout.
Let's not forget Sheedy, left-footed set-piece specialist who couldn't make his breakthrough at LFC. A different time, I know, but a similar situation with a similarly talented player.
Jim Harrison
121
Posted 22/01/2019 at 14:14:47
If it's true, and the new manager at Aston Villa has said he doesn't want loan players who won't be there next season around, he didn't have much choice really?
I suppose, if I were him, I would rather train and be at a Premier League club than a Championship one, particularly if I was entitled to do so under my contract terms.
I doubt we will see him anywhere the team unless there is an injury crisis.
Not ideal, but we've got to crack on.
Kristian Boyce
122
Posted 22/01/2019 at 14:22:40
I think much of the dislike to Bolasie on here is from his performances at the end of last season, which is a little unfair. Like many on here I was pretty happy we got him; overpriced yes, but he had the ability to cause defenses problems plus he started to have a good link up with Lukaku. I think he got his injury about 12-15 games into his Everton career, and basically missed a whole year due to it. He even has said he felt he had come back earlier than expected and probably wasn't ready, probably shown by he's performances he was putting in. The drop of form is also the case for Coleman and McCarthy too, who both had serious injuries.
In regards to him returning, what I heard is that Villa is going through a huge restructure with it's new management. One of the reasons Dean Smith was brought in was to change the club's mindset and push the promotion of youth. They are heading for another season in the Championship and the parachute money is going to run out soon. Paying 70k a week for a single player isn't an option for them anymore. When they sent back Bolasie, they immediately recalled one of there youth player's off loan as a replacement. They sent him back as basically they couldn't afford to keep him.
Supposedly he's not in Silva's plans, so we have less than 10 days to find him a new home. I highly doubt he'll play in the cup game as wouldn't that mean he couldn't play for a third team during a season if we are looking to offload him?
Kieran Kinsella
123
Posted 22/01/2019 at 14:30:12
The Echo have resorted to clickbait deceptive headers now. Just saw an article entitled "Bolasie's return to Everton EXPLAINED."
Like a fool, I clicked it and read that the "explanation" is simply reaffirmation of the title letting us know that Bolasie has returned.
Justin Doone
124
Posted 22/01/2019 at 14:37:44
Could Bolasie play more centrally in midfield and add some power, strength and pace to it?
Could he replace Gana, similar to Wijnaldum or Sissoko play for their teams ready to counter, leaving the ball player Gomes deep?
Steve Croston
125
Posted 22/01/2019 at 14:38:26
I hope he gets his head down, trains mega hard and shows us a little bit of what he's made of. That's what I hope from this situation. Is he any worse than Walcott?
Tony Marsh
127
Posted 22/01/2019 at 14:42:24
Yannick Bolasie — another Koeman gem to add to the list of shameful buys brought to EFC without anyone raising an eyebrow. We've paid well over the odds for every player we've signed since Koeman got the job here.
It is beyond belief that no-one stepped in and said, "Enough is enough!" Sigurdsson cost the club £40 million... WTF!!!
Klaassen, Schneiderlin, Sandro, Keane, Pickford, and Rooney. Did Dopey Koeman make even one decent buy? Some might put forward Gana Gueye but he too is also very limited.
After the enormous mess Koeman made of this club by squandering all that money on utter shite, I still can't figure out why Sam Allardyce, who was never getting the job full-time, was allowed to spunk a further £50 millions on Tosun and Walcott – who are also utter crap.
Who in God's name signed off on these deals? Does anybody at this club have half a clue what a decent player looks like?
Says it all really when we can't even give players away that we paid fortunes for... I suppose Barrett-Baxendale won't let this kind of thing happen on her watch, will she? Oh, wait a minute...
Sam Hoare
128
Posted 22/01/2019 at 14:48:28
My concern is that his main asset (explosive pace and acceleration) was lost forever by that injury. It would be something of a fairytale if he could get back into the first team and add some genuine end product from out wide but I won't hold my breath.
Best of luck to him, though, wherever he ends up. Not his fault we overpaid enormously for him.
Frank Wade
129
Posted 22/01/2019 at 14:50:32
Every signing is a risk. The 20/20 vision comes three years later.
I was pleased, as many were, when this signing was made remembering his performances against us. I was disappointed that he didn't seem so good when wearing blue. The injury curtailed him. In fairness to some TW posters, there was also an outcry when the signing was made, but mostly at the cost, rather than his ability.
Interesting to compare the Bolasie signing with Richarlison. Merson famously wore a TW hat in assessing the signing and was castigated. Our hero steps on the pitch vs Wolves and we were all so so pleased.
Marco Silva insists on playing him in the centre-forward position, where he has been woeful for past few games. Richarlison had 8 successful passes and 6 passes to the opposition (could be just his Lukaku touch) v Saints and no touch in their penalty area. Bolasie was never as bad as that.
Rennie Smith
130
Posted 22/01/2019 at 14:52:41
It shows how much player power there is these days!
If I was Brands, I wouldn't have let the player cut the loan on his own say, as I assume it means we're back on the hook for his wages? But maybe it's because he's got a whiff of a permanent transfer and can only make that happen if he's at his parent club?
Either way, he's too inconsistent to be a regular. He's one of these players that looks like his head has no idea what his legs are doing. When they connect, something good happens... but, most of the time, they're in separate rooms.
Kevin Prytherch
131
Posted 22/01/2019 at 15:05:05
Dick @87,
I'd love Hibbert and Osman fighting for the team at the moment.
That might not have been the biggest, they might have earned a fortune whilst at Everton, but they were both loyal and always put 100% in.
You can't say that for half of the team at the moment. And I bet they were never on anywhere near the wages that half of our underperforming players are on now.
But wait – they came through our youth system so we must slag them off. It's a good job we don't do that with any of the current crop of youngsters... 🤔🤔
Jay Wood
[BRZ]
132
Posted 22/01/2019 at 15:25:40
I for one was underwhelmed by Bolasie's signing and aghast at his inflated fee, but, as always, once he becomes an Everton player he gets my support and I judge him on how he performs for us.
He was very much a Koeman signing, not a Walsh signing. Koeman said he was interested in Bolasie while still at Southampton.
Yes, he had some good moments, but they really were few and far between. Certainly not enough to merit the hype or the fee paid.
He was very unfortunate with his injury (even accused of 'faking' it at the time, I recall). He worked hard to get fit again and was clearly delighted to be playing football on his return – away to West Brom last season around Christmas time, I recall.
Again, he did 'okay', but looked a long way off what is needed.
I had no qualms that Silva and Brands saw him as one of the players they wanted off Everton's books. I thought Aston Villa would be a good fit for him, but they have had a middling season, changed managers and we all know what that can mean for players, especially loan players.
I continue to believe he is excess to requirements and we need to cash in, or at worst, share his salary with another club by loaning him out again, because IMO he has no short-, medium-, or long-term future at Everton.
Brian Harrison
134
Posted 22/01/2019 at 17:20:43
The Liverpool Echo are reporting that our Italian scout, Carlo Jacomuzzi, said that most Italian games "send him to sleep". He watched a supposed potential target Diawara playing for Napoli Jacomuzzi said "There are a lot of good players in Italy" and in the case of Diawara he said "He is a good player but Everton don't play in the Champions League, so why would he leave Napoli to come to Everton".
The Echo also report that Henry Onyekuru wants to stay beyond his present loan spell with Galatasaray. The Echo also say that he is waiting for Galatasaray and Everton to come to an agreement for a £9 million transfer to make the move permanent.
These reports by our so-called local newspaper hardly lift the morale.
John Davies
135
Posted 22/01/2019 at 17:24:40
Jay #132. You beat me to it.
Danny Broderick
136
Posted 22/01/2019 at 17:24:57
The thing with Bolasie is he does goes from the sublime to the ridiculous. In the home derby last season, he almost scored a blinder from 25 yards, curling an effort which Karius did well to tip around the post. I still recall this strike and was amazed at how he whipped his foot around the ball.
Later in the same game, the ball was passed out to him by the Bullens Road, and he failed to control it and it went under his foot and out for a throw-in. He was pretty ineffective throughout the game, if the truth be told, he seemed to be out of position all game and was eventually subbed.
That day summed up his Everton career. We've seen the odd flash of brilliance, but he's not the man for us — the wrong man in the wrong place at the wrong time.
He will never be consistent enough, and he doesn't score anywhere near enough goals for such an attacking player. Yet, he can be a world beater on his day! I've never been so divided on a player in all my time watching Everton, but I do think we should let him go if possible.
Peter Jansson
137
Posted 22/01/2019 at 17:40:32
Seriously, I don't think that it is only the fault that they have not succeeded.
It must have something to do that we do not train well and take care of our players.
Maybe we create the deadwood ourselves?
Maybe Duncan Ferguson is a useless coach.
Maybe we play a type of football that does not suit our players?
How did these players become deadwood?
Mirallas had a brilliant potential. Suddenly he cant play football? What happened? Didnt he train enough or did he train the wrong way?
Williams was better than Stones the first season. Yes he is older but what happened?
Sandro plays now for Real Sociedad. I saw part of their game this weekend and Sandro was playing. Trust me Real Sociedad is a better team than Everton. I saw more creativity in 10 minutes than I have seen at goodison the last half year. I think Sandro has potential. If he is taking care of properly.
Vlasic. He is definitely not deadwood.
Bolasie. The injury ruined it for him. But maybe he has some good football left in him.
Oneukuru - find out how to get him here.
Peter Jansson
139
Posted 22/01/2019 at 17:46:18
I forgot to mention Walcott. He was our best player last spring when he arrived. Suddenly he is shite? How did this happen so fast??
I don't buy this. I believe that something must be wrong in our training grounds. It cannot be the players fault only.
Tommy Carter
141
Posted 22/01/2019 at 17:55:07
@ Frank
Idiotic comments
Bolasie has 11 Goals in 119 Premier League Games (2 in 29)
Richarlison has 14 Goals in 57 Premier League Games. (9 in 19 for Everton)
Add to that the fact Richarlison is still very much a young player with room for further development.
Add to that Richarlison has been superb in games vs Arsenal, Wolves, Southampton and Brighton this season.
I cannot remember Bolasie having a good game for Everton in his 29 attempts. Half of which were before his injury.
Flabbergasted by your comments.
Michael Lynch
143
Posted 22/01/2019 at 18:05:07
I liked Bolasie from the first moment I saw him play when he was a kid in the lower leagues. He hasn't produced anything special for us, which is a shame, and after such a bad injury he may never do it in a blue shirt.
Denis Richardson
144
Posted 22/01/2019 at 18:10:06
Not sure why some posts are against Bolasie. Who here would turn down a 5-year contract on £70k/week?
The club are the ones for blame for all the massively paid average players we have.
Derek Taylor
148
Posted 22/01/2019 at 19:28:03
We have no reason to believe that, both here and at Aston Villa, Bolasie has given anything but his best in terms of effort and determination to succeed. A very serious injury has impeded him in that task and the swing door of managers has hardly helped him in his recuperation.
I am one of those who has mocked the terms of his ridiculously over-generous contract but that was in criticism of those who laid on that contract, not the lad himself.
Having made that clear, I would like to see him return to the first-team squad without delay because, even post injury, I believe him to be no less effective a winger than those who occupy those spots under this season's manager. The cast-off colony is already full to over-flowing so let's get some bang for our bucks. Just for a change.
Ian Riley
150
Posted 22/01/2019 at 19:33:56
Why are people talking about fees or wages? Eighty percent of fees and wages in the Premier League are over-inflated. Whatever the reason, he has come back, he comes back with more match fitness.
In our current plight, play him, give him a chance. What have we got to lose? Unless I am watching a different team?
It's like a new signing.
Eddie Dunn
151
Posted 22/01/2019 at 19:47:59
While people moan about the length and generosity of contracts that various players have been on, we should remember that, to attract better players, without the prospect of silverware or Champions League football, we have to dangle these carrots or we simply won't sign the players.
The very same people would surely have slagged the club off for not pushing the boat out to get their targets.

Hugh Jenkins
153
Posted 22/01/2019 at 20:01:57
A novel idea has just struck me – why don't we let Brands and Silva decide whether:-
1) He is surplus to our requirements;
2) We can fit him into the current squad as a useful member;
3) We can or will change our formation and playing style to accommodate him – or, for that matter, anyone else that returns from loan, or is signed in this window.
Maybe – just maybe – those that have to make these decisions know more and have a better idea of what they want / what is needed – than we do?

Anthony Dove
154
Posted 22/01/2019 at 20:23:00
Bolasie had proved he was grossly overvalued long before he got injured.
Laurie Hartley
155
Posted 22/01/2019 at 20:44:55
Hugh # 153 - why didn't I think of that?
Bobby Thomas
157
Posted 22/01/2019 at 21:48:08
I am never going to have a go at, start booing, or just pure grief a player that returns from a career-changing injury at 70% of what they were. For me, it's just not on.
For example, I found the grief dished out to Kone (I'd forgotten all about him to be honest) when he finally came back extremely distasteful. The bloke did well to be even playing again.
It's the same with Coleman now. Anyone that expected him to come back the same at 30 was living in a dream world. The reality is the old Seamus Coleman has gone. He will know it. He is 60 - 70% of what he was. He's done well to get back playing again. Giving the fella stick, especially someone that would walk into an Everton Premier League 11, is bang out of order.
Same with Bolasie. For him, a pacey, dynamic winger, that injury is a nightmare. Especially when he doesn't, with respect, really have the football brain or ability to change his game and adapt to another position. Just like Coleman, in your late 20s, you don't come back from that injury the same. I feel bad for any player that gets a major injury.
The issue I have is that I just don't think we should have been paying £28 million for an inconsistent, non-assisting, non-goalscoring, 28-year-old winger in the first place.
Conor Skelly
161
Posted 23/01/2019 at 01:13:44
Too many owners with big wallets and no football knowledge. They think spending money buys success but they all need a plan to succeed. Take Lerner, for example: he lost over £300M during his time at Aston Villa and is hated. Ruined the club and it hasn't recovered.
It's the big signings with nothing to play for that take the team in a downward spiral. Happened to Newcastle, Leeds, and Villa. The only reason Spurs didn't add to this list is because of Daniel Levy.
The loss could be in the hundreds of millions since Moshiri took over. This type of calamity could not and would not have been forecast by anyone buying a football club.
We have players on big contracts that are nowhere near good enough or have lost whatever they had. Schneiderlin, Tosun, Mirallas, Bolasie, Vlasic, Sandro, Williams, Besic, Martina, Tarashaj – all being paid and of little to no use...
Add to that shit-show, we've struggling first-team players that are following the same downward spiral. Pickford caught Joe Hart's cocky goalkeeper syndrome. Moshiri forked out a combined 60 big-ones for Keane and Mina but our best defender has been a Chelsea loanee. At least Sigurdsson and Richarlison at a combined outlay of nearly £100 Million have yielded goals but neither are top 6 players in any way, shape, or form – like Anderson is at West Ham, who was picked up for a similar fee.
Every single one of those players mentioned is worth half what we paid. Hopefully, the tide turns but we've nothing to play for so I'd expect us to remain inconsistent for the rest of the season.
Alan J Thompson
162
Posted 23/01/2019 at 04:41:15
Hugh (#153);
Maybe Brands & Silva had made their minds up that wide men Richarlison, Bernard, Lookman and Walcott and pushing both full-backs forward meant we had more than enough players for positions that Bolasie might play.
Maybe, just maybe, we are signing players for positions which are more than covered, even central defenders. And I suppose playing him, say, centre-forward would not be out of the question, you know, as they have a better idea of what we need or they want than we do.
One thing is for sure, most of the senior players out on loan will return in summer or maybe, just maybe, be sold for that "undisclosed fee" after a less than likely agreement on a wage cut.
Geoff Lambert
163
Posted 23/01/2019 at 09:58:40
Just play him against Millwall. He can't be any worse than the shite that has not been turning up since the RS game.
Tony Everan
164
Posted 23/01/2019 at 11:00:01
As has been already said, the unjustified vituperation and disapprobation of Bolaisie is unfair considering his near career-ending injury. Coupled with belonging to EFC at our most turbulent time for 30 years, it had been a rocky road for the lad.
Okay, he has not lit up the park since his injury, but neither has Seamus. With players who are in their late 20s or 30s it can take 5% out of their game. It's enough to make them ordinary. It's a shame we can't get part of the fee back on insurance.
I wish him the best of luck wherever he goes, or if he decides to stay and give 100%.
Dave Abrahams
166
Posted 23/01/2019 at 18:07:35
Just think of Bolasie as "The Prodigal Son" – there was a happy end to that parable, except for the brother; maybe there will be one to this?
Darren Hind
167
Posted 23/01/2019 at 18:16:31
Wasn't that happy an ending for the "fattened calf" either, Dave.
Dave Abrahams
168
Posted 23/01/2019 at 18:31:11
True enough Darren, but then again they had a good roast dinner with him and loads of beef sandwiches later.
Mike Kehoe
170
Posted 23/01/2019 at 21:36:50
I have always felt there will be a 'Bolasie' derby. My God, I hope so... the £28 million would seem like peanuts if it was to be.
Belief and confidence... get them in place and anything is possible. This season was a write off for everyone with an ounce of sense. Progress is slow, but keep the faith.
COYB
Jerome Shields
171
Posted 24/01/2019 at 05:19:08
Think he may help out in midfield. Try anything at this stage. Pity we couldn't get Aaron Lennon back, he would really help the right wing, by example.
Ian Bennett
172
Posted 24/01/2019 at 13:46:00
Ex Chelsea man Mikel has signed for Middlesbrough, so you can expect Besic back at some point too...
James Flynn
173
Posted 24/01/2019 at 14:02:52
Little more from from Villa's manager on why Bolasie terminated the loan:
Link
So maybe he can contribute. Nothing else, he's still fast in a straight line and still retains his great upper-body strength. And he has 2 more years on his contract. Play him.
Les Green
174
Posted 24/01/2019 at 14:22:51
Some suggestions that he's going back to Palace, although it isn't clear if it's a loan or a sale...
Add Your Comments
In order to post a comment, you need to be logged in as a registered user of the site.
Or Sign up as a ToffeeWeb Member — it's free, takes just a few minutes and will allow you to post your comments on articles and Talking Points submissions across the site.